Ahhh acne. The four-letter word that can wreak havoc with your confidence, no matter if you're 13 or 30. Struggling with acne? Fear not! We've narrowed down the 15 best products for acne prone skin to help you combat those blemish blues.
Different Skin Types = Different Moisture Needs
Whether you have dry acne prone skin, oily acne prone skin, or anything in between (acne comes in all shapes and sizes), everyone needs a good moisturiser to keep their skin hydrated and looking fresh. But with so many different products available, choosing the right one can sometimes be tricky. The number one rule? Know your skin type!
Normal skin. Typically you have good circulation and do not over-produce oil. Your skin is soft and smooth, with an even tone. Lucky you!
Sensitive skin. Your skin is easily irritated by products or makeup and can sometimes become inflamed. You may suffer from allergies or eczema.
Dry skin. You produce a low level of oil resulting in dry or flaky skin which often feels tight.
Combination skin. You produce oil mainly around the T-zone (the nose and forehead).
Oily skin. You produce too much oil, mainly on the cheeks, nose and forehead. You may have overactive sebaceous (oil-producing) glands.
But remember, moisturising alone wont help you to achieve flawless looking skin. Equally as important is what you put into your body. Drinking the daily recommended amount of water (3.7 litres) will not only keep your body hydrated, but also work wonders for your skin. A heathy diet rich in vitamin C, fresh fruit, whole grains and vegetables will nourish the skin from inside out.
So What Causes Acne?
Everybody naturally has skin glands which produce sebum, an oil that coats the hair follicles and helps keep our face hydrated. However, acne sufferers tend to over-produce sebum, causing a 'clogging-up' of the hair follicle on the skin and resulting in what we refer to as a 'whitehead' – those annoying little spots at the surface of the skin which many of us just want to pop! Despite some of the rumours and questions we often hear associated with acne – 'Does moisturiser cause acne?', 'Is my make-up making me spotty?' – blemish prone skin is not caused by greasy foods, bad hygiene or face products, although our hormones can often play a big role in bad skin breakouts.
Best Cream for Blemishes and Acne
Some of the best-known moisturisers for acne prone skin contain benzoyl peroxide, which removes excess oil and kills bacteria on the surface of the skin. Keep an eye out for creams with salicylic acid and alpha-hydroxy acids too, as these help to keep pores clear by removing dead skin cells and exfoliating deep inside the hair follicles. Tea-tree oil also works wonderfully as a natural blemish-fighter for those with dry skin and acne, calming and soothing red areas.
Best Moisturisers for Acne and Spot Prone Skin
With these key ingredients in mind, here are the acne moisturisers that made our top 15 list: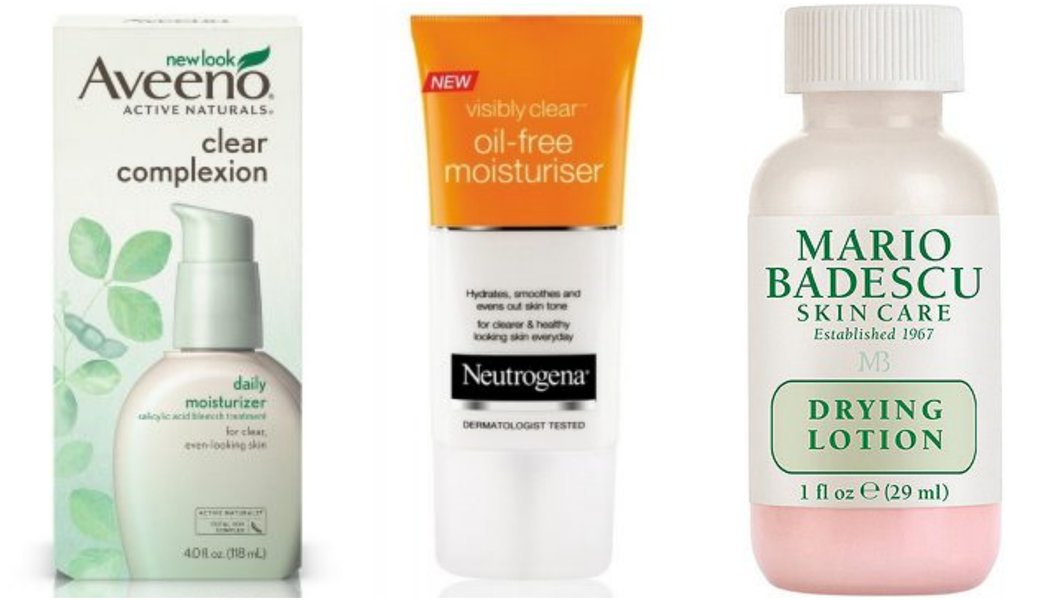 Aveeno Clear Complexion Daily Moisturiser is a non-oil based, non-comedogenic moisturiser, meaning it won't block pores. It also leaves skin feeling super soft and hydrated, making it perfect for dry and cold weather, and ideal for those who suffer from acne and dry skin.
Neutrogena Oil-Free Moisturiser comes highly recommended by dermatologists and contains SPF35, great for protecting your face from UV rays and sun damage. It's also fragrance free, and so great for those with sensitive skin.
Mario Badescu Drying Lotion contains calamine and salicylic acid, powerfully effective ingredients which soothe whiteheads and are suitable for all skin types.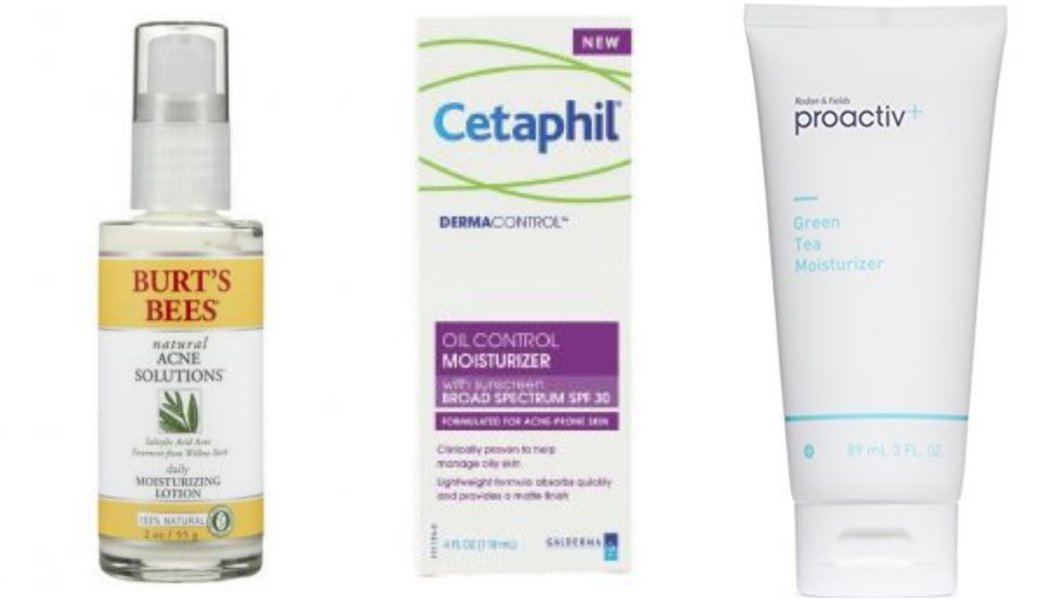 Burt's Bees Acne Solutions contains salicylic acid to help prevent breakouts, as well as natural ingredients such as goldenseal, witch hazel and lemongrass which help calm redness. It has also been clinically tested to control excess production of oil, making it a good moisturiser for oily skin.
Cetaphil Derma Control Oil Control Moisturiser works well as a night cream for acne prone skin.
Proactiv+ Green Tea Moisturiser is great for blemish prone skin, with its key ingredient – green tea – reducing redness and inflammation.
Clinique Acne Solutions treats bacteria and helps fade blemishes without drying skin.
Clean and Clear Dual Action Moisturiser contains 0.5% salicylic acid which is perfect for combating acne.
Dermalogica Oil Control Lotion is a great non greasy moisturiser for oily skin.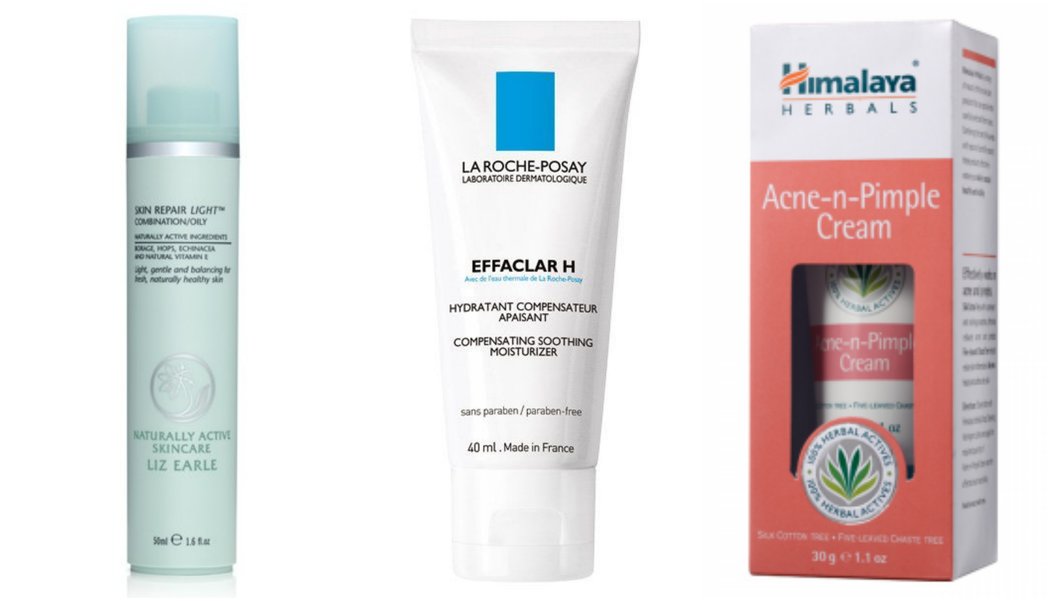 Liz Earle Skin Repair Moisturiser Normal/Combination is super light and leaves skin feeling incredibly soft. Containing avocado, borage plant oils and Vitamin E, this is the best hydrating moisturiser to protect skin against dryness.
La Roche-Posay Effaclar H Multi-Compensating Soothing Moisturiser is lightweight and hydrating for dry skin.
Himalaya Herbals Action Acne-n-Pimple Cream treats pimples and skin eruptions, and keeps skin soft and smooth. It has excellent astringent, styptic and cooling properties for acne treatment.
Living Proof Live Cell Renewing Moisturiser is a non-oil based moisturiser that is also non-comedogenic. Ideal for sensitive skin.
The Body Shop Tea Tree Skin Clearing Facial Wash is perfect for blemish prone skin. As well as removing excess oil and impurities, it cools and calms down irritated skin.
Derma E Very Clear Moisturiser has anti-inflammatory properties, working to reduce redness and soothe itchy skin.
Celebrities Battling Breakouts
Remember, when it comes to acne, you're not alone. Even celebrities can't escape those acne woes!
Singer/songwriter Katy Perry is admired worldwide for her effortless beauty and style. But did you know the former spokesperson for Proactiv has battled with acne since her teenage years? In an interview with fashion and beauty website Refinery29, Katy said she uses grape seed oil moisturiser and Shu Uemura's cleansing oil to combat her breakouts.
In The Body Book, actress Cameron Diaz explains how she struggled for years with bad skin, even turning to prescription drugs in a desperate bid to banish her acne. However, she soon realised that it was her diet of fast food that was causing the problem, commenting, "I stopped eating fast food and a funny thing happened, my skin began to clear up!".
We often see pictures of a flawless looking Mrs Beckham splashed across countless magazines, but would you believe it, she was once nicknamed 'spotty spice'! After years of battling with breakouts, the singer-cum-fashion designer finally managed to re-gain control of her skin with the help of her dermatologist, Dr Lancer, and she swears by his products. Speaking to Elle magazine, Victoria said, "He's a dermatologist that I met in LA, I started going to him for oxygen facials and I haven't looked back!".
Acne 101
Know your skin type. There's no point buying an acne moisturiser if it's going to dry out your dry skin, or make your shiny skin shinier.
Look out for moisturisers containing key ingredients such as salicylic acid and tea tree.
Maintain a healthy diet rich in fruit and vegetables.
Remember, celebrities have acne too!
Acne breakouts can happen to the best of us, but with the right moisturiser and a healthy diet, you can banish those bad skin blues.