Today, we're diving into the captivating world of enduring color – yes, you guessed it, we're talking about Lipstick That Lasts All Day! A holy grail, the ultimate beauty quest, the unending journey for that perfect tube of immortality. If you've ever wondered how some people maintain that flawless pout from dawn till dusk, even through the rigors of coffee cups, meals, and endless chit-chat, the secret's about to be spilled.
Through this post, you'll unlock Pandora's Box of everlasting lipsticks, finally answering that burning question – How do I make my lipstick last all day? We'll delve into the labyrinth of lipstick formulas, exploring which ones stand the test of time and why. We'll walk the tightrope of pre-application rituals, revealing the unassuming steps to make or break your all-day lipstick look. And we'll even share pro tips to nudge you along the path to the longevity of lipstick without sacrificing comfort or lip health.
So, buckle up and pucker up, beauty warriors, as we set out on this emotional journey, painting the town (and our lips) red and every shade in between! Let's dive in and decode the secret to the mesmerizing, magical, and seemingly mythical – lipstick that lasts all day!
Lipstick Love and Struggles: A Beauty Blogger's Tale
Like many of you, I've always had a love-hate relationship with lipstick. I absolutely adore the vibrant pop and finishing touch it adds to any makeup look, but the struggle of maintaining its fresh appearance? Whew, that's a different story.
Like a daily ritual, I find myself caught in the cycle of biting my lips, sipping my favorite matcha latte, and grazing on delicious snacks – only to end up with my lipstick fading faster than a sunset. I'm forever reaching for the lipstick tube for touch-ups almost every hour. You can probably imagine the number of lipsticks I've gone through. Let's say it's no small collection.
But then, everything changed. I began hearing whispers about the holy grail of lipsticks that could withstand the wear and tear of daily life – genuinely long-lasting lipsticks! These rumors began with the YouTube beauty guru Tati and her review of Lip Ink kits. Intrigued and hopeful, I delved deeper and stumbled upon LipSense by SeneGence on Instagram. An extensive color palette and an ingredient list that promised consciousness toward health made me sit up and take notice. I decided to venture forth and try it out. Here's the lowdown on my journey with the LipSense Starter Kit.
Meet LipSense: The Game Changer
LipSense by SeneGence is a trailblazer in the lipstick world. It promises to be all a lipstick lover dreams of – smear-proof, waterproof, budge-proof, and kiss-proof (wink wink!). The secret sauce? A patented super-adhesive lip color formula, a unique multi-layering technique, and the sealing magic of 'top coats' or glosses.
Their color and gloss range is like a vibrant rainbow – over 70 shades of long-lasting liquid lip colors and various topcoat glosses with finishes ranging from Matte to rose, pearl, glitter, and even diamond! The layering process also gives you the artistic freedom to mix and match, letting you create your very own unique lip color combos. I had a blast trying out different pairings!
And that's not all. These lip colors contain cosmetic-grade alcohol, which serves a dual purpose. First, it's like a guard, preventing bacteria from camp in your lipstick tube. Second, it's your personal lip exfoliator, gently removing any buildup from previous products. Plus, they claim that 1-4 weeks of daily use helps revitalize your lips. The cherry on top? Their products are vegan and cruelty-free. Beauty without guilt, love it!
The Key to All-Day Lipstick: LipSense's Application Instructions
Getting your lipstick to stick around all day is not just about the product but also the application. The good folks at SeneGence recommend a three-layer approach (two for lighter shades) and the final touch of a gloss to seal in color and provide that luscious moisture.
The application process goes something like this:
Prepping Your Lips: Start with a clean slate by removing traces of lip balm or other lip products. Cleanse your lips, getting them ready for the color.
Applying LipSense Lip Color: Next, it's time for the lip color. Apply three thin coats (two if you're using a lighter shade), allowing each layer a few seconds to dry before applying the next one. It's like painting a masterpiece; swipe the brush from one corner of your lip to another, avoiding back-and-forth movements with the applicator.
Hang tight; we're not done yet! Let's continue our LipSense journey in the next section.
Do You Need the Oops! Remover?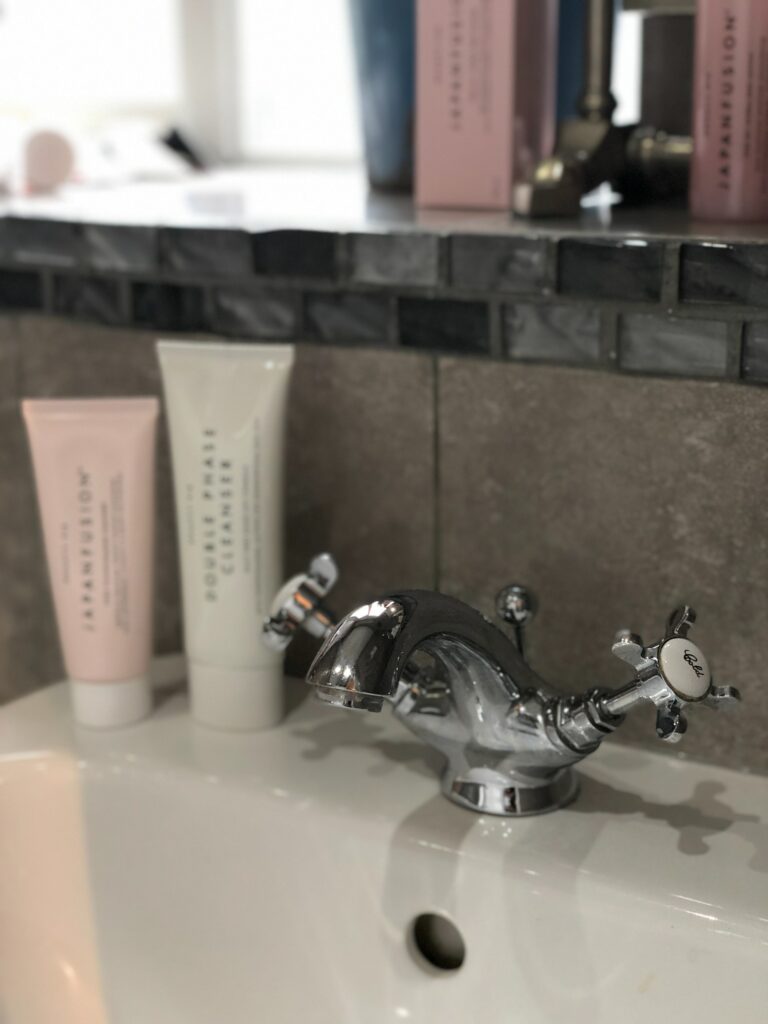 First things first, let's talk about the LipSense Oops! Remover. Now, this can be used as a little magic eraser to correct application slip-ups or gently wipe away the lip color at the end of the day. However, is it essential? In my experience, not quite.
I've noticed that your trusty soap and water can do the job well. Even the makeup wipes in your beauty arsenal can come to the rescue. I've had success with Clean & Clear's and Dickinson's wipes. And for those little mishaps during the application process? A Q-tip and some soap and water work just fine for spot corrections. But don't get me wrong, the Oops! Removers can be a lifesaver when you're on the go or traveling.
My LipSense Adventure: From Starter Kit to Application Mastery
So, what did I choose for my first LipSense outing? I opted for the Starter Kit, which comes with a Long Lasting Liquid Lip Color (I chose the charming shade Plumeria), a clear Moisturizing Gloss, and of course, the Oops! Remover.
LipSense Application: The Learning Curve
As someone who usually leans more towards lip balms and tints, mastering the LipSense application process felt like climbing a makeup Mt. Everest; perfecting my pout in a quick, neat swipe took some getting used to, and I'll tell you why. The lip color starts sticky, so if you swipe over the same spot twice before it dries, you risk lifting off some product and creating a patchy appearance.
But don't despair; practice indeed makes perfect! I developed my little system: starting from one side of my cupid's bow, swiping out to the corner of my lips, repeating on the other side, and then giving my bottom lip a quick swipe. I repeat these steps to build up the layers, covering more of the middle of my lips each time.
The beauty of LipSense is that the colors are so opaque; even if you don't nail the first layer, the second or third layers can quickly correct any inconsistencies. Any minor mistakes can be taken care of with the Oops! Remove soap and water at the end of the application. A little beauty hack I discovered was dabbing the color on my lips with the wand and then swiftly (and I mean within 1-2 seconds) smoothing it out with my finger. It surprisingly gives even coverage.
For lighter shades like Cappuccino, Apple Cider, and First Love, I found that 1-2 coats were enough, thanks to their pigmentation. However, bear in mind that opting for sheerer coverage could shorten the lipstick's wear time.
So, What's the LipSense Formula Like?
The LipSense Long Lasting Liquid Lip Color formula is akin to liquid lipstick but slightly thinner and runnier. Thanks to the adhesive ingredients, it feels a bit sticky at first. After the full 2-3 coats and a top coat, the sensation could be more comfortable, especially if you're familiar with the cushiony feel of the Anastasia Beverley Hills or Kat Von D's liquid lipsticks.
But, after some experimenting, I discovered a trick! The lip color feels almost weightless by applying the thinnest possible coats that still provide full coverage. Plus, it's pretty flexible, moving quickly with your lips without cracking. A minor warning, though, the cosmetic-grade alcohol in all LipSense lip colors can cause a slight tingling or burning sensation, especially if you have dry or chapped lips. To avoid this, it's essential to take extra care of your lips – constantly moisturized and smooth.
And then we have the top coats. Their primary role is to lock in the lip color, but they also hydrate your lips. They can be used alone to add shine and moisturize the lips. The Moisturizing (or "Glossy") Gloss is the most hydrating, which conveniently comes with all starter kits. However, it's worth noting that all the glossy top coats provide these benefits, except for the Matte.
The LipSense Experience: A Real-World Wear Test
Alright, beauties, let's delve into the real-world wear test of LipSense. Do you know how it says it's completely kiss-proof, smudge-proof, and waterproof upon application? It is. I tested this little wonder during the first 3-4 hours of wear. Let's say it survived coffee breaks, endless chatter, and even a few stolen kisses without a trace of transfer. It was downright bulletproof.
Keeping It Fresh: 5-6 Hour Mark
About 5-6 hours into wearing LipSense, the color still looked fresh as a daisy. However, I did notice that the gloss had mainly worn off, and there were signs of flaking around the corners of my lips. I later discovered that this flaking is part of the natural exfoliation process when using LipSense. Don't worry; this eventually stops once all the dry skin and buildup from wax-based products are gone.
Standing the Test of Time… and Food: 8-Hour Mark
After about 8 hours of wear, post a hefty, greasy meal, the lip color began to break down around the inner part of my lip. But it makes sense if you think about it – the lipstick remover is oil-based, so naturally, oils from food would affect it too. Now, what's the workaround for this? Here's a handy tip from my distributor – apply the topcoat/gloss before eating. It creates a barrier between your lips and the food, minimizing the risk of fading.
Life Lessons with LipSense: Don't Skip the Gloss!
After a week of experimenting with LipSense, I discovered a secret – the top coat gloss is not just for show. It is vital to ensure your lip color lasts throughout the day. Trust me; you want to reapply it every 4-5 hours. It doesn't just add shine and hydration; it does help to seal and protect the base layers of color, prolonging their wear time.
Real Talk: How Long Does LipSense Really Last?
You've probably seen reviews (mostly from distributors) showing LipSense lasting all day. Some even sleep in it, brush their teeth, and go about their day to show how long it lasts. But what's the real deal? In my experience, LipSense generally lasts anywhere between 6-12 hours, depending on a few factors:
How often do I eat and drink throughout the day? The type of food matters, too – watch out for greasy or oily foods!
How often do I reapply the gloss top coat? My target is usually every 5-6 hours, and I always reapply right before meals.
How much wax, dry skin, and buildup is on my lips is why applying LipSense on clean, exfoliated lips is crucial.
So there you have it, my lovelies. With the proper preparation and application, LipSense can be your long-lasting lip color hero. Enjoy those vibrant lips all day!
What Are The Ingredients In LipSense By SeneGence Lipsticks?
As of my knowledge cutoff in September 2021, LipSense by SeneGence lists the following as its primary ingredients:
SD Alcohol 40-B: This cosmetic-grade version of denatured alcohol acts as a delivery system for the other ingredients and provides the quick-drying property of the lipstick. It also helps create a long-lasting, waterproof barrier for the lip color.
Acrylates/Octylacrylamide Copolymer: This film-forming agent helps the lipstick adhere to the lips and resist smudging or smearing.
Isostearyl Alcohol: Acts as a skin-conditioning agent and a viscosity-increasing agent.
Silica: This thickening agent helps improve the product's spreadability.
Paeonia Suffruticosa (Peony) Root Extract: A plant extract used for its potential skin-soothing benefits.
Tocopheryl (Vitamin E) Acetate: Vitamin E is known for its antioxidant properties and can help to moisturize the skin.
Hypnea musciformis (Algae) Extract: Algae extract can condition the skin and provide antioxidants.
It's also important to note that the colors in each LipSense product come from different FDA-approved color pigments, which will vary depending on the particular shade of lipstick.
Remember that formulas may have been updated or changed after my last training data in September 2021, so it's always a good idea to check the most recent ingredients list on the product packaging or the company's website. As with any cosmetic product, it's essential to review the ingredients list before using a new product if you have sensitive skin or allergies.
What Is The Cost Of The LipSense Starter Kit?
The LipSense Starter Kit typically retails for around $55 USD. This kit usually includes a LipSense liquid lip color, a moisturizing gloss, and an "Oops! Remover" for application mistakes. However, prices may vary depending on where you buy it – it could be more or less expensive. Consider shipping costs and any possible taxes if you're buying it online. Please check the latest prices on the official SeneGence website or authorized sellers for the most current cost, as prices may have changed after my last update.
What Is The Three-Layer Approach Recommended For Applying LipSense Lip Color?
The three-layer approach for applying LipSense Lip Color is all about building up your lipstick's intensity and lasting power. It might feel unusual if you're used to traditional lipstick applications, but trust me, the result can be a game-changer. Let me guide you through this!
Prepare Your Lips: Start with clean, dry lips. Any lip balm, leftover makeup, or residue might hinder the lipstick from adhering correctly.
First Layer: Apply the first thin layer of LipSense lip color. Swipe the brush from one corner of your lips to the other without going back and forth. This layer should be light – think of it as your base. Let it dry for a few seconds. It might feel a little sticky, but that's okay!
Second Layer: Apply the second coat in the same way. This is where you'll start to see the actual color coming through. Again, allow the layer to dry for a few seconds.
Third Layer: Apply your final layer. This one will fully bring out the color and intensity and seal in the previous two layers for long-lasting wear. Let this one dry too.
Seal it with Gloss: Apply a layer of LipSense moisturizing gloss on top. This not only adds a shiny finish but also keeps your lips hydrated and enhances the longevity of your lip color.
And voila, you're all set! Remember, patience is vital. Take your time between the layers; let each one dry before you move on to the next. This process might sound tedious, but it's worth it when your lip color stays vibrant and perfect all day!
Conclusion
In the whirlwind world of lip colors, LipSense makes a strong case for itself as a true all-day lipstick. It's an adventure in lip artistry that requires patience, practice and a commitment to frequent top-coat reapplications. With the proper application techniques (remember, no back-and-forth strokes!), extra care with meals, and always prepping your lips, this little beauty can last anywhere from 6 to 12 hours. Be aware of the initial flaking during the transition period and the possible tingle from cosmetic-grade alcohol if your lips are dry or chapped. In the grand scheme, these are minor trade-offs for a lip color that withstands the rigors of our day. To sum it up, LipSense is worth trying if you're searching for a genuinely long-lasting lip color. So grab that LipSense Starter Kit, step in front of the mirror, and unlock the door to a world where your lip color lasts as long as your day. Happy experimenting, beautiful souls!
Feature image by Andriyko Podilnyk on Unsplash