Hey party people, buckle up because today we're zeroing in on the milestone of all milestones—your 21st birthday! Turning 21 is like unlocking a new level in the game of life, and your nails deserve to be just as epic as the occasion. We're not just talking about a fresh coat of polish here; we're going full-on glitz and glam to celebrate you stepping into full-fledged adulthood. We're going to tap into some top-notch designs that'll have your hands stealing the show (sorry, birthday outfit).
Whether you're about subtle elegance or you want to scream "I'm 21 and I own it" with every hand gesture, I've got the deets that'll elevate your nail game to the stars. Get ready to dial up the fun and flex those fingers. It's time to dive into the trendiest tips to ensure your 21st birthday nails are as unforgettable as the night ahead. Keep your eyes peeled because by the end of this, you'll have a lineup of show-stopping nail art that's just waiting to clink glasses and dance the night away with you. Here's to being 21, fabulous, and fierce, starting with the fiercest nails in the room!
How Cool Are These Ice Cream Nails
Scoop up some sweetness with Ice Cream Nails that are as delicious as they are adorable—think pastel swirls and playful sprinkles that are perfect for those summer birthday vibes. Whether you prefer classic cones or funky popsicle designs, these nails will have you feeling like every day is a treat-yourself day!
Super Glam White Coffin Nails
Celebrate your leap into 'true' adulthood with Super Glam White Coffin Nails, the epitome of sophistication meets celebration, perfect for a 21st birthday. Adorn these sleek, elongated canvases with shimmering accents and rhinestone embellishments that speak to your newfound maturity, while winking at your sparkling future.
Pink Party Nails With Streamers
For your big two-one, dazzle with Pink Party Nails featuring festive streamer designs that capture the essence of celebration. These nails shout "party" with every flick of your hand, perfect for dancing the night away and toasting to your special milestone.
Party on Your Tips: Birthday Doodles on Pink
Embrace the playful side of turning 21 with nails adorned in whimsical birthday doodles over a cheerful pink base. They're a fun conversation starter, ensuring your hands are just as lively as the party in your honor!
Pink Coffin Nails With Chunky Glam Glitter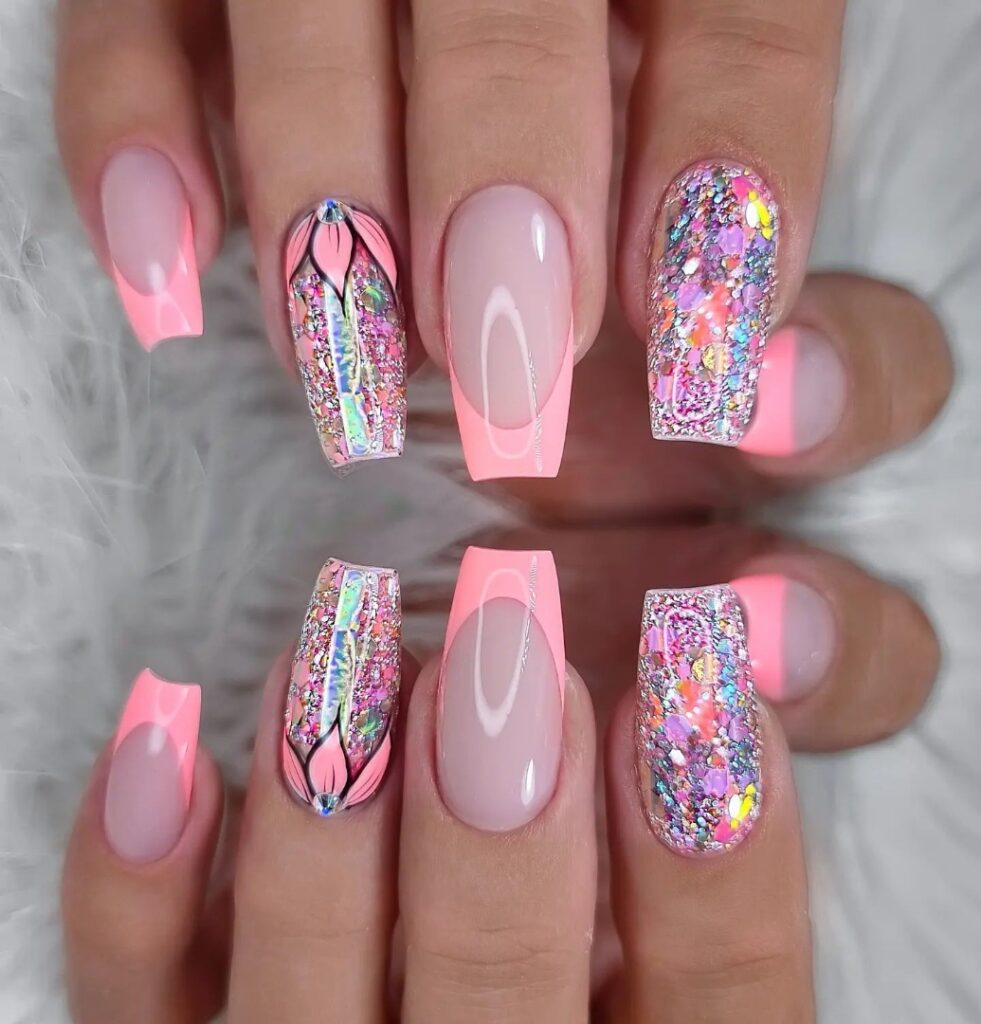 For a 21st birthday bash, pink coffin nails sprinkled with chunky glam glitter make for a bold, unapologetically festive statement. They capture the light and the limelight, perfect for toasting to new beginnings with a sparkle in every gesture.
Party Pastel Almond Nails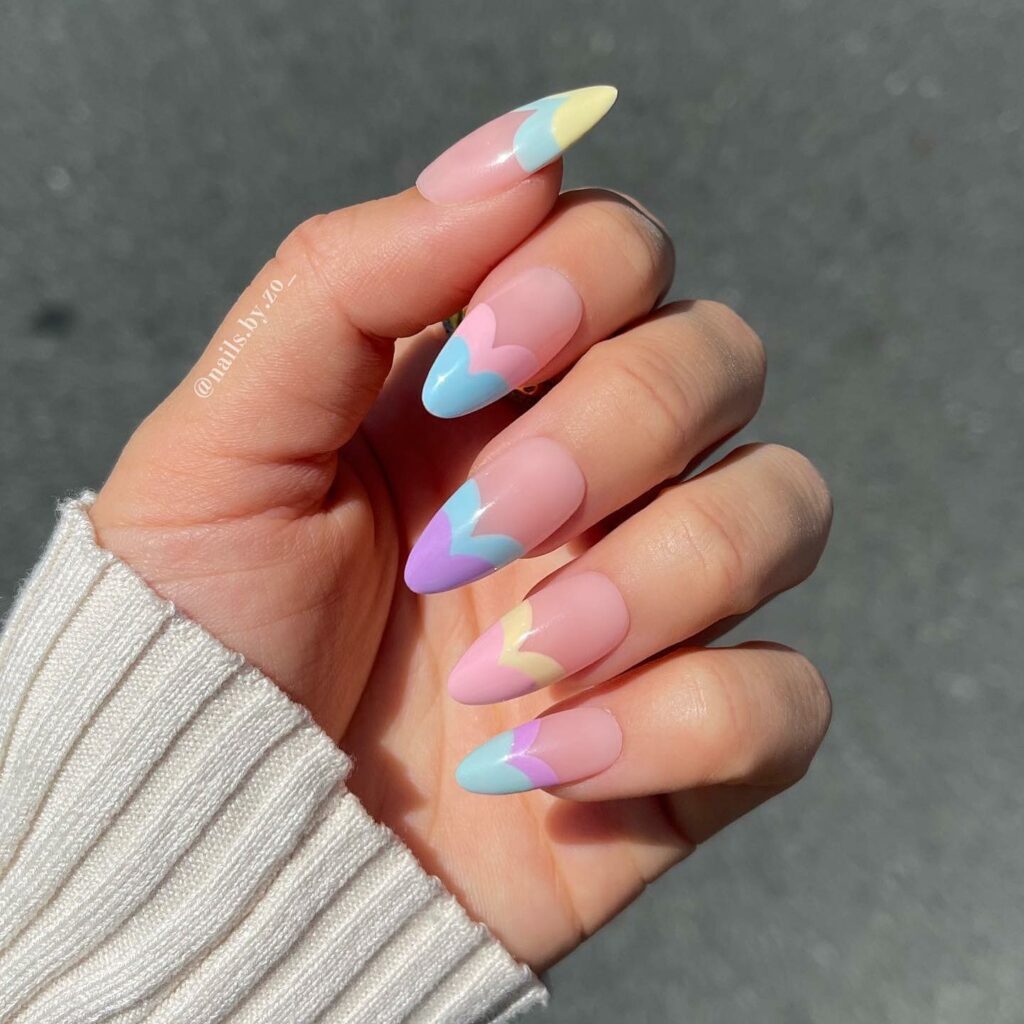 Celebrate turning 21 with party pastel almond nails that bring a sweet and soft elegance to your special day. Their gentle hues are a nod to playful youth, while the sophisticated almond shape says you're stepping into your own as an adult.
Stiletto Nails with Full Silver Glitter Overlays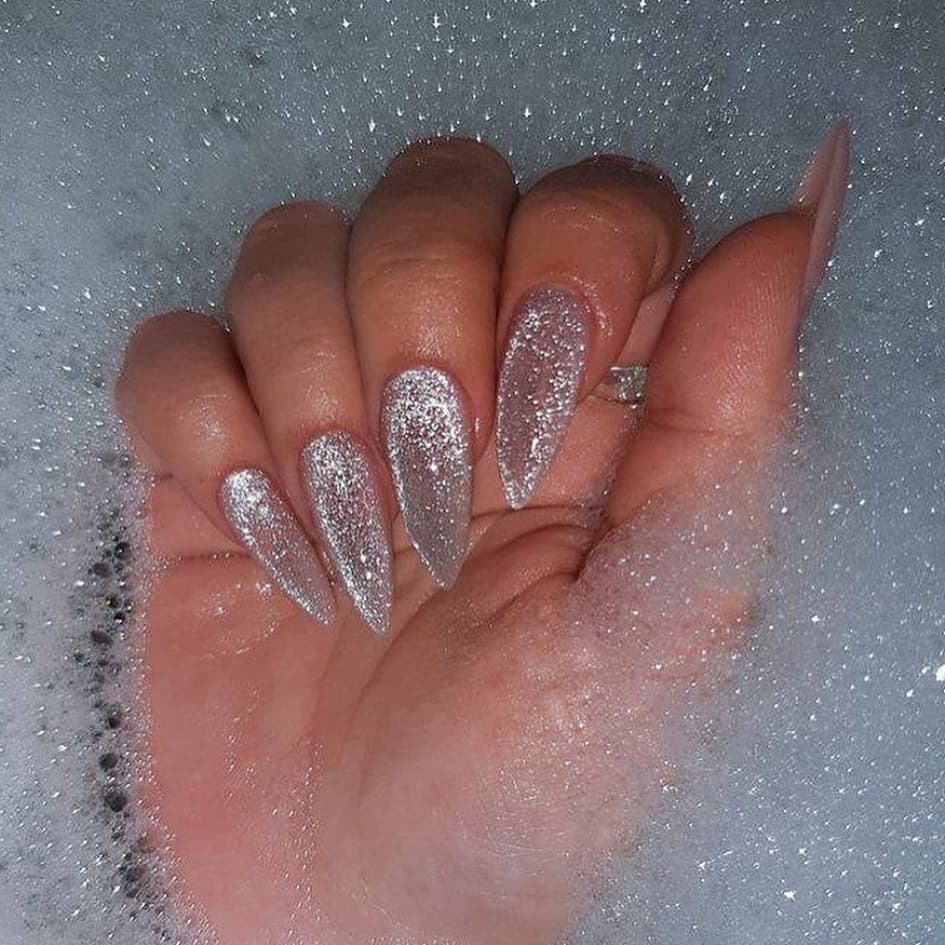 Make a bold statement as you step into a new chapter with stiletto nails covered in full silver glitter overlays, perfect for a 21st birthday bash. These shimmering points of light will catch every eye and reflect your sparkling personality as you celebrate this milestone.
Sweet and Chic: Pink Tips With Hearts
Celebrate love and life on your 21st with almond nails adorned with delicate hearts and playful pink tips, a manicure that's both sweet and chic. This design whispers romance and joy, making your special day's ensemble whimsically complete.
A Glittery Twist: Glitter French Tips
Add a dash of sophisticated sparkle to your 21st birthday bash with glitter French tips that blend timeless elegance with a party-ready twist. This shimmering take on a classic ensures your nails are dressed to impress as you toast to adulthood.
Pink Almon Nails with Black Stripes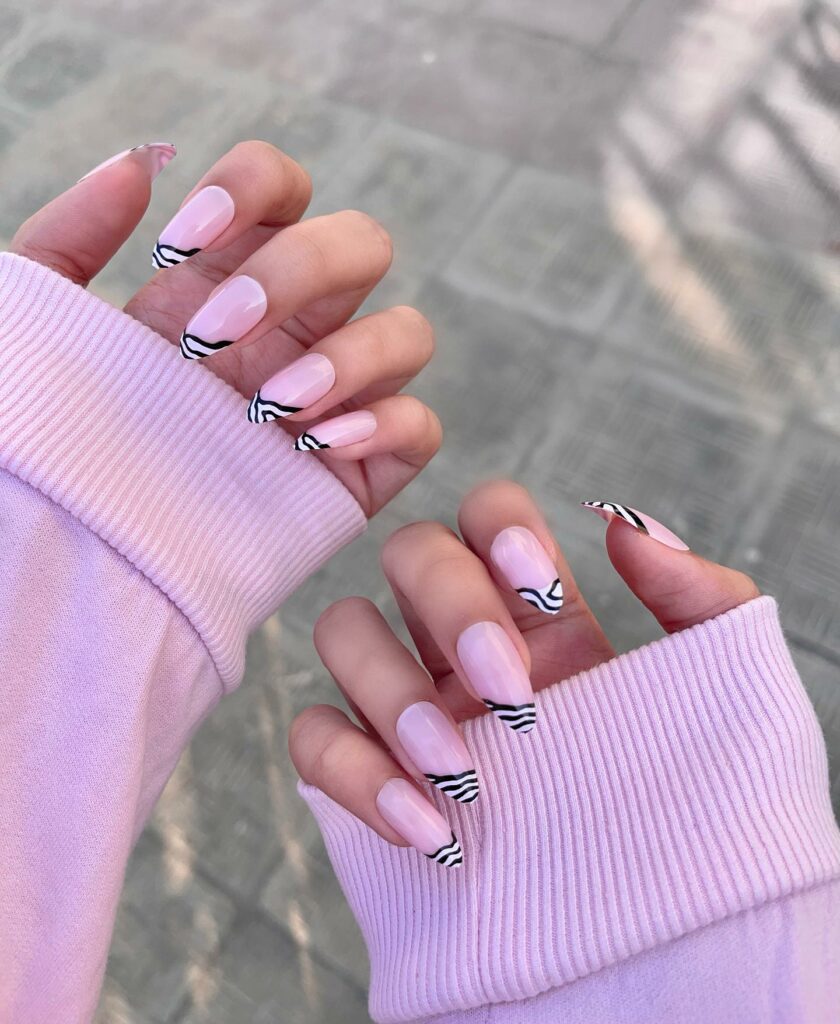 For a 21st birthday with an edge, opt for pink almond nails accented with bold black stripes, a design that's both playful and chic. This striking contrast adds a touch of modern sophistication to your celebration look.
Ombré Blue Coffin Nails
Featuring a seamless gradient that transitions from a light sky blue to a deep navy, these ombré coffin nails are reminiscent of the vast, ever-changing sky. They're ideal for someone who loves a dynamic and eye-catching look.
Coffin Cupcake Nails
Celebrate turning 21 sweetly with coffin-shaped nails featuring adorable cupcake designs – it's like having your birthday treat at your fingertips! This whimsical style is perfect for adding a dash of playful charm to your special day.
Chrome Glitter French Manicure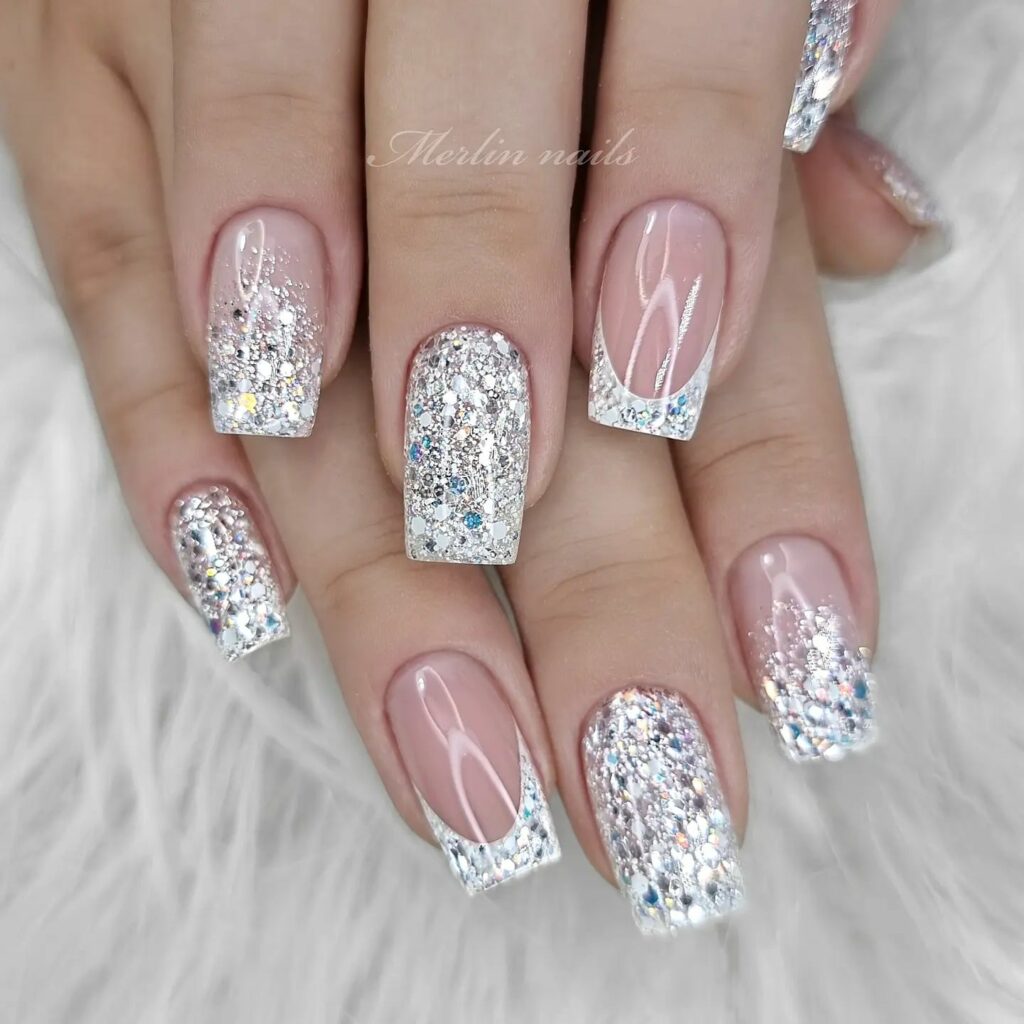 Marrying the elegance of a French manicure with the frosty allure of white glitter. This look radiates a wintry sophistication suitable for any chic event.
Pastel Rainbow Almond Nails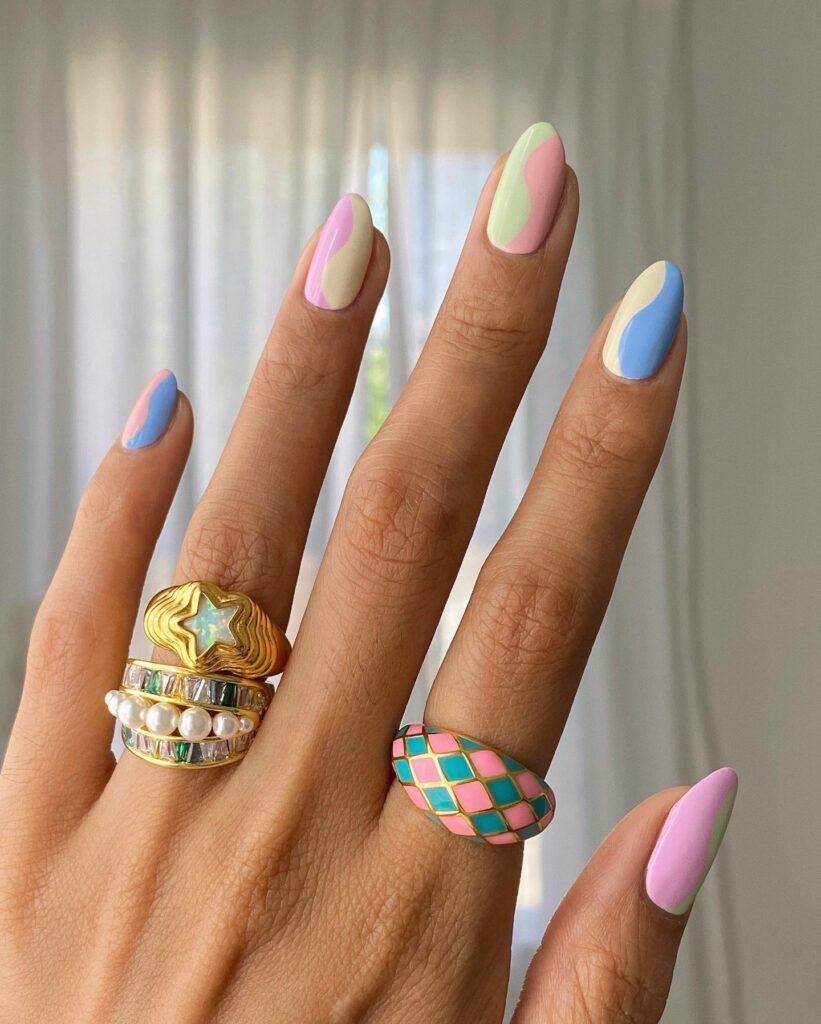 Step into your 21st year with a dash of whimsy on your fingertips – pastel rainbow almond nails are a soft yet vibrant choice that whispers sweet celebration. They're the perfect way to add a sprinkle of color to every birthday gesture and toast!
Silver Sparkle For Some Serious Party Glam
Make a shimmering statement as you step into your 21st with Silver Sparkle nails, the ultimate party glam that catches the light with every toast. They're the perfect accessory for living it up on your milestone day, ensuring you're the life and light of the party!
Pastel Shades Meet Abstract Designs
Dive into 21 with a modern twist on a classic palette—pastel shades adorned with abstract designs make for a uniquely artistic manicure that's as individual as you are. This chic and playful style is sure to be a conversation starter at your birthday bash!
Party Like It's the '80s: Vintage Vibes and Geometric Flair
For those about to celebrate their birthdays, we salute you with these nostalgic 80s colored nails. Relive the vibrant and bold spirit of the 80s by creating geometric art designs on bright-colored nails. Just like throwing an 80s-themed party, let your nails be a flashback to this vibrant era, filled with unforgettable vibes and color palettes.
Square Up: Chrome French Nails With Glitter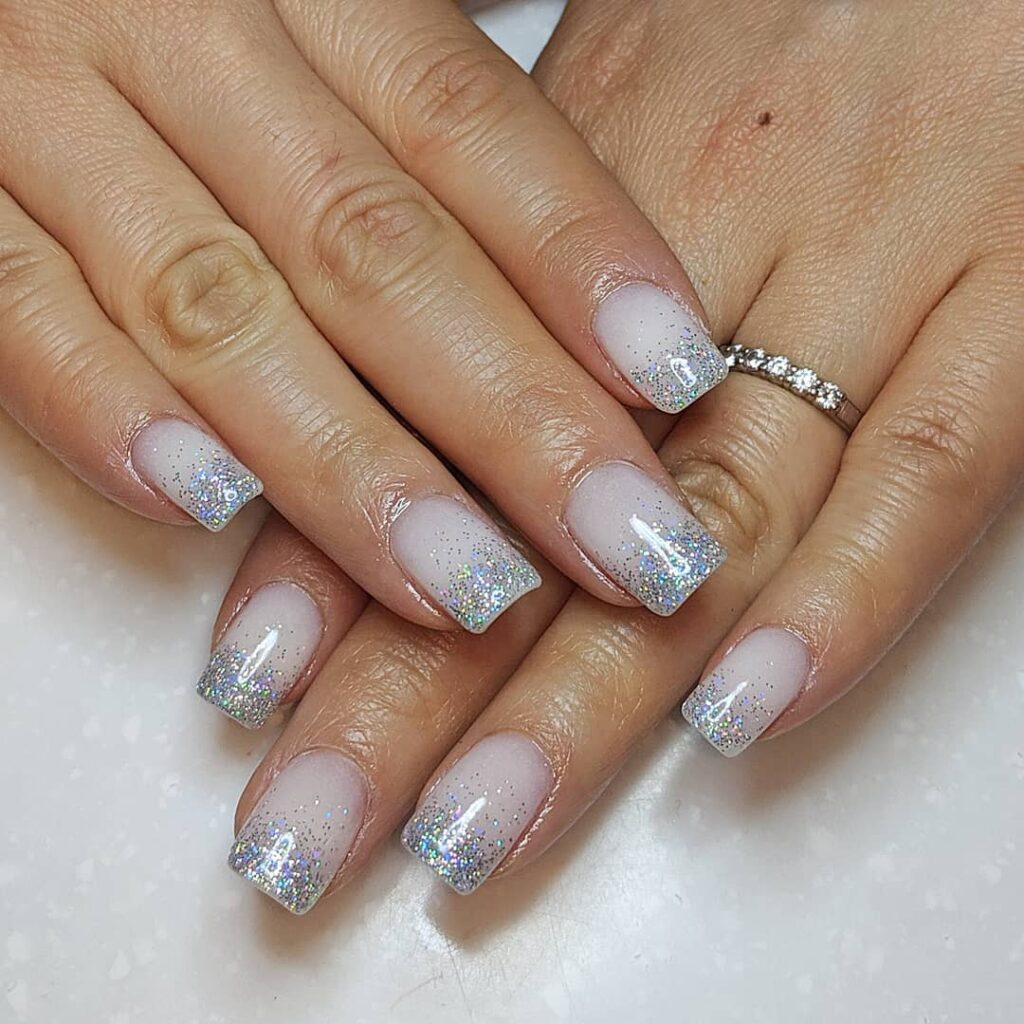 Whoever said square nails can't do glitter was seriously mistaken. Silver tips paired with a nude base are elegant, and those dark dots along the cuticle add the perfect twist. It's so versatile that you can rock this look from brunch to a date night.
Sweet Simplicity: Pink Nails with a Heartfelt Touch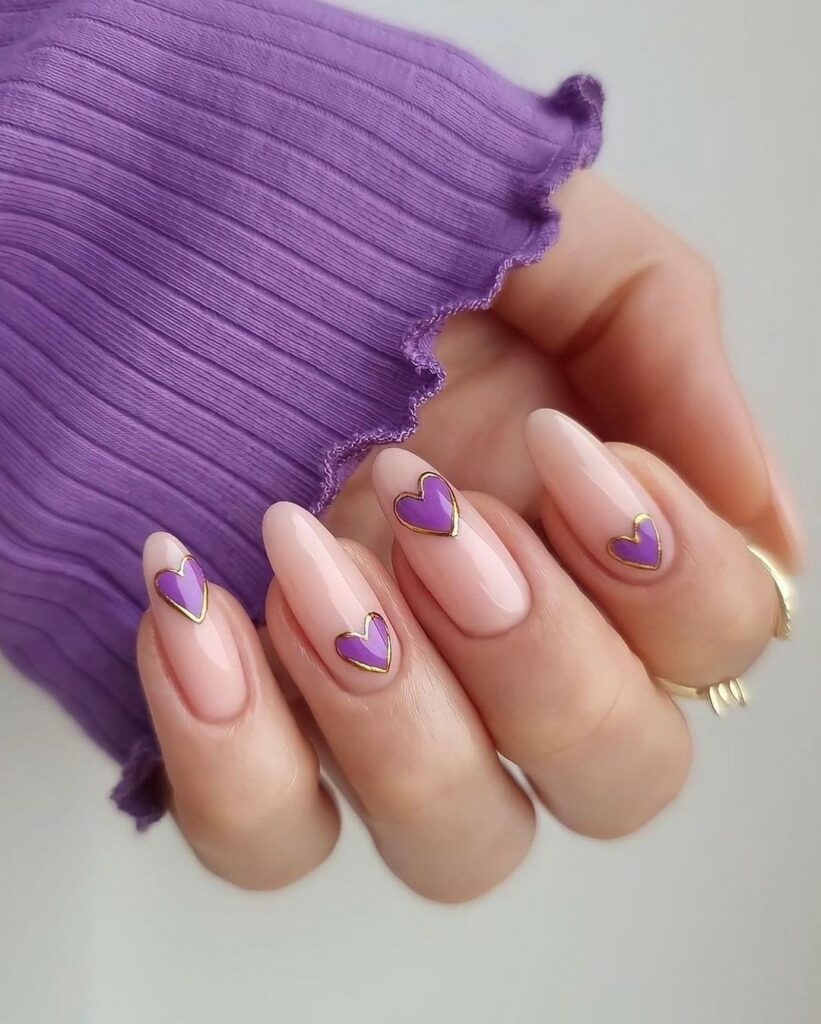 Celebrate turning 21 with a touch of romance and whimsy on your fingertips – soft pink nails accented with adorable purple hearts. It's a sweet and playful look that's perfect for toasting to adulthood and new beginnings!
Elegance and Surprise: Nude Nails with Black Outline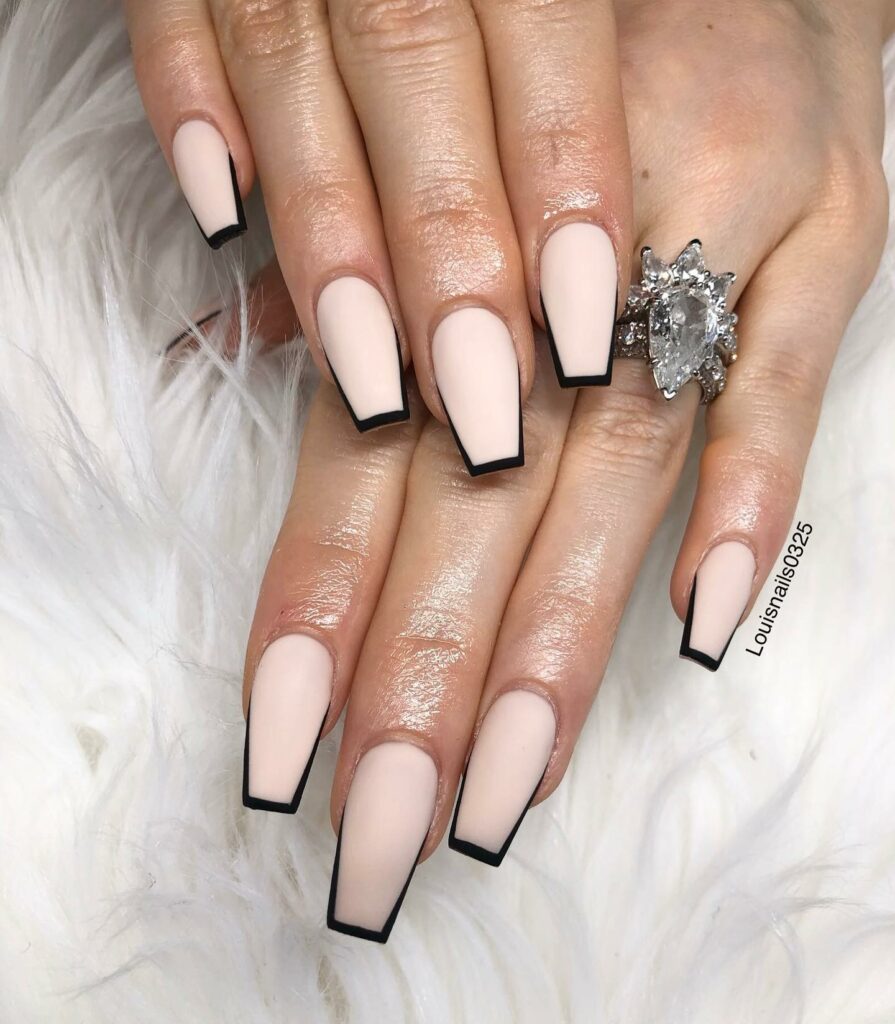 Embrace sophistication on your 21st with nude nails edged in a sleek black outline, offering an unexpected twist on classic elegance. This chic design promises to add a dash of modern style to your birthday ensemble.
Blue French Coffin Nails with Cheetah Print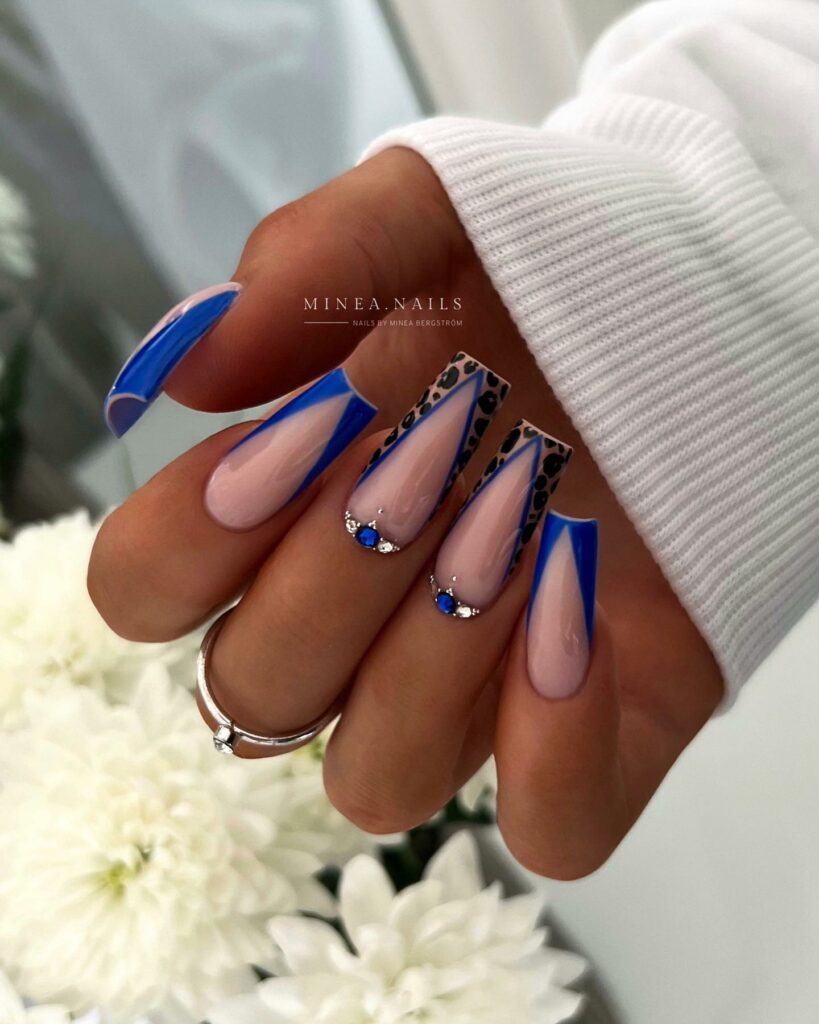 Blending the elegance of blue French tips with the wildness of cheetah print, these coffin nails are a striking expression of bold and adventurous style. They're for those who dare to blend classic sophistication with an exotic edge.
Icy Blue Blended With Pink Ombre Nails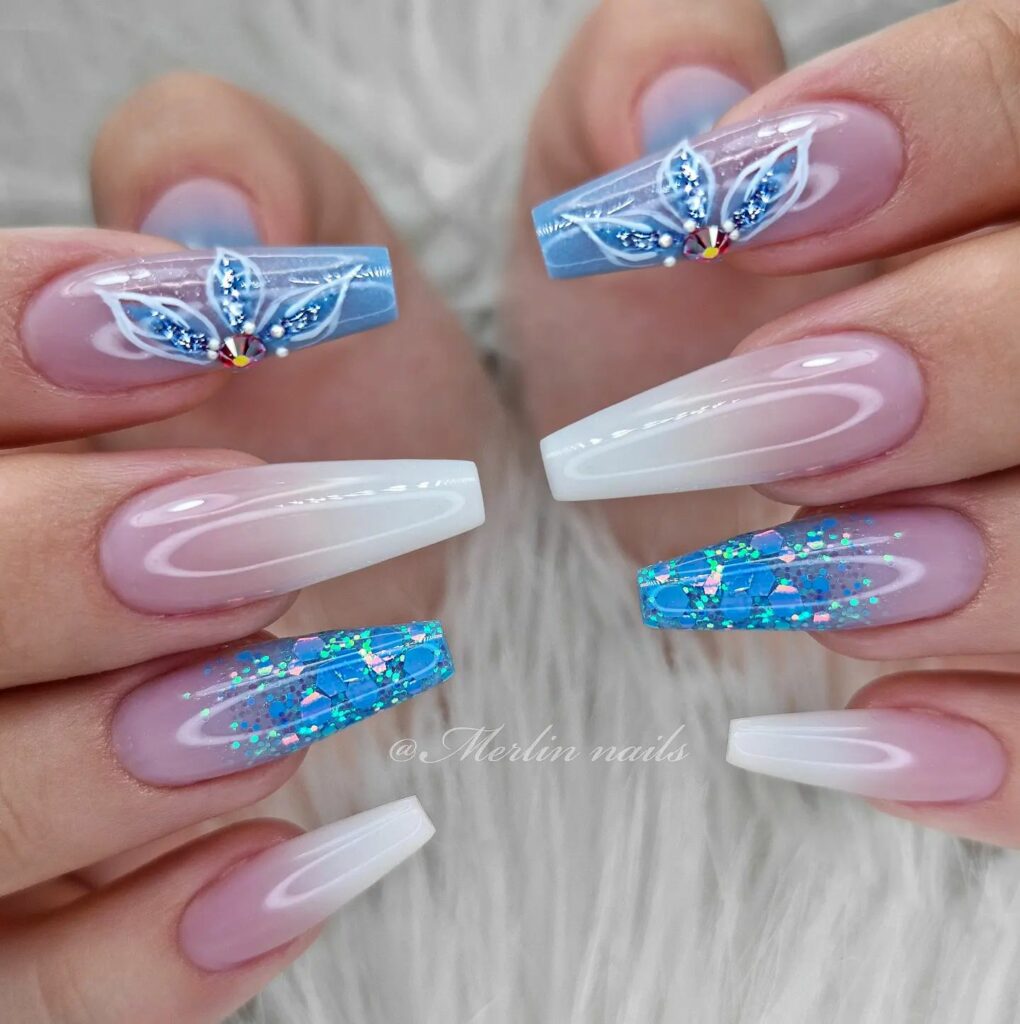 A translucent blue with a frosty finish, these tips give the illusion of ice-capped nails. It's a cool and unique twist on the classic blue French design.
Bedazzled Blue Coffin Nails
Evoking the whimsical charm of a winter wonderland, these blue coffin nails are adorned with delicate butterflies and pearlescent accents, conjuring a fantastical frosty elegance. The soft gradient from snowy white to icy blue serves as a perfect canvas for the sparkling embellishments, offering a magical twist to any ensemble.
Birthday Delight: Pink and White Nails with Sweet Accents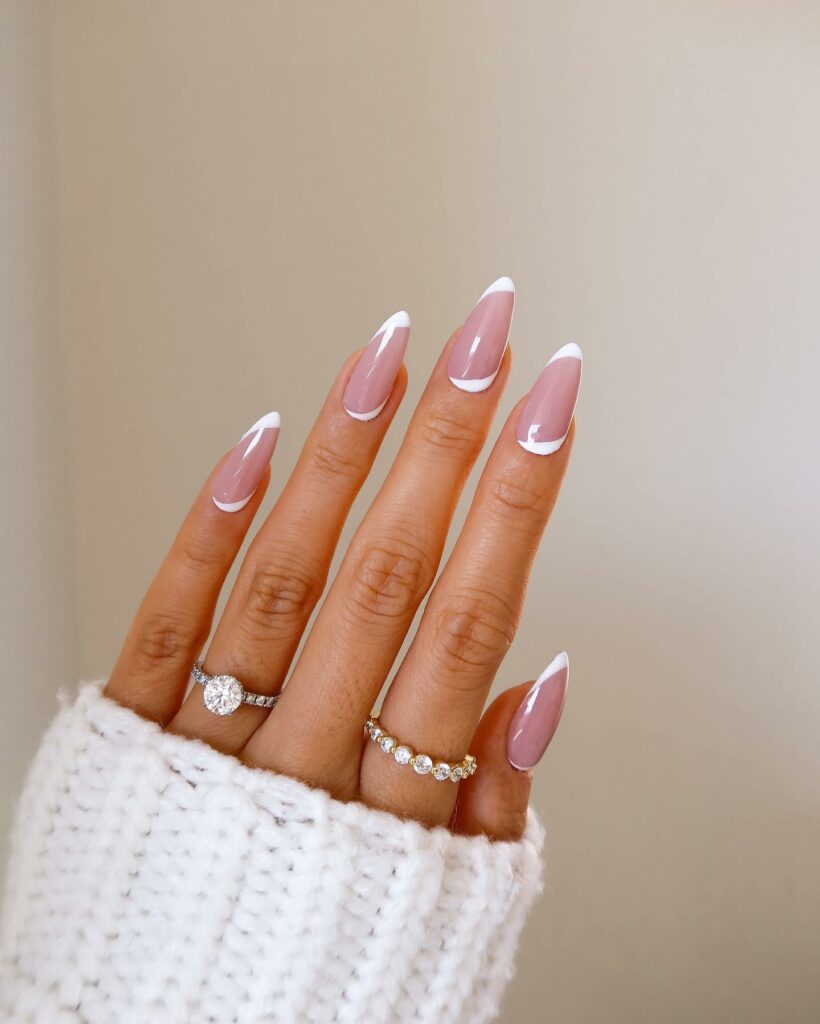 Wear your festive spirit proudly with a lovely combination of pink, fuchsia, and white gracing your nails. This reminds me of the sweet confections at birthday parties I attended as a kid. Alternate between white and pink base colors, adding sweet cupcakes and dots on various nails to craft the loveliest, heartwarming nail art perfect for your special day.
Glittery Galaxy Nails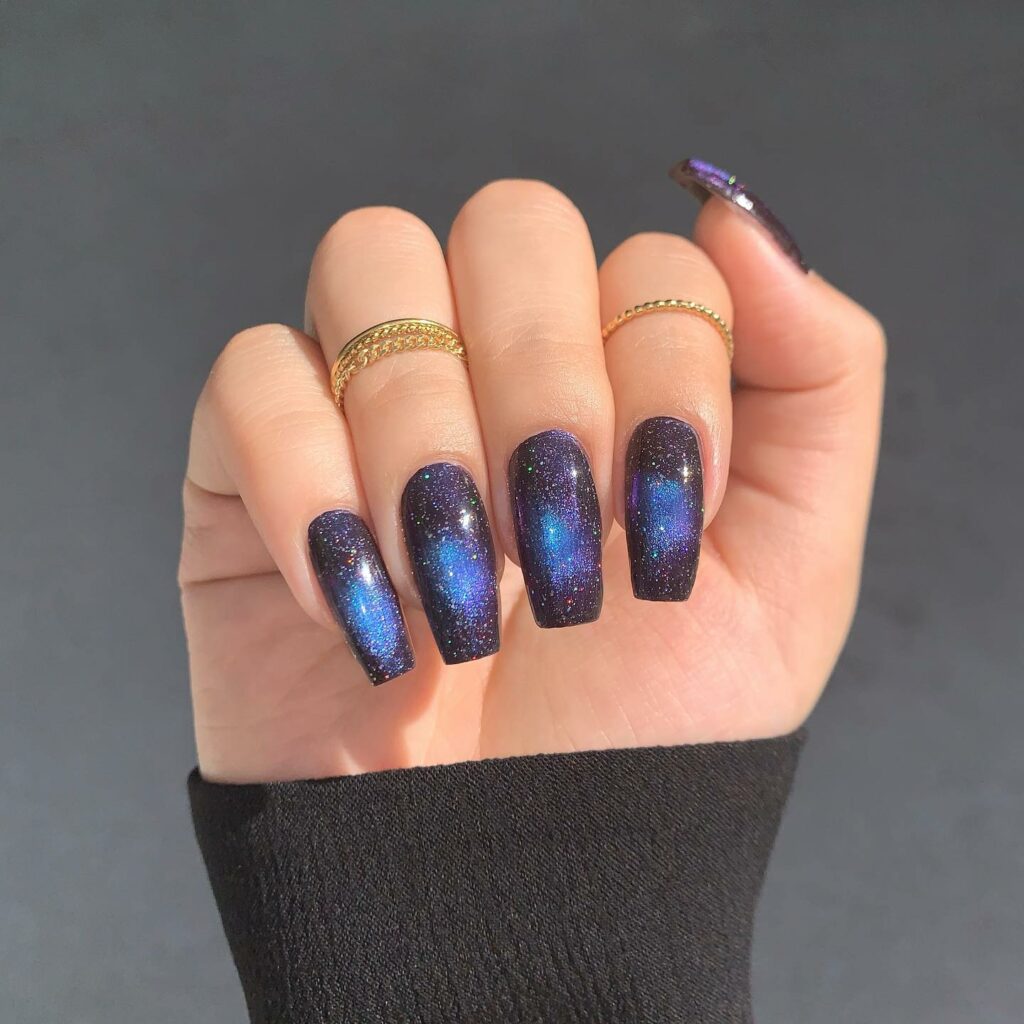 Celebrate another trip around the sun with a galactic theme! Start with a dark base coat resembling the night sky, and gradually add layers of glitter in shades like blues, purples, and silvers to create your constellation. You could even paint tiny stars or planets for that extra space flair. Remember when I tried this and couldn't stop gazing at my nails all day? It's almost like holding a piece of the universe at your fingertips!
Make It Personal: Initials And Symbols
If you're looking for something that screams 'YOU,' then incorporating your initials or a significant symbol is a brilliant idea. I once added a tiny gold heart, which was the cutest personal touch.
Ribbon Love: Make Your Pink Nails Pop
A white opaque base adorned with colorful candles and balloons offers a cute and sweet touch to your birthday get-up.
Lavish Purple Hue Cheetah Print Nails
Blending the exotic allure of the cheetah print with regal purple tones, this design stands out as both elegant and daring. It's an ideal choice for those wanting to make a unique style statement.
Short Nails With Golden Cupcakes
Black and Gold are a refreshing color combo. Add a little bow and some colorful strass, and you have a design that screams birthday.
White V-Tips: A Trendy Take On The French Mani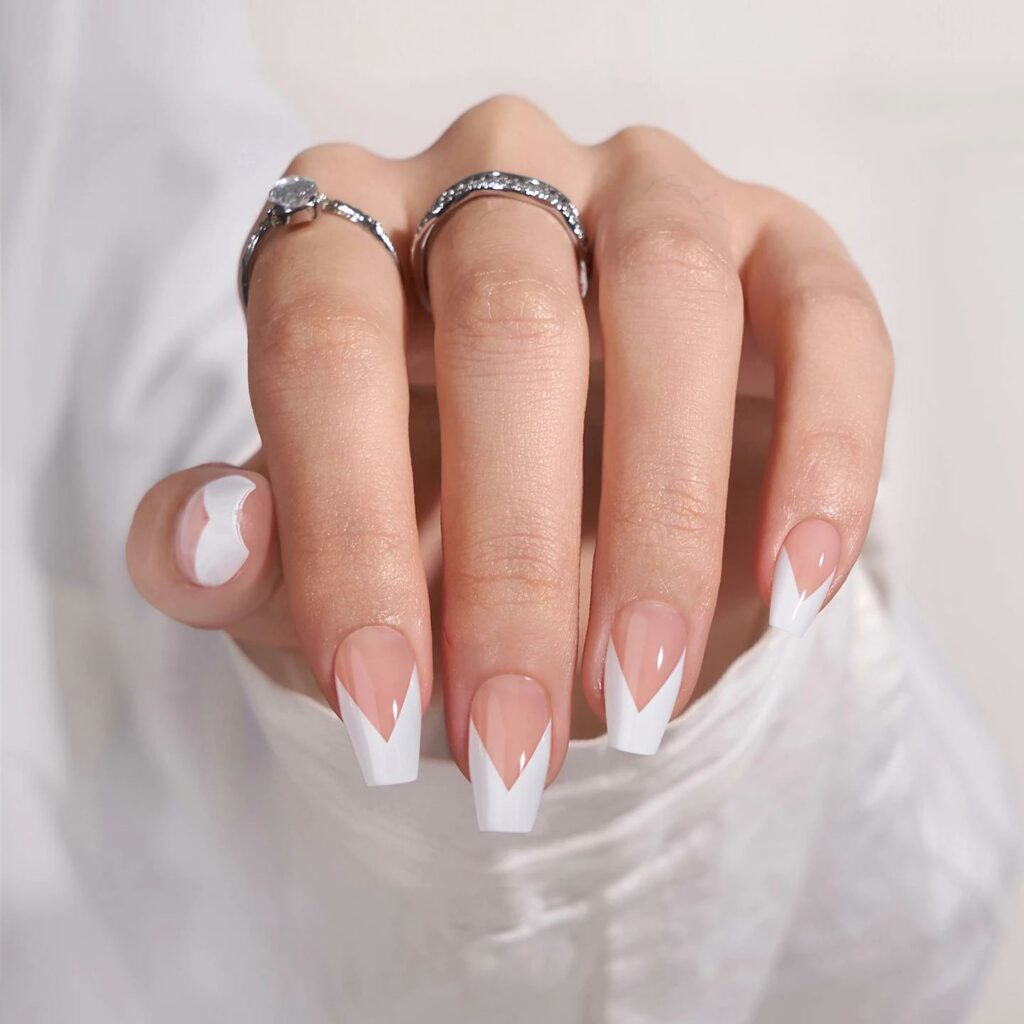 If you're into nude nails but want a trendy spin, try white V-tips. It's a modern, angular take on the classic French manicure that's easy to DIY with a bit of nail tape. If you're new to this, plenty of tutorials guide you through it.
Minimalist Marvel: Cool White Almond Nails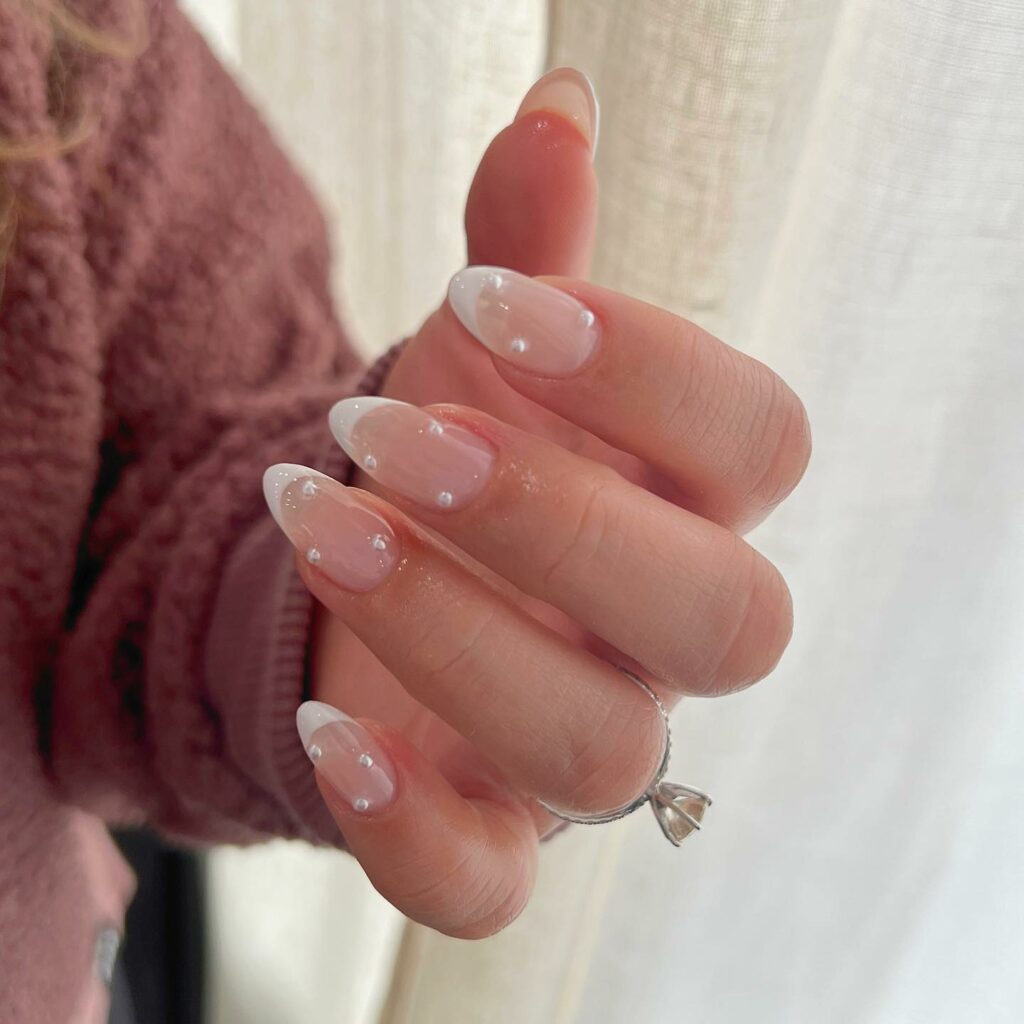 Sometimes, less is more. And nothing proves that point better than fabulous white almond nails. It's effortlessly stylish and versatile, pairing well with any outfit in your closet. This is my go-to when I need a break from over-the-top designs.
Effortless Glam: Clear Gloss with Metallic Confetti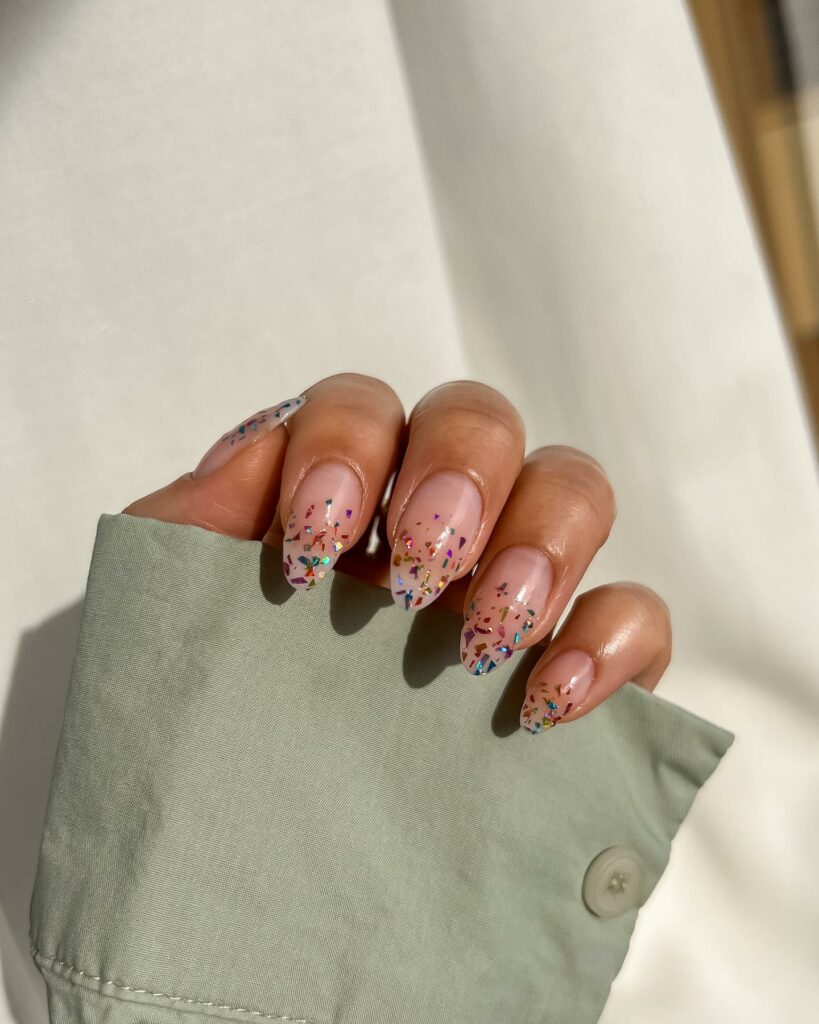 If you're sporting clear gloss nails but wish to add a sprinkle of glamour for your birthday, here's a quick tip I discovered: Layer with metallic confetti glitter for an instant transformation. It's an easy but glamorous hack to elevate your style.
A Pastel Dream: Mixing and Matching with Glittery Ombre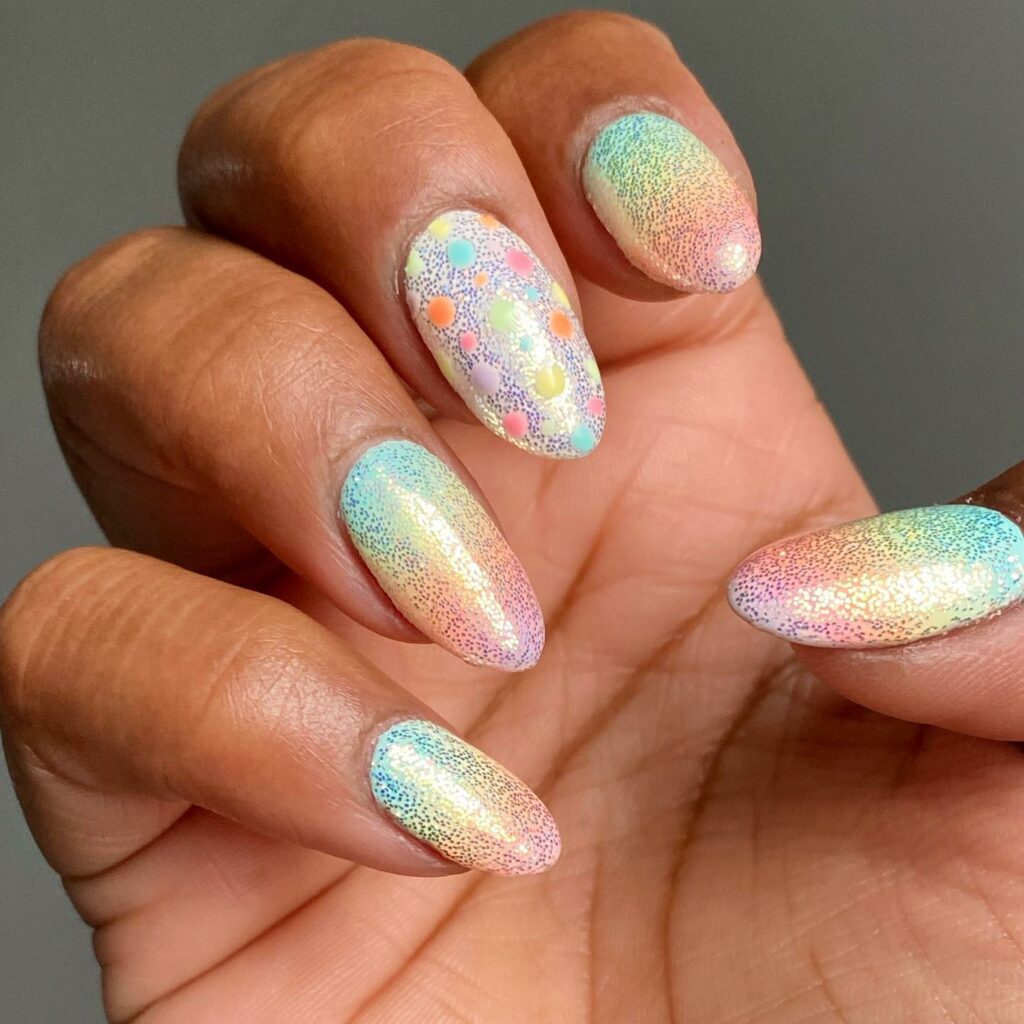 Indulge in a pastel fantasy with peach, light blue, pink, and lavender hues. I remember feeling like I stepped into a pastel dream when I tried this design. Add an extra dose of sweetness with pearls, painted hearts, and cupcake art to achieve the loveliest birthday nails that mirror a sugar-spun wonderland.
The Art of Celebratory Nails: Peach Square with a Twist
Remember the joy of splashing into a canvas with colors as a child? Well, these peach square nails bring that joyous freedom to your fingertips. I once had a similar design, and it felt like carrying a vibrant piece of art wherever I went. Replace the classic white French tip with abstract multicolored ones for that dynamic splash of personality and fun!
Whimsical Blue Palette: Creating Artistic Delights
"Dreaming in pastel and sparkling in coral. Say hello to the perfect blend of sophistication and playfulness that's ready to grace your fingertips. Book your session and let's sprinkle some magic together!
The Neon Splash: Celebrating 21 in Style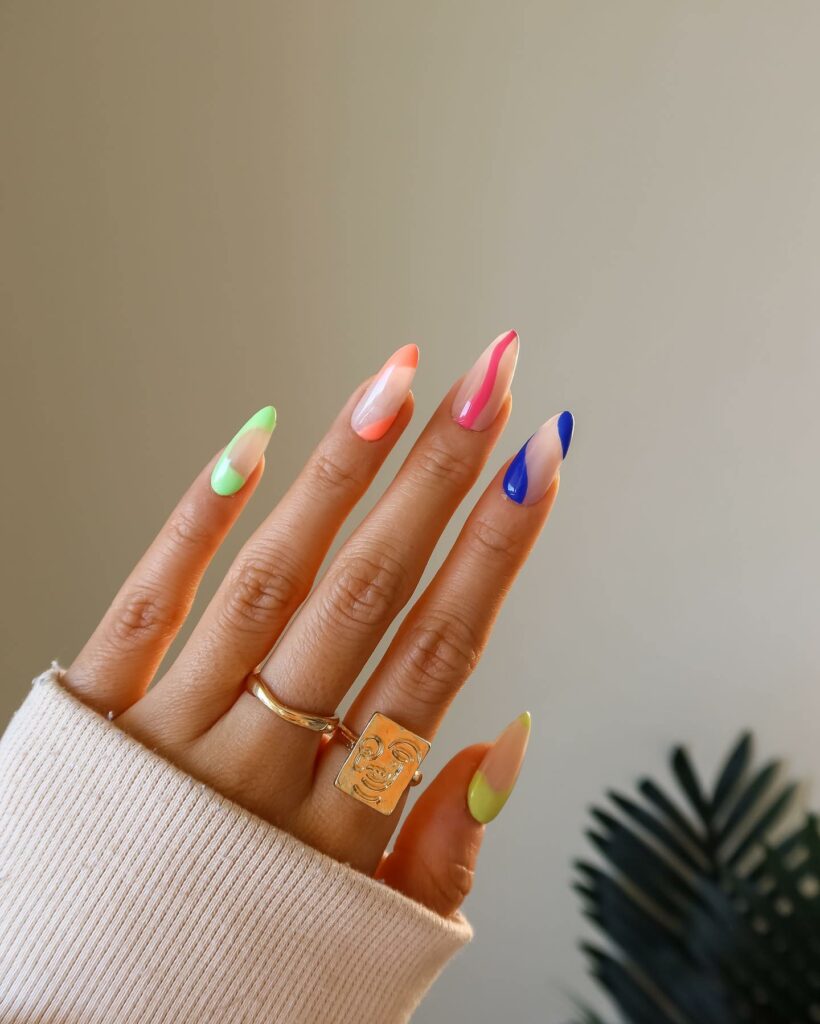 Turning 21 is a milestone that calls for a splash of bright and youthful colors! These neon nails in electrifying shades of green, pink, blue, and orange remind me of the vibrant fashion scene of the early 2000s. Add a touch of nostalgia with silver accents of butterfly wings and boldly announce your age with hand-painted '21' on your fingers, creating a look that is as vibrant and unique as you are!
Butterfly Bliss: Blush Pink with a Confetti Flair
Celebrate your growth with blush pink coffin nails reminiscent of a butterfly's metamorphosis. My tip? Accentuate with colorful confetti and blue butterfly designs on the ring fingernails to add a symbolic touch to your birthday celebrations.
Retro Harmony: Yin-Yang Nails with a Splash of Joy
Infuse retro vibes with bright pink, yellow, and white nails into your special day. It instantly reminds me of the cheerful 90s fashion trends. The joyful emoticons, neon strokes, and the harmonious yin-yang symbol bring happiness and peace to your birthday celebrations.
A Sweet Feast: Donut Delight Birthday Nails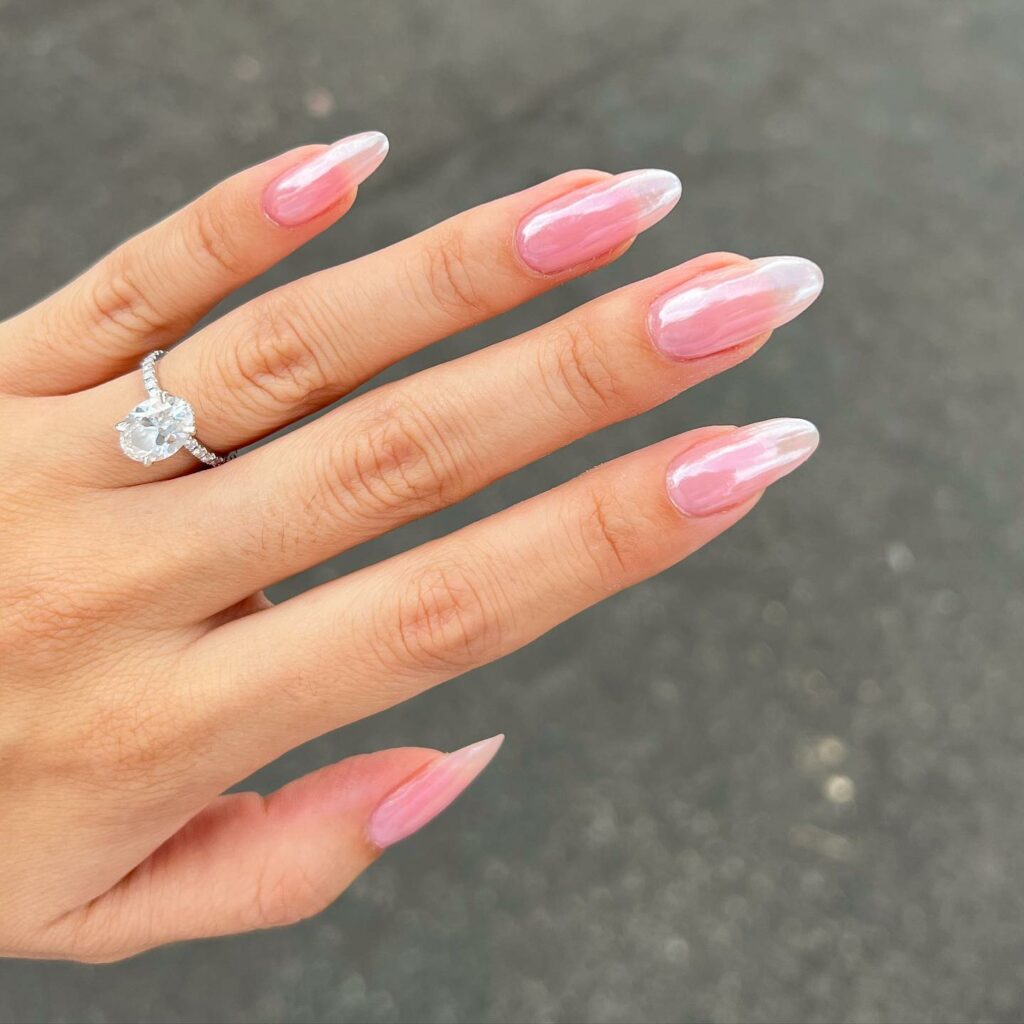 Celebrate turning 21 with a sweet twist—donut-themed nails that are as delightful as your favorite frosted treat! These playful designs sprinkle a dash of fun onto your special day, making every gesture a tribute to your love for those irresistible, sugary rings.
Age-Perfect Coral: The Icing On The Cake
Sometimes, simplicity speaks volumes. Choose a coral polish that complements your outfit, then add your age on the ring finger for that extra special touch.
The Life of The Party: Confetti Nails
Want to carry the party at your fingertips? Go for confetti nails. I usually opt for multi-colored specks over a nude or white base. It's playful, fun, and much less messy than natural confetti.
A Piece Of Cake: Birthday Cake Nails
If cupcakes aren't your jam, how about an entire birthday cake? Trust me, the intricate design, complete with candles, will make your nails the centerpiece of every birthday snap.
Double The Fun: Balloons And Confetti Combo
Need help to decide between balloons and confetti? Why not both? This combo gives you the best of both worlds and is ideal for those who want an all-out festive look.
Chic: Short Coffin Nails With Silver Stripes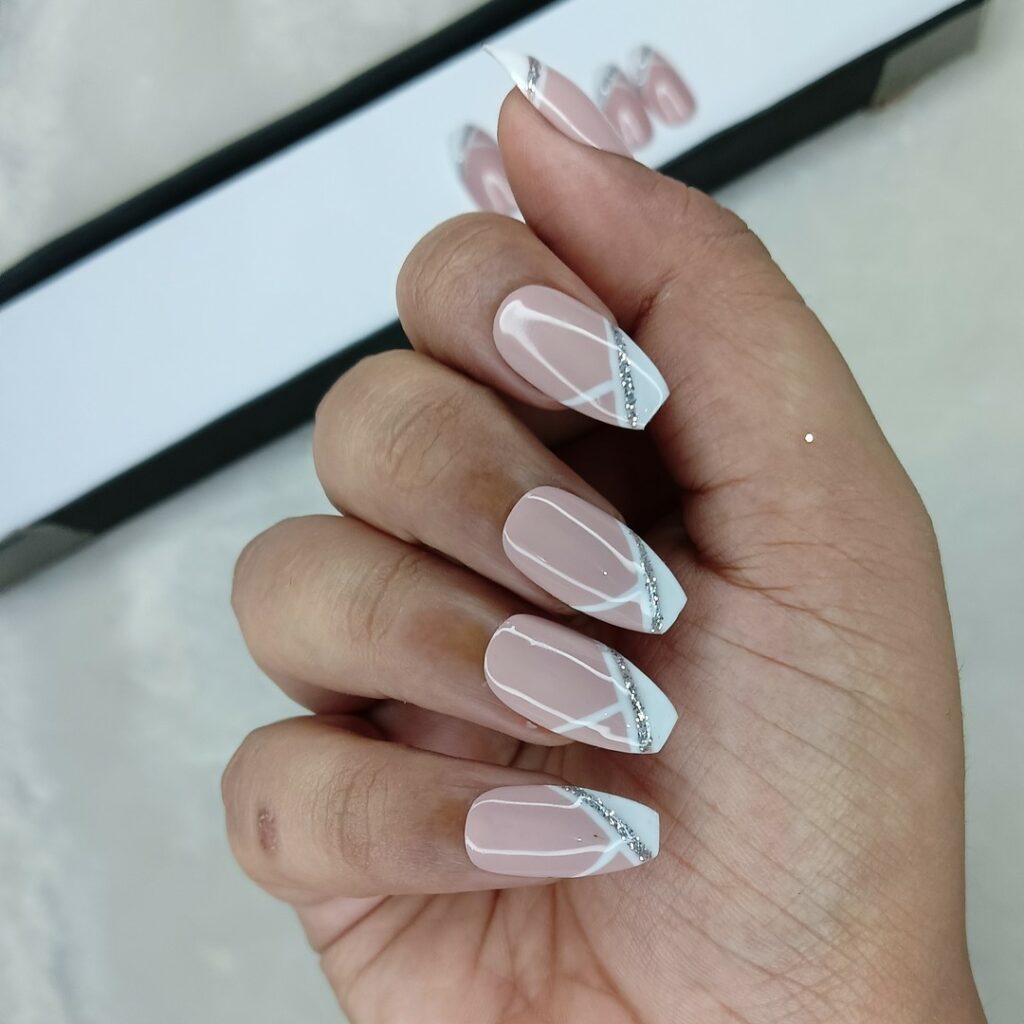 Short nails can make a statement, too, ya know! Add silver stripes to white and nude coffin nails. Use nail tape to make the process a breeze, and you'll be Instagram-ready in no time.
All That Jazz: White And Gold Almond Nails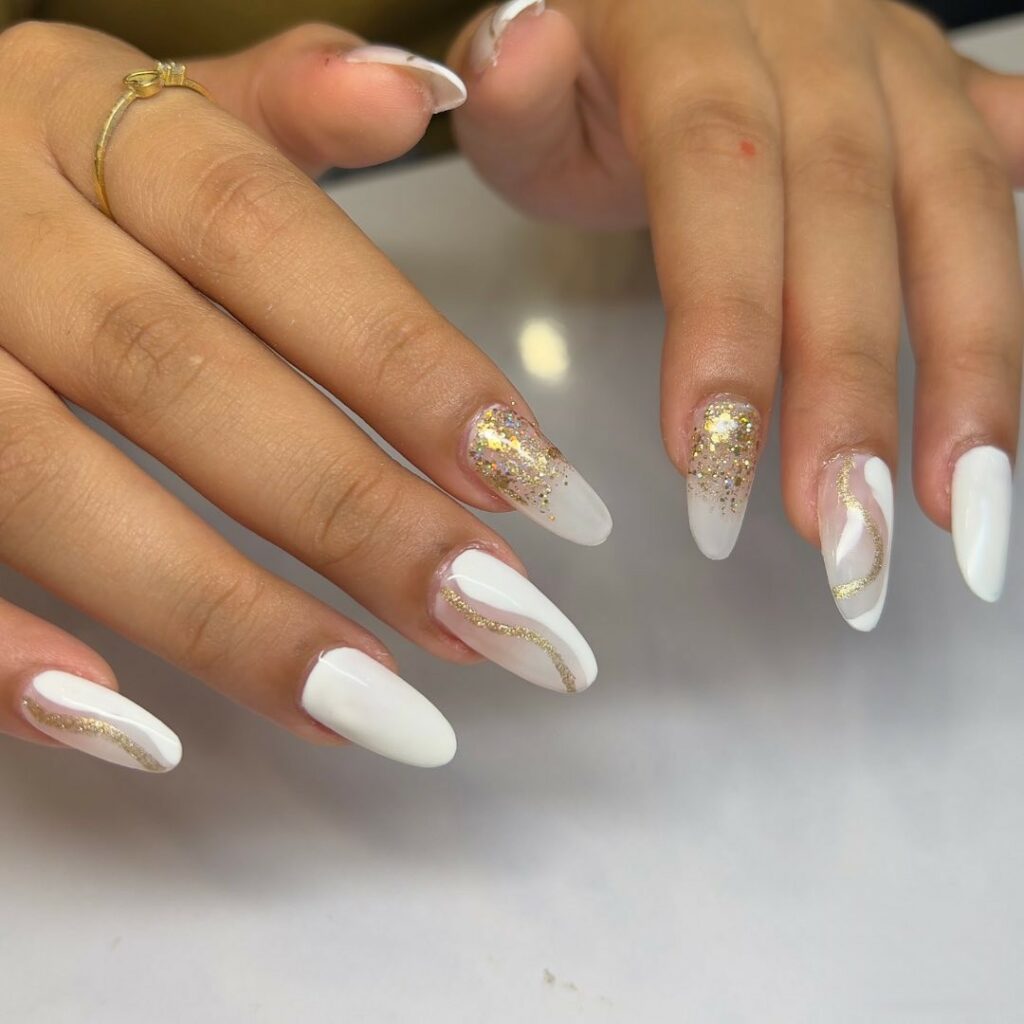 If you crave extra flair, pair your white almond nails with gold glitter. Trust me, this combo is a showstopper!
Pink Glitter Ombre: The Fun Twist
For those days when you want to inject some color, try adding a pink glitter ombre to your white nails. It's fun, it's flirty, and it's fabulous! I tried this last spring, and it was an instant mood lifter. Don't hesitate to play with other glitter colors; they all work great with a white base.
Add Some Sparkle: Birthday Gemstone Nails
If you love a little bling, gemstone accents are a no-brainer. Strategically placed gems can take your birthday nails to the next level. I usually like to put them on my ring finger for added emphasis.
Metallic Chic: Birthday Foil Nails
For a more elegant vibe, opt for foil nails. The metallic finish gives your nails a reflective, classy look. This style pairs well with a glam birthday outfit.
Soft and Sweet: Pastel Perfection
If you're going for a softer look, pastels are your best bet. Shades like lavender and baby blue are dreamy and pair well with almost any outfit.
Party On Your Nails: Birthday Hat Art
Imagine tiny little birthday hats on your nails—yes, it's as cute as it sounds. It's a fun way to add a whimsical touch to your birthday ensemble.
Light Up The Sky: Fireworks Nails
Got a New Year's or Fourth of July birthday? Firework-inspired nails can add some real pop to your look. Trust me, they're a blast!
Tied Together: Balloons With Strings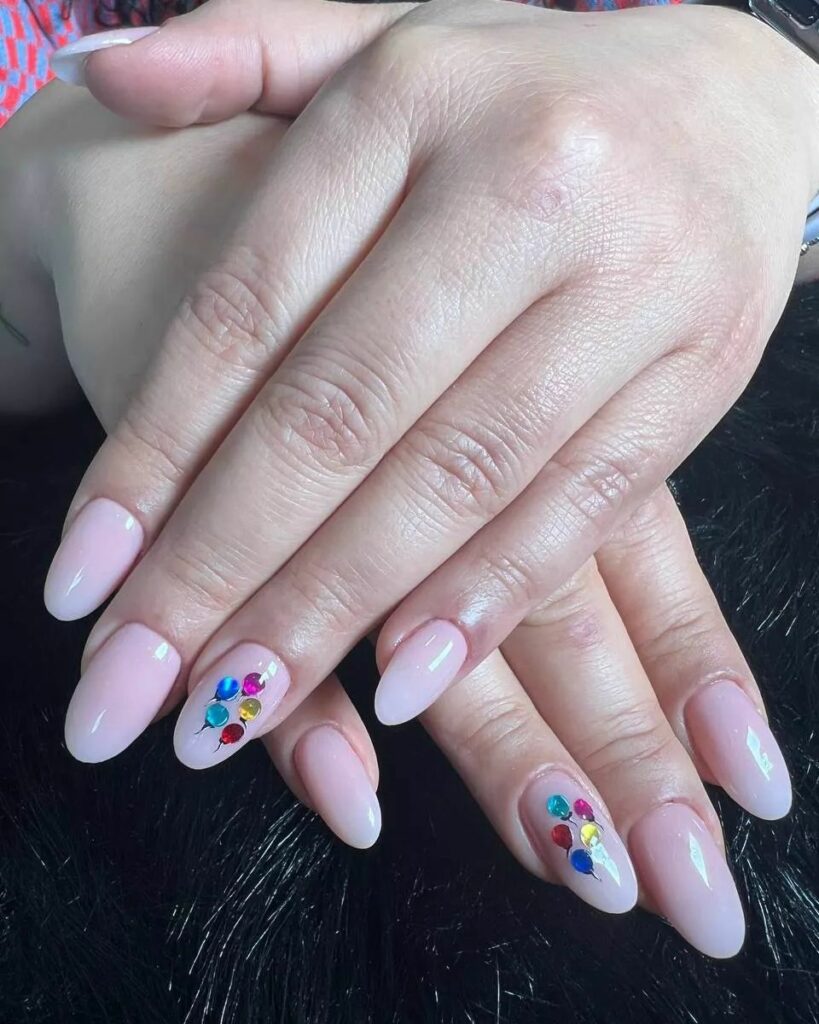 Paint balloons with trailing strings for a effect. It adds a touch of realism and is oh-so-adorable.
Glow, Baby, Glow: Neon Nails
Ready to steal the spotlight? Neon nails are your answer. They're bold, eye-catching, and oh-so-fun! It's like having a mini rave at your fingertips.
Funfetti Fingers: Rainbow Sprinkles Nails
Who doesn't love the sight of colorful sprinkles on a birthday cake? Why not take that festive feel and put it on your nails? It's playful, vibrant, and a sure-shot conversation starter.
Pop The Bubbly: Champagne Bubbles Nails
Planning on popping some champagne? Why not sport some bubbly designs on your nails, too? Shimmery patterns give that effervescent vibe that pairs well with a glass of bubbly.
Fruitilicious Fun: Fruit-Themed Nails
For a fresh twist, how about some fruit-themed art? Grapes, cherries, watermelons—pick your fave and go nuts. I tried this with pineapples last summer, and it was a hit!
For The Music Lovers: Music Notes Nails
If your soul sings to the tune of music, adding musical notes to your nails can be a charming way to express yourself. Perfect for the musically inclined among us!
Written In The Stars: Zodiac Signs Nails
For those who swear by their horoscopes, incorporating your Zodiac sign can make your nails a cosmic masterpiece. It's not just stylish; it's also a conversation starter!
Light Up The Night: Firecracker Nails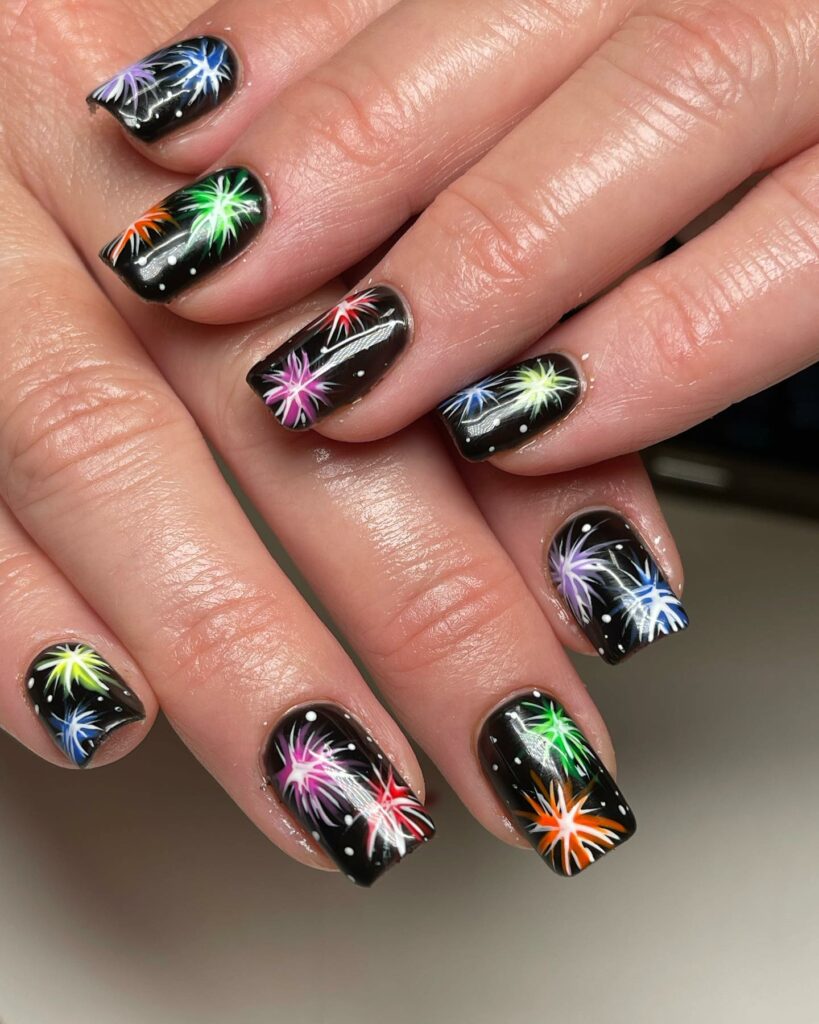 If your birthday is around a firework holiday, go for firecracker-inspired nails. It's like having your own private fireworks display at your fingertips!
Color Me Impressed: Pastel Balloons Nails
Ladies! Opt for pastel balloons that transition from one hue to the next for a dynamic and eye-catching look. Perfect if you can't decide on just one birthday color!
Party in Style: Ribbons Nails
Capture the spirit of your birthday bash with nails that mimic the look of colorful ribbons. It's like having a party right at your fingertips.
Geometric Chic: Modern Patterns Nails
Modern mavens, this one's for you. Experiment with geometric patterns like triangles or stripes for a chic and edgy birthday look. You can even throw in some metallics to really make it pop.
Once Upon A Time: Fairy Tale Magic Nails
Relive your childhood dreams with nails inspired by your favorite fairy tales or magical creatures. Think unicorns, Cinderella, or even a little sprinkle of pixie dust.
All the Joy: Acrylic Birthday Nails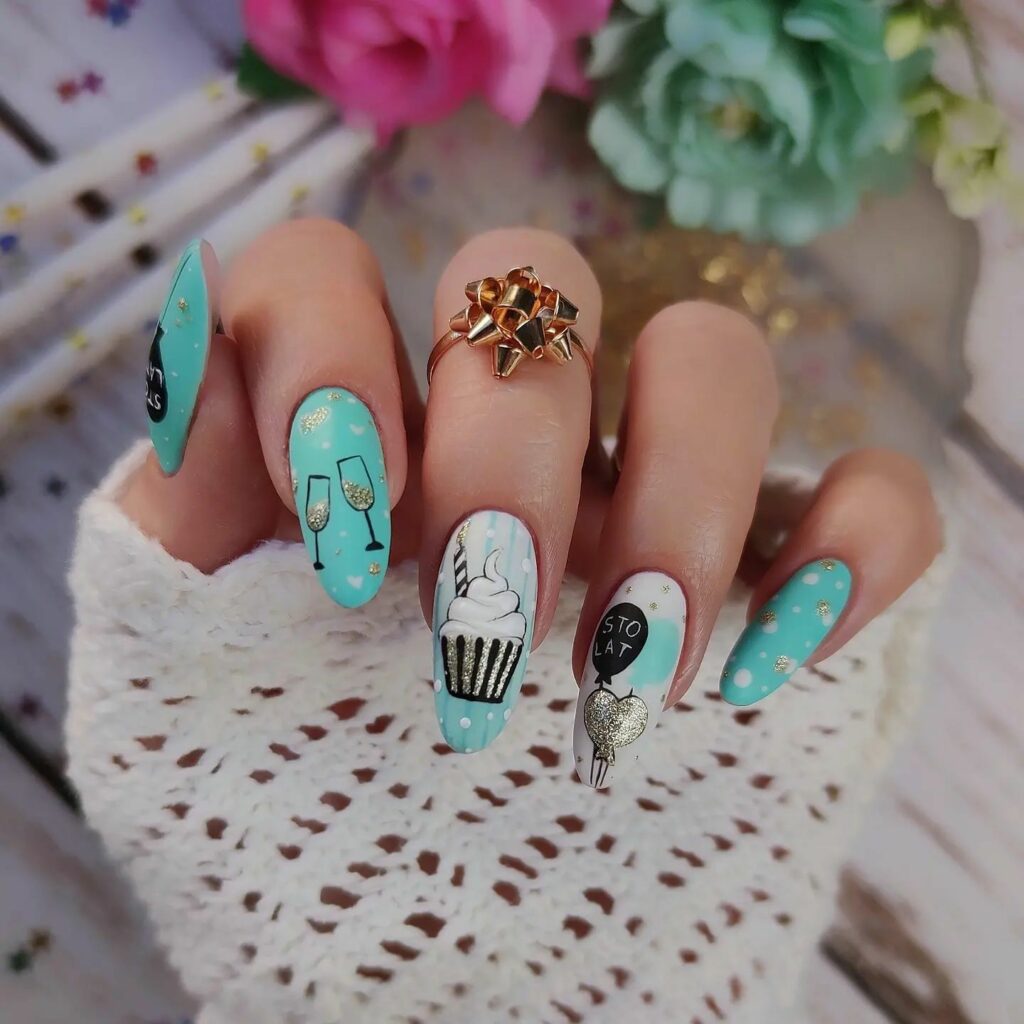 Are you planning on going big? An acrylic set painted with colorful balloons, candles, and sprinkles is like a birthday party right on your nails. Make it pop on a clean, white base color.
Luxe Vibes: Coffin Birthday Nails
Treat yourself to some coffin-shaped nails and jazz them up with birthday designs. I recommend a white-to-purple ombre adorned with rhinestones for that extra glam.
Cheers to 21: Special Age Nails
Turning 21 is big, so make sure your nails are, too. Go for vibrant colors, perhaps adding a Dior foils to one nail.
Short and Sweet: Cupcake Magic For Your Fingertips
If you're into shorter nails but want to pack a punch, go for eye-catching colors like bright pink and blue. Remember to add a mini cupcake design on your ring finger—it's the cherry on top! Last year, I even added my initial with some glitter and sequins, and it was a hit!
Gel Glam: Unleash Your Inner Artist
For those comfortable handling complex nail art, a DIY gel manicure could be the fun and festive route. If you need to be more artistically inclined (like me, once upon a time!), opt for stickers or book a session with a skilled nail tech.
Squoval Fiesta: Balloons And Glitter Galore
Love square nails? Deck them out with a bunch of colorful balloons. Go wild with colors; think bright white and black base and red, yellow, and blue balloons. The more glitter, the better!
Theme It Up: Cupcakes And Balloons
Why limit your birthday decorations to the venue? Add a cute cupcake or balloon design over a baby pink base for an instant mood boost.
All That Glitters: Go Big Or Go Home
Start with a pastel base and go wild with your favorite colors and designs. But remember, make sure to skimp on the glitter. It's a celebration, after all!
Celebratory Vibes with Fuchsia and Rainbow Sprinkles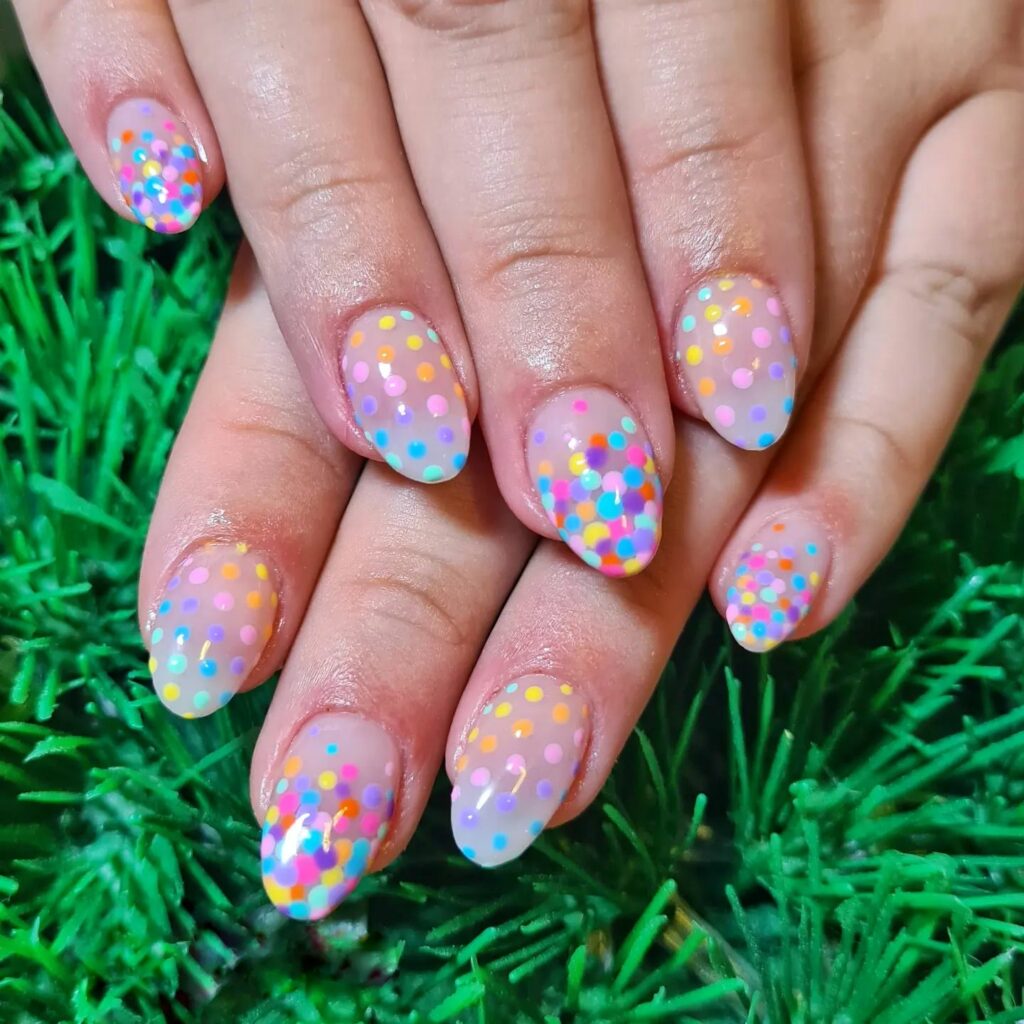 Reminiscing about my last birthday, I brought the festive spirit onto my nails, visually representing the joyous day. It reminded me of a delightful cake, waiting to be celebrated with. Dive in as we explore a design that dances between fuchsia pink and pristine white, adorned with sprinkles that infuse a kaleidoscope of joy onto your nails, setting a festive mood that lasts all day.
Glittering Canvas: Cake, Cupcake, and All Things Sparkly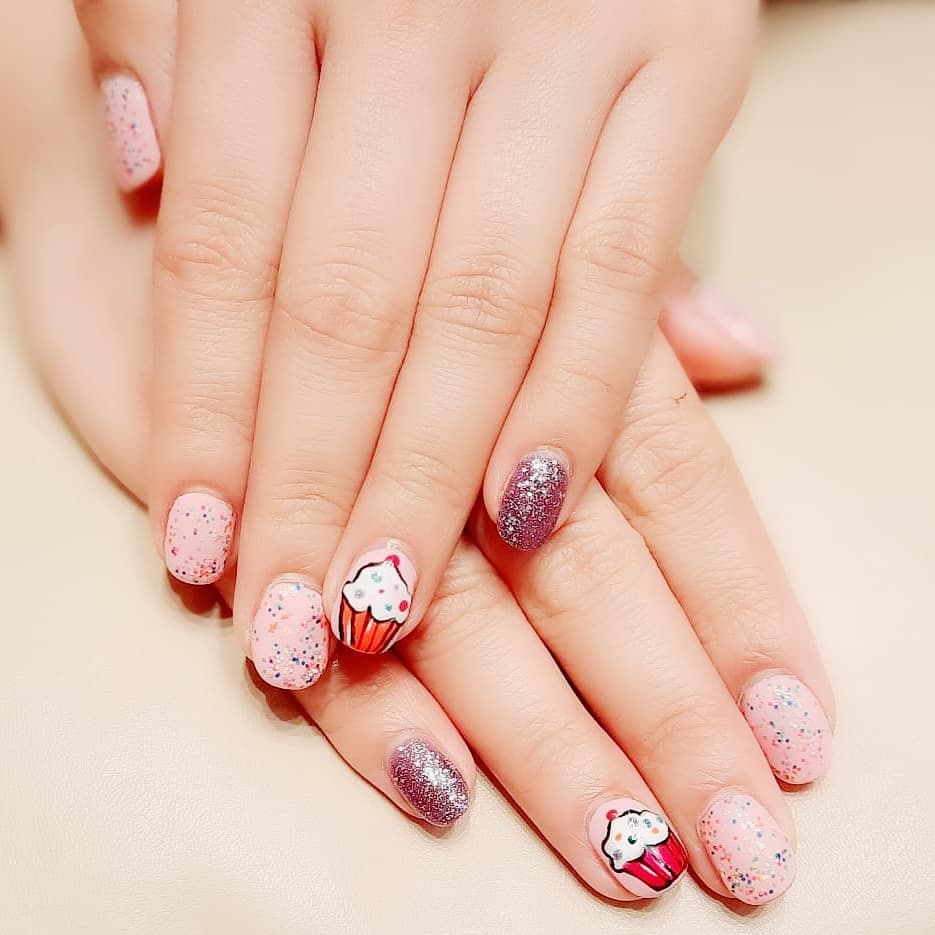 Allow me to take you on a journey to a time when I found solace and joy in the small details. With a glitter base adorned with delightful stickers, your nails transform into a canvas narrating a birthday story. The spotlight? A meticulously hand-drawn cake and cupcake, whispering a cheerful "Happy Birthday" with every hand wave.
The Confetti Fiesta: White and Colorful Splashes
What's a party without confetti, right? I remember giggling with my friends as we sprinkled joyous hues onto a white base, creating a confetti masterpiece on our nails. This vibrant top coat is bound to lift spirits, turning your nails into a vibrant canvas of celebration.
Celebrate with Pink, Peach, and Golden Glitter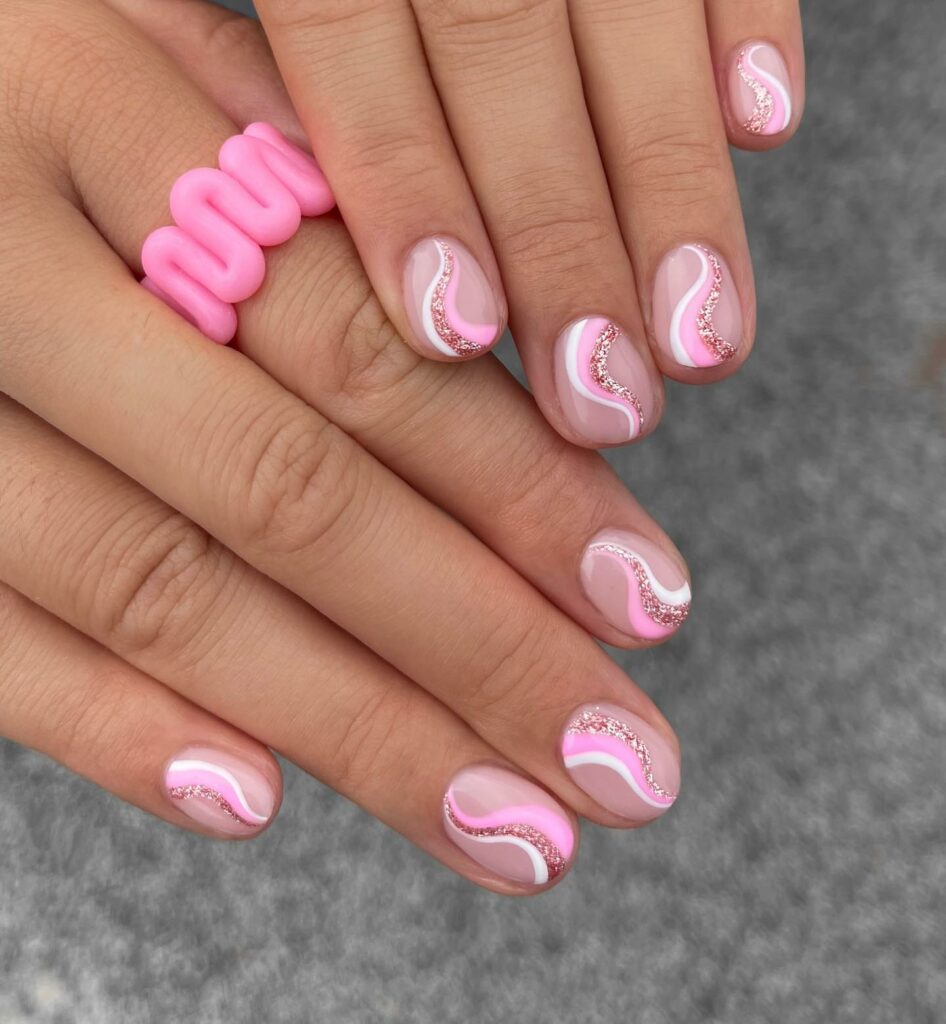 If you're yearning for sunshine and happiness on your nails, this design has got you covered. Picture a summer garden party transferred onto your nails with shades of pink, and peach sprinkled generously with gold glitter. Add a touch of whimsy with doodles of a radiant sun, strawberries, and melting ice cream to bring out the child in you, ready to celebrate with zest!
Holographic Fiesta: Shimmer, White Icing, and a Cherry On Top
Stepping into the limelight on my birthday felt like a dream, especially with my nails shimmering in holographic glory. Take your celebration to a new level by accentuating holographic glitter nails with 3D white icing tips, completing the look with a cherry. It's a style statement that promises glitz, glamour, and fun!
Party-Ready Nails: Pink-Fuchsia Ombre with a Flame Twist
Let's kick off the celebration vibes with nails ready to party! Picture this: A harmonious blend of pink and fuchsia gracing your nails in a mesmerizing ombre style, which I loved during my last birthday bash. Add a fiery touch with white flame designs and sprinkle some chunky glitter and rhinestones to bring the party to your fingertips!
A Festive Trio: Pink, Yellow, and Blue Nails with 3D Accents
Make your special day brighter with a captivating trio of pink, yellow, and blue nails. I remember spotting this vibrant blend at a friend's party, and it was an absolute showstopper. Get creative with striped art on the middle fingers and play around with 3D flowers and gems for a festive flourish that promises smiles and cheers all around!
Classic Elegance: Louis Vuitton Icons with a Sweet Twist
There's no better time to showcase your style essence than on your birthday. This luxurious nail art featuring Louis Vuitton logos and melting chocolate tips was my choice for a high-end brunch last year. Give it a sweet finish with pink cupcake accents that mirror your heart's joy, making it an absolute delight for anyone with a penchant for classic fashion elements.
A Sweet Affair: Pink Blush Nails with Delectable Accents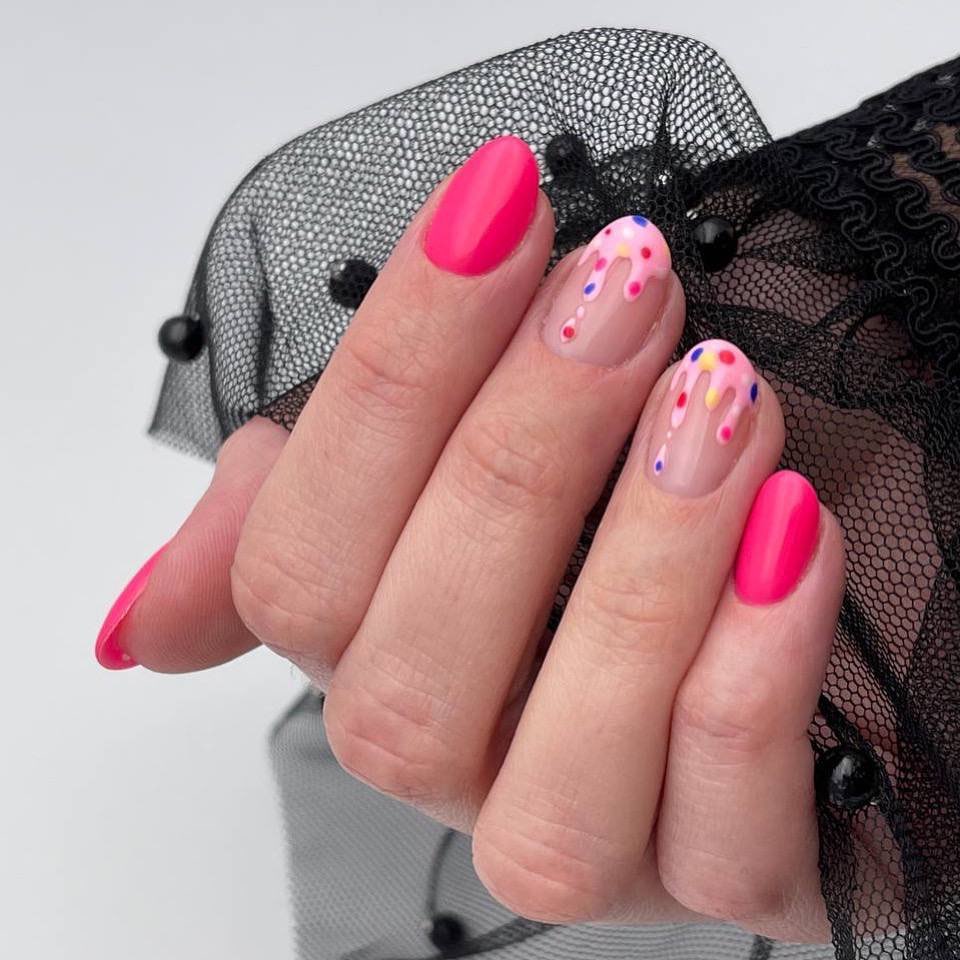 If you're like me and have a soft spot for pink, these nails are your dream come true. Accentuate pink blush nails with delightful 3D ice popsicles and strawberry tarts that look almost good enough to eat. Don't forget to add some tiny white crystals and pearly hearts for that extra touch of sweetness.
Electric Birthday Vibes: Neon Green and Pink Feast
Feel the electrifying energy of your special day with neon green and pink nails. It's like having a mini-party at your fingertips! Adding hand-painted ice cream art captures the essence of a joyful, candy-colored celebration.
Streamer Fiesta: Sheer Nails with a Glittery Twist
Who said sheer nails can't be festive? Tip them with delightful purple glitters and colorful streamers to add a pinch of pizzazz. Throw in some star confetti to elevate the party spirit even more!
White Nails with a Splash of Color
Remember, white is not just a plain color; it's a canvas awaiting your creativity! Just like when I tried a new canvas painting workshop, let's turn those white nails into magnificent art. In abstract designs, a splash of blue, pink, red, and yellow can effortlessly morph your plain nails into festive birthday nails, adding a burst of joy and color to your special day!
Conclusion
As we put the final touches on our 21st birthday nail escapade, remember this milestone deserves nails as memorable as the celebration itself. Opt for sparkles, a pop of color, or a sophisticated design that speaks to your newfound maturity. It's essential to use high-quality polishes or gels to ensure your nails stay flawless as you toast to adulthood. And if your vision is bold and intricate, don't shy away from enlisting a top-notch nail artist—after all, 21 only comes once, and it's all about feeling fabulous. Take your time with the application; each layer of lacquer sets the stage for a night of birthday magic. You're now ready to step into 21 with a bang, flaunting a set of nails that are as vibrant and full of life as you are. Cheers to you and the chicest, most stunning nails at the party!
Feature Image Photo By @merlin_nails on Instagram
Last reviewed and updated on November 17, 2023