Welcome to the world of accent nails, where a little touch can make a big statement! If you're new to this trend or looking for fresh ideas, you've landed in the right spot. I'll dive into everything you need about accent nails in this post.
Accent nails are all about adding a pop of color, a dash of glitter, or a unique design to one or two nails on each hand, setting them apart. This simple yet effective technique adds an element of surprise and personality to your manicure. Think of it as the cherry on top of your nail art! We'll explore various styles, from the subtle to the bold, and I'll share some insider tips on choosing the perfect accent for your nails. Whether you're a minimalist who loves a single glittery nail or someone who embraces bold patterns and colors, there's something here for everyone. I'll also throw in some of my favorites and recommendations for getting that salon-quality look right at home. So, grab your favorite nail polish, and let's add some flair to those fingers!
Black French Accent Nails With Gold Flakes
Transform your nails into a canvas of midnight elegance with black French tips elevated with shimmering gold flakes. This style combines the edginess of black with the luxury of gold for a sophisticated yet bold statement.
Green Accent Nails With Christmas Tree Design
Celebrate the festive spirit with a twist by adorning one of your nails with a charming Christmas tree design on a green backdrop. It's a playful yet stylish way to bring the joy of the holiday season right to your fingertips.
French Light Green Accent Nails With Flowers Design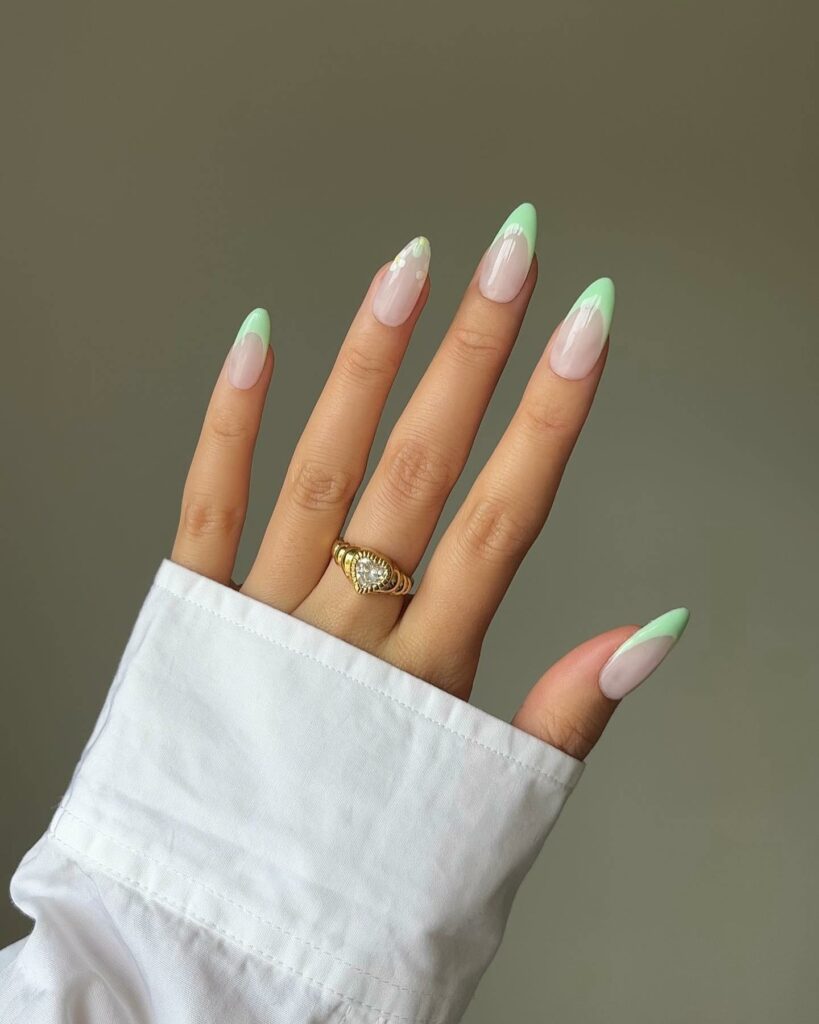 Light green French tips with delicate flower designs offer fresh spring air to your nail art. This combination of pastel green and floral patterns creates a serene, garden-inspired look.
Red French Accent Nails With Heart
Add a romantic flair to your manicure with red French tips adorned with a small, elegant heart. This design is perfect for expressing love and passion, making it an ideal date or Valentine's Day choice.
White Accent Nails With Rhinestones And Heart
Elevate the classic white nail with sparkling rhinestones and a cute heart detail for a touch of glamour and charm. It's a versatile look that's both chic and playful, suitable for any occasion.
White French Accent Nails With Rhinestones
When paired with carefully placed rhinestones, white French nails become the epitome of sophistication. This style speaks of timeless elegance, perfect for those who appreciate understated luxury.
White French Accent Nails With Cherry
Give your traditional French manicure a juicy twist by adding a cherry design on white tips. It's a sweet, fun look that will draw attention and compliments.
Brown Accent Nails With Flame Tip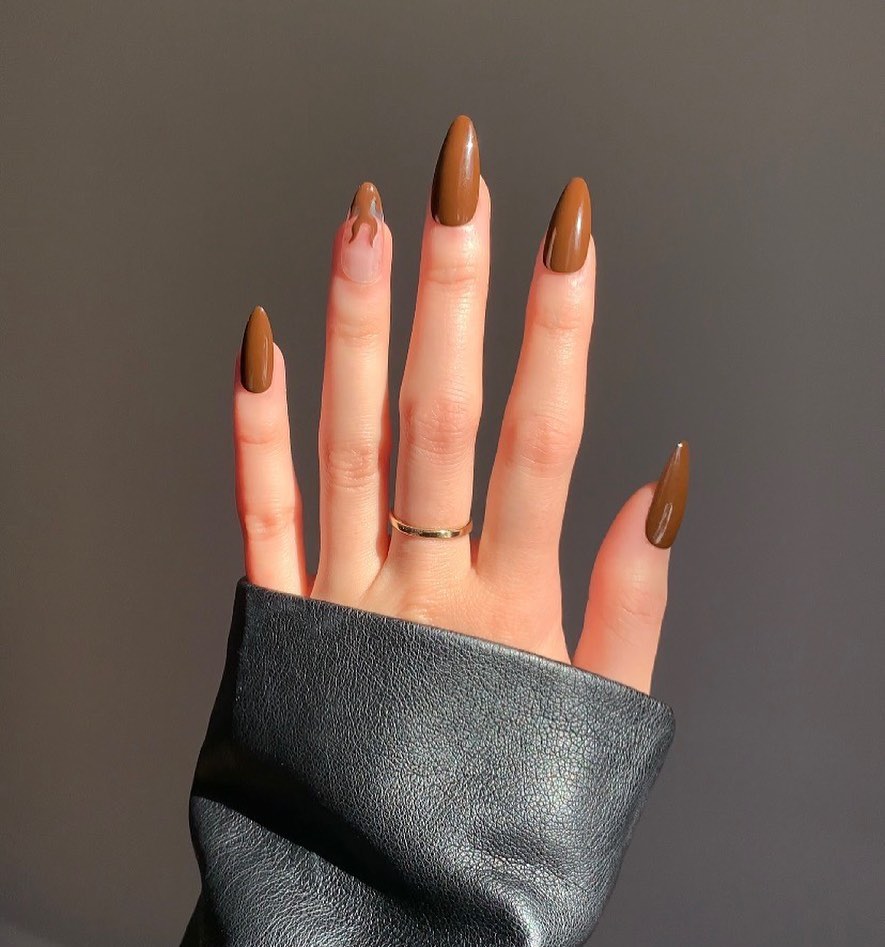 Set your style on fire with brown nails featuring a dynamic flame tip design. This bold look is perfect for those who love to make a statement with their nail art.
Purple French Accent Nails With Colorful Pearls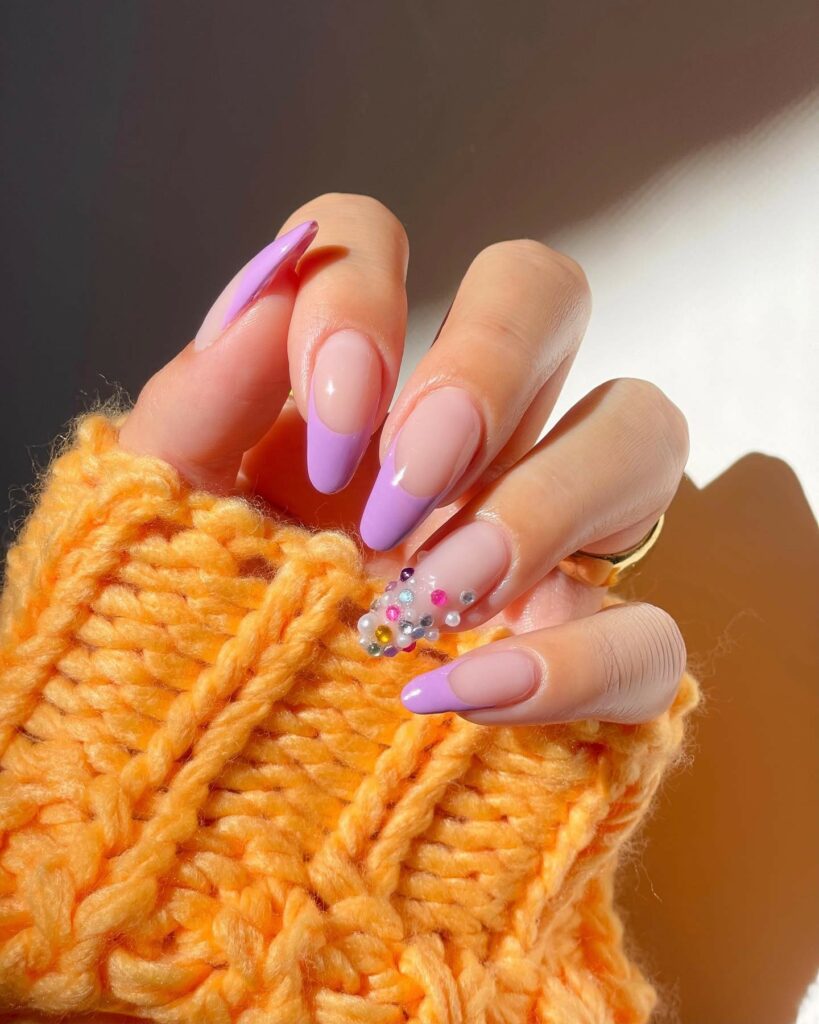 Combine the royal vibe of purple French tips with the whimsical charm of colorful pearls for a playful yet elegant look. It's a unique blend that's both eye-catching and stylish.
Green Accent Nails With Smiley Design
Brighten your day and your nails with a cheerful smiley face on a vibrant green background. This fun and youthful design is a great way to add a pop of positivity to your look.
White French Accent Nails Tip On A Classic Pink French
Revamp the classic pink French manicure by adding a white French tip accent. This subtle twist adds a modern edge to a timeless look, perfect for everyday elegance and special occasions.
White Almond With Heart Bedazzled Accent Nails Design
Elevate your manicure with almond-shaped white nails featuring a dazzling heart accent for a touch of romance. This design combines elegance with a hint of sparkle, perfect for those who love sophisticated yet playful nails.
White French Tip With Swirl Accent Nails On A Green French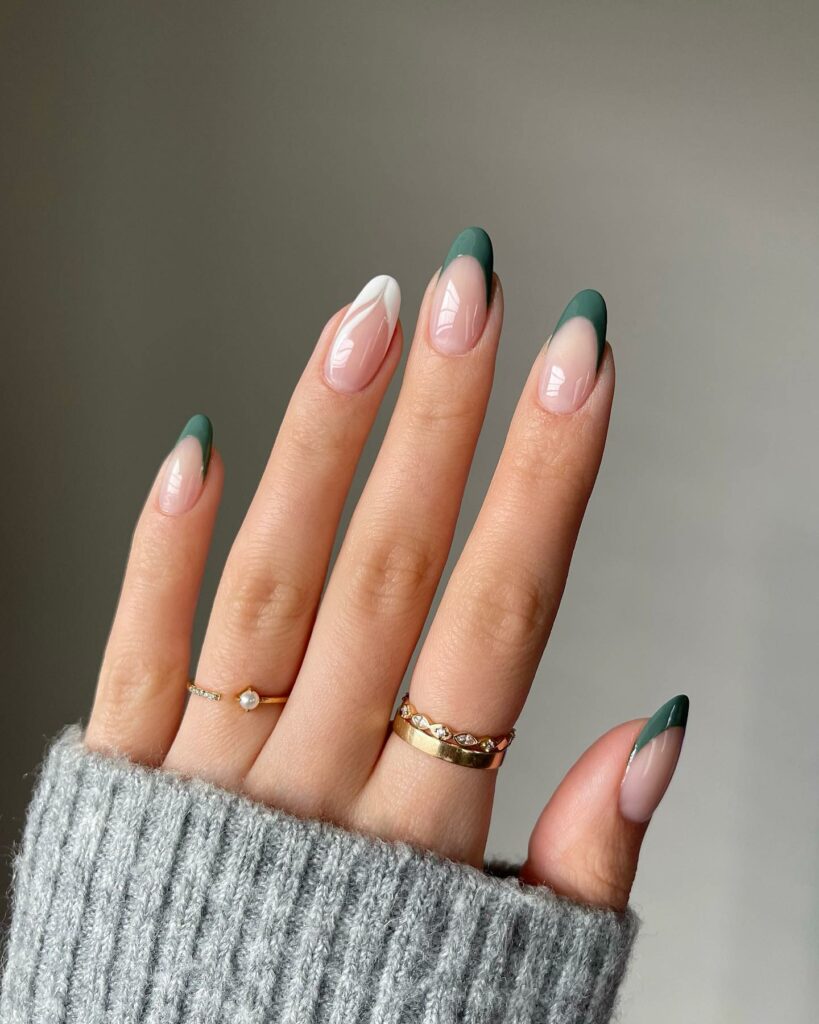 Refresh the classic French manicure by adding a twist of white swirls on green French tips. This artistic and modern French tip take is eye-catching and chic.
White French With Gold Glitter Tip Accent Nails Design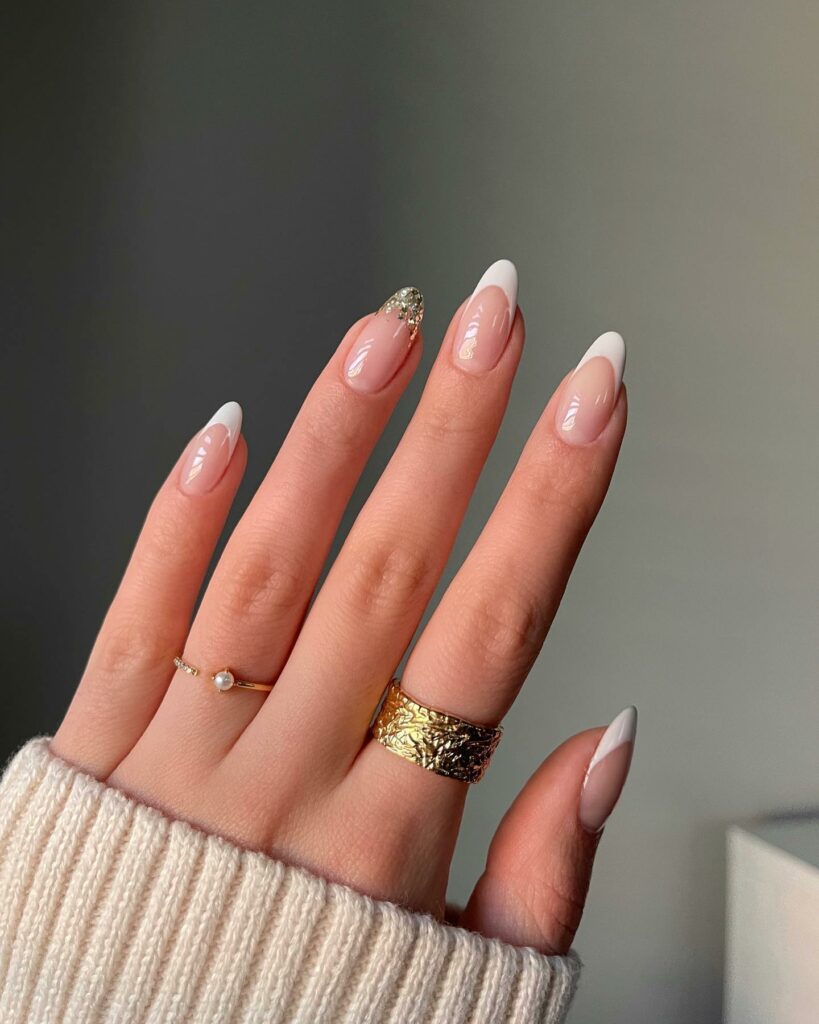 Enhance the timeless white French tip with a sprinkle of gold glitter, adding a luxurious and festive feel. This design is perfect for special occasions or when you want to add a bit of glam to your everyday look.
Green Almond With White Ang Glitters Accent Nails Design
Opt for a nature-inspired look with almond-shaped green nails accented with white and glitter for a touch of sparkle. This design is ideal for those who love a pop of color with a hint of whimsy.
Tortoise French Tip With White French Tip Accent Nails Design
Combine the unique texture of the tortoiseshell with a classic white French tip for a stylish and contemporary look. This design is perfect for fashion-forward individuals seeking a unique twist on traditional styles.
Green French With Gold Flakes Accent Nails Design
Go for a luxurious look with green French tips adorned with gold flakes, creating a sophisticated yet bold statement. This combination is perfect for those who appreciate luxury in their nail art.
White Heart Accent Design On White French Nails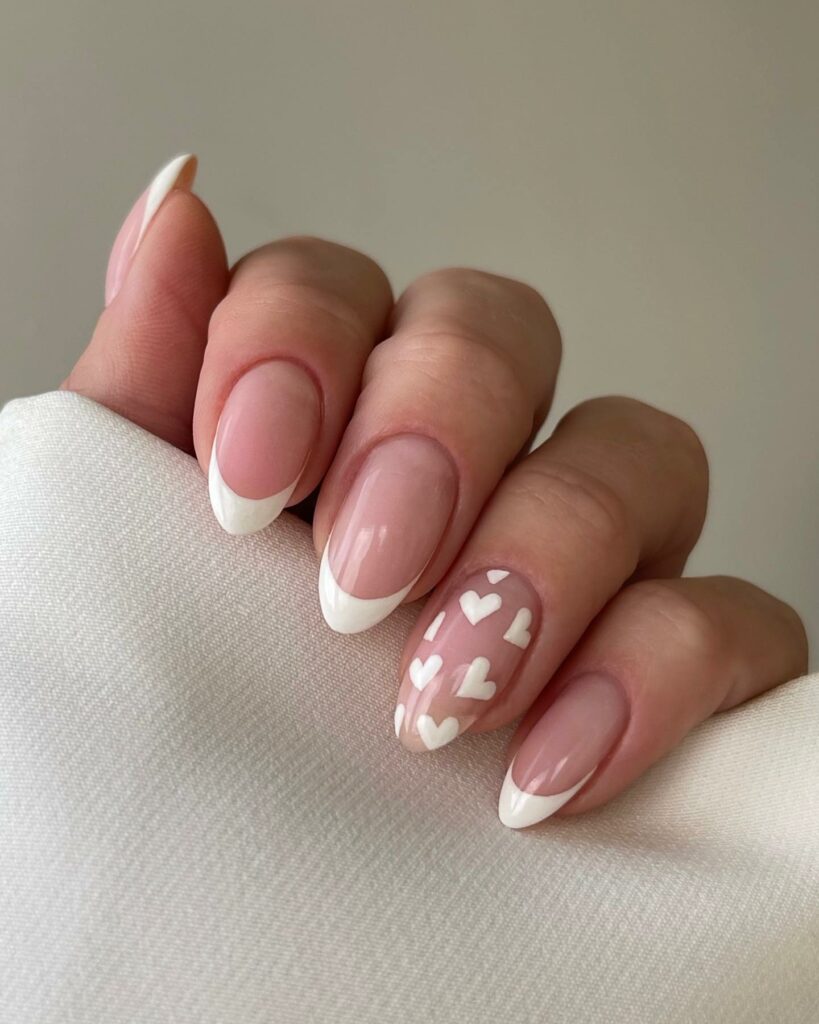 Add a subtle yet sweet touch to your white French nails with a delicate white heart accent. This design is perfect for a minimalist who loves a hint of romance in their style.
Yellow Accent Nails With Daisy Flowers
Brighten up your manicure with sunny yellow nails featuring charming daisy flower accents. This cheerful and floral design is ideal for spring and summer or for a mood boost.
Matte Black Accent Nails With Flame And Rhinestones Design
Make a bold statement with matte black nails enhanced with dramatic flame patterns and sparkling rhinestones. This edgy and glamorous design is perfect for those who love to stand out.
Purple Accent Nails With Flower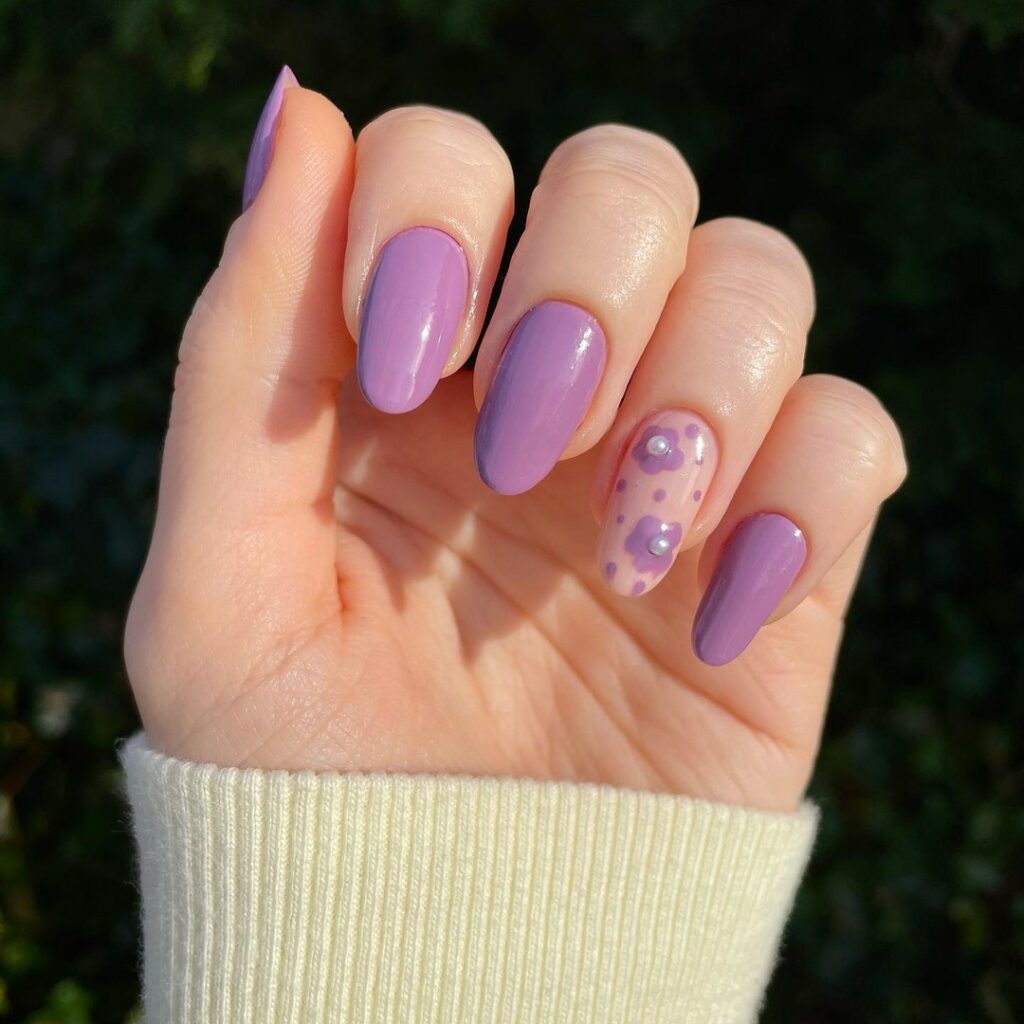 Embrace floral elegance with purple accent nails adorned with delicate flower designs. This look is both feminine and sophisticated, suitable for any occasion.
Accent Heart Almond White Nails
Showcase your love for chic style with almond-shaped white nails featuring a heart accent. This design is effortlessly elegant, making it a perfect choice for day-to-day wear and special events.
White Square Accent Nails With Butterfly Design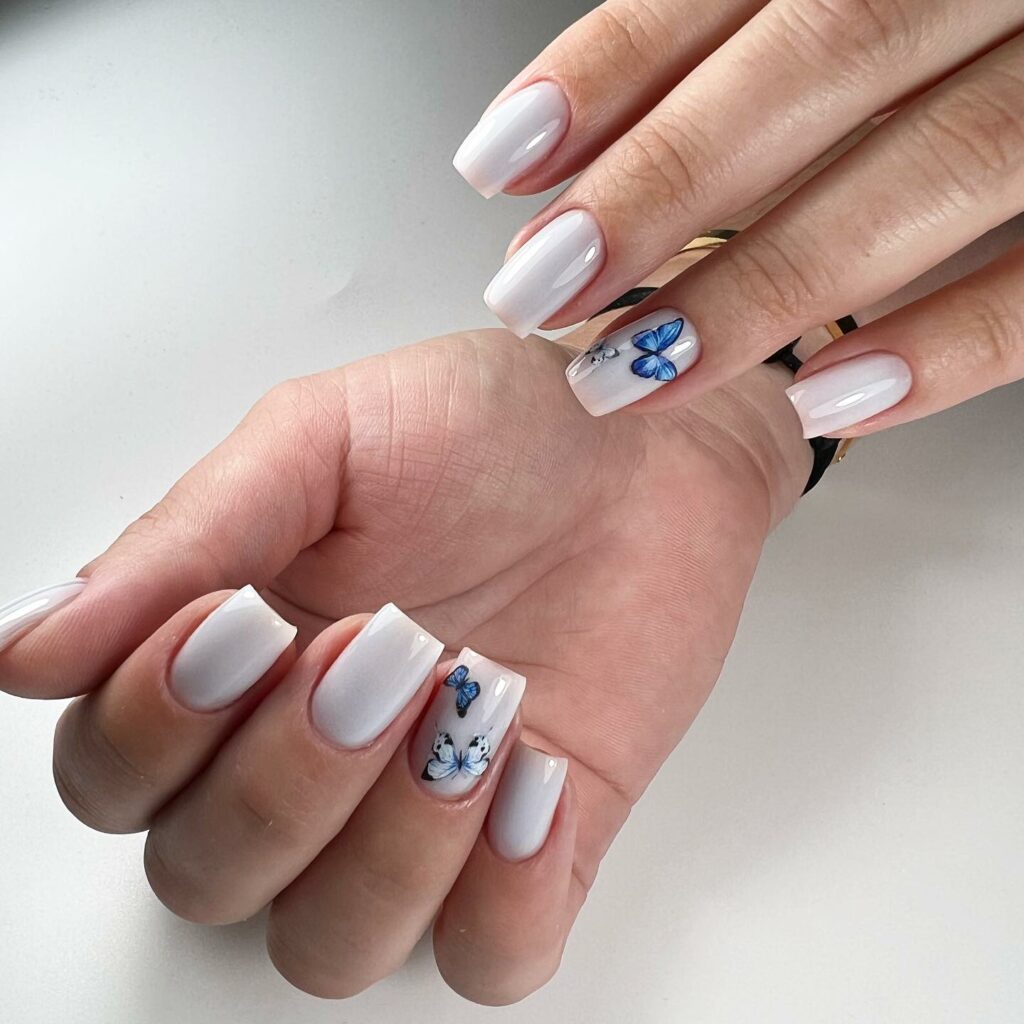 Transform your nails into a canvas of beauty with square white nails embellished with intricate butterfly designs. This whimsical and graceful look is ideal for those who appreciate nature-inspired artistry.
Pink Coffin Floral Accent Nails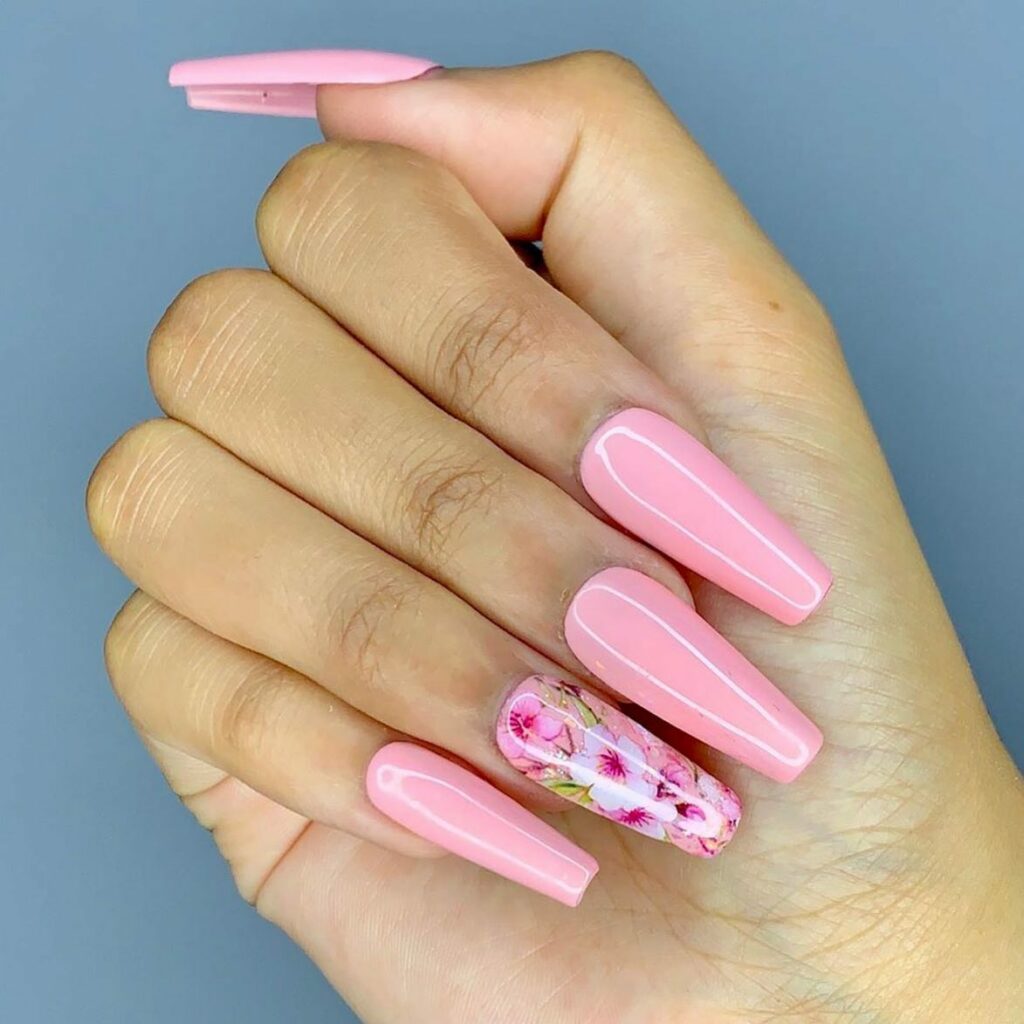 Step into a floral fantasy world with pink coffin nails accented with delicate flower designs. This romantic and feminine style is perfect for those who adore a soft yet impactful nail look.
Green Accent Nails With Cute Corn Design
Embrace the charm of the countryside with a cute corn design on a green accent nail. It's a quirky and unique choice for those who love to add a touch of whimsy to their style.
12 Other Accent Nail Designs To Inspire You
Glitter Ombre Accent Nail: A gradual blend of glitter that fades up the nail, creating a sparkling ombre effect. It's a glamorous choice that adds a bit of drama to your look.
Geometric Patterns: Using shapes like triangles, lines, or abstract forms on one or two nails for a modern, artsy vibe.
Animal Print Accents: Leopard spots or zebra stripes on an accent nail can give your manicure a wild and trendy look.
Negative Space Design: Combining colored polish with your natural nail creatively, such as half-moons or striped patterns, for a chic, minimalist style.
Marble Effect: A swirling marble design, often in whites and greys or with pops of color, creates a sophisticated and artistic accent nail.
Lace or Floral Patterns: Delicate lace designs or intricate floral patterns for a romantic and feminine touch.
Neon Pop: A single neon nail amidst more subdued tones can make for a striking and playful contrast.
Studded or Jeweled Accents: Add small gems, studs, or pearls to an accent nail for luxury and texture.
Holographic or Chrome Accents: A nail with a holographic or chrome finish can add a futuristic and edgy look.
Seasonal Themes: Tailoring your accent nail to the season, like fall leaves, snowflakes in winter, or sunbursts for summer.
Textured Polish: Using a polish with a unique texture (like sand or matte finish) on an accent nail for a subtle yet exciting variation.
Personalized Monogram or Initials: Incorporating your initials or a monogram for a personalized touch.
The key to a great accent nail is choosing something that reflects your style and complements the rest of your manicure. Feel free to experiment with different colors, textures, and designs to find what works best for you!
.
My Insider Tips For Getting A Salon-Quality Look At Home
Prep Your Nails Properly: Good nail care is the foundation of a great manicure. Start by cleaning, trimming, and filing your nails to your desired shape. Push back your cuticles gently, but don't cut them, as they protect your nails from bacteria.
Use a Good Base Coat: Apply a base coat to protect your natural nails from staining and to help the polish adhere better and last longer. It also prevents chipping.
Quality Polish Matters: Use good nail polish for the best finish and durability. Cheaper polishes can sometimes be streaky or chip easily.
Thin, Even Layers: Apply your nail polish in thin, even layers. Two thin coats are better than one thick one as they dry faster and are less likely to smudge.
Cap the Tip: Gently swipe the polish brush across the tip of your nail to 'cap' it. This helps prevent chipping at the nail edges.
Avoid Smudges with Patience: Allow each coat to dry for at least a couple of minutes before applying the next. Rushing can lead to smudges and dents.
Use a Top Coat: Finish with a clear top coat to seal in your color, add shine, and further prevent chipping. Some top coats also speed up the drying process.
Correct Mistakes Carefully: If you make a mistake, dip a small brush (like an old eyeliner brush) in nail polish remover to neatly remove it.
Moisturize: Keep your hands and cuticles moisturized. This not only keeps your hands looking good but also helps maintain the health of your nails.
Steady Your Hand: When painting, rest on a flat surface. This helps keep your hand steady for a more precise application.
Lighting is Key: Good lighting is essential to see what you're doing and to ensure even coverage.
Regular Maintenance: Touch up your nails if you notice any chips or wear. This can extend the life of your manicure.
Remember, practice makes perfect. Keep going even if your first few attempts aren't flawless. With time and patience, you can create salon-quality nails from the comfort of your home!
.
Conclusion
And there you have it, a whirlwind tour of some stunning nail designs that can add that extra oomph to your look! Remember, the best part about accent nails is the freedom to express your style. Whether it's a subtle glitter tip, a bold flame design, or a delicate floral pattern, there's no limit to your creativity. My top tip? Feel free to experiment and mix things up! Try that heart-bedazzled design for your next date night or the cheerful daisy accents for brunch.
Most importantly, have fun with it. After all, your nails are your canvas, so paint them in a way that makes you smile. Keep playing with colors and designs; you might set the next big trend in nail art!
Feature Image Photo By nailsbyalsn on Instagram
Last reviewed and updated on November 20, 2023