From the avant-garde abstraction to the subtle charm of minimalist motifs, this post is an odyssey through the best nail aesthetics the season offers. If you're stuck in a rut, going for the same French tip or single shade you've been loyal to forever, this is your sign to step out of your comfort zone and into the world of endless artistic possibilities. By the end of this post, you'll be informed and inspired, ready to turn your nails into a canvas that screams originality. So, get your brushes and polishes ready because we're diving deep into a realm of hues, textures, and designs that are about to turn your fingertips into a masterpiece.
Marbled Majesty
A swirling combination of colors that replicates the elegance of marble. This design is perfect for those who appreciate the nuances of intricate patterns without the fuss of detailed painting.
Cosmic Gaze
Think galaxies and stars packed onto your fingertips. It's an otherworldly look that perfectly captures the mystery and grandeur of the cosmos.
Neo-Geo
Bold geometric shapes against a solid background bring a contemporary, almost architectural, feel to your nails. It is the perfect blend of sophistication and playfulness for the modern individual.
Botanical Bliss
Floral patterns meet delicate pastel shades. This aesthetic evokes a sense of natural beauty and works wonderfully for outdoor events or a regular day feeling fabulous.
Monochrome Moments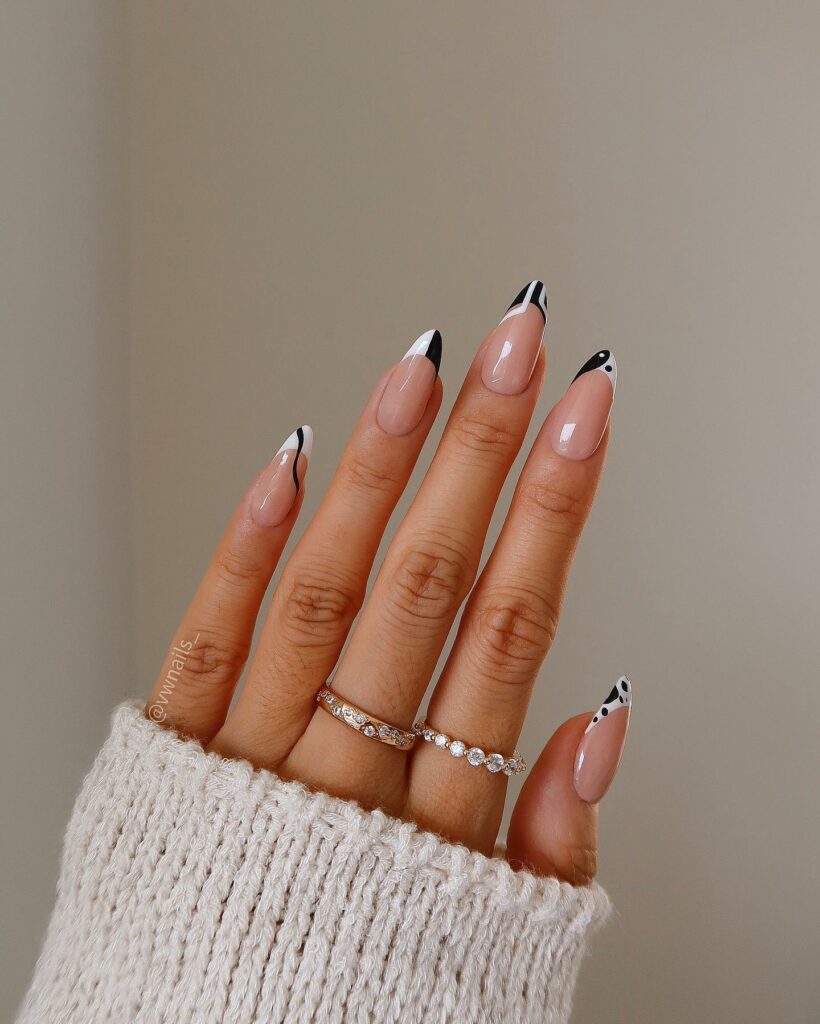 Black and white never goes out of style. Simplistic yet powerful, this design adds a touch of timeless class to any outfit.
Pop Art Party
Borrowing elements from iconic pop art, these nails are nothing short of a portable art gallery. It's fun, colorful, and eye-catching.
Ombre Ocean
Shades of blue seamlessly transition into each other like waves in the ocean. The ombre effect adds a dynamic flair while staying refreshingly cool.
Serpentine Chic
Incorporate snake-like designs with shimmering scales for a sultry, hypnotic effect. It's edgy yet refined and bound to make heads turn.
Golden Sands
Imagine a sparkling sandy beach but on your nails. Metallic golds and warm browns recreate the allure of a sun-kissed shoreline, making every day feel like a vacation.
Holographic Dream
Holographic polishes create an almost ethereal quality, with colors that shift as you move. It's the future of nail art, offering an ever-changing palette that always remains the same.
Lunar Elegance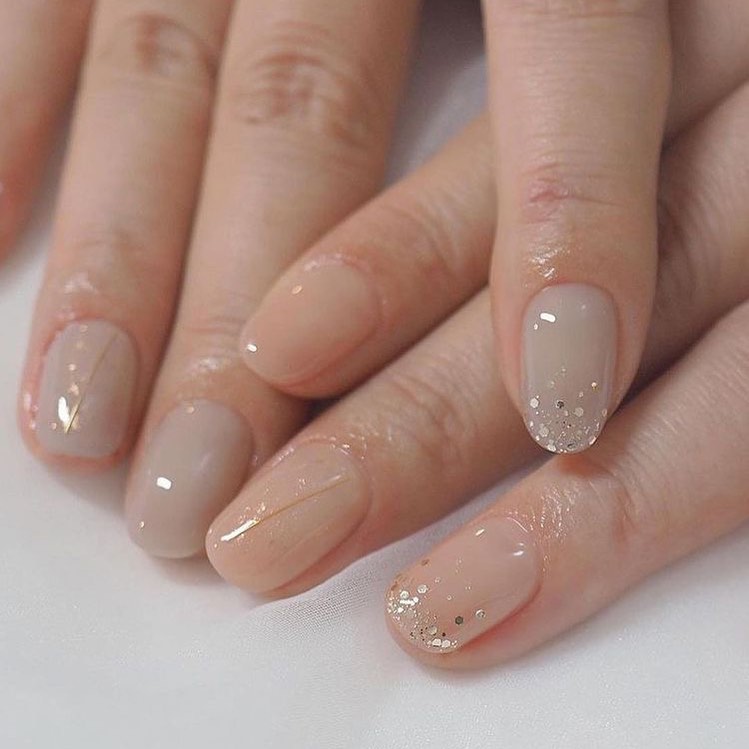 Think phases of the moon adorning your nails. This celestial-inspired design captures the beauty of lunar cycles, offering a tranquil yet captivating look.
Safari Expedition
Animal prints like zebra and leopard add a wild flair to your nails. It's adventurous, bold, and the next best thing to booking a ticket to an exotic locale.
Vintage Vibe
Soft pastels and lace-like patterns bring a sense of old-world charm. This design is ideal for those who appreciate the beauty of eras gone by.
Glittered Gradient
A smooth gradient base adorned with fine glitter. This look offers a shimmering transition of color that is both classy and captivating.
Watercolor Wonders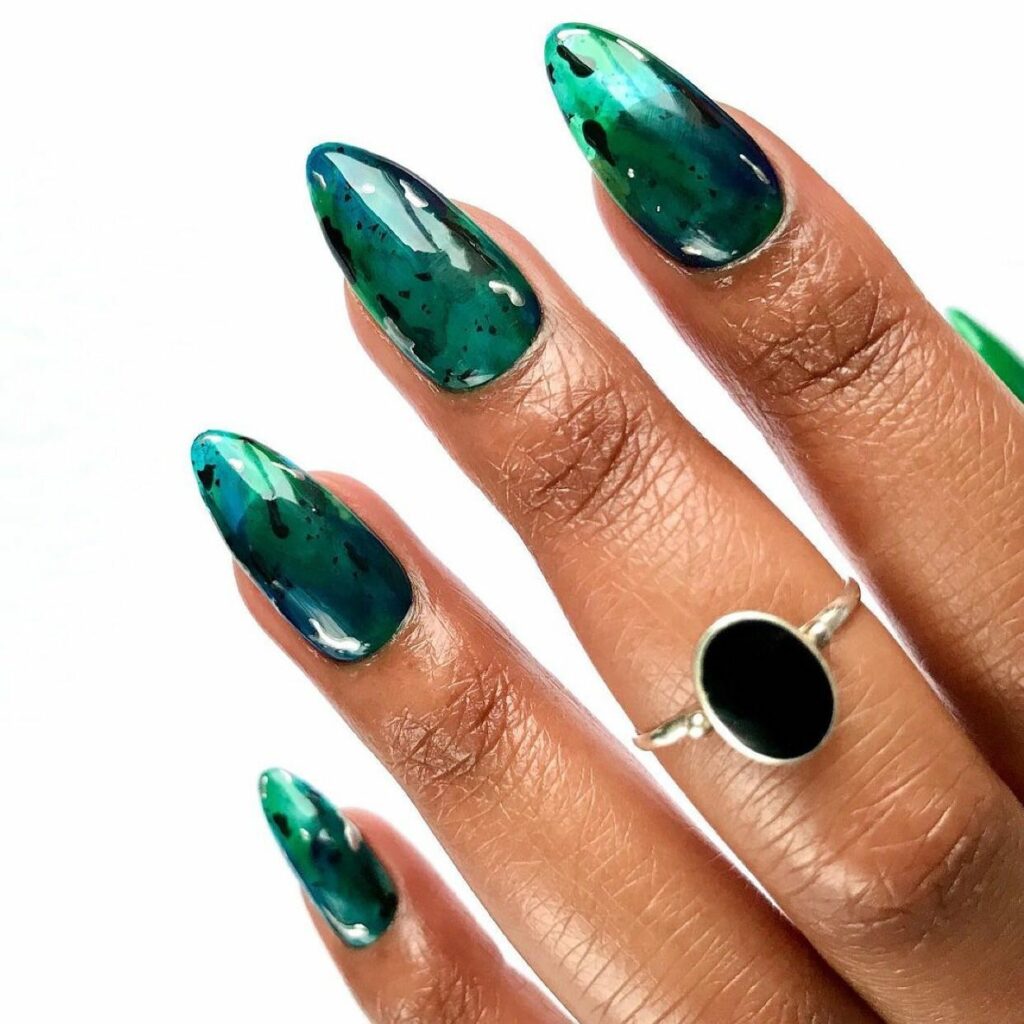 Wisps of color blend naturally as if kissed by a watercolor brush. It's light, airy, and speaks to the artist in all of us.
Pixel Play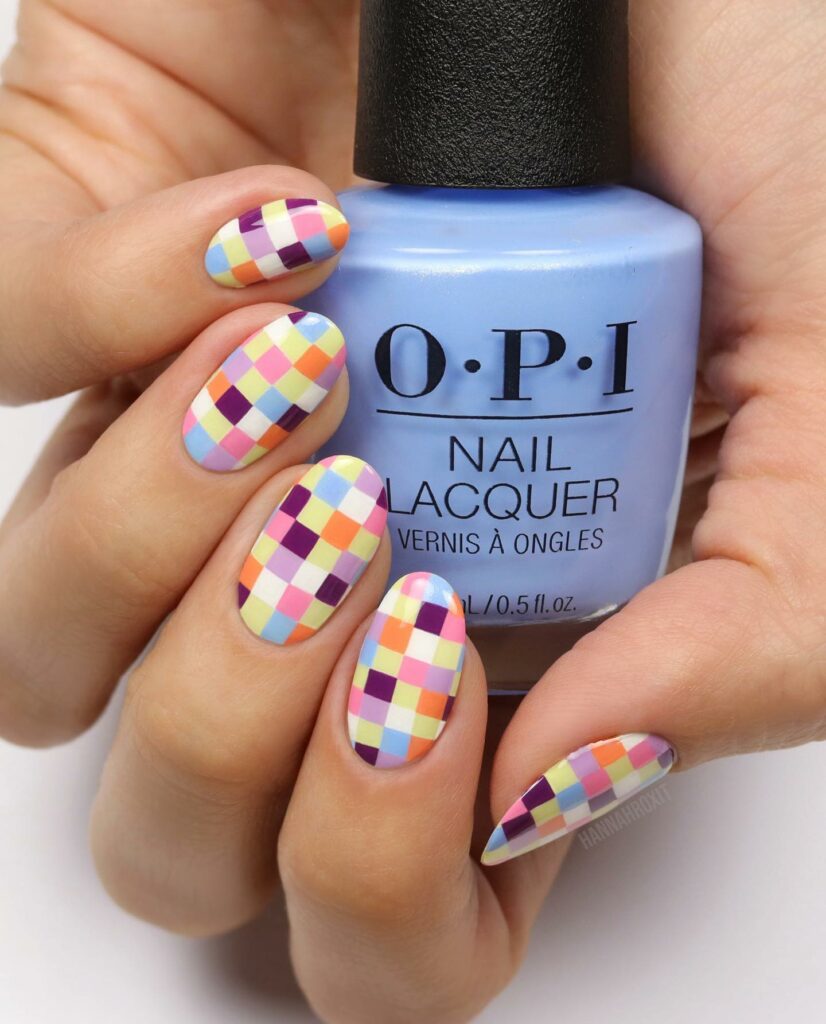 Pixelated patterns bring a touch of digital art to your fingertips. It's a delightful nod to our digital age, wrapping modernity around each nail.
Crystal Cascade
Rhinestone embellishments on a solid color base give a 3D effect. The look mimics cascading gemstones, offering a luxurious touch to your ensemble.
Denim Blues
Mimic the texture and look of your favorite pair of jeans. It's casual but chic, the perfect combination for everyday style.
Mystic Gem
Gemstone-inspired designs like amethyst or turquoise bring natural, vibrant patterns to your nails. It's a treasure trove of color and intricacy.
Art Deco Deluxe
Featuring the iconic lines and shapes of the Art Deco period. Its design adds vintage glamour, making every gesture a statement.
Retro Rainbow
Multicolored stripes in retro shades make for an engaging and playful look. This aesthetic is a blast from the past but with a modern twist, adding some groovy vibes to your appearance.
Boho Dreamcatcher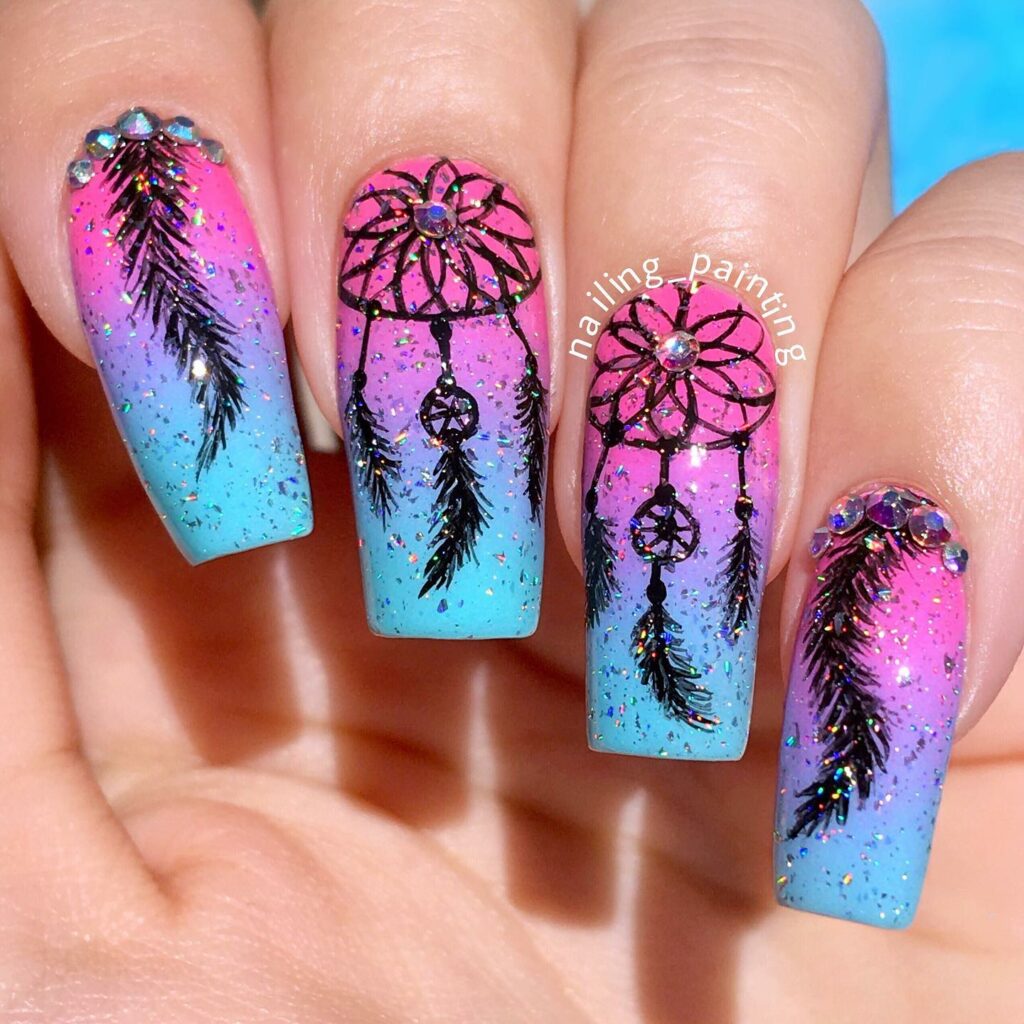 Capture the spiritual allure of dreamcatchers and feathers on your nails. This design exudes bohemian charm, perfect for laid-back weekends or a free-spirited adventure.
Metallic Molten
Imagine liquid metal flowing across your nails. This design employs metallic shades for a molten effect, giving your nails an ethereal yet fiery appeal.
Abstract Asymmetry
Different nails have different patterns; this trend celebrates the beauty of asymmetry. It's an eclectic collection of designs, on one hand, inviting curiosity and conversation.
Textured Terra
Think earthy tones with a matte finish and texture like clay or terracotta. Ideal for those who prefer a grounded, natural aesthetic.
Cubist Mosaic
A nod to the cubist art movement, featuring fragmented shapes and bold lines. This avant-garde design is not just a look; it's an intellectual statement.
Gothic Glamour
Dark shades accompanied by intricate silver designs for that gothic allure. It's a captivating blend of mystery and elegance, perfect for those drawn to darker aesthetics.
Starry Night
Capture the essence of Van Gogh's masterpiece on your nails. A swirling palette of blues and yellows makes for a night sky that's simply mesmerizing.
Bridal Lace
Delicate lace patterns overlaying a pale base color. This design isn't just for weddings; it's a show of intricate craftsmanship that can grace any elegant occasion.
Urban Graffiti
Mimic the street art look with splashes of neon and unique tag-like lettering. A design that brings the gritty yet vibrant spirit of the urban jungle to your fingertips.
What Are the Specific Colors Used for Each Nail Art Design?
Certainly, pairing the right colors with each design can make all the difference. Here's a guide to the specific color schemes that would harmonize well with the additional nail art designs mentioned earlier:
Retro Rainbow: Think of muted primary colors like mustard yellow, rust red, and teal blue to evoke that nostalgia.
Boho Dreamcatcher: Soft earth tones such as terracotta, sage green, and warm beige would work perfectly here.
Metallic Molten: Silver, copper, and gold metallics create the perfect molten effect.
Textured Terra: Rusty reds, deep oranges, and warm browns offer that earthly texture.
Abstract Asymmetry: Muted pastels like blush pink, lavender, and mint green and bold black or white lines would look stunning.
Cubist Mosaic: Vibrant shades like cobalt blue, fiery red, and electric yellow can bring the cubist fragments to life.
Gothic Glamour: Dark purples, blacks, and silvery grays set the stage for this gothic-inspired palette.
Starry Night: Deep blues and blacks for the background, accented with swirls of bright yellow and white.
Bridal Lace: Cream or pale pink as the base, overlaid with white or silver lace designs.
Urban Graffiti: Neon shades like hot pink, electric blue, and lime green contrast well with a black or gray base.
Remember, these are just suggestions to kickstart your creativity. Feel free to adapt, mix, or even invent color schemes that resonate with your style. Color is an integral part of the design, but it's also a tool for your unique expression. Happy designing!
Conclusion
In summary, nail design offers an incredible canvas for personal expression, and there's truly something for everyone. Whether you're into minimalist designs, cosmic wonders, or abstract art, the possibilities are endless. But remember some ground rules: Always ensure your nails are healthy before applying any polish or designs; brittle or damaged nails need some TLC first. When experimenting, especially with techniques like 3D embellishments or texturing, there's always a risk of temporary nail damage. It's advised to consult professionals for intricate designs if you're a beginner. If DIY is your style, investing in quality tools and polishes is essential for long-lasting, eye-catching results. So, trendsetters and creative souls, armed with all these ideas and insights, you're well on your way to making this summer's aesthetic all about you, right down to your fingertips. Why wait? Dive into the vivid world of nail art and let your hands do the talking!
Feature image @disseynails via Instagram
Last reviewed and updated on October 4, 2023