Today, we're diving deep into the ethereal world of Aura Nails—a trend lighting up social feeds like nobody's business. This isn't just your typical mani; we're talking about nails that resonate with your inner energy. Seriously, prepare to be obsessed!
By the end of this post, you'll know precisely what Aura Nails are, why they're more than just a pretty polish, and how to get them right. Having rocked this look myself, it's a vibe-changer. Trust me, you'll want to show off these nails everywhere, from your Instagram grid to your next night out. So, if you're ready to elevate your nail game to a cosmic level, keep reading.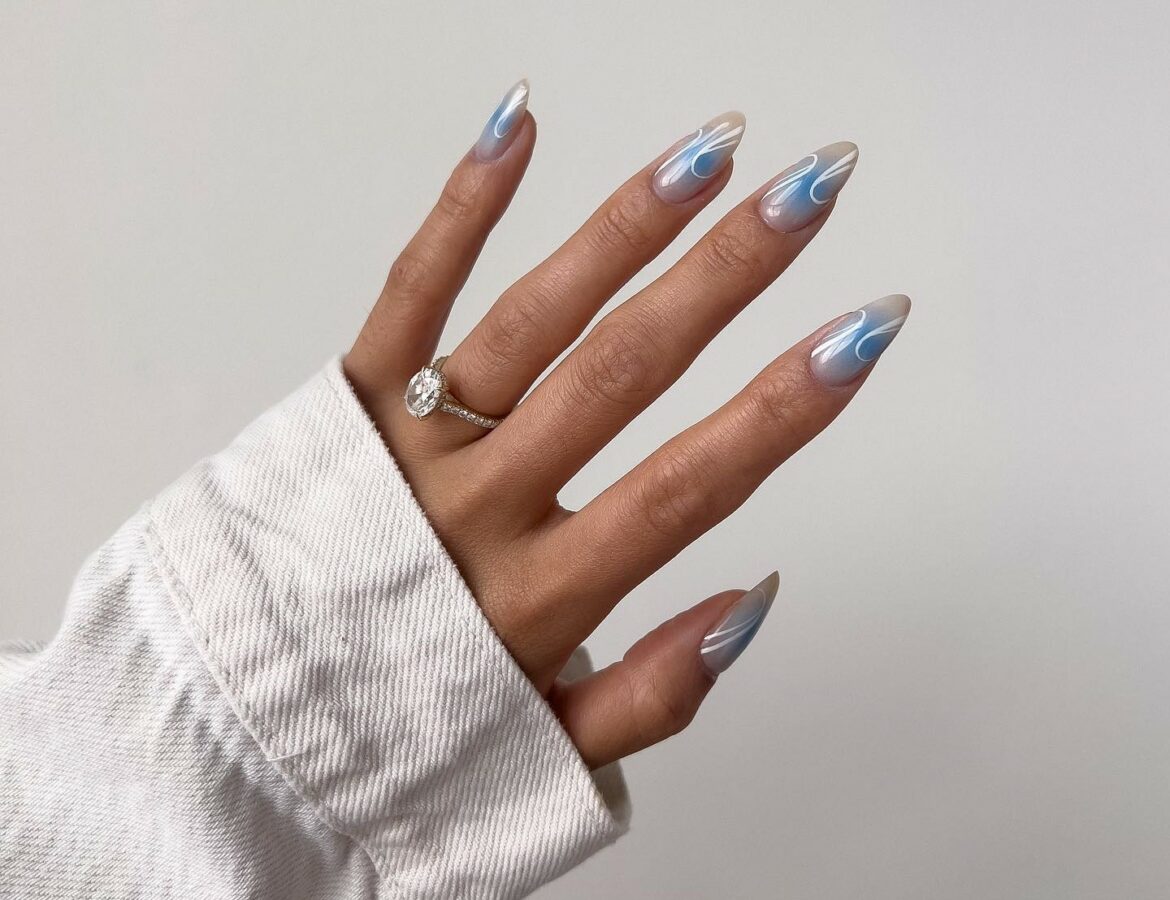 Peachy Aura Nails For Summer And Fall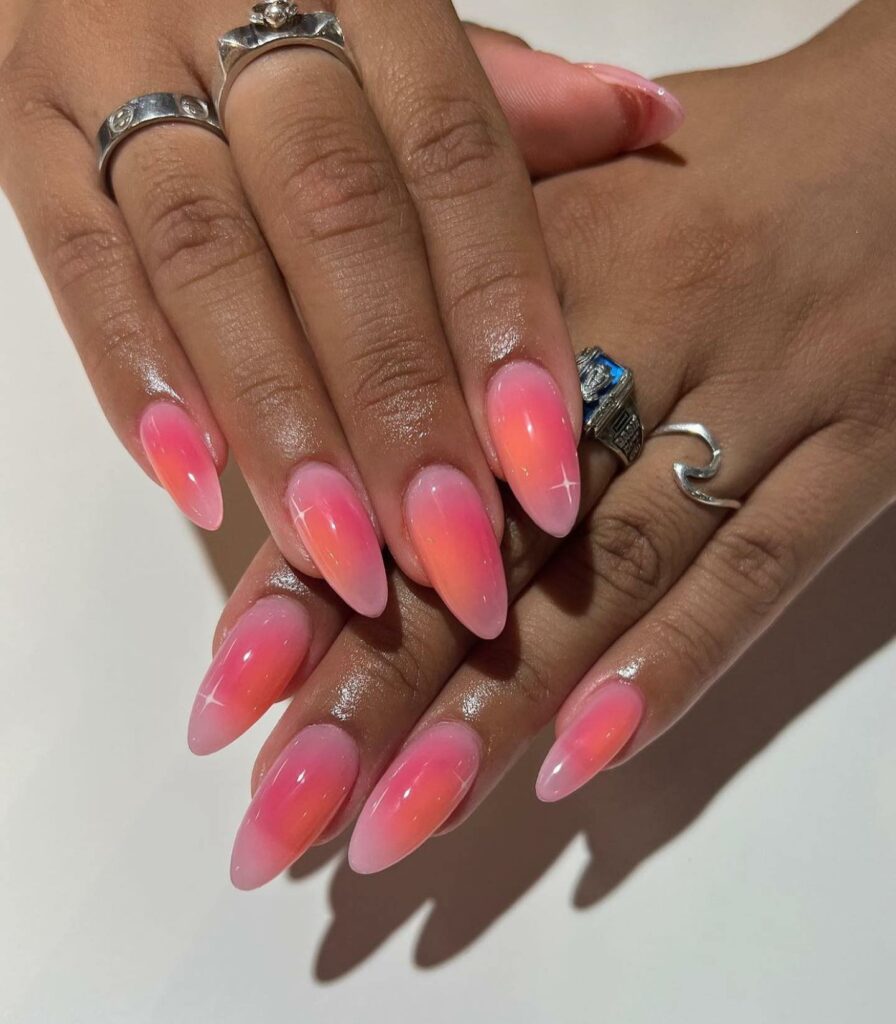 Ah, the Peachy Pink Aura Nails! These babies scream 'sunset vibes' and are perfect if you're aiming for that warm, nostalgic look. I rocked this mani on a beach vacation, and the compliments wouldn't stop. Perfect for both summer nights and cozy fall days.
The Rainbow Connection
You've got to try Rainbow Aura Nails for the daring souls out there. Each nail flaunts a different color, but trust me, it all comes together beautifully with gold sparkle decals. I've used Lights Lacquer Nail Polish in 'Clueless' for the base and a rainbow of Cirque Colors for the aura effect. Remember the Retrograde Stickers from Deco Beauty to tie it all together!
Go Barbie Or Go Home
Inspired by Megan Thee Stallion, Barbie Pink Aura Nails are for the bold and the fabulous. I wore this with a neutral-toned outfit to let my nails do the talking. Grab Salon Perfect Nail Polish in 'Oh Snap' and get to painting!
Stars In Your Eyes
Now, let's talk about these Superstar Aura Nails! They give me total cotton candy vibes. It's fun, it's graphic, it's got that pop of pastel. My personal hack? Use a makeup sponge to dab on Salon Perfect shades like 'Ride the Heat Wave' and 'Strawberry Swirl' for that seamless aura blend.
Amethyst Elegance
Fall lovers, the Amethyst Aura Nails are a match made in heaven for you. I used Gelcare UV Gel Nail Polish in 'Lavender BB Cream' and got a little artsy by dabbing on some purple eyeshadow before sealing it with a glossy top coat.
Sip of Sunset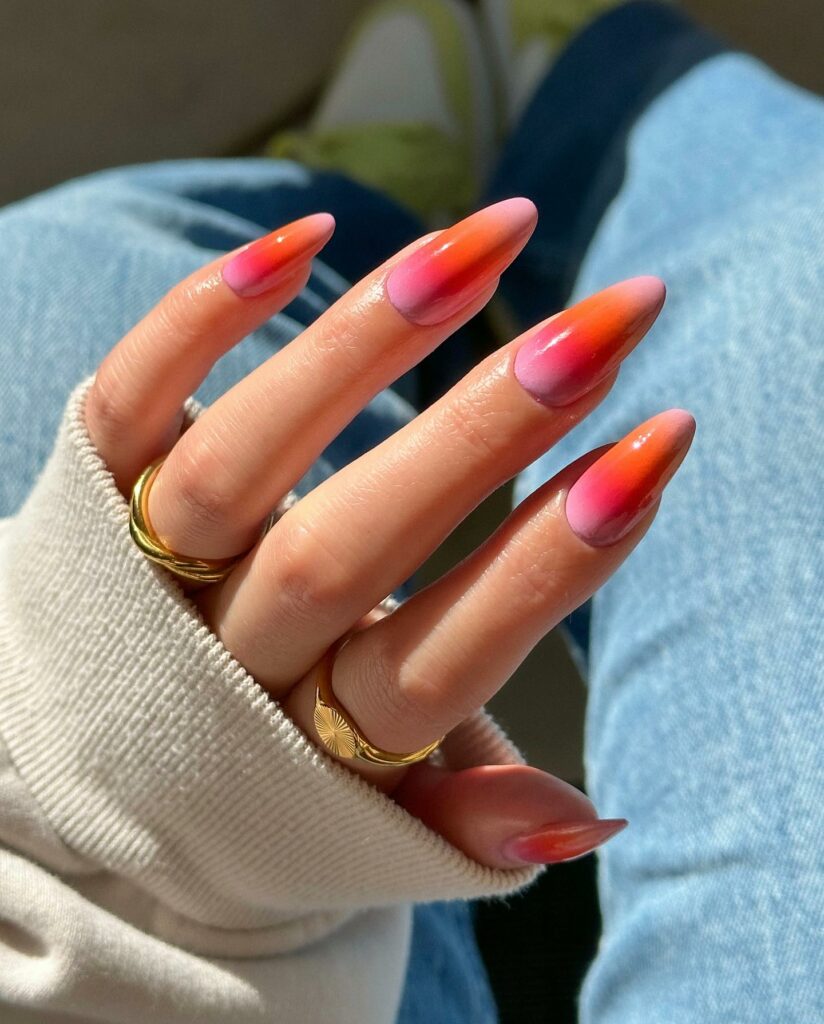 Sunset Aura Nails is a classic, and Brittney Ellen nails it using DND Gel Polish. Shades like 'So Damn Fly' and 'Orange Sherbert' are my go-to for this look.
The Subtle Charmer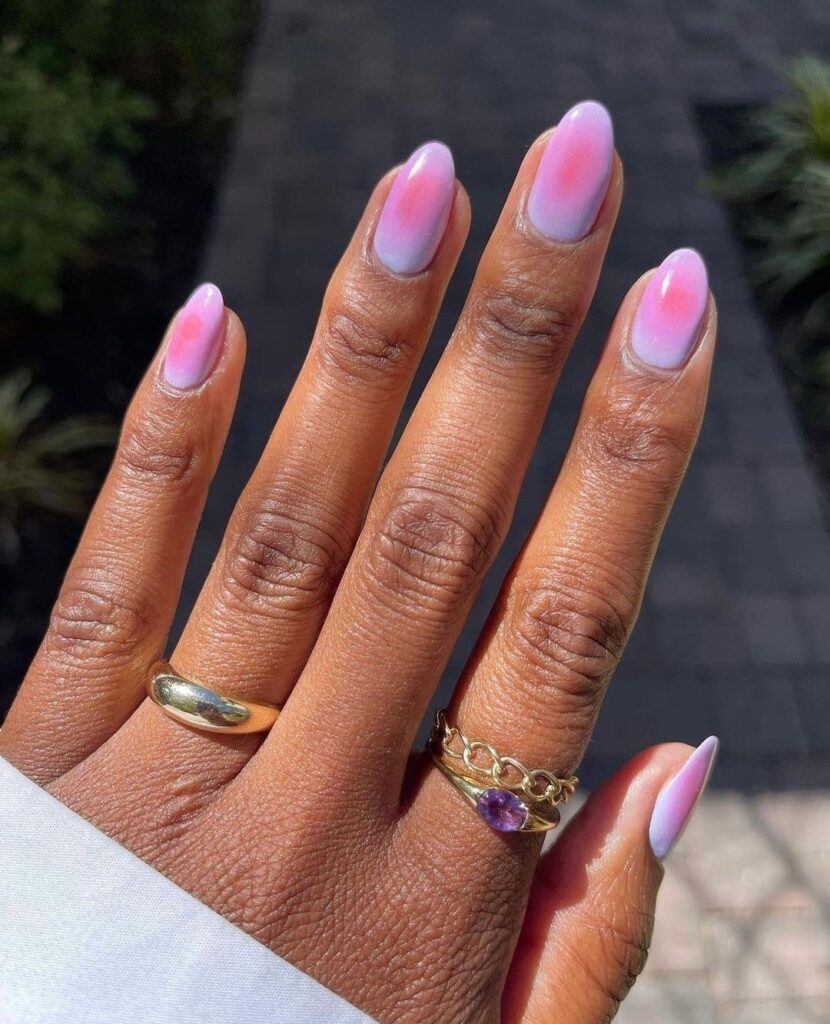 If you're a fan of subtlety, Pale Pink Aura Nails could be your next favorite. It's delicate but still eye-catching, perfect for workdays and brunch dates. Rose BB Cream by Gelcare is my recommendation.
The Jelly Jewel Aura Combo
For something ethereal, go for Jelly Aura Nails. They're iridescent and look different from every angle. This one takes a bit more skill but is so worth it. Brittney Ellen walks us through her technique; honestly, her clear gel and chrome powder tip are golden.
Aura Pastel Dream Design
Can we talk about how hot pink and muted lavender are a match made in heaven? It's a dreamy combo that's sure to turn heads.
Bridal Chic Aura Nail Art
The Pearl Blush Nails are total bachelorette party material. A touch of 'Rose Water' aura over a 'Freshwater Pearl' base by Gelcare screams bridal chic.
Raindow Aura Nail Manicure
If you're feeling nostalgic, these Y2K Aura Nails are a trip down memory lane. The arched grids are surprisingly easy to pull off with a fine-lining brush.
Zesty & Fresh Aura Manicure
Last but not least, how about some Lemonade Aura Nails? Perfect for keeping that summer vibe going all year long.
Playful & Whimsical
Feeling extra? Add a clown face or two for that playful touch. They've been a conversation starter for me, no doubt!
All About The Aura Bling
If you're the 'go big or go home' type, nothing tops a Mix-and-Match Aura design. Gemstones and silver accents take it to the next level.
Hot Pink Aura Nails With Stars Nail Art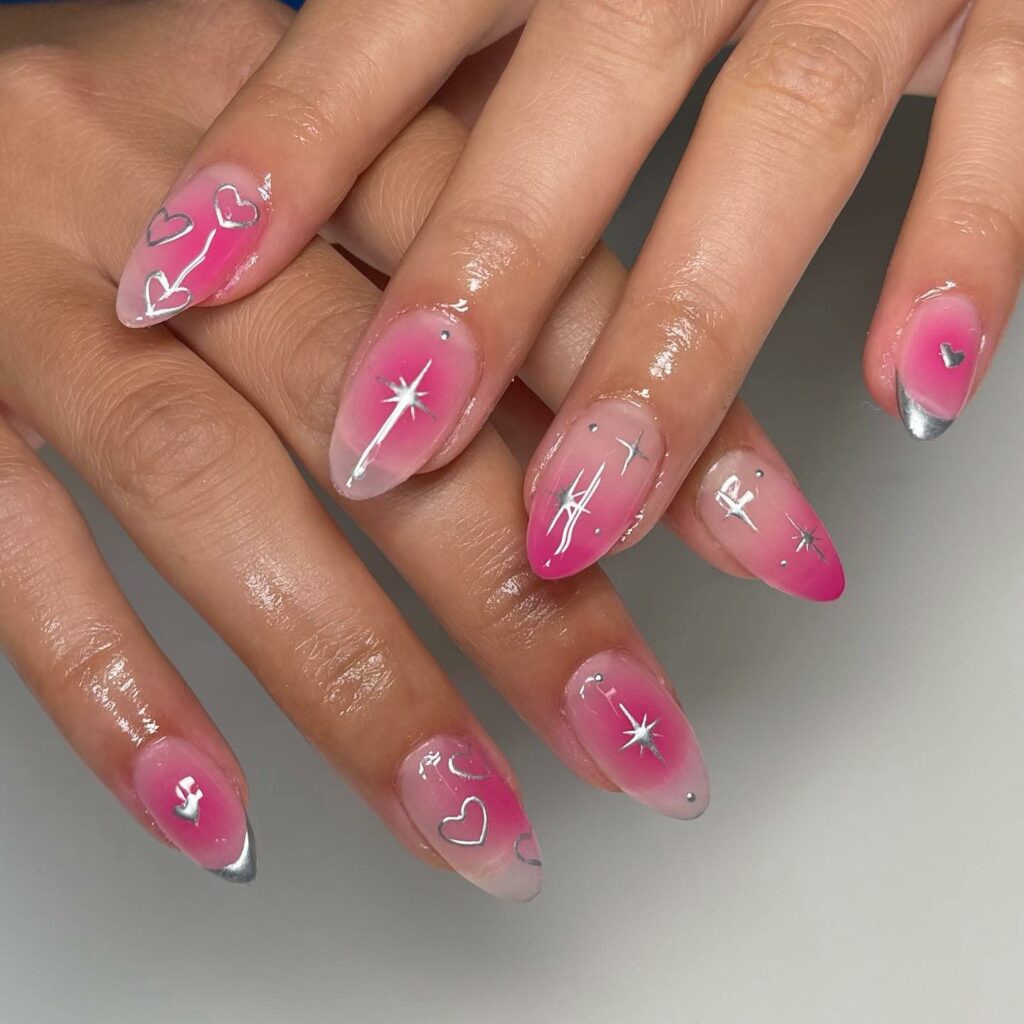 If you want to dazzle and shine, hot pink aura nails adorned with star nail art are your go-to. This look is sassy and vibrant, perfect for those nights you want to be the center of attention. I rocked these during a girl's night out, and let me tell you, these nails were the real stars of the evening!
Glazed Nude Aura Nails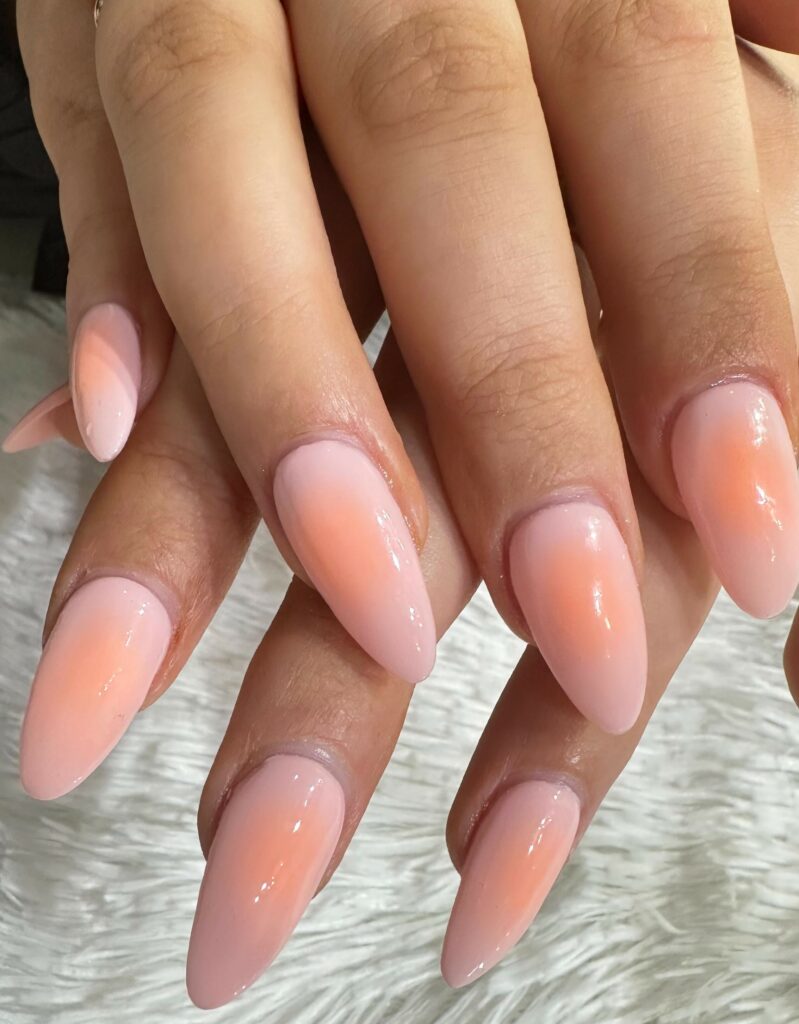 Sophisticated, chic, glazed nude aura nails offer the understated elegance we all crave. This is your perfect everyday look with just a touch of glam. Ideal for those who love a low-key vibe but still want that aura mystique.
Black And Purple Almond Aura Nails
This combo exudes an edgy yet mystical vibe. The almond shape adds an extra flair, making your hands look elongated and graceful. I love wearing this design for more formal occasions; it adds a rebel spirit to any elegant outfit.
Nude Aura Nails With Flowers
Here's a design for the romantics at heart. The delicate floral art against a nude aura base is so ethereal you'll feel like you're carrying a bouquet at your fingertips. I often opt for this design for spring gatherings or daytime events.
Dark Pink Aura Nails
Think of it as the older, sassier sister to the classic pink aura nails. The darker hue adds intensity and maturity, making it versatile for day and night looks.
Baby Pink And Nude Aura Nails
This combo is the epitome of soft glam. Baby pink mixed with nude is subtle yet eye-catching, making it ideal for brunch dates or a bridal look.
Aura Nails With Black French Tips
This design takes the traditional French manicure and gives it an aura twist. The black tips add a modern, bold edge to an otherwise subtle aura base. This look has "boss energy" written all over it.
Orange And Pink Aura Nails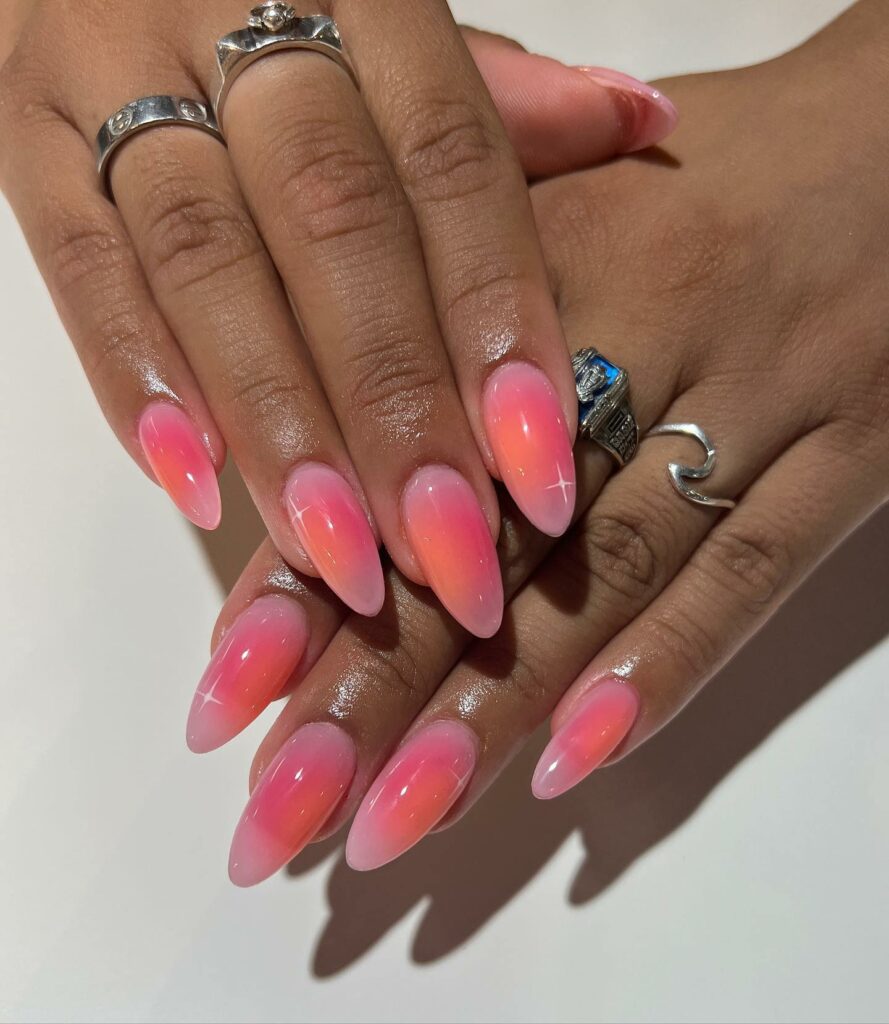 If you're after that tropical, summery vibe, look no further. The blend of orange and pink brings the warmth of a sunset right to your fingertips. An instant mood booster, trust me!
Black And Teal Aura Nails
The contrast between black and teal creates a striking, unforgettable look. It has an almost aquatic feel, perfect for those who love to make a statement with their nails.
Peach And White Aura Nails
This combo is fresh, clean, and oh-so-inviting. The peach and white hues bring a bright, airy quality perfect for welcoming the warmer seasons.
Pinky Aura Nails
This monochromatic aura design is a dream come true for those who love all things pink. It's a fun, youthful look that's hard not to adore.
Brown And Pink Aura Nails
A unique take on the aura trend, the brown and pink combo offers a touch of rustic warmth. It's unexpected but works incredibly well, especially for autumn.
Silver And Pink Aura Nails
This design adds a dash of metallic flair to your classic pink aura. The silver makes the pink pop even more, and it's a match made in heaven for any festive occasion.
Chrome Blue Aura Nails
If you're looking to venture out of the typical color spectrum, chrome blue aura nails are a showstopper. They offer a futuristic twist, and they're a definite conversation starter.
A Gem Of A Mani
For a dash of luxury, go for Pearlescent Aura Nails. Those tiny gemstones elevate the whole look. Rose BB Creme and Cherry Jello by Gelcare are my picks for this luxe design. Whether you're into bold, striking colors or subtle, romantic hues, this roundup has an aura nail design just for you. Now, go make those nails the aura-mazing masterpiece they deserve to be!
What Are Aura Nails?
Aura nails are a trendy and artistic form of nail art that plays with color gradients and often incorporates various design elements like sparkles, decals, and even gemstones. The "aura" effect is created by using different shades of nail polish or gel to form a radiant, halo-like blend of colors that start from the center of the nail and expand outward. The technique often involves using a sponge or brush to create that seamless gradient effect. Additional embellishments like glitter, stickers, or intricate hand-painted designs are sometimes added to elevate the look further. Whether you go for vibrant, eye-popping colors or softer, more muted tones, aura nails offer endless possibilities for self-expression right at your fingertips.
How Do You Get Them Just Right?
The Tools You'll Need
Base coat
Two or more nail polish colors for the aura effect
A makeup sponge or small art brush for blending
Top coat
Optional: Glitter, decals, or gemstones for added flair
Steps to Aura Perfection
Prep Work: Always start with clean, dry nails. Apply a base coat to create a smooth canvas and prevent staining.
First Layer: Apply a layer of your base color. This could be a neutral shade or something vibrant, depending on the look you're going for. Make sure it's scorched before moving on.
Gradient Setup: Take a makeup sponge and apply a small dab of each polish color you plan to use for the aura effect. The colors should be side by side on the sponge.
Blending Time: Gently dab the sponge onto your nail, starting at the center and moving outward to create that aura gradient. You may repeat this step several times to get your desired intensity.
Fine-tune: If you're going for a more detailed look, use a small art brush to add intricacies. This is also when you add any glitter or decals.
Seal the Deal: Once satisfied and your masterpiece is dry, apply a top coat to seal everything in and add some shine.
Cleanup: Use a cotton swab dipped in nail polish remover to clean up any stray polish around your cuticles.
Pro Tips
Test your color combos on paper first to see how they blend.
If you're using decals or gems, tweezers will help you place them precisely.
If you make a mistake, don't stress! Nail polish is forgiving—you can always go back and touch up.
Remember, practice makes perfect. The more you experiment with aura nails, the better you'll get at mastering the gradient and making those colors truly pop. So grab those polishes and let your inner artist shine!
10 Aura Nails Designs That Iove Right Now
Glitter Bomb Aura Nails – Who doesn't love a little sparkle? Add a sprinkling of fine glitter over your aura design before sealing it with a top coat. It's like a party at your fingertips!
Geometric Aura Nails – Incorporate geometric shapes like triangles or hexagons into your aura design. Outline them with a thin brush for a modern twist.
Ombre Aura Nails – Instead of just blending two or more colors outward from the center, transition the colors from one nail to the next. You'll get an ombre effect across all your nails.
Metallic Aura Nails – Swap out one of your polish shades for a metallic or chrome polish. It gives a futuristic vibe that's absolutely captivating.
3D Aura Nails – Please take it to the next level with 3D elements like rhinestones, pearls, or even tiny charms. Just a touch of 3D can make your aura nails pop.
Minimalist Aura Nails – For a more understated look, use neutral tones and keep embellishments to a minimum. Think of it as aura nails' sophisticated cousin.
Celestial Aura Nails – Integrate tiny stars, moons, or even zodiac signs into your design. It adds a magical, otherworldly element that's utterly enchanting.
Animal Print Aura Nails – Who says aura nails can't be a little wild? Add a leopard or zebra pattern over your gradient for a fun, unexpected twist.
Holiday-Themed Aura Nails – Christmas? Halloween? Fourth of July? Theme your aura nails according to the holiday season for that extra festive flair.
Neon Aura Nails – If you want to make a statement, go for bold, neon colors that make your nails glow in the dark!
There are no limits to aura nails—you can mix and match these ideas or even come up with your own. The key is to have fun and let your personality shine through your nail art. So, what are you waiting for? Get those creative juices flowing!
Still Looking for Inspiration, Then Check Out This Video
Conclusion
Alright, my fabulous nail adventurers, that wraps up our whirlwind tour of the most fantastic aura nail designs on the block! If there's one takeaway, aura nails are as versatile as you are, and there's a style for every vibe and occasion. If you're a newbie, start with something more subtle, like the glazed nude. But if you're a daring diva, go for those hot pink nails with star art and own the night! Trust me, once you dip your nails into the aura pool, there's no going back. So grab a little sparkle polish and let your fingertips do the talking. Happy painting!
Feature Image Photo By @nailsbykirstenchanel via Instagram
Last reviewed and updated on October 20, 2023