Hey everyone! Today, we're diving into a trend taking over—Baby Blue Nail Pedicure. Trust me, it's not just another color; it's a whole vibe that screams chic, fresh, and stylish. This post will walk you through the ins and outs of pulling off this look like a pro. We're talking about polish choices, design options, and even some tips on making it last longer. I've tried it, and I can't tell you enough how this shade brightens up my whole look—and I'm pretty sure it'll do the same for you. So, let's get those toes looking like they just stepped off the runway!
Fading Baby Blue Color Pedicure
Imagine stepping out with a pedicure that's not just a flat color but a beautiful gradient of baby blue that fades into a lighter hue. This design has a soothing aesthetic that is perfect for those who love a touch of artistry without going overboard. Fading colors add dimension and flair, making your feet look like they've been touched by a skilled artist.
Baby Blue French Tips With Silver Glitters
This takes the classic French tip to another level. The baby blue base sets a serene foundation, while silver glitter on the tips adds that sparkle we all love. This combination is ideal for special occasions or for a bit of glam.
Simple Baby Blue Pedicure
Sometimes, less is more. A straightforward coat of baby blue polish can be utterly stunning. It's versatile and matches almost any outfit, giving your feet a clean and fresh look. Plus, it's a great choice if you need more time.
Baby Blue Pedicure With Flower Nail Art
This pedicure incorporates delicate flower nail art on a baby blue backdrop for those who love a feminine touch. The floral designs can be as simple or intricate as you like, making each pedicure uniquely yours.
Baby Blue Nail With Nail Art On Big Toe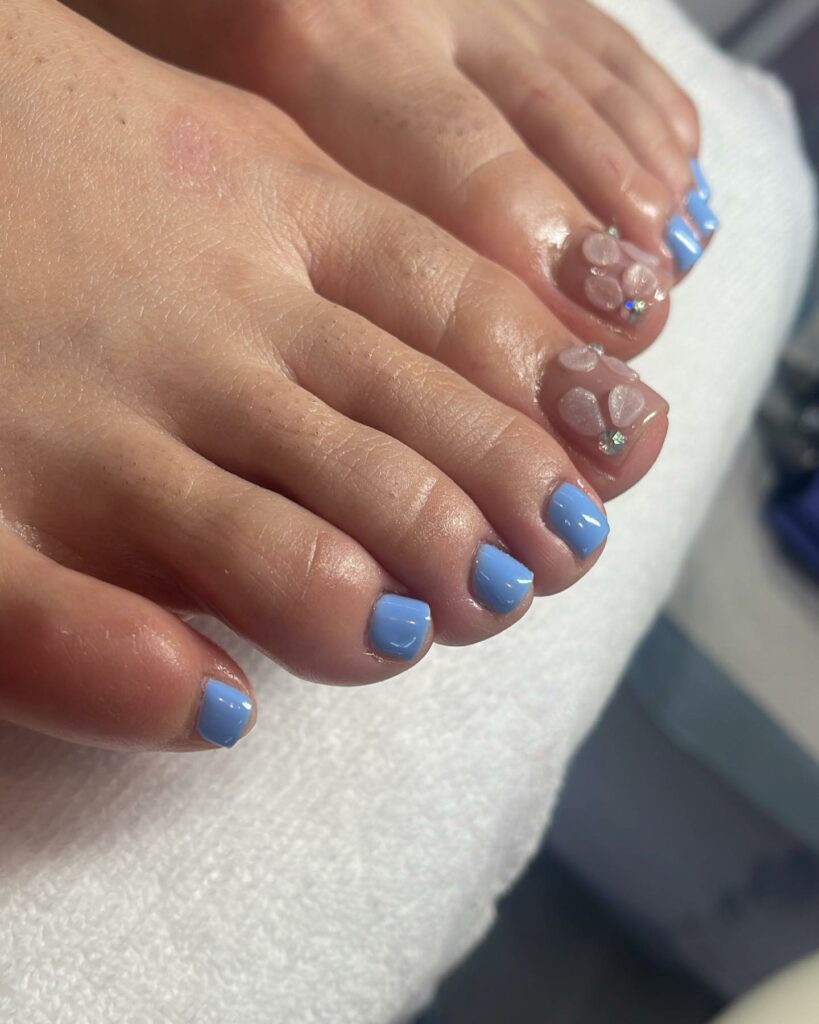 Focusing the nail art on the big toe creates a stylish focal point. Whether it's a tiny star, a heart, or an abstract design, this technique turns your big toe into a mini canvas.
Baby Blue Pedicure With French White Tips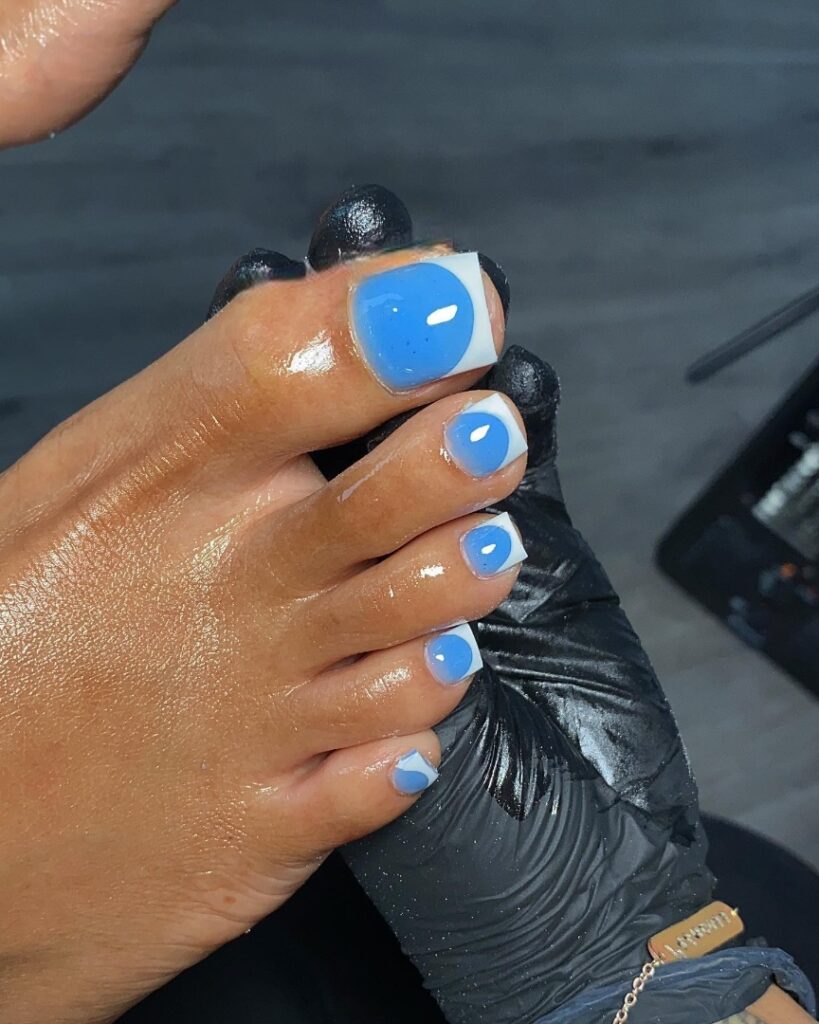 Classic with a twist—that's what you get when you combine baby blue with traditional French white tips. This design offers a clean, refined look perfect for any setting, from a beach day to a board meeting.
Baby Blue Coffin Pedicure With Glitters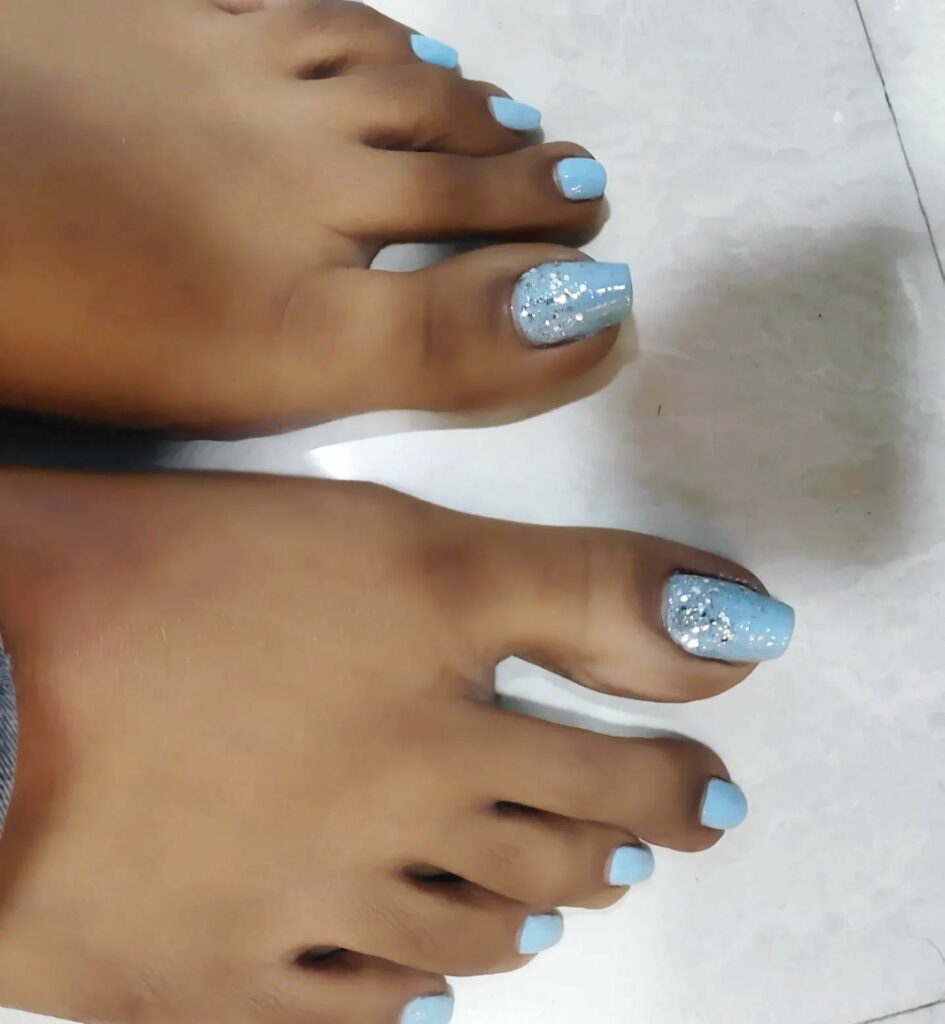 Coffin-shaped nails are a bold choice, and when coupled with baby blue and glitter, they make a striking impression. This look is perfect for those who want to go out and make a fashion statement.
Ocean Theme Pedicure
Imagine the beach at your feet—literally! Ocean-themed pedicures often combine shades of blue with marine elements like shells or starfish. It's an adventure for your toes, making every step feel like a walk on the beach.
Baby Blue Pedicure With Cute Egg Nail Art Design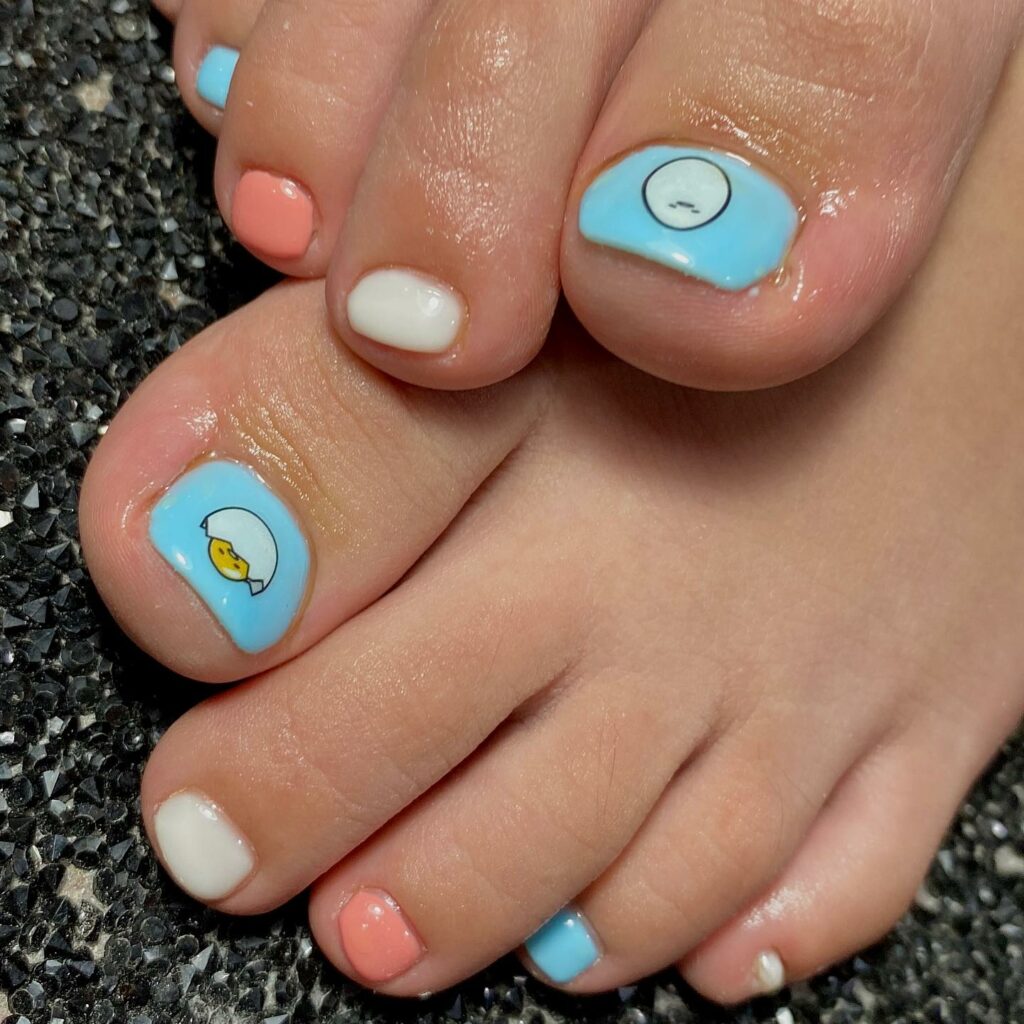 Just in time for Easter or for those who appreciate whimsy, this design incorporates cute egg patterns onto a baby blue base. It's adorable and will undoubtedly be a conversation starter.
White Flower Nail Art On Baby Blue Pedicure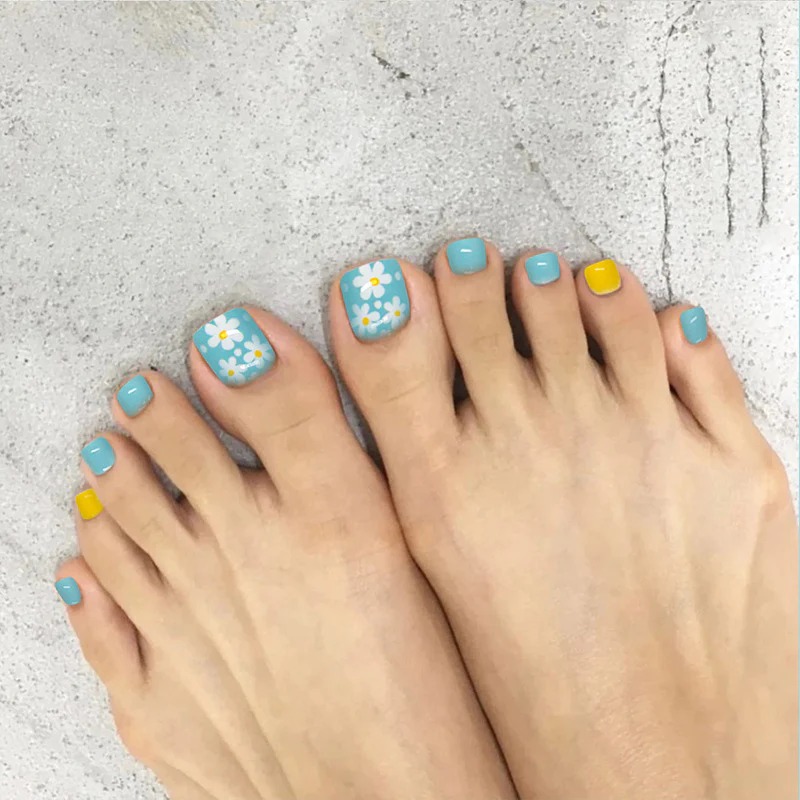 This pedicure is another floral hit but sticks to white flowers, making them pop against the baby blue. It's elegant and a tad more subtle than colored floral designs.
Baby Blue Nail Wth White Glitters
Adding white glitter to a baby blue base gives you a frosted, winter-wonderland effect. This is a particularly excellent option for holiday gatherings or winter events.
Baby Blue French Tips Nail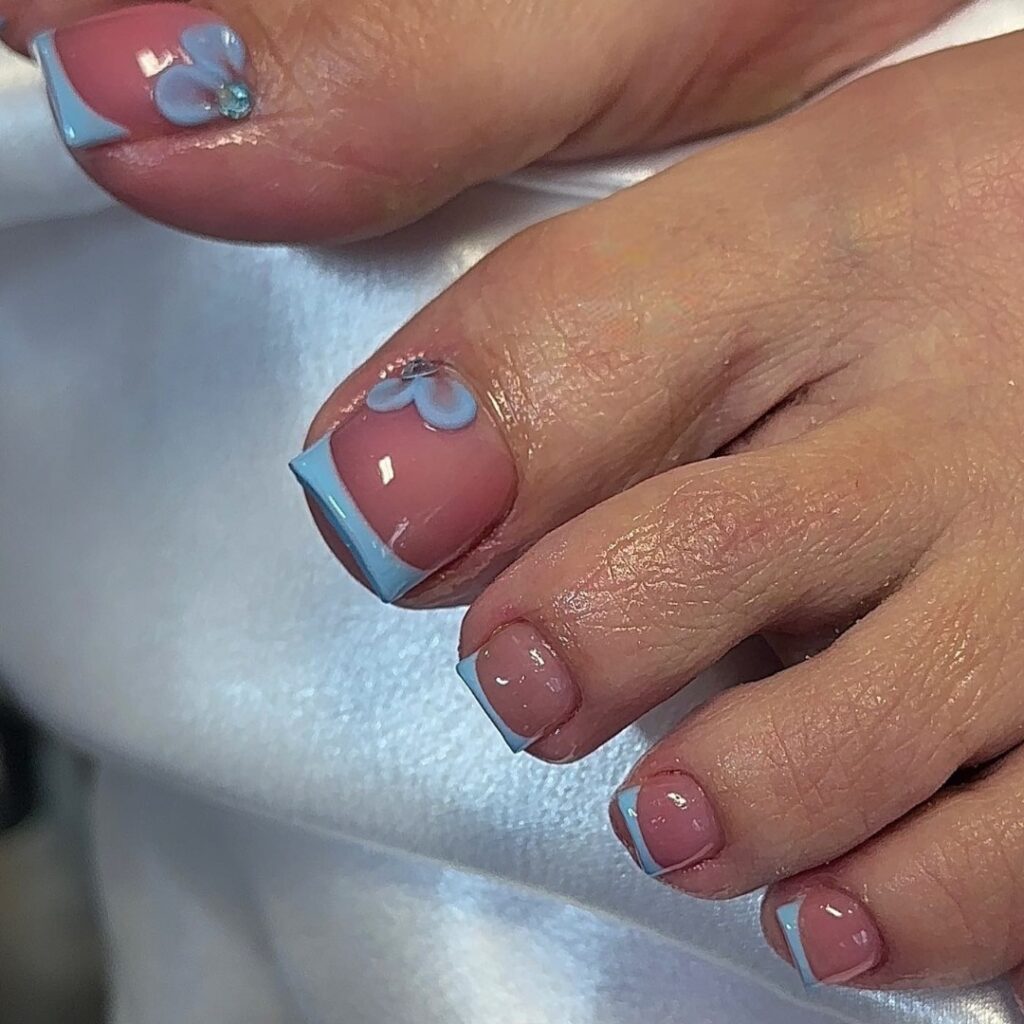 This is like the traditional French manicure but cooler—literally. The icy touch of baby blue on the tips gives a refreshing twist to an old favorite.
Baby Blue Ombre Pedicure
Imagine the sky at dawn, hues blending seamlessly from light to dark. This ombre pedicure captures that magical gradient, making your toes look trendy and poetic.
Baby Blue And Nude Pedicure
Combining baby blue with a nude base is understated yet chic. It's an excellent choice for anyone who wants something unique but not too flashy.
Ombre Baby Blue Nail With Glitters
Adding glitter to an ombre design? Yes, please! This takes your baby blue pedicure up a notch by adding a sparkle gradient, making it irresistibly eye-catching.
Medium Coffin Baby Blue Nail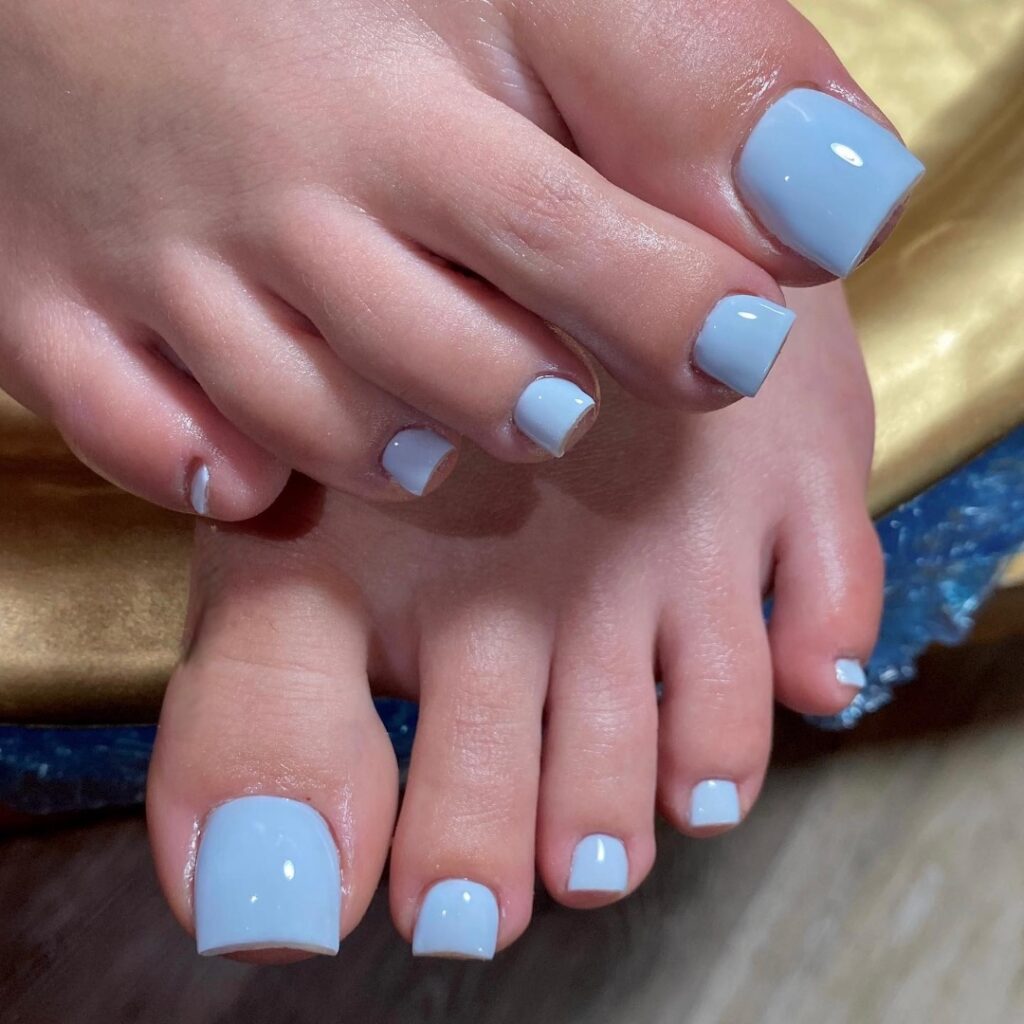 If you're hesitant about the full-length coffin shape, a medium-length option in baby blue is a fantastic compromise. You get the edginess of the shape with the softness of the color.
Baby Blue And White Ombre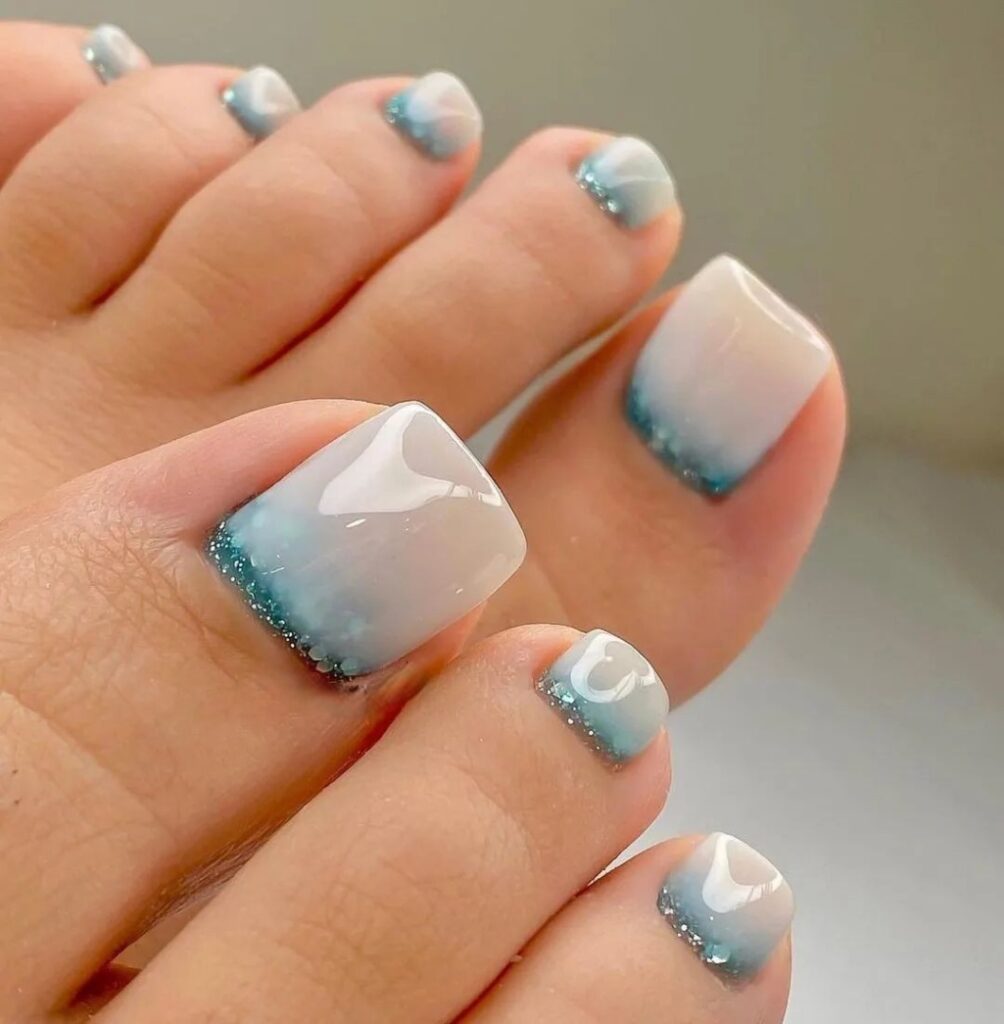 Blending baby blue into white creates a heavenly ombre effect that's both classy and mesmerizing. It's a fantastic option for weddings, parties, or simply when you want to feel ethereal.
Baby Blue Pedicure With Evil Eye
Add a protective touch to your pedicure with the iconic evil eye design. Set against a calming baby blue backdrop, the evil eye serves as a symbol of protection and adds a unique flair that's sure to catch attention. This look is perfect for the spiritually inclined or anyone who loves a touch of mystique in their style.
Baby Blue Nail With Small Rhinestones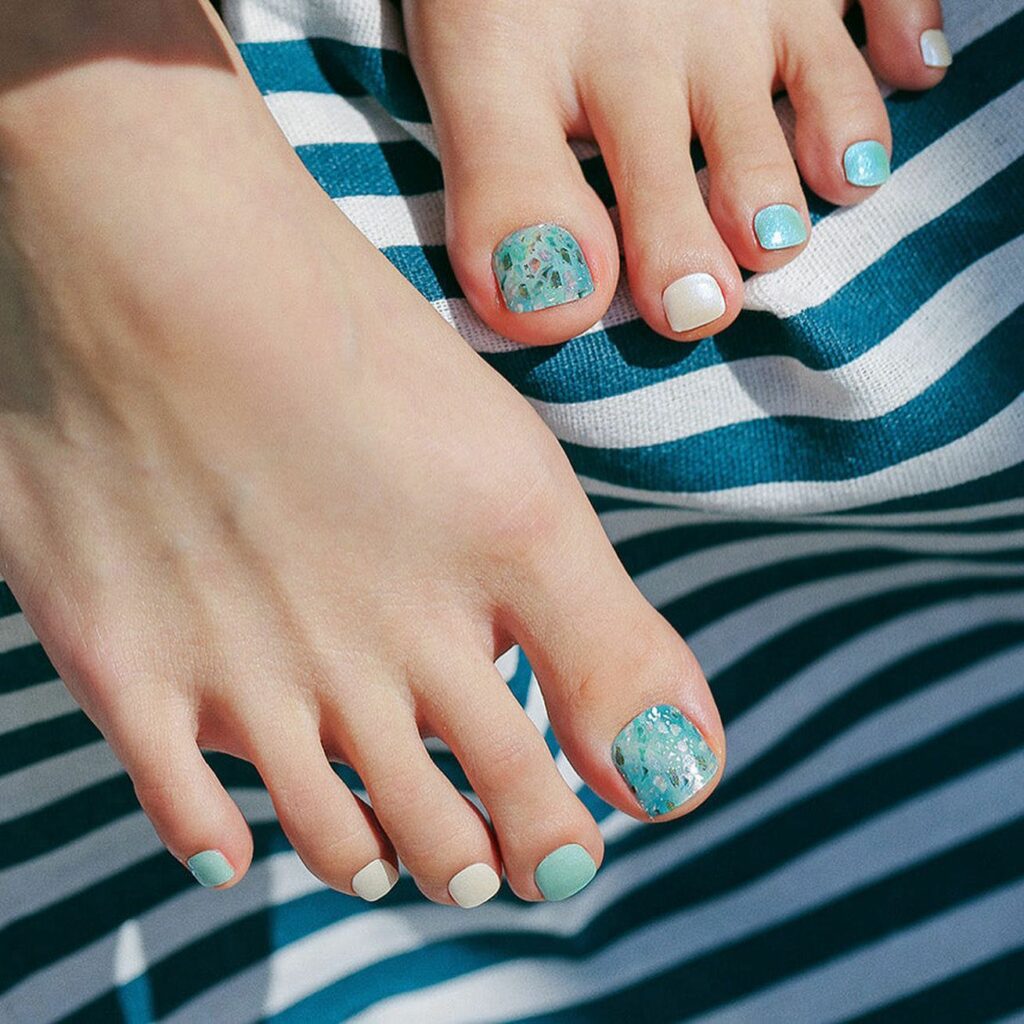 This design combines baby blue's subtlety with the sparkle of petite rhinestones. The stones can be strategically placed for minimalistic glamour or used to create intricate patterns. It's a refined look that pairs the elegance of baby blue with a touch of sparkle.
Baby Blue On Glass Nail Art Design
Imagine the translucence of glass nails combined with the soothing shade of baby blue. This ultra-modern and edgy design is perfect for those who want to stay ahead of the trend curve. The "glass" effect gives your nails an almost crystal-like quality, making them stand out in any crowd.
Sharp Baby Blue French Tips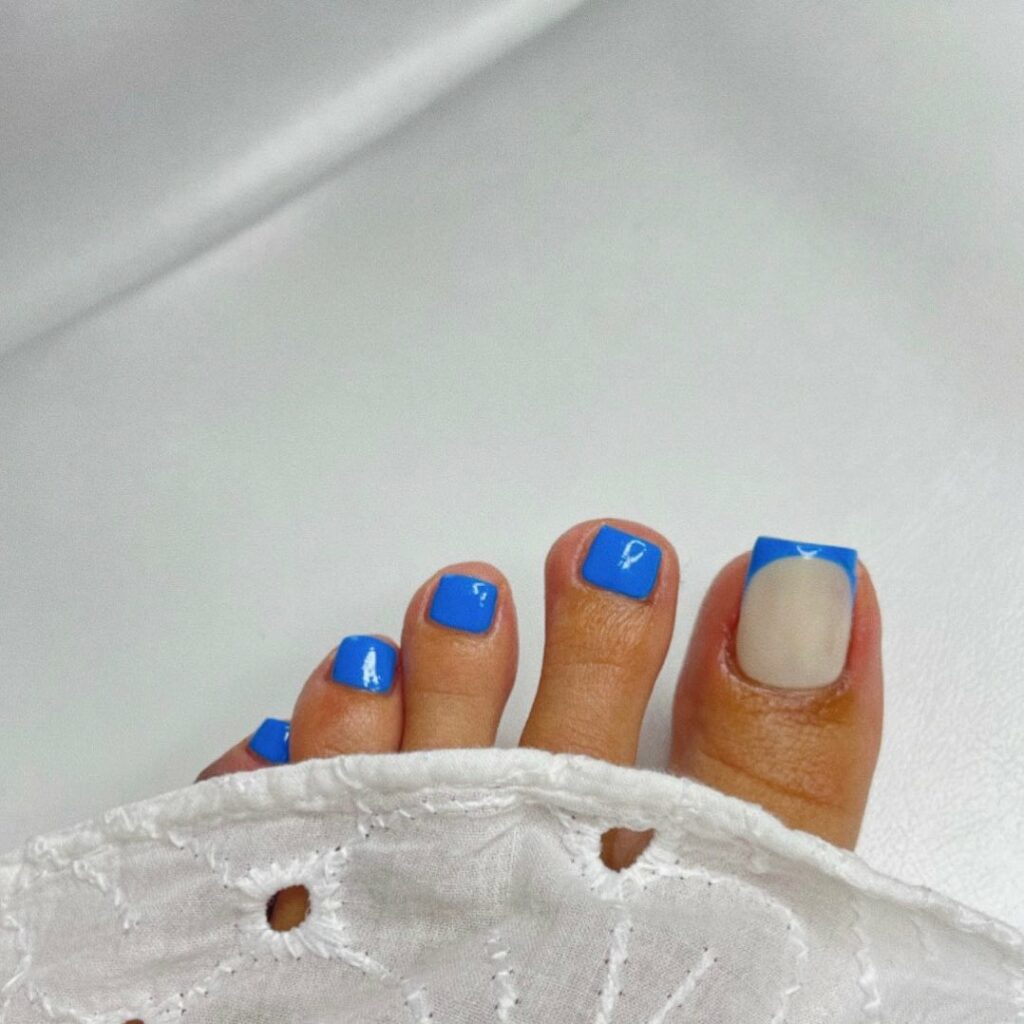 If you're into edgy shapes, sharp French tips in baby blue will be your go-to. These aren't your grandmother's French tips; the pointed design adds a modern and daring aspect to this timeless style.
Baby Blue Nail With Big Rhine Stone On Big Toe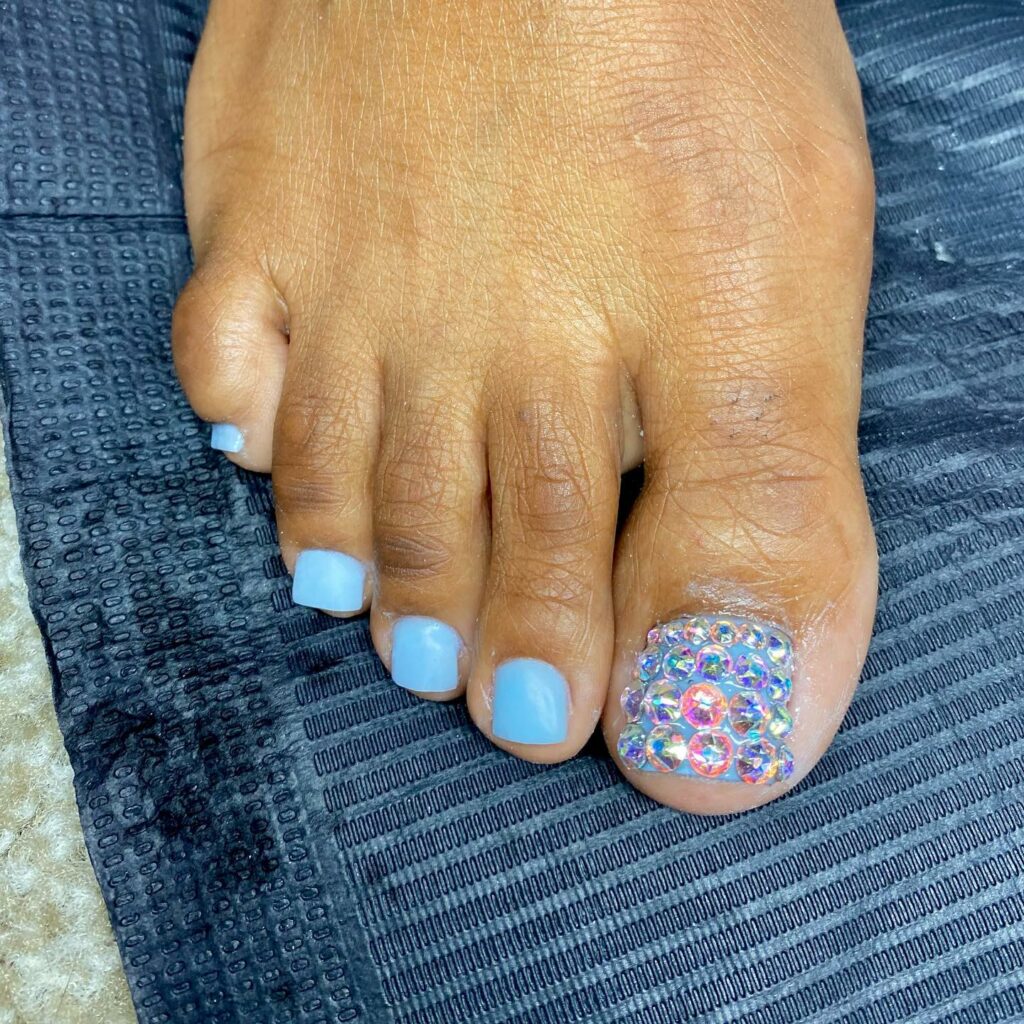 Here, the focus is on making a statement with a single, large rhinestone on your big toe. Set against a baby blue base, this jewel acts as a statement piece, giving your pedicure an instant focal point and a dash of luxury.
Baby Blue Nail With Glittery Stone
If you love glitz and glam, consider accenting your baby blue nails with glittery stones. These stones add sparkle without overpowering the soothing base color, striking a perfect balance between drama and tranquility.
Baby Blue And Pink Ombre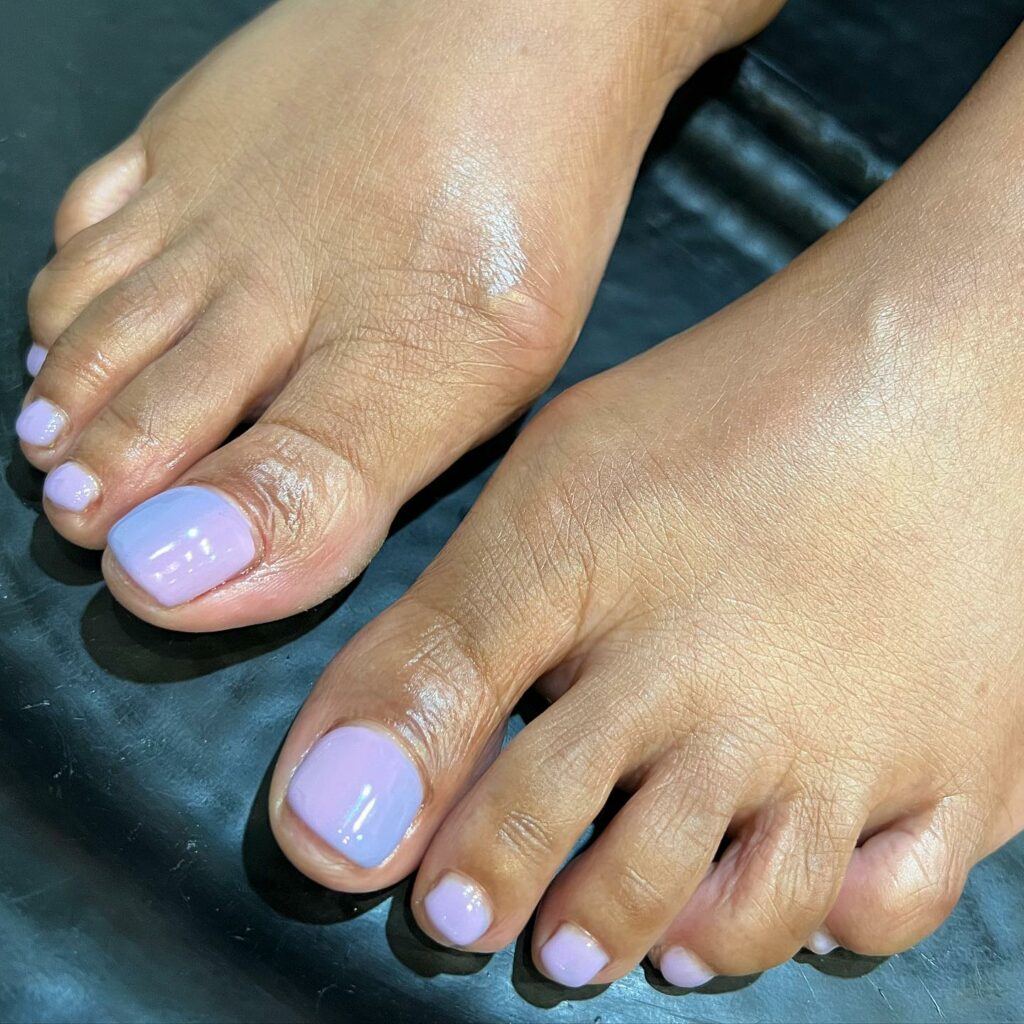 Merge the calm of baby blue with the warmth of pink in a lovely ombre design. This unexpected color combo gives a playful yet sophisticated vibe that works beautifully for spring and summer outings.
Baby Blue And White Pedicure
Baby blue and white is a classic, breezy combination with a crisp, clean feel. It's an excellent palette for intricate designs or simple color-blocking, offering versatility for various looks.
Ombre Baby Blue With Gold Flakes
Amp up the luxury in your ombre baby blue pedicure by sprinkling in gold flakes. The gold adds an opulent touch to the gradient effect, making this design suitable for special occasions or any time you want to feel like a million bucks.
Simple Baby Blue Nails
Never underestimate the power of simplicity. A straightforward coat of baby blue polish is evergreen—it's chic, easy to pull off, and works well in casual and formal settings.
White Pedicure With Baby Blue Glitters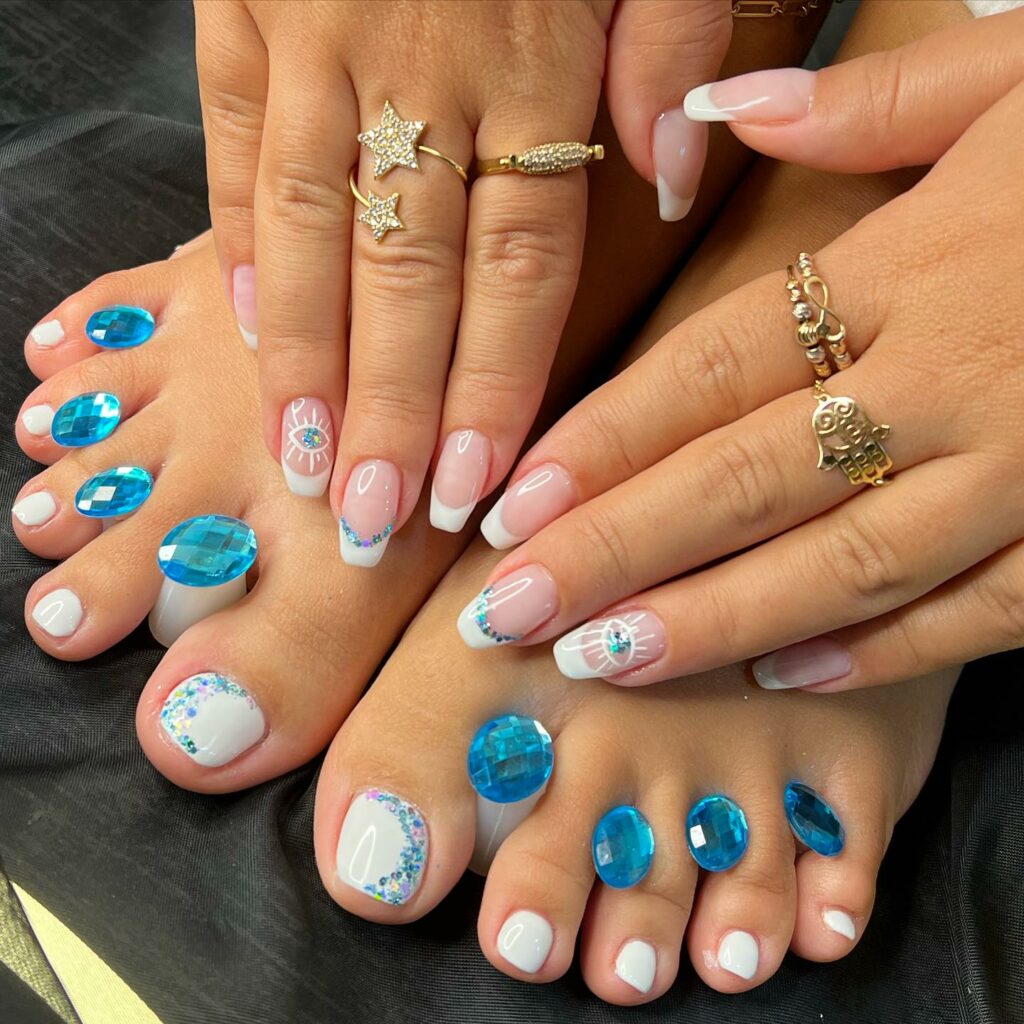 Start with a white base and sprinkle on baby blue glitters for a dreamy, wintery effect. It's an excellent way to add a pop of color without going overboard, and it's perfect for the holiday season or winter-themed events.
Half White And Half Baby Blue Nail
Consider painting each nail half white and half baby blue for a distinct look. This split-color design is eye-catching without being overly complex, making it an exciting choice for those looking to try something new.
Sparky Baby Blue Nail
If you're all about the bling, a sparkly baby blue pedicure is your match made in heaven. Whether you opt for glitter polish or loose glitter applied over wet paint, the sparkle intensifies the color and brings life to every step.
My Top Tips For Achieving The Perfect Shade Of Baby Blue Nail Polish
| Pedicure Design | Recommended Nail Polish Brand and Shade |
| --- | --- |
| Baby Blue Pedicure With Evil Eye | Essie's "Bikini So Teeny" – excellent opacity and long-lasting wear |
| Baby Blue Nail With Small Rhinestones | OPI's "It's a Boy" – smooth formula for easy rhinestone application |
| Baby Blue On Glass Nail Art Design | Zoya's "Blu" – pale baby blue, excellent for glass nail art |
| Sharp Baby Blue French Tips | CND Vinylux's "Creekside" – ideal for creating precise, sharp tips |
| Baby Blue Nail With Big Rhinestone | Deborah Lippmann's "Blue Orchid" – sophisticated backdrop for a large rhinestone |
| Baby Blue Nail With Glittery Stone | Sally Hansen's "Barracuda" – formula grips glittery stones securely |
| Baby Blue And Pink Ombre | China Glaze's "For Audrey" – blends nicely into pinks for a flawless ombre |
| Baby Blue And White Pedicure | Chanel's "Azure" – pairs nicely with any white polish |
| Ombre Baby Blue With Gold Flakes | Butter London's "Sprog" – creamy texture perfect for layering with gold flakes |
| Simple Baby Blue Nails | Revlon's "Dreamer" – affordable and reliable for a simple baby blue |
| White Pedicure With Baby Blue Glitters | Orly's "Snowcone" – excellent for sprinkling over a white base |
| Half White And Half Baby Blue Nail | ILNP's "Paper Route" – cruelty-free option for the baby blue half |
| Sparky Baby Blue Nail | NARS "Ikiru" – especially good when layered with a sparkly topcoat |
Feel free to mix and match these brands to suit your preference, but these are my tried-and-true faves that promise a lasting, eye-catching pedicure. Happy nail painting!
My 11 Tips To Make Your Nail Polish Last Longer
Prep Your Nails: Before opening that bottle of polish, ensure your nails are clean and dry. Use an acetone-based remover to remove old polish, oils, or lotions.
Buff It Out: A little buffing goes a long way. Smoothing out the surface of your nails helps the polish adhere better. Don't go too crazy—you don't want to weaken your nails.
Base Coat Is Bae: Never skip the base coat. It's not just an extra layer; it helps the colored polish stick. Opt for a sticky base coat for even better adhesion.
Thin Layers: Instead of slathering on a thick layer of color, aim for two to three thin coats. They'll dry faster and last longer.
Cap the Tip: After applying each layer of polish, swipe the brush horizontally along the tip of your nail. This seals the edge and minimizes chipping.
Top Coat Matters: A good top coat is like the setting spray of the nail world. It locks in your color and adds a shiny finish. Some top coats even have quick-drying or gel-like formulas for extra longevity.
Dry Properly: Give your nails ample time to dry. If you're in a hurry, quick-drying sprays or drops can help, but natural drying is always best for durability.
Avoid Hot Water: Avoid hot water like the plague for the first couple of hours after painting your nails. It can seep into the polish and cause it to lift from the nail.
Oil' Em Up After your polish has set, apply cuticle oil daily. It keeps your nail bed hydrated, which in turn helps the polish stay put.
Touch-Ups: Don't strip off all your polish if you notice minor chips or wear. Just touch up the chipped area and seal it with another layer of top coat.
Gloves for Chores: Wear gloves to protect your pedicure if you're doing dishes or cleaning. Chemicals and scrubbing can quickly ruin your hard work.
By incorporating these tips into your pedicure routine, you'll not only extend the life of your polish but also keep your feet looking fab for longer. Trust me, your toes will thank you!
Still Looking for Inspiration, Then Check Out This Video
Conclusion
And there you have it, folks! Whether you're into the glitz and glam of rhinestones and glitter or more about the understated elegance of a simple baby blue, there's a style on this list for everyone. My personal fave? I'm head over heels for the Baby Blue and Gold Flake Ombre—it's like having tiny treasures on your toes! Remember, the key to any fabulous pedicure is a good base coat and top coat to make your color last. Don't be afraid to mix and match or even create your custom look—after all, your toes are your canvas. Happy painting!
Feature Image Photo By nail_clinic_hayah on Instagram
Last reviewed and updated on October 16, 2023