Today, we're diving deep into the alluring world of nail art—specifically, the luxurious blend of black and gold designs that never fails to make a statement. Do you love to punctuate your look with nails that tell a story? Then this blog post is for you. From decadent metallics that shine brighter than a New Year's Eve fireworks display to sophisticated matte blacks that emanate pure elegance, we're covering a range of 65 designs that fit every season and occasion.
Nail art isn't just about painting your nails; it's an extension of your personality, a finishing touch to your look, and in the case of black and gold designs, it's a walk on the lavish side of life. From tips and tricks for DIY aficionados to product recommendations for the best in high-quality polishes and accessories, you'll learn how to achieve swoon-worthy designs right at home. Additionally, we'll sprinkle in some insider secrets for those considering professional applications. Prepare to upgrade your nail game and inspire a wave of awe-struck glances! So let's get started—because when it comes to making a statement, your nails are the canvas, and you're the artist.
The Subtle Sophistication: Abstract with Gold Studs
If you're a fan of the unexpected, the delicate black wire nails paired with a single studded gold accent nail are a go-to choice. It's a subtle design that commands attention but doesn't scream for it. It's like that mysterious guest at a party who everyone wants to know but is coy enough to keep them guessing. Trust me, I've been that guest and these nails make you feel just as intriguing!
Stellar Flair: Star Accent
Want to keep it chic but with a dash of whimsy? A star accent against a classic black French tip is just what you need. You only need a simple star stencil or sticker to make this celestial design pop. Every time I rock this look, I can't help but feel like the star of my show—and you will, too!
Aged to Perfection: Shiny but Distressed
The distressed look isn't just for your jeans! These gold nails with a slightly weathered appearance give you a lived-in glamour that's as appealing as it is unique. Imagine a treasure chest, but it's like wearing a beautiful secret for your nails.
Modern Masterpiece: Black and Glitter Splatter
When I first tried color-blocking with shiny black and sparkly gold splats, the compliments were endless. The Ella + Mila Elite Collection in Drippin' Gold is my personal favorite for achieving this architectural vibe. It's like the skyline of New York City but on your nails!
Less Is More: Square Cutout
For those who love minimalistic designs, a square cutout against a bold black base is your go-to. I like to use Sally Hansen's Xtreme Wear Nail Color in Black Out. The small cube at the top of each nail adds that extra oomph to an otherwise simple design.
Texture Play: Matte and Gold Flakes
Texture can make or break a look, and in this case, it makes it striking. A matte base paired with shiny gold flakes offers a beautiful play on contrasts. Sometimes, I switch it up with alternating glossy and matte nails for that wow factor. Trust me, this is an eye-catcher.
A Twist on the Classic: Gold Crescents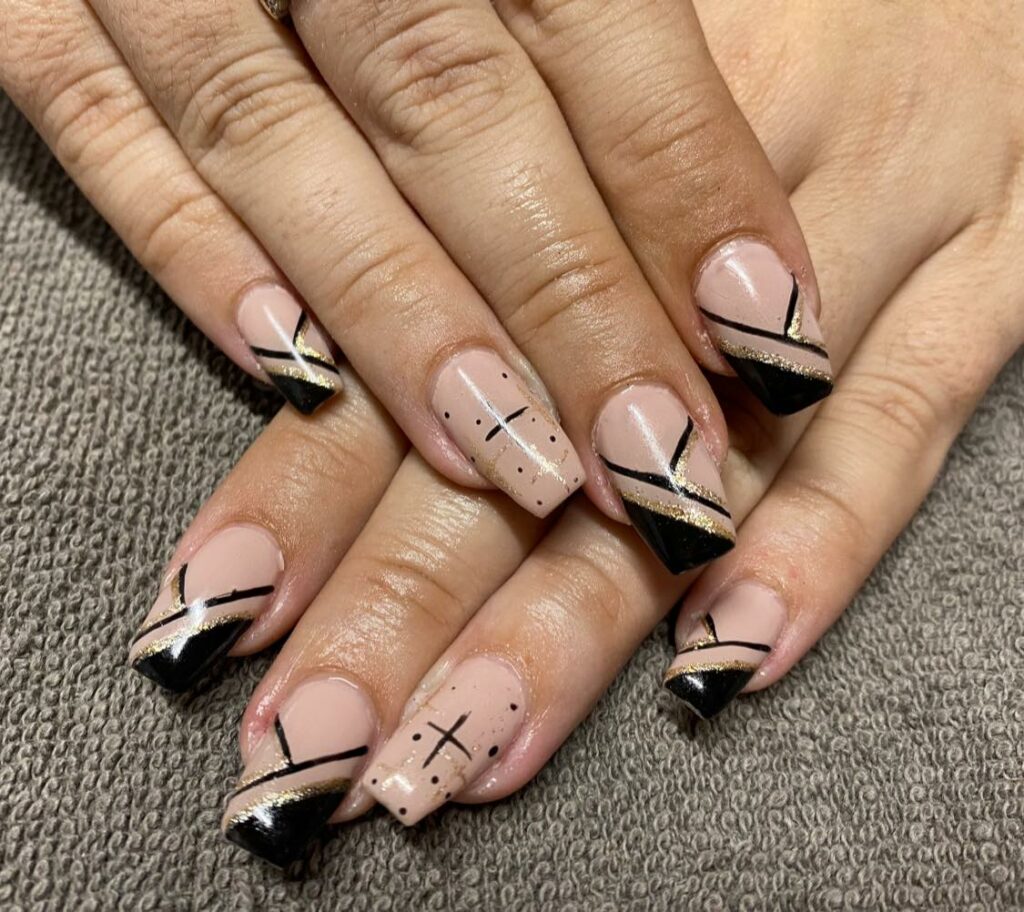 Who says a French manicure has to be plain? A standard French tip gets a facelift with black tips and gold curves across each nail. This look has gotten me more handshakes at networking events than I can count!
Suited Up: Tuxedo Nails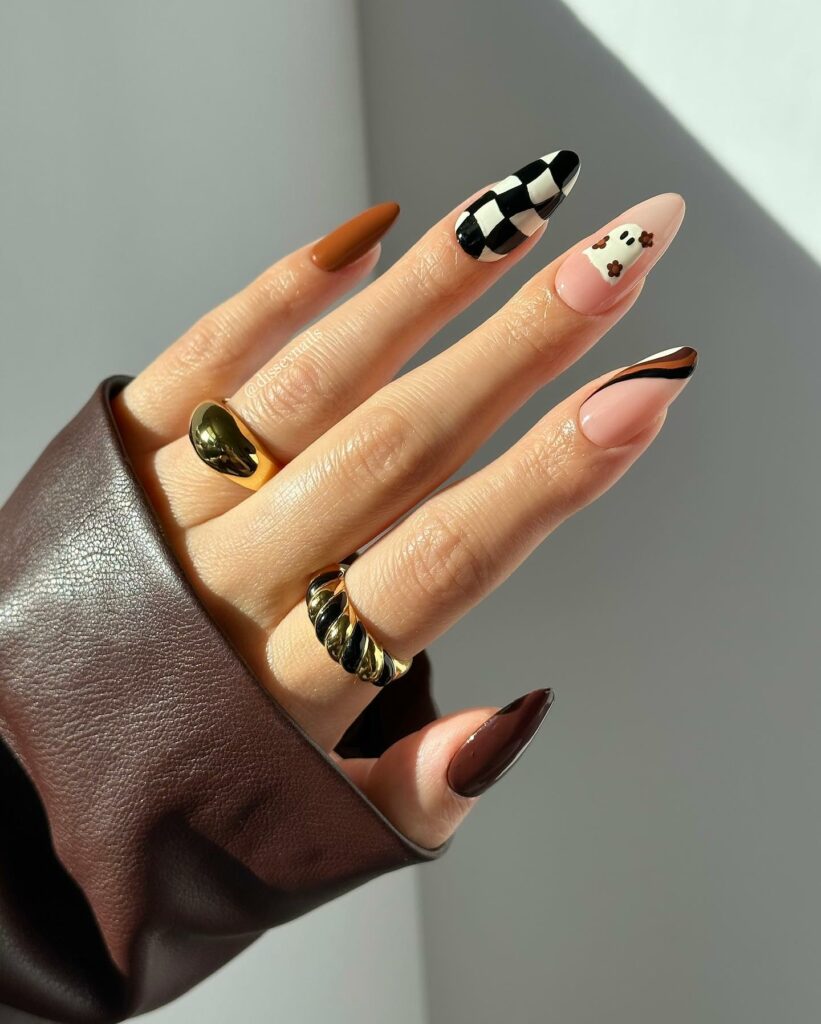 I love the polished contrast of what I call "Tuxedo Nails." With contrasting shapes and a shiny finish, this design is classy enough for formal events but edgy enough to make a statement.
Bring the Party: Disco Waves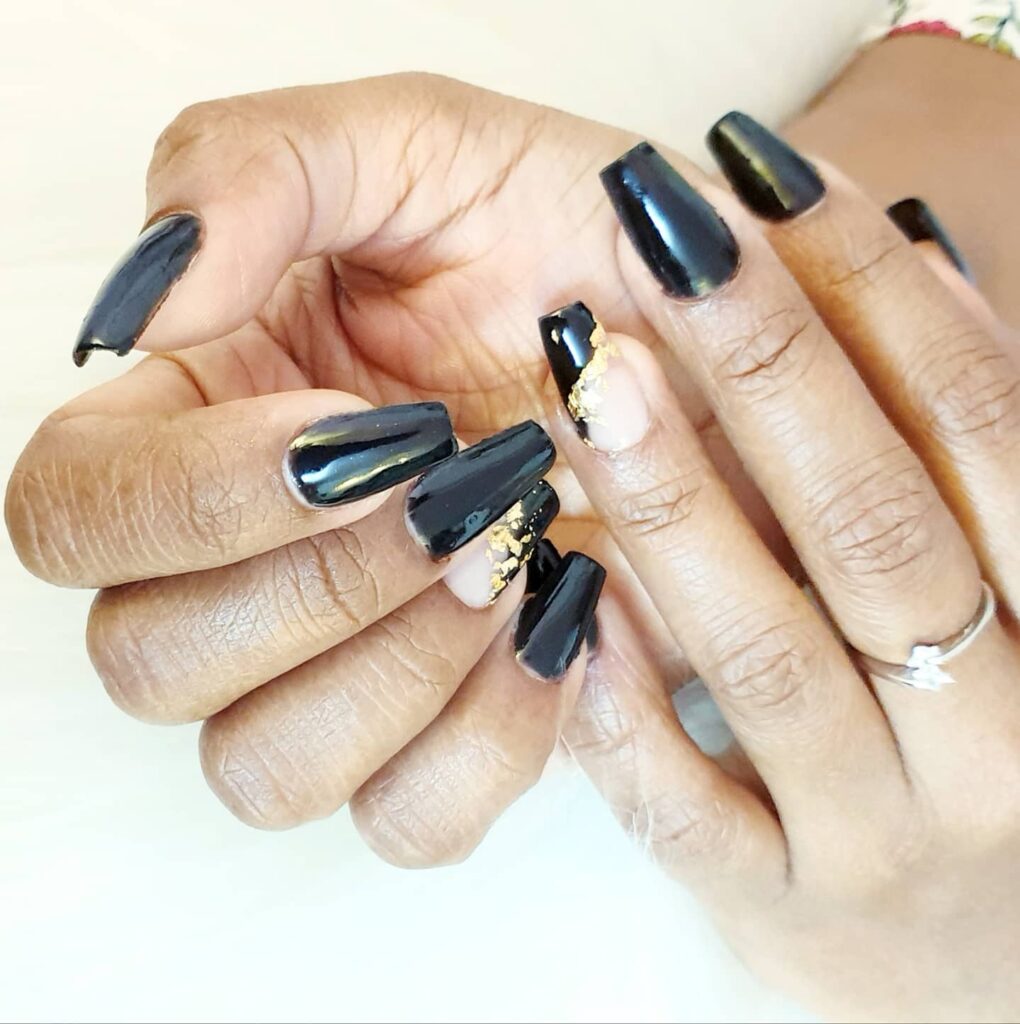 Ready to hit the dance floor? Grab a bottle of OPI's A Mirror Escape, and you'll feel like you've stepped straight into a '70s disco. It's Saturday Night Fever, but make it fashion—for your nails!
Stripes and Glamour: Gilded Stripes
Last but not least, there's nothing like gold stripes to turn up the glam on a set of charcoal tips. This look is an all-occasion stunner that's entered my regular rotation.
The Art of Adornment: Golden Accessories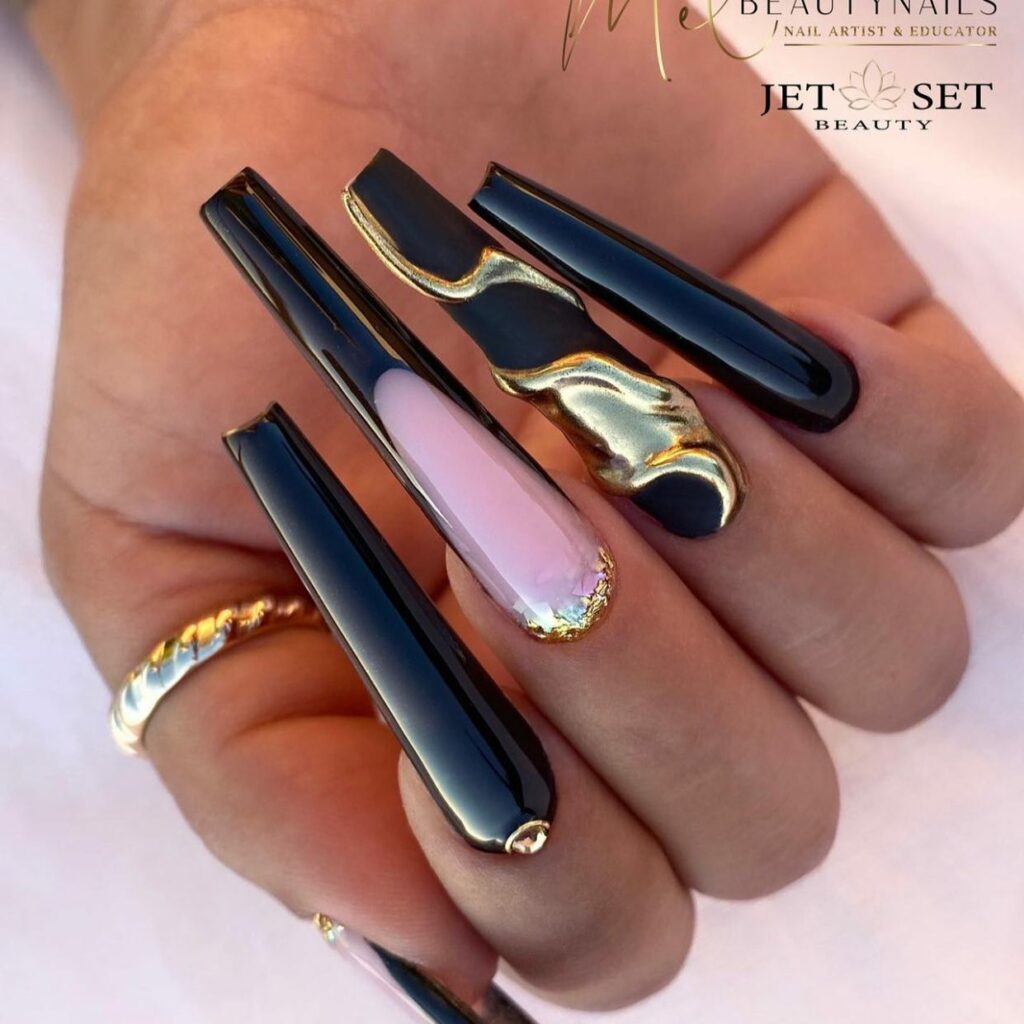 If you're already scrolling through Instagram for nail inspiration, you might have stumbled upon some of our favorite accounts. The celestial designs adorned with chains and gems are an absolute work of art. It's a starry night but for your nails.
It's All in the Little Things: Small Details
You know the saying: the devil's in the details. Here, it's all about gold nail jewels, gold chevron patterns, and that fabulous rose gold accent nail. The first time I tried this, I was heading to a bridal shower, and let me tell you, my nails nearly outshone the bride-to-be's ring!
Less is More: Accent Nail
Simplicity can be striking. Go for a glossy black canvas and accentuate it with just one minimalistic accent nail. This design is the epitome of understated glam.
Playful Vibes: Censored Outlines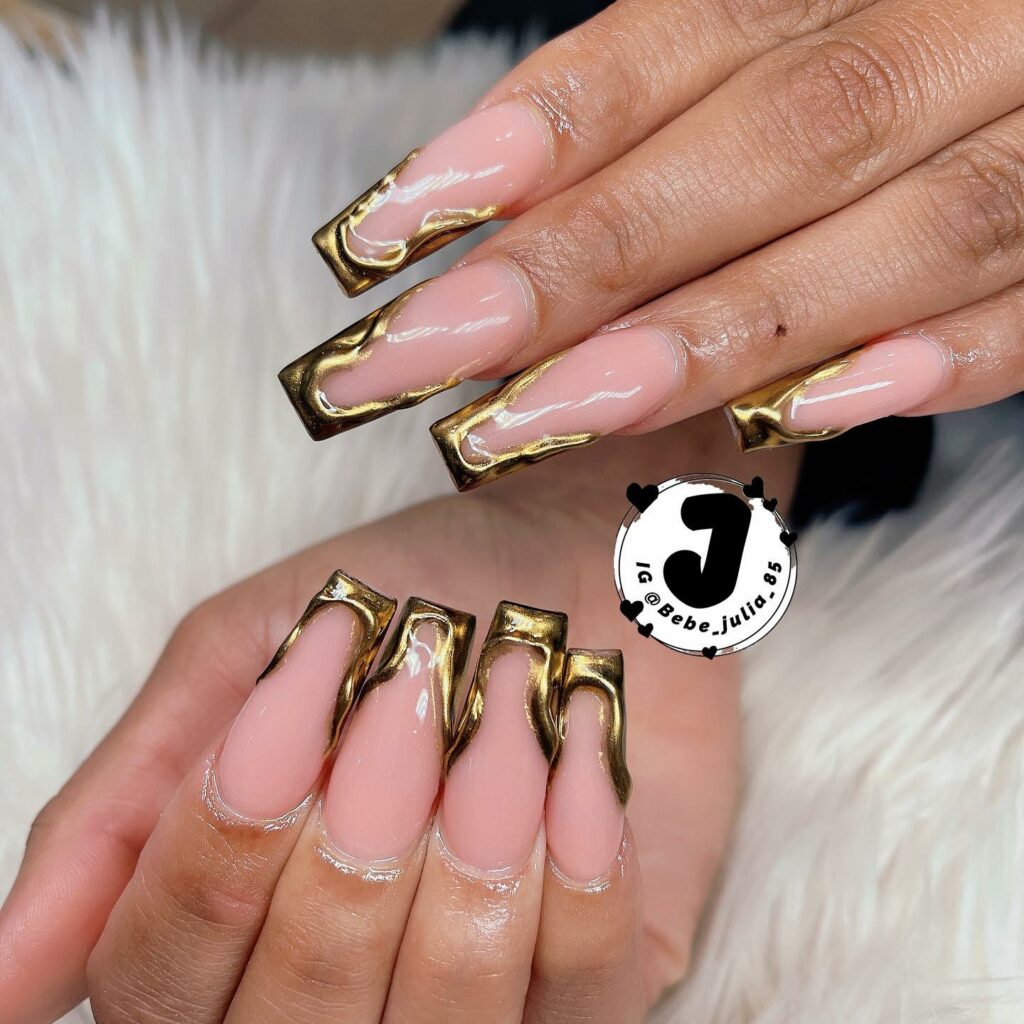 For those who like a touch of sass, how about some cheeky silhouettes adorned with gold stars for censorship? It's playful, whimsical, and a conversation starter.
Undefined Beauty: Graphic Gold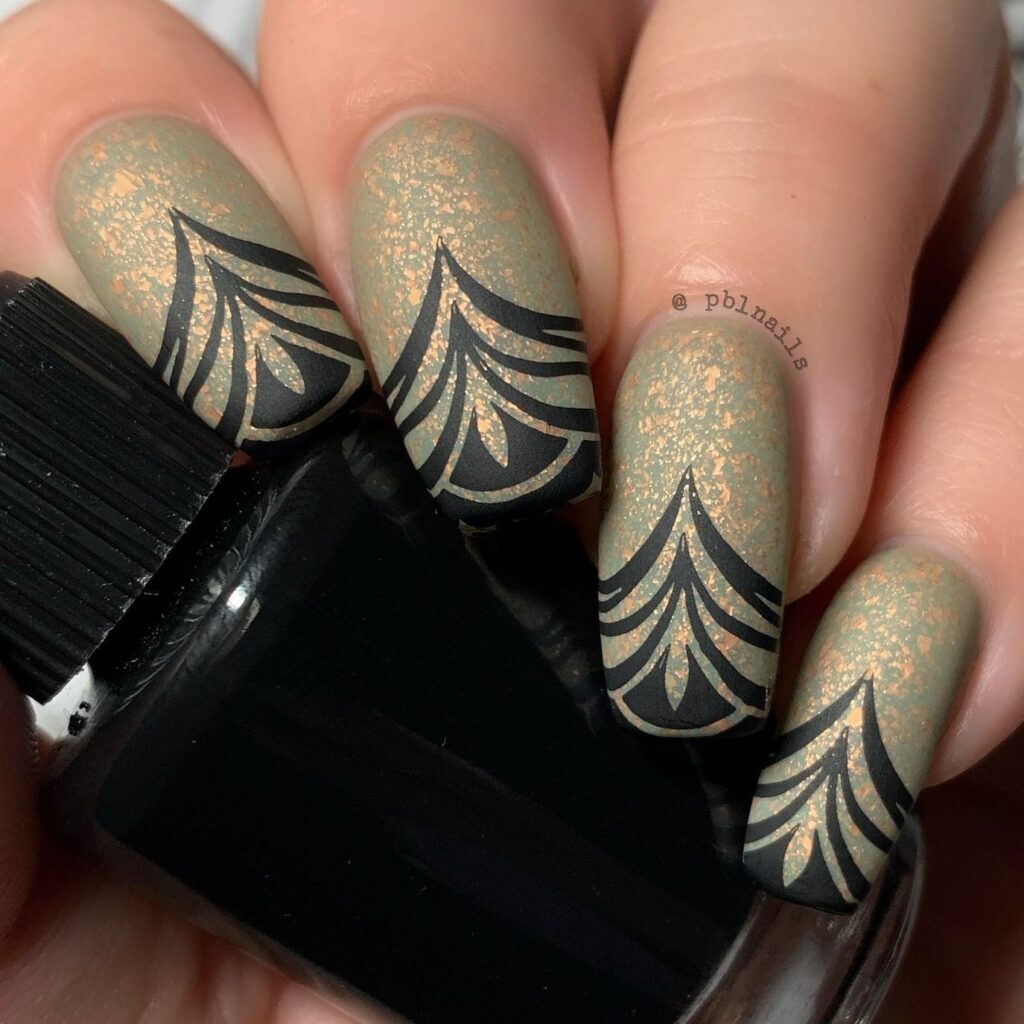 Dark nails adorned with thin gold bars create a captivating visual, leaving everyone guessing what inspired you. I sported this look to a high-stakes business meeting, and it was just the confidence boost I needed.
A Night Sky of Dots: Spray of Dots
Imagine a sky full of stars but concentrated at your fingertips. A black base with a sprinkle of miniature gold dots toward the tips makes for an extravagant look that's sure to be a hit at any soirée.
Breaking the Mold: Gold Wire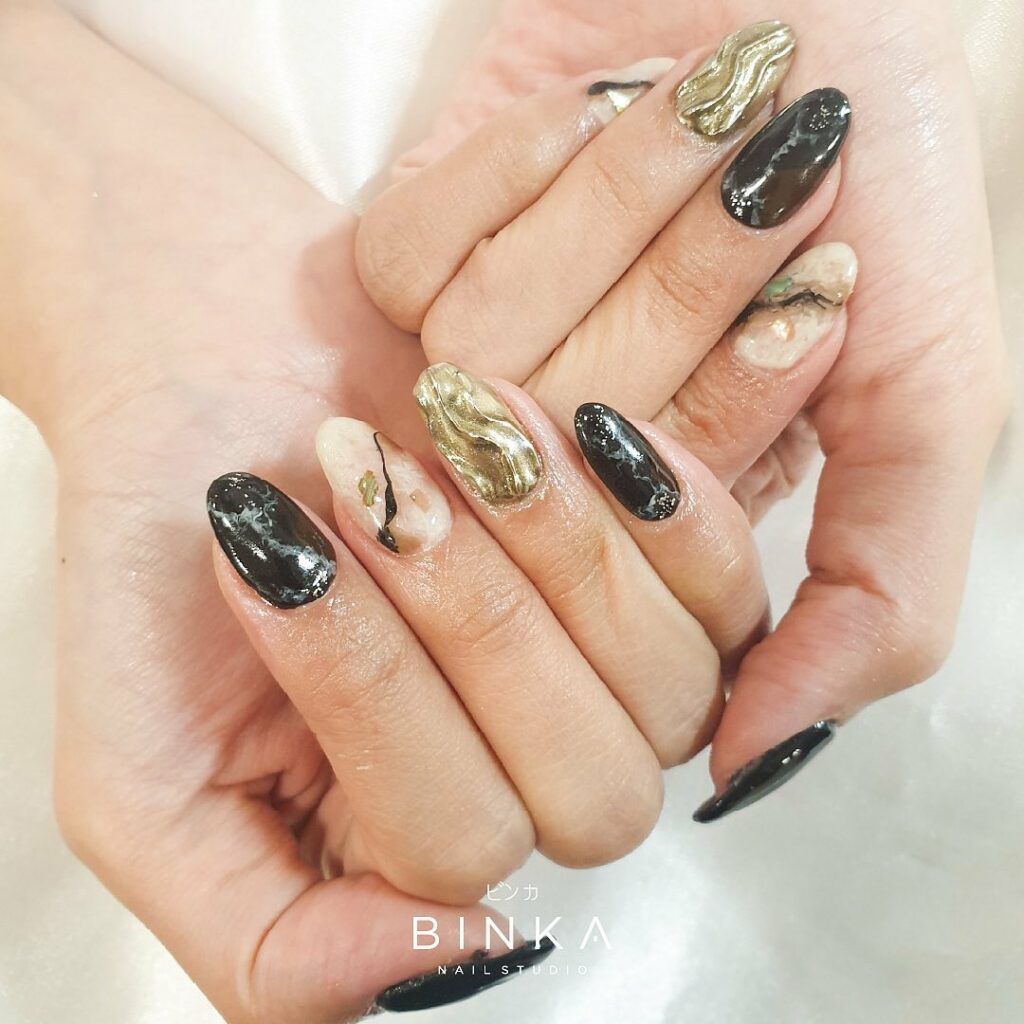 This black and gold freestyle design is unlike any other for those willing to experiment. Add a contrasting nail by winding some gold wire around it, and voilà—you've got yourself a masterpiece.
Short but Chic: Minimalist Stripe
Who says short nails can't make a statement? A simple vertical gold stripe not only adds elegance but also gives the illusion of length. It's a little trick I love when I'm in between nail appointments.
Flip the Script: A Twist on Plaid Perfection
Don't fancy the boldness of black as a base? Take a leaf from Olive and June's book and opt for a white base. Then, accent it with linear black patterns and gold detailing for a refreshing twist on the plaid.
The Ultimate Sophistication: Black and Gold Cuticle
Inspired by iconic Chanel earrings, this inverted French manicure with a black and gold pattern at the cuticle area is the epitome of elegance. Minimal yet impactful, it's the high-fashion touch your fingertips deserve.
Wild Flair: Tiny Leopard Print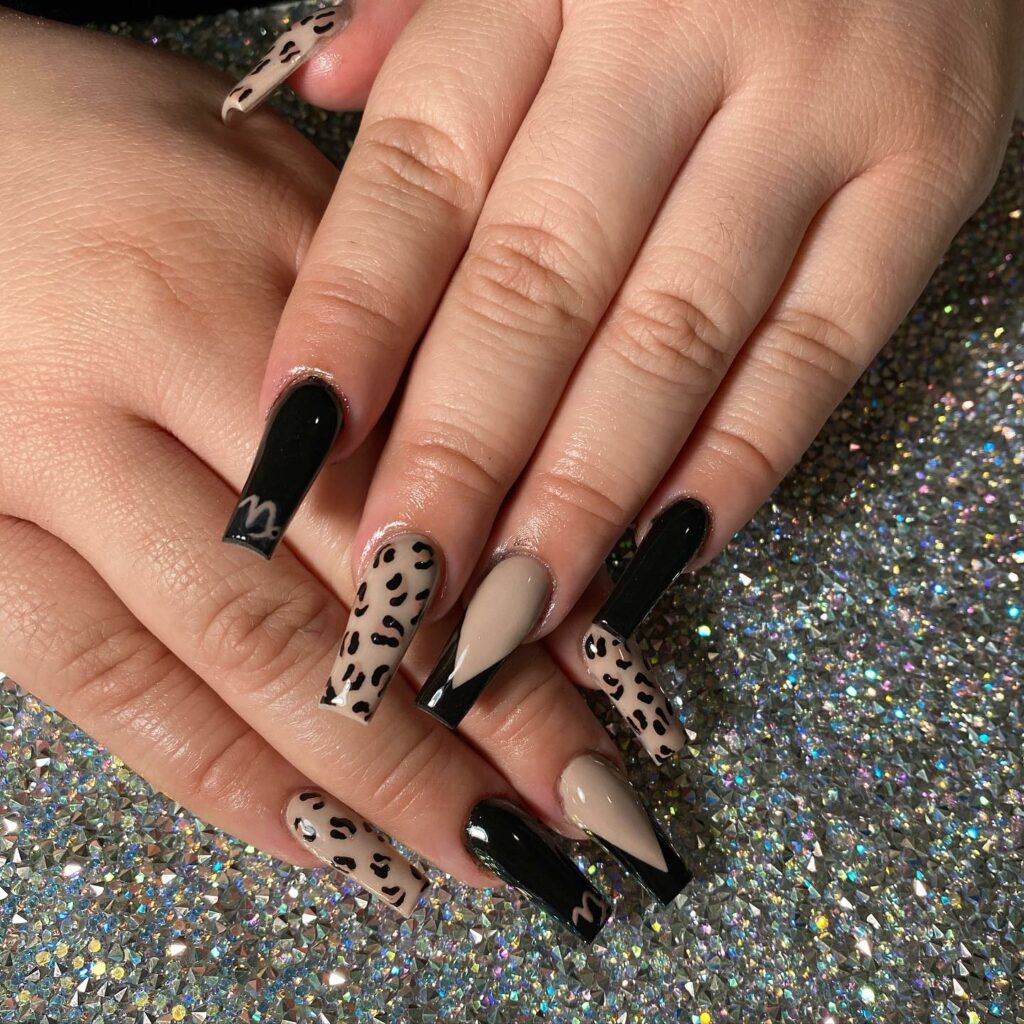 For a daring yet delicate touch, consider golden leopard print around the edges of your nails. Want to elevate it a notch? Add a golden accessory on an accent nail. I did this for a girls' night out, and my nails became as hot a topic as the latest episode of our favorite drama series.
Dazzle Them: Glitter Dipped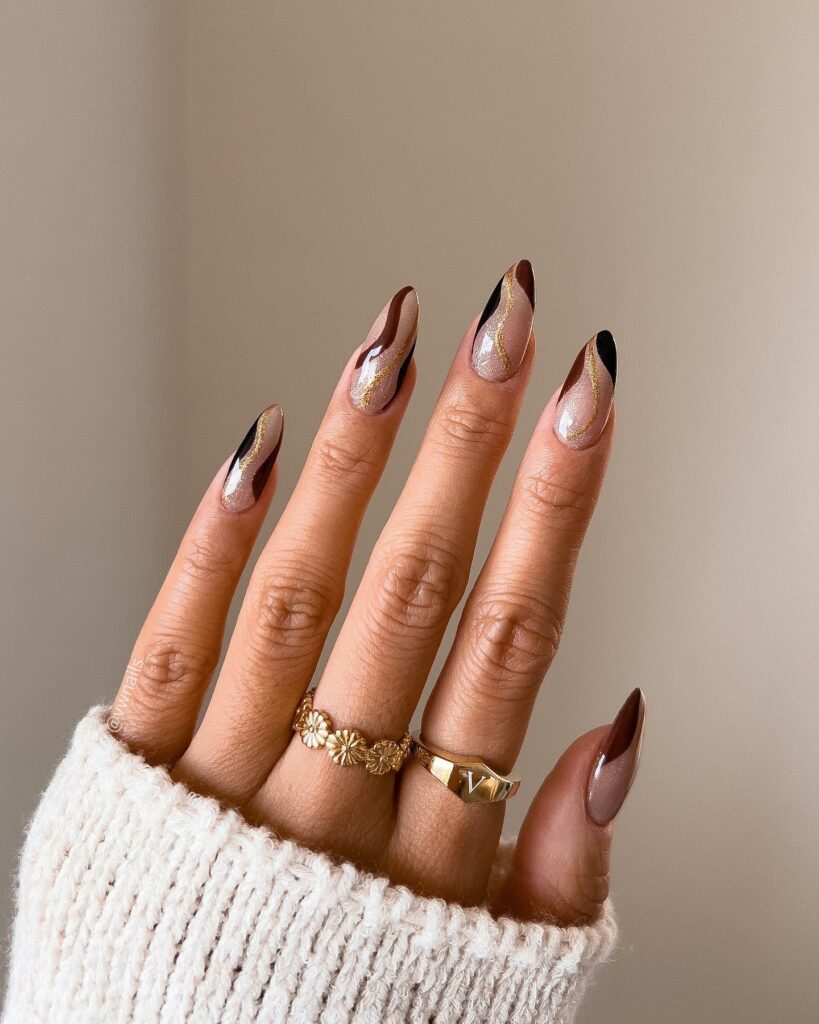 Want to bring some sparkle to the party? Opt for a dipped gold glitter finish on your nails. This is an instant pick-me-up and perfect for any festivity. I sported this look last New Year's Eve, and the glitter was popping just as much as the champagne!
Details Make The Design: Gold Accents
Checkerboards and smiley faces are not just for doodles; they make terrific nail art, too! On a shiny black base, these simple golden accents genuinely shine. This style had me flashing 'peace' and 'thumbs-up' signs to show off the designs.
Starry Night: Outlined Stars
Seeing stars? Stick on a few gold stars and outline them for an ethereal effect. The result is a celestial design with people asking me, "How'd you do that?" during a casual rooftop gathering.
A Mix and Match: Geometric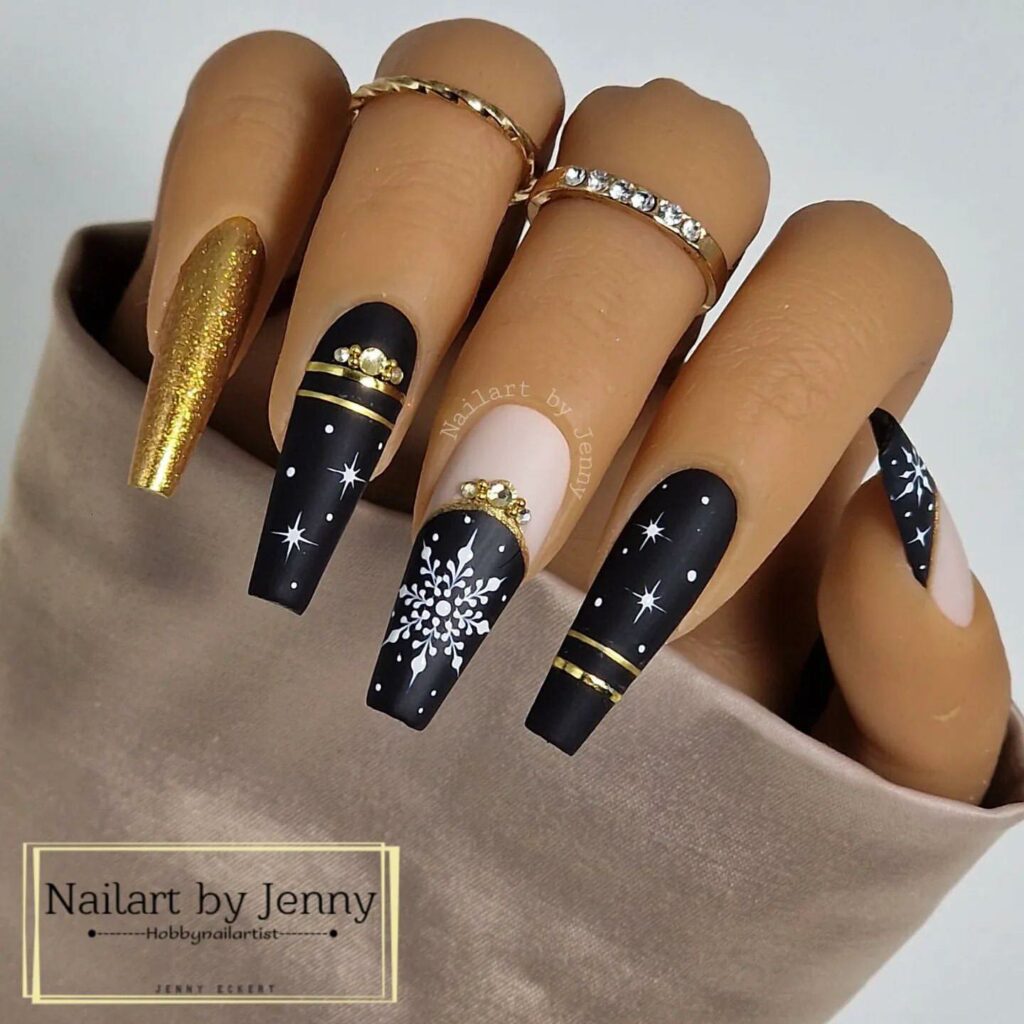 Are you shaking things up? Incorporate a white and nude polish blend, highlighted by black and gold accents. This geometric mix turns every nail into a canvas for modern art.
Minimalistic Fusion: Half Moon and Gold Accents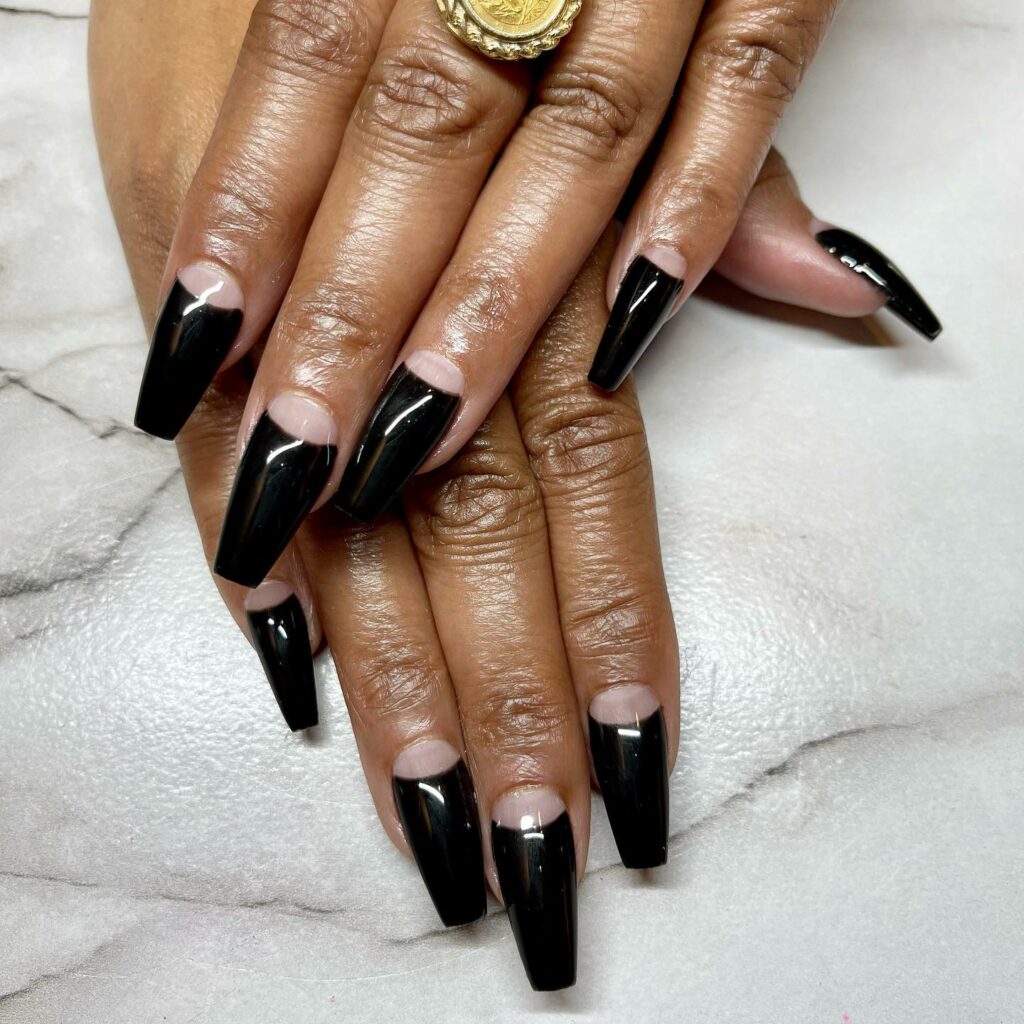 Ah, the elegance of a half-moon design. Now, imagine adding a horizontal dash of gold across the center. You get a harmonious marriage of two minimalistic designs that look effortlessly chic. I wore this look to a minimalist-themed art exhibit and fit right in!
Sharp Contrast: Chevron Tip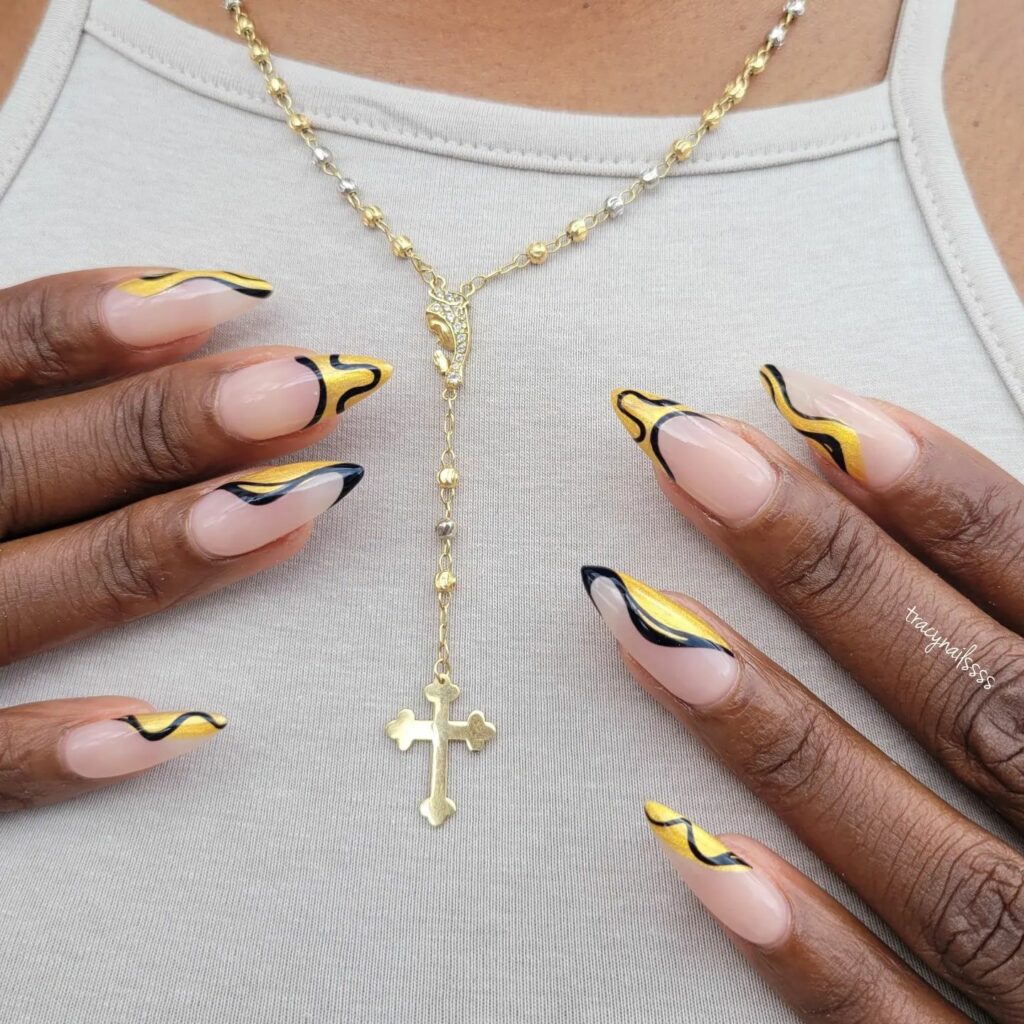 Add overlapping black and gold stiletto tips if you're into the clear base trend. It's like hanging a tiny masterpiece on each nail. The edgy, chic look caught even my art-savvy friend's attention.
Party Like It's 1920: Art Deco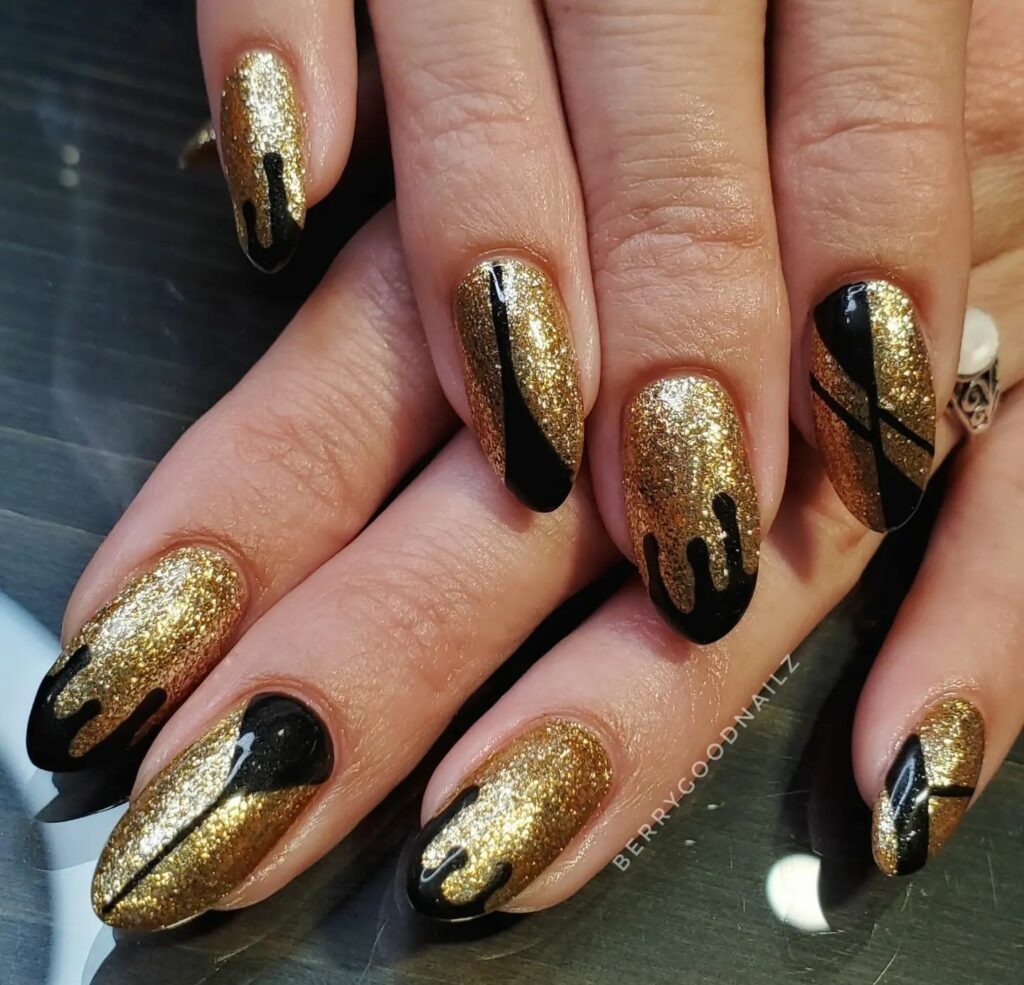 Channel the Roaring Twenties with an Art Deco-inspired manicure. Grab a detailing brush to paint those classic stripes, and you're set for any soiree. I rocked this at a Gatsby-themed party and felt transported back in time.
Fine Lines: Gold Glitter Strip
At first glance, this may seem like a simple design, but painting that thin gold glitter line within the black requires a steady hand. The refined outcome? Worth it!
The Bare Essentials: Sliver of Color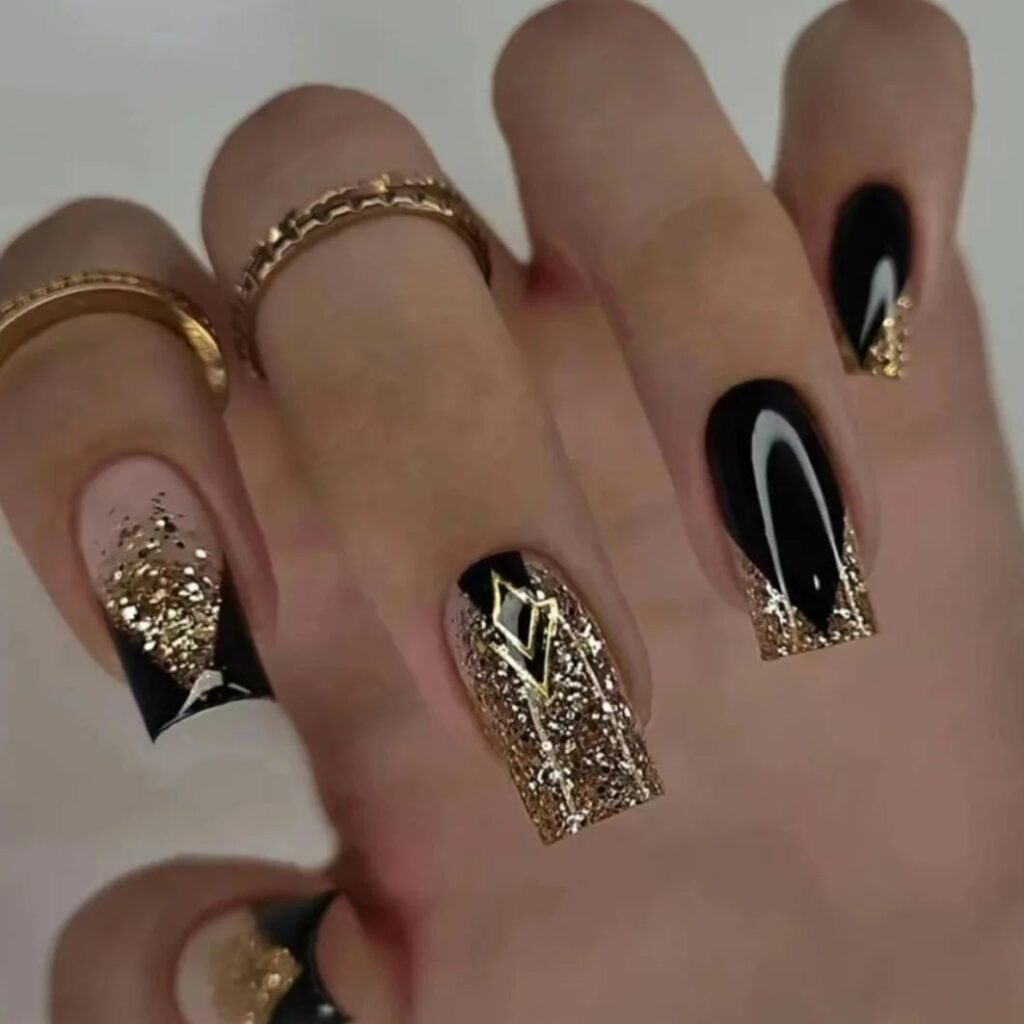 Sometimes, less is more. This oval-shaped French manicure offers just a smidgen of black and a dash of gold, striking the right balance for a subtle yet classy look. I went with this design for a job interview, and let me tell you, it was a subtle confidence booster.
A Touch of Luxury: Gold Foil Outline
If you're all about intricate designs, this one's for you. Mix up black polish with golden foil accents for a look that's fresh and trendy. Each nail is a work of art in itself. My go-to for a dinner party.
Eclectic Chic: Accessorized
No two nails are the same here—talk about eye-catching! For a DIY version, mix press-on stickers (I swear by this pearl version for just $7) with ombré polish. When I tried this, it became a real conversation starter at a networking event!
Elegance at Your Fingertips: Pointed Glitter
Pointed nails + glitter = A win-win. And the kicker? Each nail has its unique glitter layout, with one accent nail nearly covered entirely. Perfect for adding some drama to your office look.
Muted Drama: Glossy Extensions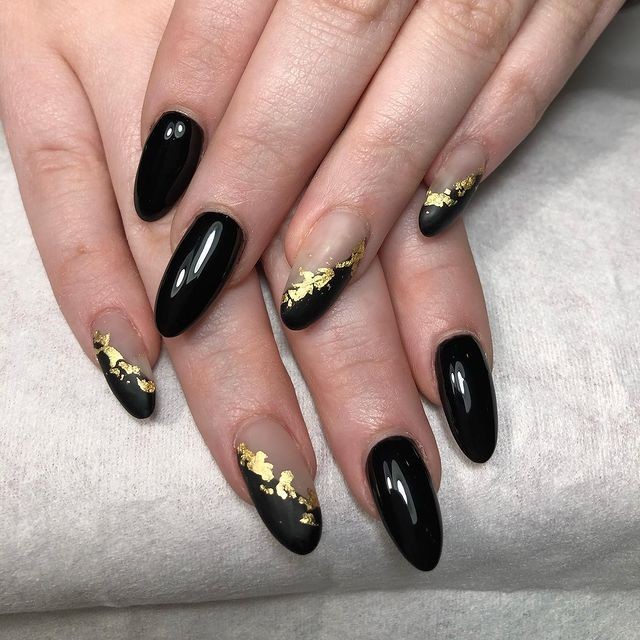 Want to bring focus to just one or two nails? Alternate between matte and glossy black, and then sprinkle gold details sparingly. It looks different, yet united. I wore this look to a weekend brunch, and even the waiter complimented it.
Perfect Contrasts: Matte Black with Gleaming Gold
This design brings together the best of both worlds: the edginess of matte black with the luxury of gleaming gold. Stripes, dots, foil—you name it. This design has everything for the adventurous at heart.
Flecks of Fancy: Floating Gold Flakes
A black base makes gold flecks look like they're floating. This design is mesmerizing, to say the least, and pairs well with just about any outfit. A definite go-to for date night.
Cosmic Beauty: Sun and Planets
This design brings astronomy to your fingertips for those drawn to the night sky or horoscopes. A black backdrop makes the golden celestial details truly pop. I felt like a true stargazer the last time I had these on.
The Golden Eye: Ombré With Dot
A big gold dot near the nail bed becomes a glorious ombré tip. This design is subtle yet intriguing for those 'less is more' days.
Shine On: High-Gloss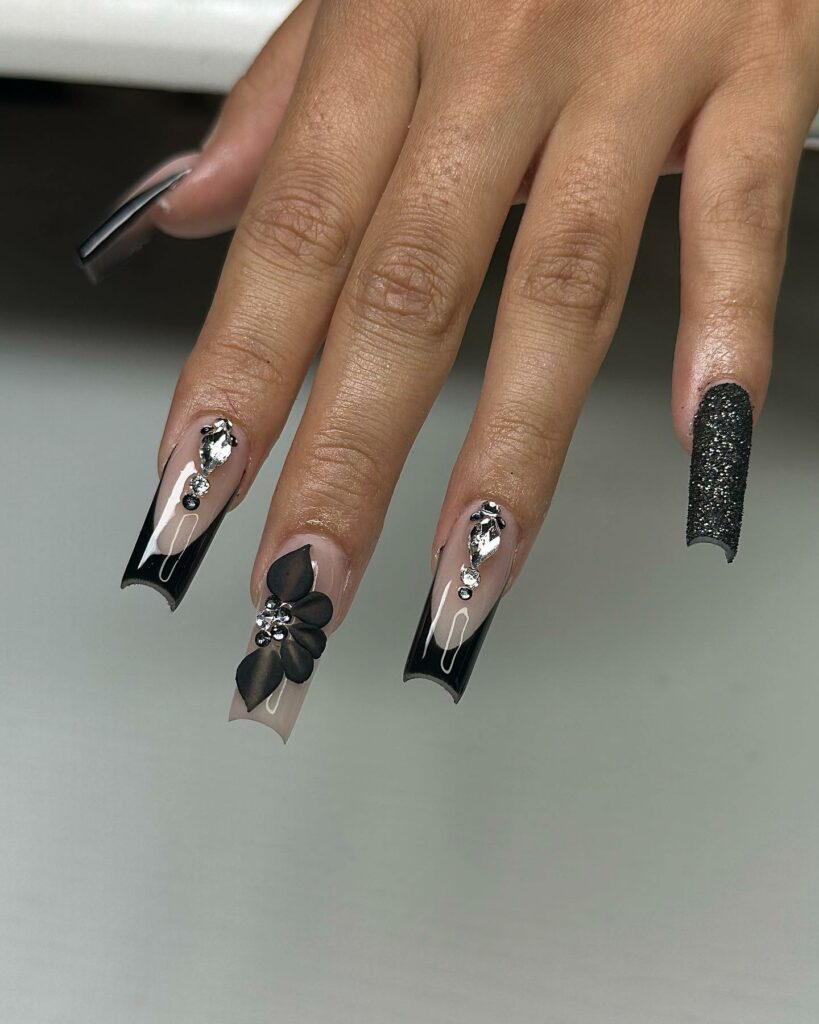 If you love your nails high-gloss, pair it with gold for a super luxurious feel. Throw in a mix of both colors on one nail for a cohesive, glammed-up look.
Floral Finesse: Pointed With Thumb Detail
All black with pointed tips is already striking, but add a golden glitter floral motif to the thumb, and you've just elevated the whole look.
The Art of Elegance: Slightly Marbled
Ever tried marbling on paper? It's magical, and even more so when done on your nails! A glossy black background with swirls of gold polish gives you a mesmerizing and abstract marbled design. I once wore this to a gallery opening and felt like a living piece of art!
Unleashing Your Wild Side: Leopard, Black, and Contrast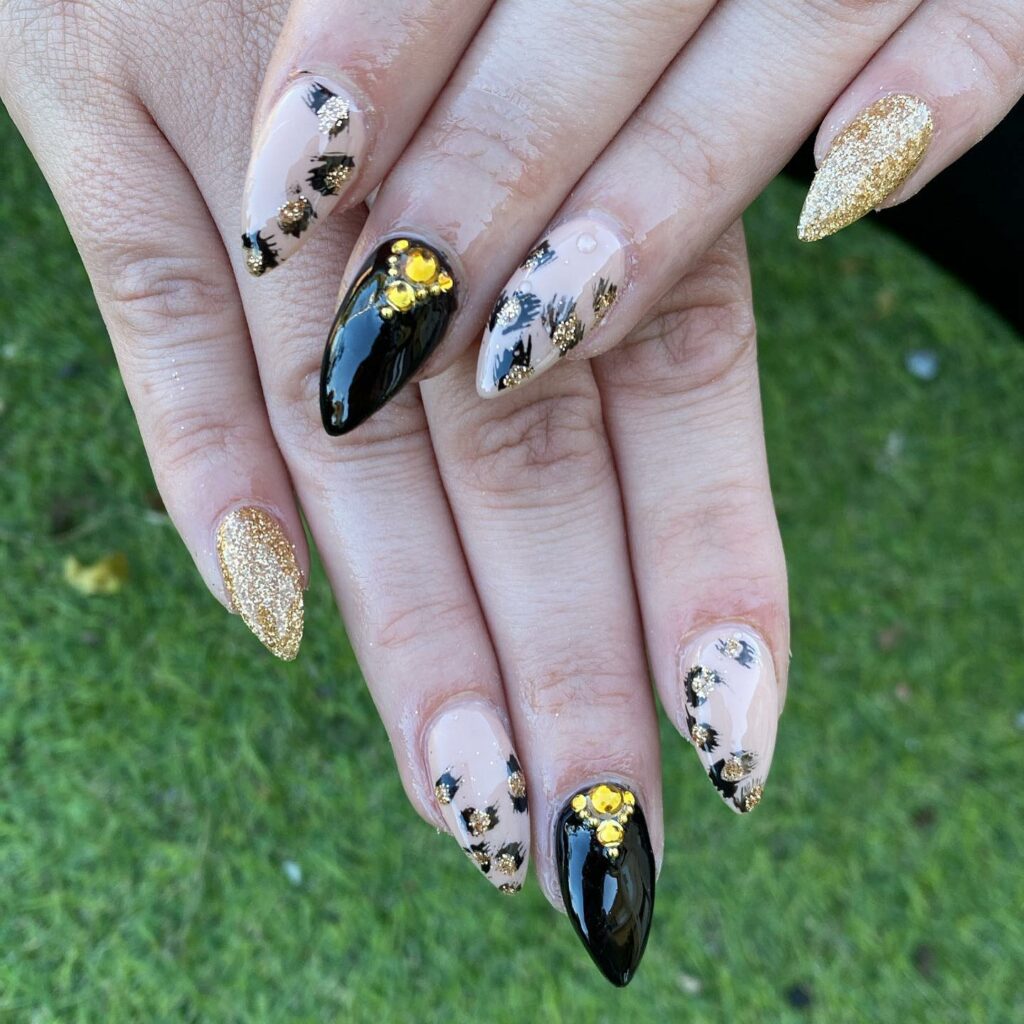 Animal prints always have a way of drawing attention. This set screams sophistication by featuring the leopard pattern on just the ring fingers, while the other nails showcase either black or a contrasting black and beige design. Perfect when you want to make a bold yet elegant statement.
Minimalistic Glam: Subtle Gold Foil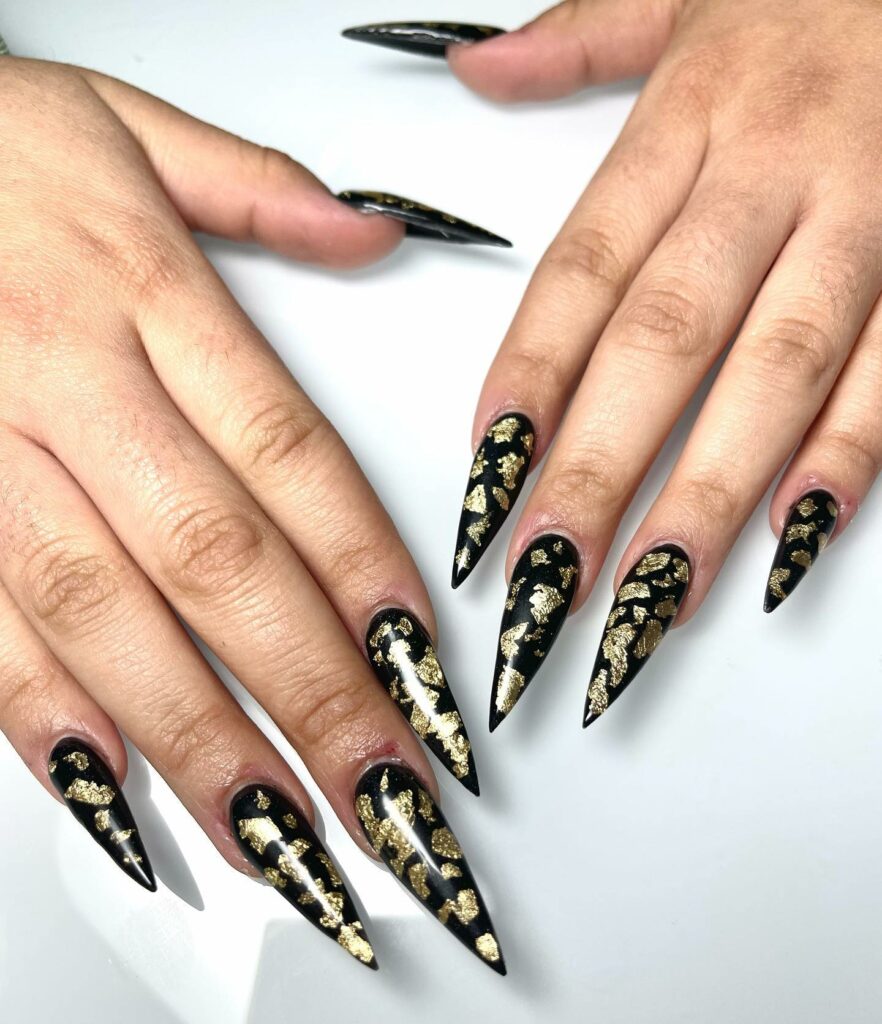 Why go bold when subtle can make just as much of an impact? This design combines pointy, slightly rounded nails with the exquisite application of gold foil. And here's a pro tip: avoid replicating the same design on every nail to keep things interesting. I tried this look for a weekend getaway; let me tell you, it was a showstopper!
Celebrate in Style: Graduation Set
Who says you can't celebrate life's milestones in style? This design offers an abundance of glitter, geometric patterns, and a touch of gold for that extra flair. If you've got something to celebrate, why not let your nails join the party?
Whirlwind of Class: Swirls
The subtle grace of marbled swirls against a beige background is something else. To DIY, use a toothpick or a thin brush to create the swirls of gold and black. Ideal for those who prefer understated glam.
Evening Sparkle: Sparkly
For those nights when you want your nails to be the life of the party, go all out with sparkles, crystals, and other elegant accessories. Trust me, each nail turns into its little masterpiece. I wore this design to a New Year's Eve party, and let's say the fireworks had nothing on my nails!
Cosmic Delight
Picture a night sky sprinkled with stars on your nails. A black base with tiny gold stars can make your fingertips look like a universe waiting to be explored.
Black and Gold Stripes
Create sleek black and gold vertical stripes for an elongating effect. This look is perfect for anyone seeking a chic and visually striking design.
Beaded Beauty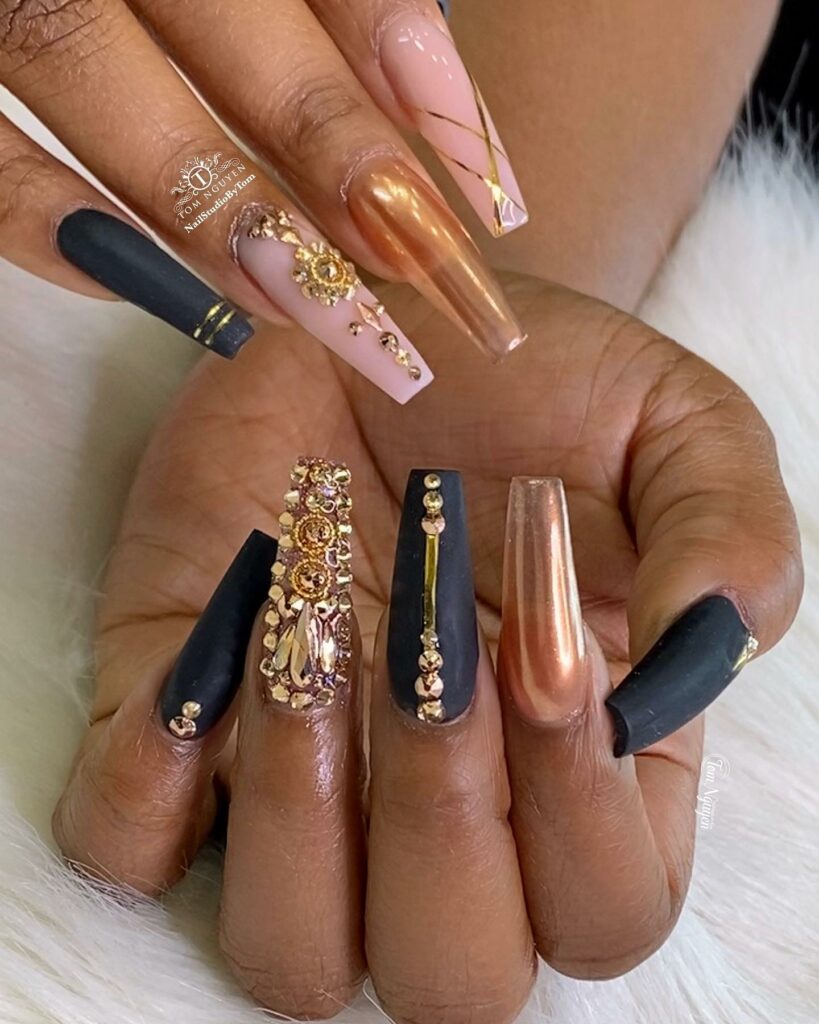 Adorn your black nails with gold microbeads placed at the base or tip. It's a luxurious take that's perfect for a glamorous event.
Monochromatic Magic
Alternate between solid black and solid gold nails. This simple yet captivating look matches just about any outfit.
Sunburst Gold
A black nail with a radiant sunburst in gold at the tip epitomizes chic. This design adds a little sunshine to any mood or outfit.
The Golden Wave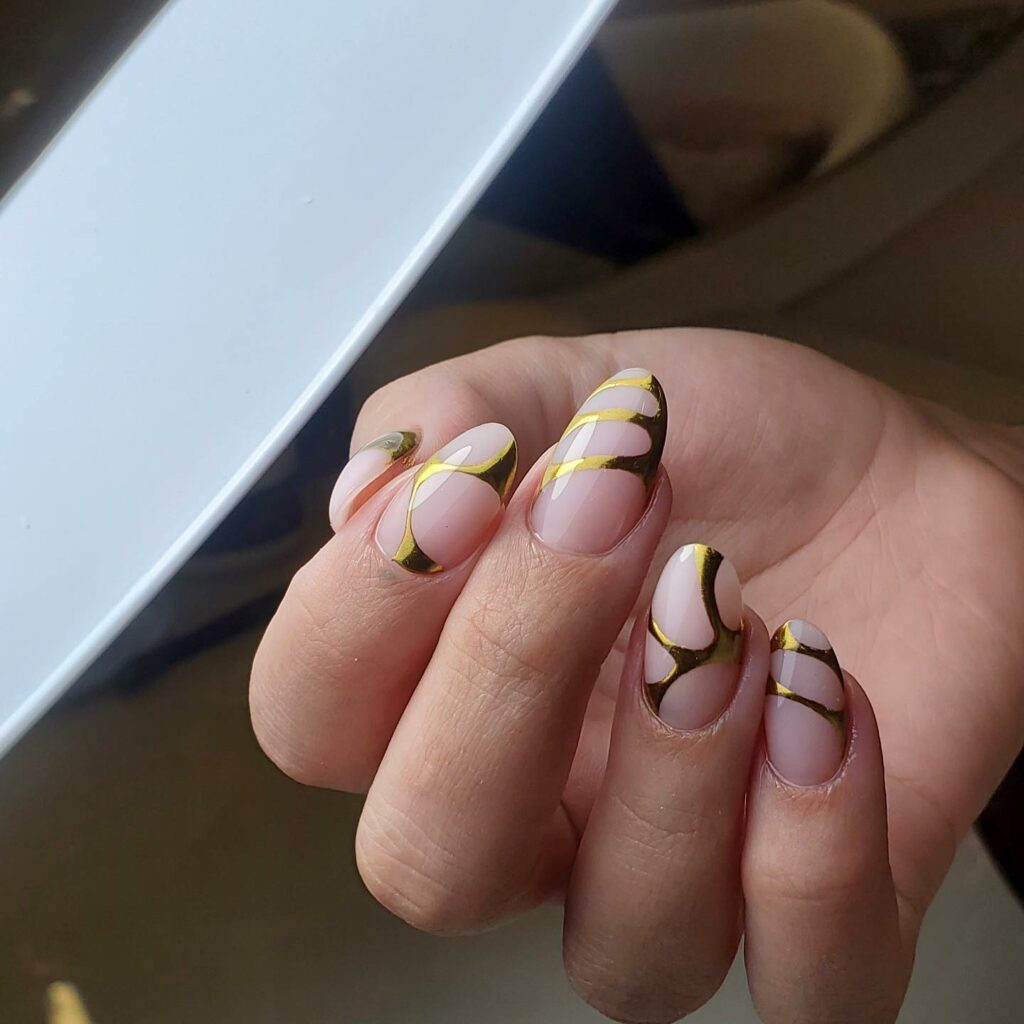 A black base with a wavy gold line crossing each nail creates a dynamic look. Perfect for when you're feeling bold and playful.
Intricate Mandala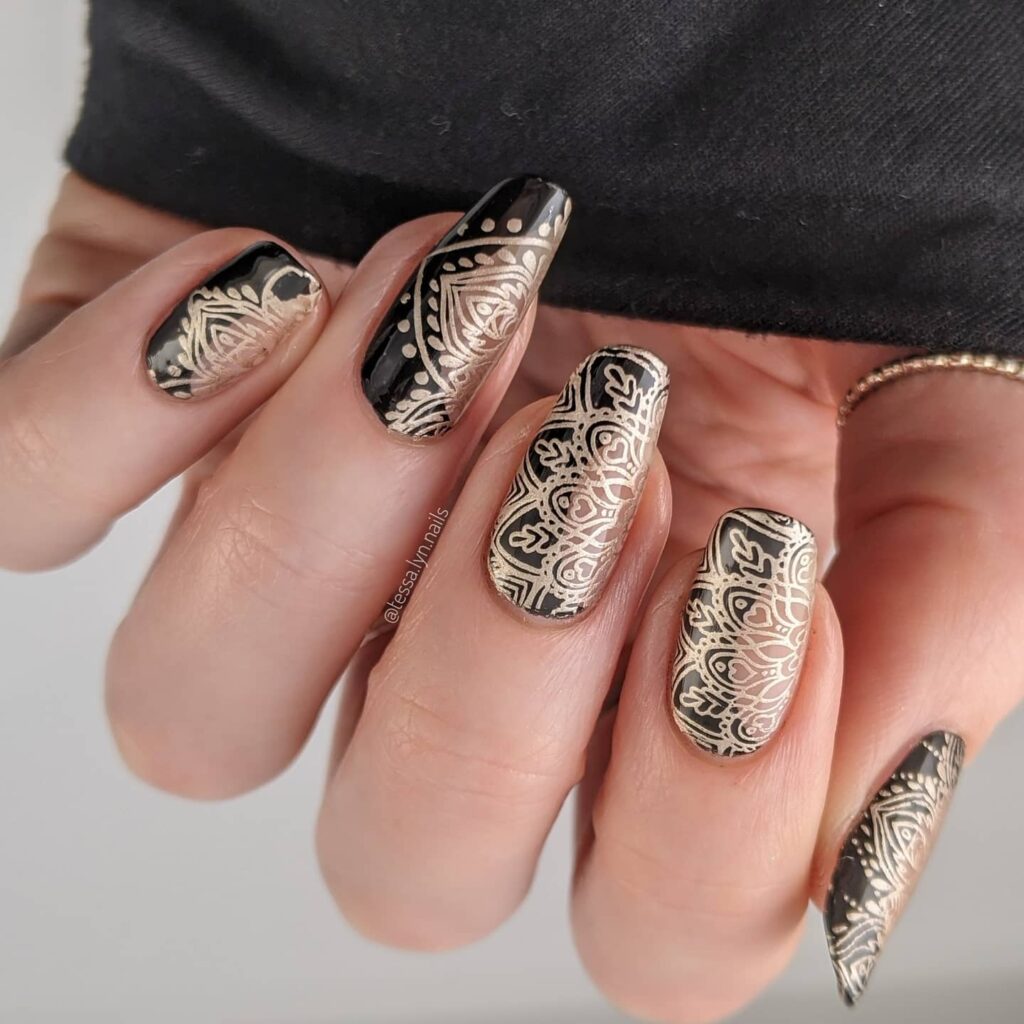 How about a black base with intricate gold mandala designs? It's a great way to show off your artistic side.
Gold-Capped Tips
Think French manicure but with a golden twist. Gold-tipped nails on a black base are timeless and elegant.
Baroque Brilliance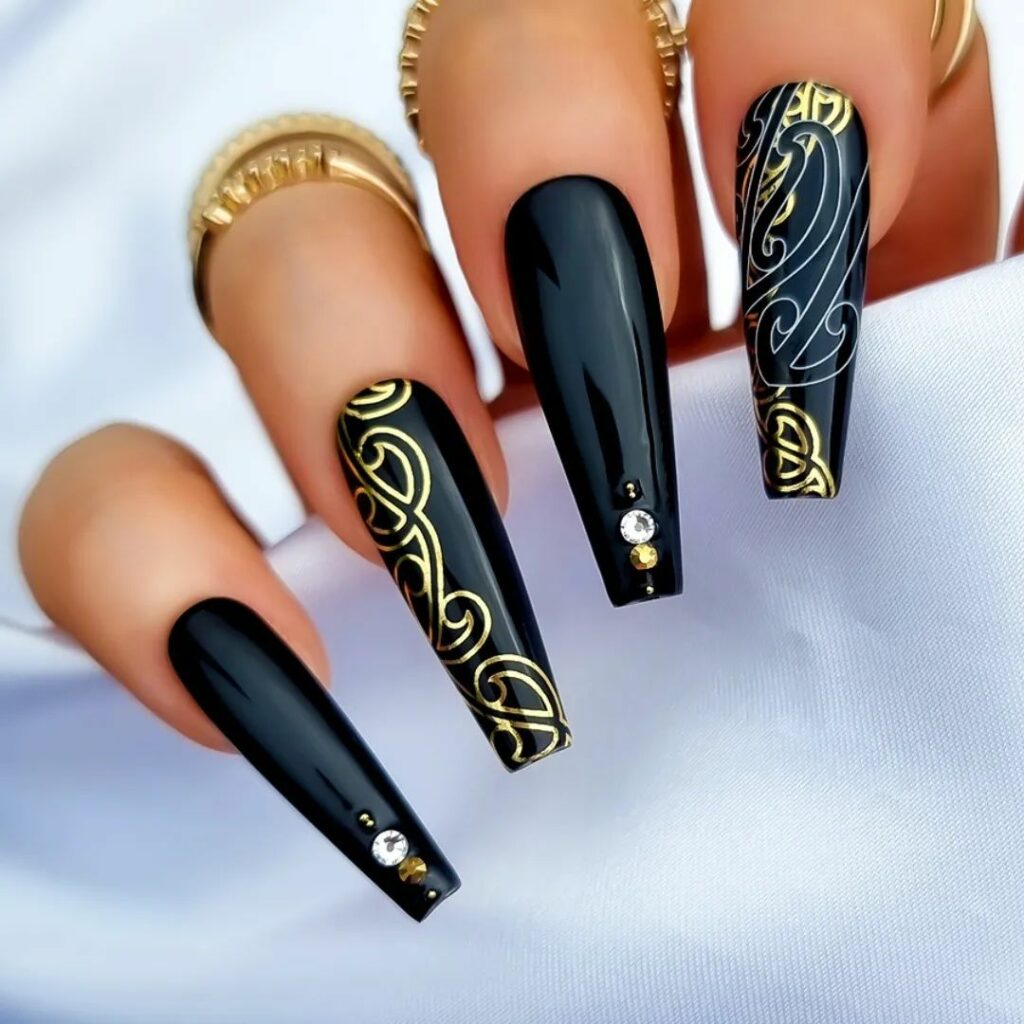 Design intricate gold patterns on a black base for a genuinely baroque feel. It's like wearing a piece of classical art on your nails.
The Golden Moon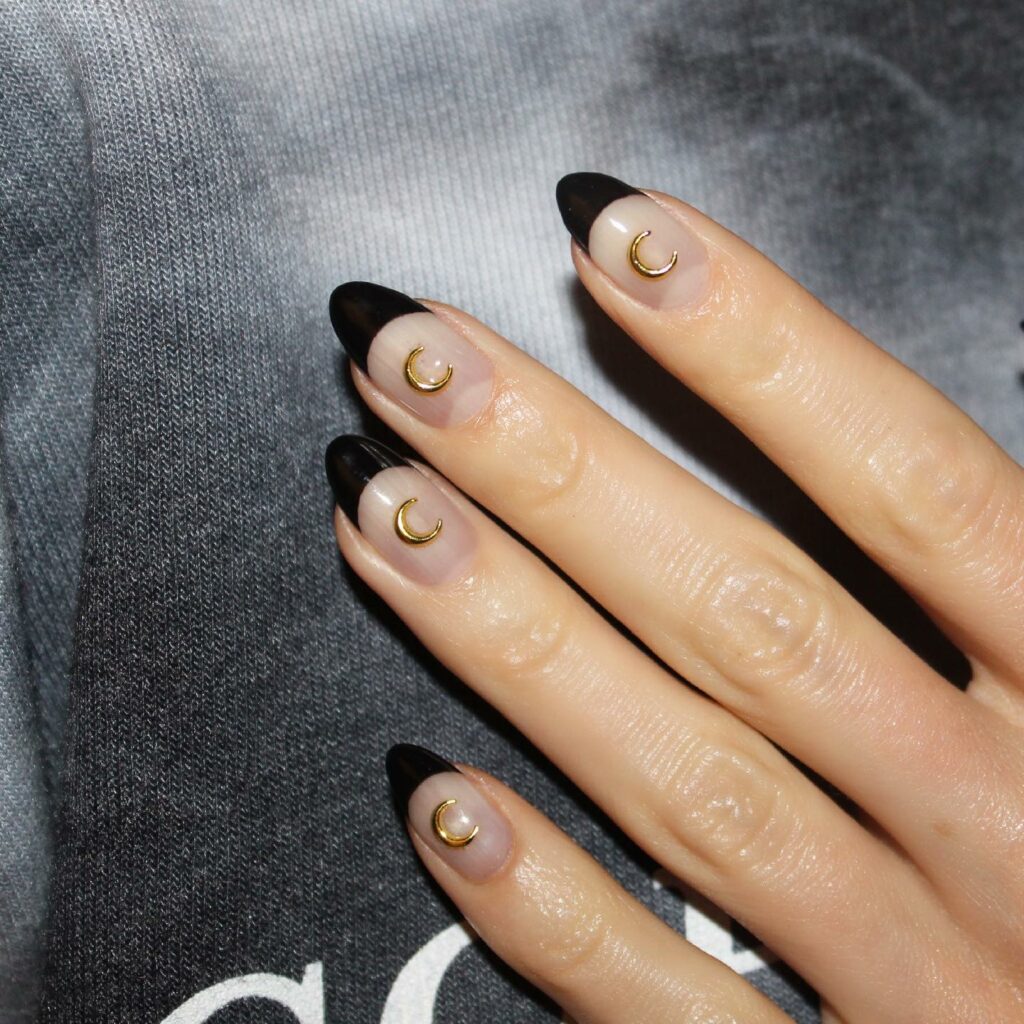 A crescent moon in gold at the base of a black nail adds a celestial touch. This look is both mysterious and inviting.
Quilted Elegance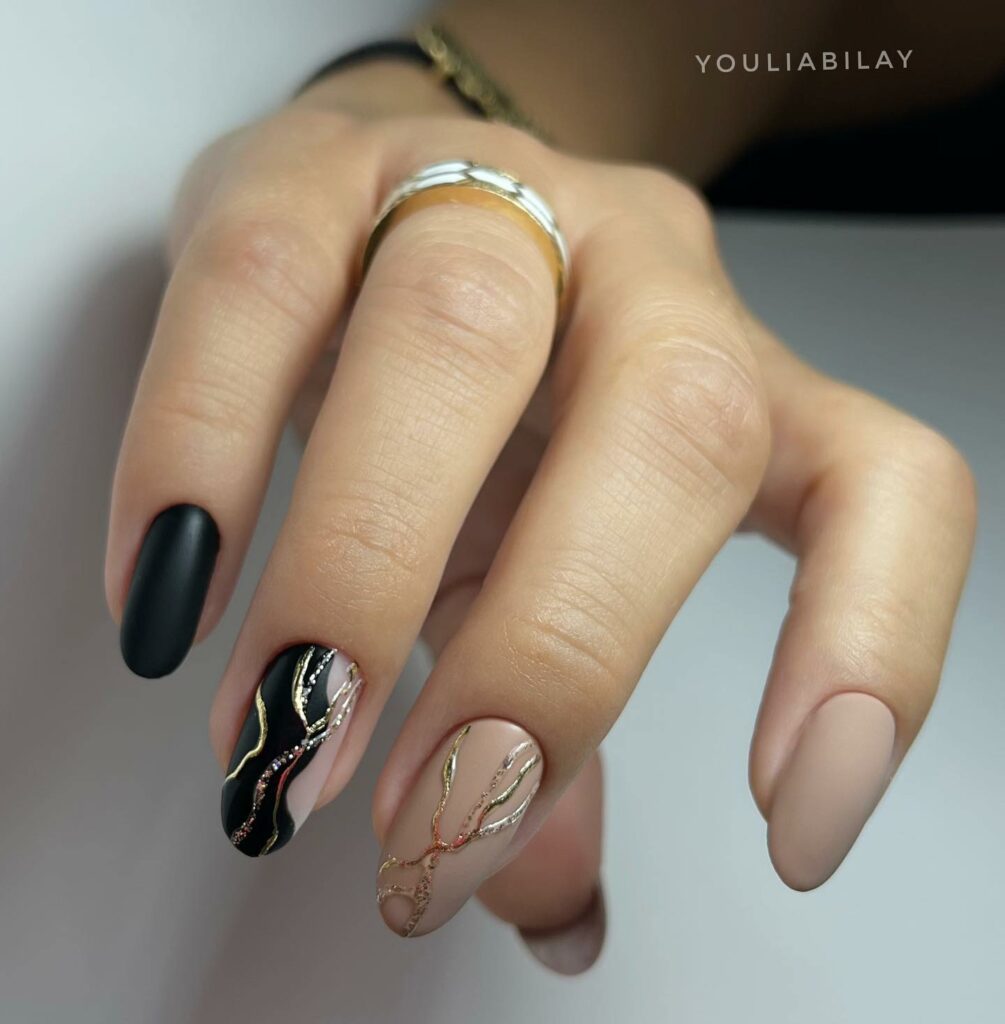 A quilted pattern in gold over black nails evokes an air of sophistication. Perfect for those days when you want to feel like royalty.
Black and Gold Checkers
Checkered patterns are a fun way to bring some excitement to your nails. Alternate black and gold squares for an eye-catching display.
Vertical Elegance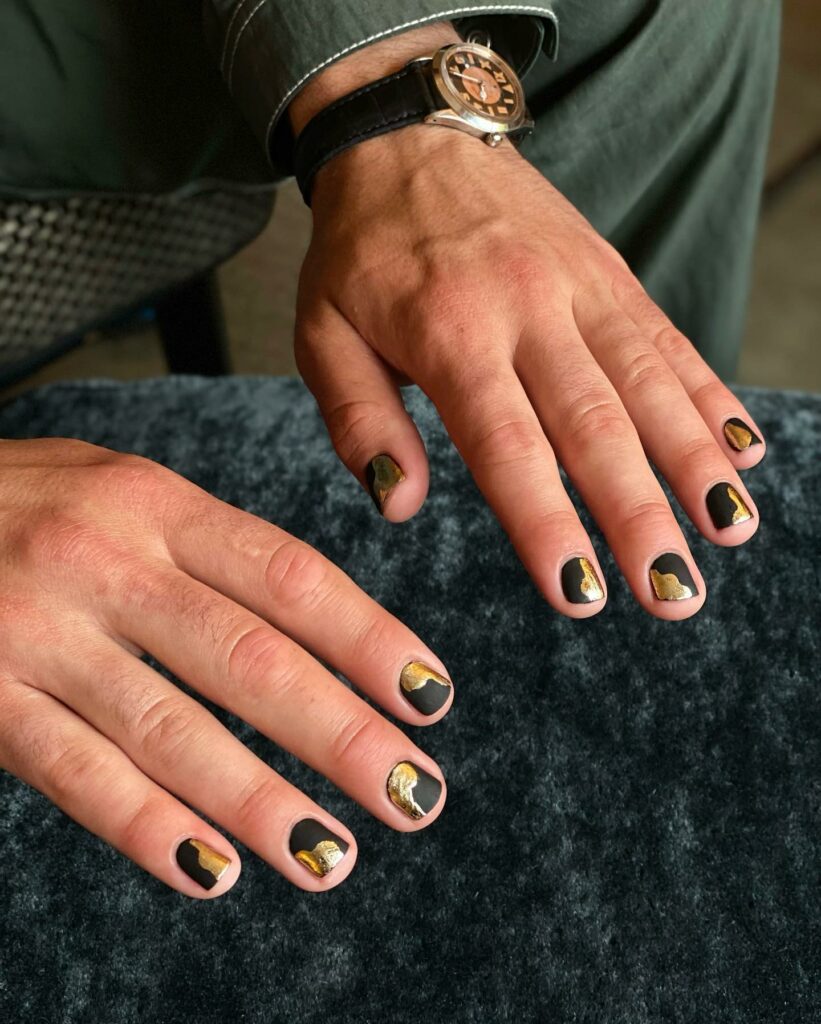 A single, vertical gold line on a black base gives off an aura of minimalist sophistication. This look elongates the appearance of your nails while keeping things classy.
Sprinkled Gold Dust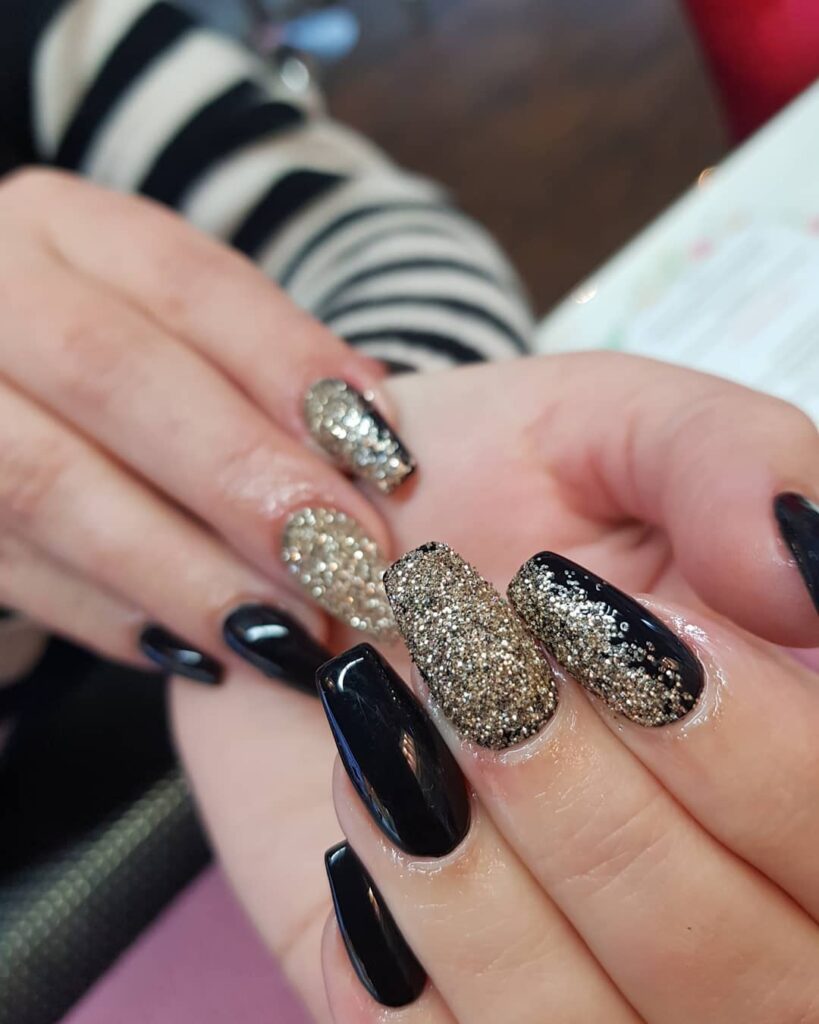 Dust some gold glitter over a black base for a subtle shimmer. The glint catches the light but doesn't overwhelm it, making it ideal for day and night events.
11 Tools I Recommended for Achieving The Perfect Set Of Black & Gold Nails
Polishes
Black Polish: Start with a high-quality black polish. I recommend something like OPI's 'Black Onyx' for a glossy finish or Essie's 'Matte About You' if you're going for a matte look.
Gold Polish: For that golden touch, you can't go wrong with ILNP Juliette Holographic Nail Polish, which offers a rich, sparkling gold finish.
Special Effects
Gold Foil: Consider a set of nail foils for those glimmering accents. You can find these at beauty stores or online, often sold in jars filled with tiny gold leaf pieces.
Glitter: A good glitter polish can add some serious sparkle. Try China Glaze's 'I'm Not Lion' for a chunky, gold glitter finish.
Stickers and Decals: Use nail stickers or decals for intricate patterns without the fuss. You can find celestial themes, leopard print, and more. Look for sets that include small enough designs to fit your nails.
Tools
Detailing Brushes: These brushes have ultra-thin bristles that make it easier to paint intricate designs. The Winstonia 'Fine Line' nail art brush set is a solid option.
Dotting Tools: Great for creating dots or small designs, these can be used with any color to make intricate patterns.
Toothpicks or Needle: If you're in a pinch, these household items can be used for very fine detailing or swirling colors together for a marbling effect.
Tape: Regular Scotch tape or specialized nail tape can help you create straight lines or mask off areas to create two-tone or geometric designs.
Base and Top Coat: Don't forget a reliable base coat like Orly Bonder and a fast-drying top coat like Seche Vite to seal in your art and extend the life of your mani.
LED/UV Nail Lamp: If you're using gel polish or special effects requiring curing, you'll need one. SUNUV has some affordable options that work well.
Still Looking for Inspiration, Then Check Out This Video
Conclusion
So there you have it, style lovers! Black and gold nails offer a rich playground of elegance, creativity, and straight-up fun. From celestial themes to intricate patterns, the options are endless. Remember, the key to nailing (pun intended!) any of these designs is patience and a steady hand. If you're new to DIY nail art, start with simpler designs and work up to the more intricate ones. Be bold in using tools like toothpicks, detailing brushes, or even press-on stickers to help you achieve that high-impact look. Just a word of caution: ensure your nail products are safe and non-toxic because who wants to risk nail damage, right? Feel empowered to get creative and express yourself through your fingertips. Happy designing!
Feature image @pop_polished via Instagram
Last reviewed and updated on October 5, 2023