Today, we're diving into the captivating world of nail art, where creativity knows no bounds. In this exciting blog post, we'll explore an irresistible combination that symbolizes elegance, power, and undeniable allure: black and red nail designs. Get ready to discover how these two bold and timeless colors come together to create the perfect manicure. From sleek and sophisticated looks to daring and avant-garde designs, we've curated 50 nail art ideas that showcase the versatility and charisma of black and red. Whether you're a nail art aficionado or simply seeking inspiration for your next salon visit, this post will ignite your imagination and provide practical tips and tricks to achieve these stunning nail designs.
So, if you're ready to elevate your nail game and make a fierce statement with your fingertips, join us on this journey as we unravel the magic of black and red manicures. Prepare to be inspired, learn from the experts, and let your nails become your ultimate fashion accessory. Let's get started!
Black with Red Border: A Dash of Drama
Let's kick things off with a dramatic flair – the black with a striking red border. This manicure made waves as it graced the Rodarte runway in February 2016. I couldn't help but be captivated by its darkly romantic vibe, a style that can effortlessly transition from day to night. Who doesn't love versatility in their nail game?
Lines and Dots: Minimalist Chic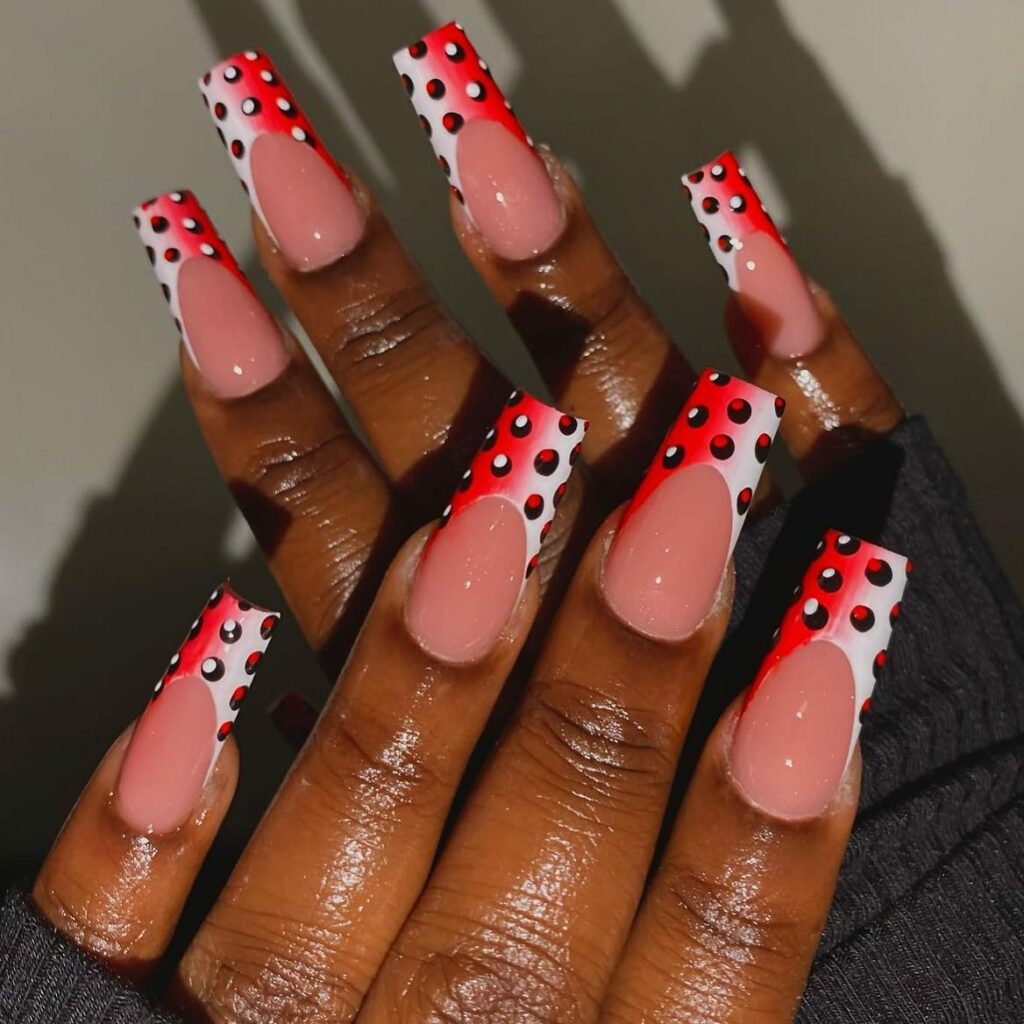 The "Lines and Dots" design is a real winner for those who appreciate nail art with a minimalist twist. It's the kind of manicure that effortlessly takes you from the boardroom to brunch dates without missing a beat. Think sleek lines and well-placed dots for that understated yet chic look. It's one of my favorites when looking for nail art that oozes sophistication with a dash of quirkiness.
Classic Ombré: Gothic Elegance
For those who appreciate a touch of gothic elegance, the classic ombré black-to-red manicure is a stunner. The sharp stiletto shape adds that extra edge we all secretly crave. Want to DIY it? Grab a makeup sponge, layer your colors, and press it onto each nail for that mesmerizing gradient effect. Trust me; this is one look that'll have heads turning.
Reverse Manicure: Runway-Ready Chic
Let's take a page out of the runway playbook with this black-and-red reverse French manicure. Initially created for an Adam Selman show, it's a sleek, short nail look perfect for daily life. And can we talk about that inky rock 'n' roll kajal liner? It's all in the details, my friends.
Ombré Corset: Autumn Elegance
As the seasons change, so do our nail inspirations. Enter the ombré corset nails. These are so alluring that they practically scream 'autumn and winter.' The subtle red-to-black ombré base takes them to a new level of sophistication. Perfect for cozy sweater weather and, of course, Halloween festivities.
Dots and Hearts: Playful Charm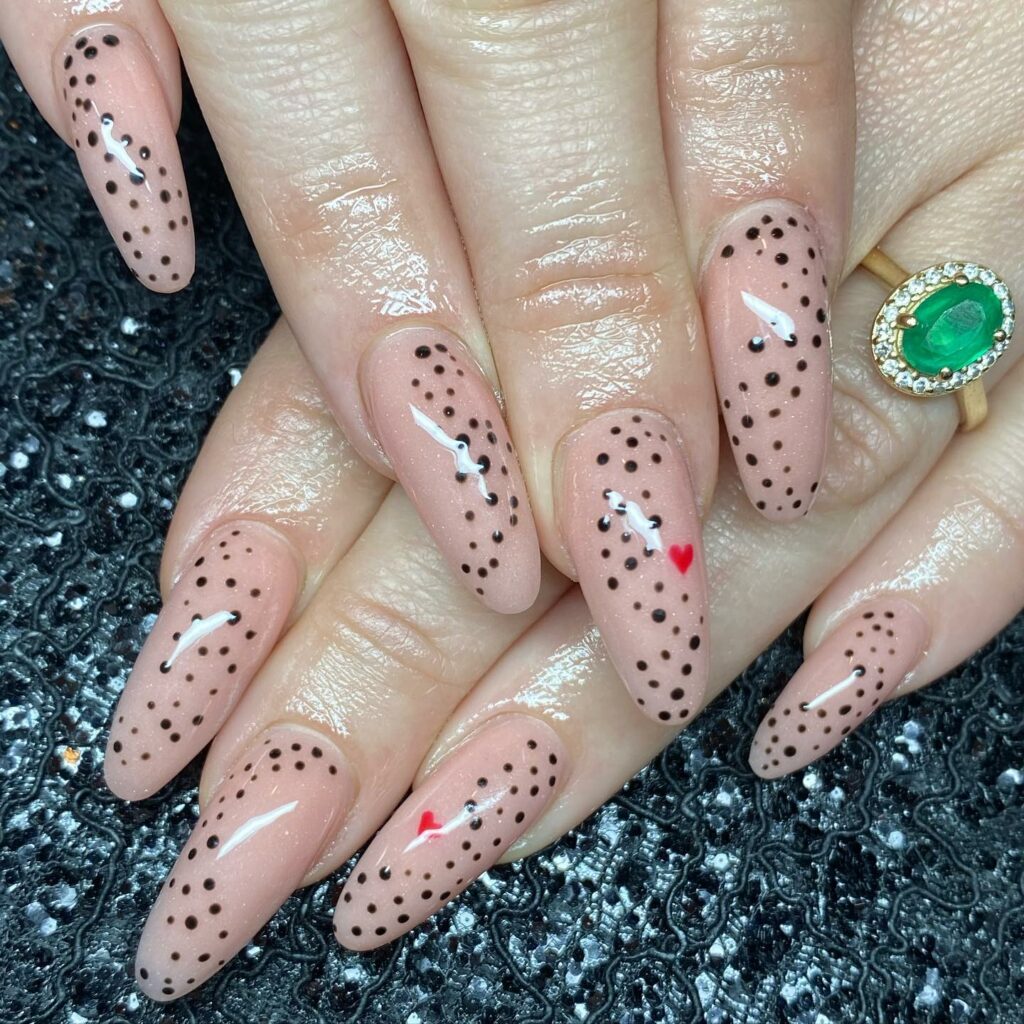 Here's a design that brings out your playful side – red hearts with adorable eyeballs and charming dots. To recreate this look, simply start with a pinkish-nude base and let your creativity run wild. It's all about adding a little whimsy to your fingertips.
Vampy Roses: Disney Meets Morticia
Lastly, let's embrace the romantic yet vampy vibes with black-and-red rose manicures. It's like a fusion of Disney princess charm and Morticia Addams' allure – a style I adore, especially during the cooler months. It's a look that effortlessly blends sweetness and sophistication.
Flames and Dragons: Unleash Your Inner Badass
Prepare to be blown away by the intricate detail of flames and dragons. Seriously, these nails are next-level. The mix of squared French tips in bold black adds an edgy touch that's hard to ignore. This is the way to go if you want your nails to make a bold statement.
Facial Sketches: Nail Art as a Canvas
We're wrapping up our journey with a little cartoon illustration moment. Black and red sketches on a white base – it's like having a miniature art canvas on your nails! And here's a little secret – practice makes perfect. So, don't be discouraged if your first attempt isn't flawless. Nail art is all about having fun and expressing yourself, after all!
Smoked-Out Flowers: The Epitome of Floral Elegance
Imagine a nail design that's the very essence of stunning floral artistry. That's precisely what you get with the "Smoked-Out Flowers" look. Every detail, from the whimsical rose drawings to the clear-to-black ombré base, is perfect. Trust me, I couldn't help but be obsessed with this one. Its design brings a touch of nature's beauty right to your fingertips.
Straight-Up Plaid: Chic and DIY-Friendly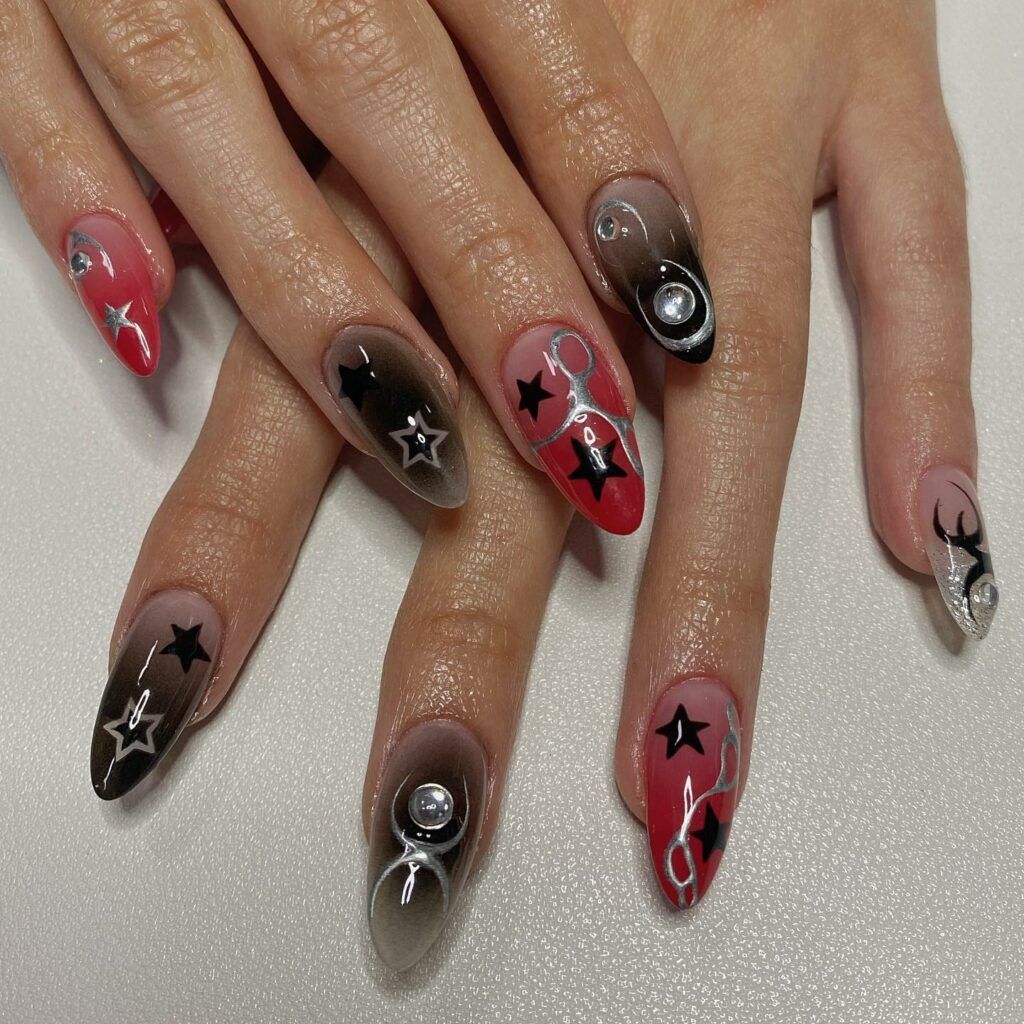 For those who crave an effortlessly chic black and red look that's a breeze to recreate at home, the "Straight-Up Plaid" is the answer. Start with a vibrant red base, apply striping tape in a criss-cross pattern, and paint a sleek black coat. Voilà! You're done in just three simple steps and have a runway-worthy plaid pattern.
Checkered Print: A Dash of NASCAR Inspiration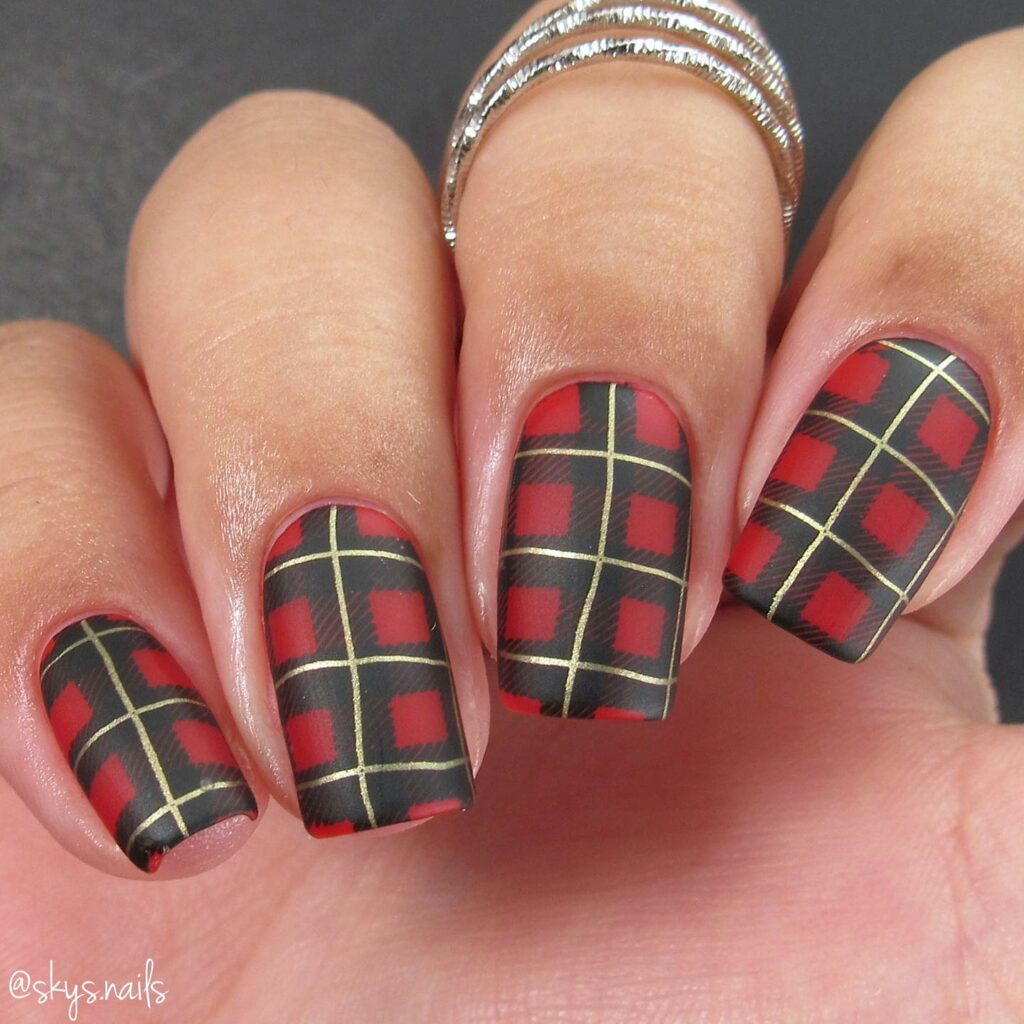 Get ready for some significant NASCAR vibes with this checkered print manicure. The key to nailing those clean, straight lines is a little trick – tape off the edges of each checker. You're left with crisp, mess-free lines that make a bold statement when you lift the tape.
Bandana Nails: '90s Nostalgia Done Right
The '90s are returning, and the "Bandana Nails" are here to prove it. The color-matching is spot on – because, let's be honest, there's only one official bandana red, right? It's a nod to the iconic '90s accessory and effortlessly cool.
Updated French Manicure: A Classic with a Twist
The classic French manicure gets a modern twist with a touch of black and red. If you've already mastered the art of the French mani at home, all you need to do is swap out the colors to recreate these chic, simple nails. It's an elegant look that never goes out of style.
Hello Kitty Nails: '80s Vibes and Adorable Charm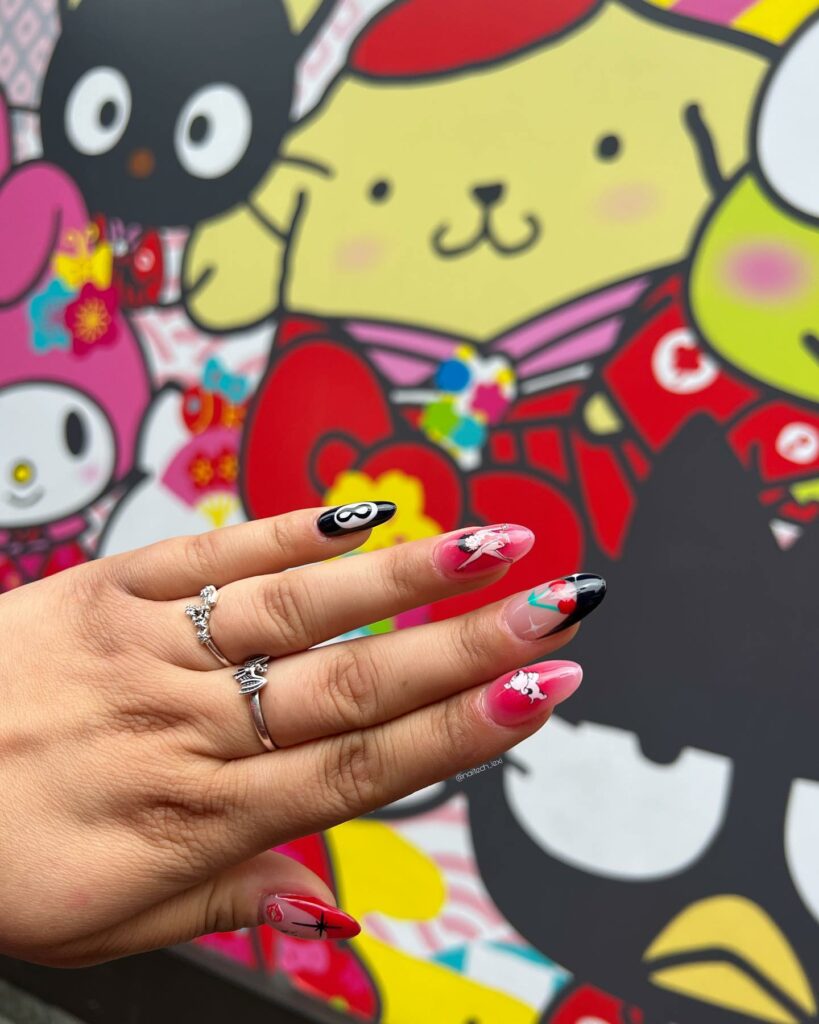 Say hello to some adorable '80s vibes with "Hello Kitty Nails." Those wavy vertical black and red lines? Totally '80s. And when you combine them with Hello Kitty cuteness, you've got a design that's impossiblde to resist, especially when it's in teeny-tiny nail form.
Geometric Accent Nails: Bright and Electric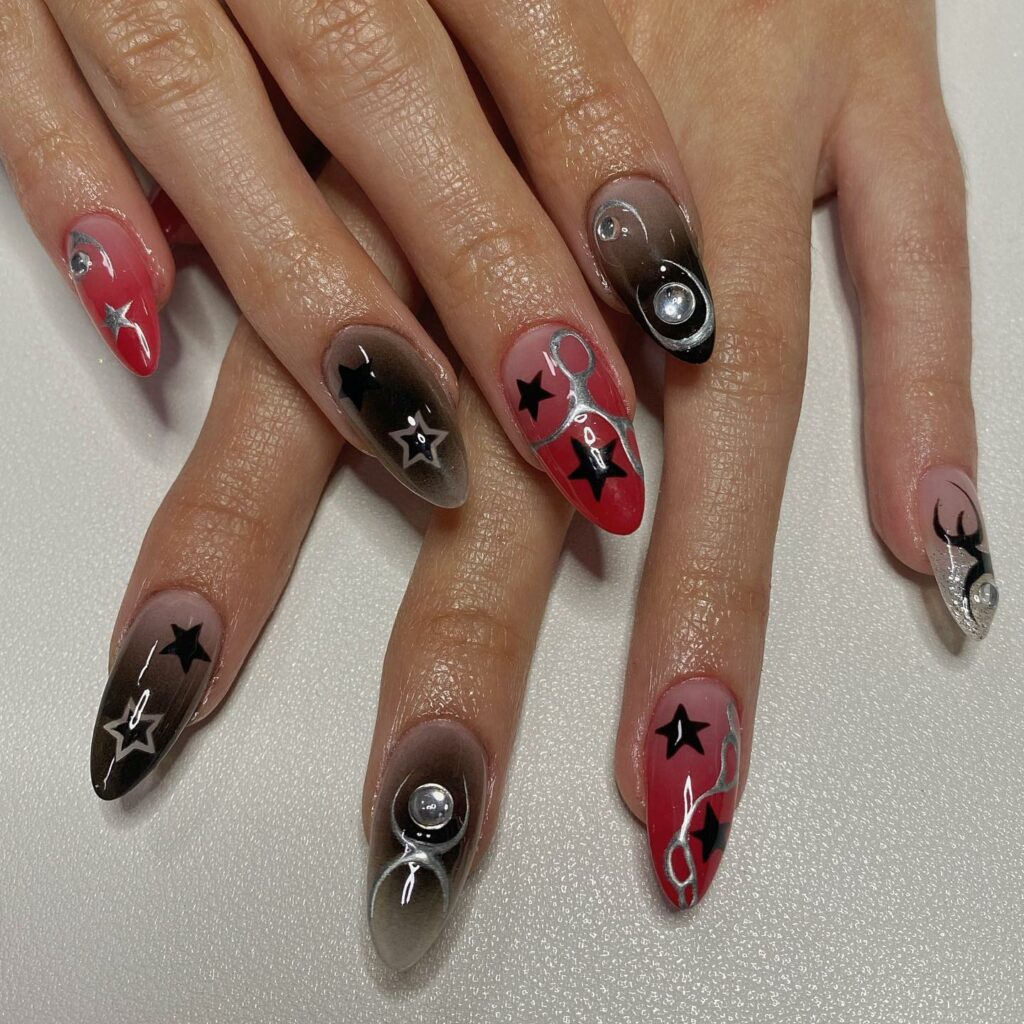 Bright and electric meet geometric spider web in this eye-catching design. Try using striping tape if free-handing makes you nervous to achieve those clean geometric lines. It's all about creating lines in all directions, and before you know it, you've got an excellent, unique design. For nails as vibrant as these, go for a punchy color like Deborah Lippmann's "It's Raining Men."
Leopard Print: Matte and Marvelous
There's something about matte nails that's simply captivating. Take these maroon and black leopard-print tips, for instance; they have us swooning. Notice the added contrast with a matte base and glossy details – a subtle touch that adds a lot of character.
Dainty Text: The Art of Calligraphy
Hearts and delicate calligraphy – could it get any cuter? Well, it may be intimidating if you're planning to DIY. But fear not! There are options to achieve professional-level calligraphy nails at home. Nail stickers, a nail art pen, or a nail stamping kit can help you master the art of lettering. So go ahead, let your nails do the talking.
Mixed Matte and Gloss: The Perfect Balance
In this design, an accent nail steals the show with its fun and punchy style, standing out as the only glossy nail in a set of matte red. To maintain a cohesive look across all nails, apply a clear matte gloss over the plain nails. I recommend the Static Nails Liquid Glass Mattifier for that flawless matte finish.
Cherry Art: A Dash of Edgy Cuteness
Hello, fellow fashion enthusiasts! Let's kick things off with a delightful burst of cherry art. BhamB Nails sure knows how to nail it! These cherry nails are simply stunning. What sets them apart is the touch of edginess brought in by those sleek black tips. It's the perfect balance of cute and cool.
Dracula Fangs: Fierce and Playful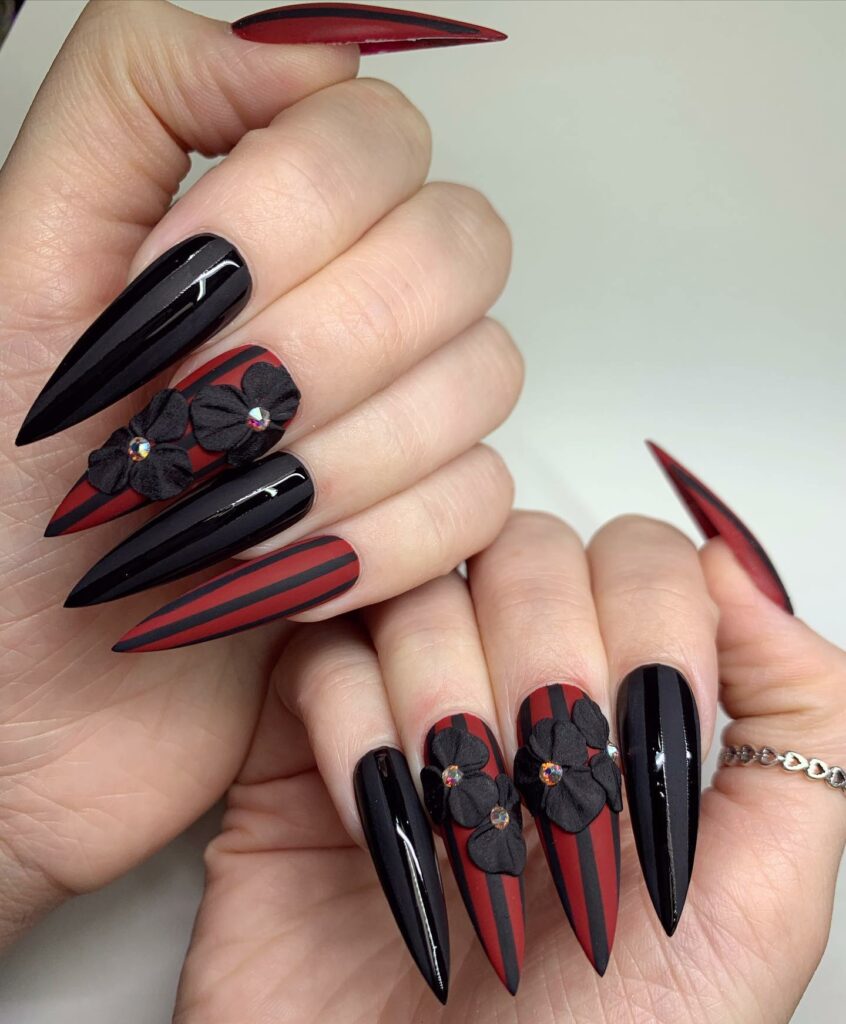 How precious (and fierce) are these nude fang nails? While they're undeniably perfect for Halloween, don't be fooled – you can rock them anytime to add a little edge to your everyday look. Trust me; it's all about that playful mix of bold and chic.
Bloody Drips: Pop Art Inspiration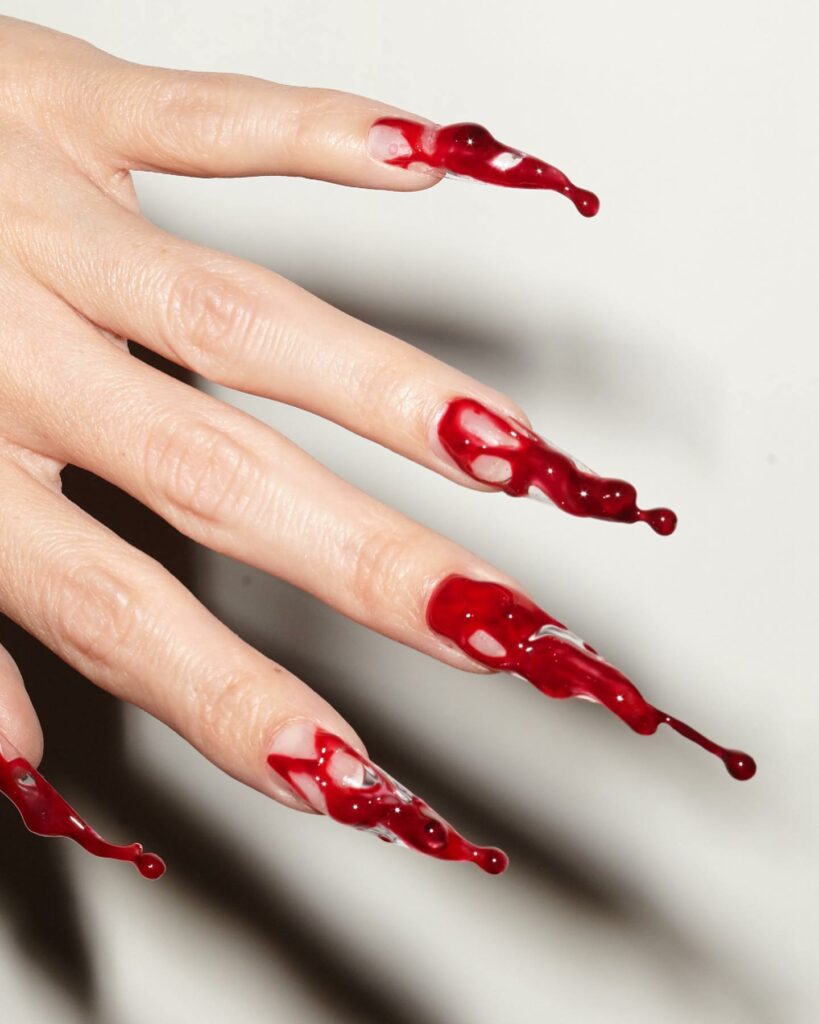 This dripping nail design might have a gory inspiration, but in real life, it's like a piece of pop art that's impossible to ignore. We dig it! It's proof that inspiration can come from the most unexpected places, and your nails can be your canvas for creativity.
Hand-Painted Roses: Channeling a Dark Ophelia Vibe
Feeling the allure of a dark Ophelia vibe? Look no further than these black-and-red rose nails. The best part? You can DIY them. Begin with a neutral base and then, armed with toothpicks, dip one in black polish to craft each delicate outline and another to fill in those striking red petals. The result? Elegance with an edge.
Black-to-Red Gradient: Bold Contrast, Chic Style
From vibrant red to stark black, these gradient nails offer a captivating, bold, and chic contrast. To try it at home, start with a red base, then use a small sponge to overlay the vibrant shade with black gently. It's a look that commands attention.
Crescent Swirls: Artsy Graffiti at Your Fingertips
Take a moment to appreciate the artsy graffiti effect of these black-and-red nails. They're abstract in all the right ways, making them a manageable DIY project. Let your creativity flow, and you'll have a truly one-of-a-kind design.
Striped Ombré: Velvety Vibes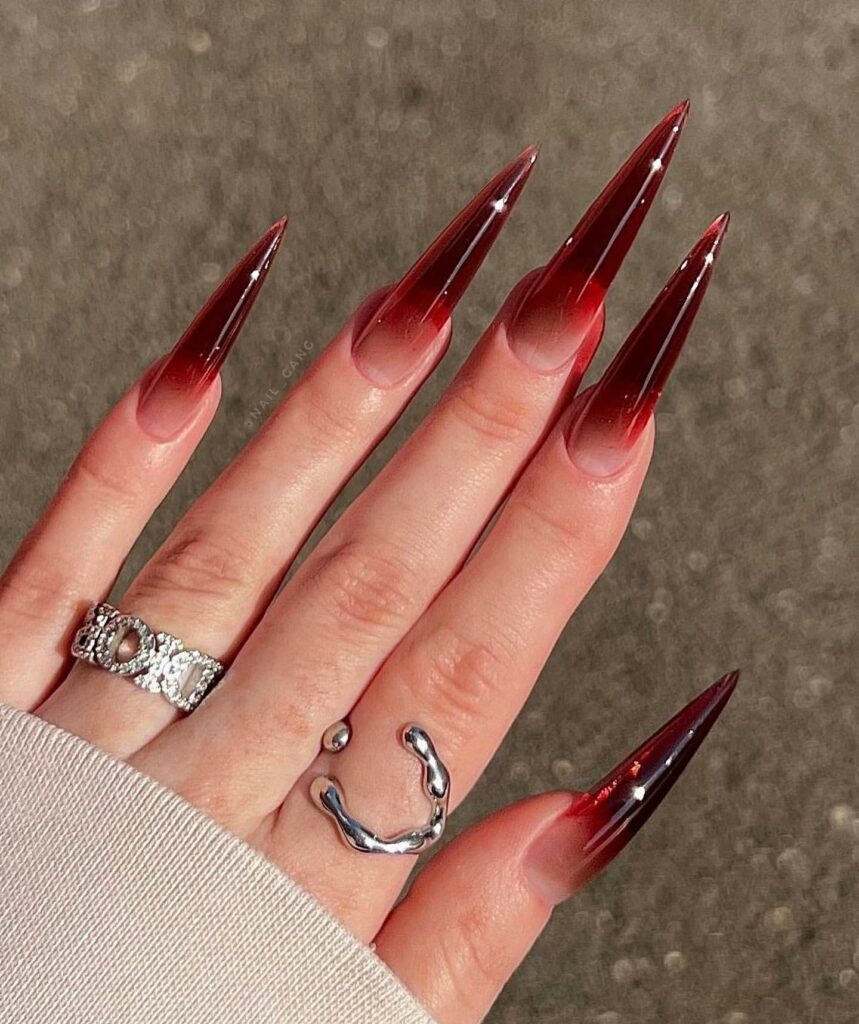 We're catching some velvety vibes from these ombré nails. Want to try it yourself? Create an ombré base transitioning from black to red, moving from left to right. Allow it to dry completely before taping off a horizontal rectangle and painting your gradient in the opposite direction. It's all about playing with contrasts.
Graphic Art: Rocker Chick Vibes
Ready to channel your inner rocker chick? These nails scream Hot Topic era meets modern chic. Go bold with a punchy red shade like Manicurist Red Cherry, and you'll have nails ready to rock the world.
Half and Half: Beauty in Balance
Take a moment to soak in the beauty of these half-and-half nails. With matte and glossy black sides and a split-finish red heart to match, this manicure is simply one of a kind. It's a testament to the artistry of nail design, where balance meets boldness.
Lipstick Nails: Sassy and Stylish
Red is the ultimate color for some sassy lipstick nails. Elevate the style by adding three-dimensional floral decals on top. It's a match made in nail heaven, and trust me, it's a look that'll have you feeling as confident as a swipe of your favorite red lipstick.
Velvet Bow Elegance
Imagine lush velvet bows adorning your nails in a rich black and red combo. This design adds a touch of luxury and is perfect for a glamorous night out. Apply a glossy top coat to make those bows pop, and you'll feel like royalty.
Abstract Lava Flow
Embrace the fiery passion of black and red with an abstract lava flow design. These nails exude energy and intensity. To recreate this mesmerizing look, layer red and black polish, then swirl them together for a captivating lava effect.
Polka Dot Delight
Polka dots never go out of style, and when you combine them with black and red, you've got a timeless classic. Play around with dot sizes and patterns to create a playful or sophisticated vibe, depending on your mood and outfit.
Matte Black Blossoms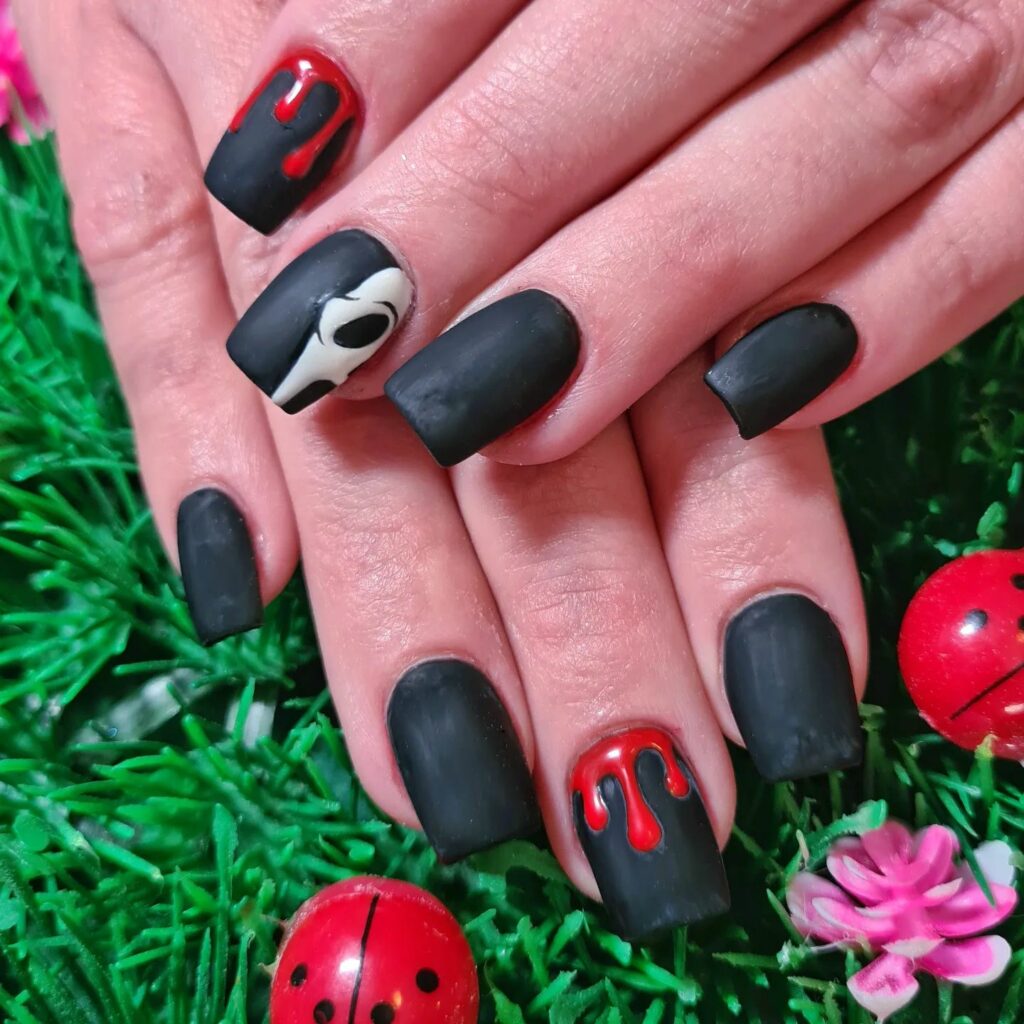 Try matte black nails with delicate red blossoms for a touch of mystery and elegance. This design balances matte sophistication with a pop of color, making it ideal for professional settings and evenings on the town.
Striking Zebra Stripes
Zebra stripes in black and red are an unexpected twist that adds wild sophistication to your nail game. Achieve the look by creating alternating black and red stripes, and you'll have nails that are as fierce as they are stylish.
Tribal Fusion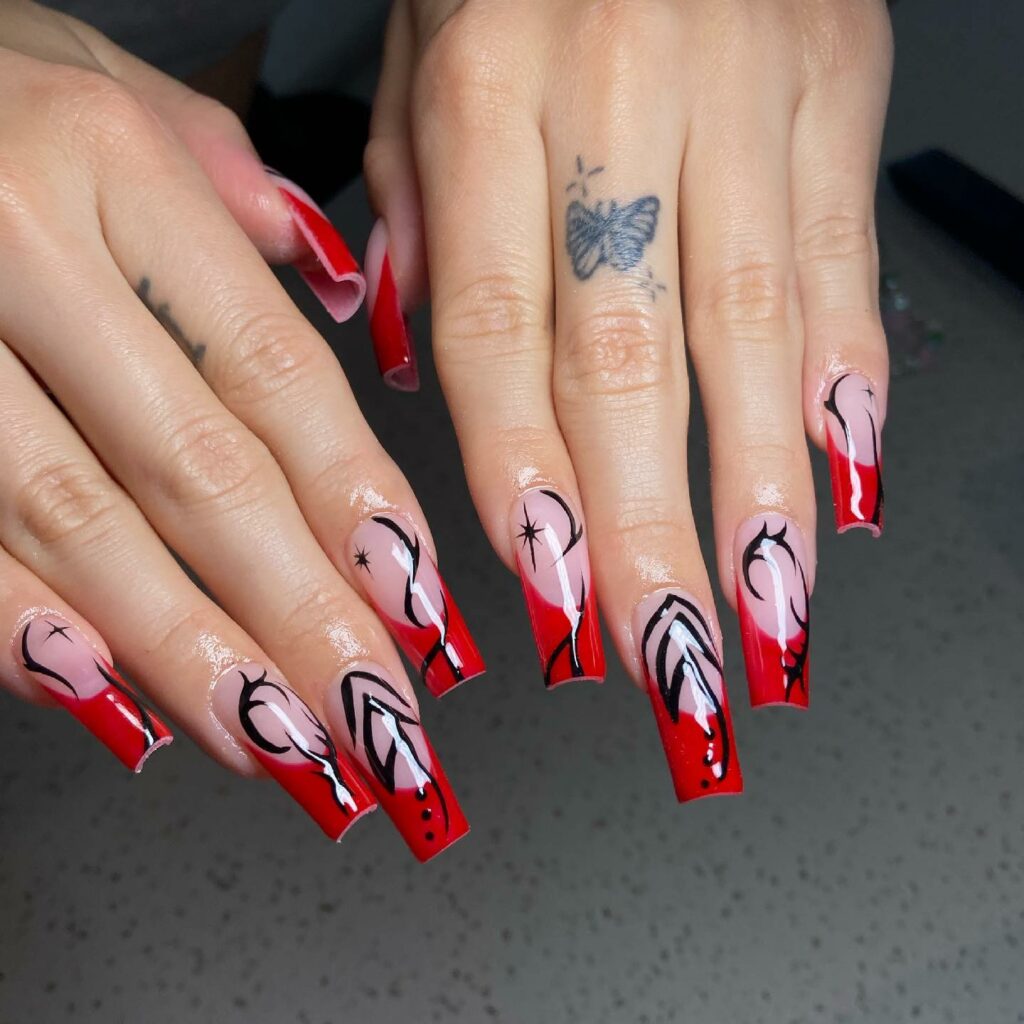 Combine tribal patterns with the classic black and red duo for a nail design that tells a story. This eclectic fusion allows for endless creativity – experiment with geometric shapes, lines, and symbols that resonate with you.
Black Lace Romance
Unleash your inner romantic with black lace on a red base. It's a design that exudes elegance and sensuality. You can use lace nail stickers or try freehand lace patterns with a fine nail art brush.
Gothic Stained Glass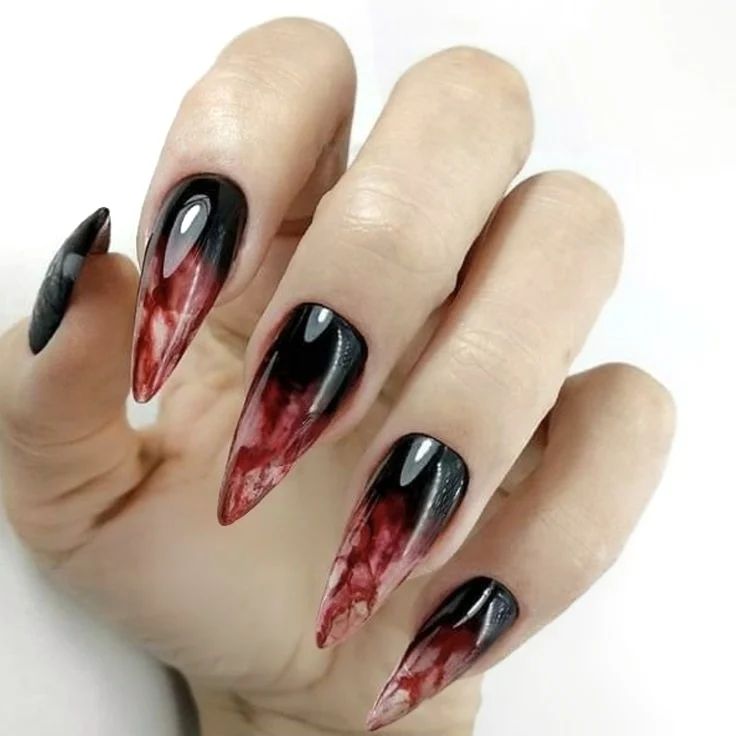 Capture the essence of gothic cathedrals with a stained glass-inspired nail design. You can create a striking mosaic effect using intricate black lines over a red backdrop. The result is nails that are both darkly enchanting and artistically captivating.
Abstract Watercolor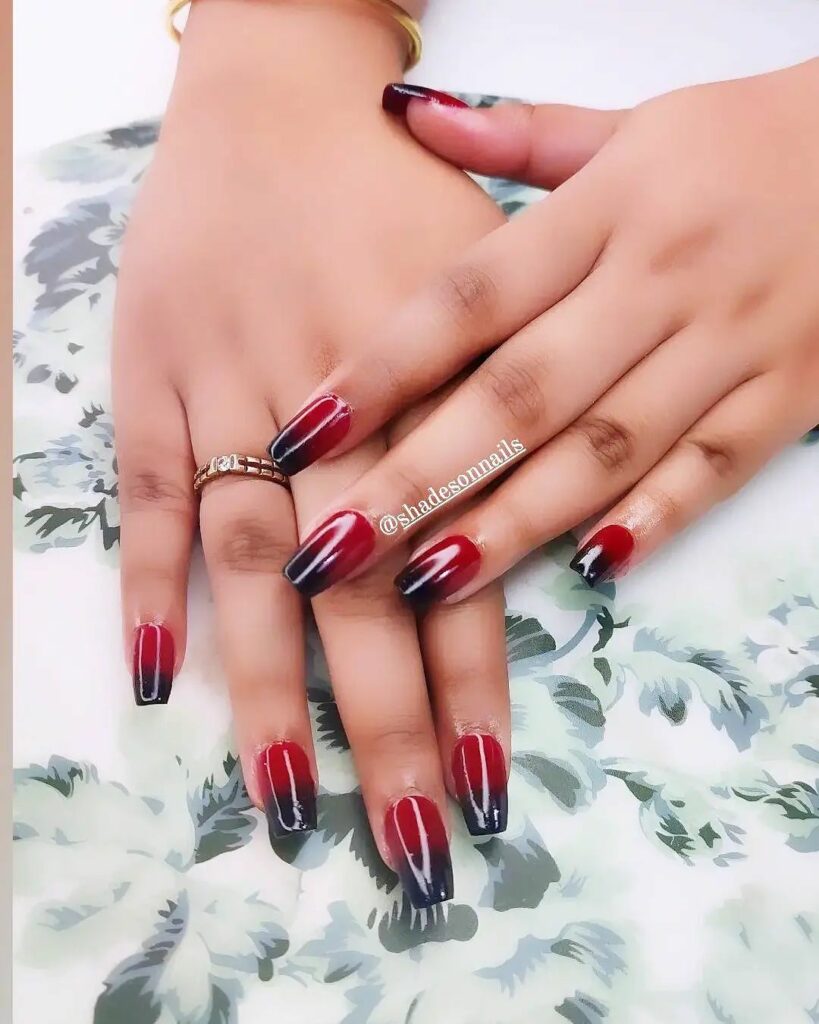 Embrace your inner artist with abstract watercolor nails in black and red. This design allows you to blend the two colors in a freeform style, creating a unique and artistic masterpiece on each nail. It's like carrying a mini art gallery wherever you go.
Red Hot Flames
If you're looking to set your style on fire, go for red hot flames on a black background. These nails radiate intensity and energy. Use nail art brushes or stickers to achieve the fiery look, and you'll turn heads wherever you show off your sizzling nails.
Elegant Swirls
Create an air of sophistication with black and red swirls on your nails. This intricate design adds a touch of artistry and drama to your manicure, making it perfect for formal events or a night on the town.
Black Lace on Red Velvet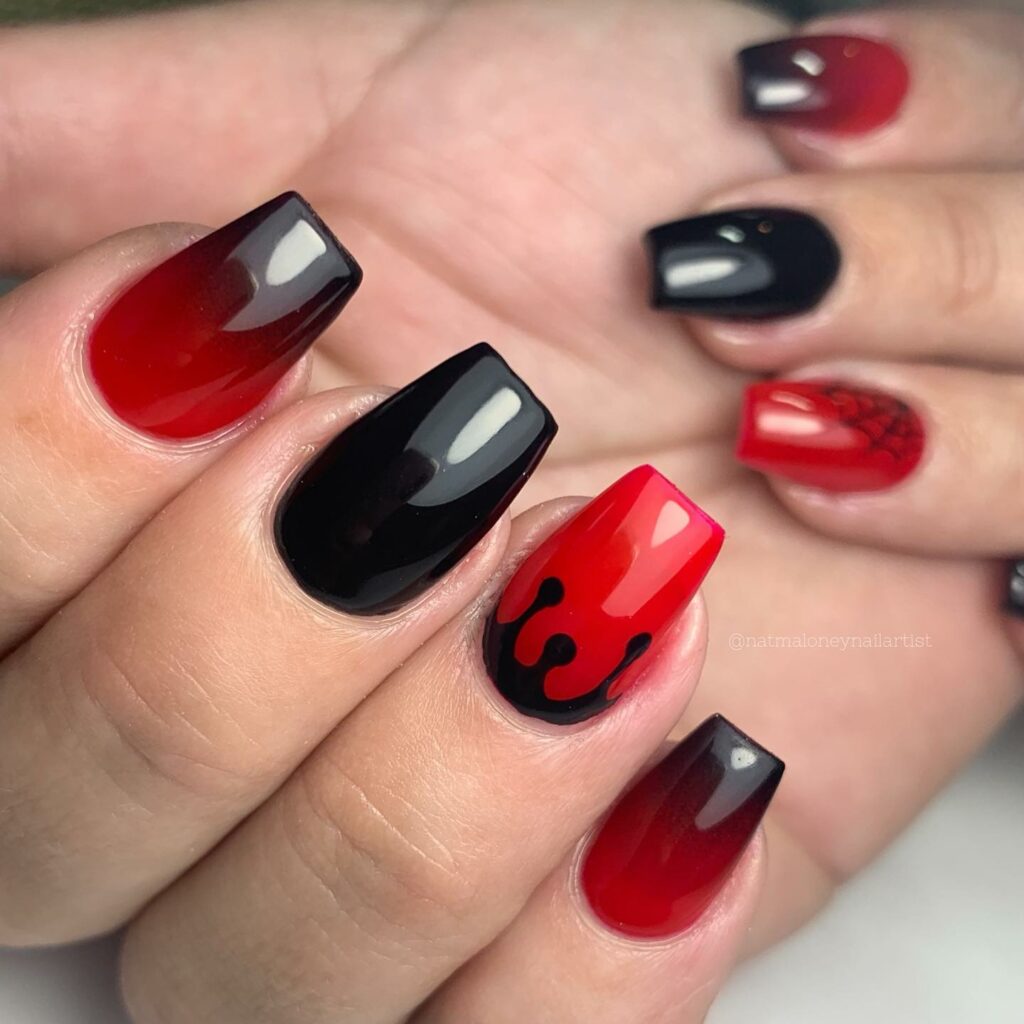 Channel your inner gothic romance with black lace detailing on a deep red velvet background. These nails exude a sense of dark allure and elegance, making them a striking choice for special occasions.
Poppy Petals
Bring a burst of nature's beauty to your nails with delicate red poppy petals on a black base. It's a design that radiates femininity and charm and will catch the eye of admirers wherever you go.
Crimson Crystals
Add a touch of glamour with crimson crystal accents on your black and red nails. These tiny gems can be strategically placed to create an exquisite sparkling effect perfect for a glamorous evening out.
Abstract Geometric Patterns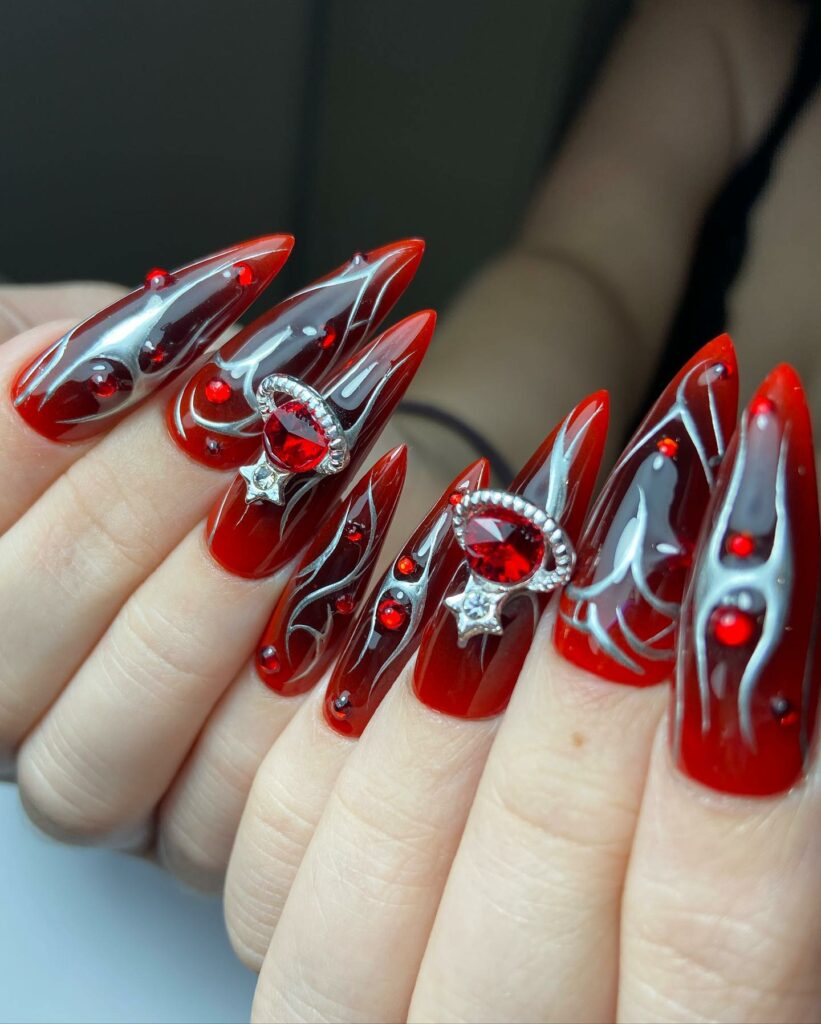 Experiment with abstract geometric patterns in black and red for a modern and edgy nail design. The combination of sharp lines and bold colors creates a captivating and contemporary look that will make a statement.
Polished Marble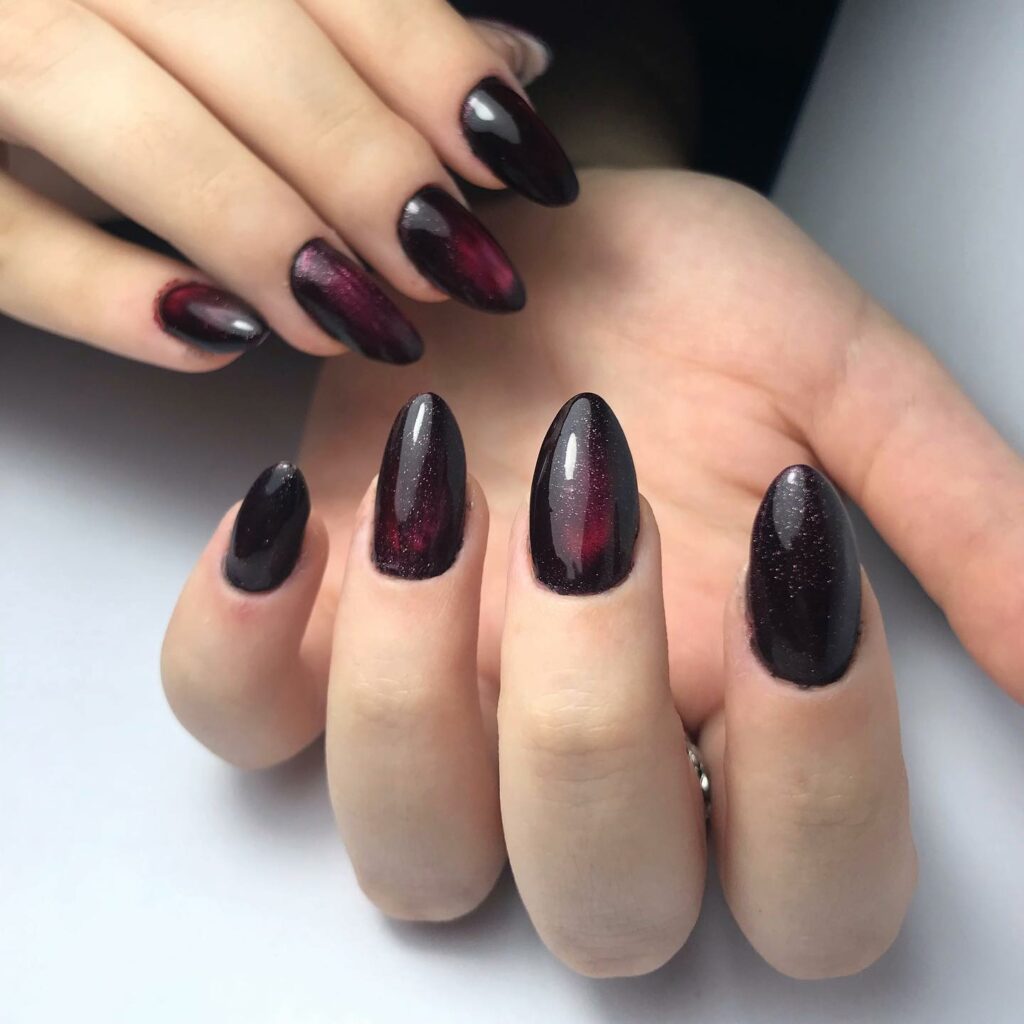 Mimic the luxurious look of polished marble on your nails by blending black and red shades in a marbled pattern. The result is a chic and timeless design that complements any outfit, from casual to formal.
Gothic Roses
Embrace the dark romance of gothic culture with black roses on a deep red backdrop. These nails exude a sense of mystery and elegance, making them a captivating choice for those who appreciate a touch of the dramatic.
Black and Red Houndstooth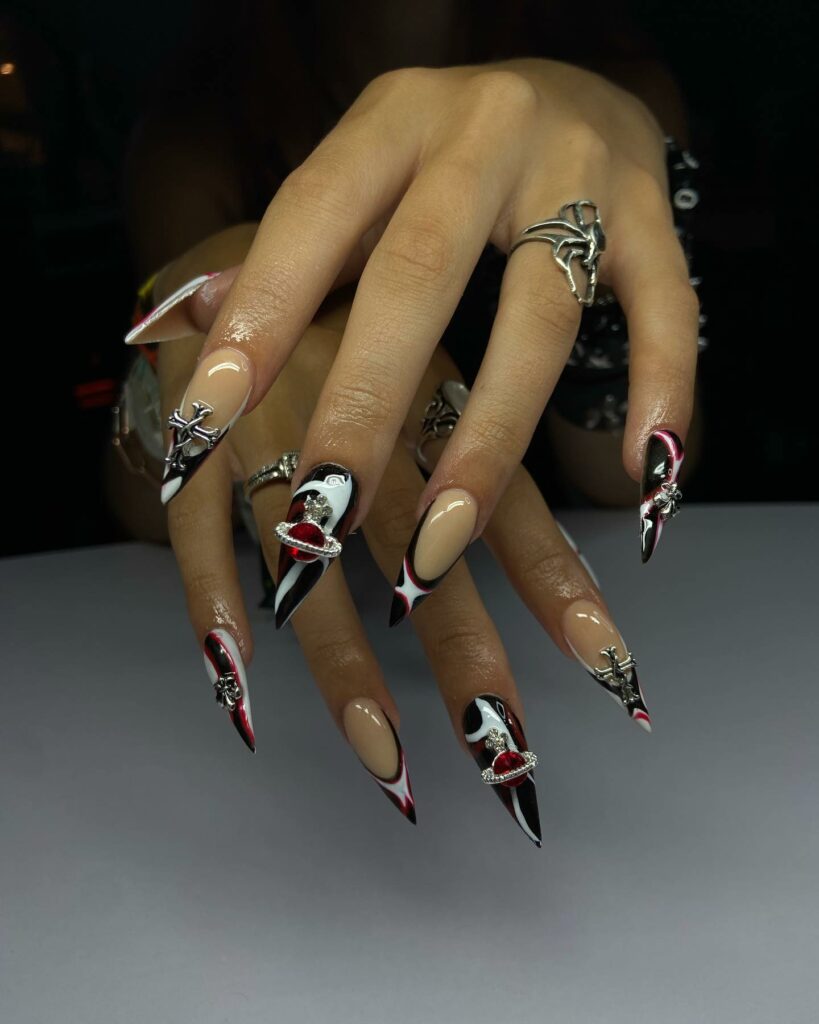 Houndstooth never goes out of style, and in black and red, it's a bold and sophisticated choice for your nails. Whether you opt for a classic or oversized houndstooth pattern, you'll achieve a look that's both timeless and fashion-forward.
Abstract Splatter Paint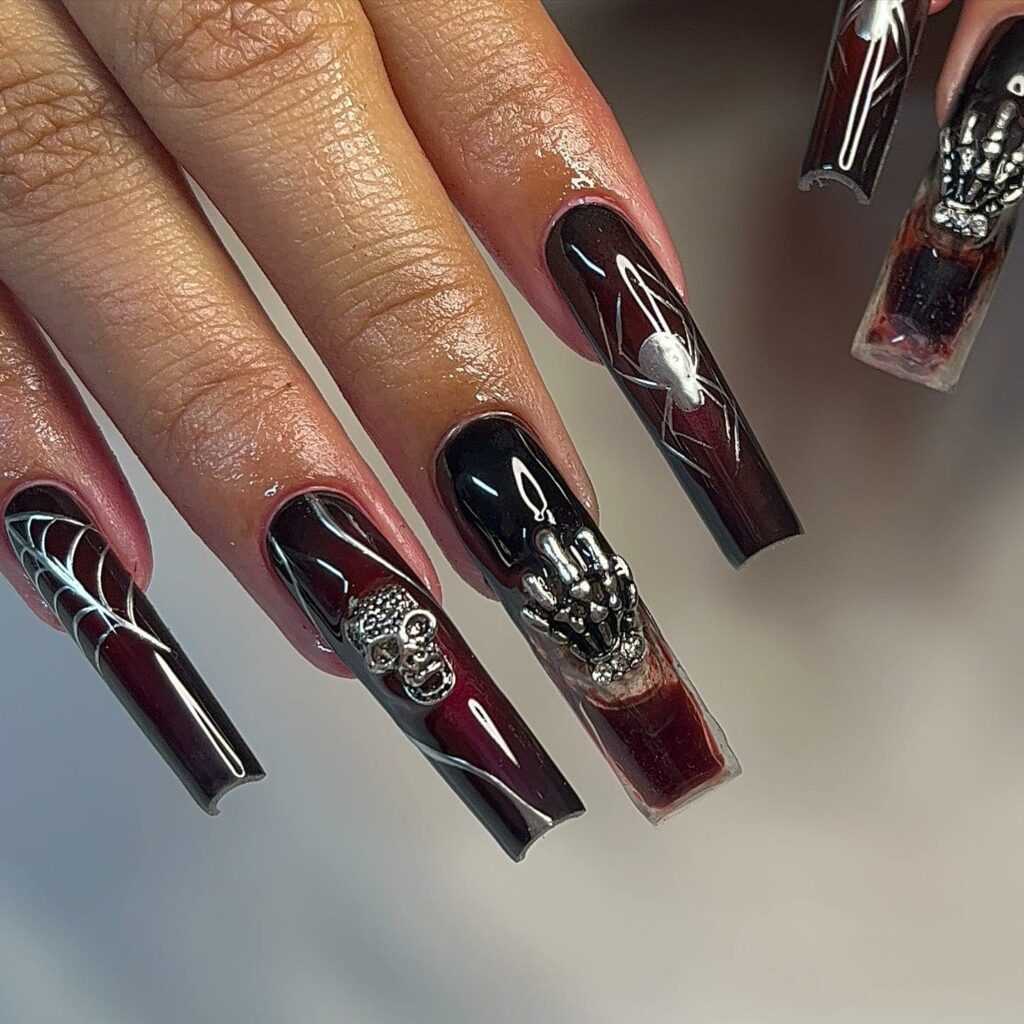 Unleash your inner artist with an abstract splatter paint design in black and red. This creative and expressive style lets your imagination run wild, resulting in nails that are genuinely one-of-a-kind and effortlessly cool.
Yin and Yang Harmony
Balance opposites with a yin and yang-inspired nail design that perfectly harmonizes black and red. It's a symbol of balance and unity, and on your nails, it creates a visually captivating and meaningful look that will resonate with those who appreciate symbolism in their style.
Quick Summary To Recreate Black & Red Nails At Home
The difficulty level of recreating these black and red nail designs at home can vary depending on the specific design and your level of nail art experience. Here's a general breakdown:
Easy to Moderate Difficulty: Designs like polka dots, basic stripes, and classic ombré can be considered relatively easy to recreate, especially if you have some basic nail art tools like striping tape and sponges. These are great choices for beginners looking to dip their toes into nail art.
Moderate Difficulty: Abstract designs, simple floral patterns, and some geometric shapes fall into this category. While they may require a steady hand and a bit of practice, they're still manageable for those with some nail art skills or patience to learn.
Moderate to Difficult: More intricate floral patterns, lace detailing, and some gradient designs can be more challenging, especially if you're aiming for a high level of precision. These require more practice and artistic flair.
Difficult: Designs like intricate lace or highly detailed hand-painted roses can be challenging, even for experienced nail artists. These may require advanced techniques, patience, and professional nail art tools.
Advanced: Some of the designs mentioned, such as the gothic stained glass or yin and yang harmony, are more advanced and may be best left to professional nail artists if you have exceptional skills and experience.
In summary, the difficulty of recreating these black and red nail designs at home largely depends on your skill level, the tools you have at your disposal and the design's complexity. The key is to start with designs matching your skill level and gradually work up to more intricate styles as you gain confidence and experience. You can achieve impressive results right from the comfort of your home with practice and dedication.
14 Nail Products I Recommend To Get The Look!
To achieve the various black and red nail designs mentioned, you may need specific nail products and tools to make the process easier and more precise. Here's a list of common items that can be helpful for different designs:
Base Coat and Top Coat: Always start with a good-quality base coat to protect your nails and finish with a top coat to seal and protect your design.
Black and Red Nail Polish: Invest in high-quality black and red nail polishes for vibrant and long-lasting results.
Nail Art Brushes: Fine-tip nail art brushes are essential for intricate designs, hand-painted details, and precise lines.
Dotting Tools: Dotting tools come in various sizes and are perfect for creating dots, flowers, and other round elements.
Striping Tape: This thin, adhesive tape is excellent for creating straight lines, geometric shapes, and patterns like stripes or plaid.
Sponges: Makeup or special nail art sponges are useful for achieving gradient effects or smoothly blending colors.
Nail Stickers and Decals: These pre-made designs can save time and effort, especially for detailed elements like lace or floral patterns.
Nail Art Pens: Nail art pens with fine tips make drawing intricate designs, lines, and shapes easier.
Nail Stamping Kit: Nail stamping kits allow you to transfer pre-designed images onto your nails quickly.
Nail Gems and Rhinestones: These add a touch of glamour and can be applied with nail glue or clear top coat.
Nail Stripers: Thin nail stripers are perfect for creating fine lines and details in your designs.
Matte Top Coat: If you want to achieve a matte finish, a specific matte top coat will be needed.
Nail Polish Remover and Cleanup Brush: Keep nail polish remover and a small brush handy for cleaning up any mistakes and achieving clean edges.
Acrylic Paints: For some intricate hand-painted designs, acrylic paints can be more forgiving and easier to work with than nail polish.
Still Looking for Inspiration, Then Check Out This Video
Conclusion
In conclusion, my fellow fashion enthusiasts, black and red nail designs offer an incredible canvas for self-expression and creativity. Whether you're drawn to the elegant classics, edgy modern styles, or somewhere in between, there's a black and red manicure that suits your unique taste. While many of these designs can be done at home, it's essential to be patient and practice to achieve the best results. Nail art, like any form of art, takes time to master, so don't be discouraged if your first attempt isn't perfect. Experiment, have fun, and let your nails become an extension of your style. The black and red nail designs world is vast and exciting, and I can't wait to see your stunning creations!
Feature image @helennails_yeg via Instagram
Last reviewed and updated on October 12, 2023