Today, we're diving into the chic and timeless world of black and silver nails. Now, I know what you might be thinking—aren't black and silver too… stark? Trust me, the combination is anything but. This duo can be as versatile as your favorite pair of jeans, effortlessly transitioning from daytime casual to nighttime glam.
In this post, you'll learn how to create the perfect black and silver manicure, from choosing the right shades to mastering the art of layering and embellishment. I'll also give you the lowdown on how to make these nails last because, let's be honest, chipped nails are never a good look. Personal tip: Don't shy away from textures. A little sparkle or matte finish can elevate the entire look. So grab your favorite polish, and let's get started—you're about to become the talk of the town with these stunning nails!
The Dark Romance of Goth Chic
Ah, the classic black and silver combo, but with a gothic twist! Picture this: Black nails adorned with silver roses and chains. While it screams goth, the round shape adds a dash of elegance. And let's remember the matte and glossy finishes dancing together. I'm all about that texture—my go-to hack for a memorable mani.
Glam Overload: Black Nails with Silver and Gold Glitter
Why settle for silver when you can have gold, too? Medium-length acrylics featuring both silver and gold glitter are the epitome of class and luxury. This was my pick for a high-end dinner party, and it was a hit!
The All-Rounder: Elegant Black and Silver Manicure
A French manicure in black with white and silver tips offers a modern twist to the classic design, adding an air of sophistication and edginess. The contrasting tips provide a striking visual appeal, making it a stylish choice for those seeking to make a statement with their nails.
Stargazing Brilliance: A Sky Full of Stars
Feeling cosmic? Add silver glitter polish, star nail art, and silver diamond rhinestones to jet-black nails. It adds a twinkle to your mani, making you feel like you're holding the galaxy at your fingertips.
Black Gloss Nails With Silver Barb Wire
Get ready to turn heads! It's a stunning clash of worlds, where the sophistication of glossy black nails meets the rebellious charm of silver barb wire accents—creating a look that's both edgy and oh-so-chic.
Bling In The Holidays
Why hold back during the festive season? Glossy black nails sprinkled with snowflakes and shiny silver rhinestones epitomize holiday glam. I've done this one before, and it was a total showstopper at the family Christmas dinner.
Eye-Candy Alert: Playboy Bunny Nails
Black and pink Playboy nails blend the sultry, iconic Playboy bunny symbol with the playful and feminine touch of pink. This color combination provides a chic yet bold statement, perfect for those looking to infuse a bit of retro flair and edginess into their manicure.
Stargazers, Unite!
For my celestial daydreamers, consider almond-shaped black and silver nails that literally have you reaching for the stars. The marble art is hypnotic, while hand-painted moons and stars make it super personalized.
Molten Magic
Ever wanted to make a bold statement without saying a word? These medium, oval-shaped nails featuring diffused silver dots and molten metal lines will do just that. It's like carrying a spotlight wherever you go!
The New Classic: Elegant Tips
Whoever said French tips are old-fashioned has yet to see these bad boys. Pointy black and silver tips are the modern twist you didn't know you needed. Throw in some silver glitter and glossy black accents, and you're golden—well, silvery!
Short And Sassy
You don't need long nails to make a statement, trust me. Even short nails can rock black and silver, especially when there's thick silver glitter involved. Pro tip: This design is perfect for a girls' night out when you want to keep things low-key but still fabulous.
Winter Wonderland Vibes
The holidays are the best excuse to go all out. Wear dark, wintry vibes with black and silver Christmas nails featuring pristine snowflake art and silver chrome French tips. They're a holiday party hit, I guarantee it!
The More, The Merrier
If you're like me and can't decide on just one design, long coffin nails give you plenty of room to play. It's a cornucopia of nail art goodness, from croc prints to ombre and charms.
Edge It Up
Want to match your nails with that killer leather jacket? Try medium square nails with a croc-inspired cracked effect. This is how you add an edge to any outfit!
Flipped Tips
Why go the traditional route when you can flip it? Short, square-shaped nails look effortlessly chic with reverse French tips in silver chrome. Less is more, and this design proves it.
New Year, New Sparkle
Ring in the new year with black stars and chunky silver glitter. This combo is a surefire way to light up any room as you count down to midnight.
A Floral Galaxy
If you're an experimental gal like me, add some dimension to your black and silver acrylics with magnetic polish. Create petal outlines with silver glitter and crown them with nail crystals. It's like having a little garden on your nails!
The Best of Both Worlds: Shiny & Matte
Who says you have to choose between matte and gloss? Mix it with short, elegant nails featuring silver glitter and crystal snowflakes.
Light My Fire
Turn up the heat with long, glossy black nails and a silver glitter accent, complete with black flame art. It's classic yet sizzling hot—a design I can't wait to flaunt at the next big event!
The Timeless Duo: Classic Black And Silver Nails
Let's talk about the classic black and silver nail combo. It's so versatile that it fits any outfit and any mood. If you want to keep it simple yet captivating, a black man with silver glitter accent nails never disappoints. I rocked this look for a friend's wedding, and let me tell you, it was an instant hit!
The Grace Of Ombre: Black & Silver Ombre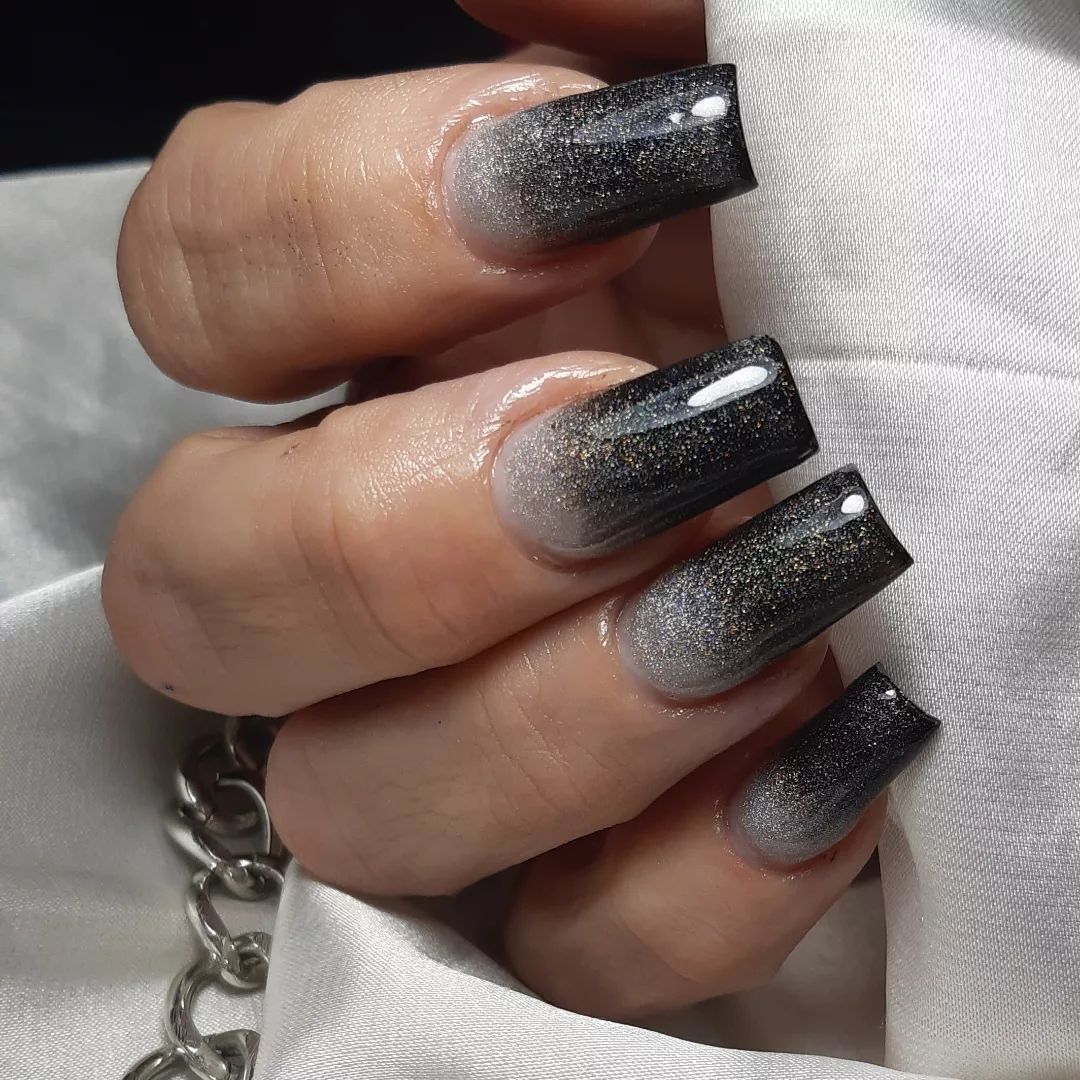 Ombre nails steal the show, and when you pair that with black and silver, it's next-level gorgeous. A subtle glitter ombre can make black and silver gel nails look sophisticated. Add in black French tips and glossy black nails, and you've got a look that says, "I'm here, and I'm fabulous."
Futuristic Chic: Chrome Accents
Chrome is the future, and it's here to make your glossy black mani pop. Opt for silver chrome accent nails or French tips to elevate your mid-length nails. The chrome gives it a modern, edgy vibe while keeping it elegant. I wore this on a night out, and the chrome caught the light—so Insta-worthy!
The Fading Sparkle: Silver Sparkle Fade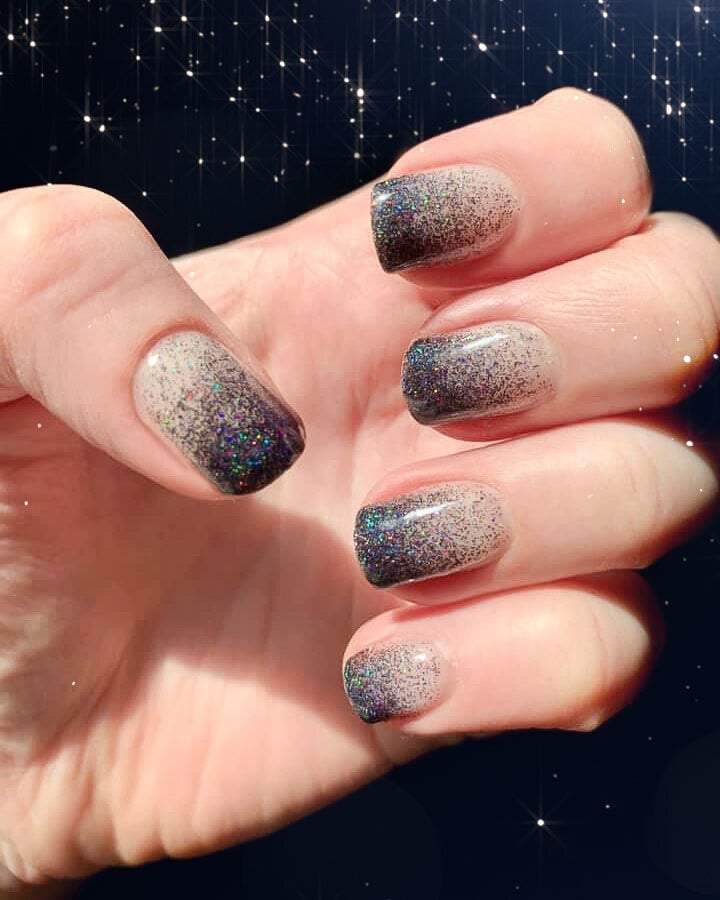 Now, this is an art form. Imagine silver glitter polish fading seamlessly into glossy black tips. To make things even more intriguing, exposing a bit of the natural nail adds a delicate touch. I love this design for its detailed yet understated elegance.
Starry Night: Silver Stars
If you love coffin-shaped nails as much as I do, you know they offer ample space for creativity. Painting silver stars on each nail can give you that celestial vibe. More stars, more joy—simple as that.
The Many Moods Of Glitter: Faces Of Glitter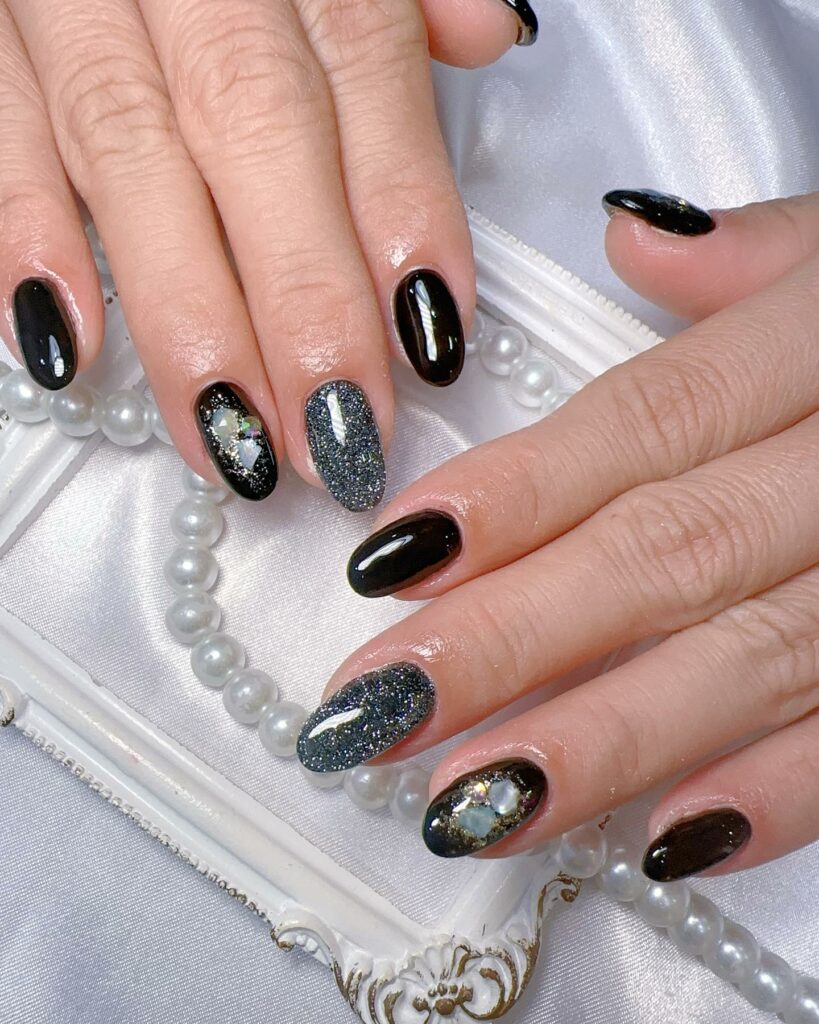 Who knew glitter could offer so much depth? Mixing silver glitter with black, white, and even clear nails gives you a multi-dimensional look you can't help but admire.
Life Of The Party: Always Party-Ready
Who says short nails can't be festive? Combine matte and glossy black nails with a sparkly silver accent, and you're always in party mode. It's my go-to look for spontaneous get-togethers.
The Short & Sweet Effect
Short means something other than boring. Fine glitter on black nails adds depth, while silver nail art stickers make everything look polished. It's like a little black dress but for your nails—classy and versatile.
The Chunky Twist: Chunky Glitter
Variety is the spice of life. Try chunky glitter ombre on one nail and smoother silver glitter on another. This contrast adds flair and keeps things interesting.
Subtle Is Beautiful: Understated Elegance
If you're not into flashy designs, how about an all-black manicure with a sprinkle of glitter for a softer finish? It's understated but radiates elegance. Perfect for those who love the "less is more" mantra.
Play With Gradients: Black And Silver Ombre Nails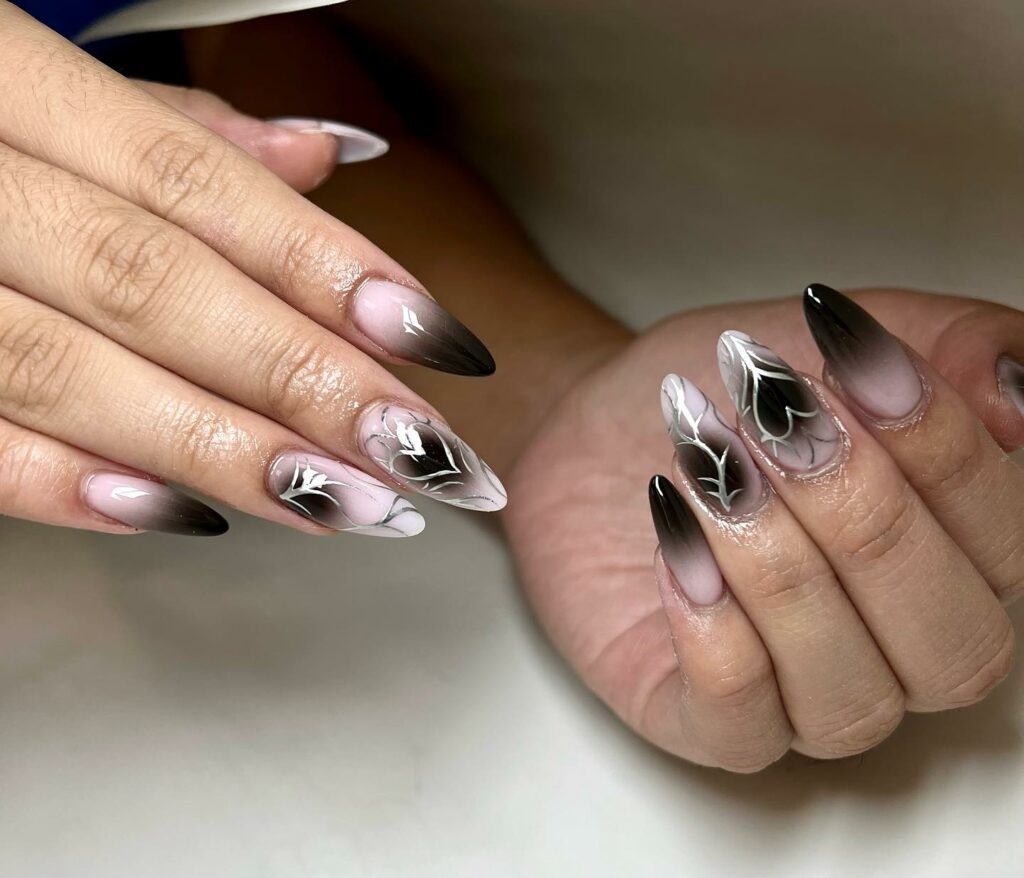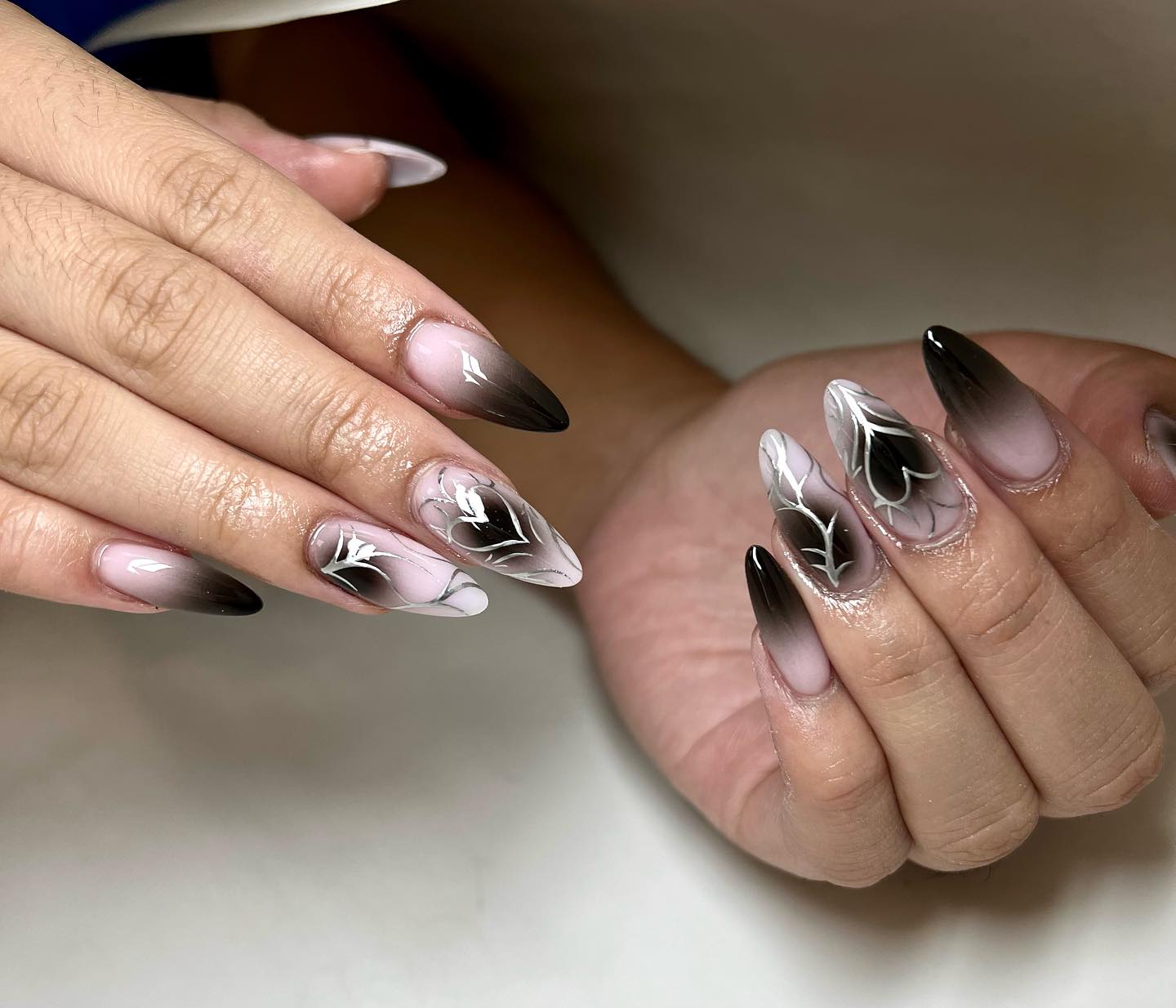 A gradient mani can do wonders. Starting with a glossy black base and gradually moving to sparkly silver can be visually stunning. This design is a real conversation starter!
Guide To The Galaxy: Finding The North Star
Here's another celestial design for you. Superfine silver glitter surrounds a star embellishment, making your medium-length ballerina nails look like a starry night.
A Playground For Designs: Elevated Black And Silver Acrylics
The possibilities are endless for those of you with long, square-shaped acrylic nails. V-shaped French tips, rhinestone cuffs, and sparkly glitter accents can all co-exist harmoniously on those beauties.
Bedazzle Your Nails: Shine Bright Like a Diamond
Diamonds are a girl's best friend, even when it comes to nails. Adding diamonds to your black and silver mani makes a lasting impression. Coupled with marble, ombre, and glitter, you've got a manicure that screams uniqueness.
Stiletto Gothic Nails in Black and Silver
These nails are a breathtaking fusion of edgy and intricate, with sharp stiletto tips serving as the canvas for detailed monochromatic designs. The combination of glossy black, subtle grays, and detailed patterns creates a mesmerizing visual journey, from striking animal-inspired stripes to the delicate allure of detailed mandalas.
Less is More: No Frills, Just Elegance
Sometimes, the simplest things make the most impact. Take stiletto nails, for instance. Dress them up in black and silver glitter; you have a luxurious look that requires zero fuss. I often rock this look when I feel bold but want to stay moderate. It's effortlessly chic!
Simply Stunning: Metallic Foil
Fancy a look that's eye-catching but quiet? Try glossy black nails embellished with touches of silver foil. The foil adds an unexpected pop that turns heads without screaming for attention. This was my go-to for a recent gallery opening, and it perfectly matched the artsy vibe.
The Bold And The Beautiful: Dare To Be Bold
Speaking of stiletto nails, let's talk about how they've become the canvas for some of the boldest designs. Gloss black and silver, crowned with rhinestones? Count me in! This audacious design is the perfect mix of daring and dignified.
Safari Chic: Zebra Stripes
Animal prints are a trend that's not going away anytime soon, and I'm not mad about it! If you want to let your inner wild child out, black and silver zebra stripes are chic. They offer the perfect blend of fun and flair, great for a weekend getaway or a night out on the town.
Glam It Up: Reverse French With Crystals
If you're a fan of the classics but like to sprinkle in a little extra, this one's for you. Picture a medium, oval-shaped black manicure with reverse French tips, but here's the kicker—add some crystal bling and a glittery silver accent nail. It's a minor tweak, but what a difference it makes!
Less Is More: Subtle Brilliance
Don't want to go all out on the silver? No problem. Opt for predominantly glossy black nails, but give one or two accent nails the silver foil treatment. It's subtle yet undeniably elegant, significant for those who want a little sparkle without committing to full-on glitter.
Everyday Elegance: Black and Chrome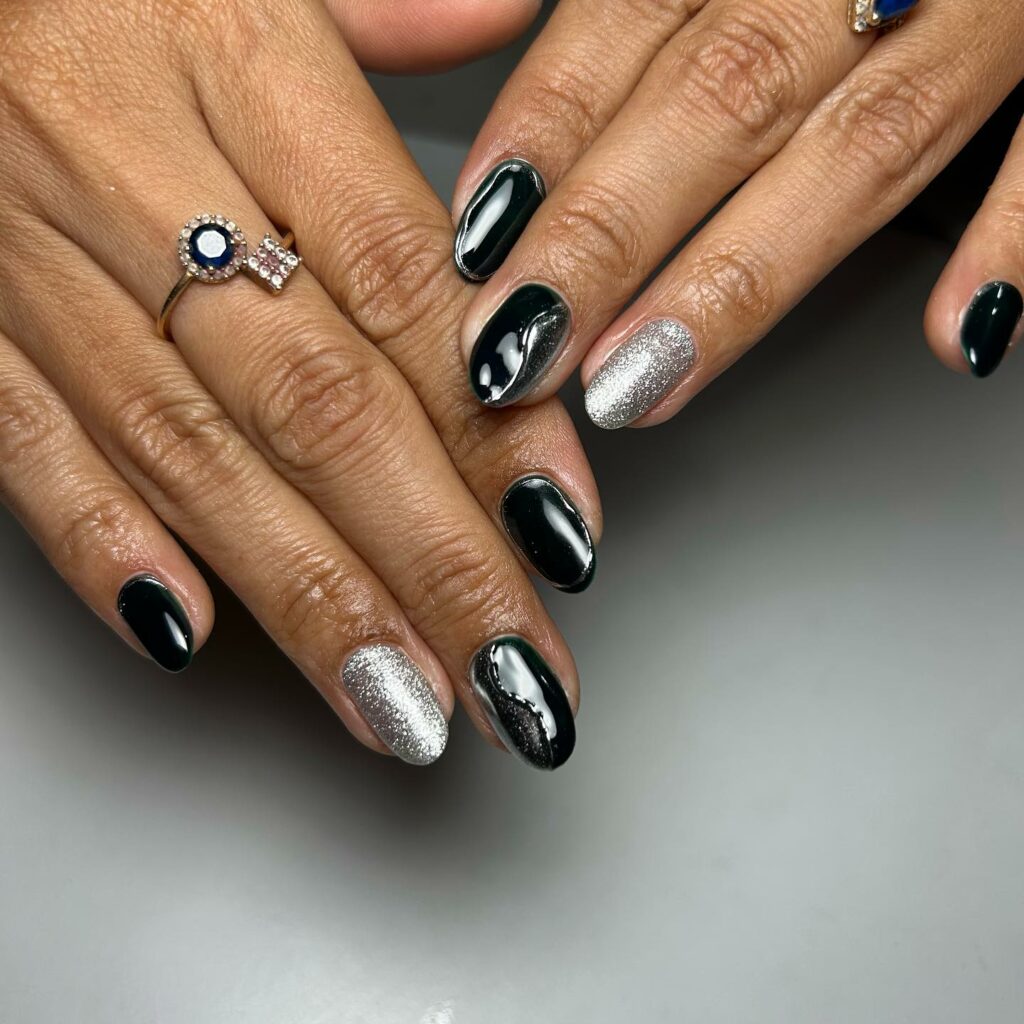 Chrome offers a sleek, understated shine that can elevate your everyday look. A black and silver chrome combo gives the right sparkle without overwhelming your style. This is my go-to for a fresh mani that works from weekdays to weekends.
Keeping it Real: Short and Practical
Short nails can be just as captivating, my friends! They're ideal for those who need our hands free for typing, cooking, or any hands-on activity. A matte black paired with high-shine silver glitter offers a stunning, practical, and gorgeous contrast.
The Final Touch: A Sprinkle of Glitter
You'll love this if you're a fan of the little details. Imagine glossy black nails with reverse ombre tips that have a dusting of silver glitter right at the cuticles. It's understated yet totally classy, perfect for when you want a dash of elegance without going all out.
A Smorgasbord of Chic: A Li'l Bit of Everything
Have you ever been stuck deciding between fabulous designs for your next mani? Why not mix 'em up? One of my favorite ways to show off black and silver nails is by incorporating different techniques—like a glitter ombre on black and white nails, full-on silver glitter, and a sprinkle of crystal embellishments on pure black. It's like a buffet for your nails; everyone finds something to love!
Turn Heads from a Mile Away: Maximum Saturation
If you're anything like me and love making a statement, go for the darkest black and most radiant silver you can find. The contrast is so rich that people won't help but notice—even from across the room. This was my go-to for a big concert I attended, and trust me, it hit all the right notes!
Sparkle Like Never Before Sparkly Rain of Glitter
Imagine a gentle shower of glitter cascading down your nails. Sounds dreamy. This design features a unique glitter fade on the accent nails, creating an effect that looks like a twinkling rainfall. I rocked this style at a recent evening soirée, and it was an absolute showstopper!
Mystical Vibes: Black and Silver Haze
You'll adore this if you're a fan of mystical, otherworldly looks! Using foil and glitter flakes creates an ethereal silver haze over glossy black nails. It appears intricate but is deceptively simple to achieve. I wore this to a Halloween party, which perfectly complemented my enchantress outfit.
For the Queens: Crowning Glory
Nothing screams luxury like matte black nails adorned with sparkling silver and large silver rhinestones. It's almost like wearing little crowns on your fingertips. If you're in the mood to feel regal, this one's your go-to.
Glitz and Simplicity: Acrylic Nails with Black Tips
Who says acrylics can't be understated? This design with glitter and rhinestones is fun and elegantly simple. I tried this for my sister's wedding, and it was a great conversation starter without overshadowing my outfit.
The Best of Both Worlds: Black and Silver Chrome Nails
Short nails deserve love, too! Opt for a monochrome ombre look using black and silver chrome. It's classy, modern, and perfect for everyday wear.
What Are The Best Shades Of Black And Silver For A Manicure?
Pitch-Perfect Black
Jet Black: Think of the bottomless, darkest night sky. You want a black so dark it seems to absorb light. OPI's "Black Onyx" is my go-to.
Matte Black: Try a matte topcoat if you want a twist on the classic glossy finish. Essie's "Matte About You" works wonders.
Charcoal Black: Not ready to go full-on black? A charcoal shade can give you a softer look while keeping it edgy.
Shine On, Silver
Metallic Silver: Sally Hansen's "Sterling Silver" is absolutely divine for that chrome-like finish.
Glittery Silver: If you love the bling (and who doesn't?), a full-on glitter polish like ILNP's "Mega" will give you that disco ball dazzle.
Frosted Silver: For a more understated look, a frosted silver like Zoya's "Trixy" gives you a hint of shine without screaming, "Look at me!"
Combo Kings
High Contrast: A jet black paired with metallic or glittery silver will give you maximum pop!
Sophisticated Monochrome: Try combining charcoal black with frosted silver for a more subdued yet chic vibe.
Play with Textures: A matte black with a super shiny, almost mirror-like silver? Yes, please!
Remember, the best shade is the one that makes you feel fabulous. So, pick your poison and let those gorgeous nails do the talking!
How Can I Make My Black And Silver Manicure Last Longer?
Oh, the eternal struggle, right? You spend all this time creating a fabulous black and silver masterpiece, only for it to chip a few days later. Been there, done that! But don't fret; I've got some tried-and-true tips that'll make your mani last longer than a season finale cliffhanger.
Prep is Everything
Clean Slate: Before applying anything, ensure your nails are free from old polish and oils. A swipe of acetone or nail polish remover will do the trick.
Buff It Out: A gentle buff can remove ridges and create a smooth surface. But don't go overboard; we're not sanding furniture here!
Quality Counts
Base Coat: Remember to underestimate the power of a good base coat. It's like the primer when painting a room—necessary for a long-lasting finish. My fave is the Orly Bonder Rubberized Base Coat.
Polish: Cheap polish is fun for experimenting, but quality matters when you're going for longevity. OPI, Essie, and Sally Hansen are solid choices.
Layer, Layer, Layer
Thin Coats: Apply two (or three, if you're feeling bold) thin coats of color rather than one thick one. Allow each layer to dry properly before applying the next.
Top Coat: A top solid coat is your best friend for a long-lasting manicure. Seche Vite's Dry Fast Top Coat is a lifesaver. Reapply every 2-3 days to keep that gloss going strong.
Post-Mani Care
Cuticle Oil: Hydrated nails are happy (and durable) nails. Apply cuticle oil daily to keep them moisturized.
Gloves On: Doing dishes or cleaning? Slip on some gloves to protect that mani.
Quick Fixes
Minor Chips: Got a tiny chip? Dab on some polish and smooth it with a top coat. It won't be salon-perfect, but it'll buy you some time.
Nail Stickers: These are a great way to disguise a chip and extend the life of your manicure. Just stick 'em on and cover them with a top coat.
There you have it, folks! With these tips, you'll keep those nails looking salon-fresh for way longer, which means more time to enjoy your stunning black and silver mani. High five…carefully!
6 Tips To Elevate Your Black And Silver Nail Design?
Glittery Goodness – One of the most classic ways to add texture is glitter. Choose from chunky to fine glitter to get different effects. Why not mix small, medium, and large silver glitter on a black base for a celestial-inspired look? Trust me, it's like the night sky but on your nails.
Velvet Matte – A matte top coat over a shiny base gives a chic, contrasting texture that's subtle yet eye-catching. It's perfect to make a statement without being too in-your-face. And let's be honest, there's something inherently cool about a matte black finish.
Beaded Beauty – Tiny silver beads or caviar nail beads can be arranged to create unique patterns or accents. I love doing an entire beaded accent nail—it's like jewelry for your nails but without the commitment.
Foil Flair – Silver foil isn't just for the culinary world, honey! Apply foil fragments over a tacky layer of black polish for a cracked, edgy appearance. This gives off an artsy vibe, perfect for feeling rock 'n roll.
Crystal Clear – OK, who doesn't love a little bling? Apply a few rhinestones or Swarovski crystals to sparkle your nails like a disco ball. This works exceptionally well with a matte black base; the contrast is divine!
Raised Designs – If you've got a steady hand (or even if you don't—practice makes perfect!), try creating raised designs with a dotting tool and thick gel polish. Intricate patterns like paisleys or simple lines can add a tactile element to your manicure.
Feathered Fantasy – This one's a little out there but oh-so-gorgeous! Add small feather fragments sealed with a top coat for a unique textural element. It's a conversation starter, for sure.
Flocking Fabulous – Have you ever tried flocking powder? It gives a soft, velvety finish that's oh-so-touchable. Imagine black nails with a plush, velvety accent nail in silver—total showstopper!
Remember, with textures, less is often more. You don't need to throw the whole kitchen sink at it; pick one or two textural elements to focus on. And the most important thing? Have fun with it! Your nails are a canvas, so go ahead and make your textured masterpiece. Happy painting!
Still Looking for Inspiration, Then Check Out This Video
Conclusion
And there you have it! The possibilities with black and silver nails are endless, from mixing and matching different techniques to choosing high-contrast shades for maximum impact. If you're in a creative mood, don't shy away from adding a sprinkle of rhinestones or going full-on glam with silver and gold glitter. Remember, your nails are your canvas, so let your imagination run wild! My personal recommendation? If you're new to the black and silver game, start with a subtle haze or a glitter ombre—you can't go wrong. Whichever design you choose, you're sure to make heads turn and maybe even inspire someone else's next mani. Until next time, keep those nails gorgeous, and don't forget to sparkle!
Feature Image Photo By heygreatnails on Instagram
Last reviewed and updated on October 17, 2023