Hey everyone! If you're looking to add some edgy sophistication to your pedicure routine, let me introduce you to the Black French Tip Pedicure. It's a modern twist on the classic French pedicure that's sure to turn heads. In today's guide, we'll dive into how to master this chic look. I'll share tips on selecting the best black polish that complements your style, nail the perfect tip curve, and suggest some nail art designs that work beautifully with this trend. Plus, I'll spill the beans on the best brands for a durable finish. Whether you're a pedicure pro or new to nail art, this stylish update is versatile and easier to achieve than you might think. So, let's gear up to give your toes a fabulous makeover!
Halk Black Half White French Pedicure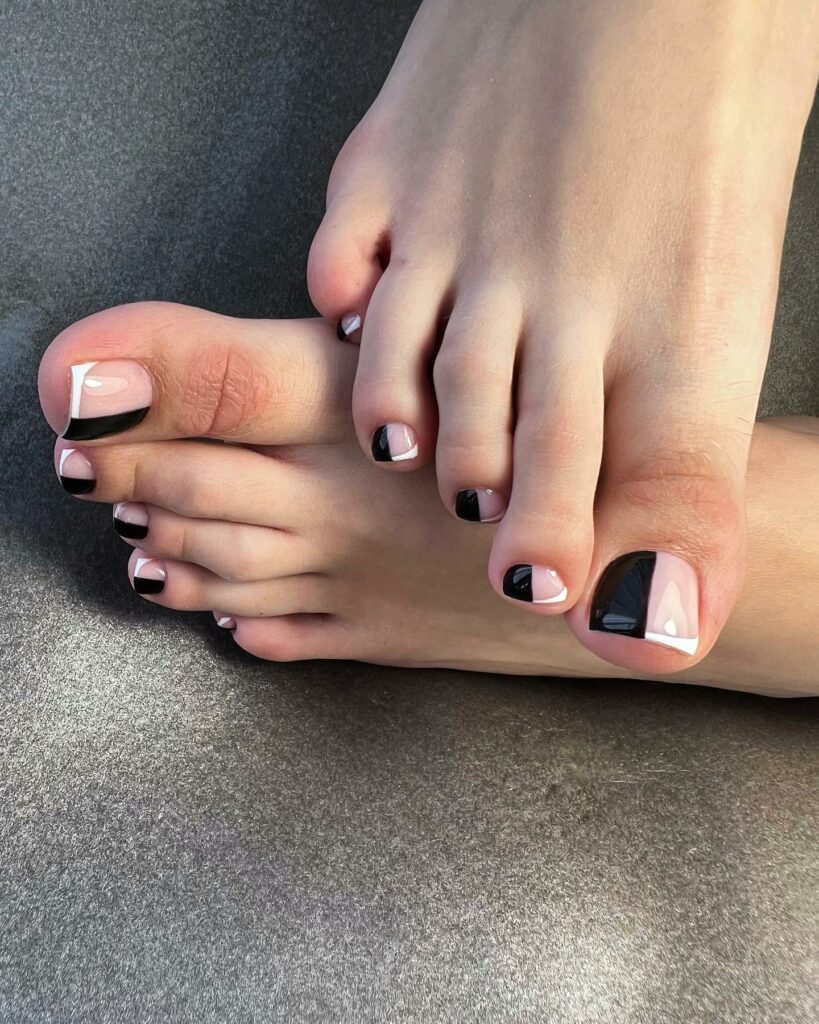 Need help deciding between two colors? Go for both with a design that's half black and half white. It offers the best of both worlds and is sure to turn heads.
Edgy Studs On Black French Pedi
Elevate the basic black French manicure with silver studs. A little birdie told me a simple top coat is all you need to keep them in place.
Super Glam Black Tip Pedicure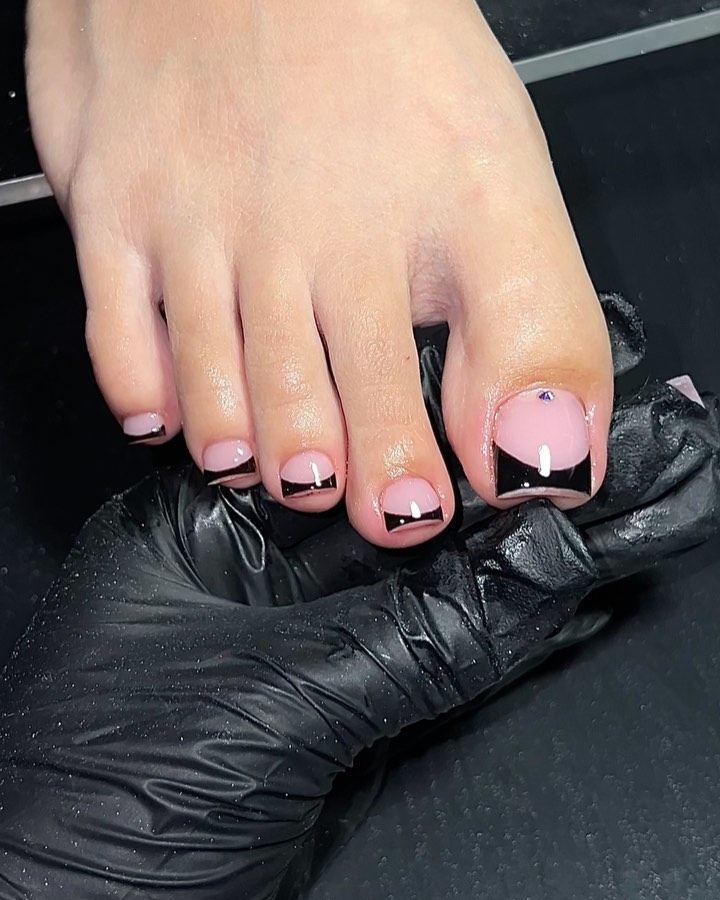 The epitome of sophistication with a daring twist, perfect for anyone looking to make a statement with their toes. It combines the classic allure of a French pedicure with the boldness of black, and when paired with a little sparkle or a glossy top coat,
French Tip Pedicure In Black And White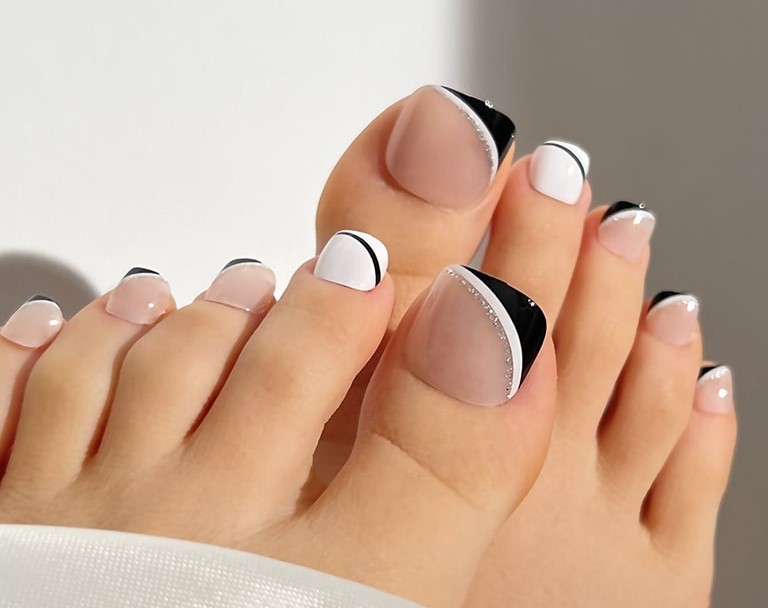 A French Tip Pedicure in Black and White is a timeless, chic choice that offers a striking contrast, perfect for both elegant and casual occasions. This monochromatic style blends the classic French pedicure elegance with a modern, edgy twist, making it a versatile and eye-catching option for any fashion-forward individual.
Nude Base With Cute Black Tips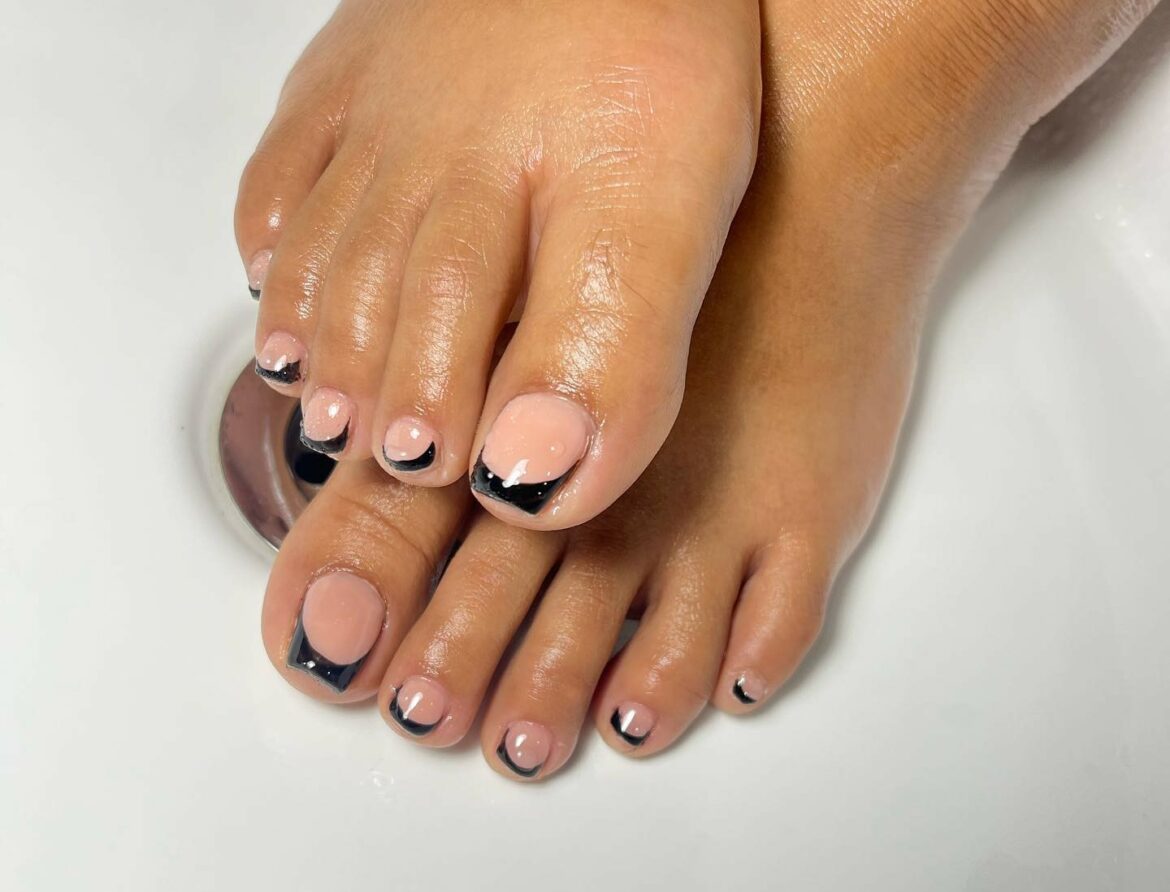 Elevate your pedicure with a chic and understated look by opting for a nude polish base, complemented by sleek black tips on each toenail. This elegant and minimalist style offers a modern twist on the classic French tip, perfect for adding a touch of sophistication to any outfit.
Glitter Galore WIth Glam Black Mani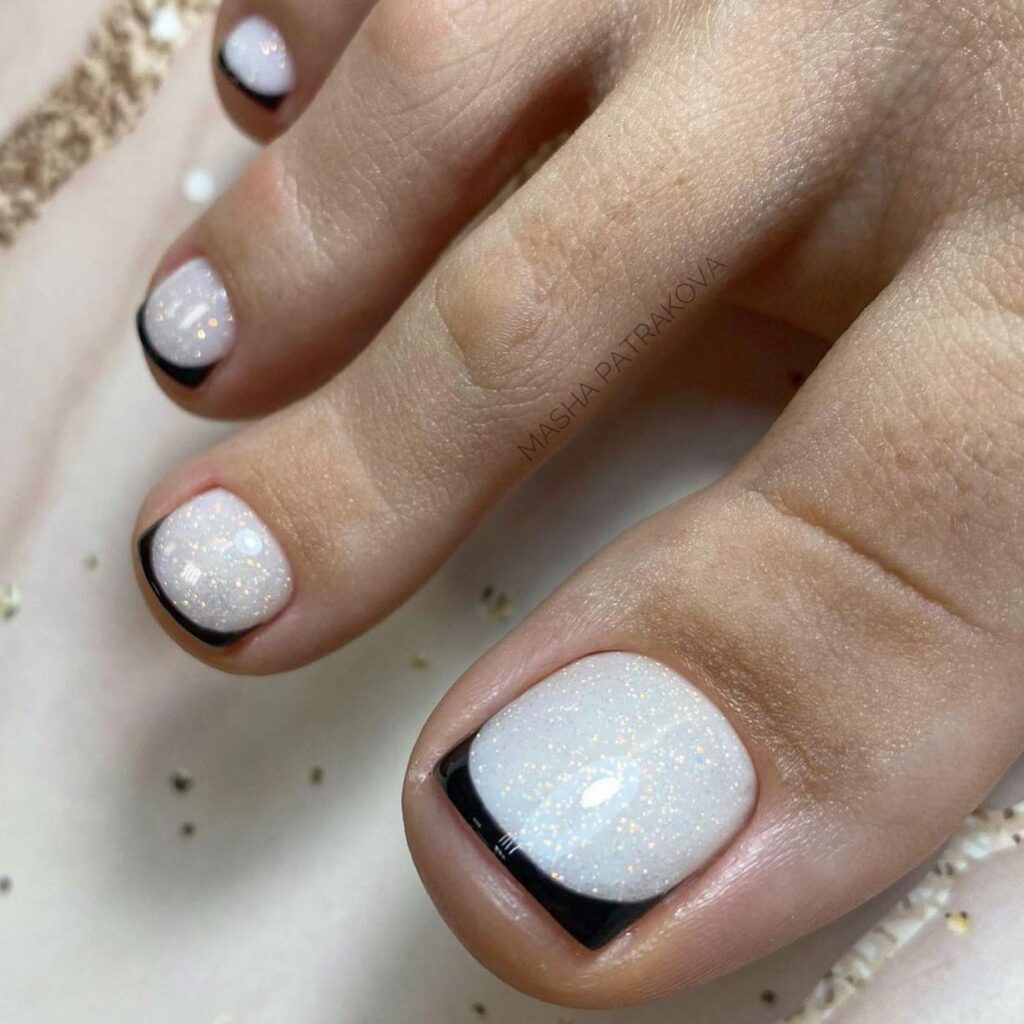 While glitter might remind you of teenage experiments, swipe silver across your nail bed and top it with a black tip. It is an irresistible dance of playful and mature.
Tiered Elegance
Ditch the traditional shape for tiered tips. As they grow out, they look even more sophisticated. Win-win, right?
Embracing the Classic Pink & Black Mani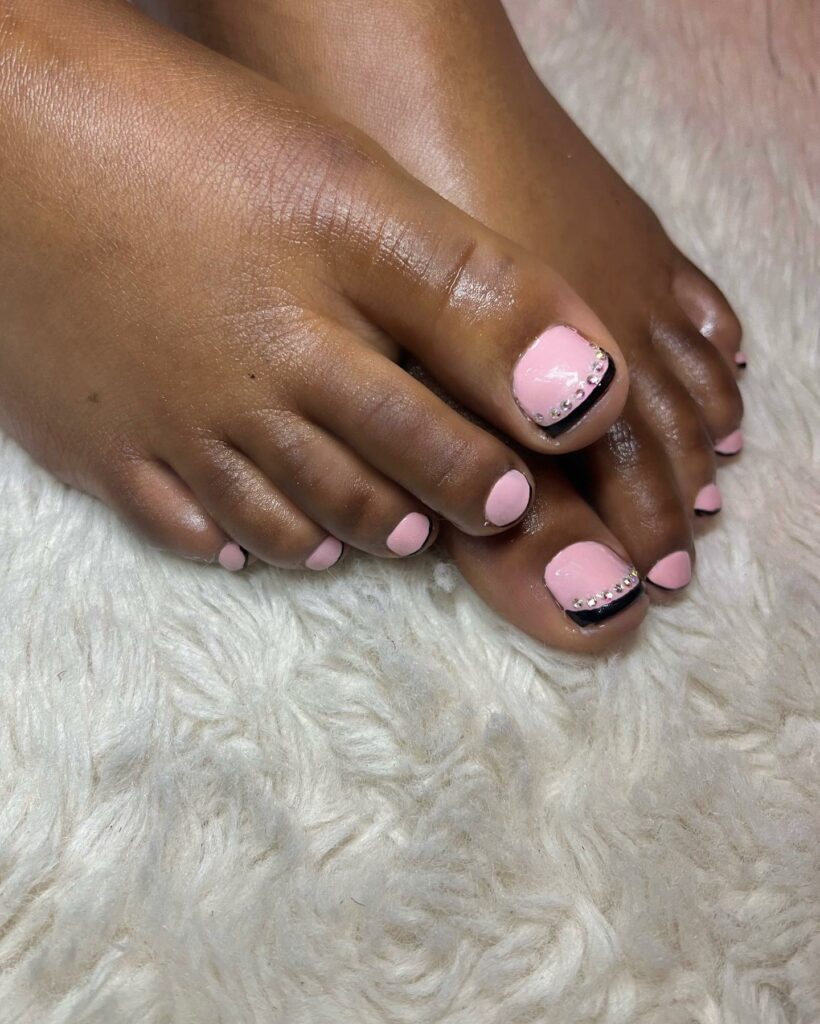 Remember when the traditional French tip was the crème de la crème of manicures? Add a modern twist the next time you're at your favorite nail salon. Black tips are that perfect touch of flair while still nodding to the timeless original.
The Glistening Stripe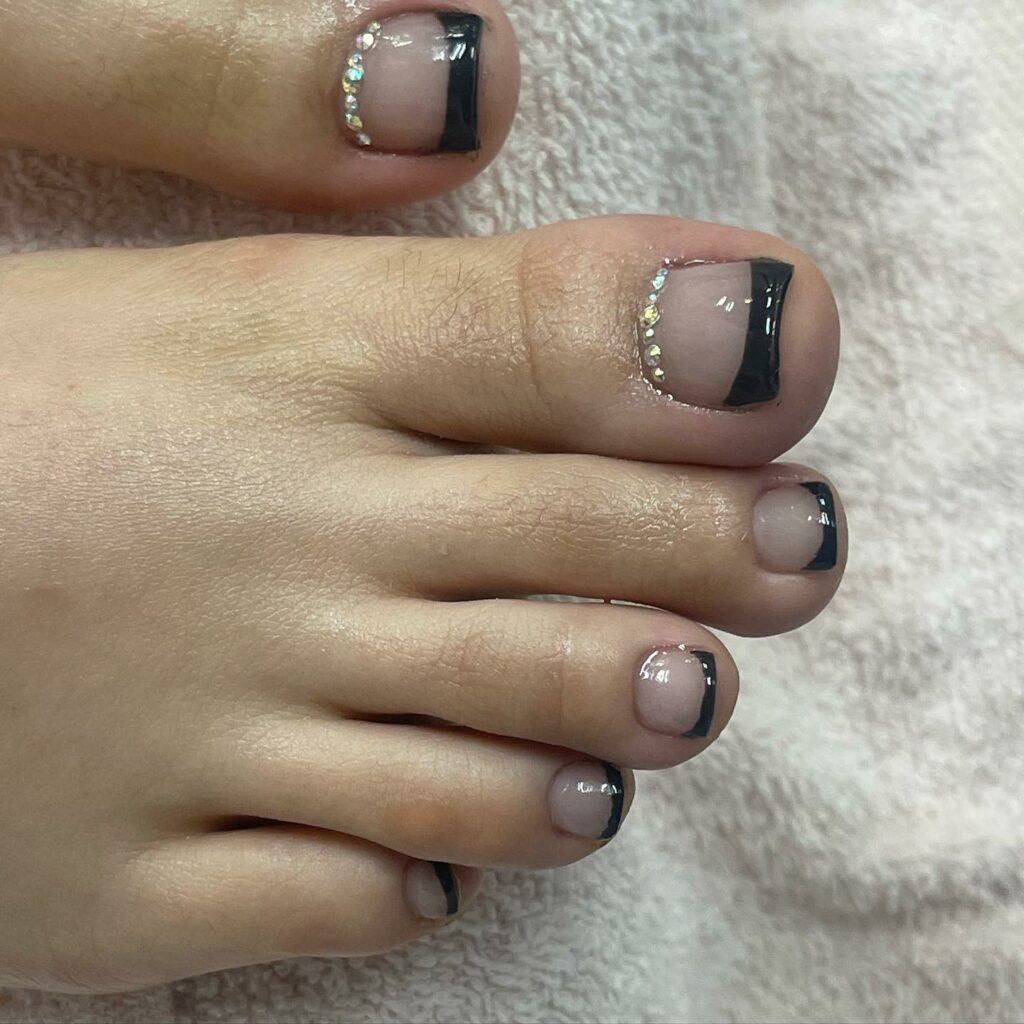 For those festive moods when subtlety is critical, go for a delicate black stripe, trailing it with a shimmering line of silver. Trust me, it's a total game-changer for those dinner dates!
Square It Up!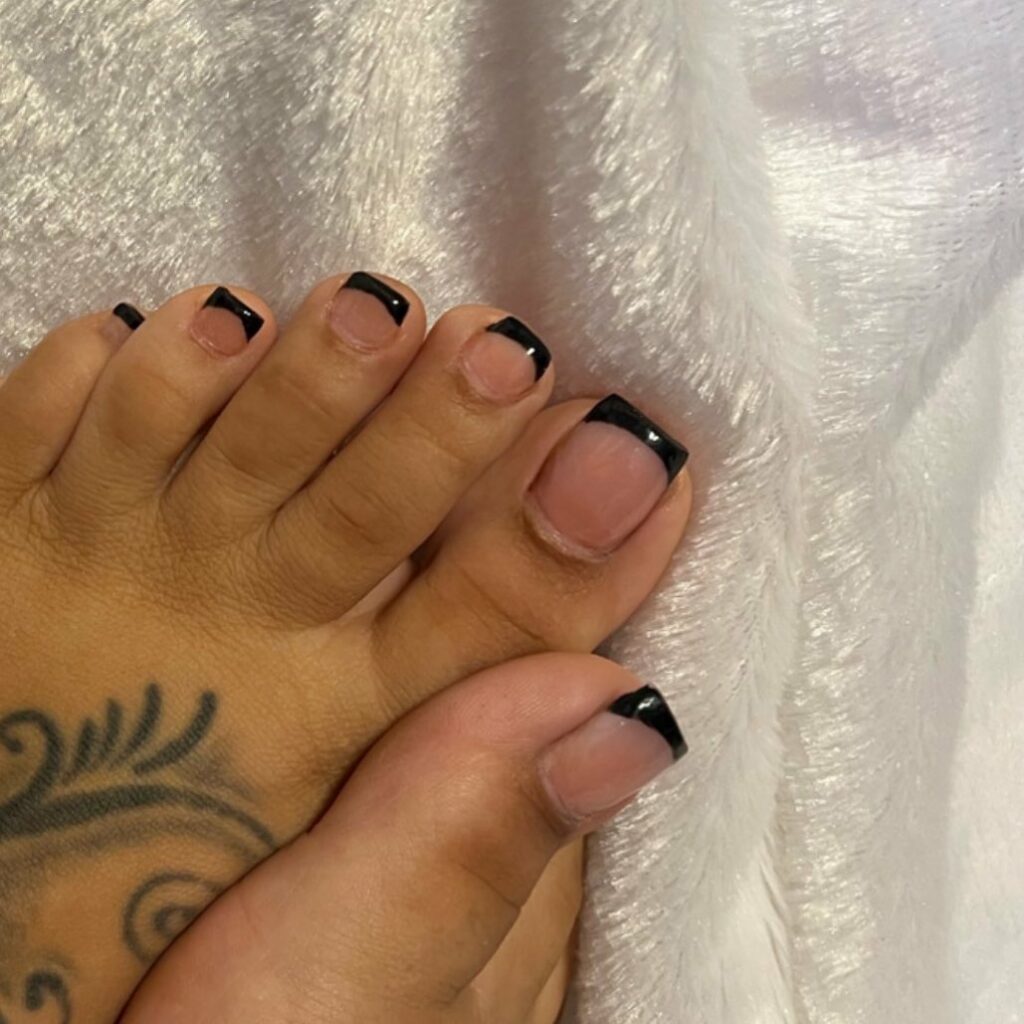 I've always been an oval nail gal, but squared French tips? A revelation! Add a dash of creativity by drawing straight lines to the sides, creating a dual-toned marvel.
Super Glam Black Tip Toenails
The inherent simplicity of French tips is your canvas. Perhaps a sprinkle of glitter or an added stroke? The world is your oyster. A personal fave? Glitter, always glitter.
Animal Delights With Black French Tip Toenail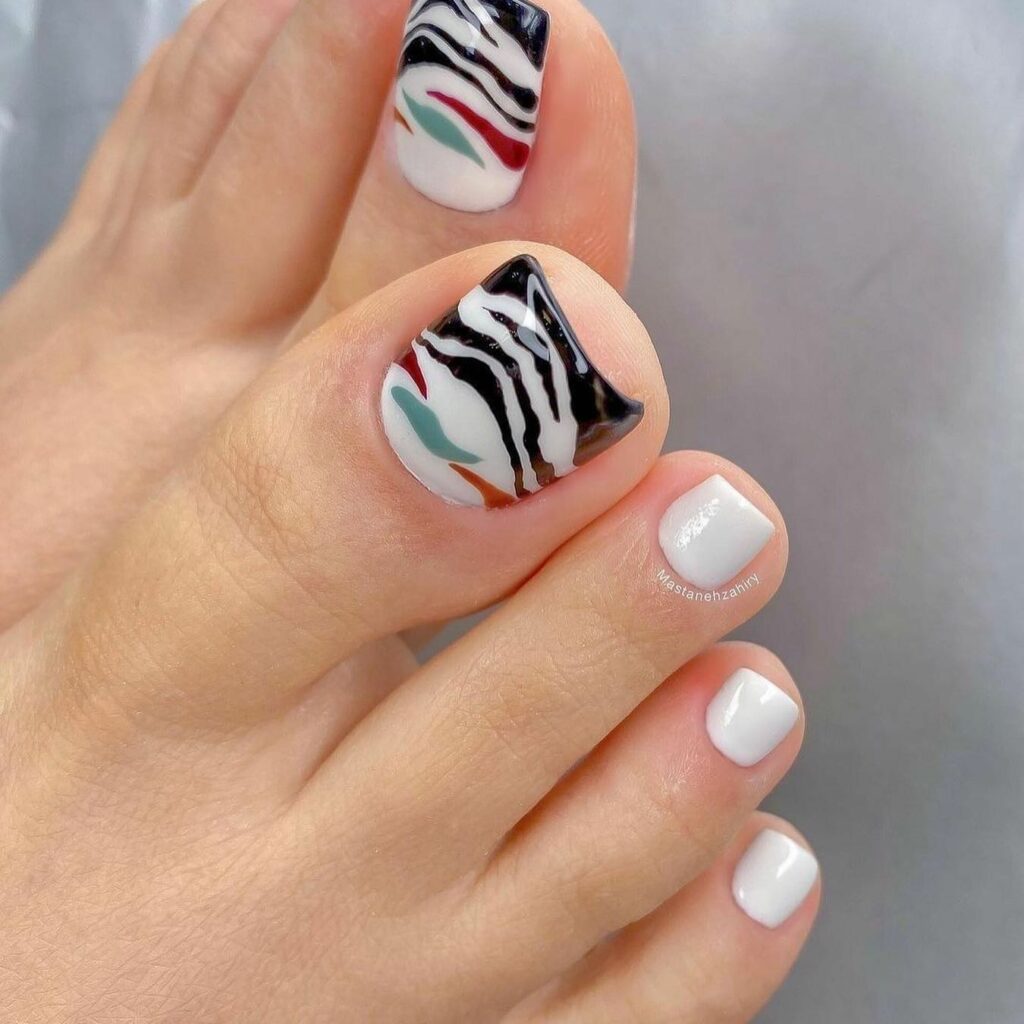 For those who live life in the grand lane, swirls on your black French tips will be your best friend. Every swirl tells a story, yours to define.
Dual-Toned Tuxedo
Indecisiveness, thy name is every nail enthusiast! Merge the classic with the black tip, and maybe add a ribboned edge? The beauty is in the blend.
Jewel Encrusted Accent Toenail
Have you ever thought of mirroring your cuticle shape with a playful design? A wink here and a nudge there, and you have a manicure that's the talk of the town.
Gold And White On Black French Design
Add gold and white details to your black French pedicure for a regal finish. The combination is both sophisticated and lavish, perfect for special occasions.
Tropical Flowers Adorn Nude Toenails With Black Tips
Black French tips with bright floral designs? A spring sensation! They playfully serve as accent nails, lifting your mood instantly.
Matte Black On Gloss Black French Tips
Imagine a subtle transition from your natural nail color to a striking black at the tips. An ombre Black French pedicure is not just visually appealing, but it also adds a touch of modern sophistication to your feet. This style can be a beautiful canvas for other decorations like tiny gems or a glossy top coat for that finishing flair.
Matte Elegance
Break away from the glossy norms and embrace the understated beauty of a matte finish. The subdued yet powerful presence of a black matte French tip pedicure is sure to capture attention, offering a contemporary and stylish twist to the classic.
Cute Detailing On French Pedi
This exquisite choice adds a layer of intricacy and an ultra-feminine touch to your pedicure, making every step you take a statement of elegance and style.
Metallic Accents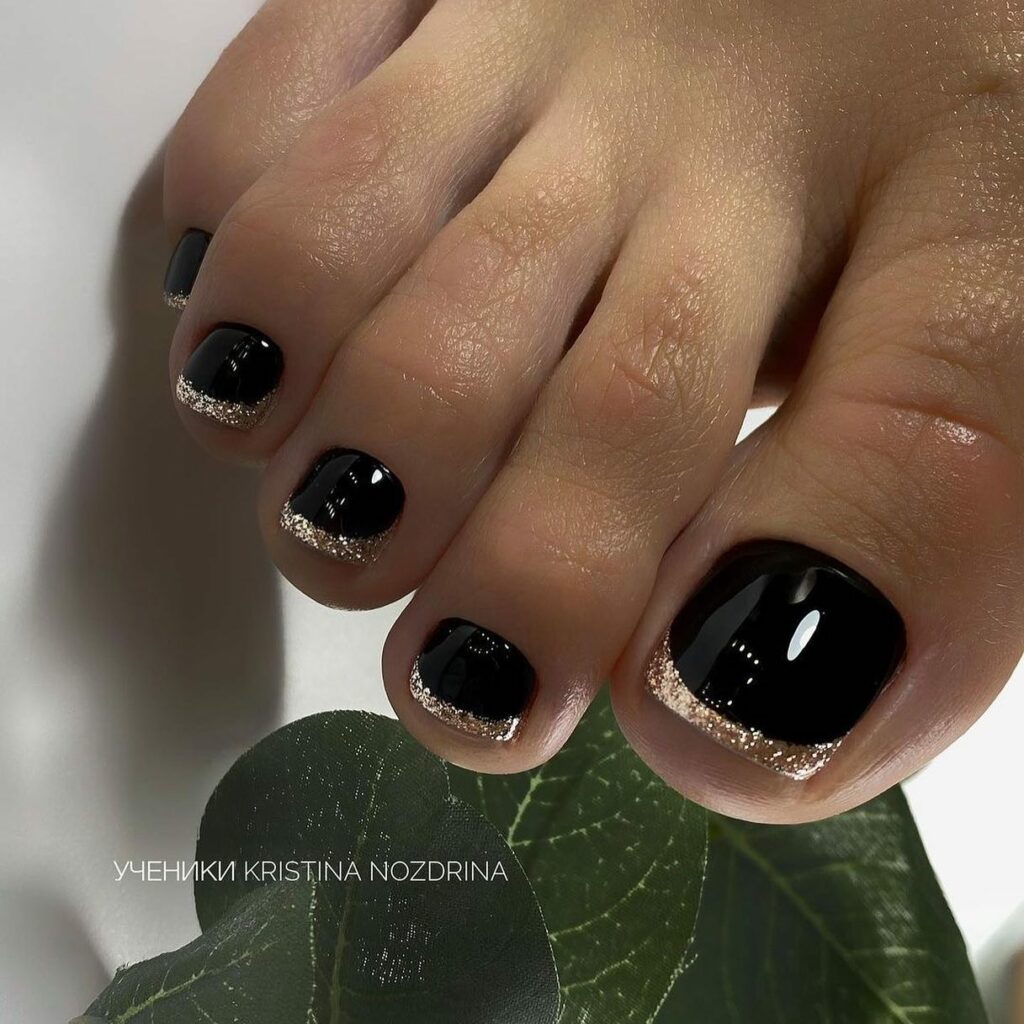 Metallic accents are a splendid way to add a festive and glamorous touch to your black French pedicure. Opt for gold or silver lines near the tips or a metallic dot at the base of the nail for that chic appearance. This shimmering detail elevates the entire look, adding sparkle to your steps.
Negative Space Wonders
Play with negative spaces by leaving parts of your nail bare and emphasizing the black tips creatively. This minimalist approach looks modern and adds a unique touch to your pedicure, offering a fresh perspective on the Black French tip trend.
Neon Outlines
To add a festive touch, outline your black tips with a neon hue, such as electric blue or fiery orange. This stark contrast catches the eye and brings a youthful and vibrant energy to your pedicure, making it a fun summer choice.
Floral Fusion
Embrace the beauty of nature by adding miniature floral designs to your black French pedicure. Combining dark tips with colorful and cheerful floral art creates a balanced and harmonious look for sunny outings or garden parties.
Pearl Embellishments
Adorn your black French tips with tiny pearl embellishments for an elegant and luxurious touch. This addition brings sophistication and richness, making your feet look like a piece of art.
Textured Tips
Add a unique dimension to your pedicure by opting for textured black tips. Whether it's a sand-like texture or a velvet finish, this added element brings a distinctive touch to your nails, setting you apart.
Glitter Gradient
For a stellar effect, merge your black tips with a glitter gradient, seamlessly blending into your natural nail color. This glittery addition brings a festive and fun element to your pedicure, making it a fabulous choice for special occasions.
Marble Magic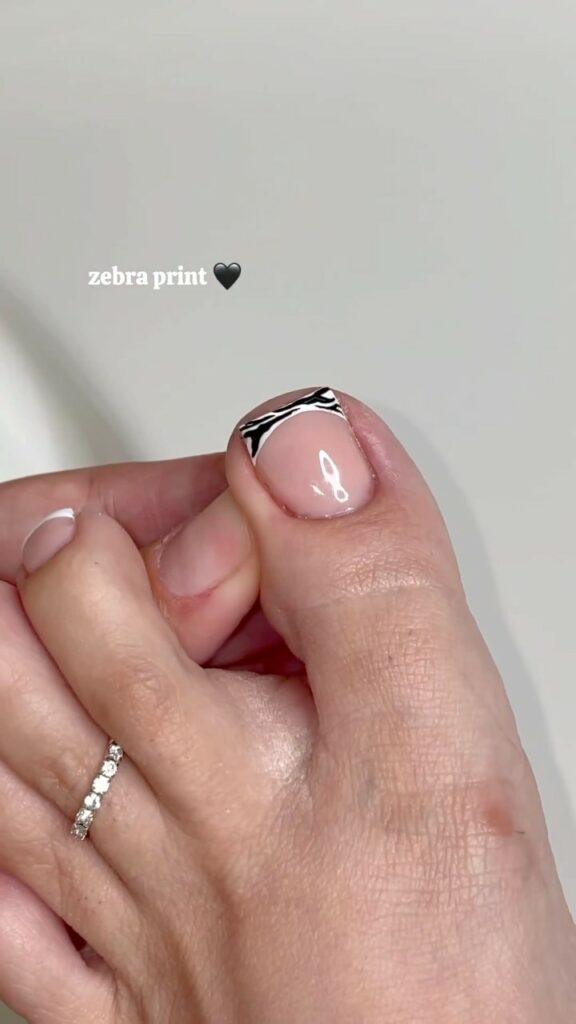 Incorporate the mesmerizing swirls of marble designs into your black French pedicure. The combination of black with white or gray swirls offers a unique and sophisticated touch, elevating your pedicure to a new level of elegance.
Chic Chevron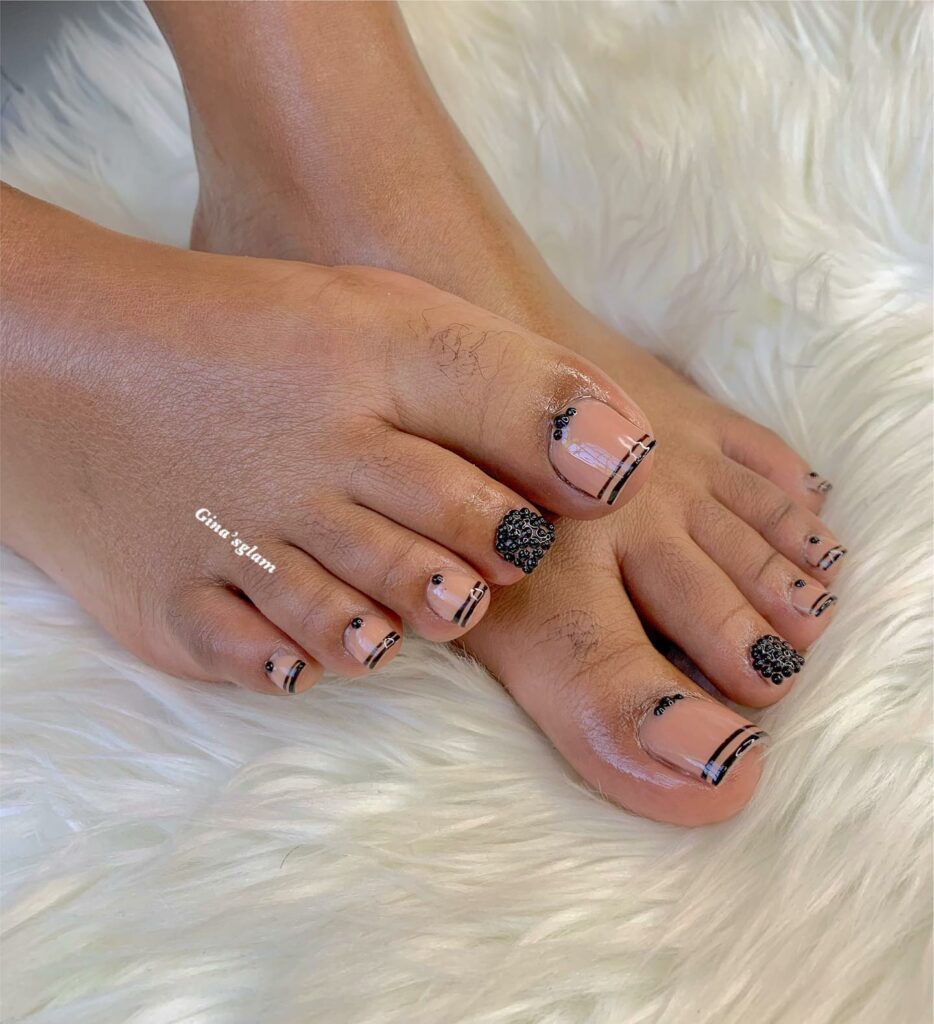 A chevron pattern with black and another complementing color can add a visually captivating element to your pedicure. The geometric finesse of chevron patterns brings a modern and trendy vibe, making each step a chic statement.
The Minimalist's Delight
Baby French manis, a minimalistic dream. They complement every outfit and mood; trust me, they're a hit on Instagram.
Black French Pedicure With Skin Tone Color On Base
This style strikes a balance between subtle and bold. A skin-tone base creates a natural look, while the black French tips add a touch of audacity. It's the perfect look for those who want something low-key but not boring. A professional tip: pick a base color that matches your skin tone for the best effect.
Black French Pedicure With A Couple Of Shiny Stones
Want to add some bling to your toes? A black French pedicure embellished with a couple of shiny stones at the tips will do the trick. This look works well for special occasions or when you want to glam it up. Remember, less is more; just a few stones are all you need.
Ying Yang French Pedicure
This spiritual and aesthetic design captures the essence of balance. One toe features black with a white tip, and the other is white with a black tip. It's an expressive style that's sure to start conversations.
Straight Line French Pedicure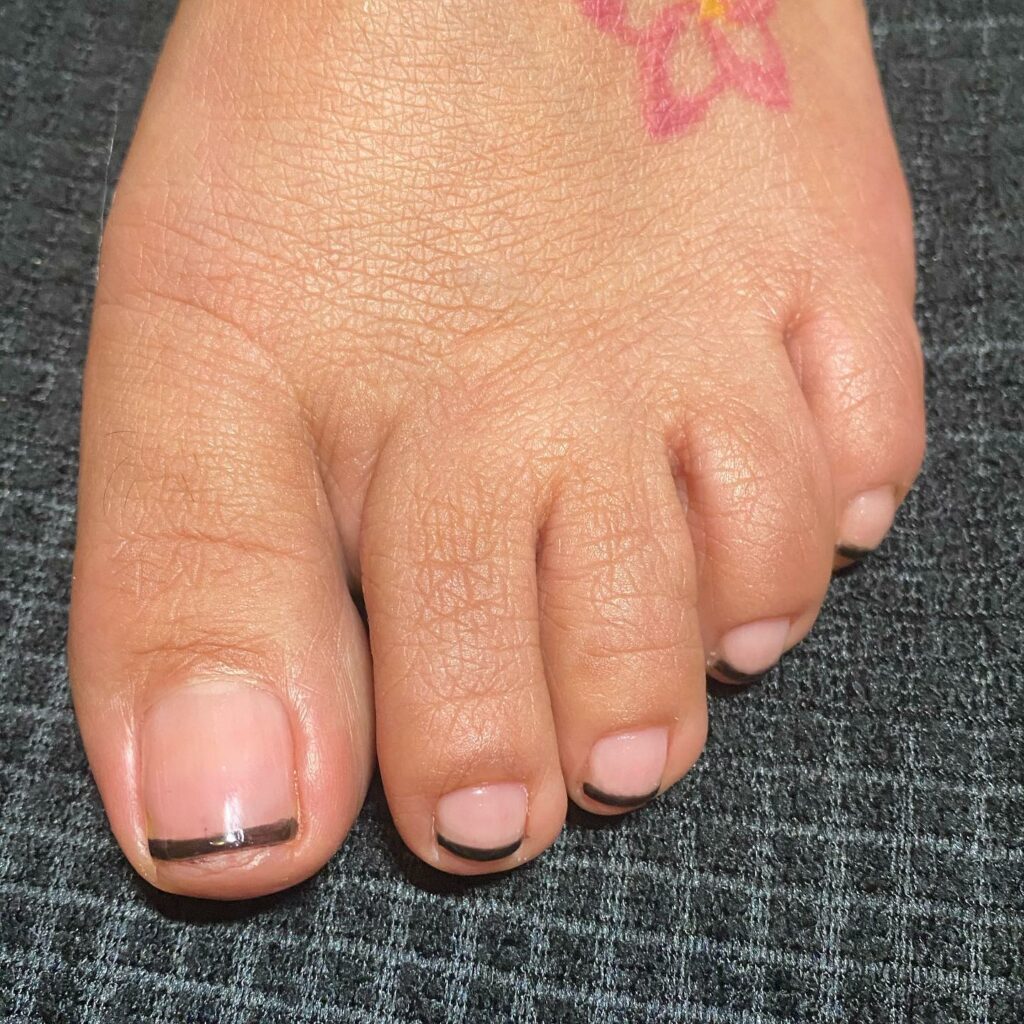 It's classic but never dull. A straight-line French pedicure, typically featuring clean, straight-across tips, exudes timeless elegance. It's perfect for any event, casual or formal.
Horn Like French Pedicure
This bold and daring design features horn-like extensions originating from the tips. It is ideal for those who want to make a statement and are fearless in stepping outside the box.
Black French With Silver Stones
Similar to the style of the shiny stone, the silver stones set against a black tip create a more monochromatic yet glitzy look. It's a tasteful mix of sophistication and fun.
Black French Pedicure With Pink Spider Web
Perfect for Halloween or for anyone who enjoys unique and whimsical designs. The pink spider web against a black background is both cute and edgy.
Big Toe Black French Pedicure
In this design, only the big toe features the black French tip, allowing it to stand out. This is for those who prefer a minimalist but still intriguing approach.
Black French Pedicure For Nude Base Color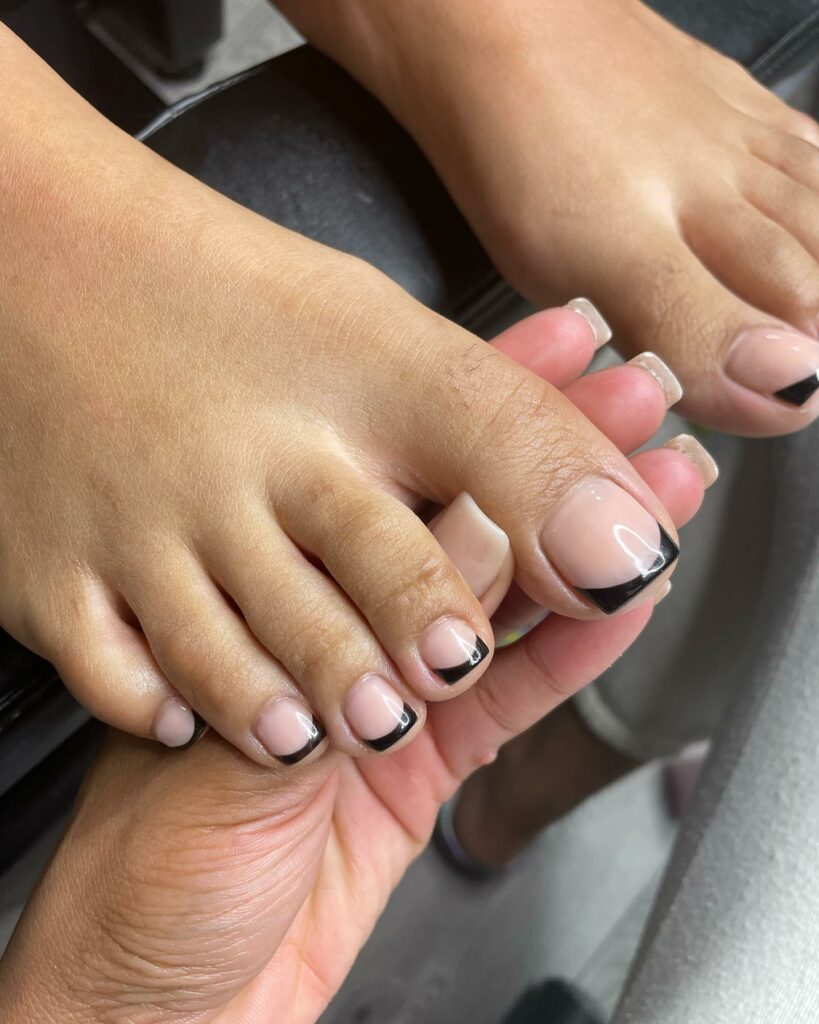 This is a variation of the skin-tone base but uses a generic nude color as the base. It's simple but has an air of luxury, making it versatile for multiple occasions.
Black French Art Design
This one is for the creatives out there. The black tips serve as a canvas for intricate art designs. Whether it's floral or abstract, the possibilities are endless.
Combination Of Black And White French Design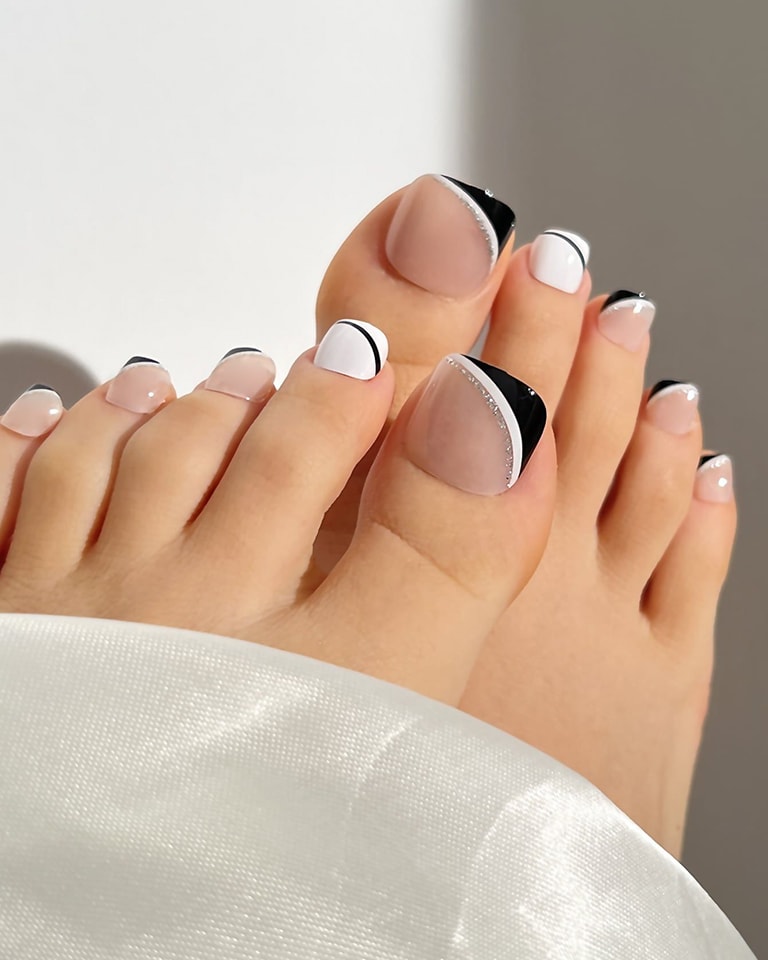 Why settle for one when you can have both? This design incorporates black and white tips, offering a balanced yet captivating look. It's for those who can't decide and want the best of both worlds.
Black French With Gold Glitters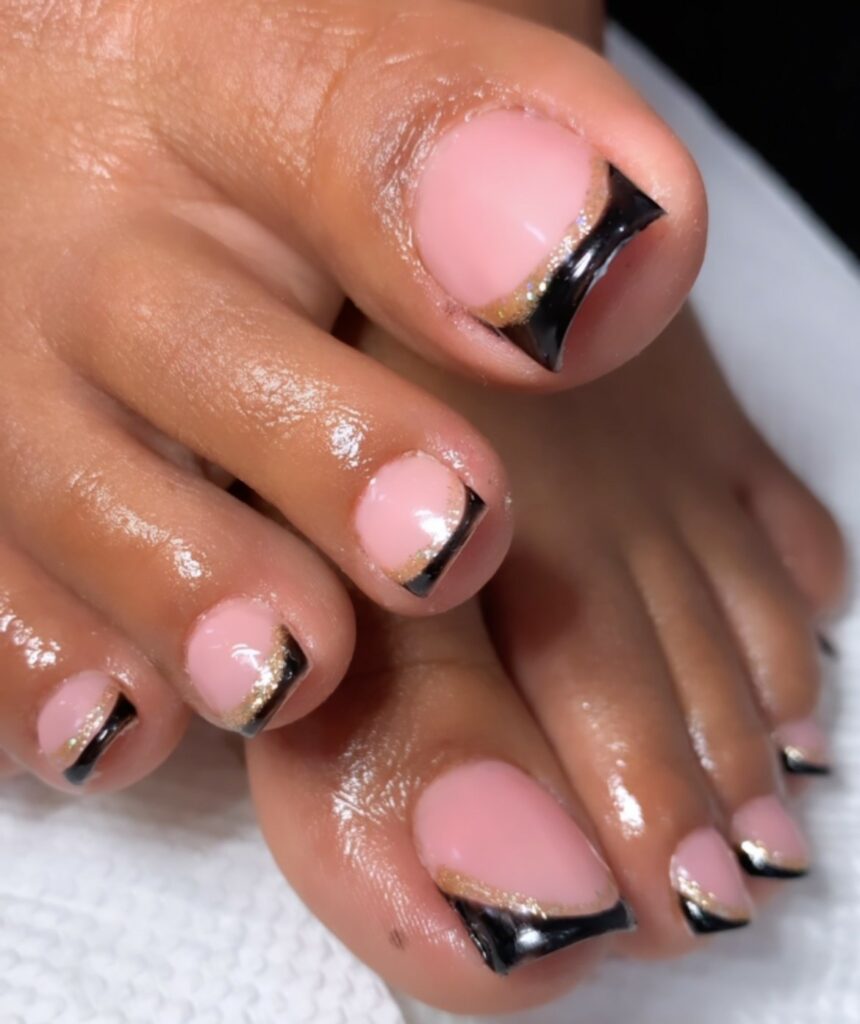 Add a luxurious touch to your toes with gold glitters sprinkled over black tips. This combo screams luxury and is perfect for festive seasons or when you want to feel extra special.
Cow Print French Pedicure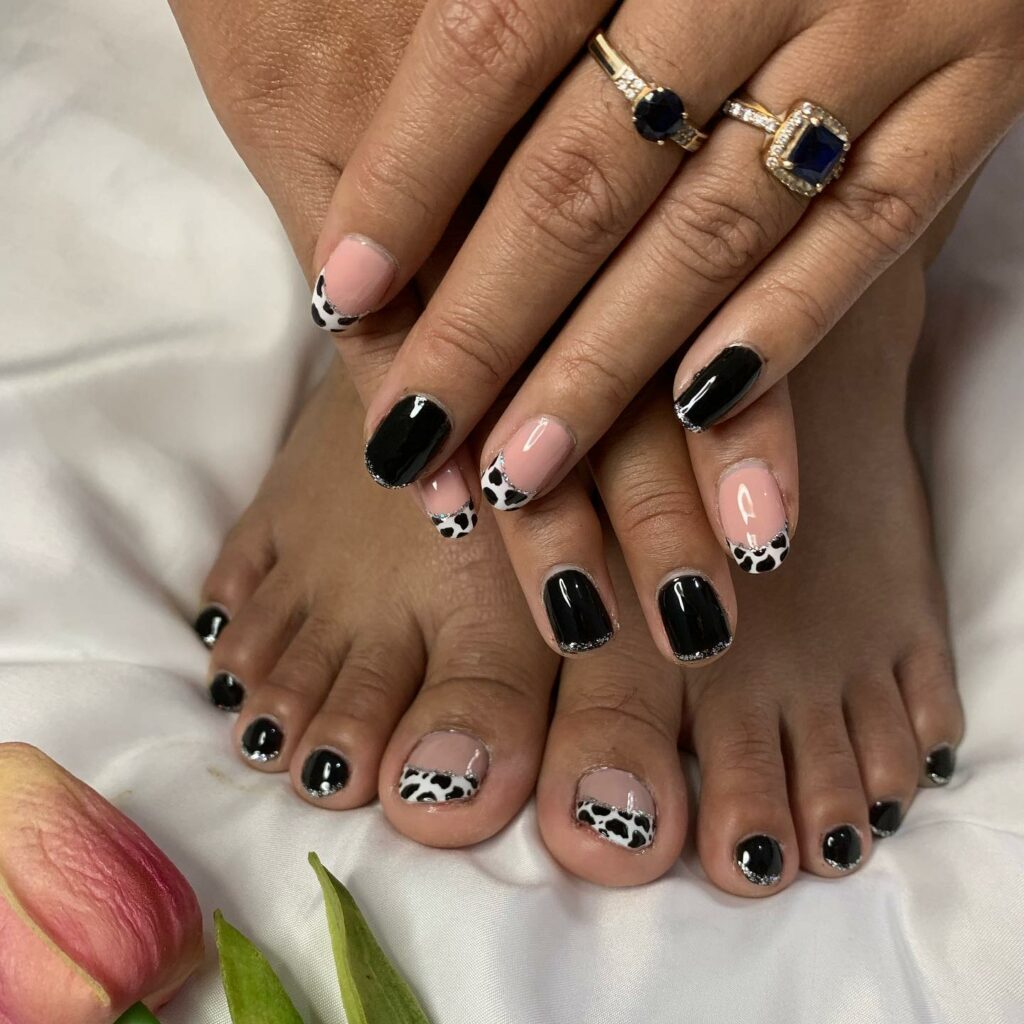 Embrace your playful side with a cow print French pedicure. It's a fun and quirky way to show off your personality and pairs well with casual outfits.
Black French With Tiny Pink Flower
Add a tiny pink flower to your black French tips for a soft and feminine touch. This simple embellishment creates a beautiful contrast and nods to classic floral designs.
Black French With Gold Dust On Big Toe
Make your big toe the star of the show by applying a dusting of gold over the black tip. It's a subtle but eye-catching detail that elevates your entire look.
Black French Pedicure Mandala Design
Embrace spiritual vibes with a Mandala design on your black French pedicure. It's visually appealing and adds depth and meaning to your pedicure experience.
Gloss Black French Pedicure
Sometimes, less is more. A standard black French pedicure can be chic and understated, offering a sophisticated look without additional frills.
Pastel Color On Base With Black On Tips
If you're a fan of contrast, a pastel base color topped with black tips offers a sweet yet edgy look. Think lavender, baby pink, or mint green as base colors.
Black French With Silver Line
A thin silver line along the boundary of your black tip can make a world of difference. It adds a modern twist and catches the light just enough to make people do a double-take.
Dripping Black French Pedicure Design
This involves a gradient where the black tip appears to "melt" into the base color. It's a unique take on the classic French and offers a softer transition between colors.
Black French Pedicure With ' Channel ' Logo
Brand enthusiasts, this one's for you. A small Channel logo on one of the toes can add an elegant branded touch to your pedicure, making it fashion-forward.
Minie Mouse Design On French Pedicure
Perfect for Disney fans or those who enjoy cute designs. The Minnie Mouse elements turn your pedicure into something playful and instantly recognizable.
French With Black Swirl Design
Incorporating black swirls into your French pedicure gives it an artistic flair. Depending on your desired ornate, this pattern can range from simple to intricate.
Spider Web Design On Black French Pedicure
Take edgy to the next level with a spider web design. It is ideal for Halloween or anyone looking to make a bold statement.
Coffin Black French Design
This plays on the shape of the tip, making it resemble a coffin. It's an edgy and daring look, ideal for those who want something different.
Butterflies on French Pedi
Introduce butterflies to your black French pedicure, is very cure
Artistic Vibes
The black drip tips? Pure art. A heads up, though, it's a tricky one. Leave this to the professionals or for a fun DIY weekend.
My 8-Step Process For Achieving The Perfect Black French Pedicure
You'll Need:
Nail clippers
Cuticle pusher
Nail file
Cotton balls
Nail polish remover
Base coat
Black nail polish
Top coat
Optional: nail art tools or embellishments like stones, glitters, etc.
Steps:
Preparation: Start with clean, polish-free nails. Trim your nails to your desired length and shape them using a nail file.
Soak & Cuticle Care: Soak your feet in warm water for 5-10 minutes to soften the skin and cuticles. Dry them off, then gently push back your cuticles with a cuticle pusher.
Clean the Nail Surface: Wipe your nails with a cotton ball soaked in nail polish remover. This ensures you eliminate any oils or residues that might affect your polish.
Base Coat: Apply a thin layer of base coat to all your nails. This creates a smooth surface for your polish and helps to protect your nails. Let it dry thoroughly.
Apply the Black Tips: Now comes the fun part! Carefully paint the tips of your toenails black. You can use tape as a guide or freehand it if you're confident. Either way, aim for a crisp line. If you mess up, use a thin brush dipped in polish remover to clean it up.
Optional Design: If you want to add designs or embellishments, now's the time. Whether it's a tiny stone, glitter, or intricate art, place it carefully on the black tip while the polish is still wet so it sticks.
Top Coat: Sealing your artwork with a quality top coat once everything is dry. This gives your pedicure a glossy finish and extends its lifespan.
Dry & Set: Give your toes ample time to dry to avoid smudging. And there you have it, a chic Black French Pedicure you can flaunt!
Remember, practice makes perfect, so don't fret if it's not flawless the first time. Most importantly, have fun with it, and don't be afraid to add your own twist! Happy pampering!
10 Best Polish Brands That I Love For a Long-Lasting Finish
You're in for a treat because nothing ruins a beautiful pedicure faster than chipped polish. Over the years, I've tried and tested a ton of brands, and here are my top picks for nail polishes that go the distance:
OPI: An industry favorite, OPI's polishes are known for their long-lasting formula and incredible color range. Their top coats are also solid performers for sealing in your look.
Essie: Essie offers an array of gorgeous shades, and their formulas are long-lasting and resist chipping. Their 'Gel Couture' line is particularly enduring.
Zoya: If you're looking for a more natural option, Zoya is free from harmful chemicals like toluene, formaldehyde, and DBP (dibutyl phthalate), and its polishes offer a long-lasting finish.
CND Vinylux: This brand is best known for its Shellac gel polishes used in salons, but their Vinylux weekly polishes are also great for a long-lasting at-home pedicure.
Deborah Lippmann: A little on the pricier side, but totally worth it for the quality. These polishes, including biotin and green tea extract, are enriched with treatment benefits and offer long-lasting shine.
Sally Hansen: Their 'Miracle Gel' line mainly offers a gel-like finish without UV light and promises up to 14 days of color and shine.
China Glaze: Known for their vibrant colors and unique finishes, China Glaze polishes also offer a durable, long-lasting formula.
Butter London: Free from harmful ingredients, Butter London's polishes offer a rich, long-lasting color payoff and a durable finish.
Revlon ColorStay: An excellent drugstore option, Revlon's ColorStay line promises up to 11 days of life-resistant wear.
LeChat Perfect Match: If you're up for dipping into gel territory, LeChat's Perfect Match polishes offer regular and gel polish in the same color for a flawless, long-lasting look.
When achieving a long-lasting pedicure, the trick isn't just in the polish itself but also in the application. Remember to use a quality base coat and top coat from these brands to lock in your color and extend wear. Happy painting!
10 Nail Art Designs That Harmonize With This Trend
The Black French Tip Pedicure offers a sleek and sophisticated canvas that pairs beautifully with various nail art designs. Let's explore some of the most captivating options that would harmonize splendidly with this trend:
Minimalist Accents – Complement the bold black tips with simple, minimalist accents such as thin white lines or tiny dots arranged in a geometric pattern. This clean and contemporary approach adds a subtle flair without overwhelming the elegance of the black tips.
Marble Art – Integrating marble art, particularly in shades of gray or white, can create a fascinating and rich texture that pairs wonderfully with the black tips, offering a sophisticated and modern appeal.
Metallic Stripes – Incorporate delicate metallic stripes or shapes near the tips or the base of the nails. The reflective quality of metallic elements can add a dash of glamour, creating a harmonious balance with the black tips.
Floral Embellishments – Add a soft contrast to the solid black tips with delicate floral embellishments. Pastel flowers or tiny white blooms can bring a touch of romance and femininity, creating a delightful visual balance.
Negative Space Art – Utilize negative space art to create exciting and innovative designs. Combining the black tips with negative space patterns can create a visually striking and modern nail art design.
Gemstones and Studs – Adorn the nails with tiny gemstones or studs for a luxurious touch. Placing them at the base or sprinkling them around the nail can add a glamorous sparkle that harmonizes beautifully with the black tips.
Holographic Highlights – Inject a futuristic touch with holographic highlights. It can add an unexpected and vibrant element that contrasts splendidly with the deep black tips, whether a holographic stripe or a slight accent.
Abstract Art – Incorporate abstract art with fluid shapes and lines in contrasting colors. The spontaneity of abstract patterns can create a dynamic and artistic interplay with the structured black tips.
Lace Patterns – Lace patterns, with their intricate details, can offer a vintage and elegant touch. They blend gracefully with the black tips, creating a classy and intricate look.
Glitter Galore – Sprinkle some glitter at the tips or the base for a festive touch. The glitter can add a playful and sparkling dimension, creating a fun and celebratory vibe.
10 Pro Tips For The Perfect Flawless Curve Of The Tip
Achieving that flawless curve for a French tip pedicure can elevate the overall look to a new level of sophistication. Here are some step-by-step guidelines and tips to help you perfect that curve:
Gather Your Tools To – To start, ensure you have all the necessary tools. These include good nail polish, a steady hand, and some guide stickers or tape to help create that perfect curve.
Prepping Your Nails – Before you begin, ensure your nails are clean, shaped, and free from polish or oil. A neat and well-prepared canvas is the first step towards a flawless finish.
Steady Hands – For a smooth curve, you need a steady hand. Rest your hand on a stable surface to avoid shaking or wobble while applying the polish.
Using Nail Guides or Tape – If you need more confidence in freehanding the curve, use French manicure guides or tape to mark off the tip area. These guides help in achieving a uniform and clean curve on every nail.
The Right Brush Stroke – Work with controlled and confident brush strokes. Start from one side and sweep the brush in a smooth, arching motion to the other to get that flawless curve.
The Perfect Polish Consistency – Ensure your polish is consistent – not too thick or too thin. A polish that's too thick will not give a smooth finish, and one that's too thin may not give the desired opacity.
Practice with a Sheer Base – You might want to practice with a sheer base coat first to perfect your technique, gradually building your confidence to work with the black polish.
Clean Up After – If you go astray, use a clean-up brush dipped in nail polish remover to tidy up the curves and make them more uniform.
Patience is Key – Lastly, achieving a flawless curve might take a bit of practice. So, be patient and give yourself time to master this skill.
Finishing with a Top Coat – After achieving the desired curve, seal your artwork with a clear top coat to protect it and add a glossy finish.
Conclusion
In wrapping up, it's clear that the world of Black French tip pedicures is as expansive as it is exciting, offering a delightful canvas to showcase your personal style and creativity. While venturing into these trendy designs, continue experimenting and making each look your own. Remember, the key to a fantastic pedicure experience is maintaining the health of your nails, so always ensure that you are visiting reputable salons that adhere to hygiene and safety standards. Moreover, feel empowered to express your individuality through your pedicure, whether through a sprinkle of glitter or a chic matte finish. As we enter this vibrant journey, remember that patience and practice are your best allies. Here's to turning heads and stepping confidently with your next stunning pedicure transformation. Stay fabulous, and keep twinkling with your vibrant nail endeavors!
feature image @nailedbypalma via Instagram
Last reviewed and updated on November 20, 2023