Today let's shake it up with the ultimate game-changer: Black Matte Nails. These are far from your basic mani; they're a whole vibe that'll make you the center of attention. Stick with me and you'll know how to pull off this look like a pro, plus all the insider tips on upkeep and the perfect outfit matches. Trust, I've done the homework—from must-have matte top coats to the ideal base—and I can't wait for you to join the matte revolution. So, ready to get your nails as statement-making as your fave LBD? Let's get into it!
Mikey Mouse Matte Black Nails
If you're looking to combine nostalgia with a trendy twist, Mickey Mouse Matte Black Nails are your go-to. This playful yet edgy design pairs the iconic Mickey silhouette with a chic matte black finish, giving you the perfect balance of fun and sophistication.
Wild Side: Leopard Love
Combine leopard print, neon, and matte black for a look that screams "fashion-forward." This design is my go-to when I'm feeling bold and sassy. It's a whole vibe, trust me.
Mix it Up: Matte Meets Marble
So, you're not quite ready to go full-on matte black, huh? No worries. Grab yourself a pack of Young Stunners Nail Foils for around 25 bucks, and get to work on this marble masterpiece. It's artsy, it's chic, and it's not your basic nail design. It's a total win-win if you ask me.
Matt Black Cableknit Nails
Ready for some cozy vibes right at your fingertips? Matt Black Cableknit Nails bring the warmth and texture of your favorite winter sweater to a chic and modern manicure that's perfect for the chilly season.
Matte Black Celestial Nail Art
This design has everything—a gradient, matte black tips, and a golden celestial pattern that's so mesmerizing you'll catch yourself staring. It's like having the galaxy at your fingertips.
Matt Black With Gloss Tip Nails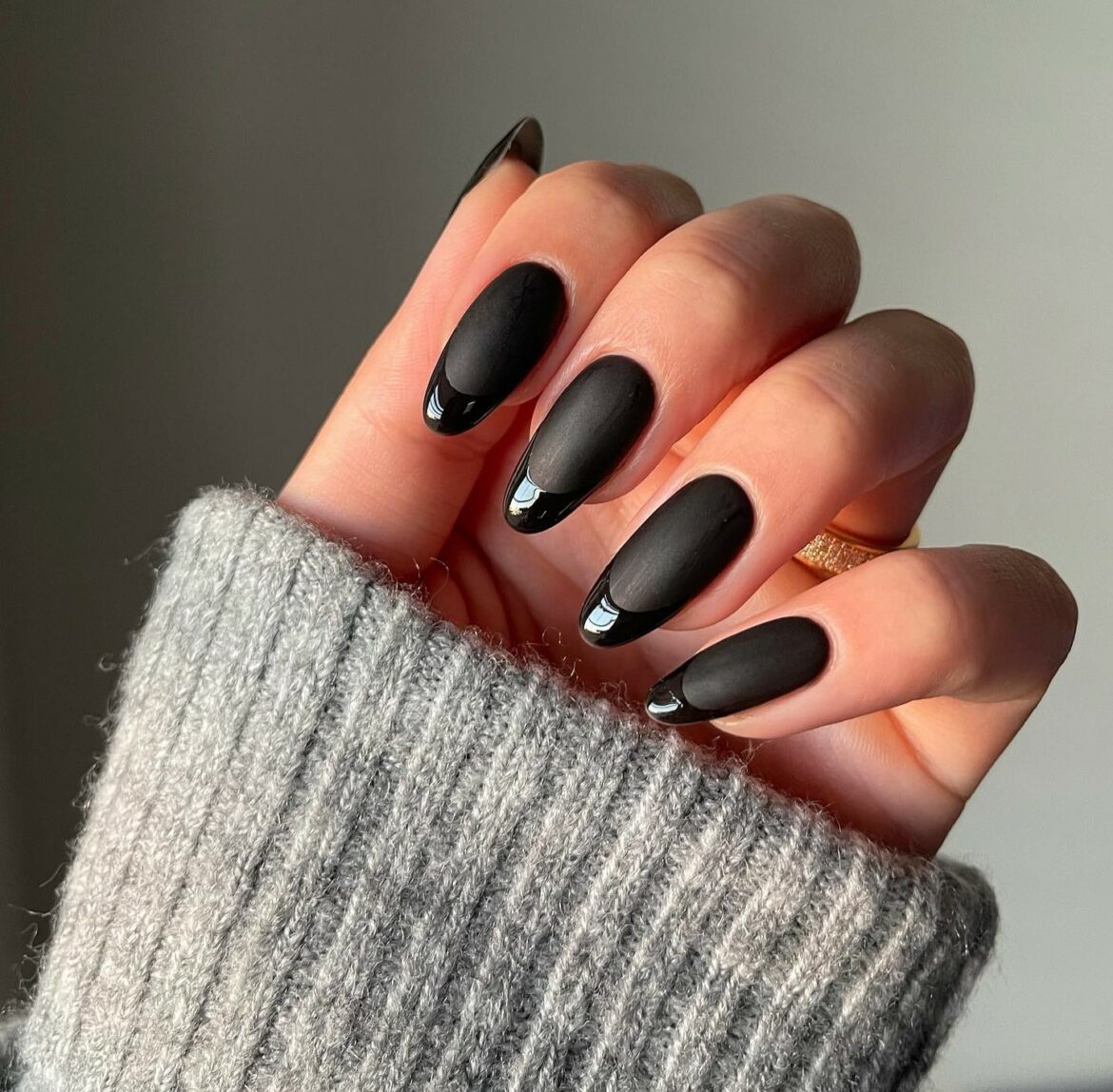 Craving a mani that serves both matte and shine? Matt Black With Gloss Tip Nails offer you the best of both worlds, featuring a matte black base that transitions into a glossy tip for a high-contrast look that's totally eye-catching.
Sophisticated Glam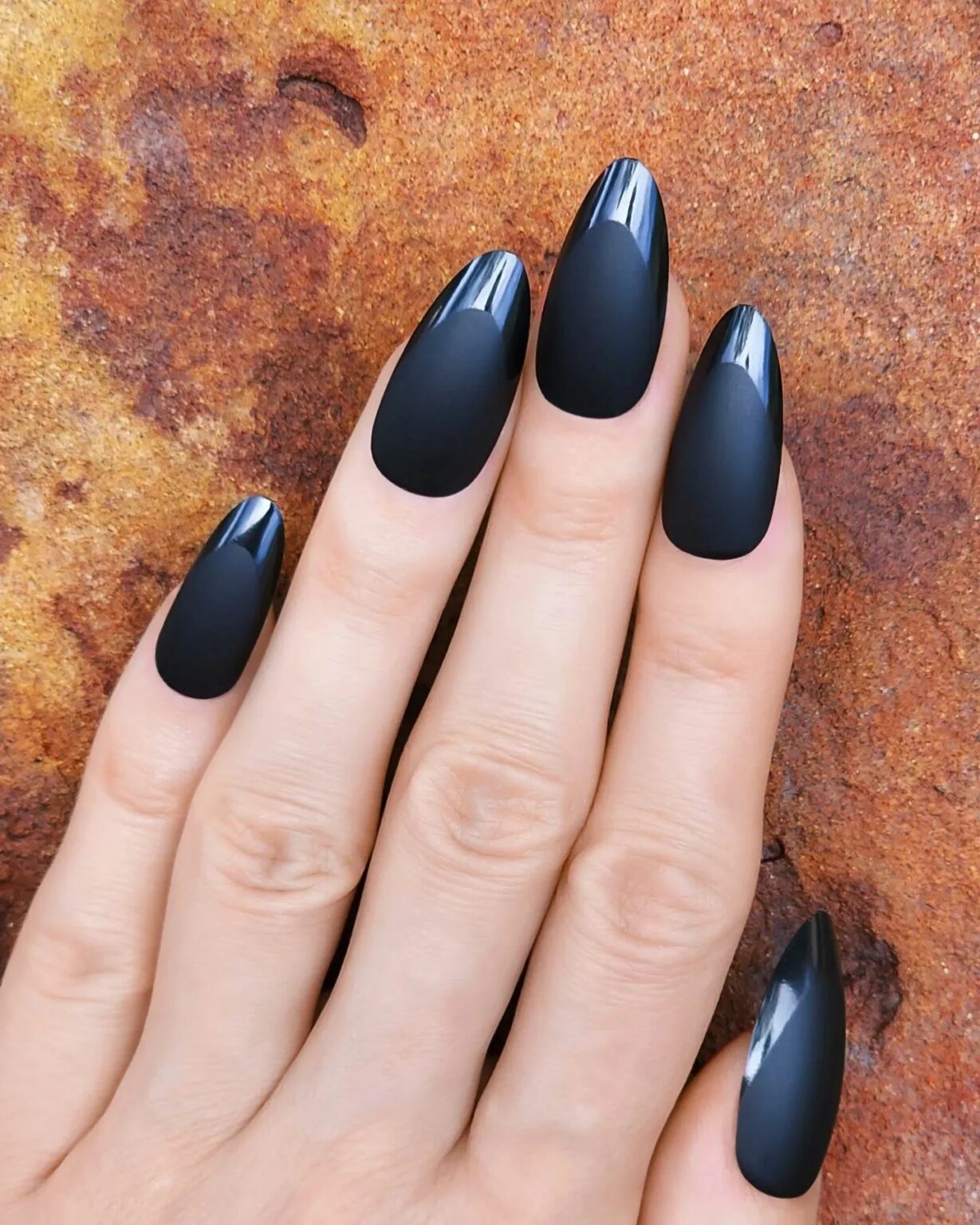 Matt Black Cow Print Nails
Feeling a little mooo-dy but still want to keep things fun? Matt Black Cow Print Nails let you channel some farm-fresh flair with a stylish twist, blending playful cow spots over a matte black canvas for a look that's both whimsical and chic.
Pastel Dots On Matt Black Nails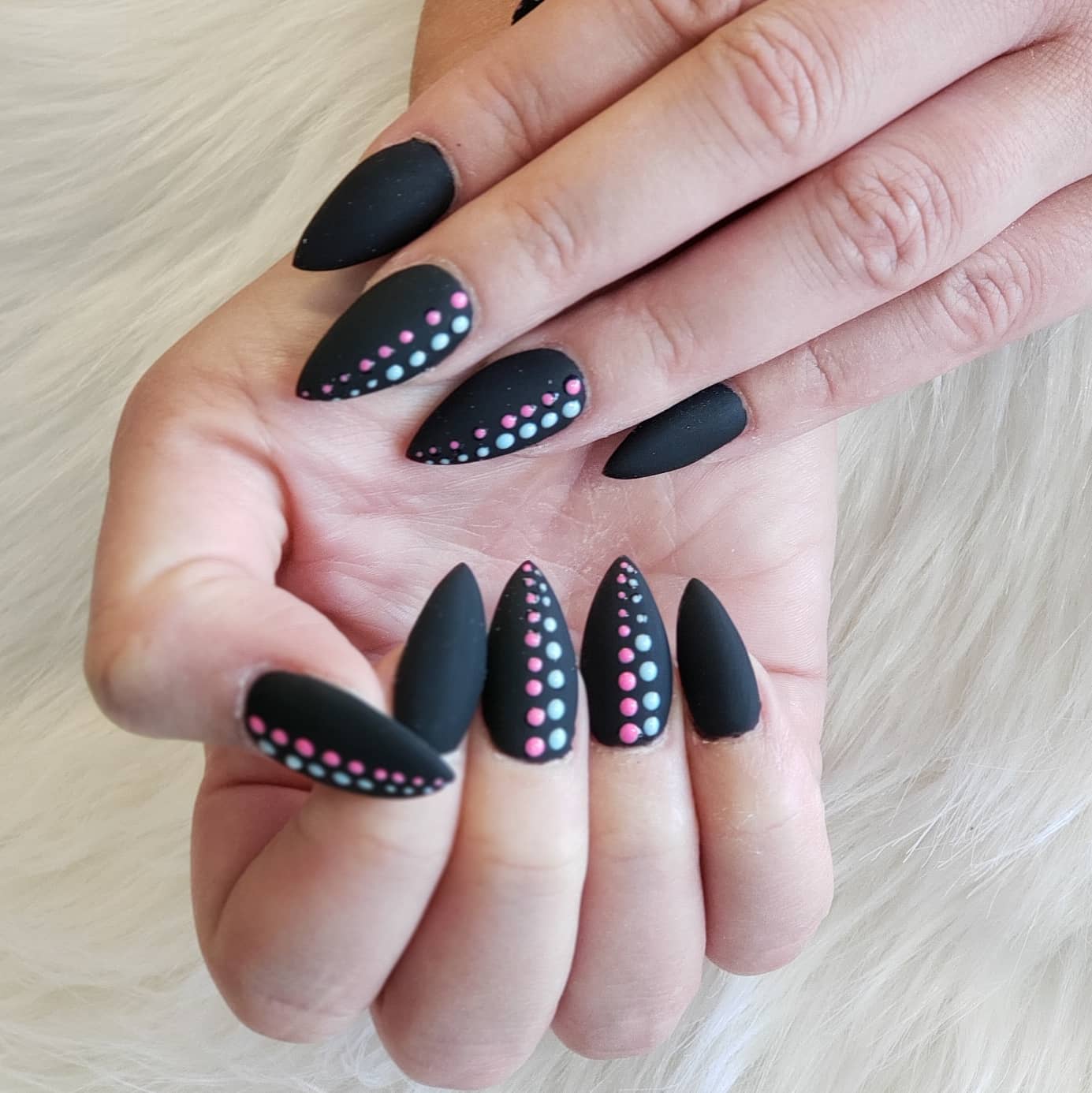 Who says you can't be edgy and sweet at the same time? Pastel Dots On Matt Black Nails offer a delightful contrast, combining a dark matte backdrop with soft pastel dots for a look that's as surprising as it is stylish.
Diamonds Forever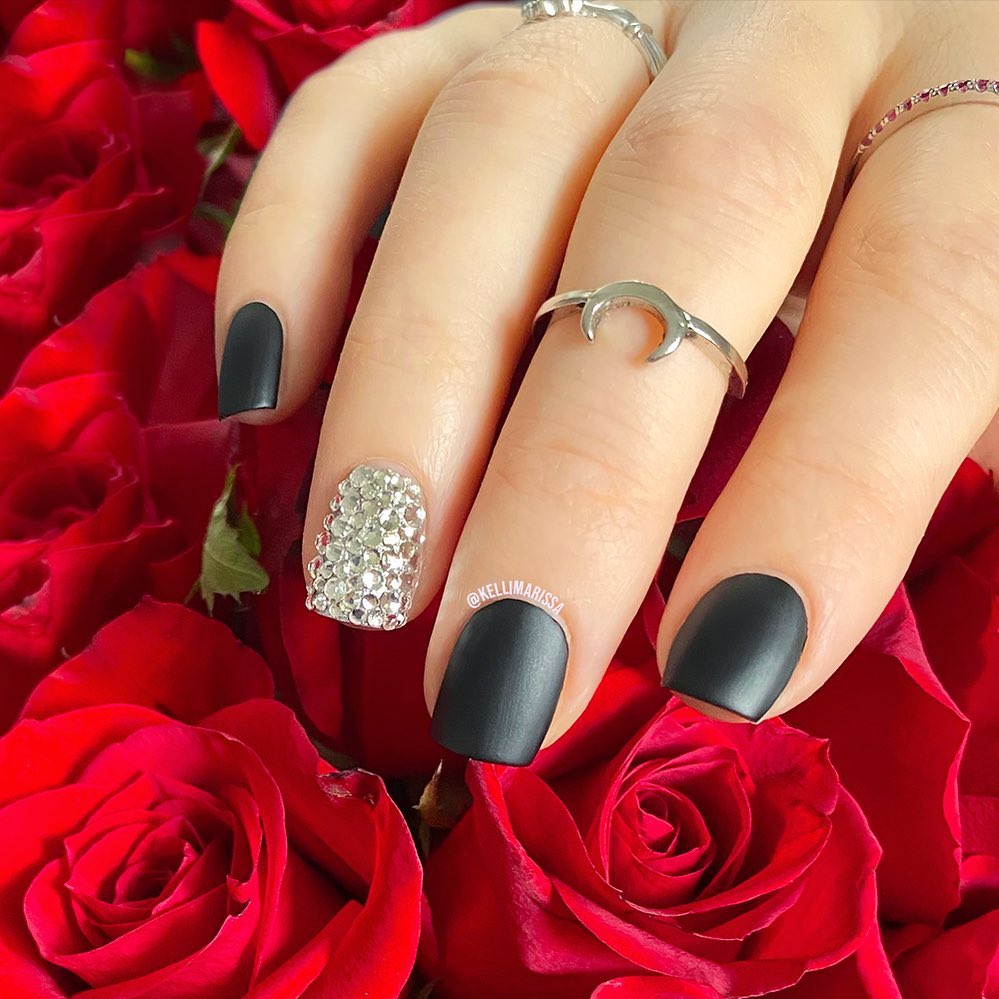 Looking to add some serious sparkle to your edgy look? Matt Black and Diamond Nails give you that high-impact contrast, blending the understated cool of a matte black base with the irresistible shine of diamond accents for a mani that's nothing short of show-stopping.
Matt Black French Manicure Tips
Want to put a modern twist on a classic? Matt Black French Manicure Tips take the timeless elegance of a French mani and kick it up a notch with a sultry, matte black tip that screams sophistication with an edge.
Matt Black With Jewels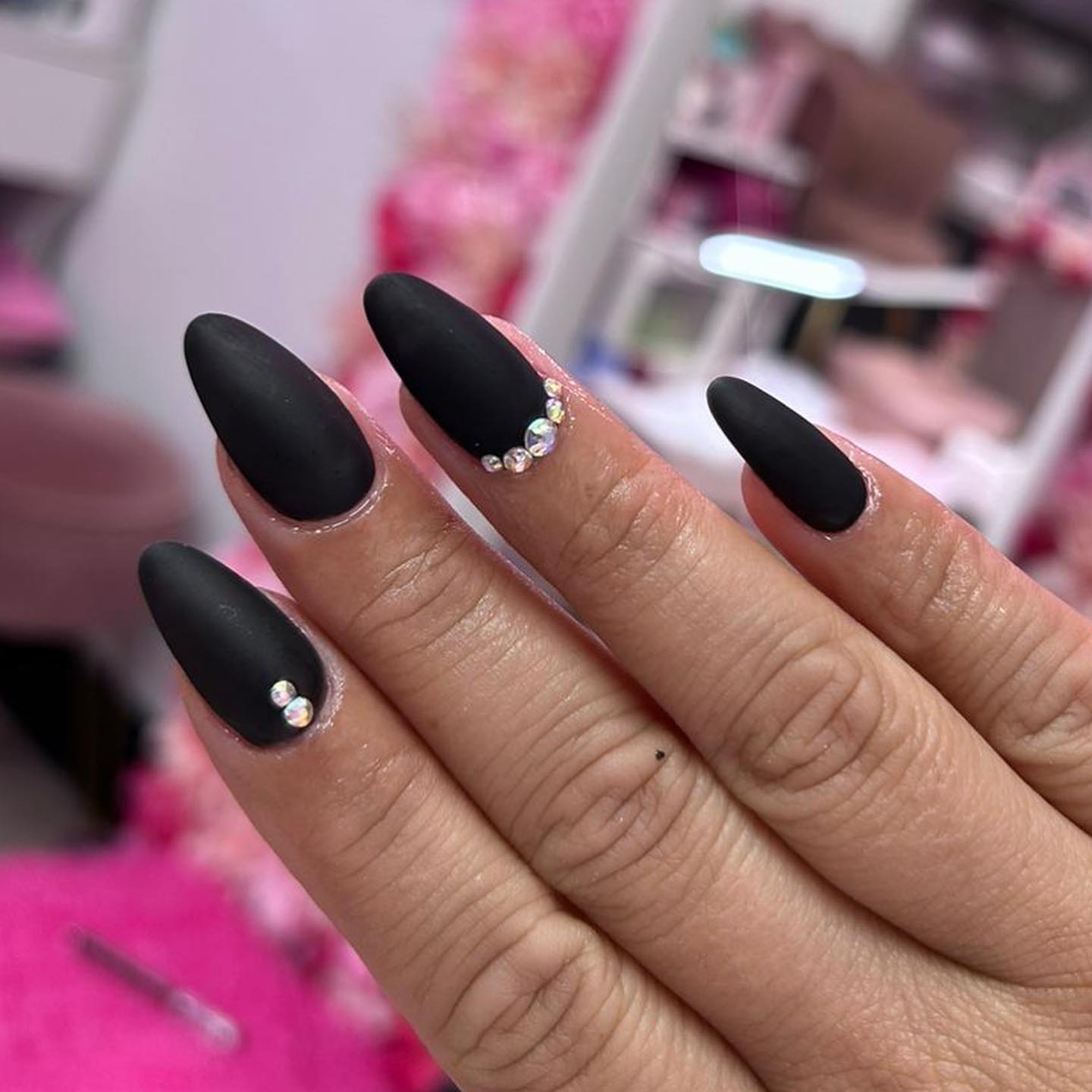 Looking for a manicure that's equal parts luxe and edgy? Matt Black With Jewels takes the subdued elegance of a matte black base and elevates it with strategically placed jewels, making your nails the ultimate conversation piece.
Pastels Meet Matte: Floral Fancies
Think matte black is too harsh? Well, think again. Pair it with some delicate pastel florals, and you've got a killer nail look sweeter than a cupcake. Recently, I rocked this look at a garden party and received so many compliments!
Stripe It Down: The Shiny-Matte Combo
There's something about a stripe of high-shine lacquer over matte black tips that screams sophistication. It's like the nail equivalent of a tuxedo—with a twist! This high-contrast manicure is as stylish as your favorite pair of heels, guaranteed.
Rock Out With Cherries Out
Want to unleash your inner rockstar? Go for matte black nails accented with ruby-red cherries. I wore this for a night out and felt like I should be on a stage, belting out some tunes!
Floral Feels For Dark Lovers
Hold onto your seats, spring and summer enthusiasts! Imagine floral art that dances over a matte black canvas. It's like holding onto that summer vibe while flaunting your love for darker hues.
Stars, Moon, Action: The Astrology Vibe
For my celestial sisters, a matte black backdrop with a silver glitter moon is just the thing. I mean, how could you not feel like a cosmic queen?
Less is More: The Art of Abstract Lines
Who knew simple, ultra-thin white lines could make such an impact against a matte black base? It's minimalist yet bold and so easy to DIY.
Holographic Dreams In Matte Reality
Why not do both if you're torn between matte and holographic finishes? This cool-tinted, dual-finish look is like the unicorn of nail art. Trust me, it's as magical as it sounds.
Moon & Stars: Not for Beginners
If you've got a steady hand (or an outstanding nail artist), why not try a psychic moon-and-star pattern over your matte black nails? Heads up, this one takes some real skill.
Heartfelt & Chic: Nude + Black
Nude and black together are like peanut butter and jelly, but chic-er. Throw in some mini hearts, and you're bound to fall in love with your nails all over again.
Face the Matte: Outlined Faces
I love the subtle, abstract face outlines over matte black. It's not just a manicure; it's wearable art.
Glitter Gaze: Eye Accents
If you're a fan of dainty details like me, you'll adore the little eye accents with glitter specks. It's cute, it's mystical, and it's a guaranteed conversation starter.
Paradise on Your Nails: Tropical Flora
Who says you must hop on a plane to feel those tropical vibes? This matte black manicure with floral designs will instantly transport you to paradise. I did this look before my last beach vacation, and I swear it set the whole mood!
All About That Shape: Almond Drip
If you want to make your matte black nails look even more fab, try an almond nail shape. This shape elongates your fingers and gives a sleek, refined look. Almond nails and matte black are the power couple of the nail world.
Mysterious As Smoke: Smoky Matte
Whether you see swirls of smoke or strokes of marble in this nail design, one thing's sure: it's edgy to the max. It's like the leather jacket of the nail world: always calm and never out of style.
Written In The Stars: Leo Season
Calling all astrology lovers! If you're into star signs, this simple matte black mani is a fun nod to the celestial. I've got a Cancer Sun and a Leo Moon, so I might mix and match my symbols next time!
Elevate Your Base: Champagne Cuticles
Okay, so most of us usually think about tips when adding a pop of color, but what about the cuticles? Adding a champagne hue at the base of each matte black nail is a total game changer. Trust me, you'll have people doing double takes.
The Illusion Of Sharpness: Faux Stiletto Tips
Do you love the edgy look of stiletto nails but need more time to be ready for the commitment? Go for a coffin shape and strategically apply your black polish to give the illusion of a pointy tip. It's a great compromise and perfect for first-timers like me.
The Art of Empty Space: Negative Space
You'll be amazed at how chic simple striping tape, black polish, and a matte topcoat can look. The negative space trend gives classic black nails a modern, edgy twist.
Simplicity Speaks: Lines and Dots
Remember to underestimate the power of simplicity. A few well-placed lines and dots on a matte black base can make all the difference. I did this once when I was short on time but still wanted a standout look, and I got so many compliments!
Less is More: Dainty Flowers
If you're hesitant to commit to full-on black, this demure black-and-white floral design that leaves much of each nail blank is a subtle yet effective way to dip into the trend. This is like the "little black dress with a twist" of the nail world—classic with a dash of unexpected flair.
The Romantic Edge: Heart Happy
Can't decide between moody black and vibrant ruby red? Why not both! This mixed-finish mani is a dream come true for the indecisive hearts out there (yes, I'm talking about myself too).
Get Spook-tacular: Spooky Chic
Anyone else start planning Halloween in July? Look no further if you're searching for a killer nail art idea for All Hallows' Eve. It's dark, it's classy, and it screams Halloween chic.
Bring the Heat: Matte Black Flames
Move over, bright colors; matte black flames are where it's at. If you've rounded nails, this design will look like fire. The matte finish intensifies the drip effect, and it's so Instagrammable!
Gilded Glam: Matt Black and Gold Nails
Black and gold is a match made in heaven—especially regarding nails. Foil-accented nails are the epitome of luxury and sophistication.
Rule-Free Zone: This Dual-Textured Manicure
The best thing about this dual-textured look? There are no rules. Paint your nails matte black, add a few shiny lines or shapes, and voila! It's minimalistic but still an attention-grabber.
Precision is Key: Matte Black Nails
Last but definitely not least, this diagonal design is a surprise. The secret weapon? Good old scotch tape. Use it to make crisp lines between the matte and glossy finishes. And if you've got coffin-shaped nails, you've hit the nail jackpot, my friend.
5 Steps To Achieve Black Matte Nails
Prep Your Nails – Start by shaping your nails with a file. Round, square, almond—pick your poison! Then, use a buffer block to smooth the surface.
Lay The Foundation – Apply a base coat to create a smooth canvas. This will help your black polish go on like a dream and protect your nails from staining.
Bring On The Black – Next, apply two thin coats of black nail polish. Make sure to allow the first coat to dry before applying the second one. Patience is key here!
Seal The Deal – After your black polish is dry, apply a matte top coat to achieve that velvety finish we're all obsessed with. Please wait for it to dry entirely before flaunting those chic nails.
Get Artsy – If you're feeling extra, this is the time to go wild with nail art. Whether it's golden celestial patterns, minimalistic white lines, or even tiny red hearts, this is your canvas—make it unique!
And that's it! You're now rocking a matte black mani that will turn heads wherever you go. If you're new to the matte game, I highly recommend investing in a quality matte top coat—it makes a difference in longevity and finish. Go get 'em, nail goddesses!
7 Must-Have Products To Maintain Black Matte Nails
A Stellar Base Coat: A good base coat protects your nails from staining and provides a smooth surface for your polish to adhere to.My Recommendation: Look for base coats fortified with nutrients to boost your nails' health. Brands like OPI and Essie offer some excellent options.
High-Quality Black Polish: Not all black polishes are created equal. A quality product will give you that deep, rich color you're after without needing a million coats. My Recommendation: My go-to's are China Glaze's "Liquid Leather" or OPI's "Black Onyx." Both are rich in pigment and long-lasting.
The Best Matte Top Coat: This is the star of the show. An excellent matte top coat transforms your glossy black polish into the desired sultry matte finish. My Recommendation: Look for a fast-drying and chip-resistant formula. Essie's "Matte About You" top coat has never failed me.
Cuticle Oil: Healthy cuticles equal healthy nails. Period. A hydrated cuticle area will make your matte nails look even more refined. My Recommendation: Opt for oils enriched with Vitamin E and natural ingredients. I'm a huge fan of CND's SolarOil.
Quick-Dry Drops: Life's too short for nails to dry, especially when you've just perfected your matte look. My Recommendation: OPI's DripDry Drops are super effective and considerably speed up drying.
Nail Polish Remover Pads: When you need to start anew, opt for remover pads instead of liquid remover to avoid spilling and making a mess. My Recommendation is acetone-free pads that won't dry out your nails or cuticles.
Optional: Nail Art Tools: If you're into adding a little extra pizzazz, like tiny gems, stripes, or other designs, a basic nail art kit can be handy. My Recommendation: Look for a kit with dotting tools, striping tape, and some decals for when you feel adventurous.
Still Looking for Inspiration, Then Check Out This Video
Conclusion
There you have it, lovelies—your ultimate guide to slaying the matte black nail game. Whether you're a minimalist at heart or a full-on glam queen, there's a style here for everyone. My top tip? Don't be afraid to get creative and mix finishes; trust me, the contrast is everything! Also, if you're diving into some more intricate designs, a good set of nail art tools—or even some trusty scotch tape—can make all the difference. So grab that matte black polish, and let your nails do the talking. Remember, your hands are your second face, so give them the love they deserve! Happy nail painting, you fabulous humans!
Feature Image Photo By julieannmetzger on Instagram
Last reviewed and updated on October 30, 2023