Today we are diving into the world of blue chrome nails, where the fusion of classic hues and futuristic shine takes center stage. This post is your all-access pass to mastering the art of stunning blue chrome nail designs that promise to elevate your style quotient. From the electrifying sapphire sparkle to the subtle allure of the midnight sky gleam, you'll learn how to harness the power of blue in ways that resonate with elegance and bold sophistication. Whether you're a seasoned nail art pro or a curious beginner, this guide will provide the essential facts and step-by-step insights needed to adorn your nails with the magnetic charm of blue chrome. Get ready to discover the versatility of blue chrome nails as we explore designs ranging from the minimalist to the ornate, each capable of making a statement that is as unique as you are. Join me on this chromatic journey, and let's unlock the secrets to nailing this shimmering trend!
Ethereal Gradient Blue Chrome Nails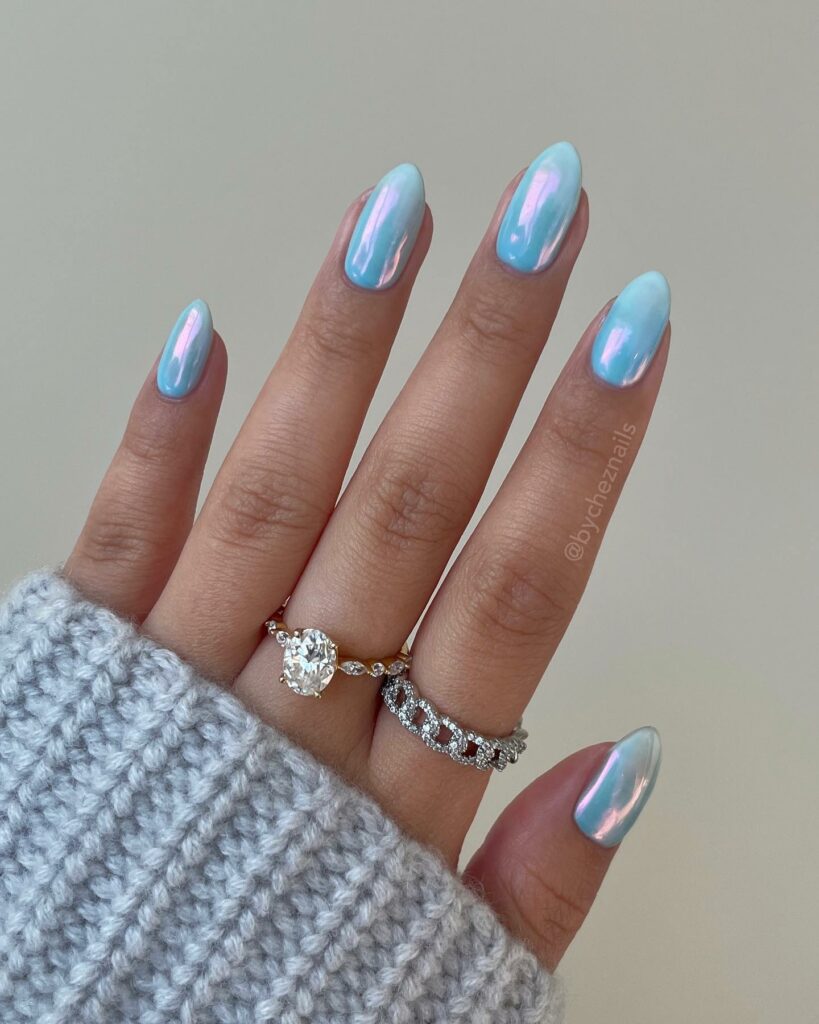 Embrace the gentle gradient transition from a soft sky blue to a rich seafoam in these Blue Chrome Nails that capture the serene progression of colors found at the horizon where the ocean kisses the sky.
Classic Holographic Blue Chrome Nails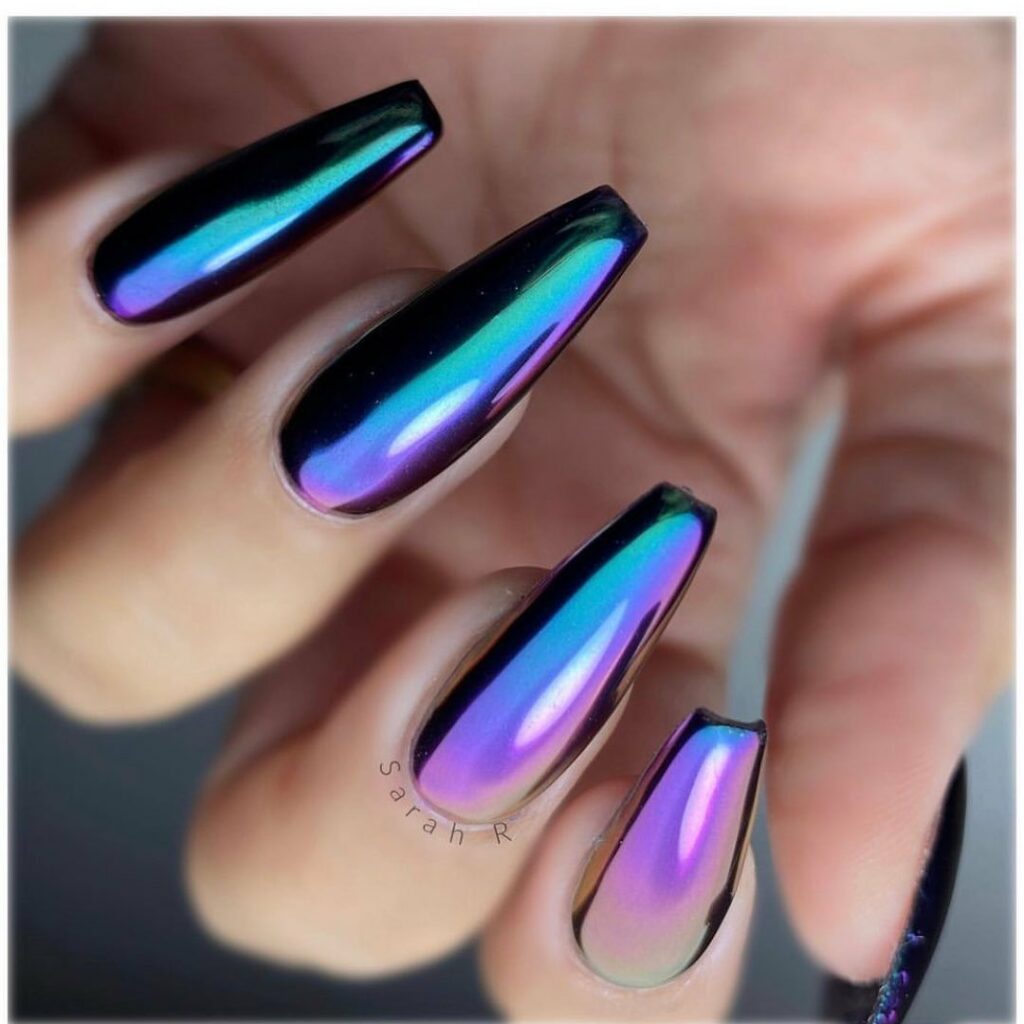 Let your nails come alive with the multifaceted shimmer of Classic Holographic Blue Chrome Nails. Each nail reflects a spectrum of blues that shift and sparkle with every movement, reminiscent of sunlight filtering through the waves.
Oceanic Depths of Blue Chrome Nails Elegance
Submerge into the deep elegance of these blue chrome nails that pair the mysterious depths of the ocean with the sparkling allure of glittery aqua.
Mysterious Blue Chrome Nails
Command the room with the bold statement of Dark Blue Chrome Nails inspired by the enigmatic depths of the midnight sky. The deep blue hue paired with a metallic finish is your answer to edgy sophistication.
French Blue Chrome Nails with a Nude Base
French Blue Chrome Nails with a Nude Base offer a sophisticated twist on a classic design. The subtle contrast between the nude base and the striking blue chrome tips exudes understated elegance for a refined, modern look.
French Baby Blue Chrome Nails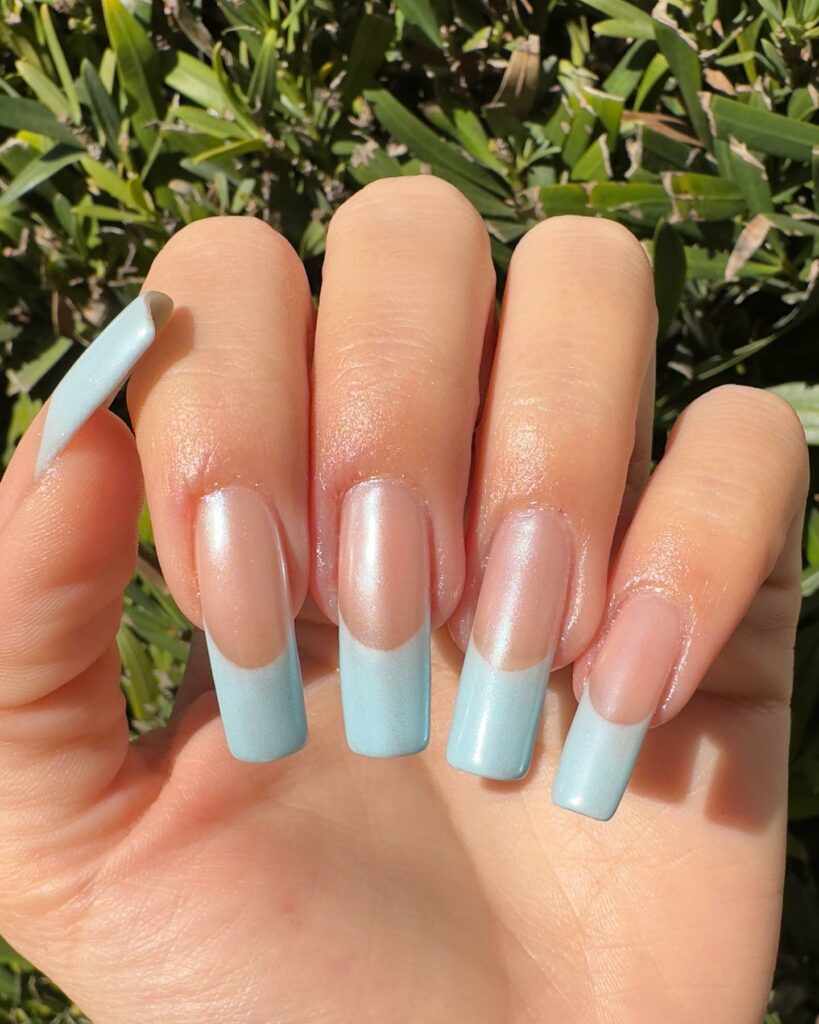 Discover a fresh take on a timeless style with French Baby Blue Chrome Nails. The iconic French tip is reinvented with a baby blue chrome finish, offering a modern yet delicate charm for those who adore a classic with a twist.
Deep Blue Chrome Nails
Blue chrome nails are the epitome of futuristic fashion, offering a mirror-like finish that's both eye-catching and elegantly bold. They're a versatile choice, ready to jazz up a casual look or add an extra layer of sophistication to evening wear with their lustrous, reflective sheen.
Understated Blue Chrome Nails
Nude Almond Blue Chrome Nails offers a masterclass in understated chic. The almond shaping adds a touch of finesse, while the nude hue imbued with blue chrome reflects a subtle shimmer that's versatile and sophisticated.
Almond Light Blue Chrome Nails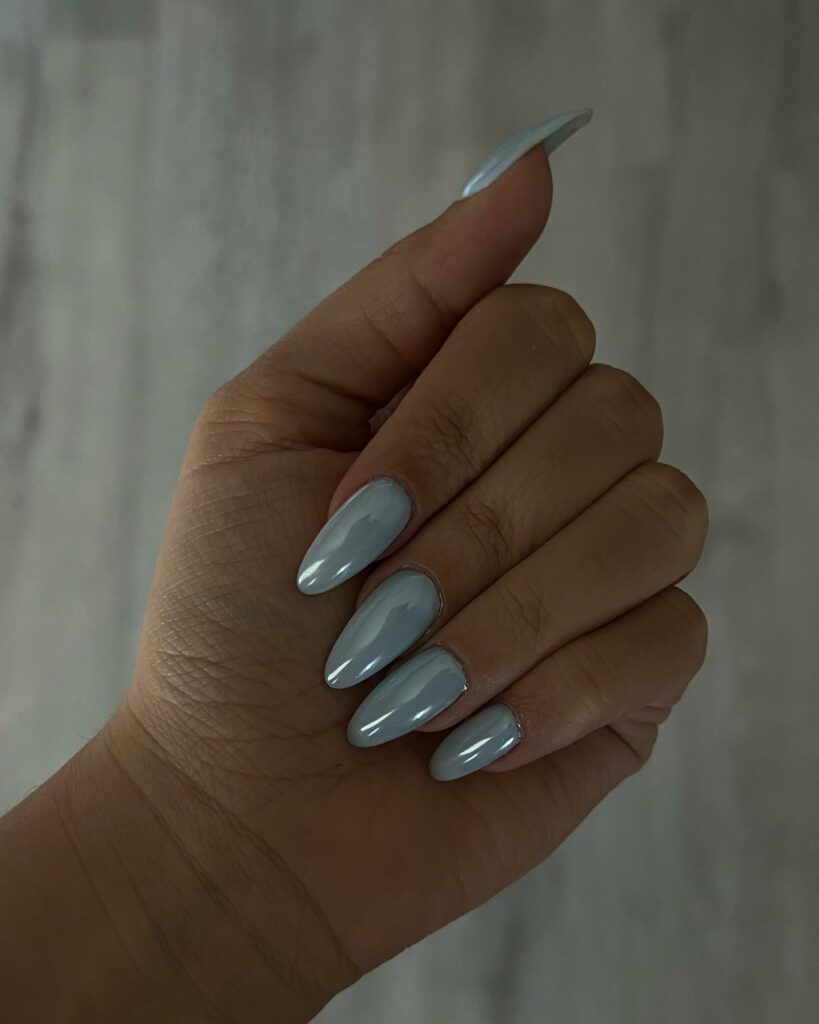 Celebrate the modern elegance of Almond Blue Chrome Nails, where the contemporary almond nail shape meets the futuristic sheen of blue chrome. This design is for the fashion-forward individual who values sleek contours and cutting-edge trends.
Blue Chrome Tips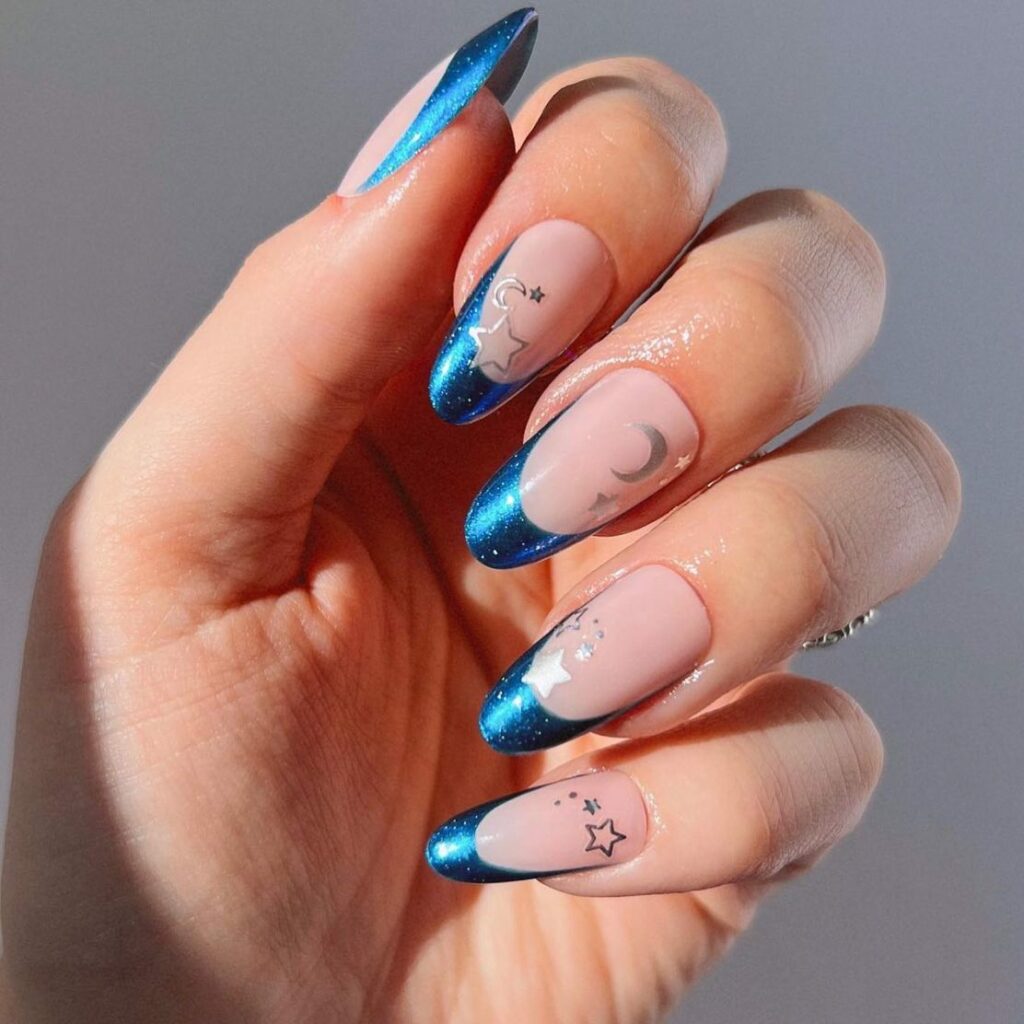 The depth of the midnight blue French tips is reminiscent of the sky just before total darkness. A shade that's rich and mysterious, it's perfect for those seeking a dramatic touch.
Signature Classic Blue Chrome Nails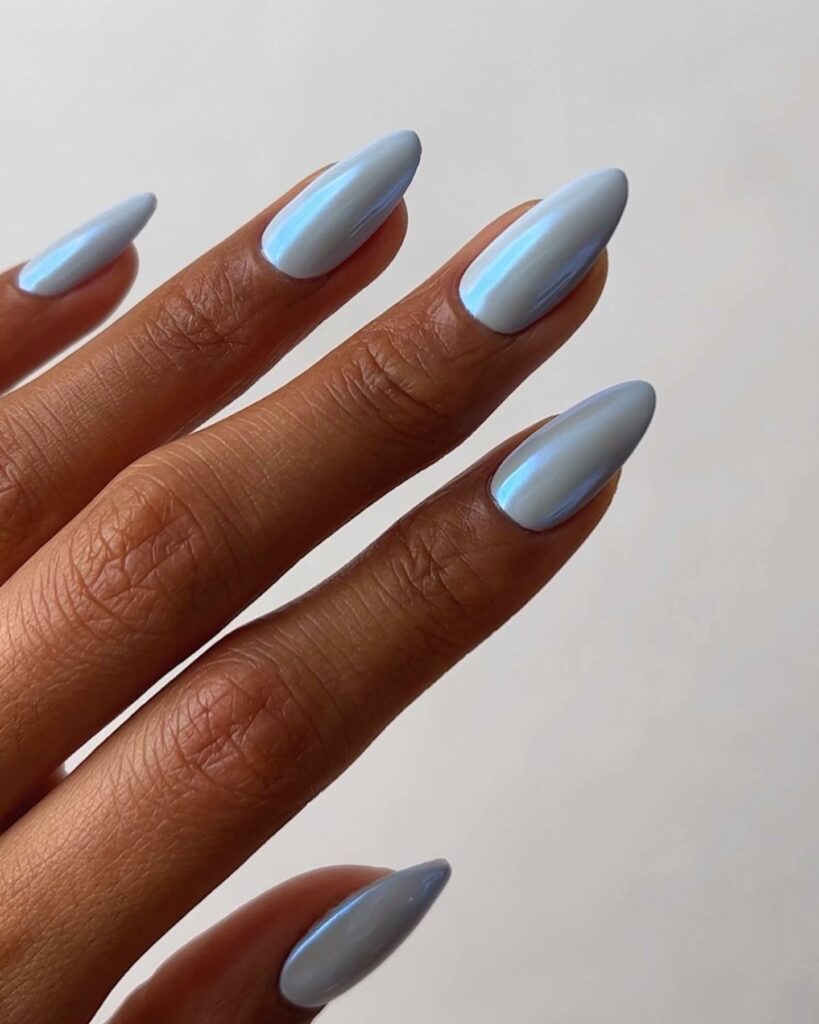 Indulge in the timeless appeal of Classic Blue Chrome Nails. With a solid blue metallic finish, these nails are a staple for anyone looking to add a touch of chic to their everyday style.
Almond French Blue Chrome Nails
Fusing the classic French tip with the modern almond nail shape, Almond French Blue Chrome Nails epitomize contemporary artistry. The blue chrome accents add futuristic elegance to this beloved nail design.
Regal Royal Blue Chrome Nails
Adorn your hands with the majesty of Royal Blue Chrome Nails. The vibrant royal blue hue with a mirror-like finish conveys a sense of noble elegance that fits any queen or king of style.
Celestial Milky Blue Chrome Nails
Float among the clouds with Milky Blue Chrome Nails, where a dreamy pastel blue meets a creamy chrome finish. These nails offer a soft yet impactful statement as tranquil as a morning sky.
Blue Chrome Nails with Snowflakes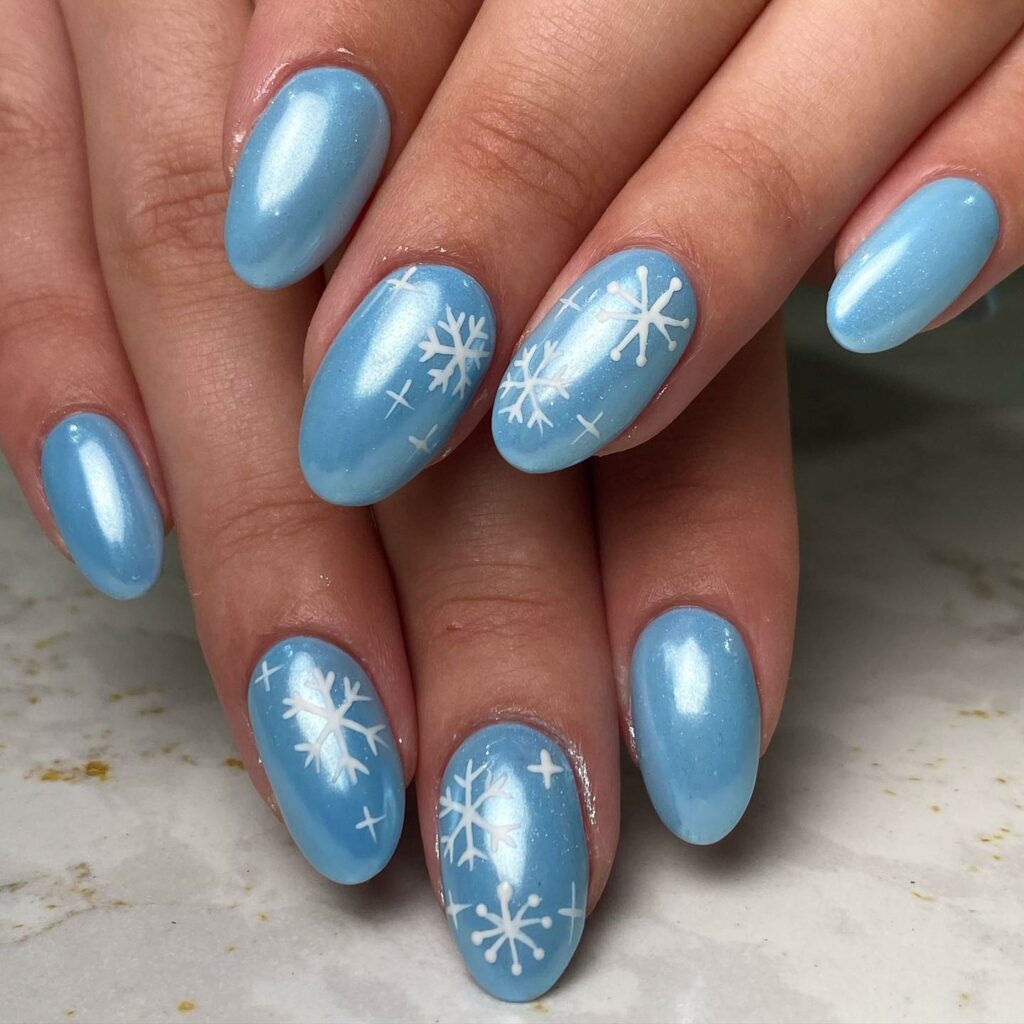 Welcome the winter season with Blue Chrome Nails adorned with delicate snowflake designs. The cool blue chrome base provides a perfect winter wonderland backdrop for the intricate white snowflakes, making every gesture a display of chilly charm.
Refined French Blue Chrome Nails
Experience the pristine beauty of French Blue Chrome Nails. The classic French design is elevated with a striking blue chrome finish, creating a polished and refined look that's both sophisticated and chic.
Short Blue Chrome Nails
Short Blue Chrome Nails offer a chic solution for those who love a touch of daily dazzle without the length. The rich blue chrome sheen is practical and stylish, giving you a touch of elegance that complements every outfit and occasion.
Dazzling Holographic Blue Chrome Nails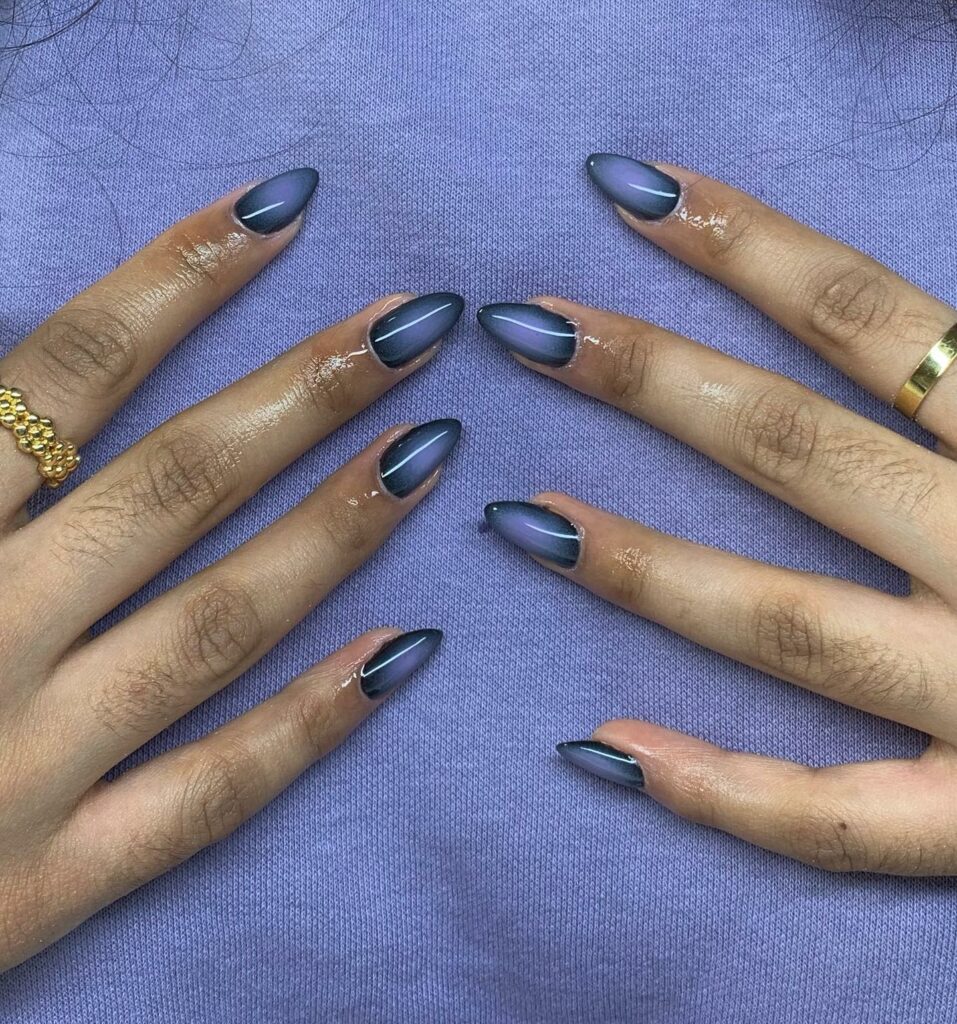 Let your fingertips star in their spectacular light show with Holographic Blue Chrome Nails. Each nail is a canvas for a dazzling display of blues, reflecting a spectrum of colors that promise to captivate and enchant onlookers.
Blue Chrome Nails with Metallic Silver Accents
Elevate your nail art with the bold statement of Blue Chrome Nails featuring Metallic Silver accents. This futuristic fusion creates a cutting-edge look, perfect for those who push the boundaries of style with a modern, metallic edge.
Serene Skies Light Blue Chrome Nails
Draw inspiration from the tranquil hues of a clear, sunny sky with Light Blue Chrome Nails. The soft, calming shade of blue with a gleaming chrome finish offers an airy and light soothing aesthetic.
Petite Short Almond Blue Chrome Nails
Short Almond Blue Chrome Nails provide a harmonious blend of elegance and pragmatism. The almond shape lends a sophisticated silhouette, while the blue chrome polish adds a futuristic sheen that's perfect for everyday wear.
Baby Blue Coffin Chrome Nails
Baby Blue Coffin Chrome Nails perfectly balance soft color and bold nail shape. The gentle baby blue hue and the dramatic coffin shape create an edgy and demure statement.
Dynamic Stiletto Blue Chrome Nails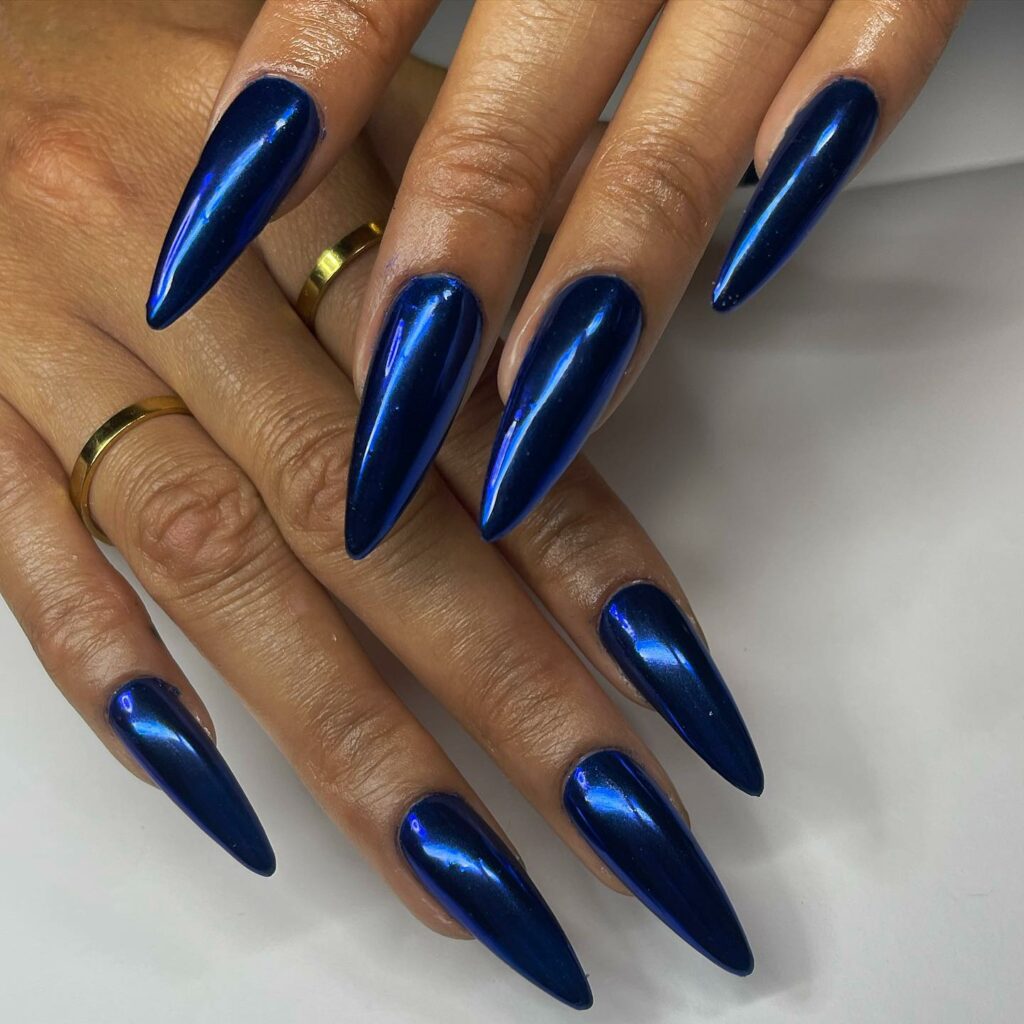 Embrace the bold, high-impact look of Stiletto Blue Chrome Nails. The sharp, daring stiletto shape combined with the vivid blue chrome finish makes for a dynamic and dramatic statement piece at your fingertips.
Aqua Blue Chrome Nails
Dive into the refreshing beauty of Aqua Blue Chrome Nails. The vibrant, ocean-inspired shade of blue with a glossy chrome finish brings a splash of refreshing color to your look, perfect for making a bright and bold statement.
Sleek Coffin Blue Chrome Nails
Make a bold fashion statement with the edgy shape of Coffin Blue Chrome Nails. The sleek, tapered design combined with the lustrous blue chrome finish epitomizes modern glamour.
Ride the Waves: Textured Wavy Chrome Nails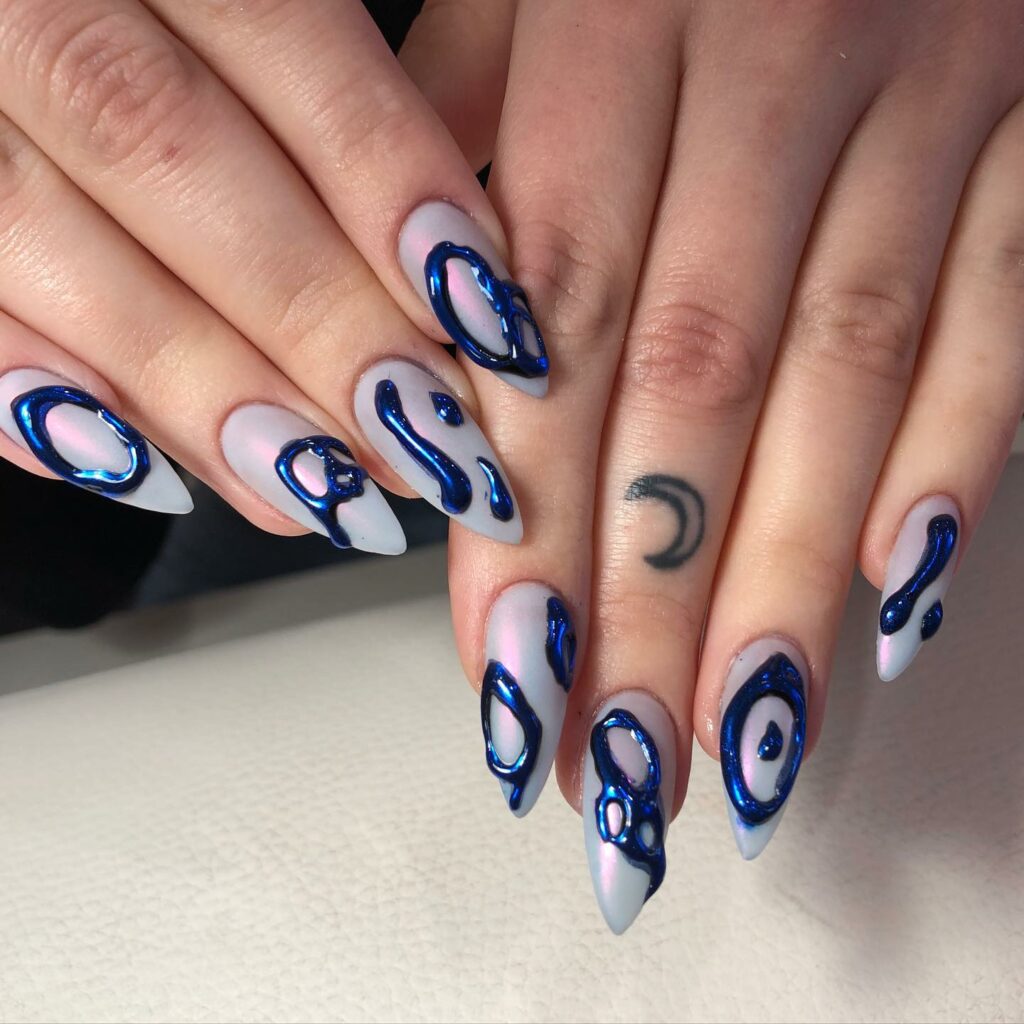 Raised waves and swirls make this Chrome look gorgeous and tactilely fascinating. This one might be a little complex for a DIY, so save the inspo and let a pro make your nail dreams come true.
Wintry Icy Blue Glitter Chrome Nails
Step into a frosty fantasy with icy blue hues adorned with glitter ombré. It's a look that evokes snowflakes and icicles, making it a winter season essential.
Cat Eye Effect on Sapphire Blue Coffin Nails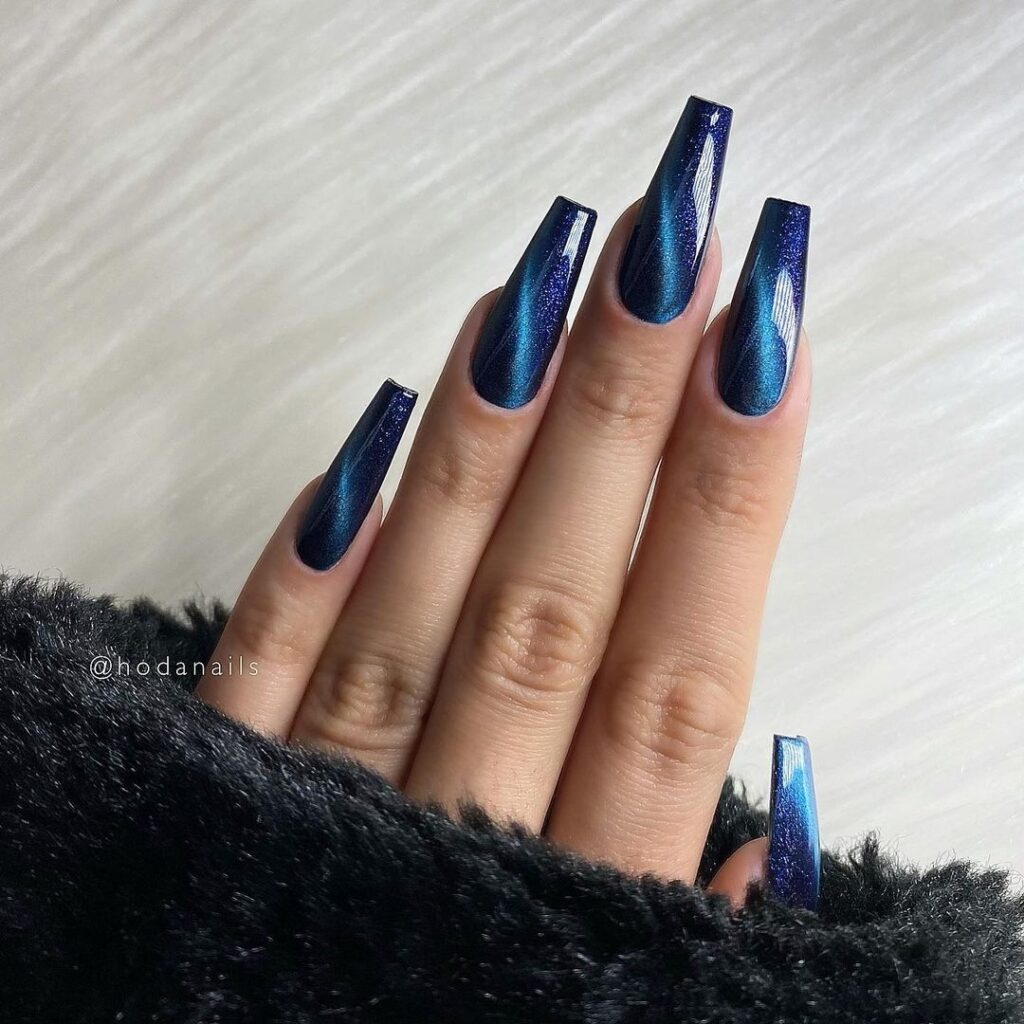 The cat eye design on these sapphire blue coffin nails gives off a magnetic, multidimensional effect. It's reminiscent of the mysterious depth of a cat's gaze, making for a hypnotic and alluring nail appearance.
Festive Christmas Theme on Blue Coffin Nails
Celebrate the holiday season with these Christmas-themed blue coffin nails featuring festive designs like snowflakes or ornaments. The blue background offers a cool, wintery feel perfect for holiday gatherings.
Blue Coffin Nails with Butterfly Accents
The playful touch of butterfly accents on these blue coffin nails adds a whimsical and feminine charm. The design is ideal for those who appreciate a touch of nature's beauty in their everyday style.
Celestial Charm of Blue Chrome Nails
Elevate your nail game to stratospheric heights with this serene sky-blue chrome design, accented with delicate cloud motifs and playful red dots that mimic the notion of balloons soaring in the sky. It's a nod to daydreams and carefree blue skies, perfect for those carrying a piece of the heavens
8 Simple Steps For DIY Blue Chrome Nails:
Gather Your Materials: You'll need blue chrome powder, a sponge applicator, base coat, gel top coat, and a UV or LED lamp.
Nail Prep: Start with clean, well-shaped nails. Push back cuticles, buff the nail surface lightly for better grip, and clean any oils off with alcohol.
Base Coat: Apply a thin base coat and cure it under your lamp as directed.
Base Color: Apply a gel nail polish in a dark or matching blue shade as your base color. Cure it under the lamp.
Chrome Powder: While the base color is still tacky, gently rub the blue chrome powder onto your nails with the sponge applicator. Work it in until you achieve an even, smooth chrome effect.
Excess Powder: Remove any excess powder around the nails with a soft brush.
Top Coat: Apply a gel top coat to seal the chrome powder. Some enthusiasts prefer a water-based top coat to prevent the chrome from dulling. Cure the top coat under the lamp.
Hydration: After the process, apply cuticle oil to rehydrate your nails and cuticles.
6 Brands That I Recommend to Get The Look
| Brand | Product Type | Description |
| --- | --- | --- |
| CND | Sheer Nail Polishes | Offers a range of sheer polishes ideal for the milky base required for Milk Bath nails. |
| Mia Secret | Acrylic Powder | Provides a variety of acrylic powders, including ones with a milky, translucent finish. |
| Daily Charme | Dried Flowers for Nails | Specializes in tiny dried flowers that can be encapsulated in acrylic or gel for nail art. |
| Born Pretty | Nail Art Supplies | Sells a variety of nail art accessories, including dried flowers and sheer color gels. |
| Magpie Beauty | Real Flower Nail Art Pieces | Offers real dried flower pieces designed specifically for nail art applications. |
| Young Nails | Protein Bond & Acrylic System | Known for high-quality acrylic systems and protein bond products for a long-lasting manicure. |
Still Looking for Inspiration, Then Check Out This Video
Conclusion
And there you have it, an entire palette of blue chrome nails to adorn your fingertips. Whether you opt for the subtle shimmer of baby blue or make a bold statement with the depth of midnight blue, remember that the key to impeccable nails lies in the quality of the application. Always use a good base coat to protect your natural nails, and don't forget the top coat for that lasting chrome finish. While these designs will turn heads and uplift your style quotient, be mindful of the potential for chipping with chrome nails and take the time for regular touch-ups to keep them looking fresh. Embrace the adventure of trying out these blue hues, and let your nails be your canvas for self-expression and style. Pick a shade, and let your nails do the talking!
Feature image @dashingdiva_usa via Instagram
Last reviewed and updated on November 20, 2023