Welcome back to the pulse of all things chic and glamorous. Today, we're diving deep into the enchanting world of blue ombré manicures, specifically focusing on how to make them a stunning shade of blue that doesn't just pop but explode with color. If you've ever questioned the power of a meticulously crafted gradient, prepare to be spellbound. I'll guide you through the world of dual-toned artistry, exploring the very best designs that will elevate your nail game to dizzying heights.
Whether you're a novice who can barely maneuver a nail file or a seasoned DIY manicurist with a tool kit that rivals the pros, this guide is tailored to enlighten you with knowledge, inspiration, and the technical prowess you need to master blue ombré nails. Intricate details, secret tips from top manicurists, and a step-by-step guide are all on today's vibrant agenda. Ready to shake the color wheel? Let's dive in.
Starry Night Speckles: Cosmic Glamour, Anyone?
Remember when you first looked at the night sky and felt that awe? Let's bring that celestial magic right to your fingertips. The Starry Night Speckles design marries glitter tips, jelly nails, and a gradient ombré effect. I once wore this to an outdoor night event; let me tell you, it was a conversation starter. Sprinkle a few nail crystals for that extra cosmic vibe.
Abstract Ombré Tips: Minimalism Meets Glam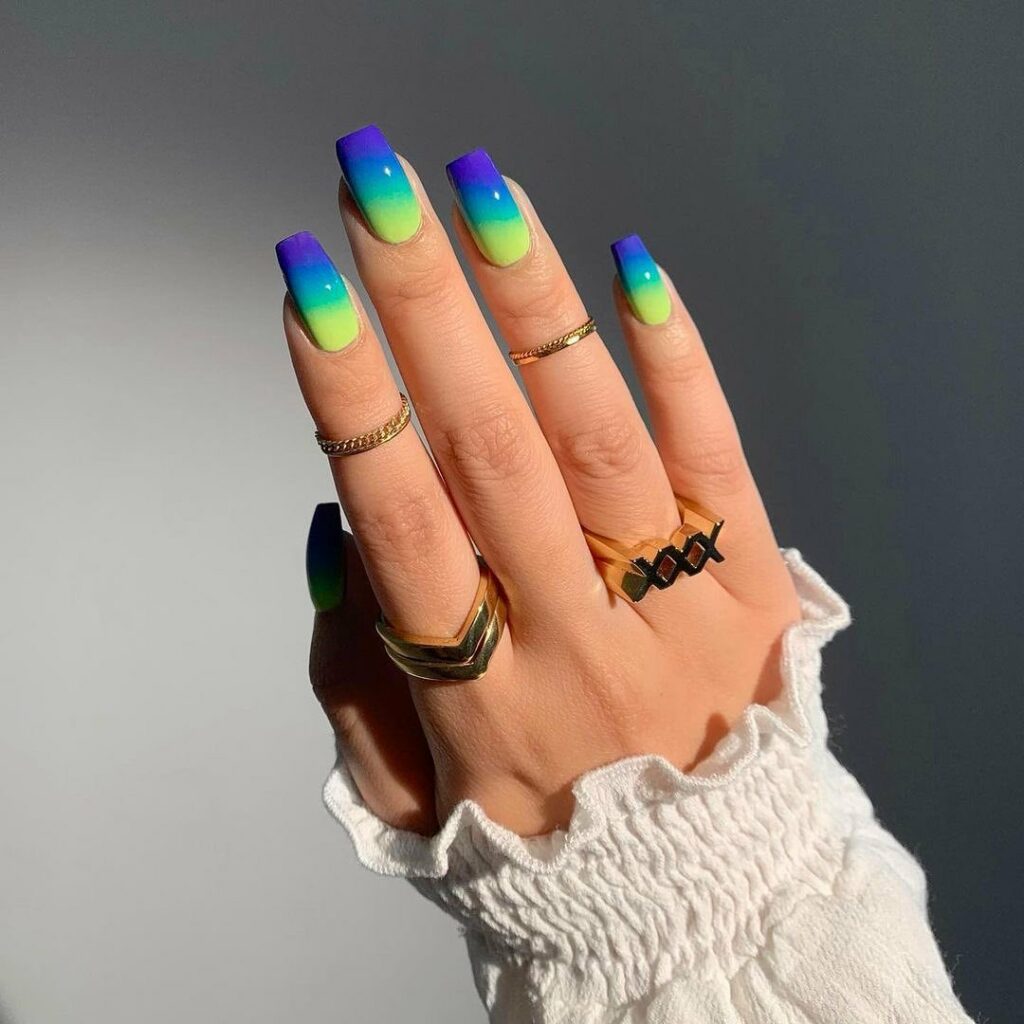 Minimalism isn't synonymous with boring; let's get that straight. Abstract Ombré Tips flip the script by pairing one-shade-per-finger ombré with abstract French tips framed in metallic gold. This is your go-to if you want your nails to scream 'chic' without saying a word. It's low-key yet fabulously glamorous, trust me!
Matte Finish: For the Sophisticate in You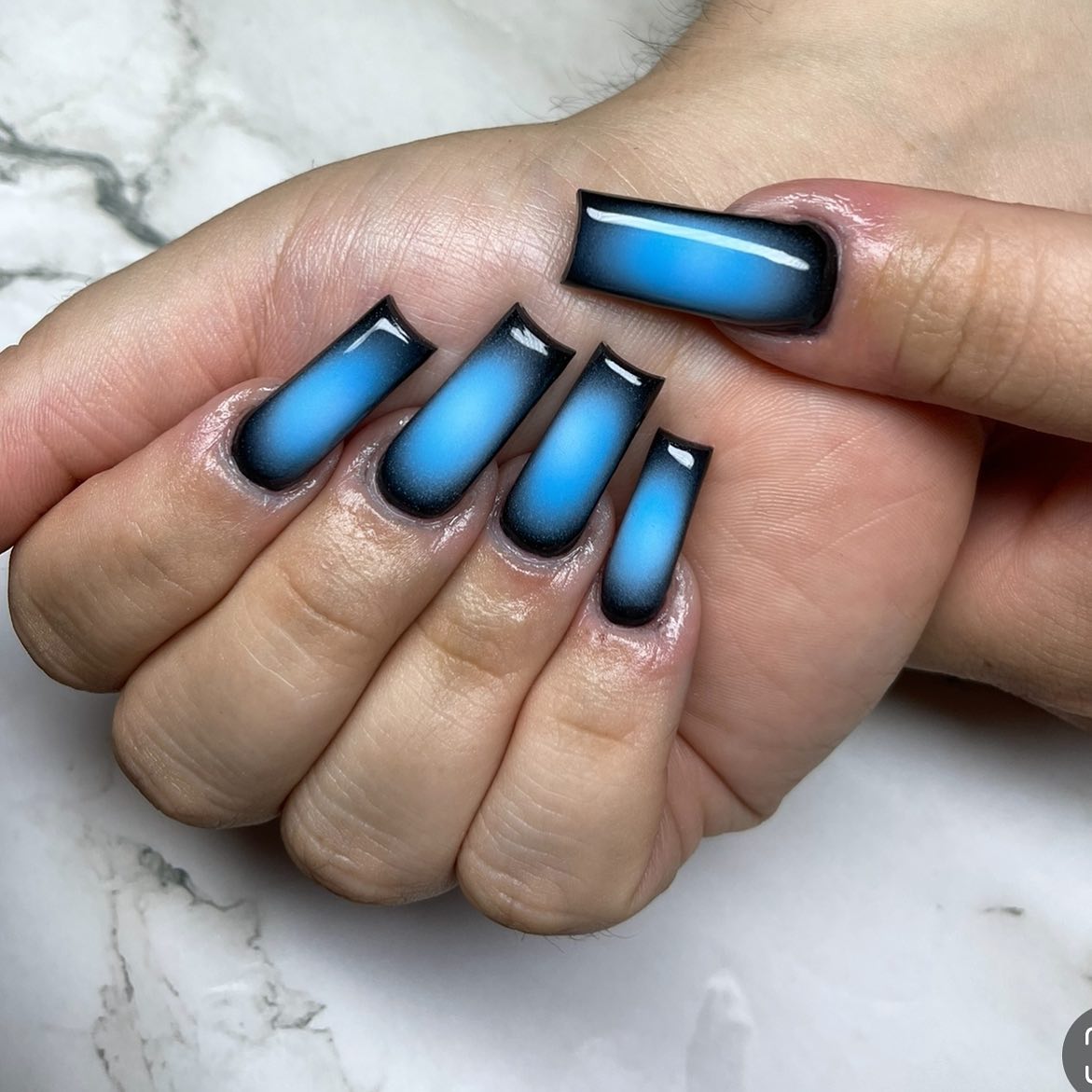 I have a soft spot for matte finishes; they're like the little black dress of the nail world—timelessly classy. But what if we turn the volume up with intricately detailed butterflies? Yes, you read that right. Butterflies. The mix of matte blue and this ethereal design will have people stopping you to ask, "Who does your nails?"
Airbrushed Effect: A Canvas at Your Fingertips
If you've ever played with airbrushing in your art class or digital design, you know how mesmerizing it can be. Apply that same technique to your nails, and boom! Instant awe. The vibrant blue airbrush effect pops even more by keeping the base a pale nude. It's like each nail is a miniature canvas.
Hint of Color Tips: The New Age French Manicure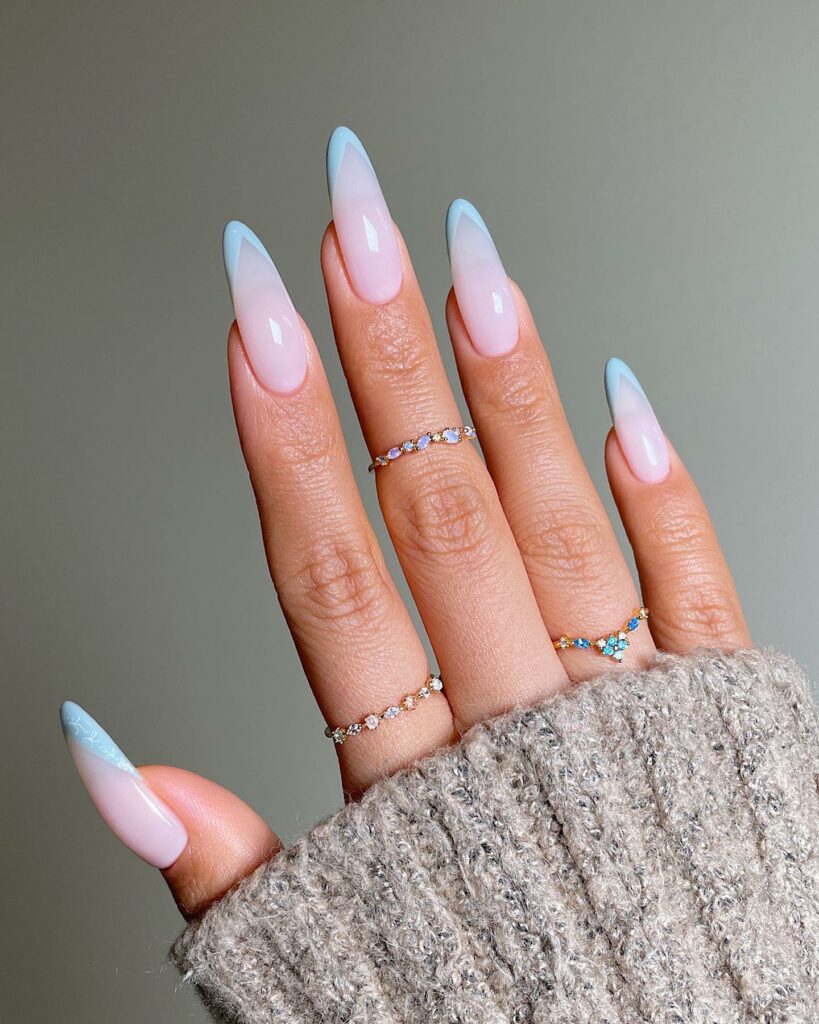 When is nearly white almost blue? When you're working with the lightest shades of blue, that's when. Swap out the standard white tips for a touch of azure and watch your French manicure transform into something subtly extraordinary. The ombré fade here is a playful nod to tradition while staying refreshingly modern.
Heavenly Clouds: A Celestial Dream
Okay, this one's inspired by that time I was on a flight, gazing out at the clouds, and thought, "This should be a nail design." Heavenly Clouds captures the soft gradient of sky blues fading into whimsical clouds dotted with butterflies. If nails could sing, these would produce a heavenly chorus.
Understated Ombré: Because Less Can Be More
Calling all those who believe in the magic of subtlety! Understated Ombré has your name written all over it. We're discussing a delicate blend of periwinkle and lavender across each nail. I wore this to a high-tea event, and it was the epitome of understated elegance.
Sea-Inspired Shades: A Beach Holiday on Your Nails
If you can't go to the beach, bring the beach to your nails, right? Sea-Inspired Shades do precisely that by blending solid ombré tones with two-tone French tips and a dash of glitter. Picture the ocean at sunset, all captured on your nails. Vacation vibes, anyone?
Icy-Blue Tips: A Trendsetter's Dream
If you're in tune with the nail world's latest trends, you know square-shaped nails are in. Icy-Blue Tips combine this contemporary shape with a gradient of sky-blue to nude pink. It's fresh, it's crisp, and it's poised to turn heads in 2023.
Ombré Glazed Donut: A Nod to Hailey Bieber
When Hailey Bieber does something, the fashion world listens—especially if it involves nails. Her "glazed donut nails" finish is a look we've all been drooling over, but what if we jazz it up a notch? Imagine a gentle ombré transitioning from baby pink to baby blue, topped with that enchanting chrome finish. This combination is a dream for anyone who loves to keep their nails Instagram-ready. I tried this out for a weekend brunch with friends, and let me tell you, no one could stop talking about it!
Half-Moon Blues: Stealing the Spotlight
You know that feeling when you walk into a room and know you're the main character? That's the energy you get with these Half-Moon Blues. We're talking understated yet avant-garde vibes with a dash of celestial magic. Thin shades of blue cascade down the nail, stopping shy of the silver, sparkly half-moon arches. I wore this design to an art exhibit opening, and it felt like each nail was its little masterpiece, complementing the evening perfectly.
Faded Shades: Your Everyday Go-To
Sometimes, the best inspiration comes from your closet staples, like those blue jeans you love to live in. And that's precisely what Faded Shades bring to the table—or should I say, the nail bed? By pairing blue with white, this manicure exudes a comfortable, lived-in feel while maintaining its style quotient. It's like your favorite jeans and a crisp white tee transformed into a manicure. Trust me, this style is as versatile as it gets; it's my go-to when I'm in a rush but still wants to look put-together.
Ocean Waves: A Watery Wonderland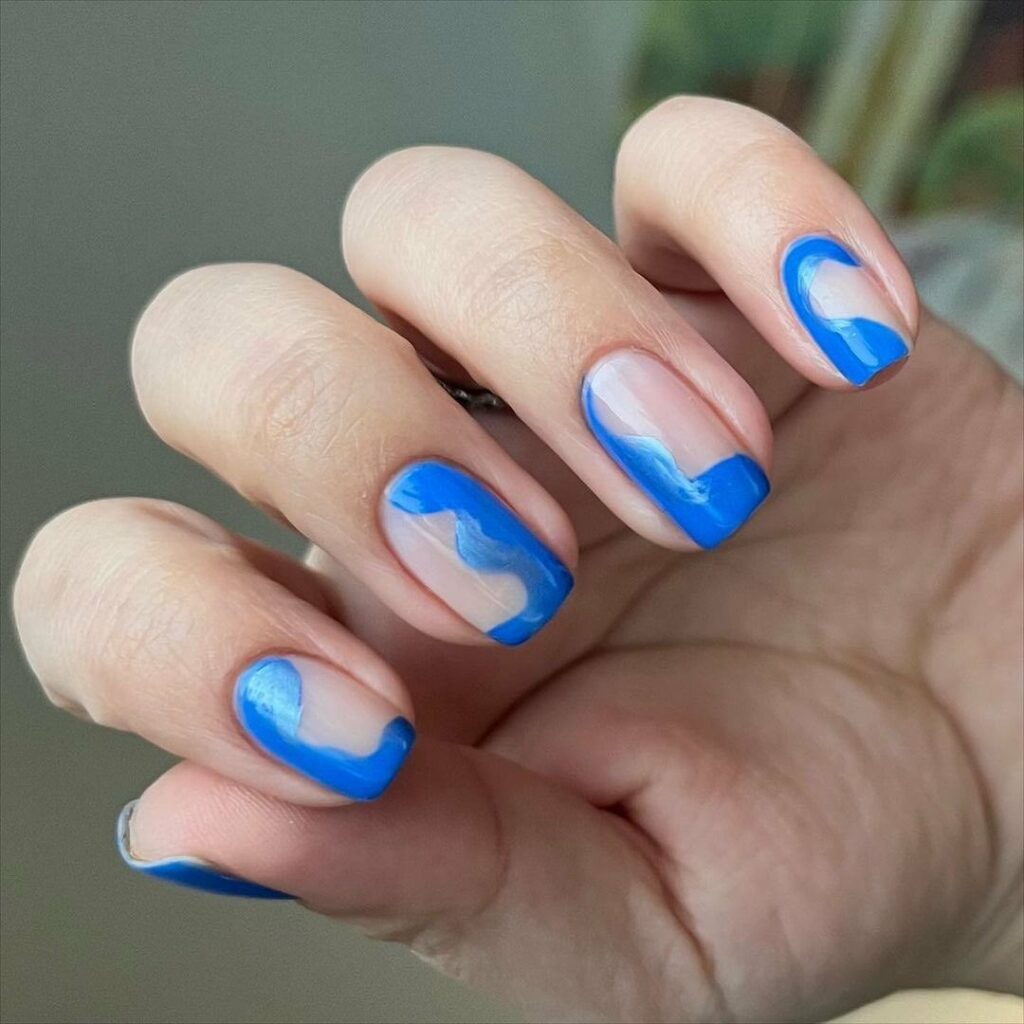 Think cerulean blue melting into turquoise, like the breathtaking shades of ocean waves. This design is perfect for beach bums and water lovers, offering a serene touch to your nail aesthetics.
Geometric Blues: For the Modernist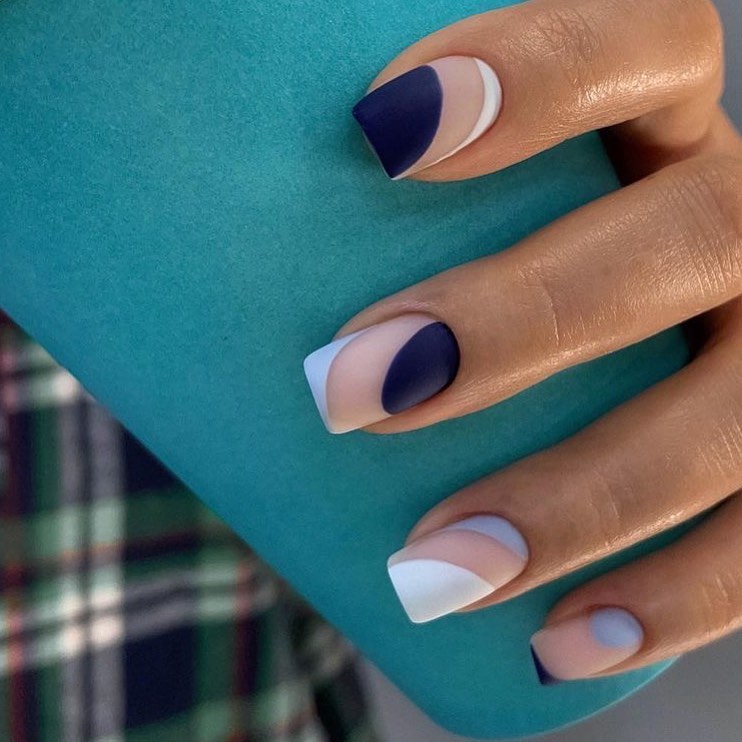 Incorporate geometric shapes—like triangles or rectangles—into your blue ombré. This futuristic look is a head-turner and adds a contemporary spin to the traditional ombré technique.
Cosmic Sky: Stellar Beauty
Combining dark navy blue with sparkling silver, the Cosmic Sky design is like the Milky Way at your fingertips. Ideal for nighttime events, these nails make you feel like you're holding the universe.
Feathered Ombré: Soft and Subtle
Imagine soft strokes of varying shades of blue, much like the delicate feathers of a bird. The Feathered Ombré is for those who appreciate the beauty in simplicity and subtlety.
Metallic Edge: Shine On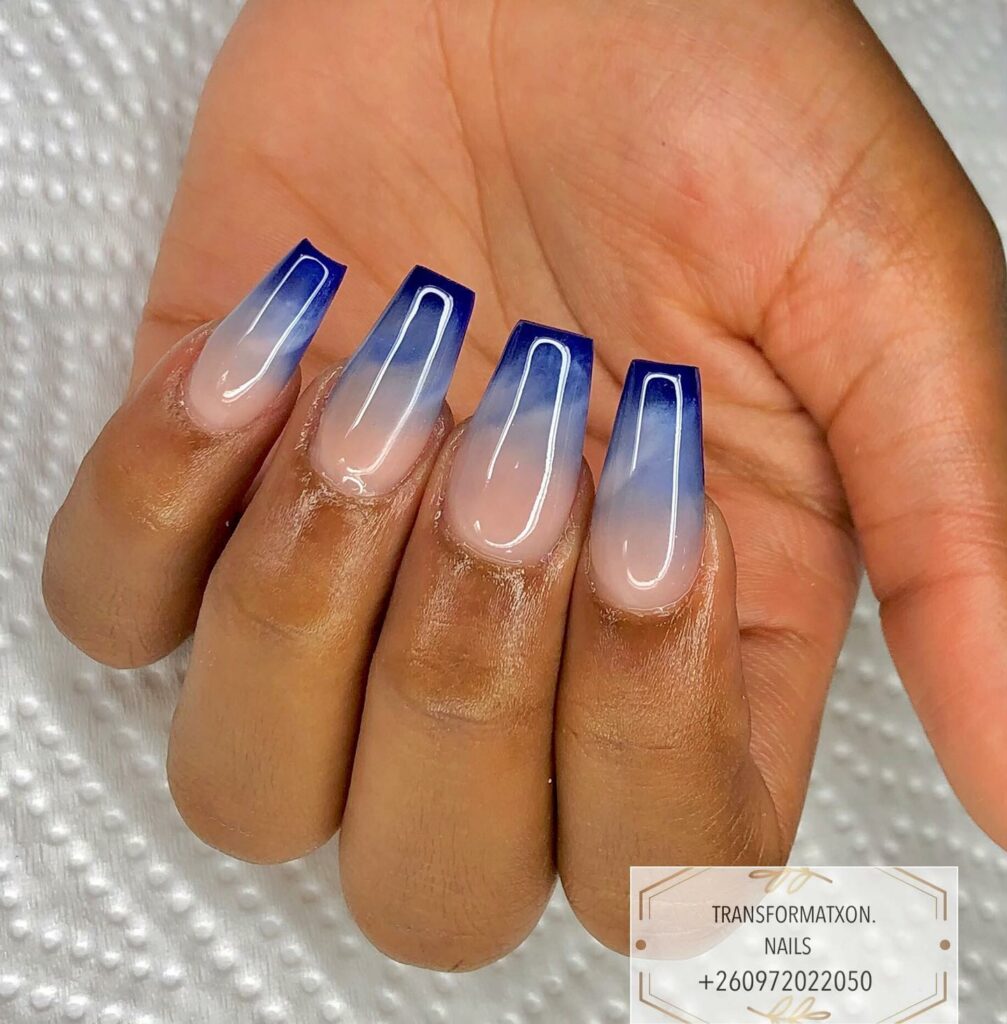 Add a metallic edge to your blue ombré for a luxury design. The metallic accents act as jewelry for your nails, making them perfect for formal events or parties.
Electric Blues: Make a Statement
Neon and electric blues take center stage here, blending into a lighter shade for a look that screams boldness. If you're the type who loves to stand out, this one's definitely for you.
Blue Lagoon: Tropical Paradise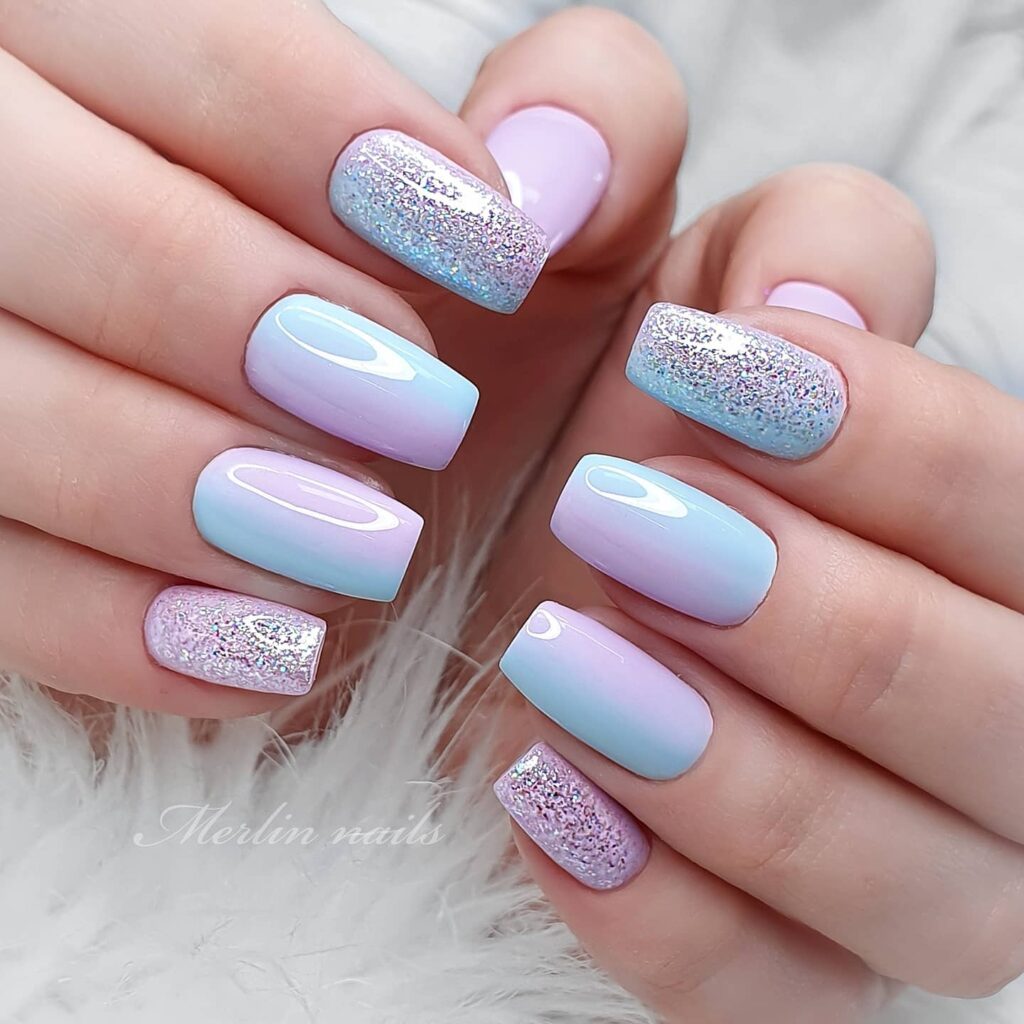 Incorporate aquatic greens into your blue ombré for a look reminiscent of a tropical lagoon. Ideal for summer or vacations, this design will have you dreaming of your next getaway.
Velvet Touch: Elegance Meets Color
A velvety blue transitions into a paler hue, giving a luxurious, tactile illusion. This design pairs well with sophisticated outfits and exudes elegance without saying a word.
Iridescent Charm: Catch the Light
Use an iridescent topcoat over your blue ombré for a beautiful design that catches the light. It's as if you've dipped your fingers into a magical elixir that shifts color when viewed from different angles.
Speckled Frost: Winter Wonderland
Think light blue blending into a snowy white with a sprinkle of glitter to mimic freshly fallen snow. This design is a winter wonderland encapsulated on your nails, ideal for the holiday season.
Midnight Sky: For the Night Owl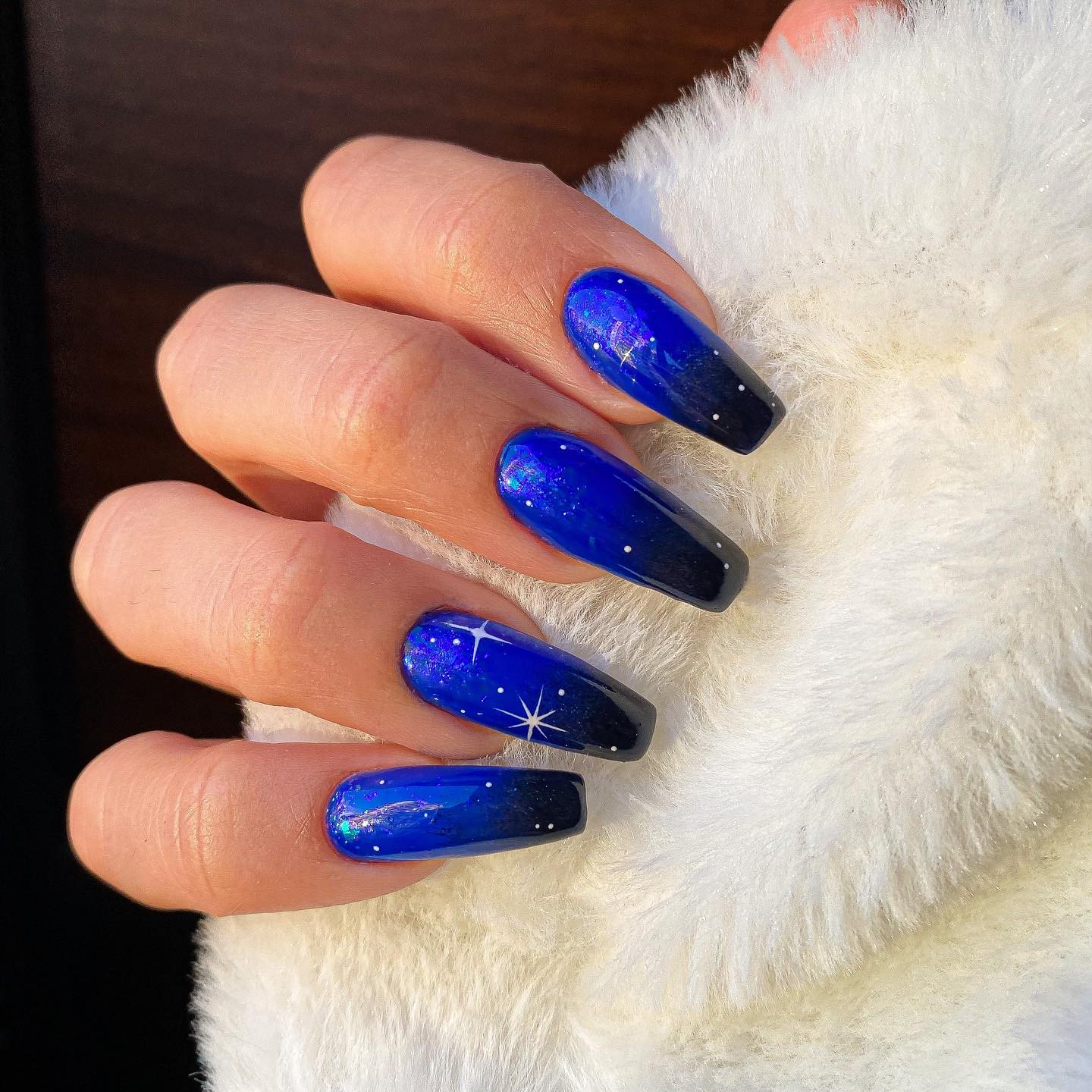 This design uses a deep midnight blue that transitions into a soft sky blue, capturing the magic of the evening sky. It's an excellent choice for those who find comfort and inspiration at night.
Jewel-Toned Glamour: A Touch of Royalty
Think sapphire and aquamarine in a harmonious blend. This jewel-toned design offers a luxurious look that pairs amazingly well with elegant evening wear.
Pastel Dream: Soft and Whimsical
Blend baby blues into soft teals for a pastel dream that's as whimsical as beautiful. This is an excellent design for springtime, giving your nails a breath of fresh air.
Frosted Tips: Ice Queen Vibes
In this design, a royal blue hue gradually transitions into frosted tips, making ice-coated nails appear. It's a killer look for winter and especially fitting for icy-themed events.
Flower Accent: Blue Blooms
Why not add some floral nail art to your blue ombré? A small flower on one or two nails adds a touch of femininity and natural beauty to your overall look.
Holographic Hues: Shine Bright
With a holographic finish over shades of blue, these nails offer an ethereal, otherworldly charm. This design is perfect for festivals or any occasion you want your nails to shimmer and shine.
Turquoise Treasure: Sun and Sea
Start with a rich turquoise and fade into a lighter blue for a nail design that screams sun, sea, and sand. It's an excellent choice for those who love the great outdoors, especially beach adventures.
Blue Ombré with Gold Foil: Opulence Redefined
Introduce gold foil accents on top of your blue gradient for opulence. This design redefines extravagance and is perfect for occasions when you want to feel like royalty.
Are There Any Specific Tips or Techniques for Creating the Ombré Effect?
Mastering the ombré effect on your nails can be a bit of a challenge at first, but once you get the hang of it, you'll find it's an advantageous form of artistic expression. Here are some tips and techniques to help you nail that perfect ombré:
Choose the Right Colors – Select two to three colors that blend well together for a smooth gradient. Ensure they're in the same color family or will blend into each other easily.
Use a Makeup Sponge – A small, flat makeup sponge is invaluable for creating the ombré effect. Dab your chosen nail colors side by side on the sponge and press it onto your nail, moving it up and down slightly to blend the colors.
Base Coat is a Must – Always start with a base coat to protect your natural nails and to help your polish adhere better. A white base coat can mainly make the colors pop.
Layering for Depth – You may need to apply two or three layers of your ombré effect for a more intense gradient. Ensure each layer is dry before applying the next one to avoid smudging.
Clean Up is Important – The ombré technique can be messy, especially around the edges of your nails. Use a small brush dipped in nail polish remover to clean up any excess polish.
Seal it with a Topcoat – A clear topcoat will add shine and seal in your design, making it last longer. For some designs, a matte topcoat can add a chic finishing touch.
Practice Makes Perfect – It's unlikely you'll get it perfect on your first try, and that's completely okay! The more you practice, the better you'll get at creating a flawless gradient.
Experiment and Have Fun – Feel free to mix and match different colors and textures. Glitter, metallics, and even tiny nail art decals can add a fun twist to your ombré nails.
So there you have a handful of tips and techniques to get you started on your blue ombré nail adventure. Whether you're an at-home DIY enthusiast or prefer the salon chair, these guidelines are a good starting point for anyone looking to plunge into ombré nails.
Conclusion
In wrapping up this vivid journey through the world of blue ombré nails, it's clear that the possibilities are as endless as your imagination. From celestial designs that tap into your inner dreamer to muted, minimalist looks that speak volumes in subtlety, there's something for everyone. While the excitement of experimenting is irresistible, remember that the quality of polishes and topcoats you use can make a significant difference in the result—cheaper products may chip easily or not deliver the promised hues. Also, if you're new to nail art, there's no harm in seeking professional help for that picture-perfect finish. Whether accenting your nails with jewel tones for a gala event or for soft pastels for a casual day out, your nails can be a dynamic canvas for self-expression. So why not seize the moment? Grab those polish bottles and let your creativity soar!
Feature image @nailsbyalsn via Instagram
Last reviewed and updated on October 4, 2023