Today, we're diving into the world of Brown French Tip Nails – a classy twist on the timeless French manicure. Gone are the days when French tips were only about crisp whites; this fresh take infuses warmth and a touch of earthiness that's perfect for any season. In this post, we'll explore why brown tips are not just a trend but a chic option for those looking to bring a natural yet sophisticated edge to their nail game. I'll walk you through everything from selecting the perfect shade of brown to complement your skin tone to the nitty-gritty of achieving that flawless tip without a trip to the salon. Plus, for those who love a good DIY challenge, I've got some tips and tricks to help you nail this look at home (pun intended!). So, grab your favorite polish, and let's get into it. Trust me, by the end of this, you'll be ready to swap your go-to colors for a brown that speaks to you, whether it's a soft taupe or a deep espresso. Let's upgrade that manicure!
Brown French Tips On A Light Brown Base
Layering shades of brown, from the base to the tip, can create a monochromatic masterpiece that is both intriguing and harmonious. This look offers a cohesive palette that works beautifully for an understated yet chic aesthetic.
Subtle Transitions: Cool Brown Tips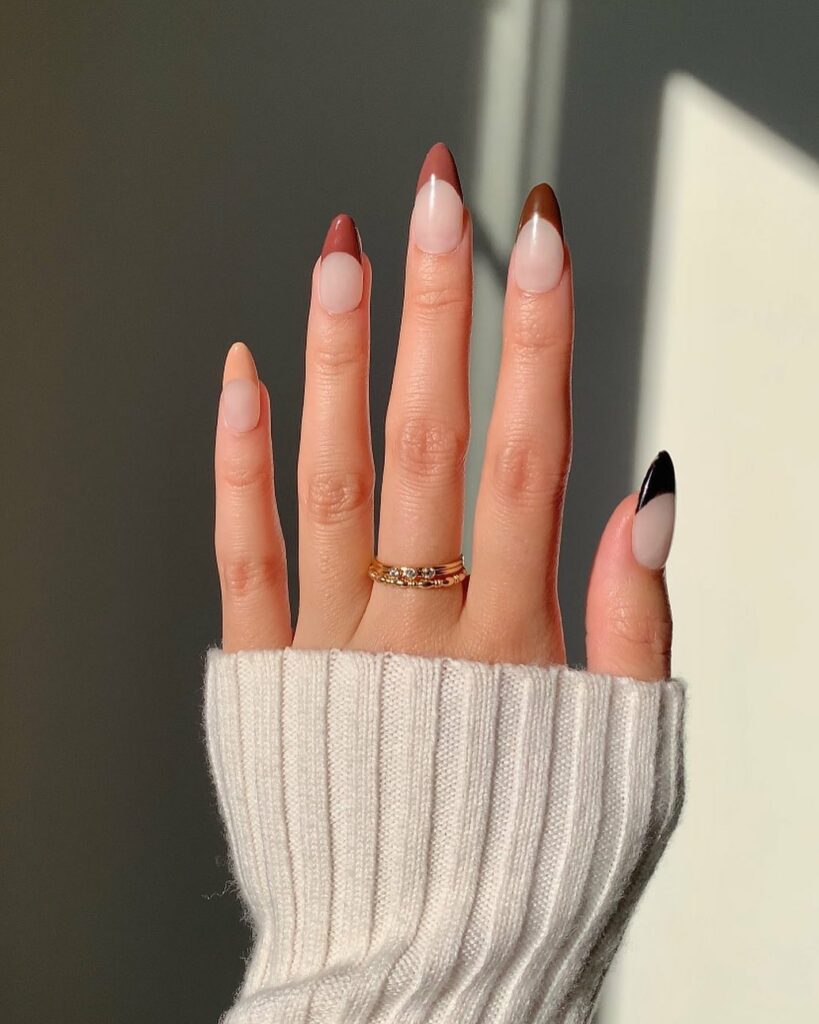 Add a mystical touch to your French tips with a soothing transition of deep to light brown shades, creating an ombré effect. It's a refreshing twist that reminds me of watching the gentle gradients in the sky at dawn.
Blossoms Meet Chocolate Brown
Infusing a sense of warmth and contemporary style with its rich, earthy hues. This modern rendition retains the manicure's elegance while adding a cozy, autumnal vibe that's perfect for any season and setting.
Preppy Chic: Brown Tip Nails With A Twist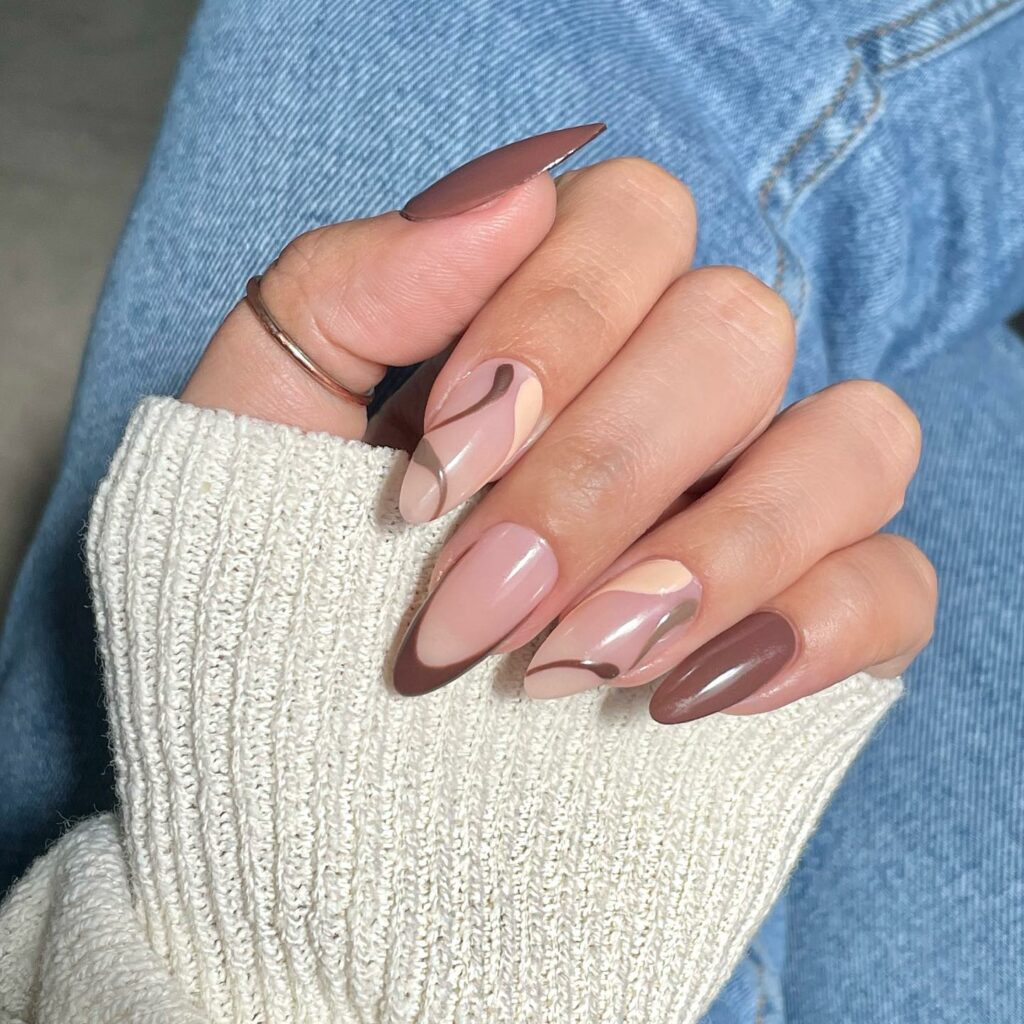 Brown tip nails with a twist merge the timeless allure of a French manicure with the unexpected charm of modern artistry, such as subtle shimmer, geometric shapes, or intricate patterns. This chic spin on the conventional brings a dash of creativity to your fingertips, proving that neutrals can indeed be bold and adventurous.
French Mani: The Brown and White Edition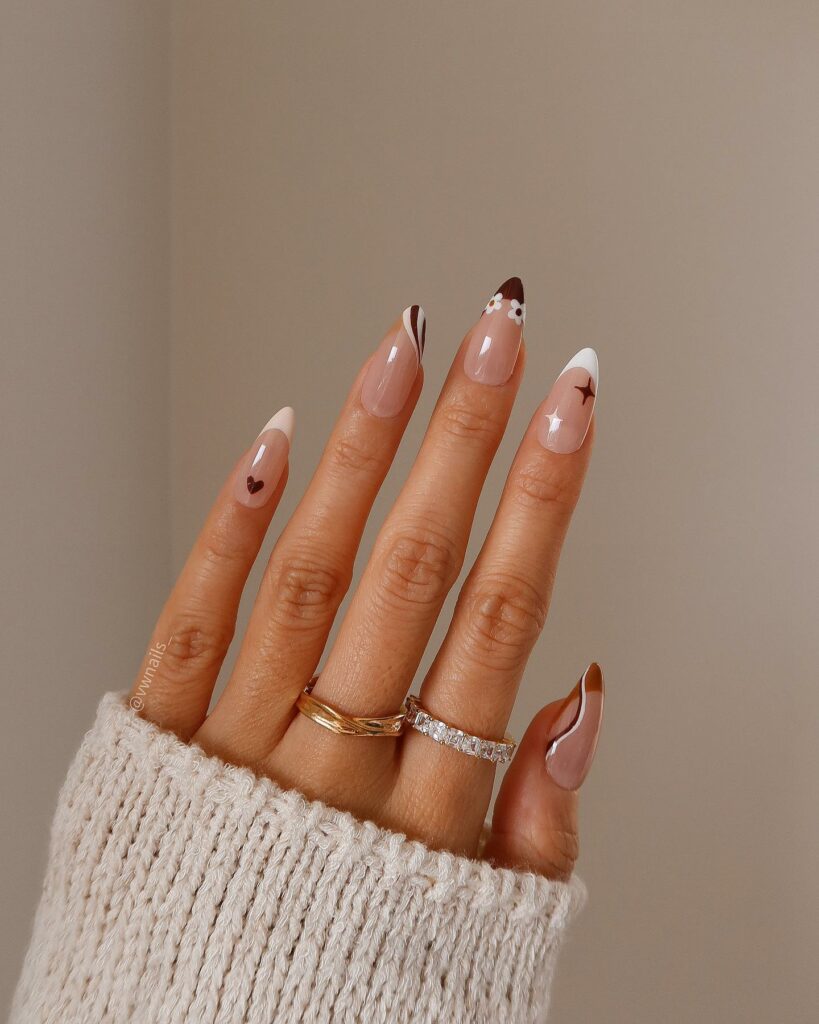 Replace the traditional white tips with a harmonious blend of brown and white diagonal directions, offering your nails a refreshing yet elegant touch. It's a simple modification that promises a fresh, unique look!
Brown French Tips On A Clear Pink Base
The soft, rosy hue of a clear pink base enhances the gentle nature of brown tips, giving your nails a natural, healthy blush. This combination brings forward a delicate balance of femininity and modern grace.
Autumn Classic: Plaid French Tips
Infuse a bit of classic elegance into your style with plaid French tips. I remember pairing this nail design with a cozy, autumn-inspired outfit during a rustic countryside weekend – an ever-chic combination that never impresses me!
Classic Brown French Tips Nails
A twist on the iconic style, classic brown French tips bring warmth and unconventional charm to your nails. It's a subtle shift from the traditional, yet it retains the French tip's understated elegance.
Brown Vertical Ombre French Nails
An avant-garde take on the French manicure, the brown vertical ombre effect creates an illusion of elongated nails with a contemporary twist. It's a mesmerizing gradient that draws the eye in a new direction.
Elegant Brown Stiletto Nails with Gold Accents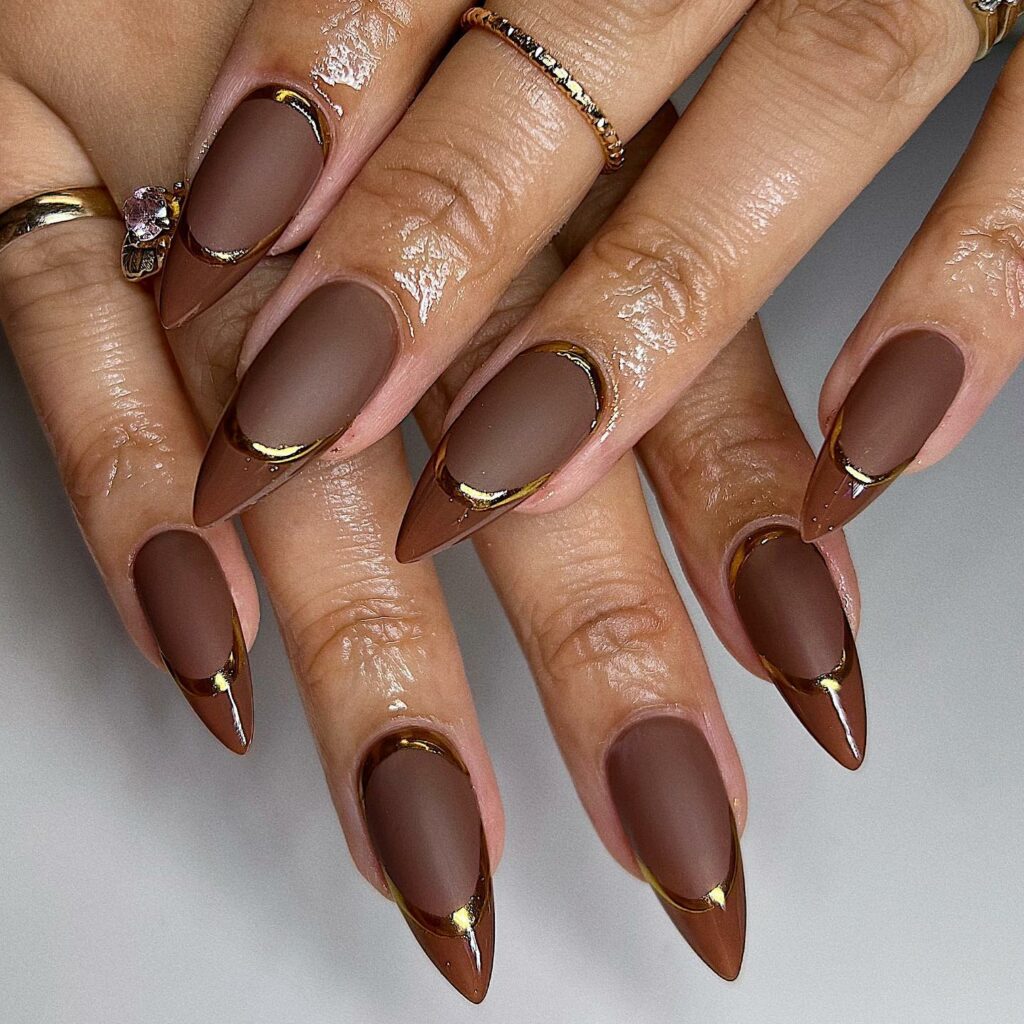 These beautifully crafted stiletto nails showcase a rich brown hue, enhanced with striking gold accents at the tips. The combination offers a harmonious balance of sophistication and boldness, making it a perfect choice for those looking to make a chic statement with their nail art.
Tiny Brown Hearts On Short Almond Nails
Embrace the fall season with sweetness by sporting tiny brown hearts as French tips. The blend of off-white and deep-brown hues brings a dainty and endearing aesthetic that adds a sprinkle of love to your style.
Golden Glam: Elegant Brown Mani Nails
Add a touch of sophistication to your nails with a brown glam makeover.
Brown French Tips With An Accent Of White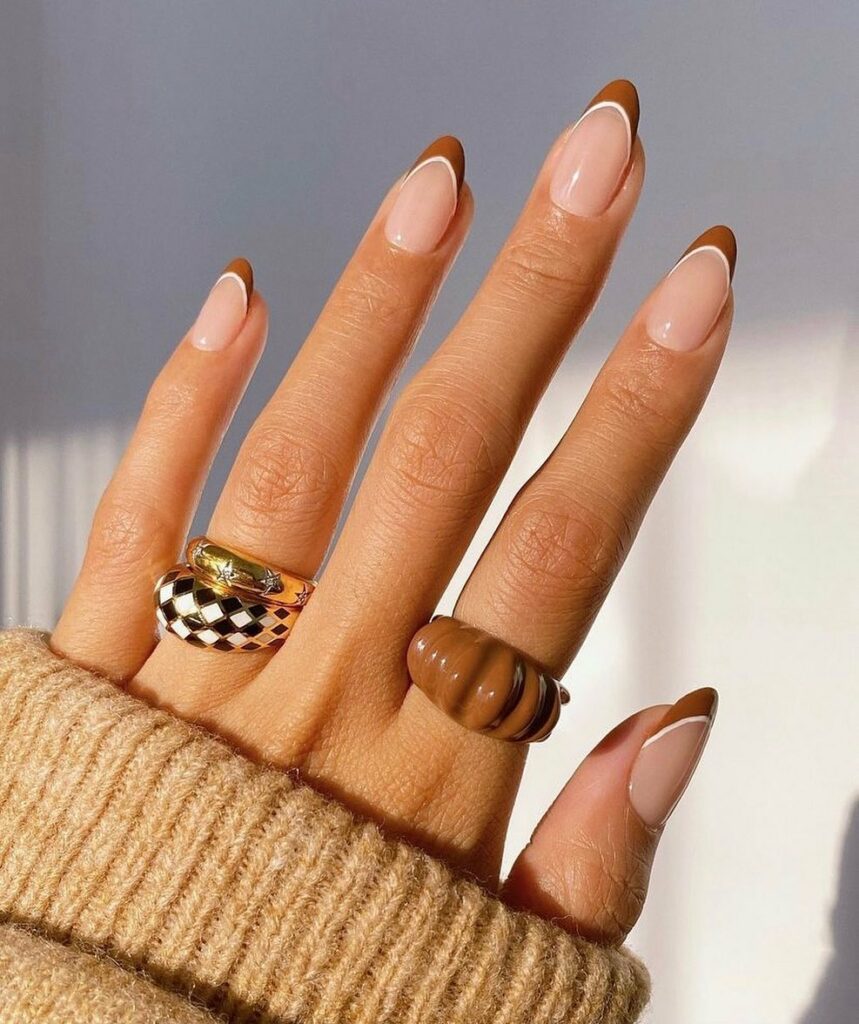 Brown French tips paired with an accent of white create a striking contrast that's both earthy and crisp, offering a sophisticated yet fresh take on the beloved manicure style. This combination adds a pop of visual interest, making it a versatile choice that transitions effortlessly from casual daytime to elegant evening wear.
Brown Swirly Tips and Cuticle Cuffs
Adding glittery swirls to the tips and cuticles, akin to wearing a pair of statement earrings, takes the beauty of these nails to a whole new level. And if you're feeling adventurous, why not play with different shades of brown on each hand? It's like a fun, chic party at your fingertips!
Brown Cow Print Tips
Step outside with this playful cow-print accented white short French nails. This trendy design adds a funky, modern touch to your manicure.
Brown Ombre Short French Tips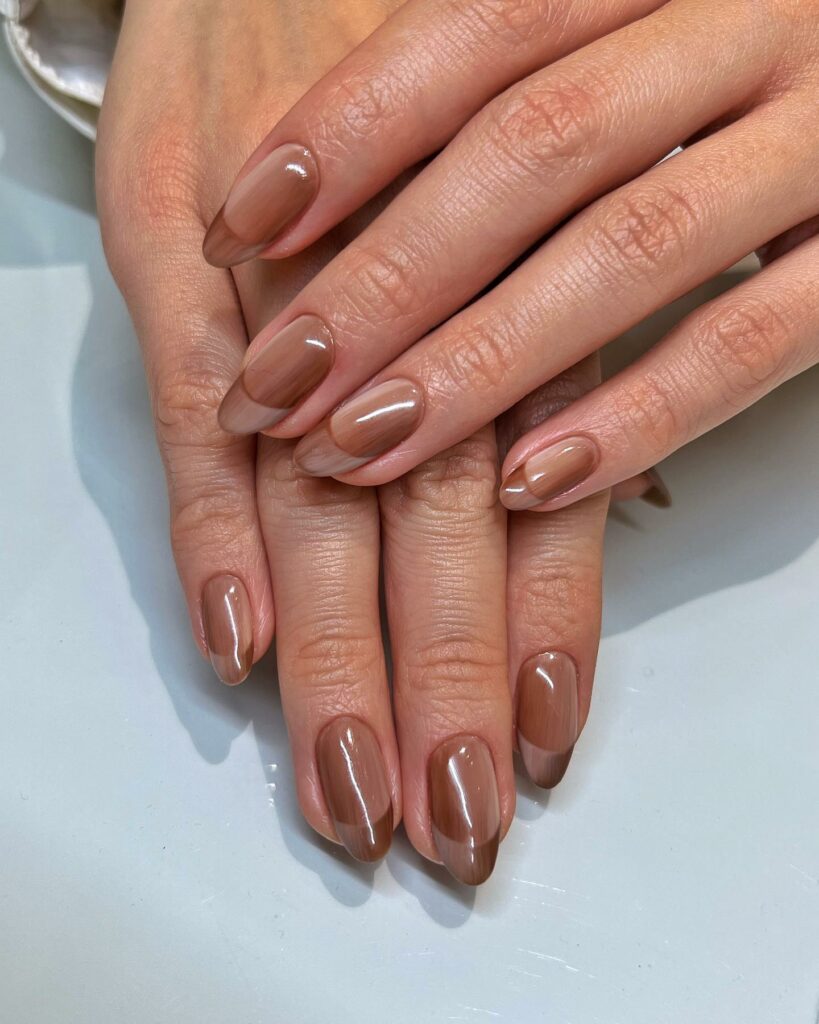 Experiment with the warm, earthy tones of brown ombre on your short French tips. This unique approach creates a gradient effect, adding depth and character to your nails.
Brown Short French Nails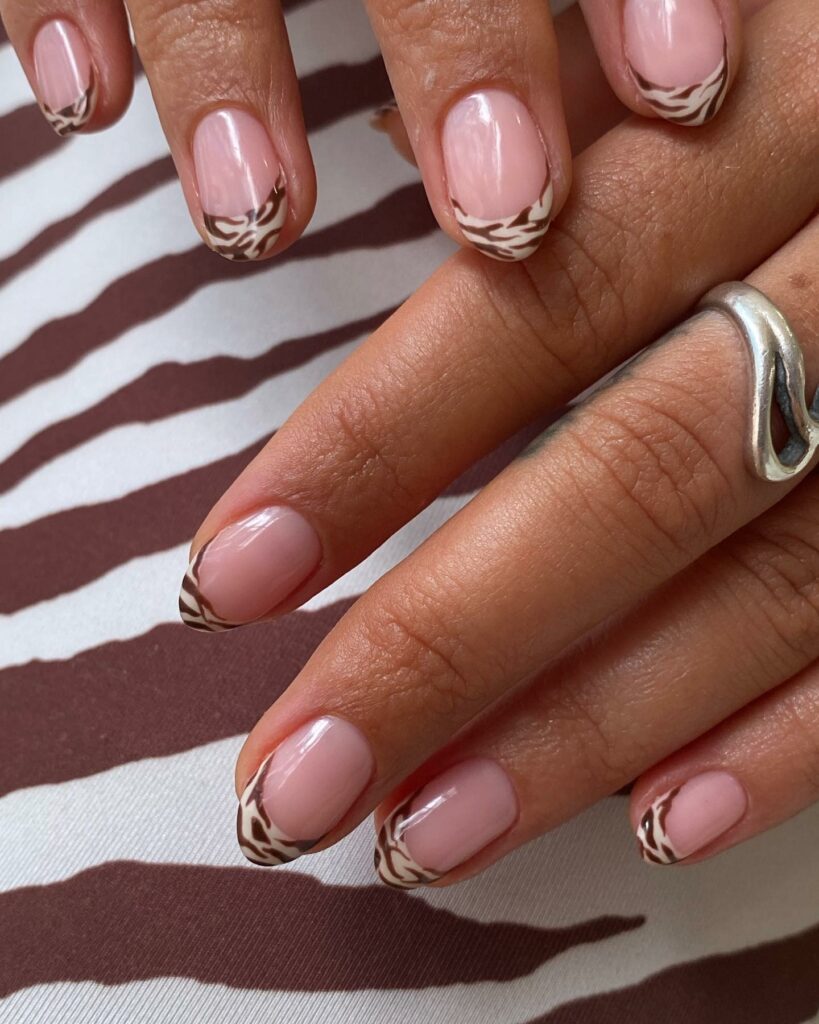 Animal print brown short French nails infuse a wild twist into the manicured world, adding a dash of untamed elegance to the classic French tip. This fierce yet sophisticated look is perfect for anyone wanting to make a subtle statement with their nail art, without compromising on professionalism or style.
Matte Brown French Nail With Swirl
Matte finishes bring a contemporary edge, and when combined with a brown swirl, it's the epitome of understated chic. It's an artistic twist that beckons a second glance without being over the top.
Light Brown French Mani
Light brown tips offer a whisper of color, perfect for those who favor subtlety in their nail art. It's a fresh option for a low-key yet polished look, fitting for any occasion.
Dotted Brown French Tip Nails
Incorporating dots into your brown French tip manicure adds a playful touch to an otherwise classic design. It's a simple way to introduce some whimsy without compromising on style.
Glam Swirls And Glitters
Swirls and glitters take the humble brown French nail from every day to show-stopping, adding movement and a touch of sparkle. This design is for those days when your hands deserve to be the center of attention.
Sparkling Brown Gradient French Tips
As the leaves turn golden in fall, why not bring a touch of that magic to your nails? Imagine the gradient hues of brown blending seamlessly, outlined with a trail of glitter that catches the light beautifully, offering a sparkle reminiscent of a cozy autumn afternoon.
Brown And Green French Mani
Combining brown with green creates an unexpected contrast that's both refreshing and trendsetting, especially when you add a sprinkle of glitter. This pairing is a must-try for those who love to push the boundaries of traditional nail art.
Brown And White French Tip Nails
Swirls of white add a dynamic spin to the brown French tip, creating an elegant dance of neutrals on your nails. This design blends classic with creativity for a truly eye-catching look.
French Mani With A Playful Side
Elevating classic elegance with a bold touch, these almond-shaped nails boast a chic brown French tip complemented by a singular, glossy maroon accent nail — a perfect blend of traditional grace and modern flair.
Brown French Mani With Gold Foils
Gold foils on a brown French tip nail bring a luxurious touch that is perfect for elevating your nail art game to regal status. The metallic shimmer interplaying with the earthy brown creates a glamorous yet refined look.
Brown French Tips With A White High-Line
Adding a precise white line to a brown French tip not only defines but also elevates the entire look to create a striking visual contrast. It's a detail that signifies a meticulous and fashion-forward approach to nail design.
Pink And Brown Almond Nails
Whether you opt for a full French tip or a demure side tip in brown, this style speaks to the versatility and personal expression of your nail aesthetic. It's about having the freedom to play with coverage and sophistication.
Brown French Nails With Chocolate Swirl
The rich, velvety allure of a chocolate swirl adds a decadent twist to the brown French nail, making it a deliciously unique design choice. This pattern not only looks sumptuous but also adds a fun twist to a classic style.
Brown French Tips With A 60's Vibe
Ombre brown French tips offer a gradient of earth tones that blend seamlessly for a look that's both natural and stylish. This technique adds depth and character to the nails, making them a conversation starter.
Statement Matte Brown French Tips
Matte brown tips are all about understated elegance; they're a sleek and modern take on the French manicure that works with any wardrobe. This finish is perfect for those who prefer a sophisticated touch without the shine.
Brown Nails With 3D Lines
3D lines on brown French tips introduce a tactile element that transforms your nails into a work of modern art. It's a bold statement with shadows and texture, perfect for the nail art connoisseur.
Glossy Brown French Mani
A brown French tip on a square-shaped nail provides a canvas for a look that's both contemporary and chic, making it a go-to for those who love a geometric flair. The sharp lines and neutral color are a match made in manicure heaven.
50 Shades Of Brown!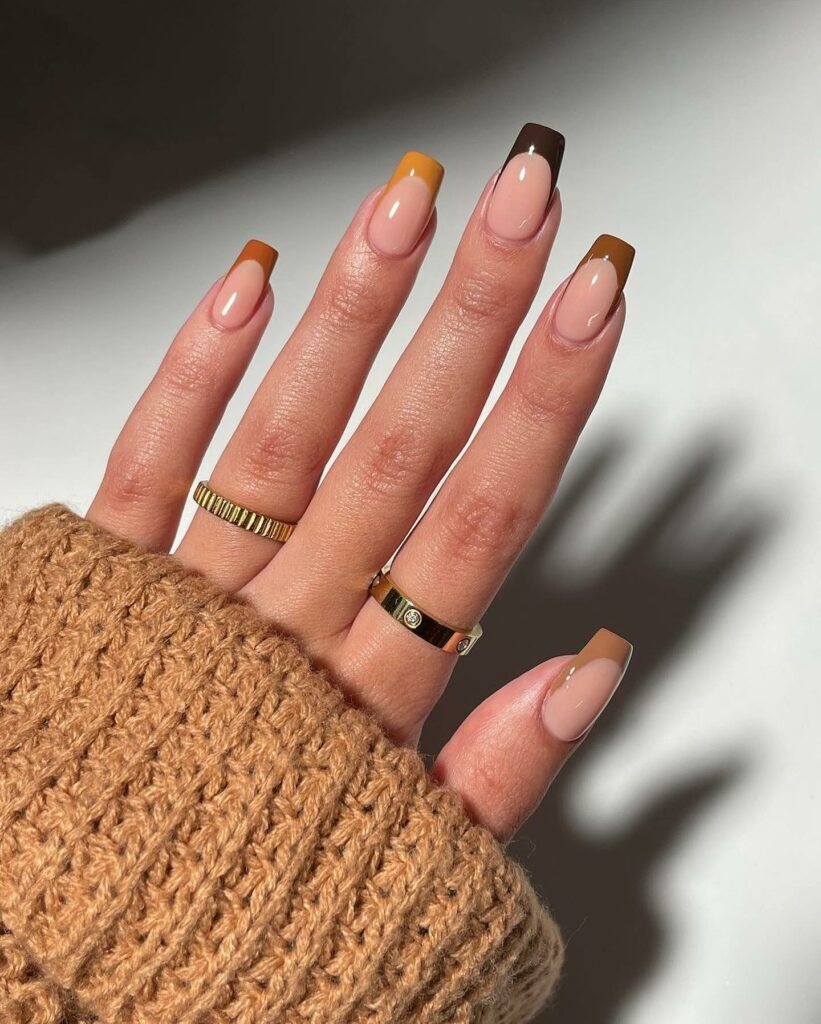 The brown French tip is a nod to a more natural look, with a smooth transition from light to dark shades mimicking the beauty of a sunset. It's an organic yet polished approach to nail art.
Dual Color Brown French Nails
Featuring two complementary shades of brown in a French nail design adds dimension and a contemporary twist to the traditional single-color tip. It's a simple yet effective way to play with color without going overboard.
Colorful Flowers Amplify These Brown Nails
Combining matte brown tips with colorful flower accents strikes a beautiful balance between earthy and whimsical. This style blooms with personality and is sure to brighten any look.
Dark Brown French Tips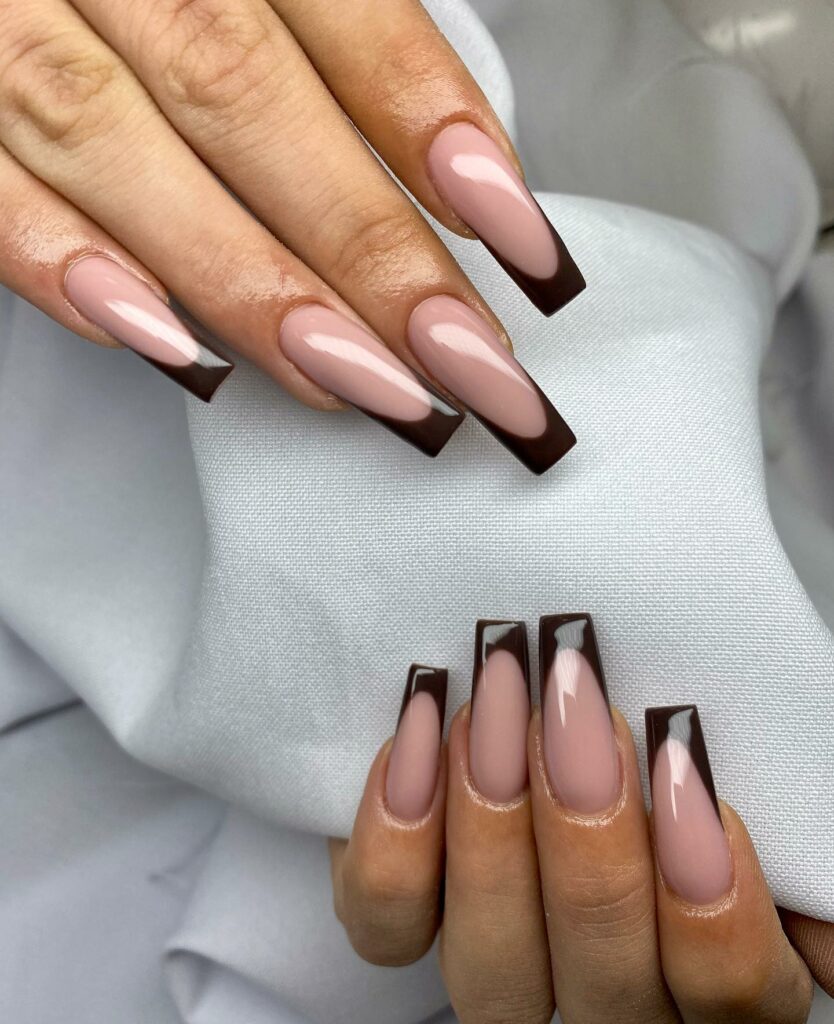 The long square shape offers a bold canvas for the brown French tip, making it a statement piece that's both modern and elegant. If you love a bit of drama at your fingertips, this style brings the perfect balance of edge and sophistication
Checkered Brown French Nails
Incorporating a checkered design into your brown French nails adds a playful and preppy twist, perfect for breaking the monotony with a patterned pop. It's a way to infuse a bit of retro charm into your nail repertoire.
Brown And White French Tips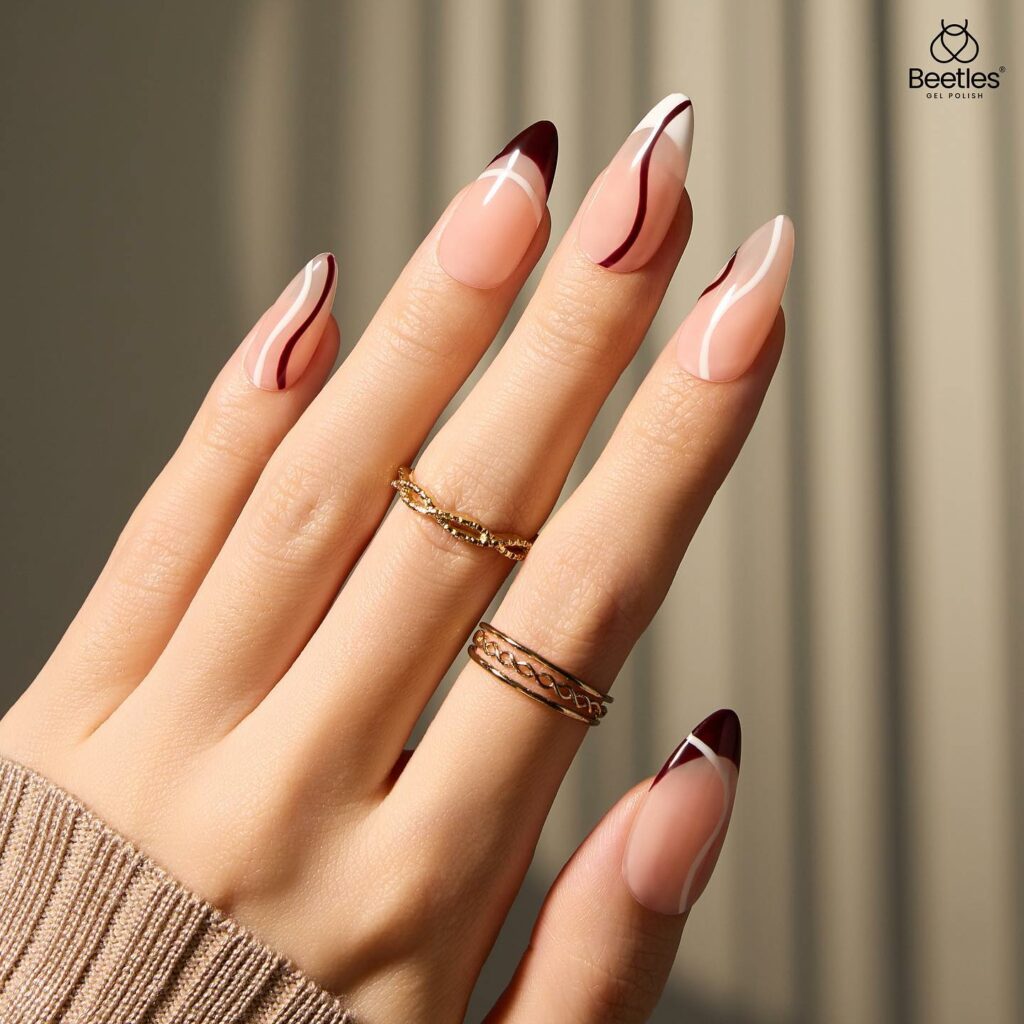 The swirls of white add a touch of whimsy to the grounded elegance of brown French tips, creating a harmonious and eye-catching contrast. This design is a testament to the power of combining simplicity with a touch of ornate.
Brown French Nail With A Matte Light Brown On Base
A matte light brown base under a brown French tip is the essence of modern minimalism, offering a dual-tone look that's both seamless and striking. It's a subdued yet impactful way to wear the trend with a softer edge.
10 Go To Shades Of Brown For French Tips?
Taupe – A soft, grayish-brown that's understated and sophisticated.
Espresso – A deep, dark brown that's as rich and bold as your morning coffee.
Mocha – A warm, medium brown with a hint of creamy coffee tones.
Caramel – A light, golden brown that's sweet and delectably warm.
Chocolate – A lush, full-bodied brown that's as indulgent as it sounds.
Cinnamon – A reddish-brown that adds a spicy and vibrant twist.
Amber – A golden-brown hue that has a touch of rustic charm.
Walnut – A robust and classic brown that's reminiscent of the nut's rich shell.
Beige – A neutral, light brown with a soft and versatile appeal.
Chestnut – A reddish, earthy brown with a sense of warmth and depth.
Each shade can set a different mood and match various styles and occasions. Whether you choose a light and creamy brown for a subtle nod to the trend or a deep and dark hue for a statement look, brown French tips can be as varied as they are stunning. It's all about finding the shade that complements your skin tone and fits your style. Don't forget to consider the season, too – lighter browns can be lovely in spring and summer, while richer tones might fit the fall and winter vibes perfectly. Mix and match to find your perfect brown – your nails are your canvas!
9 Tips To Get Brown French Tip Nails At Home
Prep Your Nails: Start with clean, shaped nails. Push back your cuticles, buff the nail surface gently, and ensure no old polish or oils on the nails by wiping them with nail polish remover.
Apply a Base Coat: Protect your natural nails with a clear base coat. This step helps the polish adhere better and prevents staining from the colored polish.
Choose Your Brown: Pick your favorite shade of brown. If you're indecisive, refer to our cozy collection of browns – from taupe to espresso – and select one that speaks to you.
Tape or Stencils for Precision: If you're not confident in your freehand skills, use French tip guides or
Some tape to get that crisp line. Make sure the base color (if you're using one) is completely dry before you place tape or guides on your nails.
Paint the Tips: Carefully apply the brown polish over the tip of your nail. If you're using tape, remove it while the polish is still wet to avoid pulling off any dried polish.
Clean Up: Use a small brush dipped in nail polish remover to tidy up any smudges or excess polish for that professional finish.
Seal with a Top Coat: Finally, apply a clear top coat to seal in your design. This not only adds a glossy shine but also extends the life of your manicure.
Always give each coat enough time to dry to avoid smudging, and apply thin coats rather than one thick one – this helps the polish dry faster and last longer. And remember, practice makes perfect! Your first at-home brown French tip manicure may not be flawless, but you'll get the hang of it soon. Happy painting!
Still Looking for Inspiration, Then Check Out This Video
Conclusion
And there you have it, a little brown can go a long way in elevating your nail art from the every day to the stunning. Remember, whether you're sprinkling gold foils for that touch of glam, opting for an ombre effect as smooth as your morning latte, or going bold with 3D designs, the key is to have fun and let your personality shine through your polish! My top tip is don't stop playing with textures and finishes – a matte here and a sparkle there can make those brown hues pop. And for those wondering about wearability, brown is your versatile best friend, ready to complement any look with its neutral charm. So grab your favorite shade and get creative! After all, in nail art, the possibilities are as endless as the colors in a sunset. Happy painting!
Feature Image Photo By @vivianmariewong via instagram
Last reviewed and updated on November 10, 2023