Today, we're diving into the world of Brown Ombre Nails, a trend that's been catching eyes and hearts everywhere. If you're curious about how to bring this earthy, sophisticated style to your fingertips, you're in the right place.
In this post, I'll guide you through creating the perfect brown ombre effect. We'll cover the best color combinations with different skin tones, the steps to achieve a flawless gradient, and the top products that make the process a breeze. Plus, I'll share some insider tips on maintaining your ombre nails so they look salon-fresh longer. As someone who's tried countless styles and trends, I have a soft spot for the versatility and elegance of brown ombre nails. They're perfect for any season and occasion, making them a must-try in your nail art journey. So, grab your favorite nail polishes, and let's start creating a look that will turn heads!
Brown Chrome Ombre Nails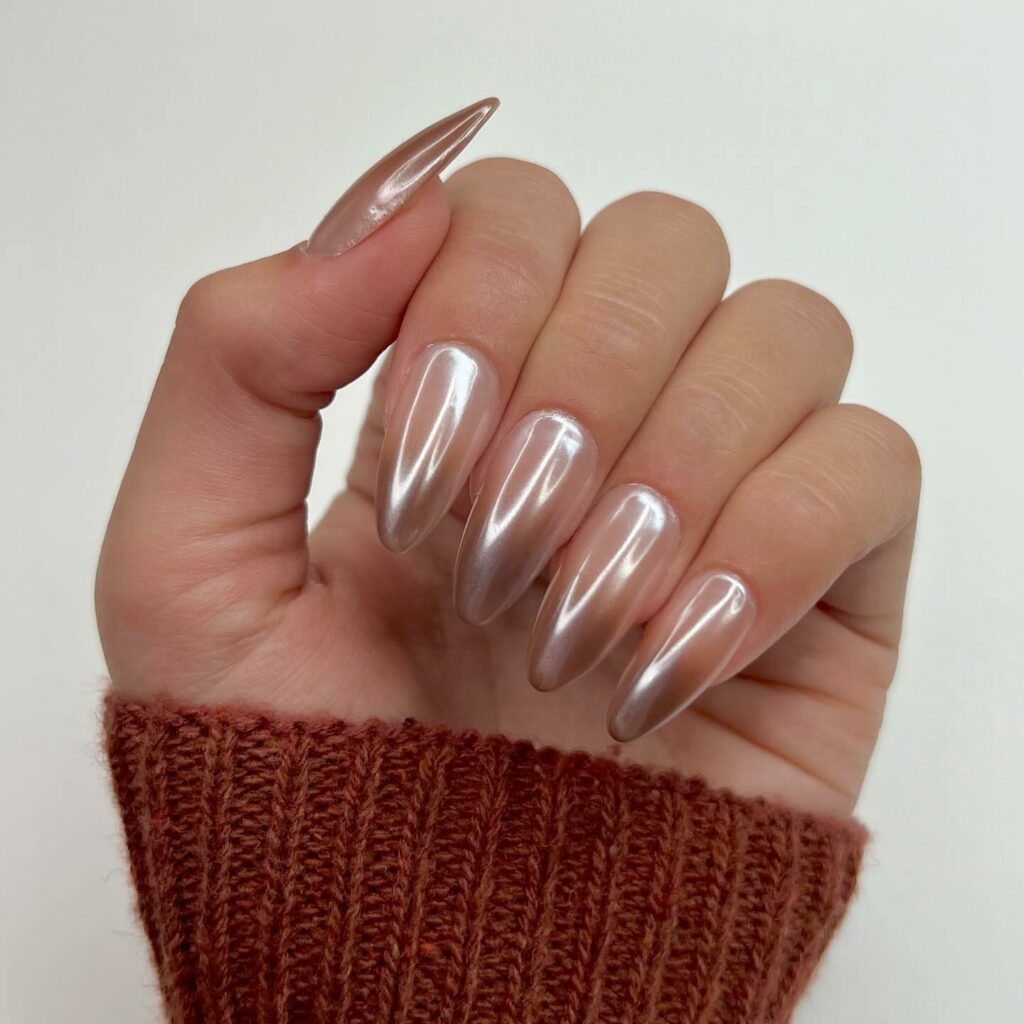 The brown chrome ombre nails bring a futuristic twist to traditional ombre, combining the earthy tones of brown with a metallic sheen. This look is ideal for those who love a sophisticated yet edgy aesthetic.
Brown Ombre Nails With Gold Glitter And Rhinestones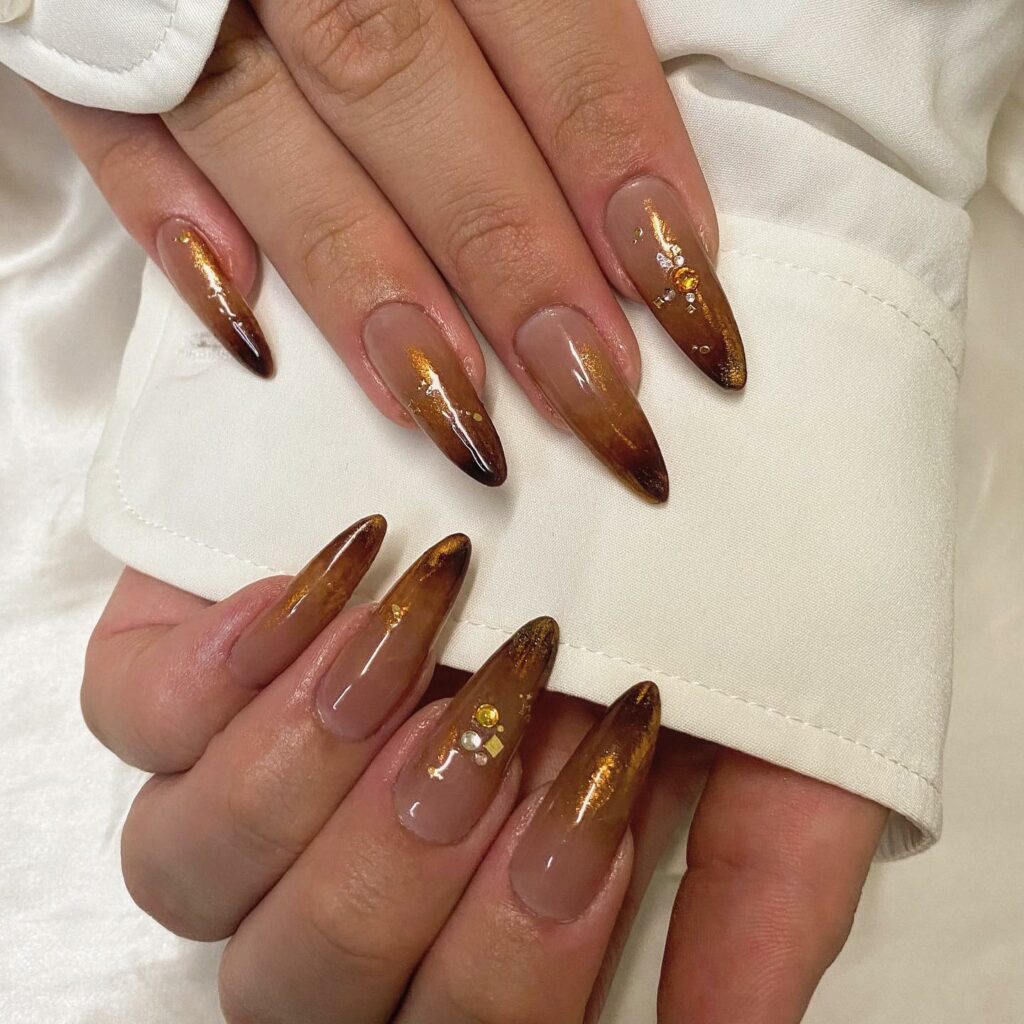 Combining the subtle gradient of brown ombre with the sparkle of gold glitter and rhinestones, this design is all about luxury and style. It's a perfect choice for special occasions or when you want your nails to make a statement.
Acrylic Brown Ombré Nails With Flower And Glitter Design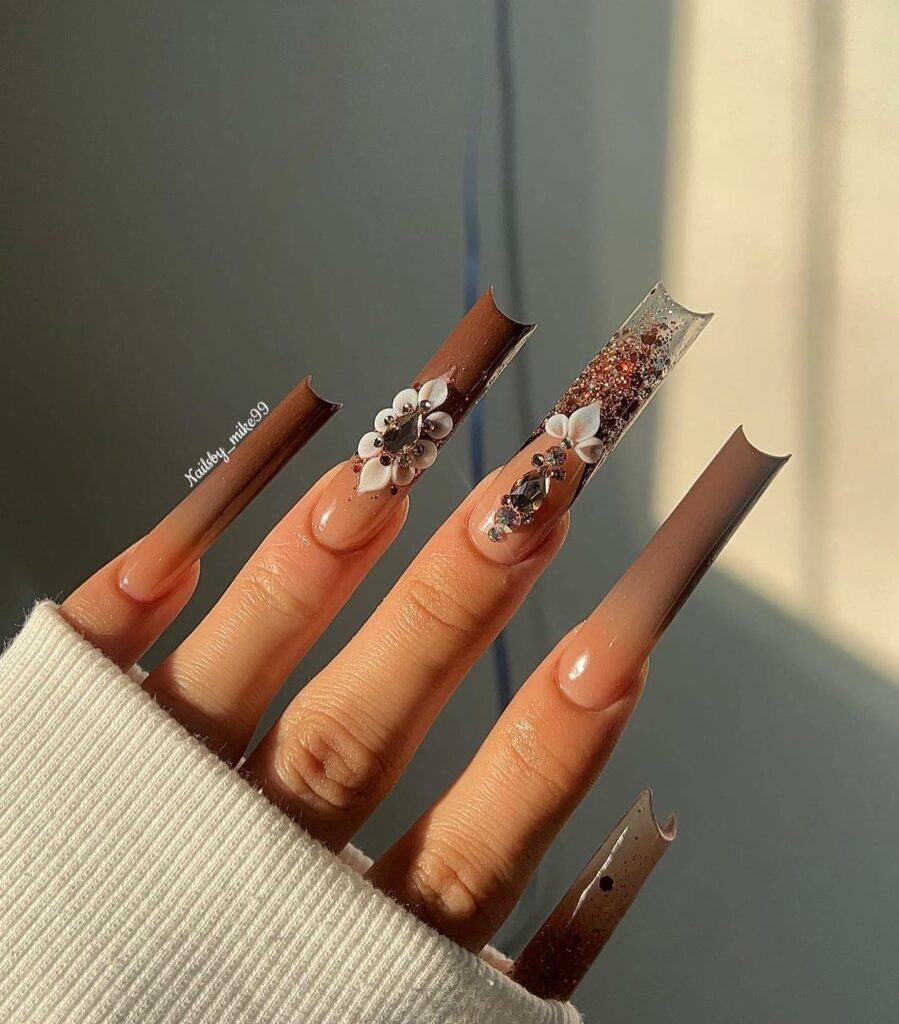 These nails feature a delicate brown ombré base adorned with floral patterns and glitter, offering a romantic and feminine appeal. It's a lovely choice for anyone who enjoys intricate, detailed nail art.
Brown Ombré Nails With Glitters
Simple yet striking, brown ombré nails with added glitters offer a subtle sparkle to an otherwise understated look. It's perfect for adding a bit of pizzazz to your everyday style.
Sparkling Chocolate Brown Ombre Nails
Let's turn the sparkle up a notch with this glittering combination of brown and gold. From brown glitter ombre to chunky glitter adornments, it's a dazzling display of sparkle and shine bound to brighten your day.
Brown Vertical Ombre French Nails
In this unique take on the French manicure, a vertical brown ombre adds depth and a contemporary edge. This style is perfect for those who like to experiment with classic nail designs.
Brown Ombre Square Nails With Rhinestones
Combining the sleek look of square nails with a brown ombre and accented rhinestones, this design is modern and glamorous. It's ideal for those who love a bit of bling on a refined canvas.
Brown And Dark Orange Ombre Nails With Gold Flakes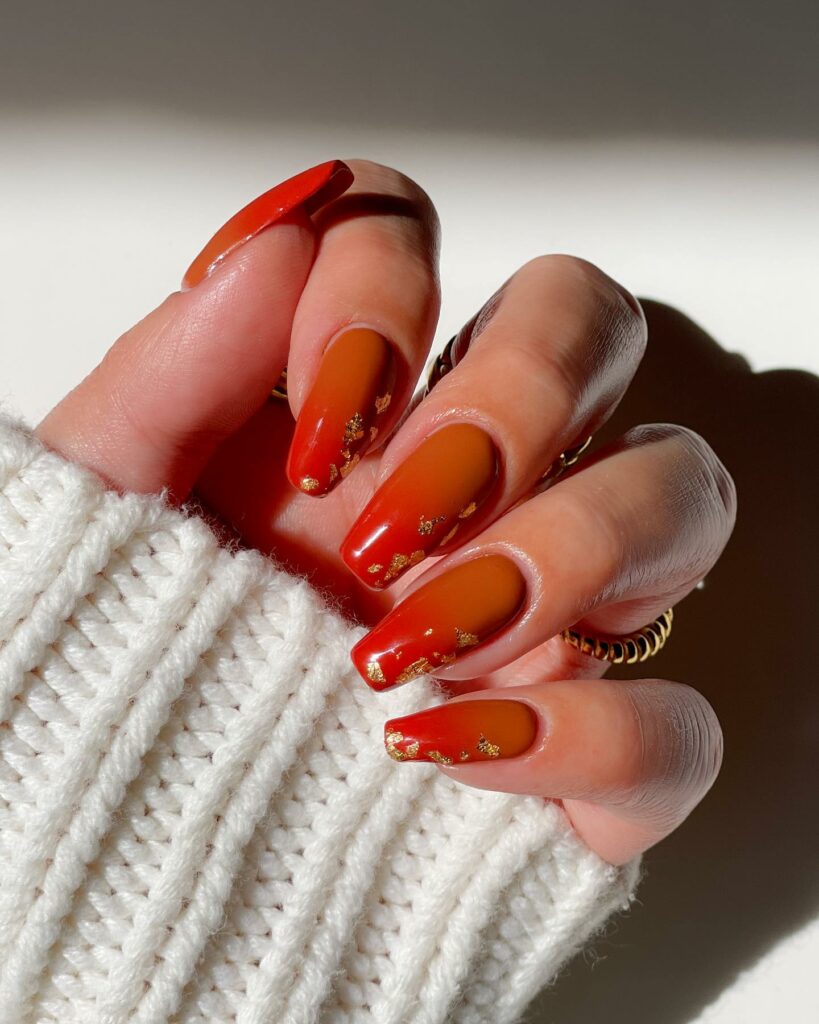 This style blends warm brown and dark orange hues in a stunning ombre effect, enhanced by the luxurious touch of gold flakes. It's a perfect autumn-inspired look that exudes elegance and a touch of glamour.
Brown And Blue Ombre Nails With Glitters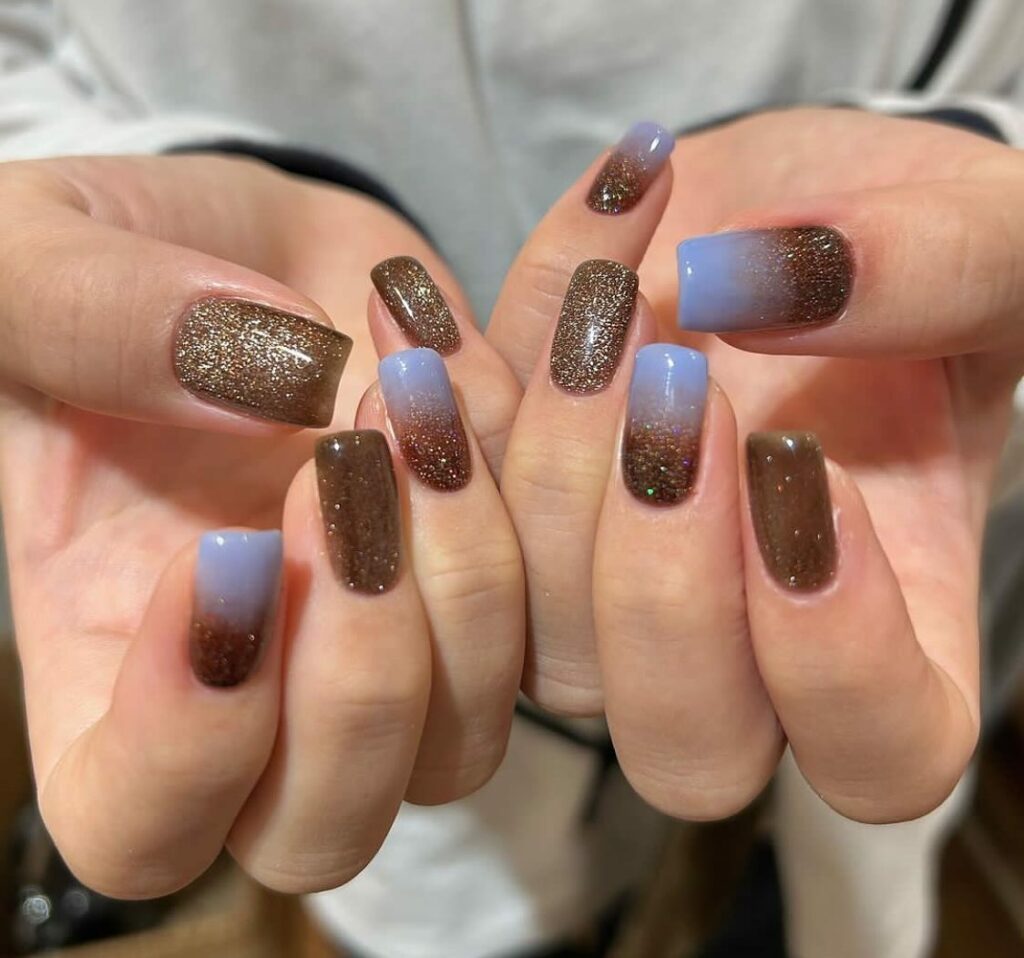 This style features a captivating blend of brown and blue in an ombre pattern, elevated with the sparkle of glitter for an eye-catching effect. It's a unique and playful choice for those who love to add a pop of color to their nail art.
Brown Ombre Almond Nails
The elegant almond shape pairs beautifully with a brown ombre effect, offering a sophisticated and modern look. This style is perfect for those who prefer a sleek, refined nail design.
Small Brown Ombre Round Nails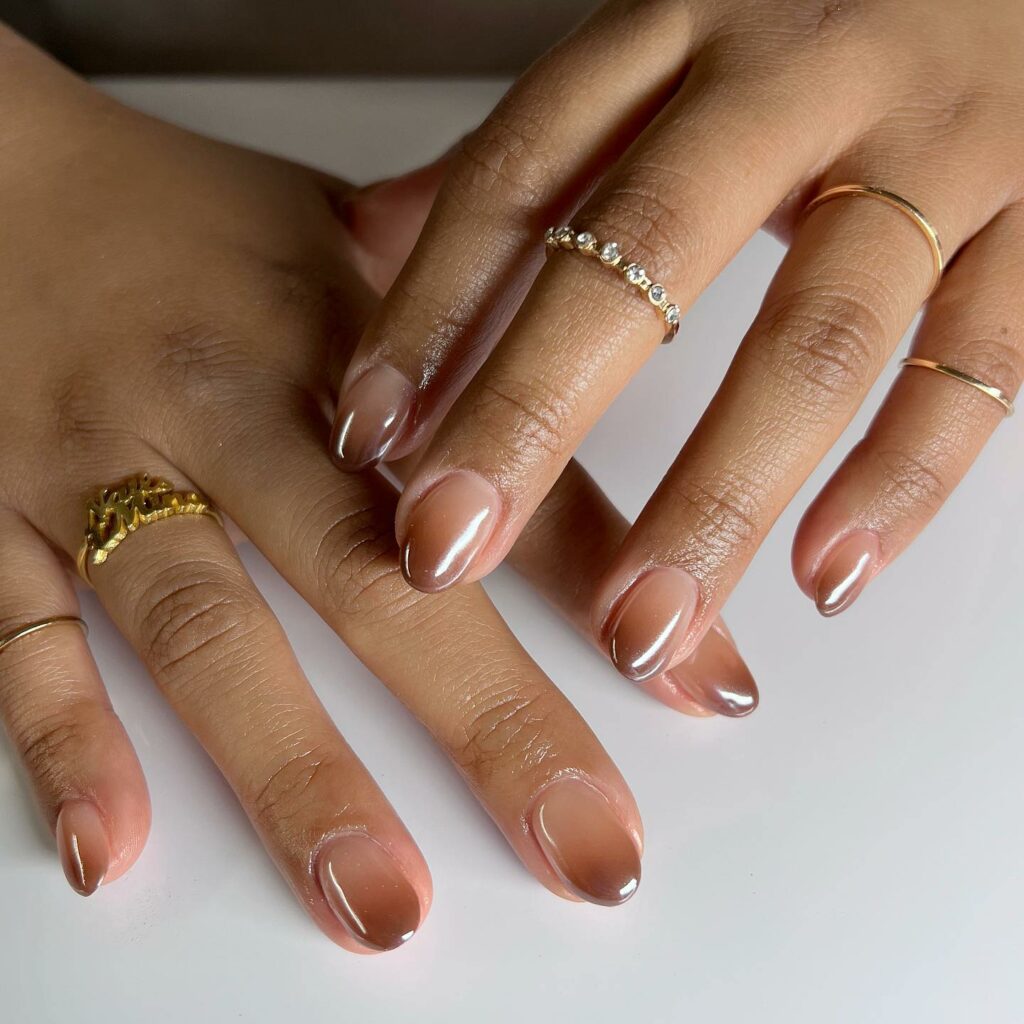 Small, round nails with a brown ombre effect provide a subtle yet stylish appearance, great for everyday wear. This design is ideal for those who appreciate minimalistic beauty.
Brown Ombre Tip Round Nails
Focusing the ombre effect on the tips, this design on round nails offers a contemporary twist on the classic French manicure. It's a chic option for those who like a bit of flair without going overboard.
Brown and Black Ombré Nails
Combining deep black with rich brown in an ombre style creates a bold and dramatic look. This nail design is perfect for making a strong fashion statement.
Glossy Brown Ombre Nails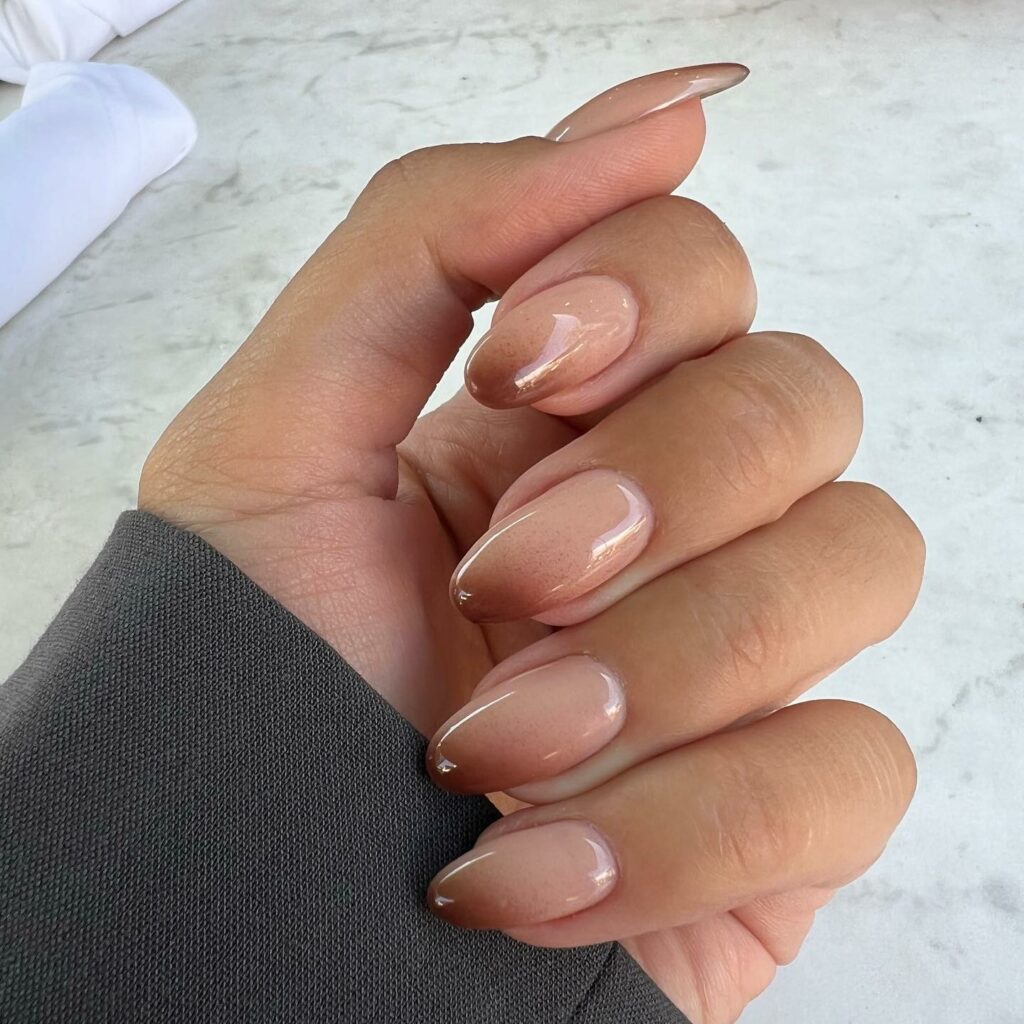 The glossy finish on these brown ombre nails adds an extra layer of sophistication, making them suitable for casual and formal occasions. It's a timeless choice that exudes elegance.
Brown Ombre Short French Nails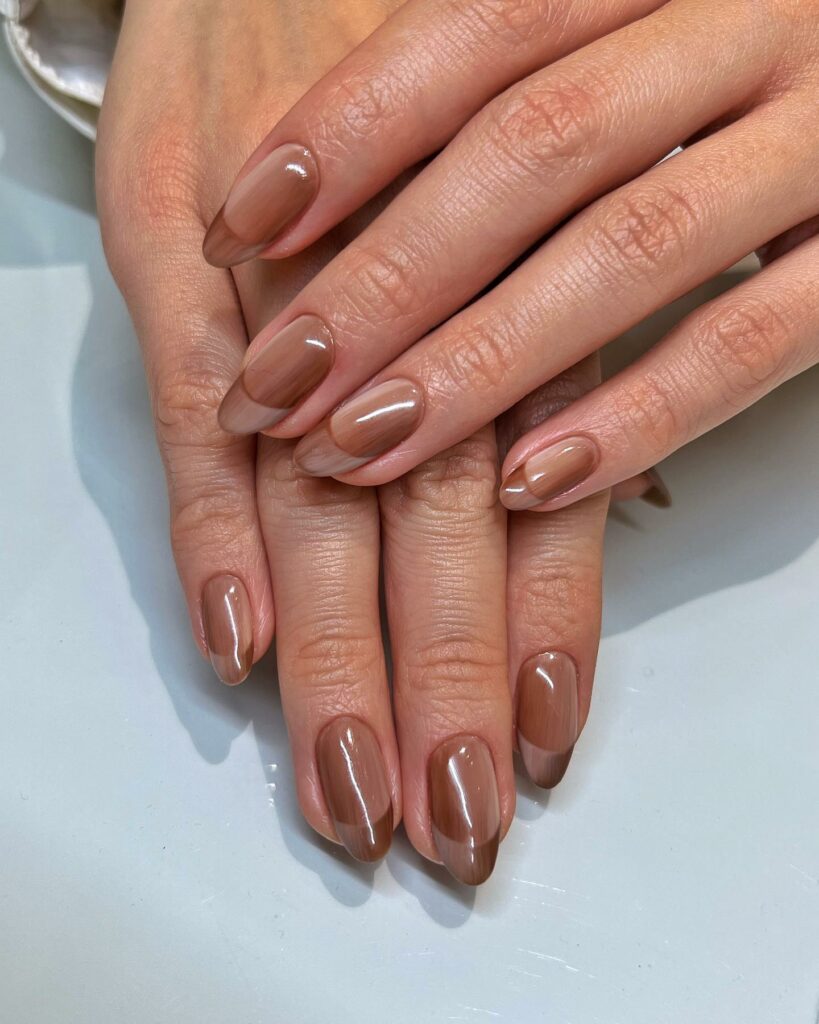 This design updates the classic French manicure with a brown ombre effect on short nails, offering a chic and understated look. It's ideal for those who love traditional styles with a modern twist.
Brown Ombre Coffin Nails With Glitters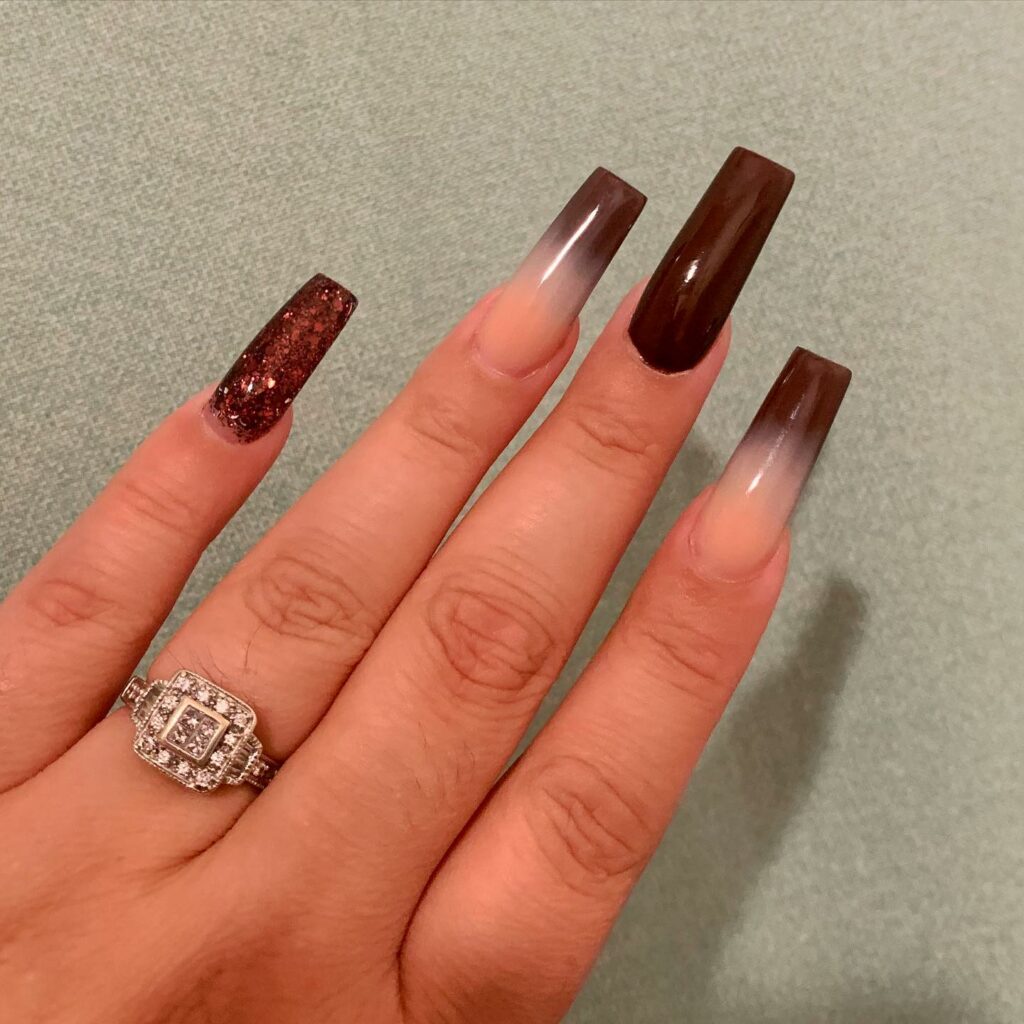 The edgy coffin shape, brown ombre, and glitter accents create a striking and glamorous look. This design is a favorite for those who want to stand out.
Light Brown And Pink Ombre Coffin Nails
The softness of pink and the earthiness of brown merge in an ombre effect on coffin nails, offering a blend of femininity and strength. This style is perfect for those who love a balance of bold and delicate in their nail art.
Ombré Brown Tips For A Subtle Transition
Ombré brown tips are all about subtlety, offering a gentle transition from natural nail color to a deeper shade of brown. It's a minimalistic yet chic option for everyday elegance.
Playful Flutter: Butterfly Accent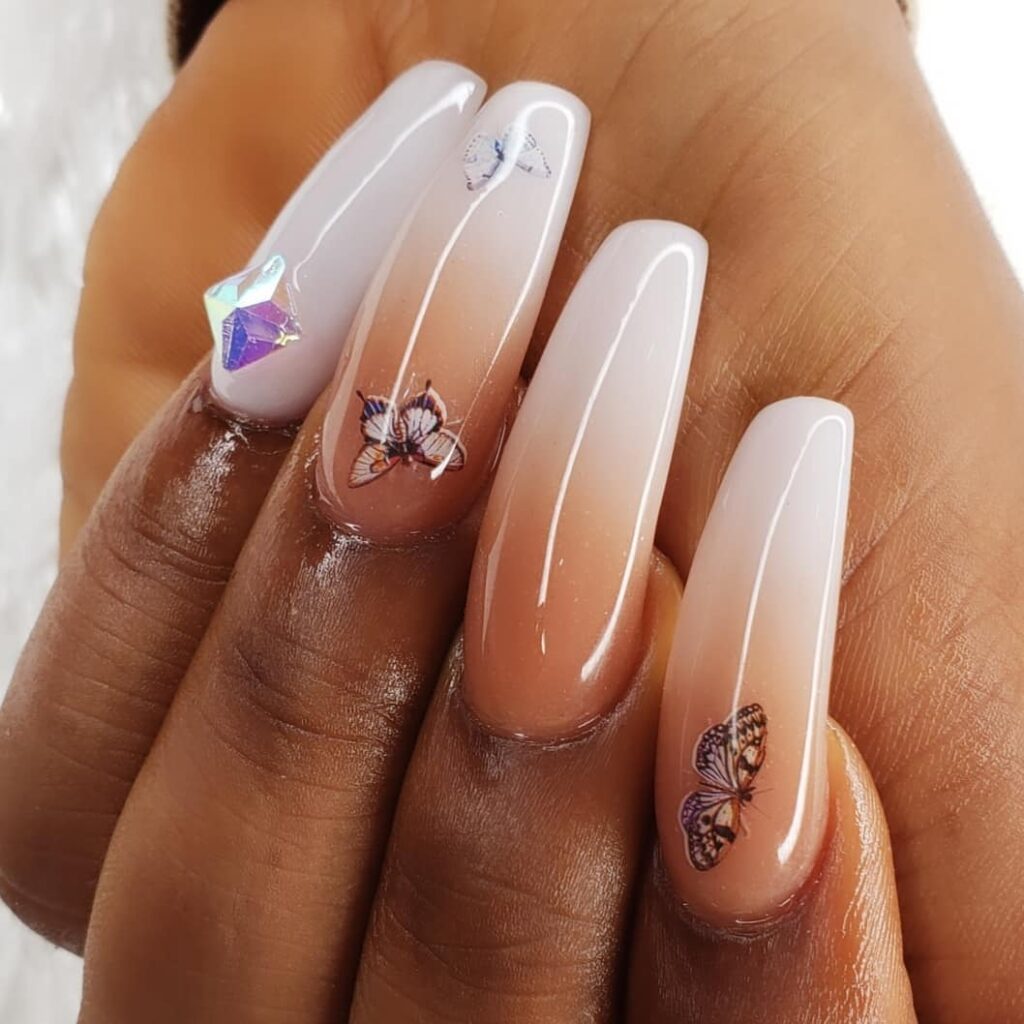 Adding a playful touch to the classic French ombré is as simple as choosing a delightful decal. I cannot forget the compliments I received when I adorned my nails with a golden butterfly sticker. It instantly upgraded my look, adding a whimsical yet sophisticated touch.
Coffin Black and Brown Ombré Nails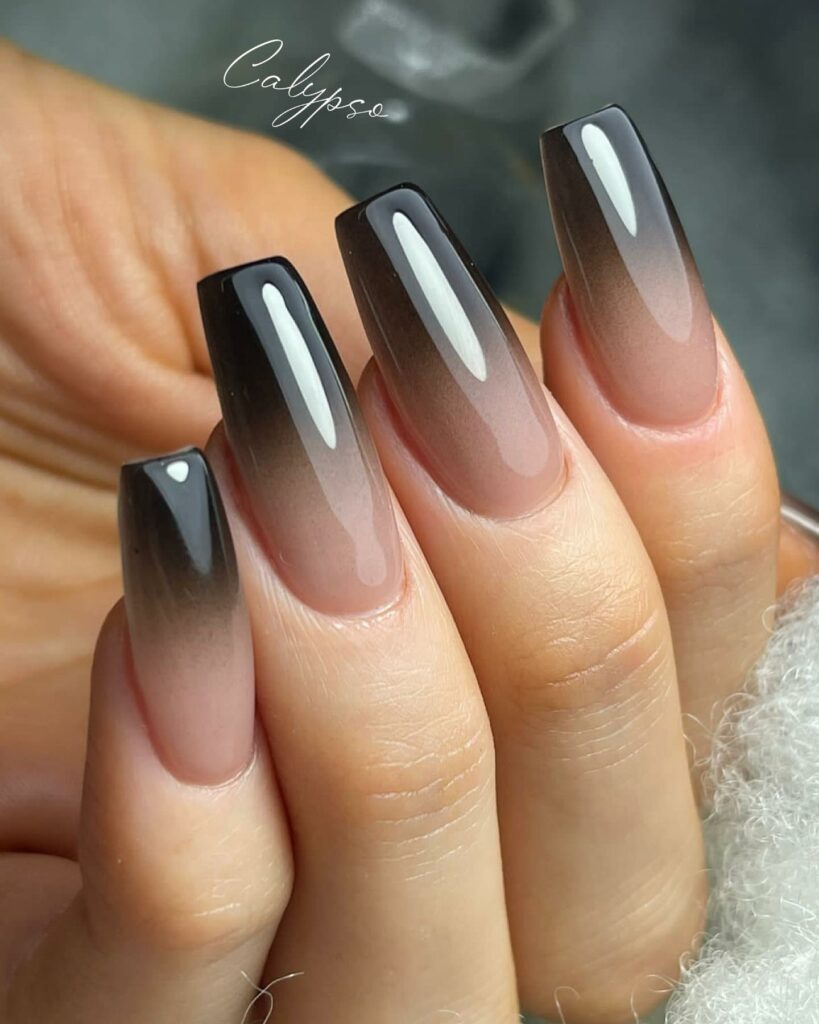 The striking coffin shape adorned with the black ombré gradient provides an edgy and sophisticated look. A design that resonates with modern nail art enthusiasts.
Series Brown Ombre Coffin French Tips Nail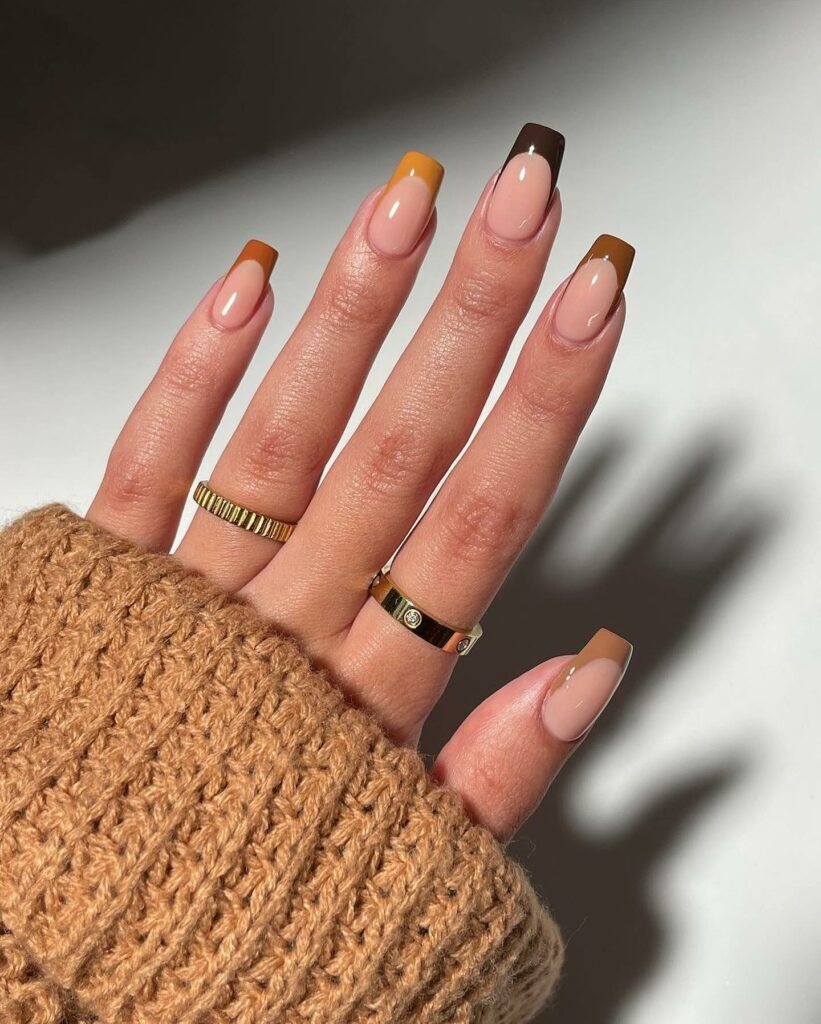 This design combines the bold shape of coffin nails with a classic French tip, using a series of brown shades for an ombre effect. It's a trendy and stylish choice for fashion-forward individuals.
Series Brown Ombre Square Nails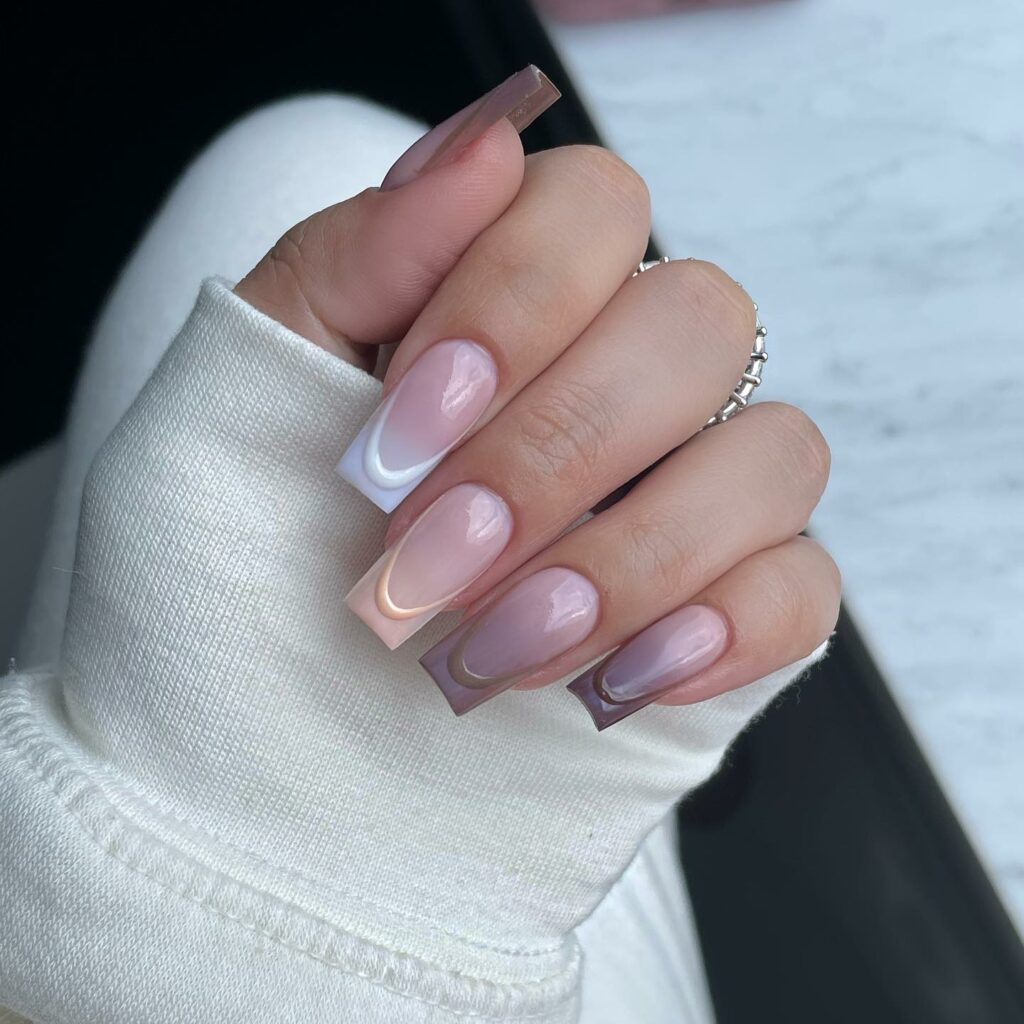 A sophisticated and versatile choice, these nails feature a series of brown tones in an ombre style on a square-shaped nail. This look suits casual and formal occasions, making it a universally appealing option.
Light Brown And Black French Ombre Nails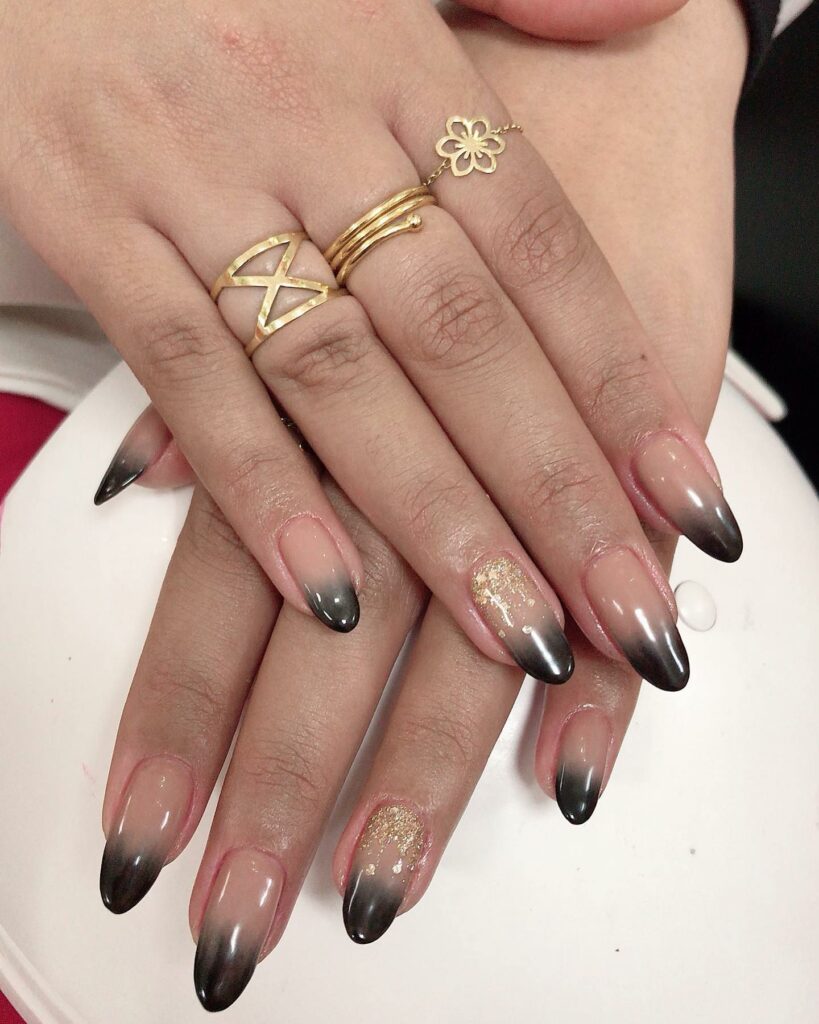 Merging light brown and black in a French ombre style, accented with gold glitter, creates a sophisticated and unique nail design. This combination is ideal for those who adore classic styles with a modern twist.
.
8Color Combinations For Brown Ombre Nails I Love
Brown and Beige: For a subtle, natural look, blending brown with beige creates a soft, seamless transition. It's perfect for a sophisticated, understated style.
Brown and Gold: Adding gold to brown ombre nails brings in a touch of luxury and glamour. This combination works great for special occasions or when you want an extra sparkle.
Brown and Pink: Combining brown with pink gives a warm, romantic vibe. The contrast between the earthy brown and soft pink creates a unique feminine appeal.
Brown and Caramel: Blending brown with caramel shades creates a rich, monochromatic look. This combination is excellent for a cohesive, elegant appearance.
Brown and Orange: Pairing brown with orange shades can be stunning for a more vibrant, autumnal feel. This combo is especially appealing in the fall season.
Brown and Blue: Mixing brown with blue offers a striking contrast. Lighter blues can create a soft, dreamy look, while darker blues can add a bold, dramatic effect.
Brown and Black: For a bold, edgy look, combine brown with black. This pairing is great for making a statement and adds a modern twist to the classic ombre.
Brown and White: Blending brown with white can create a clean, minimalist look. It's a great way to soften the boldness of brown while keeping the style chic and polished.
10 Tips To Get A Flawless Gradient For Brown Ombre Nails
Prepare Your Nails: Start with clean, shaped nails. Apply a base coat to protect your nails and create a smooth surface for the polish.
Choose Your Colors: Select the shades of brown you want to use. You can pick a light and dark brown for a classic ombre or include additional colors like beige, gold, or a contrasting color for a unique twist.
Apply a Base Color: Choose the lightest color as your base and apply it to your nails. Let it dry completely. This will be the foundation of your ombre.
Use a Makeup Sponge: Cut a small piece of a makeup sponge. This will be your tool for creating the gradient. Makeup sponges are ideal because they have a fine texture that helps blend the polish.
Apply Polish to the Sponge: Apply your chosen colors in bands on the sponge, slightly overlapping. For a two-color ombre, put the lighter color on one end and the darker one on the other.
Dab onto the Nail: Gently dab the sponge onto your nail, moving it slightly up and down to blend the colors. Don't press too hard, or you'll remove too much polish.
Repeat and Layer: It may take a few layers to get the desired opacity and gradient. Let each layer dry a bit before applying the next to avoid smudging.
Clean Up: Use a small brush dipped in nail polish remover to clean up any polish around your nails for a neat look.
Apply a Top Coat: Finish with a top coat to smooth out the texture and add a glossy shine. It also helps the ombre last longer.
Remember, practice makes perfect. Keep going even if your first try isn't flawless. With patience and experimentation, you'll master the art of the perfect brown ombre nails!
8 Best Products To Get Perfect Brown Ombre Nails
Quality Nail Polishes: Choose high-quality nail polishes in your desired shades of brown and any other colors you want to include in your ombre. Brands like OPI, Essie, and Sally Hansen are known for their rich pigmentation and smooth application.
Base Coat and Top Coat: A good base coat will protect your natural nails and help the polish adhere better. A top coat, especially a fast-drying one, will seal your design and give it a glossy, professional finish. Seche Vite and INM Out the Door are popular choices for top coats.
Makeup Sponges: The finer the pores of the makeup sponge, the smoother your ombre effect will be. Cosmetic wedges work well for this purpose.
Nail Polish Remover and Cleanup Brush: To tidy up any excess polish around your nails, keep a small brush (like a clean lip brush or a specialized nail art brush) and some nail polish remover handy. This will help in achieving a clean, professional look.
Liquid Latex or Peel-off Tape: Applying liquid latex or peel-off tape around your nails can significantly reduce cleanup time. It forms a barrier that catches any polish that strays onto your skin.
Thin Art Brushes: If you want to add details or refine the ombre effect, a set of thin nail art brushes can be beneficial.
Nail Polish Thinner: If your polishes have thickened over time, nail polish thinner can restore them to the ideal consistency for ombre blending.
LED or UV Nail Lamp: If you're using gel polishes for your ombre, a good quality LED or UV lamp is essential for curing each layer quickly and effectively.
Still Looking for Inspiration, Then Check Out This Video
Conclusion
And there you have it, the world of brown ombre nails is like opening a treasure chest of style possibilities. Whether you're drawn to the classic elegance of glossy brown ombre, the playful charm of brown and blue with glitters, or the bold statement of brown and black ombre, there's a design out there that's just perfect for you. My top tip? Don't be afraid to experiment! Mix and match shades, try different nail shapes, and add a bit of sparkle or a unique design element to make it your own. Remember, your nails are a canvas for your personal style. So, have fun with it, and let your nails reflect your fabulous self. Happy painting!
Feature Image Photo By nailzkatkat on Instagram
Last reviewed and updated on November 20, 2023