Welcome to my latest blog post, where we dive into the world of Brown Pedicures – a trend that's as grounding as stylish. If you've been wondering how to incorporate this earthy tone into your nail care routine, you're in the right place!
In this post, I'll guide you through everything you need about brown pedicures, from the best shades to complement your skin tone to the top-quality products for that perfect finish. We'll also explore creative design ideas to make your brown pedicure pop. As someone who's tried and tested numerous colors and styles, I must say brown has a unique charm. It's versatile, flattering for all skin tones, and perfect for any season. Whether you're aiming for a sleek, monochromatic look or spicing it up with some nail art, brown is surprisingly adaptable. So, grab your favorite nail polish, and let's begin this journey to mastering the art of a beautiful brown pedicure. Trust me, by the end of this post, you'll be ready to rock this chic, understated look with confidence!
Glossy Chocolate Brown Pedicure
A glossy chocolate brown pedicure exudes richness and depth, making it a luxurious choice for any occasion. Its reflective sheen adds an extra touch of elegance to your toes.
Brown And Green Combo Pedicure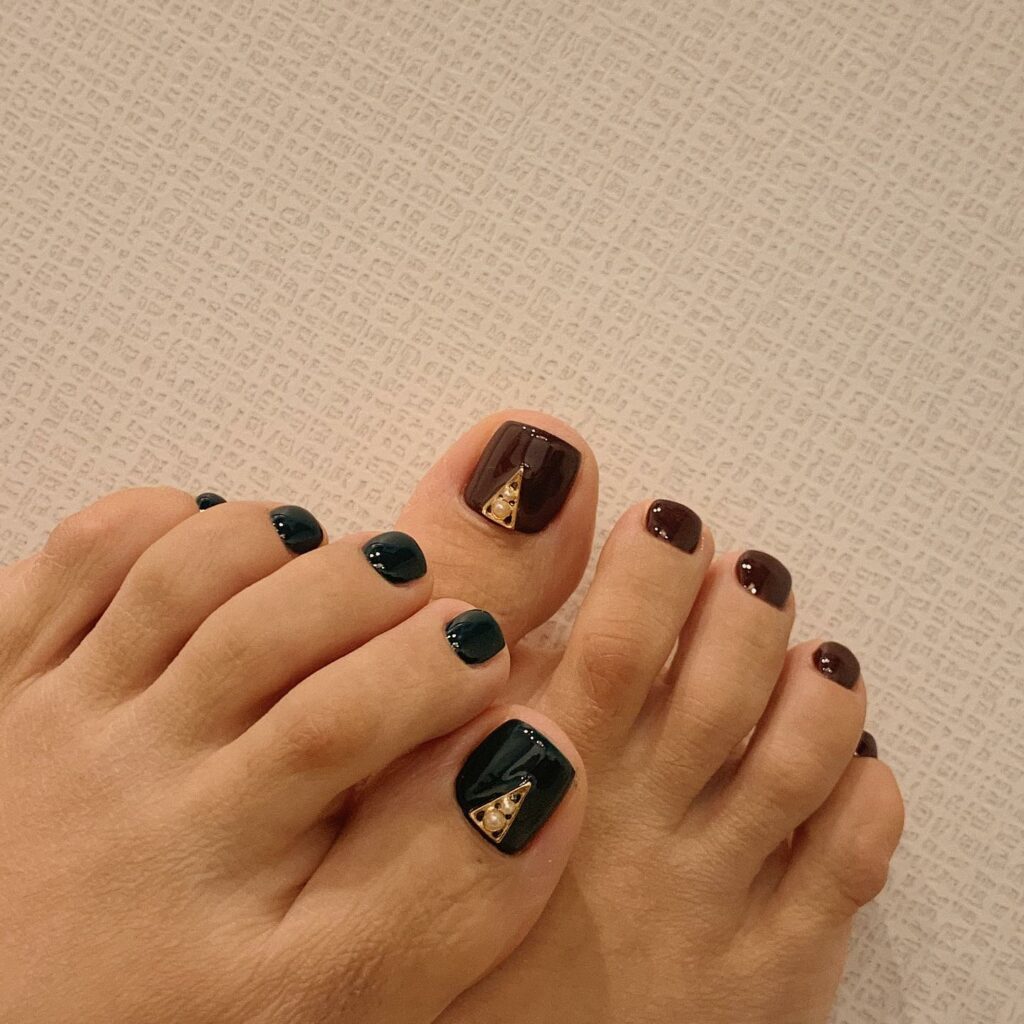 Combining brown with green in a pedicure creates a nature-inspired, grounding, and refreshing look. This earthy duo is perfect for those who love a touch of the outdoors in their style.
Brown Pedicure With Floral Design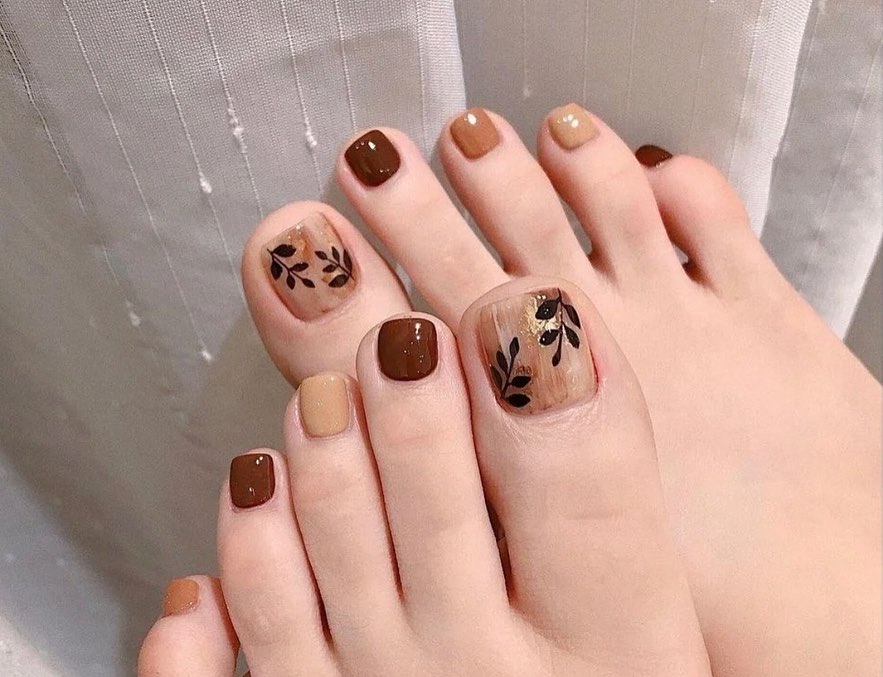 Floral designs on a brown base bring a whimsical and romantic vibe to your pedicure. It's a perfect way to add a feminine touch to the earthy, grounding tone of brown.
Brown And Glitter Ombre Pedicure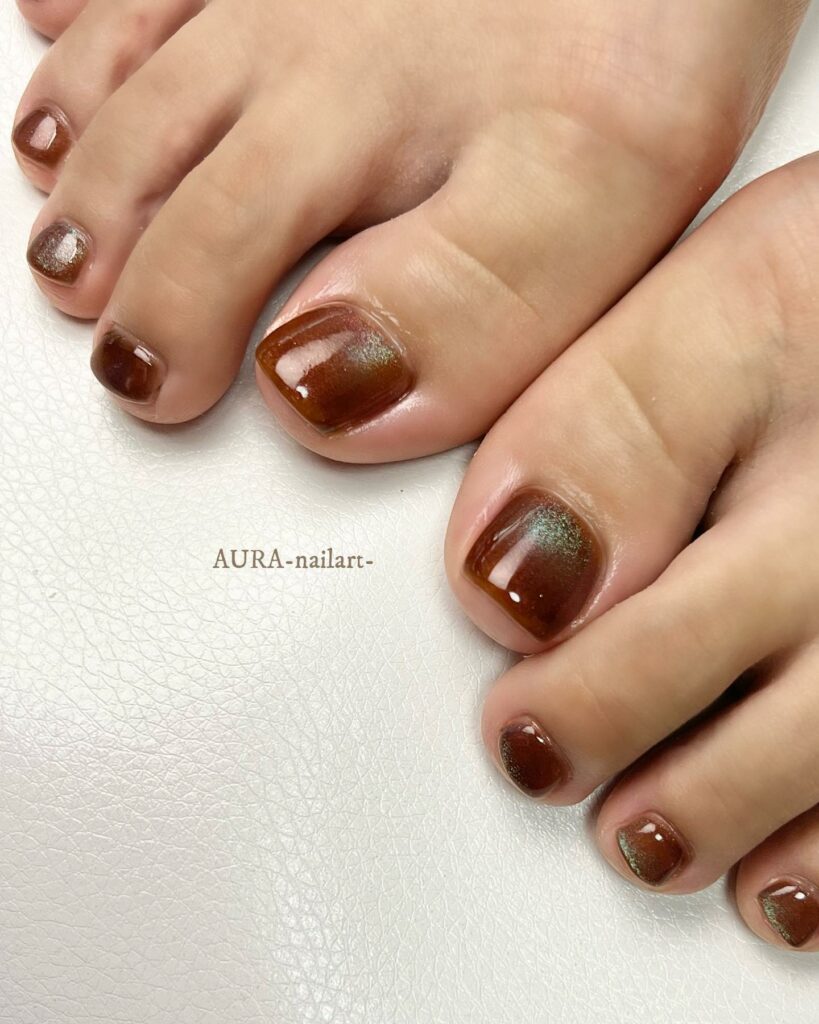 The gradient of brown to glitter in this ombre pedicure offers a glamorous twist on a classic hue. It's ideal for those who want to add sparkle to their step without going overboard.
Glossy Light Brown Pedicure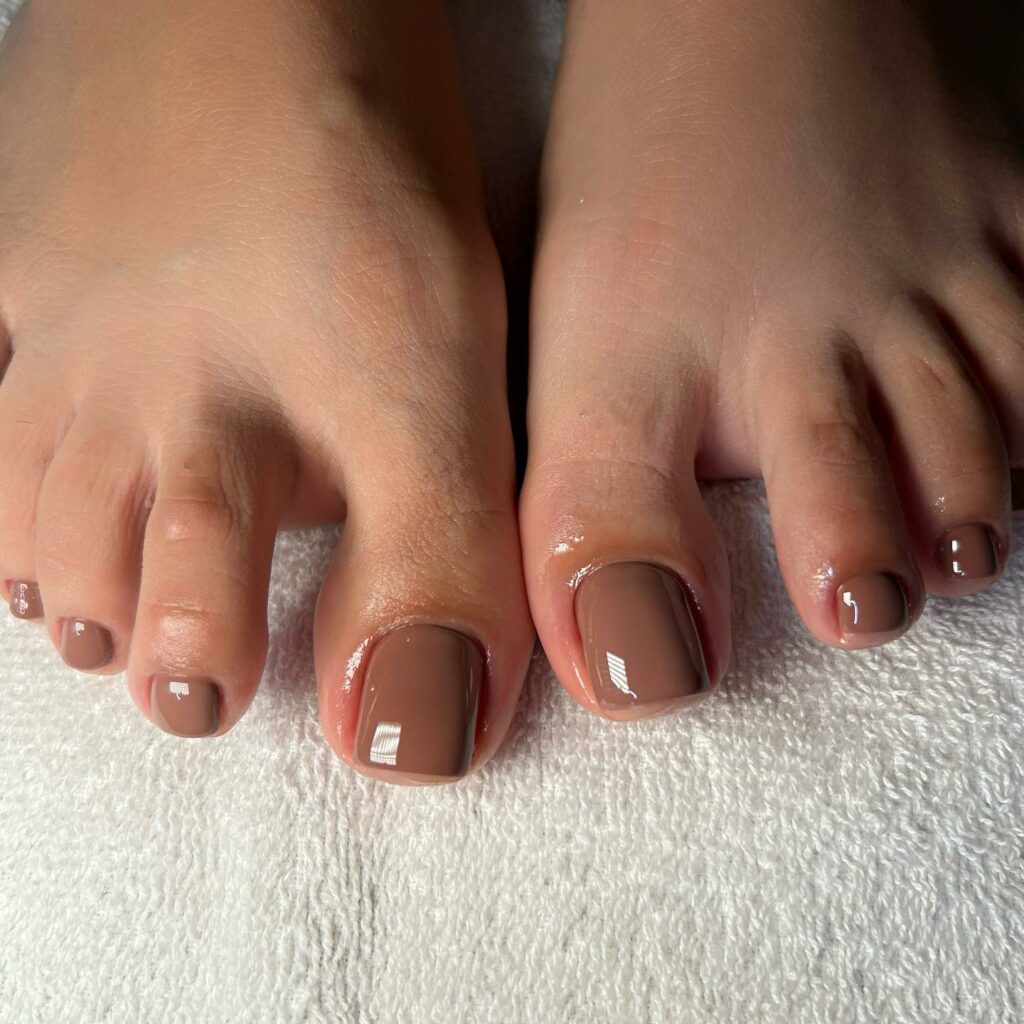 A glossy light brown pedicure is subtle yet sophisticated, offering a softer take on the brown trend. Its neutral shade makes it a versatile option that pairs well with any outfit.
Brown Pedicure With Copper Glitter
Copper glitter adds a warm, shimmery contrast to a brown pedicure, perfect for those who love a bit of glitz. This combination is incredibly stunning under the sunlight or evening lights.
Brown Series Ombre Pedicure With Glitter
This pedicure style features a seamless ombre transition through various shades of brown, culminating in a glittery finish. It's a statement-making choice for those who adore intricate nail art.
Brown French Pedicure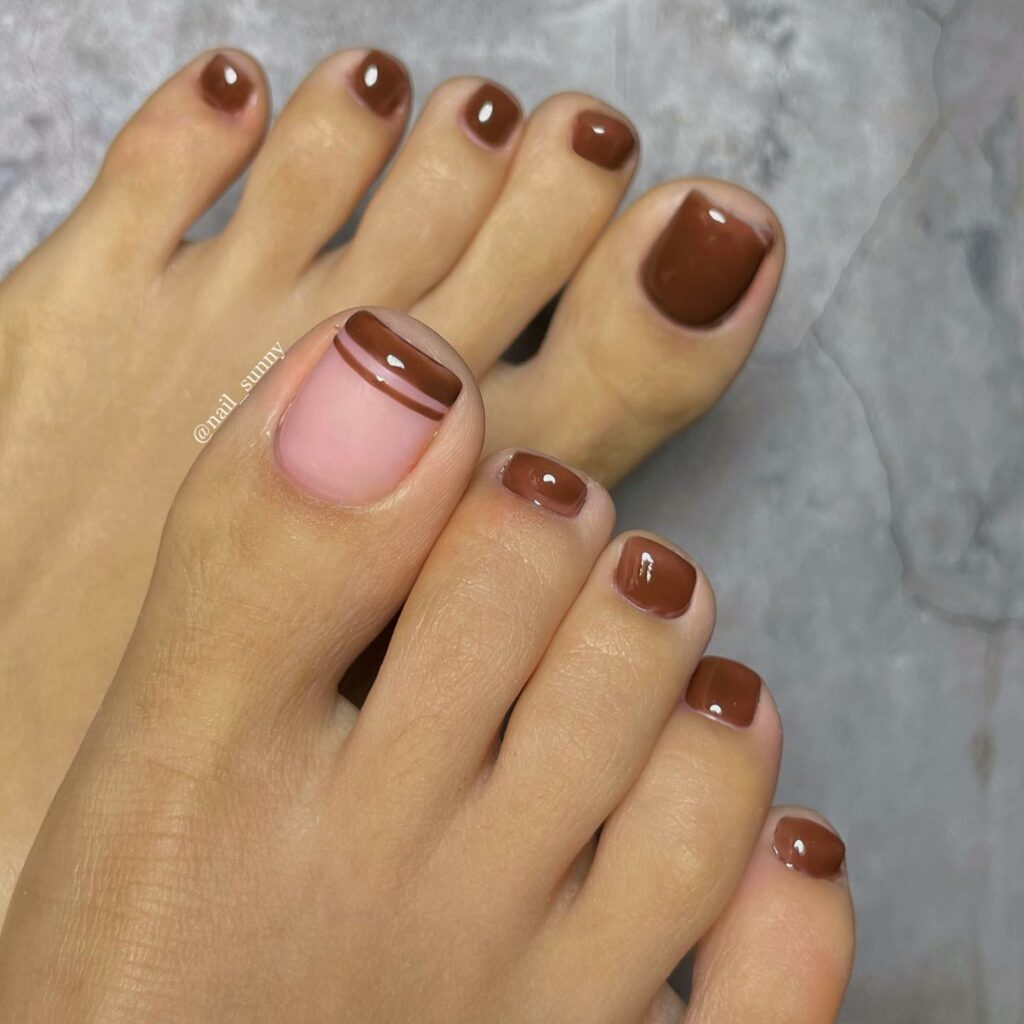 A brown French pedicure offers a unique twist on the classic French tip, blending sophistication with a modern edge. It's an understated yet chic choice for any occasion.
Brown Pedicure With Silver Glitter And Heart Design
Mixing brown with silver glitter and adorable heart designs creates a playful yet elegant pedicure. It's a charming option for those who love to express their personality through their nails.
Creamy Brown Pedicure With Glitters
The creamy brown hue, combined with glitters, gives your pedicure a luxurious and rich texture. It's perfect for adding a touch of glamour to a cozy, warm color.
Metallic Brown Pedicure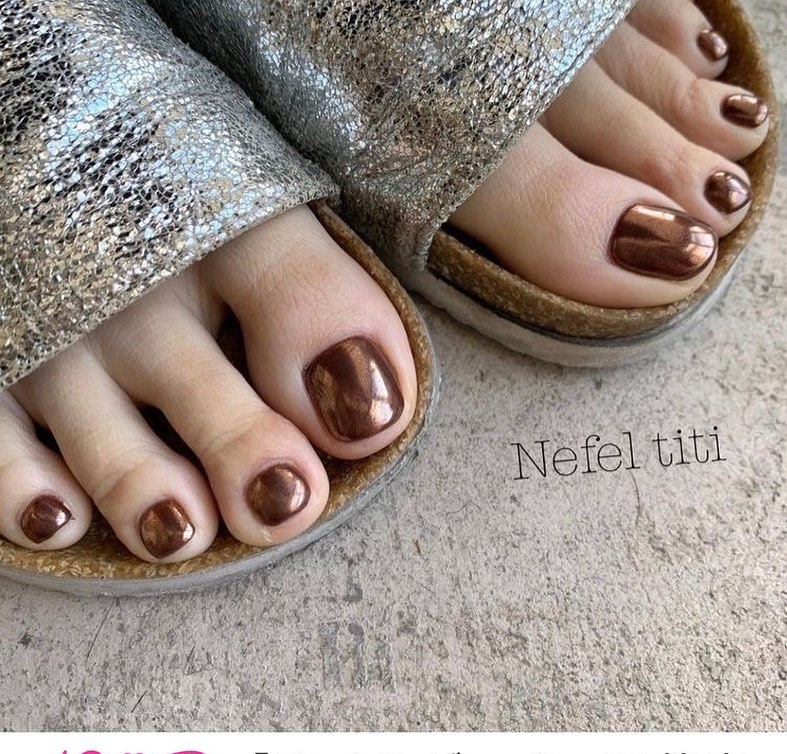 A metallic brown pedicure stands out with its shimmering finish, offering a bold and contemporary look. This style is ideal for those who want to make a fashion statement with their feet.
Brown Pedicure With Pink Swirl Design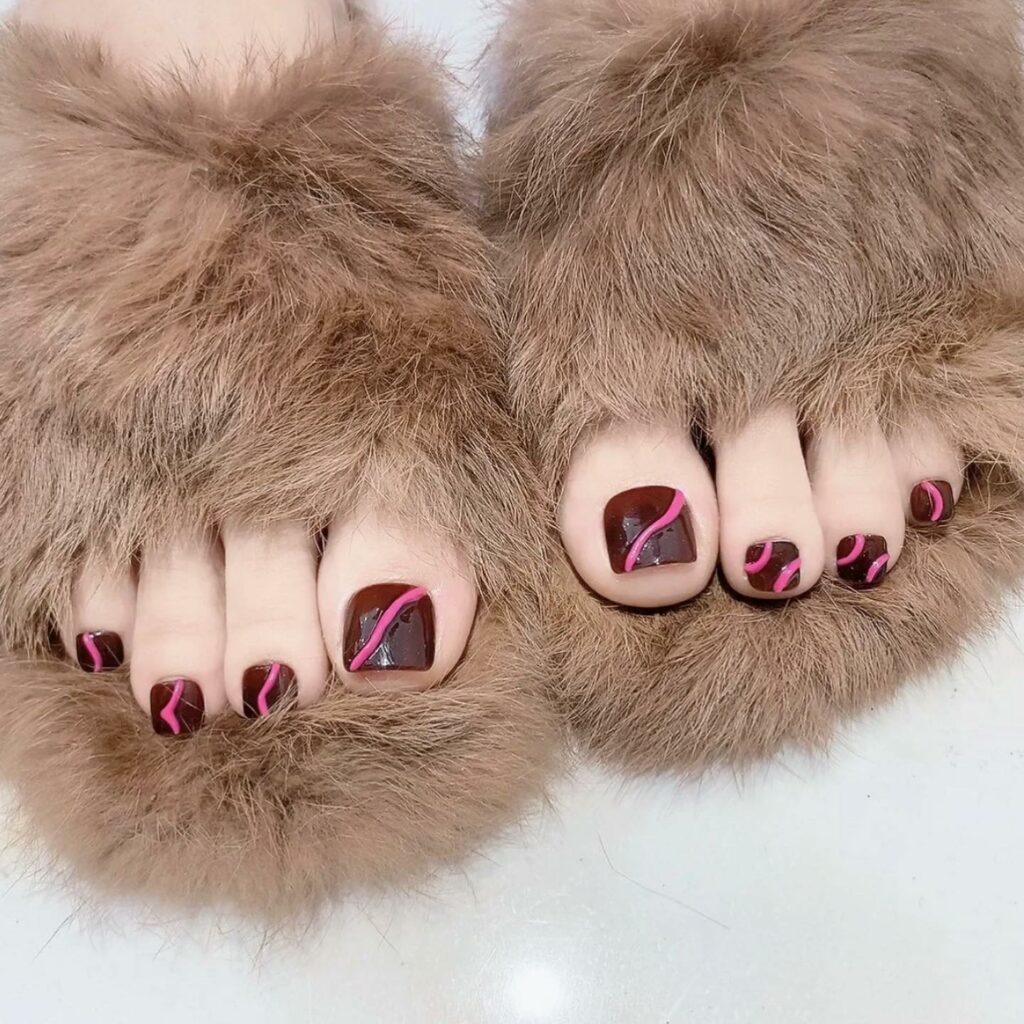 Integrating pink swirls into a brown pedicure adds a playful and artistic flair. It's a delightful way to infuse color and fun into a classic brown base.
Brown Pedicure With Animal Pattern Design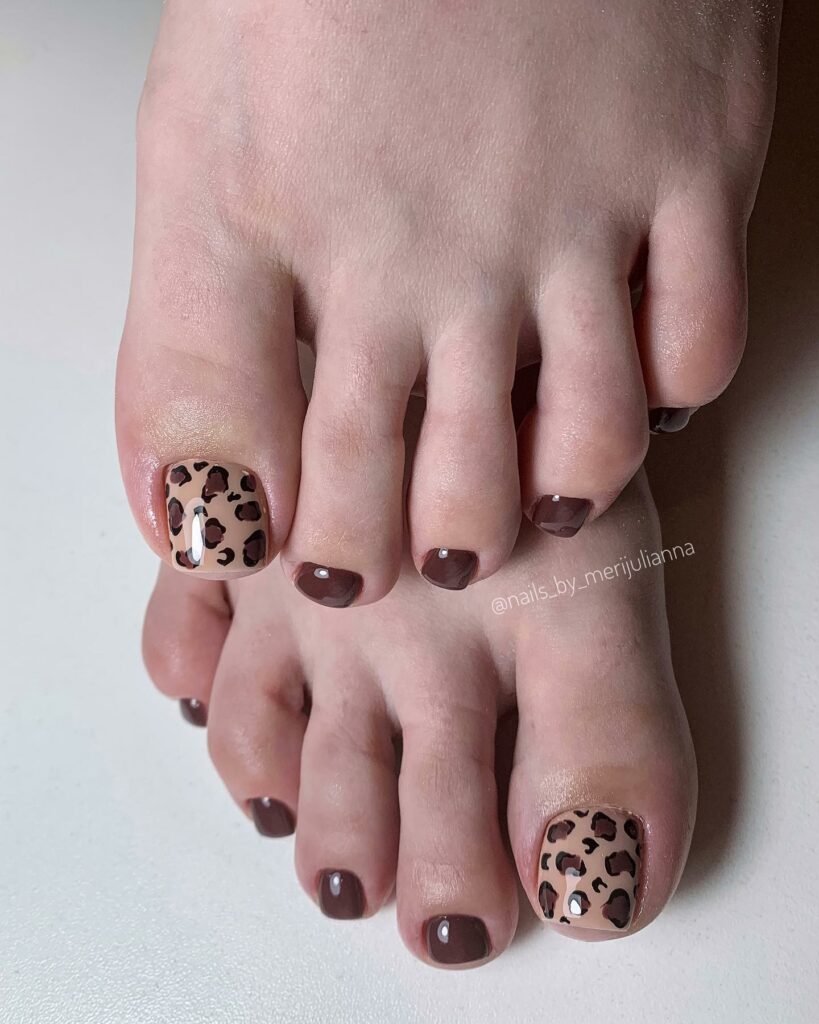 Adding animal patterns to a brown pedicure brings a wild and adventurous feel to your nail style. This design is perfect for those who want to make a bold, fashion-forward statement with their feet.
Glossy Brown Pedicure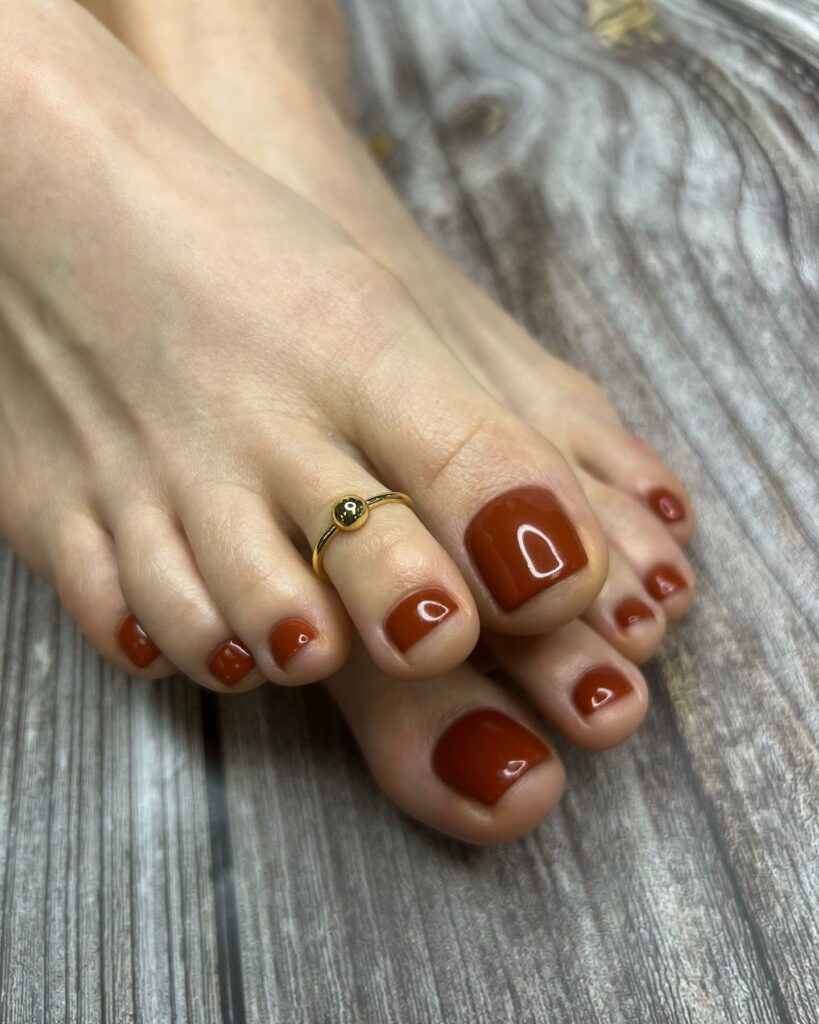 The glossy finish on a brown pedicure enhances the depth and richness of the color, making it a classic and elegant choice. It's a versatile style that works well for casual and formal occasions.
Matte Dark Brown Pedicure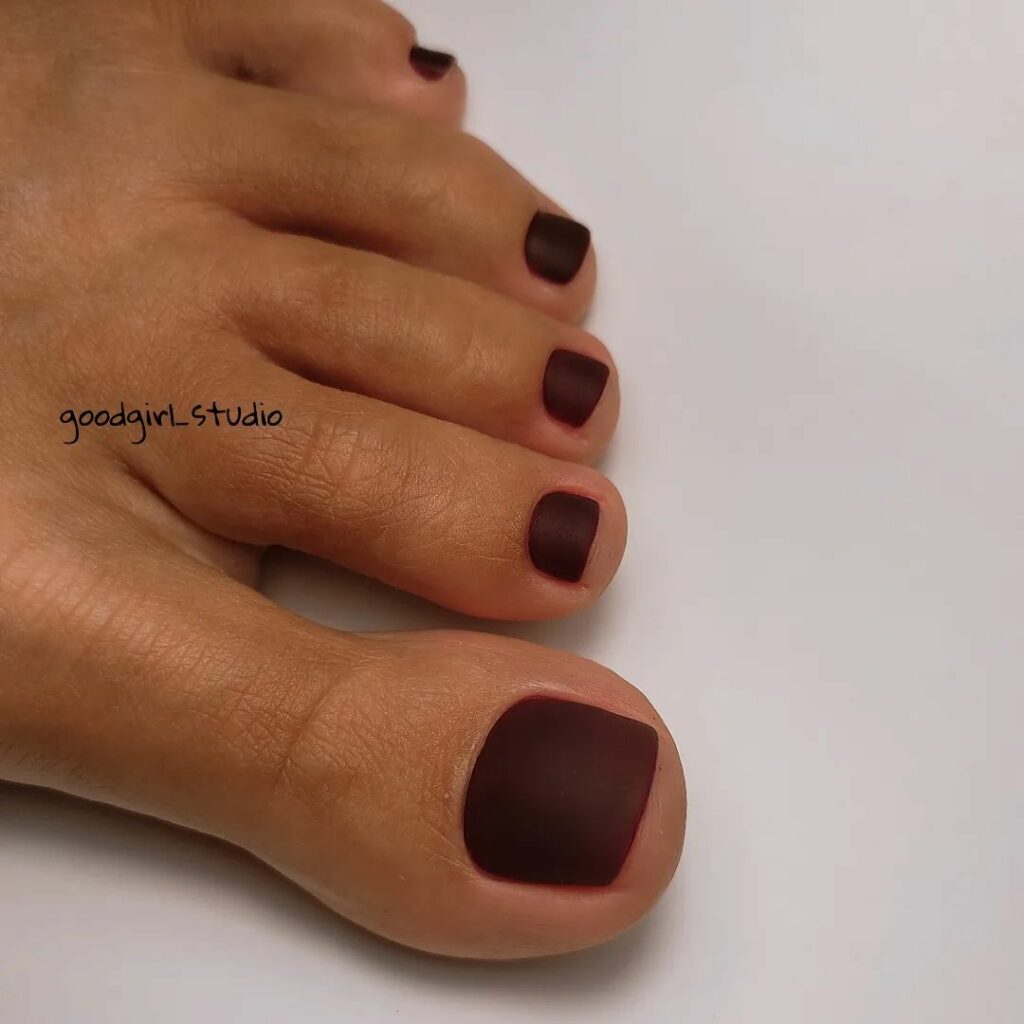 A matte dark brown pedicure offers a modern, edgy take on the traditional brown, providing a solid and understated elegance. This style particularly appeals to those who prefer a chic, non-glossy finish.
Chocolate Brown Pedicure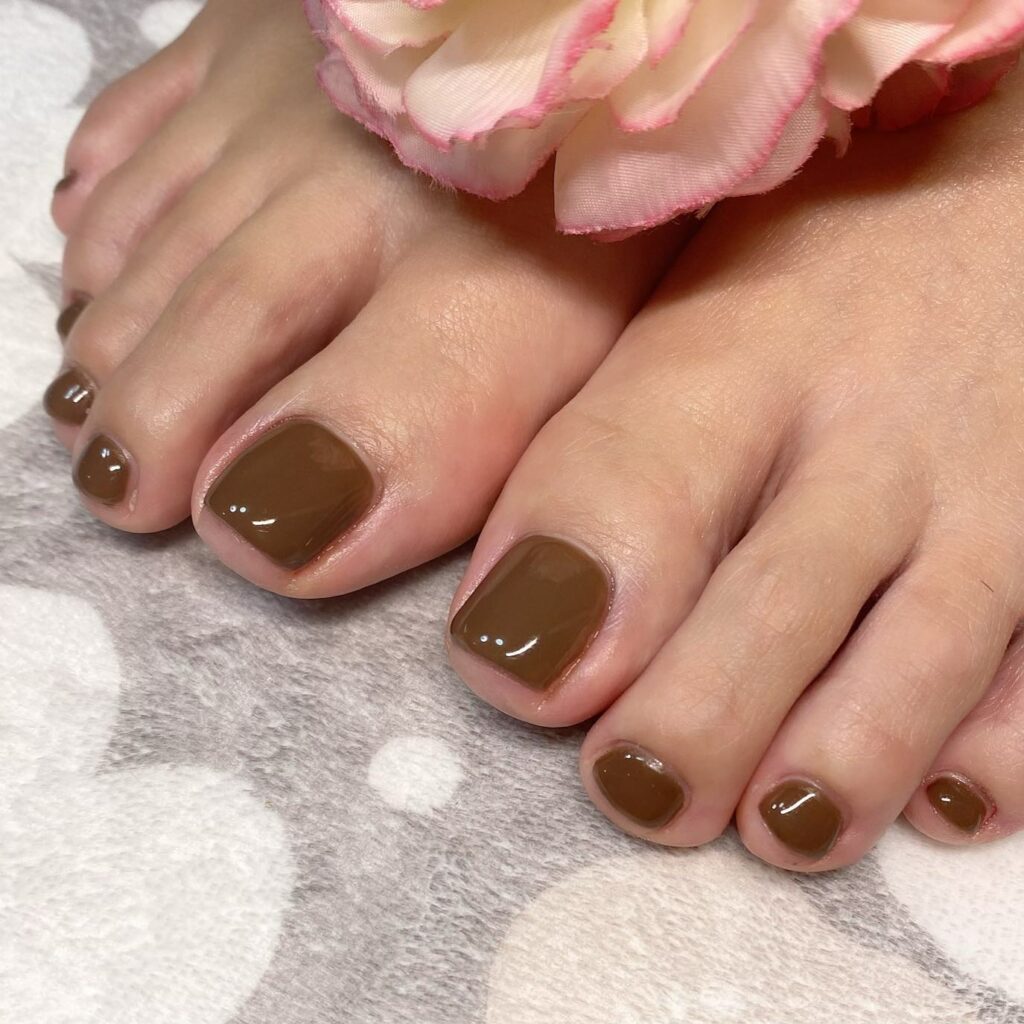 The deep, inviting shade of chocolate brown in a pedicure is warm and comforting. It's a timeless choice that brings a sense of luxury and indulgence to your nail care routine.
Matte Brown Pedicure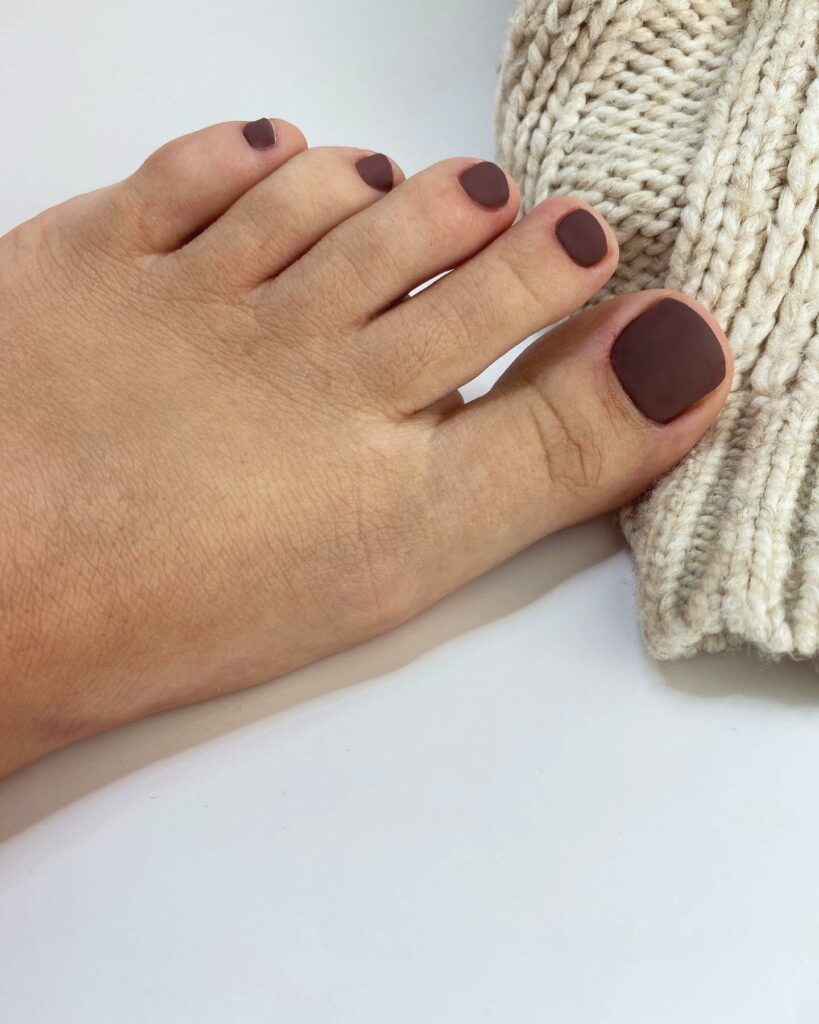 The matte finish on a brown pedicure provides a contemporary and sophisticated look, making it an excellent choice for everyday elegance. Its subdued sheen is perfect for those who love a more natural, understated style.
Brown Red Pedicure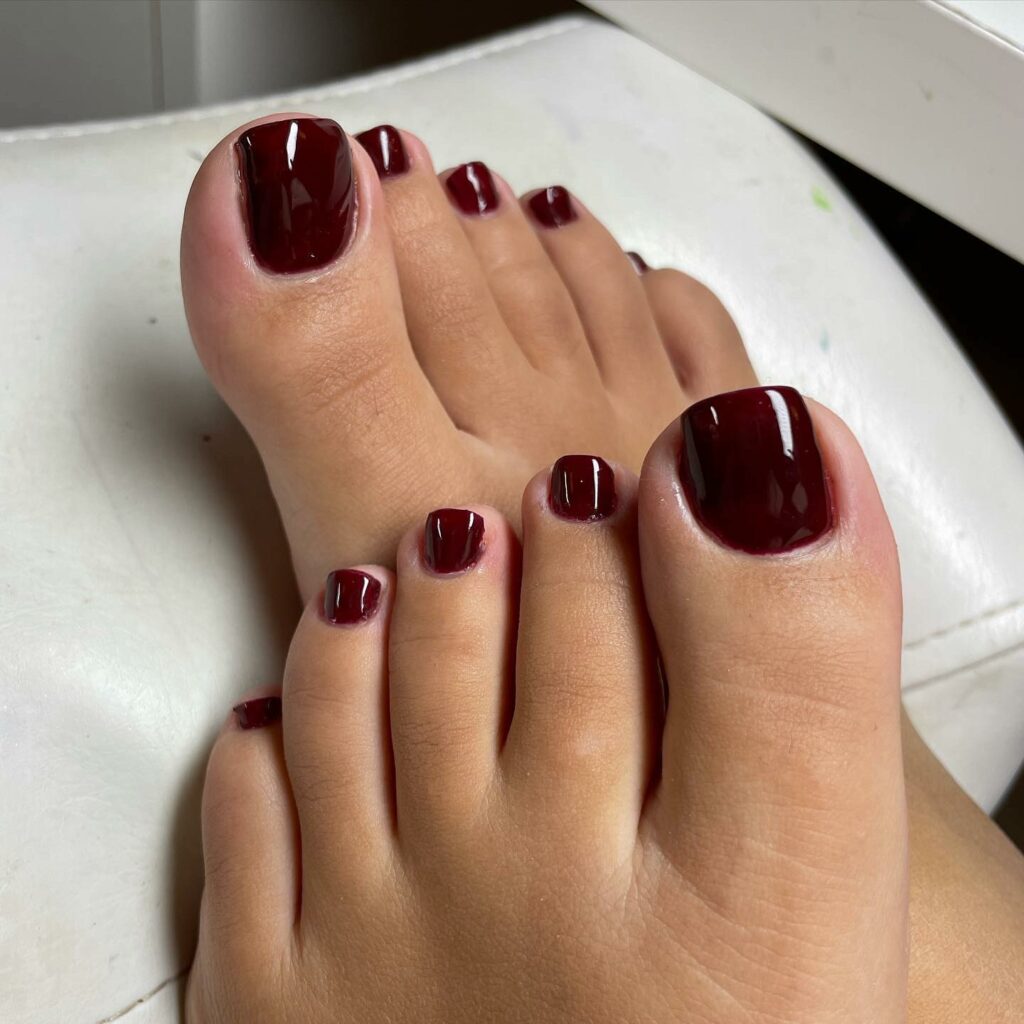 A brown-red pedicure blends the warmth of brown with the vibrancy of red, creating a rich, deep hue that's captivating and stylish. It's a beautiful option for those looking to add a bit of warmth and depth to their pedicure palette.
Brown Square Pedicure
Brown square pedicures, with their straight edges and clean lines, offer a modern twist on traditional nail shapes. This style is perfect for those who prefer a neat, geometric look with a touch of classic brown elegance.
Glossy Brown Pedicure With Glitter
A glossy brown pedicure adorned with glitter combines sophistication with a touch of glamour. It's an ideal choice for evening events or whenever you want to add a bit of sparkle to your look.
My Advice To Match Nail Polish With Your Skin Tone
Fair Skin Tones: Lighter, softer browns like taupe or a sandy beige can look stunning. These shades don't overpower the skin but add a subtle warmth. For a bolder contrast, a rich chocolate brown can also be striking.
Medium Skin Tones: Medium skin tones can pull off a wide range of brown shades. Caramel or honey-tinted browns are incredibly flattering, offering a natural, sun-kissed look. For something more dramatic, a deep walnut shade can be stunning.
Olive Skin Tones: Olive skin tones can really shine with warmer brown shades. Think along the lines of amber or golden brown, which can enhance the skin's natural undertones. A glossy bronze-brown can also be exceptionally flattering.
Dark Skin Tones: Darker skin tones can beautifully carry off bold and rich browns. Deep espresso, warm mahogany, or a glossy chocolate brown can create a sophisticated and elegant look. Metallic browns with a hint of copper or bronze can also add an exciting pop.
Deep Skin Tones: For deep skin tones, the wealthiest shades of brown, like dark chocolate or coffee tones, are incredibly complementary. These shades create a beautiful harmony with the skin, while a matte dark brown can add a contemporary twist. Remember, these are just guidelines. The beauty of brown pedicures is their versatility, and the best shade is the one that makes you feel fabulous! Feel free to experiment and find the shade you love most.
6 Tips I Recommend For The Perfect Brown Pedicure
Nail Polish: Opt for high-quality nail polishes with good pigmentation and long-lasting wear. Some reputable brands that often feature beautiful brown shades include OPI, Essie, and Sally Hansen. Look for their collections for a range of brown hues, from light tans to deep chocolates.
Base Coat: A good base coat protects your nails and ensures the polish adheres well. Brands like Seche Vite and CND Stickey Base Coat are highly recommended for their durability and smooth application.
Top Coat: A top-quality top coat is essential to seal in your color and add that glossy (or matte) finish. Seche Vite Dry Fast Top Coat and Essie Gel Setter Top Coat are favorites among many for their quick-drying formulas and long-lasting shine.
Nail and Cuticle Oil: Keeping your cuticles and the skin around your nails moisturized is critical to a polished look. Products like CND SolarOil Nail & Cuticle Care and OPI ProSpa Nail & Cuticle Oil are great for nourishment and hydration.
Foot Cream: Remember the importance of soft, smooth feet for pedicures. A rich foot cream like Burt's Bees Coconut Foot Cream or Eucerin Advanced Repair Foot Cream can deeply moisturize and prep your feet for a pedicure.
Nail Tools: Investing in good quality nail tools, like a sturdy nail file, a good pair of clippers, and a gentle pumice stone for dead skin removal, can make a huge difference. Tweezerman and Revlon offer reliable tools to help you shape and prep your nails perfectly.
Still Looking for Inspiration, Then Check Out This Video
Conclusion
And there you have it, folks! Exploring the world of brown pedicures has been a delightful journey. From the elegance of glossy finishes to the edgy chic of matte styles and the playful creativity of animal patterns and glittery touches, there's a brown pedicure for everyone. My top tip? Don't avoid experimenting with different shades and designs – brown is incredibly versatile and can be tailored to your style. And remember, the key to a great pedicure is not just the color but also taking care of your feet. So, pamper those toes, choose a shade that makes you smile, and step out in confidence. Whether rocking chocolate brown at a fancy event or sporting a matte brown for your everyday look, enjoy the compliments that will surely come your way! Keep it fun, keep it stylish, and most importantly, keep it uniquely you.
Feature Image Photo By nail_home_geo on Instagram
Last reviewed and updated on November 21, 2023