Today, we're diving into the world of Cherry Nail Pedicures, the fruity, fabulous trend that's sweeping the pedi-sphere. From cherry-red hues to actual cherry designs, this post is your one-stop guide to getting those toes Instagram-ready. Whether you're a DIY diva or a salon superstar, these looks can work for you. I'll break down the best shades, the basic steps to nail that cherry design, and the top-coat tricks for unbeatable shine and longevity. My personal fave? Cherry nail art on a nude base. It's like the little black dress of pedicures—timeless, yet spicy! Let's get those toes twinkling, shall we?
Cherry Nail Art Pedicure
Want to add a little zest to your pedi game? Cherry Nail Art is where it's at. Think luscious reds and vibrant greens that give your toes a pop-art touch. This style is perfect for anyone looking to move beyond the classic solid colors; it screams summer and fun while keeping it classy.
Cherry Colored Pedicure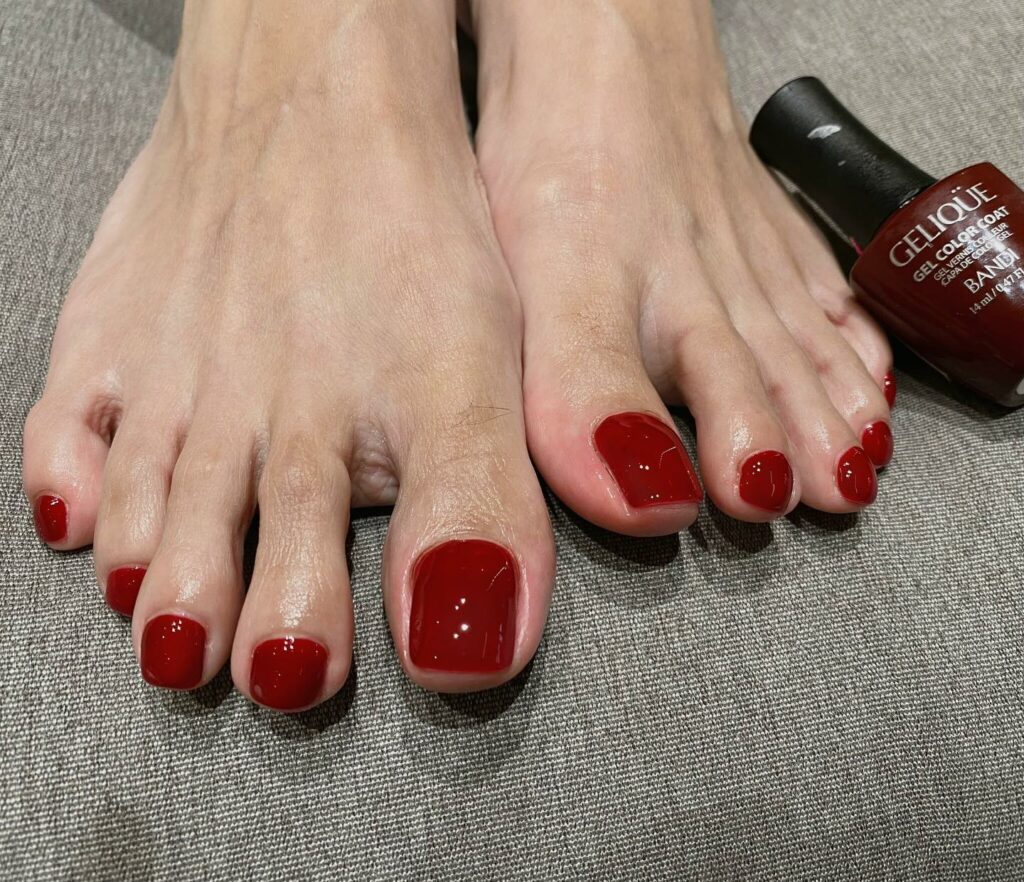 If you're a fan of keeping it monochrome but crave something with a twist, a cherry-colored pedicure should be on your radar. The rich, deep red is seductive and sophisticated, transitioning well from day to night. A cherry red pedicure is a solid choice if you want to stay within traditional bounds but still make a statement.
Cherry Design On Toe Nail
You don't have to go all out to make a splash; sometimes, a small, detailed cherry design on just one or two toenails can do the trick. It's subtle but playful, leaving room for creativity without overwhelming your pedicure.
Cherry Design On French Tips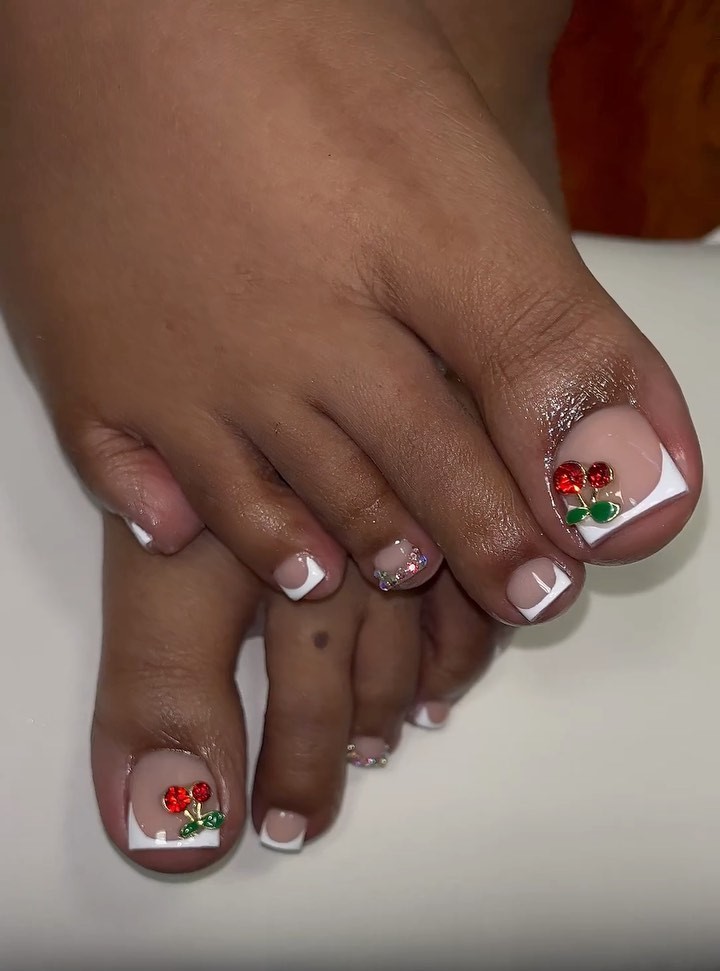 Elegant with a twist—literally! Adding a cherry design to your French tips gives an unexpected flair to a classic look. It's an ideal option for those who love the French pedicure but want to customize it.
Multiple Cherry Nail Art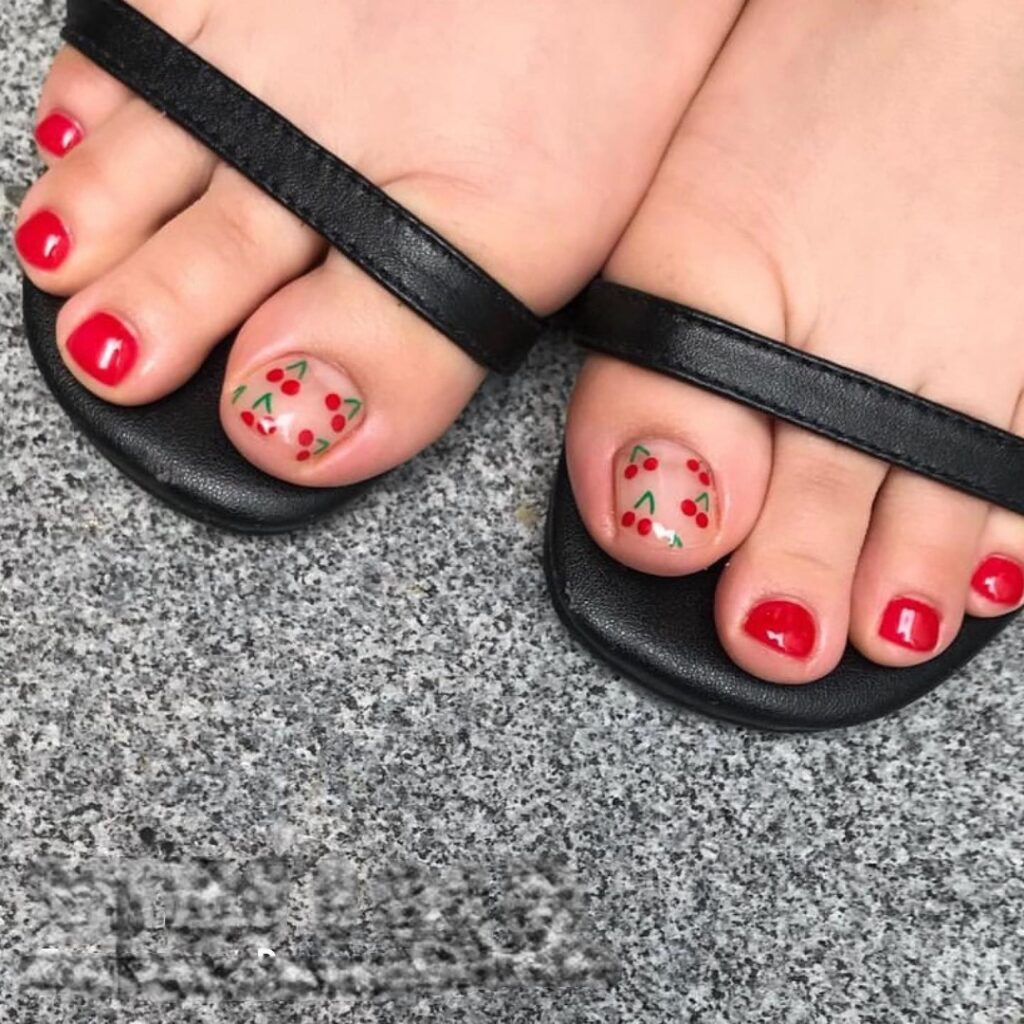 Why settle for one when you can have a whole bunch? Multiple cherry designs scattered across your toenails make for an incredibly engaging and playful look. It's like a fruit salad but for your feet.
Huge Cherry Nail Art Design
Go big or go home, right? A large cherry design covering most of your toenails is bold and attention-grabbing. Ideal for those who want their pedicure to be the life of the party.
Cherry Nail Art On Red French Tips
Mixing two classics to create something extraordinary: red French tips with cherry designs. Your nails are ready for a formal soirée and a fun night out.
Cherry And Dice Nail Art
Up the ante with a mix of cherries and dice for a quirky, game-night vibe. This combo adds a layer of whimsy, perfect for the adventurous.
Cherry On Horn Like French Tip
If edgy is your middle name, why not try a horn-like French tip adorned with a cherry? It's like a cherry on top but with an extra serving of boldness.
Cherry Nail Art On White And Green Pedicure
A white and green base with cherry designs can be refreshingly stylish if you feel the spring vibes. It's a garden party at your feet!
Cherry Nail Art On White Base Color
For a minimalist yet engaging look, a white base color provides the perfect canvas for your cherry art. It's understated but still packs a punch.
Huge Single Cherry On Big Toe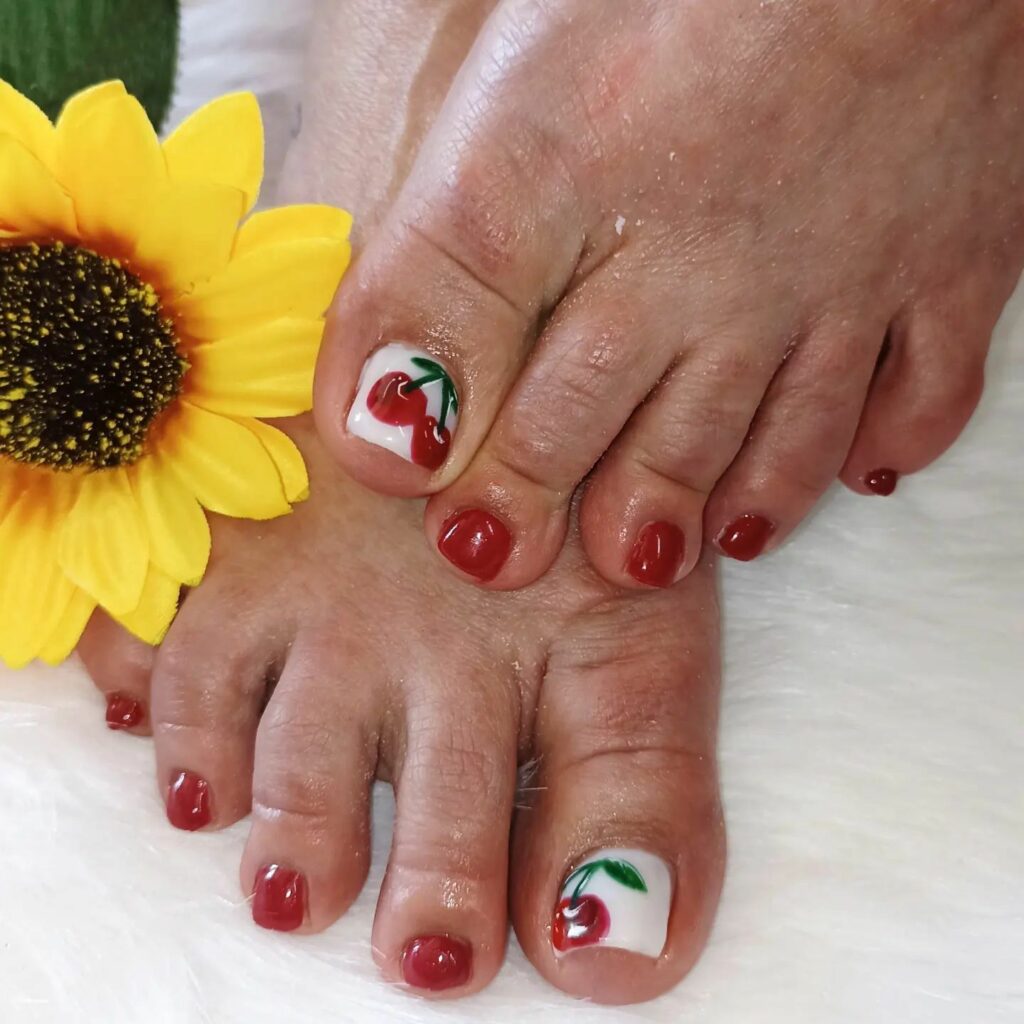 Sometimes, less is more. A single, oversized cherry design on your big toe can serve as a focal point that ties together an otherwise simple pedicure.
Cute Cherry Nail Art On Pastel Colored Pedicure
Pastel colors offer a soft, whimsical background that can make your cherry art stand out even more. It's youthful, fresh, and utterly adorable.
Dark Cherry Colored Pedicure
Looking for that luxurious vibe? A dark cherry-colored pedicure is sultry, sophisticated, and simply divine. The deep, rich tones are a stunning choice for evening wear but can also add an unexpected dash of elegance to your casual looks.
Cherry Nail Art On Nude Color Pedicure
When you want something delicate yet eye-catching, cherry nail art on a nude base is perfect. The nude color offers a subtle backdrop that makes the cherry designs pop, giving you a clean yet vibrant look.
Cherry Like Color Pedicure
Not quite cherry, but close enough—this color option gives you the essence of cherry without going full-on. It's a great choice if you want a more toned-down look but want to nod toward the cherry theme.
Cherry And Grapes Nail Art
Combine the sweetness of cherries and grapes in one unique design. This fruit medley offers a burst of color and creativity, perfect for those who love a pedicure that's a full-on conversation starter.
Impressive Cherry Nail Art With A Bird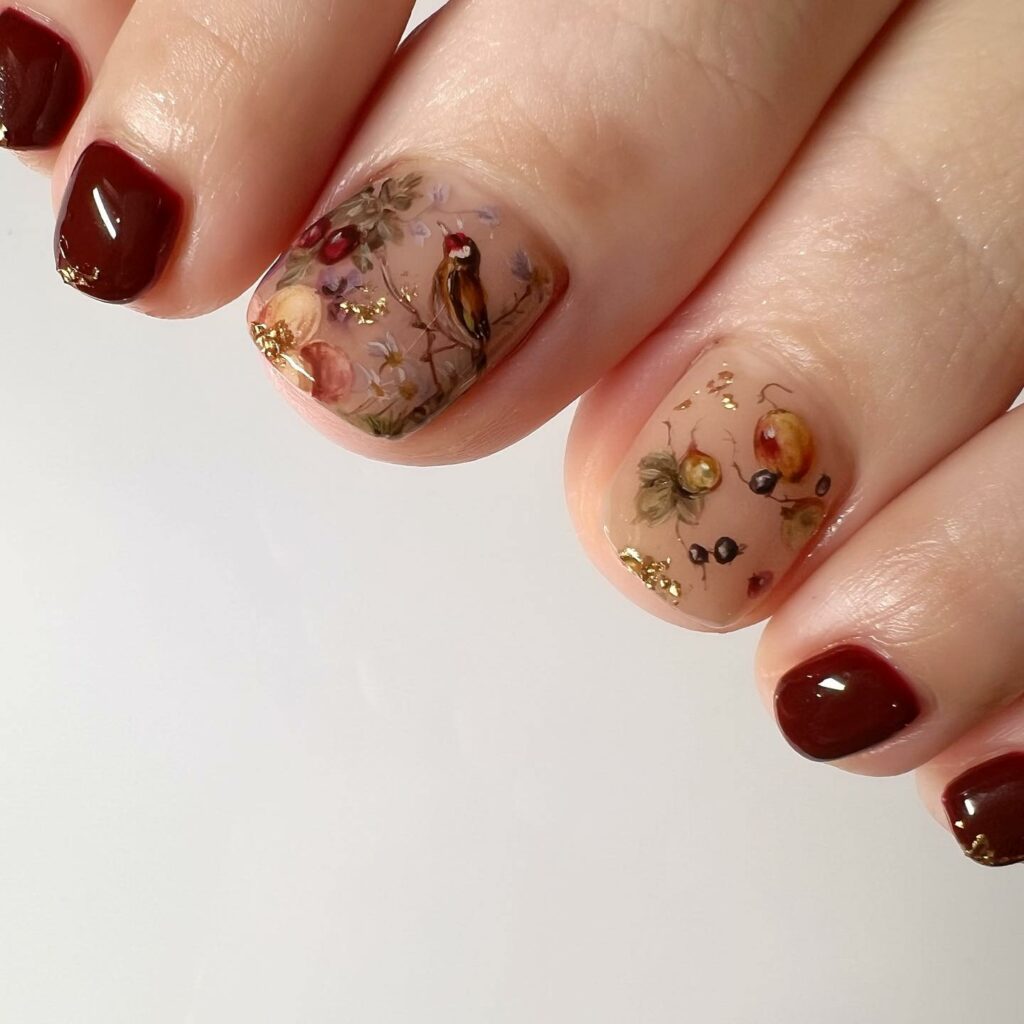 Turn your toes into a small art canvas by combining a cherry design with a bird. It's an unexpected pairing that will get some "oohs" and "aahs," adding an artistic touch to your pedicure game.
Fruits Nail Art Design
Why limit yourself to cherries when the whole fruit bowl is available? A fruit nail art design can include everything from cherries and grapes to lemons and strawberries, making your toes a colorful fruit salad!
Cherry Red Pedicure
You can always go right with a classic cherry red pedicure to keep it straightforward yet impactful. It's timeless, universal, and has a way of making you feel effortlessly chic.
Large Cherry Nail Art On Big Toe
Command attention with a single, large cherry design on your big toe. It's a playful yet straightforward way to make a statement without overwhelming your entire pedicure.
3D Cherry Nail Art
Take your cherry theme to the next dimension—literally! 3D cherry nail art gives a tactile and visual depth you won't get from a flat design. It's a unique way to catch the eye and keep it there.
Cherries On White Color Base Pedicure
White is a fantastic canvas for almost any nail art, and cherries are no exception. The bold red and green hues stand out incredibly well against the white, making each toe a masterpiece.
Amazing Nail Art Design
Go all out with a pedicure that mixes different elements of art, patterns, and color. When you want to impact significantly, break the norms and let your creativity run wild.
Multiple Cherries On Big Toe
Double, triple, or even quadruple the cherries on your big toe for a fun and unique look. It's a great way to draw attention to your pedicure while simplifying the rest of your toes.
My Go-To Products For Longevity And Shine
When it comes to making your pedicure last and keeping that shine on point, there are a few go-to products that I absolutely swear by:
Base Coat: Start with a high-quality base coat like OPI's Natural Nail Base Coat or Essie's Here To Stay Base Coat. These products prep your nails for polish, helping them adhere better and last longer.
Long-lasting Nail Polish: Choose a durable nail polish known for its longevity. Brands like Zoya, OPI, and Essie have some incredible long-wearing formulas. When going for vivid colors like cherry red, you want something that will withstand time without fading.
Fast-Drying Top Coat: Seche Vite's or Sally Hansen's Insta-Dri Top Coat is fantastic for sealing your nail art and giving your pedicure a glossy finish. These top coats dry quickly, so you can get on with your day and help your pedicure stay chip-free longer.
Cuticle Oil: Remember to underestimate the power of a good cuticle oil like CND's SolarOil or OPI's ProSpa Nail & Cuticle Oil. A hydrated cuticle supports healthier nails, making your pedicure look fresher for a longer time.
Acetone-Free Polish Remover: Use an acetone-free nail polish remover for any touch-ups or mistakes. It's less harsh on your nails and surrounding skin. Ella+Mila's Soy Nail Polish Remover is a good one to consider.
Foot Cream: A good foot cream can keep your feet looking and feeling great, making that pedicure pop. I like L'Occitane's Shea Butter Foot Cream for intense hydration.
Remember, quality products may seem like a splurge, but they pay off in the longevity and look of your pedicure. So go ahead, treat those toes to the best!
Conclusion
And there you have it, my fabulous readers! Whether you're vibing with a classic cherry red, want to dabble in 3D art, or are feeling adventurous with a fruit bowl of designs, the cherry theme is your playground. My pro-tip? Always invest in a quality top coat to seal in your art and add that gorgeous, glossy finish. For the bold patterns like 3D or multiple fruits, consult a nail tech if you're not super confident in your DIY skills—some things are worth the extra pampering! Remember, your toes are like mini canvases, so let your creativity run wild and have fun with it. Until next time, keep those toes pretty and your spirits high!
Feature Image Photo By 0202._.0202 on Instagram
Last reviewed and updated on October 16, 2023