Hey there! Let's talk about the Chrome French Manicure — it's like giving your nails a ticket to the future while keeping a hand in the timeless elegance of the past. We're not just sprucing up the classic look; we're completely flipping it on its head. Today, I'm going to walk you through the coolest twists on this stylish trend that combines the neat finesse of the French tip with the edgy sheen of chrome. Whether it's for a casual hangout or the biggest event of the year, there's a chrome twist for you.
I'll share with you how this twist on a traditional look can fit seamlessly into your life, and trust me, it's not as intimidating as it sounds. We'll cover everything from the background of the French manicure to how the modern chrome effect can amp up its cool factor. If you're here to find some fresh nail inspo or just to brush up on your nail know-how, I've got your back. We'll dive into choosing the right shade, getting that mirror-like finish, and keeping your nails looking fresh for as long as possible. So, let's get our nails done in a way that's truly reflective of your style — literally. Ready to get that sleek, shiny edge? Let's jump in!
Chrome French Nails Adorned with Pearls
Uniting the incredible sheen of silver chrome with delicate pearls, these French nails blend sophistication and delicacy. They're ideal for events where elegance is the centerpiece.
Chrome Glitter French Manicure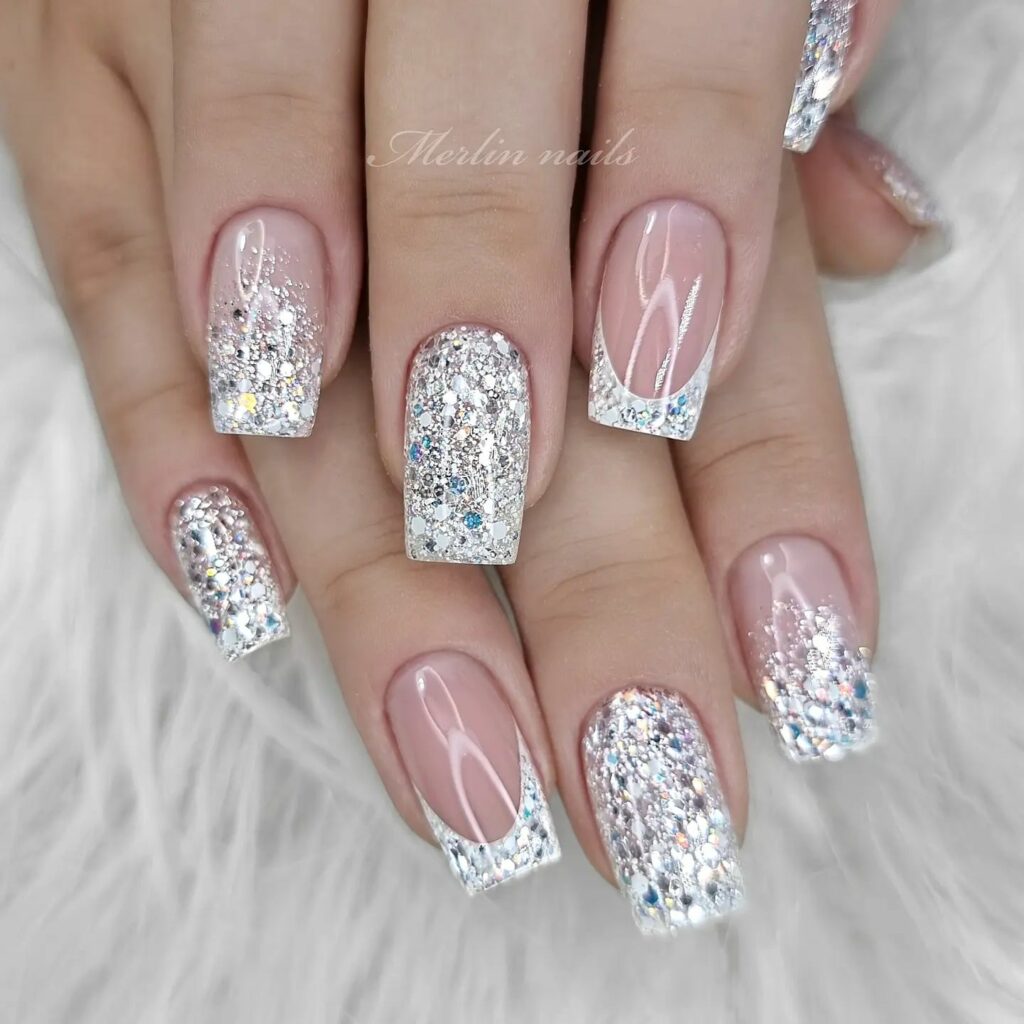 Marrying the elegance of a French manicure with the frosty allure of white glitter. This look radiates a wintry sophistication suitable for any chic event.
Chrome Flames on Almond Nails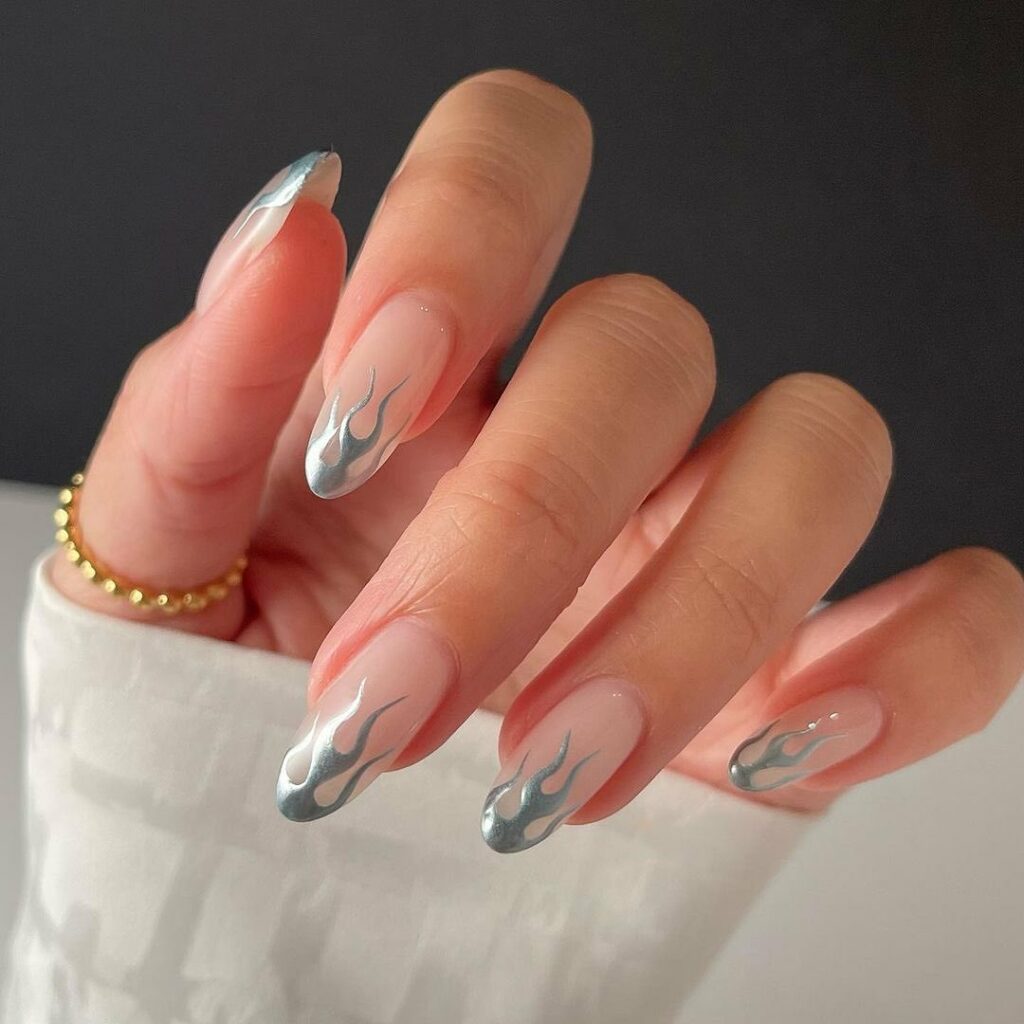 Paint bold, upward-facing flames using silver against a black or dark blue background. It's an edgy, high-impact look I've sported on nights out when I want my nails to stand out.
Subtle Chrome & Lilac French Nails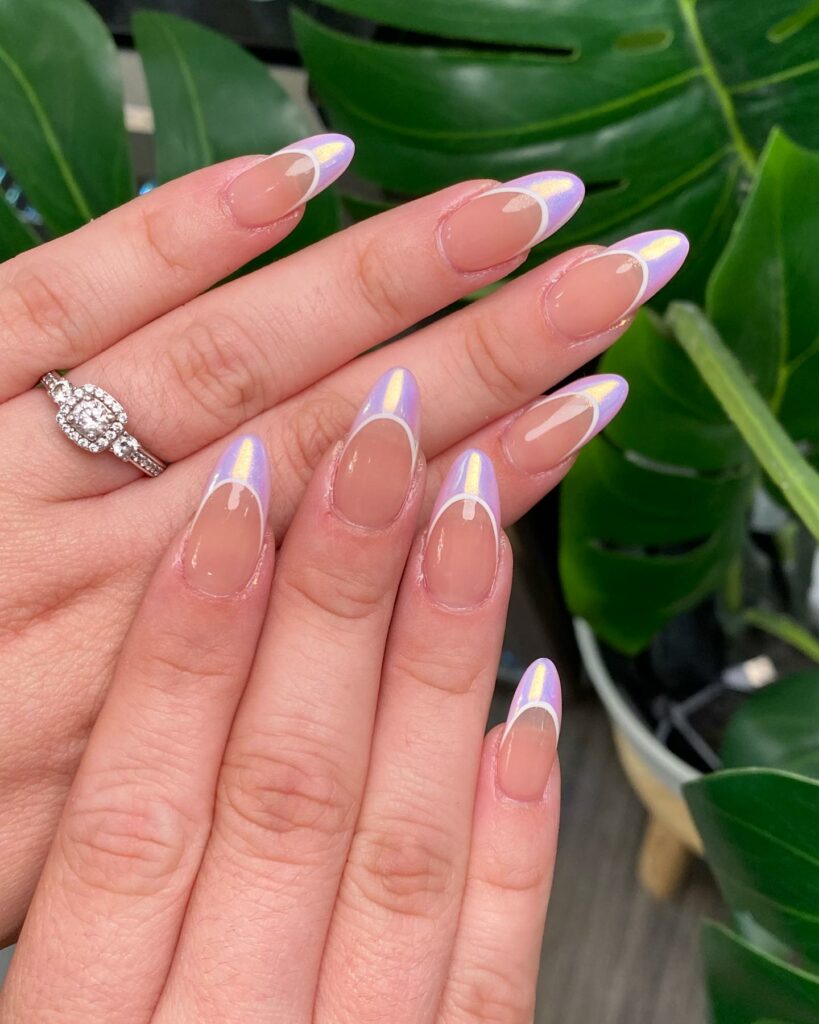 Subtly catching the light, these nails bring a fresh, iridescent spin to the traditional French manicure. The touch of holographic chrome elevates the design, offering a perfect balance between classic elegance and contemporary charm.
Square Up: Chrome French Nails With Glitter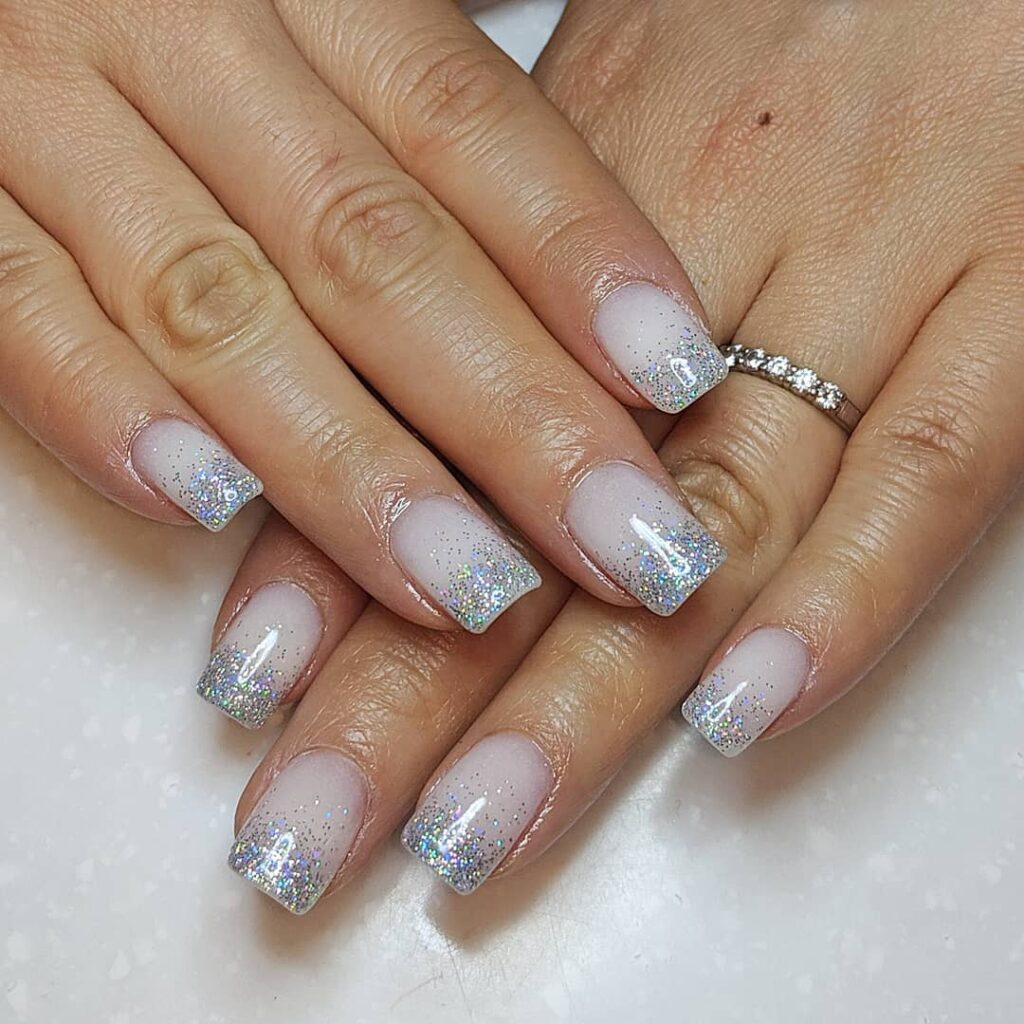 Whoever said square nails can't do glitter was seriously mistaken. Silver tips paired with a nude base are elegant, and those dark dots along the cuticle add the perfect twist. It's so versatile that you can rock this look from brunch to a date night.
Iridescent Chrome French Nails
Emanate royal vibes with this deep purple hue, seamlessly merging luxury with the timeless appeal of chrome. A shade that evokes mystery and luxury.
Neon Chrome French Nails
Bold, vibrant, and unapologetic, neon chrome French nails are for those who love to be in the limelight. This lively design is a showstopper, ensuring you won't go unnoticed.
Pearlescent Green Chrome French Tip Nails
Hey, trendsetters! Let's talk about a total eye-catcher manicure: the trippy French manicure with holographic tips. I couldn't take my eyes off them when I saw a friend sporting this style at an art gallery opening. Camera flashes or sunlight, it doesn't matter—these nails are in a league of their own. They make such a statement that you'll want to keep your hands up all day to catch glimpses of the holographic magic.
Purple Chrome French Nails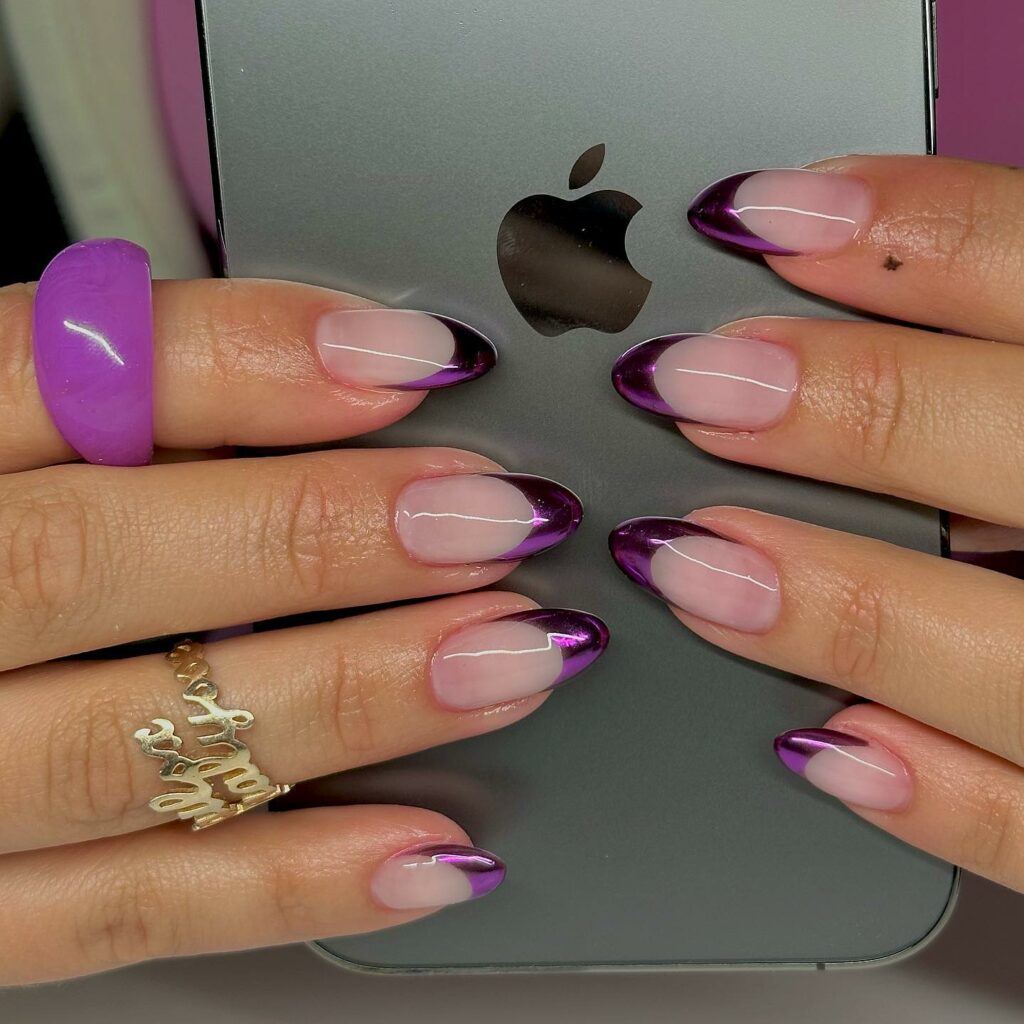 Elegantly drenched in a subtle shade of lavender, these chrome French nails embody a serene and dreamy aesthetic. Their glossy finish reflects light in the most enchanting way, making them a go-to for those who adore gentle hues.
Hot Pink Chrome French Nails
Radiating a bold and electrifying charm, the hot pink chrome French nails are unapologetically vibrant. They're perfect for individuals looking to make a confident statement while adding a pop of color to their ensemble.
Gold Chrome French Nails
Capturing the timeless beauty of gold, these chrome French nails are the epitome of luxury and elegance. Their lustrous sheen draws attention, ensuring a regal and sophisticated look.
Blue and White Chrome French Nails
Marrying the serenity of blue with the purity of white, this chrome French nail design is reminiscent of cloud-kissed skies. It is a harmonious blend for those who seek balance and beauty.
High Gloss Chrome French Manicure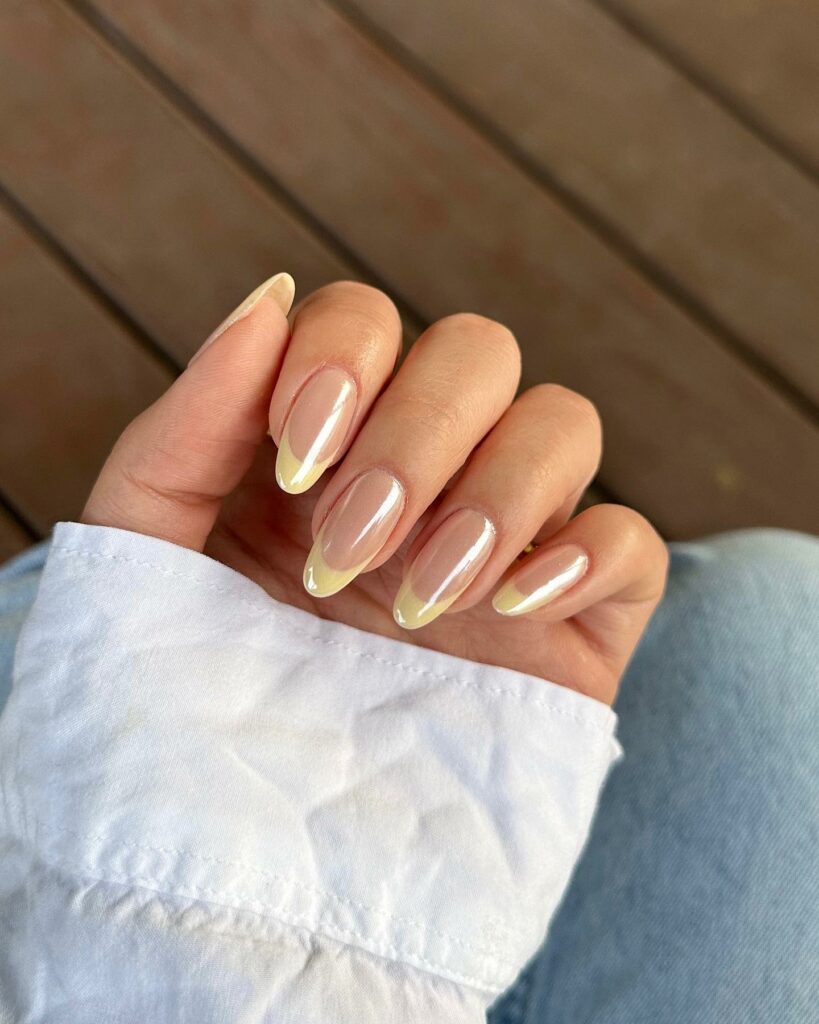 Old habits die hard, and giving up the classic French mani feels almost sinful if you're like me. But who says you can't innovate? You've got yourself a modern classic that feels fresh and fabulous.
Chrome French Nails With A Twist
Offering a magical display of shifting colors, the holographic chrome French nails are nothing short of mesmerizing. Their multifaceted hue captures the light, creating a surreal and captivating appearance.
Pink Short Nails With Sparkly Chrome Tips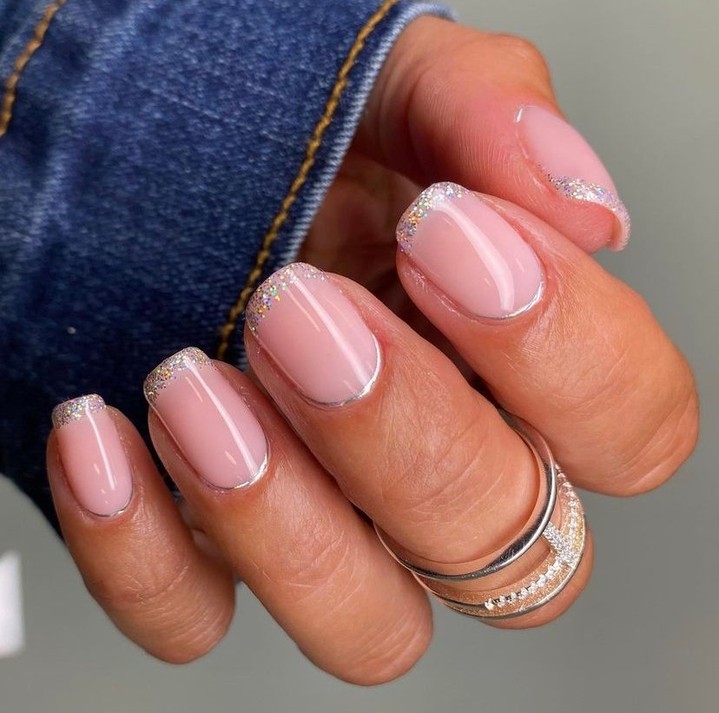 If you like the short and sweet look, these glossy pink nails with rose gold glitter tips are calling your name. It's a simple ombre effect that takes zero time but looks like a million bucks.
Sleek & Unique: Outline French Manicure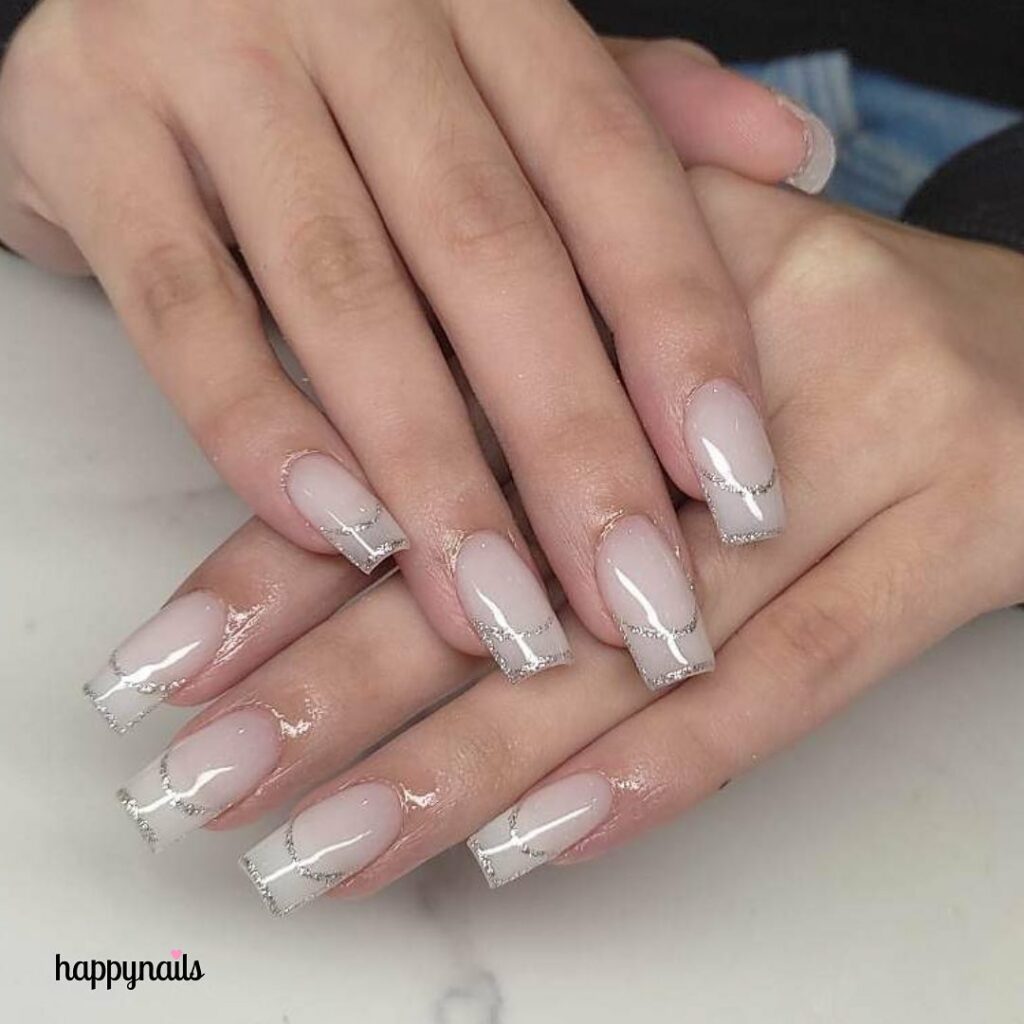 Want to shake things up? Try this outline French mani that frames your nails with silver glitter, leaving the center bare. It's not your grandma's French manicure, that's for sure. This one's a winner for anyone who loves to tread off the beaten path in style.
3D Chrome French Manicure
With a nod to the classics, these nails introduce a riveting metallic twist that commands attention. The exquisite detailing combined with the chrome finish showcases a blend of traditional beauty and modern artistry.
Stiletto Mirror Mani
If you're into high-gloss looks, you'll love this mirror-like shine achieved through nail stickers. When I first tried this look, I was so distracted by my reflection, that I almost missed my subway stop!
Cosmic Silver Long Nails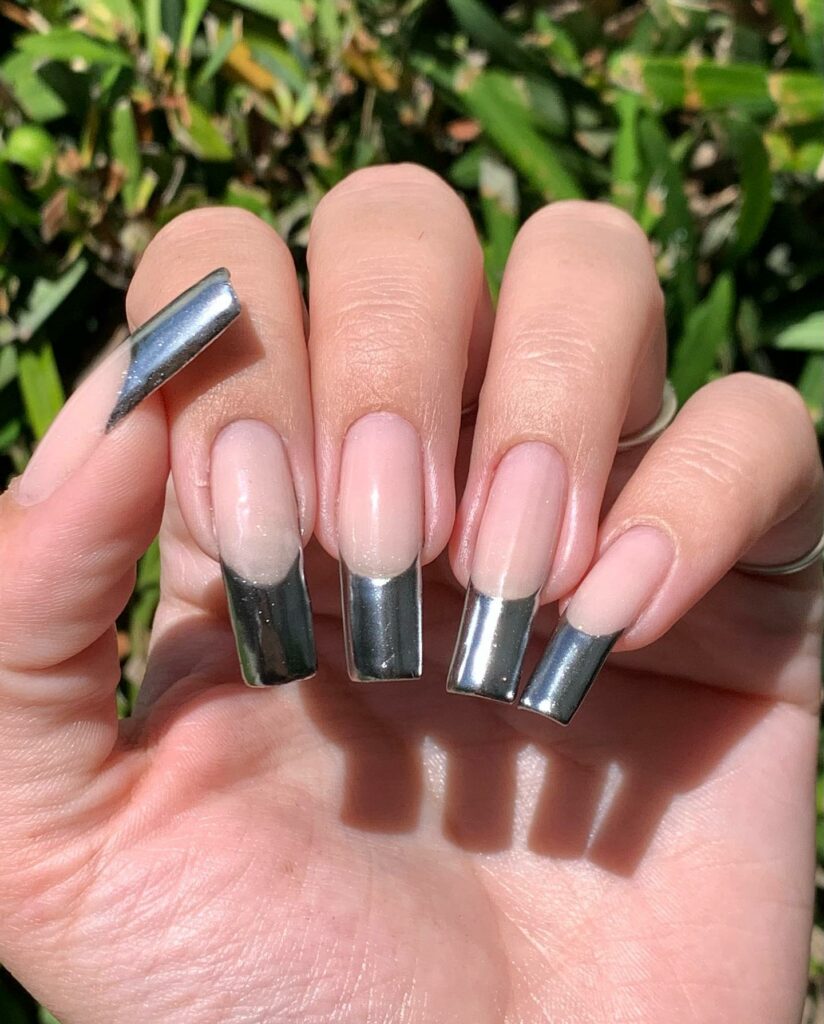 Create a galaxy-inspired design by swirling blues, purples, and blacks over your silver base for an otherworldly touch. It was a hit and a perfect look for stargazers or science fiction fans—I wore this design to a space-themed party.
Artistic Silver Chrome French Nails
Merging art with fashion, these artistic silver chrome French nails are a masterpiece. Their unique designs, coupled with a shimmering chrome base, make them a standout choice for creative souls.
Minimalist Chic: Silver Heart Chrome Mani
Who says Chrome has to be over the top? If you're more into the less-is-more vibe, add just a few chrome accents, like silver hearts. Trust me, these tiny details pack a big punch and work marvelously with almond-shaped tips.
3D Silver Chrome French Nails
These nails offer a multi-dimensional appeal, combining the elegance of silver with the futuristic touch of 3D. It is a perfect choice for those who love to stand out in sophistication.
White French Tips With Chrome Highlights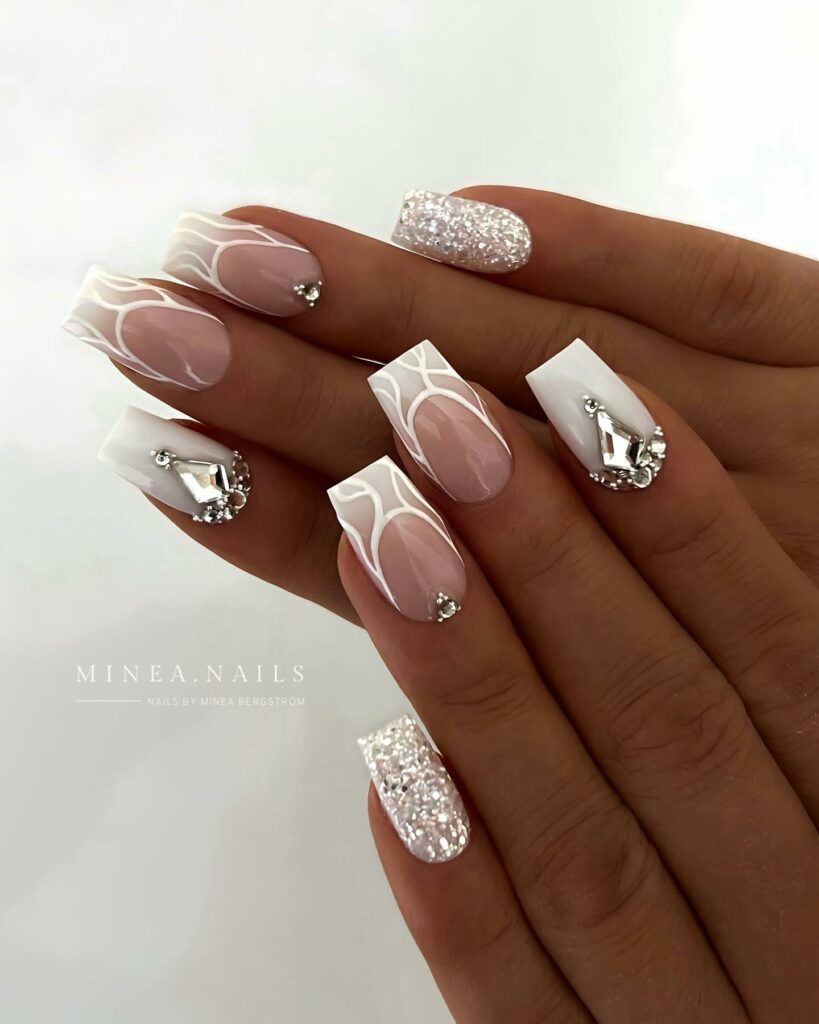 Embracing the soft allure of rose blush, these nails feature intricate white wave patterns paired with dazzling glittered accents. The touch of embedded jewels elevates the design, making it a breathtaking blend of simplicity and sophistication.
Red Chrome French Round Nails
Immersed in a deep shade of red, these chrome French round nails exude a passionate and romantic allure. Their glossy finish and rounded tips make them an ideal choice for any special occasion.
Blue Chrome Tips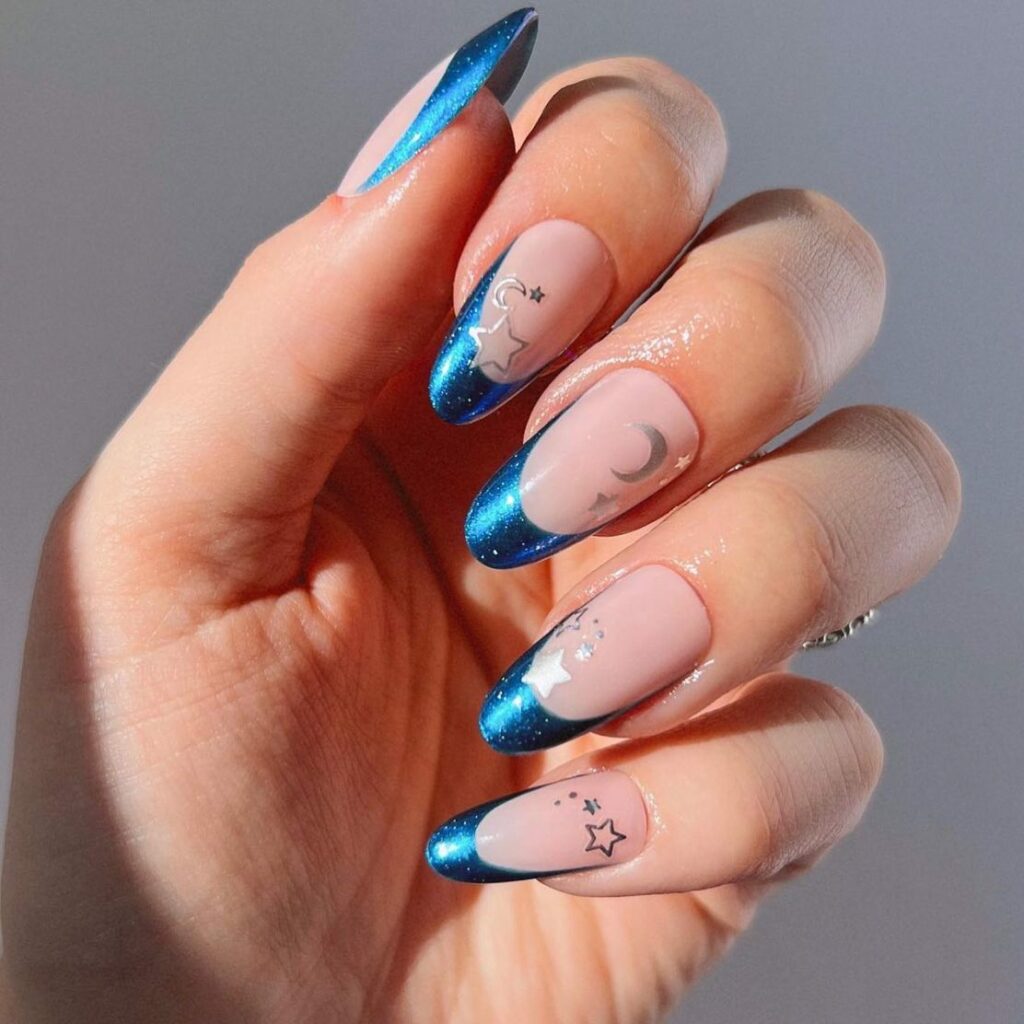 The depth of the midnight blue French tips is reminiscent of the sky just before total darkness. A shade that's rich and mysterious, it's perfect for those seeking a dramatic touch.
Sun-Kissed Golden French Tips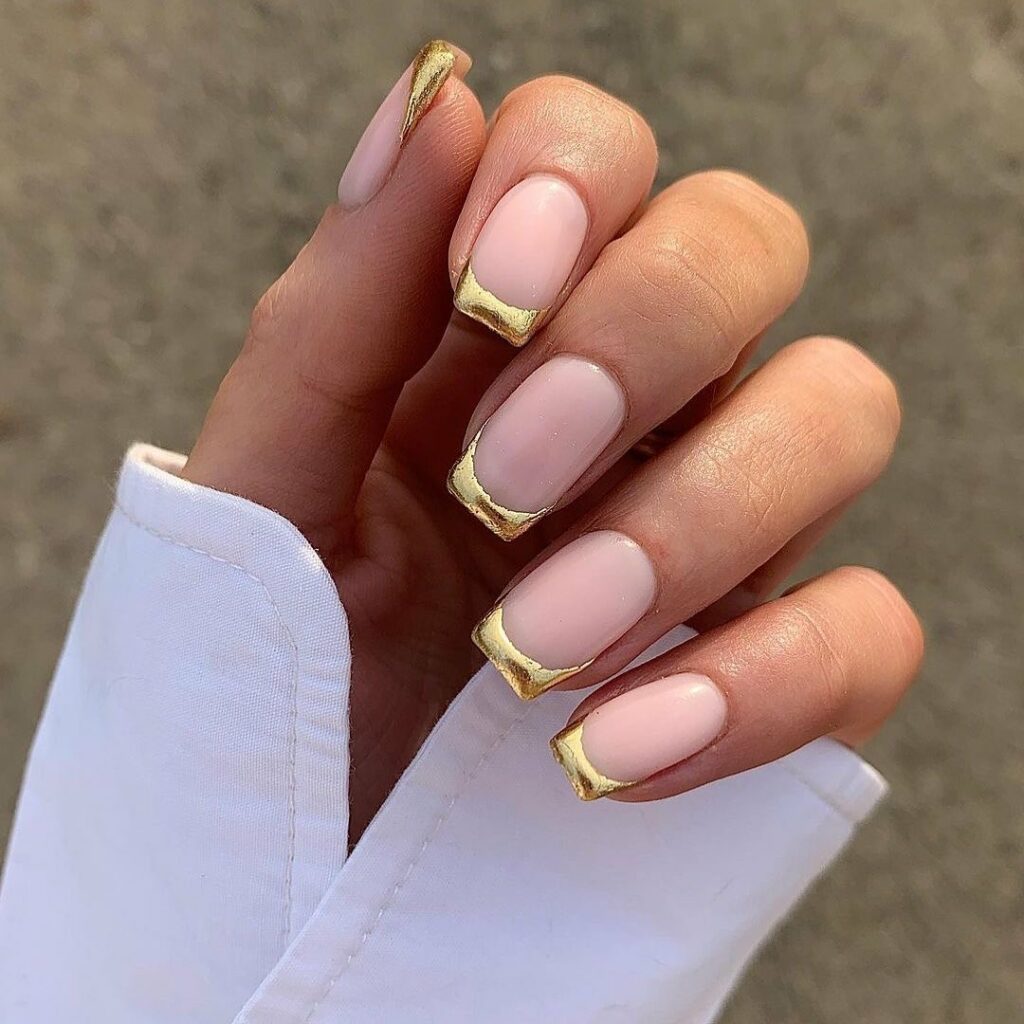 Warm gold French tips radiate warmth and elegance, resembling a sunlit glow. The rich shade offers a summery feel, perfect for daily wear and special occasions.
Hot Pink Square Chrome Nails
These nails come alive with vibrant magenta accents that shimmer and flow like waves, adding depth to the translucent base. The harmonious blend of soft transparency and bold metallic contours creates a mesmerizing and luxurious effect, perfect for those seeking a touch of glam.
Blue Chrome French Nails
Dive into the mesmerizing depths of blue chrome, capturing the essence of the ocean in each nail. This hue brings both tranquility and vibrancy to your fingertips.
Swirly Green Chrome French Mani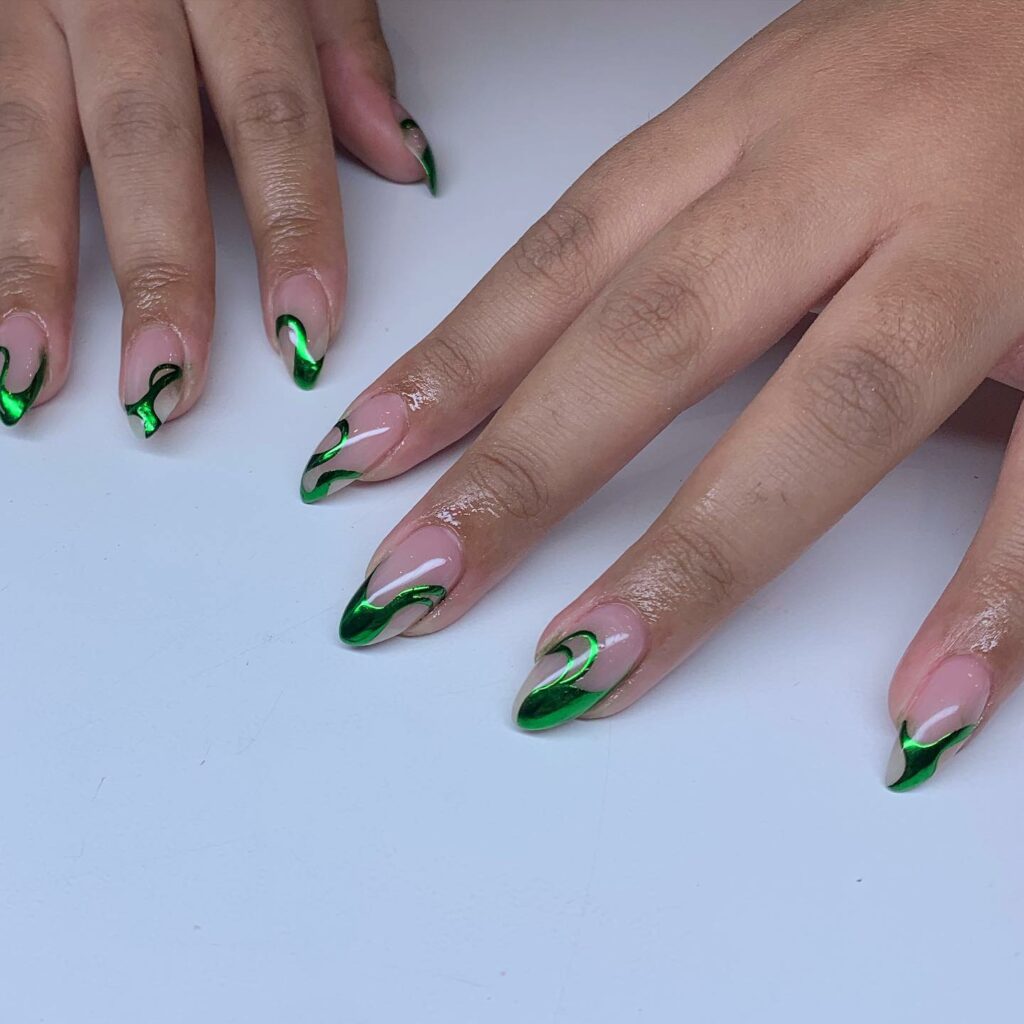 Drawing inspiration from the whirls of nature, the swirly green chrome French nails are refreshingly unique. Their swirling patterns and metallic finish are reminiscent of verdant forests on a dewy morning.
Stiletto Chrome French Nails Blended With Cherry Red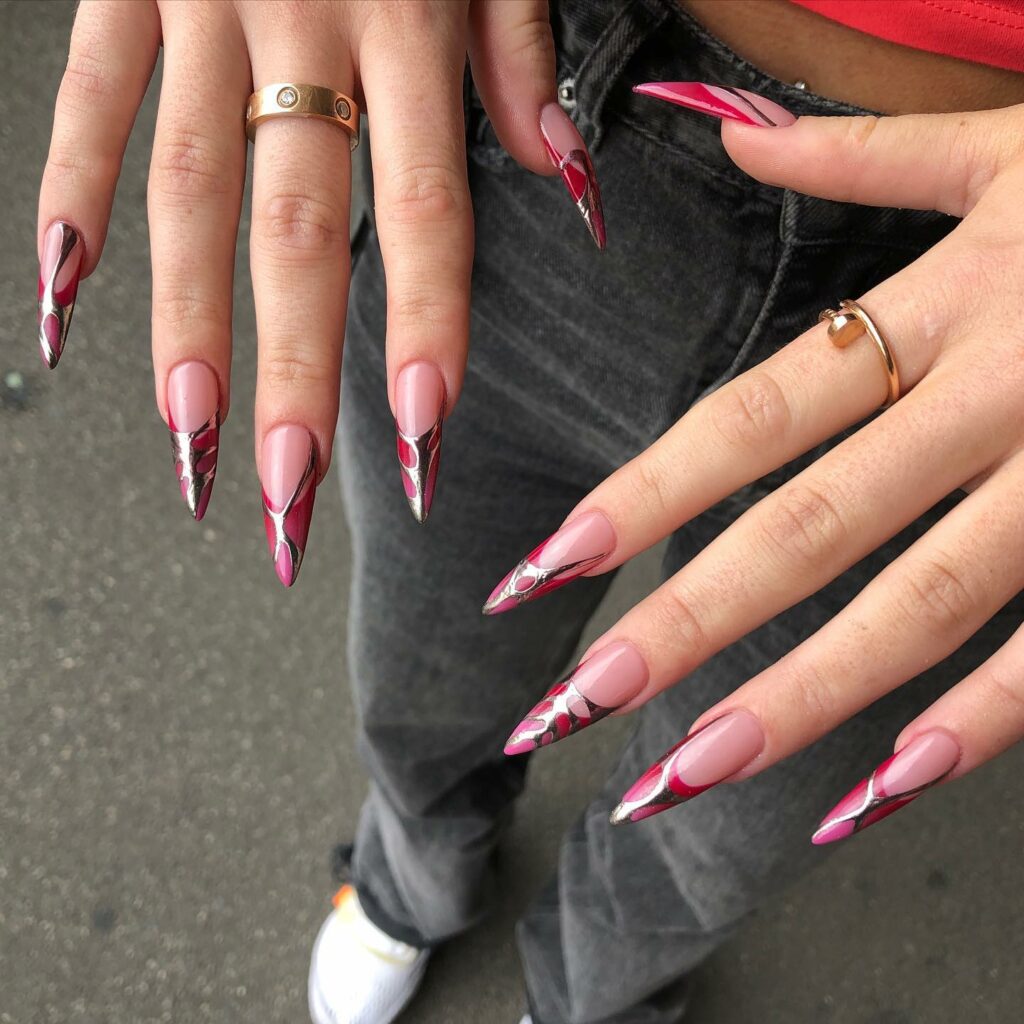 Embodying a fierce and contemporary vibe, the stiletto chrome French nails are for those who dare to be different. Their sharp silhouette, combined with a glossy chrome finish, screams modern elegance.
Gold Chrome French Round Nails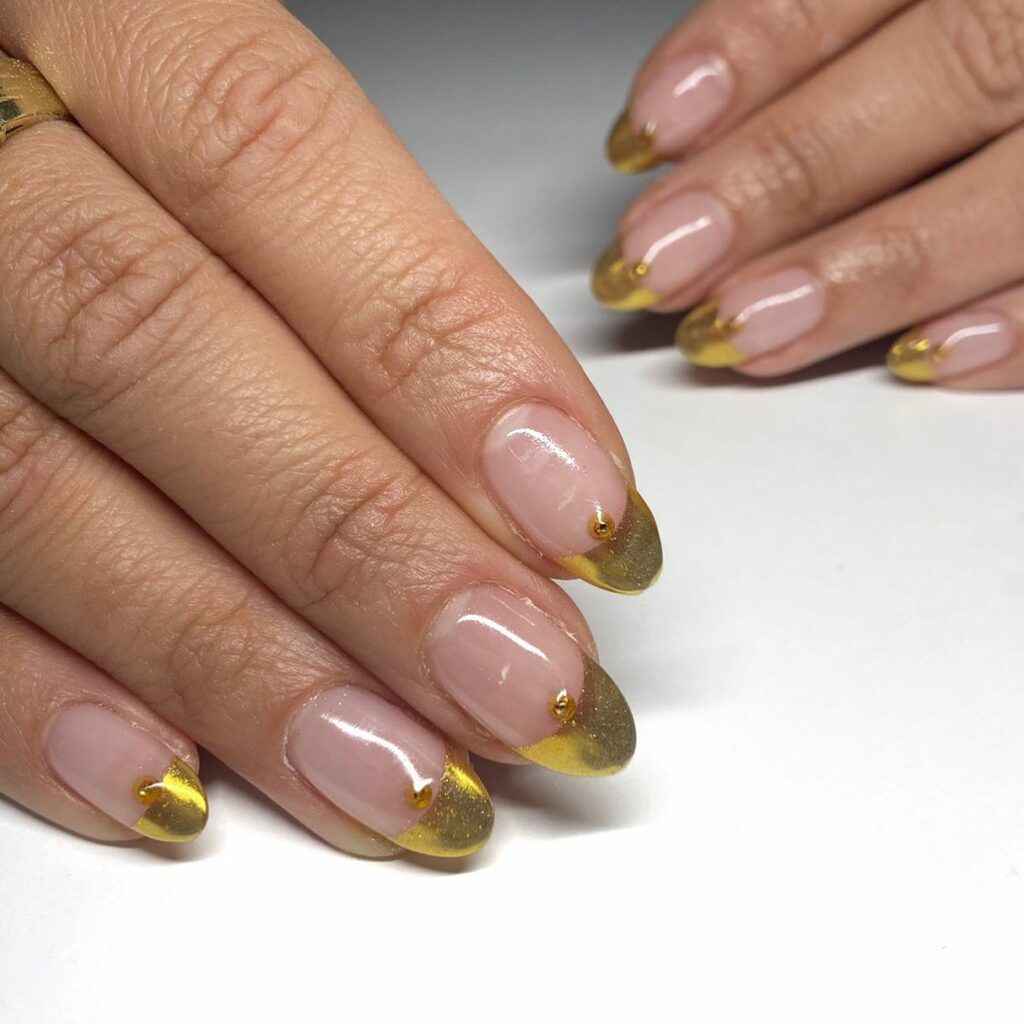 Boasting a golden sheen on rounded tips, these chrome French nails are a harmonious blend of tradition and bling. Their circular design adds a touch of softness, perfectly complemented by the bold gold.
Pink Stilettos Chrome French Nails
Inspired by the iconic Barbie, these stiletto chrome French nails epitomize playful glamour. Their long, sleek design, combined with a chrome finish, makes them a dream for those who love a mix of vintage and modern vibes.
Chrome Barbie Pink Tip Nails
Merging the timeless charm of French tips with the futuristic sheen of chrome, these nails are a testament to chic evolution. Perfect for those seeking an avant-garde touch while staying rooted in traditional elegance.
12 Tips To Achieve the Perfect Chrome Finish!
Preparation: Ensure the nails are clean, dry, and oil-free. This can be achieved by cleansing the nails with alcohol wipes or a dehydrator.
Base Coat: Apply a base coat to protect your natural nails. This provides a smooth canvas and helps the chrome pigment adhere better.
Color Coat: Once the base coat is dry, apply a layer of gel polish in a black or dark color, which often helps the chrome effect stand out. However, different base colors can be used depending on the desired effect.
Curing: Use a UV/LED lamp to cure the gel polish. Ensure that it's fully set before moving to the next step.
Chrome Pigment Application: Here's where the magic happens! Using a sponge-tipped applicator or a silicone brush, pick up a small amount of chrome powder. Gently rub the powder onto the nail in a circular motion, ensuring the entire nail surface is covered.
Buffing: Once you've applied the chrome pigment, gently buff the nail's surface using a clean finger or applicator. This step helps to smooth out any excess powder and create that sleek mirror finish.
Seal the Deal: To protect the chrome finish and ensure longevity, apply a gel top coat. Make sure to cap the free edge of the nail to prevent chipping.
Curing Again: Place your nails under the UV/LED lamp to cure the top coat. This step locks in the chrome effect and gives a lasting shine.
Final Touch: Finish off by applying cuticle oil around the nails to keep them moisturized and healthy.
High-quality chrome powders give a smoother and more reflective finish.
The smoother your gel polish application, the more flawless your chrome finish will be. Any bumps or imperfections in the polish will show through the chrome.
Some people use water-based top coats between the chrome pigment and the final gel top coat to prevent any tarnishing or dulling of the chrome effect.
Still Looking for Inspiration, Then Check Out This Video
Conclusion
In the ever-evolving world of fashion and beauty, Chrome French Nails is a testament to creativity and elegance. While experimenting with these designs, always prioritize the health of your nails by opting for high-quality products and trusted professionals. Remember, every nail art is an investment in your self-expression, so while it's delightful to follow trends, don't be afraid to customize them to suit your style. Some may experience occasional nail breakage or weakening, especially with prolonged use of nail enhancements. To counter this, regular nail care routines, including moisturizing and taking breaks between applications, are essential. So, fellow fashion enthusiasts, as you venture into Chrome French Nails, arm yourself with knowledge, embrace your unique style, and, most importantly, enjoy the journey. Happy nail art experimenting!
Feature image @minea.nails via Instagram
Last reviewed and updated on November 6, 2023