Welcome to the sweet world of Cotton Candy Nails, where indulgence meets style! In this post, we're diving into the whimsical trend that's been making waves in the beauty community. You'll learn about this playful nail design that borrows the pastel swirls and fluffy texture of everyone's favorite fairground treat. I'll break down the basics of achieving this look, from selecting the perfect pastel palette to the finishing touches that give it that signature spun-sugar effect. Whether you're a DIY maven or prefer the salon chair, I've got tips to ensure your nails look deliciously chic. I'll also share my advice on making your Cotton Candy Nails last longer and turn heads wherever you go. Get ready to sweeten up your nail game!
Cotton Candy Almond Nails
Almond nails, known for their elegant shape, get a playful upgrade with the cotton candy color scheme. The soft hues bring a touch of whimsy to the sophisticated silhouette.
Dripping Candy Nails
These nails are a deliciously decadent homage to everyone's favorite summer treat. It's a playful, mouthwatering design that's impossible to resist.
Cotton Candy Dusk Gradient Nails
These nails feature a gradient miming a sunset sky, blending the iconic cotton candy pinks and blues into a seamless dusk-inspired look. It's a sophisticated take on the trend that's perfect for evening events.
Cotton Candy Nails With 3D Gummy Bears Design
Take your nail art to the next dimension with 3D gummy bears sitting atop a bed of fluffy cotton candy colors. It's a playful design that's sure to be a conversation starter.
Summer-Inspired Cotton Candy Nails
Capture the essence of summer with nails that combine the airy lightness of cotton candy hues with designs inspired by the season's joy. Think sunshine, waves, and the carefree spirit of summer vacations.
Cotton Candy Abstract Nails
Abstract art meets nail fashion with strokes and splashes of cotton candy colors. This design is for those who adore a modern twist on classic pastel aesthetics.
Short Round Cotton Candy Nails
Even short, round nails can indulge in the trend with a sweet coating of cotton candy paint. It's a chic and manageable way to brighten up your look.
3D Cotton Candy Nails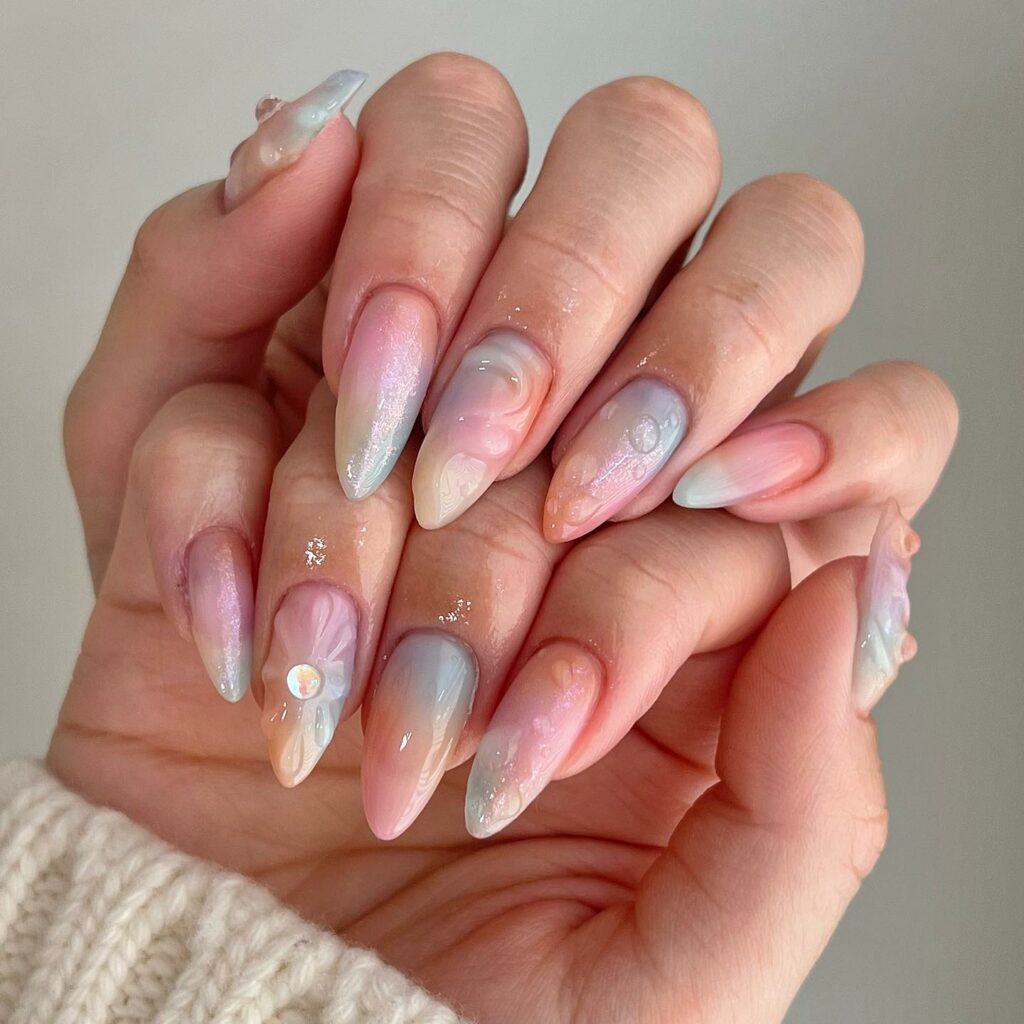 Elevate your nail game with raised designs that give a literal edge to the softness of cotton candy colors. The 3D effect adds a touch of luxury and depth to your manicure.
Cotton Candy Nails With Clouds And Glitters Design
Drift away on a dreamy cloud of cotton candy colors embellished with sparkling glitters. This design is like a fairytale at your fingertips, perfect for whimsical souls.
Pink And Blue Cotton Candy Nails With Glitters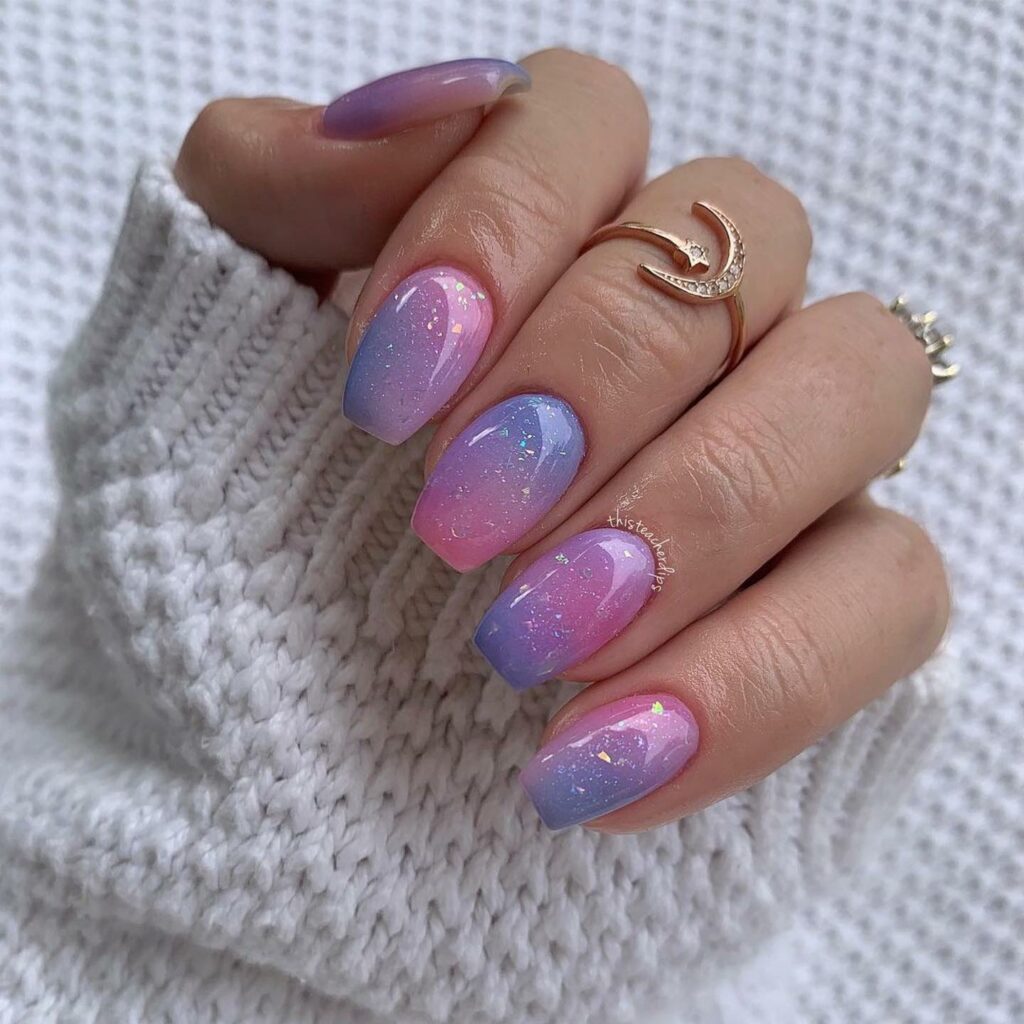 Classic cotton candy colors get a glitzy update with the addition of sparkles, marrying the fairground charm with the glamour of glitter. It's a timeless duo that's sure to dazzle.
Long Cotton Candy Square Nails
The square shape provides a broad canvas for the pastel cotton candy palette, making a bold statement with every gesture. These nails are for those who aren't afraid to stand out.
Small Pink Cotton Candy Square Nails
Petite and pretty, these nails bring the delicate side of the cotton candy look to the forefront, proving that great style can come in small packages. They're a sweet treat for the minimalist at heart.
Short Cotton Candy Nails
These nails prove that length isn't everything; short nails can make a significant impact with the right pastel shade. They're perfect for those seeking a subtle nod to the cotton candy trend without the commitment of long nails.
Colorful Cotton Candy Nails With Colorful Pearls
Adorning cotton candy-colored nails with multicolored pearls adds a unique texture and a pop of color, creating a fun 3D effect. This style has a tactile element for those who love their manicures.
Cotton Candy Coffin Nails With Rhinestones
The sleek shape of coffin nails is the ideal canvas for cotton candy hues, with rhinestones adding a touch of glamour. This style is the epitome of sweet sophistication.
Cotton Candy Swirl Nails
Swirling patterns of pink and blue create a mesmerizing effect on the nails, reminiscent of the twirling sugar at a carnival stand. It's a playful look that's bound to turn heads.
Glittery Cotton Candy Nails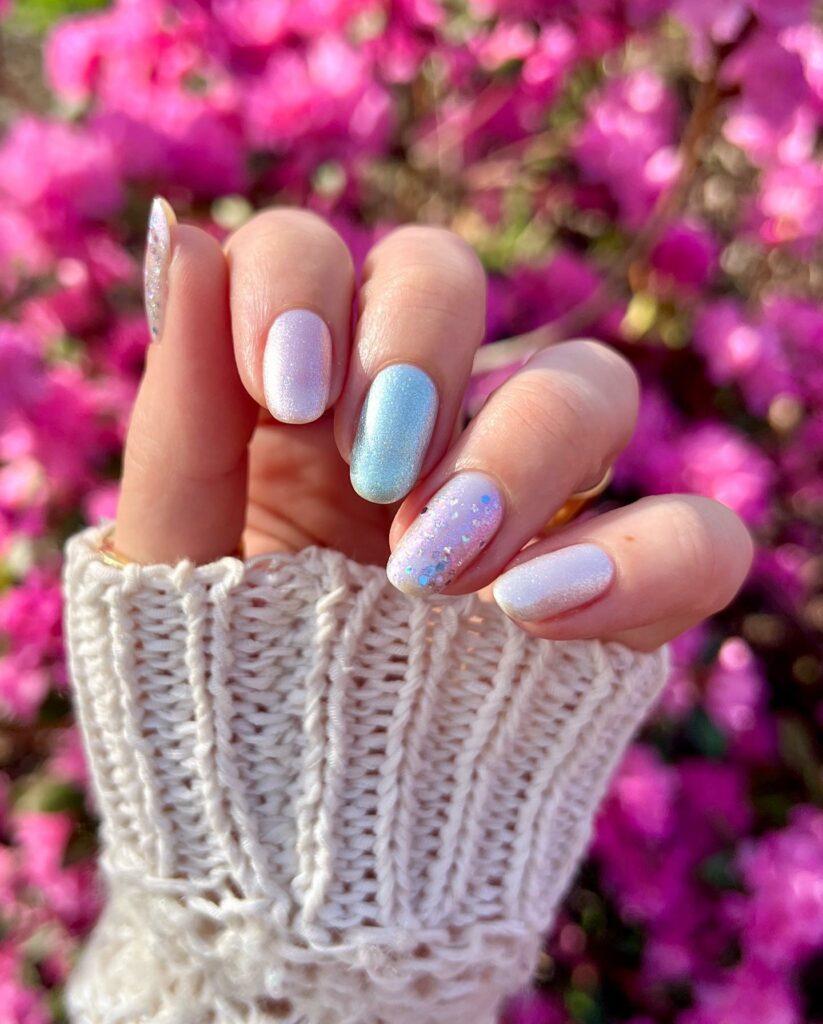 Add some sparkle to your cotton candy manicure with a dusting of glitter. It's like a sprinkle of sugar on top of an already tempting treat.
Sky-Inspired Cotton Candy Nails
Drawing from the soft blues and pinks of the morning sky, these nails bring a piece of the heavens to your hands. It's a serene and dreamy look for daydreamers and romantics alike.
Cotton Candy Coffin Nails With Glitters
Long, tapered coffin nails become even more striking when paired with the shimmer of glitter over cotton candy colors. This combination is all about bold elegance.
Medium Long Cotton Candy Round Nails
The medium length and round shape are classic choices, offering a perfect platform for showcasing the cotton candy color palette. This style is both practical and pretty, suitable for any occasion.
Yellow Cotton Candy Nails
A sunny twist on the classic theme, yellow cotton candy nails are bright, cheerful, and sure to uplift your mood. They're a ray of sunshine on your fingertips.
Matte Cotton Candy Nails
By opting for a matte finish, the sugary sweetness of cotton candy colors is given a modern, sophisticated edge. It's a contemporary take that speaks to a more refined aesthetic.
Multicolor Cotton Candy Nails
Why settle for one or two colors when you have a full spectrum of cotton candy shades? This vibrant array celebrates the complete joy and variety of the carnival treat.
Glossy Cotton Candy Swirl Nails
The classic swirl gets a shiny upgrade with a glossy finish, making the cotton candy colors pop with a wet-look sheen. This design is for those who love to add a touch of drama to their nail art.
Cotton Candy Coffin Nails With Stars
Sprinkle starry charm onto your coffin-shaped nails with this celestial design, set against a soft cotton candy hues backdrop. It's a look that's both enchanting and elegant.
Blue And Purple Cotton Candy Nails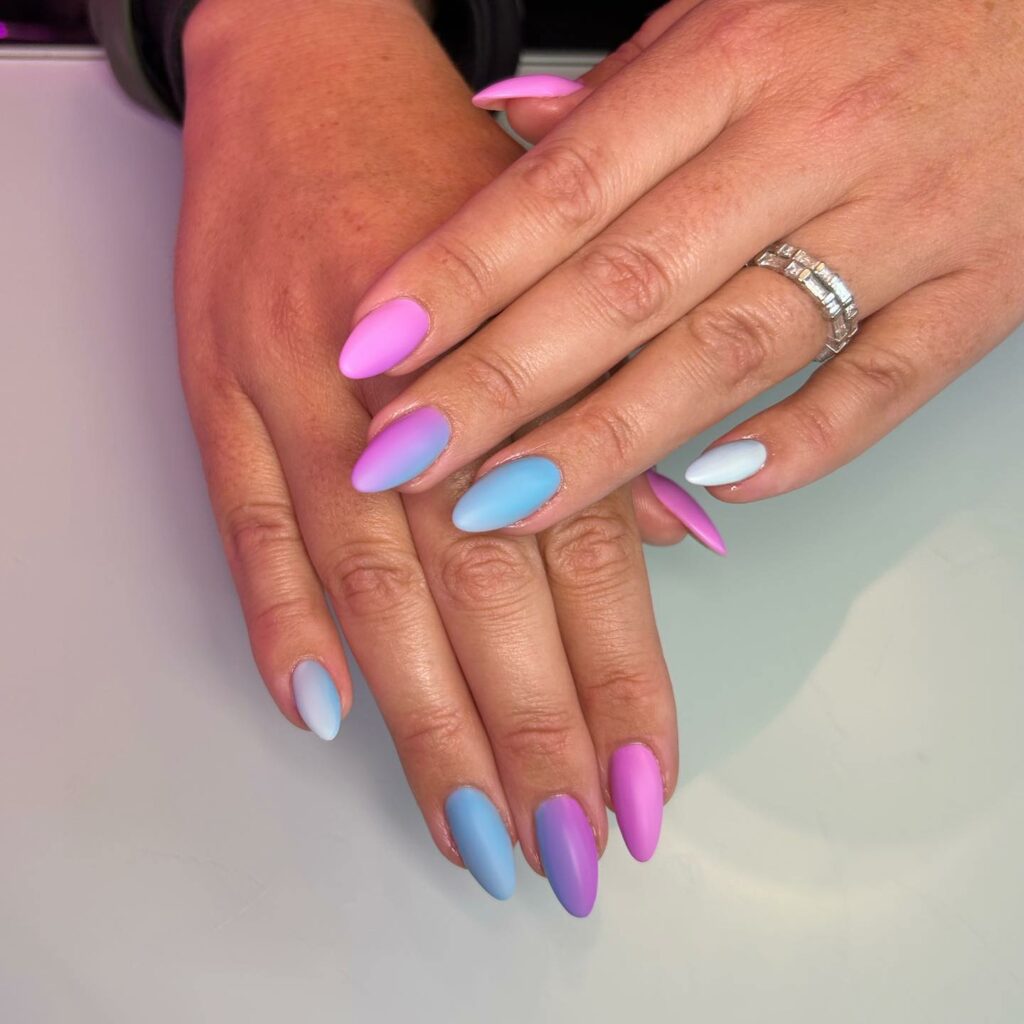 Dive into the excellent end of the spectrum with nails that blend the soothing tones of blue and purple, reminiscent of the most colorful cotton candy flavors. This look offers a twist on the traditional for those who like to keep things fresh and unexpected.
Cotton Candy Nails With Glitters
A sprinkle of glitter on cotton candy nails adds sparkle to the soft pastels, making for a manicure that sparkles with every movement. They're the perfect pick for adding a bit of glam to your sweetly-hued nails.
Soft Cotton Candy Color Nails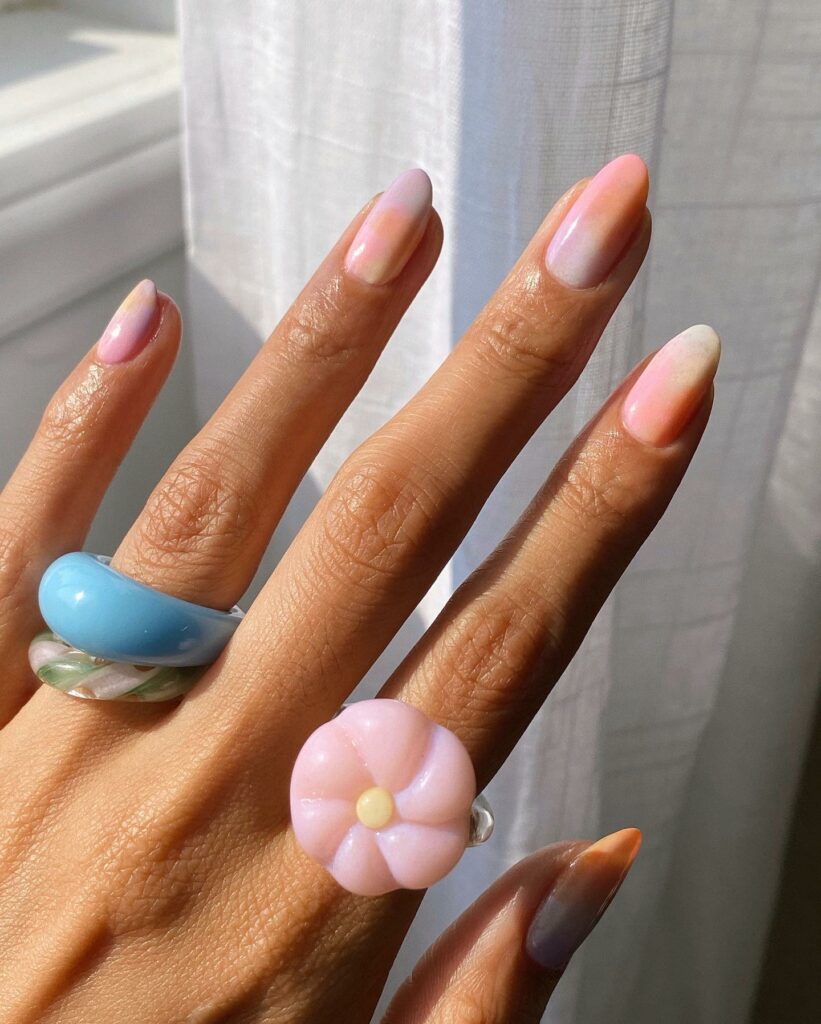 These nails boast a gentle palette that's easy on the eyes, reflecting the mellow side of the cotton candy spectrum. They're an excellent choice for those who prefer a subtler nail look with a touch of whimsy.
Jelly Cotton Candy Nails With Glitters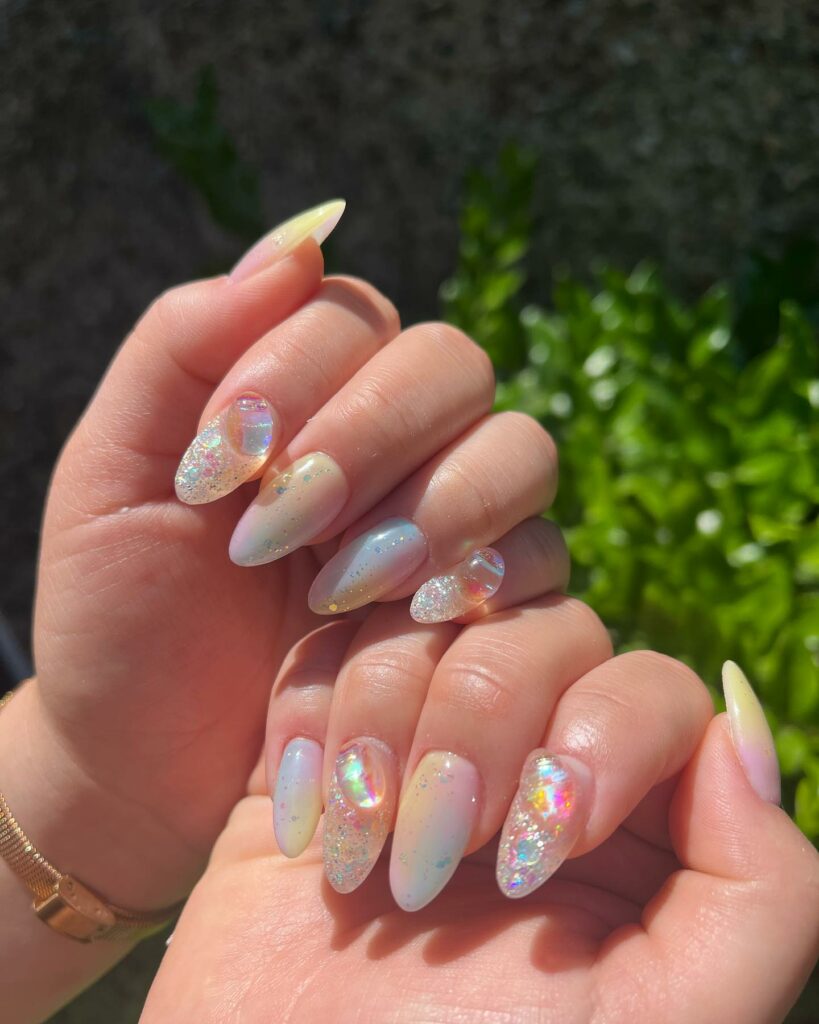 The translucent 'jelly' look combined with glitter gives these cotton candy nails a juicy, 3D appearance that's fun and fashionable. It's like having your favorite gummy candies right at your fingertips!
Cotton Candy Galaxy Nails
By incorporating swirls of cosmic purples and blues, cotton candy galaxy nails bring the mystique of the night sky to your nail art. It's a look that's truly out of this world, ideal for stargazers and dreamers.
Cotton Candy Gradient Nails
A smooth transition between cotton candy shades makes for a sweet gradient effect that's both modern and graceful. It's a popular style for those who want a sophisticated take on the trend.
Cotton Candy Nails With Rhinestones
Rhinestones add a touch of luxury to the playful pastel base of cotton candy nails, making for a fancy and fun manicure. They're a go-to for special occasions where you want to shine.
Rainbow-Inspired Cotton Candy Nails
These nails take the pastel theme to a vibrant level, incorporating a spectrum of rainbow colors for a look that's as joyful as it is colorful. It's a celebration of color that's perfect for summer festivals or brightening your day.
Multicolored Cotton Candy Tip Nails
The tips are dipped in various cotton candy shades, bringing a colorful edge to a French manicure-inspired look. It's an understated yet playful way to wear multiple colors without overwhelming the senses.
Cotton Candy Nails With Butterflies
Delicate butterflies perched on a pastel backdrop make for a magical nail design, evoking the lightness and grace of these beautiful creatures. They're ideal for ushering in the warmth of spring or summer.
Glossy Dark Colored Cotton Candy Nails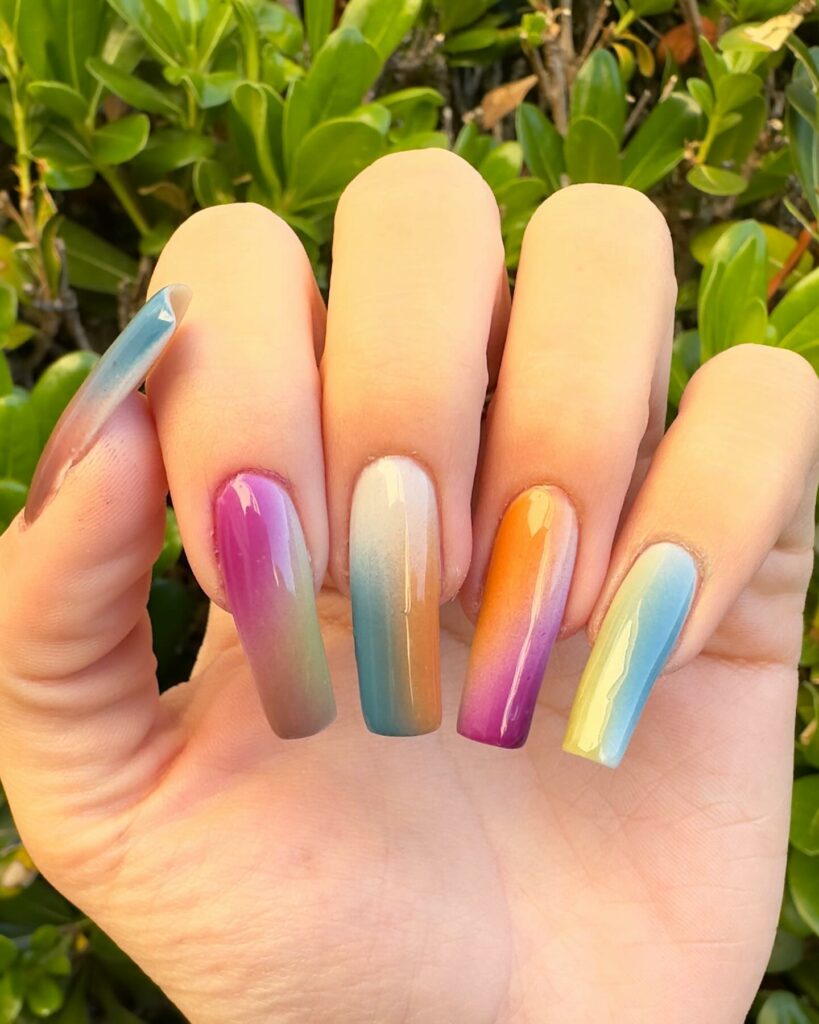 Darker shades in the cotton candy palette offer a twist on the traditional, with a glossy finish that provides depth and intensity. They're a bold choice for those who want to make a statement.
Cotton Candy Moon Night Nails
Evocative of a whimsical night sky, these nails feature dreamy cotton candy colors accented with a crescent moon. They're a poetic and enchanting choice for nighttime events or add some magic to your day.
Cotton Candy Coffin Nails With Butterflies
Fluttering butterflies adorn these tapered coffin nails, set against a backdrop of soft cotton candy hues for a charming and chic look. They're perfect for those who love their nail art with a side of enchantment.
Half Pink Half Blue Cotton Candy Nails
Splitting nails between pink and blue epitomizes the cotton candy aesthetic, offering an eye-catching and adorable playful contrast. It's a straightforward yet striking choice that captures the essence of cotton candy.
Cotton Candy Nails With Emoji
Combining the sweetness of cotton candy hues with the fun of emojis creates a nail design that's both vibrant and expressive. Perfect for those who love communicating with a pop of color and a smile.
My Top Recommendations For The Perfect Cotton Candy Nails
Soft Pinks: The quintessential cotton candy color, a soft pink palette, ranges from blush to bubblegum, embodying the classic treat.
Baby Blues: Gentle and calming, baby blue hues bring to mind clear skies on sunny days, perfect for that cotton candy aesthetic.
Lavender Whisper: A touch of lavender adds sophistication to your nails while keeping the playful pastel theme alive.
Mint Greens: Fresh and invigorating, mint greens offer a hint of coolness and are a sweet nod to the pastel family.
Peachy Keens: A soft peach palette provides a warm, subtle alternative that can flatter any skin tone, bringing a creamy dimension to your design.
Lemonade Yellows: Gentle yellow tones can add a sunny vibrancy to your nails without overwhelming the softer pastel vibe.
Remember, the beauty of cotton candy nails lies in their versatility. Mix and match these shades for a multicolored manicure, or pick your favorite for a monochromatic look. And for an extra pop, consider adding a hint of shimmer or a glossy topcoat to make those pastel colors genuinely sing. Happy painting!
8 Tips To Make Your Cotton Candy Nails Last Longer
Start with Clean Nails: Make sure your nails are clean, dry, and oils-free before painting. A swipe of nail polish remover can help remove any residue.
Use a Quality Base Coat: A sticky base coat will help the polish adhere better to your nails, providing a canvas that will hold the color.
Apply Thin Layers: Patience is key! Apply your polish in thin, even layers, allowing each layer to dry completely before adding the next. This prevents smudging and chipping.
Seal with a Top Coat: A good top coat not only gives a gorgeous finish but also seals and protects your nail color from the elements. Reapply a top coat every 2-3 days to maintain the shine and protection.
Avoid Water and Heat: Prolonged exposure to water and heat can weaken nail polish. Wear gloves when doing dishes, and avoid hot water in the first few hours after your manicure.
Moisturize Your Cuticles: Dry cuticles can lead to lifting polish. Keep them moisturized with cuticle oil, which can also help protect the polish.
Touch-up Minor Chips: If you get a small chip, you can dab a tiny amount of polish just on the spot and finish with a top coat layer over the entire nail.
Gentle Use of Hands: Be mindful of your nails when opening things, typing, etc. The less stress you put on them, the longer they will maintain their perfection.
7 Tips To Achieve The Spun-Sugar Effect Of Cotton Candy Nails
Sponging Technique: Use a small sponge to dab on the polish for a textured effect. Layer different pastel colors with the sponge to mimic the fluffy texture of cotton candy.
Sugar Dust Powder: After applying your base color, sprinkle on some clear or iridescent nail art sugar dust powder while the polish is still tacky. Seal it with a top coat for a textured, sugary appearance.
Marbling Magic: For a swirled cotton candy effect, apply drops of different pastel polishes onto the nail and use a toothpick or dotting tool to swirl the colors together gently.
Airbrushing: If you can access an airbrush system, you can create a soft, diffused color application that looks like cotton candy clouds on your nails.
Feathering Technique: Use a fan brush to lightly streak white polish over a pastel base, creating wispy lines that resemble the strings of sugar.
Glossy and Matte Combo: Mix finishes by applying a matte topcoat over your base color, then add glossy spots or streaks for a multidimensional spun-sugar look.
Loose Glitter: While your last polish coat is still wet, pat on some loose glitter where you want to emphasize the cotton candy texture. This will give a sweet sparkle just where you want it.
Conclusion
And there you have it, a kaleidoscope of cotton candy nail inspirations to suit any taste or occasion. Whether you're jazzing up your nails with glitter, rhinestones, or playful butterflies, remember the golden rule: there's no limit to creativity with your manicure. My top tip? Always use a good base coat to keep those colors vibrant and a top coat to seal in your design (especially with embellishments). For a lasting look, don't forget to give your nails a little TLC with cuticle oil and regular touch-ups. Experiment with these sugary designs, and let your nails be the sweet talk of the town! Keep it fun and fabulous, and never underestimate the power of a great nail day to lift your spirits!
Feature Image Photo By rocksbox on Instagram
Last reviewed and updated on November 17, 2023