Hey everyone! Today, we're diving into Dark Blue Nails' moody and mystical world. If you've been itching to make a nail statement equal parts elegant and edgy, dark blue is where it's at. In this post, we'll cover the best shades to choose from, polish finishes that make the color pop, and even some design inspo you'll want to screenshot for your next salon appointment. My personal recommendation? Go for a dark navy gel polish with a matte topcoat for that velvety finish—it's a game-changer. So grab your favorite polish bottle, and let's get to it!
Dark Blue Winter Nails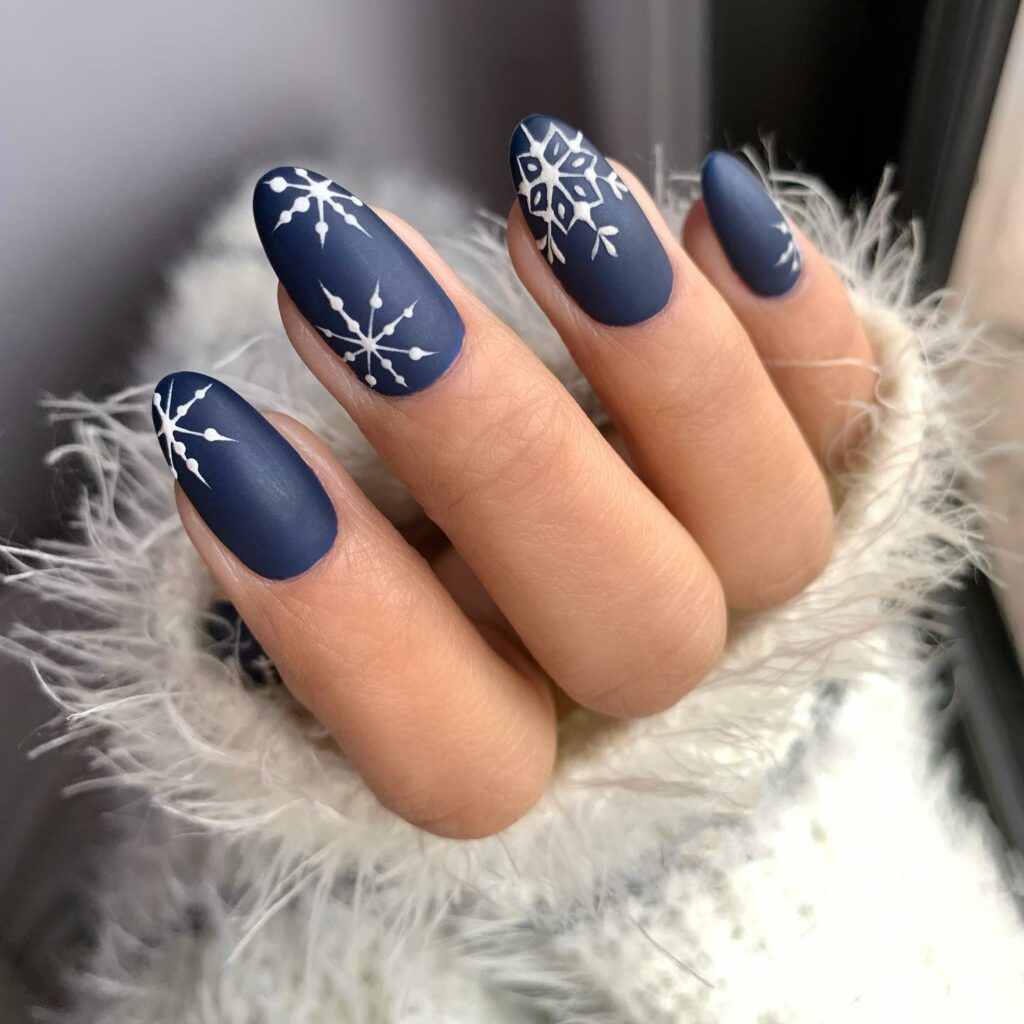 When winter rolls around, dark blue nails can mirror the icy beauty of the season. Add some snowflakes or icicles for a seasonal touch that's both cool and stylish.
Almond Dark Blue Nails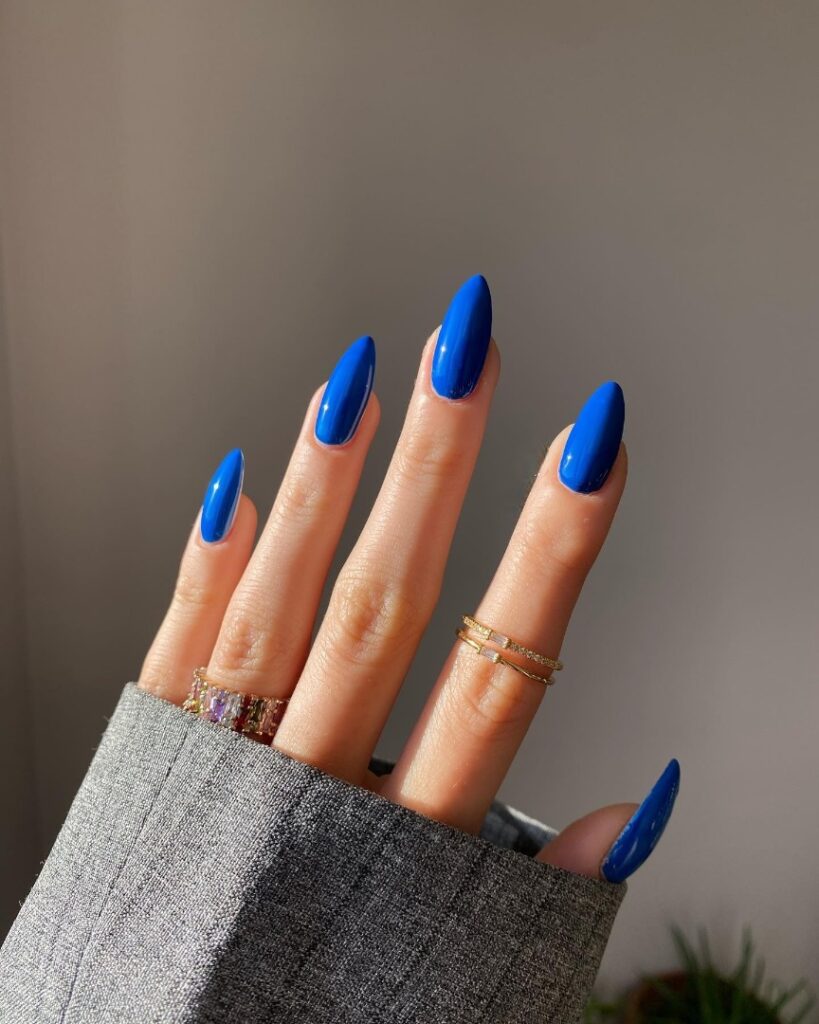 Almond shapes offer a classic and elegant look. When painted dark blue, they bring a timeless sophistication that works for any occasion.
Dark Blue Matte Nails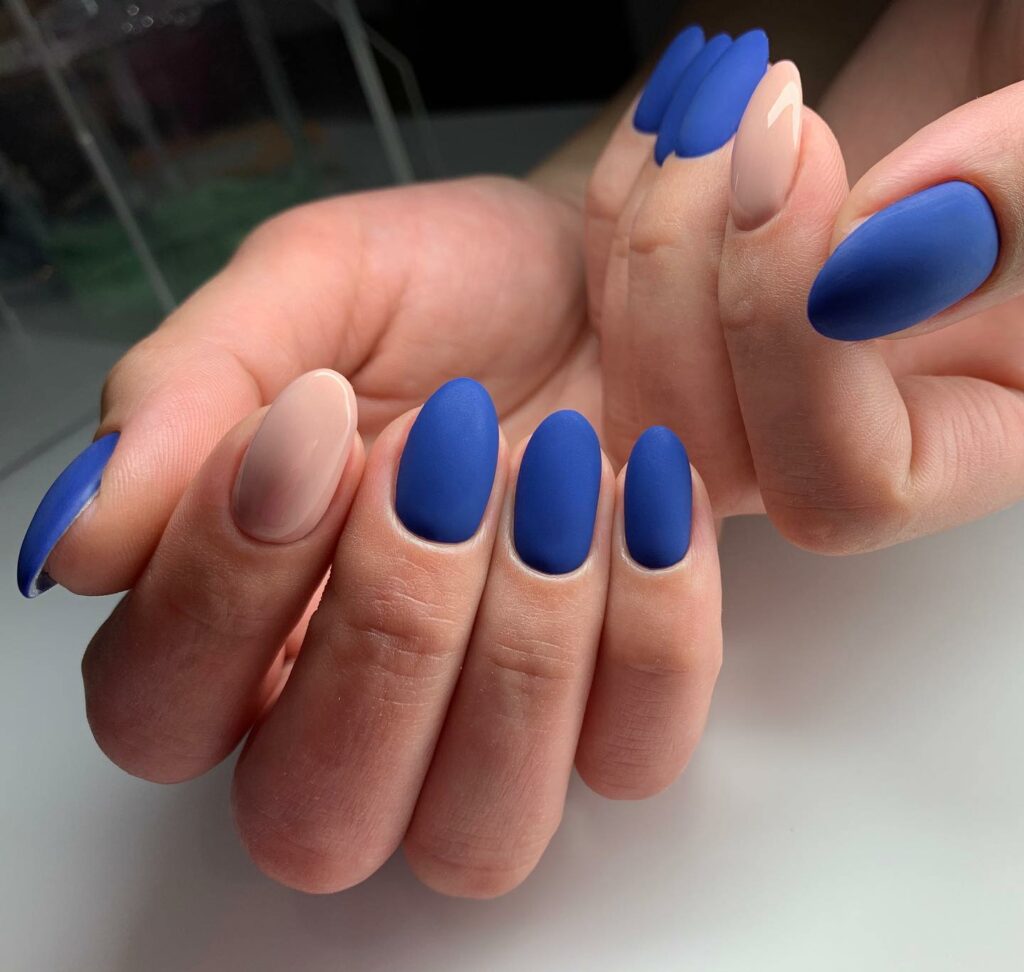 If you're after a look that screams sophistication with a modern twist, dark blue matte nails are your go-to. The matte finish removes the shine but adds a luxurious depth, making it a perfect choice for casual get-togethers and formal events. My advice? Use a good-quality matte topcoat to ensure a smooth, flawless finish.
White And Dark Blue Nails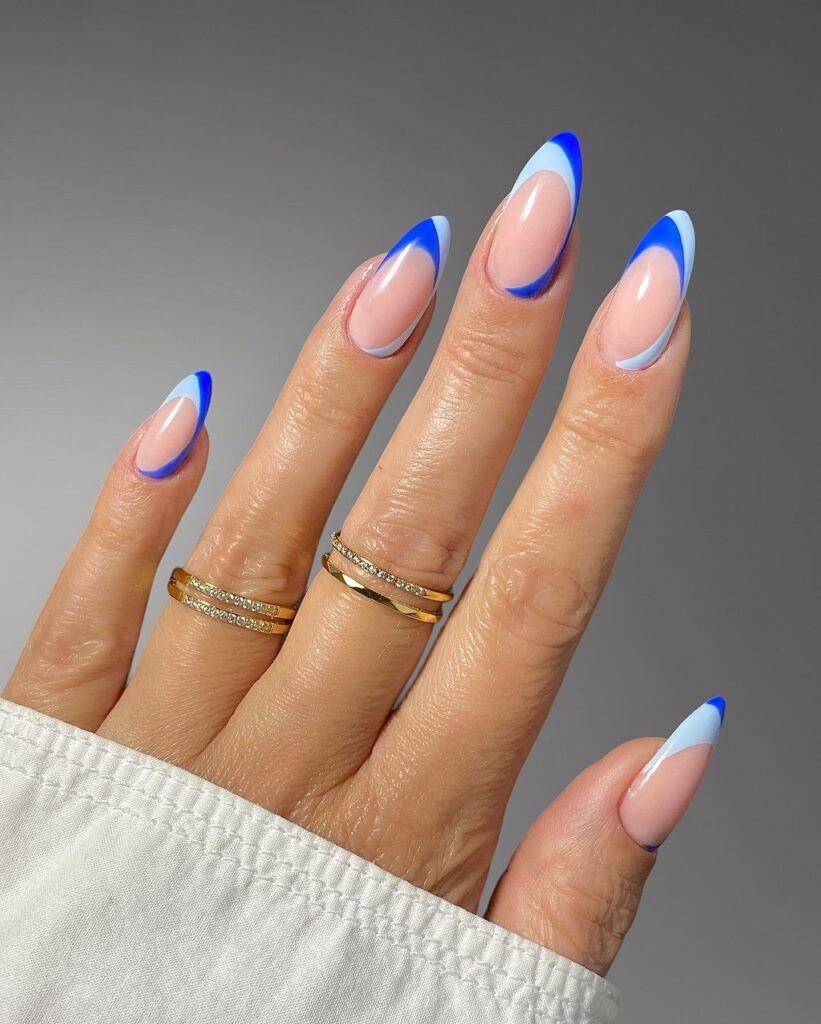 The contrast between white and dark blue is crisp and refreshing. This combo can make creative designs, from French tips to intricate geometric patterns.
Matte Dark Blue And Glitter Nails
When you mix matte dark blue with a touch of glitter, you hit the perfect balance between subtlety and glam. The glitter accents add that unique pop, turning your nails into an eye-catching masterpiece.
Dark Blue Marble Nails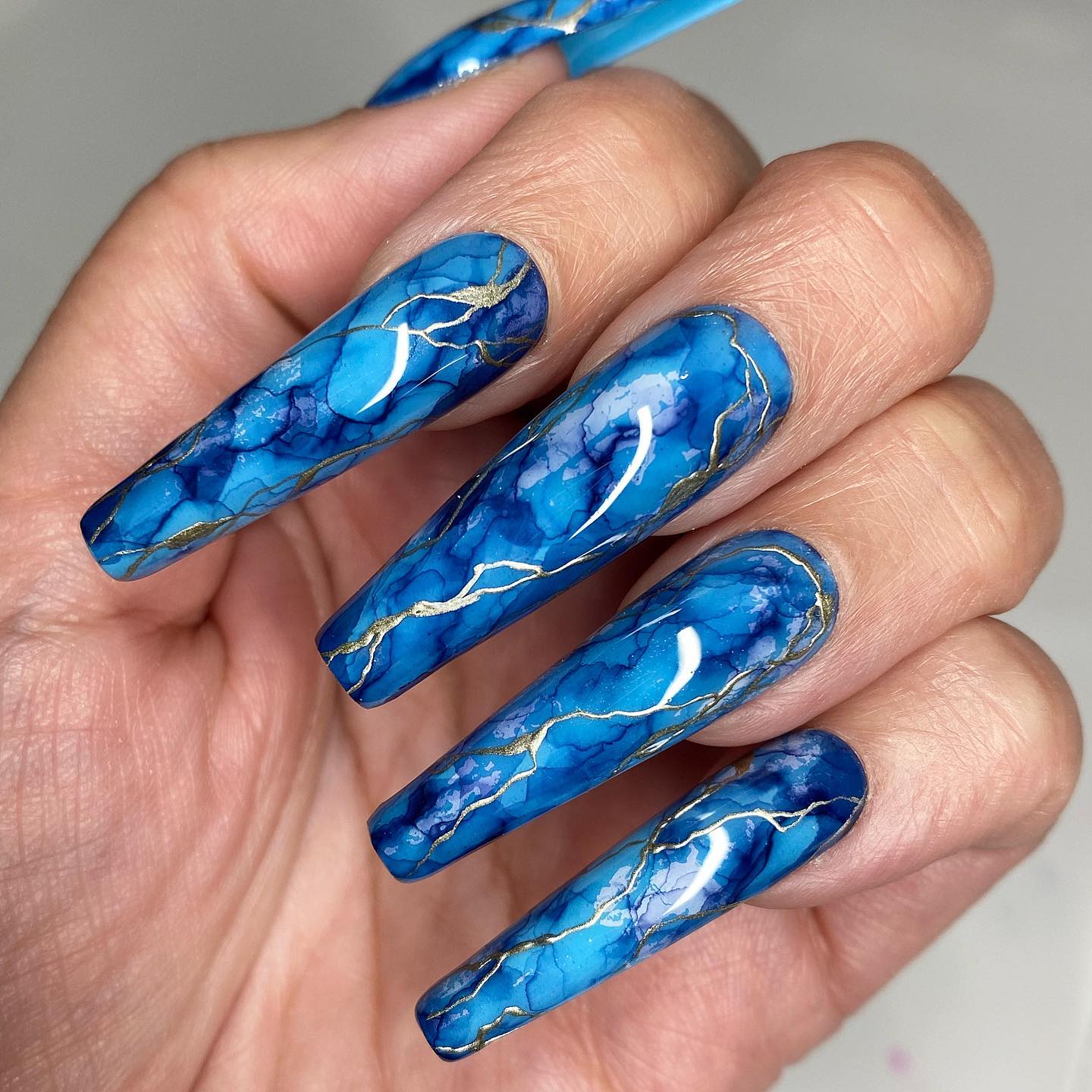 Dark Blue Marble Nails are a work of art, mimicking the swirls and patterns you'd find in natural stone. The dark blue gives it a luxurious, oceanic vibe while the marble effect adds an element of surprise and sophistication to each nail.
Glitter Stiletto Nails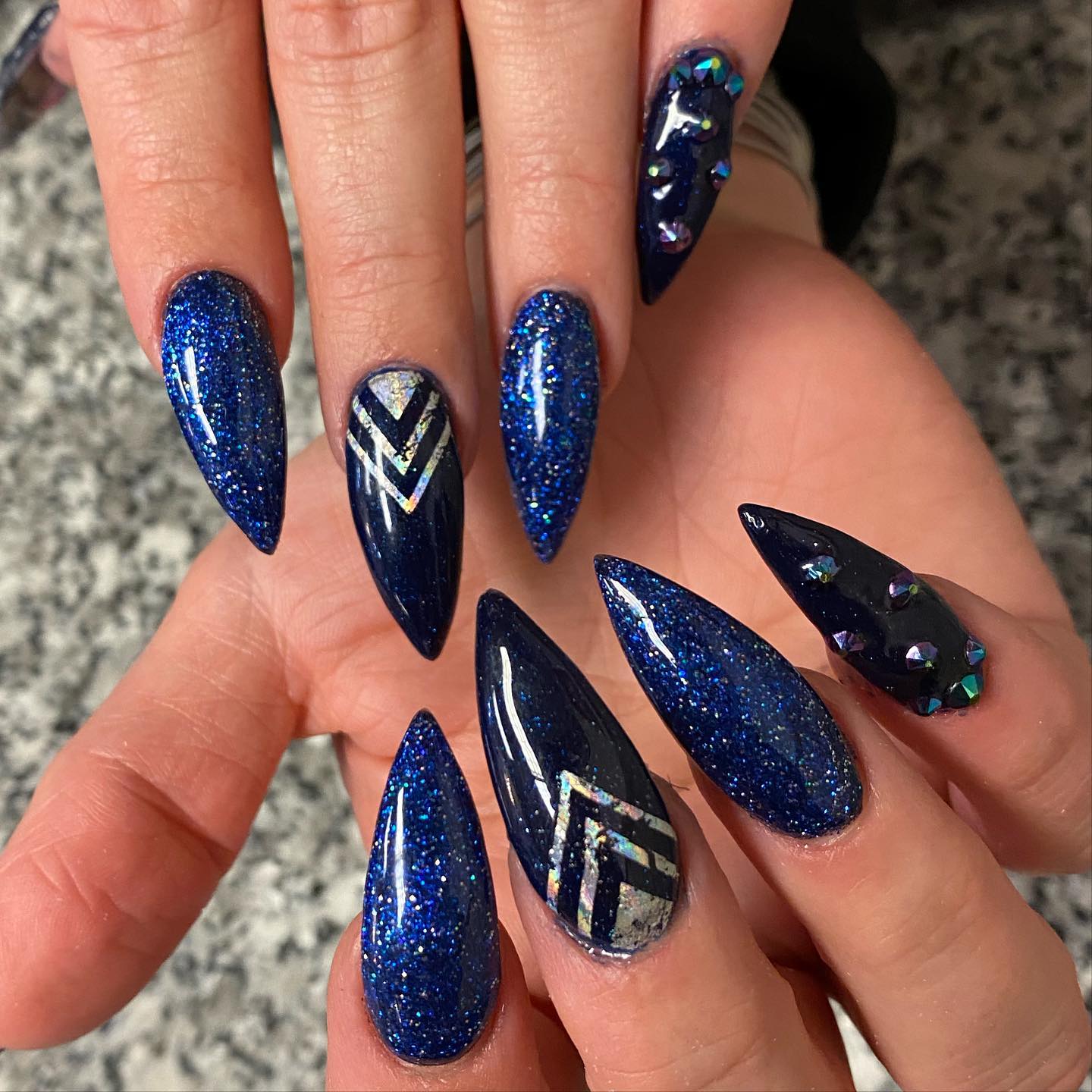 Glitter Stiletto Nails are like tiny disco balls at your fingertips, adding a sparkling punch to the already dramatic stiletto shape. This combo is a match made in glam heaven, perfect for nights out, special occasions, or whenever you're feeling a little extra fabulous.
Stiletto Dark Blue Design
Stiletto Dark Blue Design nails are the ultimate in edgy elegance, combining a daring nail shape with a sultry, deep blue hue. The stiletto shape adds a dramatic flair, making these nails the perfect accessory for anyone looking to make a bold fashion statement.
Super Glam Dark Blue Nails
High Gloss Dark Blue Nails are a show-stopper, capturing the allure of a midnight sky with a mirror-like shine. The high-gloss finish not only adds depth to the dark blue color but also makes your nails look sleek and impeccably polished.
Dark Blue Ombre Nails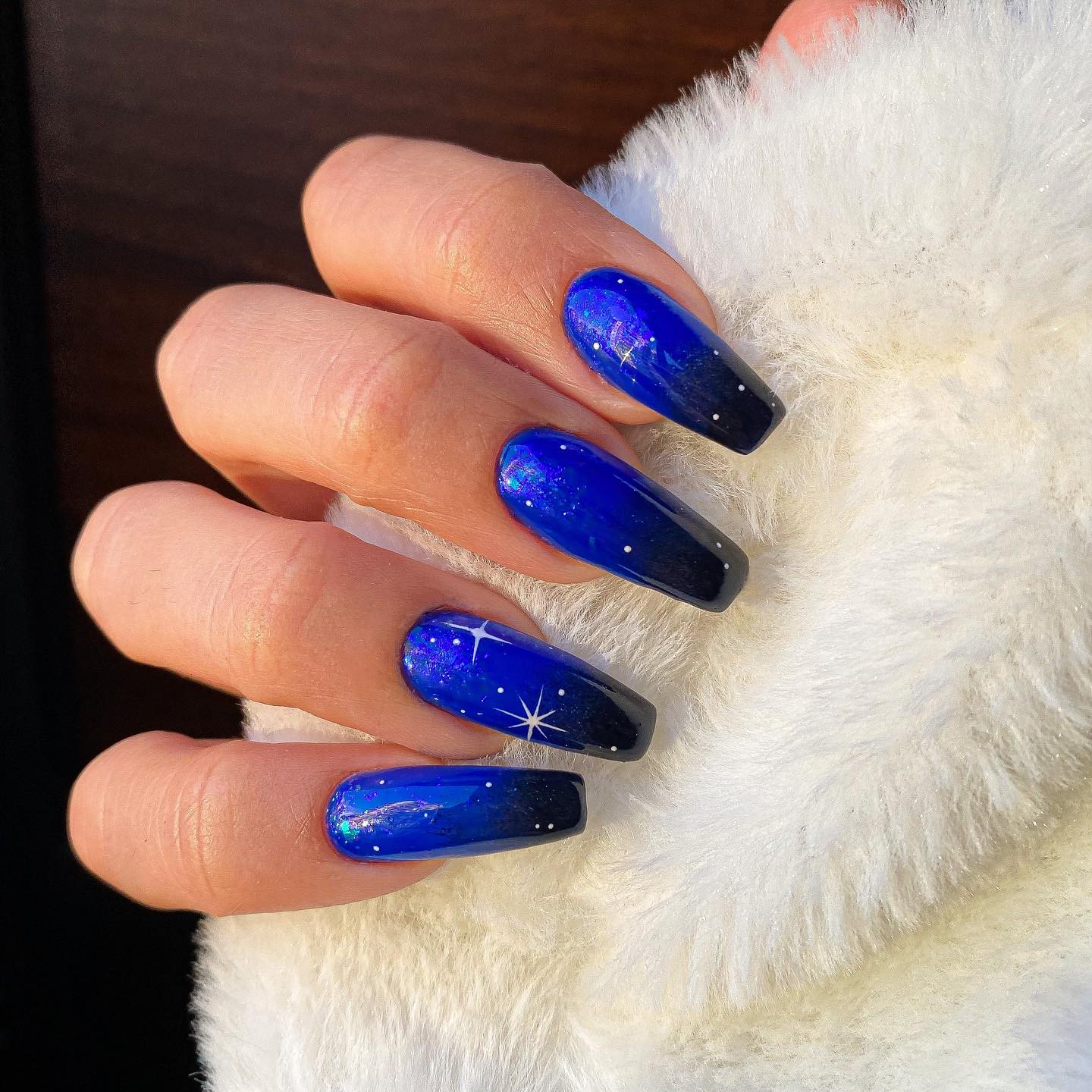 Glitter Dark Blue Ombre Nails are where drama meets dreaminess, blending from a lighter hue to a deeper blue with a sprinkle of sparkle. This eye-catching look gives you the best of both worlds: the depth of dark blue and the playful shimmer of glitter.
Gold And Dark Blue Nails
The gold and dark blue combo gives off an air of opulence and luxury. It's like having tiny, wearable pieces of art at your fingertips. Choose gold accents or stripes to make the dark blue base stand out.
Long Coffin Dark Blue Nails
Long coffin nails are already a statement, but when you paint them dark blue, you take them to a new level. The shape elongates your fingers, and the dark hue adds a touch of drama.
Silver Dark Blue Nails
Silver and dark blue are a match made in nail heaven. The cool undertones of both colors perfectly complement each other. Whether it's a silver accent nail or intricate designs, you can't go wrong here.
Dark Blue Pattern Nails
Adding patterns like stripes, dots, or floral designs to a dark blue base can create a fun, eclectic look. Patterns add an extra layer of personality to an already compelling color.
Dark Blue Marble Nails
The swirls and complexities of a marble design bring depth and texture to dark blue nails. It's like having tiny galaxies at your fingertips—a conversation starter.
Metallic Dark Blue Nails
If you want something eye-catching but not over-the-top, metallic dark blue nails offer that perfect balance. The shimmer adds a sophisticated bling without being too flashy.
Gold Sequins And Dark Blue Nails
Imagine a starry night sky on your nails; that's what gold sequins on a dark blue base look like. It's a celestial vibe perfect for evening events, or anytime you're feeling a little extra.
Chrome Powder Dark Blue Nails
For a futuristic and ultra-modern feel, chrome powder over a dark blue base is your answer. The metallic sheen adds an otherworldly glow that's hard to ignore.
Rhinestone Dark Blue Nails
When you want to add a dose of glam without overwhelming the look, strategically placing rhinestones on a dark blue canvas can be chic and exciting.
Animal Pattern Dark Blue Nails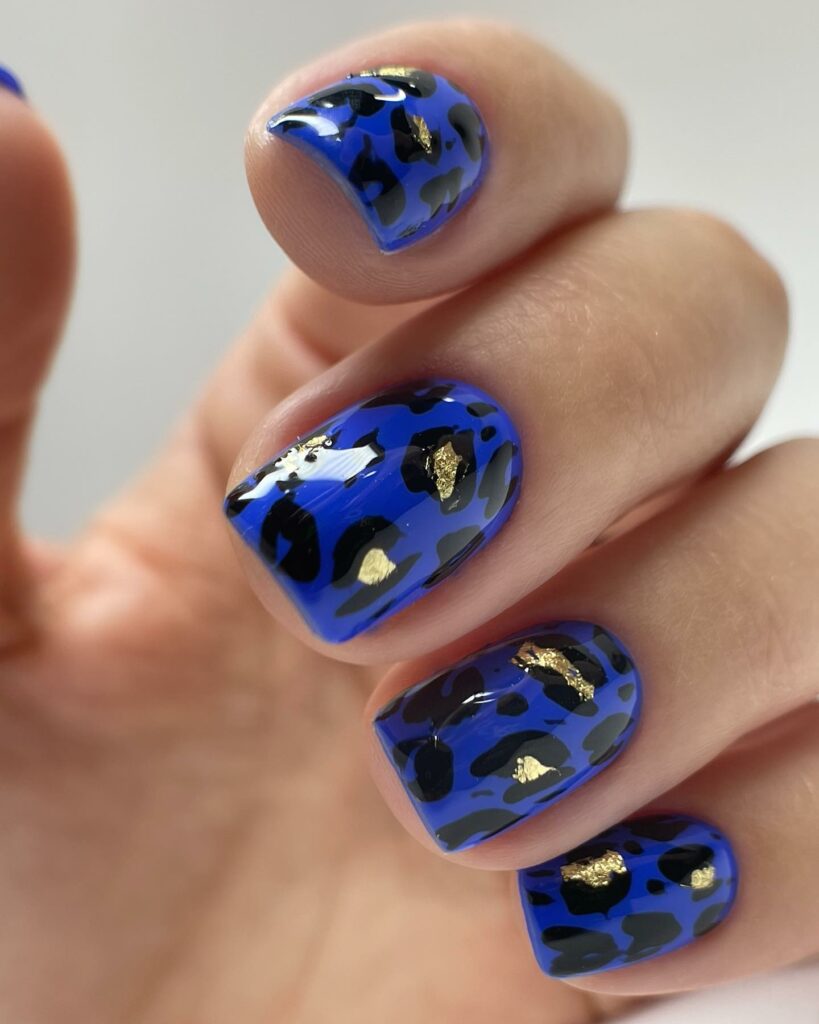 Unleash your wild side with some animal patterns over a dark blue base. Whether it's leopard spots or zebra stripes, the dark blue will add an unexpected twist.
Almond Dark Blue Nails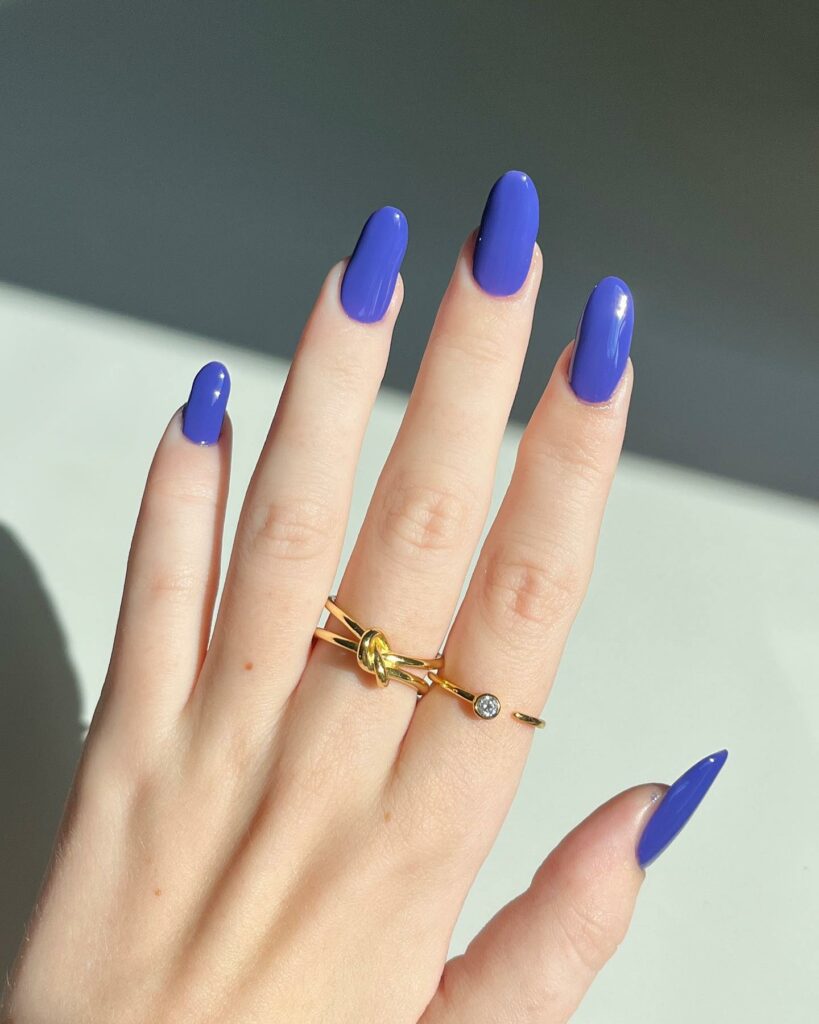 The almond shape is a softer, more feminine version of the pointy stiletto, and when painted dark blue, they're effortlessly chic and versatile for both day and night.
All About Acrylics: Dark Blue Edition
First up, let's chat about acrylics. They're the MVPs when you're looking to get that salon-perfect, long-lasting mani. For a can't-go-wrong choice, opt for a dark blue acrylic set. Remember my beach vacay last summer? I went with a dark blue ombre, blending various shades of blue, and let me tell you, those nails were as durable as they were cute!
A French Affair: Classic Meets Modern
I love a good French tip, but sometimes it's fun to shake things up, right? Dark blue French tips are a game-changer. The elegance of the French tip stays intact, while the dark blue adds a playful, modern twist. I wore this look to a wedding last month and got so many compliments, even from the bride!
Ombre: The Dark Blue Drama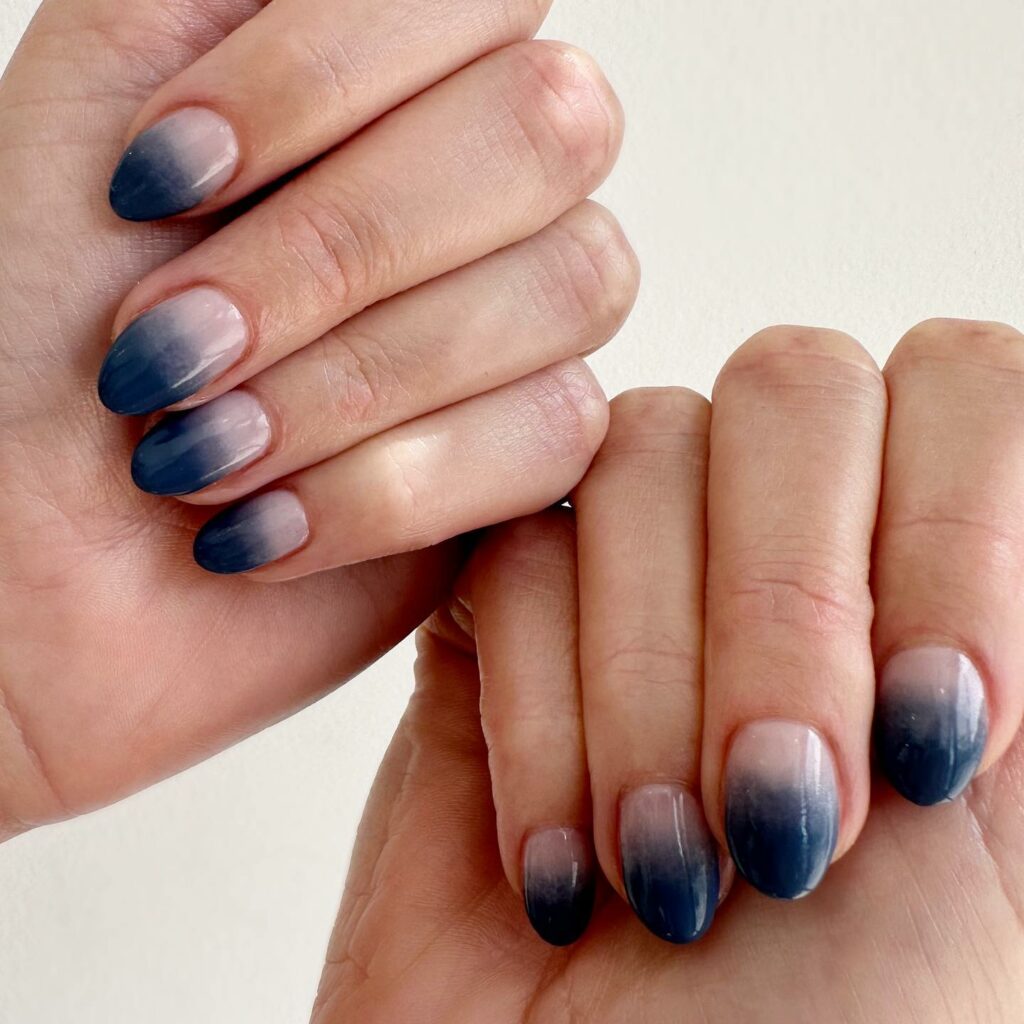 Let's talk ombre, one of the nail trends we just can't quit. Dark blue lends itself beautifully to an ombre design. Feel free to blend it with lighter blues or add metallic silver for an icy finish. I tried this look last winter, and the excellent gradient effect made me feel like an ice queen—in the best way possible!
Make It Matte: The Sophisticated Edge
Matte nails have been a staple in my nail game for years. When you go for matte in dark blue, you're serving sophistication with a side of edge. Trust me, it's a winning combination—especially if you're heading to a formal event but still want a hint of drama.
The Coffin Chic: Glam Meets Elegance
For those of you who love the elongating effect of coffin nails, dark blue is a match made in heaven. Wanna turn up the volume? Add some glitter to one or two accent nails. I rocked this look during New Year's Eve, and let's just say my nails were as popping as the fireworks!
All That Glitters: Royal And Dark Blue Fusion
Speaking of glitter, let's remember the royal and dark blue combo. Sprinkle some glitter over it, and voila, your nails are now the life of the party! It's like having tiny disco balls at your fingertips—so fun and chic!
Almond Allure: Versatile And Gorgeous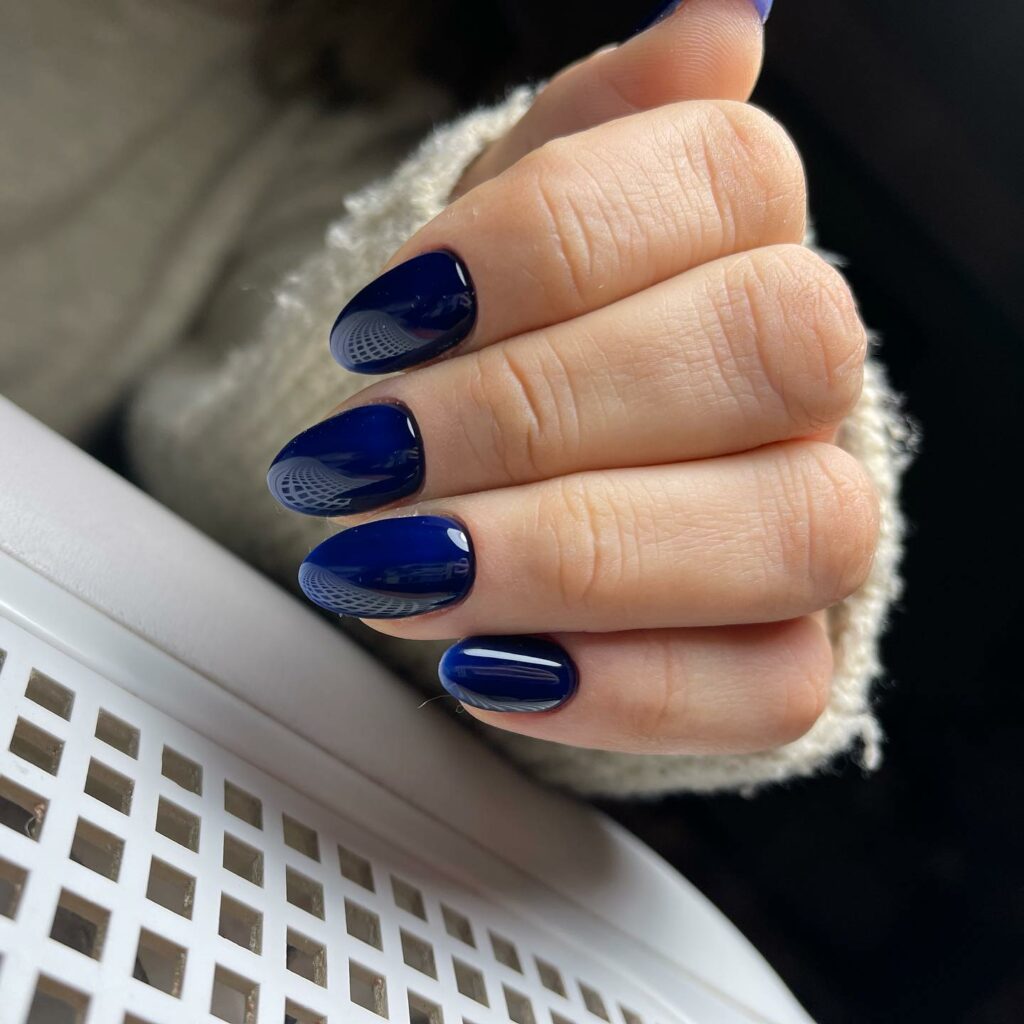 Almond-shaped nails are my go-to when I want something that works for both day and night. A dark blue polish on almond nails is just irresistibly stylish. And if you're like me, adding a silver accent nail can make all the difference.
Metallic Love: Silver And Dark Blue
If you're a sucker for metallic shades, pairing dark blue with silver accents is an instant win. Whether you choose strips, dots, or any other design, this combo screams trendy and edgy. It's my top pick for a girls' night out!
Timeless Duo: Dark Blue And White
Last but not least, let's talk about the classic combo of dark blue and white. Whether you're going to a wedding or a formal event or want nails that look clean and polished, this pairing has got you covered.
Dark Blue French Tip Nails
Dark Blue French Tip Nails offer a unique spin on the traditional French manicure, instantly elevating it from classic to contemporary. The dark blue tips provide a sophisticated contrast, making this look a perfect blend of tradition and modern flair.
Dark Blue Acrylic Nails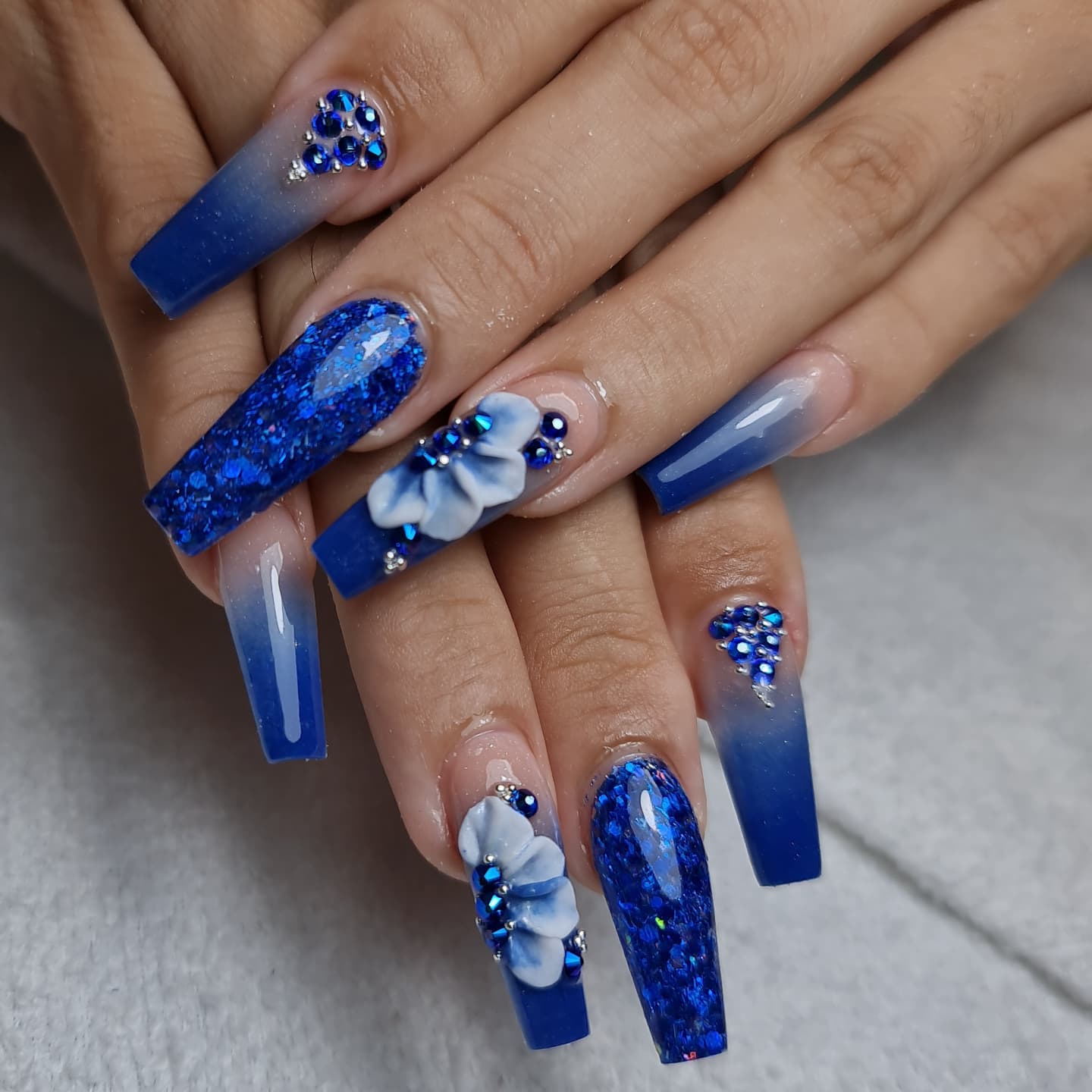 Dark Blue Acrylic Nails are your go-to for a long-lasting, show-stopping manicure that pairs durability with high fashion. The acrylic base gives you the freedom to go long or keep it short, while the dark blue hue adds an air of elegance and mystery to your look.
Dark Blue Gloss Short Nails
Dark Blue Short Gloss Nails pack a powerful style punch without needing any extra length. The glossy finish amplifies the richness of the dark blue, making your nails a standout feature even if they're on the shorter side.
Dark Blue Gloss Almond Nails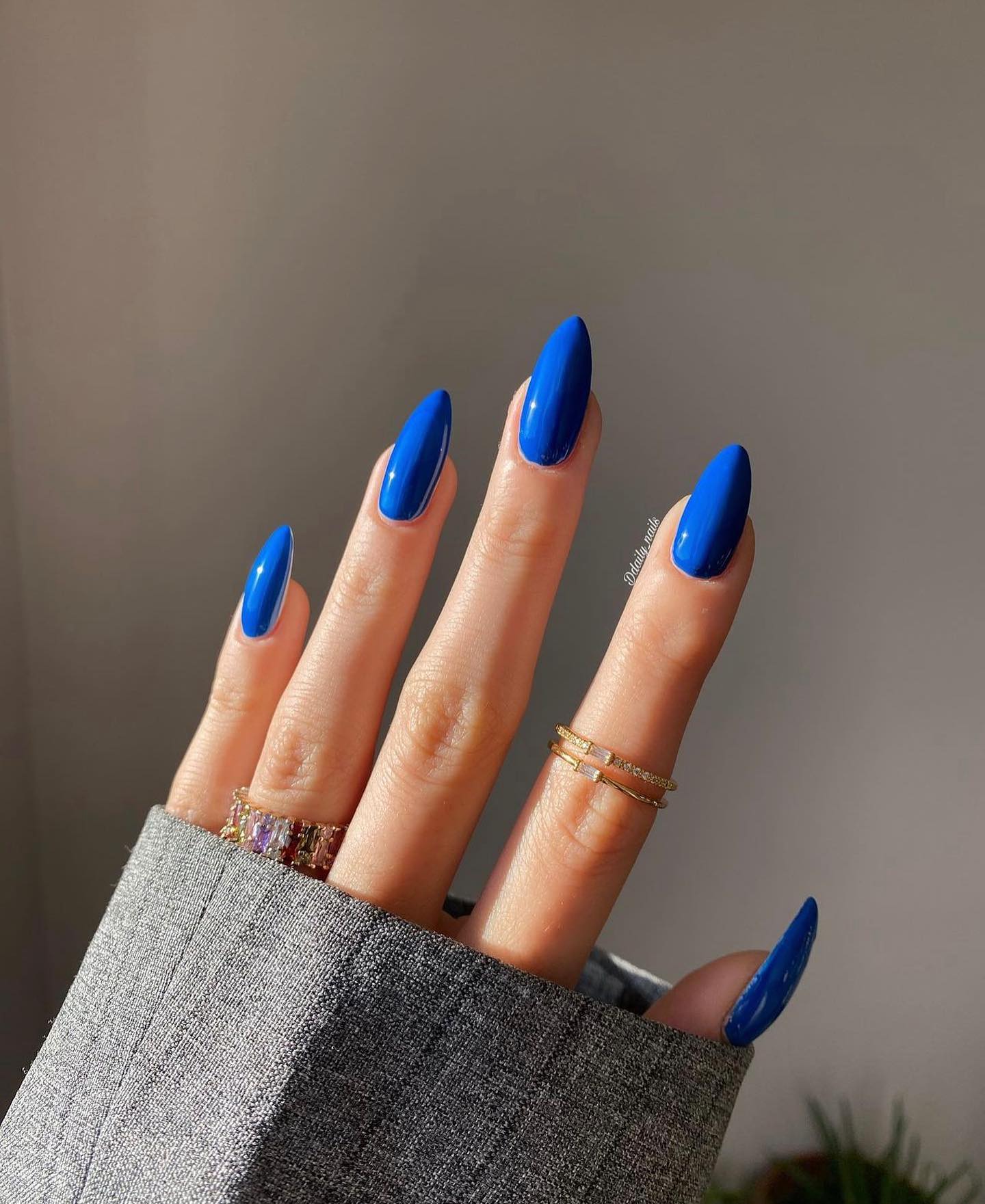 Dark Blue Almond Gloss Nails are the epitome of chic sophistication with a dash of drama. The glossy finish takes that deep, dark blue to the next level, making your nails look like little jewels at the tips of your fingers.
Dark Blue Almond Nails
Dark Blue Almond Nails with swirls—now that's a combo that screams elegance and whimsy all at once! The almond shape gives your fingers a graceful, elongated look, while the swirls add a playful twist that's sure to catch eyes and compliments.
Dark Blue Nails With Accent Of Glamour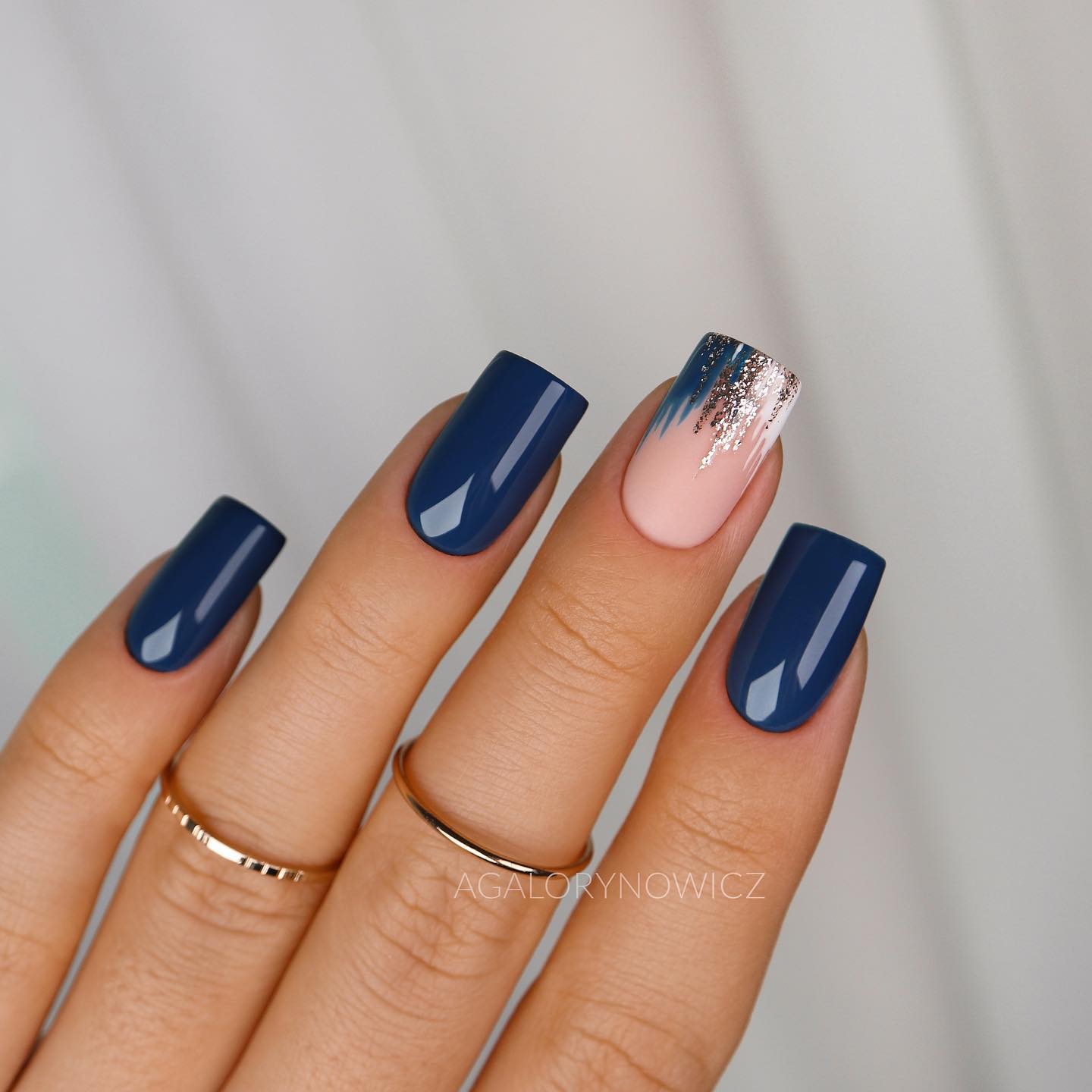 Dark Blue Nails with an Accent of Silver Glitter are like a night sky studded with stars—simply magical! The silver glitter adds that extra flair, elevating a classic dark blue mani into something truly eye-catching and special.
7 Brands That I Love To Use For Dark Blue Nails
OPI: Their shade "Russian Navy" is a cult classic. It's a rich, deep blue with just a hint of shimmer. Perfect for those of you who love a complex color!
Essie: They have a gorgeous shade called "After School Boy Blazer, " a dreamy, deep navy. Essie's formula is always top-notch and super accessible at most drugstores.
Zoya: If you're looking for a cruelty-free and vegan option, Zoya's got you covered. Their shade "Ibiza" is a stunning, opaque dark blue that will turn heads.
CND Vinylux: For those who are into long-lasting polishes without going the gel route, CND's "Peacock Plume" is a showstopper. The brand claims to give you seven days of flawless wear, and in my experience, they're not kidding.
Chanel Le Vernis: If you're feeling luxe, Chanel's "Magic" is an intense, electric dark blue. It's on the pricier side, but the formula and the brush make it a dream to apply.
Deborah Lippmann: Known for her luxurious line of nail products, Deborah Lippmann's "Rolling in the Deep" is a creamy, mysterious dark blue rich in pigments.
Butter London: Their "Royal Navy" shade epitomizes dark blue luxury. It's a splurge, but it's 8-free (free of the eight most toxic ingredients found in nail polish) and wears beautifully.
9 Tips For Maintaining Dark Blue Matte Nails
Use a Good Base Coat: Lay down a solid base coat before thinking about that lovely dark blue shade. This step is crucial for longevity and will make your color pop even more.
Two Thin Coats: Layering is essential. Apply two thin coats of dark blue matte polish, allowing each to dry thoroughly before moving on to the next. Trust me, less is more.
Top it Off with a Matte Topcoat: Lock it in with a matte topcoat once your color is set. This will enhance the matte effect and give you an extra layer of protection.
Steer Clear of Oil: Matte nails and oily products are not friends. Avoid cuticle oils or hand creams that are too greasy, as they can ruin the matte effect. If you absolutely must moisturize, opt for a fast-absorbing lotion.
Touch-ups Are Your BFF: If you notice some wear and tear, don't stress. Smooth out any chips with a thin layer of dark blue polish, and reapply your matte topcoat.
Gloves for Chores: It might seem extra, but wearing gloves while doing household chores can save your manicure. Soaps and detergents are matte killers, so glove up!
Hydrate, Hydrate, Hydrate: While avoiding oils, don't skip out on keeping your hands and cuticles hydrated. A light, non-greasy hand cream will keep your skin looking as good as your nails.
Mind the Tips: Matte polish wears off faster at the tips. Every two or three days, swipe a thin layer of matte topcoat just along the edge of your nails to keep them looking fresh.
Quick-Dry is a No-Go: Most quick-dry solutions add a bit of shine to speed up the drying process. Stick to air drying to maintain that matte allure.
Still Looking for Inspiration, Then Check Out This Video
Conclusion
And there you have it, loves! We've navigated the dreamy seas of dark blue nails together, exploring everything from acrylics to metallics. My ultimate tip? Feel free to get creative and mix up these styles to make them your own! If you're new to the dark blue game, start with a matte or almond shape—they're easy winners that never disappoint. For special occasions, don't sleep on the glitter or silver accents; they elevate your nail game from cute to drop-dead gorgeous. Nails are the ultimate accessory, so have fun with them and let your personality shine through. Until next time, stay fabulous and keep those nails on point!
Feature Image Photo @agalorynowicz Instagram
Last reviewed and updated on October 30, 2023