As we bid farewell to the warm hues of autumn and embrace the chillier months, it's time for a seasonal transition—not just for your wardrobe, but for your nails, too! Today, we're diving deep into one of this winter's most captivating trends: dark green nail polish. Before you jump to any conclusions, this isn't your grandma's Christmas tree green. Oh no, we're talking about a lush, elegant spectrum ranging from deep emeralds to moody forest greens. By the end of this post, you'll be equipped with 50 cutting-edge ideas that will make your fingertips the epitome of winter sophistication.
Why dark green, you ask? Aside from perfectly complementing the winter vibe, it offers a much-needed departure from the predictable palette of reds and blacks. I will introduce you to the best shades in the market and provide creative ideas to elevate your manicure game—think textures, patterns, and even some avant-garde elements for the truly adventurous. Get ready to be inspired and to inspire others with your flawlessly on-point nails. Let's get started!
The Perfect Pair: Mint and Evergreen Combo
Remember when I said dark green is the shade to watch this winter? Well, let me introduce you to its cool cousin—mint green. The two together create such a gorgeous contrast, like a winter forest on your nails. I tried this combination last week and was flooded with compliments. Trust me, you'll want to give this one a go. Grab some nail striping tape or an ultra-thin striping brush for razor-sharp lines and let your creativity flow!
The Sophisticated Twist: Tortoiseshell Accents
Who said tortoiseshell is only for autumn? It gets an instant winter upgrade when paired with a lustrous spruce lacquer. For that added luxe touch, sprinkle some gold flake accents. I used WFAUIBR's Gold Leaf Gilding Resin Flakes, and let me tell you, it looks like I got it professionally done!
Get Wild: Green and Black Snake Print Nails
For those seeking a walk on the wild side, how about snake print nails? Intricate, exotic, and unapologetically audacious. Because of its complexity, you might want to consult a nail art pro for this one, unless you're up for the challenge!
Checkerboard Chic: Green and White Checker Nails
Checkered patterns have been making waves this year, and as we transition into 2023, the trend is still going strong. My personal favorite is a mix of dark green, baby blue, and white. It gives a retro vibe that's insta-worthy.
Less is More: Minimalist Abstract Emerald
Sometimes, subtlety makes the loudest statement. Last month, I went for a minimalist look with just a hint of dark green, outlined in a modern, abstract design. The result? Elegance that caught everyone's eye without screaming for attention.
Ride the Wave: Green and Blue Wave Nails
If you like the dark green, baby blue, and white color palette but want something more abstract, wave patterns are your best bet. It's like carrying a piece of the ocean wherever you go.
A Modern Classic: Metallic Green French Heart Tips
Dark green might not be your go-to when you think of French manicures, but it should be. The twist? Heart-shaped tips. They're cute, they're quirky, and they're a total conversation starter.
Back to the '70s: Retro Groove Nails
If you're into ombré, why not try something a little different? I experimented with a retro-striped swirl using varying shades of dark green and the result was mesmerizing. It's like stepping into a time machine with every glance at your nails.
For the Love of Earth: Earthy Green Nails
Earthy greens are your ally if you're after a moodier, understated look. I started with a khaki base and added army green accents. The result was so good it became my go-to for casual outings.
Matte Magic: Matte Swirl Nails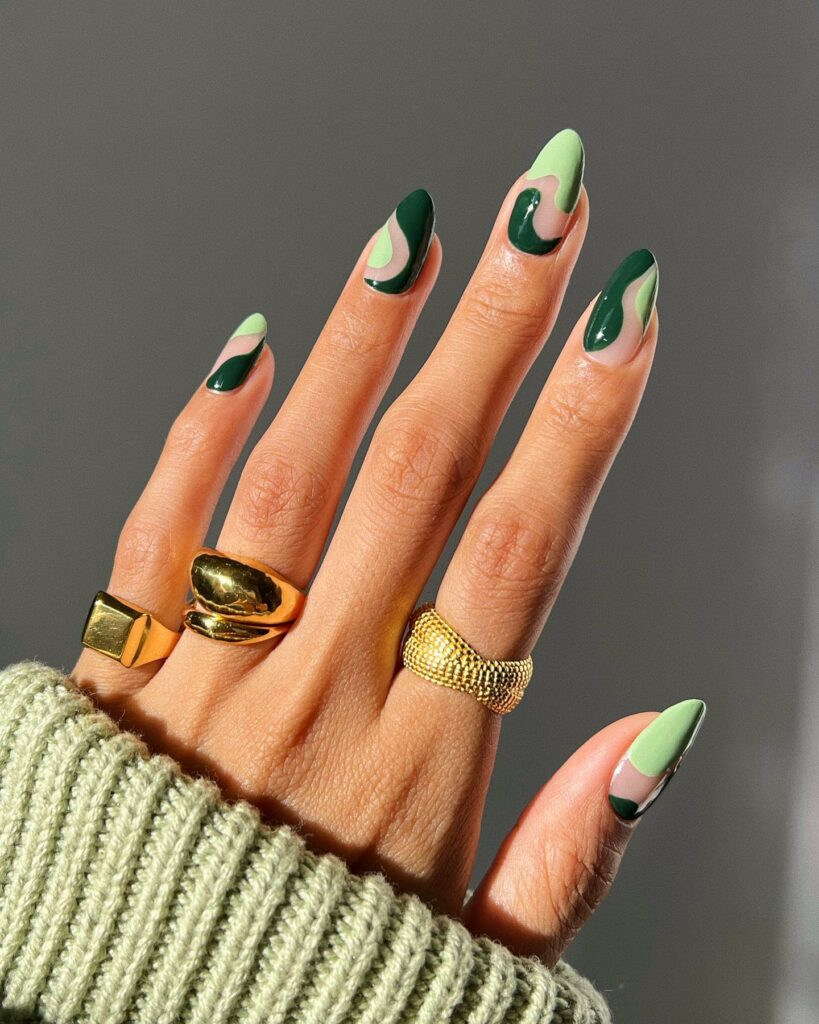 Who says your nails need to shine to stand out? Matte is the new black, or should I say the new evergreen. Opt for a matte finish and add a swirl pattern to elevate the look.
Strike Gold: Gold Leaf Accents
Hey there, fashion-forward folks! If you want to turn heads, a dark green and gold combo is where it's at. I rocked this marble-accented look at a recent dinner party, and let me tell you, it was a conversation starter. What's fantastic about this design is that it's not as time-consuming as it looks—three nails are a solid dark green, making it a cinch to pull off.
Into the Whirlpool: Dark Green Vortex Nails
Love a more artistic touch? Try out this vortex-inspired style. I was initially intimidated, but then I realized the beauty of this design is that it's not meant to look perfect. You only need dark green and white polish and a slim nail striping brush. The abstract flair brings a sense of drama to the whole look.
Palette Perfection: Dark Green Mix and Match
Let's talk color harmony: evergreen, sage, and white. This combo screams winter chic! I painted wavy accents on just one nail per hand to keep it simple yet eye-catching. The rest are in solid colors, so you get a striking effect without breaking a sweat.
Chrome Elegance: Chrome Dark Green Nails
Sometimes, less really is more, especially when you're using a chrome finish. This polish is so impactful on its own that you can skip the complicated designs. I wore it to a networking event last month, and it was the ideal ice-breaker. No joke, people were more interested in my nails than my business card!
Refined Edges: Green and White Angular French Tips
Here's a modern twist on the classic French manicure—angular tips in green and white, set off by a slim stripe of silver. It's got a festive yet sophisticated vibe that I adore. Don't be surprised if this becomes your go-to look for winter soirées.
Dotty About Art: Textured Dot Nails
Is anyone else a fan of Seth Rogen's Insta-famous pottery? These textured dot nails give me the same artisanal vibes. It's a fun and unique look that's a conversation starter, just like Seth's pottery pieces!
Walk on the Wild Side: Croc-Inspired Nails
Ready for another venture into the animal kingdom? These croc-inspired nails look almost wet and incredibly realistic. They're intricate, so you may want to book an appointment with a nail pro for this one. It's a small investment for a high-impact look.
Turn Up the Contrast: High Contrast Nails
Who says dark green can't be fun and vibrant? Pair it with a brighter shade like neon coral, and you have a playful yet sophisticated look. I've tried this combo, and it's the perfect pick-me-up on those drab winter days.
One-Color Wonder: Abstract Evergreen
If you're into monochrome but want to keep things interesting, go for an abstract design on each nail. The key is to embrace the negative space. Since it's so varied, perfection is not the goal here—creativity is.
Simply Stunning: Shimmering Spruce
Lastly, never underestimate the power of a great solid color. Death Valley Nails' Born With Thorns shade, for example, is simple yet captivating. It's priced at $14, but the investment is worth every penny for the countless compliments you'll receive.
The Art of Variety: Mix-And-Match
Hey there, trendsetters! Can't decide on a single design? Why choose? I've been there—staring at a Pinterest board full of ideas and unable to commit. This mix-and-match mani is like a buffet for your nails: a little sparkle, some reptile print, and a creative drip design. It's the ultimate solution to nail indecision.
Bundle Up Your Nails: Sweater Nails
Winter is all about cozy vibes, right? Picture this: hot cocoa in hand and nails that look like your favorite sweater. I tried this sweater-inspired manicure last December, and my Instagram was buzzing. It's a fascinating optical illusion, balanced out by solid green nails. Could "grandpacore" nails be the next big trend? Don't knock it 'til you've tried it.
The One and Only: Metallic Polish
Metallic polish is the one-hit-wonder of nail art. Seriously, one coat of this stuff, and you're practically a nail artist. No stress, no fuss—just an undeniably eye-catching manicure. This one's a lifesaver for those last-minute occasions when you want to dazzle but have zero time for intricate designs.
Perfectly Split: Contrasting Colors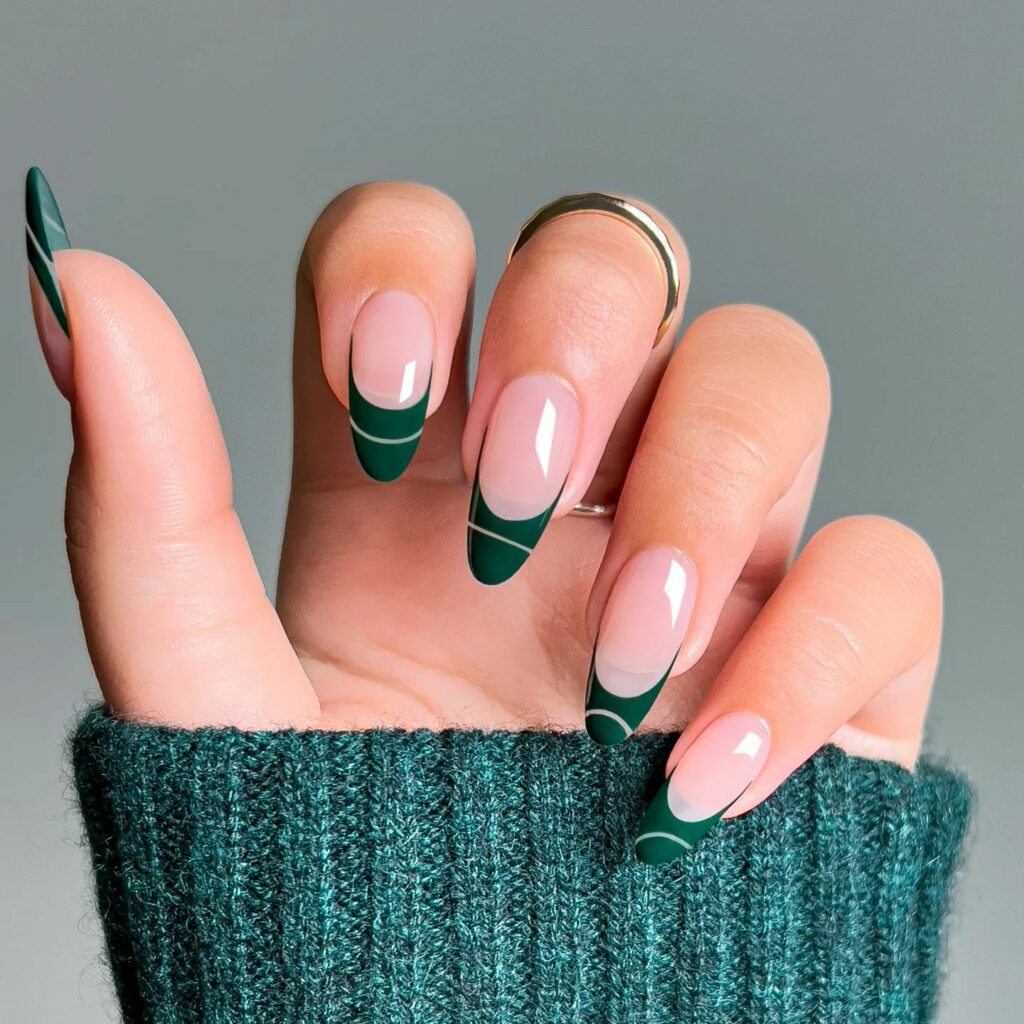 If you're the type that loves to sit on the fence (or just loves more options), the half-and-half look is for you. It's stylish, contemporary, and saves you from the monumental decision of settling on one shade. This look is like the chic cousin of the classic French mani, and I'm living for it.
Stone Cold Stunner: Marbled Effect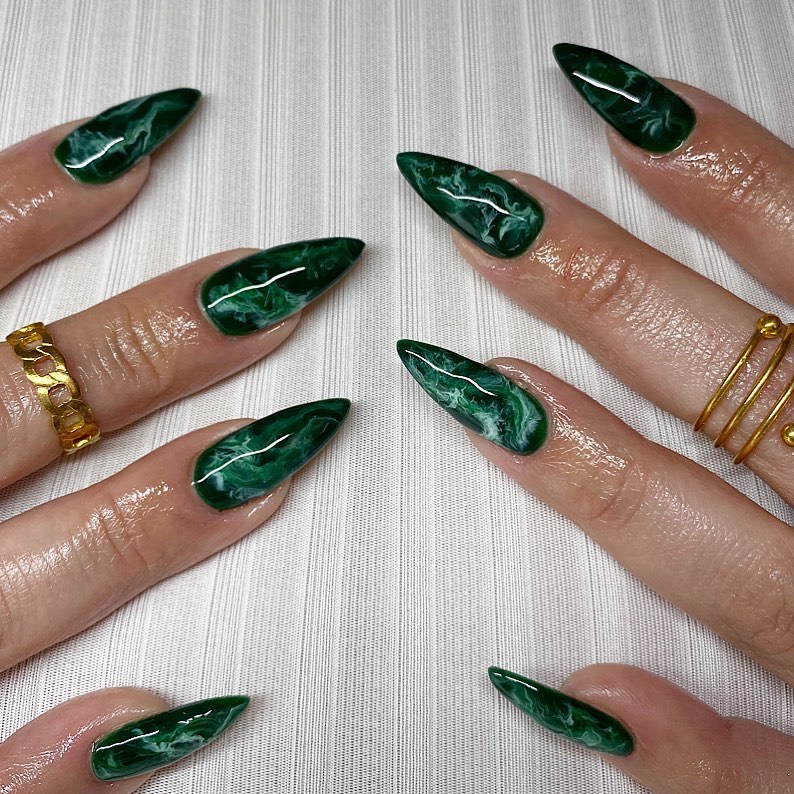 There's something inherently luxurious about marble. And when you translate that into a nail design? Pure elegance. I wore these to a winter wedding last year, and the compliments kept rolling in. It's a timeless style but with a deep green twist—perfect for the chilly seasons.
Get Swirly: Bold Swirls
The swirl nail trend is showing zero signs of slowing down. Mixing a nude base with a dark green swirl offers a chic transition of this trend into winter. The result is minimalist yet intricate, ideal for those who want to make a statement subtly.
Timeless Elegance: French Tips
Good news for Y2K fans: French tips are still as stylish as ever. Opt for dark green tips that verge on black, and you've got yourself a moody twist on an eternal classic. I wore this to a dinner date, and the ambiance of the restaurant lighting made the color dance between green and black. Pure magic!
Dual Finish: Alternating Finishes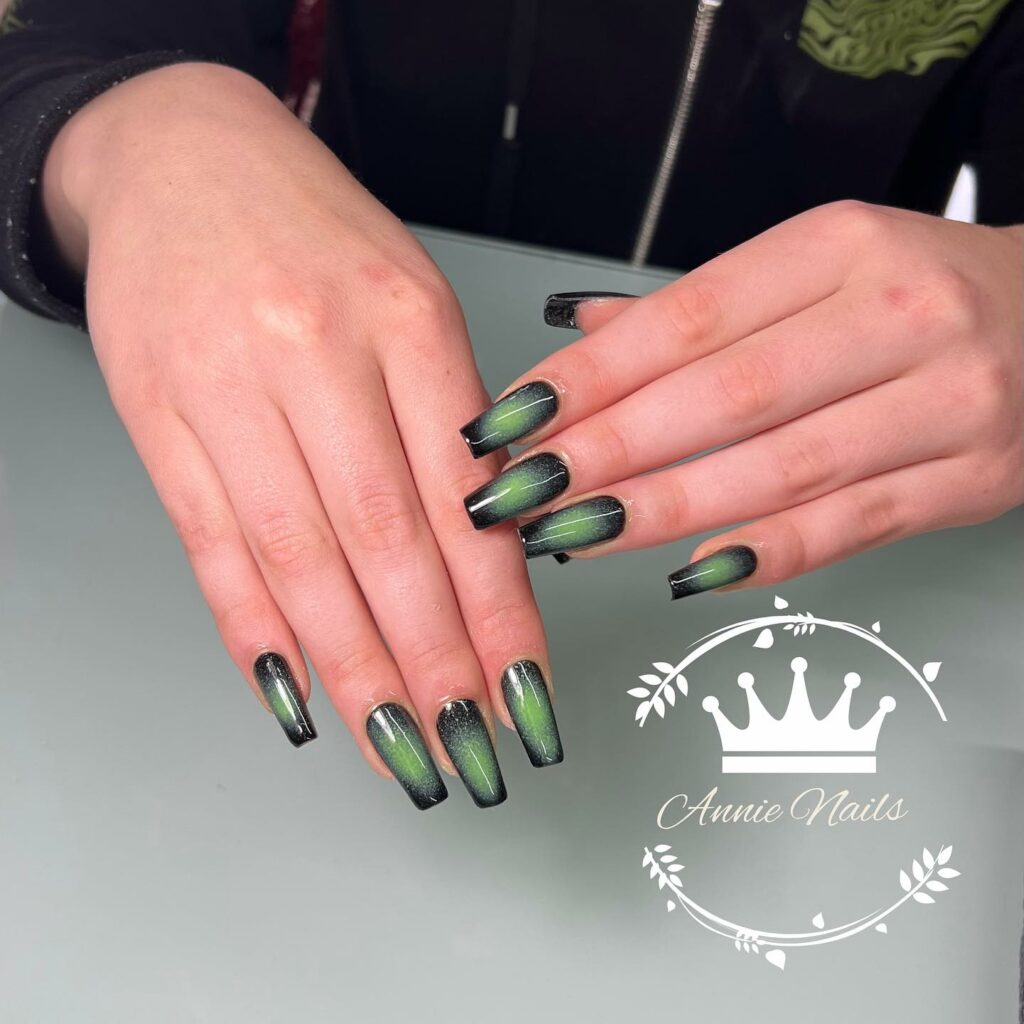 Why limit yourself to matte or gloss when you can rock both? This dark green manicure features alternating finishes for a contrasting look that's impossible to ignore. I can vouch that this look offers endless opportunities for nail selfies!
A Dash of Celebrity: Olive Green
If it's good enough for Kendall Jenner, it's worth a shot, right? Olive green nails offer a warm, earthy tone that's still in the realm of dark greens. These nails would look as stunning holding a coffee cup as they would wrapped around a martini glass stem. Talk about versatility!
Twinkle, Twinkle: Contrasting Glitter
Ah, the holidays—a time for lights, festivities, and, of course, glitter. I sported these dark green nails with gold glitter accents at a New Year's Eve party, and they were an absolute hit. They're flashy without being over-the-top, making them the perfect companion to your holiday outfits.
Reimagining the Classic: V-Shaped French Tips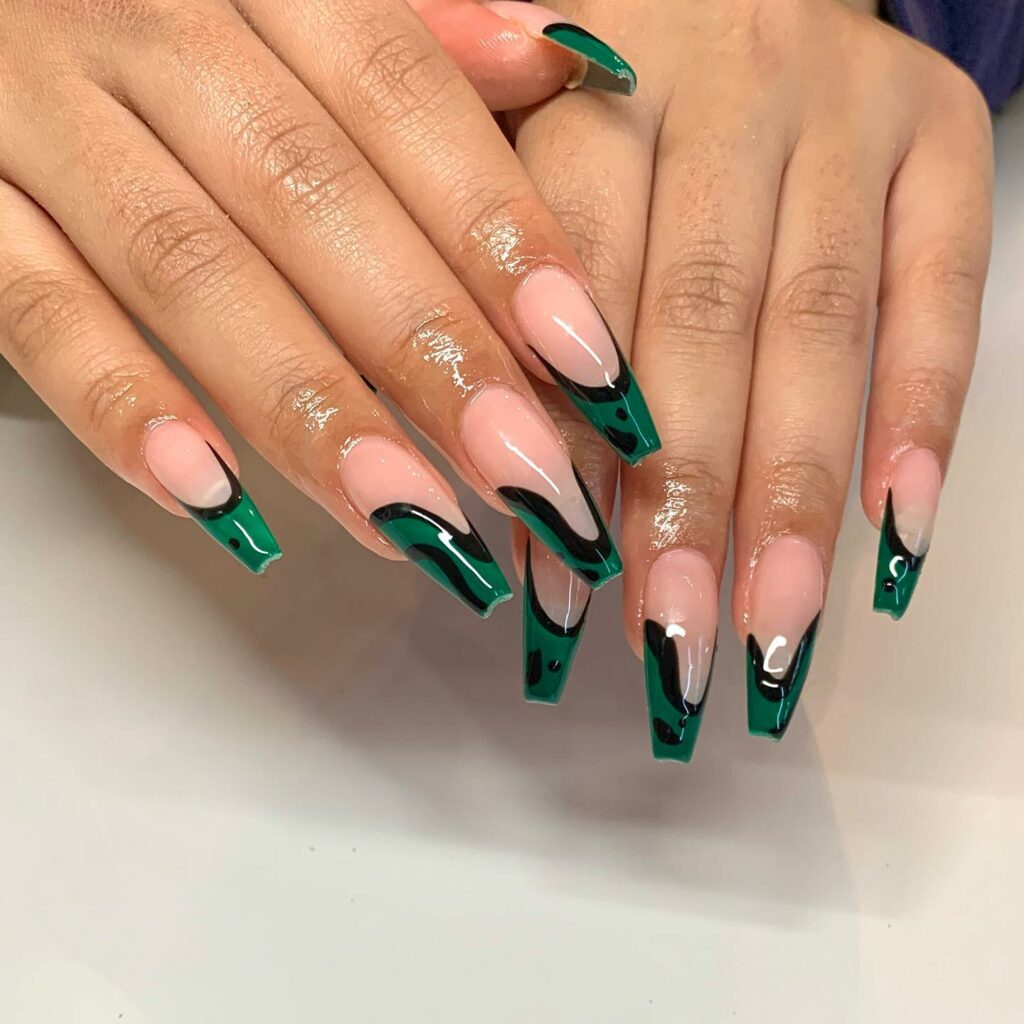 Hey there, style mavens! Let's be honest, a French manicure is the little black dress of the nail world—it never goes out of style. But who says you can't add a twist? Enter the V-shaped dark green tips. Last time I rocked this, I was flooded with compliments. It's your traditional French mani but with a sassy edge, the perfect blend of elegance and whimsy.
A Touch of Romance: Subtle Nail Art
Contrary to popular belief, dark green can indeed spell romance. Picture this: a deep, forest-green base with a tiny heart design peeping out. It's like that little secret you keep—a hidden love note on your fingertips. I wore this design on a cozy dinner date last winter, and my partner couldn't help but smile when they noticed the hearts.
Wild Side Calling: Crocodile Nails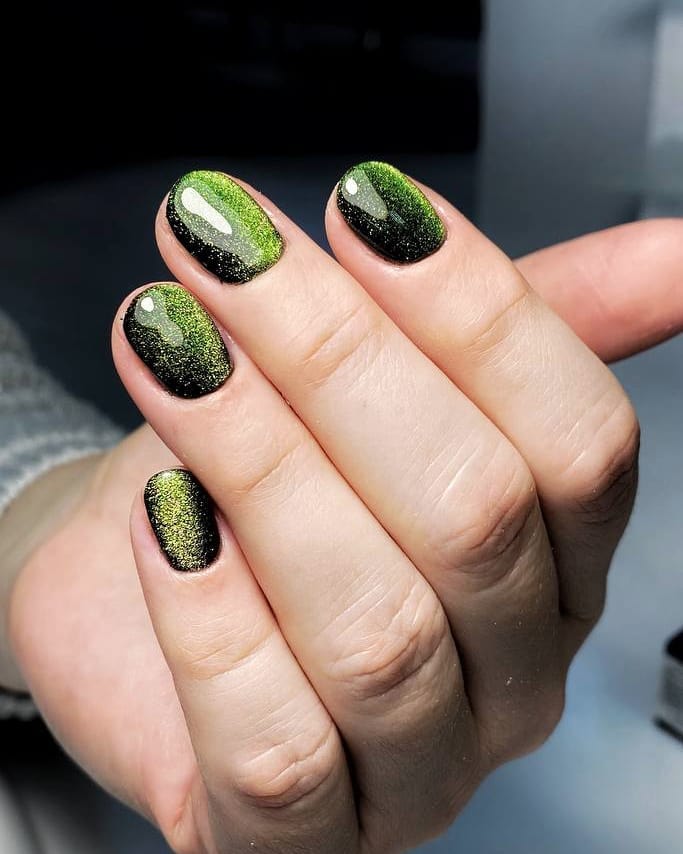 Okay, get ready to book that salon appointment because this is for the pro-level fans. Crocodile nails! They're so lifelike, you'll be doing double-takes. The texture, the color, the whole vibe—it's a real conversation starter. I took the plunge last month, and let me tell you, my DMs were blowing up with questions on how I got this ultra-cool look.
Disco Fever: Peacock Green Chrome
Chrome nails are like the gift that keeps on giving, and Vanessa Hudgens nailed it—pun intended—with her peacock green variation. Picture yourself at a winter party, your nails catching the disco lights, transitioning from one shade to another. It's an Instagrammable moment waiting to happen. I've tried this, and it's a head-turner at every angle.
The Modern Monochrome: Dark Green and Black Ombre
Kick it up a notch with a dark green to black ombre effect. This is a low-key but impactful design, perfect for those who want a hint of drama without going overboard.
Starry Night: Green and Gold Constellations
Give your nails the celestial treatment with gold star and moon decals against a dark green background. It's like having a mini-universe at your fingertips.
Elegant Stripes: Dark Green and Gold Linear Design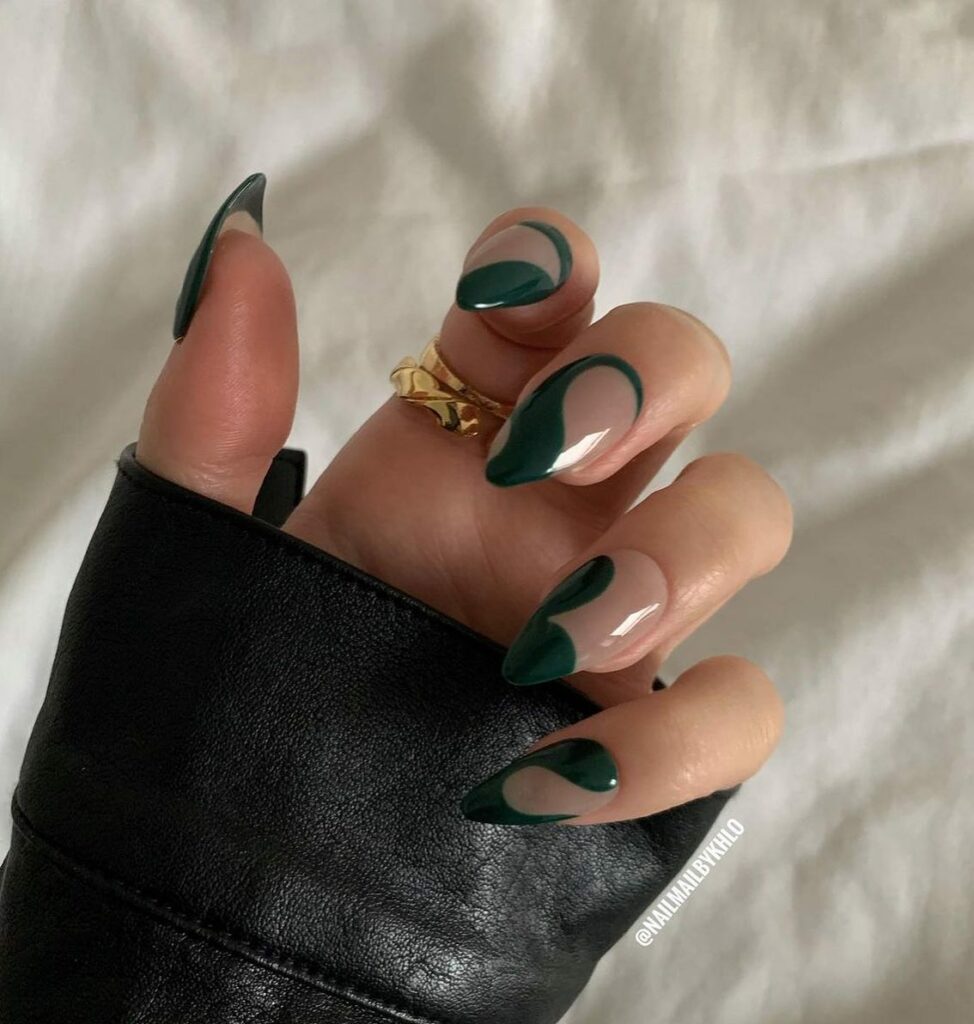 Simplicity can be striking too. Thin gold lines over a dark green base can make your nails look both elegant and modern, perfect for a formal event.
Wintery Wonderland: Snowflakes and Green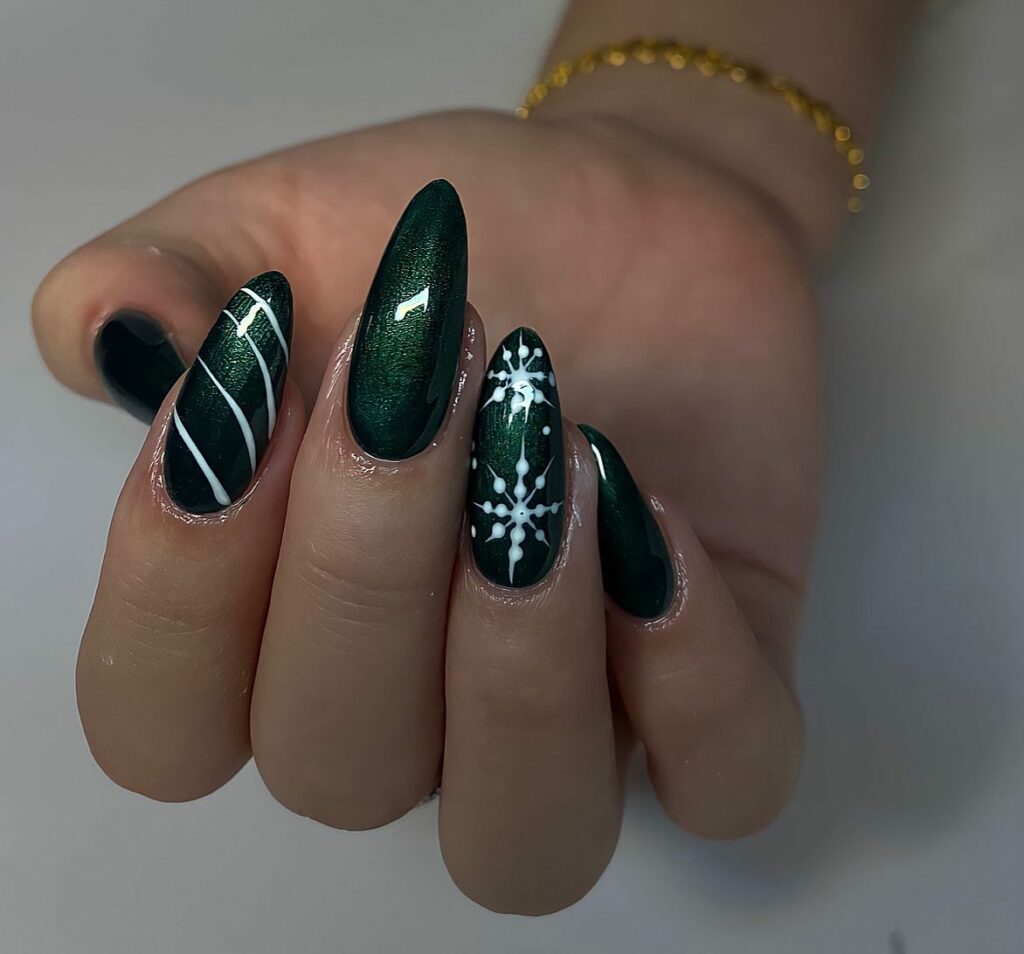 Marry the magic of winter and the depth of dark green by adding white snowflake designs on a deep green base. It's the perfect look for winter holidays and brings out a fairytale charm.
The Geometric Muse: Dark Green and Triangles
If you're a fan of geometric shapes, try adding small triangle decals over a dark green backdrop. It's simple yet stylish, adding an intellectual flair to your look.
Floral Dreams: Green and White Flowers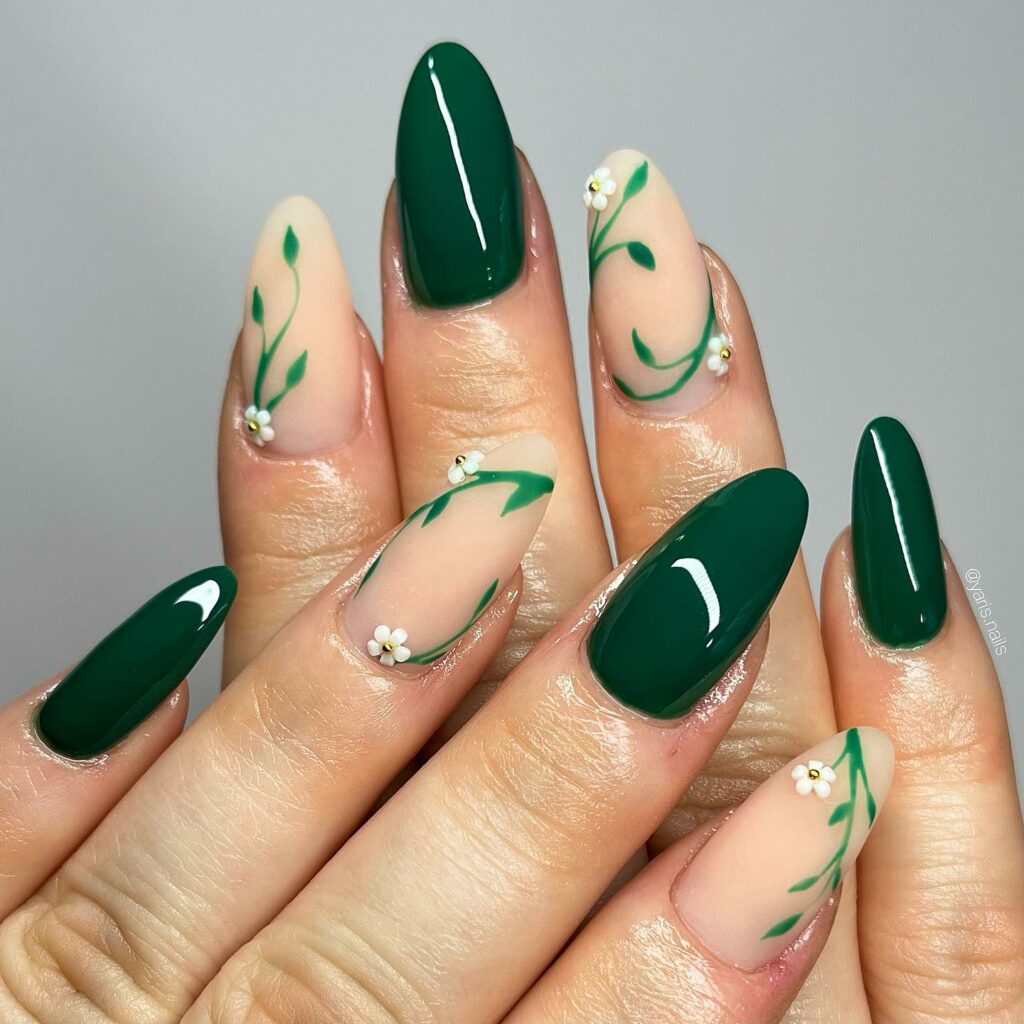 Dark green nails become a canvas for intricate white floral designs. This romantic and boho style pairs excellently with flowy dresses and cozy weekends.
Moody Blues: Dark Green and Navy Swirls
Combine dark green with navy blue for a mysterious and captivating swirl design. It's like capturing a stormy night sky right on your nails.
Lace It Up: Dark Green with Lace Accents
For a feminine touch, add lace details over a dark green base. I wore this to a tea party once, and it became an instant hit.
Dark Glamour: Dark Green with Black Rhinestones
Elevate your dark green nails with some black rhinestone accents. The shimmering black stones add a luxurious touch, turning each finger into a tiny masterpiece.
Nautical Notes: Dark Green with Anchor Designs
Go nautical by adding tiny white anchor designs over a dark green background. It's a fun, playful look that can make you feel like you're sailing even in the middle of the city.
Forest Fables: Dark Green with Woodland Accents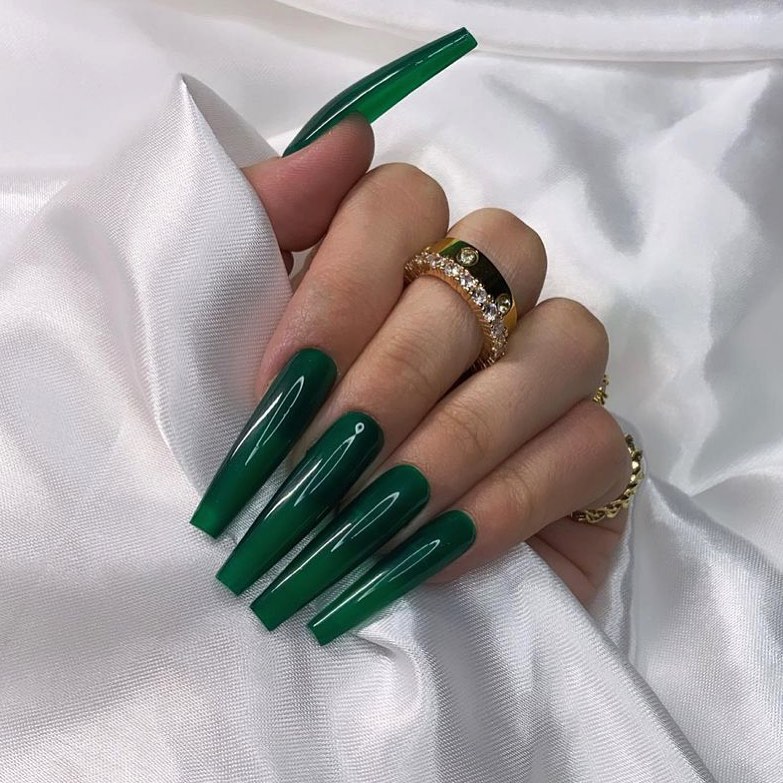 Dive deep into an enchanted forest with tiny woodland creatures or tree silhouettes over a dark green base. It's a whimsical choice that could turn any mundane day into a fairytale adventure.
Vintage Velvet: Textured Dark Green
Give your nails a luxurious vintage vibe by wearing a velvet-textured dark green polish. The unique finish gives a nod to old-world opulence, making your nails look and feel like a million bucks.
Glam Gradients: Dark to Light Green Gradient
If you're into gradients, try a smooth transition from dark green at the base to a lighter shade at the tips. This subtle transition provides a fresh and clean look while keeping the dark green as the star of the show.
Hidden Treasures: Embedded Gemstones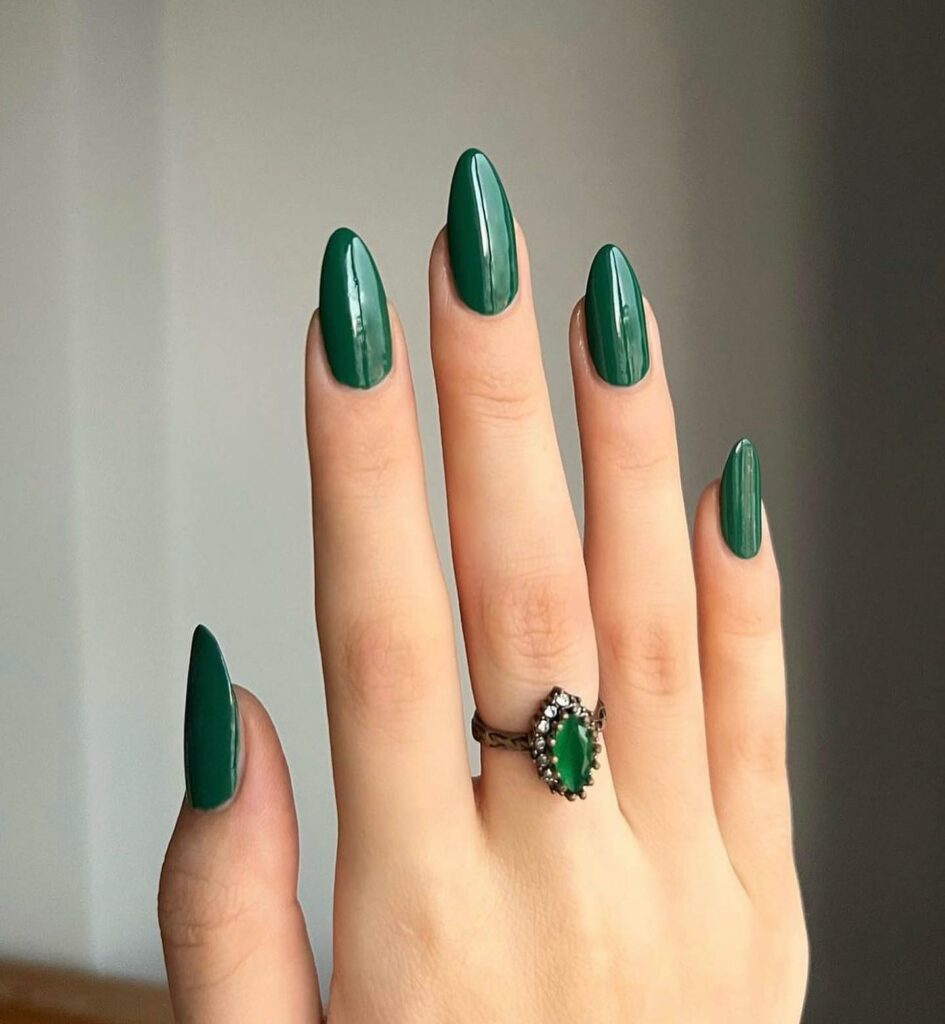 Amp up your dark green nails with some embedded gemstones for that extra bling. Whether you choose a single statement jewel or a smattering of smaller stones, your nails will instantly become a treasure trove.
Baroque Beauty: Dark Green with Gold Filigree
Turn your nails into tiny works of art by painting gold filigree designs over a dark green base. It's like carrying a piece of a Renaissance painting at your fingertips.
Two-Toned Tips: Dark Green and White French Tips
If you're a fan of French tips but want something more dramatic, try a dark green base with white tips. This spin on the classic design combines tradition with a bold color twist, making for an unforgettable look.
How To Make Your Dark Green Nails Unique To You
Creating unique and eye-catching nail designs may seem complicated, but with the right tools and patience, you can achieve salon-worthy results right at home. Here's a brief rundown of how to create some of the designs mentioned:
Color Gradients (Ombre)
Apply a base coat.
Paint your nails with the lighter shade of green.
Use a makeup sponge to dab on a gradient of the lighter and darker green shades.
Apply a topcoat to smooth it all out.
Embedded Objects
Apply a base coat and your choice of dark green.
While the second coat is still wet, gently place your tiny objects (gems, dried flowers, etc.) using tweezers.
Seal with a transparent topcoat.
Negative Space
Apply a base coat.
Use striping tape to create your desired negative space pattern.
Paint over the tape with dark green.
Remove the tape and finish with a topcoat.
Accents
Apply a base coat and your dark green polish.
Use a detail brush or dotting tool to create your accent designs with gold or other colors.
Seal with a topcoat.
Translucent Layers
Apply a base coat and your dark green polish.
Apply one or two coats of translucent or jelly-like polish.
Finish with a clear topcoat.
Double French Tips
Apply a base coat.
Use striping tape or freehand to create the French tips with dark green and another complementary or metallic color.
Finish with a clear topcoat.
Seasonal and Thematic Inspiration
Apply a base coat.
Paint your nails dark green.
Using a fine brush, draw your seasonal or thematic designs.
Apply a topcoat.
Nail Shape
Decide on the shape you want.
Use a good quality nail file to achieve your desired shape before applying any polish.
Pro Tip: Always clean your nails and push back your cuticles before starting any nail art. The prep work often makes the difference between a pro look and an amateur one.
5 Products That I Love Right Now for Creating Dark Green Nails
| Brand | Shade Name | Approximate Price | Why I Recommend It |
| --- | --- | --- | --- |
| OPI | "Christmas Gone Plaid" | $10.50 | This polish offers a rich, evergreen shade that's perfect for all seasons. Its long-lasting formula means fewer touch-ups. |
| Essie | "Off Tropic" | $9.00 | Known for its durability, this hue is a lush, grove green that brings an elegant touch to any outfit. |
| Zoya | "Hunter" | $12.00 | This creamy dark green is free of harmful chemicals and offers a smooth application with a glossy finish. |
| ILNP | "Mutagen" | $12.50 | If you're looking for something unique, this polish has a holographic twist, appearing to shift colors depending on the light. |
| Sally Hansen – Miracle Gel | "Jealous Boyfriend" | $8.00 | This affordable option doesn't skimp on quality, providing a gel-like finish without the need for UV light. |
Conclusion
In wrapping up our deep dive into dark green nail designs, there's no denying this hue brings a new level of chic and sophistication to your manicure game. Whether you're going for a subtle touch or making a bold statement, the possibilities are as endless as your imagination. Remember, some designs may require a steady hand or even a professional touch, so assess your skill level before diving into complex patterns or textures. But don't let that deter you; sometimes, stepping out of your comfort zone is where the magic happens. Invest in quality polishes and tools for the best results, and treat yourself to a salon day for those intricate designs. So embrace the dark green trend this winter, and let your nails be your canvas.
Feature image @overglowedit via Instagram / @nail.art.by.tea via Instagram
Last reviewed and updated on November 17, 2023