Today, we're diving deep—into the luxurious realm of dark green pedicures. That's right, we're taking a sabbatical from the traditional nudes and reds and navigating through emerald seas and forested hues. In this blog post, you'll learn why dark green should be your next shade and how to master the art of the dark green pedicure from prep to finish. You're in the right place whether you view your toes as ten tiny canvases or a newbie looking for a fresh shade to elevate your pedicure game. We'll delve into the psychology of green—a color historically associated with tranquility, sophistication, and, yes, a touch of mystique.
By the end of this post, your toes will not only look impeccably styled, but you'll also gain an expanded palette of aesthetic possibilities. So buckle up; we're going on a verdant adventure you won't want to miss.
Mint and Evergreen Combo: The Perfect Harmony
Ah, the mint and evergreen combo! It's like sipping a mojito in a forest. The pale mint offers a delicate contrast to the boldness of dark green. I remember trying this out last summer, and it felt like my feet were dressed for a garden party. To nail this look (pun intended), grab some nail striping tape or an ultra-thin striping brush to create those flawless lines.
Green and Black Snake Print Nails: Embrace the Wild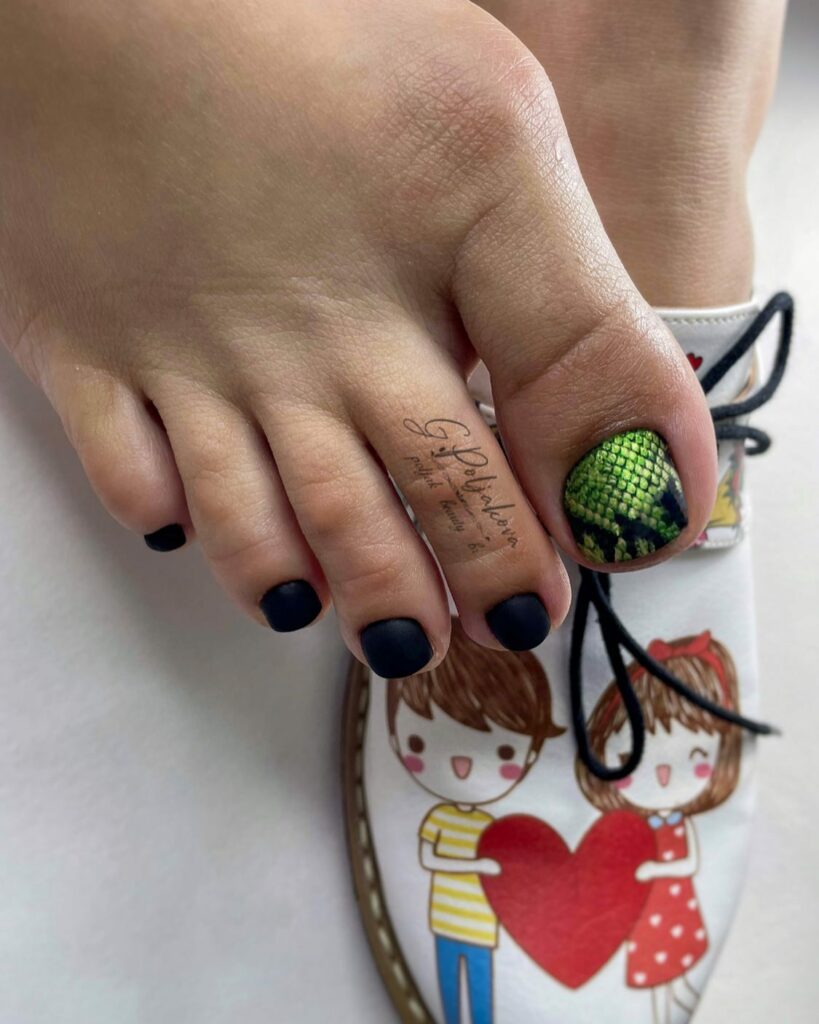 How about a snakeskin pattern if you're in the mood for something more daring? This design is a conversation starter, no doubt. However, it's intricate, so you may want to consult a pro—unless you're up for the challenge!!
Minimalist Abstract Emerald: The Art of Simplicity
Who says you need to cover every inch of your nail to make an impact? A minimalist abstract design in emerald green can make your toes look like a piece of modern art. It's my go-to for those "less is more" days.
Retro Groove Nails: Fade into Vintage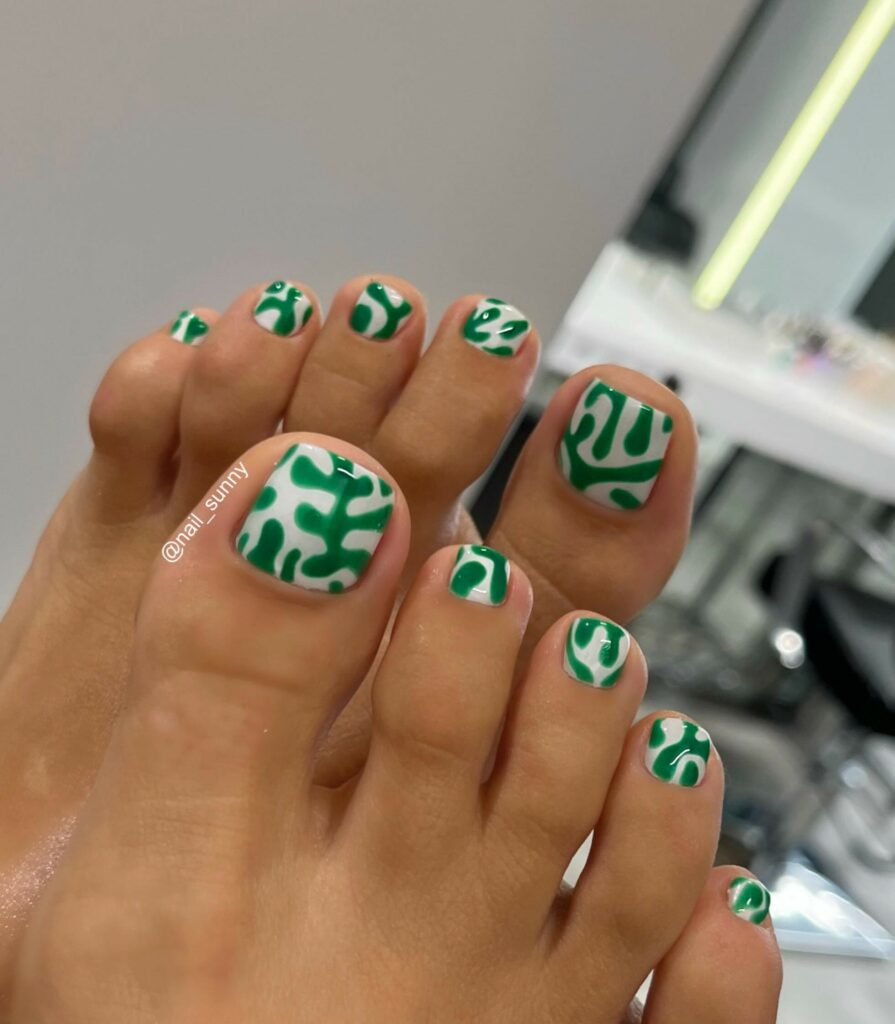 I have a soft spot for retro designs, and this ombré with dark green makes me feel like I've traveled back to the '70s. The swirling stripes create a dynamic, lively look that will set you apart.
Earthy Green Nails: Nature's Hug
For those days when you want to feel grounded, an earthy green look with a khaki base and army green accents is like a warm hug from Mother Earth. It's soothing and stylish at the same time.
Swirl Nails
A matte finish can make as much of a statement as a glossy one. I once sported this matte evergreen look with swirls and was flooded with compliments all day. Seriously, matte is where it's at!
Leaf Accents: Green Meets Glamour
Green and gold together are like a red carpet look for your toes. This marble-accented design is glamorous and pretty quick since three nails are solid green. It's my go-to for special occasions.
Dark Green Vortex Nails: The Artistic Flair
For those who love to make a statement through art, a dark green and white vortex design is as expressive as it gets. Since it's not meant to be perfect, it's surprisingly easy to recreate.
Dark Green Mix And Match: The Winter Palette
When winter rolls around, a mix of evergreen, sage, and white is like a cozy sweater for your toes. Keep one toe with a wavy accent, and you'll have the perfect blend of statement and simplicity.
Chrome Dark Green Nails: Let the Polish Speak
Sometimes, all you need is a suitable polish. A chrome finish in dark green is so stunning that you can skip the designs altogether. It's a show-stopper on its own!
Green and White Angular French Tips: Geometry Meets Glam
For a unique twist on the French pedicure, try using a green and white polish with a slim stripe of silver. It's a geometric delight that brings an extra touch of festive flair.
Textured Dot Nails: Pottery But Make It Fashion
You've probably seen Seth Rogen's Insta-famous pottery. These textured dot nails give me the same artisan vibes. Use a dotting tool to place different-sized dots, and you'll get a nail art piece that's as chic as crafty.
Croc-Inspired Nails: Unleash Your Inner Reptile
This crocodile-inspired nail art is so realistic that your nails will look like they just took a dip in the swamp—in the best way possible. I tried this, and it's not a quick DIY job. You'll want to book a salon appointment for this intricate masterpiece.
High Contrast: Go Neon Or Go Home
Who says you can't mix dark and bright? Pairing army green with neon coral brings a pop of surprise that makes you go, "Why didn't I think of that?" I can vouch that this color combo draws attention and compliments alike.
Abstract Evergreen: A Canvas of Possibilities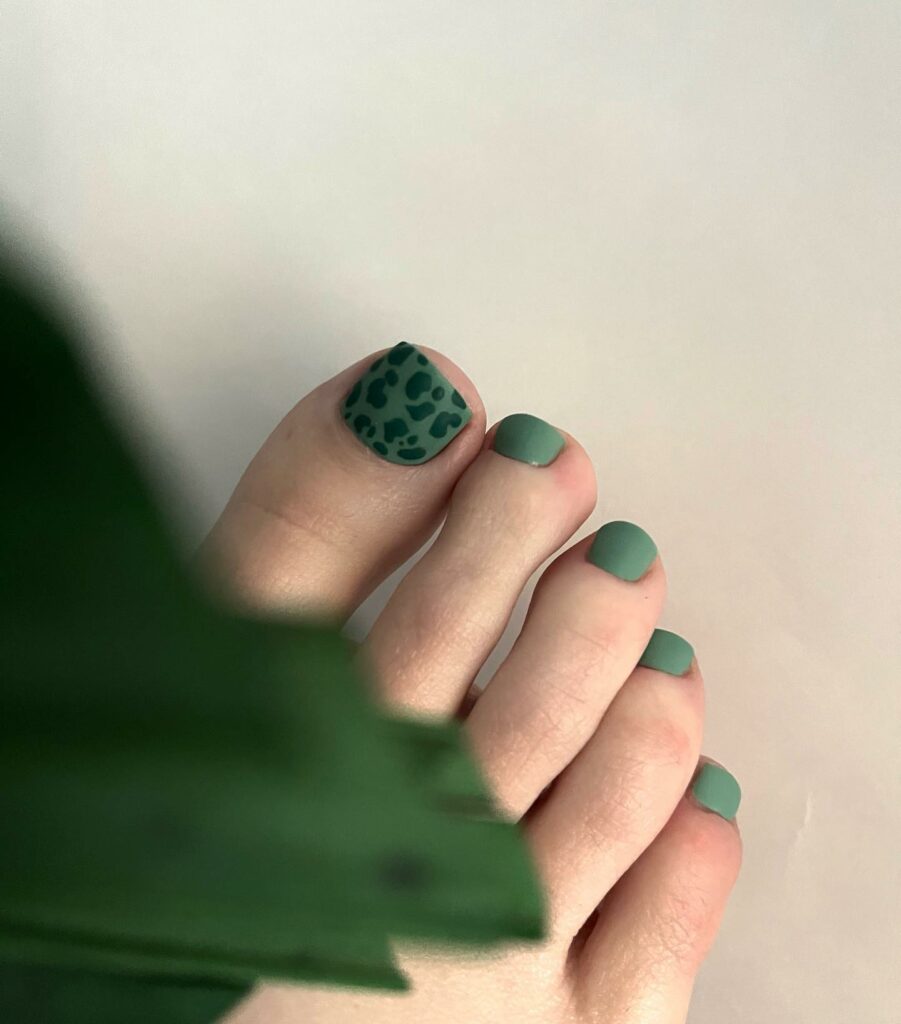 Consider different dark green designs on each nail if you're into abstract art like me. Embrace the negative space, folks! And don't worry about being too precise; the beauty lies in the variation.
Shimmering Spruce: Less Is Sometimes More
Who says you need intricate designs for a statement nail? A coat of shimmering spruce green polish can be just as captivating. I often sport this when I want my nails to look elegant without spending hours on them.
"Green With Envy" Dark Green Nails: Go Metallic
Metallics are the way to go if you want that extra sparkle. Start with a dark green base, add some green foil in random abstract patterns, and seal it with a high-shine topcoat. I particularly love this on my shorter nails; it adds glamour without being too overwhelming.
Transitional Dark Green Nails: Seasonal Symphony
Here, the magic lies in the gradation of colors from the darkest green to light pink or cream. It's simple elegant, and transitions as beautifully as the seasons. Just keep the undertones consistent, and you're golden.
"Green Dreams" Green Nails: Textures and Prints
Are you in love with variety? Then this is your jam. Mix solid colors with glitter textures, and throw a leopard print nail for that eclectic touch. Remember the shiny topcoat to tie it all together.
Mystical Solid Dark Green Nails: Minimalism at Its Best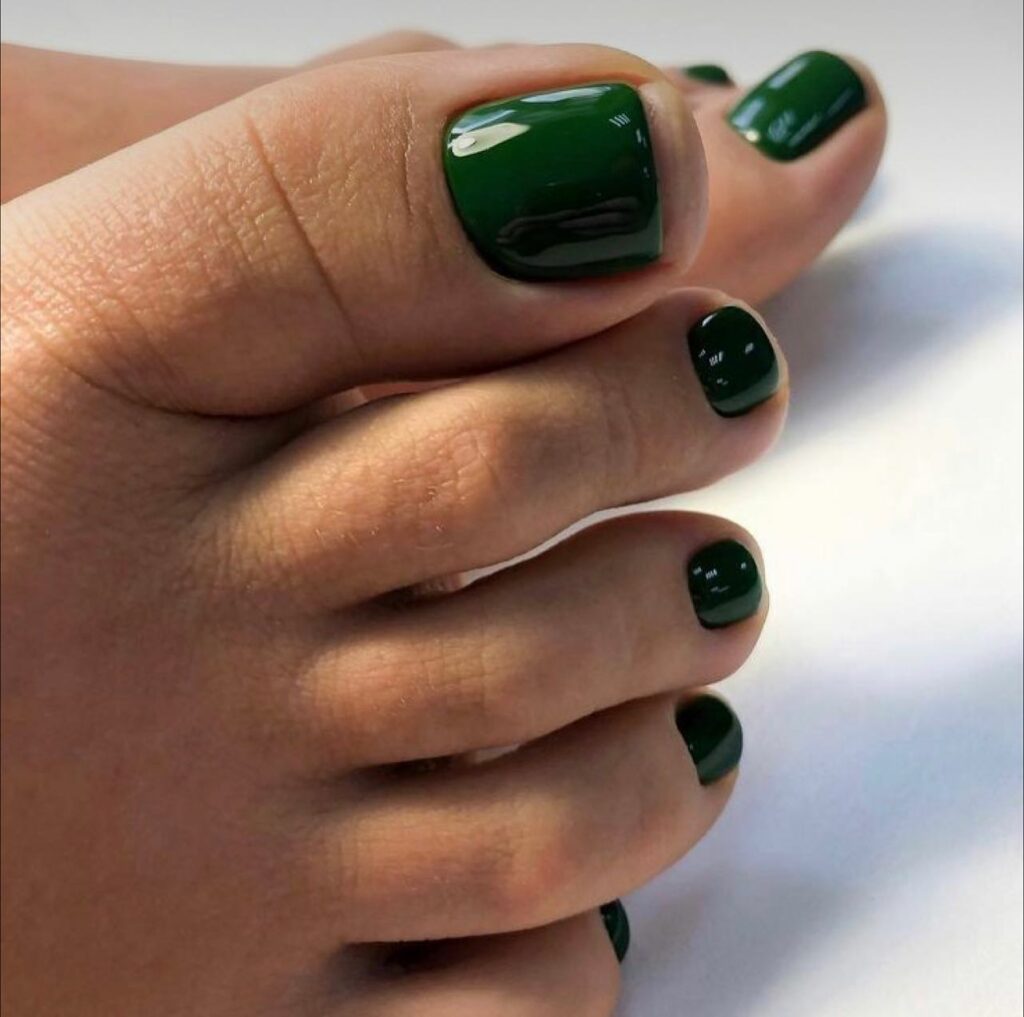 A single coat of warm-toned bluish-green for the minimalists among us could be your match. I once skipped the base coat for this, and let me tell you, the results were still excellent!
Long Marble Dark Green Nails: Your Personal Masterpiece
If you want to combine solid colors with marble designs, this is how it's done. Insert some gold foil for a twist, and you have a look worthy of being in an art gallery.
Glitter Glow Dark Green Nails: Subtle Sparkle
This one's an 11 on the glow scale but still manages to be understated. A sprinkle of gold glitter on one nail is the perfect dash of razzle-dazzle. It's my go-to when I want that elusive balance between simple and standout.
Forest Dark Green Nails With Gold Nuggs: A Touch of Bling
Start with a solid, deep forest green base and randomly add chunks of gold foil. Remember, the more haphazard your foil placement, the better. Trust me, I tried organizing the foil once, and the "random" version won, hands down!
Botanical Dark Green Nails: Garden Party, Anyone?
Bring a touch of the outdoors to your nails with this botanical-inspired design. The dents in the solid green base add a mesmerizing optical illusion. Paint on a vine, and you're set for your own garden party!
Deep Dark Green Gel Nails: A Gel Good Time
For this look, slap on a thick coat of deep green polish and randomly create dents for an optical illusion effect. Best on short gel nails, this design is the epitome of sophisticated minimalism.
Dark Green Marble Nails: Marvel At The Marble
Let's talk marble nails. This involves placing thread soaked in green nail paint over a still-wet white coat and then pulling from random ends. The result? A marble masterpiece that's nothing short of spectacular.
Moss Green Nails: Less Is More
I'm all about versatility, and moss green is a diverse shade. You can pair it with literally anything in your wardrobe. Try painting this hue on long, pointy nails for a minimalistic look and a total statement-maker. I rocked this for a weekend brunch, and let me tell you, the compliments rolled in!
Green and Gold Abstract Nails: When Elegance Meets Art
Abstract nail art is fun, and when you add gold foil to dark green polish, you get a look that's easy to create and visually striking. Pro tip: add a few specks of glitter to bring in some extra pizzazz. I wore this to an art gallery event, and it was a total conversation starter.
"White Flower In A Green Forest" Nails: Summer Vibes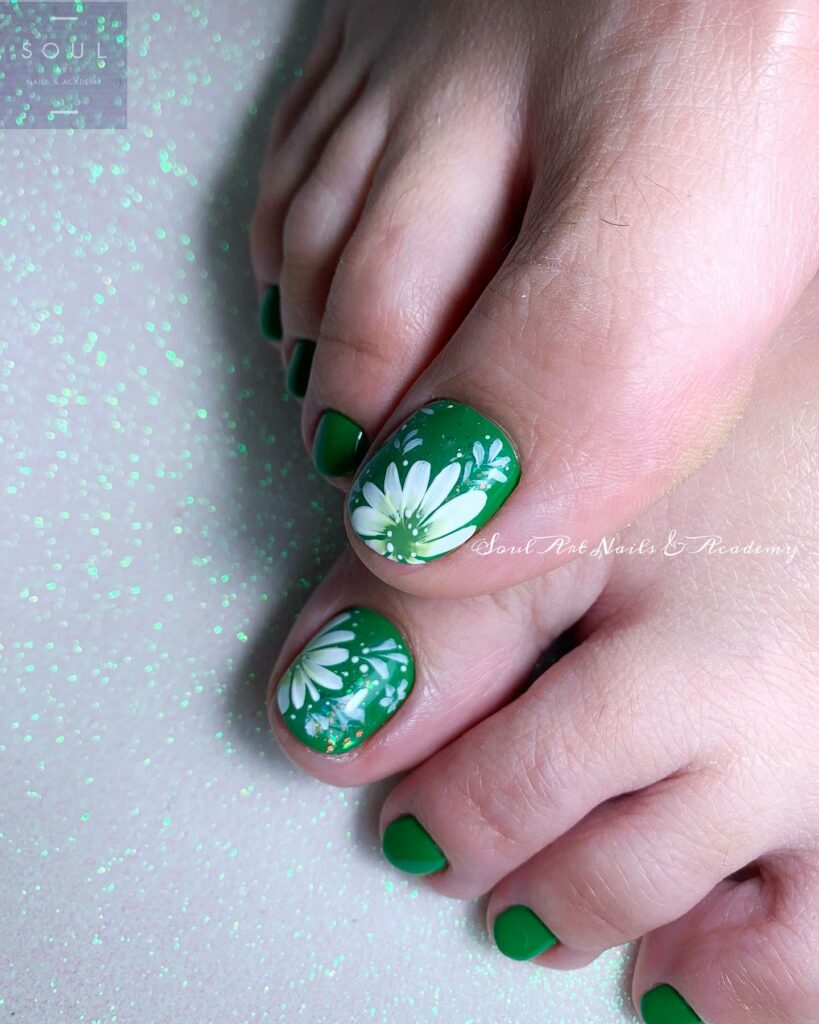 Looking for a summer-perfect design? Start with a dark green base, add golden French tips to a few nails, and paint a daisy on one nail. The white flower totally pops against the dark background. Remember to finish with a glossy topcoat. Perfect for pool parties or beach outings!
Matte Green Nails: The Ultimate Contrast
Look no further if you're searching for a look that screams sophistication. Apply a warm-toned parrot green polish with a matte finish and mix it with shiny dark green French tips. The contrast between matte and shiny is excellent. I wore this to a business meeting once, and it felt like the perfect blend of professional and trendy.
Dark Green Squiggles: Embrace Your Inner Picasso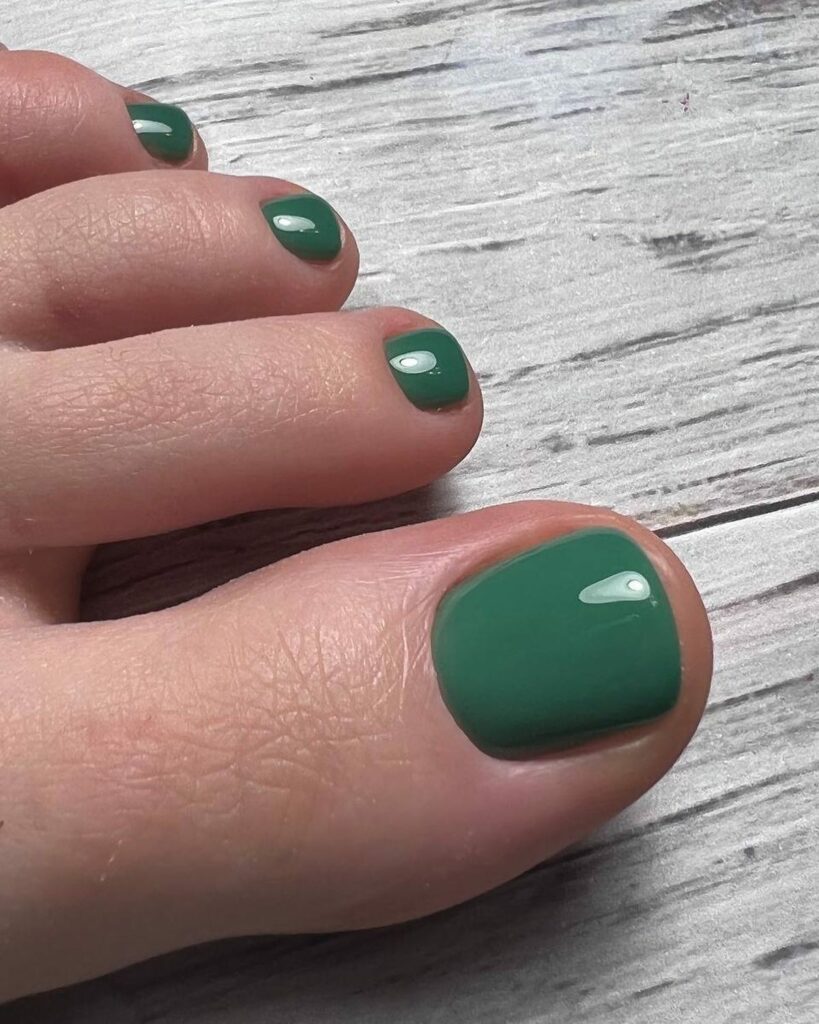 Start with a clear or baby pink base and create random squiggly lines using a dark green polish. It's simple but oh-so-artistic. Finish it off with a clear topcoat for that extra shine. It's ideal for days when you're feeling playful and creative.
Sparkling Dark Green Nails: Dazzle' Em
A combination of solid colors, glitter, and marble? Count me in. For this multi-dimensional look, I added a solid, rich green color on some nails and went for plain white on others. Silver glitter on one nail and some marble designs round off this masterpiece.
Dark Green Bubble Abstract Nails: Pop of Fun
Apply a shiny, cool-toned dark green as your base for a quirky twist. Leave a couple of nails clear and add green and glittery bubbles randomly. The bubbles are surprisingly easy to do and bring a playful vibe to your look. I tried this for a girls' night out, and it was a hit!
Plain Solid Matte Dark Green Nails: Minimalist Magic
Sometimes, simple is the way to go. A single coat of matte dark green can make a striking statement. Seal it with a matte topcoat, and you're good to go. This is my go-to for those busy weeks when I need my nails to look effortlessly stylish.
Emerald Dark Green Nails: Nature Calls
Nature lovers, you're going to love this one. Apply a rich emerald matte base and add a few clear high-shine 'raindrops' for a textured twist. It's like having a piece of nature right at your fingertips!
Green Color-Blocked Nails: Textural Harmony
Apply shiny forest green on some nails and contrast it with a darker green shimmer on others. It's amazing how subtle changes can make a significant impact. Keep your nails short and straight for an understated yet striking look.
Dark Green and Black Nails: Luxury on Your Fingertips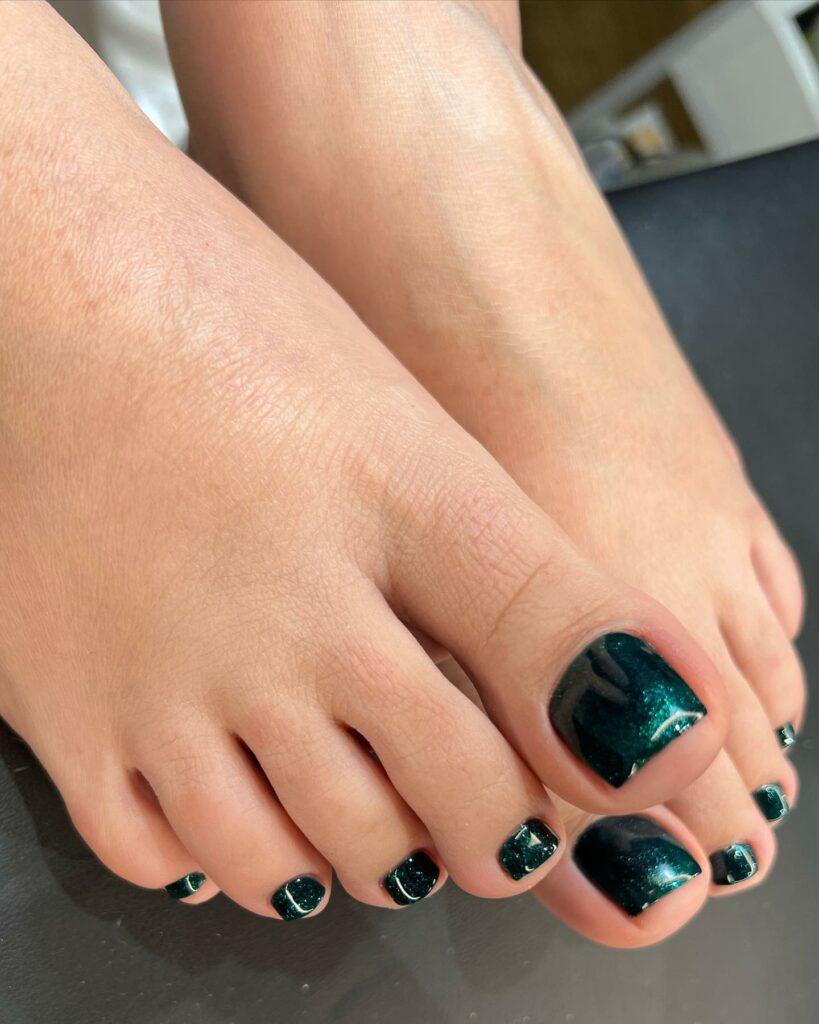 If you're looking for something high-end, this is your design. A shiny, dark green, and black ombre with rhinestone crystals? Total show-stopper. This was my pick for a friend's fancy wedding, and it was the perfect bling.
Silver and Dark Green Winter Nails: Winter Wonderland
Opt for a cool-toned dark green and silver polish combo for a winter vibe. It's like the Northern Lights but on your nails. It's definitely a seasonal favorite of mine!
Dark Green Cateye Nails: Hypnotic Beauty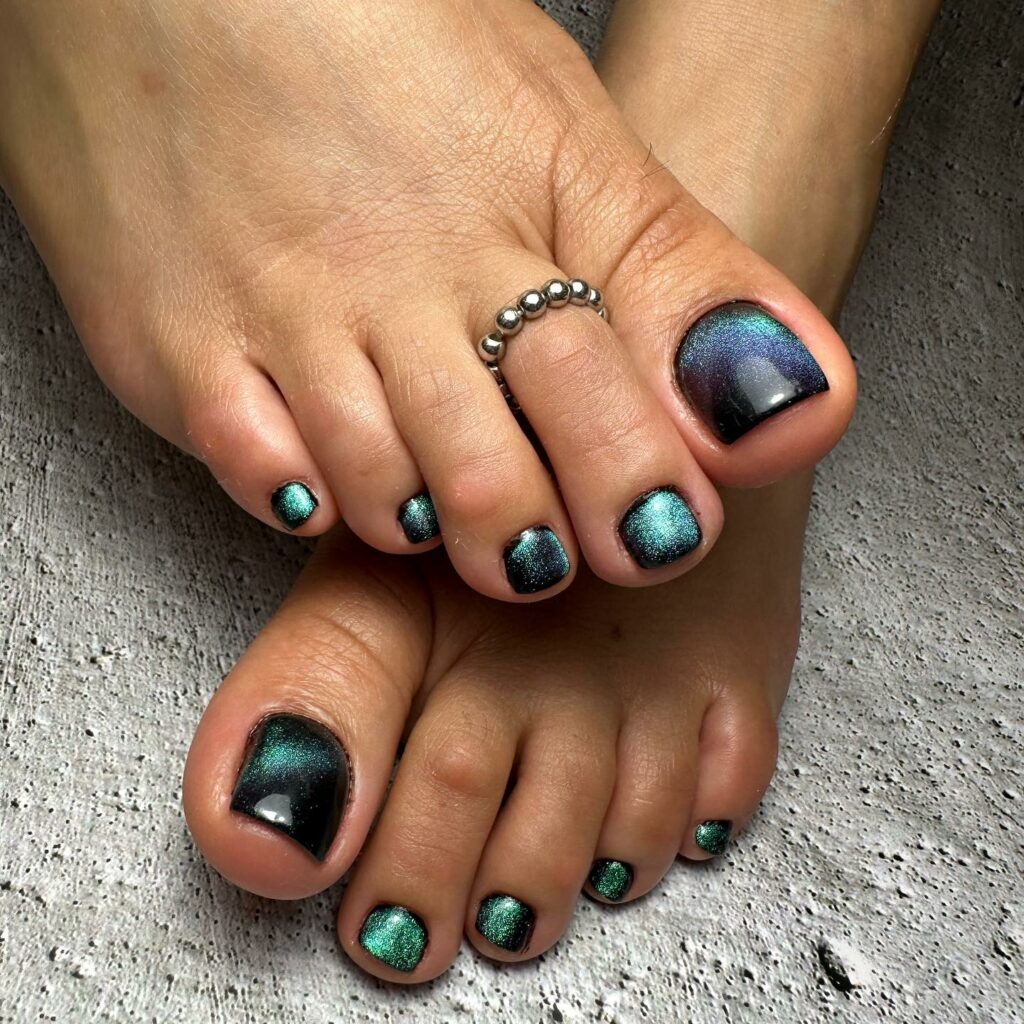 Mix two shades of green in water and dip your nails for a mesmerizing cateye pattern. Finish with a clear topcoat. It's an unusual but super catchy design. Ensure you have time to let them dry thoroughly; it's worth the wait.
Green And Blue Wave Nails: The Ocean On Your Toes
If you love the idea of green, blue, and white but want something less structured, why not ride the wave? Wavy designs offer that abstract, free-flowing feel. It's like having a mini-ocean at your feet!
Metallic Green French: The Classic Gets a Makeover
French manicures are timeless, but how about giving them a quirky twist? I swapped out the traditional white tips for metallic green , and it was a hit at my friend's wedding! Try it; you'll love the reactions you get.
Snow Waves on Dark Green Nails: A Wintery Dream
Nothing screams winter like snowy waves on a dark green backdrop. Add a few silver accents, and you have a winter wonderland at your fingertips. I wore this during the holidays, and it felt like carrying a piece of the season with me.
Tortoiseshell Accents: Beyond Seasons
Here's the thing: tortoiseshell isn't just for your autumn moods. I've been sporting this design with a high-shine spruce lacquer recently, and let me tell you, it brings that rich, sophisticated flair that works in any season.
Green and White Checker Nails: Riding the Trend Wave
Checkerboard patterns are all the rage as we head into 2024. I recently rocked this look with dark green, baby blue, and white, perfectly encapsulating that retro-modern vibe. It's like bringing a chessboard to the beach
My Top Picks For The Perfect Shade Of Dark Green Polish
Premium Brands
Chanel Le Vernis in 'Emeraude': A luxurious choice that delivers high shine and depth of color.
Dior Vernis in 'Amazonia': Known for its long-lasting formula, this shade is a classic deep green with slight undertones of gray.
Deborah Lippmann in 'Billionaire': A rich, moody hue with a creme finish, it's a cult favorite.
Mid-Range Brands
OPI in 'Christmas Gone Plaid': This is a holiday favorite but works all year round due to its deep, dark green shade.
Essie in 'Off Tropic': A lush grove green that's exceptionally versatile and works great for various nail art designs.
Zoya in 'Hunter': A creamy dark green free from harmful chemicals like formaldehyde.
Budget-Friendly Brands
Sally Hansen Miracle Gel in 'Jealous Boyfriend': This one comes with a gel-like finish without needing a UV lamp.
Sinful Colors in 'Last Chance': A budget option that offers surprisingly good coverage and longevity.
Revlon ColorStay in 'Rain Forest': This polish comes in a delightful shade of dark green and lasts a solid week without chipping.
Indie Brands
ILNP in 'Central Station': If you're into holographic shades, this indie brand has a dark green that's truly mesmerizing.
KL Polish in 'Mojito': Created by beauty influencer Kathleen Lights, this formula is cruelty-free and highly pigmented.
The longevity of your dark green pedicure can vary depending on several factors: the quality of the nail polish, your application technique, and your daily activities. Here's a general guideline based on the type of polish and application:
Traditional Nail Polish
Premium Brands: About 3-4 weeks
Mid-Range Brands: 2-3 weeks
Budget-Friendly Brands: 1-2 weeks
8 Top Design Elements That Complement This Chic Hue
Gold Accents – The richness of gold pairs exceptionally well with dark green. Think gold foil, striping tape, or even a simple gold stud on each nail for luxe.
Marble Effects – Dark green and marble go together like coffee and mornings. A white or light gray marble effect on one or two accent nails can give your dark green pedicure an artistic flair.
Glitter and Shimmer – A touch of glitter in a complementary color like silver or lighter green can add depth and dimension to your pedicure. I fondly remember a New Year's Eve party where my shimmering dark green nails were the talk of the night!
Geometric Patterns – Straight lines, triangles, or circles can break up the dark green and add a modern architectural element to your pedicure. You can use tape to help with straight lines or stencils for more complex shapes.
French Tips or Ombre – A dark green base with a neon or light green tip can be incredibly chic. If you're feeling more adventurous, why not try an ombre effect transitioning from dark to light green?
Floral Designs – White or light-colored floral designs can look lovely against a dark green backdrop. Whether it's a detailed rose or a simple daisy, the contrast is eye-catching.
Textured Effects – Using a matte topcoat on a couple of nails while keeping the rest glossy can add an intriguing contrast. I once did this for a casual outdoor event, and the different textures caught the sunlight most mesmerizingly.
Minimalist Dots or Lines – Sometimes, less is more. A simple white or gold dot at the base or tip of your nails can make a statement without being overpowering.
Still Looking for Inspiration, Then Check Out This Video
Conclusion
And there we have it, beauty enthusiasts! Dark green nails are not only a stylish choice but also incredibly versatile. From minimalistic looks to full-blown art pieces, there's a shade and style for every mood and occasion. When trying out these designs, remember that preparation is critical—always start with a good base coat to protect your nails. However, be cautious when using various nail art tools and materials, especially if you have sensitive skin or allergies. Always read the labels and maybe even do a patch test. A topcoat is a must to seal in your design and give it that long-lasting finish. So, armed with these ideas and tips, why not dive into the world of dark green nails? You're bound to find a look that suits you and turns heads. Keep exploring, experimenting, and, most importantly, have fun!
Feature Image Photo By zina_nails_magnitogorsk on Instagram
Last reviewed and updated on November 20, 2023