Today, we're diving into the world of engagement nails. That's right, amidst all the excitement of saying "yes," your hands are about to get a ton of attention. So, let's make sure those nails are selfie-ready and absolutely stunning. Whether you're newly engaged or dreaming up ideas for when your significant other pops the question, this post has got you covered.
I'll be walking you through some top-notch ideas that range from the classic to the fabulously fancy, ensuring your ring isn't the only thing sparkling. We'll explore elegant designs, the right color palettes to complement your new bling, and how to make sure your nails are as strong and healthy as they are stylish — because no one wants a chipped nail in their "I said yes" Instagram post, right?
I've scoured the trends, tested the polishes, and even chatted with a few manicurists to get the real scoop on what works best for your big moment. Trust me, by the end of this, you'll have all the inspiration you need to nail your engagement look (pun totally intended). Ready to rock some seriously fabulous fingertips? Let's get into it.
White French Engagement Nail With Bubbles
Add a playful twist to the classic French tip with white bubble accents for an engagement nail look that's both sophisticated and whimsical. It's a fresh take perfect for showcasing a unique style while keeping it
White Swirls On Almond Nails
Adding white swirls to your engagement nails brings an artistic and whimsical flair to your look, perfect for showcasing creativity and elegance. It's a design that can be playful and refined, depending on the intricacy of the swirls.
White Ombre Engagement Nails
White ombre nails blend classic bridal white with a gradient effect, creating a soft transition that's both sophisticated and stylish. This design adds depth and dimension to your nails, ensuring they stand out in a subtle yet striking way.
Glossy Almond Engagement Nails
Glossy almond nails combine a sleek shape with a shiny finish to catch the light beautifully, amplifying the brilliance of your engagement ring. The almond form also gives your fingers a slender look, perfect for those engagement ring selfies.
Metallic Green Engagement Nails
Metallic green nails can make a bold statement, offering an unconventional hue with a shimmer that's both eye-catching and fashion-forward. This choice is for the bride who isn't afraid to show off her personality and loves a bit of glamour.
Red Metallic Engagement Nails
Make a bold statement with red metallic nails, combining classic bridal red with a modern metallic twist that's both daring and romantic. This vibrant choice will ensure your hands are as memorable as the moment.
Short Nude Nails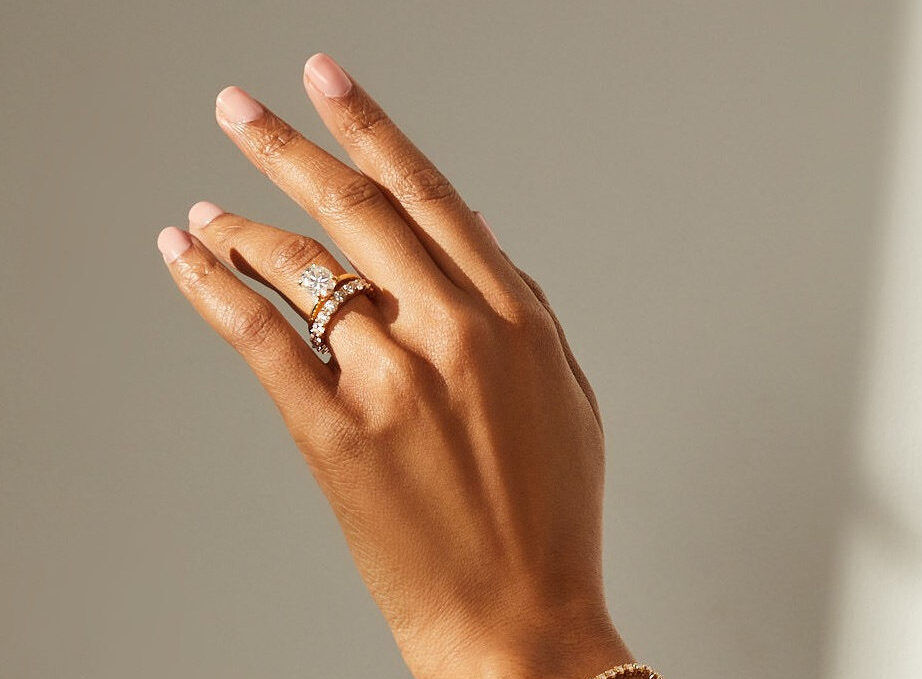 Embrace the understated beauty of nude, short nails for a sophisticated and timeless engagement manicure that complements any ring and suits every style. This universally flattering look is all about understated elegance that never goes out of fashion.
White Chrome Engagement Nails
Step up the glam with a white chrome finish on your nails, giving your engagement look a modern, mirror-like sheen that will turn heads. It's a futuristic yet refined choice for the bride-to-be who loves a touch of drama.
Engagement Nails With Gold Sparkles
Incorporate gold designs into your engagement nails for an opulent touch that speaks of luxury and celebration. Whether it's delicate gold foil or intricate patterns, these accents add a regal quality to your manicure.
Vanilla French Almond Nails
A Vanilla French manicure adds a soft, creamy twist to the traditional white, providing a warm and inviting look for your engagement nails. This sweet and subtle variation is perfect for a bride looking for a hint of color while maintaining a classic profile.
Glittery White Magic
Glittery white nails offer a snowy sparkle perfect for an engagement, especially if you want your hands to be as dazzling as your joyous news. They catch the light beautifully, ensuring that your ring isn't the only thing sparkling.
Short Square Engagement Nails
Keep it chic and simple with small, neatly manicured white nails for an effortlessly elegant engagement look that lets your ring do all the talking. It's the perfect canvas for any ring style, from vintage cuts to modern designs.
Dark Purple High Gloss Nails
Choose dark purple for your engagement nails if you're looking for a rich, deep hue that's both regal and somewhat unconventional. This color conveys passion and depth, a beautiful backdrop for a sparkling engagement ring.
Light Grey Engagement Nails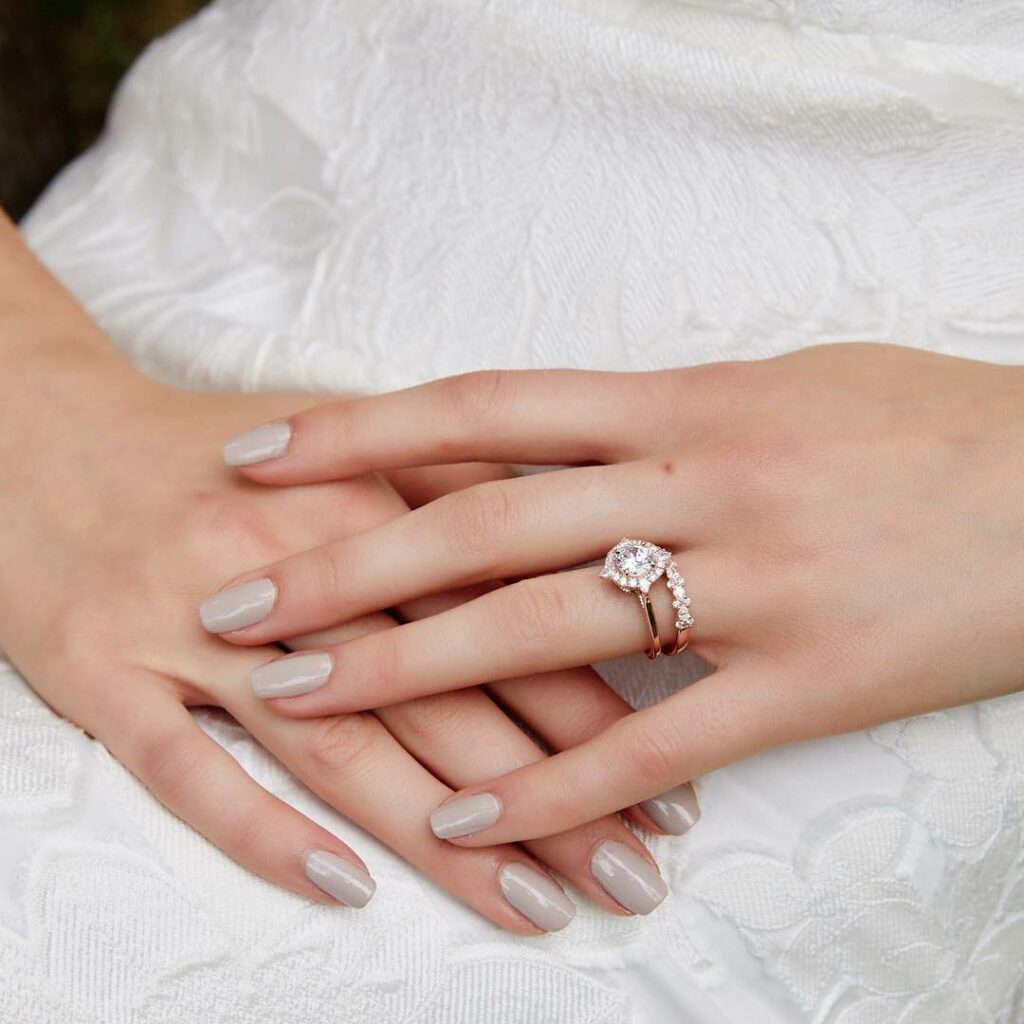 Light grey nails are understated yet incredibly stylish, offering a sleek and modern alternative to traditional engagement nail colors. They work with any ring and are perfect for the bride looking for something subtly unique.
Clear Pink Engagement Nails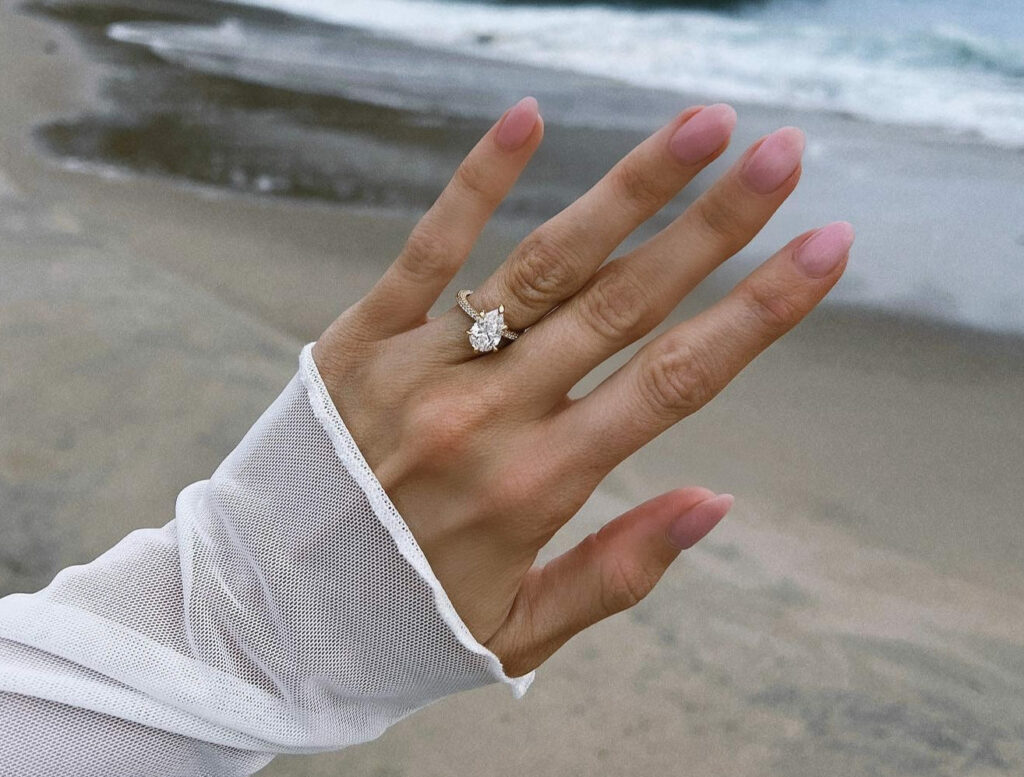 A clear pink nail offers a hint of color and natural elegance, giving off a healthy, blushing glow just right for a low-key but lovely engagement announcement. It's a demure choice that suggests a touch of color without overwhelming your look.
Long French Pink Nails
Elongate your fingers with long, pink French tips with a romantic and feminine flair ideal for that dreamy engagement vibe. This style is both timeless and elegant, ensuring your nails look as lovely as your ring.
Dainty Daisies on Short Nails
Incorporating a daisy flower design onto your engagement nails can symbolize new beginnings and pure affection, ideal for such a significant life moment. It's a charming and playful choice that adds a touch of nature-inspired beauty to your ensemble.
Metallic Pink Tips On Almond Nails
Metallic pink tips give your engagement nails a flash of futuristic femininity with a fun, reflective flourish. They're perfect for brides who want to blend romance with a trendy edge on their special day.
Matte Pink Engagement Nails
Matte pink nails provide an ultra-modern and effortlessly chic look, steering away from traditional gloss for a sophisticated, velvety finish. It's a popular choice for its understated elegance and contemporary feel.
Fall-Inspired Engagement Nails
Channel the cozy vibes of the season with a fall-inspired engagement nail design featuring rich, earthy tones or pumpkin-inspired hues for a touch of autumnal charm. It's a perfect match for a proposal story set against fall foliage.
Light Brown Engagement Nails
Light brown nails offer a neutral yet distinctively warm option for an engagement manicure, aligning with a more organic and minimalist aesthetic. This hue is versatile and down-to-earth, fitting for various styles and skin tones.
Glossy Peach Square Nails
Glossy peach nails exude a fresh, youthful vibe, adding the right amount of color to brighten your hands without overshadowing your precious ring. They offer a sweet, summery feel perfect for a light-hearted and happy bride-to-be.
Almond Nude Engagement Nails
Almond nude nails bring an elegant and elongated shape that's flattering and on-trend, while the nude shade keeps the look timeless and versatile. This style is all about enhancing the natural beauty of your hands with a refined, modern twist.
Chrome Blue Engagement Nails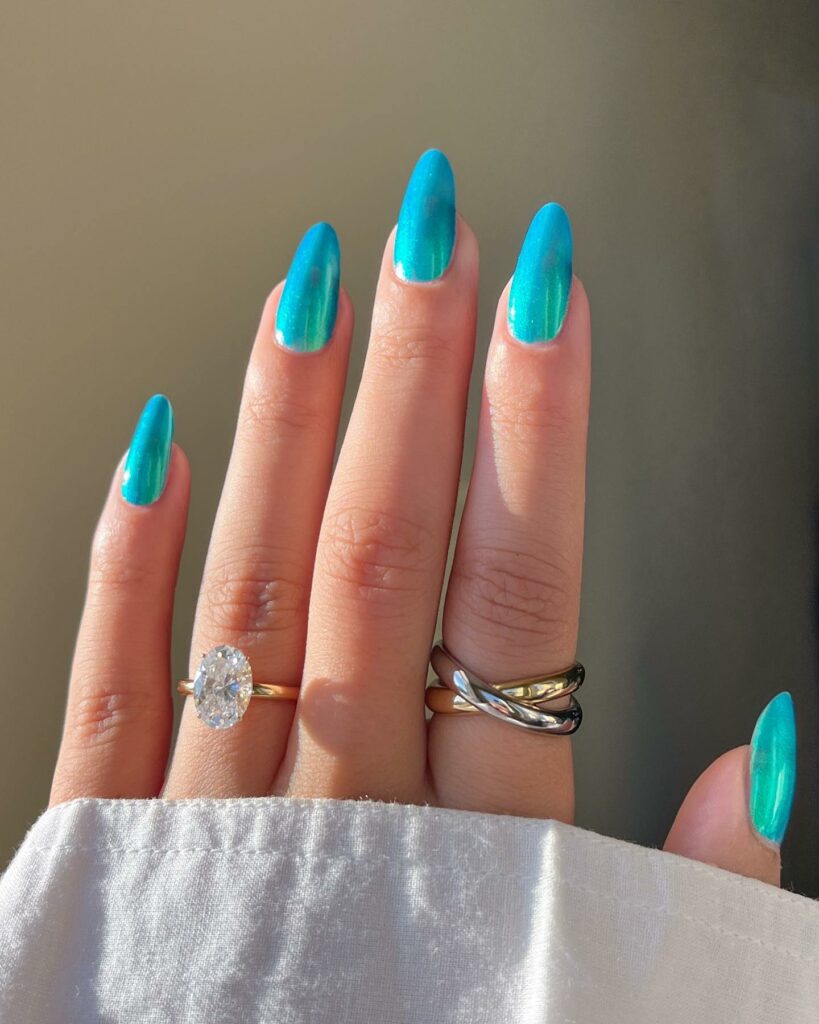 Light blue engagement nails offer a serene and dreamy hue reminiscent of clear skies or tranquil waters for a soothing touch to your bridal look. They bring a gentle pop of color that's both uplifting and understated.
V Tips On Almond Nails
For a sharp and modern take on the French tip, opt for a V-shaped design that brings a striking and edgy contrast to classic bridal white. This geometric twist is for those who love to combine contemporary style with traditional romance.
10 Health Tips To Make Your Nails Shine
Hydration is Key: Just like your skin, your nails crave moisture. Regularly applying nourishing nail and cuticle oil can prevent brittleness, splitting, and breakage.
Gloves for Protection: When doing dishes or cleaning with harsh chemicals, slip on some gloves. This will shield your nails from potential damage and prevent drying out.
Balanced Diet for Strength: Nails are made of protein, so ensure you get plenty. Foods rich in vitamins A, C, D, E, and B-complex vitamins, as well as minerals like zinc, iron, and biotin, are nail superheroes.
Gentle Grooming: Be kind to your nails. Use a fine-grit file to shape them, always file in one direction to prevent splitting, and avoid excessive buffing, which can weaken the nail bed.
Avoid Acetone: When removing polish, opt for acetone-free removers. Acetone can strip nails of their natural oils, leading to dryness and brittleness.
Regular Trims: Just as with hair, regular trims can prevent split nails and keep them looking neat.
Give Nails a Break: Let your nails breathe by taking breaks between polish applications. This can help prevent discoloration and maintain natural nail health.
Stay Hydrated: Drinking plenty of water isn't just great for your body; it also helps keep your nails flexible and resilient.
Use a Base Coat: If you do paint your nails, always use a clear base coat to protect your nails from staining and to prevent chipping.
Mind Your Manicure Tools: Keep your manicure tools clean and sanitized to prevent infections, and make sure they're sharp – dull tools can cause damage to the nail.
9 Things To Avoid When Choosing Your Engagement Nail Design
When selecting your engagement nail design, it's as much about reflecting your style as it is about ensuring practicality and longevity for the momentous occasion. Here are some things to consider avoiding:
Overly Complex Designs: While intricate nail art can be stunning, consider how it will pair with your ring and overall look. Highly detailed designs might distract rather than complement your sparkling new accessory.
Too Trendy: It's fun to be on-trend, but remember, your engagement photos will be timeless keepsakes. Choosing a very trendy nail design may age poorly in pictures you'll look back on for years to come.
Clashing Colors: You'll want to avoid colors that clash with your ring or outfit. While it's great to add a pop of color, make sure it harmonizes with your overall aesthetic for the occasion.
Untried Methods: Your engagement isn't the best time to experiment with a new nail technique or product. Stick to what you know works to avoid any last-minute surprises or allergic reactions.
Extremely Long Lengths: Super-long nails might be in vogue, but they can also be impractical. If you're not used to them, they might hinder you from comfortably showing off your ring or even result in accidents, like chipping or breaking.
Too Dark or Bold: Deep and bold colors can make a statement, but they can also show chips and wear more quickly. Plus, if they're too overpowering, they might steal the spotlight from your engagement ring.
Too Much Bling: Consider considering overly glittery or rhinestone-encrusted nails. Your ring should be the show's star, and overly embellished nails can be distracting.
Neglecting Nail Health: Focusing only on the external design and ignoring the health of your nails is a no-go. Avoid harsh chemicals or treatments that could weaken your nails in the lead-up to your engagement.
Remember, the best engagement nail design makes you feel like the best version of yourself. It should be a reflection of your personal style while also allowing your beautiful new ring to take center stage.
Conclusion
And there you have it, my lovelies – a whirlwind tour through a garden of engagement nail designs that are as unique and special as your love story. From the understated elegance of matte finishes to the bold statements of metallic hues, there's a style for every soul. Remember, the best accessory to any manicure is the confidence with which you rock it. So, whether you're a vanilla French kind of gal or someone who loves the pop of metallic green, wear your nails like you do your ring – with joy and pride. Keep your nails healthy, hydrated, and ready for their close-up because when the moment comes, it's not just about the bling on your finger – it's about the whole package. Don't forget to have fun with it; after all, beauty is about feeling fabulous. Now go out there and flash that sparkle – both on your finger and your fabulous nails!
Feature Image Photo By @vivianmariewong On Instagram
Last reviewed and updated on November 17, 2023