Today, we're diving into mystical allure and visual intrigue: I'm talking about Evil-Eye Nails. If you think this is just another trend passing through the vast universe of nail art, think again. This ancient symbol has been reimagined for the 21st century, and it's serving up a fascinating blend of tradition and modernity right at your fingertips. In this blog post, we'll explore these jaw-dropping designs that will captivate your eyes and ward off any negative vibes. We'll touch upon the history of the evil-eye motif, how it's become a nail art sensation, and the techniques and shades that make these nails a true masterpiece. Buckle up for an aesthetic journey you will remember; these designs are so enthralling that you won't be able to look away.
The Cobalt Charm: Blue French Tip Evil Eye Nails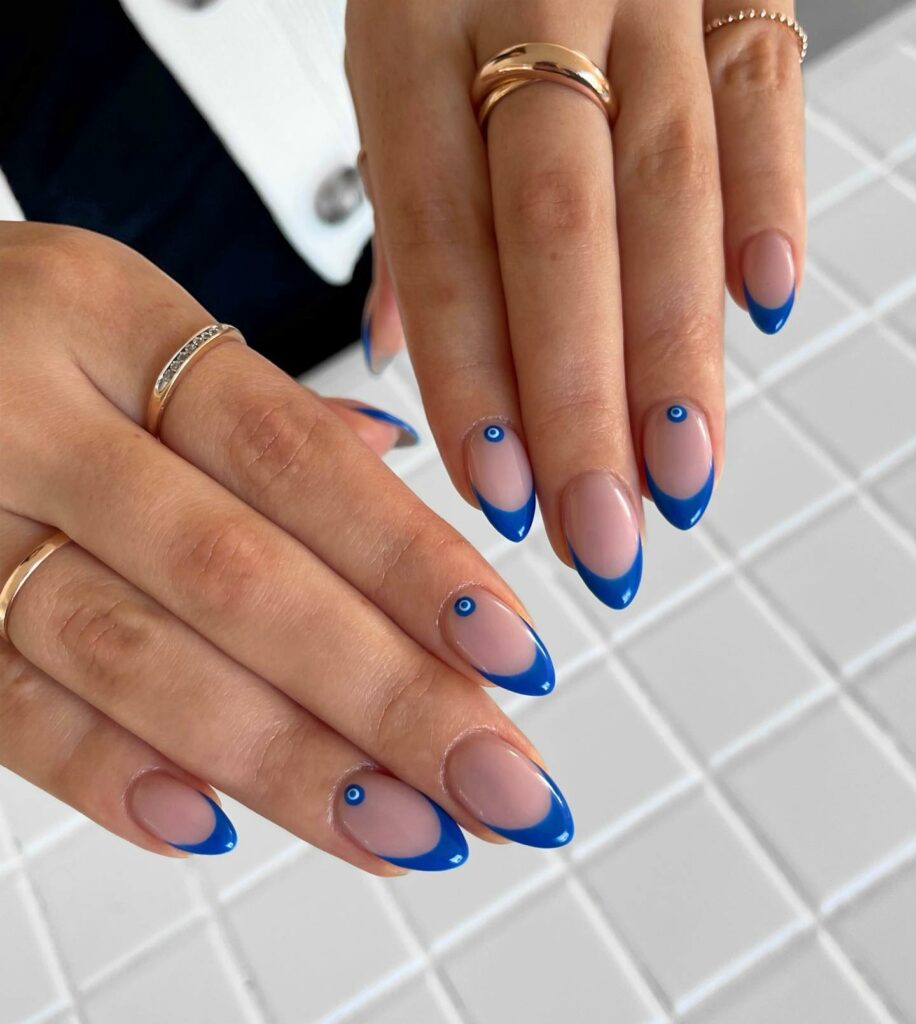 First on our list puts a contemporary spin on the timeless French tip. Gone is the predictable white line, replaced by a magnetic cobalt blue that perfectly complements the mini evil-eye designs adorning the base of each nail. I remember trying this out before a dinner party and let me tell you, it was a conversation starter!
Waves and Winks: Wavy Evil-Eye Nail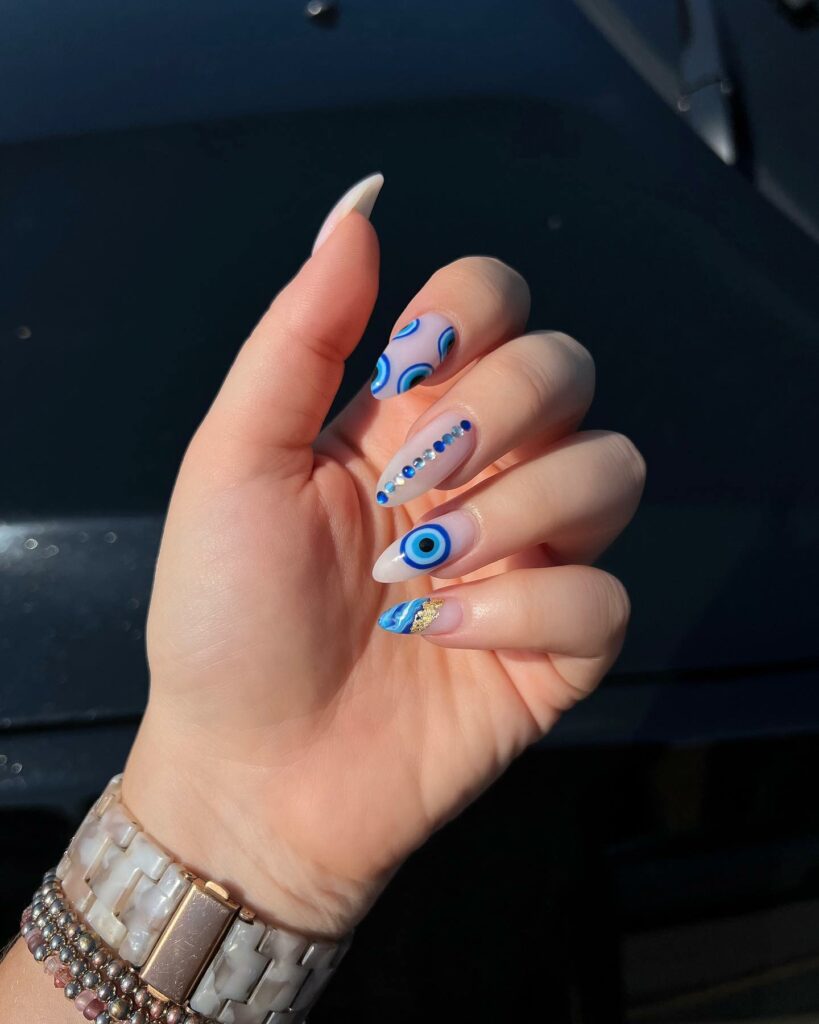 Imagine a mermaid flirting with you; that's what these nails encapsulate. Various shades of blue, glitter, and wave designs add an oceanic depth, interrupted by the intermittent glint of an evil-eye symbol. These are my go-to when I'm vacationing by the sea; they blend perfectly with the waves!
Less is More: Simple Evil-Eye Nails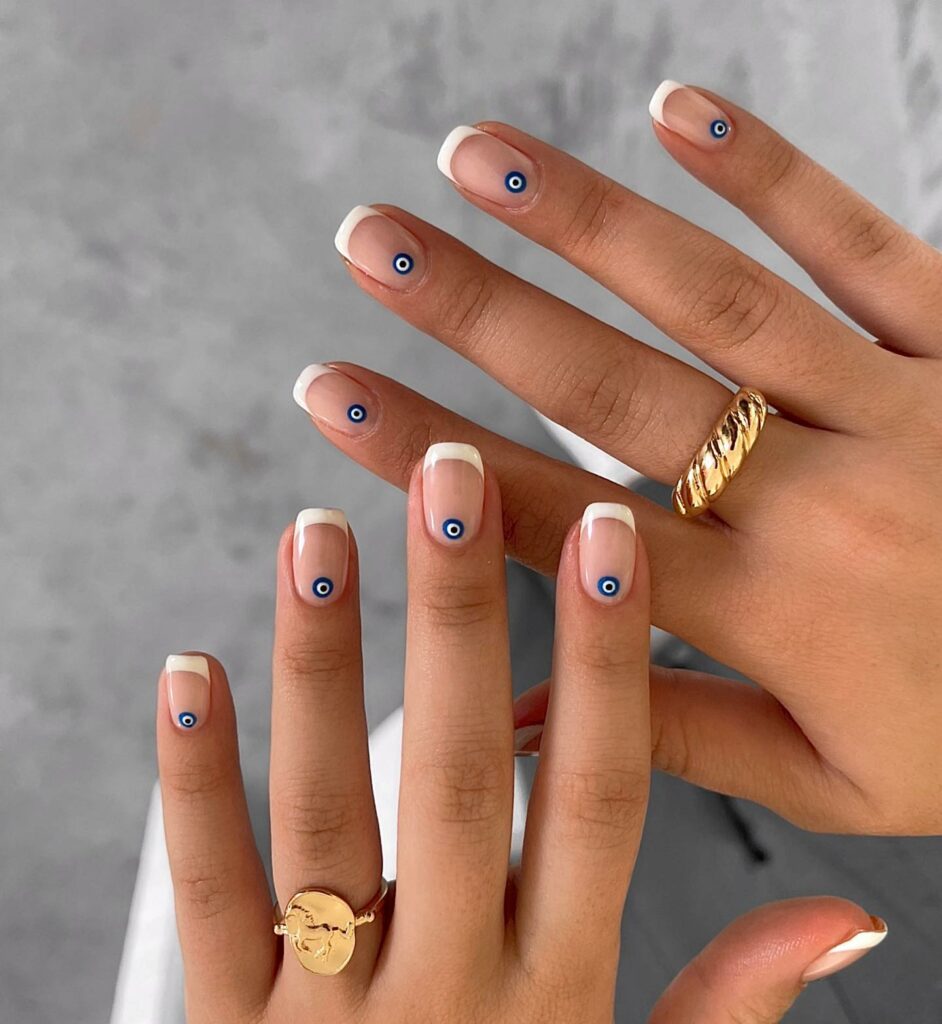 Sometimes, subtlety speaks volumes. A translucent nude or pink base coat, accented by a diminutive evil eye at the base of a finger, can deliver the message without shouting. I often choose this design for busy weeks—it's professional with a hint of intrigue.
The Midas Touch: Gold Evil-Eye Nails
Glittering rays of gold emanate from the conventional circular evil eye, adding an opulent touch. This design even mixes it with varied patterns at the base of two nails. It's the one I wear when I'm feeling extra and want to shine on a night out.
Flecks of Elegance: Gold-Flake Evil-Eye Nails
If you love gold but don't want to go all out, here's your middle ground. Tiny gold flakes are sprinkled around a small evil eye, each framed by a minuscule gold speck at the nail base. Elegant yet understated, it's a balance I adore.
The Nonconformist: Abstract Evil-Eye Nails
Step aside, uniformity—this abstract version embraces different patterns across each nail, offering a visual smorgasbord of designs. When I'm feeling whimsical and daring, this is my nail art of choice.
Classic Meets Quirky: French-Tip Evil-Eye Nails
For the ones among us who can't entirely part with the classic French manicure, this variation adds tiny evil eyes atop each nail, dancing in harmony with the white tips. It's a blend of sophistication and mystical charm, ideal for any occasion.
Into the Blue: Blue Evil-Eye Nails
With a bright blue base and an outsized evil eye on the ring finger, this design is unapologetically bold. It's the audacity I channel when I want to feel empowered.
Pretty in Pink: Pink Evil-Eye Nails
A gentle light-pink base color, crowned by a small evil eye at the base of the ring finger, provides a feminine yet strong statement. I've worn this on first dates—it's both soft and assertive.
The White Gold Waltz: White-and-Gold Evil-Eye Nails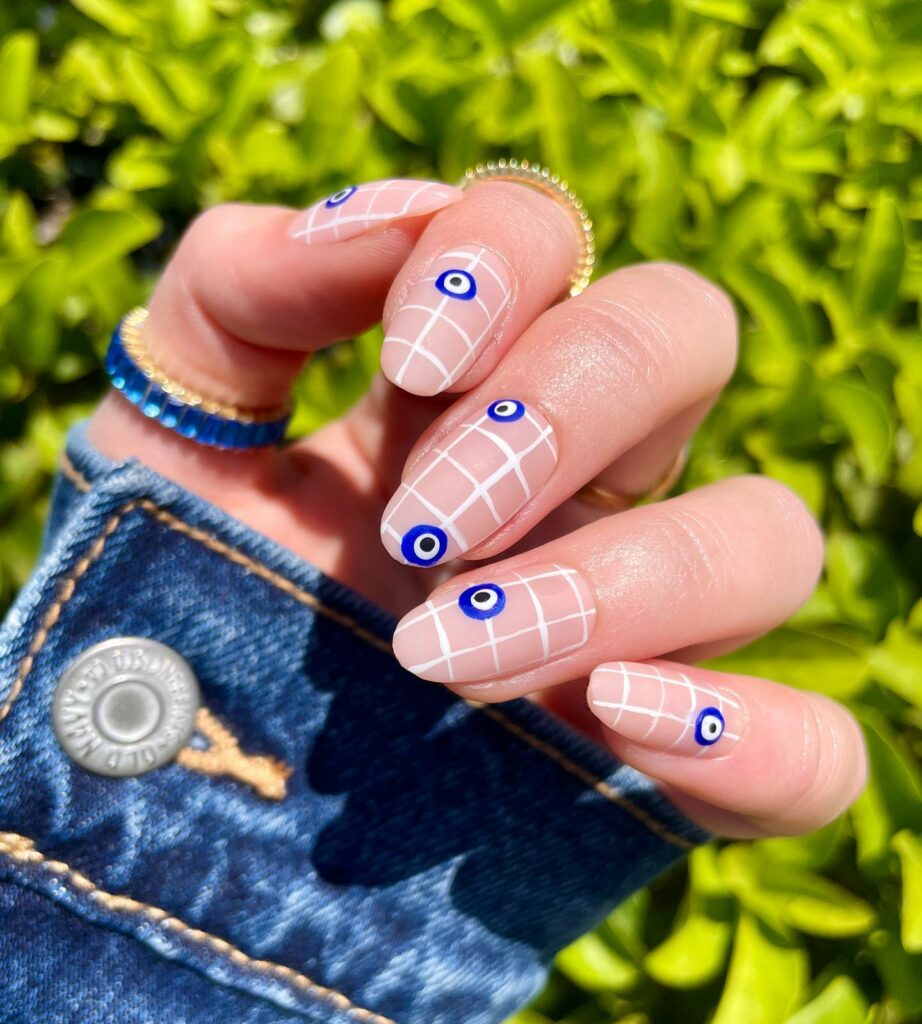 Last but not least, we have a harmonious play between gold flakes and white abstract accents. The evil eye is set against a clear base and surrounded by minuscule gold flakes. This one screams luxury and grace, perfect for formal events.
The Kaleidoscope Effect: Alternating Evil-Eye Nails
Variety is the spice of life, and this manicure takes it to heart. Imagine a clear base with different evil-eye designs on each nail. It's been an instant icebreaker every time I've sported this look. Who doesn't love a manicure that also serves as a conversation starter?
Celestial Dreams: Blue-and-Gold Evil-Eye Nails
Suppose you're like me and have a soft spot for anything that glimmers, this one's for you. A captivating blue French tip is heightened with golden flakes and celestial accents like tiny stars and moons. I wore this design to a stargazing event once and felt like my nails were an extension of the night sky!
Dark Elegance: Black Evil-Eye Nails
For those who love to channel your inner goth or adore the versatility of black, this design incorporates small evil-eye accents and intricate gold detailing on the ring finger. I wore this to a gallery opening, which perfectly complemented my little black dress.
Oceanic Vibes: Alternating Cobalt-Blue Evil-Eye Nails
Submerge yourself in the deep cobalt blue of this design, featuring both solid-blue nails and delicate evil-eye accents. A large, all-seeing eye crowns the statement. It is the perfect choice for summer evenings when the sky echoes the same magical hue.
Spa Day, Upgraded: Milk-Bath Evil-Eye Nails
If you've been eyeing the milk-bath manicure trend, why not add an unexpected twist? This design brings in tiny evil-eye elements and gold-flake accents. I remember getting this before a spa day with friends. While we all enjoyed our pampering, my nails got the most compliments!
Sparkling Serenade: Glittery Silver-and-Blue Evil-Eye Nails
We have a sparkling extravaganza. Imagine a baby blue French tip sprinkled with silver accents and those iconic evil eyes. I wore this to a New Year's Eve party as if my nails were in on the celebration, too!
Rainbow Mystique: Multi-Colored Evil-Eye Nails
Venture beyond the conventional blues and blacks with this multi-colored evil-eye design. I tried this look for Pride Month, and it was a hit—a playful celebration of diversity with each nail featuring a different background color behind the iconic evil eye.
Textured Allure: Velvet Evil-Eye Nails
Ever tried a velvet finish on your nails? Combine it with evil-eye designs for a rich, tactile experience. I rocked this textured spectacle during a fashion week, and it caught more than one photographer's eye (no pun intended)!
Crystalline Vision: Evil-Eye Nails with Gem Accents
Upgrade your evil-eye game by adding tiny gemstones around the eye designs. I wore these to a wedding, and they added that extra sparkle that caught the light just right, not to mention the compliments they garnered.
Vintage Flair: Sepia-Toned Evil-Eye Nails
Imagine a sepia filter for your nails. This design evokes an old-world charm with its muted, antique color palette, yet the evil-eye element keeps it contemporary. It's my go-to for tea parties and vintage-themed events, blending nostalgia with the moment.
What Is the History Behind the Evil-Eye Motif?
The concept of the "evil eye" is one of the world's oldest and most widespread superstitions, tracing its roots back thousands of years. Its historical significance transcends cultures, religions, and geographical locations, and the belief continues to be popular today.
Origin – The evil eye concept likely originated in the ancient Near East, particularly in regions that now make up modern-day Turkey, Greece, and Egypt. The belief then spread to various other cultures and civilizations, including the Romans, Jews, Hindus, and even some Christian and Islamic traditions.
Symbolism – The evil eye is often considered a look or gaze that one person gives to another, out of envy or malice, which can bring misfortune or injury to the person being looked at. The blue eye symbol serves as a talisman or amulet, designed to protect against such malevolent glares. Blue was often considered the color of protection, likely due to its rarity in ancient times.
Cultural Relevance – The concept has different names in various languages—such as "Nazar" in Turkey, "Malocchio" in Italy, and "Ayin Ha'ra" in Hebrew—but the belief is fundamentally the same. It's fascinating to see how this concept has been adapted in various ways depending on the cultural context. In some cultures, there are rituals, prayers, or specific objects used to protect against the evil eye.
Modern-Day Usage – Today, the evil eye symbol has been adopted into mainstream fashion and design, seen in everything from jewelry to textiles, and yes, even nail art. Its transition into a fashion statement does not negate its cultural and spiritual significance; rather, it serves as a testament to the symbol's enduring appeal.
So, the next time you sport an evil-eye design, you're not just making a style statement; you're partaking in a rich tapestry of global beliefs that have captivated the human imagination for millennia. Isn't it fascinating how a simple symbol can carry so much history?
My Top Tips To Master The Evil-Eye Nail Art
Hand Painting – The most intricate designs usually come from the steady hands of skilled nail artists. They can paint on the evil-eye motif with exquisite detail using super-fine brushes. This is my favorite when I want something custom and truly unique.
Stamping – Stamping can be a great alternative for those who may not have the steadiest hand (or the patience for meticulous detailing). Evil-eye stamping plates are available that make it easier to achieve a consistent look.
Stickers and Decals – If you're on a time crunch or prefer a DIY approach, nail stickers and decals with pre-designed evil-eye motifs can be a lifesaver. Just peel, stick, and seal with a topcoat.
3D Embellishments – For a tactile and dimensional experience, you can opt for 3D embellishments like tiny gems or metallic beads to accentuate the evil-eye design. I once used sapphire-colored gems for a friend's wedding, and they were a total hit!
Shades
Blues Galore – Blue is the traditional color associated with the evil eye, reflecting its origins. Cobalt, sky blue, and navy are popular choices, and you can mix them up for added depth.
The Glam of Gold and Silver – Metallic accents like gold and silver are great for outlines or to add some sparkle. Gold flakes or silver glitter can also be incorporated for that extra bling.
Pastel Hues – For a softer look, consider pastel shades like baby blue, lavender, or light pink as the base color. They can add a feminine touch to the design without overpowering it.
Bold and Dark – If you want to make a statement, go for bold colors like black, deep purple, or dark green. They can make the evil-eye motif pop and add an edgy flair.
So whether you're a DIY enthusiast or planning your next salon visit, knowing these techniques and shades can help you make informed choices. Your nails can be a work of art, a slice of history, and a dash of mystery all rolled into one. So why not give it a try? Time to get those nails talking!
Still Looking for Inspiration, Then Check Out This Video
Conclusion
And there you have it, style lovers—a comprehensive guide to the enchanting world of Evil-Eye Nails, offering something for every taste, mood, and occasion. If there's a tip to take away, it's to avoid mixing and matching elements from different designs; the evil-eye symbol is flexible enough to meld with many styles. As for risks, the key is to ensure the materials used are of good quality, especially if you're going for intricate details like gems or unique textures. Inferior products may not only spoil the look but also damage your nails. All in all, whether you're a nail art novice or a seasoned pro, the Evil-Eye Nail designs provide an exciting avenue for self-expression. So why not dive in and let your nails become a canvas for storytelling? You'll turn heads and enjoy the fun and creativity that comes with it.
Feature image @peachinails via Instagram
Last reviewed and updated on October 12, 2023