Today, we're diving into one of the hottest trends to sweep the nail world—Flame Nails. Trust me, this is it if you want to bring some sizzle to your nail game. We'll go over the basics, like how to get that perfect flame design, whether you're a DIY person or prefer the salon experience. I'll also share my top picks for the polishes and tools that give you flames so realistic you'll almost feel the heat. Let's be honest; I've tried this trend myself, and it's not just eye-catching but also super fun to create. Get ready to ignite your passion for nail art!
Spice Up The Norm With Pop Art Flames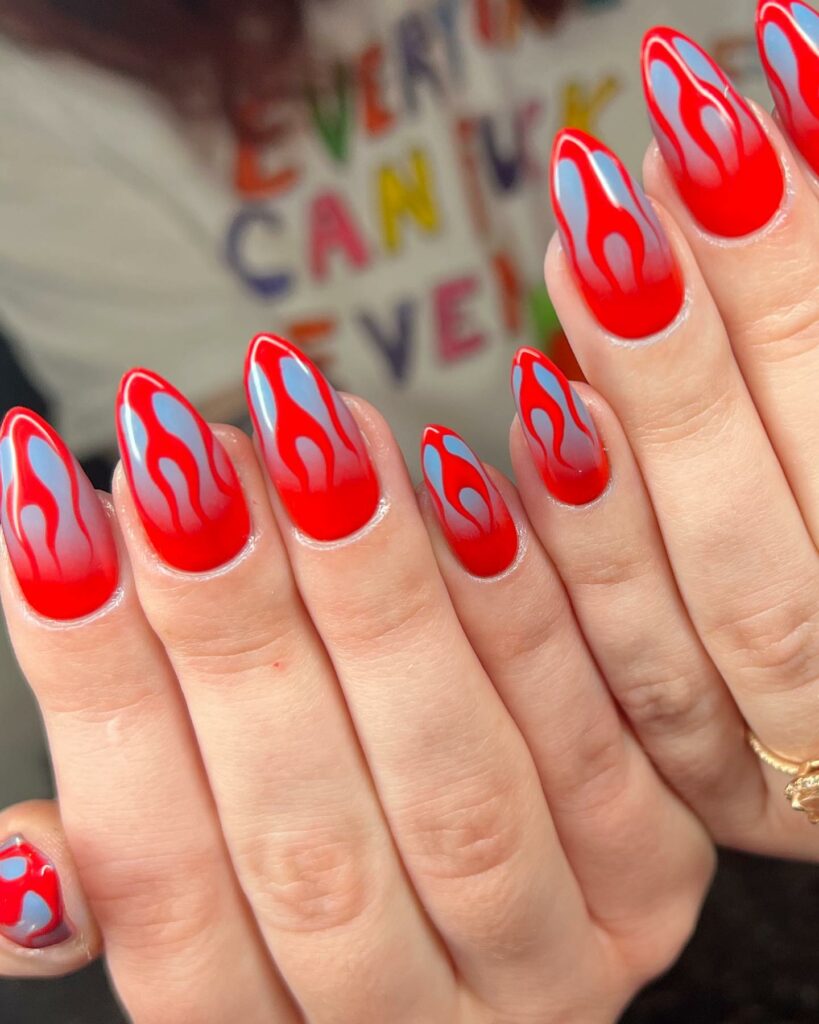 Hey, you glam goddesses out there! Ever felt like your flame nails are kinda missing that "oomph"? Layer on some red-hot flames with pop art elements, and I promise your nails will be anything but boring. It's a showstopper with a casual tee, jeans, or even that LBD you've been saving for the weekend.
Ring In The Lunar New Year In Style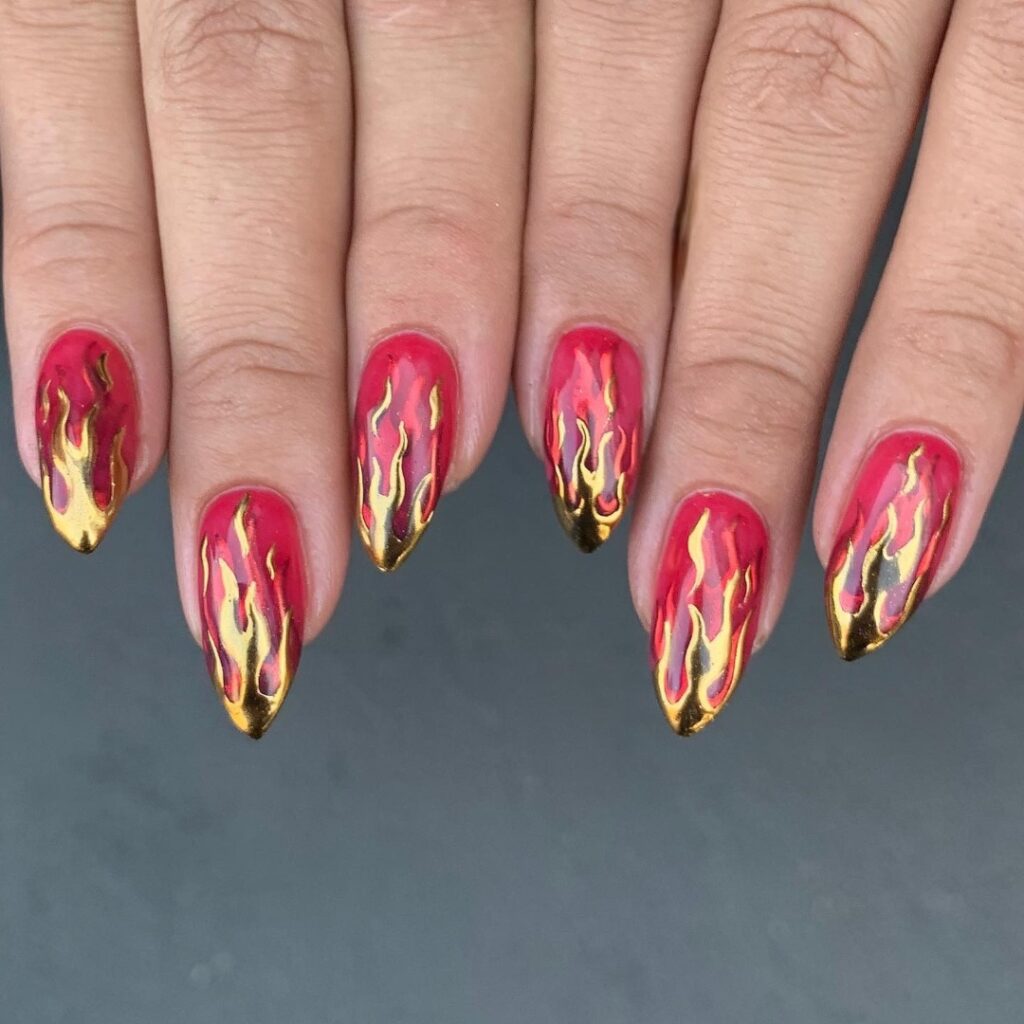 One word: mesmerizing. Gold flames on bright red nails are so vibrant, perfect for festivities like Chinese New Year or any time you want to feel like a queen. It's a total power move.
Think Pink (and Black)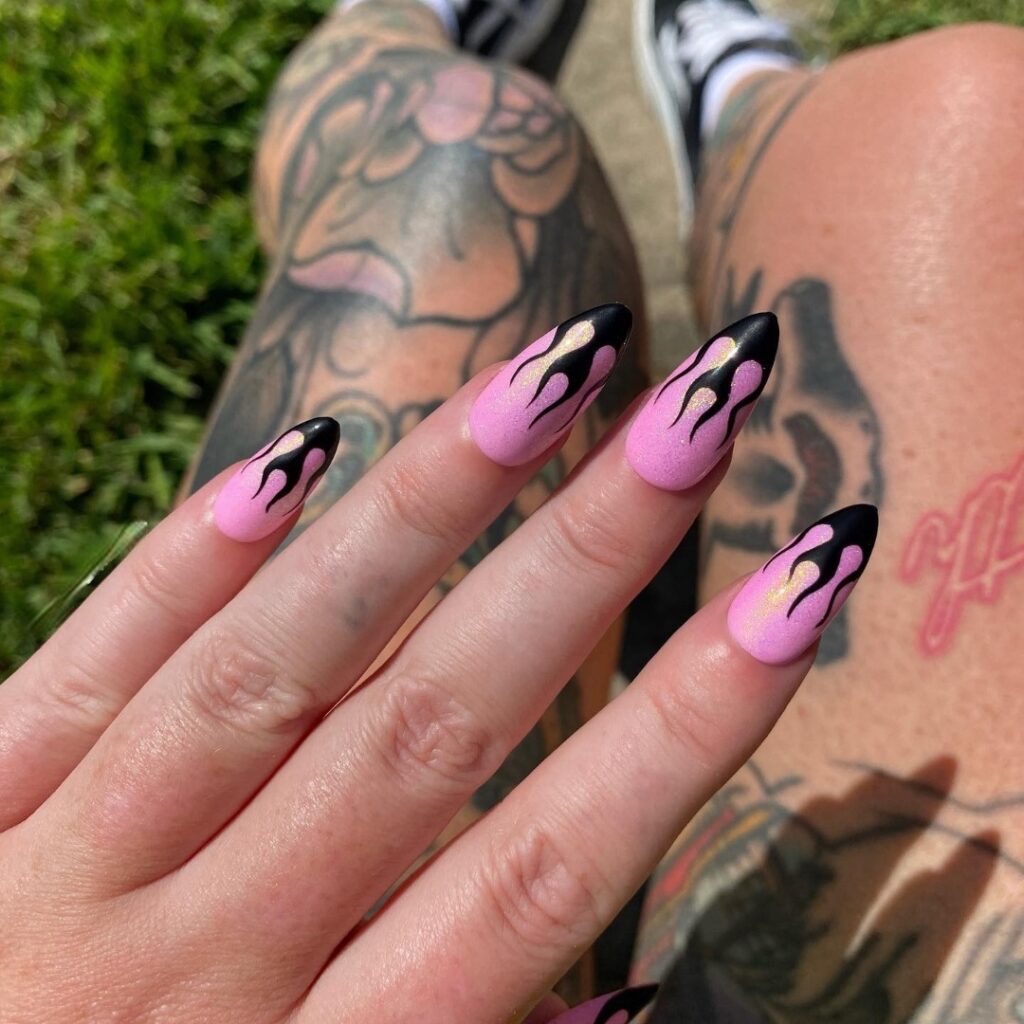 Ready to take a walk on the wild side? Go all out with pink flames and black details that are anything but ordinary. I had a client who rocked these at a summer music festival, and she was the talk of the town. No regrets!
Classic Meets Contemporary: Neon Pink and Yellow Tips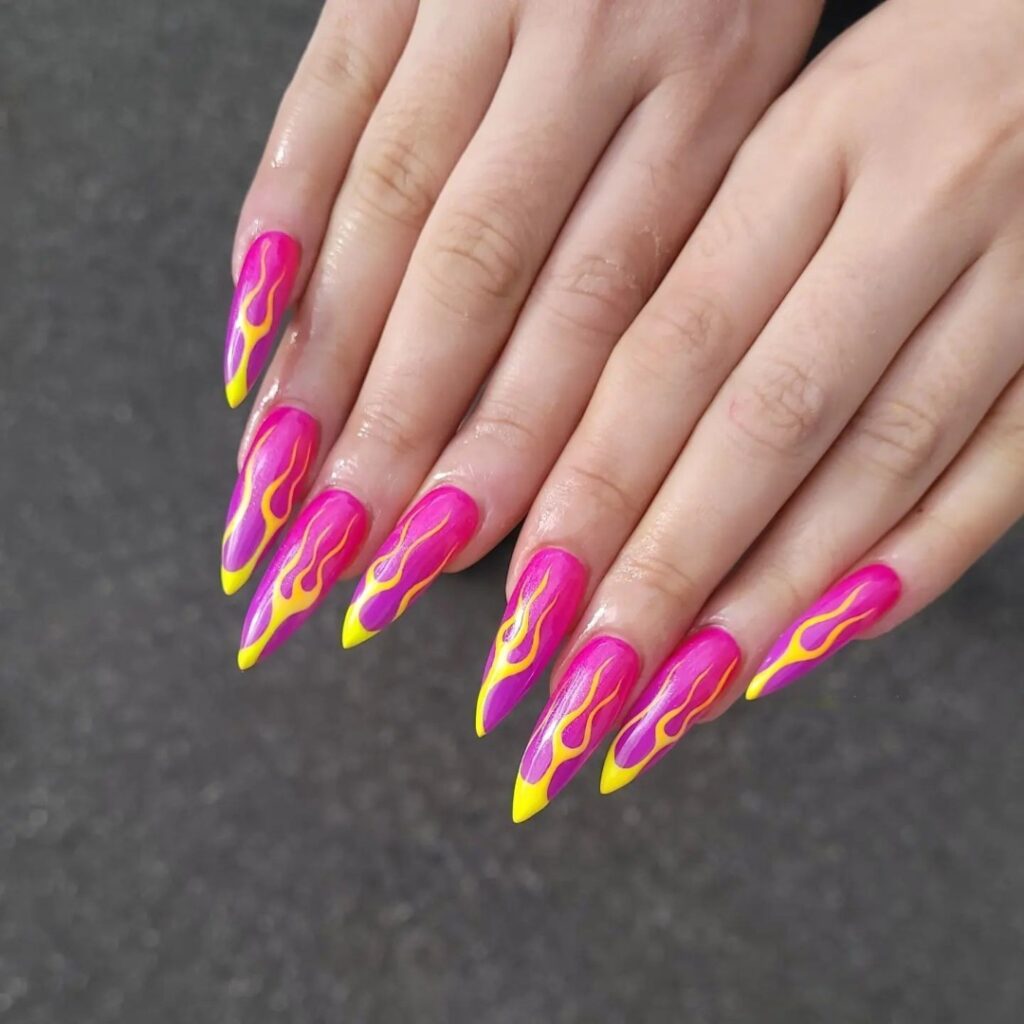 Do you love the classic look but also want to stay trendy? Try neon yellow tips with pink flames. It's a timeless yet modern combination that will keep people guessing if you're sweet, sassy, or both!
A Coffin Nail Masterpiece: Yellow, Red, and Orange Flames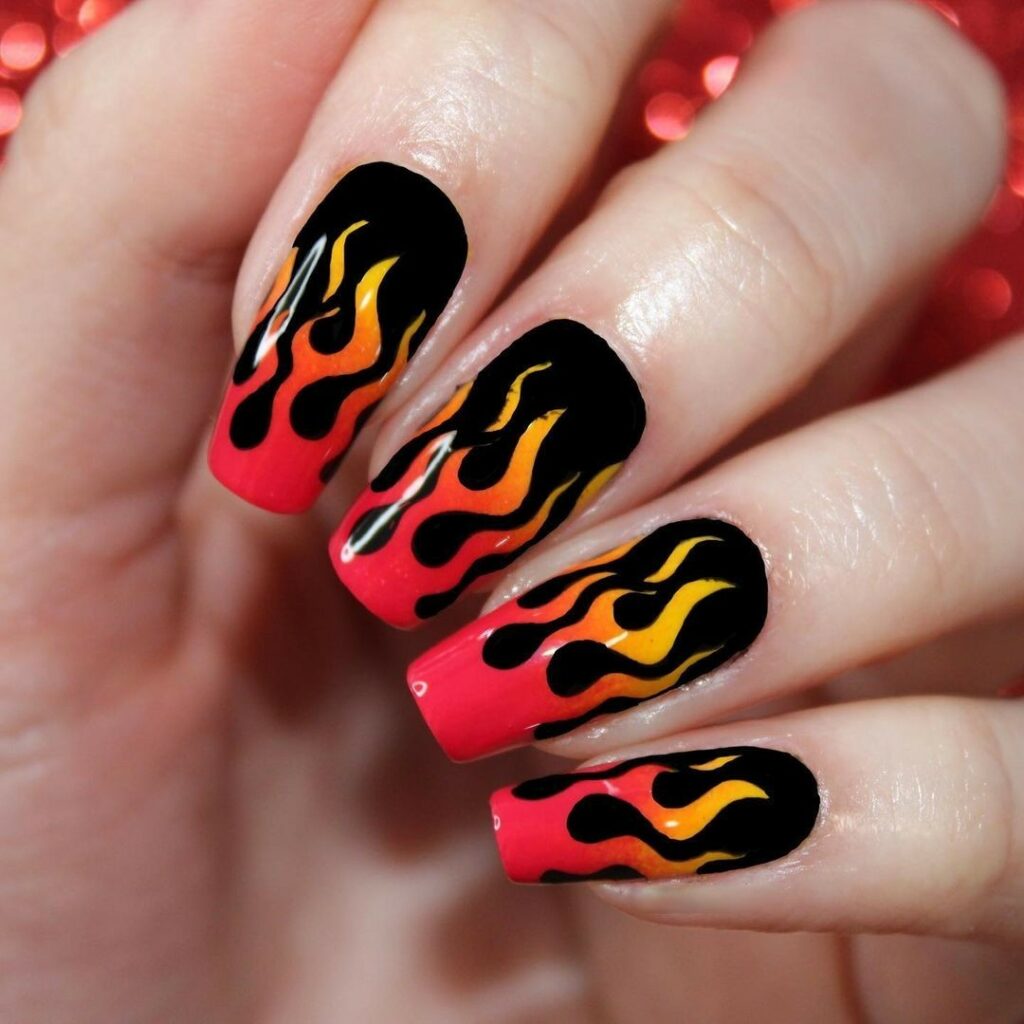 Okay, this is a personal fave. The orange flames on a subtle nude base with French detailing are divine. Trust me, if you're a coffin nail devotee, you want to try this at least once.
Holo Magic For Arrowhead Nails
For all my arrowhead nail lovers, how about a holographic ombre with white flames and a sprinkle of silver glitter? It's like having a little disco party at your fingertips!
Punk It Up With Neon Green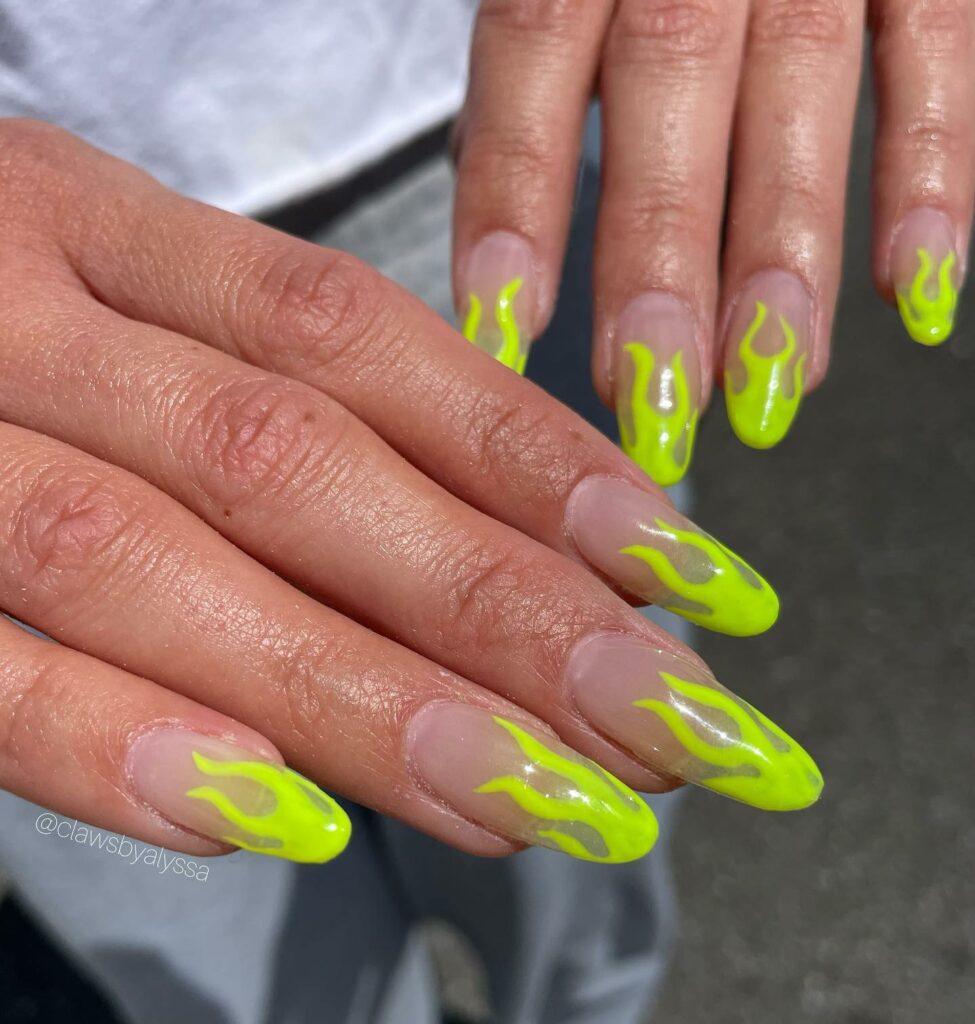 Are you looking to channel your inner rock star? This neon green and purple gradient is hot, hot, hot. I did this for a client headed to a punk concert; let's say she fit right in.
Less is More: Single Accent Flames
Who says you have to go all out? Try bright orange flames on just one black accent nail. The contrast is striking and a great way to ease into the trend if you're new to it.
Love is in the Air: Ombre Heart Flames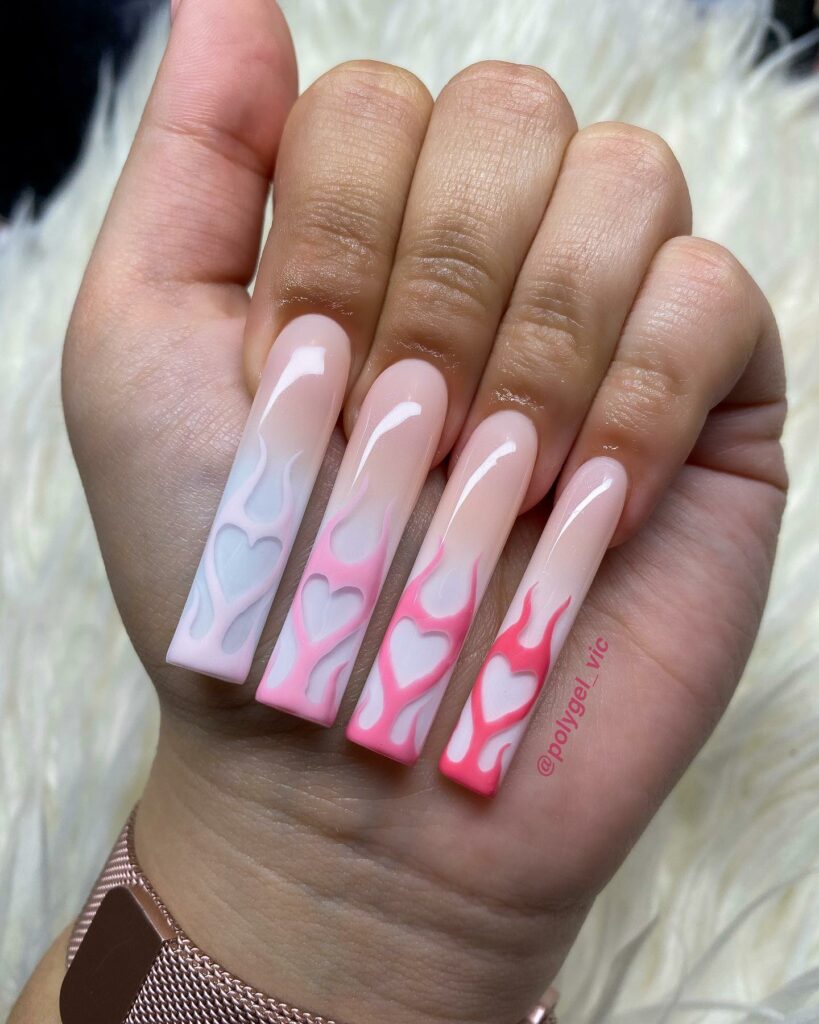 Okay, prepare to be obsessed. First off, the light pink to deep red ombre is swoon-worthy. But those hearts nestled in the middle of the flames? Genius! This is Valentine's Day, anniversary, or "just because I love you" nails wrapped up in one design.
Pastel Dreams
Add white flames to soft pastel shades if you're all about those French tips but want a fresh twist. Your nails are ready for spring, no matter the season.
Mix it Up: Pink Flames And Rainbow Accents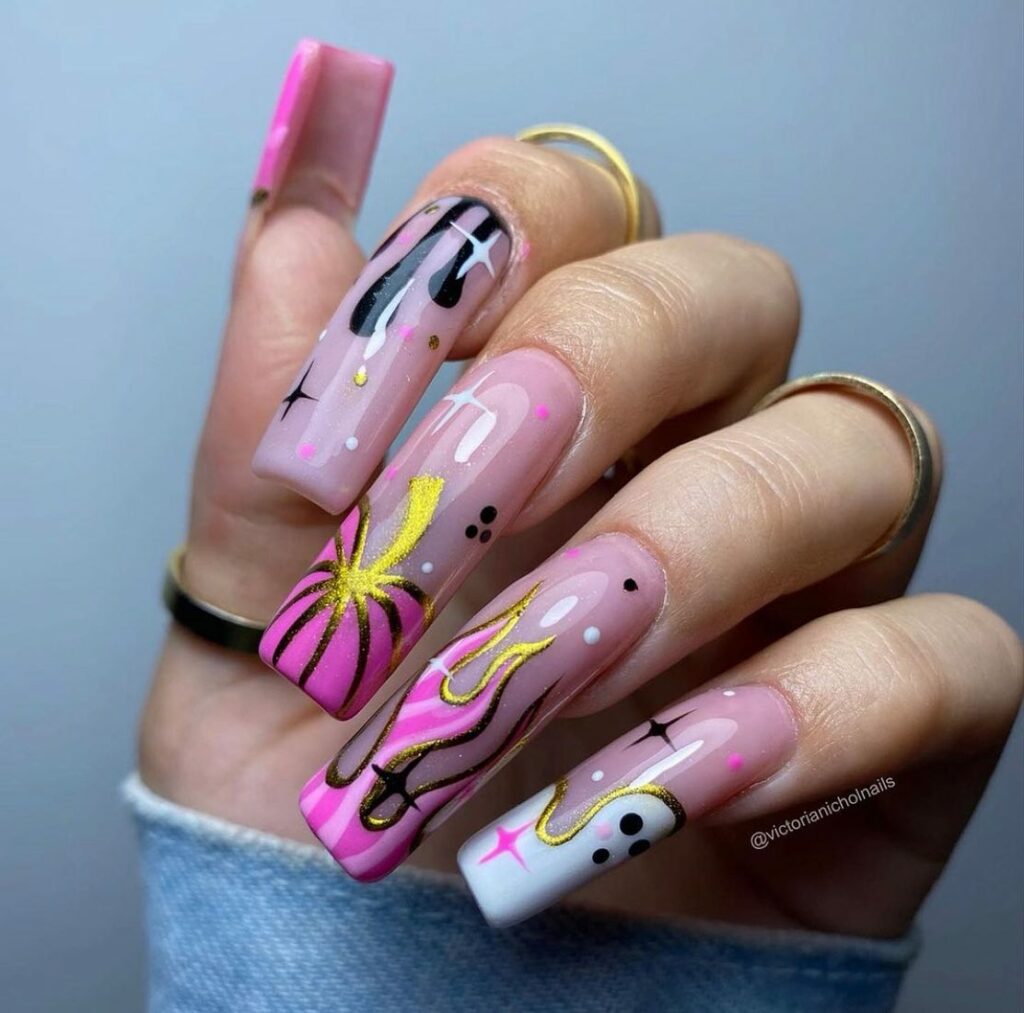 For the adventurous souls, why not mix it up? Pink flames meet rainbows and more. I tried this once when I felt particularly bold, and my Insta DMs blew up with people asking for the deets.
Starry Flames: Silver and Pink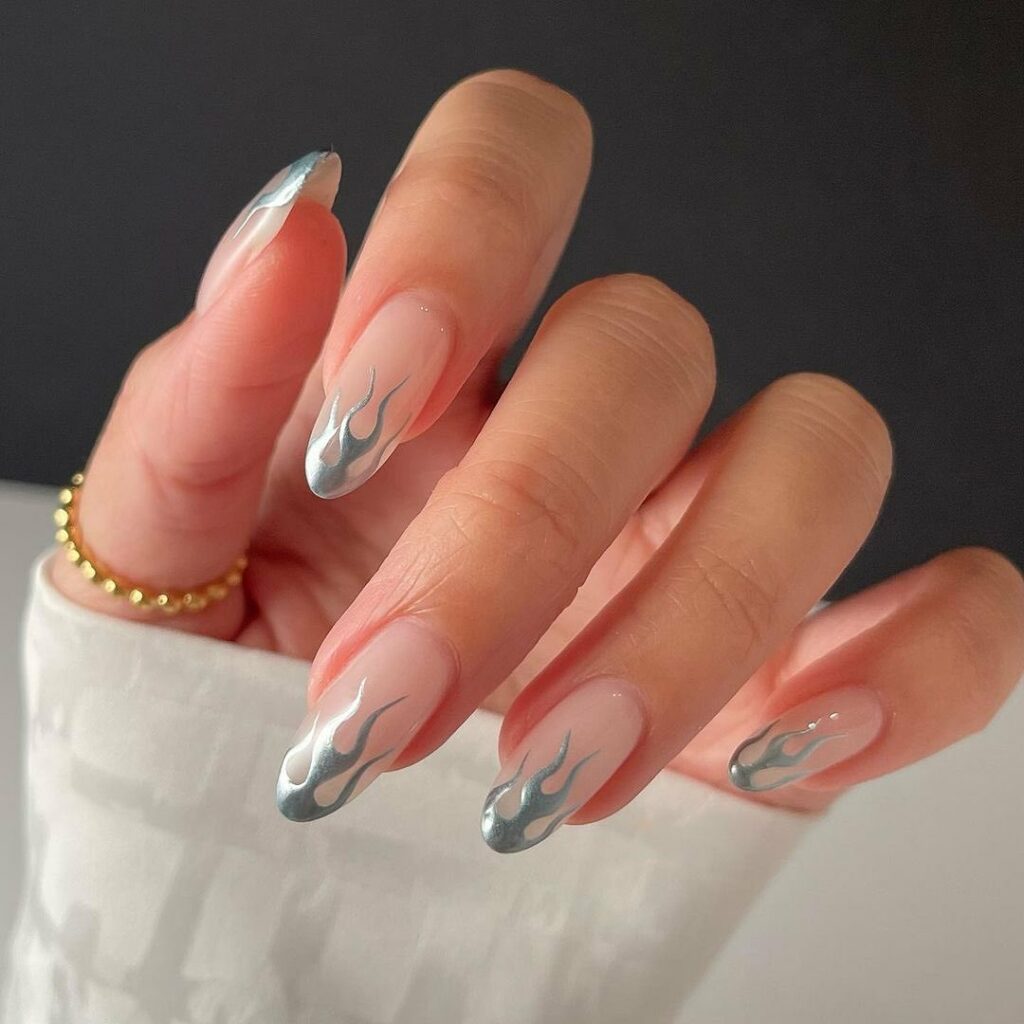 Combine metallic stars with pink and silver flames for a look out of this world. My bestie rocked these at a birthday bash, and she was the show's star, no pun intended.
First Date Flair: Purple Flames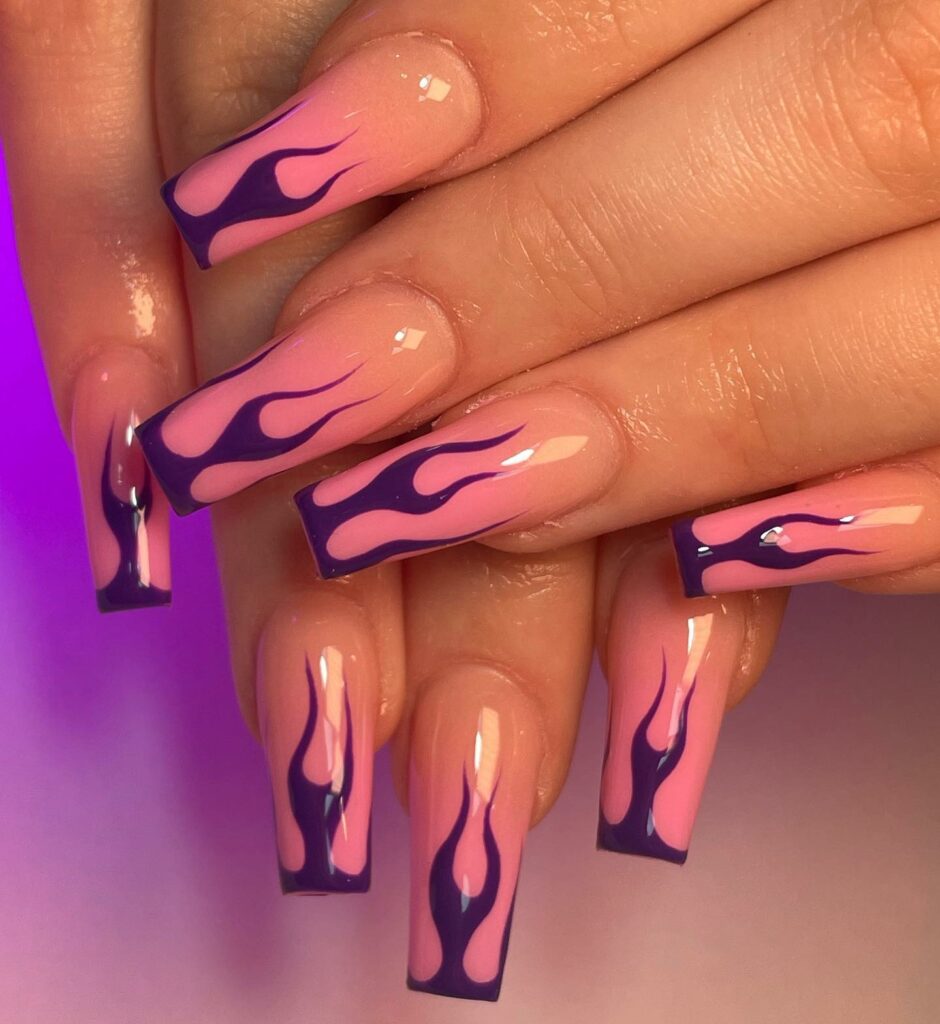 If you want to make a memorable first impression, opt for chrome purple flames on nude nails. It's like a flirty wink but for your nails.
Midnight Chic: Blue Flames And Metallic Tips
If you're craving a cool twist on your flame nail game, try midnight blue chrome flames on a creamy nude base. I rocked this look for a night out, and the only chill about my night was the color of my nails!
Ocean Vibes: Pacific Blue On Green Ombre
Green ombre combined with blue flames outlined in a lighter blue? Yes, please! I can't tell you how many double takes I got when I sported these. It's like carrying a tropical lagoon right on your nails.
Maximalist Glam: White Flames And Chic Accents
Who says more is too much? Deck out your white flame nails with adorable red hearts, amber French tips, and red glitter accents. This look screams Valentine's Day or a regular Tuesday when you feel fabulous.
Date Night Special: Nude And White Flames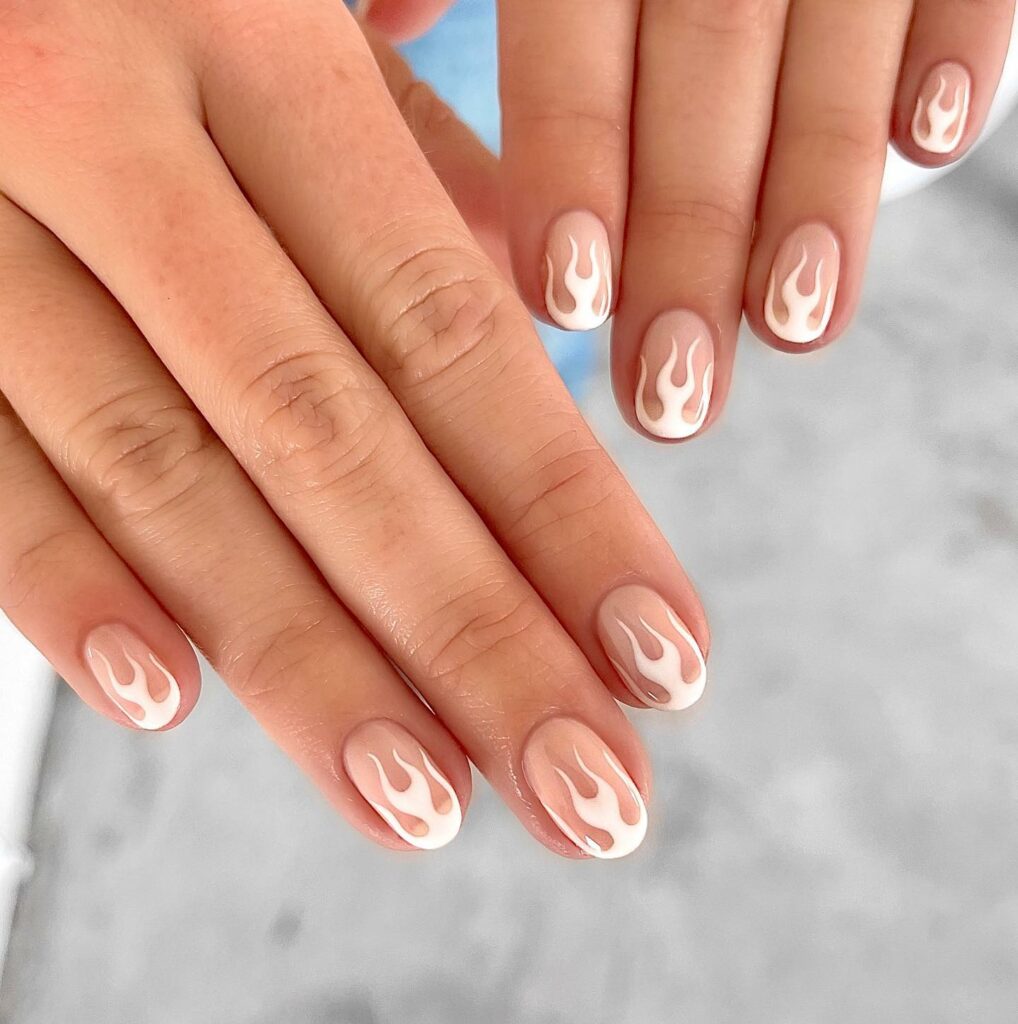 Planning a romantic night out? Go soft with nude and white flames. It's elegant, flirty, and the perfect way to add a spark to your date night.
Brown Flames For Chic Sophistication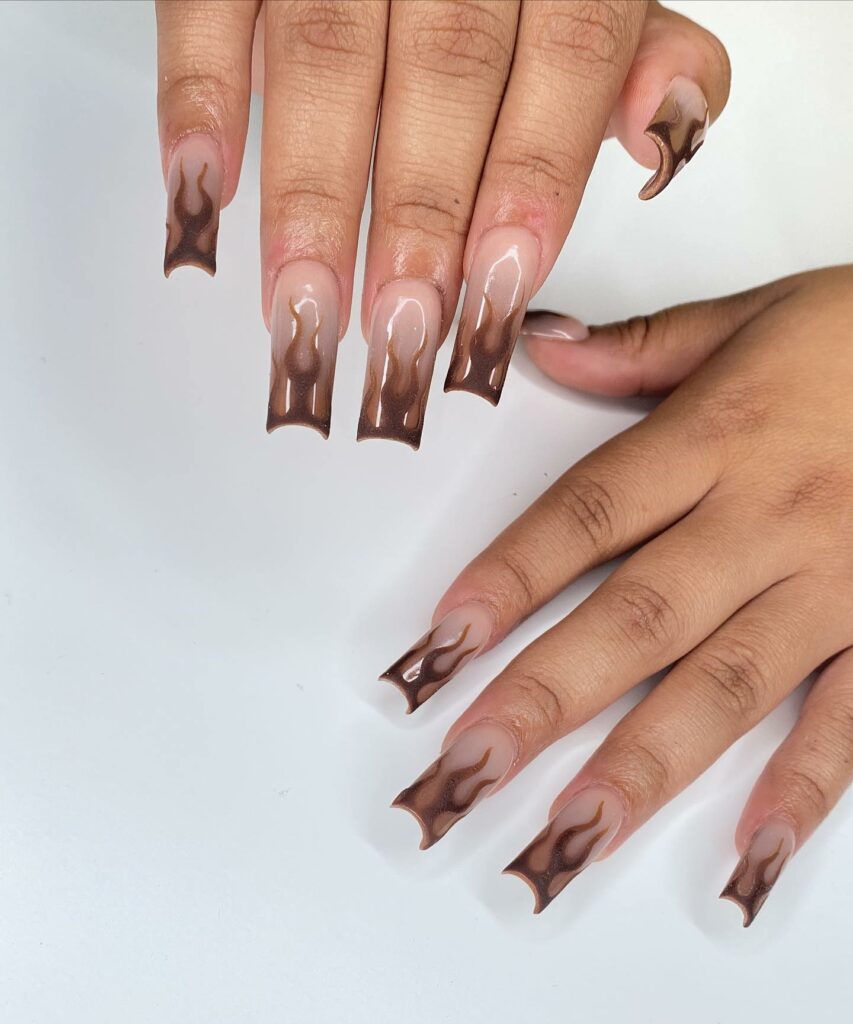 Picture this: brown flames on long nude nails. Sophisticated and refined, this is your go-to for weekend shopping sprees or that upscale dinner you've been looking forward to.
The Happiest Flames: Pink and Orange Retro Nails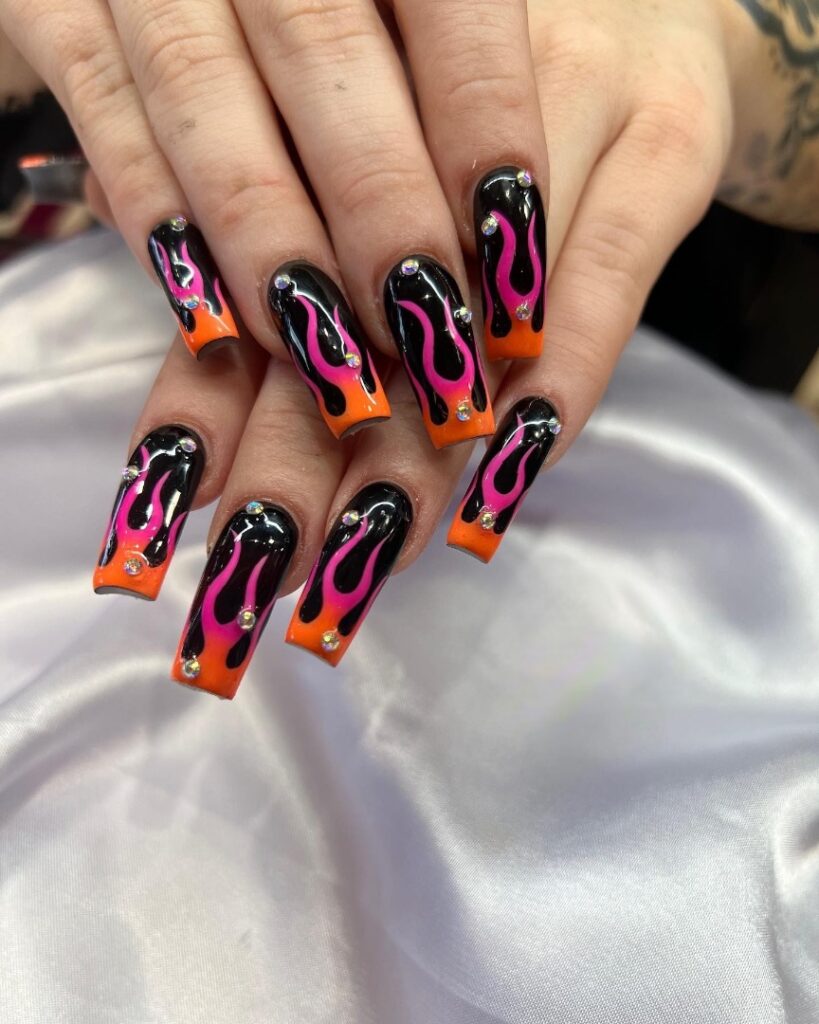 YouTube tutorials can be a goldmine, right? One look I can't get enough of features pink flames outlined with cute smiley faces. It's retro, it's cute, and it's a definite mood-lifter.
Relaxed Elegance: Arctic Blue And White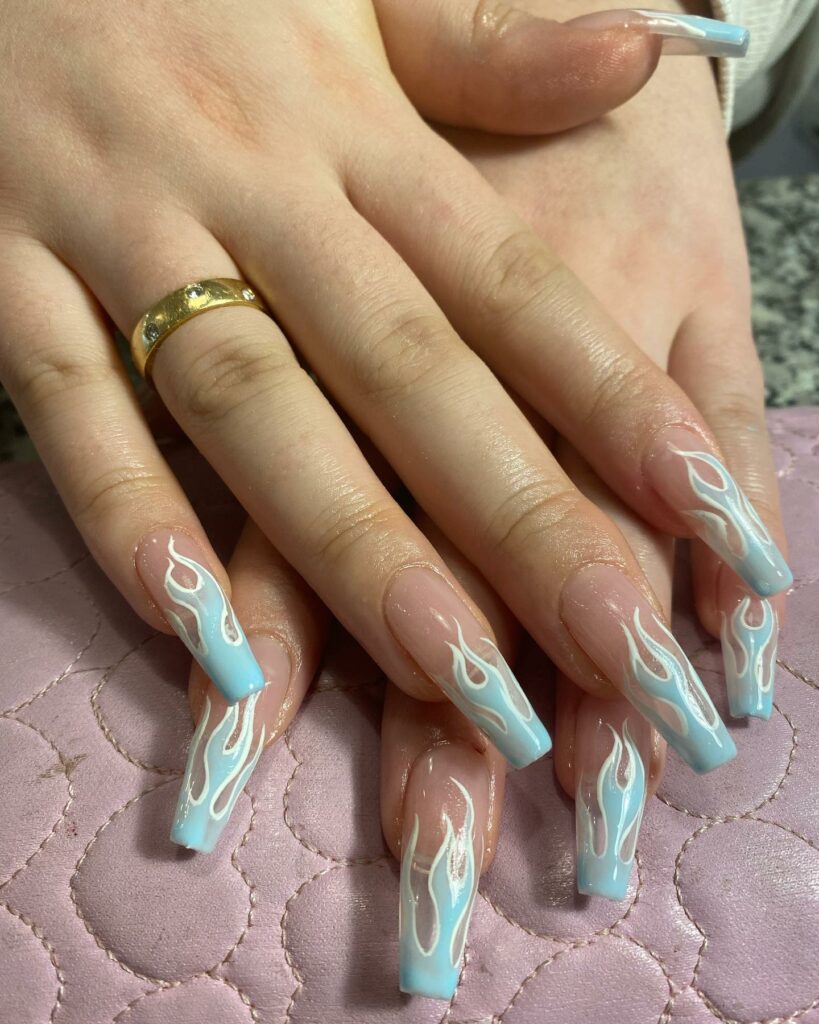 Try icy blue flames outlined in white on short, nude nails for a winter wonderland effect. Even if it's 90 degrees outside, you'll be chilling with this look.
Flirty Flair: Pink Glitter Swirls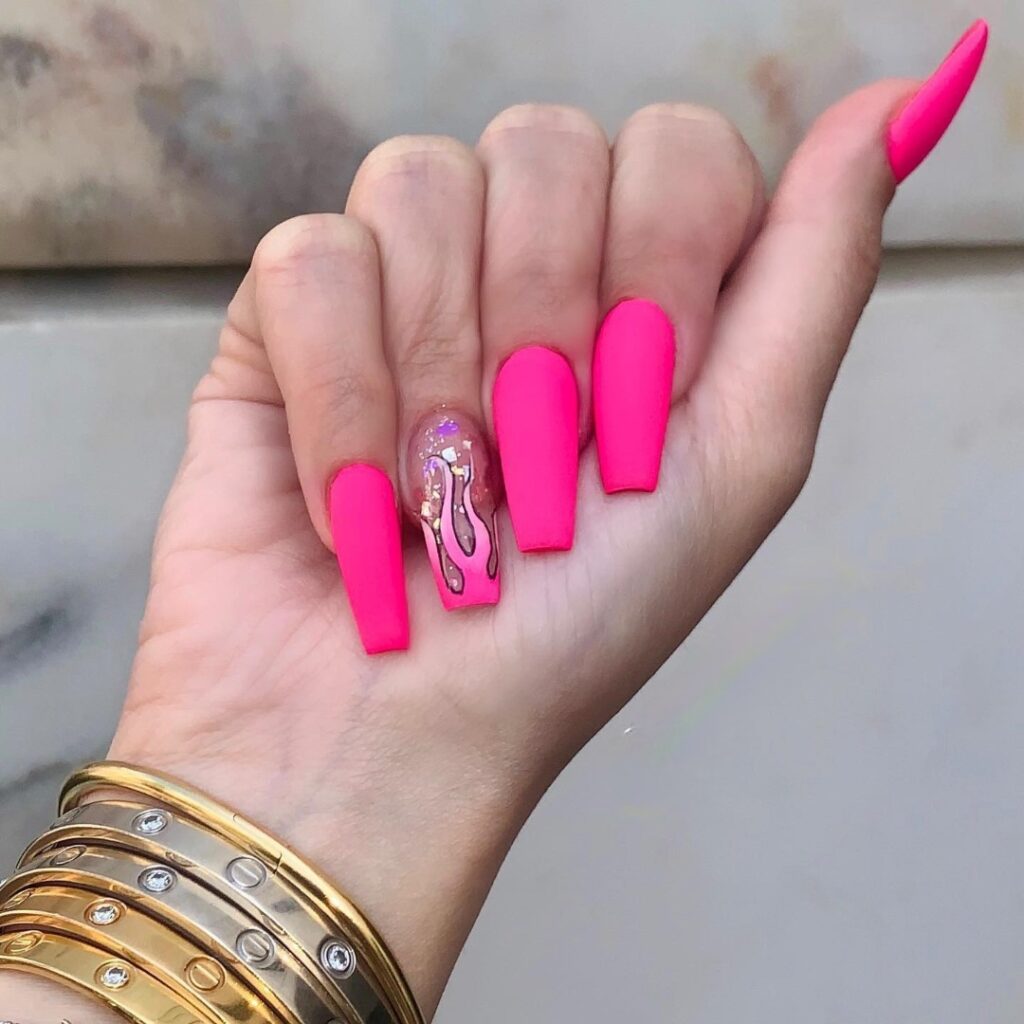 Feeling chic and sweet? Swirl on some hot pink glittery flames to up your glam factor. Perfect for when you're feeling a little extra.
Balanced Blaze: Yin And Yang Flames
You can be calm and fierce with black and white flame nails featuring the yin and yang symbol. I mean, who doesn't love a little zen with their zing?
Less is More: Barely There Pastel Flames
If subtlety is your style, use pastel flames on a white base. It's understated yet eye-catching, giving you that 'barely there' flame illusion.
Explosive Rainbow Drama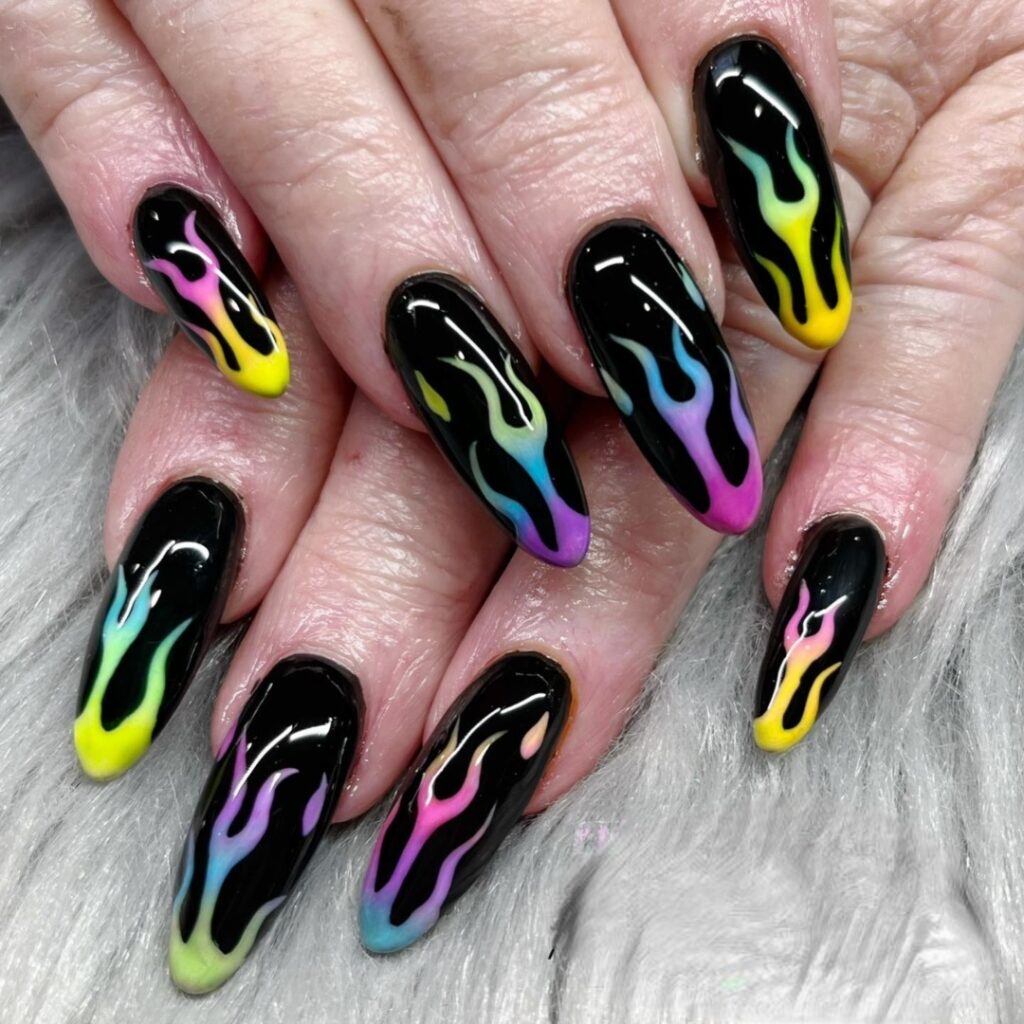 Feeling a little dramatic? Go all out with rainbow-themed background flames in black and white. It's a colorful splash of fun that's sure to turn heads.
Monochrome Elegance: Black And White Contrast
Mystery meets elegance in black and white flame nails on glossy nude. Trust me, this is sophistication at its finest.
Out-of-This-World: Alien Goddess Flames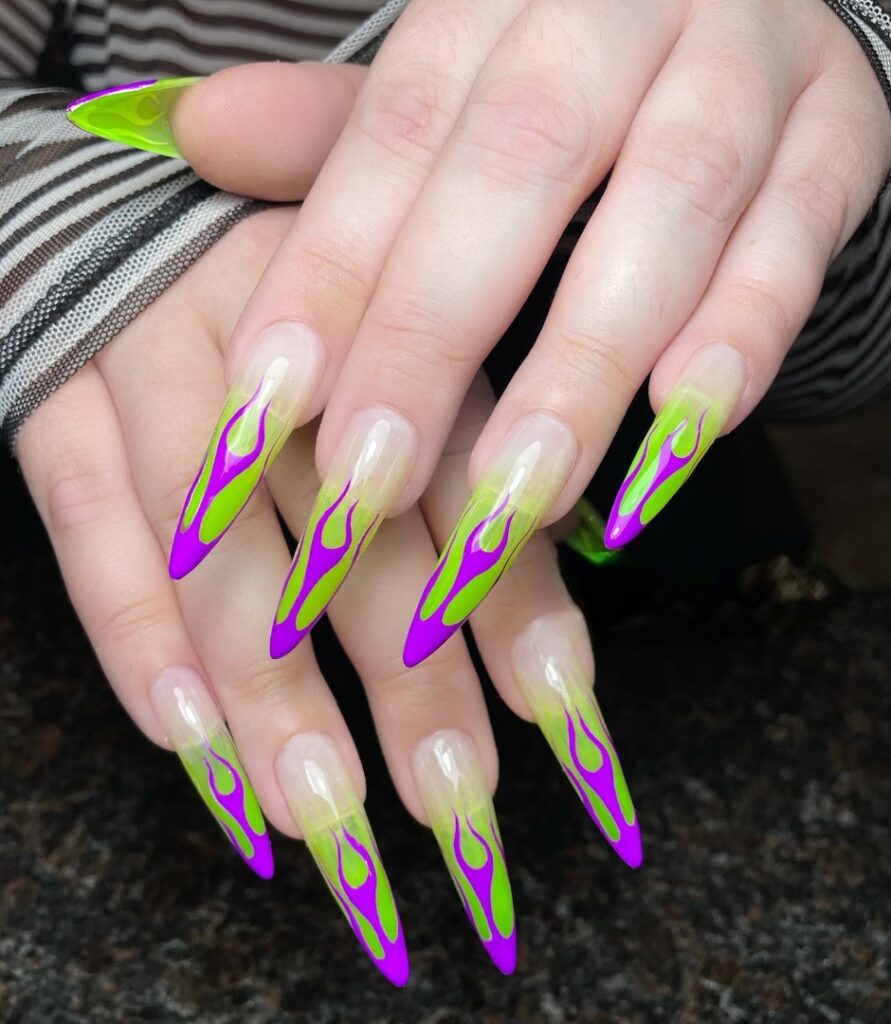 If you're scouting for next-level inspiration, go for neon purple and green flames on clear nails, all finished with holographic shimmers. It's literally 'out of this world' awesome!
Unleash the Sparkle: Glitters And Pink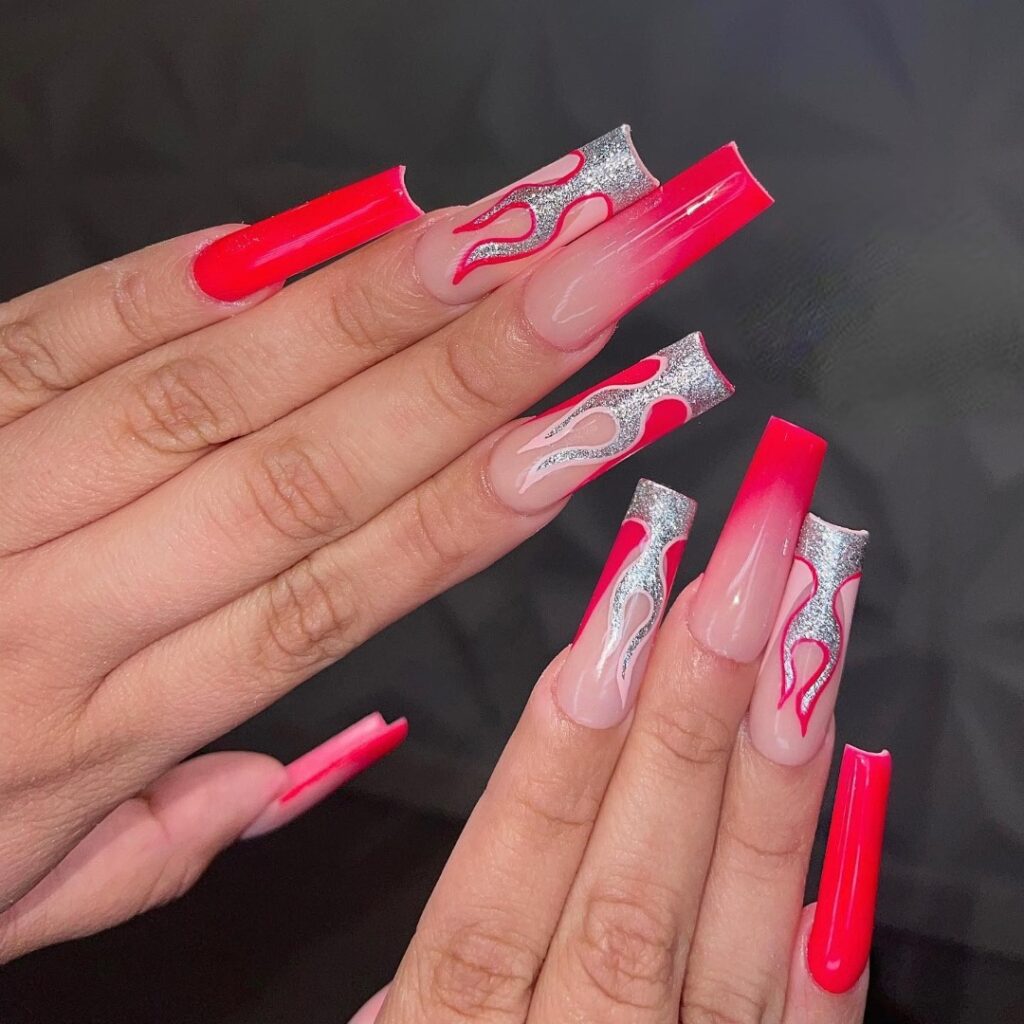 Glitter gals! If you're a fan of all things shiny, you'll love these hot pink flames on a bedazzling silver glitter base. I did this for a girl's night out last week, and let me tell you, my nails were the life of the party!
Effortless Elegance: Spicy In White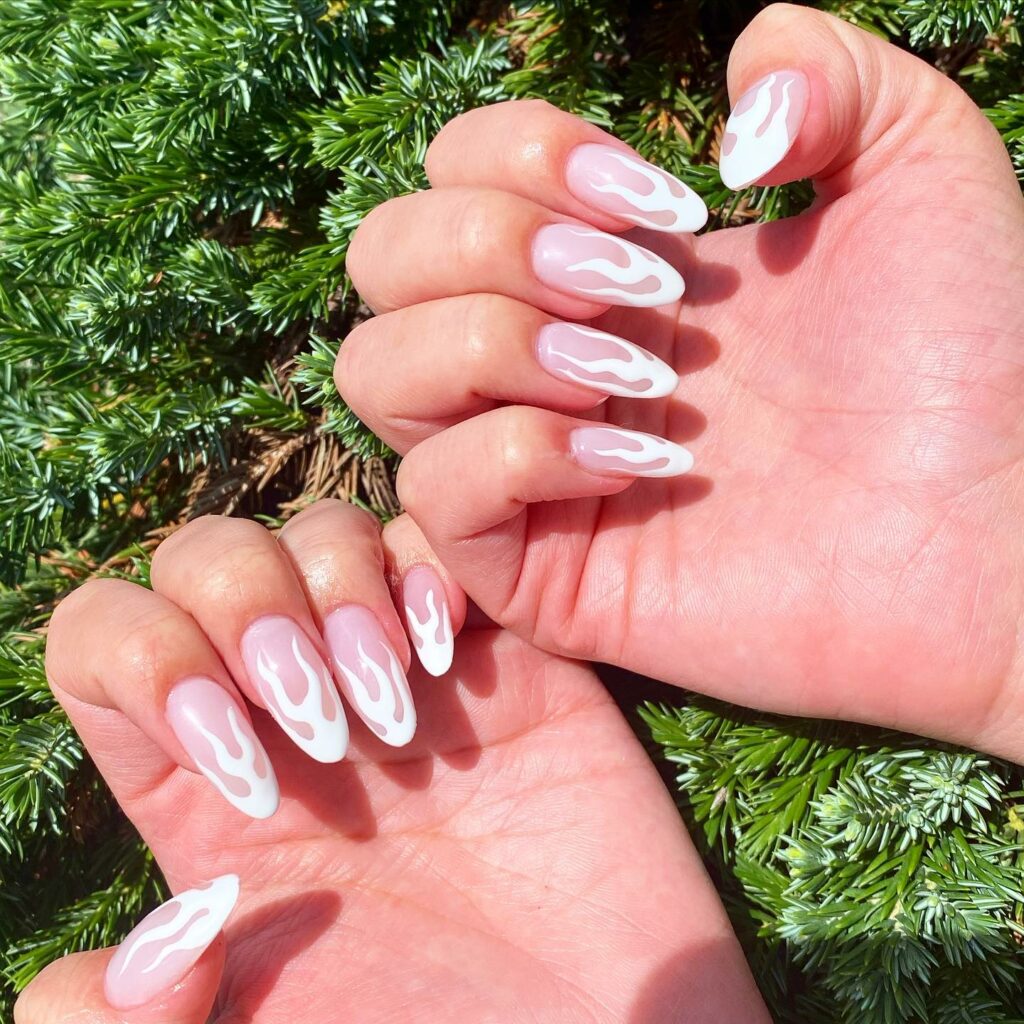 Aiming for that subtly glam look, wear classic white flames on a nude base. This is my go-to for meetings where I want to look professional but still flaunt a bit of my creative side.
The Way To A Heart: Sparkle In Pink And Red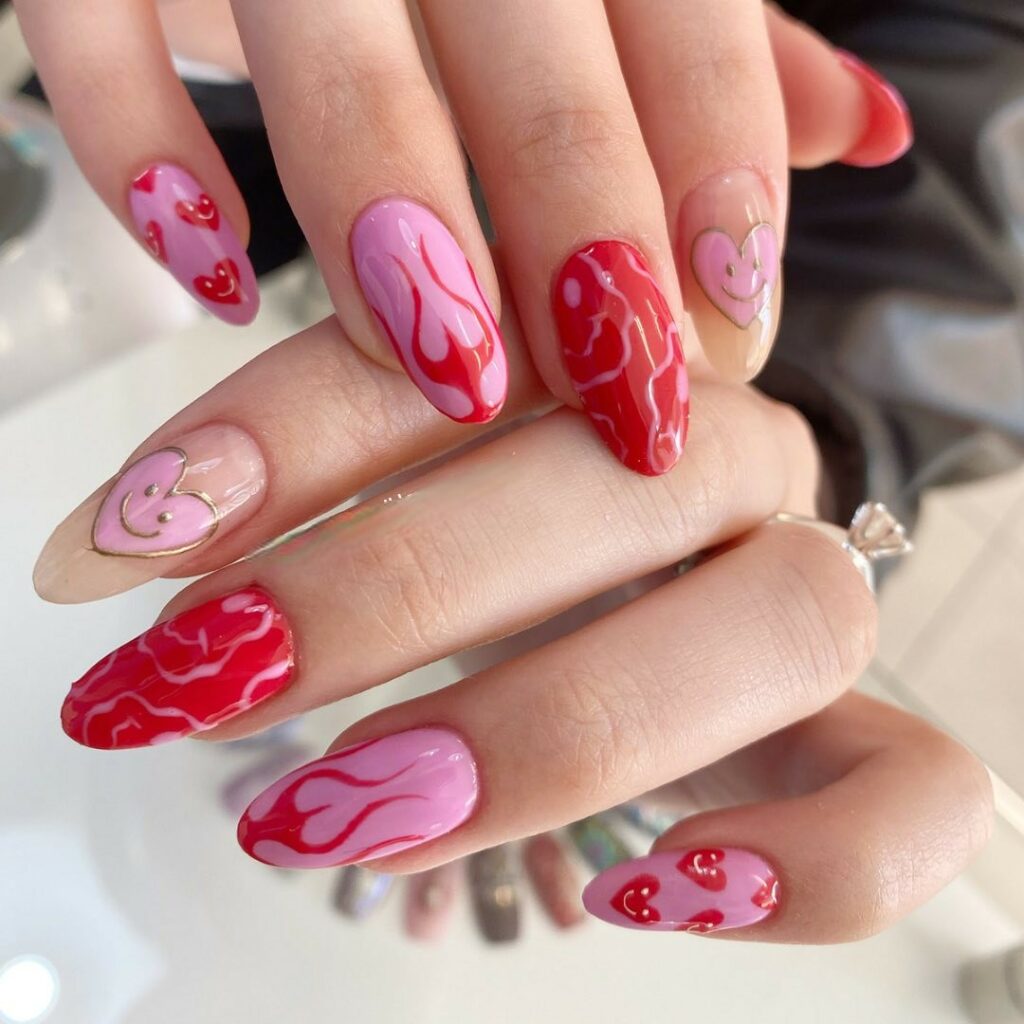 Ah, romance in the form of nail art! Opt for red flames adorned with cute pink hearts. Pro-tip: nail art stickers can totally elevate this design and make your life easier at the same time.
Memorable Moments: Magical And Something Special
Celebrating a big day? The combo of white outline flames on a silver glitter base with glittery black French tips is something straight out of a fairy tale. Tried and tested this design, and it was a hit at my friend's anniversary bash.
Sunset Hues: Under A Vibrant Fiery Sun
Want to carry a piece of the sunset wherever you go? The yellow, pink, and orange gradient flames with gold glitter accents are an absolute dream. It's like a sky on fire but on your nails!
Red Hot Classics: Scorching Flame French Tips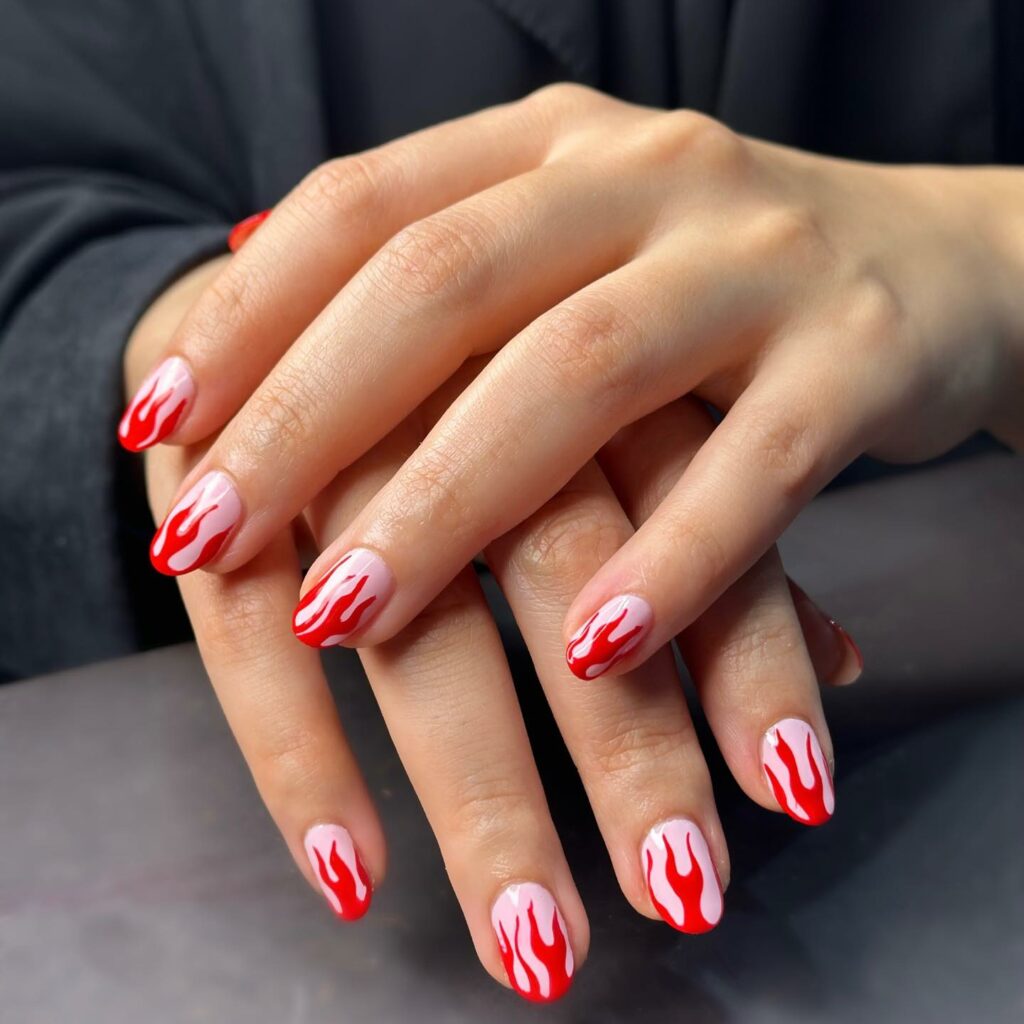 These red and orange flame French tips are "forever in style." These have been popular since the 2020s, and they're still going strong. If it ain't broke, don't fix it, right?
Sultry Mix: Black And Tangerine in Harmony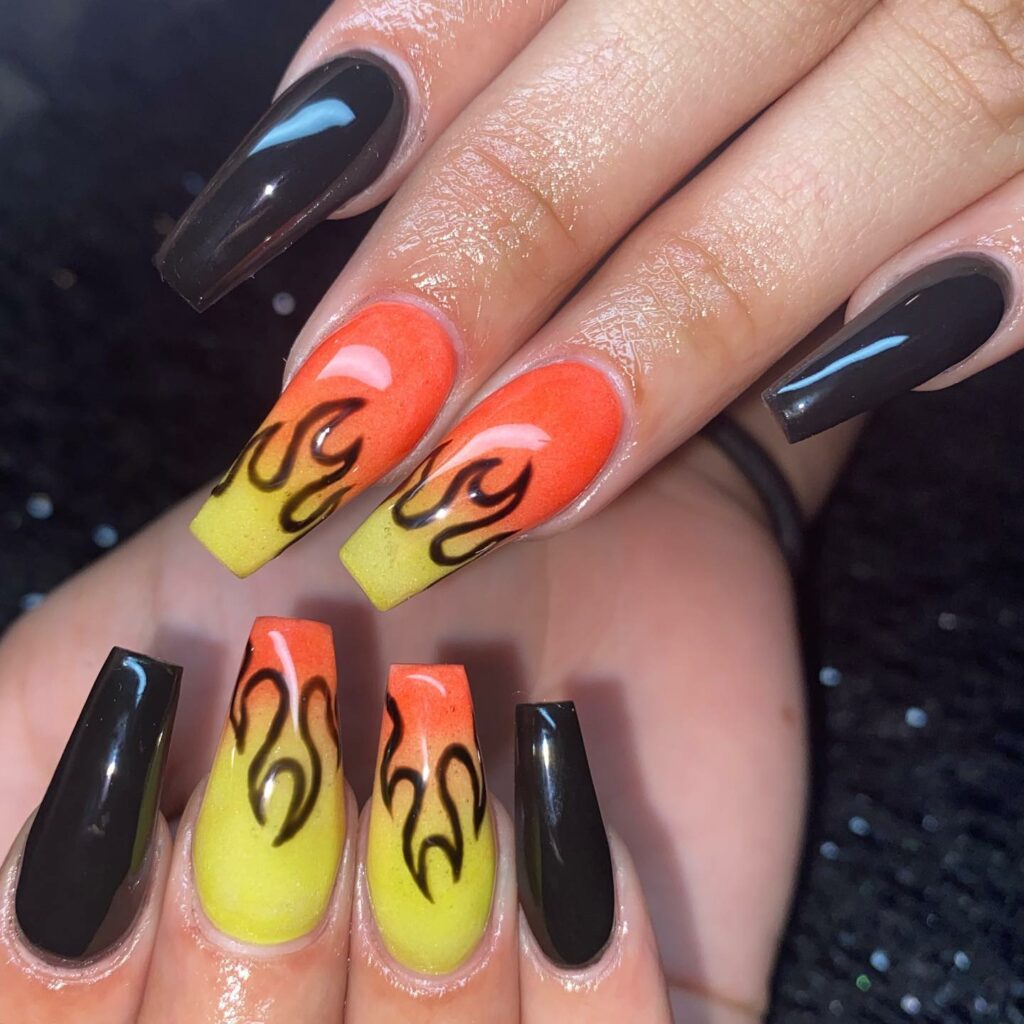 Ready to bring the heat? Gorgeous black flames and black nail art pop beautifully on a backdrop of tangerine French nails. I wore these to a concert, and they were perfectly harmonious with the night's vibe.
Glamorous Blaze: White And Gold Reverse Flames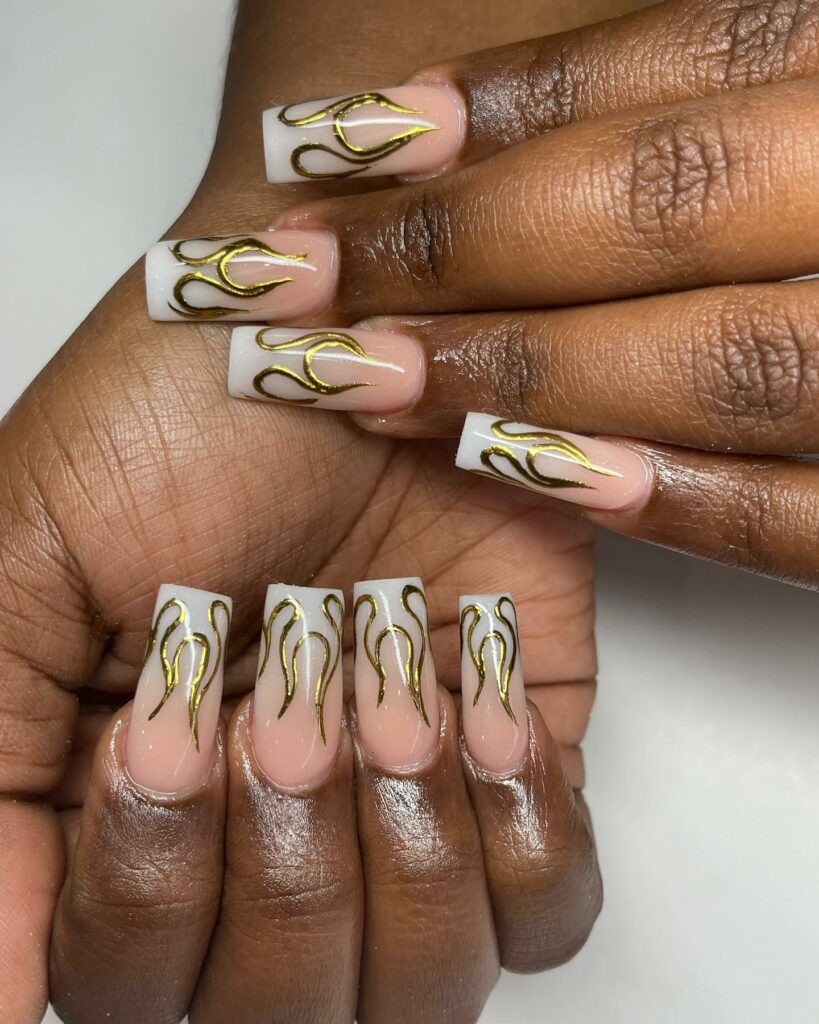 Want to shine like a star? Then you've got to try these white nails with metallic flames blazing on the cuticles. It's a reverse French mani with a golden twist!
The Perfect Nude: Charming In Creamy Nude Polish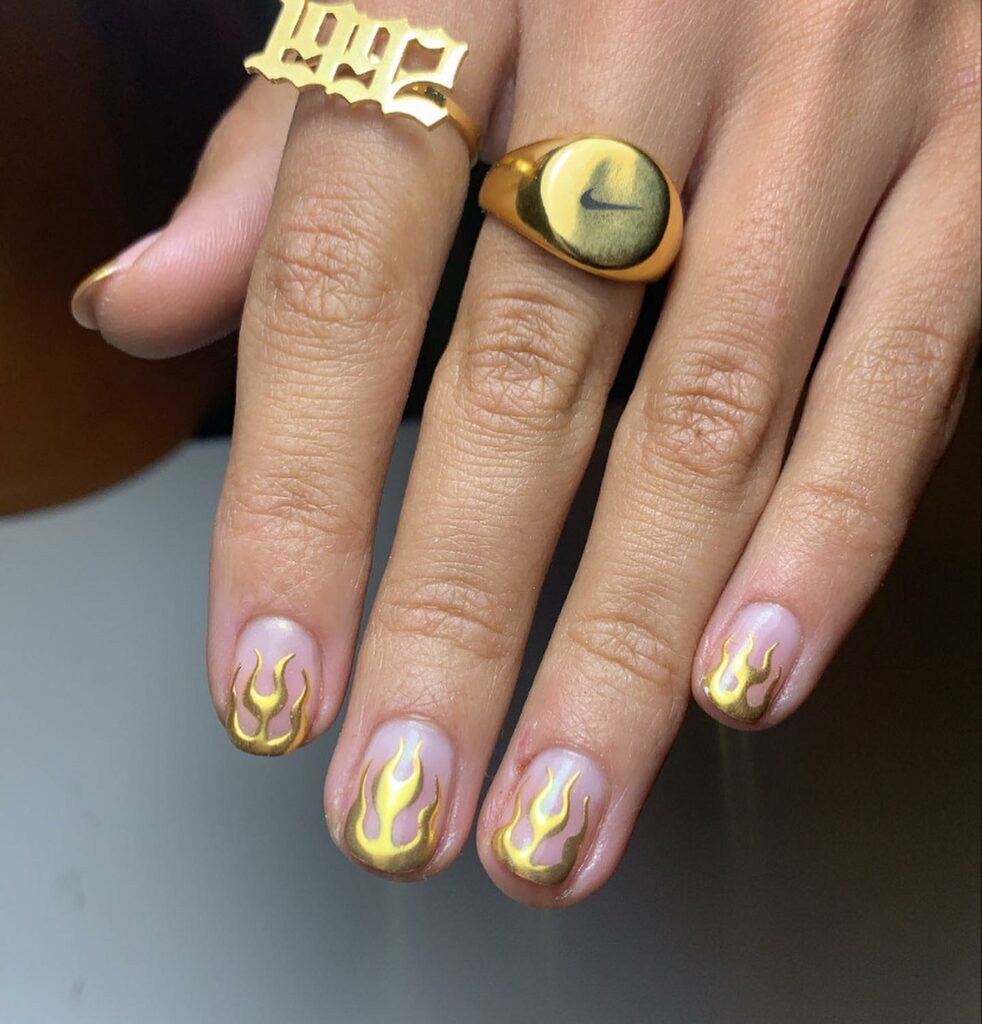 Sometimes less is more, right? If you're a fan of the basics but still want a touch of flair, consider creamy nude almond nails with chrome gold flame tips. Trust me, it's like a "little black dress" but for your nails—timeless and classy!
The Flaming Romance: Fiery Fires Of Red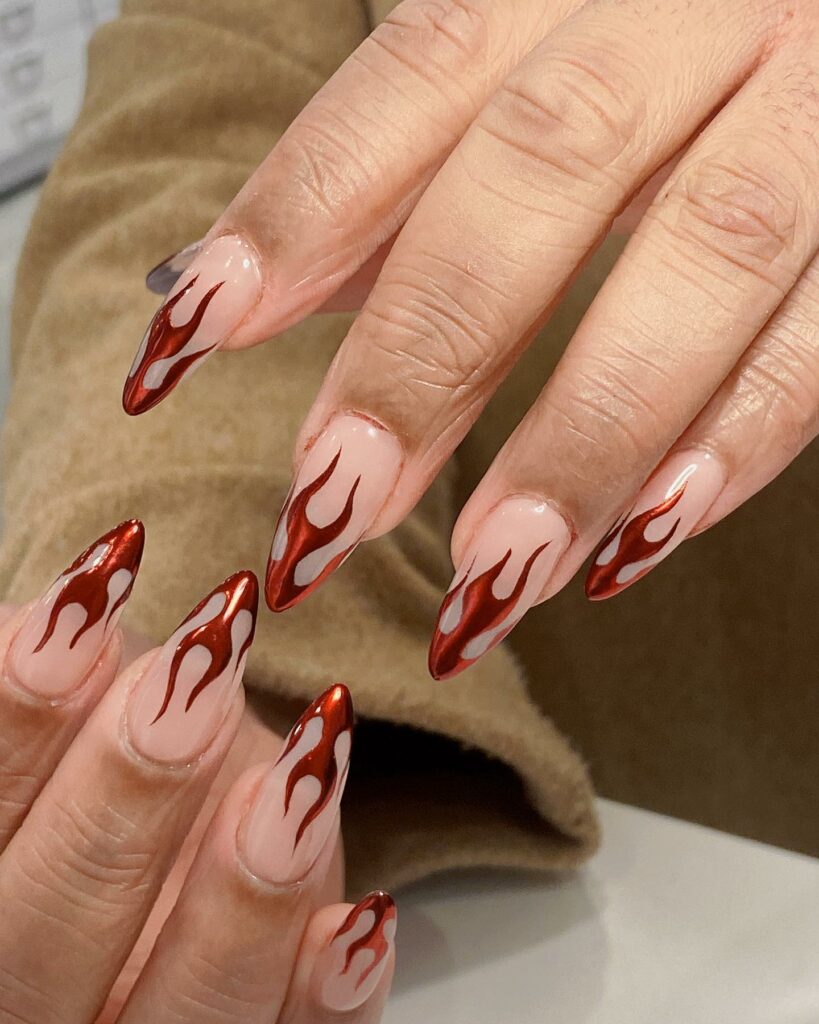 Looking to ignite some passion? You've got to try this look. Picture a nude base mani set ablaze with red flames sprinkled with red lips, hearts, and North Star accents. Talk about a showstopper! I rocked this look on Valentine's Day, and it was a total hit.
Metallic And Holographic Nails Outlined With Black Flames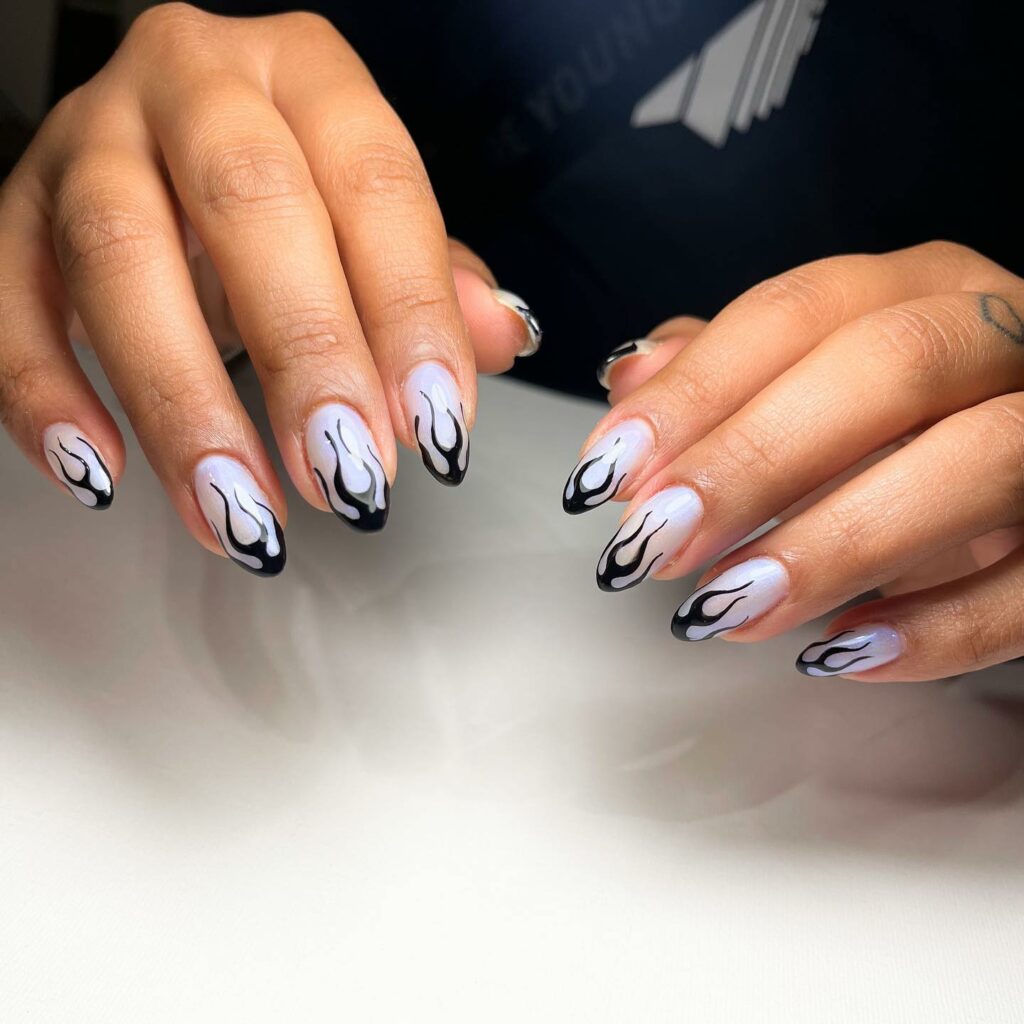 Feelin' a little extra? These metallic, holographic nails outlined with black flames are your perfect match. They're practically begging to be taken out on the town for a night of dancing.
The Classic Black Flame
Want something elegant yet low-key? You can't go wrong with black flames on a nude base. It's chic and sophisticated, and I'll go with anything in your wardrobe.
Retro Vibes: Flame Race Car Nails
If you're playful, why not go for a race car-themed nail design? Hot pink flames with checkboard patterns and retro stars are so cute and fun that you'll feel like a kid again.
Slim and Stunning: Skinny Flames
Enough about chunky flames; let's slim it down a bit. These orange-to-yellow flames are gorgeous, but their skinnier design gives a unique twist you won't see every day.
Pastel Dreams: Pastel Flame Nails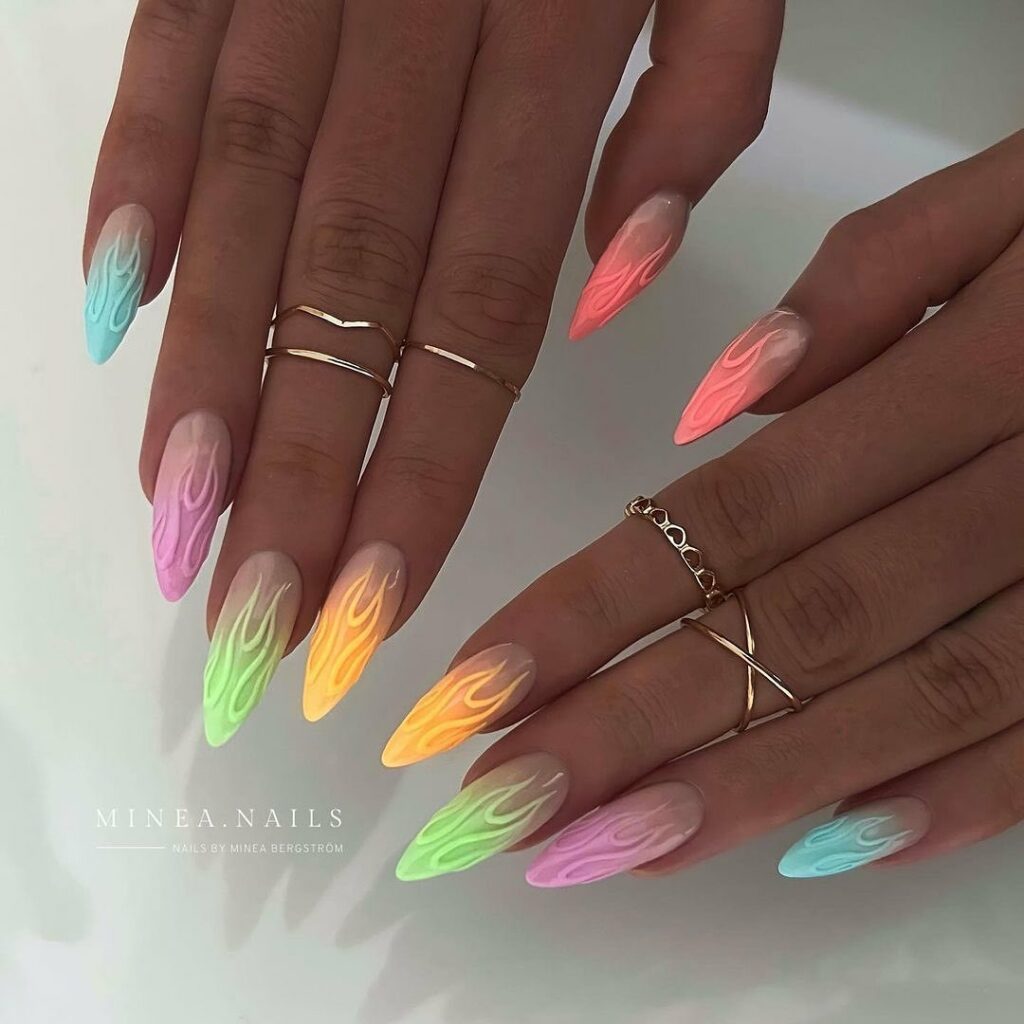 Pastels in flames? It's a yes from me! The nude overlay adds an elegant touch, making these nails a dreamboat. It is ideal for Easter or any spring occasion where you want to look chic yet playful.
Understated Elegance: Coral Flames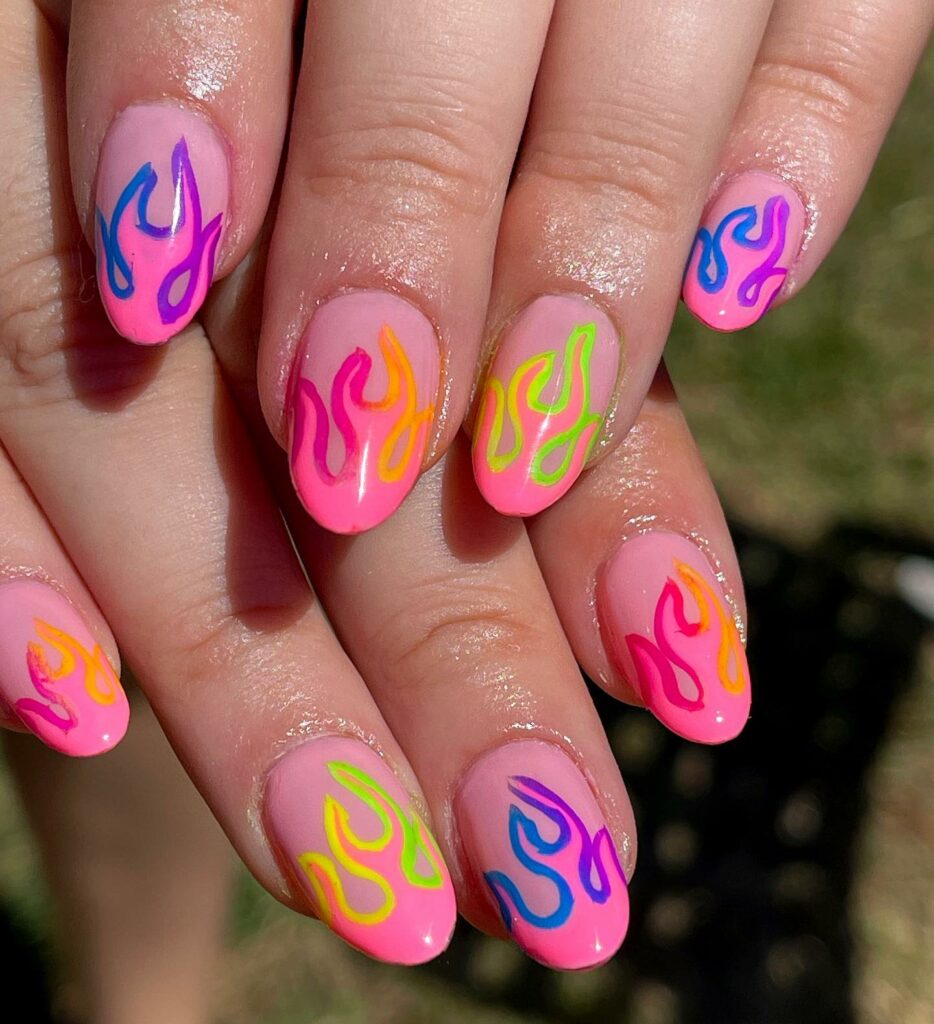 Coral has a special place in my heart, and these subtle, abstract flames do it justice. This summer staple look is perfect for beach or tropical vacations.
Mesmerizing Magic: Holographic Flames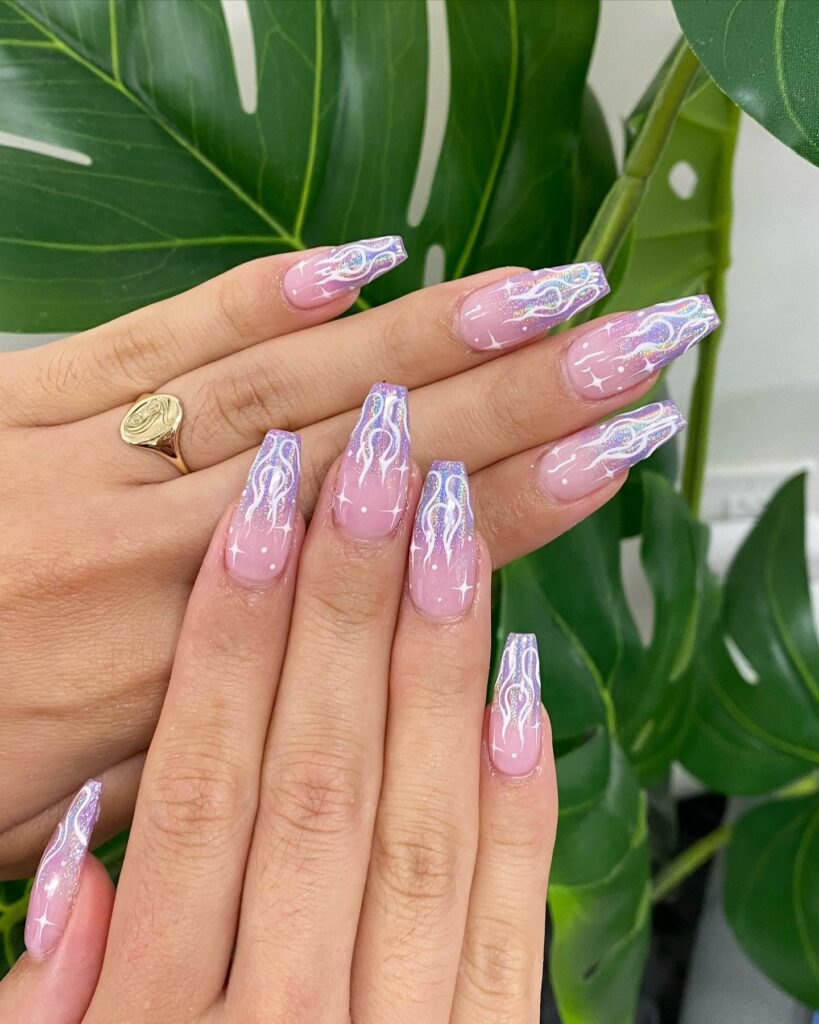 Are you a holographic fan? Because I sure am! Pair it with flames, and you've got a jaw-dropping look. It's like a unicorn and a fire had a baby; it turned out fabulous!
Fifty Shades of Green? Nah, Just Five.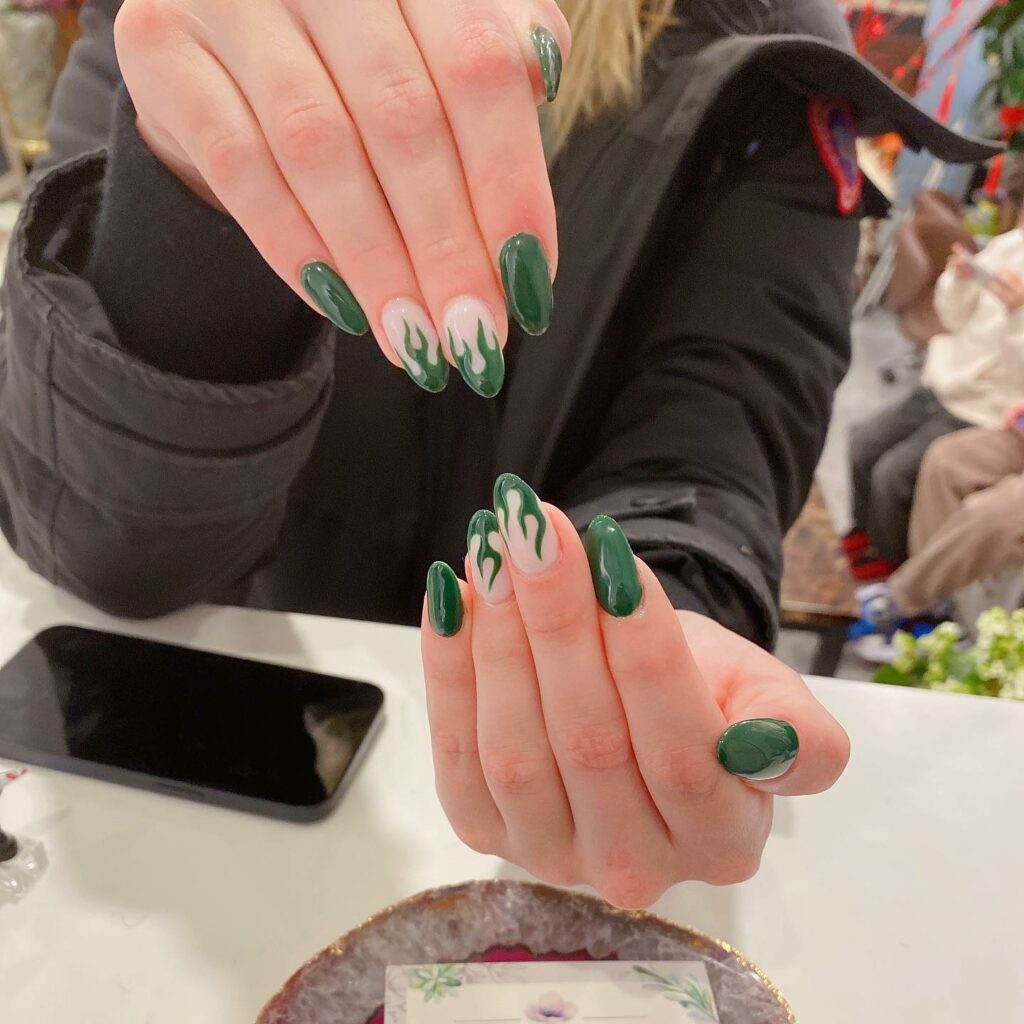 Sometimes less is more, am I right? If you're rocking a sleek black dress or a flowy pastel gown, why not go for flames in different shades of green? I recently did this for a garden party, and let me tell you, the compliments were endless.
Mysterious Allure: Dark Flames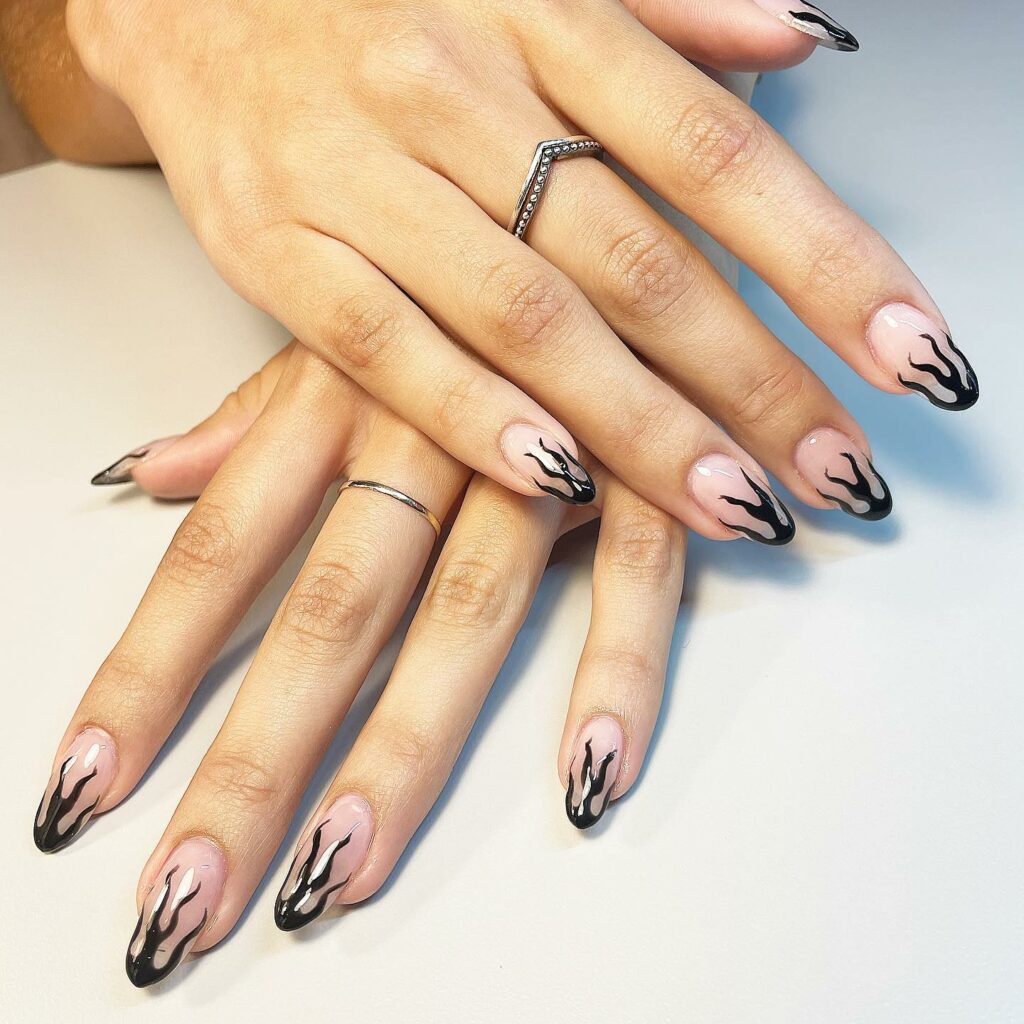 If you thought flames were all about bright and bold, think again. These dark, moody flames are like the mysterious stranger at the party you can't help but be intrigued by.
The Art Of Intricate Nails
Silver flames—each finger tells a story. This is when you want your nails to be a conversation starter at any social gathering.
Casual Chic: Black And Nude Matte
Try black flames and details like dots and lines on a matte nude base for a laidback afternoon. It's effortless but oh-so-chic.
Excellent Heat: Yellow And Silver Glitter Flames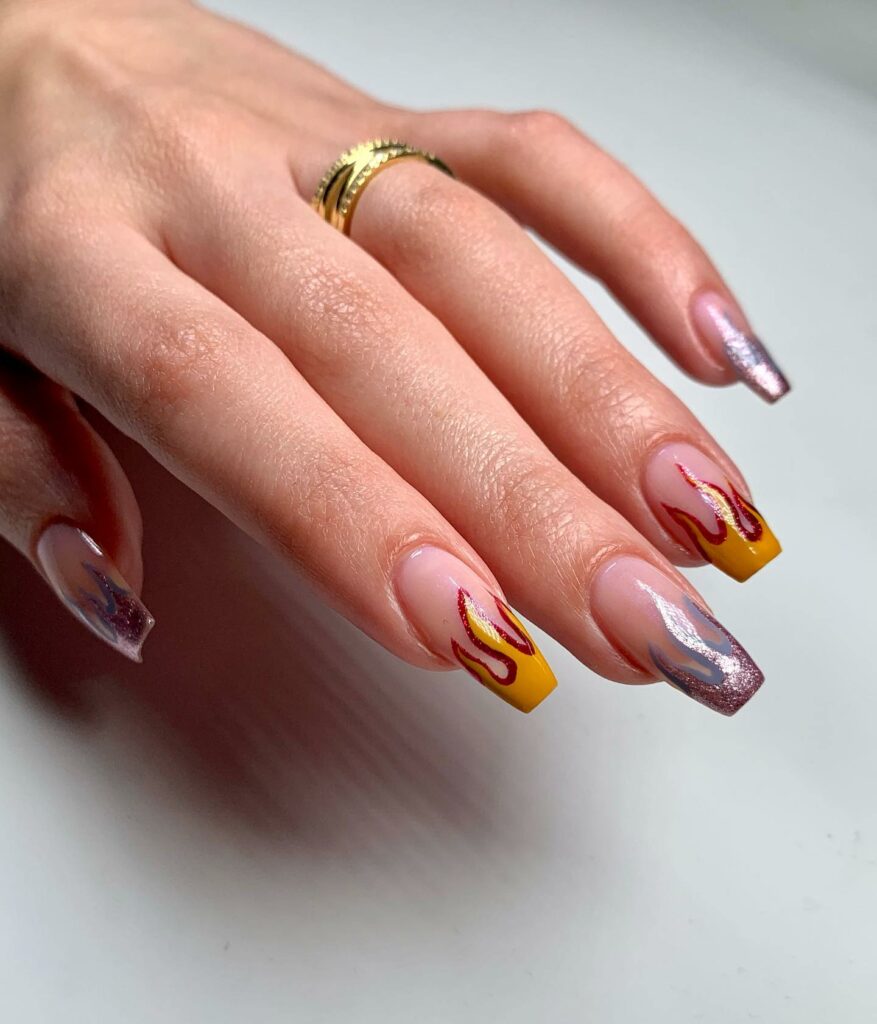 Looking for something that's both cool and hot? You've got to try these yellow flames outlined with red, alternating with silver flames outlined with icy blue. It's a trendy twist that'll keep people guessing.
The Classic Twist: Keep It Pure in White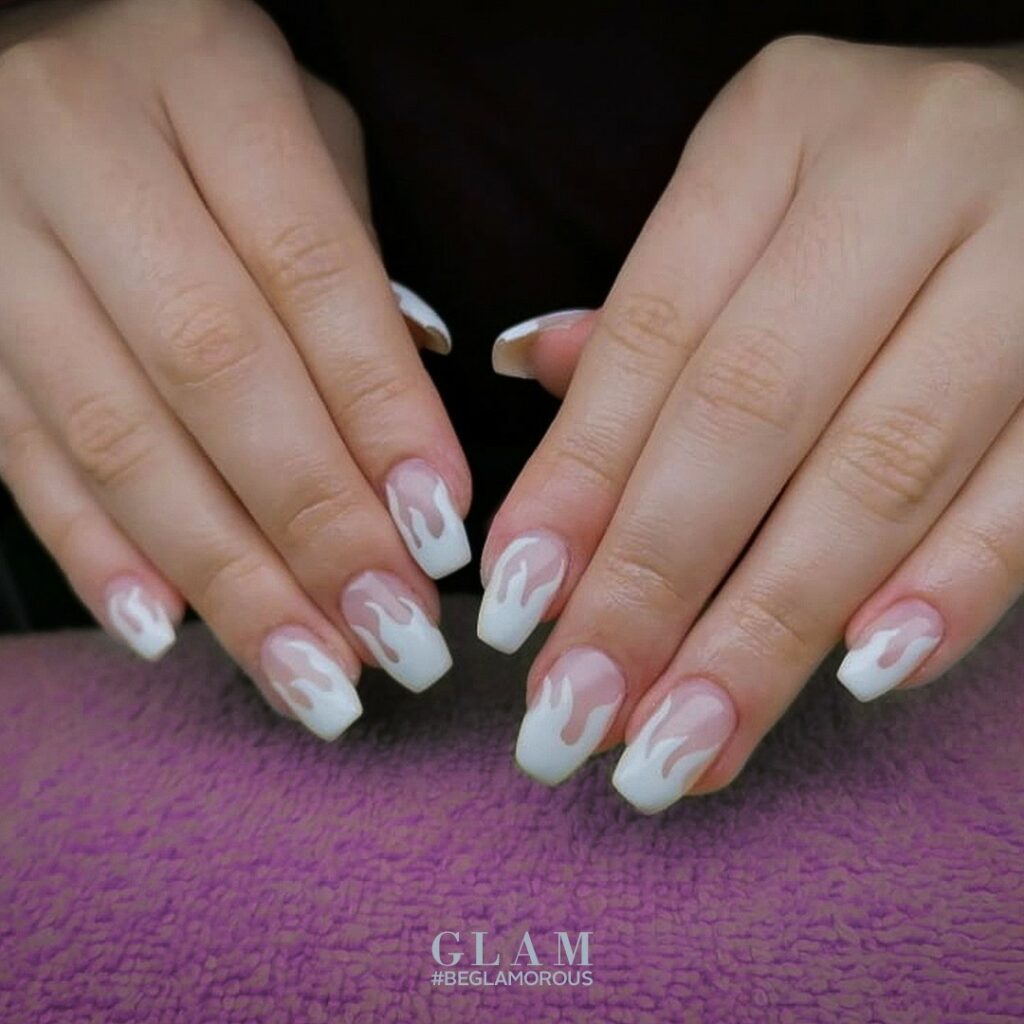 For the French tip lovers, here's a twist you'll adore—white flame nails, almond style! The French tip went on a fun adventure and came back even cooler.
Sweet and Sassy: Cheery in Pink!
For a vibe that's as bubbly as you are, set your sights on this cherry and flame design theme. It's as cheerful as a summer day and perfect for feeling sassy.
18 Tips To Get Flame Nails At Home
Polishes:
Base Coat: Start with a quality base coat to protect your nails and make your mani last longer. I swear by OPI's Natural Nail Base Coat.
Nude or Light Base Colors: Choose a nude or light-colored polish as your canvas. Essie's "Ballet Slippers" is a fan-favorite.
Bold Colors for Flames: You'll need vibrant colors to create those flames. China Glaze's shades, like "Sultry Solstice" for orange and "Salsa" for red, are excellent for this.
Metallics for Accents: Add a dash of metallic polish like Orly's "Mirrorball" for extra pizzazz.
Top Coat: Seal your masterpiece with a glossy or matte top coat, depending on your vibe. Seche Vite Fast Dry Top Coat is my go-to.
Tools:
Fine Nail Art Brushes: A set of fine-tip brushes is a must for intricate flame designs.
Dotting Tools: These can help add details or small accents like stars or hearts.
Tape: Nail tape can help you get clean, crisp lines, especially if you're going for a more geometric design.
Stencils: Flame-shaped stencils can be a lifesaver for those who aren't confident in their freehand skills.
Nail Art Stickers: If you want to cheat a little (and hey, we all do sometimes!), nail art stickers with flame designs can be a quick and easy option.
Tweezers: To place any small embellishments or stickers accurately.
Nail Polish Remover and Q-tips: For any necessary touch-ups
Steps
Prep Your Nails: Clean and Shape: Start with clean, dry nails. File them into your preferred shape—almond, coffin, stiletto, you name it! Base Coat: Apply a base coat to protect your nails and help your mani last longer.
Lay the Foundation: Background Color: Apply one or two coats of your chosen base color. A light or nude color works best as it makes the flames pop. Let it dry completely.
Flame On: Sketch It Out: Use a thin nail art brush to lightly sketch the flame outline with a less opaque or lighter color. Don't worry about making it perfect—flames are naturally a bit wild! Fill It In Once you've got your outline, fill it in with your chosen flame colors. You can mix traditional red, orange, and yellow with bold choices like neon or pastel shades. Add Depth: For a 3D effect, add darker shades along the edges or at the base of the flame.
Add Some Extra Details: If you feel extra, add metallic or glitter polish on the flames or around them for that added oomph.
Seal the Deal: Top Coat: Once you're satisfied and everything's dry, seal your art with a clear top coat.
Quick Tips: Steady Hand: Use a flat surface to rest your hand while painting. Fine Brushes: Invest in fine-tip brushes for more intricate details. Q-Tips are Your Friend: Mistakes happen, so keep some Q-tips dipped in nail polish remover handy for quick fixes.
9 Tips & Tricks To Make The Flame Design Look More Realistic
Layer Your Colors: Real flames aren't just one color; they mix reds, oranges, and yellows. Start with a light color, like yellow, and add layers of deeper shades, like orange and red, to mimic the gradient found in actual flames.
Shading: Add a darker shade—maybe a deep red or even a touch of black—at the base or sides of your flames to give them depth. A tiny bit of shading can really make your flames leap off your nails.
Transparency Effects: If you're feeling advanced, add a layer of translucent polish over your flames to give them that ethereal, glowing effect.
Randomize the Shape: Flames are unpredictable and never identical. Vary the size and curve of your flames so they look more natural and less like a stencil.
Incorporate White: A touch of white at the very tips of the flames can mimic the hottest part of the flame and add an extra pop.
Texturing: Using a sponge to gently dab on a second or third color can give your flames a more organic, blended appearance.
Fine Details: With a super-thin brush or even a toothpick, you can add tiny lines or zigzags within your flames to simulate the way fire flickers and moves.
Finishing Touches: Adding a high-gloss top coat can make the colors more vibrant and give that fiery shine. But if you're into a more matte look, a matte top coat can also make those flames look hot differently.
Take Your Time: Flames are intricate, so don't rush. The more care you put into your design, the more realistic it'll look.
Still Looking for Inspiration, Then Check Out This Video
Conclusion
So there you have it, my friends! We've journeyed through the world of flame nail art, from the understated elegance of creamy nudes to the sizzling excitement of holographic designs. If you ask me, the sky's the limit regarding flames. My top tip? Feel free to mix and match styles to create your own signature look. Nail art is all about self-expression, so let those fiery fingertips do the talking! Whether you're getting dolled up for a special occasion or just spicing up your everyday look, flame nails are the way to go. So grab your favorite polish, maybe a few nail stickers for flair, and let's set the world on fire—metaphorically speaking, of course! Happy nail art-ing!
Feature Image Photo @ideas_for_nailart via Instagram
Last reviewed and updated on October 30, 2023