Welcome to the wonderfully whimsical world of Frog Nails! Whether you're hopping onto the trend or looking for a fresh take on your manicure routine, this post is your lilypad to leap from. Today, we're diving into the delightful pond of frog-inspired nail art – a playful and bold statement taking social media by storm. You'll learn the essentials, from selecting the perfect shade of green to mastering the art of tiny frog accents that would make any amphibian aficionado proud. As your resident nail guru, I've tested the waters (or should I say ponds?) and am here to guide you through achieving these charmingly quirky designs with ease. By the end of our chat, you'll be equipped with step-by-step techniques and my personal tips for ensuring your froggy fingertips last. Whether you're a DIYer or a salon regular, jump into frog nails with confidence and a splash of fun!
Daisy French Frog Nails
This design marries the elegance of the classic French tip with the playful charm of a daisy, crowned with a cheeky frog centerpiece. It's a fresh twist on two timeless styles, perfect for spring flings or garden parties.
Bright Green Frog Nails
Dive into the ocean's depth with a vivid blue palette while the 3D swirls add a whimsical touch that brings your froggy friends to life. It's a textural dream that beckons a second glance.
Matte Pink Frog Nails
Hop into style with this vibrant green frog nail art, where playful amphibian silhouettes leap across a field of lush greenery. It's a fun, fresh look perfect for adding a bit of whimsy to your day!
Frog Art On Small Nails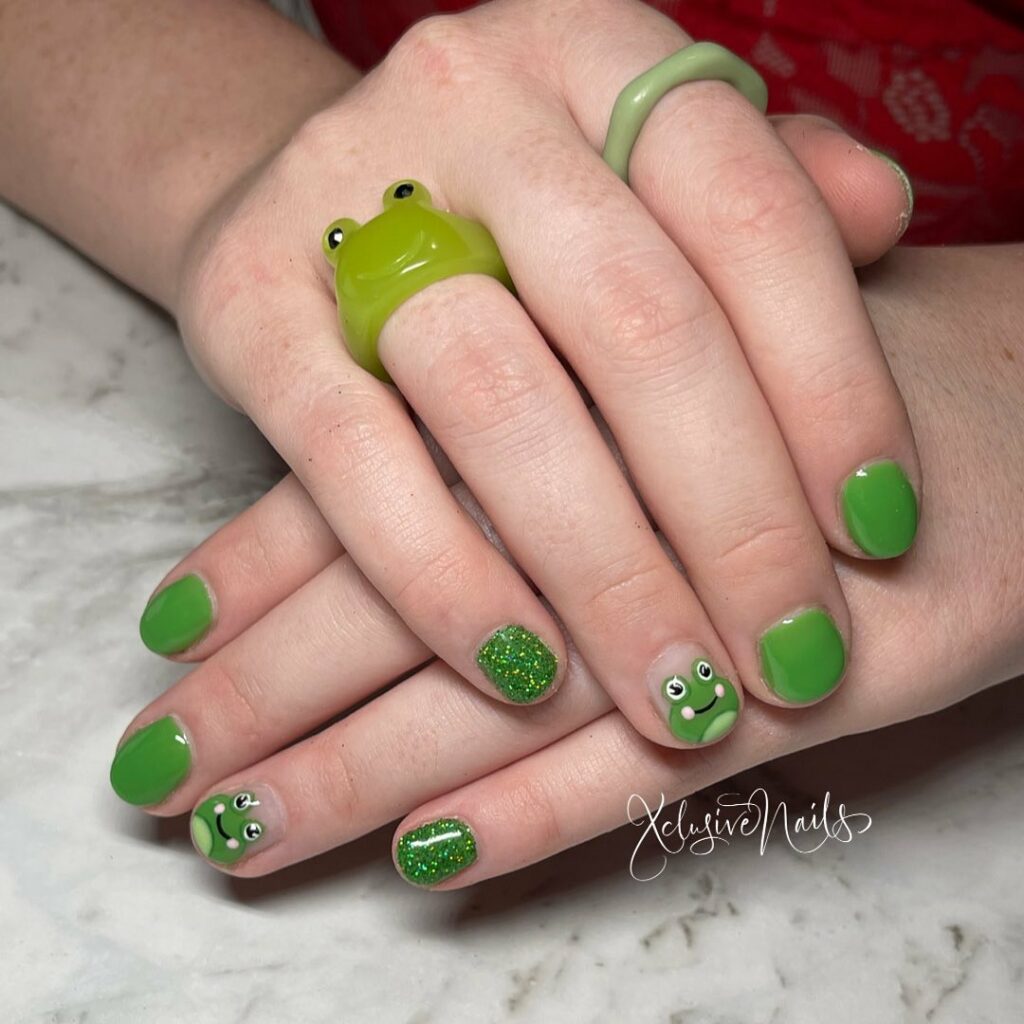 Even on the tiniest of canvases, frog art brings a dose of enchantment and personality. Adorning small nails with miniature frog designs is a charming way to make a big statement with a small gesture.
Frog Nails With Rainbow And Dots
Leap into a burst of color with nails that showcase a playful frog amid a spectrum of rainbow hues and polka dots for fun. It's a joyful expression that adds a pop of brightness to any outfit.
Pink Almond Frog Nails
The sweet, soft pink provides a feminine backdrop for the playful frog motifs on the trendy almond-shaped nails. It's a blend of elegance with a dash of fun tailored for the girly girl at heart.
Frog French Nails With Daisy Flower
Infuse your classic French nails with a touch of spring by adding a sunny daisy and a friendly frog. This combination speaks to those who love their French manicure with a side of cheerful whimsy.
Frog French Tip Nails
Traditional French tips get an amphibious update with a frog silhouette capping the tips. It's a subtle nod to the trend for those who like their nail art with an understated quirk.
Rainbow Frog Nails
Rainbow frog nails are a vibrant celebration on your fingertips, marrying the joy of color with the playful charm of amphibians. It's a design that leaps out, perfect for anyone looking to make a splash with their nail art and spread cheer with every gesture.
Pastel Pink Frog Nails
Pastel pink frog nails offer a sweet and subtle nod to nature with a touch of whimsy, pairing soft hues with delightful froggy accents. This gentle approach to the frog nail trend is perfect for those who prefer their statement nails with a hint of softness and a dash of playfulness.
Neon Frog Skin Nails
Neon frog skin nails bring the electric vibe of the tropics to your fingertips, with a bold texture that mimics the vividness of a frog's glossy hide. It's a daring and energetic look that's sure to turn heads and start conversations wherever you go.
Frog Nails With Flowers And Glitter
Step into a fairy tale with this enchanting design that combines delicate florals, sparkling glitters, and adorable frogs for a genuinely magical manicure. It's where nature's beauty meets the fantasy of glitter.
Colorful Frog Nails Tips
Say goodbye to monotony with tips splashed in a kaleidoscope of colors, each featuring a tiny frog as vibrant as your personality. This design is all about joy and expressing your colorful spirit.
Nude Nails With Cute Frog Tips
For those who prefer a whisper of whimsy, the nude frog French nails offer a minimalist base with a playful froggy flair at the tips. It's understated elegance with a wink of fun.
Exotic Frog-Inspired Nails
Unleash your wild side with a design that draws inspiration from tropical frogs' exotic hues and patterns. It's a bold choice for the adventurous soul, ready to leap into fashion's jungle.
Square-Shaped Frog French Nails
Combining the crisp lines of square-shaped nails with the French design and a froggy embellishment offers a geometric twist to your amphibious look. It's a perfect harmony of shape and theme for a structured yet spirited vibe.
Frog Nails With Cherries And Mushrooms
Indulge in a charmingly rustic theme with tiny frogs perched alongside ripe cherries and whimsical mushrooms. This design brings a storybook quality to your nail art, perfect for dreamy, nature-inspired looks.
Frog Art On Pink Color Nails
Soft pink nails are the canvas for intricate frog art, making each nail a miniature masterpiece of amphibian delight. This style is for lovers of detailed nail art that speaks with a gentle hue.
Almond Frog Nails With Flowers
The almond nail shape sets the stage for a serene garden of florals, with little frogs peeking through for a playful contrast. It's a harmonious blend of natural motifs for a feminine and enchanting look.
Blue Frog Nails With Clouds
Float away on a serene blue sky, whimsical clouds, and friendly frogs come together for a daydream-inspired manicure. This design is perfect for those who want to carry a piece of the sky at their fingertips.
Colorful Frog French Nails
The timeless elegance of the French manicure gets a lively twist with multicolored tips, each featuring a miniature frog. This fun take on a nail classic is perfect for those who love to mix tradition with a dash of playfulness.
Kermit The Frog Nails
Channel the iconic charm of everyone's favorite Muppet with Kermit the Frog nails, a design that's sure to spark nostalgia and smiles. These playful nails, featuring Kermit's familiar green hue and endearing eyes, are perfect for those looking to add a touch of whimsical fun to their look.
Princess And The Frog-Inspired Nails
Embrace the magic of fairy tales with Princess and the Frog-inspired nails, where every stroke of the brush adds a little enchantment to your fingertips. These designs, adorned with regal motifs and the heartwarming imagery of the classic tale, are perfect for those who love a storybook ending with their style.
Blue Frog Nails With 3D Swirls
Dive into the ocean's depth with a vivid blue palette while the 3D swirls add a whimsical touch that brings your froggy friends to life. It's a textural dream that beckons a second glance.
8 Steps To Achieve Each Frog Nail Design
Prep Your Nails: Start with clean, shaped nails. Push back your cuticles, buff your nails, and apply a base coat to protect your nails and enhance the polish's adherence.
Apply Your Base Color: Choose a color that complements your frog design. Pastels make for a playful background, while a clear or nude base lets your frogs be the show's stars. Apply two coats for opaque coverage.
Paint Your Frogs: Paint the frog shape with a steady hand and a fine brush. You can use a dotting tool for eyes and to add detail. If freehand isn't your forte, nail stickers or stamps are great alternatives.
Add Details: Whether it's daisies, rainbows, or clouds, add these with a fine brush or a toothpick for intricate designs. Work in layers, allowing each to dry to avoid smudging.
Seal the Deal: Once your tiny tableaux are dry, apply a top coat to protect your design from chipping and add a glossy or matte finish, according to the look you're going for.
Clean Up: Dip a small brush in nail polish remover to remove any polish that strays onto your skin.
Nail Care: Keep your hands moisturized, and consider reapplying a top coat every couple of days to keep your nail art looking fresh.
You'd adjust your colors, and the detail work accordingly for each unique design, like the Daisy French Frog Nail or the Exotic Frog-Inspired Nails. Patience is your best friend here, and don't be afraid to practice on a nail wheel first. Enjoy the process, and wear your froggy friends with pride!
My Top Tips To For DIY Frog Nails
Nail Polishes:
Base Coat: To protect your nails and help the polish stick.
Colored Polishes: Various shades, including greens for your frogs, plus any other colors you want for additional designs, like pink for flowers or blue for skies.
Top Coat: A good quality top coat to seal in your design and give it a glossy or matte finish, depending on your preference.
Tools:
Fine Brushes: For detailed work like drawing frogs flowers, or adding intricate patterns.
Dotting Tools: These are essential for creating perfect dots, such as the eyes of your frogs or dotted patterns.
Striping Tape: Useful for creating straight lines or patterns, like French tips.
Nail Art Stickers or Decals: If you need more confidence in your painting skills, these can add detailed designs without the stress.
Nail Polish Remover and Clean-Up Brush: For tidying any smudges or spills around your nails.
Tweezers: Helpful for placing stickers or decals with precision.
With these basics, you can mix and match to create the frog nail designs that hop out of your imagination. Whether aiming for a simple frog on a nude base or an intricate scene with a frog lounging on a lily pad, these tools will have you covered. Remember, the best tool is patience; take your time to let each layer dry and work carefully to achieve the best results. Happy painting!
10 Tips For Making The Froggy Accents Look Perfect?
Start Simple: Begin with a basic frog shape, like an oval or a pair of connected circles for the head and body. As you get more comfortable, you can add more details.
Use a Guiding Dot: For symmetry, start with a dot to mark the center of the frog's face, then paint two larger dots on either side for the eyes. Connect them with curved lines for the head.
Thin Brushes are Key: Invest in thin, pointed brushes for detail work. They make drawing clean lines and fine features like frog legs and eyes much more accessible.
Practice on Paper: Before you take the brush to your nails, practice drawing your frog design on paper or a nail practice wheel. This helps you get comfortable with the design and brush control.
Steady Hands: Rest your painting hand and the hand you're painting on a flat surface to minimize shakes. You can also rest your arm on something stable to help keep your hand steady as you work.
Layering: Apply the polish in thin layers, allowing each layer to dry before adding the next. This prevents smudging and gives a neater finish.
Dotting Tool for Eyes: Use a dotting tool to place the eyes perfectly. You can dip it in a small amount of black polish for the pupils, ensuring their size is uniform.
Use Acrylic Paint: For more complex designs, acrylic paint is easier to control than nail polish. It dries faster and can be easily corrected with water before it sets.
Seal with a Top Coat: Once your froggy accents are completely dry, apply a clear top coat to prevent chipping and give the design a smooth, finished look.
Clean-Up Edges: Dip a small brush in nail polish remover to clean up any edges and perfect your design.
Conclusion
And there you have it, a lily pad's worth of frog nail inspirations to add that leap of fun to your manicure game! Remember, the key to nailing (pun intended) these designs is not sweating the small stuff; it's all about embracing the playful spirit of the theme. Let your personality shine through, whether you're splashing on a rainbow or adorning your tips with delicate daisies. My top tip is? Use a dotting tool for precision, and permanently seal your artwork with a top coat for endurance. So, hop to it, experiment with these whimsical designs, and watch as your nails become the talk of your pond. Keep it lighthearted, stay fabulous, and never forget that in the world of beauty, a little whimsy goes a long way!
Feature Image Photo By @emilygilmour.nails via instagram
Last reviewed and updated on November 17, 2023