Today, we're diving into the chic and intriguing world of green and black nails. This post is your ultimate guide to mastering this edgy, stylish look that's been turning heads everywhere. In this post, you'll discover everything from choosing the right shades of green and black to the best techniques for creating a flawless finish. I'll share some insider tips on how to mix and match these colors for various occasions, whether it's a casual day out or a glamorous evening event. But that's not all – I'll also reveal my favorite products for achieving this look, including the nail polishes I swear by for their lasting power and pigmentation. And for those who love a bit of DIY, there are step-by-step instructions for creating some stunning green and black nail art designs at home. Let's start and add some green and black magic to your nails!
Neon Green Ombre Nails
Illuminate your look with Neon Green Ombre Nails, a trend promising to turn heads with electrifying vibrancy. They're not just a statement but a conversation starter, perfect for nights out and summer festivals.
Neon Graffiti: Urban Flair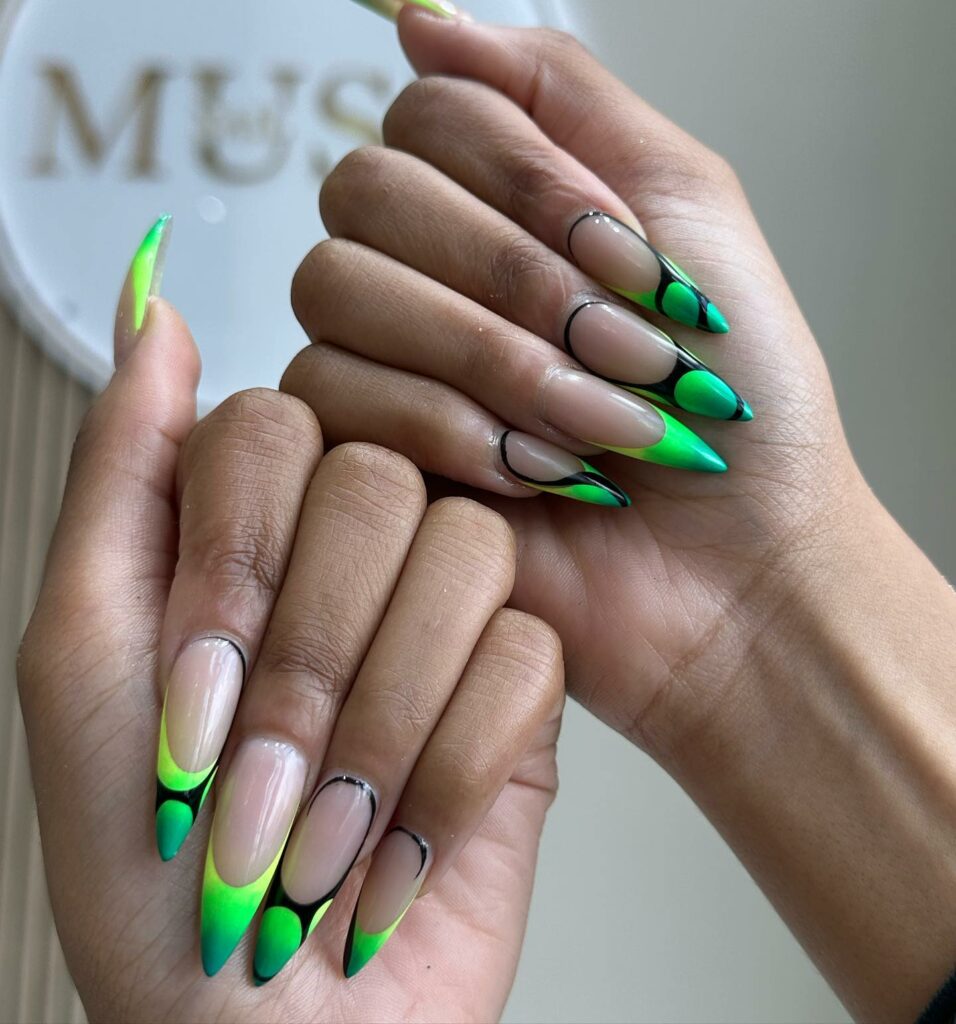 Unleash your inner street artist by incorporating graffiti-like doodles over your neon green tips. It adds an urban flair that will make a bold statement wherever you go.
The One and Only: Metallic Polish
Metallic polish is the one-hit-wonder of nail art. Seriously, one coat of this stuff, and you're practically a nail artist. No stress, no fuss—just an undeniably eye-catching manicure. This one's a lifesaver for those last-minute occasions when you want to dazzle but have zero time for intricate designs.
Green And Black Paint Drip Nails
These nails showcase a unique, artsy vibe where black polish appears to drip over a green base, creating an edgy, dynamic look. Perfect for those who love a bit of artistic flair in their nail designs.
Almond Green And Black Nails With Glitter
Combining the elegance of almond-shaped nails with sparkling glitter, this style blends green and black for a sophisticated yet playful appearance. It's an excellent choice for adding a touch of glamour to any outfit.
Neon Frog Skin Nails
Neon frog skin nails bring the electric vibe of the tropics to your fingertips, with a bold texture that mimics the vividness of a frog's glossy hide. It's a daring and energetic look that's sure to turn heads and start conversations wherever you go.
Vibrant Green Witch Themes Nails
As displayed in the image, the dark green shimmering base adorned with radiant stars and details is a stunner. Perfect for those who love a pop of color and aren't afraid to stand out. I've always believed that nails are a canvas for creativity, and this design proves it!
Green And Black Marble Nails
Swirls of dark and light come together to create a marble effect on an olive-green base. The design is reminiscent of natural stone, giving nails a touch of luxury.
Lime Green And Black French Nails
With a twist on the classic French tip, this style features a striking lime green and black combination that's bold and chic. It's ideal for someone who loves to make a statement with their nails.
Marbled Black And Green Nails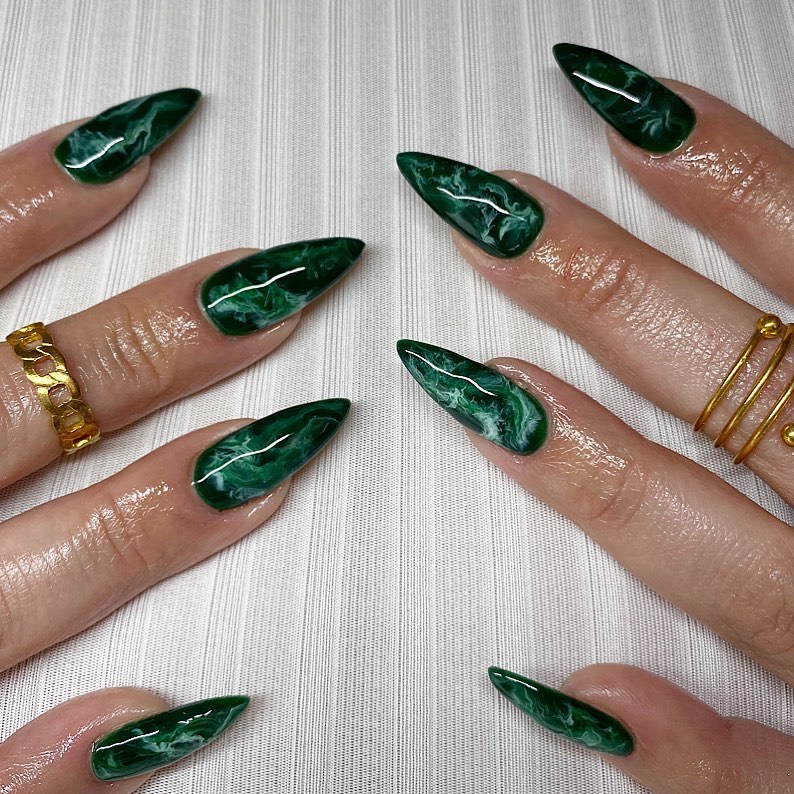 Discover the natural elegance with marbled forest green nails, where swirling patterns of dark and light greens mimic the organic beauty of stone. This design brings an earthy sophistication to your look, perfect for any occasion.
Green And Black Nails With 3D Design
These nails take creativity to the next level with raised 3D designs on a green and black canvas, offering a tactile and visually stunning experience. They're perfect for special occasions or when you want your nails to be the center of attention.
Green And Black Nails With Glittery Star Design
Star-studded and glamorous, these nails combine glittery stars with a green and black backdrop for a look out of this world. They're a must-try for anyone who loves a bit of sparkle and whimsy.
Starry Night: Black Almond Nails
Something is mesmerizing about a starry night. It takes me back to my childhood days of counting stars and dreaming of witches flying on their brooms. Translating this into nail art is pure genius! If you're in the mood for a minimalist yet impactful design, go for a black and white starry witch nail art. It's a subtle nod to the eerie and enchanting Halloween nights we all love.
Half Shaded Green And Black Nails
This Design features a smooth transition from green to nude, creating a sophisticated half-shaded effect. It's a subtle yet striking choice for those who appreciate modern nail art techniques.
Small Green And Black Aura Square Nails
Featuring a mystical aura-like effect, these square nails blend green and black in a mesmerizing pattern. They're a great way to add a touch of mystery to your style.
Green And Black Ombre Nails With Glitters
These nails blend green and black in a beautiful ombre effect, enhanced with glitters for added sparkle. It's a glamorous and trendy choice for fashion-forward individuals.
Green And Black Aura Coffin Nails
With their coffin shape, these nails exude a bold and edgy feel, enhanced by the captivating aura effect of green and black. They're perfect for those who like their nails to make a strong style statement.
Green And Black Ombre Nails With Glitter And Silver Swirls
This Design combines a smooth green and black ombre with glitter and elegant silver swirls for a luxurious finish. It's a sophisticated choice for a night out or a special event.
Green And Black French Tip Nails
A modern take on the French manicure, this style features green and black tips for a chic and contemporary look. It's an excellent option for those who love classic styles with a twist.
Green And Black Nails With Flame Design
Fiery and fierce, these nails feature a green and black flame design that's both bold and adventurous. They're perfect for anyone looking to add heat to their nail art game.
Long Almond Green And Black Ombre Nails
These nails feature a seamless ombre transition from green to black on a stylish, long almond shape. They're perfect for anyone seeking an elegant yet bold look.
Light Green And Black Nails With Swirl, Checkered, And Flower Design
Combining light green and black, these nails are adorned with intricate swirls, checkered patterns, and delicate flower designs. This multi-patterned approach makes them ideal for those who love detailed and creative nail art.
Small Green And Black Nails With Glitter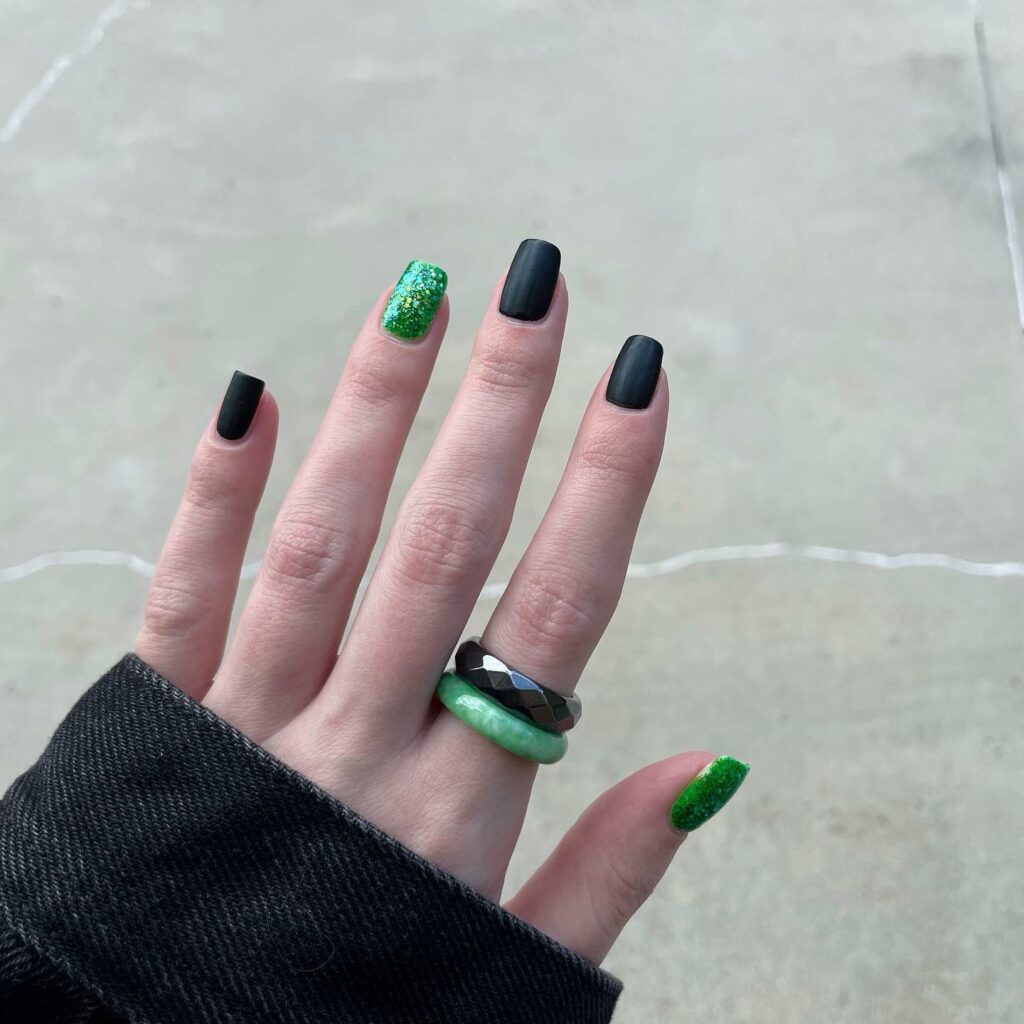 Perfect for those who prefer shorter nails, this Design blends green and black with a touch of glitter for a subtle yet sparkling effect. They're great for adding a bit of glam to your everyday style.
Long Green And Black Square Nails
These nails offer a bold statement with their long, square shape and striking green and black color scheme. They're a fantastic choice for anyone looking to make a dramatic fashion statement.
Green And Black Nails With Crocodile Skin Design
This unique style mimics the textured look of crocodile skin, using green and black to create a wild and exotic appearance. It's perfect for those who enjoy adventurous and unusual nail designs.
Metallic Green And Black Nails
Shimmering with a metallic finish, these nails combine green and black for a futuristic and edgy look. They're ideal for adding a touch of modern sophistication to your outfit.
Green And Black Swirl Nails With Gold Glitters
This Design features elegant green and black swirls accented with gold glitter for a luxurious touch. It's a glamorous choice for special occasions or when you want to add some extra sparkle.
Halloween-Inspired Green And Black Nails
Perfect for Halloween or those who love a gothic aesthetic, these nails combine green and black in a spooky yet stylish way. They're great for adding a thematic touch to your Halloween costume or for year-round edgy flair.
6 Top Tips And Brands To Get The Look At Home For Less
High-Quality Nail Polishes: Look for premium brands that offer rich pigmentation and long-lasting wear. Brands like OPI, Essie, and Sally Hansen often have various shades, including vibrant greens and deep blacks.
Top Coat and Base Coat: A good base coat will protect your nails and help the polish adhere better. A durable top coat is crucial for sealing your Design and adding that glossy finish. Seche Vite and CND Vinylux are popular choices.
Nail Art Tools: Investing in fine brushes and dotting tools can be very helpful for intricate designs like swirls or checkered patterns. You can find these in most beauty supply stores or online.
Glitters and Embellishments: To add sparkle or 3D effects, you can use nail glitters or tiny rhinestones. Brands like Swarovski offer high-quality crystal embellishments for nails.
Nail Strengthener: To keep your nails healthy, consider using a nail strengthener, mainly if you frequently use nail polish. Brands like OPI Nail Envy or Essie's Treat Love & Color are great options.
Remember, choosing products that suit your specific needs and preferences is critical. Always do a patch test if you're trying a new product to ensure you don't have any reactions. Happy nail designing!
Conclusion
Diving into the realm of green and black nails, we've explored many stunning designs – from the chic ombre and sparkling glitters to the bold crocodile skin and Halloween vibes. Remember, the key to nailing (pun intended!) these looks is to not shy away from experimenting. Whether adorning your nails with delicate swirls or going all out with metallic finishes, there's a style for every mood and occasion. My top tip? Always use a good base coat to protect your nails, and don't forget a top coat for that lasting shine and durability.
Most importantly, have fun with it! Your nails are your personal canvas, so feel free to express your unique style. Keep playing around with these green and black beauties, and who knows, you might find your new signature look!
Feature Image Photo By @nailzby_ariii on Instagram
Last reviewed and updated on November 17, 2023