The winter winds are ushering in the festive season and, with it, an opportunity to dazzle and shine. But while twinkling lights and shimmering ornaments dominate the scene, why not add a personal touch to the festivities? Yes, I'm talking about those ten little canvases at the tip of your fingers. As we immerse ourselves in the spirit of Christmas, green isn't just for the trees; it's the perfect shade to adorn our nails, too.
In today's post, we'll dive into the world of Christmas nails, explicitly focusing on the myriad shades and designs of green. From deep emeralds to soft mints intricate patterns to sleek solids, I've curated a list of 50 show-stopping green nail designs that are bound to make you the talk of every holiday gathering. By the end of this article, you'll be equipped with inspiration, knowledge, and perhaps even a touch of envy for these envy-inducing designs. Ready to embark on this festive journey? Let's dive right in!
Christmas Tree and Deep Green Christmas Nails
A timeless design showcasing the iconic Christmas tree on a backdrop of rich green nails. This style pays homage to traditional holiday decor while maintaining a fashionable edge.
Gold Accented Green Tips Christmas Nails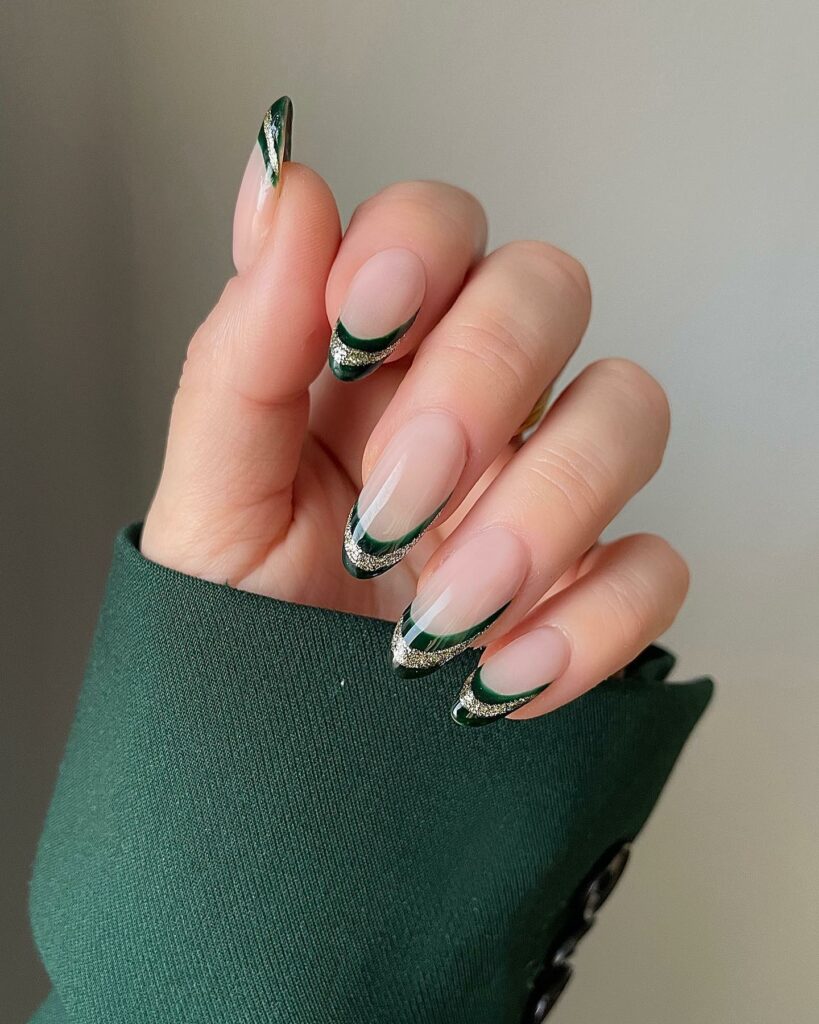 A classic green shade graced with golden tips creates a look of understated elegance. The dual-tone nails are both festive and sophisticated, perfect for holiday soirées.
Verdant Forest Green Christmas Nails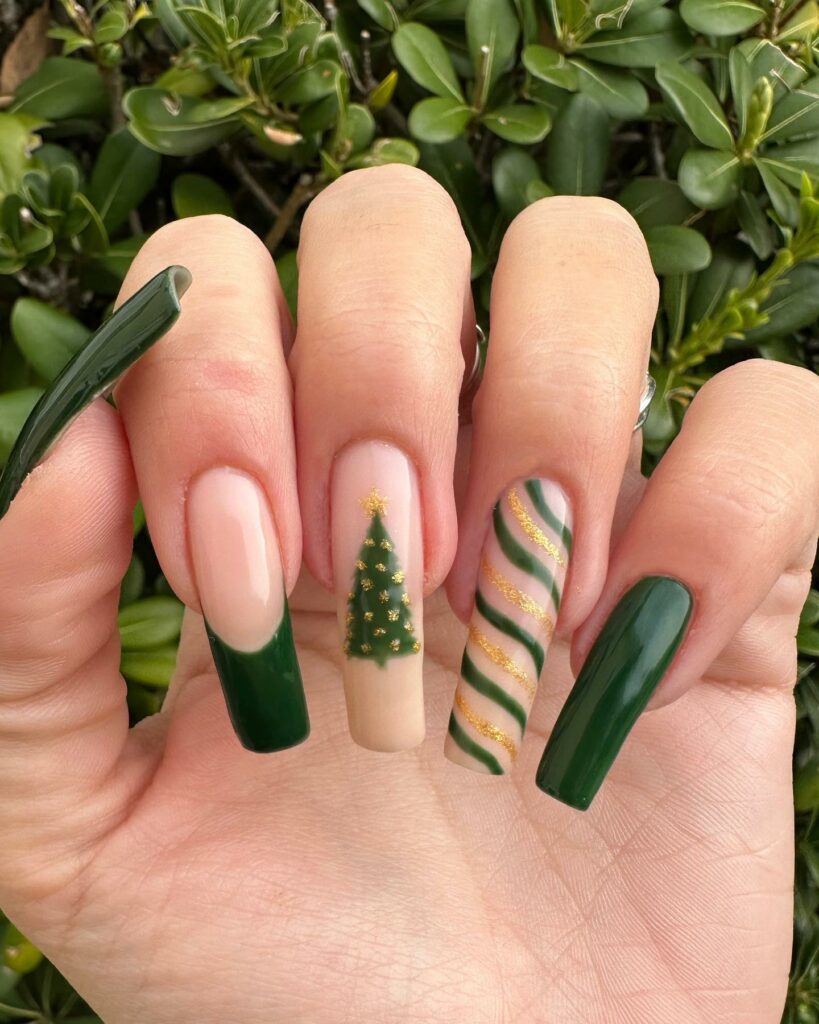 Inspired by the deep hues of evergreen trees, these nails capture the essence of a serene winter forest. It's a nod to nature's undying beauty during the festive season.
Glossy Stiletto Green Christmas Nails
Sharp stiletto nails coated in a glossy green shade are edgy and festive. This design is perfect for those looking to make a stylish holiday statement.
Sparkling French Tip with Green Christmas Nails
The iconic French tip gets a sprinkle of holiday magic with green glitters that shimmer and shine. It's a look that's both refined and festive, perfect for holiday parties.
Matte Almond Green Christmas Nails
The classic almond shape meets a modern matte green finish. These nails offer a sophisticated and understated festive charm, ideal for elegant holiday events.
Green Christmas Nails Adorned with Candy Canes
Almond Nails in Festive Red and Green Christmas Nails
Almond nails painted in alternating red and green shades celebrate the two most iconic colors of the festive season. This design is both vibrant and reminiscent of classic holiday traditions.
Fresh Snow Drifts on Emerald Green Christmas Nails
Picture freshly fallen snow resting on vibrant emerald trees; this design captures that magical moment at your fingertips. It's a wintry dream come to life.
Almond Shaped Soft Green Christmas Nails
Elegantly almond-shaped, these nails feature a gentle green shade reminiscent of early winter mornings. The design effortlessly marries sophistication with seasonal charm.
Lustrous Acrylic Green Christmas Nails
Crafted with acrylic for added durability and shine, this green nail design ensures your fingers dazzle during holiday celebrations. Perfect for those seeking a blend of longevity and style.
Delicate Snowflakes on Green Christmas Nails
A serene winter scene is depicted with intricate snowflakes falling against a calming green backdrop. It's a reminder of the peaceful moments the season brings.
Gold Accents on Sage Green Christmas Nails
Blending the muted tones of sage green with luxurious gold accents, these nails are a festive yet understated choice. A design that speaks of elegance and holiday cheer in equal measure.
Sharp Stiletto Green Christmas Nails
Daring and distinct, the stiletto shape combined with a festive green gives an edgy twist to traditional holiday nails. For those unafraid to make a bold statement this Christmas.
Acrylic French Tip with Green Christmas Undertones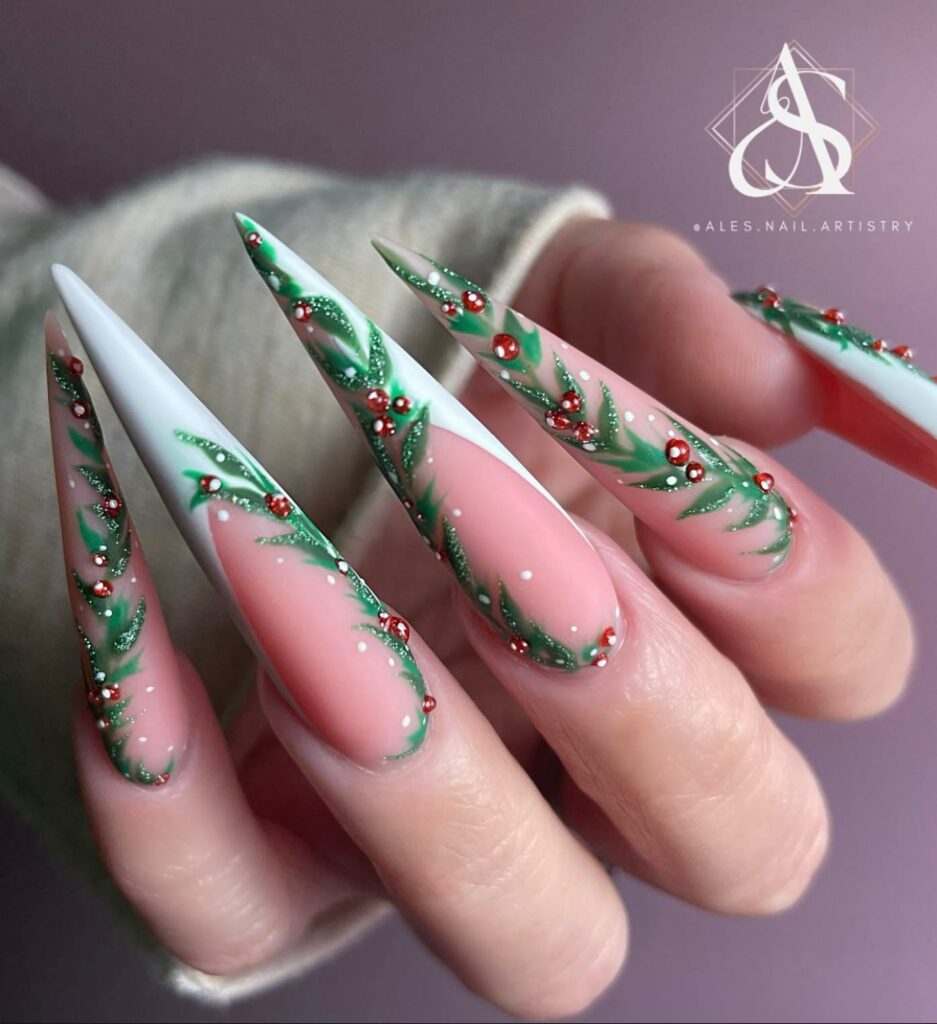 Reviving the classic French tip with a festive twist, this design infuses green undertones beneath the pristine white tips. It's a modern take on a beloved nail style.
Coffin Shaped Verdant Green Christmas Nails
With the trendy coffin shape painted in a deep Christmas green, this design is modern and seasonal. It's a fresh take on holiday nails for those looking to stand out.
Elegant Swirl Patterns on Green Christmas Nails
These nails showcase graceful swirl patterns set against a festive green backdrop reminiscent of wintry winds. The artistic design is a sophisticated choice for the holiday season.
Festive Red Accents on Green Christmas Nails
Combining the two quintessential holiday colors, these nails exude a classic Christmas vibe. The interplay of red and green brings forth the joyous spirit of the festivities.
Traditional Christmas Symbols on Green Nails
Dive into the holidays with this vibrant blend of classic reds and greens, accentuated with intricate seasonal designs. From the elegant reindeer silhouette to the captivating holly and berries, each nail tells a story of festive celebrations and merry moments awaiting.
Coffin-Shaped Green Christmas Nails
With a trendy coffin shape as its canvas, intricate artistry adorns these green nails. The design beautifully marries festive cheer with contemporary nail fashion.
Shimmering Emerald Green Christmas Nails
Bathed in the rich tones of emerald, these nails glisten with festive elegance. Their radiant shine is sure to be a showstopper during holiday gatherings.
Metallic Sheen on Chrome Green Christmas Nails
Featuring a chrome finish, these green nails reflect light with a metallic sheen. The futuristic touch makes them a unique and glamorous choice for the holidays.
Abstract Art on Green Christmas Nails
These nails are a canvas for abstract art, with patterns and swirls dancing on a green background. It is a perfect blend of creativity and holiday spirit.
French Tips on Coffin-Shaped Green Christmas Nails
The modern coffin shape is enhanced with classic French tips, all set against a festive green hue. It's an elegant design that pays homage to both contemporary and classic nail art.
Swirly Patterns on Lush Green Christmas Nails
Swirling designs waltz across a lush green background, capturing the whimsical essence of the festive season. It's a playful and enchanting design for the holidays.
Luxurious Gold Accents on Green Christmas Nails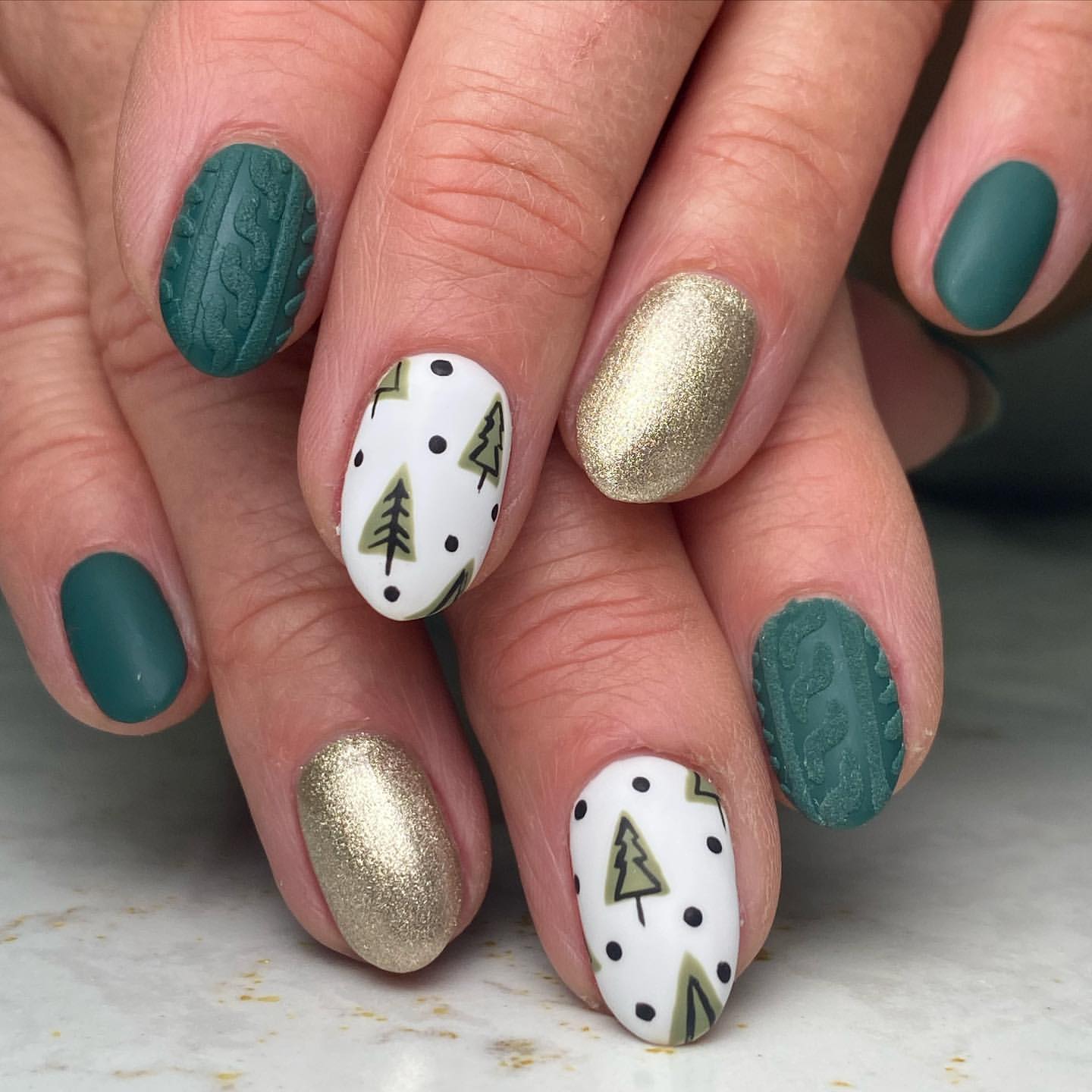 The regal tones of gold accentuate the vibrant green, creating a luxurious holiday nail design. It's a combination that spells opulence and festive cheer.
Whimsical Winter Wonderland with Green Tints
Step into a fairy tale with nails that transport you to a whimsical winter wonderland. The blend of white and green hues captures the magic and mystery of the season.
Gold Glitter on Sage Green Christmas Nails
Glistening gold glitter gracefully adorns the muted tones of sage green. This design exudes understated elegance, perfect for those who love a touch of sparkle with their festive nail art.
Pastel Tones Green Christmas Nails
Delve into a harmonious blend of soft pastel pink and rich festive green, beautifully contrasted with delicate snowflakes and detailed foliage. The gleaming accents and intricate textures evoke a sense of serene winter beauty, making these nails a timeless choice for the holiday season.
Emerald Brilliance on Green Christmas Nails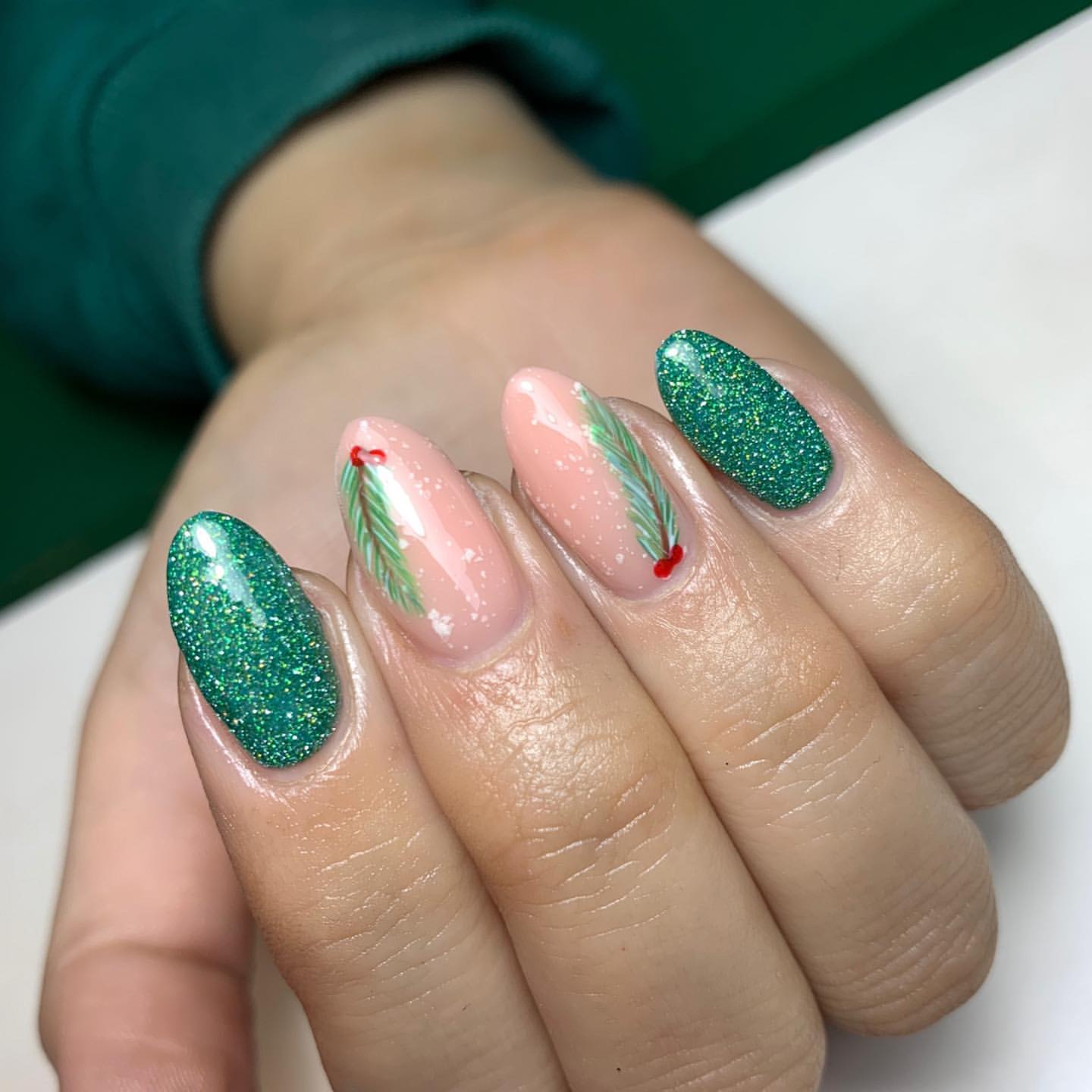 These nails are a stunning fusion of shimmering emerald green and soft blush pink, adorned with subtle pine needle artistry and dainty red berries. The combination creates a festive mood, balancing bold holiday sparkle and gentle winter whispers.
Neon Green Christmas Nails Adorned with Gold Glitters
The vibrancy of neon green is accentuated with sparkling gold glitters, creating a radiant holiday nail design. It's a bold yet festive look that stands out in any celebration.
Chrome Green Christmas Nails
A dazzling chrome-green finish gives these nails a metallic shimmer. This contemporary design shines brilliantly, adding a modern twist to traditional holiday nails.
Green and Silver Glitter Christmas Nails
A harmonious blend of vibrant green with silver glitter creates a mesmerizing festive design. It's a shimmering display of holiday spirit right at your fingertips.
Mystical Forest Hues on Green Christmas Nails
These nails embody the ethereal charm of nature with their gradient of deep forest to minty greens. Intricately carved designs reminiscent of delicate branches and stars add a touch of enchantment, making each nail a piece of art.
Sweater Pattern on Acrylic French Green Christmas Nails
Emulating the cozy patterns of holiday sweaters, these acrylic French nails are painted in a comforting green shade. It's a heartwarming design that encapsulates the warmth of the festive season.
Subtle Sage Green Christmas Nails
Bathed in a gentle sage green hue, these nails evoke a serene and calming festive mood. Their muted tones are perfect for those who prefer subtlety with a touch of holiday spirit.
Chic Short Green Christmas Nails
Short nails painted in a festive green shade are both chic and practical. They offer a fresh and modern take on traditional Christmas nail designs.
Dazzling Glitter on Green Christmas Nails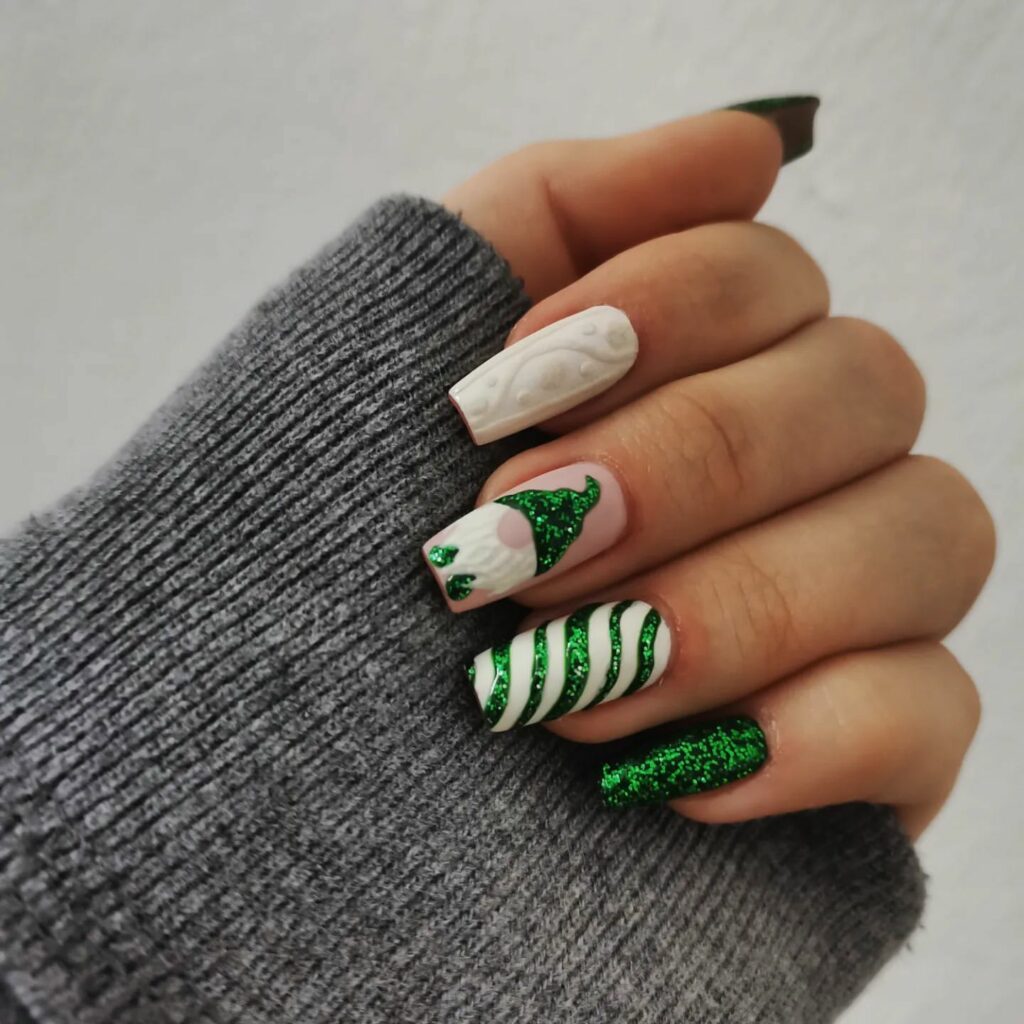 Sparkling glitter against a vibrant green backdrop ensures these nails shimmer with every move. A design that truly captures the joy and sparkle of the holiday season.
Creatively Crafted Almond Green Christmas Nails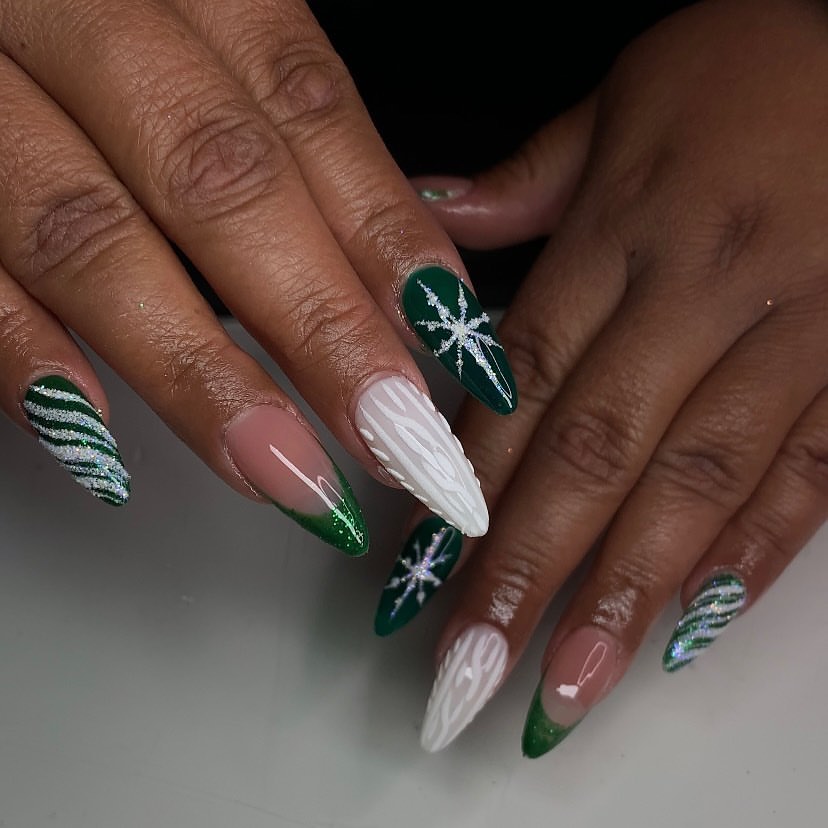 Almond-shaped nails take a festive turn with artful green designs, blending style with seasonal spirit. These nails perfectly capture the essence of a modern and artistic holiday look.
Gilded Stellar Patterns on Green Christmas Nails
Green nails adorned with golden floral motifs and stellar patterns evoke a sense of festive luxury. This design seamlessly marries traditional holiday symbols with a touch of opulence.
Intriguing Abstract Green Christmas Nails
These green nails sport unique abstract designs that captivate and intrigue. A non-traditional take on holiday nails, they're perfect for those who love experimenting with art and color.
Holiday-Inspired Nail Artistry on Green Nails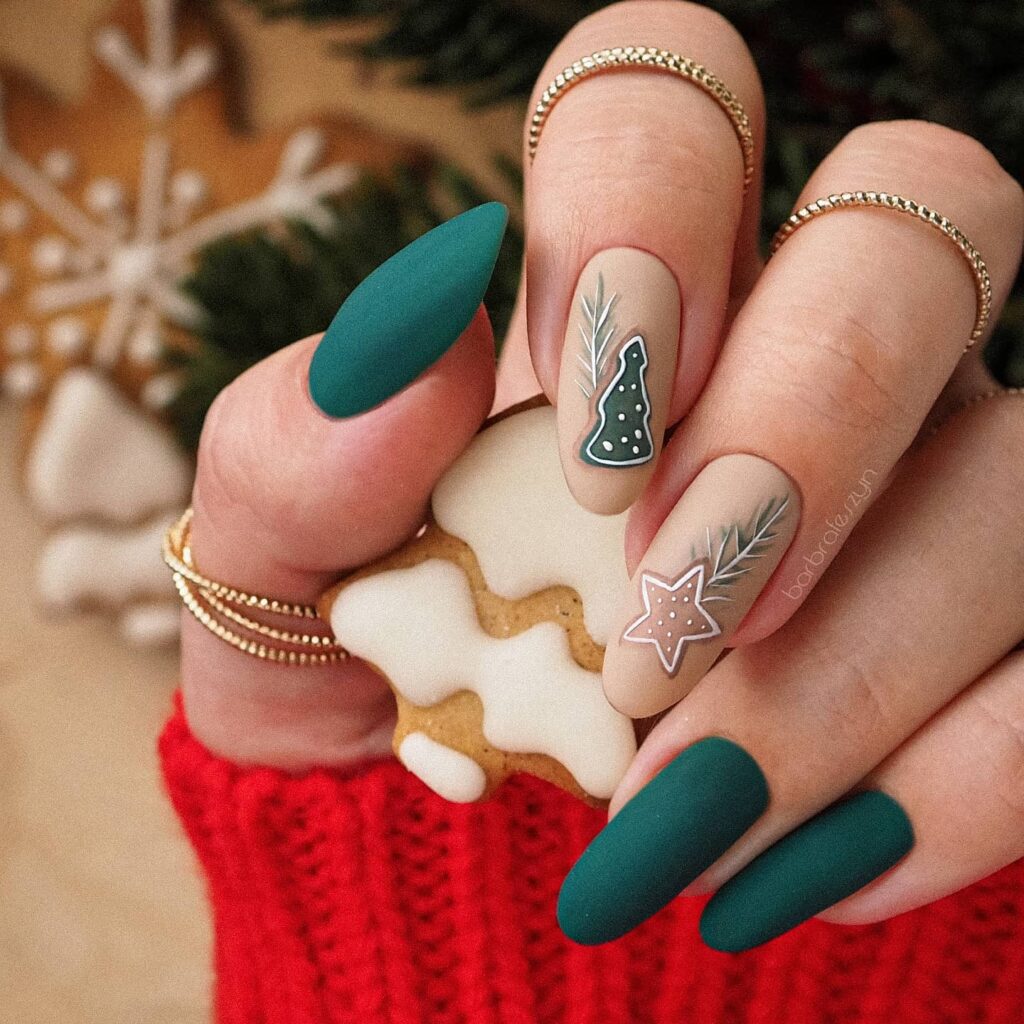 Beautifully crafted artistry on a green canvas brings the holiday spirit alive at your fingertips. Each nail tells a festive story, making them conversation starters at any gathering.
Timeless Classic Green Christmas Nails
Steeped in tradition, these solid green nails nod to timeless holiday aesthetics. Their classic shade evokes feelings of nostalgia and the age-old spirit of Christmas.
A Playful Nail Palette with Green Christmas Hues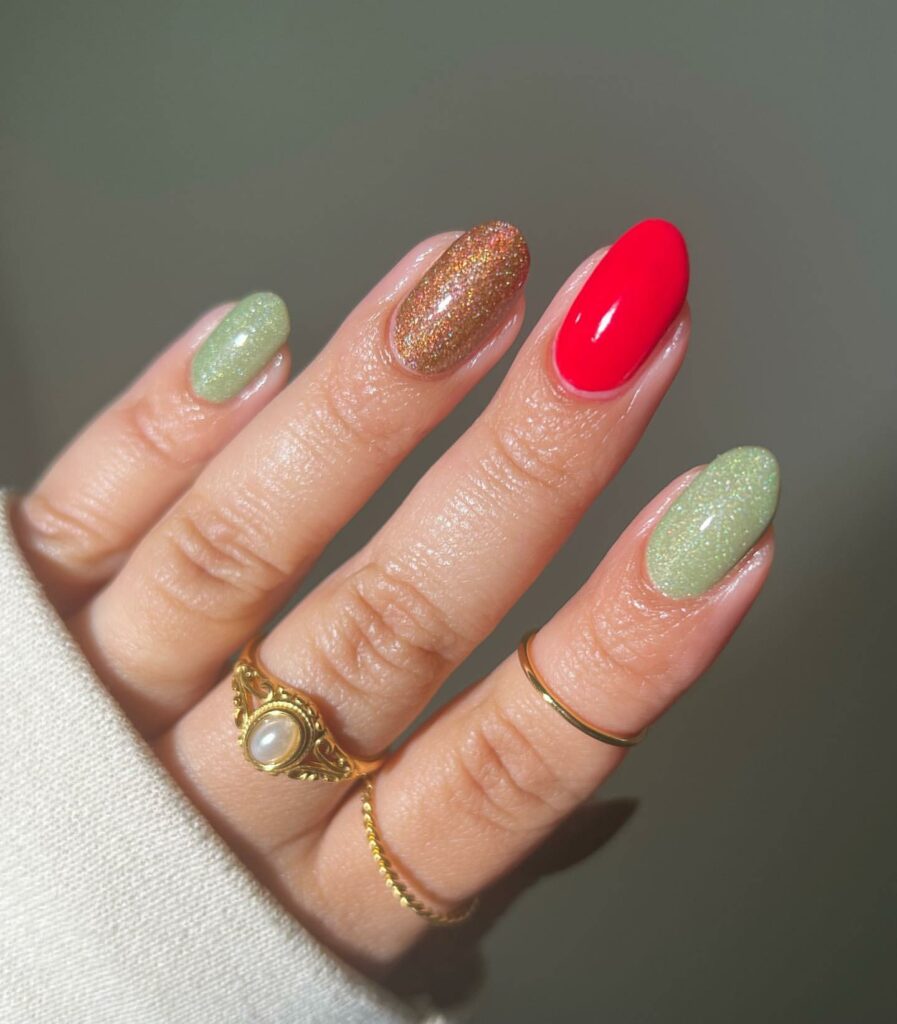 A delightful mix of patterns and shades centered around green creates a playful and lively nail palette. This design is for those who love to blend fun with festivity during the holiday season.
10 Of My Favourite Christmas Nails?
Christmas nail designs aren't limited to just the traditional green and red. There are plenty of designs and colors that can capture the festive spirit of the holiday season. Here are some ideas:
Snow White and Blue Skies: Use icy blue and white shades to create snowflakes, snowy landscapes, or abstract icy patterns.
Golden Festivity: Gold can be a dominant color or an accent. Think gold sparkles, tips, or intricate gold patterns against a deep color like burgundy.
Candy Cane Stripes: Alternate white and red stripes to mimic the iconic holiday treat.
Reindeer & Rudolph: A soft brown base with cute reindeer designs, perhaps a special one with a bright red nose!
Santa and Elves: Use red, white, green, and flesh tones to design jolly Santa faces or his helpful elves.
Midnight Starry Night: A deep navy or black base with silver or gold star specks or glitter to represent the night sky.
Frosty the Snowman: White as a base with snowmen faces or scenes. You can accessorize with tiny scarves or hats using colored polish.
Silver Bells: Use silver as your base or top coat for that shimmering, bell-like appearance.
Gift Wrapped: Create designs that mimic gift wrapping paper – polka dots, stripes, or bows in various festive colors.
Holly and Berries: A green base with tiny red berries and maybe even some gold leaf detail for added flair.
My Guide To Getting The Perfect Green Christmas Nails
| Nail Shape | Design Adaptation for Christmas Nail Art | Tips for Best Results |
| --- | --- | --- |
| Round | Opt for smaller, delicate designs such as tiny snowflakes or miniature reindeer. Keep the designs central to avoid overwhelming the nail. | Use a dotting tool for precise dots and fine lines. Keep the edges of the designs clean and follow the natural curve of the nail. |
| Square | Bold patterns work well, like geometric Christmas trees or plaid. Use the straight edges to your advantage for crisp lines. | Ensure designs maintain symmetry where appropriate. Use striping tape to create straight lines and patterns. |
| Oval | Sweeping designs like garlands or curved lines that mimic the shape of the nail. Small accent designs like holly leaves can add a festive touch. | Utilize the elongated shape by creating designs that run from the cuticle to the tip, elongating the nail even further. |
| Almond | Elongated designs such as vertical candy cane stripes or long, wispy snowflakes complement the pointed tip. | Keep the designs finer towards the tip to enhance the nail's natural shape. Consider using a detail brush for intricate patterns. |
| Stiletto | Dramatic designs like large sparkling stars or a singular bold snowman at the tip; leverage the length for detailed artwork. | Opt for a single focal point to avoid clutter. Reinforce the tip with an extra layer of topcoat to prevent chipping, as this shape is more prone to wear. |
| Coffin/Ballerina | Utilize the flat tip for horizontal scenes, such as a Christmas landscape or Santa's sleigh silhouette against a night sky. | Keep the base color light to avoid the nails looking too heavy. Balance the design between the base and the tip so as not to visually shorten the nails. |
| Squoval | Combination of designs like small flakes near the cuticle area, getting larger towards the tip, suits this hybrid shape well. | Avoid overloading the nail bed with designs; instead, distribute them evenly across the nail. Use a small brush for detailed work near the edges. |
When tailoring nail art for different shapes, it's crucial to consider the proportion and how the design will flow with the natural lines of the nail. Keeping in mind these considerations will ensure that your Christmas nail art enhances the beauty of your nails and is displayed to its best advantage.
Still Looking for Inspiration, Then Check Out This Video
Conclusion
In the vibrant world of nail art, the color green, especially during the Christmas season, has proven to be a timeless and versatile choice. From subtle sage to vibrant emerald, green offers a plethora of shades to match every mood and occasion. When diving into green nail designs, it's always a good idea to consider the event and your outfit to ensure a cohesive look. While experimenting is the essence of creativity, be mindful of the products you use and always prioritize nail health. Overdoing it with acrylics or harsh nail products can lead to weakened nails. To all the nail art aficionados out there: keep exploring, stay informed, and let your nails be the canvas of your festive spirit. Here's to making a statement with every handshake or wave this holiday season!
Feature image @nails_magaziine via Instagram
Last reviewed and updated on November 21, 2023