In today's post, we dive into a sea of emerald, chartreuse, olive, and every conceivable shade. That's right, we're painting the town green today with the most compelling, trendsetting, and genuinely gorgeous green nail designs to get your fingers tap-dancing with joy in 2023! You'll discover the best green hues for your skin tone, learn the art of blending colors for a unique effect, and unravel the secrets to nailing (pun intended) different designs, from the minimalist to the magnificently complex.
Green, dear readers, isn't just a color—it's an attitude, a statement, a mood. Green screams vitality, harmony, and growth. It's Mother Nature's favorite child, symbolizing freshness and revival. And in 2023, it's set to be the reigning champion of the nail art kingdom!
By the end of this post, you'll be fully equipped to join the green revolution and make your nails the envy of everyone you meet. Prepare yourself for a whirlwind of sage, lime, teal, and mint because we're about to go on an incredible journey. Whether you're a veteran nail art enthusiast or a beginner just dipping your fingertips into the world of color, this post has something for everyone. So, pull up your favorite chair, grab your polish remover, and explore the best green nail designs to copy in 2023!
Stay tuned, stay stylish, and remember, your nails reflect your style canvas. Let's turn it into a green masterpiece together!
Go Bright or Go Home: Neon Green Nails
Do you remember when I stepped into a fashion show wearing neon green nails, causing a storm of admiration and inquiries? Neon green nails have a way of standing out in a crowd, carrying a splash of audacity, vigor, and undeniable charisma. While it's not your everyday hue, it's perfect for those who love experimenting with their manicure.
Please keep it simple with a full neon cover, or mix it with patterns and prints for that pop-art vibe. And here's a fun tip — balance the brightness with negative space or neutral shades. After all, neon green isn't just a color; it's a testament to your determination and fearlessness.
Elegance Unveiled: Olive Green Nails
Next, let's talk about olive green. This versatile, dark yellowish-green shade has a special place in my nail polish collection. It's easy to wear and beautifully embodies peace and harmony. Whether you're a fresh-faced college student or an experienced professional, olive green fits like a glove.
You could use a subtle feature nail in this hue or get adventurous with glitter and matte finishes. After all, having green nails is all about expressing your unique style and personality.
The Zest of Life: Lime Green Nails
My first encounter with lime green nails was at a beach party. The vibrancy, the liveliness, the sheer energy! It was love at first sight. The bold green and bright yellow shade brings a fun freshness to your look.
Are you looking for an easy way to wear lime green without it being too dramatic? Pair it with neutral shades like white or beige, or experiment with negative space or patterns for a contrasting effect. And here's a fashionista tip — let your lime green nails shine by keeping your outfit in muted hues.
Earthy & Chic: Sage Green Nails
Ahh, sage green nails. There's something genuinely calming and mature about this earthy hue with a touch of grey. It's versatile, pairing beautifully with whites, greys, and even reds and pinks for the more daring souls. From squiggly lines to floral prints, sage green is your canvas for creative nail artistry.
Plus, sage green is symbolic of wisdom. So, you won't just be flaunting pretty nails but also a testament to your wisdom!
Luxuriously Rich: Dark Green Nails
My lovely readers, dark green nails are an ode to luxury and richness. This color has a certain allure, effortlessly commanding attention. Don't let its association with jealousy and wealth intimidate you; it's a hue that breathes peace and tranquility.
Wear it with neutral shades like black or white for a lush, understated look. Are you feeling adventurous? Try contrasting colors like purple for a head-turning effect.
Cool & Calming: Mint Green Nails
Finally, for a taste of nature's freshness, we have mint green nails. This shade is like a breath of fresh air, with its calming vibe and surprisingly flattering look for all skin tones.
Get creative with mint green tips, or add gold detailing for that hint of luxury. Team it with nude or white for subtlety, or contrast it with black or royal blue for a bold look. And remember to pile on your favorite rings for that added sparkle!
The Enchanting Emerald Green Nails
Remember when I got those emerald green nails for last year's Christmas party? They were an absolute hit! Aside from being my birthstone, Emeralds are rich, luxurious, and undeniably royal. They evoke feelings of prosperity and luck. Combine emerald green with neutrals to balance intensity, or jazz things up with contrasting reds or purples. But let's be honest, nothing beats the ever-classic emerald-and-gold combo. It's sophistication at your fingertips!
Light and Fresh: Light Green Nails
For those who prefer subtlety, light green is your new best friend. It's fresh, modern, and perfect for everyday wear. I still recall the day when I wore light green nails paired with tiny white daisies. Such a simple yet enchanting combination! Feel free to let your creativity shine with 70s-inspired checkered nail art or cute squiggles.
Gradient Glam: Green Ombre Nails
Oh, how I love a good ombre! It's modern and refreshing and allows you to sport more than one shade at a time. From mint olive to green-white gradients, your manicure options are practically limitless. For the crafty DIY-ers out there, be warned: perfecting the ombre requires a steady hand and patience. For the rest of us, pre-made press-on nails are our saviors!
Matte Magic: Matte Green Nails
Can we talk about the incredible, chic vibes matte polish gives off? Yes, they might chip faster than the glossy variants, but the unique finish it provides is worth every touch-up. When I had my nails done in matte green, it felt like I was stepping into a fantastic new dimension. Please keep it simple with a complete matte finish, or experiment with a combo of matte and glossy textures. The world is your oyster (or your nail salon)!
The Bold and Beautiful: Army Green Nails
Consider army green if you're looking for a more muted take on the green trend. It's a unique mix of yellow and green that's effortlessly chic, not too loud, and perfect for all skin tones. Pair it with black, white, tan, or gray to highlight its natural appeal. Or, for a touch of adventure, try a camouflage print on a feature nail. You're sure to command attention!
Pastel Perfection: Pastel Green Nails
Who doesn't love pastels? They're timeless, classic, and oh-so-girly. Pastel green nails are perfect for everyday wear with their light and fresh appeal. You can add a creative twist with a marbled effect or go simple yet chic with a full pastel cover. Either way, you'll be feeling fresh as a daisy!
Nature's Charm: Forest Green Nails
For my nature-loving friends, forest green nails perfectly tribute our beautiful earth. Imagine having a vibrant slice of the forest at your fingertips! Mix and match with whites, beiges, and gold to create gorgeous patterns, or play it simple yet stylish with solid forest green.
Festive Finesse: Green Christmas Nails
Though Christmas has yet to arrive, it's never too early to start planning our festive manicures, right? Inspired by evergreen Christmas plants, green nails can be festive and fashionable. Combine green with the classic Christmas colors of red and white, and don't forget to add a dash of sparkle!
Refined Radiance: Green French Tip Nails
Last but certainly not least, let's talk about green French tips. A trendy twist on the timeless French manicure, they are understated yet undeniably chic. I still remember when I first tried green French tips—I felt so sophisticated! Plus, the symbol of growth and good luck at your fingertips is like a bit of positivity every time you glance at your nails.
On the Hunt: Hunter Green Nails
There's a sense of the great outdoors captured in hunter-green nails. As you might've guessed, hunter green gets its name from the deep, earthy color hunters wear for camouflage. It's a muted yet versatile shade that pairs superbly with natural tones like brown and yellow. And, of course, white or nude can provide a fabulous contrast for nail art enthusiasts!
In a pinch, I'll sometimes paint just one finger in hunter green, keeping the others a clean, crisp white – talk about a statement piece! With some negative space designs, you'll be amazed at the moods you can create with this deep, verdant hue.
Stand Out in Style: Black and Neon Green Nails
Now we're getting into the wild stuff – black and neon green nails! It's a color combination that screams, "Look at me!" If you're bold enough to wear this combo, you will surely get some compliments.
This look is definitely for those fearless in pushing the boundaries with your nail art. It takes some confidence to pull off and may only be office appropriate if your boss is cool with neon (lucky you!). But, hey, rules were meant to be broken, right? This might be your trend if you're up for a checkerboard pattern or a cool alien logo. Get creative and express yourself!
Oceanic Vibes: Blue and Green Nails
If neon isn't your thing, how about a more subtle blend of color? Blue and green nails create a beautiful palette, flattering to most skin tones, lengths, and nail shapes. It's an easy, breezy way to wear the green nail trend and add a touch of interest to your look.
Blue and green can be mixed and matched for many stunning looks, from light pastels to deep jewel tones. Whether you're feeling a matte, glittery, or glossy finish, this duo won't disappoint. Green and blue are also symbolic colors: Green stands for nature and growth, while blue represents calmness and confidence.
Fresh & Classic: Green and White Nails
If you're looking for an effortless, elegant pairing, green and white nails are just what you need. White is a classic, neutral color that pairs with almost anything, adding a fresh and clean vibe to any look.
Whether it's a rich emerald green or a more subdued olive, a dash of white can do wonders for your green nail art. And hey, be bold and mix up different patterns, angles, and sizes. Trust me, creativity is your best friend here!
Out of this World: Holographic Green Nails
Now, let's walk on the wild side with holographic green nails. These nails are truly mesmerizing, especially when they catch the light. The shimmering finish is achieved by incorporating an extra pigment that gives the polish dazzling holographic properties.
I'll never forget the first time I tried a holographic green nail polish—it was love at first sight! It looked fresh and modern, perfect for those who aren't afraid to stand out. Throw on some of your favorite shiny rings to amp up the glitz, and watch the compliments roll in.
Luxe Living: Gold and Green Nails
Regarding luxurious nail art, green and gold nails top my list. Gold is synonymous with wealth and luxury and pairs beautifully with various green shades, from soft pastels to deep emeralds.
One of my favorite ways to incorporate gold into my nail art is with gold leaf. The 3D effect it creates is simply breathtaking and can be placed at different angles for an eclectic and stylish look. If you're looking for a glamorous and sophisticated finish, you can't go wrong with this lush pairing.
Summer Vibes: Lime Green Nail Designs
Last but certainly not least, let's bask in the energetic vibrancy of lime green nails. Inspired by the lively zing of citrus fruit, this color is a summer favorite that feels fresh and dynamic.
One summer, I decided to go bold with lime green nails, and guess what? It turned out to be a fabulous choice! Although this is a vibrant color, it can be easily balanced with solid, neutral tones. For those days when you're feeling a bit adventurous, paint one nail lime green and keep the rest a nude shade for a pop of color that's playful and stylish.
Sun-kissed Neon Green Nails
Ah, summer! It's the season when we feel bold enough to step out of our comfort zones and explore with vibrant colors. My personal favorite? Neon green! It's like having a little piece of lime in your hands – bright, vivid, and bold, just as we love it in the summer.
The beauty of this color is how it works on any nail shape and length. A few summers ago, I decided to switch from my usual squoval to a daring stiletto shape. Paired with a neon green polish, it was my summer sensation! Don't shy away from feature nail art. It can be your sunny masterpiece!
Playful Pink And Green Nails
Let's get a little playful and flirty with a mix of green and pink! There's something incredibly versatile about these two. Go bold with neon hues and wow everyone at a party, or turn it down a notch with pastel colors for a more subtle, girly touch.
It reminds me of when I painted a swirling design with these two colors for a weekend getaway. The result was charming, and it was surprisingly easy to do. You could even reinvent the classic French manicure with a green base and pink tips for a modern, whimsical twist.
Stylish Coffin Green Nails
Ladies, let's talk coffin nails! This intriguing shape, with its tapered sides and flat, straight top, is not just a trend but a way to express our love for fashion and color. Green polish on coffin nails? Simply a match made in heaven!
As a rule of thumb, coffin nails look more stunning when worn long because they offer more space to unleash your creativity. I recall having my nails done along with a matte olive green. That killer look still holds a special place in my heart!
Green Tips for the Win!
Remember the good old French tip manicure? Let's put a spin on it and go green. With countless shades, you will surely find the perfect hue that suits your skin tone and personal style.
I once tried a manicure with a different shade of green on each fingertip, and guess what? It was a fun and expressive nail art that was a total hit at my friend's party. It's all about embracing the new, after all!
Fortunate Jade Green Nails
Ah, jade green, the color of good luck and fortune! This dark yellowish-green color is not just a stylish choice but a powerful statement. As a confessed nail addict, I find jade green a refreshing alternative to brighter greens. Its bold, eye-catching nature is just irresistible.
Feel free to pair it with other colors. I once tried a marbled effect with jade green and black, and I've never looked back!
Understated Elegance of Dark Green Acrylic Nails
Have you ever wondered how you can pull off the green trend with elegance? Go for dark green acrylic nails! This shade is easy to wear and can be effortlessly mixed and matched with your outfits, making it perfect for more formal events.
I remember attending a gala night with dark green acrylic nails adorned with delicate gold accents. Trust me, it was a luxe look that won me tons of compliments!
Green Elegance on Almond Nails
Almond nails, with their simple, classy, and elegant shape, serve as the perfect canvas for green shades. The array of hues in the green palette means you can find the shade that flatters your skin tone the most.
In my experience, soft pastel green on almond nails creates an enchanting and delicate look that can be easily dressed up or down. Plus, they elongate the fingers, making them look slimmer – who could say no to that?
Whimsical Green Swirl Nails
Ready to take a creative leap? Green swirl nails are calling your name! Playing with multiple shades of green, you can come up with delightful swirl patterns that add a touch of fun to your look.
An olive and mint green swirl design was one of my most memorable nail art. It was a playful, feminine statement that always makes me smile when I look back. Remember, nail art is an expression of your personality. So why not go for something that symbolizes creativity, life, and wholeness?
Tropical Jungle
Incorporate different shades of green with some tropical floral or leaf designs for a refreshing jungle vibe. Think palm leaves, ferns, or small floral patterns to bring the tropical vibe right to your fingertips.
Sea Glass Nails
Get inspired by the sea with a translucent green design resembling sea glass. Combining aqua greens and soft pastels creates a calming sea glass effect.
Green Glitter Ombre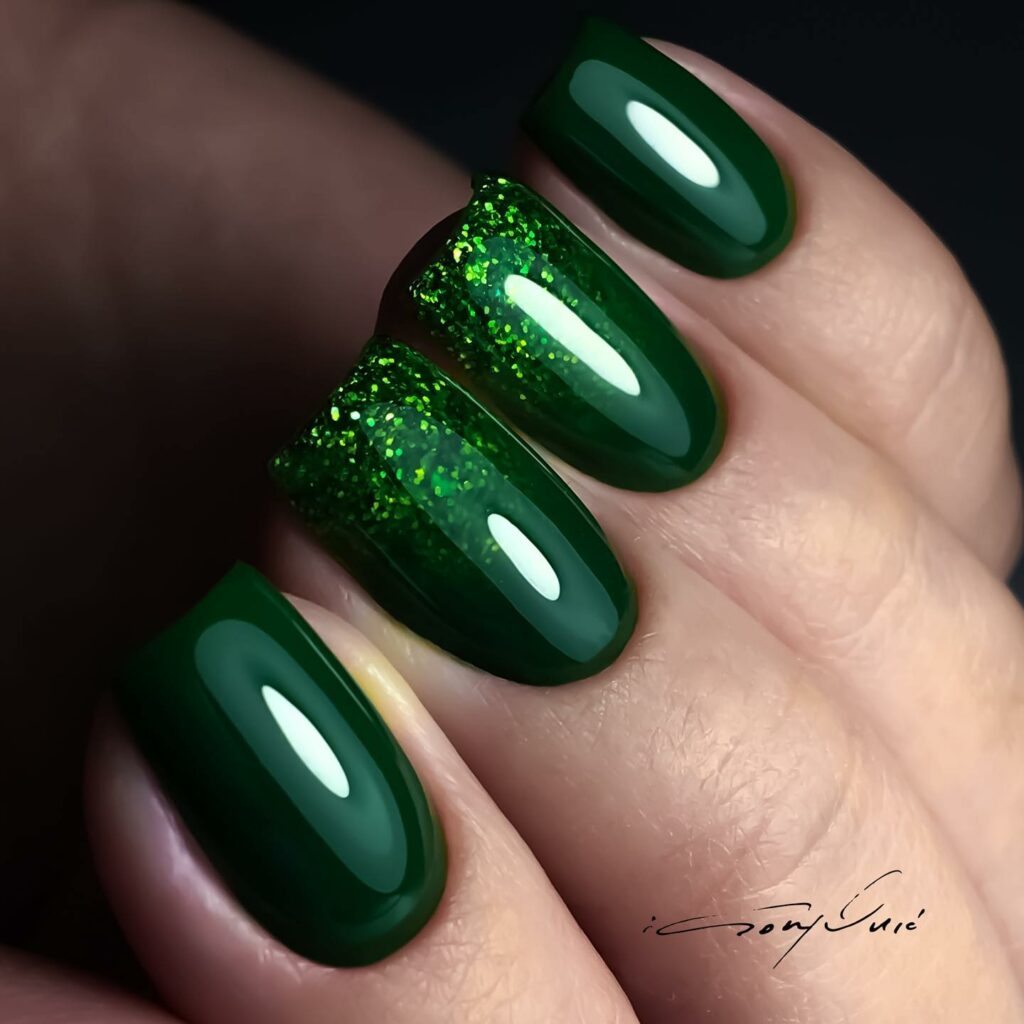 Start with a dark green base and blend it into a glittery green tip. It's a sparkling style that transitions beautifully, perfect for a night out or a festive occasion.
Green Tartan Pattern
Channel a classic vibe with a green tartan pattern. This could involve a mix of dark green, light green, and a hint of white and black for the classic checks.
Mossy Forest Floor
Consider a design featuring different hues of green with gold and brown accents, perhaps even tiny gemstones to resemble a mossy forest floor. This look is earthy, grounded, and oh-so-unique!
Green Galaxy
Combine dark green with swirls of light green, blue, and flecks of gold glitter to create a mesmerizing galaxy on your nails.
Green and Gold French Tips
Upgrade your French tips with a green base and glittery gold tips. It's a chic and elegant look with a modern twist.
Geometric Patterns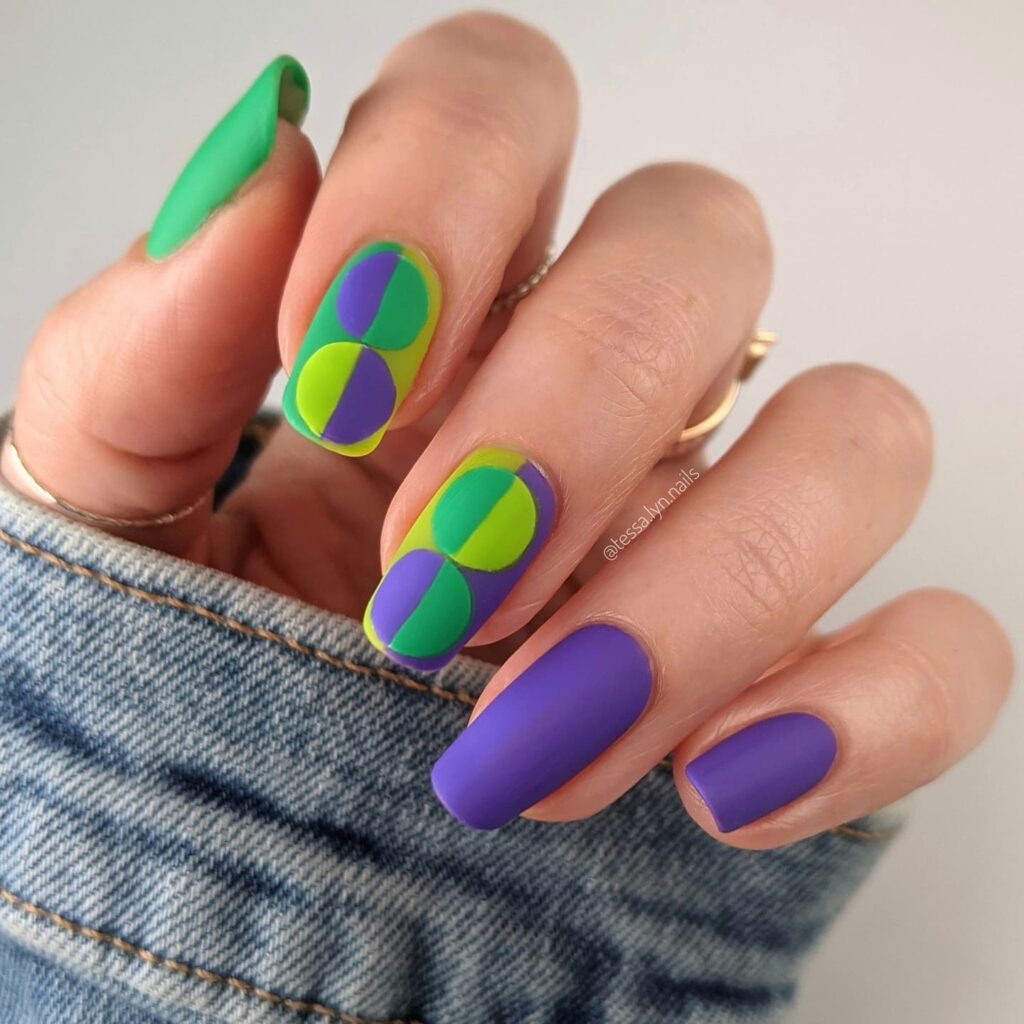 Experiment with geometric patterns using various green shades to create a modern, edgy look. You can use tapes to achieve clean lines and shapes.
Green Marble Effect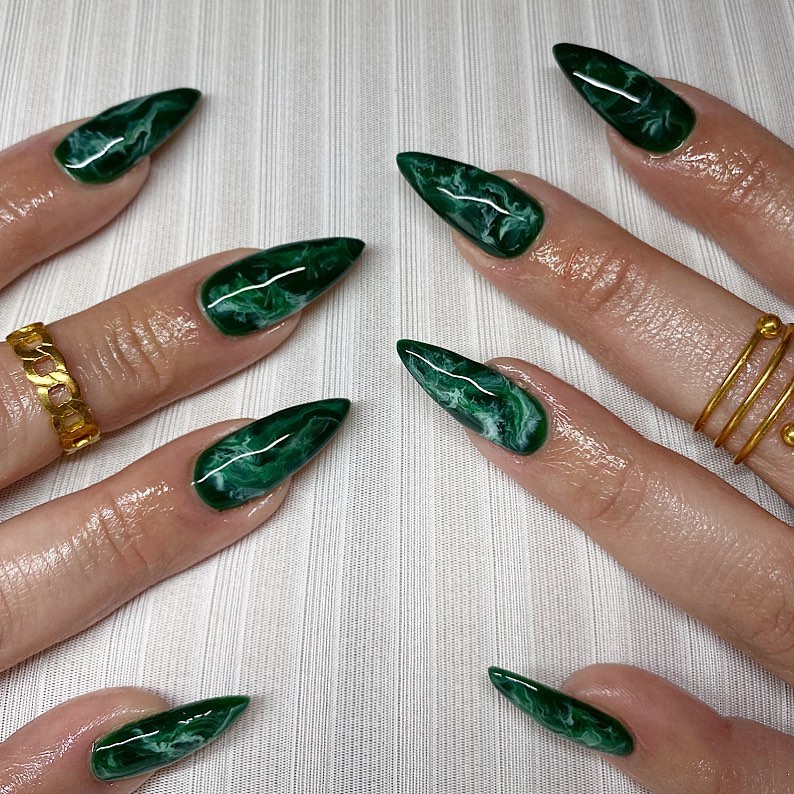 Using different green shades, create a marble effect on your nails for a sophisticated and earthy look. You might mix it up with some white or gold veins for an enhanced look.
Pistachio Dream
Opt for a soft pistachio green base with white dot patterns or delicate white floral designs. It's a dreamy and feminine style that's perfectly subtle for any occasion
Emerald City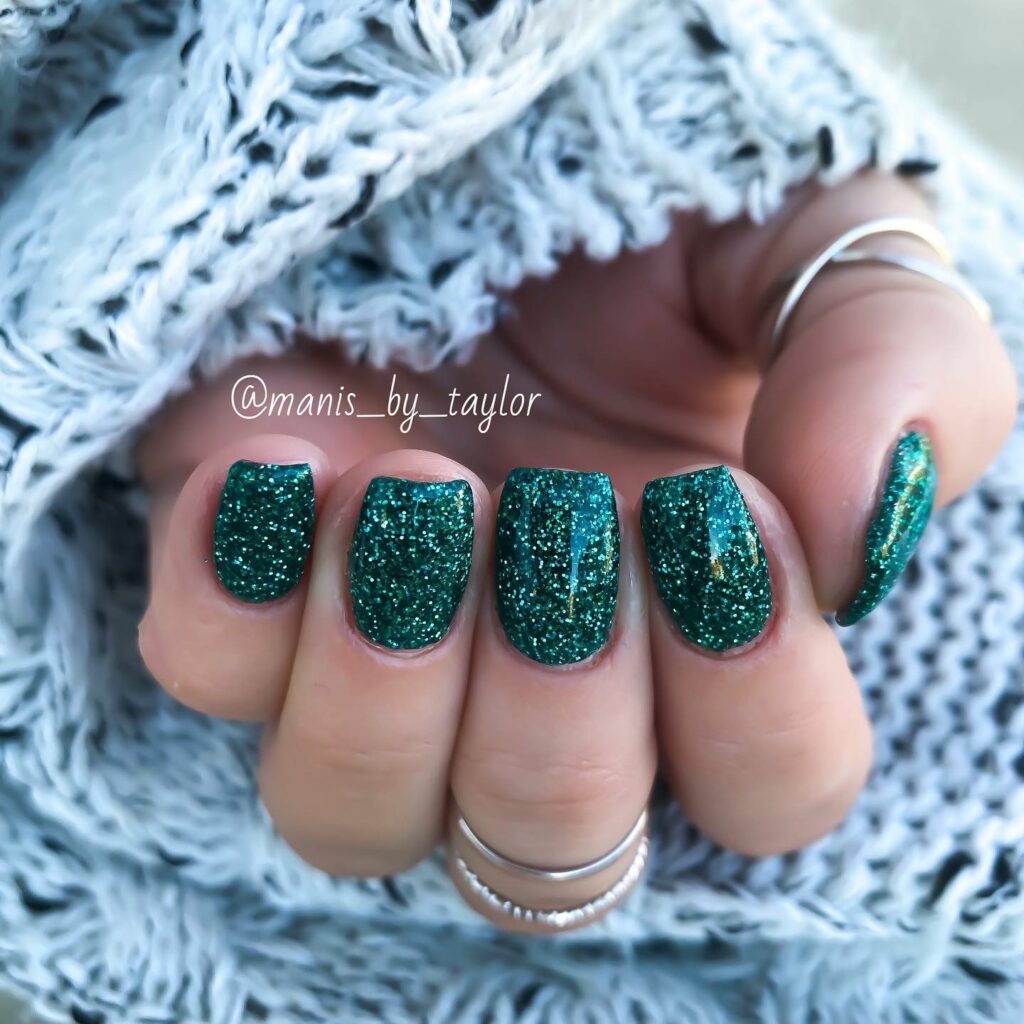 Create a dazzling design with emerald green glitter polish that covers the entire nail or just as an accent on the tips or bases.
Garden Whisper
Opt for a soft green background with intricate white or pastel flower patterns, evoking the beauty and tranquility of a spring garden.
Cactus Charm
Embrace a quirky and fun look with designs of little cacti on a light green or nude base, adding a playful nature to your nails.
Camouflage Cool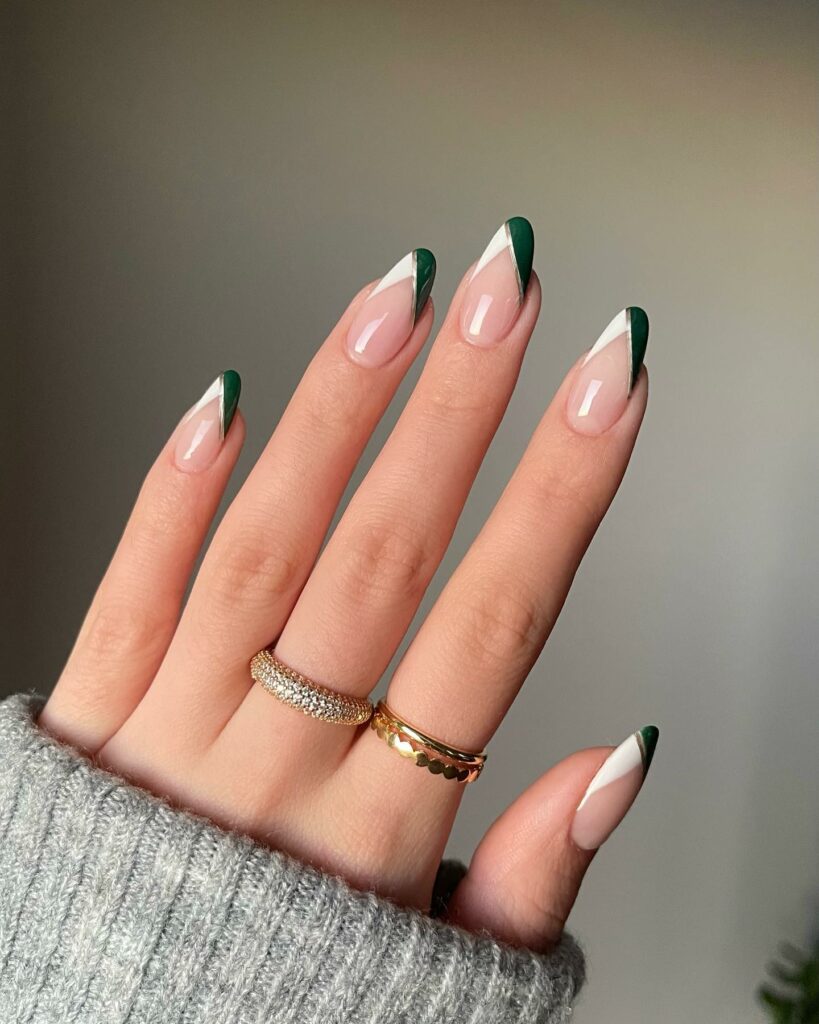 Experiment with a camouflage pattern using shades of green mixed with brown and black to get a military-chic look.
Green Lace
Incorporate intricate lace patterns over a dark green base for an elegant and sophisticated appearance, perfect for formal events.
Green Tea Hues
Design your nails with soft green tea hues mixed with white and beige for a relaxed, fresh, and clean appearance.
Abstract Art
Get artsy with abstract patterns using a combination of green, white, and black to create a modern and sophisticated nail art design.
Green Stripes and Dots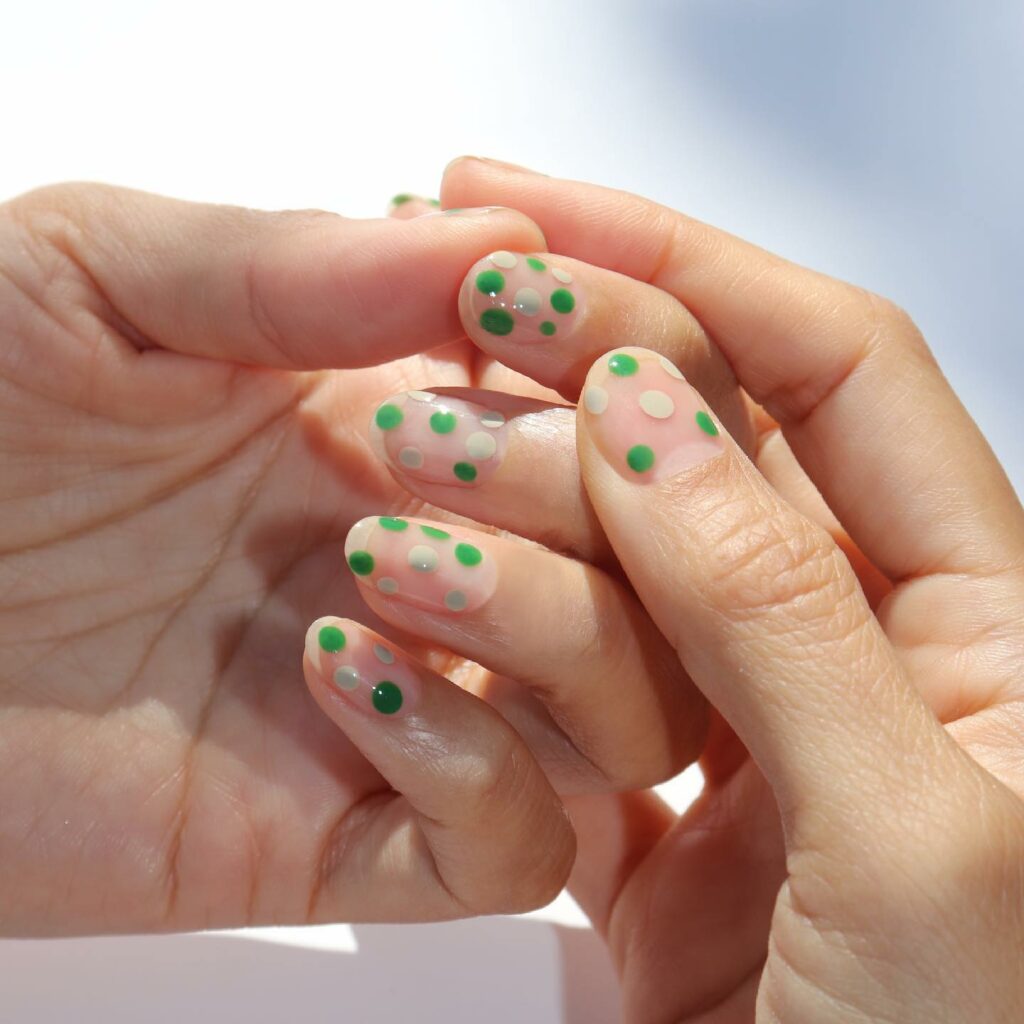 Play with stripes and dots using green and complementary colors to create fun and vibrant nail art that suits your playful personality.
Celtic Green
Choose a dark green base and paint golden Celtic patterns or knots for a mysterious and antique vibe, perfect for those who love historical or mythical motifs.
Pearlescent Green
Use a pearlescent green polish for a shimmery and ethereal look that changes shades as you move your hands, adding a touch of magic to your daily life.
Green Ombre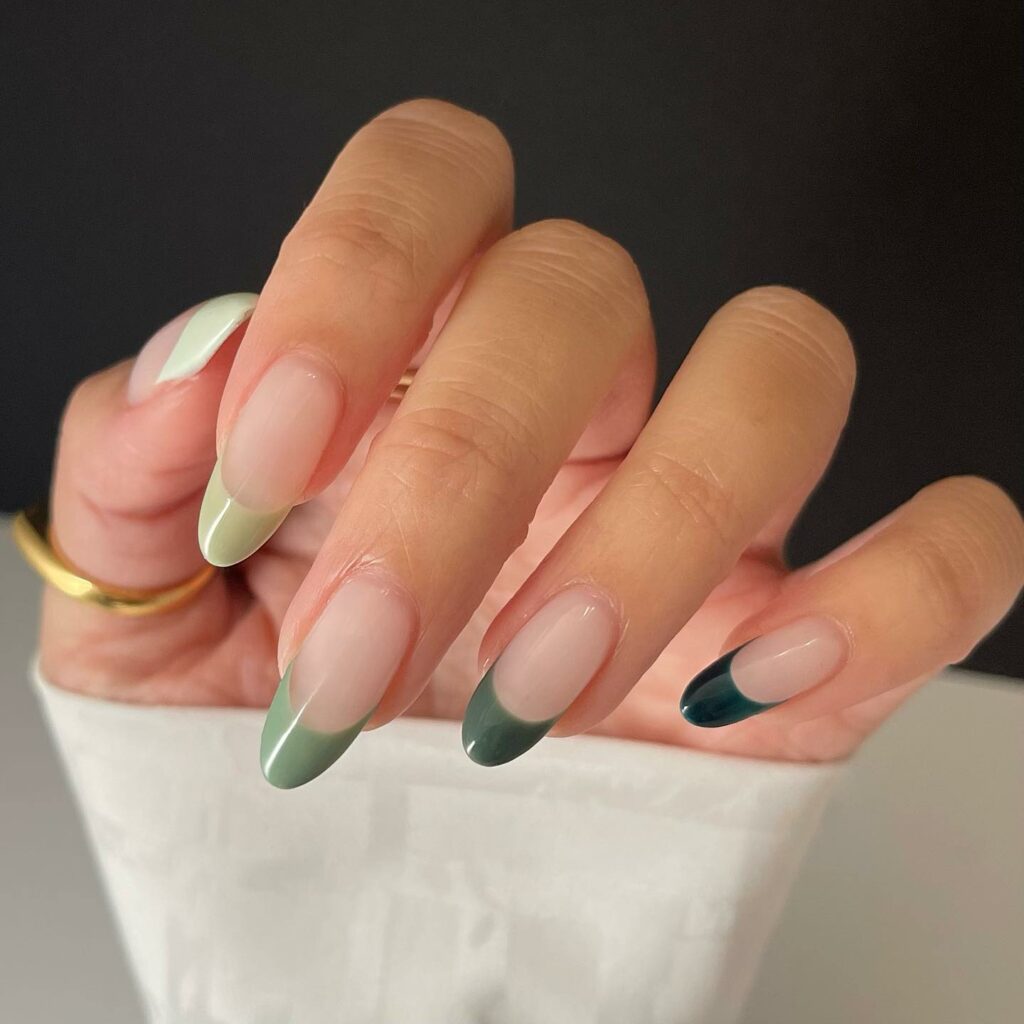 Blend shades of green from light to dark across your nails to create a mesmerizing ombre effect, a beautiful representation of nature's gradients.
Seaweed Wisps
Embrace the nautical vibes by designing your nails with gentle, wispy seaweed designs floating on a sea-green base.
Tropical Foliage
Get in the tropical mood with nails adorned with lush, green palm leaves or fern designs against a light or nude base.
Geometric Green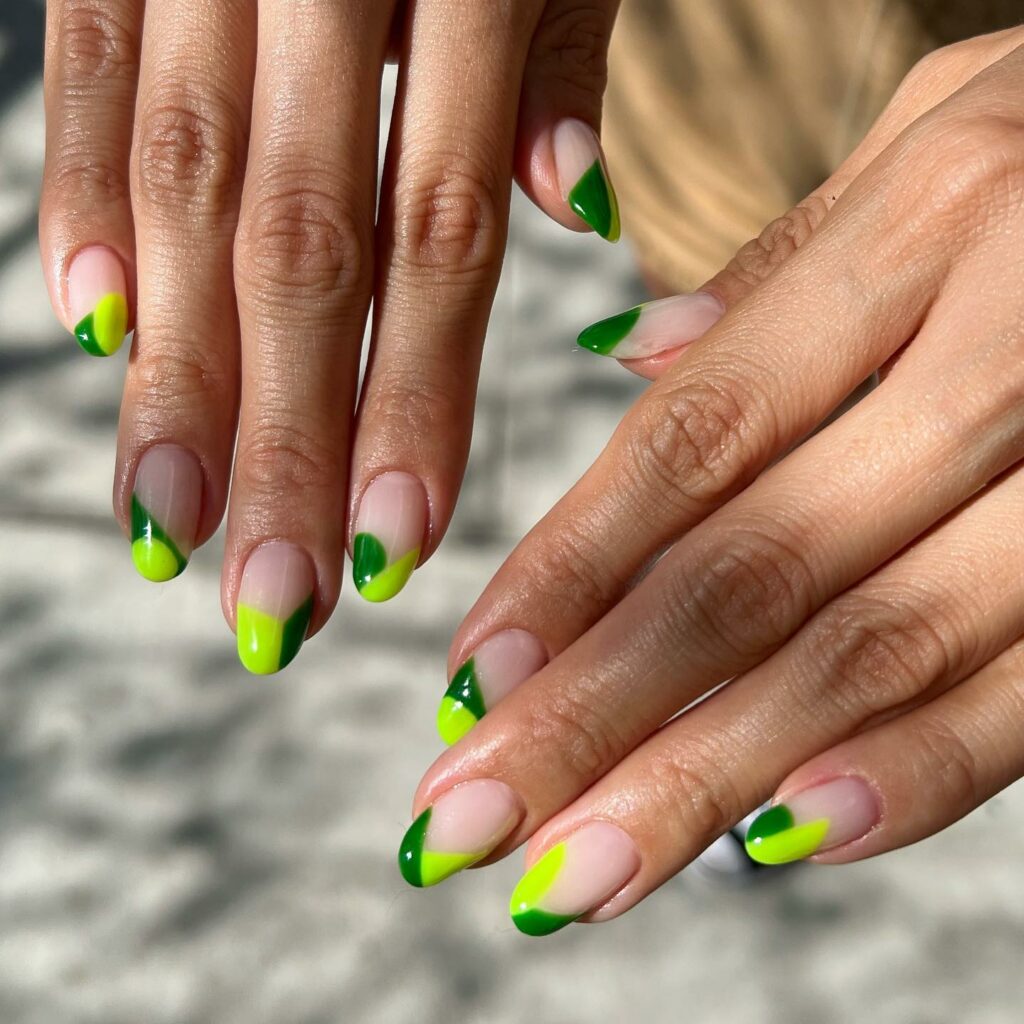 Create bold geometric patterns with shades of green paired with gold or silver lines for a modern, edgy look.
Green Glitter Galaxy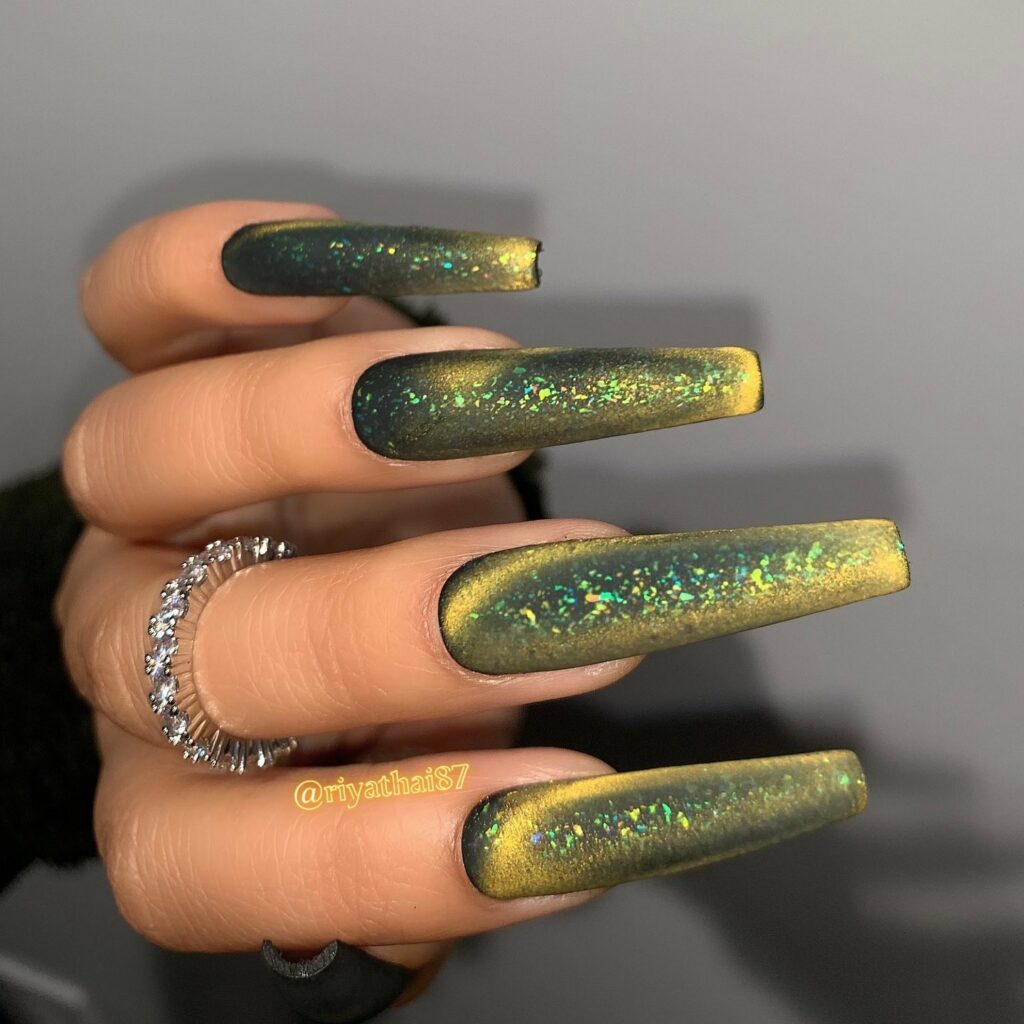 Craft a celestial-themed nail art with a dark green base sprinkled with glittery spots to represent a starry night.
Watermelon Bliss
Get ready for summer with cute watermelon designs, combining green with pink and black seeds for a fun, seasonal look.
Kiwi Slices
Design your nails with refreshing kiwi slice patterns, featuring a vibrant green color palette paired with white and black details.
Olive Branches
Opt for a serene design with delicate olive branches on a light green or nude base, representing peace and harmony.
Glowing Neon Edges
Make a bold statement with a black base and glowing neon green edges or patterns for a striking, club-ready look.
Shamrock Charm
Get into the festive spirit with a St. Patrick's Day theme, showcasing tiny shamrocks on a vibrant green base, bringing luck to your nails.
Forest Canopy Artistry
Dive deep into the forest's heart with nails adorned in intricate canopy designs. This artistry incorporates various shades of green, representing the layers of a forest, bringing a piece of nature right at your fingertips.
Moss and Fern Textures
Experiment with textures by incorporating mossy and fern-like designs onto your nails. Use a sponge technique to get a mossy texture with a blend of green and brown hues, and then paint delicate fern fronds with a thin brush for an artistic touch.
Mint Green and Rose Gold Stripes
Wear mint green with rose gold stripes with a refreshing and elegant look. The rose gold stripes can either be horizontal, vertical, or diagonal, providing a chic contrast against the soft mint background.
Green and Gold French Manicure
Update the classic French manicure by swapping the white tips for a vibrant green paired with a thin gold line at the boundary. This design is festive and glamorous, perfect for any special occasion.
7 Awesome Tips For Wearing Neon Green Nails
Oh, honey, you're going to love wearing neon green nails! They're vibrant, bold, and fun, perfect for bringing color to any look. But before you dive in, let me share a few expert tips to help you get the most out of your neon manicure.
Prepare Your Nails: The secret to a long-lasting manicure is proper preparation. Ensure your nails are clean, filed, and buffed before applying any polish. A base coat is crucial, especially with neon colors which can stain your natural nails.
Use a White Base Coat: Neon colors pop when they're applied over a white base coat. It might seem like an extra step, but trust me; it's worth it. The white base will help the neon color stand out and look even more vibrant.
Consider Your Skin Tone: Neon green can suit a variety of skin tones, but it's always a good idea to try a few shades to see which works best for you. If you have a warmer skin tone, go for a neon green with yellow undertones. If your skin is cool-toned, a neon green with blue undertones might flatter you more.
Accent Nails: If you need clarification on going all-out with neon green, consider using it as an accent color. Let's paint one nail on each hand neon green and use a more subdued color for the others. This is a fun way to participate in the trend without feeling too overwhelmed.
Keep the Rest of Your Look Simple: Neon nails are a statement all on their own, so you don't want them to compete with the rest of your outfit. Keep your look simple, and let your nails be the show's star.
Top Coat Is Your Friend: A good top coat will make your manicure last longer and add an extra level of shine to your neon nails, making them look even more striking.
Experiment with Designs: While a solid neon green nail is a bold statement, don't be afraid to get creative! You could try neon green tips, neon green ombre, or even neon green nail art.
Remember, fashion and beauty are all about personal expression and having fun. Don't be afraid to rock your neon green nails with confidence. You're sure to turn heads wherever you go!
8 Ways To Make Your Nails Unique With Sage Green
Ah, sage green! Its calming, earthy color brings a touch of nature to your nail art designs. Its versatility offers many unique ways to incorporate this delightful hue into your nail decor. Let's explore some creative ideas:
Sage and Gold Foil: If you want to add an element of sophistication to your nails, try pairing sage green with gold foil. The contrast between the subdued sage and the shiny gold is truly eye-catching. For a classy touch, you can do a full sage manicure and add gold foil to one or two accent nails.
Matte Sage: Opt for a matte top coat over sage green polish. This gives a unique, trendy finish that sets your manicure apart. For added dimension, you could make one or two nails glossy.
Sage French Tips: Try a modern twist on the classic French manicure by using sage green for the tips instead of the traditional white. This gives a fresh, fashionable vibe to your nails.
Geometric Patterns: Sage green also works beautifully in geometric patterns. You can pair it with white or black for a modern design. Think of stripes, triangles, or even a cool chevron pattern.
Floral Designs: Channel the beauty of nature by painting delicate flowers on a sage green base. You can use white or pastel shades for the flowers to create a soft, romantic look.
Marble Effect: Sage green is fantastic for marble nail art. You can pair it with white or a darker shade of green and swirl them together to create a stunning marble effect.
Gradient Effect: Create a beautiful ombre effect using different shades of green. Start with a darker green at the base of your nail and blend into sage green towards the tips.
Polka Dots: Sage green polka dots on a white or cream base create a cute, playful design that's perfect for any casual outing.
Remember, patience and practice are key to nail art design. Don't be disheartened if it doesn't turn out perfect the first time; keep experimenting and have fun with it! After all, the joy is in the journey, not just the destination.
7 Other Amazing Colors You Can Pair With Mint Green For A Bold Look
With its vibrant and refreshing appeal, Mint green can be a fantastic color to play around with when it comes to nail art. For a bold and dramatic look, here are some colors that can be paired fabulously with mint green:
Black: For an edgy contrast, pair mint green with black. It gives a daring and stylish appeal, perfect for a night out or when you're feeling particularly fierce.
Hot Pink: This duo brings a punch of tropical vibes. It's vibrant, bold, and screams of fun and adventure. It can be perfect for your beach holiday or summertime hangouts!
Royal Blue: The coolness of both colors makes them a perfect pair. It's a mix that's bold yet somewhat calming to look at. Play with different shades of blue for added depth.
Orange: Mint green and bright orange are a surprising combination that pops. It's an unconventional pairing that's perfect when you want your nails to stand out.
Purple: For a bold but sophisticated look, try pairing mint green with deep purple. You can create various looks, from stripes to color blocks or even ombré.
Gold: For a glamorous touch, nothing beats gold. Gold and mint create a bold yet elegant appearance that fits any occasion. Try a gold glitter topcoat on a mint base or vice versa.
Red: A surprising pair of mint green and red create a vintage feel that's playful and eye-catching. This duo can be a perfect choice for your Christmas-themed manicure.
Remember, when it comes to nail art, there's no limit to creativity. Don't hesitate to experiment and find combinations that truly reflect your style and personality.
Conclusion
And there we have it, my dearest beauty enthusiasts – a kaleidoscope of ways to explore the green nail trend. From sun-kissed neon greens that light up your summer to jade hues that channel positivity, there's a shade of green for every mood and occasion. Remember, experimenting with colors and designs is the real fun of nail art. Feel free to mix and match or switch up the shapes! While bold styles like coffin or stiletto might not be for everyone, they could be your following style statement if you dare to try them. And remember the value of nail health! Make sure you give your nails some breathing space between manicures and hydrate those cuticles regularly.
So, ladies, it's time to make a statement with your fingertips! Whether you opt for a swirl design, French tips with a green twist, or the classy elegance of almond nails, the choice is yours. Nail art is a form of self-expression, after all. Embrace it, enjoy it, and most importantly, let it reflect the fabulous you! Happy painting!
Feature image by Christina Chauskin on Unsplash