Welcome to the lush world of Green Ombre Nails! Whether you're a DIY devotee or a salon regular, this post is your go-to guide for mastering one of the trendiest nail looks of the season. We'll dive into everything, from selecting the perfect shades of green to ensuring a seamless gradient to the step-by-step process of creating the ombre effect at home. Plus, I'll share my personal tips to keep those edges clean and the polish lasting longer. By the end of this post, you'll be equipped to sport this chic style and understand how to customize it to your taste—whether that's a subtle seafoam fade or a bold emerald statement. Ready to give your nails a dose of verdant vibrancy? Let's get started!
Glittering Emerald Green Ombre Nails
Ombre nude to emerald green with a dash of rhinestones and glitter to amplify the glam? Yes, please! You'll be the life of the party, no doubt about it.
Neon Green Ombre Stiletto Nails
Want to stand out from the crowd? Say hello to neon stiletto nails. This is for those days when you want to turn up the volume on your style.
Mint Green Ombre With Rhinestones Glam
Add a touch of sparkle to your mint green base with strategically placed rhinestones. It's a design that radiates luxury and sophistication.
Dark Green Short Ombre Nails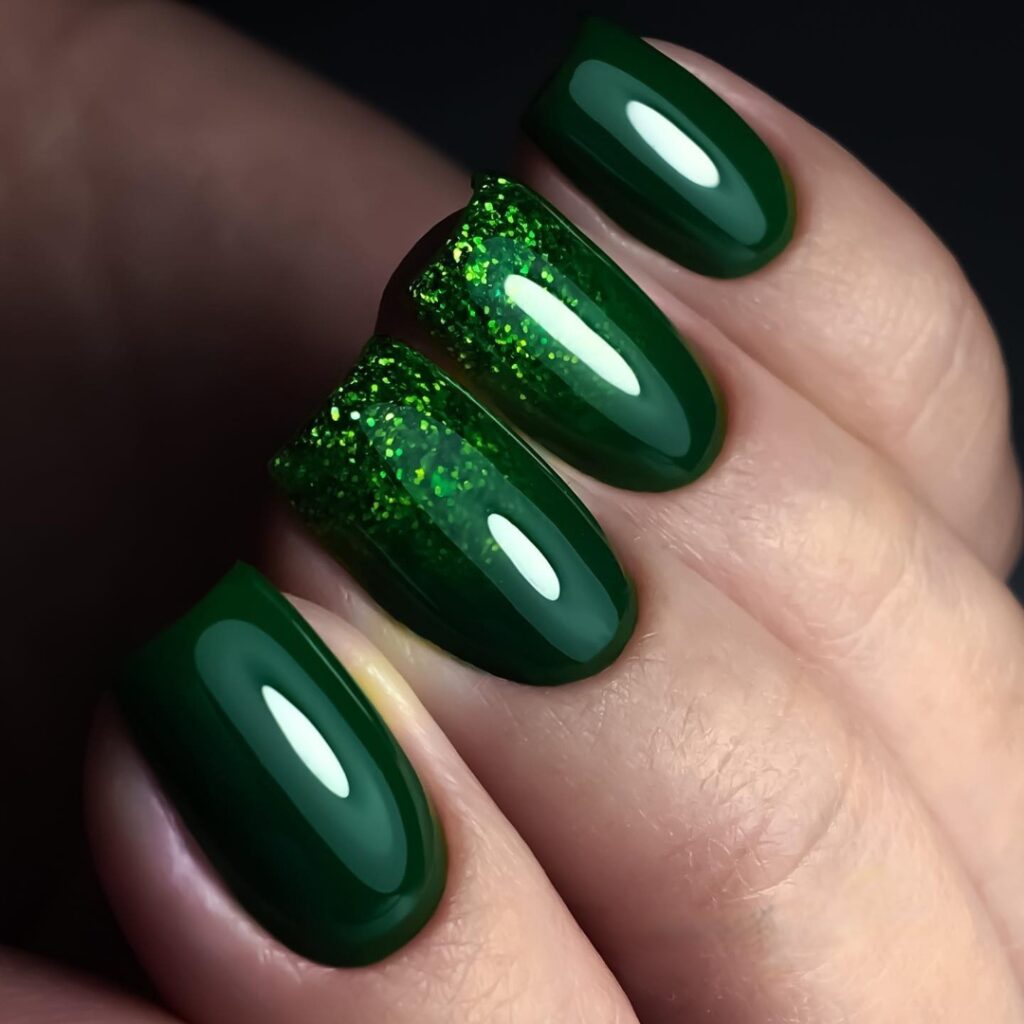 Who doesn't love a good gradient, right? Throw in some sparkles, and you're good to go!
Ombre Stiletto Nails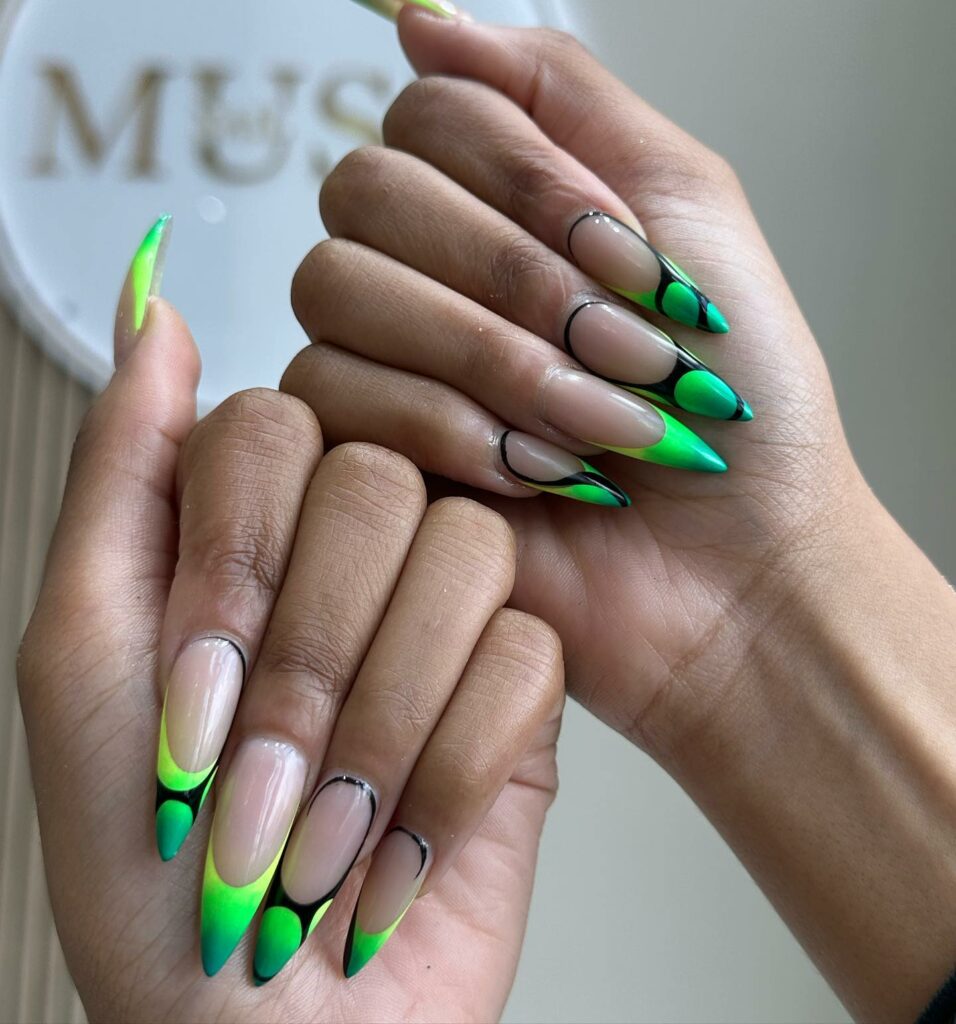 Witness the magic of gradients with stiletto nails transitioning from a deep to light green. This design evokes the allure of nature's gradients, from dense forests to light canopies, encapsulated on your fingertips.
Glittering Forest Green Ombre Nails
Glittering Forest Green Ombre Nails combine the deep, enchanting allure of forest green with the sparkling elegance of glitter, creating a look that's both luxurious and nature-inspired. This style is pe
Matte Green Ombre Nails With Flames
Ignite a spark with Matte Green Ombre Nails featuring a fierce flame design, perfect for those who want to showcase their fiery personality. The matte finish adds a contemporary touch, while the flames offer a dynamic twist to the ombre backdrop.
Dive into Tranquility: Teal Ombre Nails
Teal Ombre Nails accented with gold offer a stunning blend of the ocean's depth and the glamour of precious metal. This elegant combination is perfect for those seeking a sophisticated yet striking look, with the gold adding a luxurious touch to the serene teal gradient.
Matte Green Ombre Nails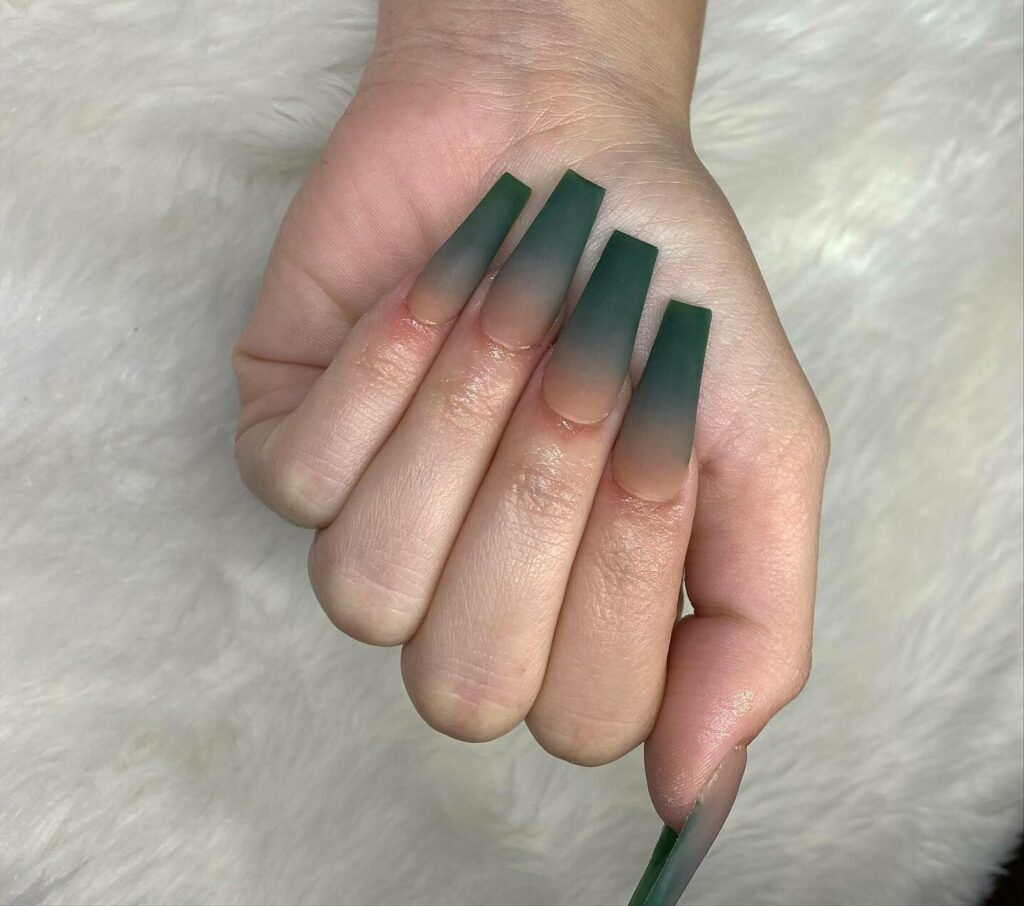 Matte Green Ombre Nails bring an understated elegance to the ombre trend, offering a velvety finish that's both modern and sophisticated. This style is a must-try for those who prefer subtle yet impactful nail art that pairs well with any outfit.
Acrylic Mastery with Neon Green Ombre Nails
Dive into the resilience and beauty of acrylics with a light green hue. This design celebrates the strength and elegance of acrylic nails, offering both longevity and a fresh aesthetic.
Long & Luscious: Green Stiletto Nails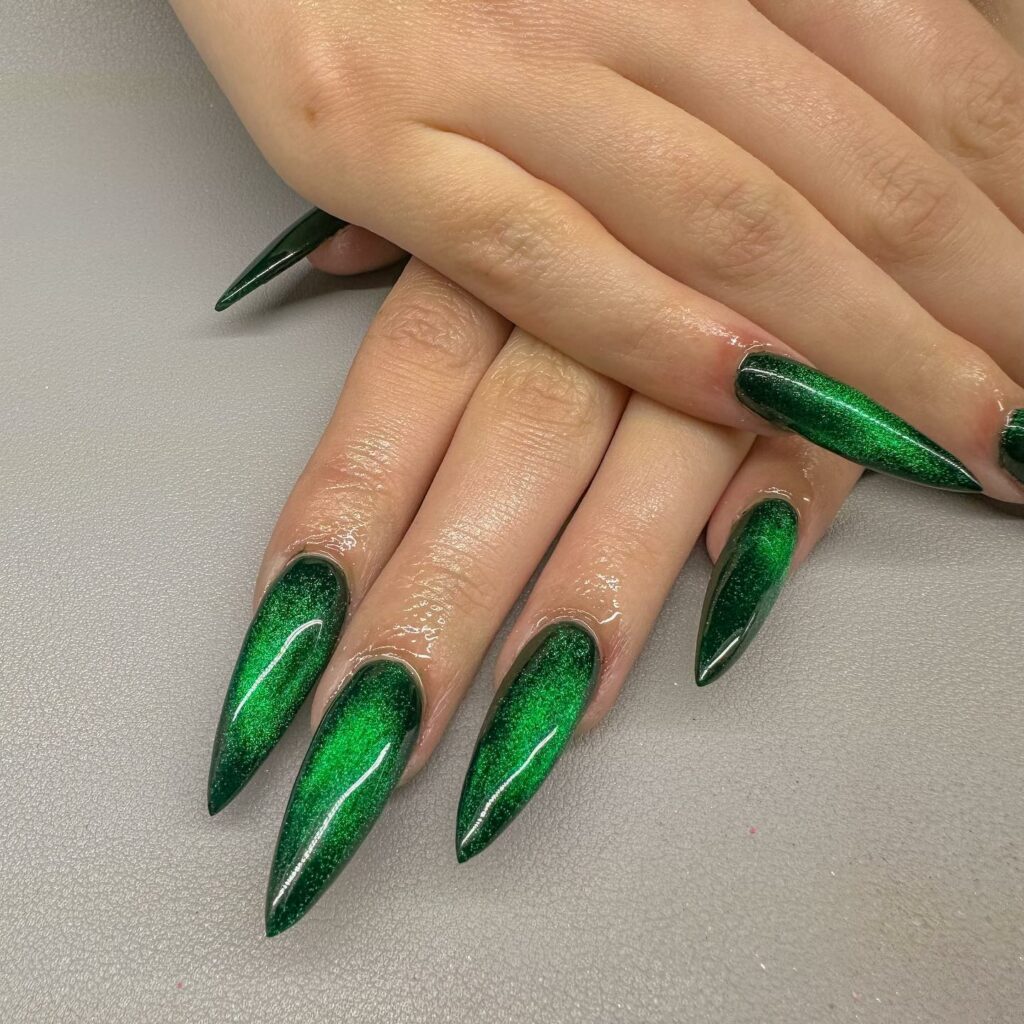 To boost your confidence, go long with ombre stiletto green glitter nails. Not a fan of long nails? No worries, you can get press-on for that one special night.
Dreamy Aqua and White Ombre Nails
Aqua and White Ombre Nails create a refreshing and clean aesthetic, reminiscent of crystal-clear waters meeting white sandy beaches. This serene and airy color combination is perfect for a light, breezy look that's ideal for spring and summer vibes.
Black And Green Coffin Ombre Nails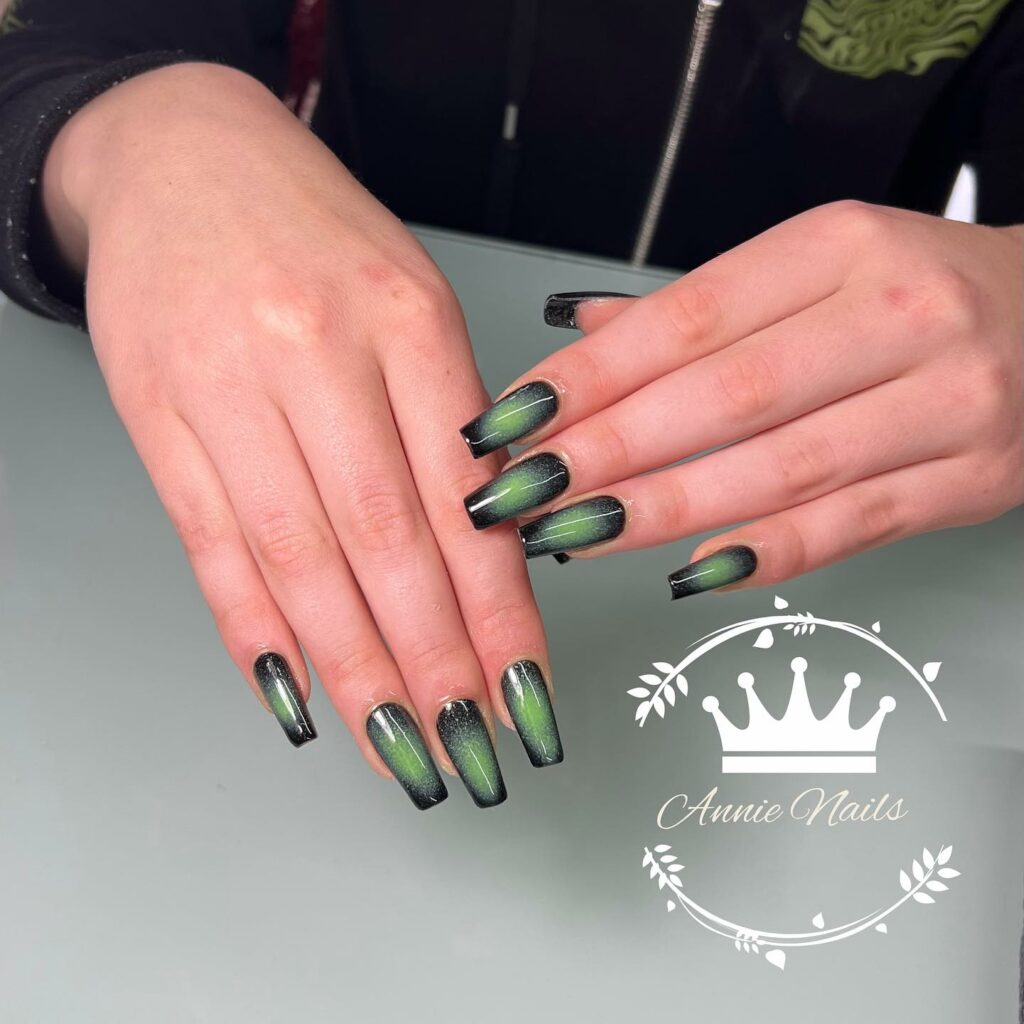 Channel the enigmatic allure of the cat eye with coffin-shaped forest green nails. The magnetic polish creates an illusion of depth, giving your nails a bewitching appearance that's hard to ignore.
Matte Green Ombre Coffin Nails
The edgy coffin shape paired with a green ombre gradient nods to the bold and daring, perfect for making a glamorous statement. This nail art choice is for the fashion-forward who are fearless in showcasing their style with a dramatic flair.
Green And Black Glitter Ombre Nails
Green and black ombre nails adorned with glitters create an enchanting night-sky effect, ideal for adding a bit of mystery and sparkle to your evening ensemble. The glitter adds a festive touch, making these nails a go-to for holiday parties or any event where you want to shine.
Green Marble Ombre Nails
Imitating the natural beauty of stone, Green Marble Ombre Nails offers an artistic twist on traditional ombre with swirls of different green hues. This nail art is perfect for those who appreciate a unique and intricate design that mimics the elegance of marble textures.
Green Ombre Nails With Gold Accents
Adding a branch design over a green ombre base transforms your nails into a canvas of nature-inspired art. It's a subtle nod to the beauty of the natural world, ideal for eco-conscious fashionistas or anyone who wants to carry a piece of the outdoors with them.
Lime Green Ombre Nails
Lime Green Ombre Nails bring a zesty pop of color that's playful and eye-catching, perfect for spring breaks and beach days. This shade is for those who love to add a bright, energetic touch to their look.
Square-Shaped Green Ombre Nails
The classic square shape meets the modernity of green ombre, offering a geometric twist to this gradient style. It's a great way to combine a traditional nail shape with a trendy color scheme for a chic and sharp look.
Light Green Ombre Nails
Even on the most petite nails, lime green ombre makes a bold impact, proving that great style doesn't depend on size. This design is ideal for those who want to make a statement with their nail art without the commitment of long nails.
Green Ombre Nails With Emojis
Turn your nails into a playful expression of your personality with Green Ombre Nails featuring your favorite emojis. This fun twist is perfect for the tech-savvy social media enthusiasts who love to express themselves through their style.
Vertical Green Ombre Nails
Breaking the mold, Vertical Green Ombre Nails offers a unique take on the gradient trend, elongating the appearance of the nails and adding an avant-garde touch. It's a fresh perspective for those experimenting with direction and flow in their nail art.
Green Ombre Nails With Black Detailing
Almond Green and Brown Ombre Nails present a rich, earthy palette that's subtle yet stunning, suitable for any season or occasion. The almond shape is feminine and trendy, making these nails an excellent choice for a natural but polished look.
Green Ombre Coffin Nails With Glitter
Add sparkle to your style with green ombre coffin nails accentuated with glitter for that extra glam factor. The coffin shape combined with a glittery ombre is perfect for those evenings when you want your nails to be as dazzling as your outfit.
Small Green Ombre Nails With Glitter
Small nails can still significantly impact, especially when adorned with a glittery green ombre. This design is ideal for those who love a bit of sparkle but prefer a more understated nail length.
Green Ombre Tips With Flowers
Floral designs over green ombre tips bring the beauty of a blooming garden to your fingertips, offering a feminine and romantic nail art option. This design is a charming choice for anyone who adores a floral touch to their style.
Green Ombre Nails With Glitter
Elevate your green ombre nails with the luxurious addition of glitter and green stones, creating an opulent and stylish look. These nails are a match made in heaven for those who love to make a statement with their nail art.
Long Green Ombre Nails With Heart Design
Long Green Ombre Nails adorned with a heart design combine length with love, making a sweet and bold statement. Opt for this design to bring a touch of romance to your nail aesthetic while keeping it trendy with an ombre effect.
Neon Green Ombre Nails
Illuminate your look with Neon Green Ombre Nails, a trend promising to turn heads with electrifying vibrancy. They're not just a statement but a conversation starter, perfect for nights out and summer festivals.
Green Ombre Tips On Blue Base
A serene blue base topped with green ombre tips creates a relaxed, oceanic vibe reminiscent of tropical waters. This refreshing color combination is perfect for those looking to add a splash of color to their nails innovatively.
Green And Yellow Ombre Nails
Merge the freshness of green with the brightness of yellow to sport a sunny, citrus-infused ombre effect that's as refreshing as a glass of lemonade on a hot day. This combination is ideal for those who love a playful, vibrant look that transitions effortlessly from spring to summer.
5 Tips To Create The Ombre Effect At Home
Creating the ombre effect at home is more manageable than it might seem! It does require some practice and patience, but it's absolutely doable with the right tools and techniques. Here's how you can achieve the ombre look:
Sponge It Up: The most common method involves using a small piece of sponge (like a makeup sponge) to dab the gradient of colors onto the nail. You apply the different shades of polish to the sponge and press it onto your nails to create a faded effect.
Steady Hands: It's essential to have a steady hand and to work pretty quickly so the polish doesn't dry before it's applied to the nail.
Practice Makes Perfect: Your first attempt might not be perfect, but that's okay! Practice will make the process smoother, and you'll get to know the best way to blend the colors you've chosen.
Cleanup Is Part Of The Process: Expect to do some cleaning around your nails. Liquid latex or a simple glue around your nail can make this process easier. Once done sponging on the ombre, you can peel off the barrier and have clean skin around your nails.
Tutorials Help: Plenty of online tutorials can walk you through the process step by step. Watching a few of these can be very helpful before you start.
How Can I Make The Ombre Effect Last Longer?
Start Clean: Ensure your nails are clean, dry, and oils-free before you begin. Use a cotton pad dipped in nail polish remover to wipe over each nail.
Base Coat is Key: Apply a good-quality base coat to protect your natural nails and provide a surface to which the polish can adhere, which helps in longevity.
Quality Polish Matters: Use high-quality nail polishes as they tend to have better pigmentation and staying power.
Thin Layers: Paint with thin, even layers of polish. Thick layers can peel off quickly. Allow each layer to dry completely before applying the next to avoid smudging and to ensure a stronger bond.
Protect the Tips: Wrap the tip of each nail with polish. This means gently brushing the polish over the tip and slightly under the edge of the nail.
Top Coat is a Must: Seal your design with a clear top coat. A top coat acts as a barrier, protecting your ombre from chipping and wearing. Reapply a top coat every 2-3 days to refresh the shine and protective layer.
Hydrate Your Cuticles: Keep your cuticles and the skin around your nails moisturized with oil or cream. This doesn't directly affect the polish but helps maintain healthy nails, which keeps the polish looking great.
Gloves for Chores: When doing dishes, cleaning, or anything that involves harsh chemicals, wear gloves to protect your nails.
Avoid Heat: Avoid hot water and heat after painting your nails, as they can weaken the polish. Wait for a couple of hours before taking that hot shower. Remember, the ombre effect is like any other nail polish technique—it may chip or wear at the edges, especially if you're hard on your hands. But with these tips, your beautiful gradient should stay fresh and vibrant for as long as possible!
Conclusion
And there you have it, a whirlwind tour of the vibrant and ever-so-versatile world of green ombre nails! From the earthy tones of almond and brown to the playful sparkle of glitter and stones, there's a green gradient style for every mood and occasion. My top tip? Don't avoid experimenting with different designs, adding a delicate flower or a bold flame to make the look uniquely yours. And remember, the key to rocking any of these styles is confidence—wear your green ombre nails with a smile, and you're sure to be the envy of the fashion-forward crowd. Keep having fun with your nail art adventures, and stay polished!
Feature Image by @gentjana_nails via Instagram
Last reviewed and updated on November 17, 2023