Hey everyone, welcome back to the blog! Today, we're diving into something festive and fun—Grinch nails. The iconic green character isn't just for movies and books; you can rock him right at your fingertips this holiday season. We will walk through the key steps to get those Grinchy nails on point, from the essential color palette to the necessary tools. Trust me, you don't have to be a pro to nail this look—no pun intended! My advice? Please don't skip the base coat; it will keep that vivid green from staining your nails. Ready to get a little mischievous? Let's go!
Nude Grinchmas Nails
If you love the Grinch but adore that understated elegance, Nude Grinchmas Nails are your go-to. Think of a neutral base with subtle Grinch accents, perhaps a tiny heart or a Grinch face. It's the perfect blend of holiday cheer and sophistication. This look pairs well with almost anything in your winter wardrobe.
Fifty Shades of Grinchmas
Take the Grinch theme to a sultry level by incorporating shades of green, from light to dark. It adds depth and allure to your nail art and is a unique take on the classic character.
Grinchmas Gift Set Nails
Make your nails look like wrapped gifts with Grinch-themed bows or faces. This style is the gift that keeps giving every time you look at your hands.
Square Tip Grinchmas
Opt for square tips for a modern edge to your Grinchmas nails. This shape offers a broad canvas for more elaborate designs, from Grinch faces to holiday quotes.
Grinch And Rudolph
Why choose one-holiday character when you can have two? Mix the Grinch with Rudolph elements for a nail design like a mini Christmas parade right on your fingertips.
Green Glittery
Green Glittery nails are your answer for those who adore the classic Grinch green but want to add some sparkle. The glitter elevates the green and makes your nails a festive focal point.
Green Shimmery Grinchmas Nails
Take the Grinch green to the next level with some shimmer. It adds festive sparkle while keeping the classic Grinch vibe alive and well.
Stiletto Grinchmas
Dive deep into Dr. Seuss' world by incorporating Whoville elements into your design. Think tiny houses, candy canes, Whoville citizens, and the Grinch.
Red Grinch Nails
Flip the script by going predominantly red with your Grinch nails. It creates a striking contrast; you can add the Grinch face or elements as subtle accents.
Stiletto Ombre Grinchmas Nails
For those who like to make a statement with their nails, pointed or stiletto-shaped nails provide a dramatic backdrop for your Grinch-themed art.
Grinchmas Extravaganza
If you're all about going big, this is your style. Think 3D elements, stones, and even tiny bells. It's Grinchmas turned up to eleven.
Glitter Grinch Nails
Want a little sparkle without going overboard? Add glitter accents or green polish to your Grinch designs for that festive twinkle.
Green And Scary Grinch Nails
Channel the Grinch's unique texture by incorporating 'furry' elements into your nail art. It's a fun twist that captures the character's essence perfectly.
Grinchmas French Tips
For a classic look with a holiday twist, consider Grinchmas French Tips. This involves taking the traditional French manicure and adding a tiny Grinch or Grinch-related element. Elegant but still very much in holiday mode.
Shimmery Glittery
Turn up the glam with Shimmery, Glittery Grinch nails. This combines gloss and glitter to achieve a truly show-stopping look. Great for holiday parties, these nails will catch the light—and some envious stares!
Winter Grinchmas
Capture the essence of a winter wonderland meeting Whoville in Winter Grinchmas nails. Think icy blues and whites blended with classic Grinch green for a frosty yet festive look. Consider adding a snowflake or two to complete the winter vibe.
Candy Cane Grinchmas
Red and white stripes meet Grinch green in this delectably sweet style. It's a match made in holiday heaven and brings a playful twist to your traditional Grinch nails.
Plaid Grinchmas Manicure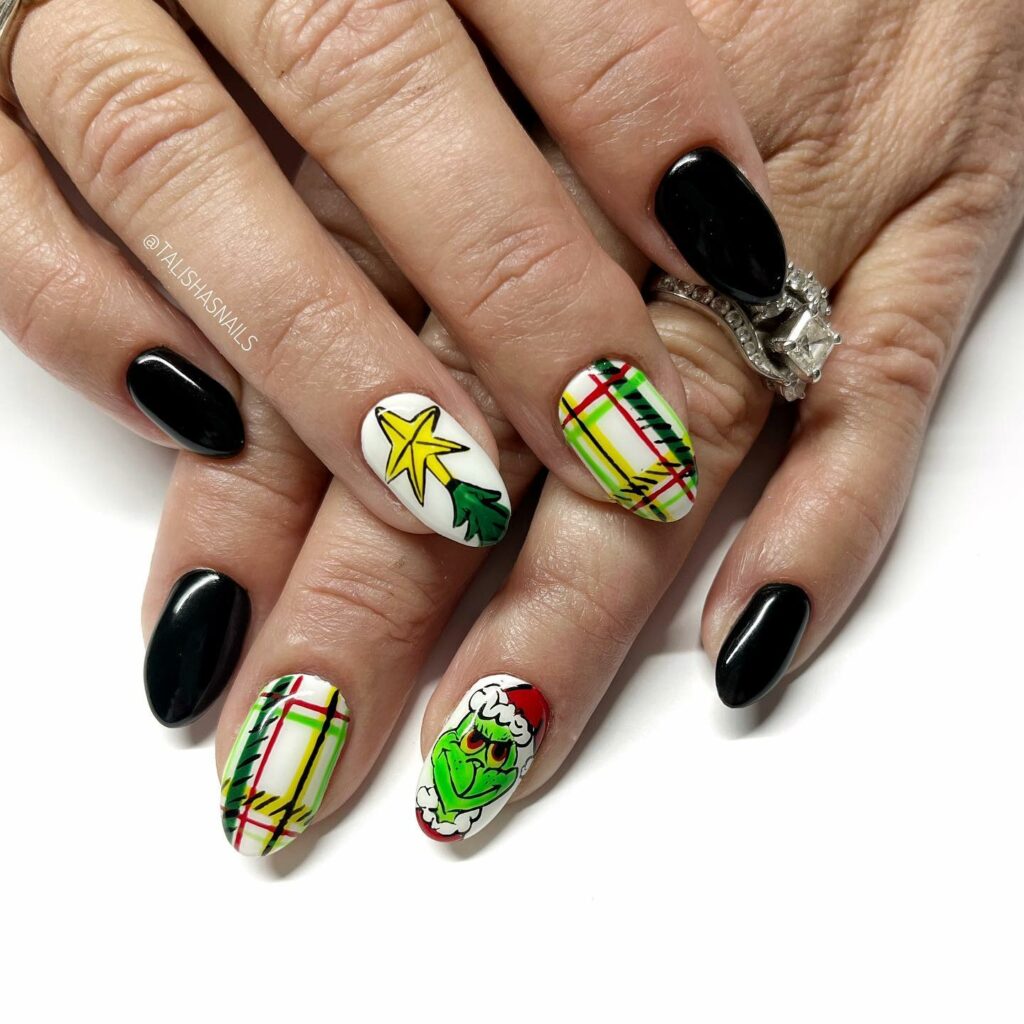 Incorporate some cozy winter fabric patterns with a plaid Grinchmas look. The overlapping red, green, and white lines can be a stunning background or accent to Grinch faces and other holiday motifs.
Cotton Candy Grinchmas
This whimsical style uses pastel shades for a cotton candy-colored twist on traditional Grinch designs. It's like the Grinch took a stroll through a candy shop, and it's utterly charming.
Hypnotic Grinchmas
This style is all about bold and mesmerizing patterns, maybe even spirals or zigzags, that draw the eye to your Grinch-inspired nails. It's as hypnotic as the Grinch's own sneaky charm.
Festive Grinchmas
Think traditional holiday elements like mistletoe, stockings, or ornaments, but make it Grinchy. It's Christmas and Grinchmas all in one fabulous design.
Grinchmas Frenzy
This style is about going all out. Multiple colors, patterns, and 3D elements like tiny bells or bows. It's a manicure that says, "I am the spirit of Grinchmas; hear me roar!"
Grinchmas With Rhinestones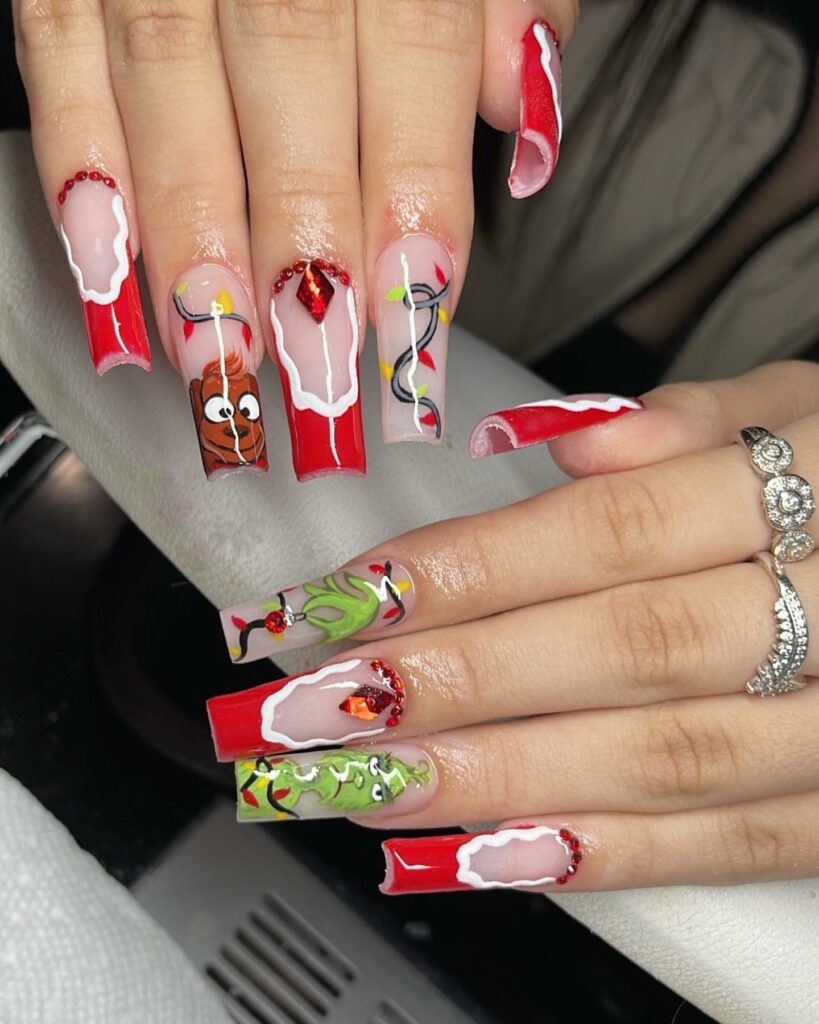 Add some bling to your Grinch game with strategically placed rhinestones. Whether the Grinch's eyes sparkle or a twinkling background, these little gems take your nail art to a luxurious level.
Hand-Painted Grinchmas
If you're into bespoke nail art, Hand-painted Grinchmas designs are where you can really show off. These are tiny masterpieces, whether it's intricate faces or detailed Whoville scenes. Highly recommend booking a skilled nail artist for this one.
Gel Grinchmas Nails
Long-lasting and super glossy, Gel Grinchmas Nails are for those who want their holiday spirit to stick around. The durability of gel means your Grinch-inspired art won't chip halfway through your holiday parties.
Matte Grinchmas
For a less shiny, more muted, but equally stylish look, Matte Grinchmas nails are it. The matte finish adds a unique texture that elevates the entire design.
Almond Grinchmas
Almond-shaped nails offer a classy and feminine look that perfectly complements Grinchmas themes. The tapered shape works excellent for minimalist designs like tiny hearts or delicate Grinch faces.
11 Tips To Create The Perfect Grinch Nails
Base Coat: This is a must to protect your nails from staining, especially since you'll be using bold colors like green.
Nail Polishes: You'll need various colors depending on your design. Green is a given, but you might also want whites, reds, blacks, and other shades for details and accents.
Top Coat: Seal in your design and give it that glossy or matte finish, depending on your preference.
Fine Nail Brushes are essential for adding intricate details like the Grinch's face, Whoville elements, or any text.
Dotting Tools: Useful for making even dots or trim accents, like eyes or ornaments.
Striping Tape: The striping tape can be convenient if you're attempting geometric or linear designs, like in Plaid Grinchmas.
Nail Art Pens: These can make drawing designs easier if you're uncomfortable using a brush.
Sponges are great for creating gradient or ombre effects, adding texture, or even mimicking the Grinch's fur.
Tweezers: Helpful for precisely placing any small 3D elements like rhinestones or mini bells.
Nail Polish Remover and Cotton Swabs: For cleaning up any mistakes or excess polish around the edges.
Optional: Glitter or Rhinestones: If you're going for a style that includes bling, you'll want glitter or rhinestones, along with nail glue for application.
Conclusion
And there you have it, folks—an array of Grinch-tastic nail art options to light up your holidays! Whether you're going for a subdued look with Nude Grinchmas or pulling out all the stops with Grinchmas Frenzy, the key is to have fun with it. My top tip is don't skimp on the base coat, especially with all that green. It'll save you from post-holiday stain drama. If you're going for intricate designs like Hand-painted Grinchmas, booking an appointment with a skilled nail artist might be worthwhile. But don't be afraid to try some DIY; sometimes the "oops" moments become masterpieces. So let your nails be your canvas, and unleash your inner Grinch! Happy Grinching, everyone!
Feature Image Photo By @polishedandglamorous via Instagram
Last reviewed and updated on November 17, 2023