Hey, beauties! Let's get straight to the point—today, we're diving into the adorable world of Heart Nail Pedicures. Forget about plain, single-color toes; this is all about adding a cute, romantic touch that turns your pedi into a mini work of art. You'll learn the step-by-step process, what products give the best results, and a few of my secret hacks to make those hearts really pop.. Trust me, your feet are about to become the stars of your next Instagram post. Ready? Let's do this!
Black Heart On Purple Nail Base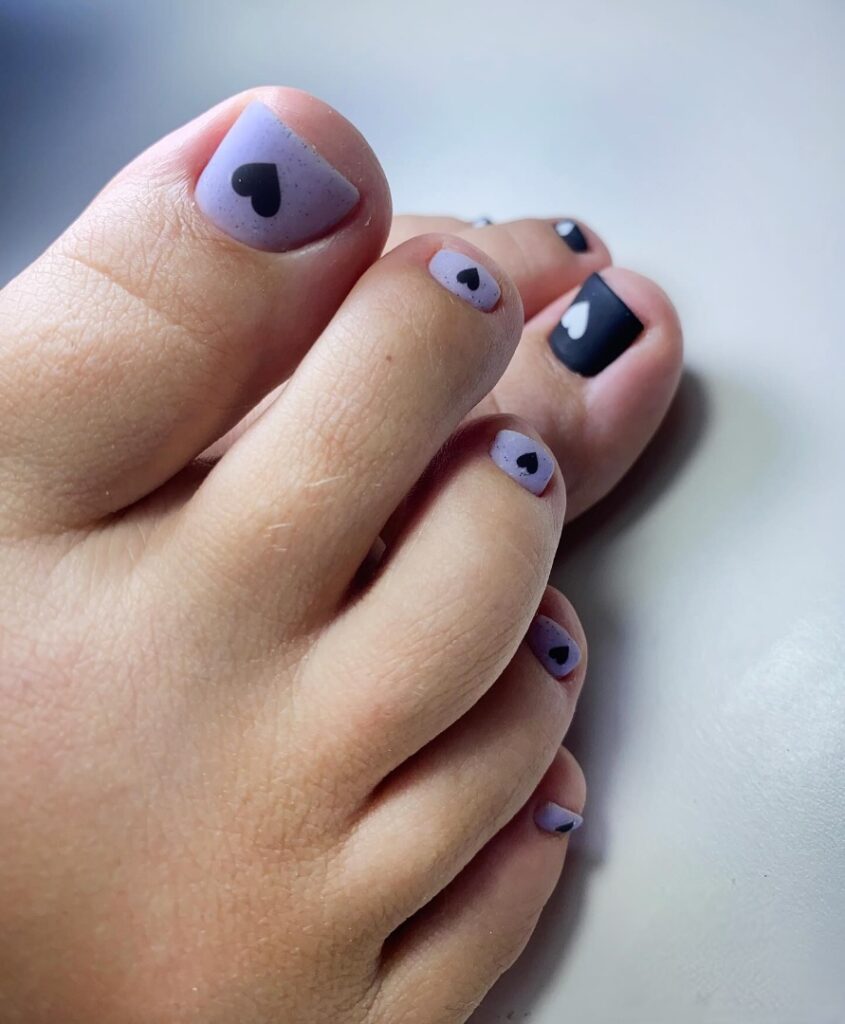 Get ready to express your edgy side with a black heart on a striking purple nail base. This style screams confidence and individuality while giving off a chic, modern vibe. The contrast between the dark heart and the vibrant purple is a real attention-grabber. Opt for a high-gloss finish to make this combo really stand out.
Pink Heart Nail Pedicure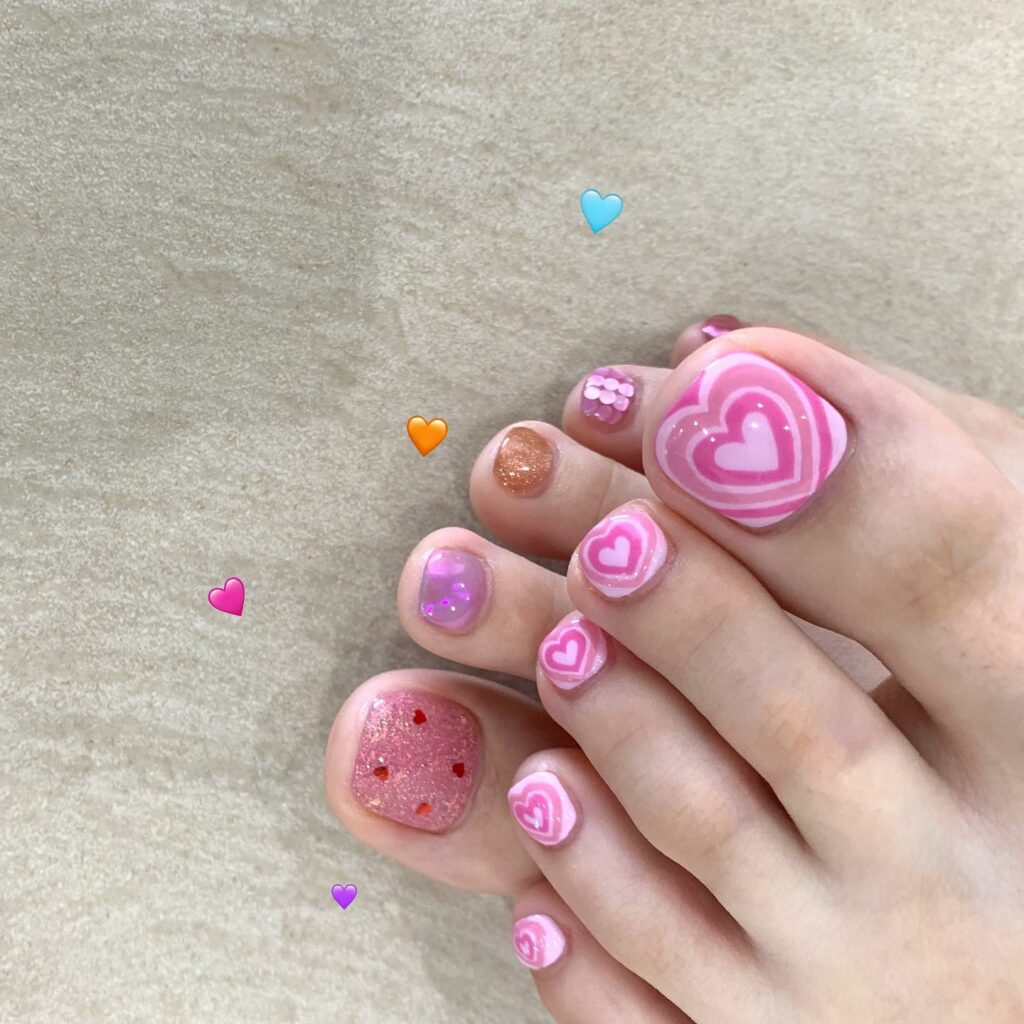 Simple, sweet, and timeless—the pink heart nail pedicure is for everyone who loves celebrating romance without going over the top. It's a versatile look that fits almost any outfit, but I recommend it for spring and summer sandals.
Cute Pink Heart Nail Art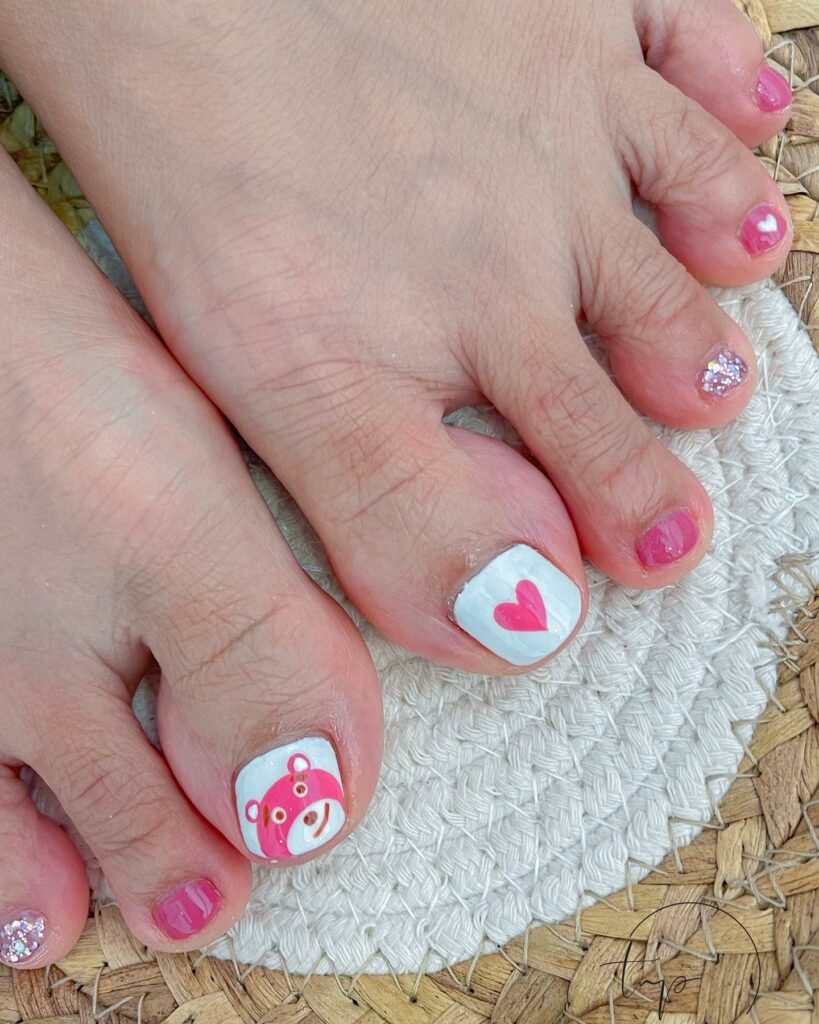 This one's an upgrade from the classic pink heart pedicure, adding a layer of intricate artistry. Think of tiny heart details, some added rhinestones, or a touch of glitter. Ideal for special occasions or whenever you need a pick-me-up.
Heart Nail Art On A Brown Base Pedicure
You can't go wrong with a heart design on a brown base for a mature and earthy touch. It gives off an effortlessly chic aura and is fantastic for autumn or a boho-themed outing.
Black Heart Nail Art On White Pedicure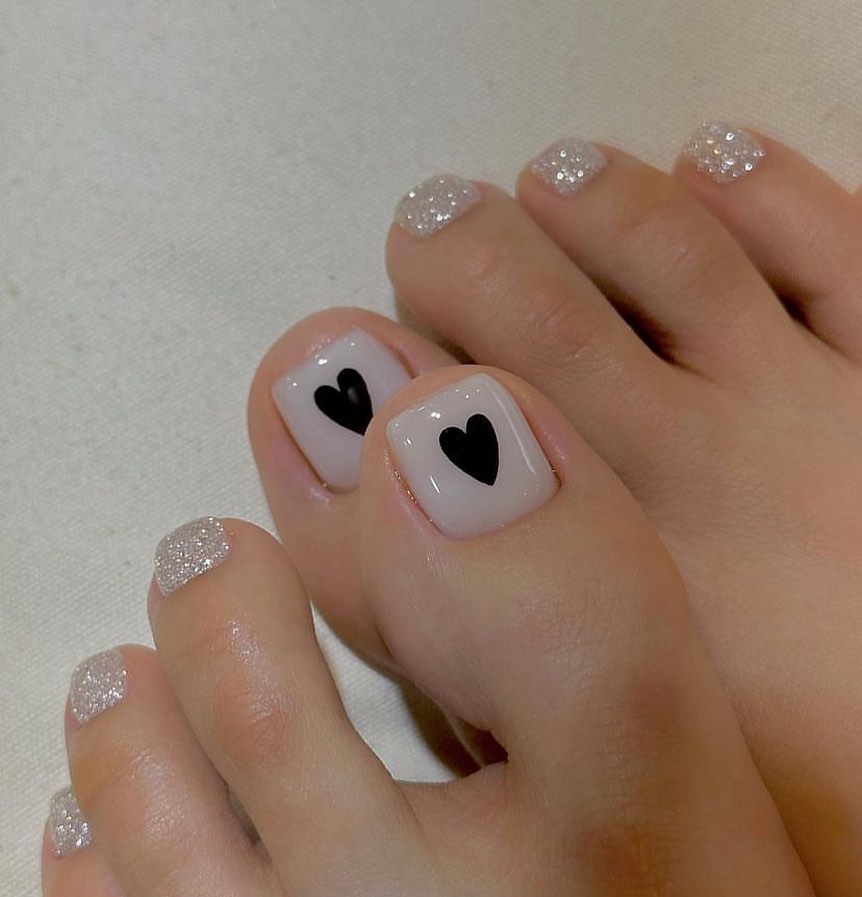 Monochrome magic, anyone? A black heart on a white base offers a minimalist yet compelling design. It's versatile sophisticated, and let's be honest, it matches everything.
Gold Heart Nail Art On Pastel Blue Pedicure
Elegance meets whimsy with a golden heart on a pastel blue base. This is the look for those brunches, garden parties, or weddings. The gold adds a luxurious touch, while the pastel blue keeps it soft and dreamy.
Black And White Heart Nail Art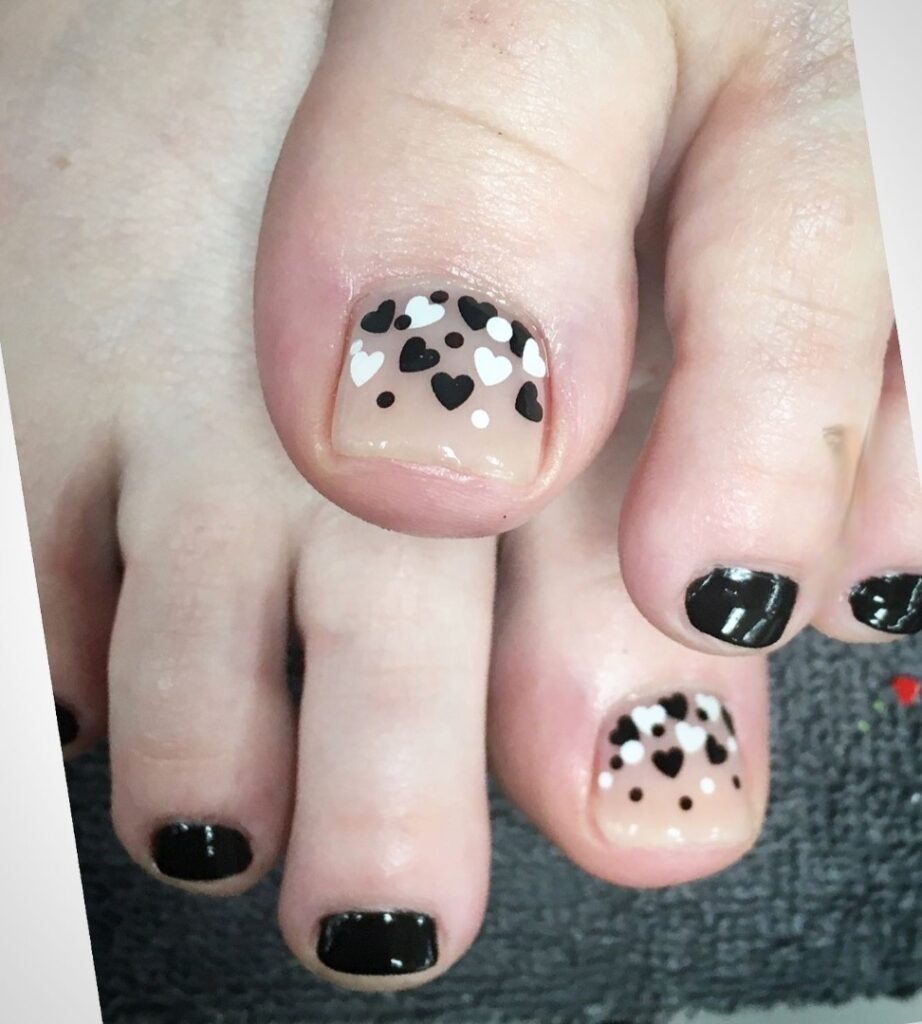 Why not go black and white for the indecisive or those who love all the colors? This look combines the best of both worlds and creates a dynamic visual appeal, perfect for those Instagram snaps.
Pink Heart Nail Art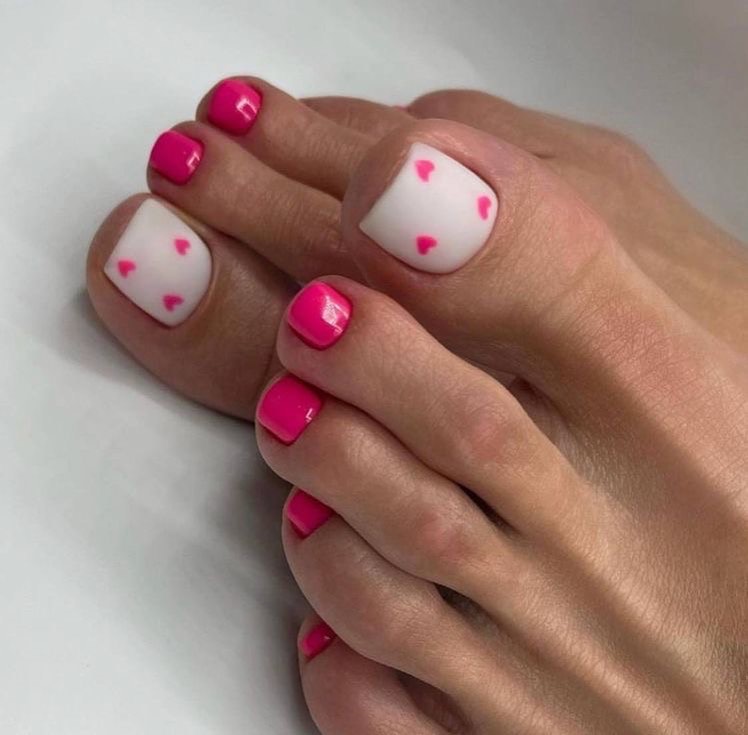 It's pink but make it fashionable. You can get playful with different shades and designs—ombre hearts, baby pink, magenta—endless possibilities. It's a real crowd-pleaser for any pink lover out there.
Maroon Heart Nail Art On Pastel Color Pedicure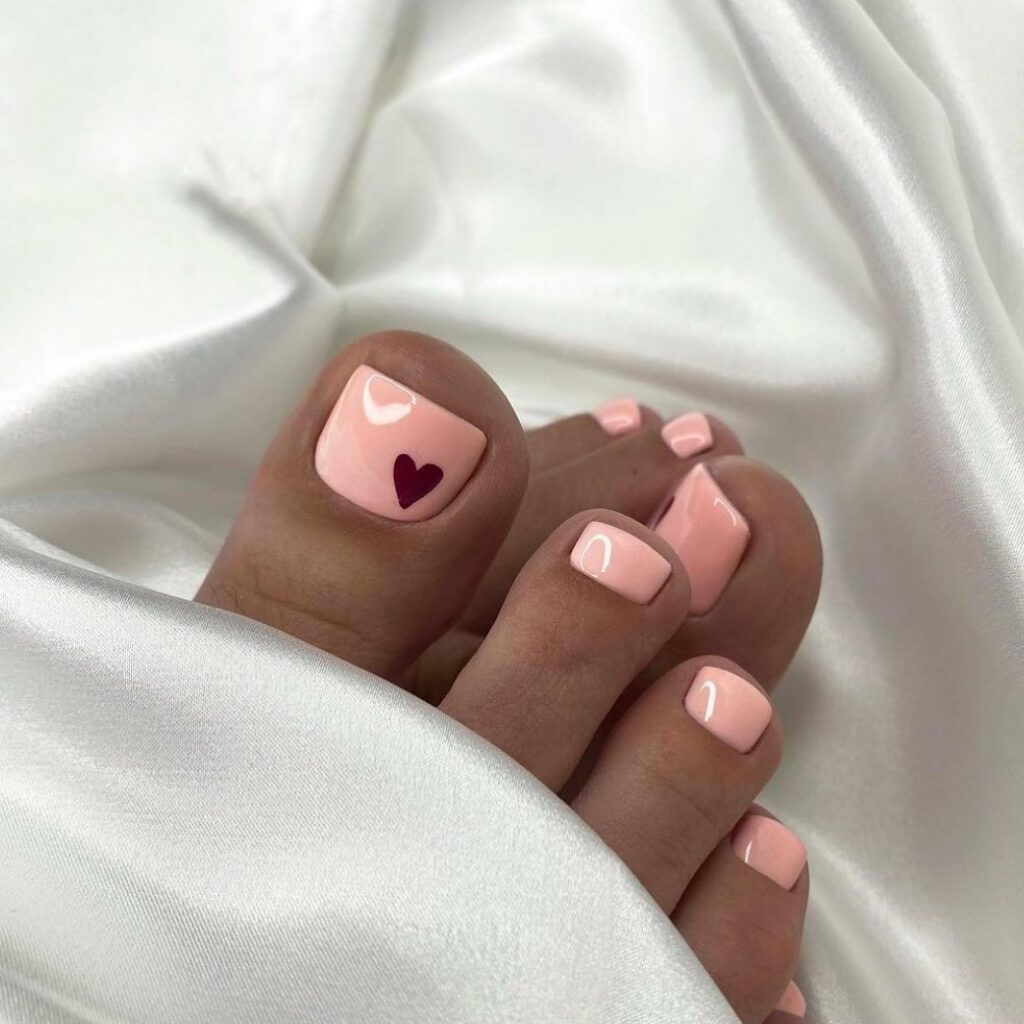 Maroon hearts on a pastel background offer a unique blend of intense and delicate. Perfect for someone who wants to balance drama with subtlety, it's a design that really captures attention.
Pink Nail Art On Nude Pedicure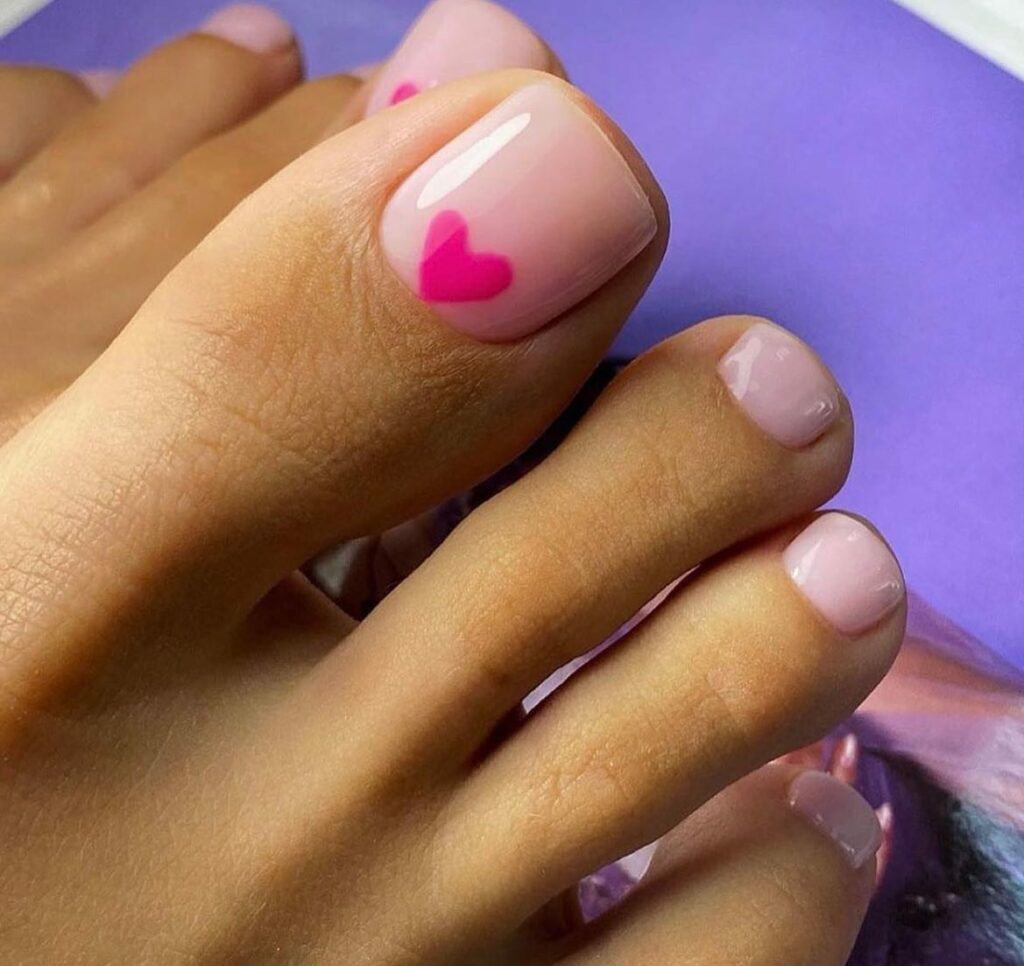 Understated yet practical, the pink art on a nude pedicure is a breath of fresh air. It pairs wonderfully with any look, making it ideal for those who prefer a more natural aesthetic but still want a pop of color.
Multiple Red Heart Pedicure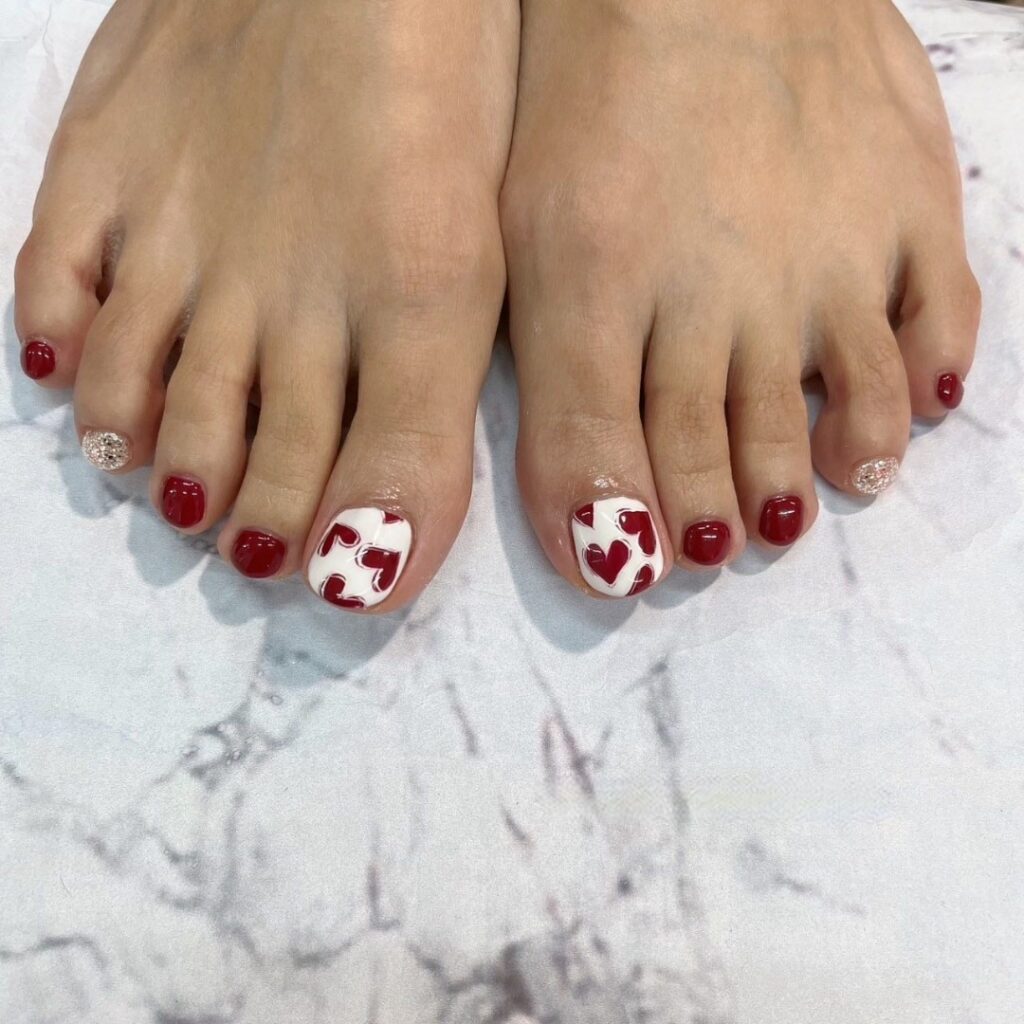 Why settle for just one heart when you can have many? This is the pedicure for those who want to go all out on the love theme, with multiple red hearts adorning each toe.
Huge Glittery Heart Nail Art
Big, bold, and sparkling—these huge glittery hearts aren't for the faint. It is ideal for holidays, parties, or when you want your feet to be the life of the party. It's a showstopper, to say the least.
Black Heart Nail Art On Pastel Colored Pedicure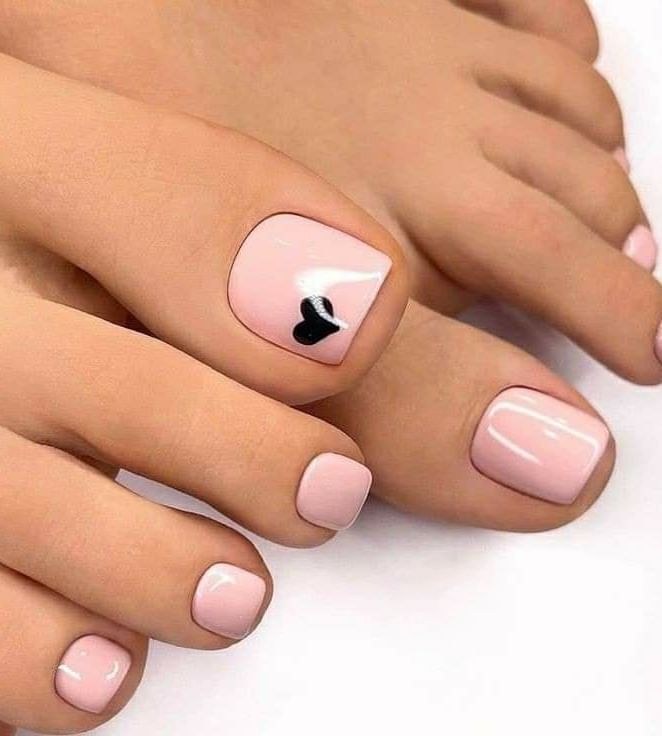 This style combines a black heart's edge with a pastel background's softness. It's like a punk-rock garden party on your toes—totally fresh and unexpected. Perfect for those who like to defy categories.
Green Heart Nail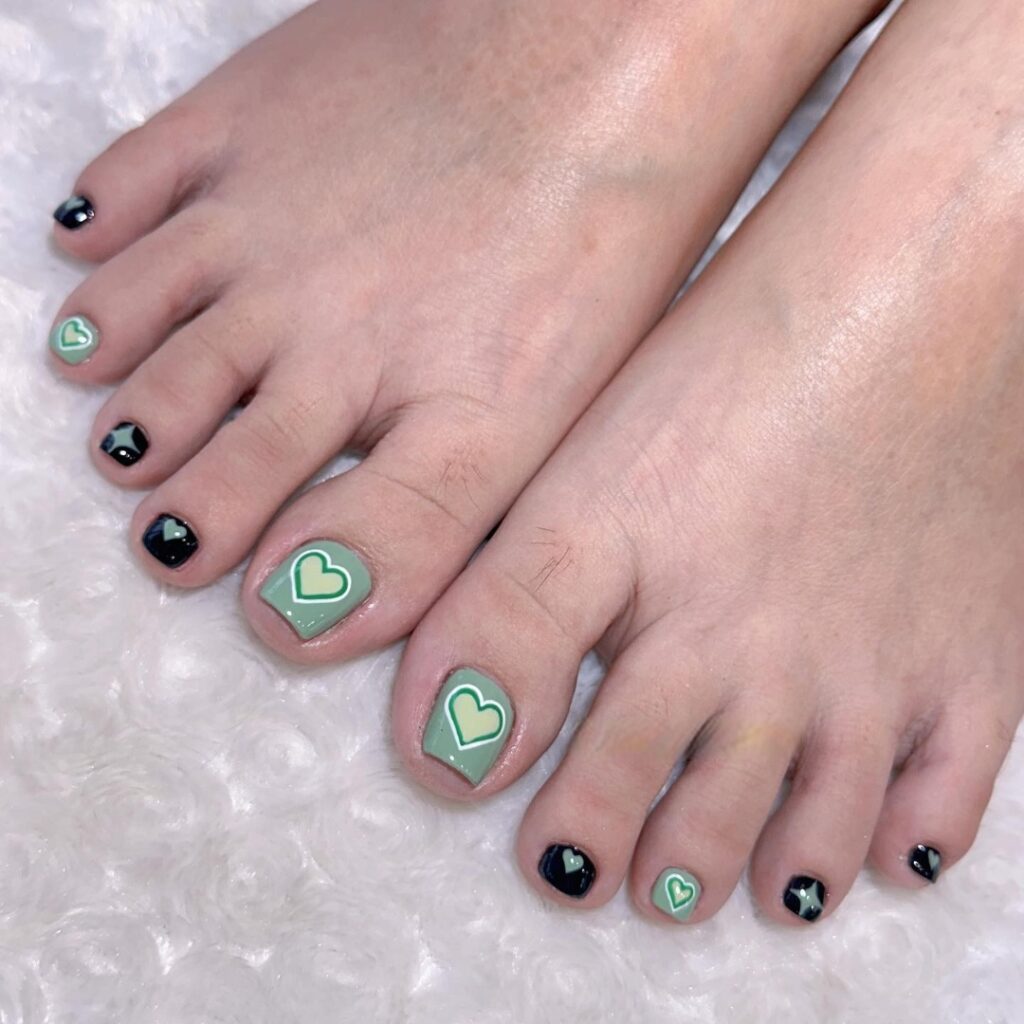 Step out of the norm with a vibrant green heart pedicure. This unique shade brings a modern twist to the classic heart design, offering a refreshing aesthetic perfect for spring or any eco-friendly events you might attend.
Cool Heart Nail Heart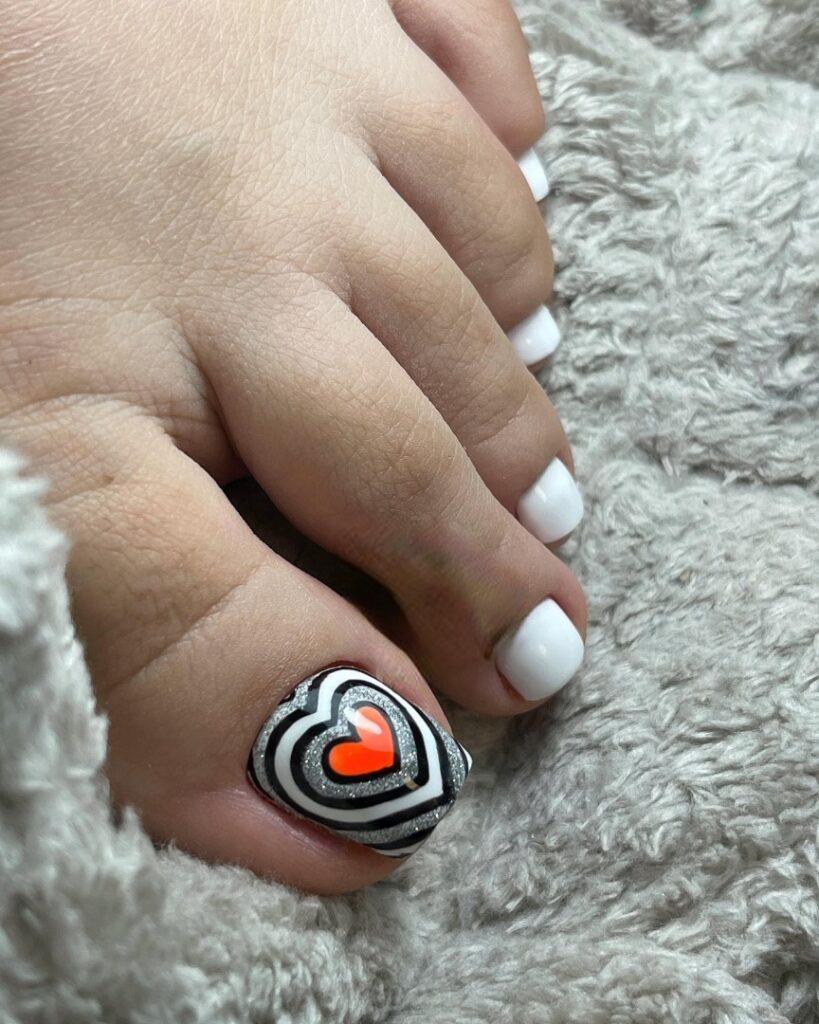 Dive into a more excellent palette with icy blues or shimmering silvers for your heart nail design. This offers a relaxed, zen-like aesthetic that still pops visually, making your pedicure a topic of conversation.
Red Heart Nail Pedicure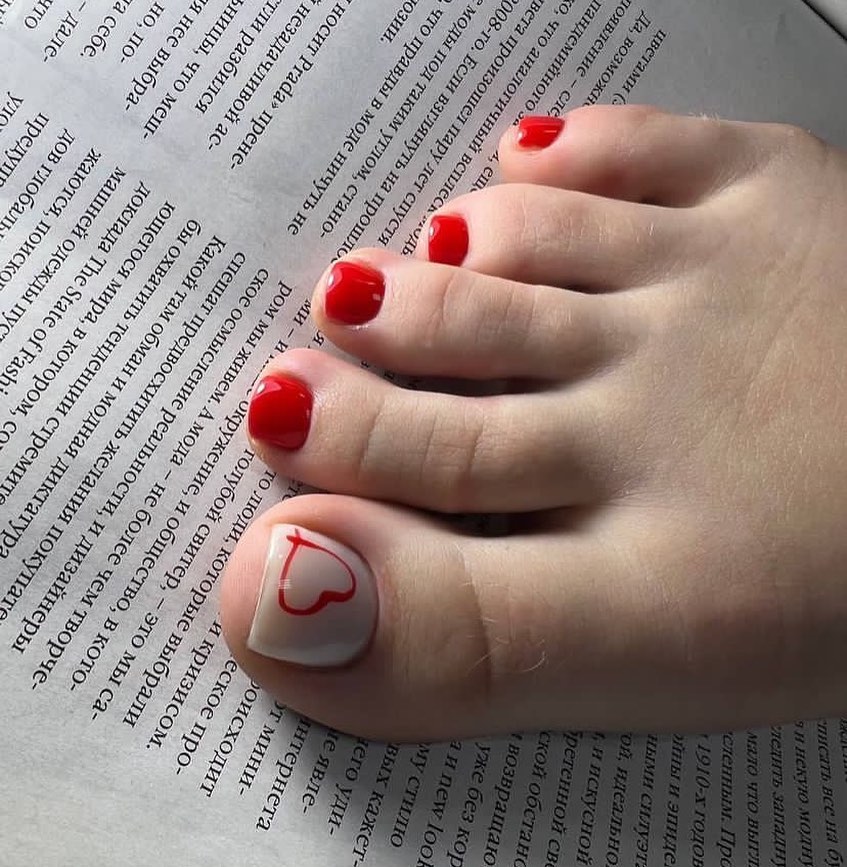 The ultimate classic—the red heart nail pedicure is timeless and goes well with any outfit. It's the quintessential romantic look but can easily be made modern with a matte finish or a unique heart placement.
Pink Heart Nail Art With Stones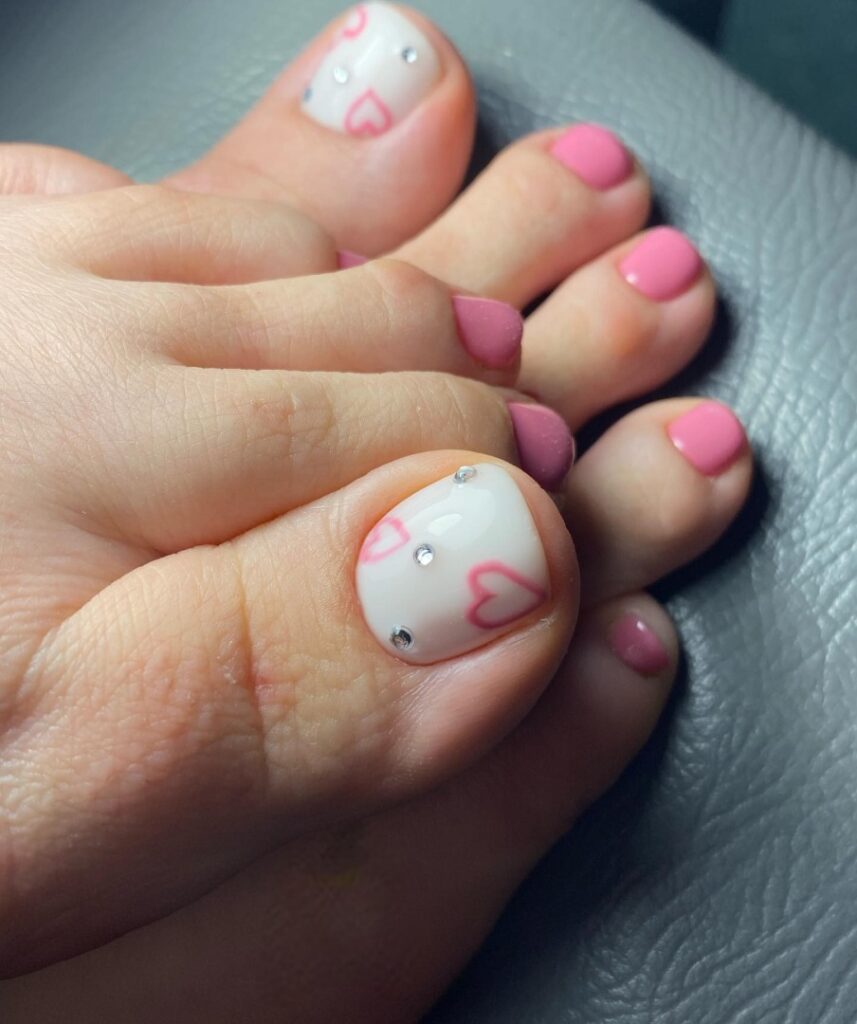 Add a dash of bling to your pink hearts by incorporating small stones or rhinestones. The added sparkle elevates the look, making it ideal for special occasions or when you're just in the mood for something extra.
Black Heart Nail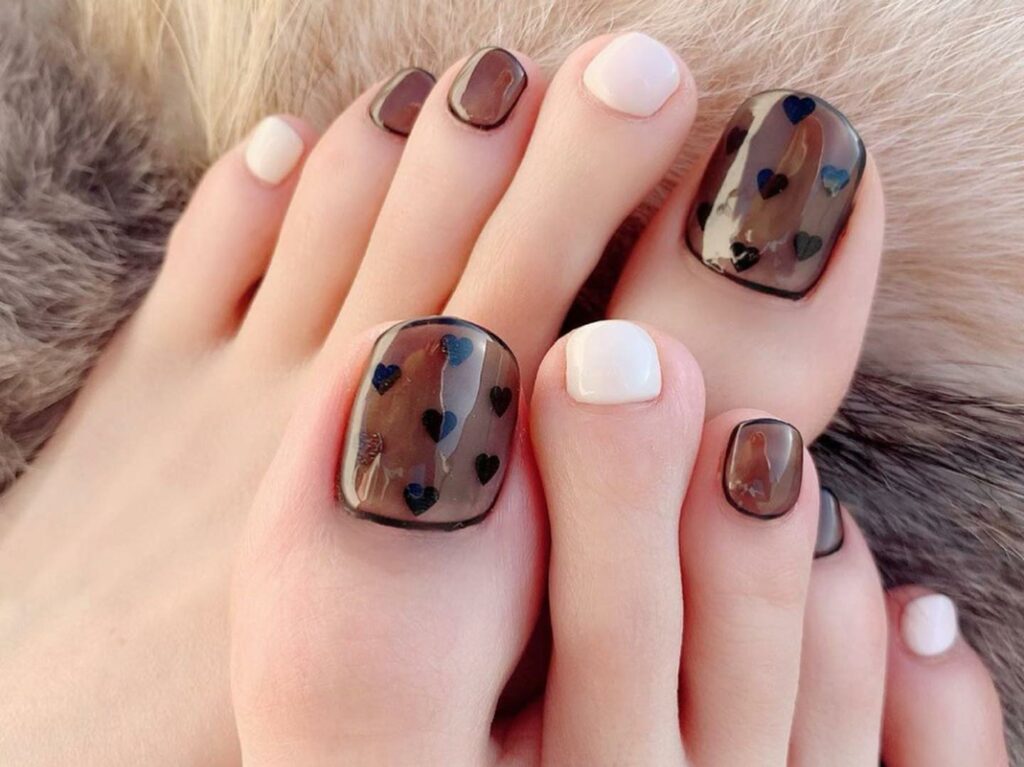 The black heart nail is for those who love a minimalist yet edgy vibe. The dark heart against a lighter background creates a modern and impactful look without being over the top.
Pink Swirl Nail Art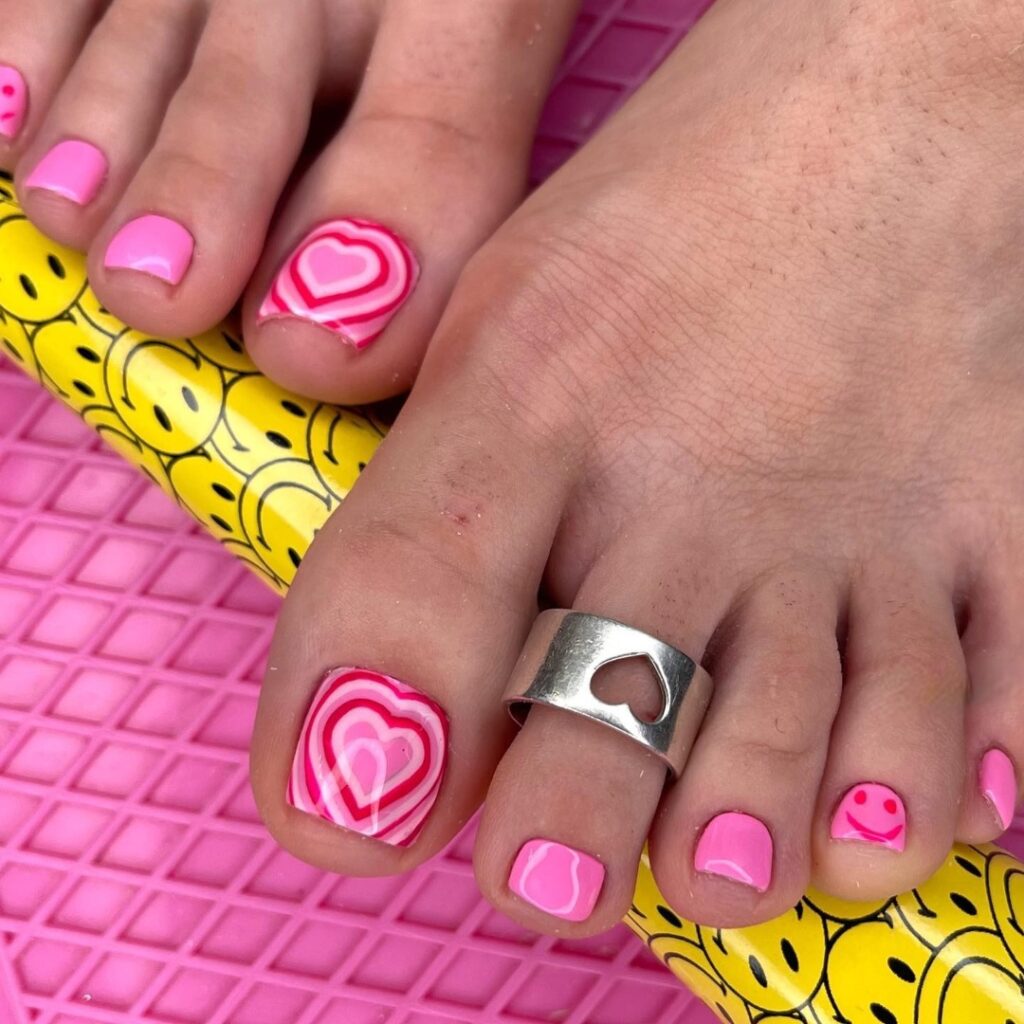 Go beyond hearts with a swirling, abstract pink design that's as playful as it is eye-catching. It's a whimsical alternative to traditional heart designs, great for anyone who loves experimenting with style.
Heart Nail Art Pedicure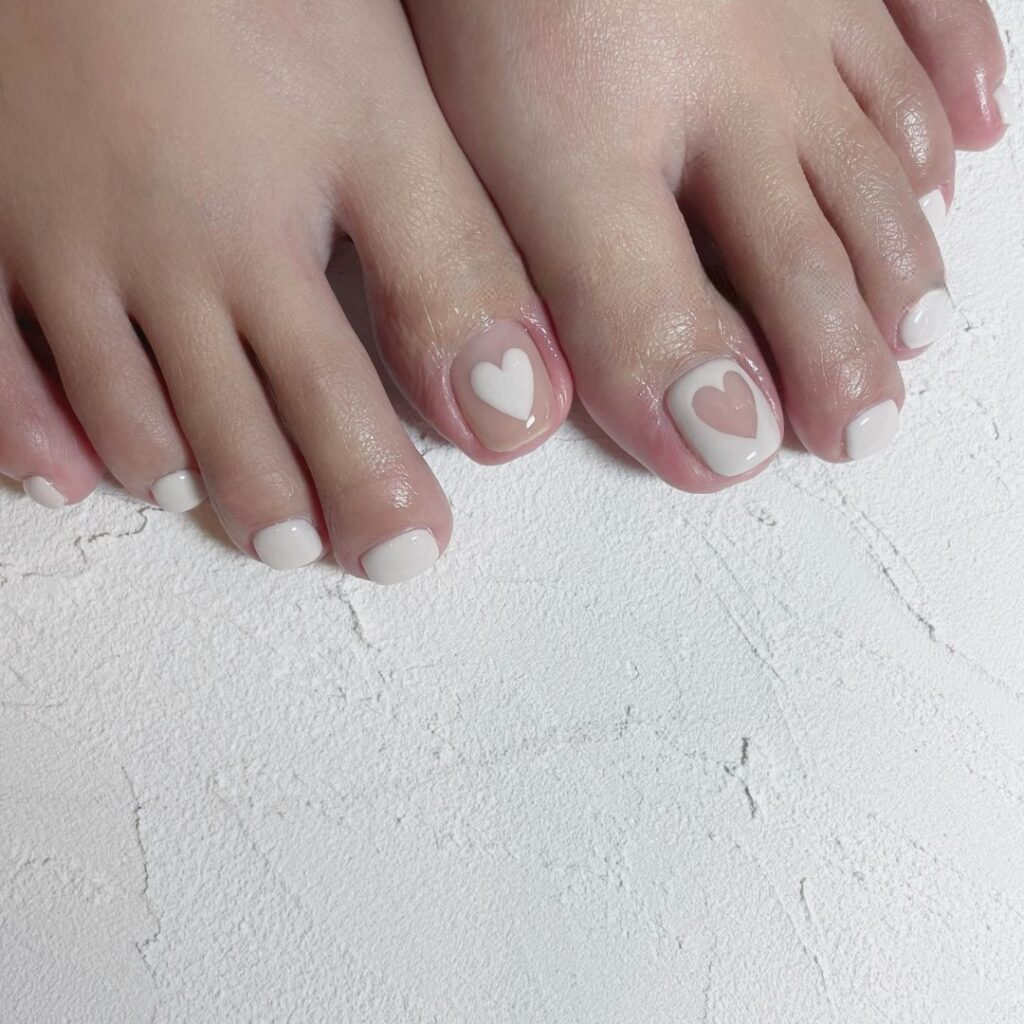 The straightforward title leaves room for imagination—this could include multiple hearts, colored hearts, or a variety of sizes and placements. It's the versatile go-to for anyone who loves the symbol but wants room to make it their own.
Two Heart On Pink Pedicure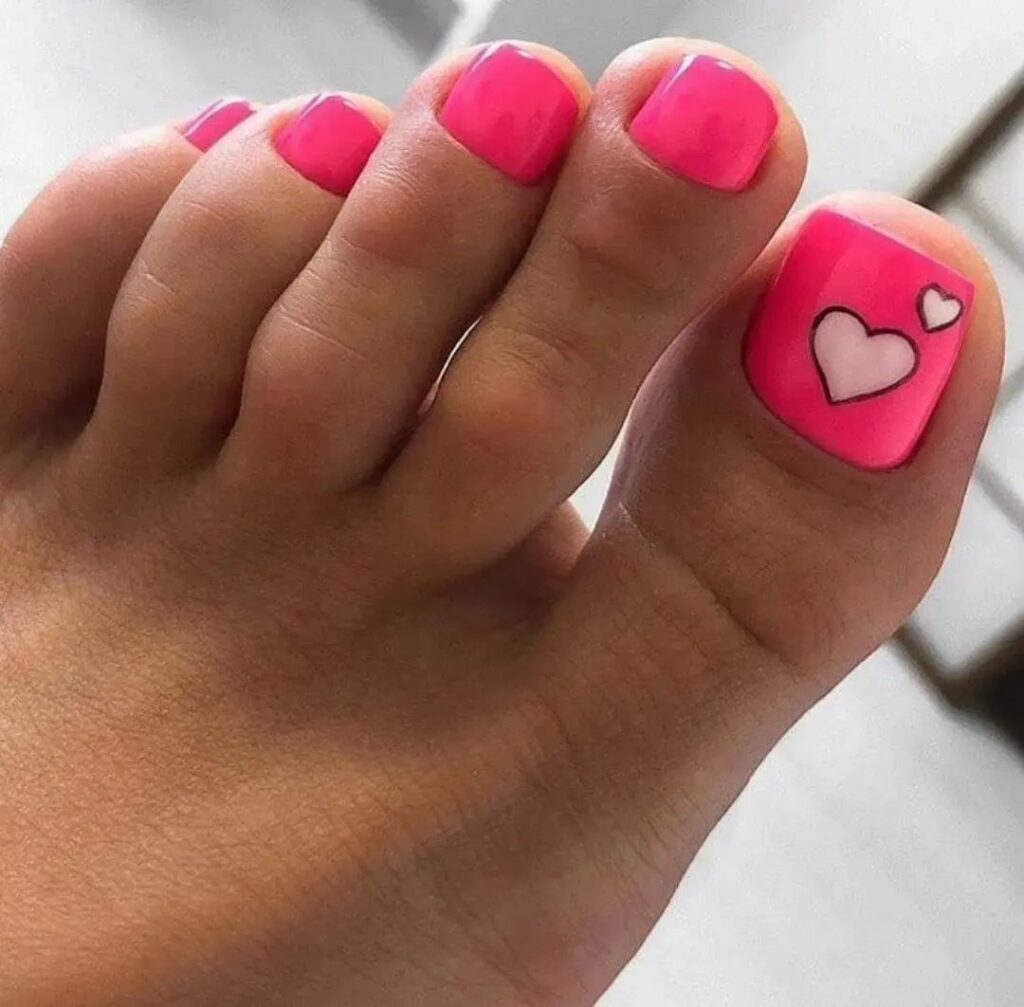 A design that pairs two hearts on a pink base can symbolize love, friendship, or love for unique pedicure art. It's double the love and double the fun.
Pedicure With Black Heart Nail Art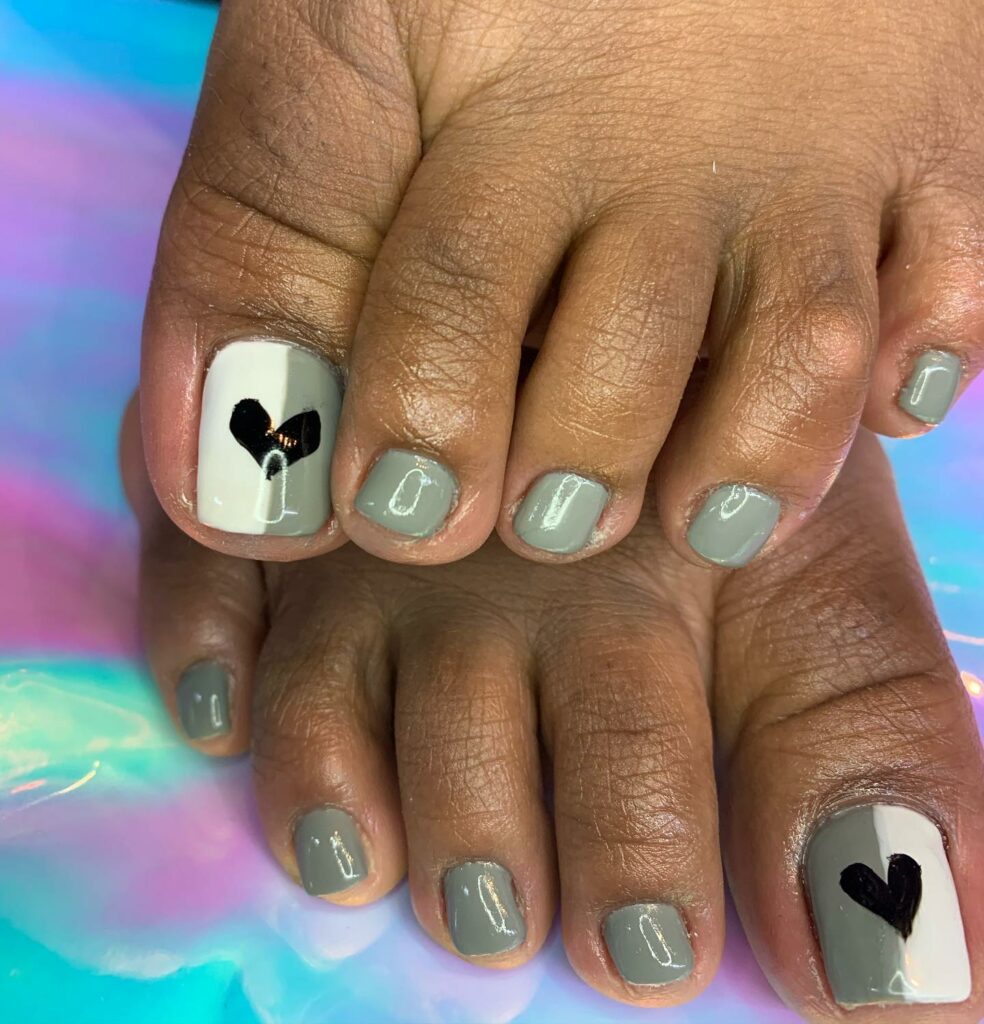 This style reiterates the classic, edgy vibe of black heart nail art. Recommended for those who prefer a monochrome palette but want to incorporate a slight twist with a heart design.
Tic Tac Toe Nail Art Pedicure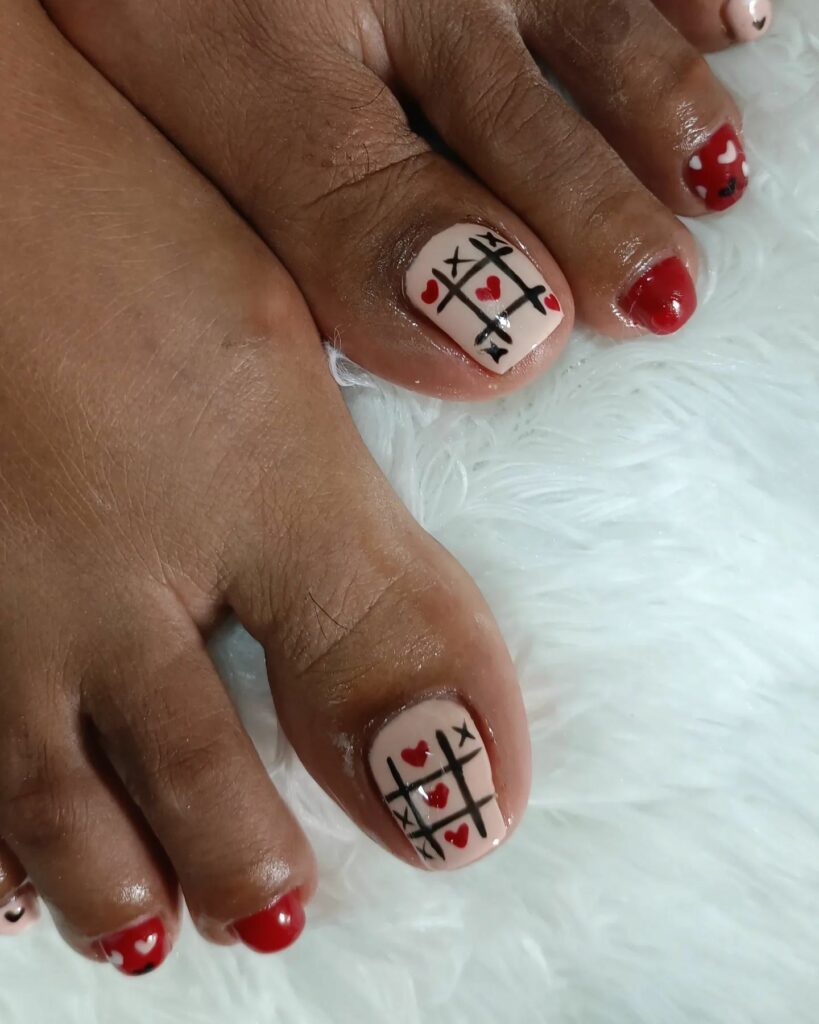 For those who love games or enjoy unique designs, a Tic Tac Toe pedicure brings a playful element to your toes. Substitute the Xs and Os with tiny hearts for a thematic spin!
Black And Pink Heart Nail Art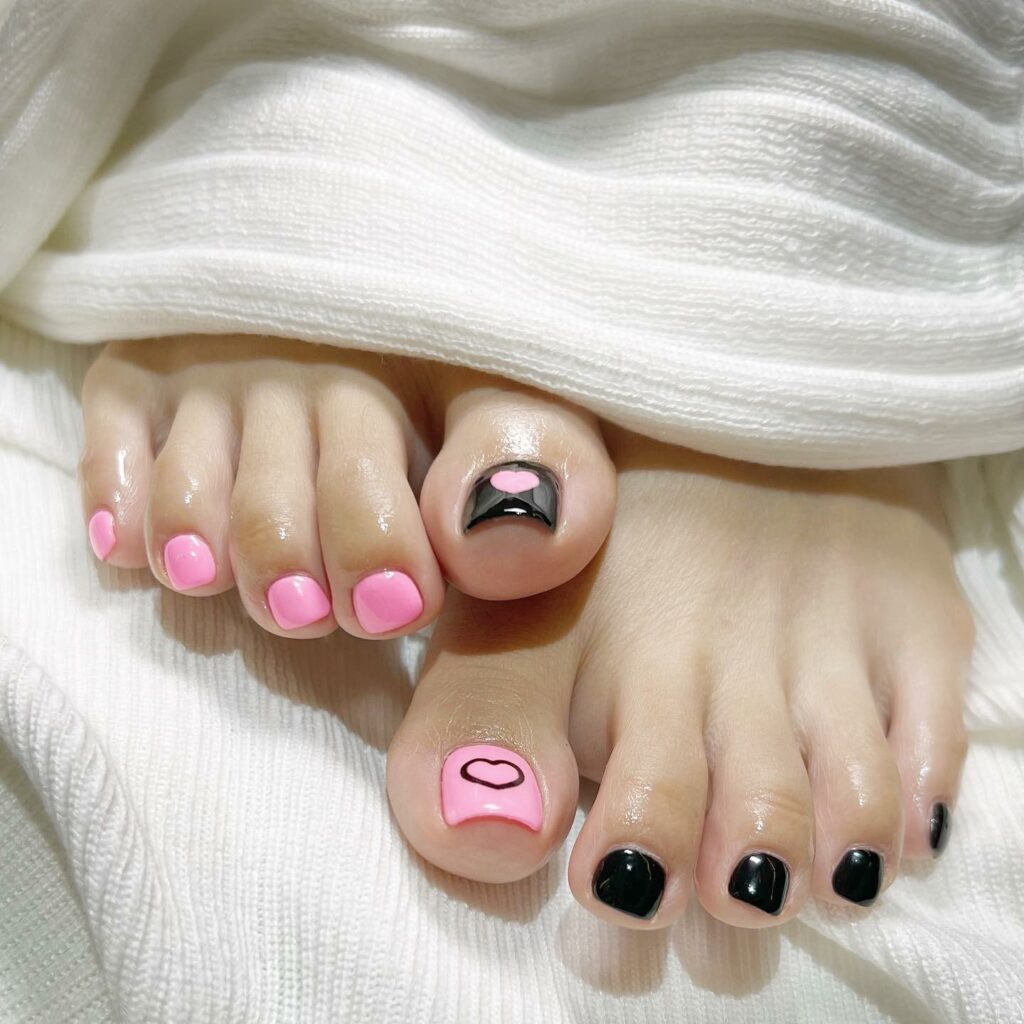 Combine two beloved colors for a pedicure that pops. The black and pink hearts offer a dynamic contrast that's both charming and modern, perfect for any season.
Black Heart Swirl Nail Art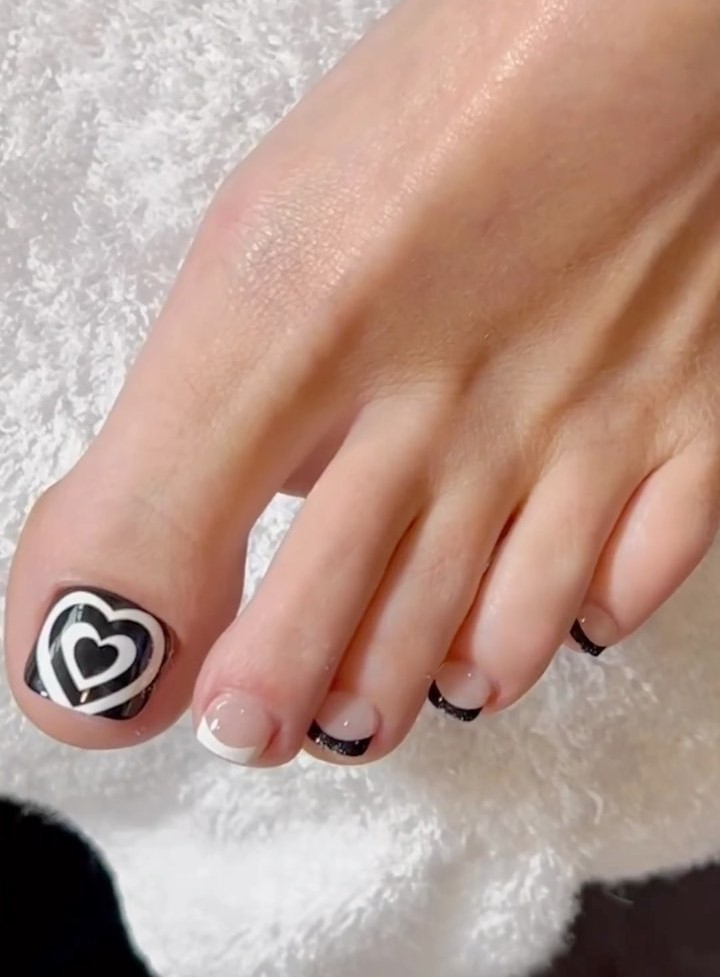 Adding a swirling design around a black heart gives depth and movement to the pedicure. It's a more intricate take on the classic black heart design, perfect for those who love detailed nail art.
Heart Nail Art On Ombre Pedicure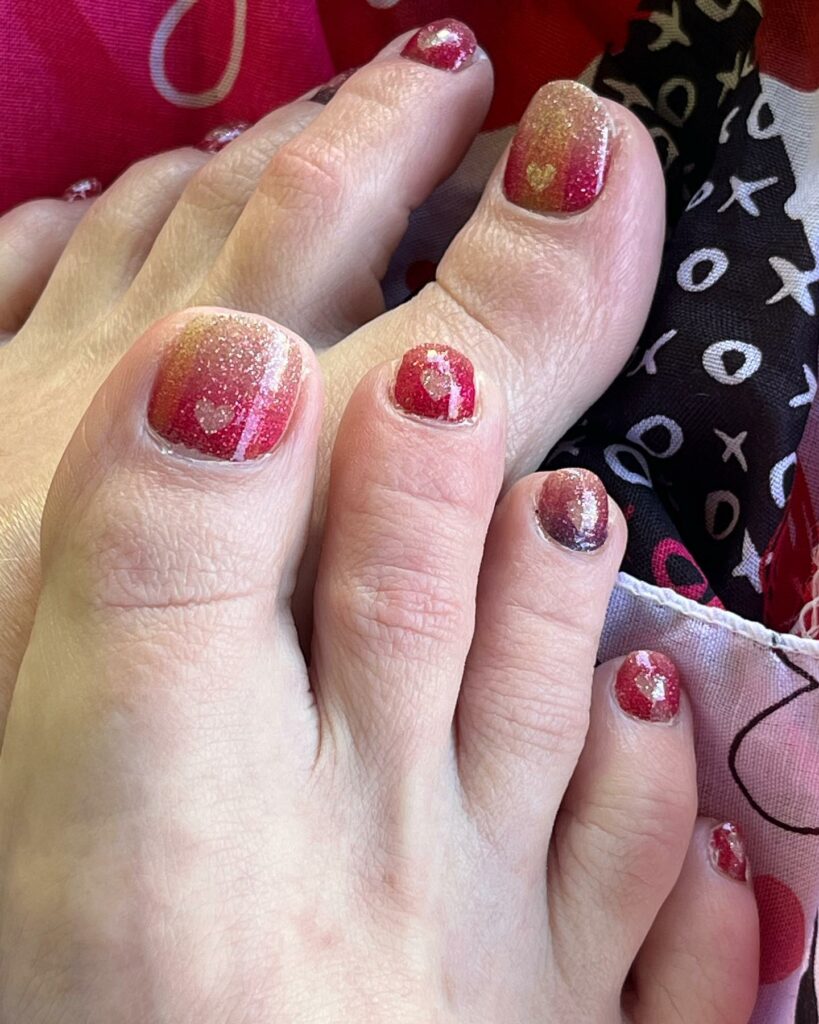 Meld two trends into one with hearts on an ombre background. This creates a gradient effect that adds a new level of sophistication to the classic heart design.
Simple Heart Nail Art Pedicure
Sometimes, less is more, and a simple heart design can say it all. Perfect for those who prefer a more minimalist approach but still want a touch of whimsy on their toes.
Single Black Nail Art Design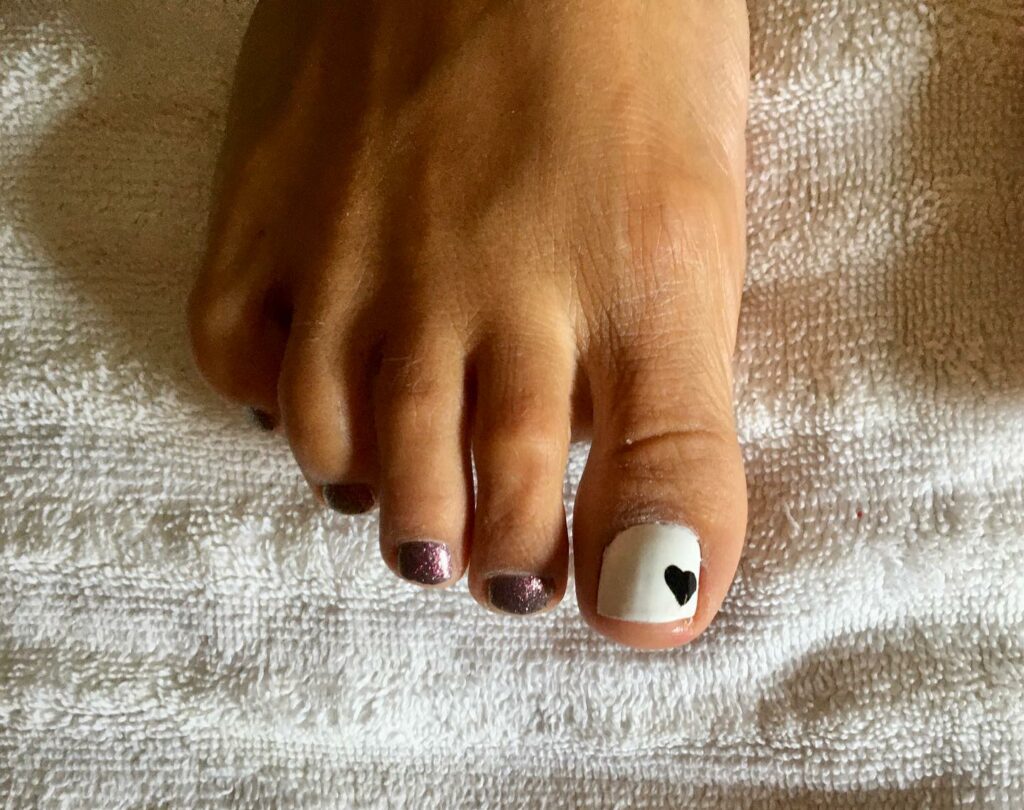 Highlight one nail with a unique black design, setting it apart. It is a focal point that adds intrigue without overwhelming the entire look.
Multiple Red Hearts Art Nails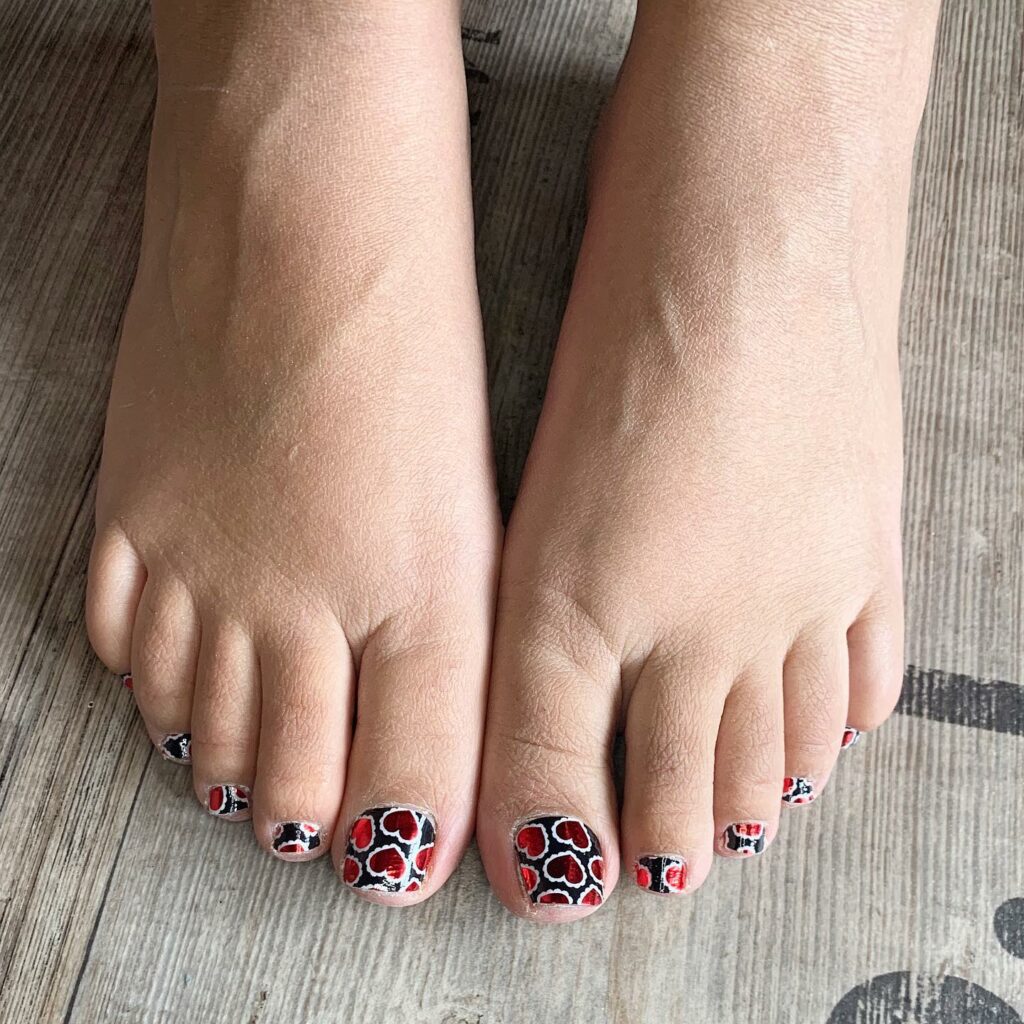 Overflowing with love, this design features several red hearts scattered across your nails. It's a celebratory, passionate look that works exceptionally well for romantic events or holidays like Valentine's Day.
Red Heart Art On A Coffin Toe Nail
If drama is your middle name, you're going to love this. A vibrant red heart on a coffin-shaped toenail adds an extra layer of fabulousness to your pedicure. This design combines a trendy nail shape with a classic symbol of love, perfect for those looking to make a bold statement.
9 Must-Have Products That I Recommended For Heart Nail Pedicures
| Product Category | Recommended Products | Why You Need It |
| --- | --- | --- |
| Base Coat | OPI's Natural Nail Base Coat | Provides a smooth canvas and helps your nail art last longer. |
| Nail Polishes | Essie, OPI | High-pigment for vibrant hearts. Choose pastel for base and bold shades like red, black, or metallics for the hearts. |
| Top Coat | Seche Vite Dry Fast Top Coat | Adds a glossy shine and extends the life of your pedicure. Quick-drying. |
| Nail Art Brushes | Winstonia, Makartt | Fine-tipped brushes for precision in your nail art. |
| Dotting Tools | Born Pretty, Twinkled T | Essential for creating those perfect heart shapes. |
| Stones & Embellishments | Swarovski crystals, Nail Supply Glamour | Add a touch of bling to your pedi. |
| Nail Glue | IBD Brush-On Nail Glue | Securely attach any stones or embellishments. |
| Nail Polish Remover | Ella + Mila's Soy Nail Polish Remover | Acetone-free to avoid drying out your nails. Mistakes happen, be prepared. |
| Cuticle Oil | Cuccio's Milk & Honey Cuticle Oil | Nourishes without being greasy. A finishing touch for some TLC. |
And there you have it—your go-to shopping list for a killer Heart Nail Pedicure! With these products in hand, you're all set for a pedi that's as durable as it is dazzling. Happy shopping, and even happier pedicuring! 💕💅
My Step-By-Step Guide For The Perfect Heart Nail Pedicure
Black Heart Nail Art On Pastel Colored Pedicure
Prep: Start by cleaning your nails and applying a base coat.
Color Base: Apply two coats of your chosen pastel polish.
Heart Design: Use a fine-tip brush to draw a black heart. Fill it in.
Seal: Finish with a quick-drying top coat.
Green Heart Nail
Prep: Clean, base coat—always.
Base Color: Use a neutral or white base to make the green pop.
Green Heart: Paint a green heart using a dotting tool for precision.
Top Coat: Seal it with a top coat.
Cool Heart Nail Heart
Prep and Base: Standard procedure.
Color Choices: Pick icy blues or silvers for your heart design.
Artwork: Create the heart. Add extra touches like shimmer if you want.
Top Coat: Seal and dry.
Red Heart Nail Pedicure
Prep: Yep, you know the drill.
Base Color: Choose a contrasting color for the base.
Red Heart: Paint a luscious red heart using a fine-tip brush.
Finish: Quick-dry top coat to seal.
Pink Heart Nail Art With Stones
Prep, Base: Standard.
Pink Heart: Create your pink heart.
Embellishments: Use nail glue to attach tiny stones.
Top Coat: Lock it all in.
Remember, it's all about making it your own, so feel free to mix and match techniques and tools to create your personalized Heart Nail Pedicure masterpiece. Happy painting, y'all!
Still Looking for Inspiration, Then Check Out This Video
Conclusion
Alright, babes, that wraps up our pedi-heart journey! Whether you're into edgy black hearts, classy reds, or playful pinks, there's a heart nail pedicure out there just for you. My top tip? Don't avoid trying multiple designs—life's too short for uninteresting toes! When in doubt, throw in some sparkle or stones; they're the ultimate game-changers. Always remember, your toes are basically mini-canvases waiting for some love. So grab your favorite polish and get creative! Happy pedi-hunting, lovelies!
Feature Image Photo By toejamm_official On Instagram
Last reviewed and updated on October 16, 2023