We all know that your nails are like the cherry on top of your sartorial sundae—small but mighty, capable of making a grand statement. Today, we're diving into the vibrant and playful world of hot pink nail designs, taking a close look at 60 designs that could revolutionize how you think about your fingertips. These aren't just any designs; we're talking about creations bringing Barbiecore aesthetics to your nail beds. This post will be your comprehensive guide to all things hot pink in the nail world. From bedazzled ombre to intricate 3D art, we'll explore various techniques, styles, and nuances that you can incorporate into your next salon visit or DIY session. Trust me, by the time you're done reading this post, your nails will be the talk of the town, or at least your next Zoom meeting. Let's get right into it, shall we?
Frame It Up: The Perfect Border for Your Nails
Hello, style devotees! Have you ever thought of your nails as tiny canvases? Adding a beautiful border is like adding the perfect frame to an artwork, transforming the ordinary into extraordinary. Start with a base of baby pink and use a dotting tool to edge out that frame in a sizzling hot pink hue. When I tried this, the result was mesmerizing—every snap or flick of my finger felt like an unveiling!
Swirling into Pink Fantasy
Negative space designs are lifesavers, especially when we're all so busy. These looks last longer; with pink swirls on your nails, you'll want them to stick around. Employ shades of pink from pale to electric, swirling them with a dotting tool. Fun fact: I sported these last Valentine's Day and got more compliments than the box of chocolates I was carrying.
Stars in Your Grasp: The Glittery Touch
Let's admit it, we all want to shine like a star. This design keeps the base neutral while going all out with pastel, fuchsia, and hot pink shades on the tips. And let's not forget the gold stars—whether you use chrome powder or celestial stickers, the result is star-studded.
Camo But Make it Pink
Camo isn't just for blending into the forest; it can be about standing out! I remember wearing this at a summer festival, and let me tell you, my eyes were on my nails and not just on the stage. Start with a base of soft pink and layer on brighter, more intense shades in that classic camouflage pattern. It's military chic meets boardwalk fun!
Classic Meets Whimsy: Tortoise Vibes
Can't decide if you want to go full throttle with hot pink? Why not mix it up? Alternate hot pink nails with a tortoise design for an intriguing blend that captures the eye. I did this for a weekend brunch, and my nails were as much a topic of conversation as the bottomless mimosas.
Sharp Style: To A Point
Shape is the name of the game here. Pointed nails make a statement that's impossible to ignore, especially when they're this vivid. This design is a real conversation starter, particularly at professional events where everyone else is playing it safe with neutrals.
The New Age French Manicure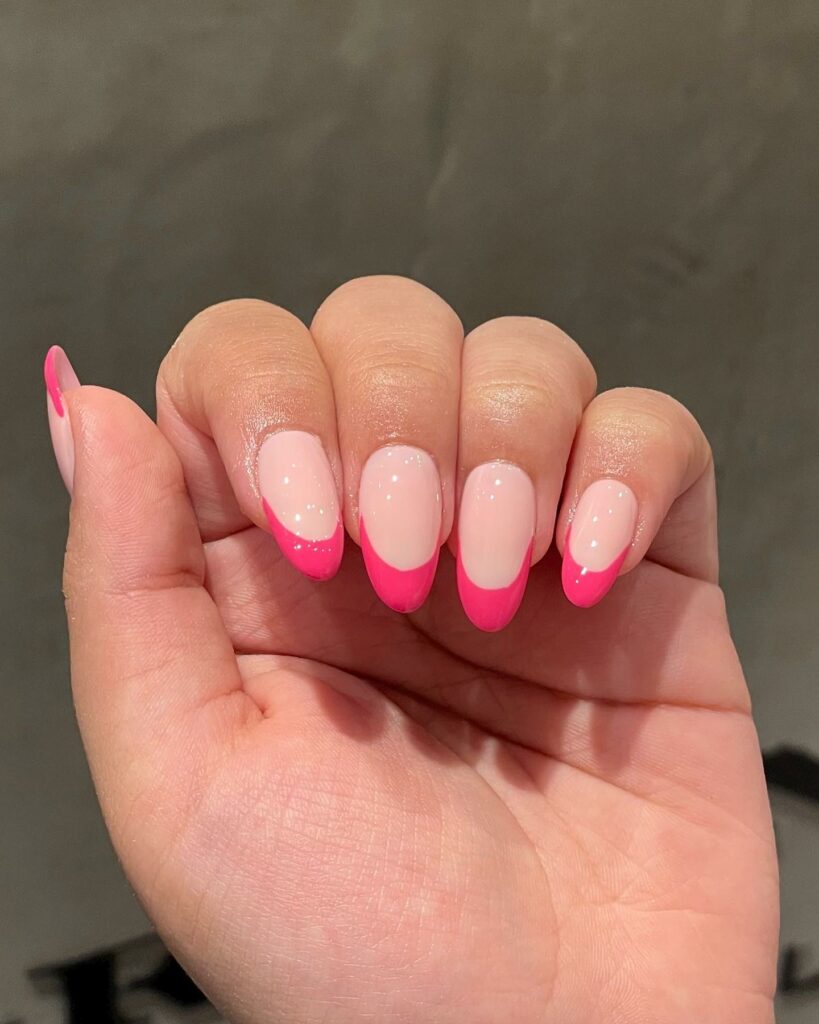 Oh, the classic French Mani, it never goes out of style. But why not give it a modern twist with hot pink tips? It's effortlessly chic and a vibrant way to update a time-tested favorite. Trust me, even the most traditional manicure aficionados will take notice.
Blooming Rose Buds
Who says nature can't be captured on your fingertips? A talented nail artist can sculpt tiny roses using custom-made acrylic powder, and it's as enchanting as it sounds. This design is a love letter to all things pretty and feminine, just like the roses in my grandma's garden.
Bling It On: Coffin Nails with a Twist
Are you a fan of bold gems and coffin tips? Combine both for a glam look but surprisingly easy to pull off. I once wore this to a wedding, and let's say that the bride wasn't the only one sparkling that day.
Vertical Ombré: A Fresh Take
Ombré has been all the rage, but how about giving it a vertical twist? Go from hot pink to cherry red in a uplifting and stunning gradient. Last summer, this was my go-to look; it felt like carrying a sunset on my fingertips.
Spelling It Out: Love Letters on Your Nails
Sometimes, the best way to get a message across is literally at your fingertips. Start with a delicate light pink base, then spell out whatever your heart desires in red and hot pink shades. When I did this last year, I chose the word "LOVE" across my nails, and let me tell you, it became a conversation starter at every gathering!
Pop of Texture: Glass Bubbles
Remember those childhood bubble wands? How about incorporating bubbles into your nail art, but making it high fashion? Adding glass bubbles over a hot pink design offers a fascinating 3D effect. This was my go-to style for a recent art gallery opening, making my nails look like little pieces of art.
Ignite the Spark: Flaming Hot Nails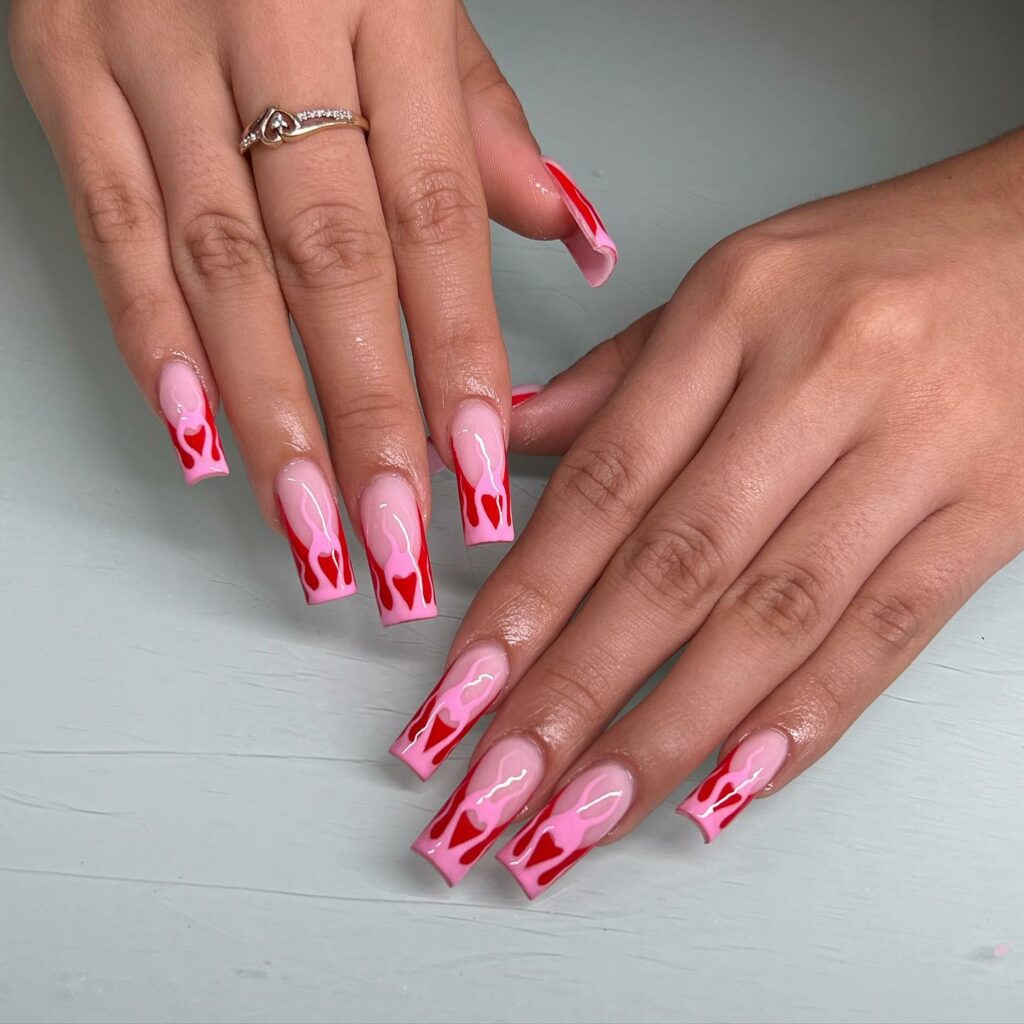 Why settle for one trend when you can flaunt two? Flames have been all the rage; combining them with hot pink increases the heat. These are ideal for a night out or anytime you want your nails to match your spicy personality—I've had countless people ask me about them when I'm out and about.
Statement Maker: Abstract Art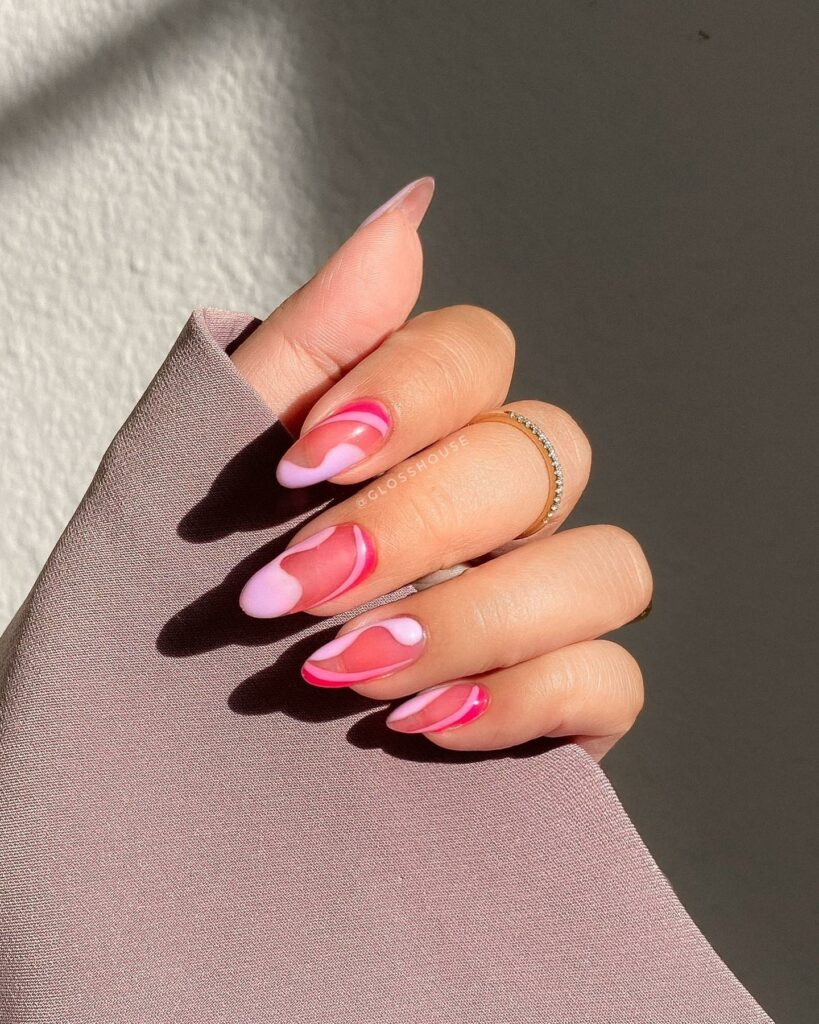 Art isn't just for the walls; it's for your nails, too. Adding abstract hot pink splotches to a neutral base has an eye-catching allure. I sported this look to a friend's art show, and it blended seamlessly with the contemporary vibe of the evening.
Spot On: Pink Polka Dots
Who says polka dots are just for fabrics? A hot pink base with pastel dots not only looks playful but can also carry a meaningful message. I once adorned my nails with tiny ribbons to pay tribute to breast cancer awareness, and the impact was as powerful as it was pretty.
Unleash Your Wild Side: Leopard Print
Welcome to the fashion jungle! Transform classic leopard print by introducing a splash of hot pink. When I wore these nails, it felt like I was channeling my inner Lisa Frank, and yes, they are as fun as they sound.
Dull is Cool: Matte Neon Pink
Contrary to popular belief, matte finishes can be as compelling as their glossy counterparts. Hot pink usually screams gloss, but a matte topcoat offers an intriguing twist. This look seamlessly took me from office meetings to evening cocktails, proving matte can be versatile and chic.
Color Harmony: Red and Hot Pink Swirls
Pairing hot pink with red is like combining strawberries and cream—perfectly complementary yet intriguing. The abstract swirls are eye-catching and subtle, making this design more versatile than you'd initially think. I wore this design to a summer wedding, and the vibrant swirls popped beautifully against my little black dress.
Chrome It Up: Hot Pink Chrome
Chrome isn't just for cars and kitchen fixtures; it's also a show-stopper when applied to your nails. A chrome finish over a hot pink base will make your nails look futuristic and edgy, perfect for techno nights or sci-fi movie marathons.
Galactic Wonders: Cosmic Pink
Imagine capturing a piece of the galaxy on your nails. Using hot pink as a base with touches of glitter and dark purple creates a cosmic effect that is simply out of this world.
All that Glitters: Glitter Ombre
Start with a hot pink base and slowly transition into a sparkling glitter tip. This look effortlessly carries you from a day at the office to a night out with friends.
Rainbow Connection: Pink and Rainbow Stripes
Why settle for one color when you can have them all? Hot pink nails adorned with rainbow stripes are as cheerful as they are stylish, making you the life of any party.
Into the Weeds: Botanical Imprints
Hot pink can serve as an excellent background for intricate botanical prints. Think tiny leaves or delicate flowers laid over a pink canvas for a look as sophisticated as it is lively.
Time for Tropics: Flamingos and Palms
Set a tropical mood by pairing hot pink with designs of flamingos and palm trees. It's a vacation for your nails, even if you daydream at your desk.
Peak Season: Mountain Scenery
Who says you can't combine your love for the great outdoors with your passion for fashion? A mountainous design over a hot pink backdrop gives your nails an adventurous twist, perfect for your next hiking trip or bonfire.
The Moon Phase: Lunar Cycle
Celebrate the lunar cycle on your nails with hot pink as the night sky. It's visually stunning and a great way to keep track of the moon's current phase—sort of!
Cosmic Clash: Pink Nebula
Combine swirls of hot pink, purple, and black to create an otherworldly nebula design. This look had me feeling like a space explorer last Halloween, and it could work for any cosmic-themed event.
Shimmering Waves: Pink and Silver Waves
Introduce a touch of glam to your hot pink nails by adding wavy silver lines. This was my go-to look for last year's New Year's Eve bash, and it shimmered beautifully under the disco lights.
Butterfly Wings: Pink and Lavender
Give your nails a whimsical touch with designs of butterfly wings using hot pink and soft lavender shades. Ideal for springtime outings or any time you want to add a touch of whimsy to your look.
Foiled Again: Pink with Gold Foil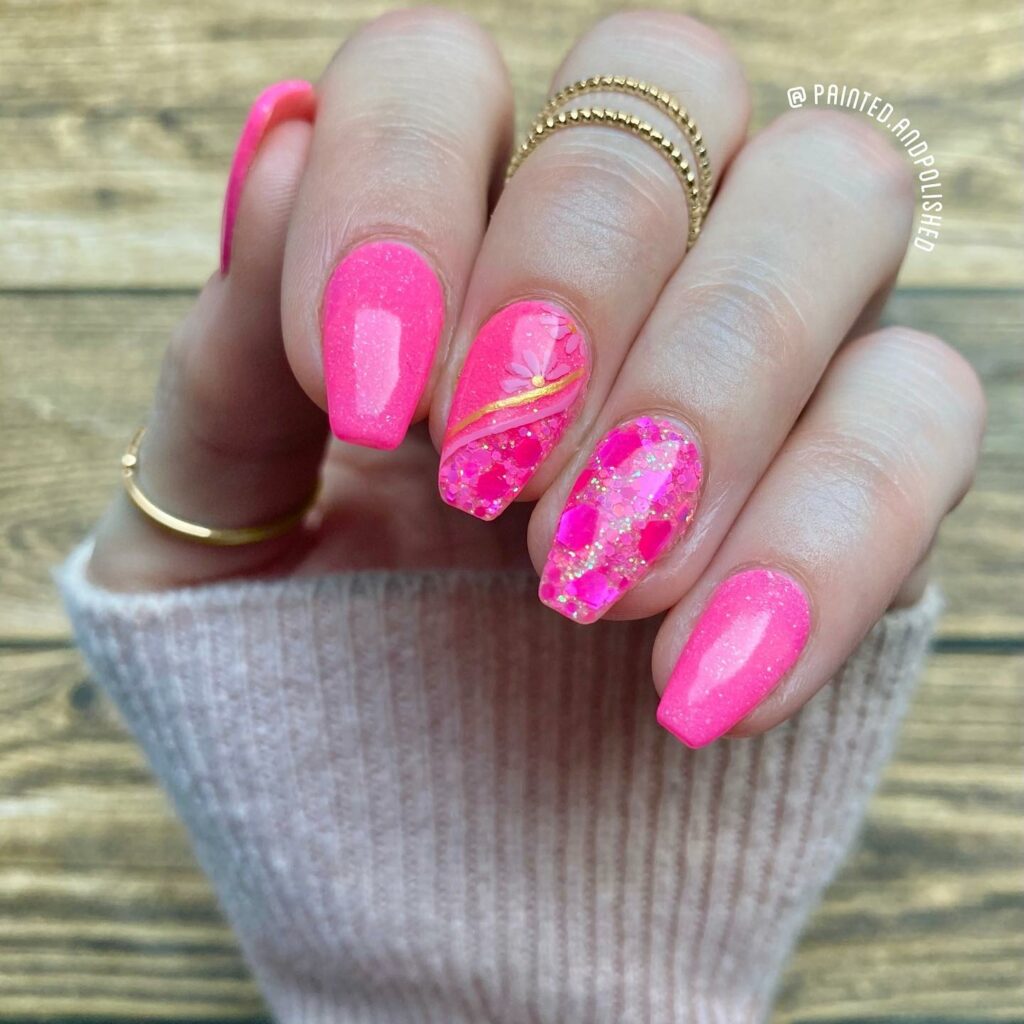 Add bits of gold foil to a hot pink base for a look that's part luxury, part modern art. I once rocked this look at an art auction, and the foil shimmered nicely under the gallery lights.
Gilded Edges: Pink with Gold Tips
Elevate your hot pink nails with luscious gold tips. This design adds an opulent touch, making your nails look like tiny pieces of jewelry, ideal for any grand occasion or romantic dinner.
Sporty Streaks: Athletic Lines
Channel your inner athlete with sporty lines over a hot pink base. This look is fun and effortlessly cool, perfect for the gym or a casual day out.
Sweet Treat: Cupcake Design
For those with a sweet tooth, try adding a tiny cupcake design over a hot pink base. It's a delightful way to make a statement, and let's be honest, who can resist a cupcake?
Art Deco Delight: Geometric Patterns
Go retro with an Art Deco-inspired design. Hot pink pairs wonderfully with bold geometric patterns, evoking the glamour of the Roaring '20s while still feeling modern.
Fairy Dust: Pink and Glittery Stars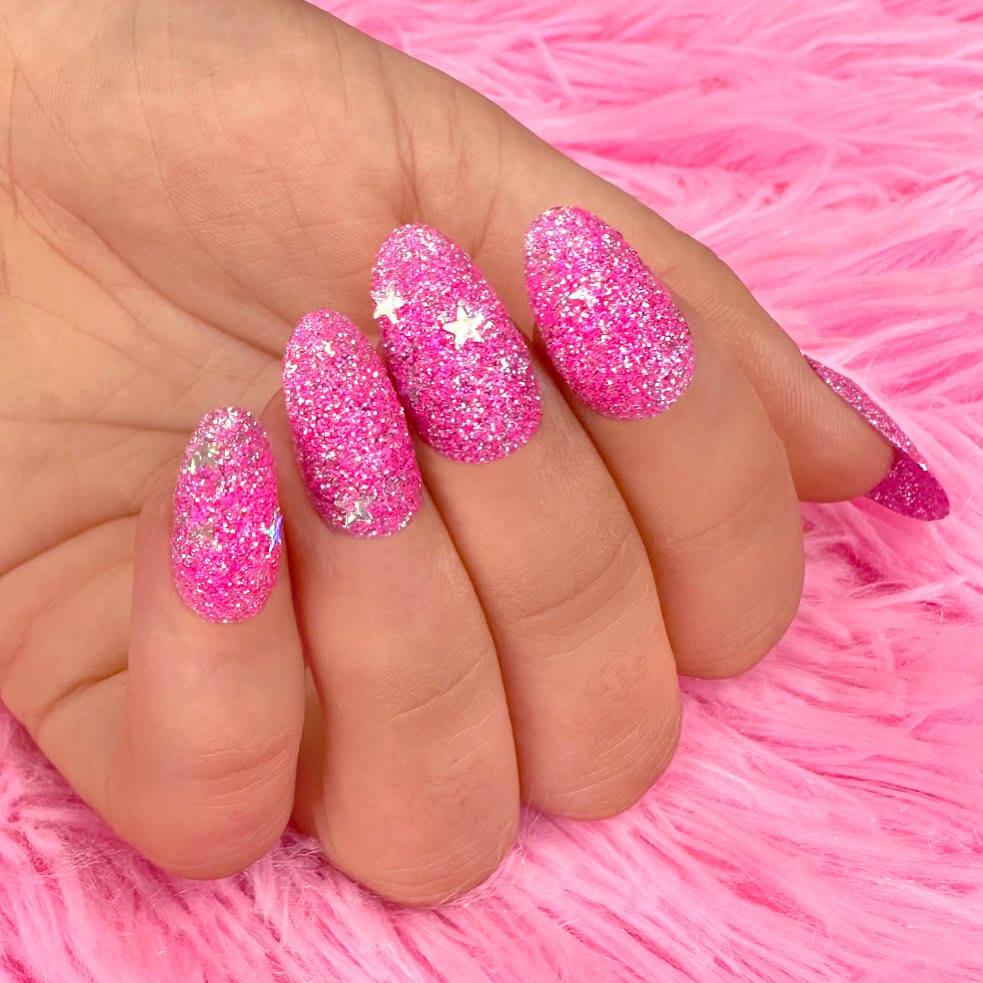 Dreamy and ethereal, sprinkling some tiny glittery stars over hot pink nails creates an enchanting night sky effect. This design was my go-to for a stargazing evening I had last summer.
Emoji Emotion: Smiles and Hearts
Express yourself with popular emojis like smiley faces and hearts stamped over a hot pink base. This fun, youthful design is bound to catch attention and spark conversations.
Fresh Blooms: Floral Overlays
Who needs a bouquet when you can have flowers at your fingertips? Elegant floral overlays on a hot pink base can be both romantic and a true nod to the beauty of nature.
Subtle Shimmer: Hot Pink with Pearl Accents
Add a dash of sophistication with tiny pearl accents over a hot pink base. This look is understated glamour, turning even a grocery store run into a stylish affair.
Coastal Vibes: Sea Shell Pieces
Take the beach wherever you go by incorporating tiny sea shell pieces into your hot pink nail design. It's a great way to keep summer alive, no matter the season.
Royal Flair: Crown Jewels
Why not feel like royalty for a day? Adding small gemstones and perhaps a tiny crown decal can make your hot pink nails feel fit for a queen—or a king!
Zig-Zag Fiesta: Pink and Chevron Stripes
Unleash your playful side with chevron stripes laid over a hot pink base. This geometric design adds a touch of whimsy while keeping things sharp and stylish—perfect for a vibrant day out.
Elemental Magic: Fire and Water
Combine hot pink, fiery red, and cool blue to create a striking fire-and-water effect. This was my festival look last year, and it perfectly captured the hot and relaxed vibes of a summer music fest.
Holo-Day: Holographic Toppings
Get futuristic with a layer of holographic glitter over your hot pink base. The reflective particles catch the light, creating a mesmerizing, multidimensional look perfect for a night on the town.
Twisted Romance: Pink and Black Swirls
Add black swirls over a hot pink base for an edgy twist. The dark lines give the design a rock-and-roll vibe while maintaining the femininity of the pink shade.
Bookworm Charm: Literary Quotes
For all the avid readers, why not add your favorite literary quote across your hot pink nails? This design combines your love for books with an unbeatable sense of style.
Pinstripe Class: Fine Lines
Think pinstripes, but make them pink. Fine black or white lines over a hot pink base can create an elegant, office-friendly look that screams professionalism with a dash of fun.
Seasonal Shift: Autumn Leaves
As the seasons change, why shouldn't your nails? Overlay autumn leaves on a hot pink base for a fall-ready look that's both vibrant and nostalgic.
Neon Glow: Pink Under Black Light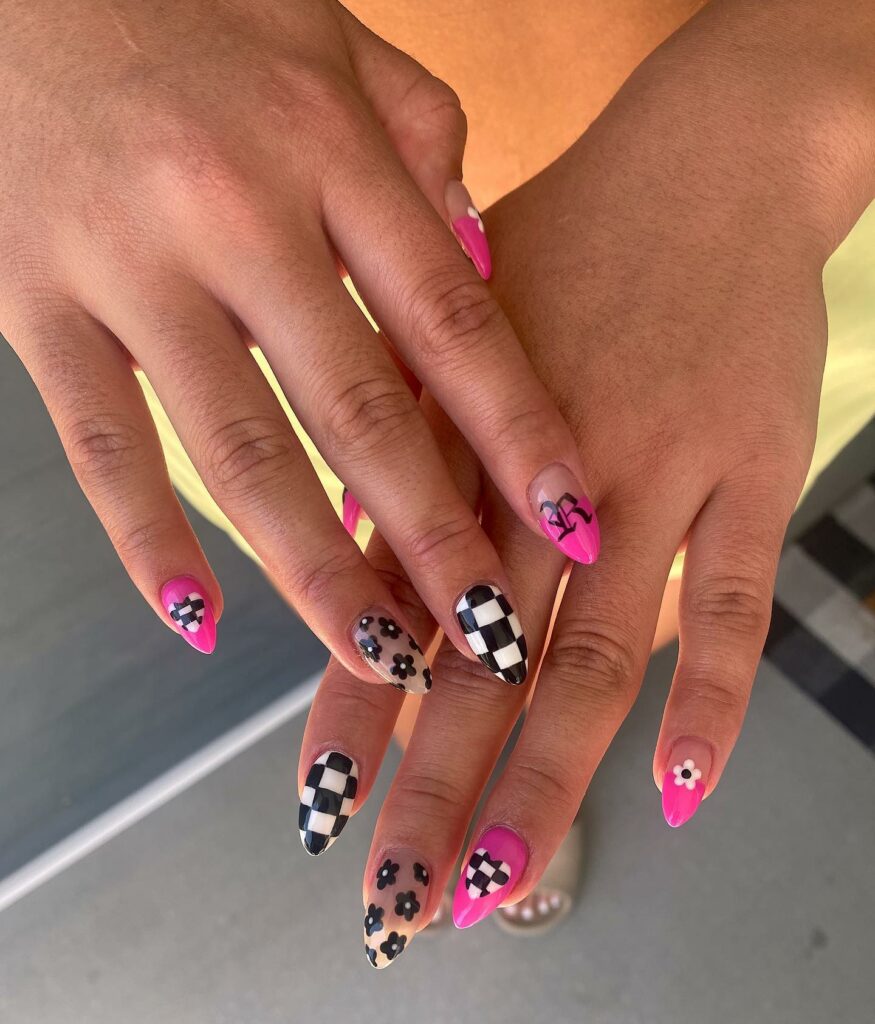 Use a special hot pink polish that glows under a black light for a nail design that comes alive in the dark. Perfect for clubbing or any late-night event where you want to stand out.
Nautical Mile: Sailor Accents
Pair your hot pink base with white and navy blue accents to create a sailor-themed nail design. It's a fresh, maritime look that's great for beach outings or boat trips.
Treasure Hunt: Gemstone Cascade
Adorn your hot pink nails with a cascade of tiny gemstones, creating the illusion of buried treasure at your fingertips. This design is an absolute hit at parties, capturing light and attention equally.
Split Personality: Two-Tone Pink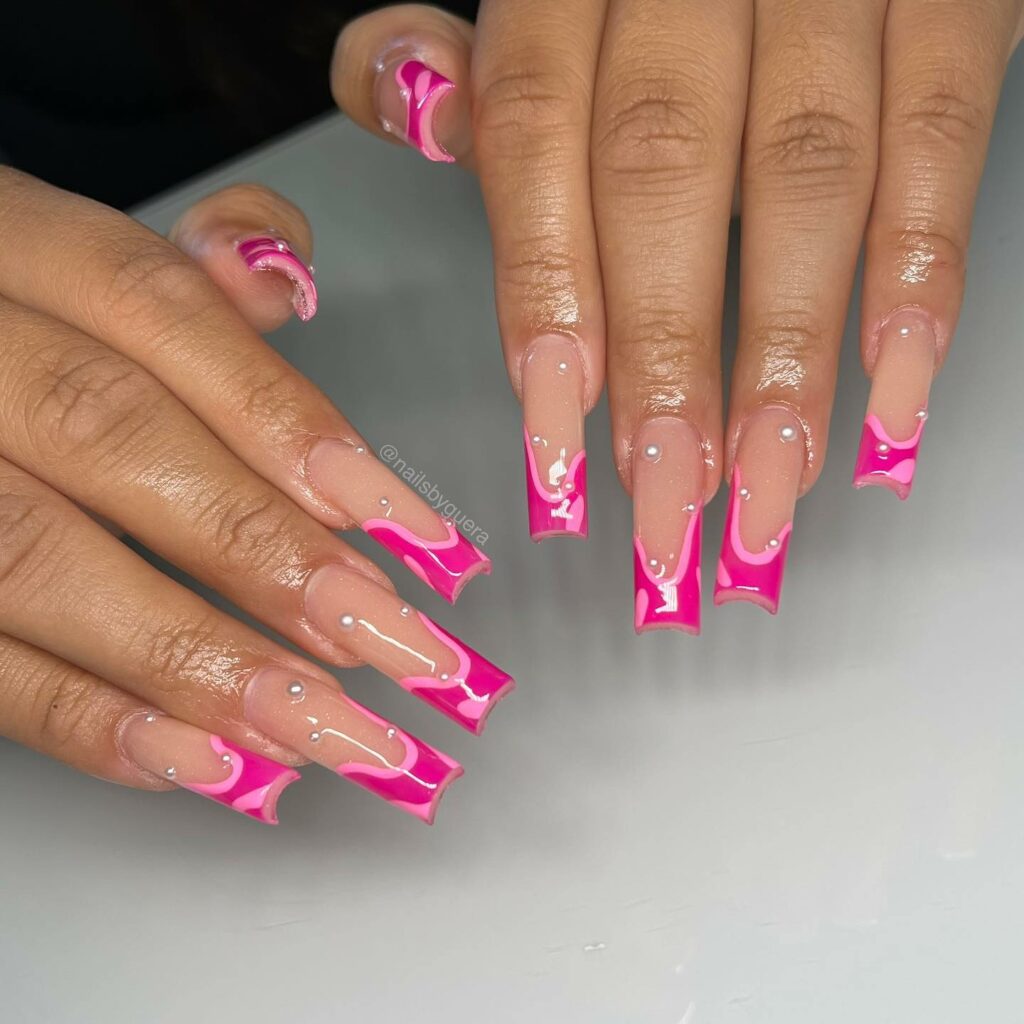 For those indecisive moments, why not opt for a two-tone pink design? Choose a lighter and a darker shade of pink to give each nail a dual personality that's twice as captivating.
Eastern Allure: Cherry Blossom Overlays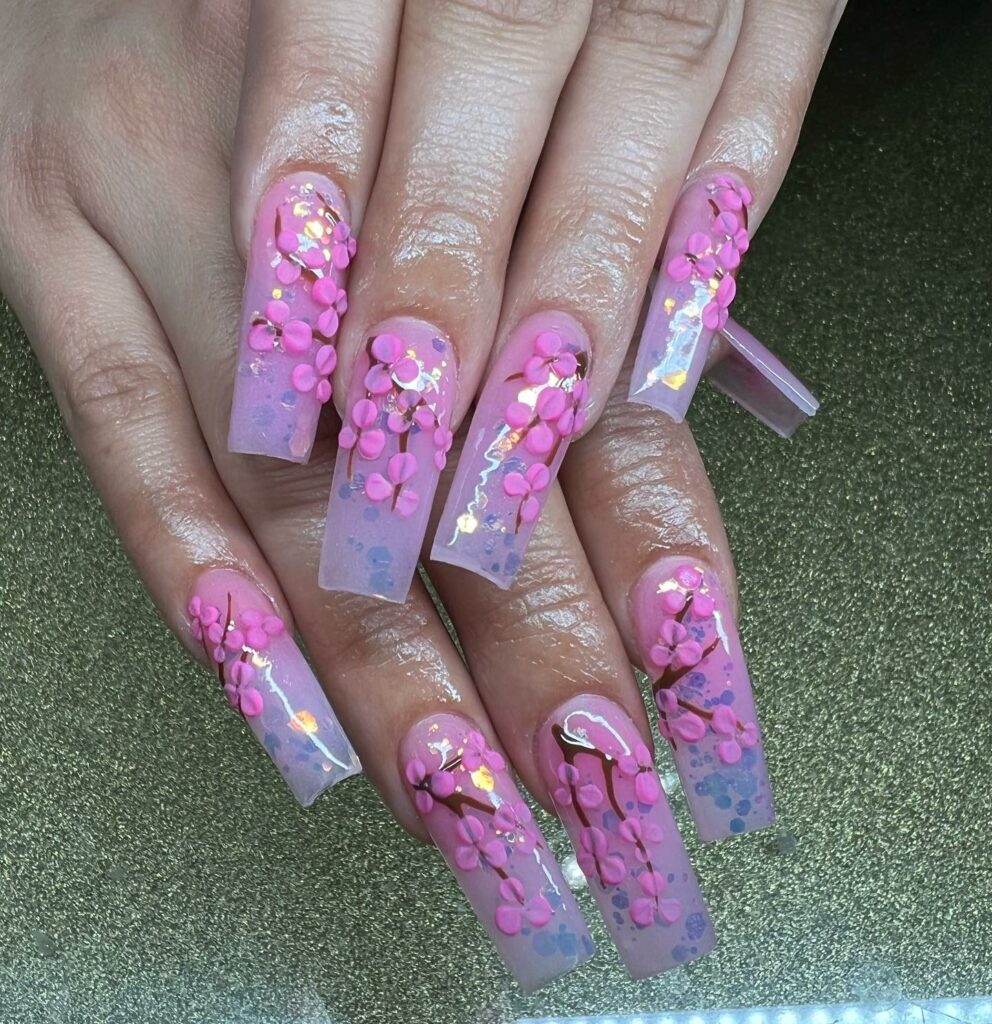 Bring a touch of Japan to your fingertips with delicate cherry blossom designs over a hot pink base. The floral accents offer a serene balance to the vibrant backdrop, perfect for those looking to blend excitement with tranquility.
Cartoon Cuteness: Animated Characters
Show off your favorite animated characters by illustrating them over a hot pink background. It's a surefire conversation starter from classics like Mickey Mouse to newer hits.
Glitter Strands: Sparkly Threads
If you love a little sparkle, consider embedding fine strands of glitter into your hot pink polish. This creates an elongated, shimmering effect that's subtle yet eye-catching.
Cosmic Wonder: Galaxy Design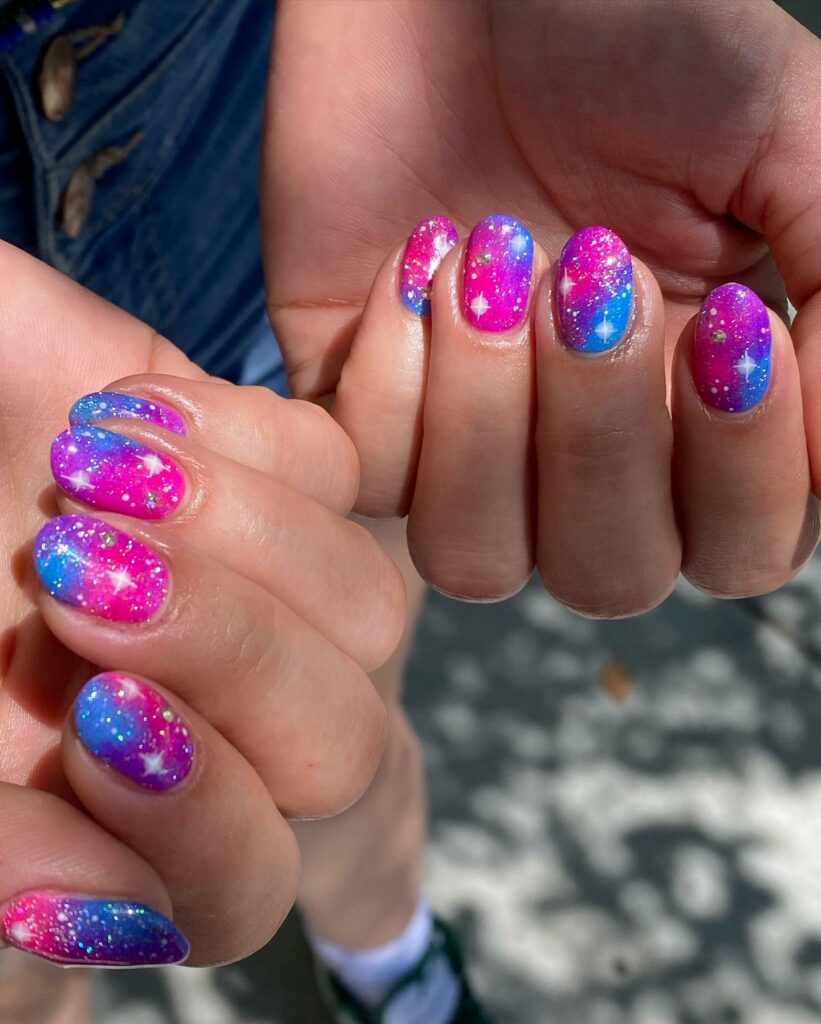 Take your hot pink nails to otherworldly heights with a galaxy-inspired design. Incorporate dark blues and purples with a sprinkle of white dots to mimic stars, giving your nails a cosmic makeover.
Ice Queen: Snowflakes and Pink
Who says snowflakes have to be white? Try painting delicate snowflakes over a hot pink base for a wintery design that's sure to turn heads.
Musical Notes: For the Audiophiles
Incorporate musical notes over a hot pink background to display your love for tunes. It's the ideal way to keep your favorite melodies at your fingertips, whether going to a concert or just humming along at home.
Winged Wonders: Butterfly Accents
Celebrate the beauty of nature by adding butterfly accents to your hot pink nails. Not only do they add a pop of color, but they also bring a whimsical, airy touch to the overall look.
Vintage Vibes: Polka Dots and Lace
Combine polka dots with delicate lace designs for a vintage flair. This design adds a hint of nostalgia to your modern hot pink backdrop, creating an irresistibly charming blend of old and new.
Cascading Rainbows: Multicolor Tips
End your hot pink base with tips that cascade into a mini rainbow. It's a burst of colors that creates an upbeat, celebratory feel, perfect for special events or whenever you need a pick-me-up.
My Advice To Recreate Hot Pink Nails At Home
The difficulty of recreating these hot pink nail designs at home can vary widely depending on the intricacy of the design and your skill level with nail art. If you're a DIY enthusiast comfortable using dotting tools, fine brushes, and even small decals, many of these designs will be quite achievable.
Easier Designs
Two-tone shades and pinstripes are generally straightforward, needing only steady hands for clean lines.
Polka dot designs and lettering could be a fun starting point for beginners; you can even use the tip of a toothpick if you need a dotting tool.
Moderate Difficulty
Designs like chevron stripes, galaxy patterns, and ombre styles require more skill, involving multiple steps and the blending of colors.
The leopard print and camouflage designs can be forgiving for minor mistakes, as they have an irregular pattern.
More Challenging Designs
A fine detailing brush is often necessary for abstract art, musical notes, or intricate patterns like lace, along with a steady hand and considerable patience.
3D designs involving gemstones or glass bubbles require careful placement and some additional adhesives, making them a bit more labor-intensive.
While some designs may seem daunting, remember that practice makes perfect. There are also plenty of online tutorials to guide you, and you can always opt to try a simplified version of a complex design to start. Remember the magic of nail art stickers and stamps for an easy shortcut to a stunning look. So grab those polishes and tools and let your creativity shine!
My Advice On Matching Style, Size & Color
One of the best things about nail art is its versatility. Whether sporting almond-shaped nails, square tips, or the daring stiletto style, most designs can be modified to suit different nail shapes and lengths. Here's how you can adapt these hot pink designs to your unique canvas:
Short Nails
Please don't underestimate the power of short nails; they can still make a statement. Designs like two-tone pink, polka dots, or simple abstract art can look chic on shorter lengths.
Opt for vertical designs like pinstripes or vertical ombre to elongate the appearance of your nails.
Medium-Length Nails
This length offers a balance, letting you play with more intricate designs like leopard prints, cherry blossoms, or musical notes without overwhelming the nail.
Consider designs that use negative space to create an elegant, elongated effect.
Long Nails
Longer nails can be a canvas for more complex artistry. You have the space to blend multiple elements, say, a galaxy background with 3D gemstones or lace patterns with butterfly accents.
Coffin or stiletto shapes are particularly eye-catching when adorned with intricate patterns or layered designs.
Different Shapes
Rounded and oval nails are great for swirling, circular designs like abstract art and galaxy patterns.
Square and squoval nails offer a crisp edge that can complement geometric patterns or French tips in bold colors.
The key is to play up the strengths of your particular nail shape and length. For instance, intricate designs can be simplified for shorter nails, while larger patterns can be broken down into smaller elements to fit a petite canvas better. Likewise, if you have long nails but prefer simpler designs, focus on bold color contrasts or innovative textures.
In short, don't let your nail shape or length limit your creativity. You can adapt most designs to work beautifully on your nails with a few adjustments. So take the plunge and experiment to find what makes you feel fabulous!
Conclusion
And there we have it! With so many incredible options, diving into hot pink nail designs is like stepping into an endless playground of creativity. Whether you opt for edgy geometric patterns, whimsical nature themes, or glittery masterpieces, remember to use a good-quality base and top coat to maximize the longevity of your design. Of course, it's always a good idea to patch-test any new polishes or adhesives to avoid allergic reactions. As with any style choice, don't be afraid to take risks and push your boundaries; after all, it's all part of the fun and self-expression that fashion brings to our lives. Happy designing, everyone—I can't wait to see your marvelous creations next!
Feature image @artdecom via Instagram
Last reviewed and updated on October 4, 2023