Hey everyone! Today, we're diving into the glitzy, glamorous world of pink nails with diamonds. Yep, you heard that right! We're talking about that ultimate combo of feminine color and bling that makes for a jaw-dropping, show-stopping manicure. This post will cover everything from the right shades of pink to match your skin tone to the diamonds that can elevate your whole look. I'll also give some pro tips on achieving a salon-perfect finish at home. Trust me, I've tried this look more times than I can count, and it never fails to turn heads. So, let's get our glam on and dig in!
Small Pink Diamond Nails With Glittery Stars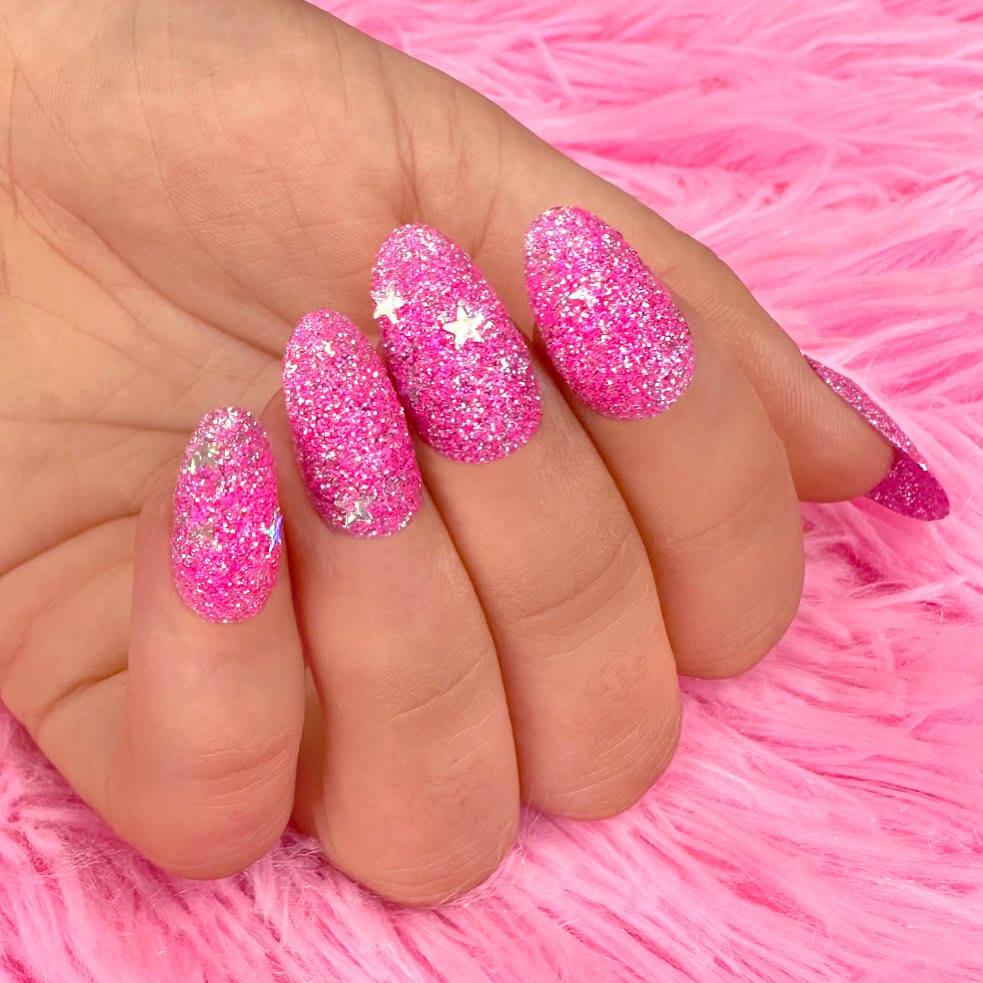 Dreamy and ethereal, sprinkling some tiny glittery stars over hot pink nails creates an enchanting night sky effect. This design was my go-to for a stargazing evening I had last summer.
Neon Pink Nails With Diamond Accents
Swirls add a playful twist to the striking neon pink base, offering an abstract art vibe. This design is ideal for those who appreciate creativity and want their nails to be a conversation starter.
Super Glam Neon Pink Nails With Diamonds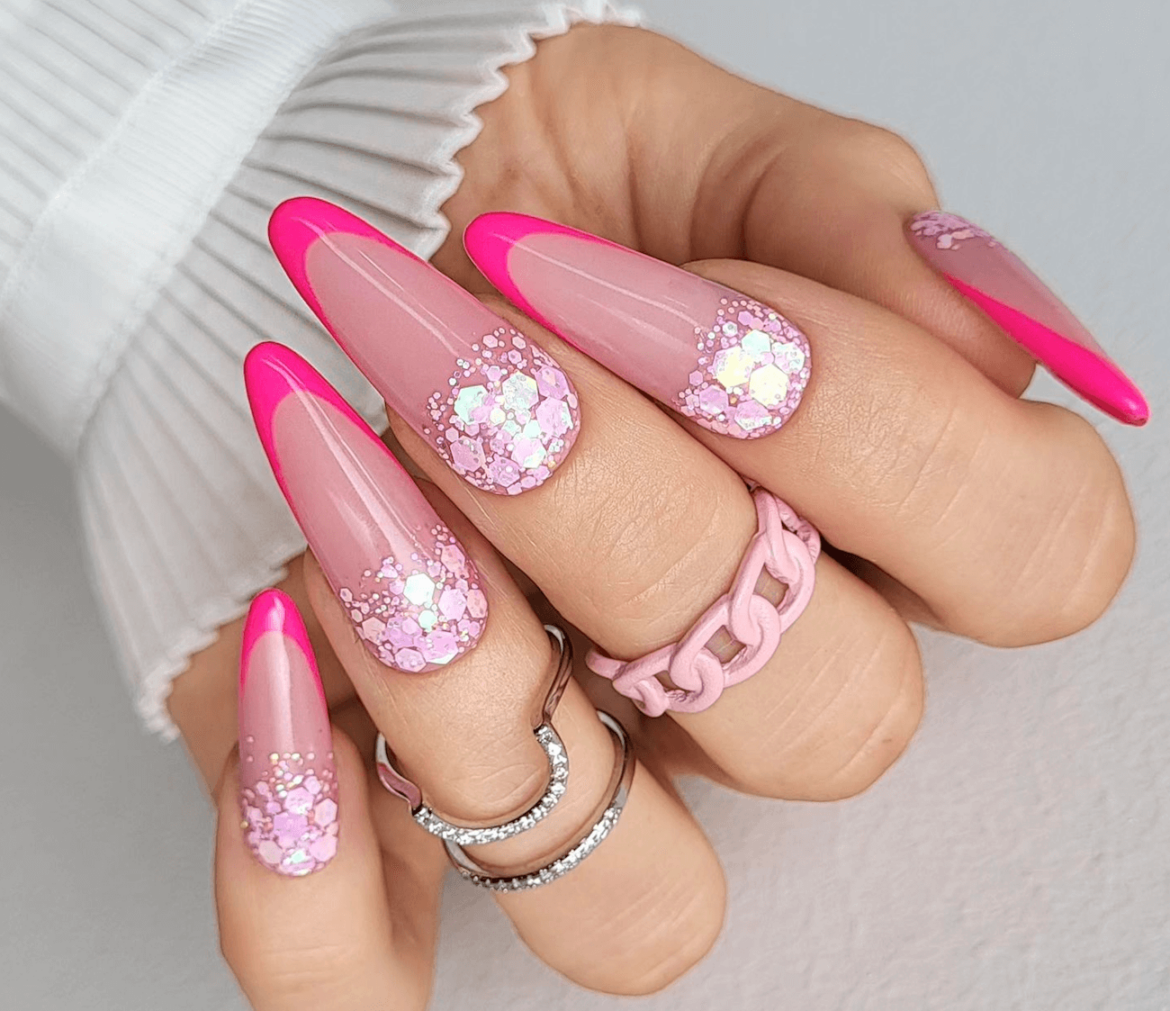 Super Glam Neon Pink Nails with Diamonds are a vibrant, eye-catching choice that combines the electrifying allure of neon pink with the sophisticated sparkle of diamonds. This bold and bright style is perfect for making a statement and ensuring your nails are the center of attention at any event.
Neon Pink French Tip Stiletto Nails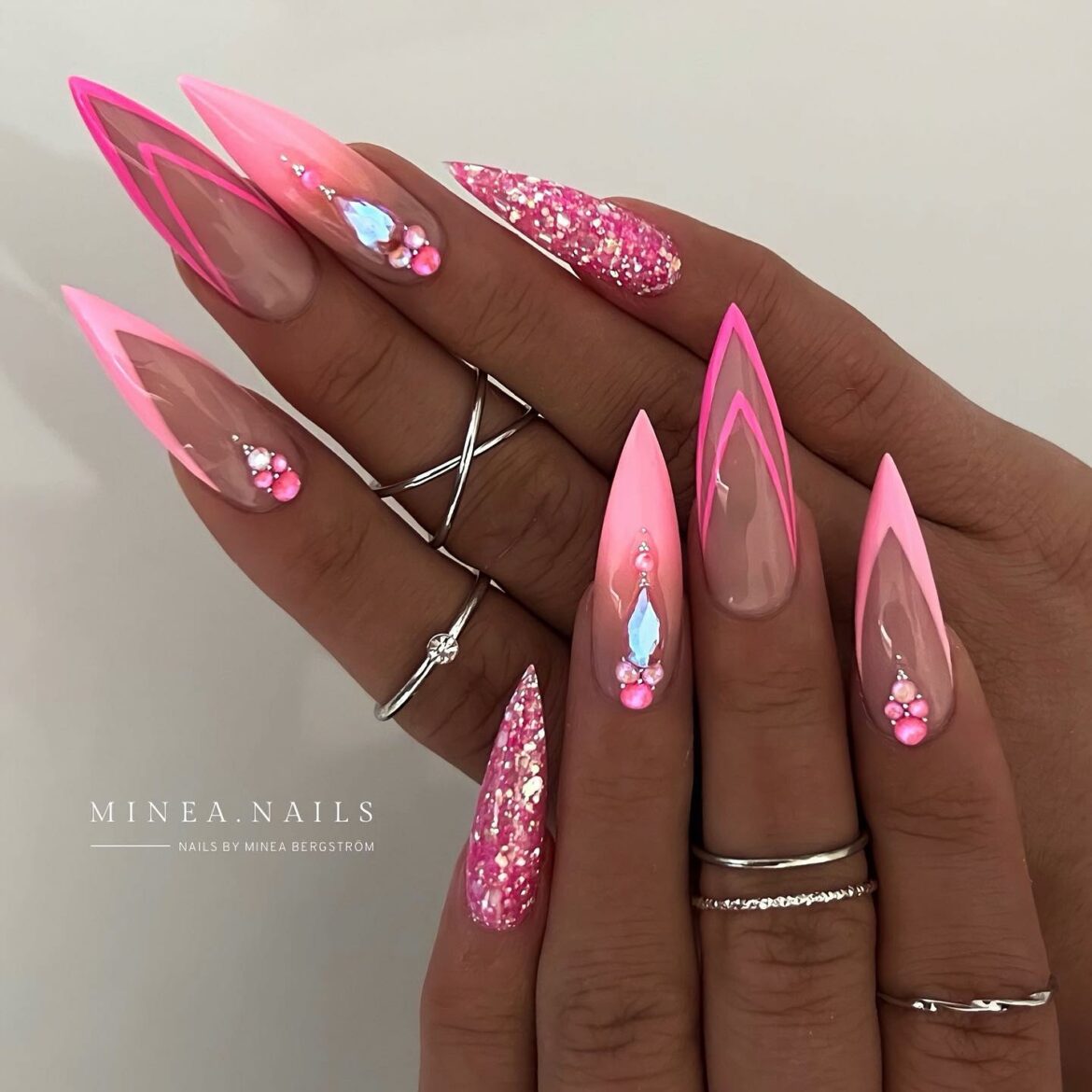 Neon Pink French Tip Stiletto Nails are a modern twist on a classic style, featuring strikingly sharp stiletto shapes accented with a pop of neon pink at the tips. This edgy yet playful design is perfect for fashion-forward individuals looking to add a splash of vibrant color and a touch of daring to their look.
Neon Pink with Glitter French Nails
If you love French nails but want to add some pizzazz, then neon pink with glitter French nails is your answer. The sparkly glitter and hot pink tips add drama, while the nude base keeps things classy.
Stiletto Nails In Pink And Edged With Diamonds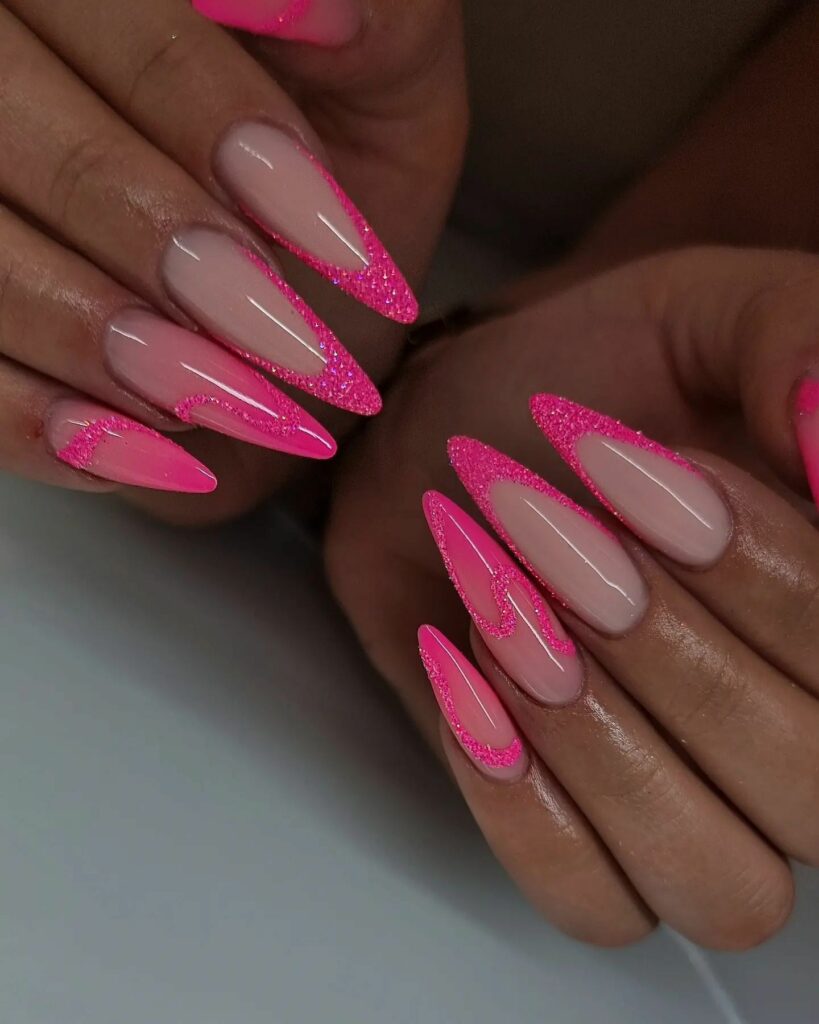 Stiletto Nails in Pink and Edged with Diamonds are the epitome of bold femininity, with their sharp silhouette and the gleaming edge of diamonds catching every flicker of light. They're a daring choice for anyone looking to add a touch of daring elegance and a definite conversation starter at any event.
Timelessly Elegant: Hot Pink With Diamonds
Marble isn't just for your kitchen counter, folks. Take dark and light shades of pink and swirl them together for this understated yet timeless look. Seriously, you can't go wrong with this—it's like the little black dress of the nail world.
Neon Pink Glitter Nails
Neon pink glitter nails are all about making a sparkling statement. They're perfect for occasions when you want your nails to be as vibrant and lively as the party.
Candy Crush: Bright Pink Nails With Diamonds
Feeling bold? Go for these vibrant pink nails that feature two whimsical accent nails. Imagine this look while you're sipping a cocktail by the pool—utter perfection! Is pink not your thing? Go for any color that screams "you."
Hot Pink Diamond Ombre
The Hot Pink Diamond Ombre nails are a true showstopper, marrying the vivid, energetic shades of hot pink with a gradient effect that dazzles, thanks to a sprinkling of diamond-like sparkle. This design is perfect for anyone looking to add a burst of color and a glamorous twist to their nail game.
V French Tips With Diamonds: The Modern Classic
Hot pink nails with diamond accents are always a head-turner. Now make it modern with a white V French tip, and you've got a nail look that's anything but basic. I like to sport this design when I'm mixing business with pleasure.
Hot Pink Ombre Nails With Diamond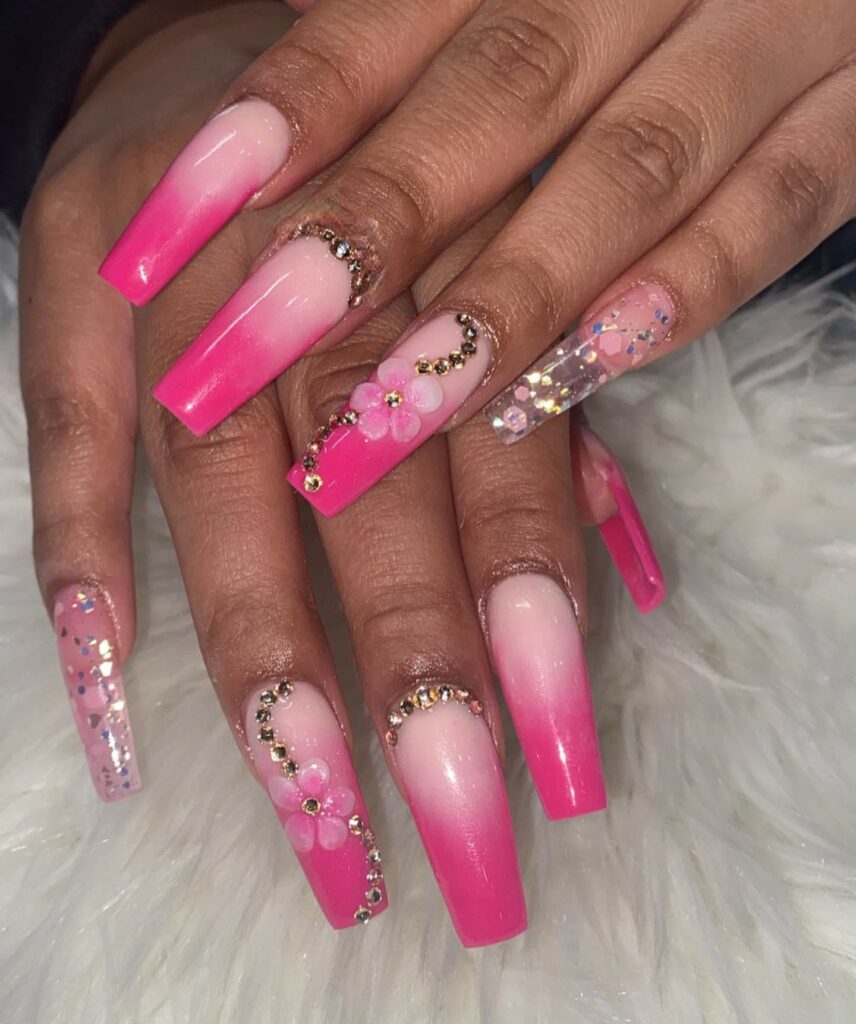 Hot pink ombre nails with diamonds bring a gradient of glamour to your fingertips. The smooth transition from lighter to darker shades of pink is eye-catching, and when accented with diamonds, it's a mesmerizing look you'll never want to take off.
Turn Up The Heat: Hot Pink And Crushed Diamonds
Sometimes, you only need a hot pink to say, "Hey, world, I'm fabulous!" But add a diamond finish for that eye-catching pop!
Pink, Diamonds, And Animal Prints, Oh My!
Let's kick off with a design that's a triple threat: hot pink, diamonds, and white animal print tips. I wore this look to a girls' night out, and let's say my nails were more popular than the latest gossip! The leopard print adds a fierce edge, while the diamonds give that touch of luxury. It's like the party animal meets high fashion!
Heart Diamond Accents: Unleash Your Inner Romantic
If you're into hot pink but also love a touch of romance, heart-shaped diamond accents are your go-to. This design is your wingman for date nights or a romantic dinner. The heart shape adds that special sentimental touch we all sometimes need.
Long Neon Pink Coffin Nails With Glitters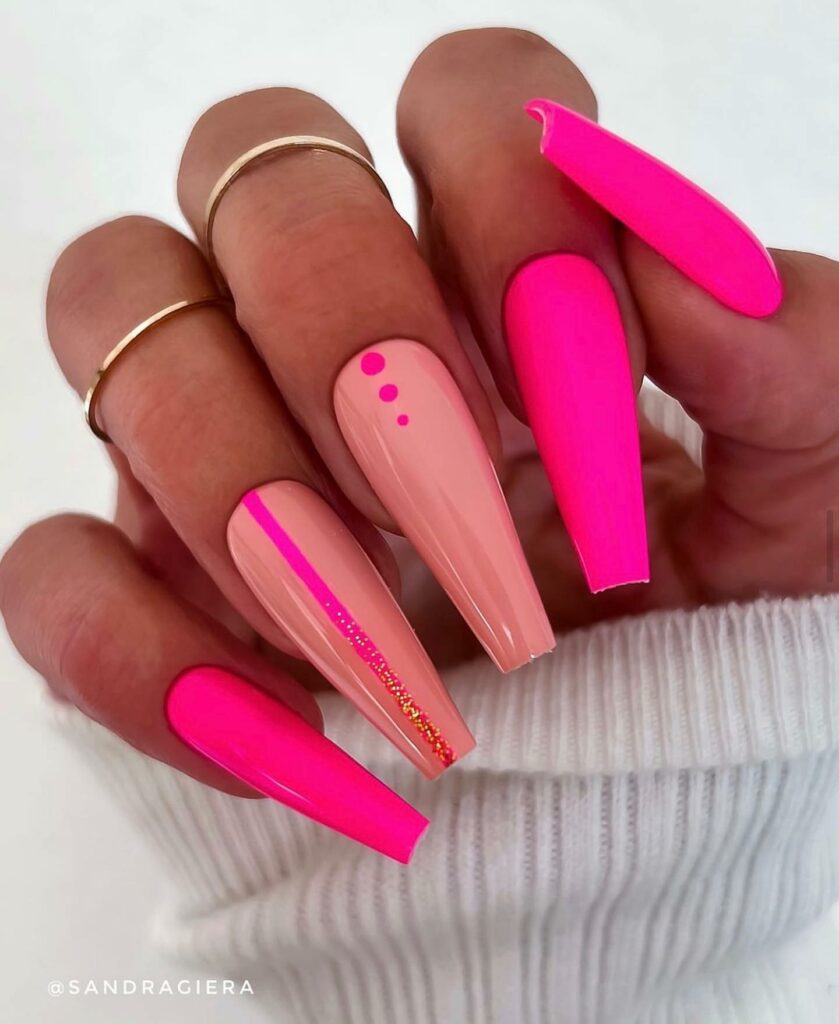 Combining the long coffin shape, vibrant neon pink, and added glitters makes for a dramatic and glamorous look. Ideal for those who want their nails to make a bold fashion statement.
Chunky Diamonds For the Bold At Heart
Let's talk about hot pink nails with thick, chunky diamonds. It's like your nails are wearing statement jewelry! I love this design for its luxury and daring style. It's perfect for those events where you really want to stand out.
French Coffin Hot Pink Diamond Nail
French coffin nails in hot pink adorned with diamonds epitomize sophistication, meeting edgy flair. The coffin shape adds a trendy vibe, while the diamonds on a hot pink base scream luxury and sass.
Gel Acrylic Hot Pink Nail With Diamond
If you're after durability and shine, gel acrylic hot pink nails with diamonds are your go-to. Not only do they last longer than traditional polishes, but the embedded diamonds also offer a sparkling contrast to the vibrant hot pink hue.
Pink French Tips with A Diamonds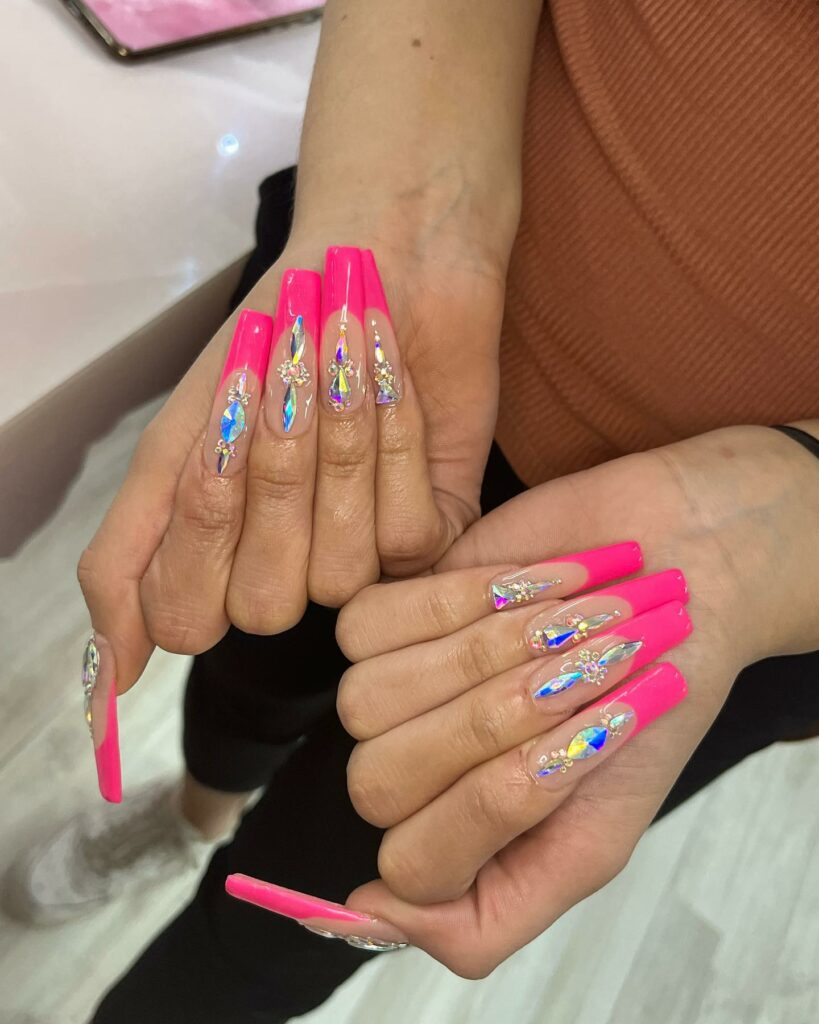 You know how they say you can't improve a classic? Well, you totally can. Add a modern twist to the traditional French tip by going hot pink and then diamonds.
Hot Pink With Diamond Display
Slap on that bright pink polish, but wait, here's the kicker: place a single diamond accent on your ring finger or any finger you'd like to highlight.
Go Big or Go Home: Diamond Show Stopper
Are you feeling extra? Then let's turn that volume up! Go all-in by encrusting each and every nail with diamonds. It's like having a mini disco ball at your fingertips! Last New Year's Eve, I rocked this look, and I've never felt more like a diva. Remember, life's too short for dull nails!
Pink Almond Nails With Pink Diamond Tips
Pink Almond Nails with Pink Diamond Tips are a sweet treat for your hands, blending the soft, feminine curves of almond-shaped nails with the luxe sparkle of pink diamond accents at the tips. This style is perfect for those who adore a touch of glamour paired with the understated elegance of a classic nail shape.
For The Love Of Hot Pink & Diamonds
A pink base with a hot pink diamond accent—talk about monochrome magic! The pop of hot pink is an instant mood lifter and screams, "I've got this!" Perfect for when you're feeling fabulous and want the world to know. I often go for this design when I need that extra confidence boost for a big event.
Hot Pink, Diamonds, And A Dash Of Sparkle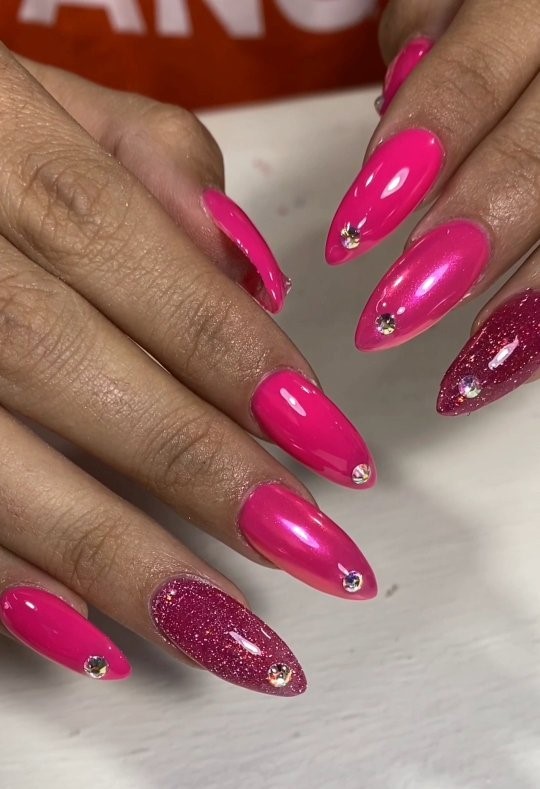 If you want to keep your admirers guessing, mix some sparkle with your diamonds. Toss in a white V French tip, and you have a captivating, multi-dimensional look. I did this combo for a cocktail party once, and let me say, my nails were the talk of the evening.
Geometric Elegance: Think Outside the Box
Ready to level up? Add some white geometric lines to your hot pink, diamond-accented base. It's like modern art but on your nails. I wore this to an art gallery opening and felt right in place among the masterpieces!
The Ultimate Mashup: Diamonds, Prints and Lines
Feeling like a nail art wizard? Why not mix and match for a truly one-of-a-kind design? Imagine a French tip with black and pink leopard print, a hot pink tip with delicate white lines, and a sparkle accent—all on one hand! This is for those days when you feel indecisive but fabulous. It's like a buffet of glam right at your fingertips.
Sparkling Pink Tips: Diamonds Meet Sparkle
Let's discuss hot pink tips with diamonds and an accent sparkle nail. This design is like the cherry on top of a glam sundae. The diamonds bring in the bling, while a sparkly accent adds just the right amount of drama. I wore this to a holiday party last year, and let's say my nails outshined the Christmas lights!
Gradient Glam: From Pink To Copper Sparkle
For those who love a splash of color, this design is an absolute winner. Start with a hot pink base, add a gradient of pink to copper sparkle, and finish off with diamonds. It's a blend that's equal parts sweet and sassy. This one is my go-to for festival season—it's fun, eye-catching, and pairs well with any outfit.
Coffin Nails, But Make It Glam
Okay, long-nail lovers, here's one for you: extend those hot pink French tips into coffin nails and add a dash of diamonds. It's like your nails are dressed up for a red carpet event. If you want to feel extra luxurious while doing everyday tasks, this design has your name all over it.
Long Nails With Amazing Diamond Detail
Ready to turn heads? These long coffin nails feature everything from hearts and rhinestones to reptile scales and swirls in a color palette that's perfectly balanced yet bold.
The Classy Adventurer: Small Nail And Animal Accents
If you're a fan of the small nail but want to spice things up, this one's for you. For that extra "wow" factor, go wild with a leopard print accent nail. I pulled off this look at a wedding recently, and it was a total conversation starter. Plus, it made those ring selfies pop!
White Diamonds with Hints of Pastel Pink on Stilettos
Stiletto nails get a romantic upgrade with pastel pink shades blending into a white diamond finish. It is ideal for those who love to merge edgy with delicate.
Nails with Dazzling Black and White Glitter Tips
Experience the timeless appeal of nails adorned with striking black and white glitter tips. A design that marries contrast and shimmer, perfect for those who love a bold statement.
Sassy in Pink: Half-and-Half Stilettos
These nails are half pink and diamonds that make the transition pop. It's like a sassy French manicure got a millennial makeover, and I'm here for it!
Double the Glam: Sparkly Nail Design with Diamonds
You're nailing the ultimate glam vibe with a light polish and a glitter strip accented by diamonds.
Turn Up the Volume: Extra French, Extra Fabulous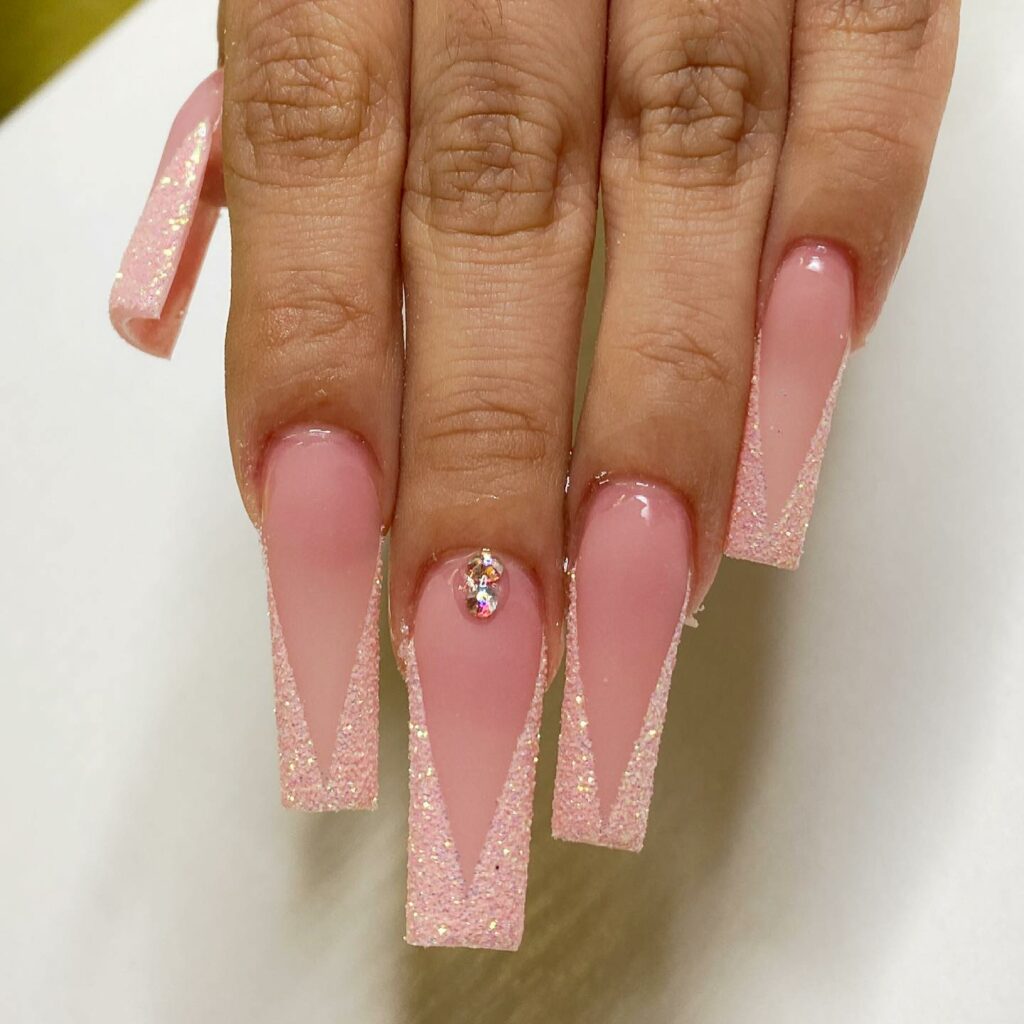 For those who love to go all out, check out "Extra French" designs. These V-shaped patterns strike the perfect balance between bold and classy.
Pink Coffin Nails with Sparkling Embellishments
These nails epitomize refined beauty, harmoniously blending muted pink shades with shimmering diamond segments. Delicate white accents and strategically placed jewels further enrich the design, showcasing a graceful and poised aesthetic.
Think Pink: Accented With Diamonds
Let's remember a design that turns heads: pink nails with a line of diamonds running down the center. It's a straight-up showstopper!
Elegant Yet Edgy: Matte Nails With Diamonds
Most of the nails here are light pink, but check out those accent nails! A black outline with rhinestones adds that perfect edgy touch for those who want a dash of drama.
Baby Pink Acrylics With Diamonds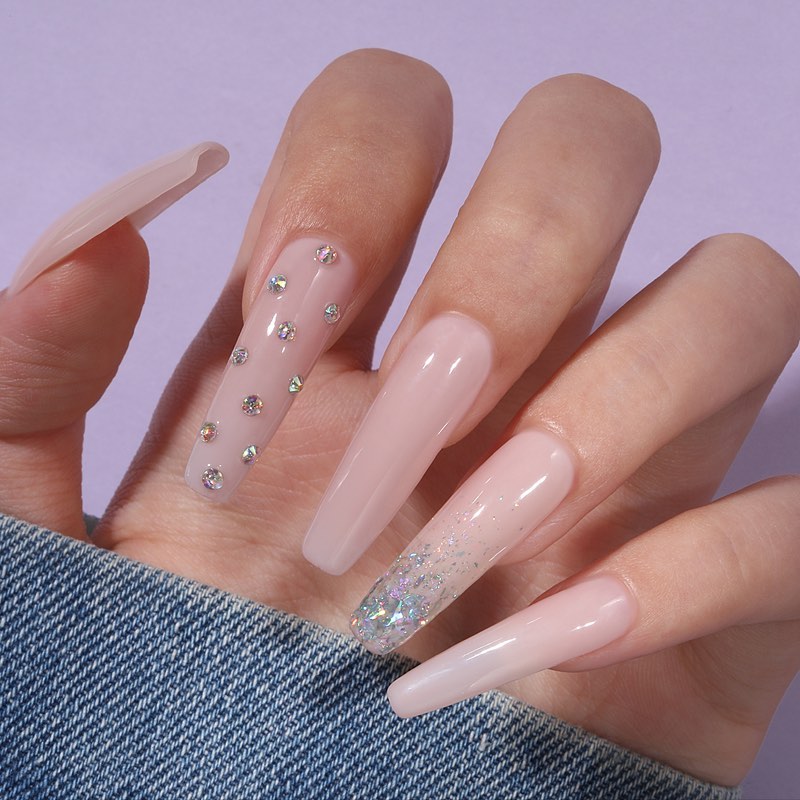 Can't get enough of pink? This one's a treat! One nail is decked out in full metallic pink glitter, while the others are in a charming plain pink. O
The Rosy Base: Elegant Yet Simple
Consider a baby pink base with metallic rose gold covering the bottom quarter of each nail. A piece of striping tape will help you get that crisp line. It's simplicity and elegance, hand in hand—or should I say, nail in nail!
Baby Pink French On Long Hot Pink Diamond Nail
Long, hot pink nails with accents take the beauty world by storm, especially when diamonds are thrown into the mix. This style offers a sleek, elongated look while the tips give a modern twist, making your fingers look like they just stepped off a runway.
Mix 'n' Match Diamond Patterns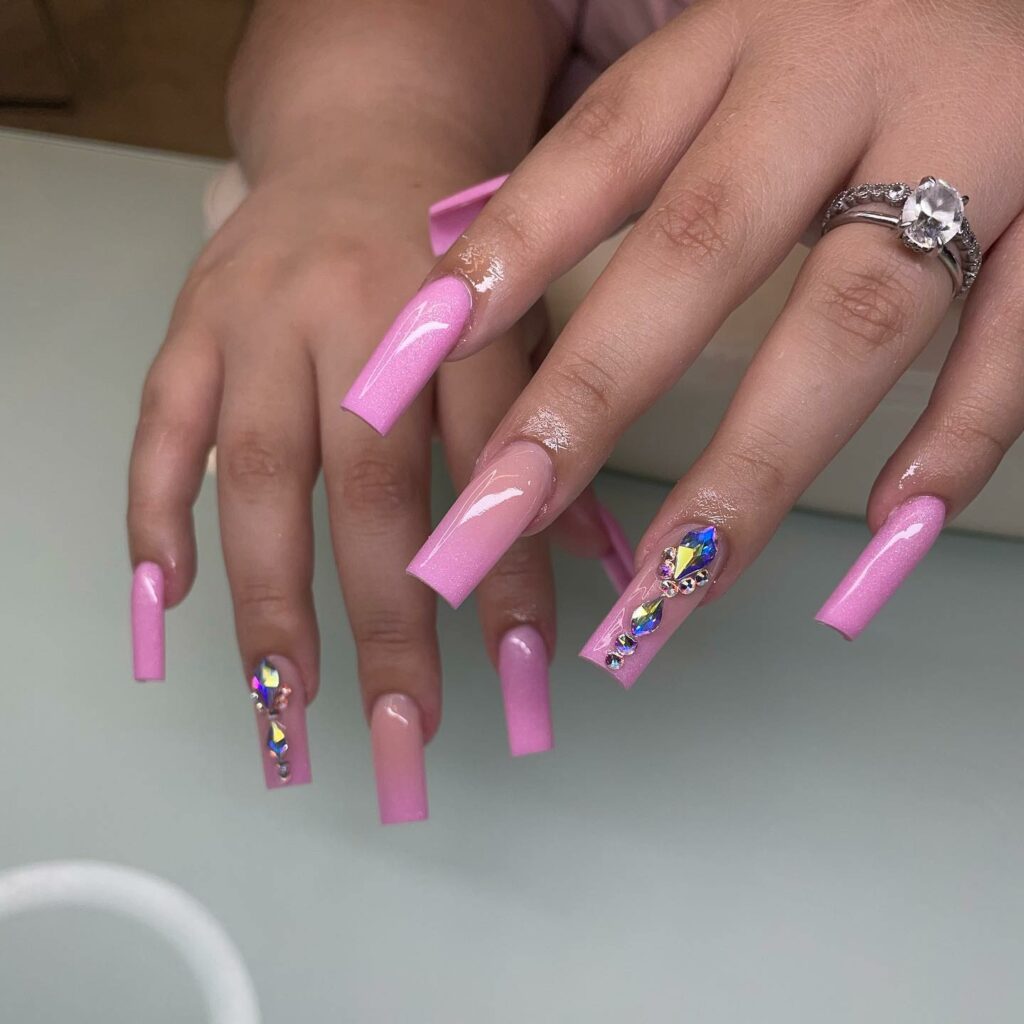 Love diamonds? Why stick to one pattern! Adorn your hot pink nails with diamonds in different arrangements for a playful yet cohesive look. It's like having a different outfit for each nail—so fun and adorable.
Romantic & Elegant: Pink Satin
If you want to woo someone special, these rosy nails are it. Imagine subtle white shimmers coupled with light pink accent nails featuring hearts and rhinestones tied together by a string of glitter. Date night, anyone?
Super Glam Coffin Nails With Diamonds
Super Glam Coffin Nails With Diamonds are the ultimate statement of luxury, combining the edgy shape of coffin nails with the irresistible sparkle of diamonds. They're perfect for those nights out when you want your hands to do the talking and your style to shine as bright as your smile.
.
9 Top Tips For Achieving A Salon-Perfect Finish At Home
Pro Tips for A Salon-Perfect Manicure At Home – Hey, my DIY divas! So, you're craving that salon-perfect finish, but you'd do it from home? Totally get it. I've been there, done that, and let me spill the tea—achieving that salon-level fab isn't as complicated as you might think. Let's dive into my top pro tips!
Prep is Key – First off, preparation is everything. Make sure to clean your nails and remove any old polish. I usually soak my nails in warm, soapy water for a few minutes to soften the cuticles. Trust me, it makes a world of difference!
Invest In Quality Tools – Good tools are half the work. I swear by a crystal nail file—it's gentler on the nails and lasts forever. And don't skimp on quality regarding your base and top coats. They're the unsung heroes of a lasting mani.
Mind The Base Coat – Speaking of base coats, take this step! A good base coat not only protects your nails but also helps the color adhere better. I love the "Start to Finish Base Coat, Top Coat & Strengthener" by OPI.
Thin Coats Are Better – When it comes to applying the color, thinner coats are your BFF. They dry quicker and are less likely to smudge. Plus, you can always add another layer for a more vibrant color.
The Three-Stroke Rule – When applying, use the three-stroke rule: one stroke down the middle and one on each side. This technique helps you cover the whole nail without flooding the cuticle area. I promise it'll make your life so much easier.
Seal the Tips – Remember to seal the tips of your nails with the top coat. This little trick can extend the life of your mani by days.
Quick-Dry Drops Is A Lifesaver – If you're as impatient as I am, quick-dry drops will be your new best friend. A few drops, and you're good to go in about 60 seconds. It's a game-changer!
Cleanup Crew – Last, if you've strayed outside the lines, dip a small brush in nail polish remover to clean up the edges. It'll give your mani that clean, fresh-from-the-salon look.
.
Conclusion
That wraps up our whirlwind tour of hot pink nails with a diamond twist! If you're looking to make a splash at your next outing or want to glam up your daily life, you really can't go wrong with any of these options. For longevity and high shine, I can't recommend gel acrylics enough. But if you're all about that gradient glam, the ombre style is up your alley. And don't forget those accent details—whether a diamond or a playful animal print, little touches make a difference. So go ahead, book that nail appointment, and let your fingers do the talking!
Feature Image Photo By @merlin_nails via Instagram – click to buy this polish
Last reviewed and updated on November 29, 2023