Welcome to another installment of your go-to hub for all things cutting-edge in fashion and beauty. Today, we're diving into a manicure trend that's elevating the nail game to lustrous new heights: 20 Lip Gloss Nails. Imagine the shine of your favorite lip gloss now at your fingertips—literally. This post will be your ultimate guide to achieving that super glossy finish, offering tips from prep work to application and even product recommendations.

In a world where matte has dominated the scene for quite some time, we shine a light on Lip Gloss Nails offering a fresh departure that's turning heads and racking up social media likes. With its reflective sheen and translucent hues, this trend embodies the essence of luxury and glamour, all while being effortlessly wearable. Whether a DIY devotee or a salon regular, you'll find valuable insights on perfecting this chic look.
Short Ombré Lip Gloss Nails
Why not combine two trends in one? Short Ombré Lip Gloss Nails offer the gradient appeal of ombré in a manageable length, adorned with that must-have glossy finish.
Colorful Heart Lip Gloss Nails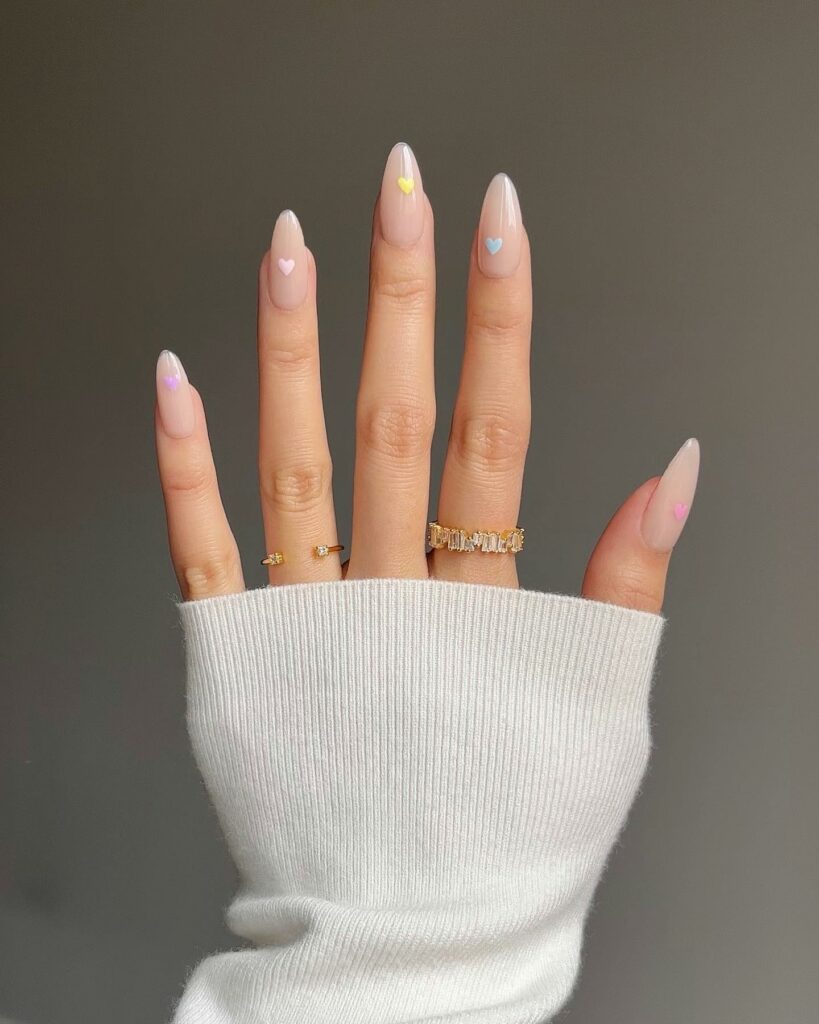 Add a playful twist to your glossy manicure with Colorful Heart Lip Gloss Nails. This design incorporates small, colorful heart details that bring a touch of whimsy to the high-shine background.
Glimmering Lip Gloss Nails
Take the shine to the next level with Sparkle Lip Gloss Nails. These aren't just your average glossy nails; they incorporate fine sparkle elements to catch the light in a mesmerizing dance.
Glossy Baby Pink Lip Gloss Nails
If you're after that sweet, innocent charm, baby pink lip gloss nails are your go-to option. This hue offers a subtleness that's versatile enough for daily wear, while the gloss adds that extra touch of flair.
Ombré Lip Gloss Nails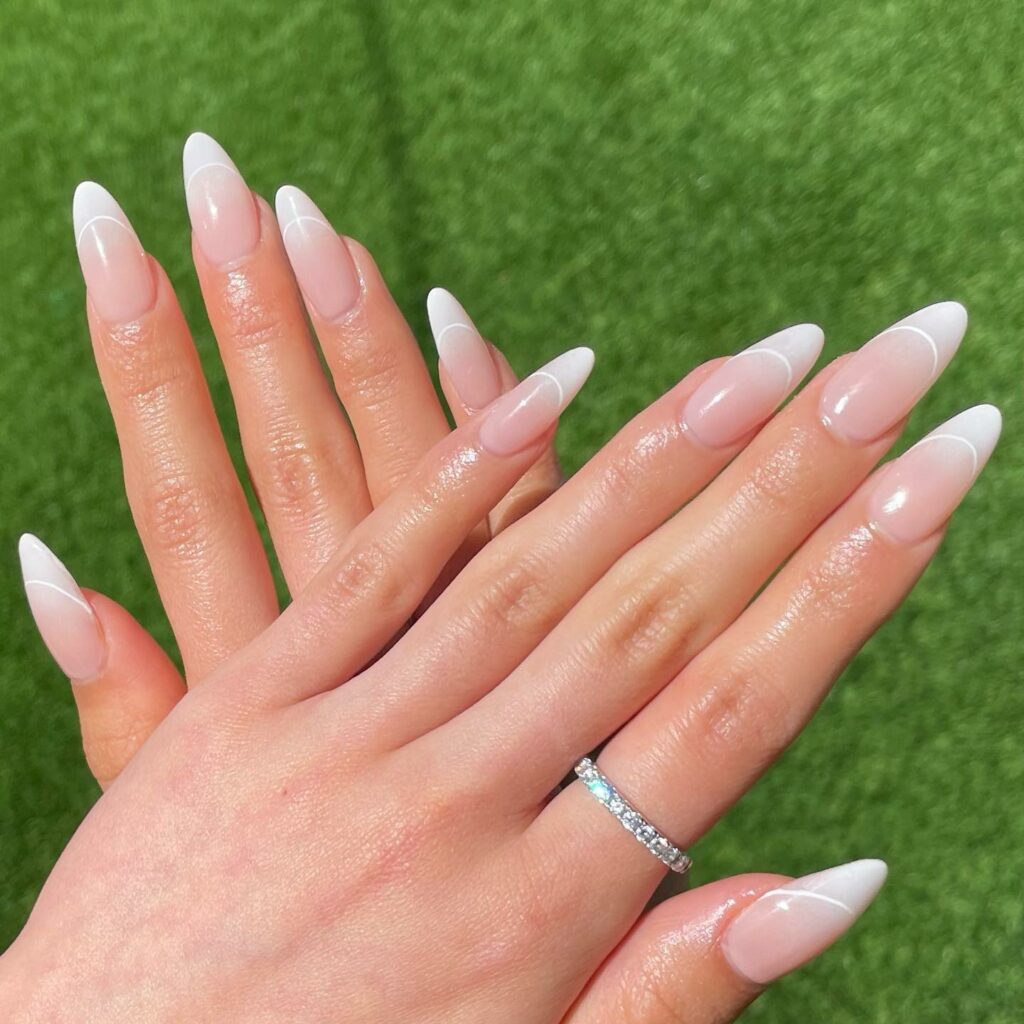 Ombré Lip Gloss Nails bring a gradient of color to your fingertips, combining the sheen of lip gloss finish with transitional hues. This style offers a dynamic yet refined appearance that's a feast for the eyes.
Pearlescent Lip Gloss Nails
The ethereal glow of Pearlescent Lip Gloss Nails mimics the mesmerizing depth of a pearl. This manicure brings an otherworldly beauty that adds complexity and intrigue to your nail game.
Short but Glossy Nails
Who says you need long nails to make a statement? Short Lip Gloss Nails prove that you can rock a punchy gloss with a more practical nail length, making this an excellent choice for those who are always on the go.
Blush Tones Lip Gloss Nails
Blush Lip Gloss Nails offer a more muted yet equally stunning option. These nails exude a soft, natural gloss perfect for those who prefer subtlety without compromising shine.
Rose-Toned Lip Gloss Nails
For an elegant take on the trend, Rose-Toned Lip Gloss Nails bring sophistication. The warm, inviting tones are amplified by the glossy finish, offering a luxurious aesthetic.
Glitter-Infused Lip Glossy Nails
Unleash your inner party animal with a combination of chunky glitter and gloss. This vibrant look is a showstopper that's perfect for a night out.
Natural Lip Gloss Nails
Natural Lip Gloss Nails are for those who appreciate understated beauty. This style focuses on enhancing the natural hue of your nails while amping up the shine factor, making it a versatile choice for any occasion.
Luxurious Pearls Lip Gloss Nails
Pearls Lip Gloss Nails go beyond the conventional gloss by incorporating pearl-like elements, creating a multidimensional shine. This luxurious choice is ideal for special occasions where you want your nails to be as dazzling as your outfit.
Pearl French Lip Gloss Nails
Pearl French Lip Gloss Nails
Botanical Brilliance Lip Gloss Nails
Floral Lip Gloss Nails combine the beauty of intricate floral designs with the reflective shine of lip gloss finish. These nails serve as a miniature canvas for art and shine, adding a touch of natural elegance to your look.
Playful Pink Lip Gloss Nails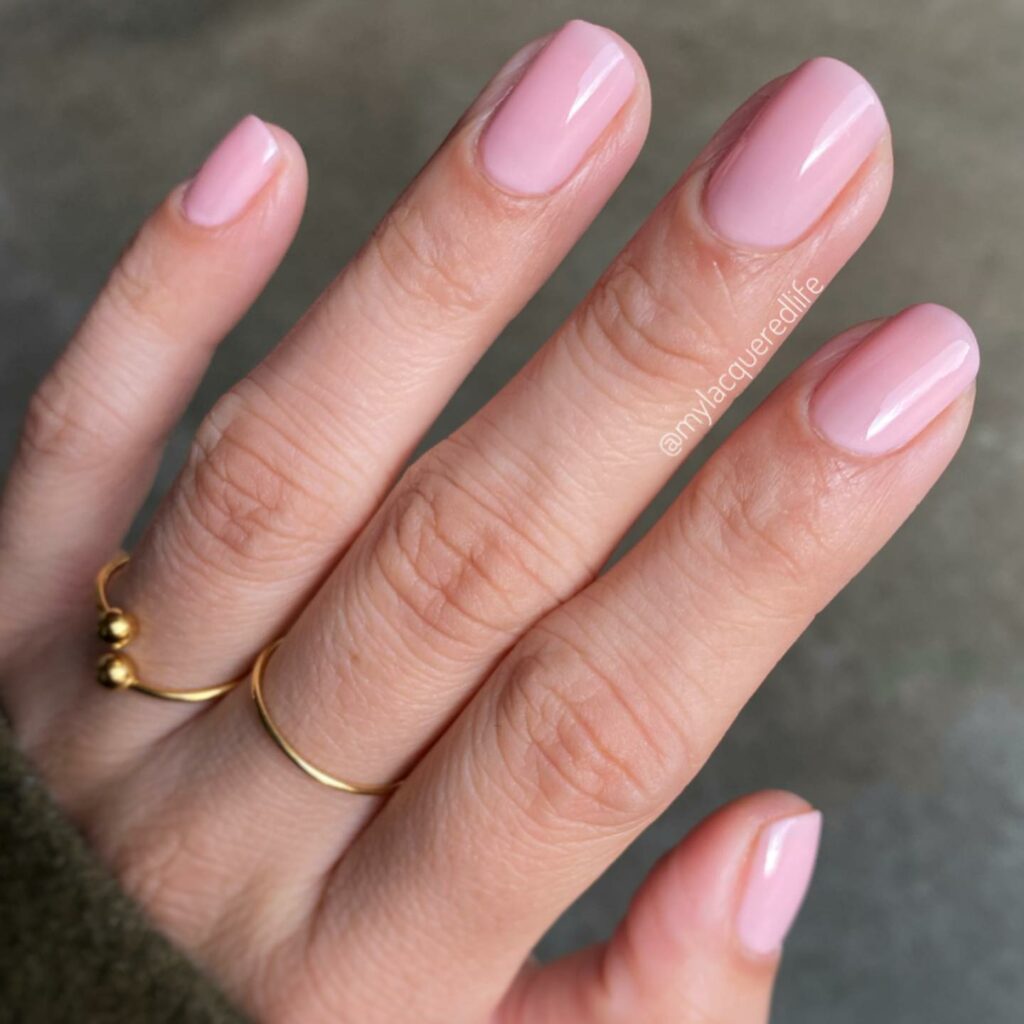 Pink Lip Gloss Nails offer a perfect blend of youthful color and sophisticated shine. Pink tones can range from soft pastels to vibrant fuchsia, all equally amplified by the lustrous gloss finish.
Short and Glossy Lip Gloss Nails
For those who prefer shorter nails, Short and Glossy Lip Gloss Nails prove that you don't need length to achieve glamour. This style maximizes shine while maintaining a convenient, manageable nail length.
Round Lip Gloss Nails
Round Lip Gloss Nails provide a classic shape with a modern twist. The curvature of the nails pairs beautifully with the high-gloss finish, making for a look that is both elegant and current.
Short Lip Gloss Nails with Gems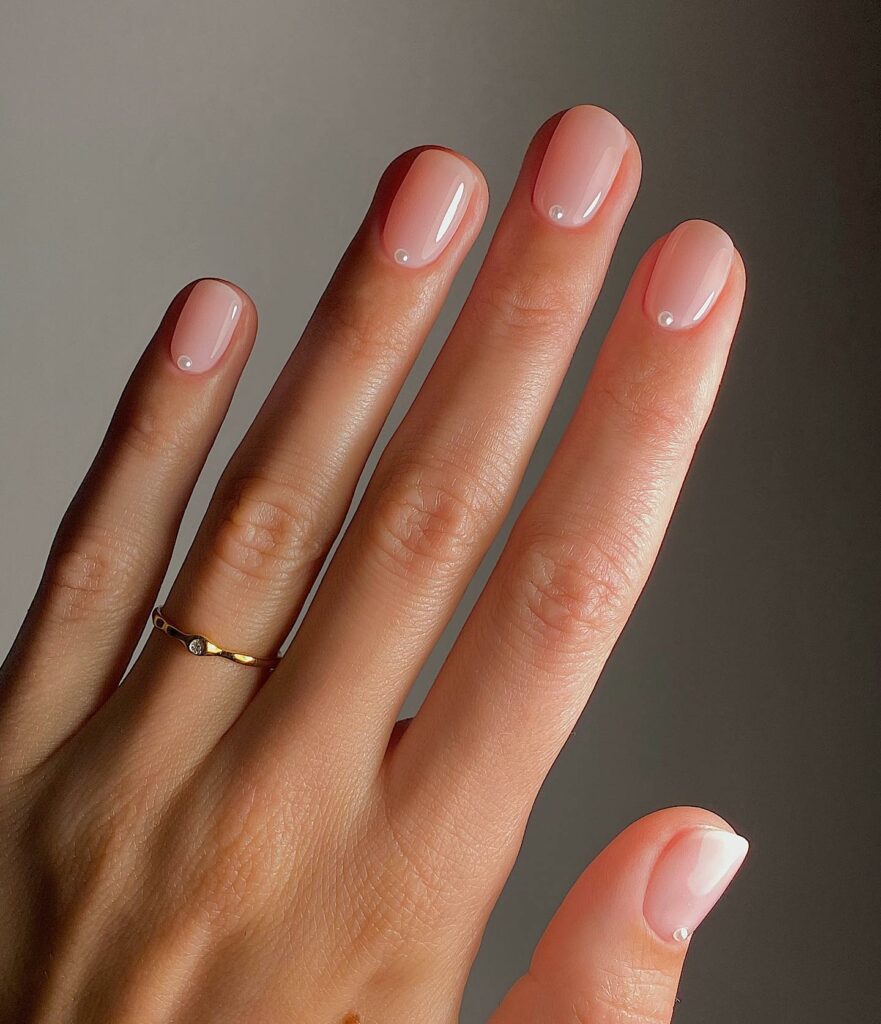 Add bling to your gloss game with Short Lip Gloss Nails adorned with gems. These small gemstone accents not only elevate the shine but also bring luxurious detail to shorter nails.
Almond Lip Gloss Nails
Almond Lip Gloss Nails combine a refined shape and high shine for a truly elegant look. The elongated, tapering almond shape provides a perfect backdrop for the gloss to catch the light.
Simple Lip Gloss Nails
Simple Lip Gloss Nails are for those who want to keep it classy without any added frills. The focus is on achieving a perfect gloss finish that speaks volumes by itself, perfect for both day and night.
Glossy Lip Gloss Nails
For those who want to push the envelope on shine, Glossy Lip Gloss Nails are the ultimate choice. This style amplifies the gloss to create nails that are almost mirror-like in their reflectivity, offering a look that truly stands out.
My 6 Tips To Achieve The Perfect Lip Gloss Nails
Base Coat:
OPI Natural Nail Base Coat: Provides an excellent foundation for your gloss, helping to prevent staining and improving the longevity of your manicure.
Glossy Top Coat:
Seche Vite Dry Fast Top Coat: Known for its ultra-glossy finish and quick-drying formula, this top coat is a favorite.
Essie Gel-Setter Top Coat: Offers a gel-like finish without UV light, providing a high-gloss shine.
Nail Polishes:
Zoya in 'Purity': A perfect choice for natural Lip Gloss Nails, offering a clean, white shade.
Essie in 'Ballet Slippers': Ideal for a soft pink gloss, this polish is renowned for its versatile, pale pink hue.
Specialty Glosses:
CND Vinylux Long Wear Top Coat: If you're going for something more advanced like Pearlescent or Ombré Lip Gloss Nails, this long-wearing top coat adds depth and dimension to your color.
ILNP MEGA – 100% PURE Ultra Holographic Nail Polish: Great for achieving the sparkle or glitter effect, this polish brings intense holographic sparkle to your gloss.
Gem and Design Kits:
Born Pretty Nail Art Rhinestone Kit: For those interested in Gem Lip Gloss Nails, this kit offers various sizes and colors of rhinestones.
Makartt Blooming Nail Polish: Ideal for Floral Lip Gloss Nails, as the polish blooms on the nail to create a natural floral design.
Tools:
Tweezerman Professional Stainless Steel Cuticle Nipper: A must-have for prepping your nails.
Orly Gel FX – Gel Cleanser: Clean the nails before applying any product, ensuring better adherence and longer-lasting results.
Still Looking for Inspiration, Then Check Out This Video
Conclusion
And there we have it, folks—the comprehensive guide to embracing the Lip Gloss Nails trend in all its glossy glory. From natural hues to bedazzled brilliance, there's a style to suit every personality and occasion. If you're diving into this trend, remember that preparation is key: Start with a good base coat to ensure longevity, and don't skimp on quality when choosing your gloss. On the flip side, while the allure of ultra-glossy nails is undeniable, be mindful of potential chipping. High-gloss finishes might require more upkeep than their matte counterparts, so keep that top coat handy for touch-ups.
This trend is more than just a fleeting moment in fashion; it's a testament to the ever-evolving world of beauty, offering new avenues to express individuality and style. So go ahead—plunge into the luxurious world of Lip Gloss Nails. You'll not only elevate your beauty game but also become part of a style movement that celebrates both classic elegance and modern innovation. Happy glossing!
Feature image @nailsbyalsn via Instagram
Last reviewed and updated on November 2, 2023