The crisp autumn air beckons a shift in style, and there's no better way to embrace the season than with a fresh manicure. Dive into the alluring universe of maroon nails – a fall favorite that packs a punch! While maroon might seem like just another color, it's a versatile palette of elegance waiting to be explored. In this piece, I'll take you through some fabulous ways to style your nails in this shade. Ever wondered how to pair maroon nails with that cozy sweater or chic scarf? I've got personal tips and recommendations lined up just for you. By the end of this, you'll be equipped with ideas and know-how to rock those maroon nails like never before. Let's get started!
Sharp Stiletto Maroon Nails
Stiletto maroon nails embody a bold and fierce style, bringing edge and sophistication to the wearer. The elongated shape and the deep maroon hue capture attention and exudes confidence.
Gradient Ombre Maroon Nails
Transitioning seamlessly from light to deep tones, ombre maroon nails offer a gradient charm. This style showcases the versatility of maroon, effortlessly merging two shades into a cohesive, chic design.
Maroon Meets Gold Nails
The union of rich maroon with touches of gold is a timeless combination reminiscent of royalty. These nails offer a luxurious vibe, perfect for any grand occasion or a refined everyday look.
Sparkling Maroon Ombre Nails
Blend the depth of maroon with the sparkle of glitter in an ombre effect. This style ensures your nails shimmer at every angle, making them the perfect companion for a night out.
Lustrous Coffin Maroon Nails
Glossy coffin maroon nails combine the allure of a contemporary nail shape with the classic beauty of maroon. This style exudes modern sophistication, ensuring nails that are both trendy and timeless.
Swirly Maroon Nails
Swirl maroon nails incorporate delicate designs and patterns, adding an artistic touch to the deep hue. This intricate style will turn heads and inspire nail art enthusiasts everywhere.
Textured Stiletto Maroon Nails
Textured stiletto maroon nails add depth and dimension to the classic stiletto design. The interplay of texture with the maroon hue creates a unique, tactile experience for nail aficionados.
Maroon Nails with Floral Touch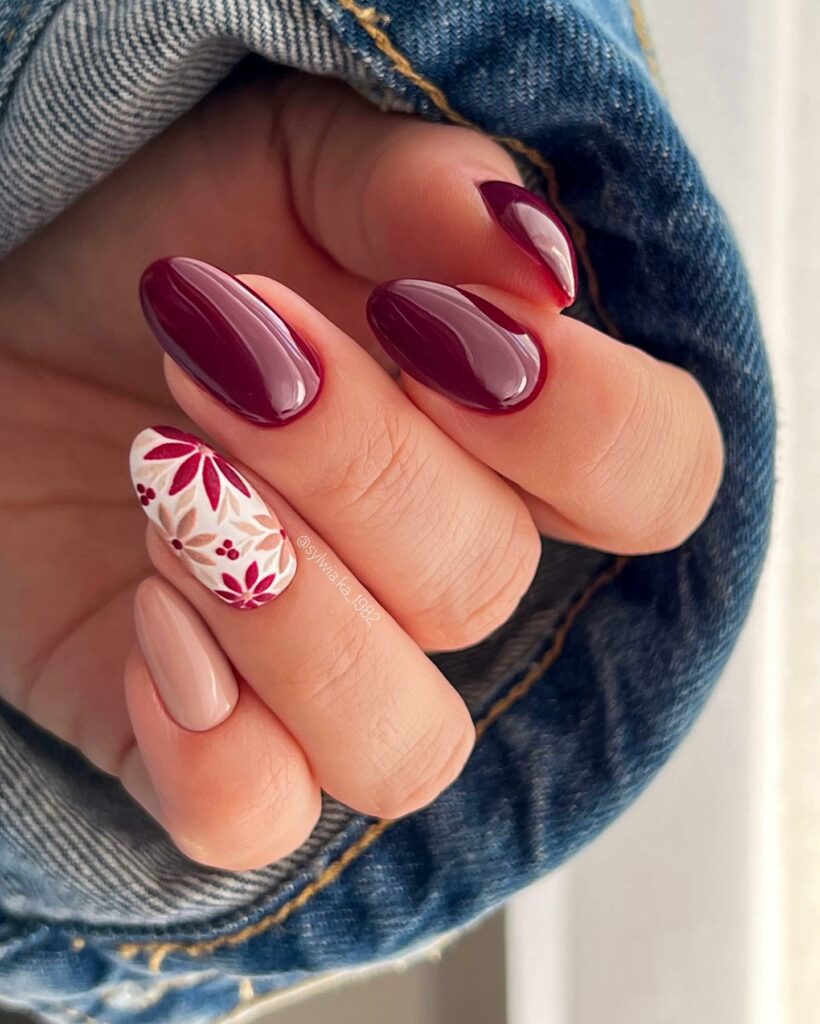 With delicate floral designs set against a maroon backdrop, these nails encapsulate the beauty of nature. They're perfect for those looking to add a touch of romance and femininity to their style.
Classy Maroon Nails
Classy maroon nails offer a refined and polished look, proving that simplicity often speaks volumes. This style is ideal for those who appreciate understated elegance with a hint of luxury.
Matte Meets Glossy Maroon Nails
Combining matte and glossy finishes on maroon nails presents a playful contrast. This style showcases the duality of maroon, making it adaptable for various moods and occasions.
Abstract Art on Maroon Nails
Step into an artistic realm with maroon nails showcasing abstract designs. A canvas that celebrates creativity and individuality.
Maroon Nails with Gold Glitter Acrylic
These nails intertwine maroon's deep elegance with the playful glitz of gold glitter. It's a design that ensures you shine brightly, whether a festive celebration or a chic event.
Chic Short Maroon Nails
Short maroon nails offer a subtle charm, proving that length is only sometimes needed to make a statement. This style is perfect for those who prefer a low-maintenance yet stylish look.
Sophisticated Palette Maroon Nails
The captivating blend of deep maroon with touches of opulent gold and pristine white is an ode to the luxurious palette of fall. Embellished with delicate floral accents and shimmering crystals, this nail art design exudes a sophisticated charm that seamlessly transitions from day to night.
Confetti Almond Maroon Nails
These maroon nails are adorned with playful confetti, adding a hint of whimsy to the almond-shaped elegance. It is a perfect combination for those seeking both fun and sophistication.
Tip-Contrasted French Maroon Nails
The timeless beauty of French nails is reimagined with a bold maroon twist. Offering a contemporary take on a classic design, these nails ooze elegance.
Elegant Swirl Maroon Nails
Experience the charm of intricately designed maroon nails, where elegant swirls dance on a deep, rich backdrop. Perfect for those seeking an artistic touch.
Sparkling Glittery Maroon Nails
Let your nails shimmer and shine with a sprinkle of glitter set against a maroon canvas. A stunning choice for evening events or any moment you wish to dazzle.
Nude Palettes Meeting Glittery Maroon Nails
Celebrate the harmonious union of nude shades and glittery maroon, creating a beautiful contrast that will get noticed.
Glittery Gold Highlights on Maroon Nails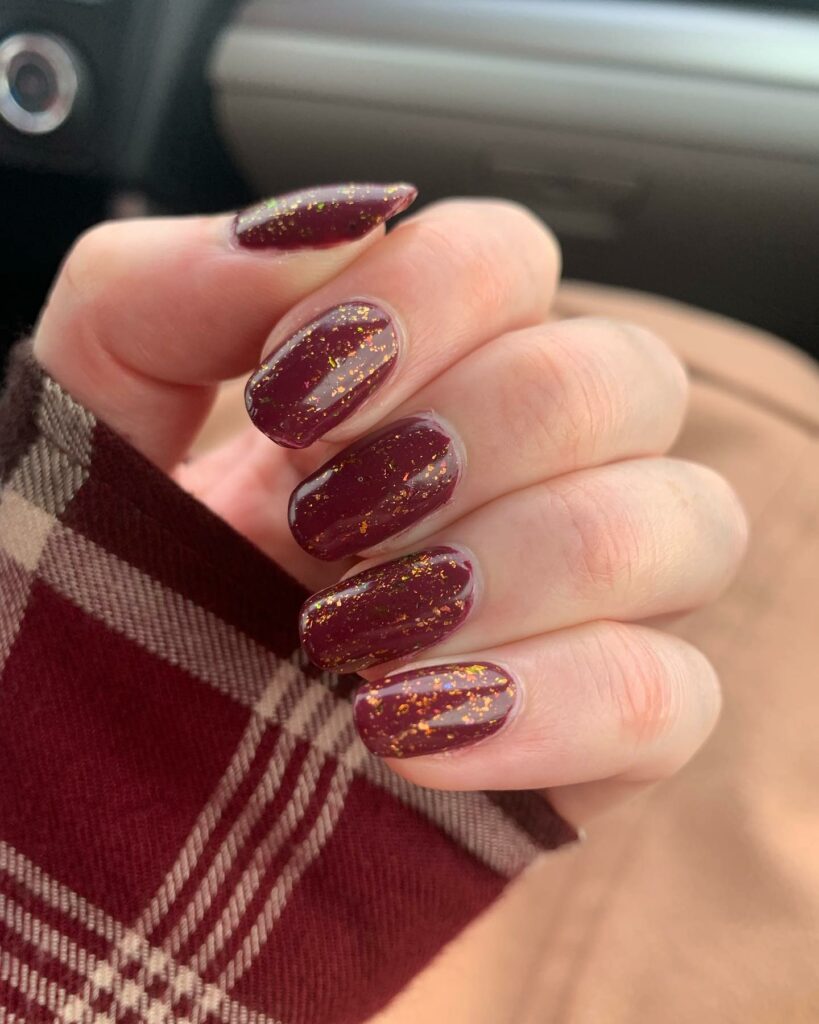 Immerse in the opulence of maroon nails highlighted with glittering gold accents. A regal look that's truly fit for any occasion.
Maroon Coffin Nails Adorned with Rhinestones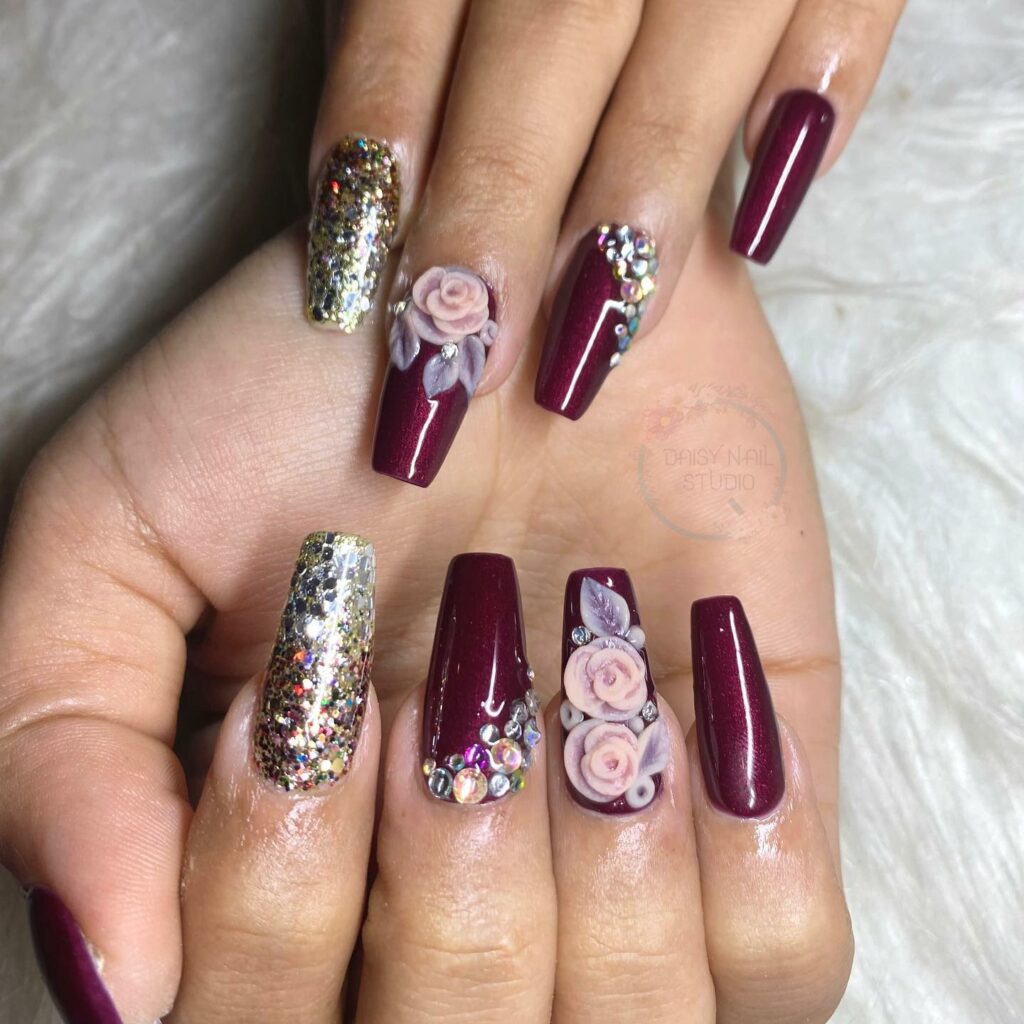 Embrace the allure of coffin-shaped maroon nails, further elevated by the sparkle of rhinestones. A statement looks for those who love a touch of bling.
Checkered Elegance of Plaid Maroon Nails
Venture into the world of timeless patterns with plaid designs on maroon nails. Perfect for those who appreciate classic styles with a twist.
Ultra-Glossy Maroon Nails
Indulge in the radiant glow of ultra-glossy maroon nails that reflect light with every movement. A polished look for the chic and sophisticated.
Coffin Maroon Nails with Heart Accents
Discover the romantic allure of coffin-shaped maroon nails accentuated by delicate heart designs. A tribute to love and beauty.
Tipped French Maroon Nails
Revisit the charm of French nails, this time with a double dose of maroon. A dual-tipped wonder for those who love to experiment.
15 Other Styles That I Love To Mix With Maroon Nails
With its rich and elegant hue, Maroon offers an expansive palette for nail artistry. Here are some styles that can be achieved with maroon nails:
Marbled Effect: Use maroon as a base and swirl in white or gold to give a luxurious marbled look.
Reverse French Manicure: Use maroon for the tips or the moon at the base of your nails rather than the typical white tips.
Metallic Accents: Pair maroon with metallic shades like gold, silver, or bronze for a chic contrast.
Lace Patterns: Using a fine brush or nail stamp, overlay a delicate lace pattern on a maroon base.
Velvet Finish: Use a velvet powder over maroon polish to give your nails a plush, velvety texture.
Geometric Designs: Incorporate sharp lines, triangles, or other geometric shapes in contrasting colors with maroon.
Jewel Embellishments: Adorn maroon nails with tiny jewels or rhinestones for an added touch of glamour.
Gradient Shades: Blend maroon with a lighter or darker shade to create a gradient or ombre effect.
Negative Space Art: Use maroon to create intricate patterns, leaving parts of the nail transparent to showcase negative space designs.
Tribal Patterns: Draw intricate tribal patterns over a maroon base using black or gold polish.
Dual Toned: Paint half of the nail in maroon and the other in a contrasting color, like beige or navy.
Matte Finish: Apply a matte top coat over maroon polish for a sophisticated and modern look.
Striped Patterns: Horizontal, vertical, or diagonal stripes in white, gold, or other contrasting colors can elevate the look of maroon nails.
Polka Dots: Add tiny white or gold dots to a maroon base for a playful look.
Animal Prints: Leopard or zebra prints can be adapted with maroon as the primary color.
Still Looking for Inspiration, Then Check Out This Video
Conclusion
Maroon nails have firmly established themselves as a timeless choice in the ever-evolving world of nail art. Their deep, rich hue is the perfect canvas for countless designs, from sparkling accents to intricate patterns. As with all nail arts, ensuring that the application is done with precision and the right products is essential. Always choose quality nail polishes and gels to prevent any potential damage to your nails. Remember to give your nails a breather now and then, allowing them to recover and remain healthy. Hydration, too, plays a pivotal role, so invest in a good cuticle oil. And, if you're trying out intricate designs for the first time, don't hesitate to seek professional assistance. Hello, fashion enthusiasts! As you embark on your maroon nail journey, let your creativity shine, and let each nail reflect your unique style. Stay informed, stay stylish, and most importantly, have fun!
Feature image @sylwia.ka_1982 via Instagram
Last reviewed and updated on October 28, 2023