Hello, beautiful people! As a seasoned beauty maven, I've always been dedicated to the pursuit of the perfect glow, and today, we're zeroing in on a topic that's dear to my heart—the best moisturizers for black skin in 2023. As we're aware, not all moisturizers are created equal, and black skin, in its stunning and diverse array of tones, has unique needs that must be met to maintain its healthy, radiant appearance. We'll navigate this lush skincare landscape together, focusing on products that provide maximum hydration and nourishment explicitly tailored for black skin's distinct characteristics, both for the face and body.
In this engaging beauty journey, you'll learn about the crucial ingredients to look for in moisturizers and why they're especially beneficial for black skin. We'll dive into a curated selection of top-notch products in 2023, each reviewed and tested for their efficacy on our beautiful melanin-rich skin. We'll cover a range of options, from luxury labels to affordable finds, ensuring there's something for everyone.
By the time you've savored the last word of this post, your beauty knowledge will be enhanced, and you'll also be armed with a personalized moisturizer arsenal that empowers your black skin to glow brighter than ever. Welcome to a journey to celebrate your skin and help you embrace your unique beauty brand—let's dive in!
The Lowdown on Moisturizing Black Skin
Before we delve into this treasure trove of products, let's talk about why our beautiful black skin calls for special attention. You see, as a melanin-enriched woman myself, I've learned that while our skin tends to have a fabulous, natural glow (thanks, melanin!), it is often prone to issues like hyperpigmentation, melasma, and sometimes even that dreaded ashiness, especially on the elbows or any dry areas. Believe me, when I say I've been there too!
A solid skincare routine, meticulously designed to hydrate our skin, can be a magic wand for these woes. While I swear by my go-to face moisturizer, I can't stress enough the importance of a quality body moisturizer applied generously right after your shower – it's like a warm hug for your skin, locking in that lovely moisture.
Best Moisturizers for Black Skin in 2023
Here's a pro tip: our black skin tends to lose moisture more rapidly than others. Enter hyaluronic acid, your new skincare best friend! It acts like a tiny, invisible sponge on your skin, keeping all that precious hydration locked in. But remember, fragrances can be tricky; they might irritate, so it's usually best to go for products with less of them.
Now, let's get to the exciting part: unveiling 15 of the best body and face moisturizers specially picked for your glorious black skin. And don't worry, my beauties, we've got something for every skin type!
The Best Face Moisturizers For Black Skin
CeraVe AM Face Moisturizer
We should start this list with a universal favorite: CeraVe AM Face Moisturizer. If you're like me and your skin seems to have a different mood every day – sometimes oily, sometimes dry, often a confusing combination, or even acne-prone – this moisturizer is your match.
I love how it's packed with skin-loving ingredients like ceramides, glycerin, and our superstar, hyaluronic acid. Plus, it's an AM product, which means it comes with a built-in SPF of 30! Don't be fooled, my loves; SPF is necessary for preventing skin cancer and melasma, even if you never get sunburns. This one is also free of oil and fragrances, so you won't have to worry about breakouts or irritation. And the best part? It's affordable, at about $14 at Walmart.
Neutrogena Hydro Boost Gel Moisturizer
Next up, Neutrogena's Hydro Boost Gel Moisturizer, a product I swear by for those with oily complexions or acne-prone skin. It's incredibly lightweight and fast-absorbing, meaning you won't even feel it on your skin! And yes, it's loaded with our beloved hyaluronic acid. I must caution, though, it doesn't come with SPF, so don't forget to layer some sunscreen if you're stepping out. You can find this gem at Walmart for around $18.
The Ordinary Natural Moisturizing Factors + HA
Here's a treat for my budget-conscious beauties! The Ordinary brand makes waves in the skincare world without breaking the bank. This moisturizer, priced at only $5.80, combines skin-loving ingredients like ceramides, fatty acids, and hyaluronic acid. It's suitable for all skin types and free of parabens and sulfates, which means a lower risk of irritation.
Cetaphil Rich Hydrating Cream for Face
I've always admired Cetaphil for its simplicity and efficacy. This moisturizer is a boon for anyone with normal, dry, sensitive, or acne-prone skin. Its formula, hyaluronic acid, provitamin Complex, and olive extract, hydrates your skin while strengthening its natural barrier. Plus, it's hypoallergenic and non-comedogenic, making it a safe pick for sensitive or eczema-prone skin. It's budget-friendly, too, and available at Walmart for just under $15.
CeraVe Hydrating Hyaluronic Acid Serum
Though not strictly a moisturizer, this serum from CeraVe is a godsend when your skin feels particularly dry. It offers 24-hour hydration with ingredients like hyaluronic acid, vitamin B5, and niacinamide that help restore damaged and flaky skin. It's also free of parabens and fragrances, making it suitable for sensitive or acne-prone skin. Remember, you can use it under another moisturizer with SPF during the day or alone before bedtime. It costs $19.99.
And there you have it! Stay tuned for more, as we'll be covering body moisturizers next!
Skinfix Barrier+ Triple Lipid-Peptide Lotion
Okay, my fabulous ladies, let's continue our moisturizing journey. Let's talk about the Skinfix Barrier+ Triple Lipid-Peptide Lotion. This little gem has a powerful, hydrating punch packed in a surprisingly lightweight formula. Due to the nutri-peptides, lipids, and our superstar, hyaluronic acid, I can't get over its excellent anti-aging benefits.
After your morning glow-up or nighttime wind-down, lather your face with this hydrating magic post-cleansing. It practically kisses your dullness goodbye and leaves you with a captivating glow. I bought mine from Sephora for around $40, and it's worth every penny!
Pond's Dark Spot Corrector B3 Moisturizer
As a melanin-rich woman, I can tell you that fighting hyperpigmentation and dark spots can be a real battle. Enter the Pond's Dark Spot Corrector B3 Moisturizer! Now, this is the real MVP for budget skincare. It's a steal for just under $8 at Walmart.
This cream does wonders for dark spots and discoloration with its secret weapon: Vitamin B3. Be patient, my lovelies, as this cream unveils its magic within four weeks of consistent use. Here's a pro tip: instead of dipping your fingers into the jar, use a Q-tip to keep it all sanitary. Let's keep bacteria at bay!
Drunk Elephant Protini Polypeptide Cream
Let's talk luxury now, shall we? The Drunk Elephant Protini Polypeptide Cream is worth a splurge. It's especially suited for my sensitive-skinned and eczema-prone beauties. This cream is a sanctuary for your skin and free from the suspicious six (silicones, chemical sunscreens, SLS, dyes, fragrances, alcohols, and essential oils). Combining peptides, growth factors, amino acids, and pygmy water lily gives your skin a much-needed hydration boost and firmness. This delight is available at Ulta Beauty for $68.
The Best Body Moisturizers for Black Skin
Eucerin Advanced Repair Body Lotion
If your skin feels like a desert, it's time to quench that thirst with Eucerin's Advanced Repair Body Lotion. This lotion, priced just under $10, is a lifesaver for dry and cracked skin, locking in moisture for an impressive 48 hours. Despite its thick and creamy appearance, it's surprisingly lightweight, and your skin will drink it up instantly. Apply it generously over cracked hands or feet for the best results.
Aveeno Skin Relief Moisturizing Lotion
I have a particular recommendation for my ladies with eczema-prone skin: Aveeno's Skin Relief Moisturizing Lotion. This fragrance-free moisturizer is a real game-changer, nourishing and repairing damaged skin without triggering flare-ups. Enriched with natural shea butter and the brand's signature Triple Oat Complex, this lotion will make your skin feel incredibly soft and healthy. Plus, it's quite a bargain, retailing for under $9.
Augustinus Bader The Body Cream
Are you willing to splurge a bit for an uber-luxurious treat for your skin? If yes, let me introduce you to the Augustinus Bader The Body Cream. Yes, its price of $180 might make you wince a bit, but trust me, it's worth every dime. This cream is like a magic potion for firmness, dark spots, dullness, and uneven skin texture.
The Moisturizing Crusaders: Body Lotions That Won't Break the Bank
CeraVe Daily Moisturizing Body Lotion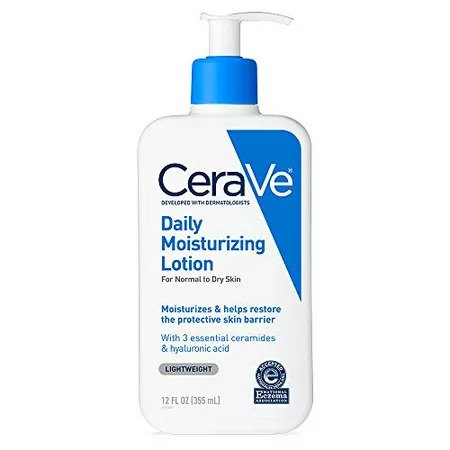 I'm starting with my favorite, the CeraVe Daily Moisturizing Body Lotion. Rich with the skin-pleasing duo of ceramides and hyaluronic acid, this lotion will give your skin a post-shower treat. One tip from my beauty playbook is to wait 10-15 minutes after applying the lotion before getting dressed. It absorbs nicely, leaving your skin feeling baby soft. Available for under $18, it's a steal.
For Our Gentlemen: Vaseline Advanced Repair Lotion
Let's remember our handsome men out there! We all know the typical guy's approach to skincare – fuss-free and affordable. Vaseline Intensive Care Advanced Repair Lotion ticks all the right boxes—microdroplets of Vaseline jelly work with deeply moisturizing ingredients to yield smooth, healthy skin. I once gifted this to my brother, who had cracked skin, and voila! He saw a vast improvement within five days. The secret is applying it both morning and night. Guess what? It costs just under $9!
For the Budget-conscious Ladies: NIVEA Essentially Enriched Body Lotion
Let's talk about an absolute bargain, shall we? The NIVEA Essentially Enriched Body Lotion offers 48-hour deep nourishment at just $5.48. As a sucker for a good skincare deal, I can't resist this almond oil and glycerin lotion. It's even safe for sensitive skin! I tend to slather this goodness all over my body every morning and night – and it even works wonders on hands and feet.
For the Stubborn Dry Patches & Ashy Elbows: Aquaphor Healing Ointment Skin Protectant
Finally, I introduce you to my must-have on-the-go companion – the Aquaphor Healing Ointment Skin Protectant. This mini tube of wonder does everything from healing my chapped lips during winter to saving my heels from dryness during summer. It's an ointment built to shield your skin from the dryness-causing elements, restoring it to life.
The power-packed formula includes petrolatum, provitamin B5, bisabolol, lanolin, and glycerin. You can apply it wherever you need a moisture surge – elbows, heels, hands, lips; you name it! And the best part? It's free of parabens, fragrances, and water, making it an excellent option for every skin type.
And there you have it, my friends! Remember, skincare doesn't always have to come with a hefty price tag. Now, go ahead and try out these wallet-friendly heroes and let me know how it goes. As always, keep shining and loving your skin!
5 Unique Skincare Needs Of Black Skin
Black skin is gorgeous and unique in its way, offering a radiant glow that's rich and warm. But just like any other skin type, it requires special care and attention to stay healthy and vibrant. Let's dive into some of the unique skincare needs of black skin:
1. Moisture Retention: Black skin loses moisture faster than lighter skin tones, leading to dryness and ashy appearance. So, using hydrating products is crucial – think creams, lotions, and body butter packed with ingredients like hyaluronic acid, shea butter, and glycerin.
2. Sun Protection: Contrary to popular belief, black skin is not immune to sun damage. While melanin offers some natural protection against sunburn, it doesn't prevent other harmful effects, such as premature aging or skin cancer. Thus, incorporating a broad-spectrum sunscreen of at least SPF 30 into your daily routine is necessary.
3. Hyperpigmentation: Black skin is more prone to hyperpigmentation – dark spots or patches. This can result from acne, injuries, or inflammation. Ingredients like vitamin C, retinol, niacinamide, and consistent sunscreen use, can help manage and prevent these issues.
4. Acne and Scarring: Acne can leave more noticeable scars on black skin due to its melanin content. It's essential to use gentle products and avoid picking at your skin. If scarring does occur, products with retinoids or professional treatments like chemical peels can be effective.
5. Ingrown Hairs: Black men, in particular, are prone to ingrown hairs due to the costly nature of their facial hair. A good shaving cream and an aftershave containing salicylic acid can help reduce this issue.
Remember, every skin is unique, and what works for one person might not work for another. It's always best to consult a dermatologist or skin care professional to determine what's best for your skin. The journey to maintaining your skin's health is ongoing, and knowing your skin's unique needs is the first step.
8 Key Ingredients To Look For In Moisturizers For Black Skin
When looking for a moisturizer for black skin, you want ingredients that effectively hydrate and keep your skin glowing while tackling issues like hyperpigmentation and uneven skin tone. Here are a few key ingredients to look for:
1. Hyaluronic Acid: A powerful humectant, hyaluronic acid can hold up to 1,000 times its weight in water. It draws moisture to the skin and locks it in, keeping it hydrated and plump.
2. Ceramides: These lipid molecules form a protective layer on the skin, preventing moisture loss and keeping the skin barrier healthy. This is particularly useful for black skin, which can often struggle with dryness.
3. Niacinamide: Also known as vitamin B3, niacinamide helps reduce hyperpigmentation, improves skin barrier function, and increases skin elasticity. It can also help regulate oil production and treat acne.
4. Vitamin C: Vitamin C is a powerful antioxidant that can help brighten the skin, reducing dark spots and hyperpigmentation. It also boosts collagen production, helping to maintain the skin's firmness.
5. Peptides: Peptides are tiny chains of amino acids that stimulate collagen production, making the skin appear smoother and more youthful.
6. Shea Butter or Cocoa Butter: These rich emollients provide intense moisturization, making them great for drier skin types.
7. Retinol: Retinol can be a beneficial ingredient for mature black skin. It helps to reduce the appearance of fine lines and wrinkles, improve skin texture, and can also help in treating hyperpigmentation.
8. Natural Oils: Oils like almond oil, jojoba oil, or coconut oil can provide deep hydration and also assist with sealing moisture into the skin.
Remember, the best moisturizer depends on your skin type and concerns, so you should experiment with a few different products before you find your perfect match. Remember to patch-test new products to avoid any potential allergic reactions.
5 Affordable Alternatives To Moisturizer Black Skin
As a beauty lover, I understand the importance of finding high-quality yet affordable skincare options. So, here are a few budget-friendly moisturizers that work wonderfully for black skin:
1. Neutrogena Hydro Boost Gel-Cream: Packed with hyaluronic acid, this moisturizer hydrates and plumps the skin without feeling greasy. It's oil-free, dye-free, and fragrance-free, making it an excellent choice for sensitive skin.
2. Pond's Dark Spot Corrector Clarant B3 Moisturizer: At just under $8 at Walmart, this cream uses vitamin B3 to reduce the appearance of dark spots and discoloration while moisturizing your skin.
3. Eucerin Advanced Repair Body Lotion: This is a great affordable option if your skin needs some serious moisture. This lotion locks in moisture for up to 48 hours and helps to repair dry, cracked skin.
4. CeraVe Daily Moisturizing Lotion: Formulated with ceramides and hyaluronic acid, this moisturizer replenishes and retains your skin's natural moisture. It's also fragrance-free and hypoallergenic, making it an excellent choice for sensitive skin.
5. NIVEA Essentially Enriched Body Lotion: For just over $5, this lotion nourishes your skin deeply and can be used on your hands and feet. It's formulated with almond oil and glycerin, offering superb hydration for your skin.
Remember, the best skin care products are the ones that work for your specific skin needs. Don't be afraid to experiment to find the best products for your routine.
Conclusion
Well, my lovelies, that concludes our tour of body moisturizers that are wallet-friendly and efficient for various skin concerns. From dry and sensitive skin to rough, dry patches and everything in between, we've got you covered! Remember, the secret to reaping the benefits of any skincare product is consistency. Be patient, as true skin transformation takes time and a lot of love. Remember, while these products are skin-friendly, always conduct a patch test before committing to a complete application. This can help you avoid any potential reactions if you have hypersensitive skin. Skincare is indeed self-care, so don't hold back! Treat your skin and, by extension, yourself with the care and love you deserve. Now, armed with this knowledge and a world of hydrating products at your fingertips, let your beautiful skin glow! After all, happy skin makes you happy. And we love to see you happy, don't we? Stay fabulous, and keep shining your brightest beauties!