Today, we're diving into the vibrant and playful trend of multi-colored nails. If you've ever found yourself staring at your nail polish collection, unable to pick just one color, this post is for you! In this blog, I'll guide you through creating a stunning multi-colored nail look. You'll learn to select the perfect color palette to match your style and the occasion. Whether you're into bright and bold shades or prefer a more pastel approach, I've got tips for everyone. I'll also share some insider tricks on application techniques that make blending different colors a breeze. And for those hesitant about going full-on rainbow, I've included ideas for subtly incorporating multiple colors into your nail design. As a nail enthusiast, I love the creative freedom multi-colored nails offer. They're a fantastic way to express your personality and add color to any outfit. So, let's get our nail brushes ready and dive into the colorful world of multi-colored nails!
Multi-Colored Ombre Nails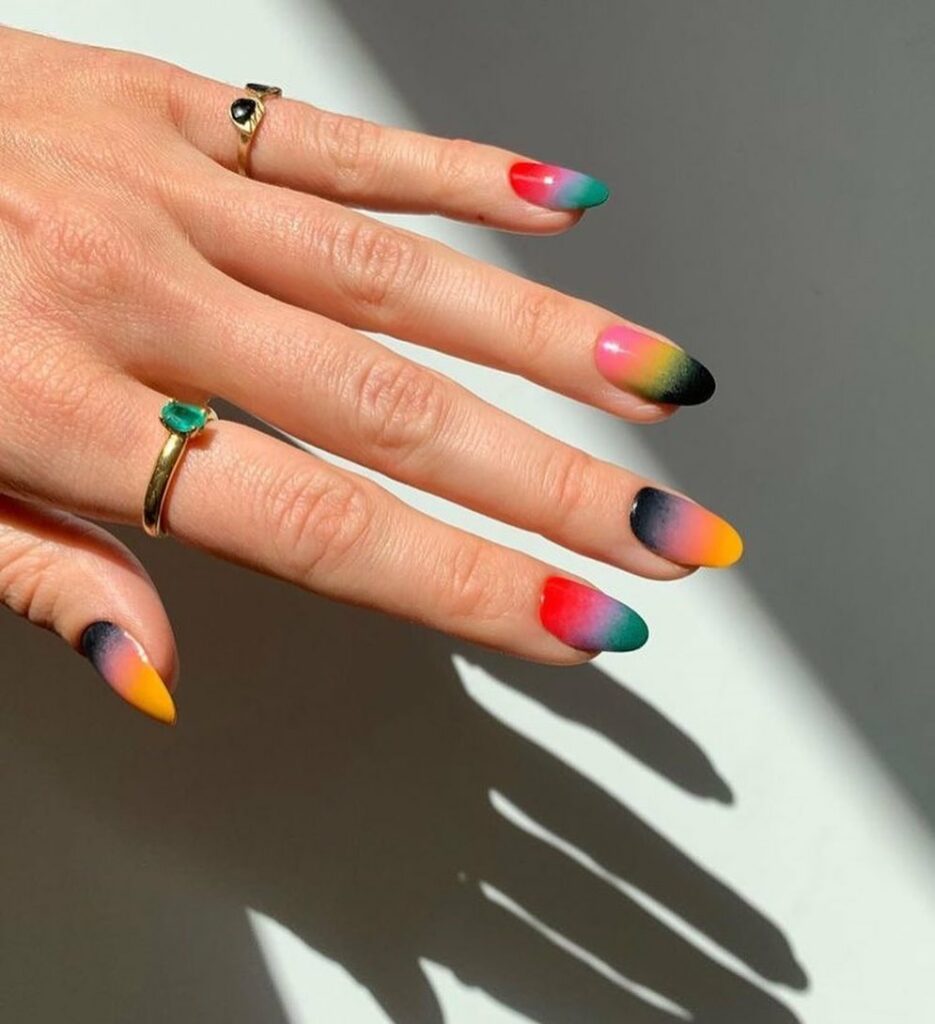 This style blends colors seamlessly on each nail, creating a stunning gradient effect. It's perfect for those who love a smooth transition between shades.
Multi-Colored Metallic Ombre Nails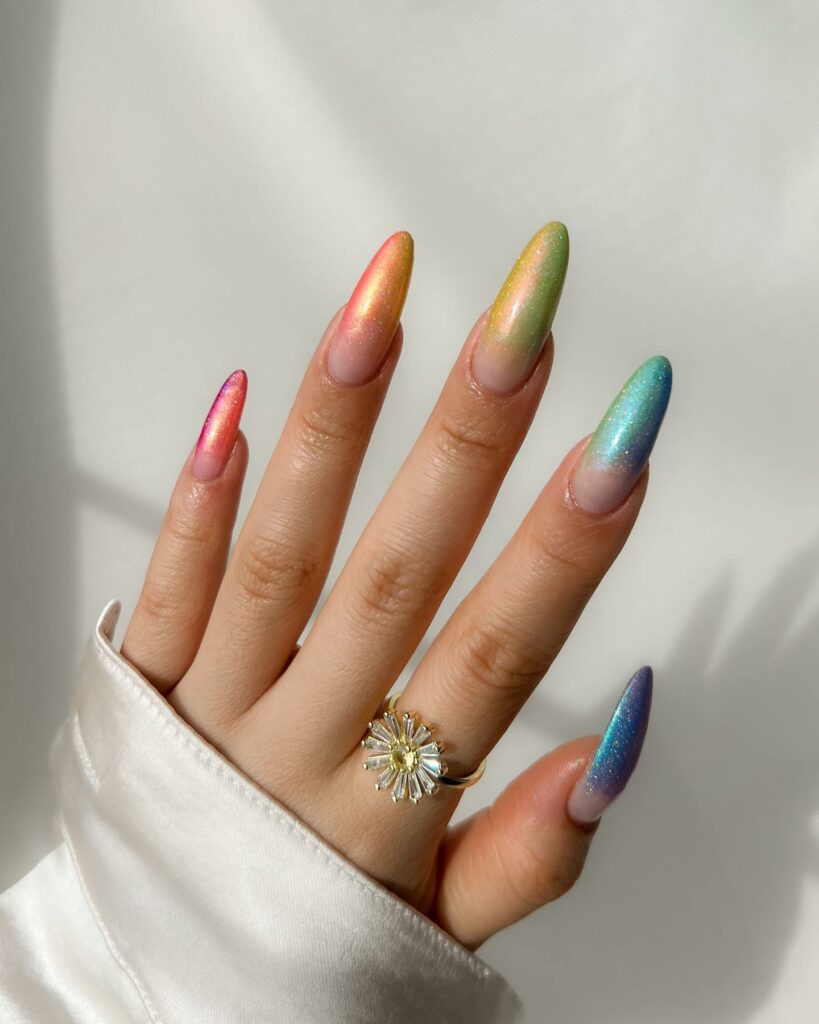 These nails combine the smooth transition of ombre with the added glam of metallic finishes. They are ideal for a night out or when you want your nails to make a bold statement.
Glossy Almond Multi-Colored Nails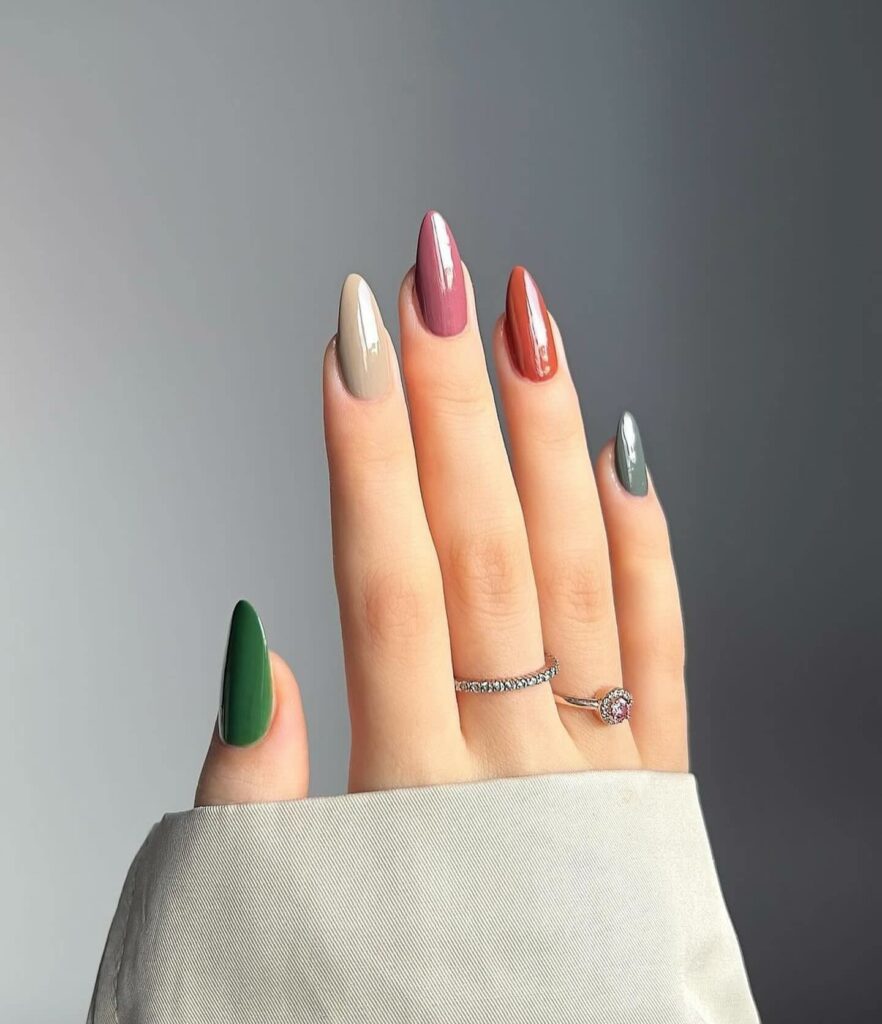 The almond shape lends an elegant touch, while the glossy multi-colored finish adds a playful vibe. It's a fusion of sophistication and fun, suitable for various occasions.
Multi-Colored French Coffin Nails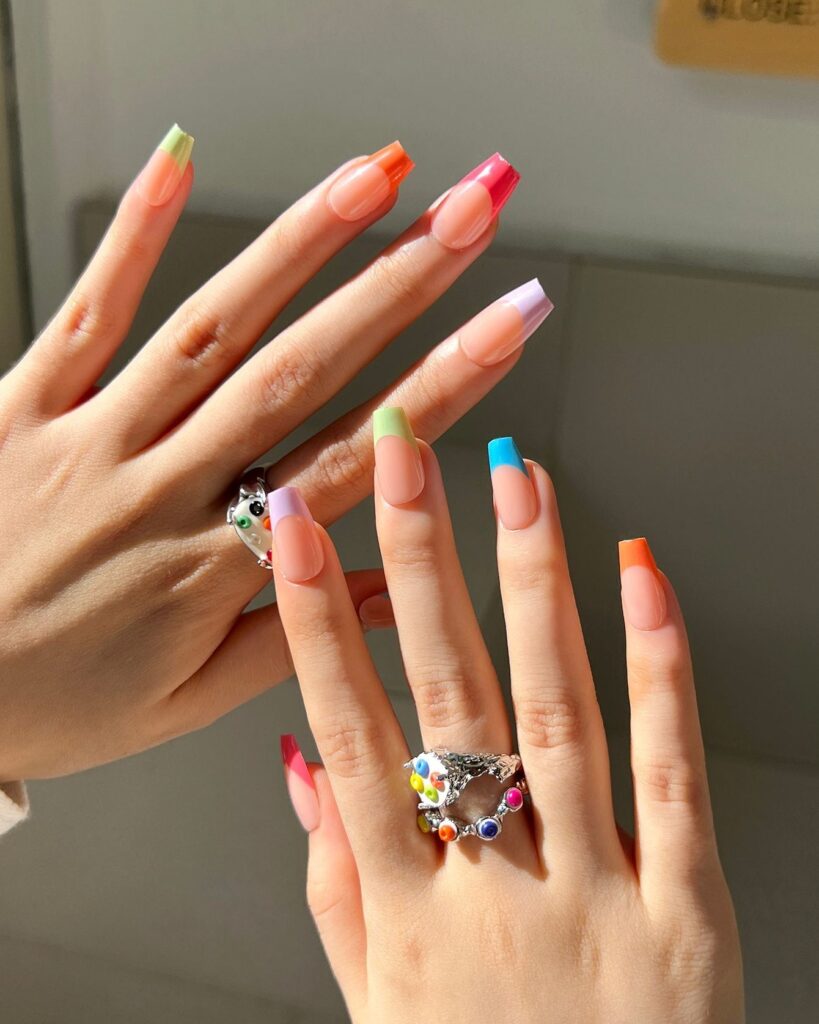 This design puts a modern twist on the classic French tip, using multiple colors on the iconic coffin nail shape. It's a trendy choice for those who love edgy yet elegant nail art.
Christmas Inspired Multi-Colored Nails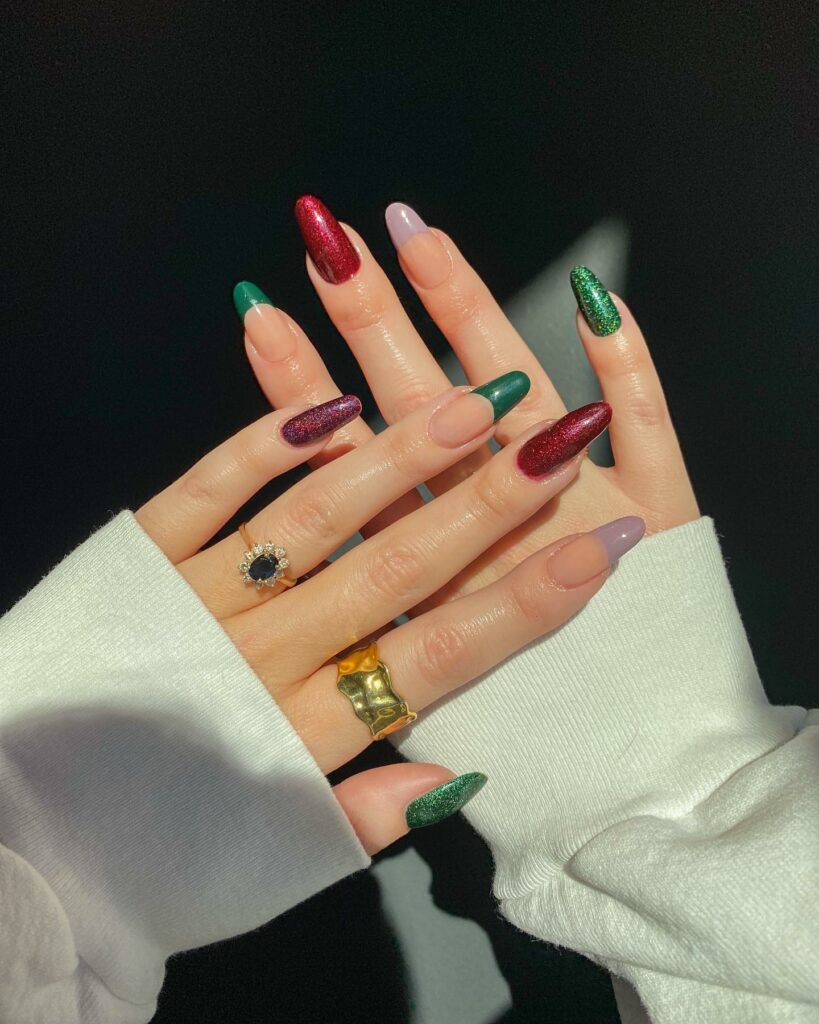 Embrace the holiday spirit with nails featuring traditional Christmas colors in a fun, multi-colored design. They're perfect for festive season gatherings or just getting into the holiday mood.
Multi-Colored Abstract Nails With Glitter
These nails feature artistic, abstract designs with a touch of glitter, making each nail a unique piece of art. They're ideal for creative souls who love a bit of sparkle.
Multi-Colored Checkered Nails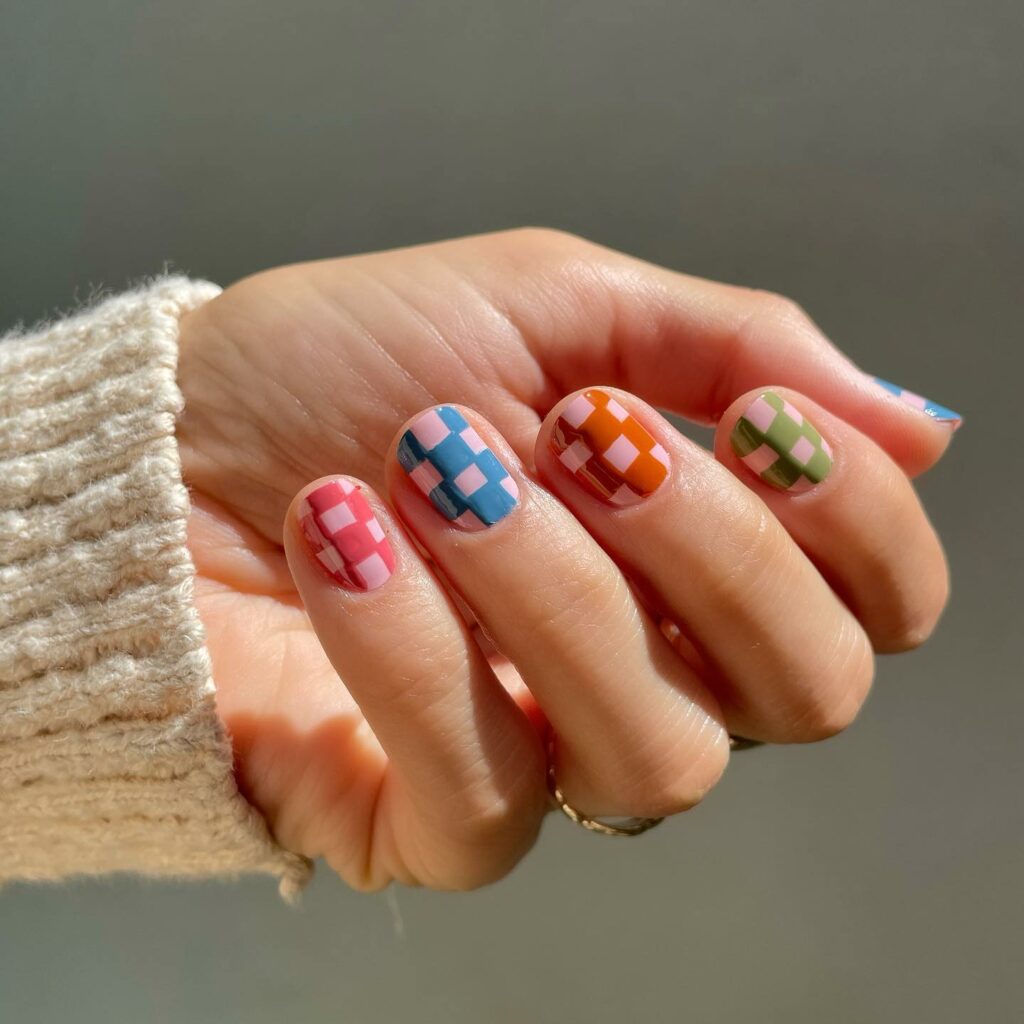 This playful design incorporates a checkered pattern with multiple colors, offering a retro yet modern look. It's an excellent choice for those who enjoy statement nails that are both fun and stylish.
Multi-Colored Metallic French Nails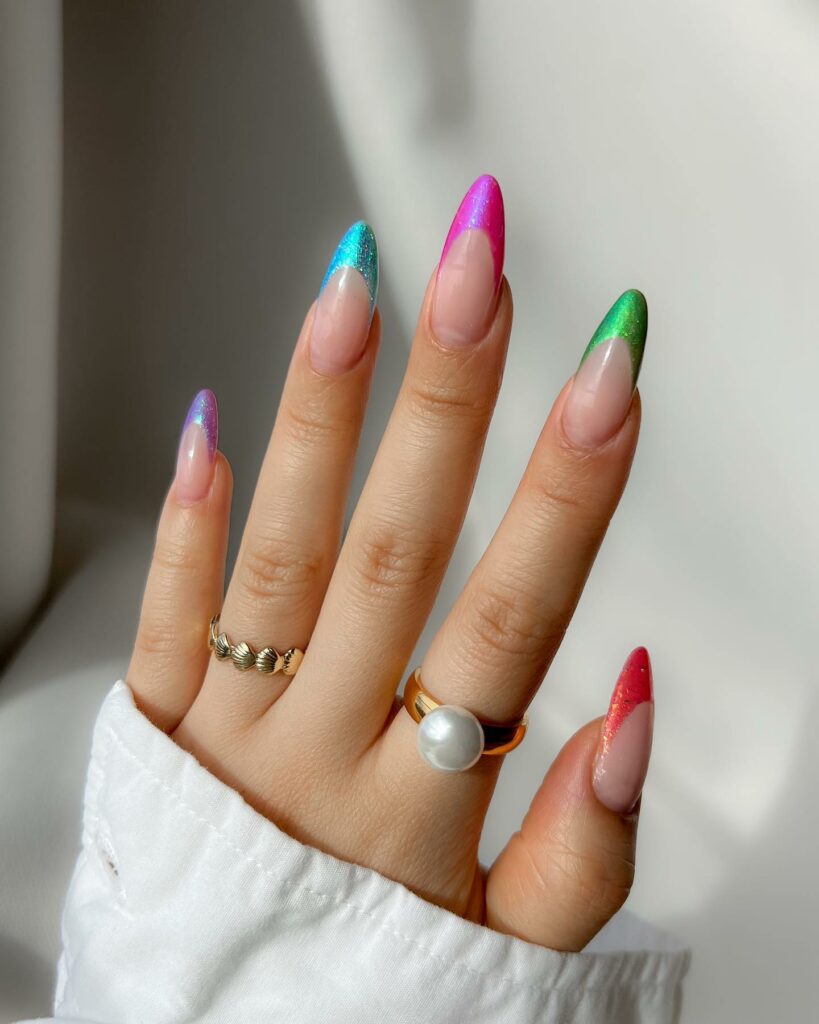 Combining the classic French tip with metallic hues, this style offers a chic and contemporary twist. It's perfect for those who appreciate a classic design with a modern edge.
Multi-Colored Matte Ombre Nails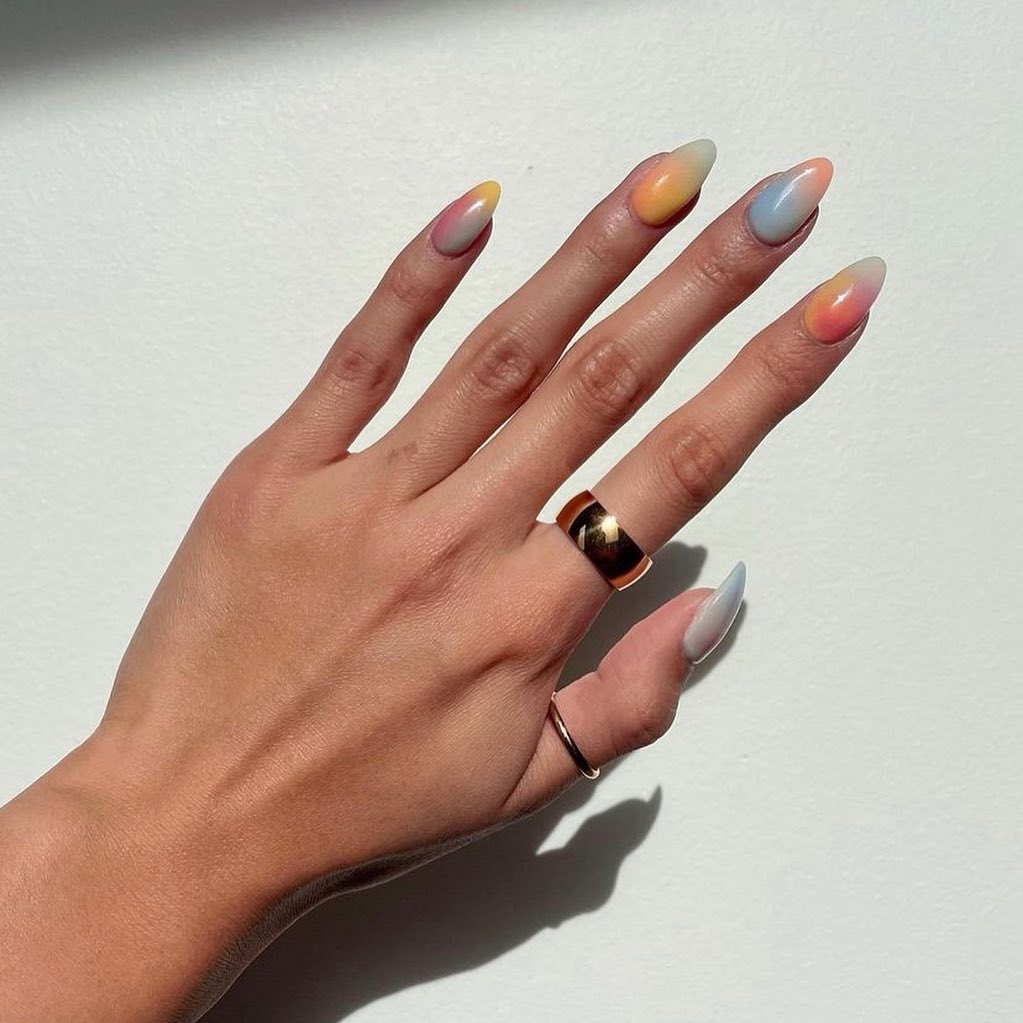 This style features a smooth color transition with a sophisticated matte finish. It's a subtle yet stylish choice for those who prefer a less glossy look.
Multi-Colored Reverse French Nails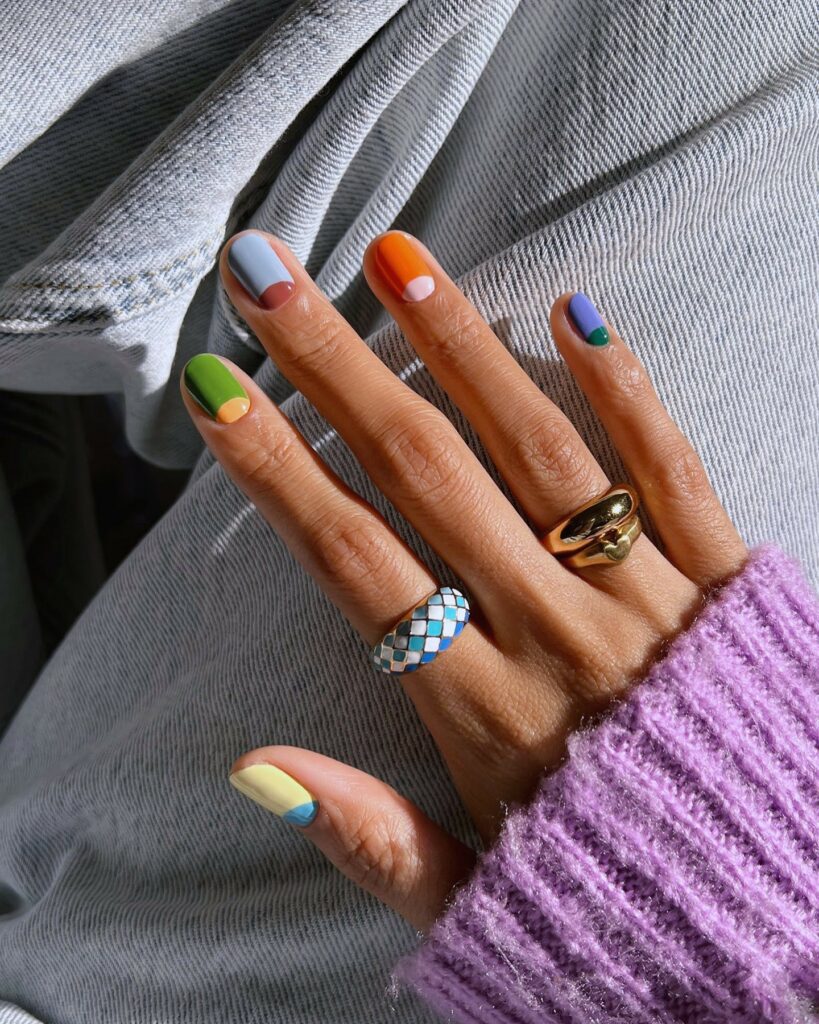 Inverting the traditional French manicure, this design applies multiple colors to the base of the nails. It's a unique and modern approach to a timeless style.
Multi-Colored Swirl Nails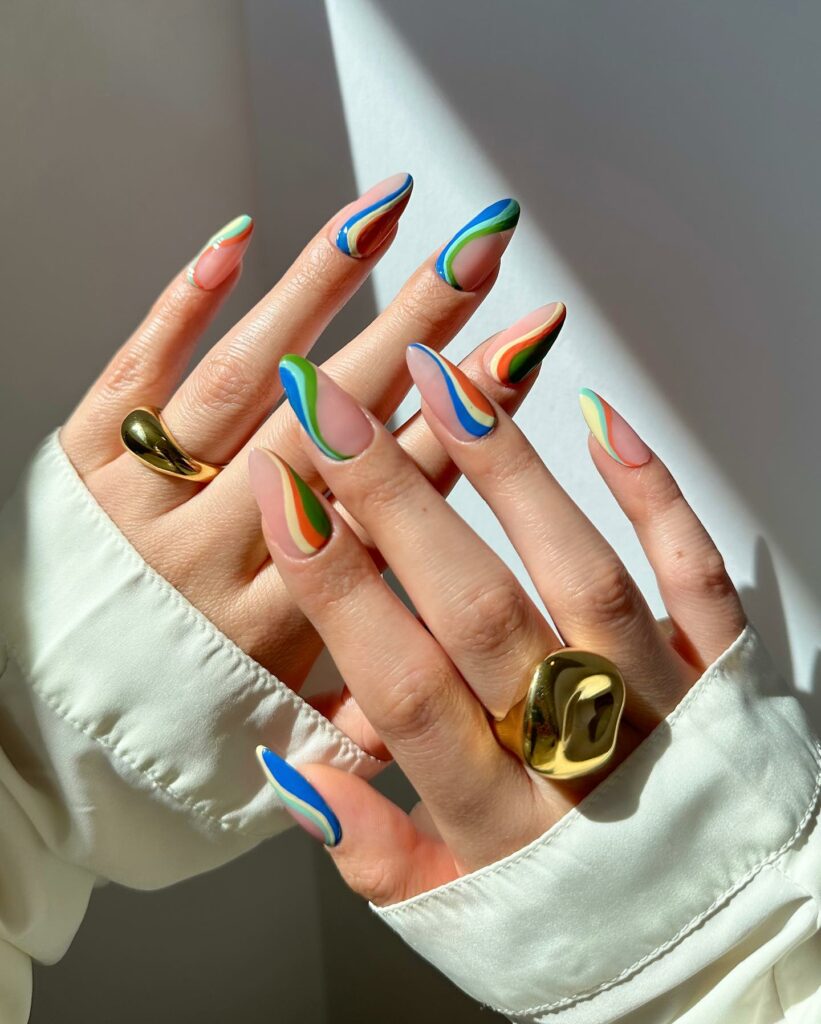 Swirl designs in various colors create a playful and artistic look on the nails. It's a whimsical choice perfect for adding a touch of fun to your everyday style.
Pastel Multi-Colored Nails
Soft and subtle, these nails use pastel shades for a gentle yet colorful appearance. They're ideal for those who love a more understated, delicate approach to multi-colored nails.
Multi-Colored Metallic Abstract Nails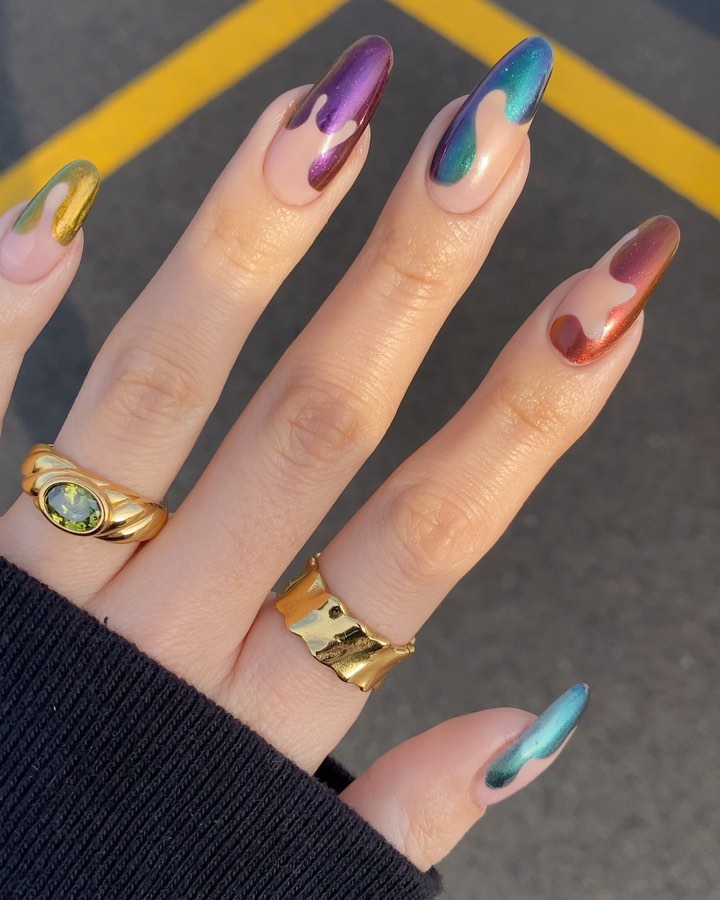 These nails combine the edgy coffin shape with a chrome finish in an ombre pattern. Ideal for trendsetters, this design is both modern and striking.
Multi-Colored Ombre Chrome Coffin Nails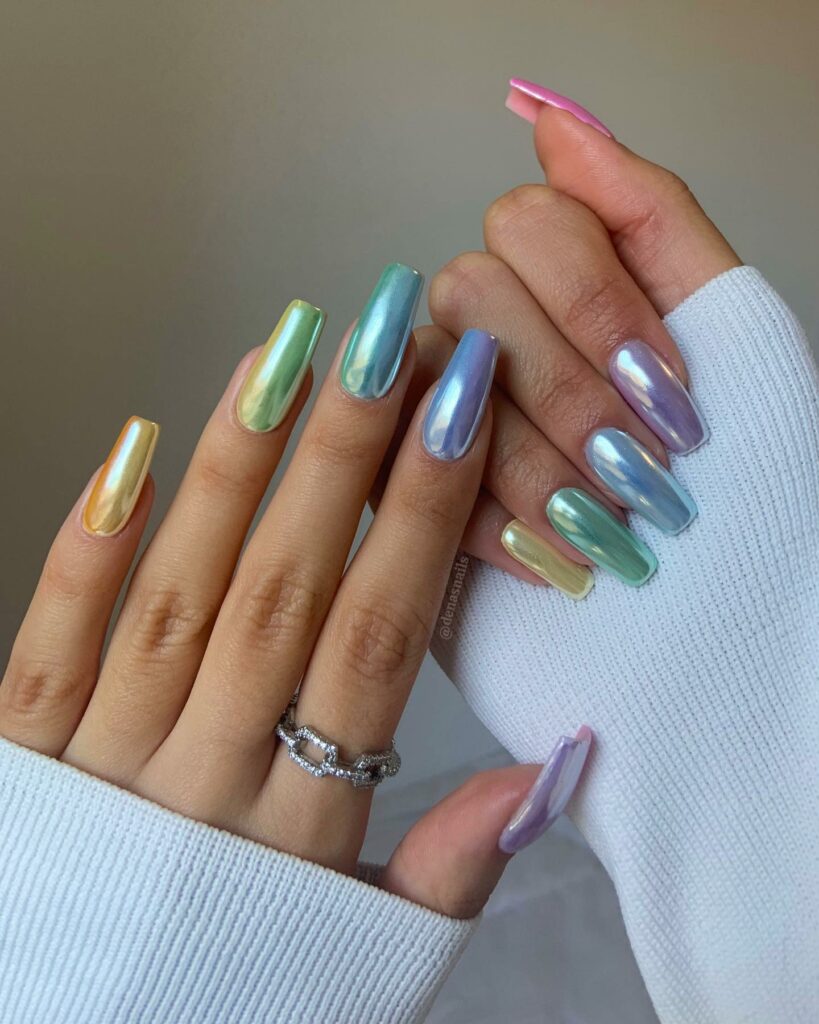 Combining the elegant almond shape with sparkling glitter in various colors, this design is glamorous and playful. It's an excellent choice for special occasions or to add sparkle to your day.
Multi-Colored Almond Nails With Glitter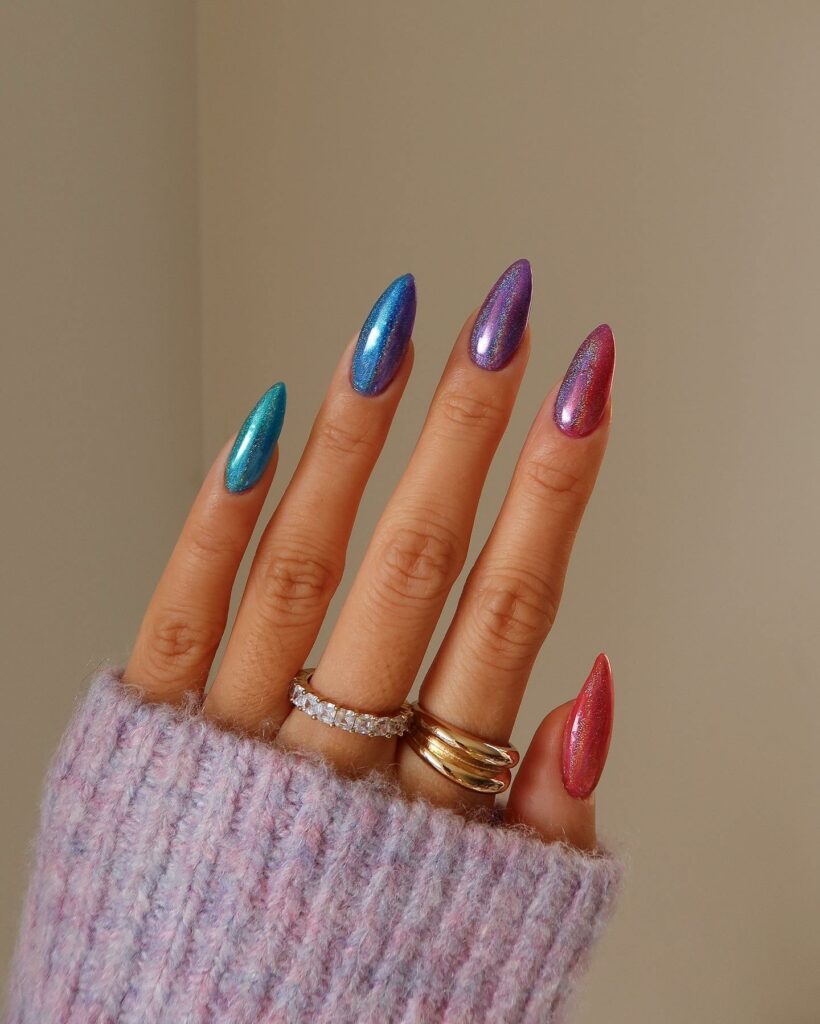 Combining the elegant almond shape with sparkling glitter in various colors, this design is glamorous and playful. It's an excellent choice for special occasions or to add sparkle to your day.
Multi-Colored Side French Tip Nails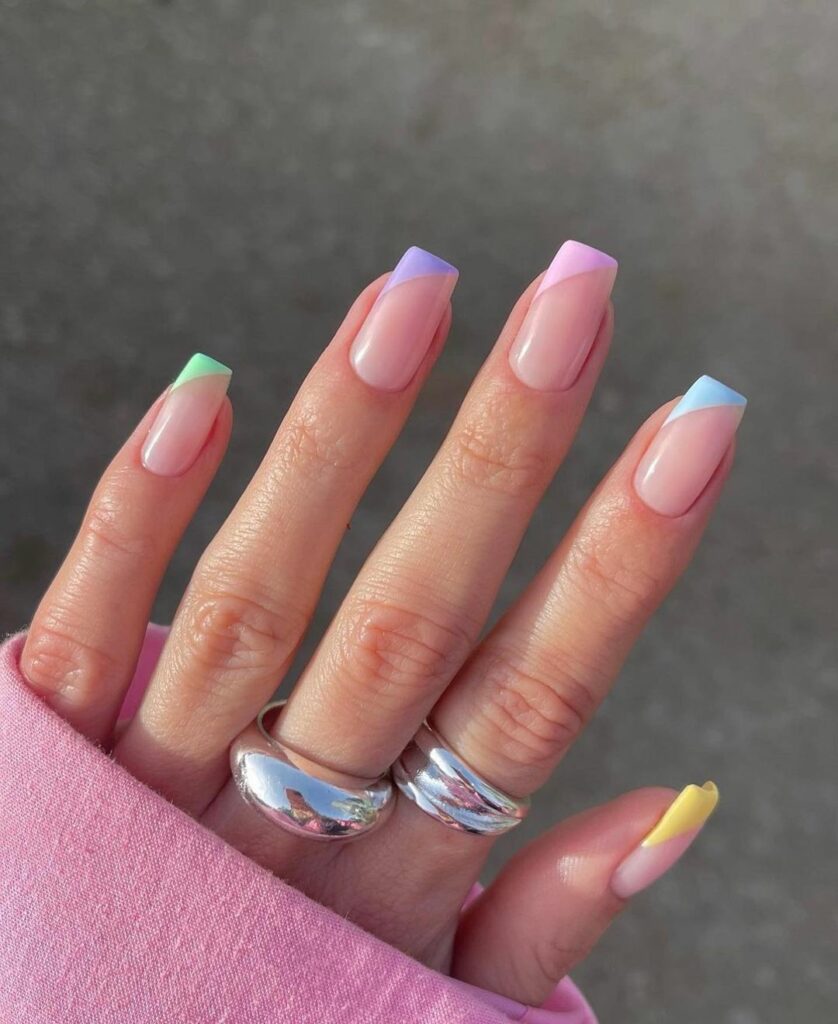 This unique take on the French tip features multiple colors along the side of the nail. It's a fresh and modern twist on a classic style, perfect for those who like to stand out.
Multi-Colored Almond French Tip Nails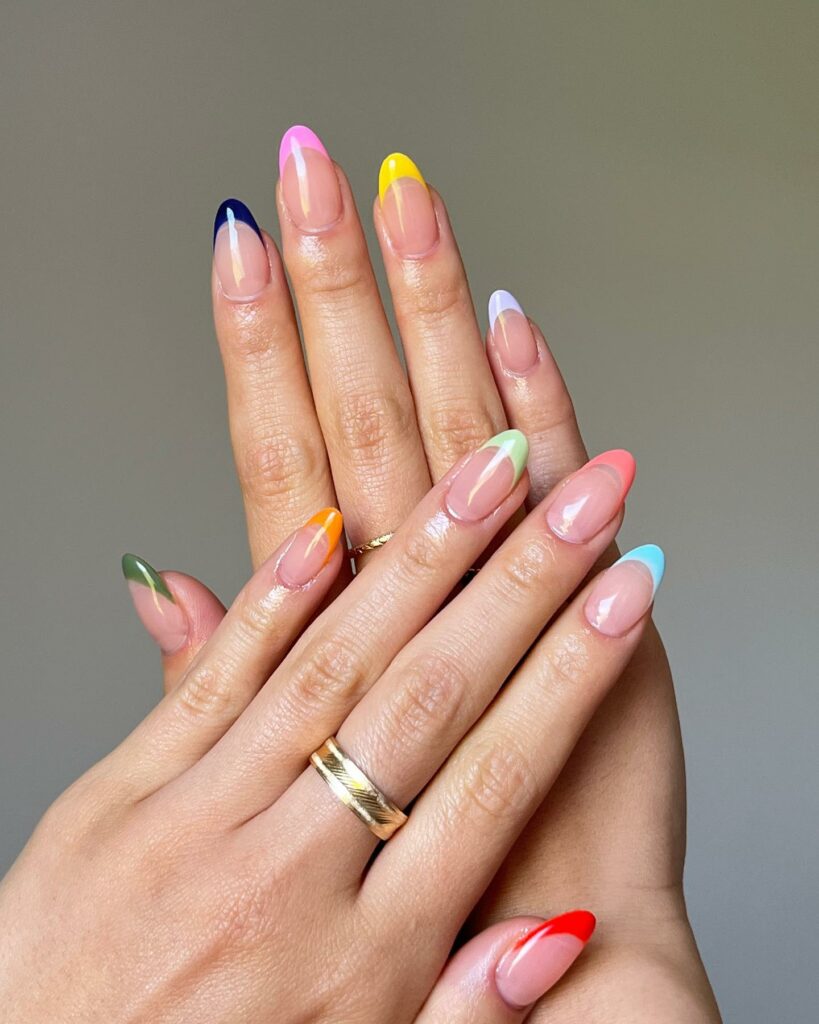 The classic French tip gets a colorful makeover on the almond-shaped nails. This design is chic and vibrant, ideal for those who love a traditional look with a twist.
Multi-Colored Almond V Tip French Nails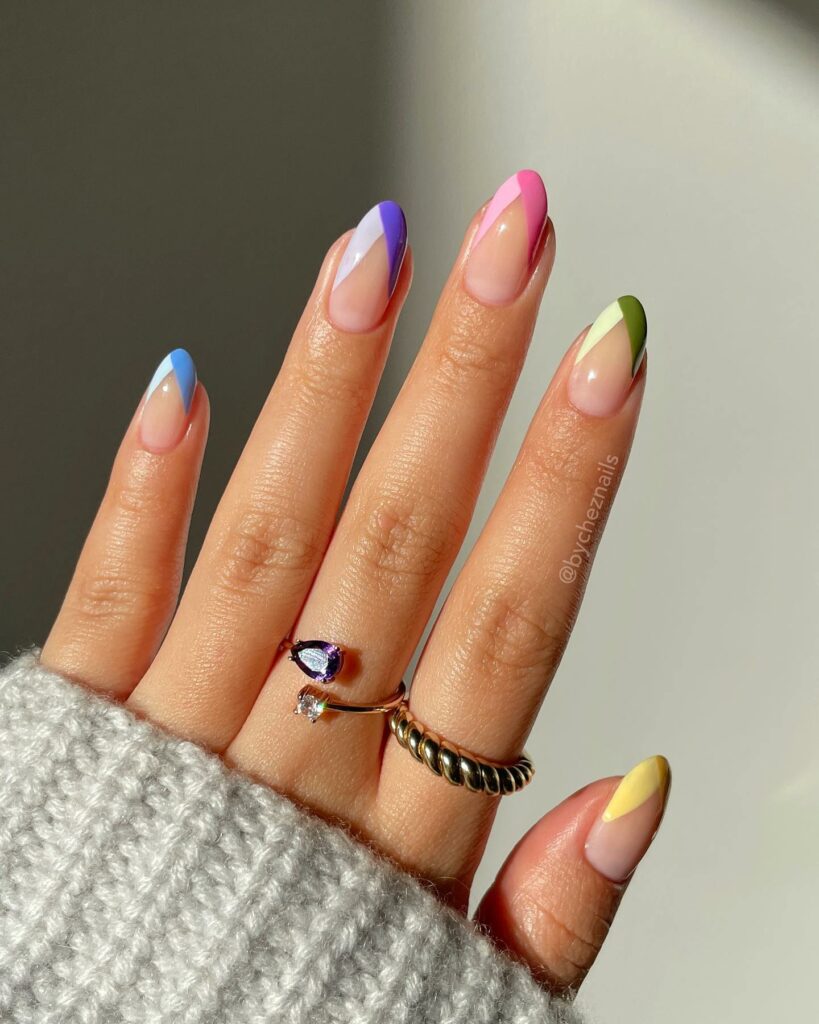 These nails feature a V-shaped French tip on an almond nail base in multiple colors. It's an edgy and stylish design that's perfect for fashion-forward individuals.
Multi-Colored Tie Dye Nails With Daises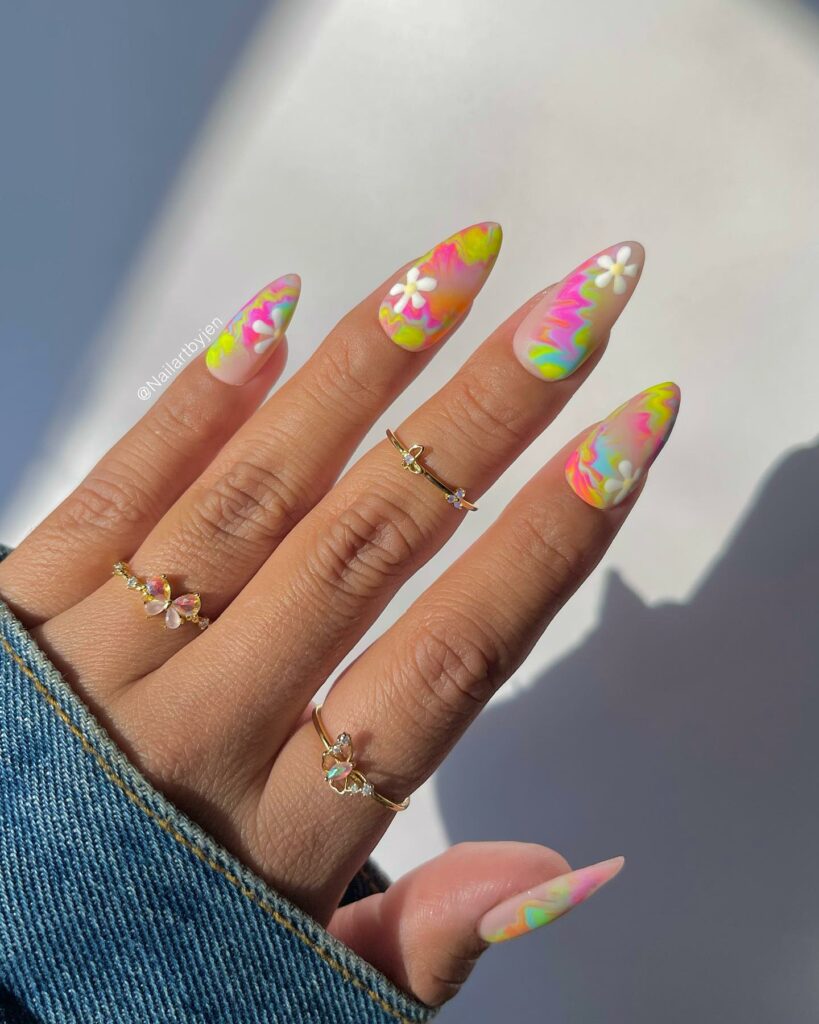 Embrace the bohemian spirit with these tie-dye patterned nails adorned with daisy accents. It's a fun and whimsical design that adds a playful touch to your look.
Multi-Colored Nails With French And Swirls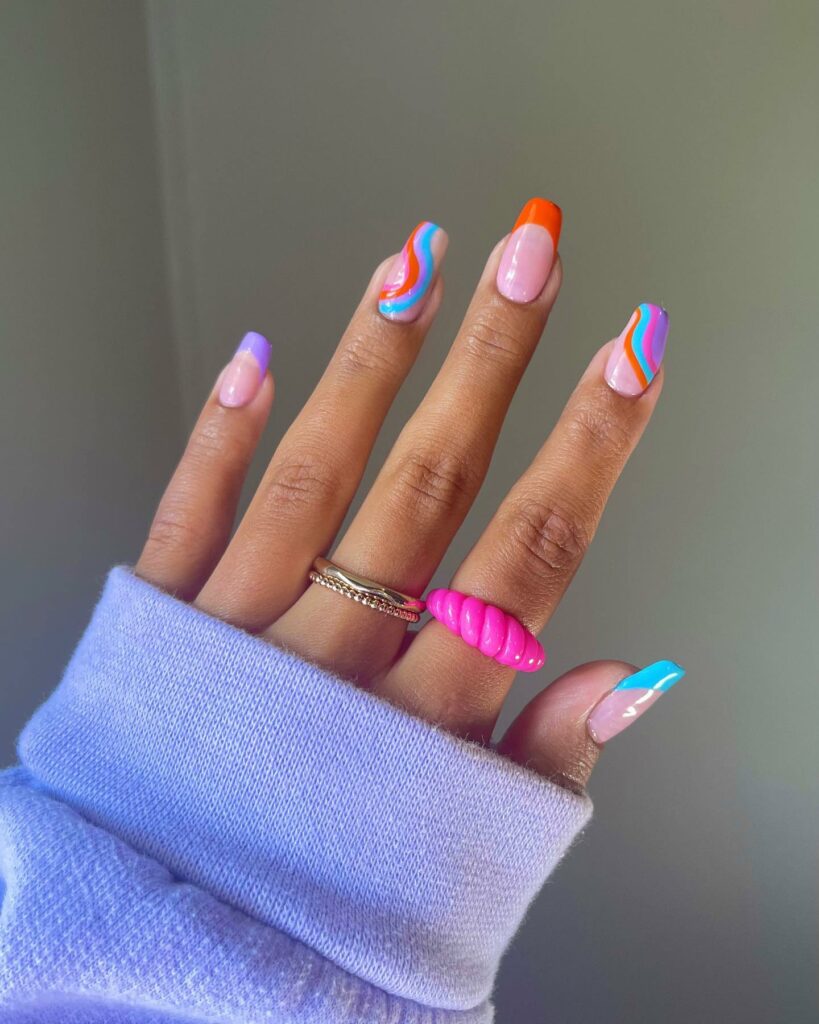 This design combines the elegance of French tips with the whimsicality of swirl patterns in various colors. It's a creative and eye-catching style, ideal for those who love unique nail art.
9 Tips For Selecting The Perfect Color Palette
Consider the Occasion: Are you preparing for a formal event, a casual outing, or a seasonal celebration? Different occasions call for different vibes. For instance, softer, pastel colors might be great for a spring garden party, while bold or metallic shades could be perfect for a night out.
Look at Your Wardrobe: Your closet can be a great source of inspiration. Pay attention to the colors you often wear and consider a palette that complements your favorite outfits. You can go bold with your nails if your wardrobe is entirely of neutrals. If you love color, try coordinating.
Think Seasonally: Every season has its own color trends and moods. Bright, vibrant colors often work well in spring and summer, while fall and winter might call for richer, deeper tones.
Understand Color Theory: Basic knowledge of color theory can be super helpful. Complementary colors (those opposite each other on the color wheel) can create a vibrant look. In contrast, analogous colors (next to each other on the color wheel) tend to be more harmonious.
Reflect Your Mood or Personality: Are you bold, adventurous, soft, and romantic? Your nails can be an expression of your mood or personality. Feel free to experiment with colors that reflect how you feel.
Test Before You Commit: If unsure, try painting small swatches on paper or use a nail wheel. This way, you can see how the colors look together before applying them to your nails.
Take Inspiration From Art and Nature: Sometimes, the best color combinations are found in nature or art. A sunset, a piece of abstract art, or even the colors of your favorite flower can inspire a beautiful palette.
Keep Skin Tone in Mind: Certain colors can look drastically different depending on your skin tone. Generally, cool-toned colors look great on cool-toned skin, and warm-toned colors suit warm-toned skin. But remember, there are no strict rules – go with what makes you feel fabulous!
Remember, the most important thing is to have fun and feel confident in your choice. Your nails are a personal expression, so choose colors that make you happy!
10 Tips For Blending Different Colors
Use a Sponge: For a perfect ombre effect, apply your base color first, then apply the second color on a makeup sponge and dab it onto the nail. The sponge absorbs excess polish and helps in creating a smooth gradient.
Thin Layers Are Key: Work with thin layers of polish when blending colors. Thick layers can become goopy and more challenging to blend. It's easier to build up color gradually than to try to thin it out.
Cleanup Brush: Keep a small, flat brush dipped in nail polish remover handy to clean up any mistakes or excess polish around the edges. This helps in keeping the look neat and professional.
Use a Base Coat: Always start with a good base coat to smooth out the nail surface. This provides an even canvas for your colors and can help them blend more seamlessly.
Leverage the Dry Brush Technique: Use the dry brush technique for a textured blend. After the first color dries, lightly brush a second color over it with a nearly dry brush. This creates a soft, blended effect.
Water Marbling for Unique Designs: For an intricate blend, try water marbling. Drip drops of different polishes into the water, swirl them to create a pattern and dip your nail in. Each nail will have a unique, blended design.
Gradient with a Twist: Apply two or more colors side by side on the nail, then use a clean, dry brush to lightly drag and blend where they meet. This creates a unique gradient effect.
Use Latex Barrier or Tape: To keep your skin clean while blending colors, apply a latex barrier or tape around your nails. This makes cleanup much more accessible and allows for more freedom in blending.
Top Coat to Merge Colors: Use a good-quality top coat after applying and slightly blending your colors. It not only seals your design but can also help merge the colors more.
Patience and Practice: Lastly, perfecting any nail art technique takes practice. Keep going even if your first few attempts aren't perfect. Be patient, and keep practicing!
Still Looking for Inspiration, Then Check Out This Video
Conclusion
And there you have it, my fabulous friends! Diving into the world of multi-colored nails is like opening a treasure chest of endless possibilities. Remember, the key to nailing (pun intended!) these looks is to have fun and let your creativity shine. Feel free to mix and match colors, play with shapes, or add a little (or a lot) of glitter. Whether you're a fan of the subtle elegance of pastel shades or the bold statement of metallics, there's a multi-colored style out there for everyone. My top tip? Always use a good base and top coat to make your stunning designs last longer. So, grab your favorite polishes and get painting. After all, your nails are your own personal canvas. Happy painting!
Feature Image Photo By sxccosmetics on Instagram
Last reviewed and updated on November 20, 2023