Hey there, sunshine lovers! If you're itching to wave goodbye to the mundane and give a vibrant hello to some serious pizzazz on your nails, you're in the right spot. We're going all in on Neon Orange Nails – and when I say this hue is all the rage, I mean it's the life of the nail party. It's not just a bold statement; it's a whole vibe that says, 'Here I am, ready to rock!'
In a flash, we'll chat about why neon orange is the zest your nails need and how to nail (pun intended!) that perfect summer-ready manicure. I'll dish out the brands that have the zingiest shades and share my tried-and-true tips for keeping those nails dazzling longer. And hey, whether you're a home manicure maven or a salon regular, there's a little something for you here. So, let's shake up your nail game together – grab your favorite neon polish, and let's start painting the town orange!
Neon Orange Ombre Stiletto Nails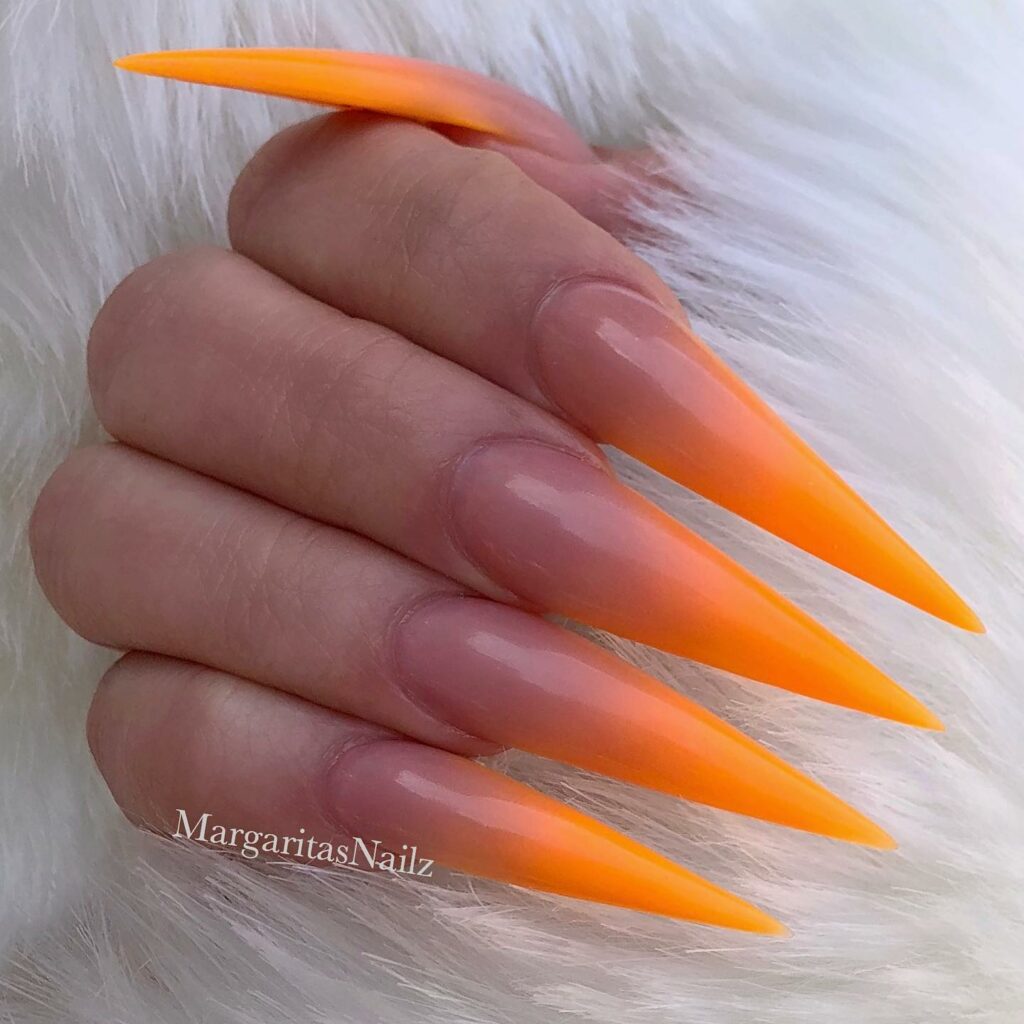 Dare to dazzle with Neon Orange Ombre Stiletto Nails, where the fiery gradient kiss each fingertip with a transition from a sun-kissed nude to a sizzling neon orange that's impossible to ignore. These nails are the ultimate statement piece, perfect for those who love a bold, edgy look with a sharp, attention-grabbing point.
Neon Orange With A Twist Of Lime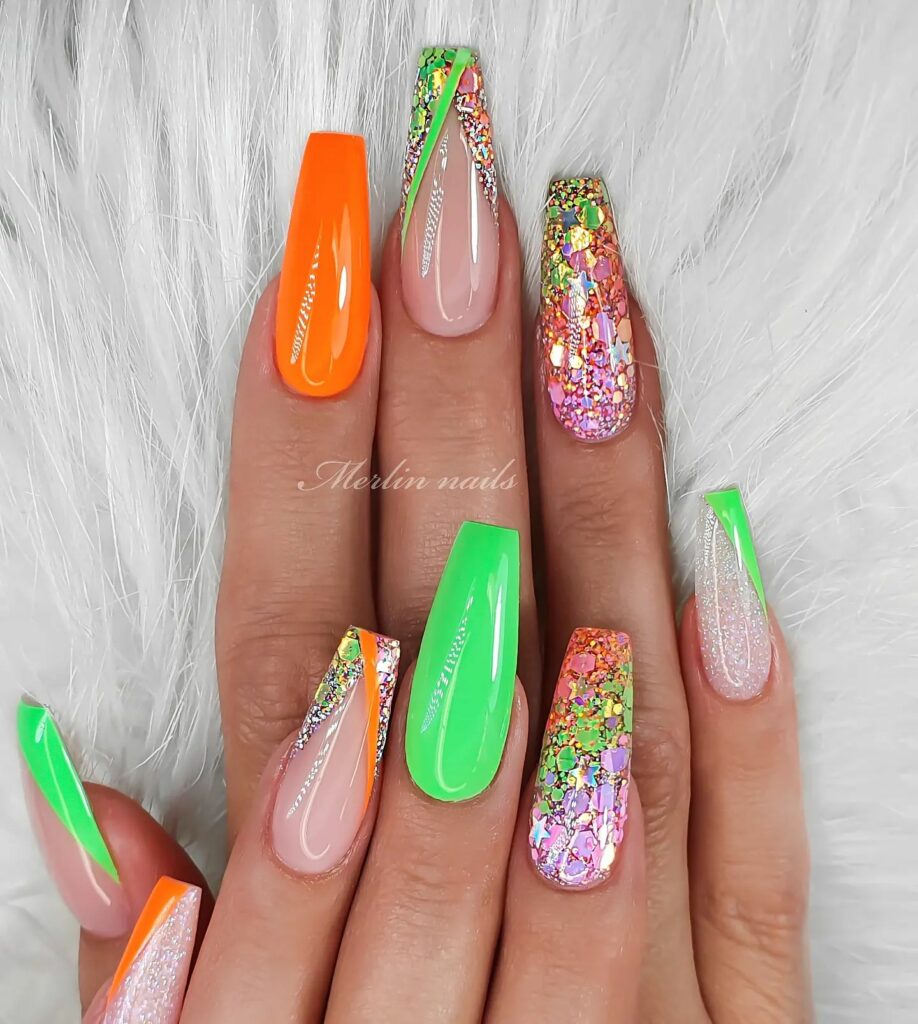 Ignite your look with Neon Orange nails featuring a zesty twist of lime, a combination that brings a burst of citrus flair to your fingertips. It's a playful and tangy take that turns heads and adds an unexpected pop of effervescent color to your style repertoire.
Neon Orange Almond Nails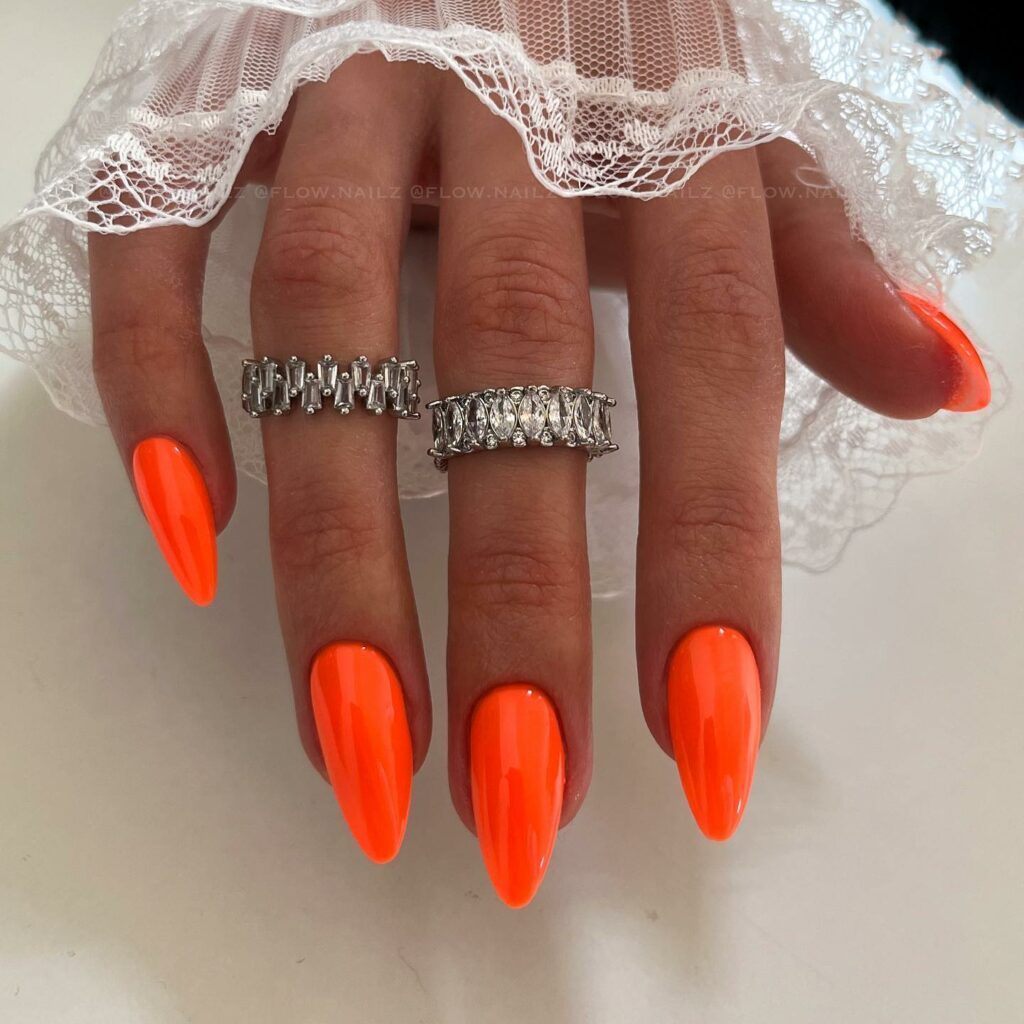 Neon Orange almond nails are the perfect blend of sophistication and bold, statement-making style, wrapping your fingertips in a vivid, electric hue that's as eye-catching as it is elegant. The almond shape adds a touch of classic femininity to the mix, making these nails a trendy yet timeless choice for those looking to spice up their nail game.
Neon Orange Square Nails
Neon Orange Square Nails are a striking fashion statement, combining the edgy appeal of a sharp, squared-off tip with the unmissable vibrancy of neon orange. This bold nail choice is perfect for anyone looking to add a punch of high-impact color to their look with a modern, angular twist.
Neon Orange Meets Tropical Peach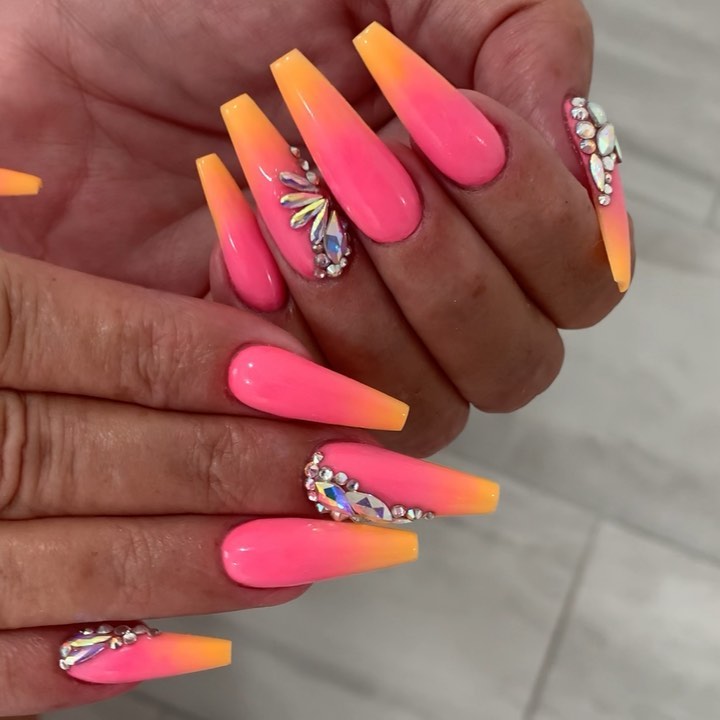 Neon Orange Meets Tropical Peach nails blend the electrifying zest of neon with the soft, summery vibes of peach for a fruit-inspired manicure that's both refreshing and daring. It's a playful pairing that brings warmth and brightness to your fingertips, ideal for beach days or to add a splash of tropical flair to your everyday style.
Neon Orange Coffin Nails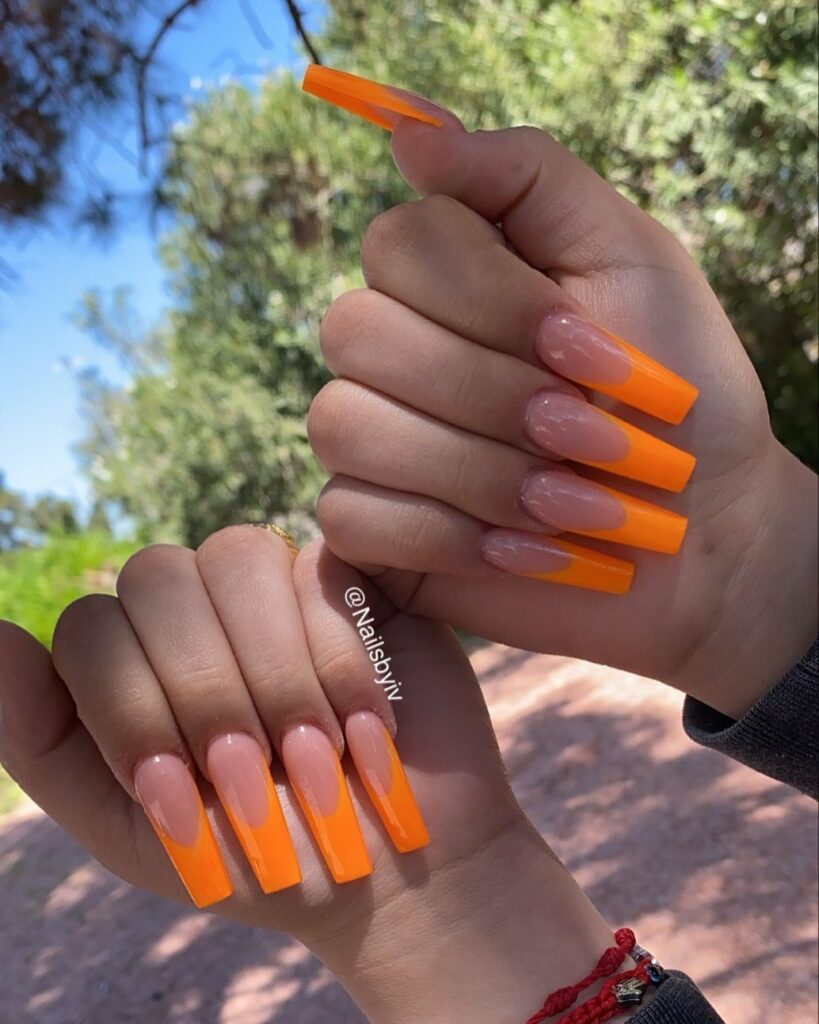 French Tip Neon Orange Coffin Nails put a fiery twist on a classic design, combining the timeless elegance of a French manicure with the bold, unapologetic statement of neon orange. The result is a striking look that's perfect for those who want to keep their nail game sharp and edgy while nodding to traditional style cues.
Square Nails With Topical Orange Twist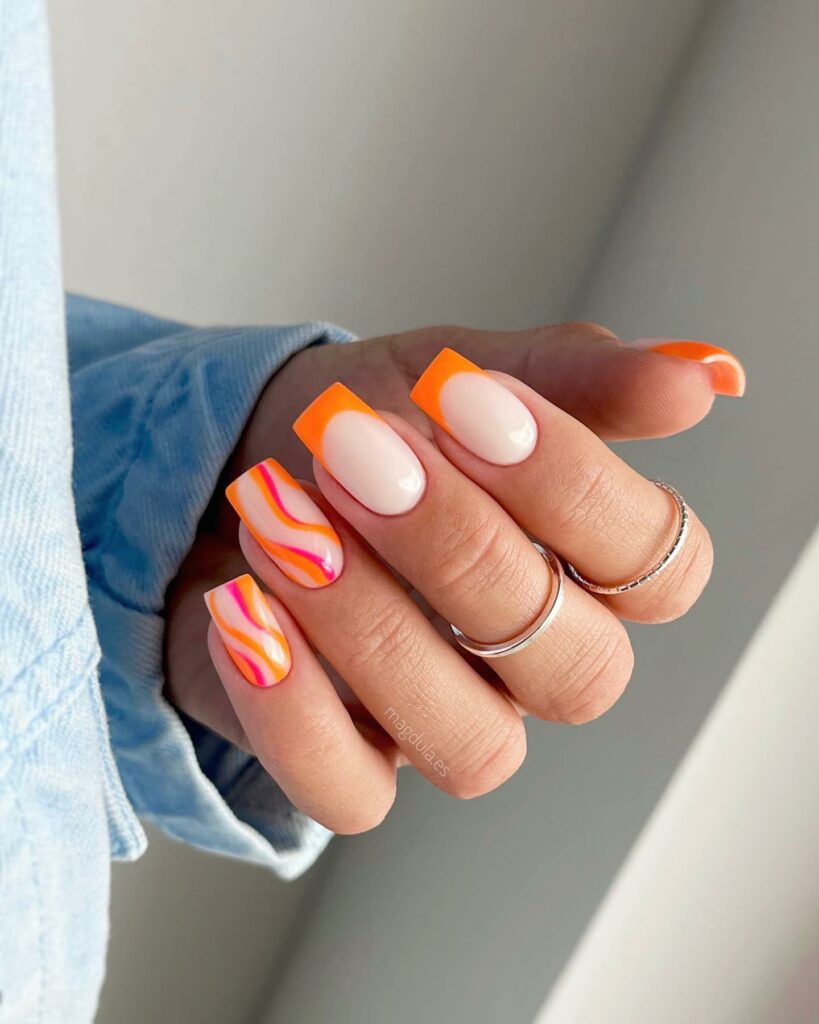 Square nails with a Tropical Orange Twist offer a fresh, summery vibe, blending the structured look of a square tip with a vibrant, beachy hue that's reminiscent of sunny days and cool drinks. This playful combination is a delightful nod to laid-back vacation style, perfect for sipping on a fruit-infused beverage by the poolside or oceanfront.
All The Rage: Bright Neon Orange Combo
Who says you can't mix and match? This design features matte neon orange, chrome, and glitter. It's like a party at your fingertips!
The Classic: Neon Coffin Nails
Neon coffin nails are the epitome of bold and daring – a classic choice for those who love to make a statement with their hands. This striking shape paired with a vivid neon hue captures attention and adds an electric pop to any outfit, making it a perennial favorite among those who dare to stand out.
Crystal French Neon-Orange Nails
Oh, the classic French mani, how I love you—but let's add a little twist! Get almond-shaped nails, switch out the white tips for neon orange. A modern take on a timeless look.
Neon Ombre Stilettos To Die For!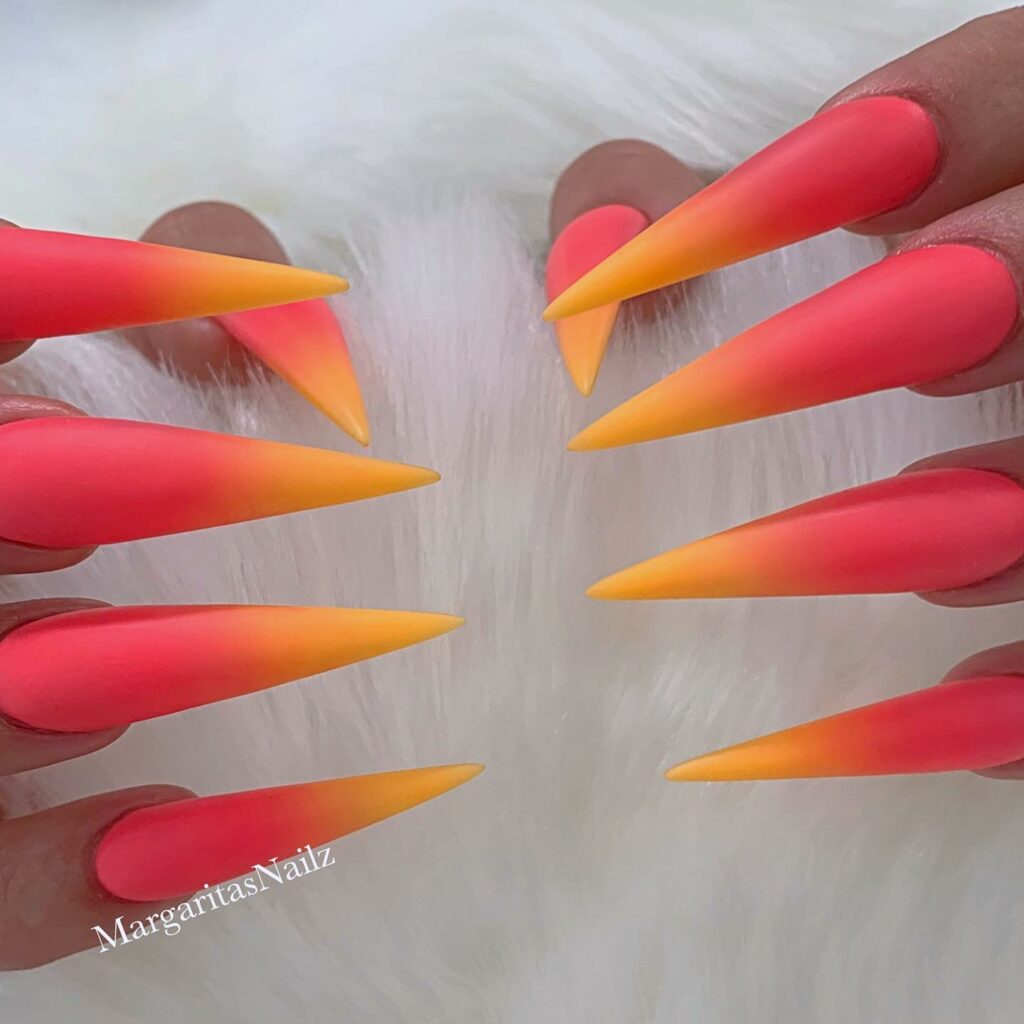 Neon ombre stiletto nails are the ultimate showstoppers, blending fierce points with a gradient of electrifying neon that fades into sophistication. They're not just nails; they're your personal style weapons, ready to slay at any moment with their sharp silhouette and eye-catching color transition.
Creamsicle Flowers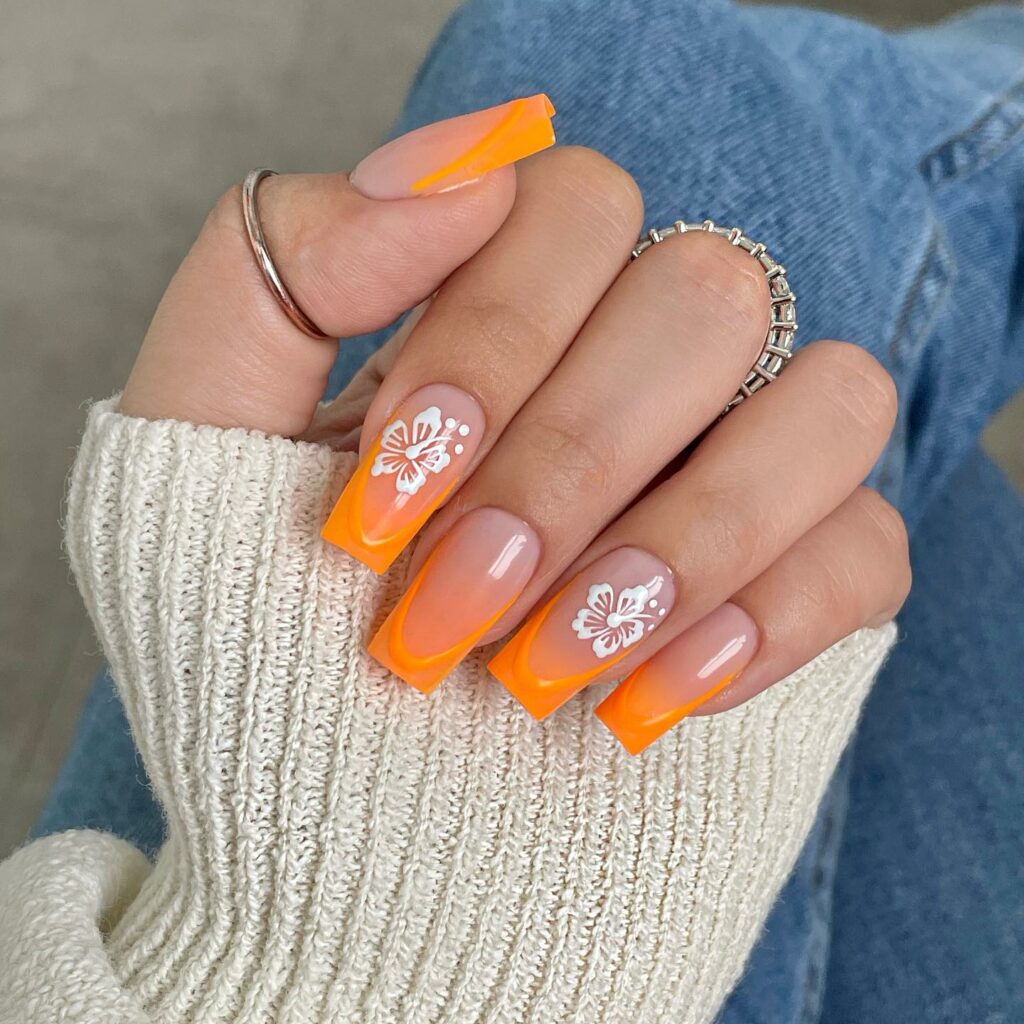 Take the orange neon trend for a trial run by opting for these dainty, creamsicle-colored florals. This is your chance to get on board without jumping off the deep end, especially if you're hesitant about going full-on orange.
Orange Fire Ombre
Add an element of heat with a fiery orange ombre design. This nail look can easily take you from a casual day out to a steamy summer night.
Blinged-Out: Trendy Nail Design With Rhinestones
Trendy neon orange nails bedazzled with rhinestones bring the perfect fusion of vibrancy and luxury to your fingertips. These nails are a glamorous statement, turning heads with their bright hues and the sparkling allure of carefully placed gems that catch the light with every gesture.
Ombre For All: Nude And Neon Ombre Nails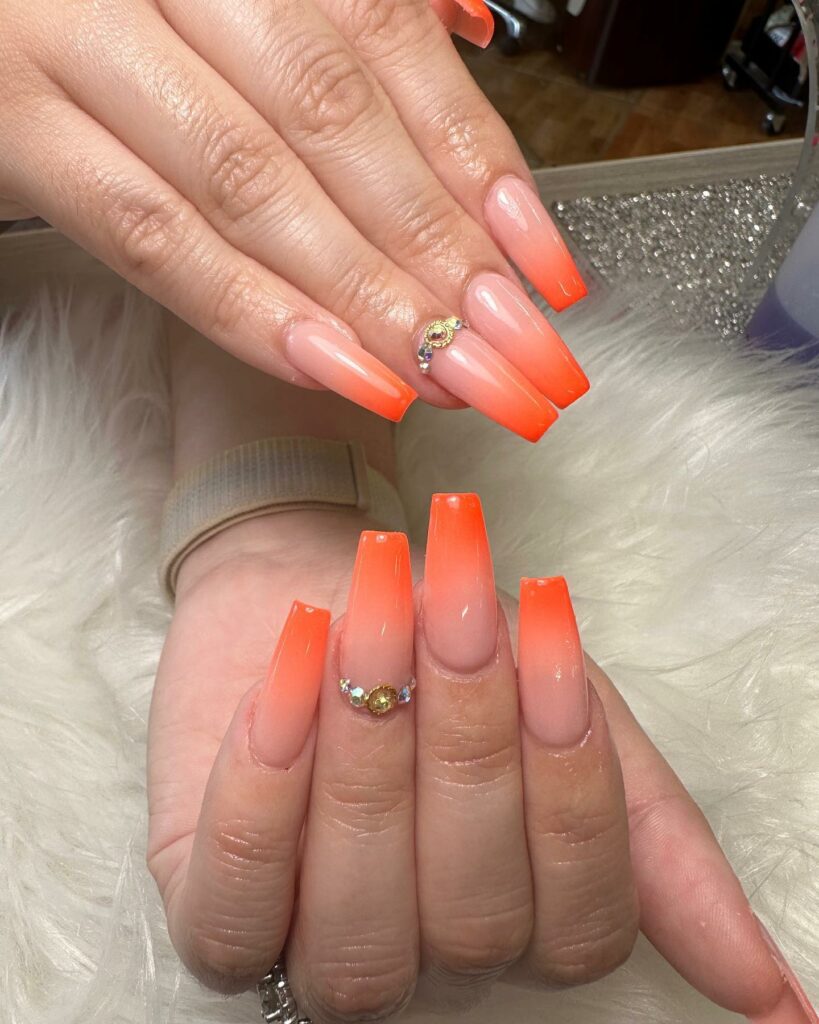 Neon orange ombre over a nude base gives a mesmerizing gradient effect. The look varies depending on your nail shape and the shades you pick, making each mani uniquely you.
Acrylic Neon Orange Nails: Classic Meets Endurance
If you want a straightforward neon orange look but need it to last, go for acrylics. They offer durability while letting the neon orange hue shine in all its glory.
Bold Elegance: Stunning Matte Orange Mani
Turn heads with a darker shade of neon orange in a matte finish. It's sophisticated and daring and lets your personality shine through. Rhinestones are optional, but it's always a good idea!
Neon Orange Geometric Nails
Minimalism meets color with crisp geometric patterns on an orange canvas. It's modern and eye-catching, making it ideal for those who love a blend of simplicity and audacity.
Flames And Fruits: Bright And Fun Nail Design
Summer, here we come! This design boasts a little of everything—flames, neon shades, and even zesty oranges. I've found nail stencils make drawing those flames a breeze. Pick a couple of these designs or go all-in; either way, you'll be rocking the ultimate summer vibe.
Give your French manicure a citrusy twist with orange tips—a refreshing take that adds a playful pop of color to the classic design. This vibrant update is perfect for anyone looking to infuse some summery vibes into their nail game, no matter the season.
2-Tone Orange Tips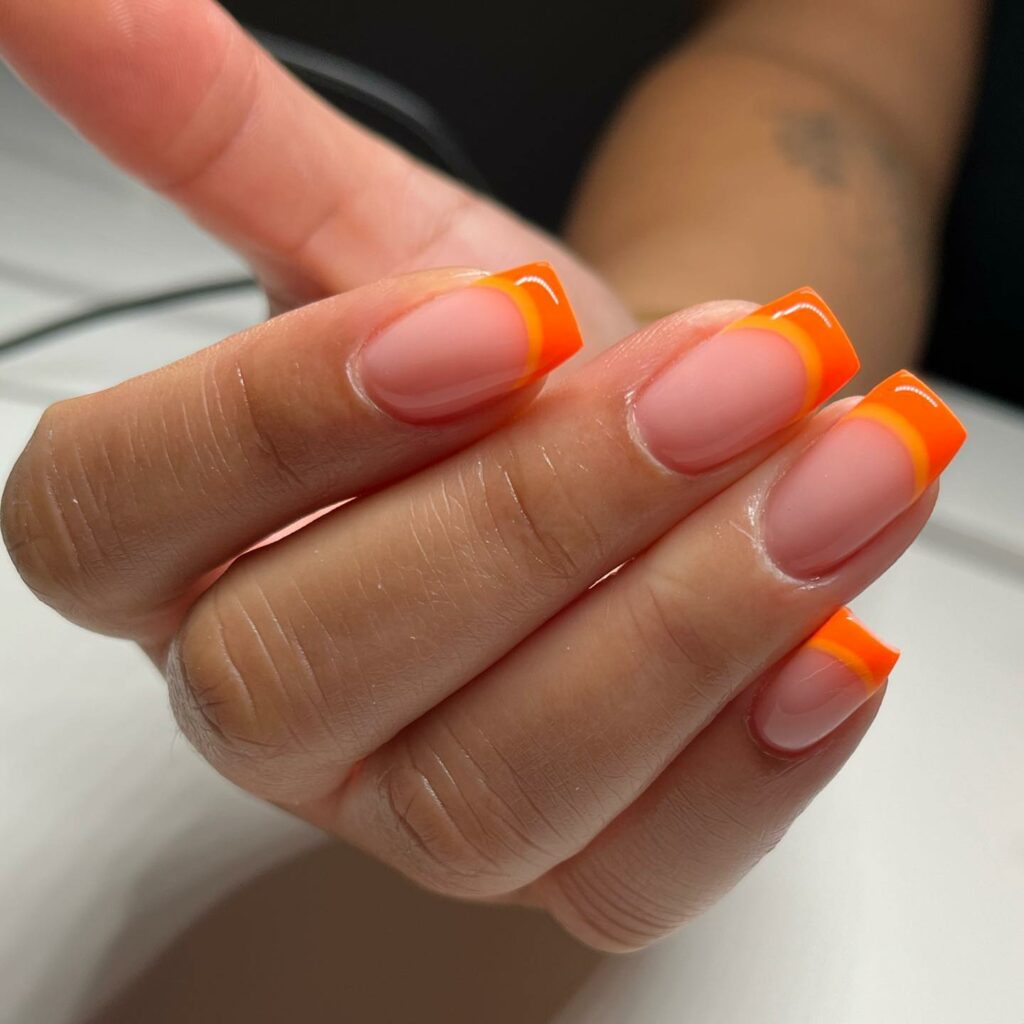 Indecisiveness has always looked better. I once struggled to pick just one orange hue, and that's when I tried the 2-tone orange tips. It's a versatile look that works equally well for a day at the beach or a night on the town.
Glitz and Glamour: Glam Orange Nails With Gold Foil
Channel your inner diva with gold foil and neon orange. Trust me, it's a winning combo. Snag some gold foils online and let your creativity run wild.
Sunny Orange Nails: Bring Your Own Sunshine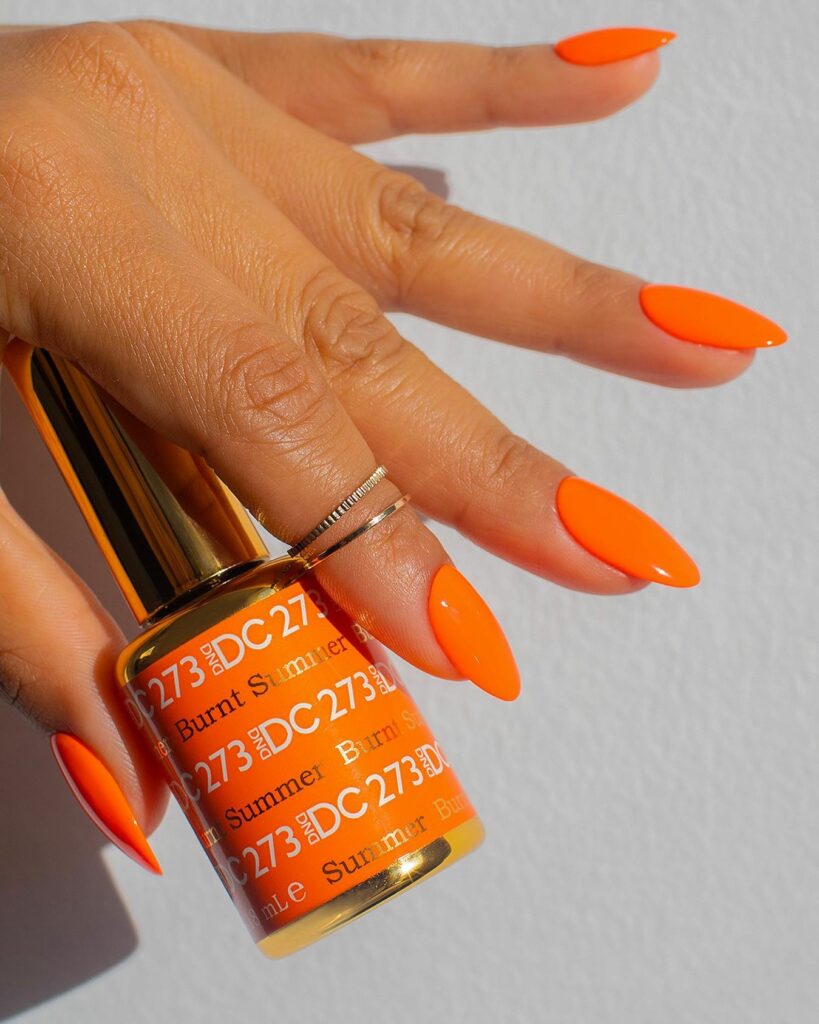 Neon orange gloss on almond-shaped nails is the perfect combination of edge and elegance; the bright hue catches the eye, while the almond contour gives a sophisticated finish. It's a nail choice that's sure to bring a vibrant zing to your everyday look.
Acrylic French Orange Nails: Durability Meets Chic
For those who want their style to last, acrylic French tips in a burnt orange shade offer longevity and chicness. The acrylic gives you a sturdier base, perfect for those who are always on the go.
Flame On With Neon-Orange Nails
The flame trend is still hot, hot, hot! My go-to for adding a little flair (or "flare"?) to my nails. It's like your fingers are throwing a mini rock concert!
Almond Neon Orange Nails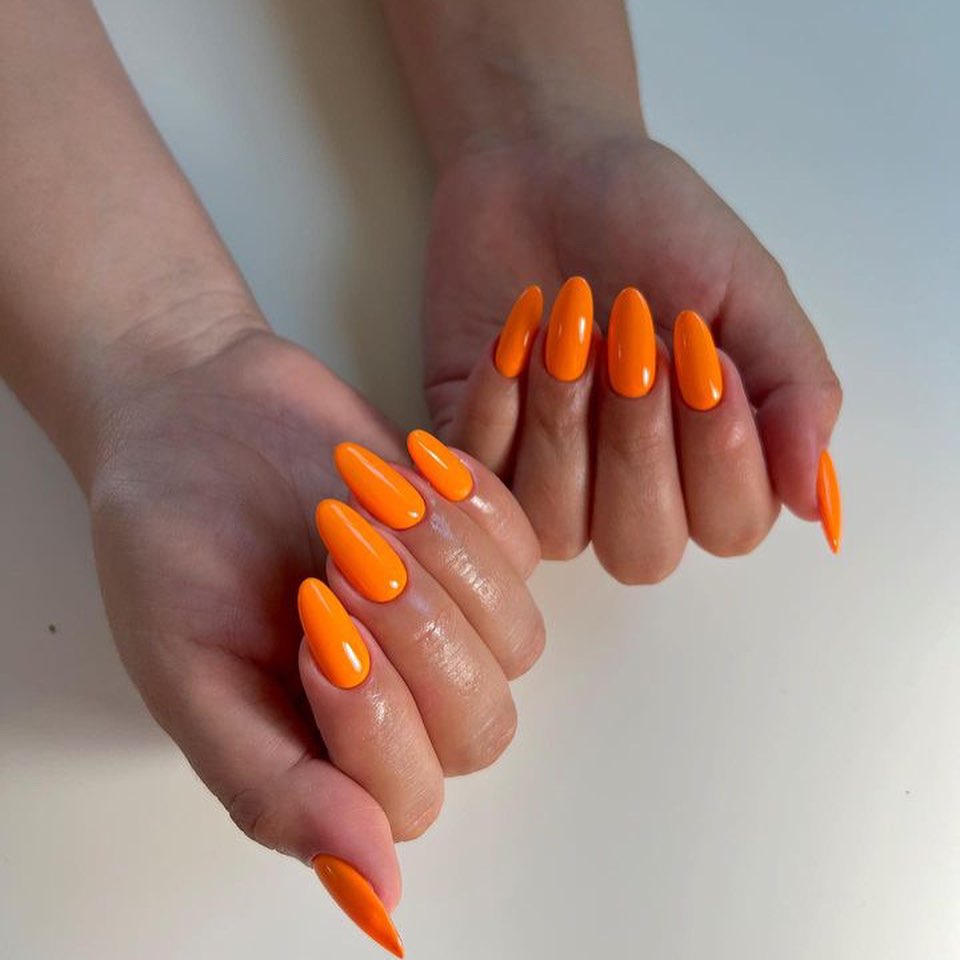 Who says you need long nails to join the neon party? Short nails painted in neon orange can look just as chic. Add a touch of silver glitter on a couple of nails, and you've got yourself a look that's simple yet eye-catching.
Neon Orange Nails With Dainty Flowers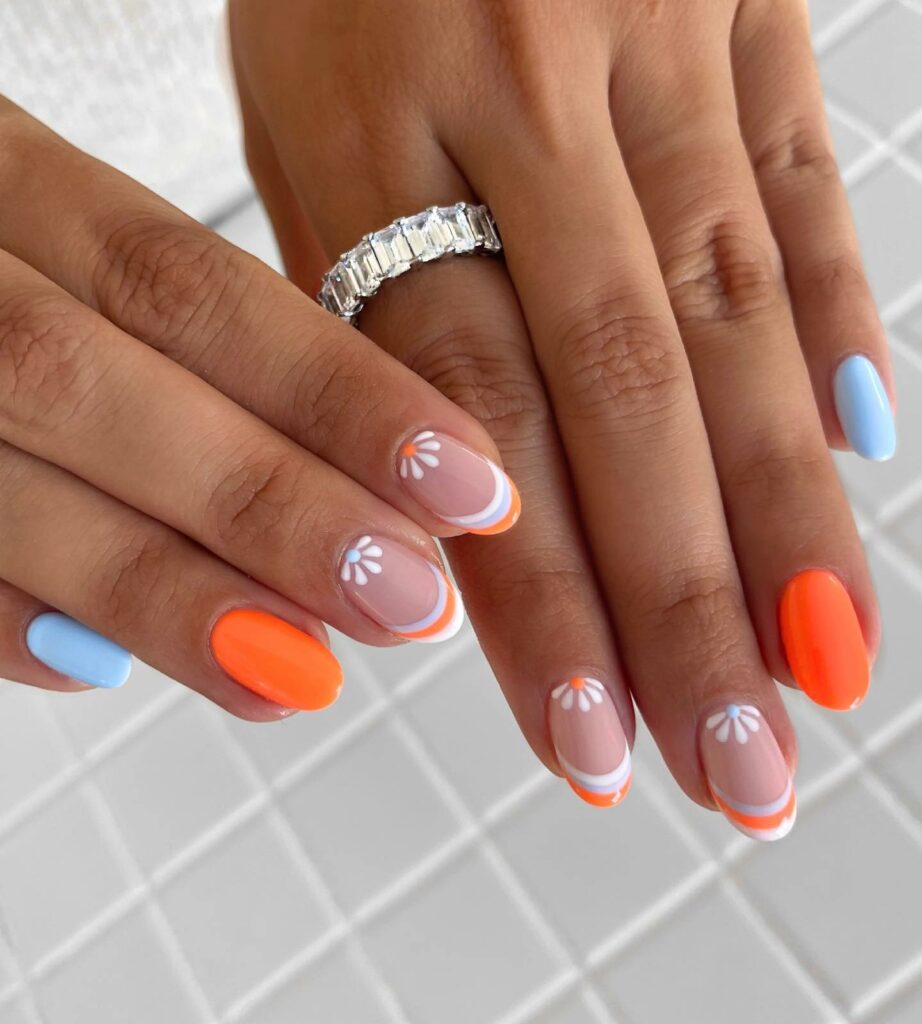 Neon orange nails with dainty flower designs bring a playful yet chic twist to your manicure. They're a charming nod to spring and summer vibes, creating a delightful contrast that's both eye-catching and whimsically stylish.
Cute and Sassy: Short Neon Orange Nails
Who says short nails can't be fun? Add a splash of neon orange and a couple of silver glitter nails for that perfect playful touch.
Bold Orange Nails With Rhinestones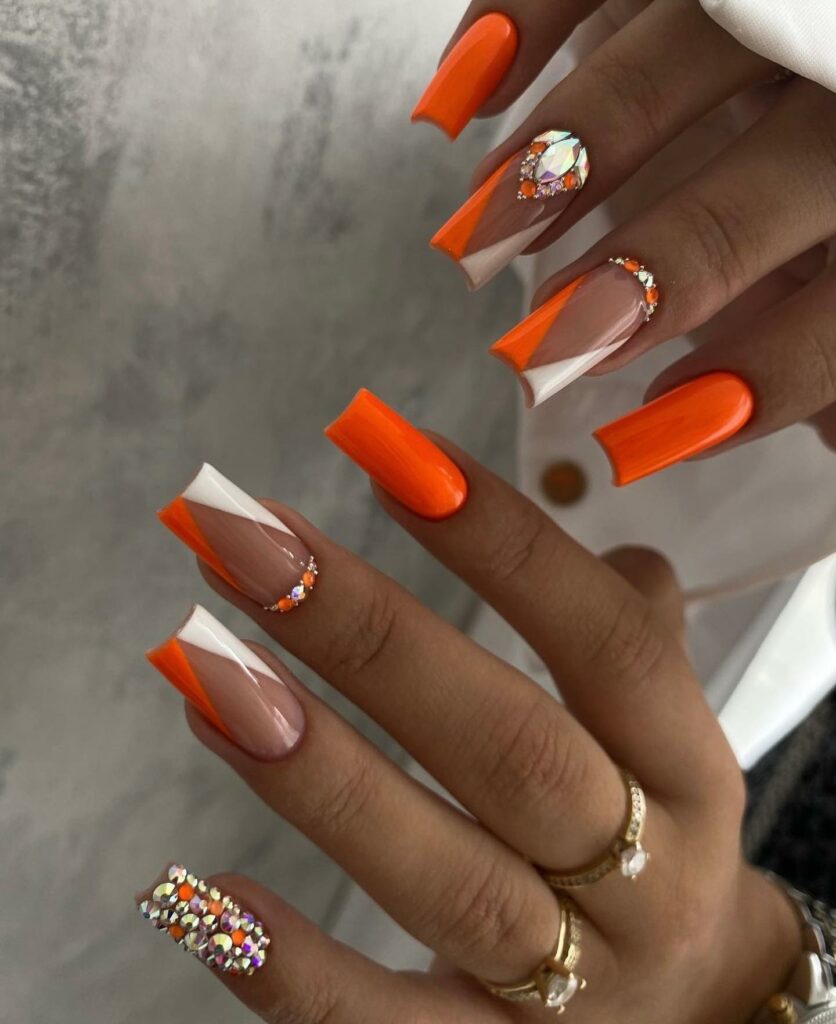 If your nail game motto is "Go bold or go home," this one's for you. Imagine neon orange fading into a dark nude shade, all jazzed up with multicolored rhinestones. The bling factor is off the charts! It reminds me of when I had a similar look for a music festival—absolutely stole the show!
Sparkly Neon Nails
Coffin nails, neon shades, and glitter—yes, please! You know how much I adore a tropical vibe, and this mani nails it (pun intended). The mix of neon colors screams summer fun. Perfect for when you're sipping on a piña colada by the
Trendy Neon Orange Tips
This mani screams sophistication with a zesty twist. Think nude nails adorned with neon orange tips in different shapes. What I love about this design is its versatility. Whether you've got long nails, short nails, or anything in between, this chic style has got you covered.
The Showstopper: Striking Stiletto Neon Orange Nails
Striking stiletto nails in neon orange are the ultimate statement of bold sophistication. They elongate your fingers with a daring pop of color that's impossible to ignore, perfect for those who love to stand out in a crowd.
Keeping it Real: Simple And Stylish Nail Idea
If you want something more understated but still want to embrace neon, go for a solid matte neon orange on shorter nails. Trust me, less can indeed be more!
Into The Wild: Snake Print Mani
This one's for the daring souls out there. Mix matte neon orange with snake print for a look that's anything but tame. I'm obsessed with snakeskin nail stickers for a quick and easy application. Seriously, give them a try!
Party Perfect: Ombre And Glitter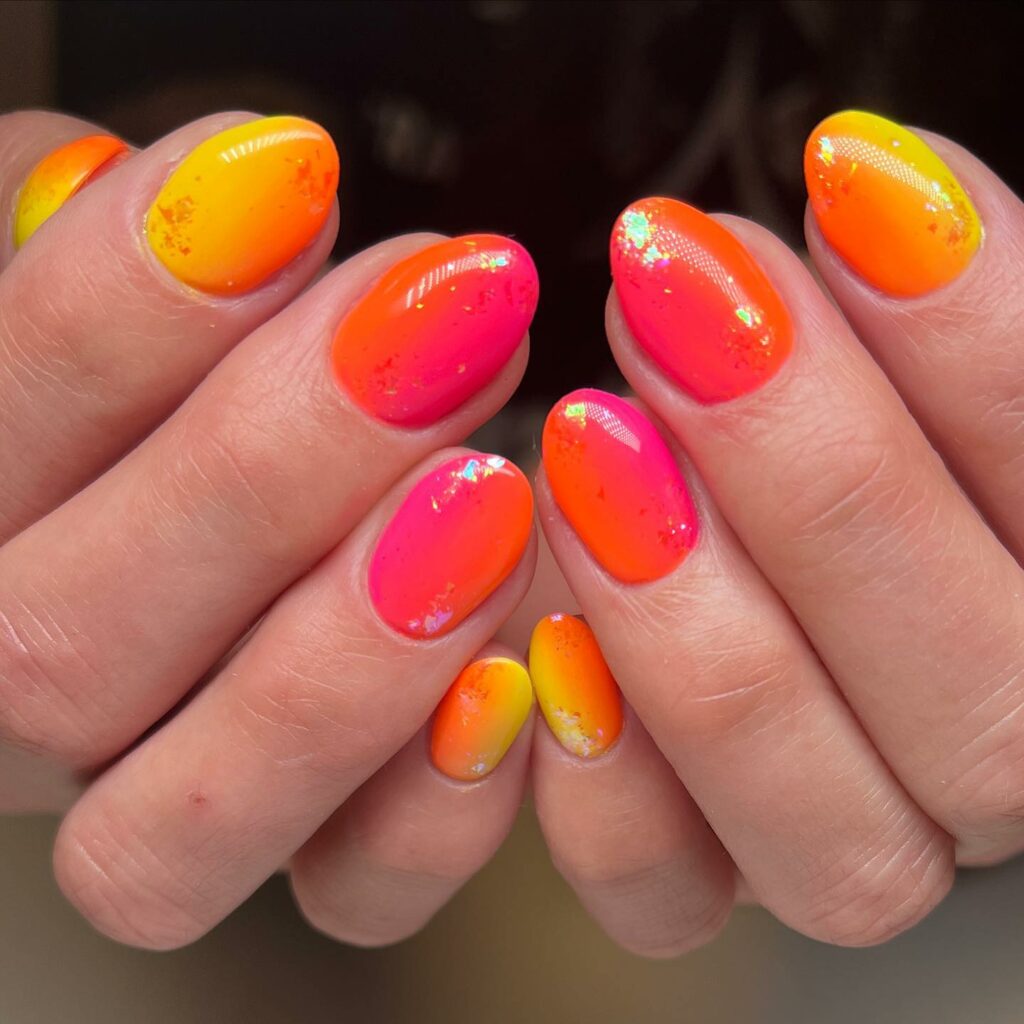 This combo of nude and neon orange is made for nights out or anytime you want to shine, honestly. The glitter ombre accent nail is just the cherry on top. A definite go-to for my Saturday nights!
Matte Neon Orange Magic
Talk about making a statement with simplicity! A vivid matte neon orange against dark hues like black? Stunning. I rocked this look at a friend's cocktail party, and people couldn't stop talking about it. You don't always need jewels and glitter to shine, darling!
Orange, Glitter, And Rhinestones, Oh My!
If you're the life of the party, this neon extravaganza is your go-to. Think neon orange, glitter, rhinestones, and trendy tips in one mani. It's bold, beautiful, and perfect for those summer nights when you feel extra fabulous.
Neon-Orange Swirls For The Win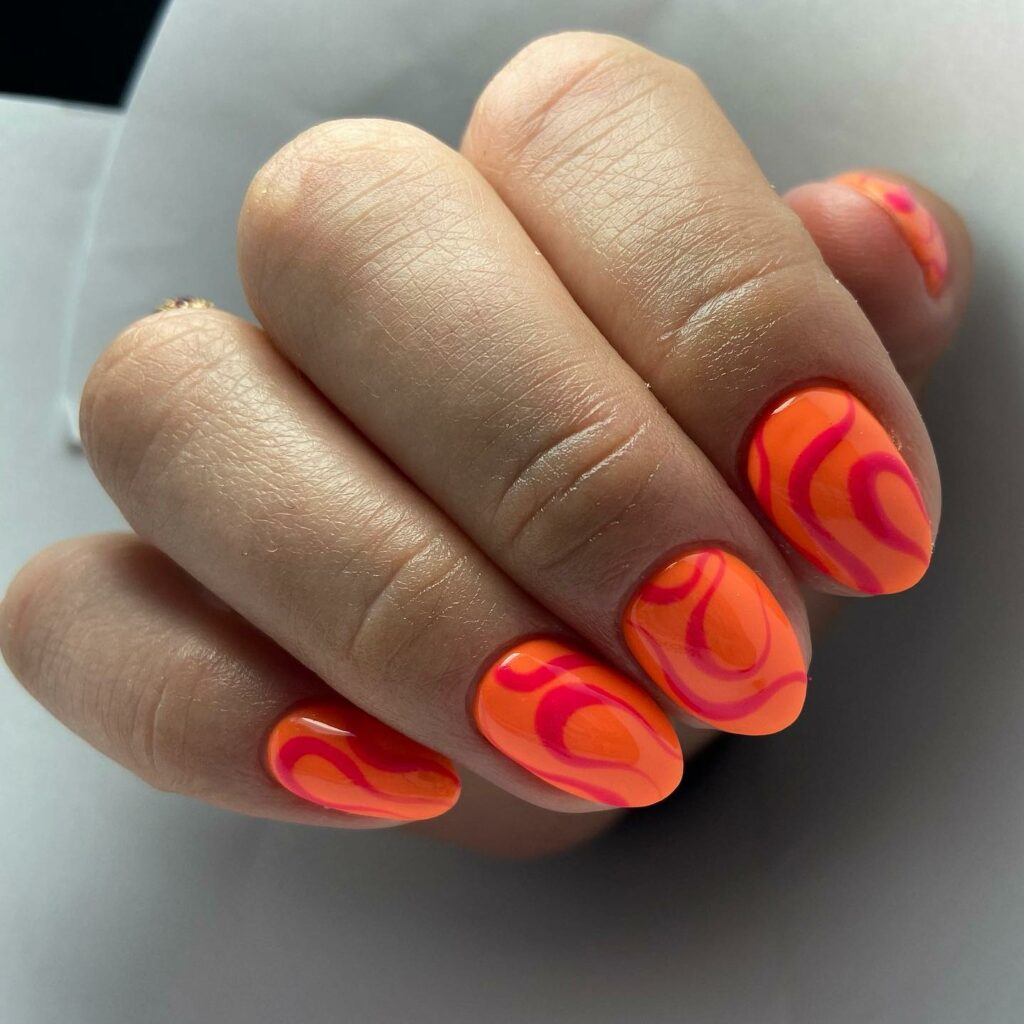 Ready to have all eyes on you? Swirl in some yellow with your neon orange, and you'll have a hypnotic effect that's impossible to ignore.
8 Brands That I Love For Neon Nails
OPI – Known for their extensive range and quality, OPI does neon shades that are a total knockout. Their formula is long-lasting, and the colors are vibrant.
China Glaze – If you're all about that pigment, China Glaze has some seriously electric shades that won't disappoint. Their neons are especially popular for summer.
Essie – Essie is more known for their subtle and classy shades, but they don't sleep on their neons. They're just as chic and sophisticated as you'd expect from this brand.
Sally Hansen – Their Xtreme Wear line has some affordable but poppin' neon shades. It's a good pick if you're on a budget but still want quality.
Zoya – If you're looking for a brand free from harmful chemicals but still delivers on color, Zoya's your girl. Their neons are not only vibrant but also vegan-friendly.
Orly – Their shades not only look good but are also infused with good-for-your-nails ingredients. Orly's neons are known for their rich, streak-free application.
Nails Inc. – If you're after something that'll really make a statement, Nails Inc. has some stunning neon shades. Plus, their bottles are Instagrammable.
ILNP – For all my indie brand lovers, ILNP offers neon shades with unique holographic and chrome finishes. They're a small brand making a big splash in the neon game.
What Are The Steps To Create Each Of The Different Neon Nail Designs Mentioned In The Article?
Stylish Orange Nails with a Clear Accent Nail
Prep and Base Coat: Clean your nails and apply a base coat.
Neon Orange: Paint all your nails except one accent nail with two coats of neon orange. Let dry.
Accent Nail: For your accent nail, apply a clear coat.
Art Time: Use gold and white nail art pens to create intricate designs on the clear nail.
Top Coat: Seal everything with a clear top coat.
My Tip: For that jelly nail look, you could use a clear orange polish for the accent nail.
Bold Orange Nails with Rhinestones
Prep and Base Coat: Standard procedure—clean nails and a base coat first.
Neon Ombre: Use a makeup sponge to dab on neon orange and dark nude in an ombre fashion on each nail.
Rhinestone Glam: Attach colorful rhinestones on the nails using nail glue.
Top Coat: Lock it in with a glossy top coat.
My Tip: Use a tweezer to place the rhinestones accurately.
Sparkly Neon Nails
Prep and Base Coat: You know the drill—clean, base coat, and we're ready.
Glitter Galore: Paint each nail with a glittery neon shade. Use multiple neon colors if you're feeling adventurous.
Ombre Option: For an ombre effect, use a makeup sponge to dab on two neon colors.
Top Coat: A glossy top coat to keep the sparkle intact.
My Tip: Use a latex barrier around your nails to make glitter removal easier later.
Trendy Neon Orange Mani
Prep and Base Coat: Clean your nails and apply your base coat.
Simple Neon: Paint two nails on each hand with neon orange.
Nude & Neon Tips: For the other nails, apply a nude base and use neon orange to paint stylish tips.
Top Coat: Seal with a top coat.
My Tip: Use nail tape for those perfectly crisp lines on your tips.
Matte Neon Orange
Prep and Base Coat: Clean nails and base coat, always.
Bright Orange: Apply two coats of a vivid neon orange to each nail.
Matte Top Coat: Finish with a matte top coat.
My Tip: Matte top coats dry faster, so work swiftly.
Still Looking for Inspiration, Then Check Out This Video
Conclusion
Whether you're in the mood for something simple and matte or want to go all out with glitter and rhinestones, there's a neon orange mani for everyone. My top tip is not to experiment with different nail shapes and design elements; sometimes, the best styles come from stepping out of your comfort zone. So, grab that neon orange polish, and let's turn the heat up on your nail game! As always, moisturize those cuticles and maybe even throw in a clear topcoat for that long-lasting shine. Until next time, keep those nails dazzling and your spirits high!
Feature Image Photo @nailsszone via Instagram
Last reviewed and updated on November 2, 2023