Welcome to the vibrant world of nail art, where a pop of color can turn a simple manicure into a statement piece. Today, we're diving into the effervescent charm of Orange French Tip Nails—a playful twist on the classic French manicure that's perfect for any season but especially delightful for summer or fall. In this post, I'll guide you through the why and how of adding a citrusy flair to your fingertips, ensuring you have all the know-how to recreate this look at home.
From selecting the perfect shade of orange to the precise application techniques that'll give you salon-quality results, I've got you covered. Plus, I'll share tips on making your orange tips last longer and look as fresh as ripe, sun-kissed fruit. Whether you're a nail newbie or a seasoned polish pro, you're about to discover how this zesty twist on a French mani can complement your style and uplift your mood. Let's squeeze the day and get started on those tantalizing tips!
Orange French Tip Square Nails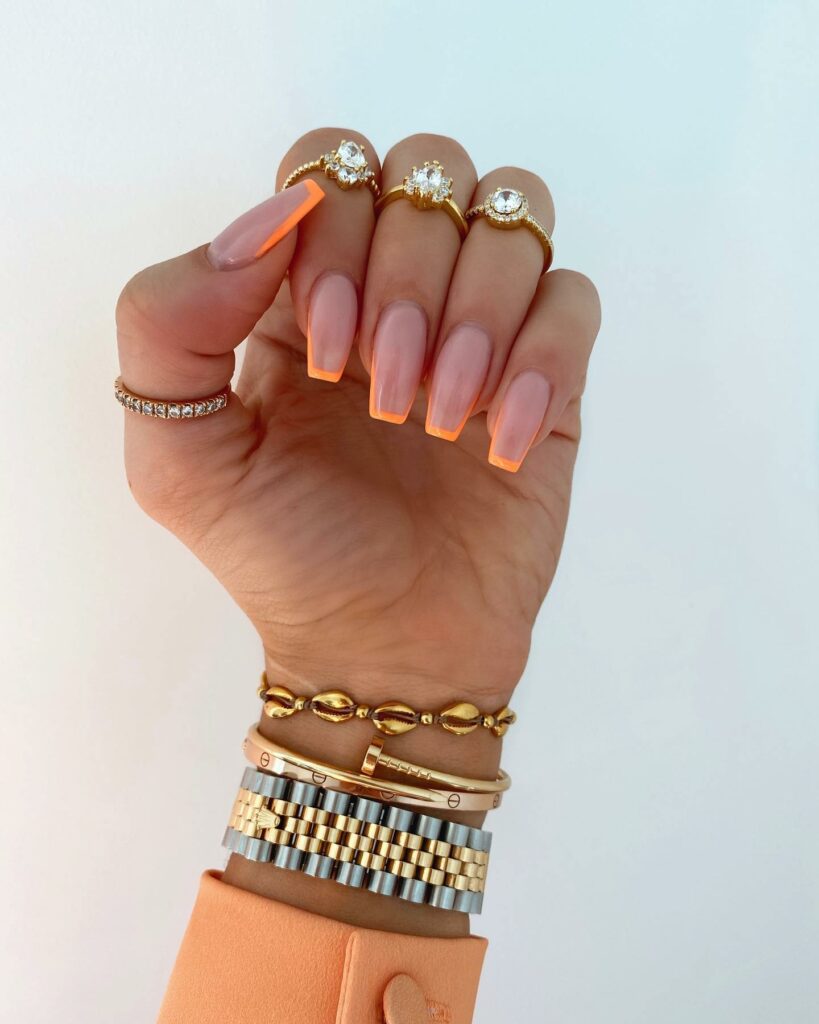 Square nails provide a broad canvas for the bright orange tips, making a robust and chic statement. This geometric take on the French tip is ideal for a polished yet contemporary vibe.
Two Line Orange French Tip Nails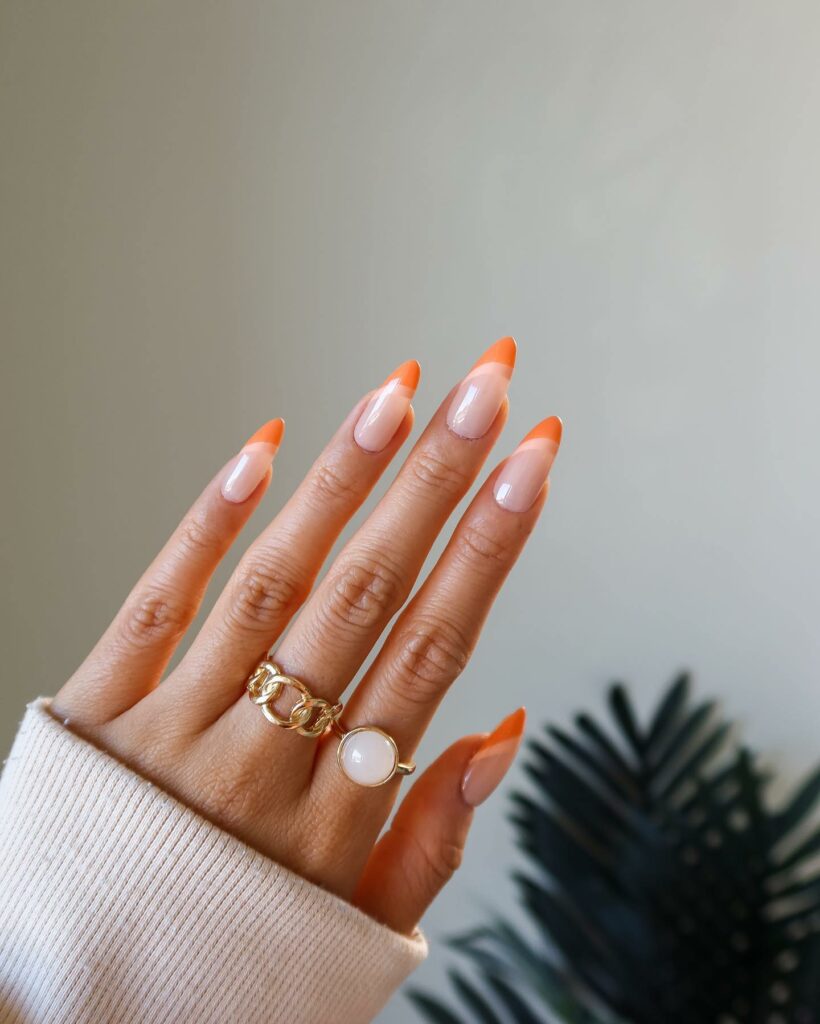 Doubling down on the classic, the two-line design features an additional slim line of orange, offering an intricate and stylish layered look. It's a simple detail that adds a significant impact, perfect for detail lovers.
Orange French Tip Square Nails With Flower Design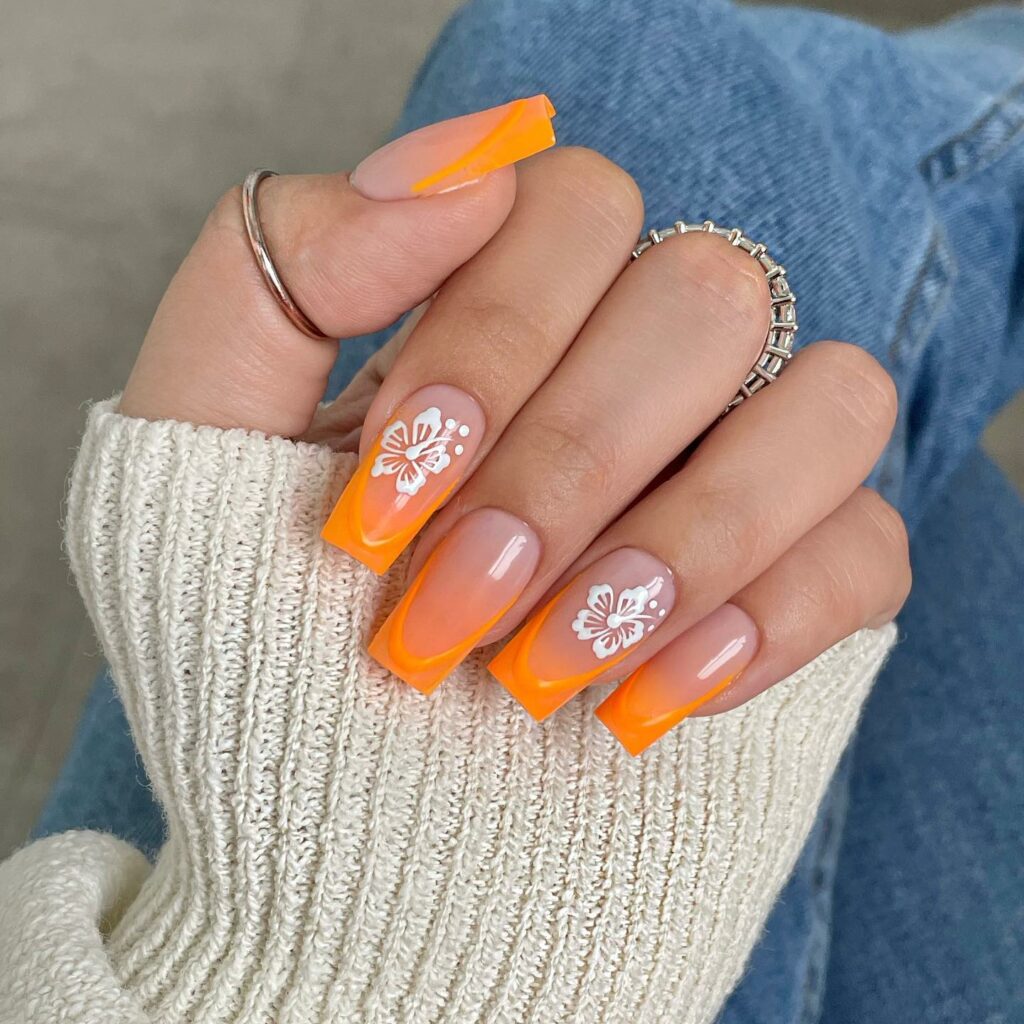 Combining a sharp square shape with the softness of flower art strikes a balance between edgy and delicate. This design celebrates contrasts and works beautifully for an eclectic aesthetic.
Soft Pink And Neon Orange Coffin Nails
Soft Pink and Neon Orange Coffin Nails offer a striking contrast, blending gentle pastel with vivid brightness for a uniquely eye-catching look. The coffin shape complements this daring color combination, perfect for those who love to make a bold fashion statement while retaining a touch of softness.
Orange French Nails With Daisy Flowers And Gold Dots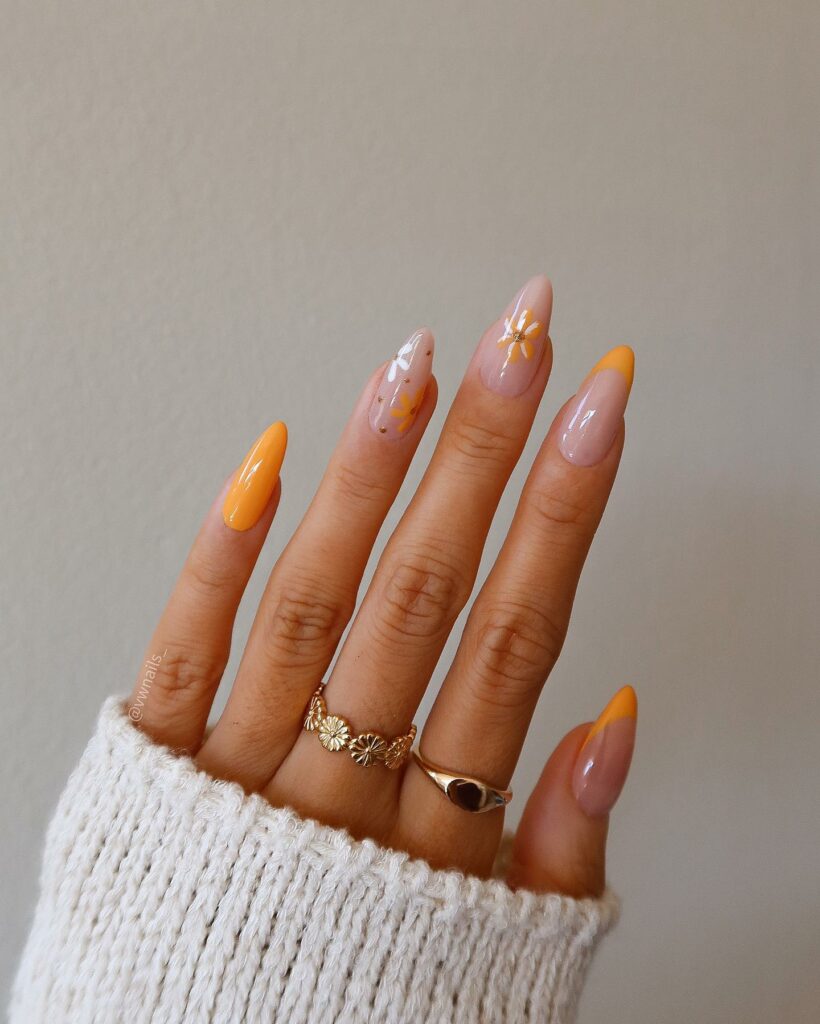 Adding daisy designs and gold dots to the orange French tip creates a whimsical and feminine look that will catch the eye. It's a cheerful approach perfect for sunny days and floral enthusiasts.
Super Glam Orange Tip Long Nails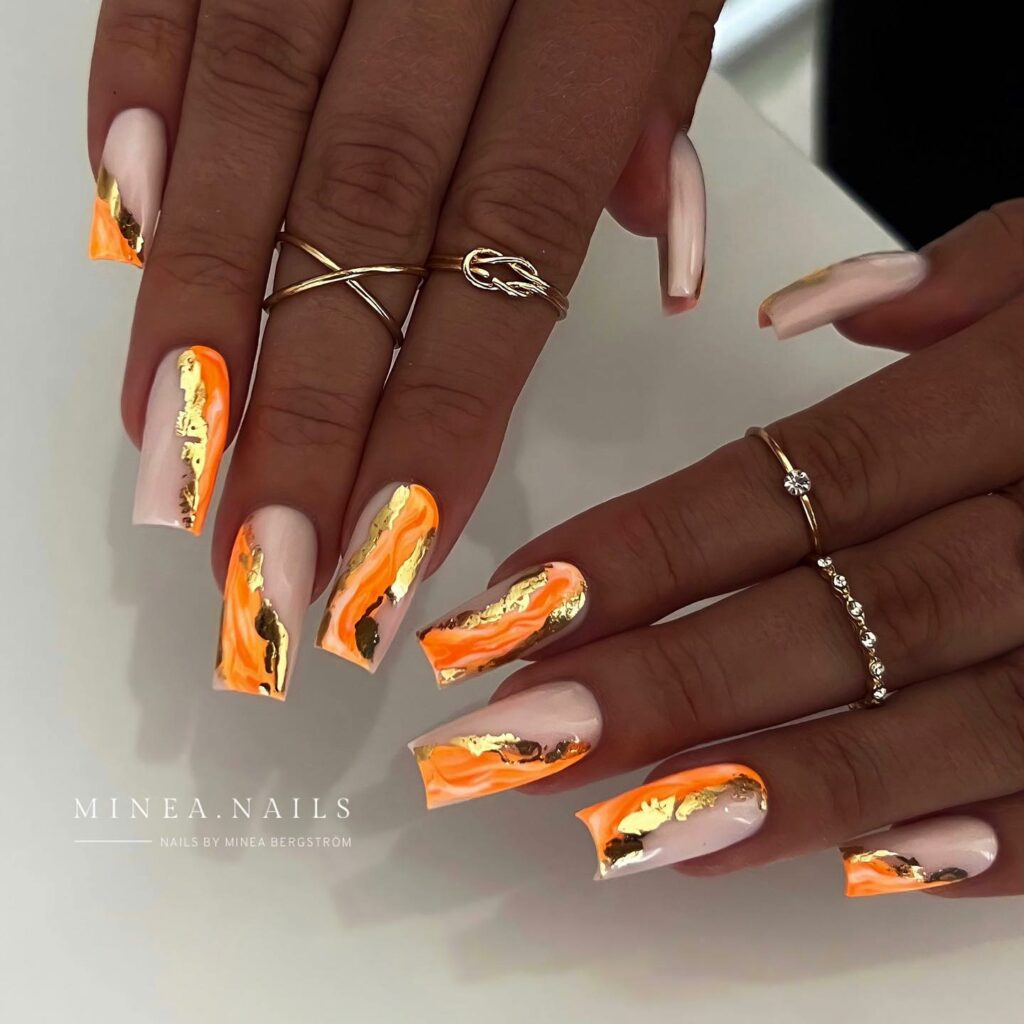 Super Glam Orange Tip Long Nails combine the boldness of vibrant orange tips with the extravagance of elongated nails, creating a luxurious and head-turning style perfect for special occasions.
Abstract Orange French Tip Nails With Swirl
Incorporating abstract swirls to the orange French tips lends an artistic flair bound to stand out. This nail art is for those who love to express their creative side right at their fingertips.
Orange French Tip Nails With Animal Pattern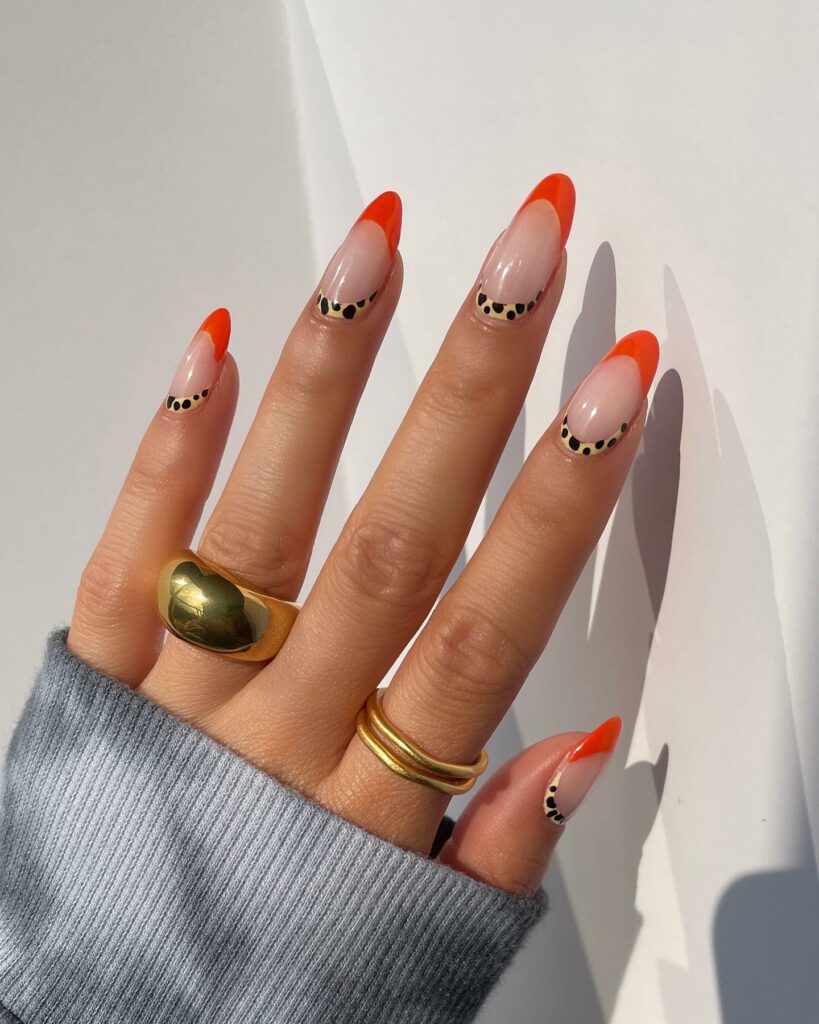 Animal patterns bring an edge to the orange French tip, perfect for unleashing your wild side while keeping it classy. It's a fun option for adventurous spirits who want to add a dash of the exotic to their nail game.
Orange French Tip Nails With Daisy Flowers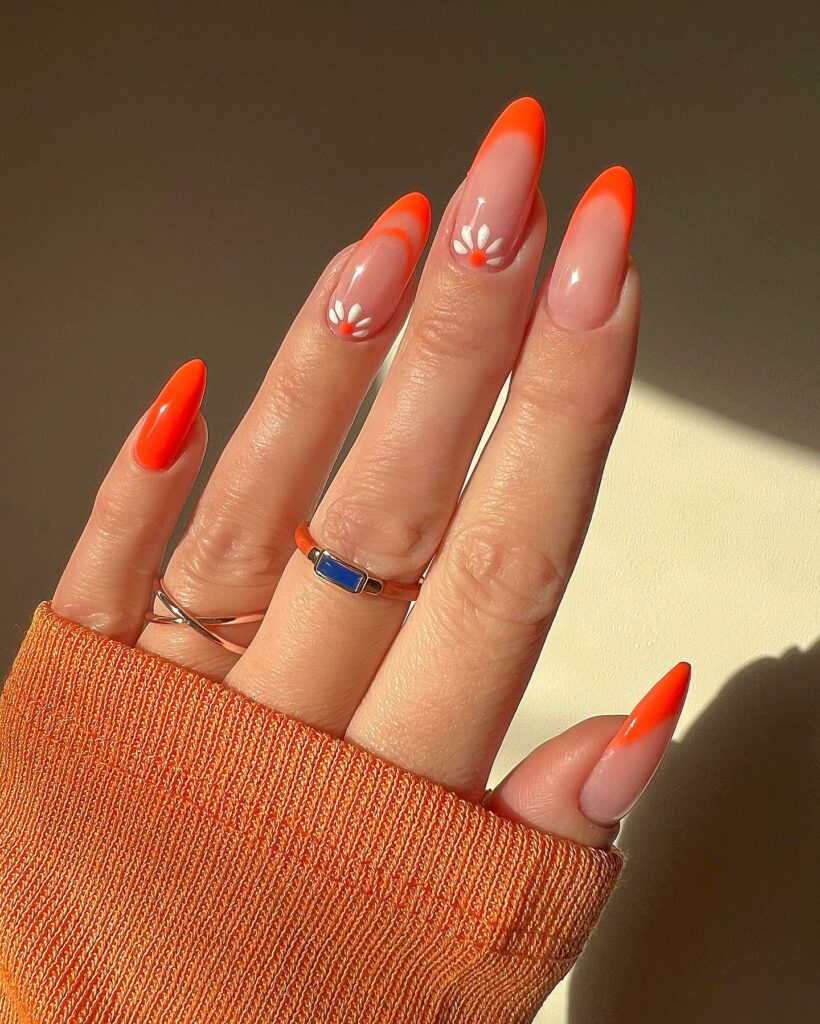 Daisy flowers on orange tips offer a playful, charming, youthful, and timeless look. This style is a nod to the flower child in all of us, ideal for both spring flings and summer soirees.
Neon Orange Tip Coffin Nails With Gems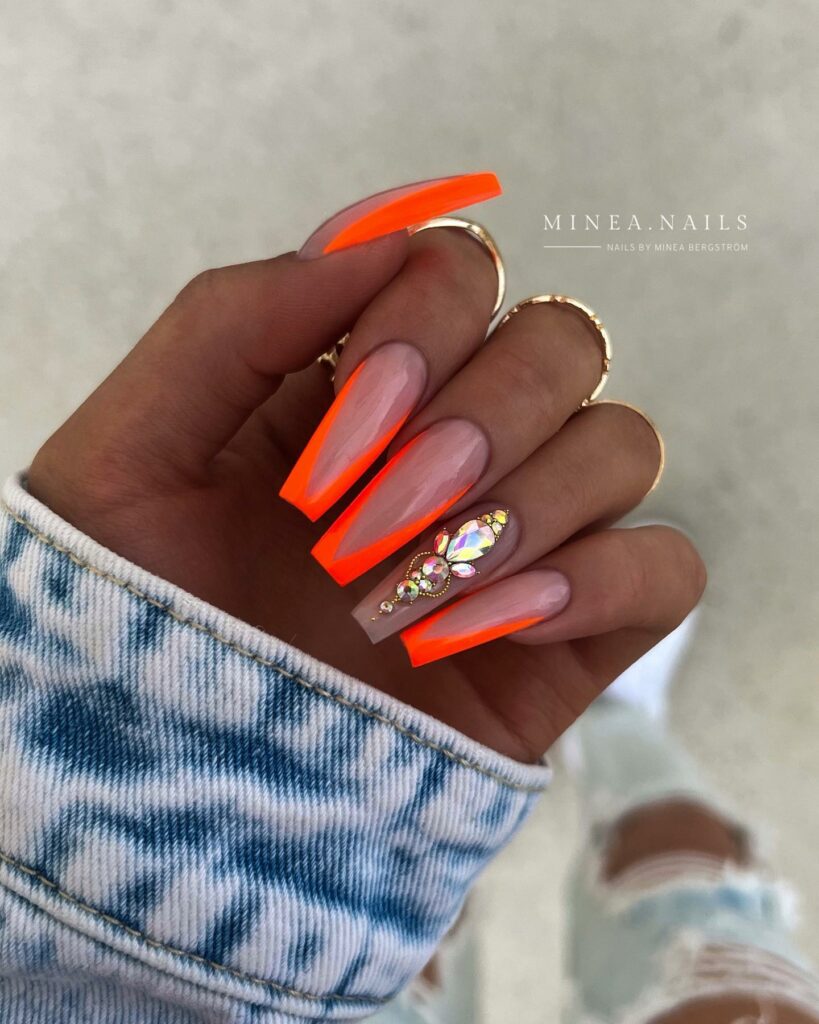 Neon Orange Tip Coffin Nails with Gems merge the vivid flair of neon orange on the trendy coffin nail shape, enhanced further with sparkling gems for an extra touch of glamour.
Two Color Orange French Tip Nails With Glitter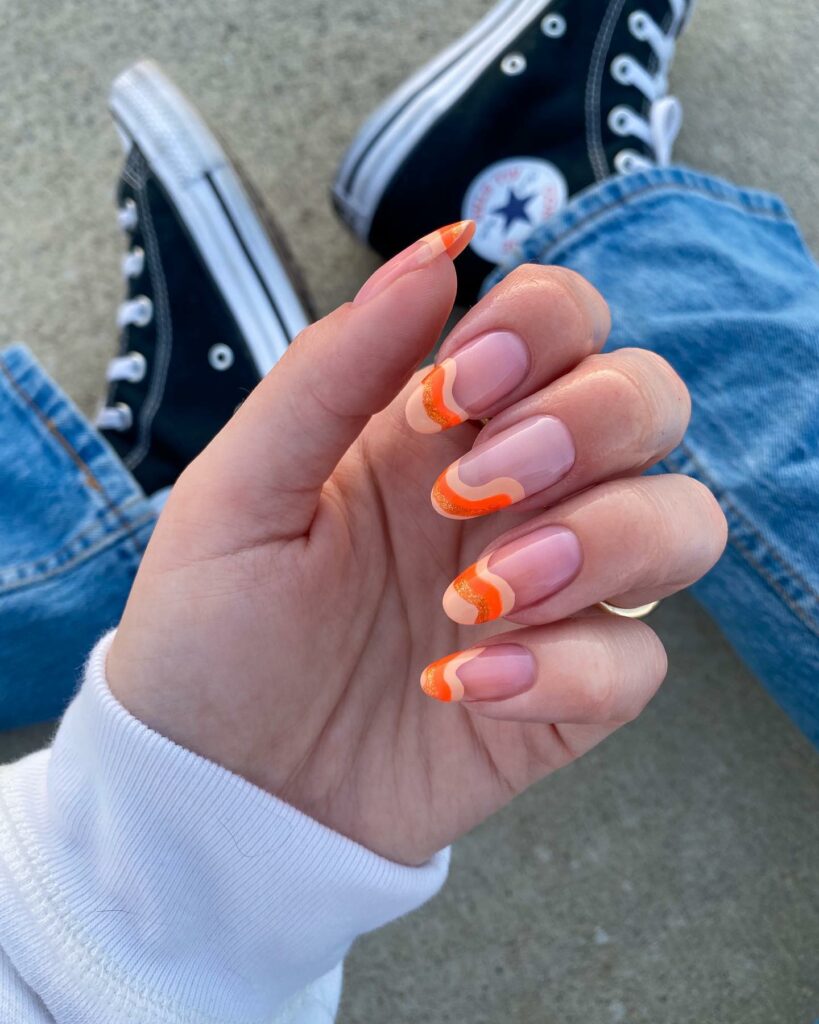 The sparkle of glitter paired with a two-tone orange gradient elevates the French tip to celebratory heights. This festive design is perfect for special occasions or because every day is worth celebrating.
Neon Orange Stiletto Tipped Nails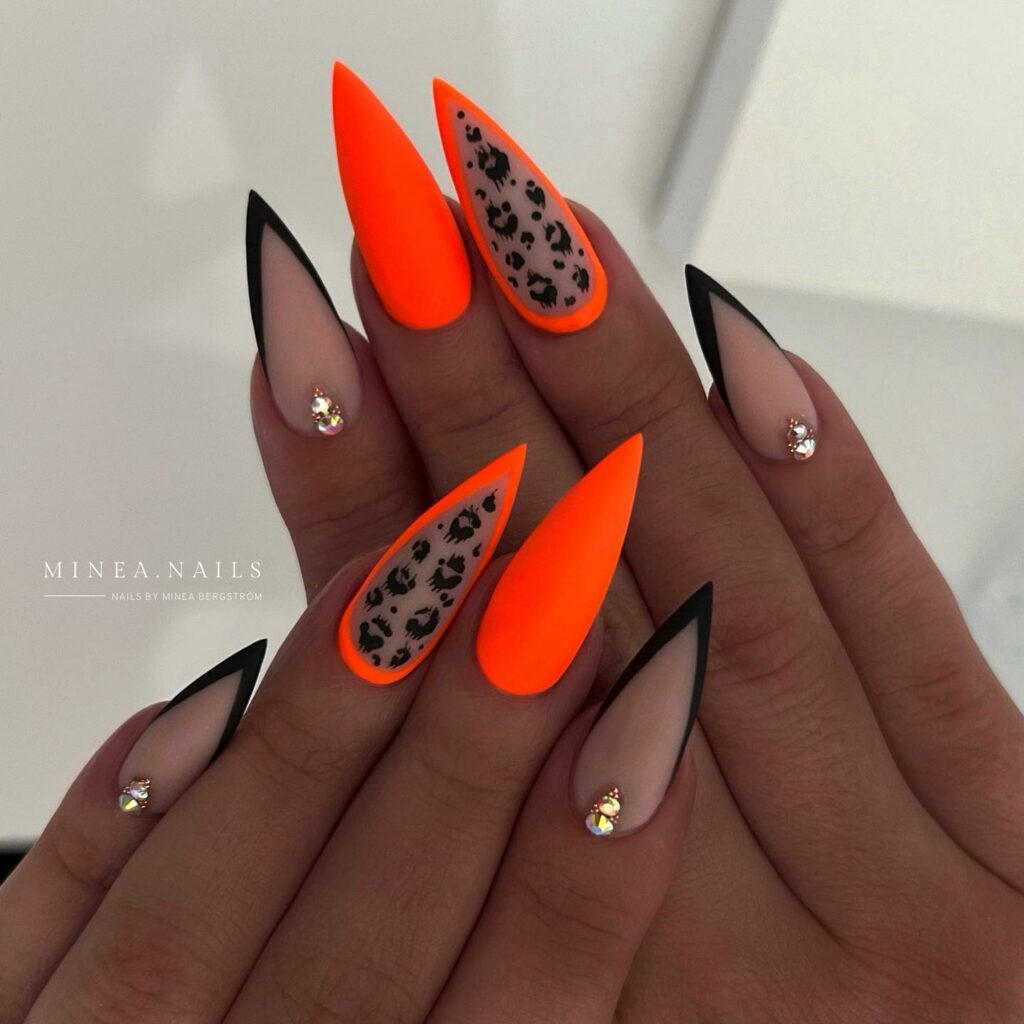 Neon Orange Stiletto Tipped Nails are a daring and dramatic choice, featuring the sharp, pointed shape of stiletto nails paired with an eye-catching neon orange hue. This style is perfect for those who love to stand out and embrace bold, statement-making fashion choices.
Orange French Tip Swirl Nails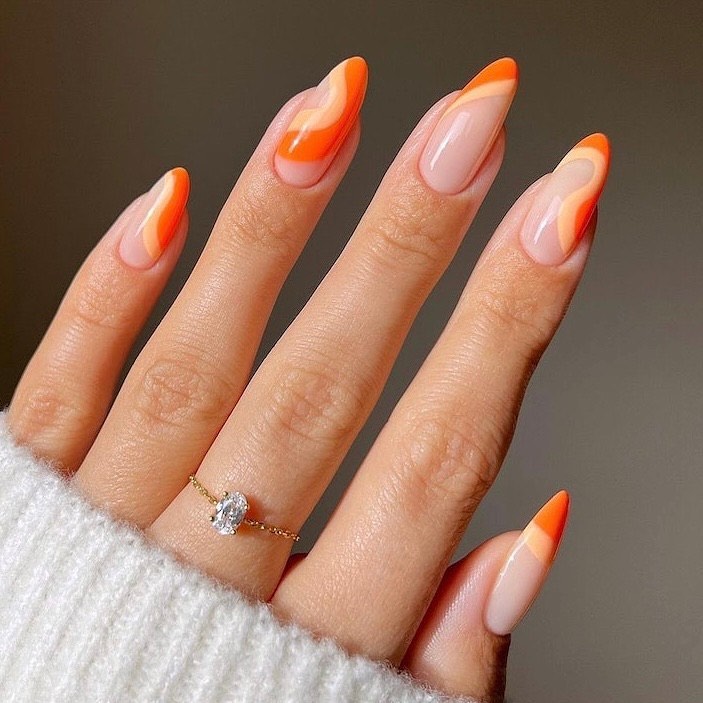 Swirls add a dynamic twist to the orange French tip, suggesting movement and energy. It's a lively choice perfect for those who want to add kinetic flair to their nails.
Almond Orange French Tip Nails With Abstract Design
The almond shape lends itself well to the boldness of abstract designs, making the orange tips pop with an avant-garde elegance. This style is for the fashion-forward individual who enjoys a bit of edge.
Orange Coffin Tip Nails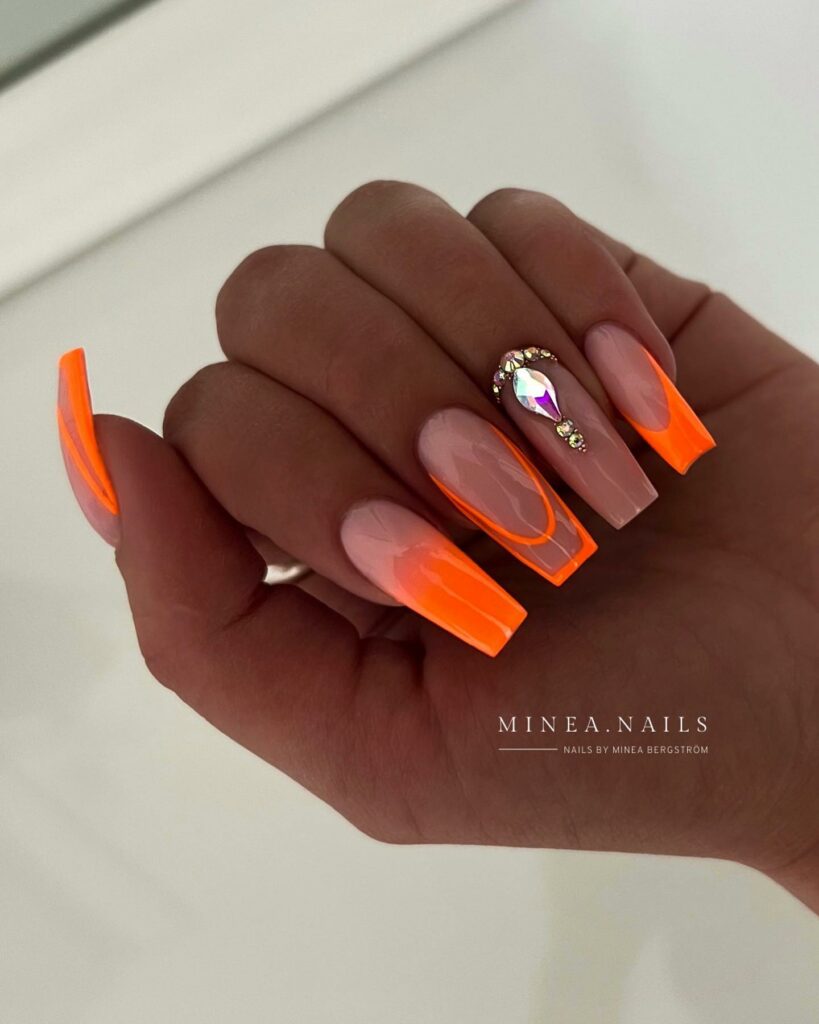 Orange Coffin Tip Nails combine the edgy, elongated shape of coffin nails with the boldness of orange polish, creating a statement manicure that's both modern and striking. This style is ideal for those who want to showcase their dar
Classis Orange French Tip Nails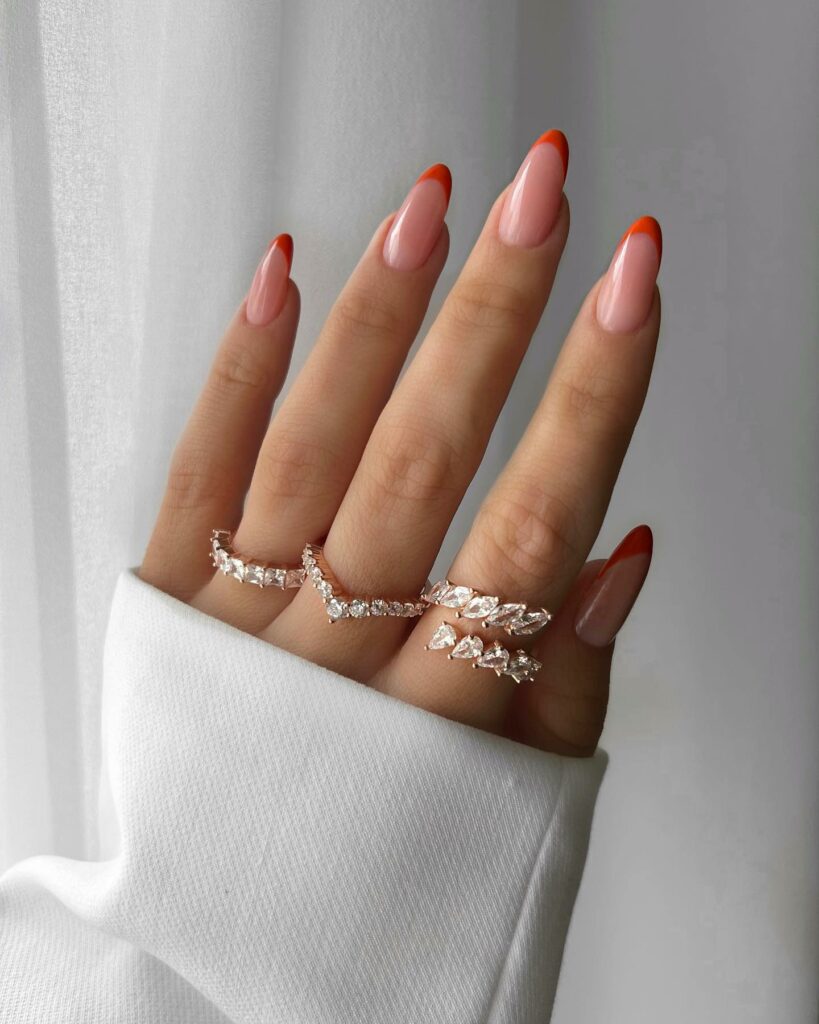 The timeless French manicure gets a vibrant makeover with a bold orange tip, adding a modern twist to a traditional look. This style is perfect for those who appreciate elegance with a touch of playfulness.
Orange French Tip On Nude Base Nails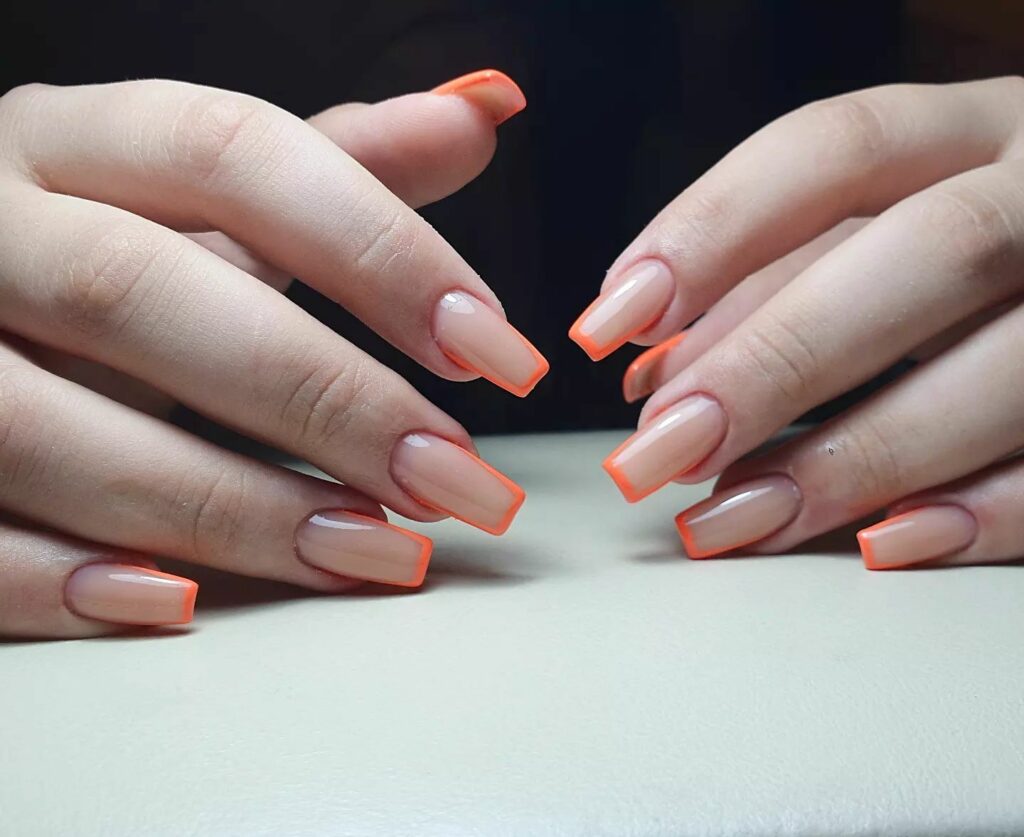 A nude base allows the orange tips to stand out in stark, beautiful contrast, marrying subtlety with a punch of color. This nail art is quintessentially chic, perfect for any occasion you want to make a statement with a whisper rather than a shout.
Pastel Orange French Tip Square Nails
The soft glow of pastel orange on a square tip is the perfect nod to spring's gentle hues, offering a subtle yet playful pop of color. It's a refreshing and modern twist on the French manicure that's eye-catching and understated.
Orange French Tip Nails Series
Dive into a series exploring the versatility of orange French tips, where each design brings a new dimension to this classic nail art style. It's a celebration of orange in all shades and shapes, perfect for those experimenting with their look.
Orange French Tip Square Nails With Rhinestones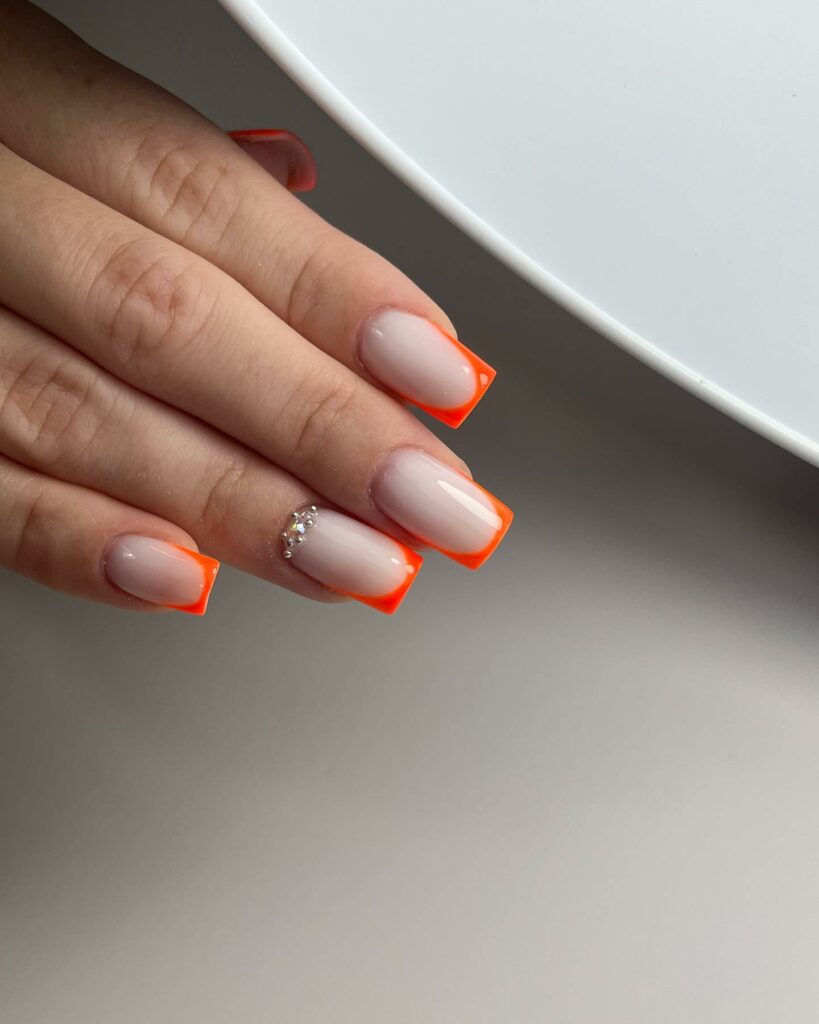 Delicate thin orange tips on a square nail are elevated with the sparkling addition of rhinestones, blending simplicity with glam. This design is for the minimalist who still wants a touch of luxury.
Glittery French Orange Tip Nails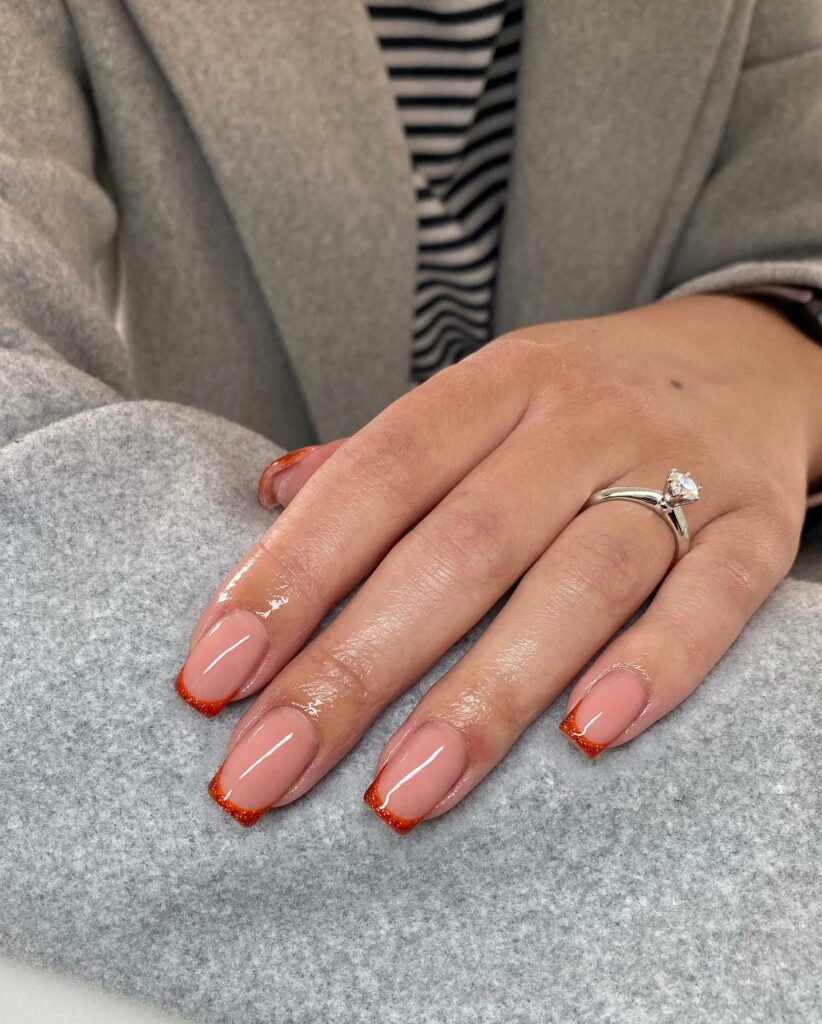 Turn up the glitz with glittery orange tips that catch the light and everyone's attention. Perfect for nights out or whenever you feel like sprinkling a little sparkle into your day.
Orange French Tip On Pink Base Nails
A warm orange tip atop a pink base exudes a sweet, candy-like charm, blending two cheerful hues for an irresistibly feminine look. This combination is like a sunset at your fingertips, ideal for those who love a soft gradient of color.
Neon Orange and Nude Coffin Nails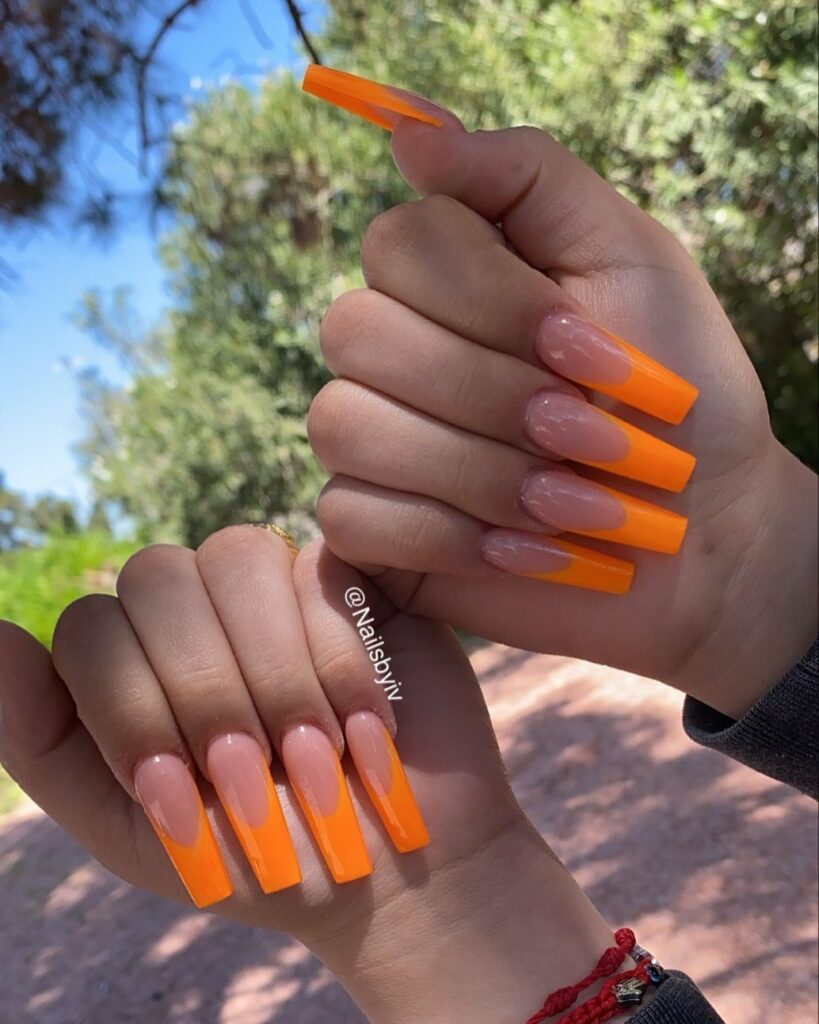 French Tip Neon Orange Coffin Nails put a fiery twist on a classic design, combining the timeless elegance of a French manicure with the bold, unapologetic statement of neon orange. The result is a striking look that's perfect for those who want to keep their nail game sharp and edgy while nodding to traditional style cues.
Orange And White French Nails With Flames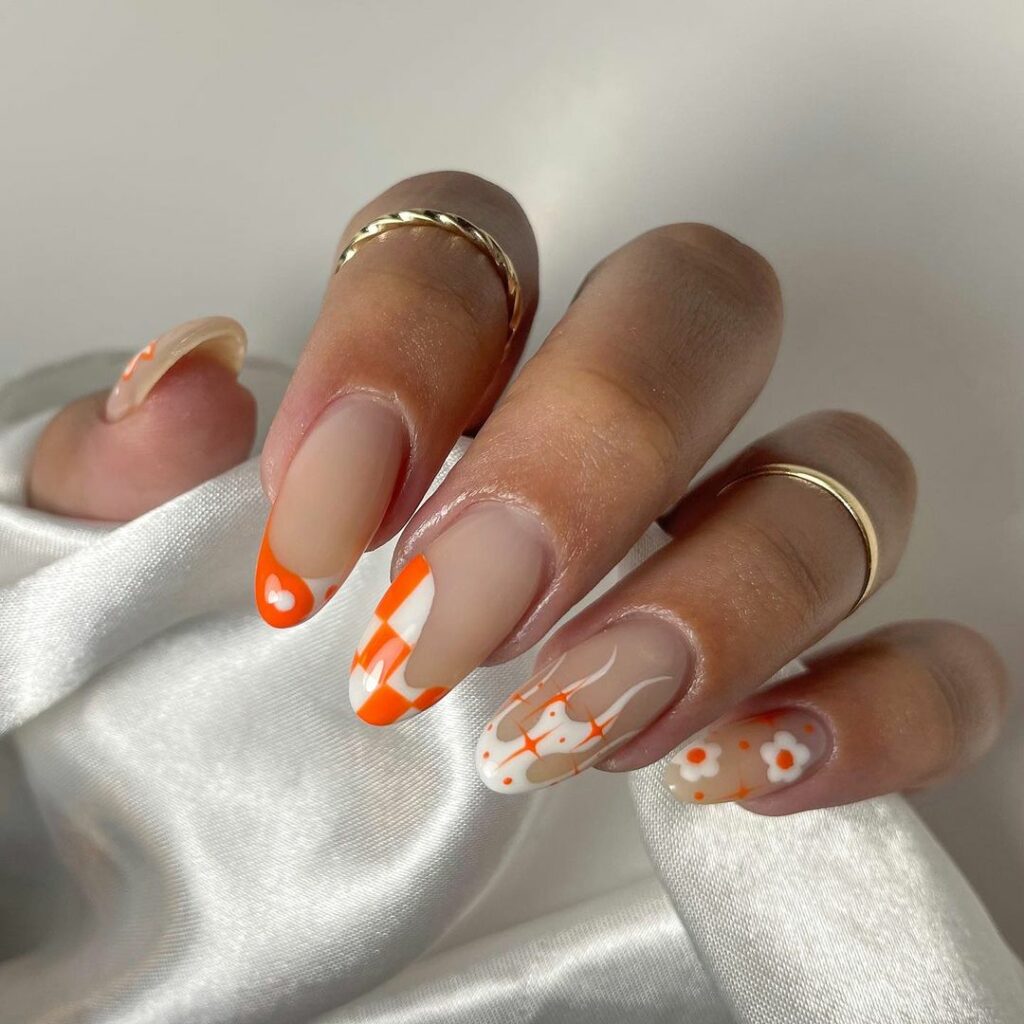 The fiery energy of flame designs combined with the innocence of daisy art creates a compelling contrast on a French manicure. This nail art is for those who appreciate the beauty in opposites and want to make a bold statement.
Ombre Orange French Tip Nails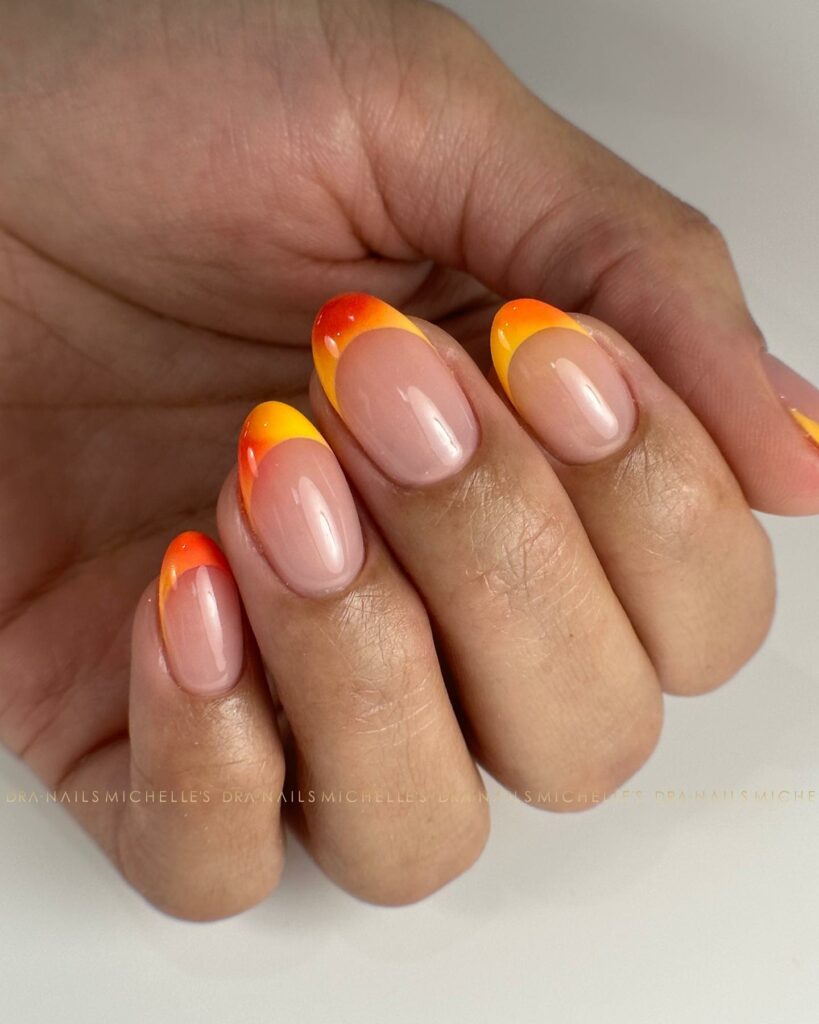 The gradient effect of the ombre brings a contemporary edge to the orange French tip, offering a seamless transition from one color to the next. This style is perfect for those who love a dramatic effect that's still sophisticated.
Acrylic French Orange Nails: Durability Meets Chic
For those who want their style to last, acrylic French tips in a burnt orange shade offer longevity and chicness. The acrylic gives you a sturdier base, perfect for those who are always on the go.
Neon Orange Ombre French Tips
Neon Orange Ombre French Tips blend a vibrant neon orange into a softer hue, creating a striking sunset effect that's perfect for adding a playful splash of color to any look.
Orange French Tips With Ghosts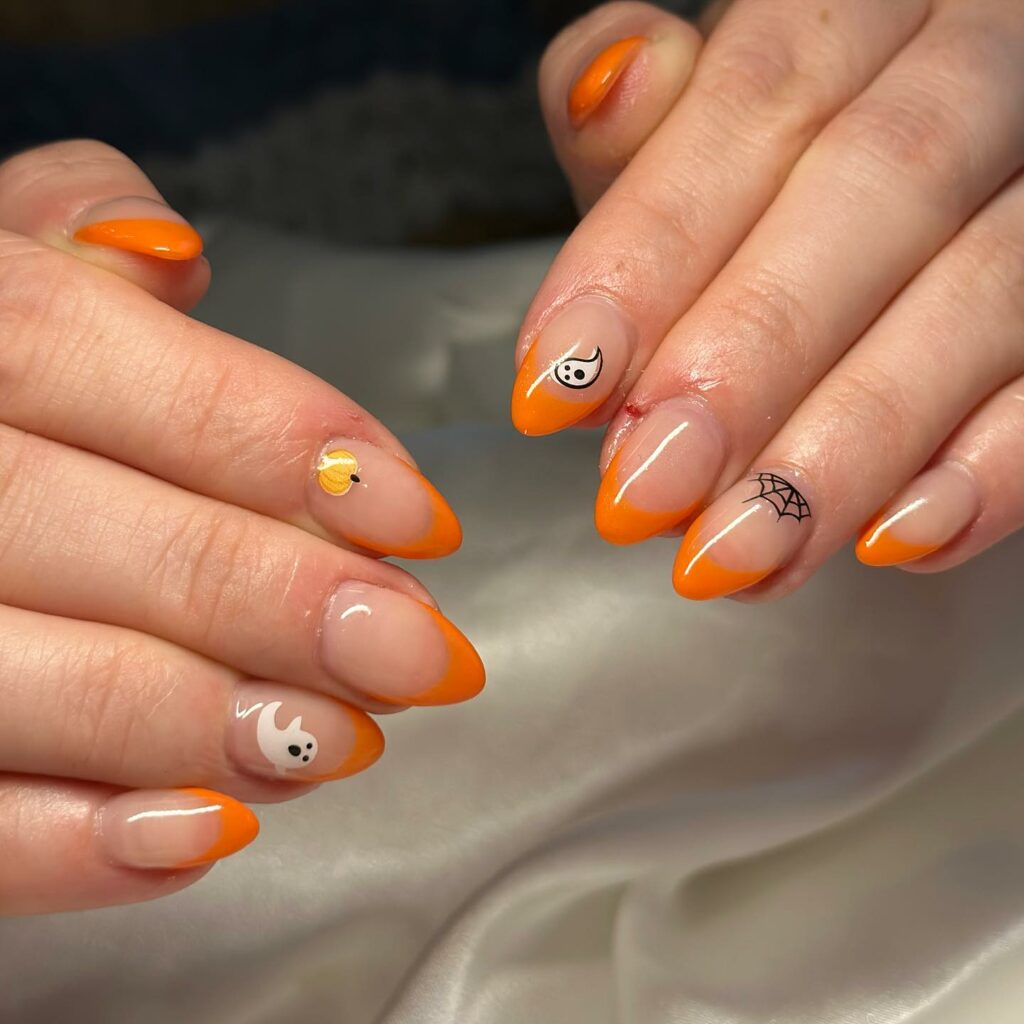 Embrace Halloween's spooky spirit with nail art featuring ghosts, pumpkins, and spider webs atop an orange French tip. This festive design is a fun way to add seasonal flair to your manicure.
6 Shades Of Orange That I Recommend For French Tips
Peachy Orange: For a softer, more subdued look, especially in the spring or for everyday wear, a peachy orange offers a hint of warmth without being too bold.
Neon Orange: If you aim to make a statement, especially in the summer or for a special event, neon orange tips can be an electric and eye-catching choice.
Burnt Orange: For a more sophisticated, autumnal feel, burnt orange provides a rich, earthy tone that pairs well with the season's palette.
Tangerine Orange: This happy medium works year-round, offering a bright pop of color that's not as intense as neon but more vibrant than peach.
Coral Orange: Coral strikes a beautiful balance between pink and orange, giving a tropical and summery vibe that's both feminine and fun.
Pumpkin Orange: Perfect for fall or if you're going for a Halloween-themed manicure, pumpkin orange is a classic that offers a traditional touch of autumn.
Remember, the best shade complements your skin tone and fits the mood you want to convey. Experimenting with different hues is always fun to find what works best for you. And don't forget, the finish matters too—a glossy top coat can make the color pop, while a matte finish can give it a modern edge.
My Process To Get The Perfect Orange Tip Look At Home
Prep Work: Start with clean, shaped nails. Push back your cuticles, buff the nail surface, and clean any oils or residue with nail polish remover. A base coat can protect your nails and help the polish adhere better.
Tape or Stickers: Use French tip guides, tape, or even round stickers cut in half to create a precise line for your orange tips. Make sure to press them down firmly to prevent polish from seeping underneath.
Steady Application: Use a steady hand to apply the orange polish smoothly, even in strokes. If you're using a brush, make sure it's not overloaded with polish, which can cause it to pool and create uneven lines.
Thin Layers: Work with thin layers of polish rather than one thick layer. This allows for quicker drying times and a smoother finish. Two thin layers are usually enough for a solid color.
Clean-Up: Dip a small brush (like an old eyeliner brush or a specialized nail art brush) in nail polish remover to clean up any mistakes or excess polish around the nail edges for a crisp line.
Top Coat: Once your orange tips are dry, apply a clear top coat to seal in color, adding shine and longevity to your manicure. Make sure to cap the tips—the nail's free edge—to prevent chipping.
Drying Time: Be patient and give your nails ample time to dry to avoid smudges or dents. Quick-dry top coats or nail drying sprays can speed up this process.
Conclusion
And there you have it, a citrusy spectrum of orange French tip nails that can add zest to your look any day of the week! Whether you're jazzing up your nails with a sprinkle of glitter, embracing the festive spirit with Halloween-themed art, or keeping it cool with pastel hues, there's an orange tip to fit your vibe. Remember, the key to nailing these designs is to have fun with them—experiment with shades, play with patterns, and don't shy away from a bit of sparkle or a bold flame design. My top tip? Permanently seal your masterpiece with a top coat to keep those tips chip-free and shining bright. So pick your polish, and let your fingertips do the talking. After all, your hands are your canvas in the world of beauty—so paint away!
Feature Image Photo By @minea.nails via instagram
Last reviewed and updated on November 17, 2023