Welcome to a space where creativity meets expert advice, a crossroads for the daring and the detail-oriented. If you've been following the nail art scene as closely as I have, you know that seasonal shifts bring new fashion and revolutionary nail trends. This summer, it's all about the Orange Creamsicle Manicure. That's right—the nostalgic blend of soft cream and zesty orange is making a grand entrance on your nails! We're diving deep into this delicious trend in today's blog post. You'll learn only one or two but a whopping 40 ways to make the Orange Creamsicle Manicure your own. I'm talking about diverse techniques, designs, and even textures! Get ready to swap those mundane hues for a palette that screams summer escapade, all from the comfort of your home or local nail salon. Keep reading to elevate your nail game and own this summer like never before.
Abstract Orange Jelly Nails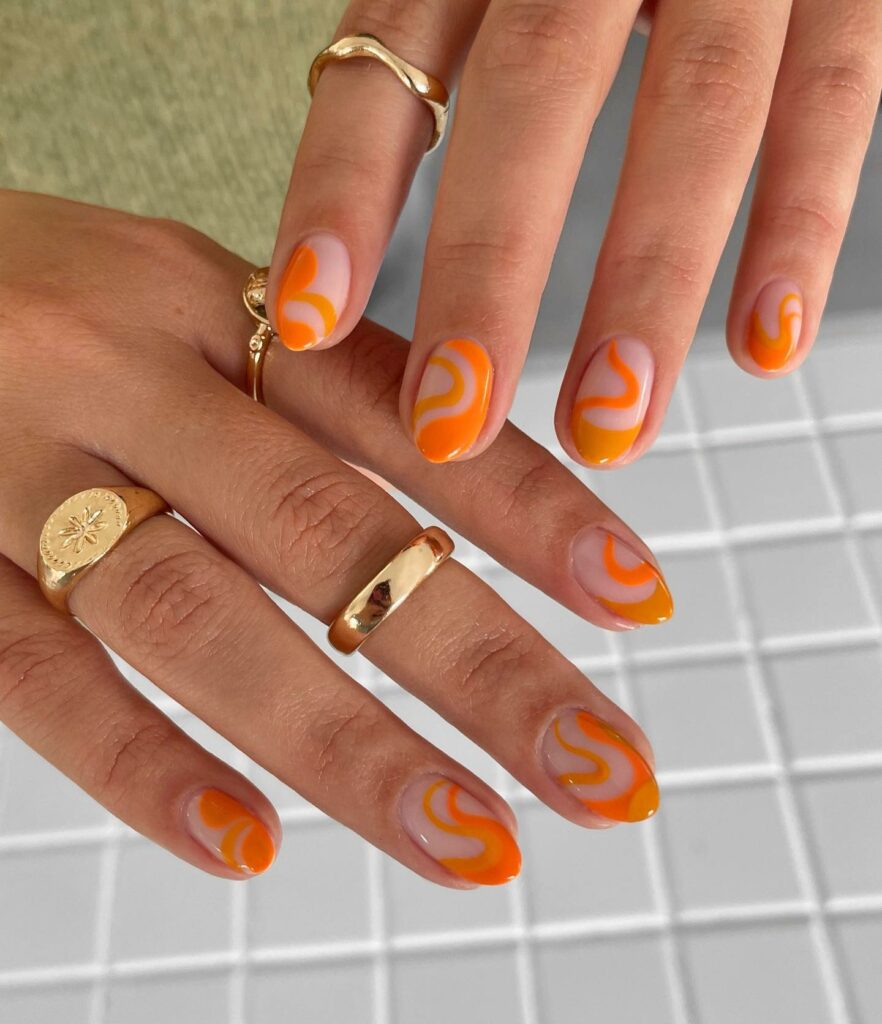 Imagine the juiciness of ripe papaya, the edge of a dirty martini, and the funk of the '70s—all in one look. This abstract orange jelly nail design is all that and more. If you're intrigued, I can tell from experience that this style can elevate even the simplest summer outfit. Pair it with a linen blouse and your go-to shorts; you're runway-ready.
Groovy Peach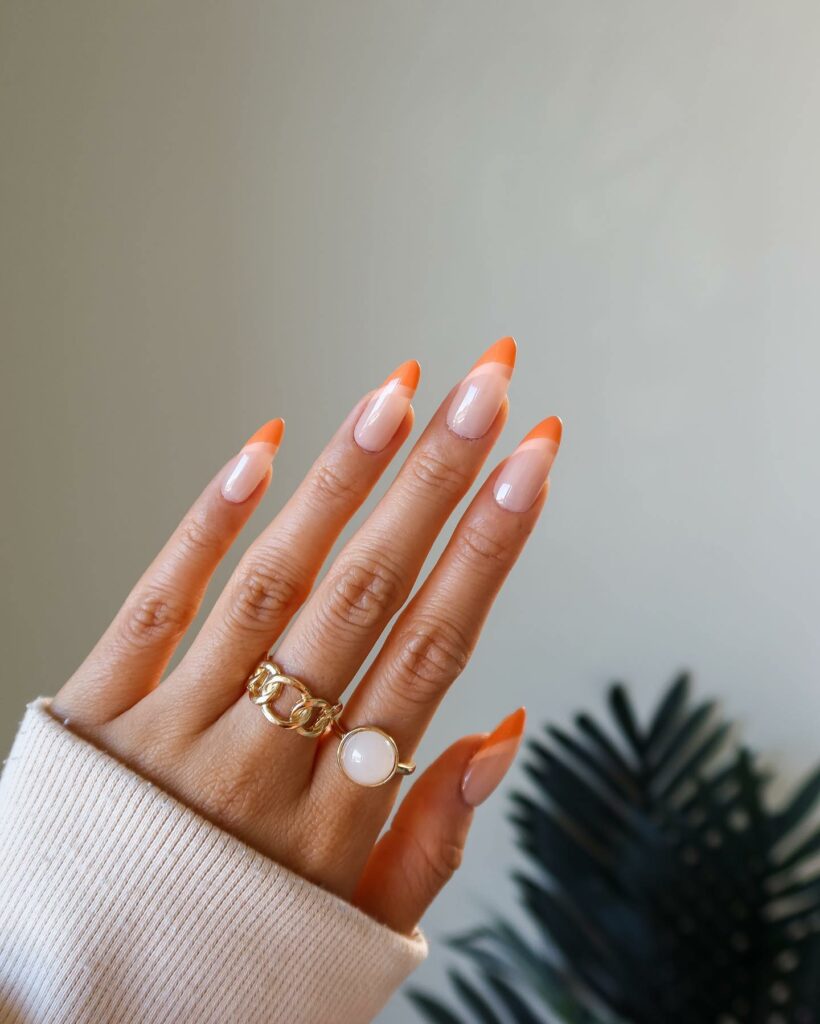 Is anyone else feeling these Woodstock vibes? This multi-shade design is the epitome of happiness, incorporating checkers, smiley faces, retro waves, and even yin-yang symbols. Nail artist Dayanna Sapiens achieves this look with DND Gel in shades like Sweet Yam, Pastel Orange, and more. The shades blend makes this an eye-catching affair; it's like wearing a smile on your nails!
Haute Hawaiian
Remember when Y2K trends took over, and suddenly, everyone was into frosted tips and platform shoes? We combine that nostalgia with shimmery orange French tips and Hawaiian flowers. I tried this for a luau-themed party last year, and let's say I got more compliments on my nails than the actual decorations.
Peach Ombré Nails
There's something about ombré that feels like you've got your life together. My go-to was always a French ombré until I tried this peachy twist. This look is easy on the eyes but still a showstopper. The nude base helps disguise the nail growth, making it the perfect low-maintenance summer staple.
Creamsicle Flowers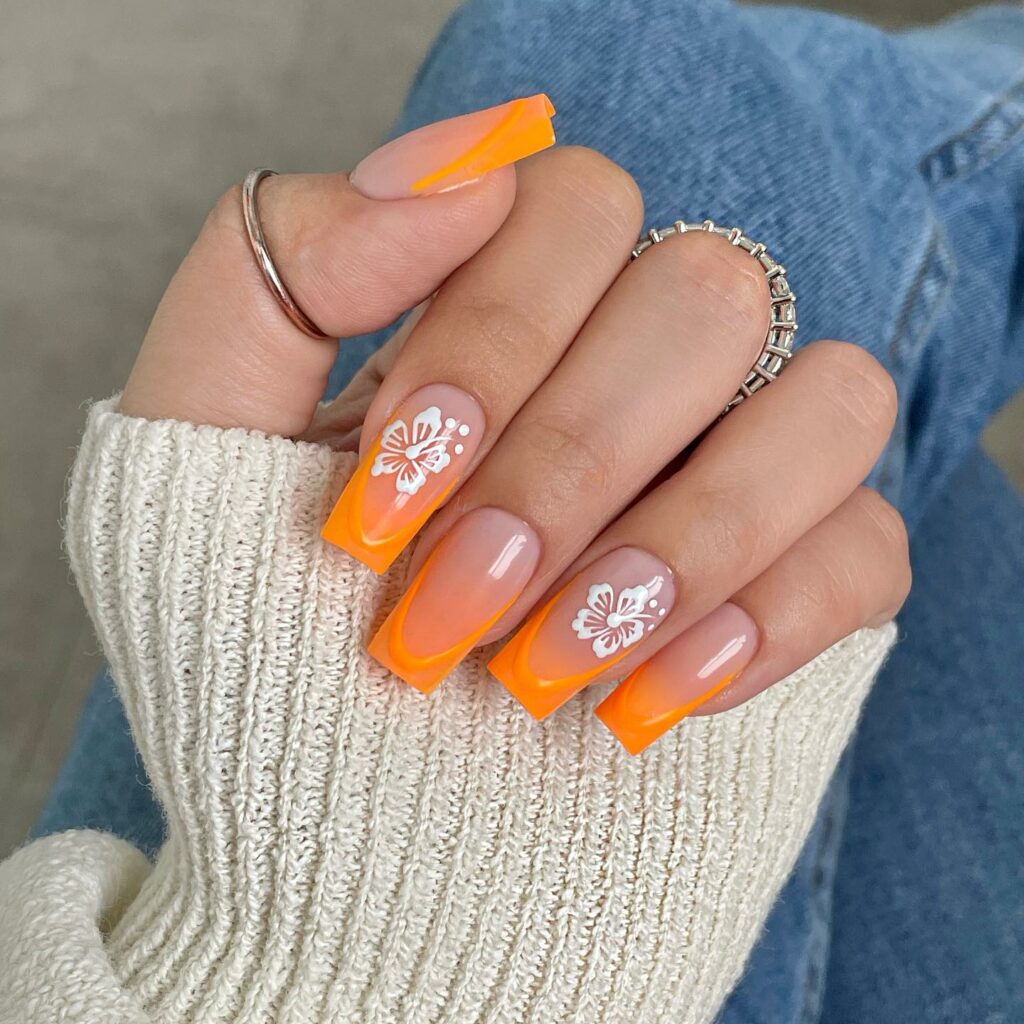 Oh, the wonders an accent nail can do! Take the orange trend for a trial run by opting for these dainty, creamsicle-colored florals. This is your chance to get on board without jumping off the deep end, especially if you're hesitant about going full-on orange.
Pink and Orange Swirl
I've got your back if you're reluctant to part ways with the ever-classic Barbie pink. Combine pink and orange for a swirl design that captures the best of both worlds. I've sported this look at a few summer BBQs, and it's a genuine crowd-pleaser!
Mango Moment
Ah, neon—the epitome of summer flamboyance. You'll need shades like Flex on the Beach and Stay Out All Bright from OPI to get this electrifying look. Trust me; the combination is as vibrant as your summer playlist.
2-Tone Orange Tips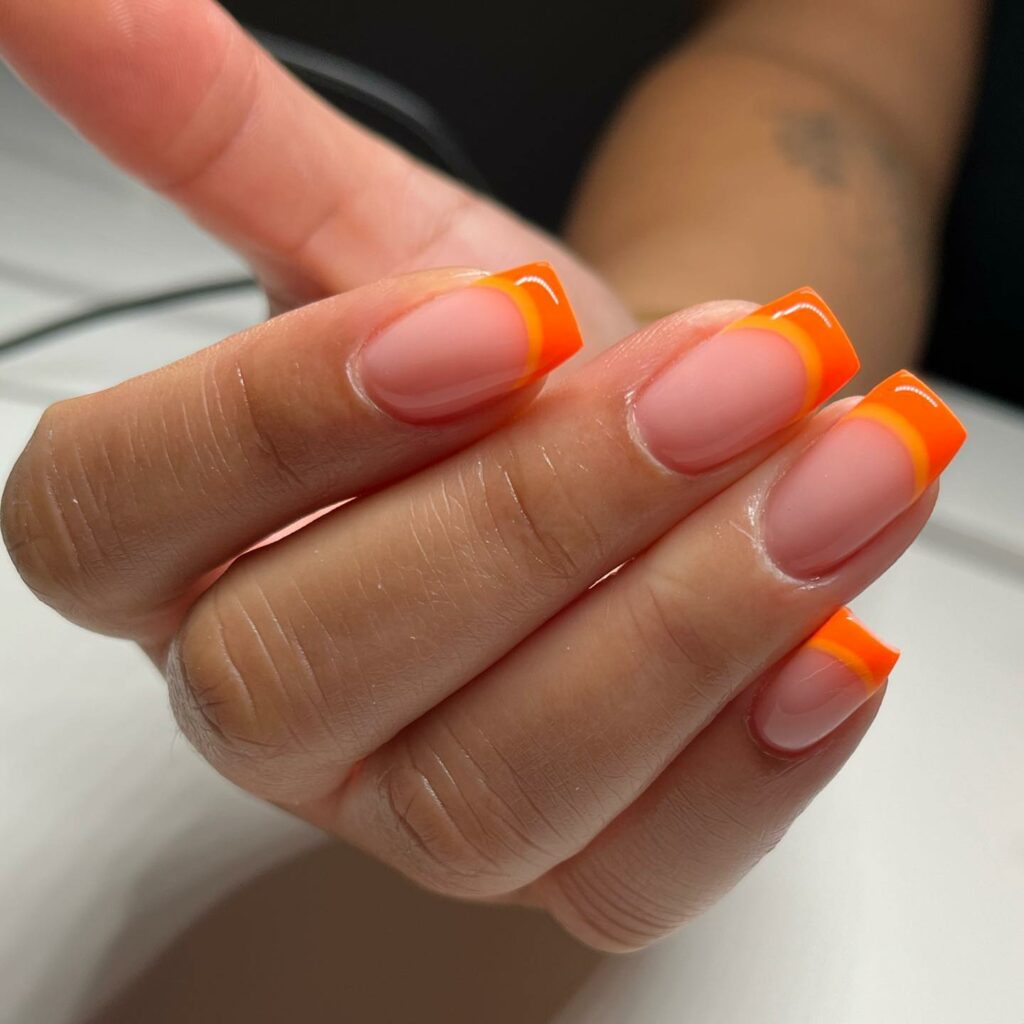 Indecisiveness has always looked better. I once struggled to pick just one orange hue, and that's when I tried the 2-tone orange tips. It's a versatile look that works equally well for a day at the beach or a night on the town.
Mango Colored
Sometimes, simplicity speaks volumes. A solid mango-colored hue with a dash of shimmer can work wonders for any casual or elegant look. Best of all? It's easily DIY-able, saving you a trip to the salon.
Orange Dewdrop Nails
Last but not least, let's discuss the trend that's taking 2023 by storm—dewdrop nails. With 3D mango accents, you can bet that these nails are an ensemble.
Abstract Pink and Orange Nails
If you're a fan of abstraction in art, why not extend it to your nails? Add abstract spots to a vivid orange manicure for that extra flair. If you're going the DIY route like I did last summer, don't stress about getting it perfect. The beauty of abstract art is in its asymmetry. I tried this once when I had a spur-of-the-moment art urge. A little dash of pink here, a swirl of orange, and voila! It was as if Picasso had channeled his spirit through my nail polish.
Pink and Orange 3D Accents
Oh, the fun you can have with builder gel! We're talking 3D accents on a blend of the year's hottest colors: pink and orange. The coffin shape lends an element of drama, making it ideal for those who like their nails to make a statement. I sported a similar look for a beach party recently, and not only did my nails survive the sands of time (pun intended), but they also garnered quite a few compliments!
Hot Orange Art Deco Nails
Alright, let's switch gears for a moment. You've heard of Art Deco in architecture and interior design, but how about on your nails? Just picture this: a hot orange backdrop making an art deco print spring to life. I rocked this look for an art-themed charity event, and it became an instant conversation starter. It's bold, intricate, and oh-so-fashion-forward.
Sunset Horizon
Let's take a moment to admire the wonders of nature. And by that, I mean capturing the essence of a sunset on your nails. Begin with a yellow shimmer at the base and blend it into a coral-orange at the tips. The resulting look is soothing, like having a personal sunset at your fingertips. I found this look perfect for the laid-back summer BBQs, where you catch up with friends and watch the sun dip below the horizon.
Tangerine Dreamcatcher
Incorporate some boho vibes with intricate dreamcatcher designs over a bright tangerine background. This look is perfect for festivals or a day out in the sun and gives you that free-spirited flair.
Orange Geometric
Minimalism meets color with crisp geometric patterns on an orange canvas. It's modern and eye-catching, making it ideal for those who love a blend of simplicity and audacity.
Rustic Orange Marble
Swirls of rustic orange and brown can mimic the look of marbled stone. It's as if you've captured the colors of autumn and placed them right on your nails—a unique twist on the summer hue.
Orange Fire Ombre
Add an element of heat with a fiery red to orange ombre design. This nail look can easily take you from a casual day out to a steamy summer night.
Neon Orange Strokes
If you want to stand out, neon orange strokes against a neutral backdrop are the way to go. These nails scream boldness and creativity, making you the center of attention.
Fuzzy Peach Velvet
Try a fuzzy peach velvet finish on your nails for a textural twist. The tactile sensation is different, and the look adds sophistication to the classic orange hue.
Orange Galaxy
Blend dark blues and blacks with bright orange spots to create a galactic theme on your nails. Perfect for those nights when you're stargazing or just daydreaming about the cosmos.
Burnt Orange French Tips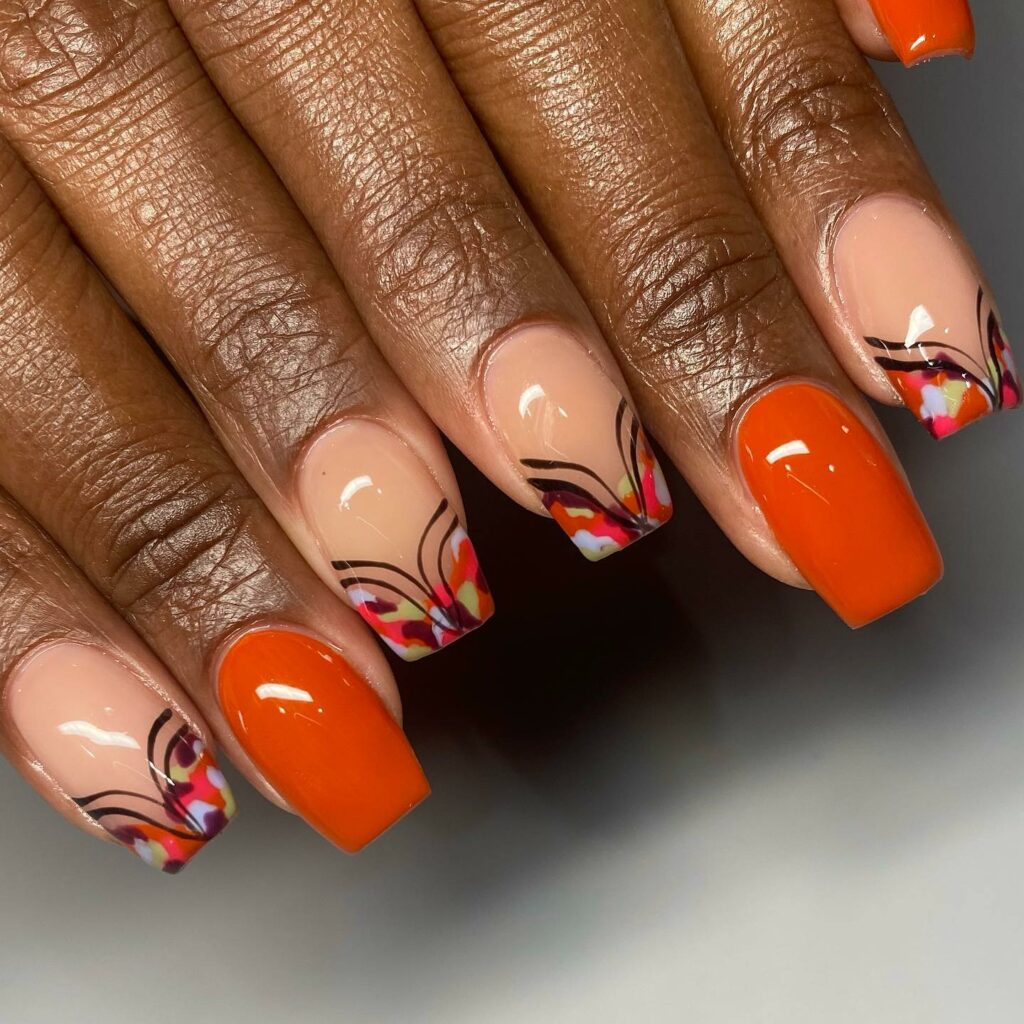 Think French tips, but with a burnt orange twist. It's a modern take on a classic style, giving you the best of both vintage and contemporary trends.
Sporty Orange Stripes
For the sporty among us, nothing screams athletic chic like simple white stripes over an orange background. This is a fun way to show off your active lifestyle right on your nails.
Citrus Burst
Imagine tiny lemons and oranges painted on a white or nude base. It's summer in a nail design—refreshing, zesty, and utterly enjoyable.
Golden Orange Shimmer
Add a touch of luxury with orange nails featuring a shimmering golden overlay. This design is your go-to for any elegant soiree or romantic dinner date.
Pumpkin Spice
Who says you have to wait for fall to enjoy some pumpkin spice? Incorporate this warm, earthy shade into your summer nail collection for a cozy yet trendy look.
Holographic Orange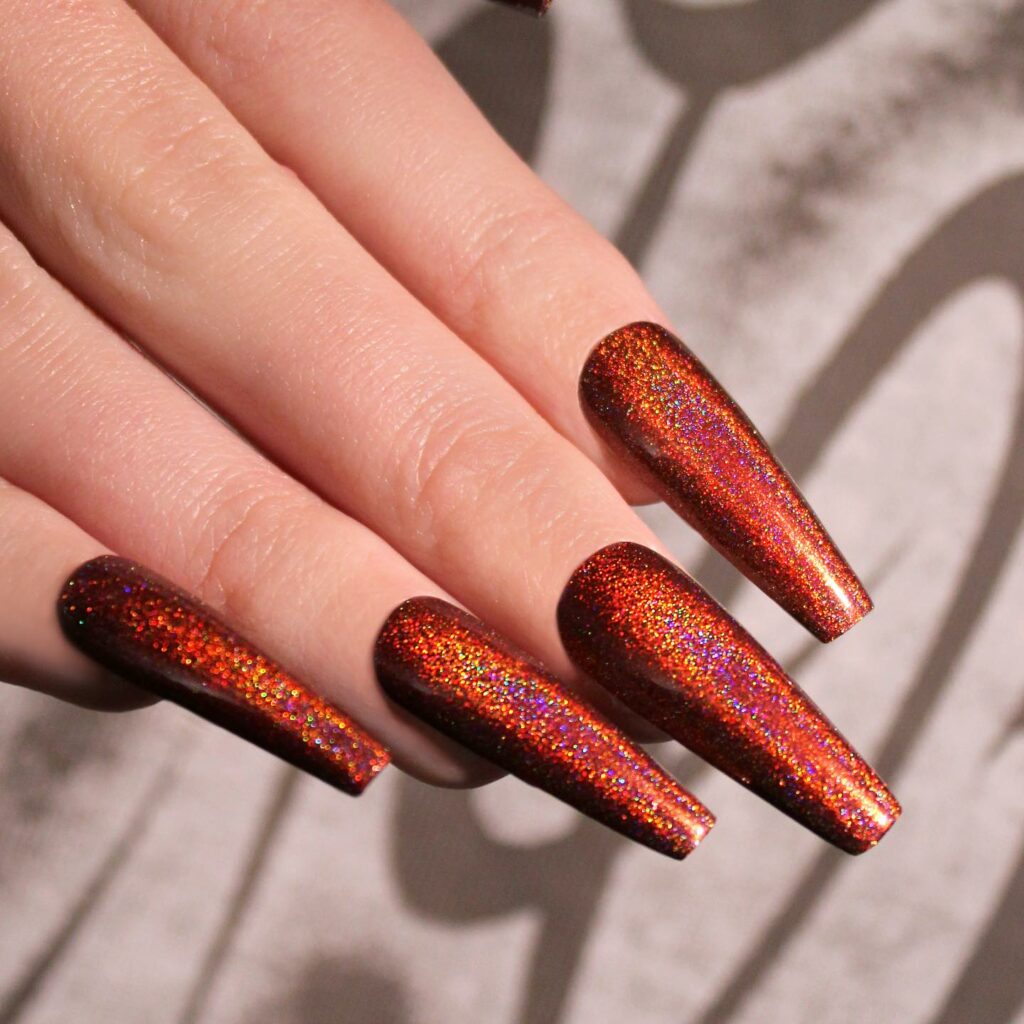 Enter the future with holographic orange nails that change hue in different lights. It's a design that's as unpredictable as it is captivating.
Tribal Orange
Integrate tribal patterns onto a bright orange background for a look that pays homage to traditional designs while being thoroughly modern.
Seashell Orange Accents
Combine ocean-inspired seashell accents with soft orange shades. It's like carrying a piece of your last beach vacation wherever you go.
Orange Confetti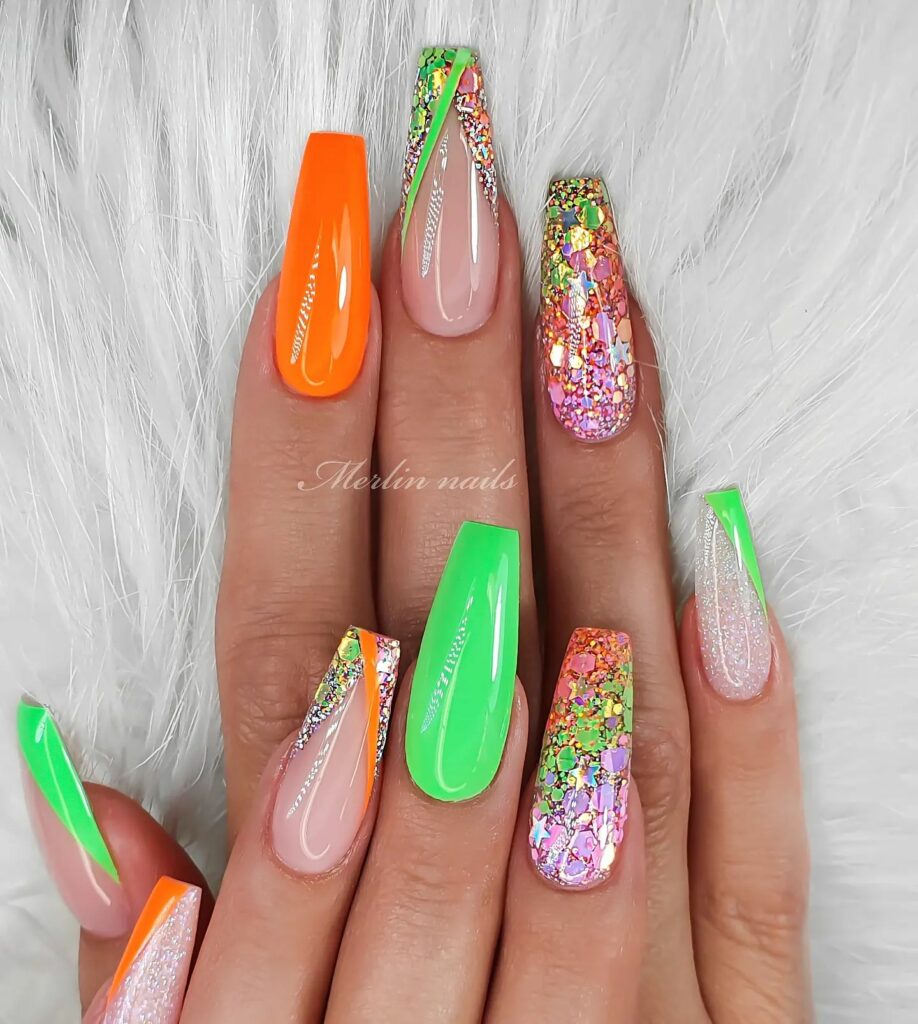 Orange confetti nails can be your mini party if you're in a celebratory mood. Bits of colored foil or glitter embedded in an orange base make every day feel like a special occasion.
Orange Crush Crystals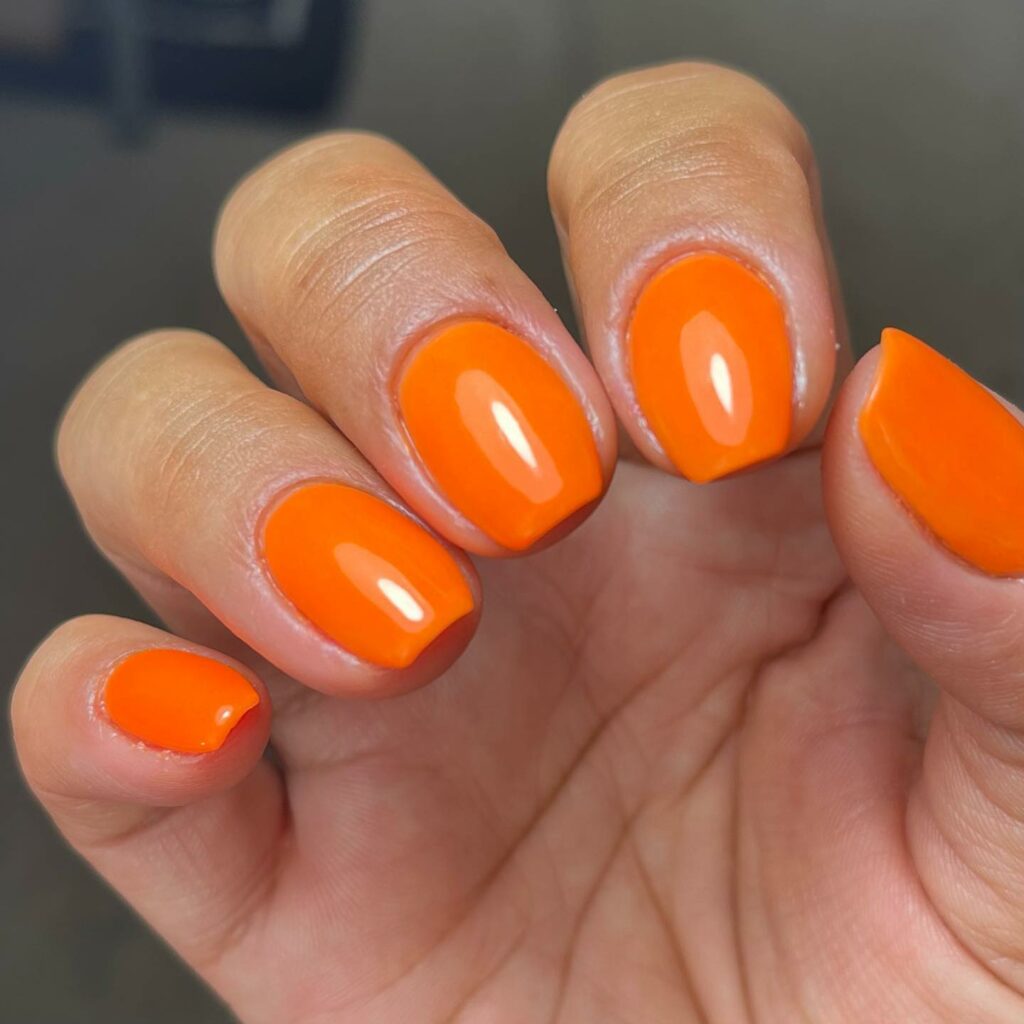 Bedazzle your bright orange nails with some strategically placed crystals. This design gives you the pop of color you love with a dash of bling that catches the eye in the best way.
Safari Orange
Blend earthy browns and bright oranges with animal prints like zebra or leopard. It's an adventurous choice that adds a touch of the wild to your summer look.
Glittered Tangerine
For those who adore some sparkle, a tangerine base with a layer of orange glitter can do wonders. It's like having a mini firework display at your fingertips.
Copper Accents
Accentuate your orange nails with copper metallic stripes or designs. The copper adds a rustic yet modern touch, making this a versatile look for multiple occasions.
Ocean Sunset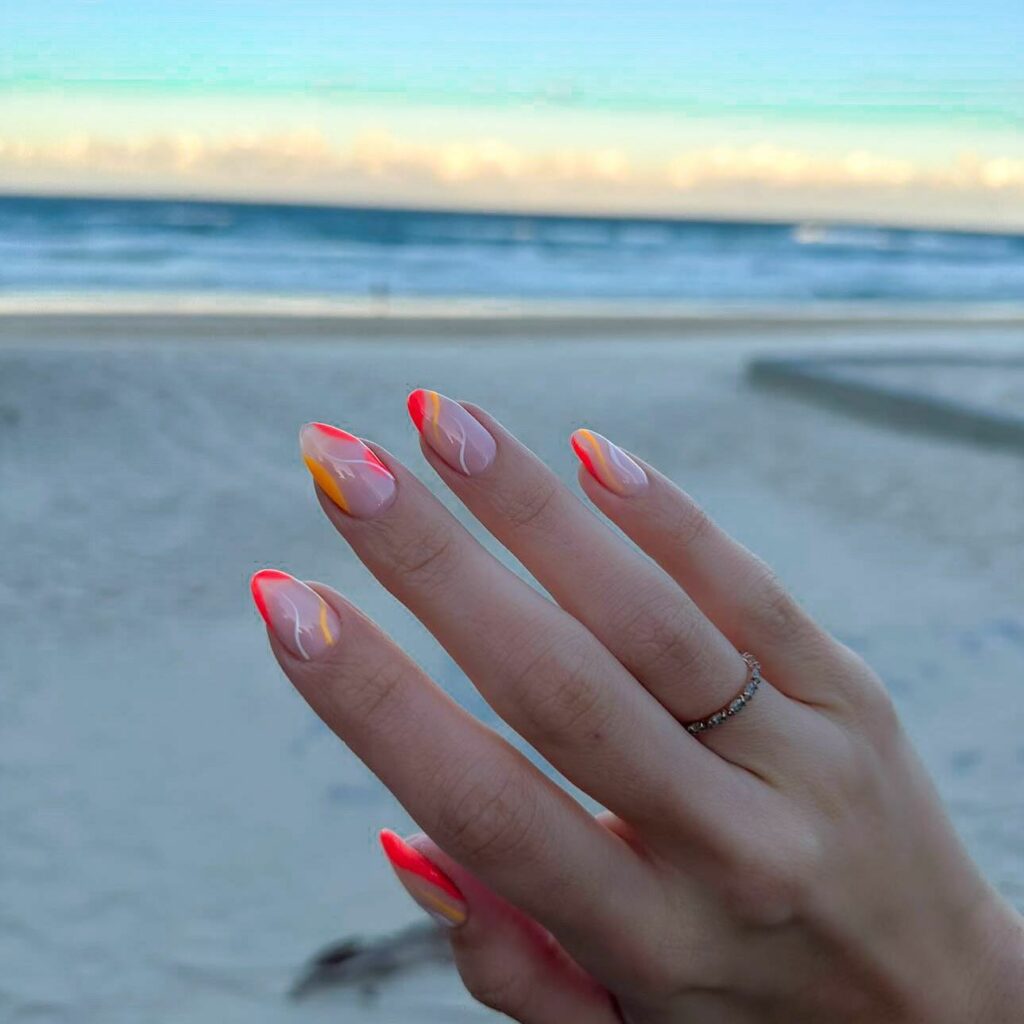 Blend the shades of orange with the blues and purples usually seen in a sunset over the ocean. This gradient look is an artistic masterpiece that brings a bit of paradise to your daily life.
Vintage Floral Orange
Combine retro floral patterns with varying shades of orange for that nostalgic touch. It's like a 70s wallpaper but in the chicest way possible.
Matte Burnt Orange
Swap the gloss for a matte finish in a burnt orange shade. It's trendy and understated, making it perfect for those who appreciate the finer details.
Starry Night Orange
Incorporate tiny star-shaped stickers or decals on an orange base. It's like capturing the summer night sky with a bright, citrusy twist.
Chunky Orange Foil
Incorporate chunky foil flakes into an orange gel manicure for texture and shimmer. It's flashy in the best sense, adding a dose of drama to your ensemble.
Sherbet Swirl
Take inspiration from your favorite summer treat by blending pastel oranges and pinks in a swirl design. It's whimsical fun and perfectly encapsulates the joyful spirit of summer.
10 Brands That I Love Right Now!
| Brand | Why I love this product | Where to Buy |
| --- | --- | --- |
| OPI | Offers an endless color palette and exceptional durability, excellent for intricate designs. | OPI |
| Essie | Known for creamy formulations and trend-setting colors, perfect for Creamsicle-inspired looks. | Essie |
| Zoya | Free of harmful chemicals but still offers vibrant colors and long-lasting wear. | Zoya |
| China Glaze | Comes in stunning hues and finishes, making it easy to find that perfect shade of orange or cream. | China Glaze |
| CND Vinylux | Combines the long-lasting properties of a gel with the ease of traditional polish. | CND |
| Deborah Lippmann | Offers unique textures and finishes, ideal for adding unique accents to your design. | Deborah Lippmann |
| Butter London | Focuses on non-toxic ingredients, offering vibrant colors without compromising nail health. | Butter London |
| Sally Hansen | The Miracle Gel line offers salon-quality finish and durability, ideal for intricate designs. | Sally Hansen |
| Orly | Offers a flexible and durable formula, great for those who want their manicure to last. | Orly |
| Morgan Taylor | A professional brand with rich pigmentation and easy application for detailed designs. | Morgan Taylor |
Are There Any Specific Tools or Techniques Needed To Achieve These Nail Art Designs?
The perfect Orange Creamsicle manicure is like creating a tiny masterpiece on each nail. But even the most talented artists need the right tools and techniques to bring their vision to life. Here's a rundown of what you might need in your nail art arsenal.
Tools
Fine-tip Brushes: These are a must-have for intricate designs like florals, stripes, and zigzags.
Dotting Tools: A set of dotting tools will come in handy for polka dots, or even to create floral designs.
Sponges: Perfect for achieving an ombre or gradient effect. You can even use a simple kitchen sponge.
Stencils or Nail Vinyls: These can act as a guide or mask for geometric or more complex patterns to make application easier.
Tweezers: These are useful for picking up and placing small decals, rhinestones, or pieces of foil.
Orange Sticks: These are a staple for pushing back cuticles or cleaning up small mistakes.
Top Coat and Base Coat: Remember to consider the importance of these. A base coat preps your nail for polish, and a top coat seals in your design.
Nail Clippers and Files: To shape your nails before starting the art.
Clean-up Brush: Dipped in a bit of acetone, this helps clean up any stray polish around the cuticles.
Techniques
Sponging: For ombre or gradient designs, apply your colors on a sponge and dab it onto the nail.
Taping: Using striping or even regular scotch tape can help create crisp lines for geometric designs.
Dry Brushing: Remove almost all polish from the brush and lightly drag it across the nail for a distressed or feathered look.
Stippling: Use a dotting tool to create patterns by depositing small dots of polish onto the nail.
Reverse Stamping: Paint your design onto a silicone mat, let it dry, peel it off and apply it to your nail like a decal.
Marbling: Drop different polish colors into a cup of water, swirl with a stick, and then dip your nail in to achieve a unique marble effect.
Freehand Drawing: If you have a steady hand, you can use a fine-tip brush to draw designs directly onto the nail.
Layering: Apply decals, foil, or rhinestones over a base color for added dimension.
To truly explore the art of nail design, especially something as lively and playful as an Orange Creamsicle manicure, equipping yourself with the right tools and mastering a few techniques is essential. From basics like good quality base and top coats to specialized items like fine-tip brushes or dotting tools, having the right arsenal can make all the difference. And let's remember to practice! The more you experiment, the better you'll get. So, pick your favorite designs, gather your tools, and let your creativity shine.
Conclusion
Wow, what a journey through the kaleidoscope of orange nail designs! From minimalist geometrics to dazzling glitters, this vibrant hue offers endless possibilities to make your summer even more colorful. Remember, the key to nailing (pun intended!) these designs is to consider your style, the occasions you're dressing for, and, of course, your level of commitment to nail maintenance. It's always fun to experiment, but some designs require a steadier hand or even a professional touch. And while it's tempting to jump right in, remember to do a patch test with any new polish to avoid skin irritation. You're now equipped with 30 fantastic ideas to rock this sunny season. So let your creativity shine, and give your nails the zesty makeover they deserve. Happy painting!
Feature image @nailsbysmf via Instagram
Last reviewed and updated on October 4, 2023