Today we are going to step into the captivating world of pearl nail art where your nails turn into canvases displaying a blend of timeless elegance and contemporary flair. In this enticing journey, I'm thrilled to guide you through a transformative experience that promises not only a splash of luxury but also a burst of creativity right at your fingertips. With a sparkle of morning dew and the grandeur befitting a gala, this trend offers a versatile palette to experiment and indulge in.
Stay with me as we navigate through 19 groundbreaking pearl nail ideas that stand to revolutionize the fashion norms of nail artistry. Whether you're already a maven in the nail art arena or just about starting to explore, this article promises an abundance of inspiration and handy techniques. Let's elevate the manicure experience to extraordinary heights, where every stroke is a step towards crafting a masterpiece. Dive right in, as we venture into an exciting escapade where style, sophistication, and pearl-centric grandeur unite, bringing a sprinkle of finesse right to your fingertips!
Pearls Meet French Elegance
Ah, the classic French manicure, a timeless beauty. Imagine giving it a sizzling update with a sprinkle of tiny pearls – creating a mesmerizing vista perfect for every occasion, from a relaxed beach day to a high-tea event with an elite circle. Remember, the magic lies in the delicate distribution of tiny pearls over the nail, so take your time and create your masterpiece.
Stiletto French With a Pearl Twist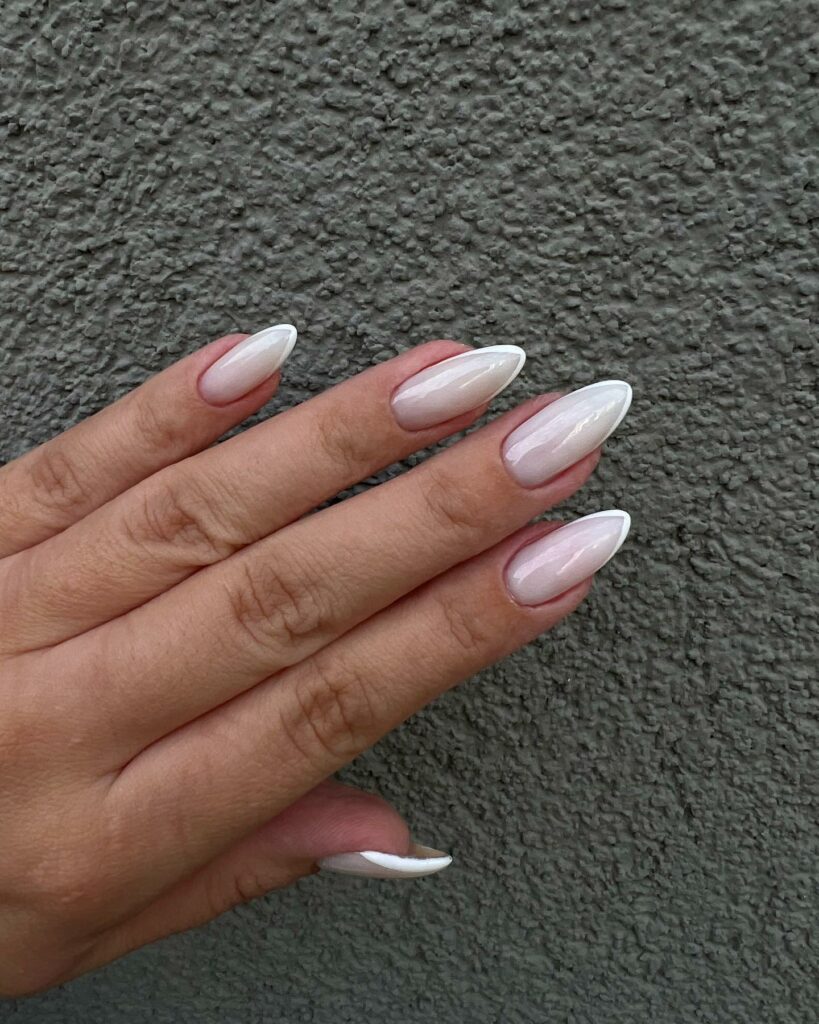 If you love a dramatic flare in your nails, this section is especially for you. A pointed, elongated nail shape can add an eye-catching factor to your French manicure. To notch it up a level, add a pearlcore accent near the cuticle, and voila, you've got a nail look that screams 'glamour' from fingertip to fingertip!
Dive into the Mother of Pearl Universe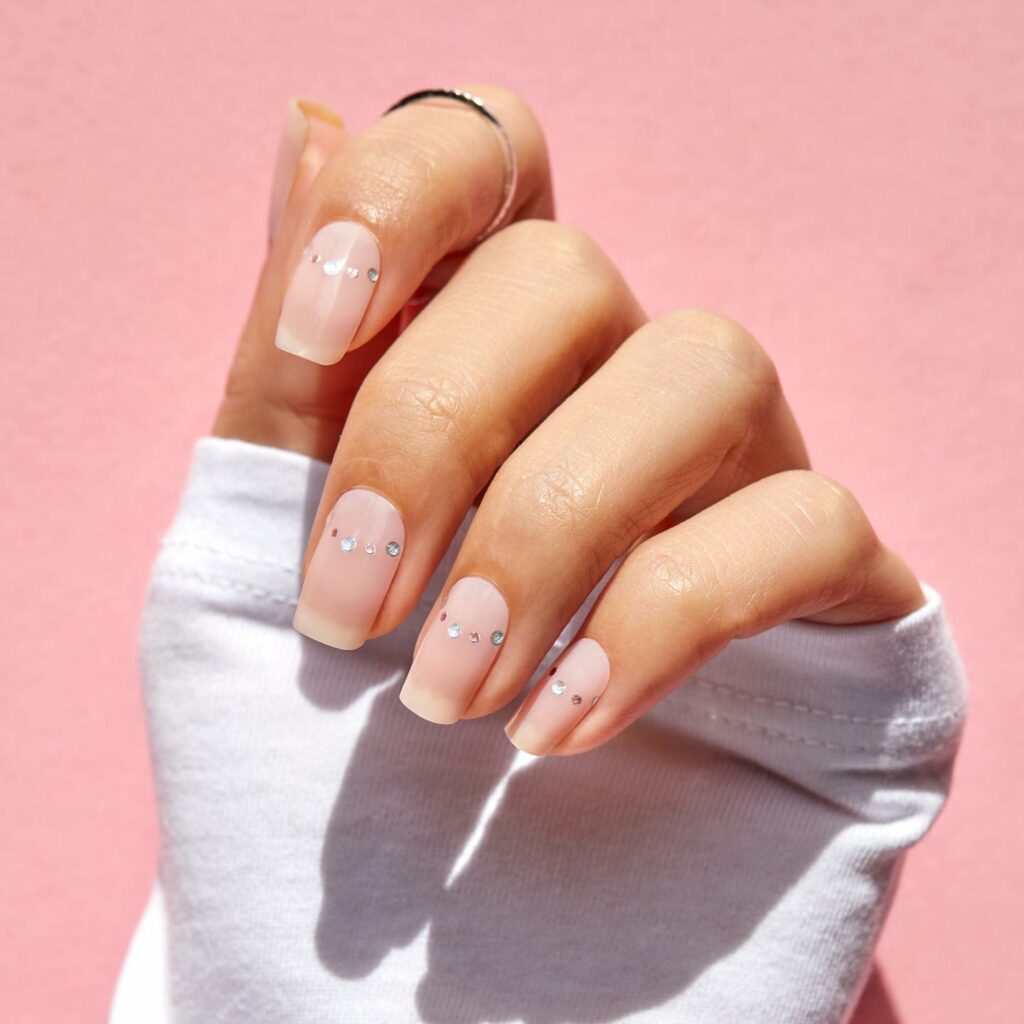 Summer beckons, and what better way to answer the call than with a nail set that resonates with mermaid vibes? I must confess that one summer, I was obsessed with mermaid-themed everything, from attire to accessories. Bringing that aesthetic to your nails with iridescent shimmer and 3D pearls can be a summer fantasy! And here's a little secret for my DIY aficionados – a hint of eyeshadow sealed with a clear top coat can work wonders!
Subtle Tones with Tinted Pearl Shimmer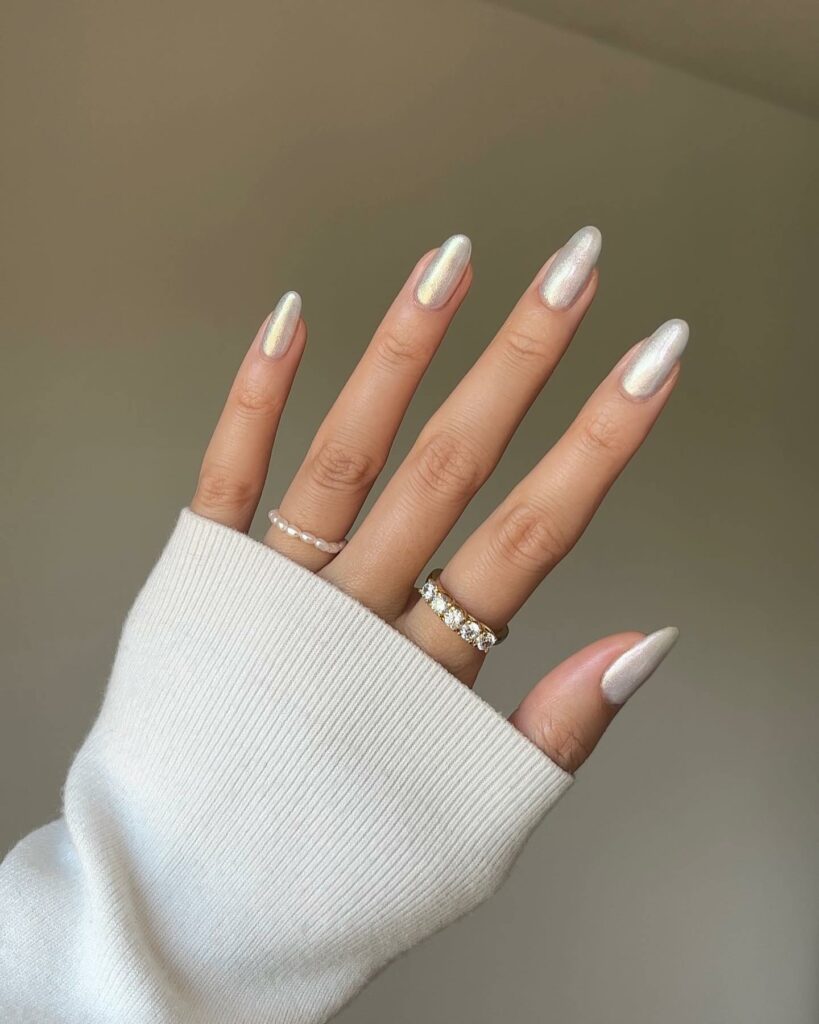 Sometimes, the charm is subtle, and this two-tone iridescent shimmer perfectly encapsulates that vibe. You can achieve this captivating look with a blend of pink and green iridescent polishes, adding a mystic allure to your nails. I used similar shades for a themed party once, and the compliments wouldn't stop pouring in!
A Walk on the Micro-Studded Lane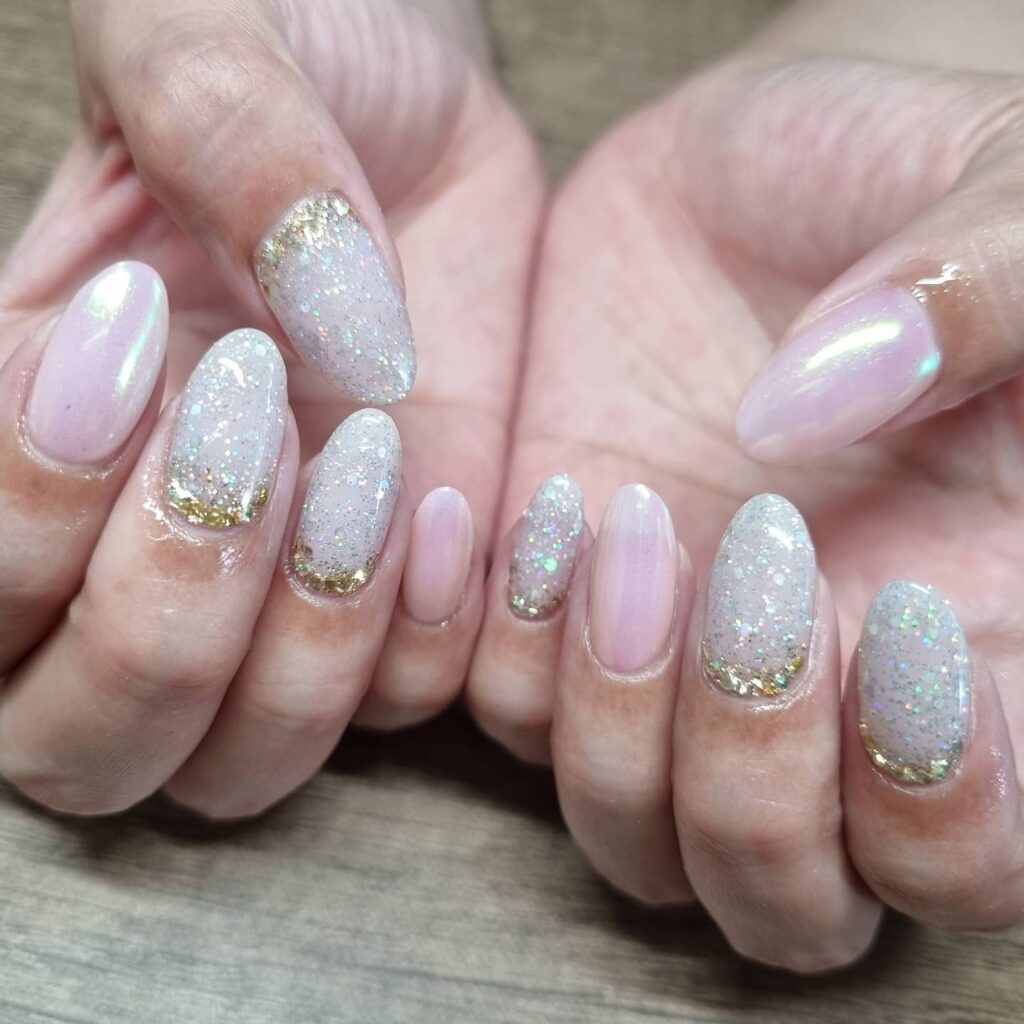 If you're in the mood to indulge, this section is your paradise. Picture this – a base of pink glitter chrome embellished with pearls and tiny rhinestones. Doesn't it sound like a dream? This look, inspired by Sydney Sweeney's Met Gala ensemble, will turn heads wherever you go.
The Charm of Blushing Pearls
Double the trend, double the fun! This section explores a fabulous blend of aura nails with the pearl-core trend. This manicure is perfect for transitioning from day to night looks and adds a delightful pop of color to your daily style.
Pearlescent Vanilla Dream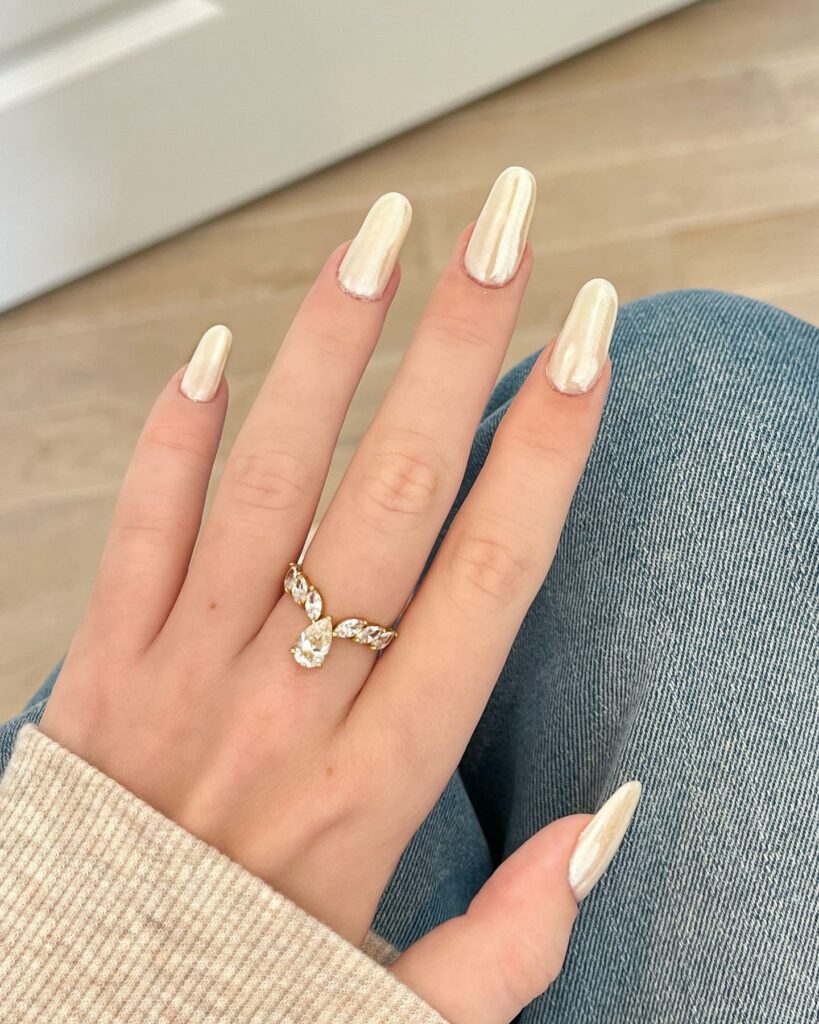 Step into a dream where your nails reflect the gentle sheen of pearls. This pearlized version of the vanilla chrome manicure is a perfect upgrade to a simple nail look. Just grace a neutral base with a chrome top for a dreamy finish.
Mermaid Tales in Iridescent Gold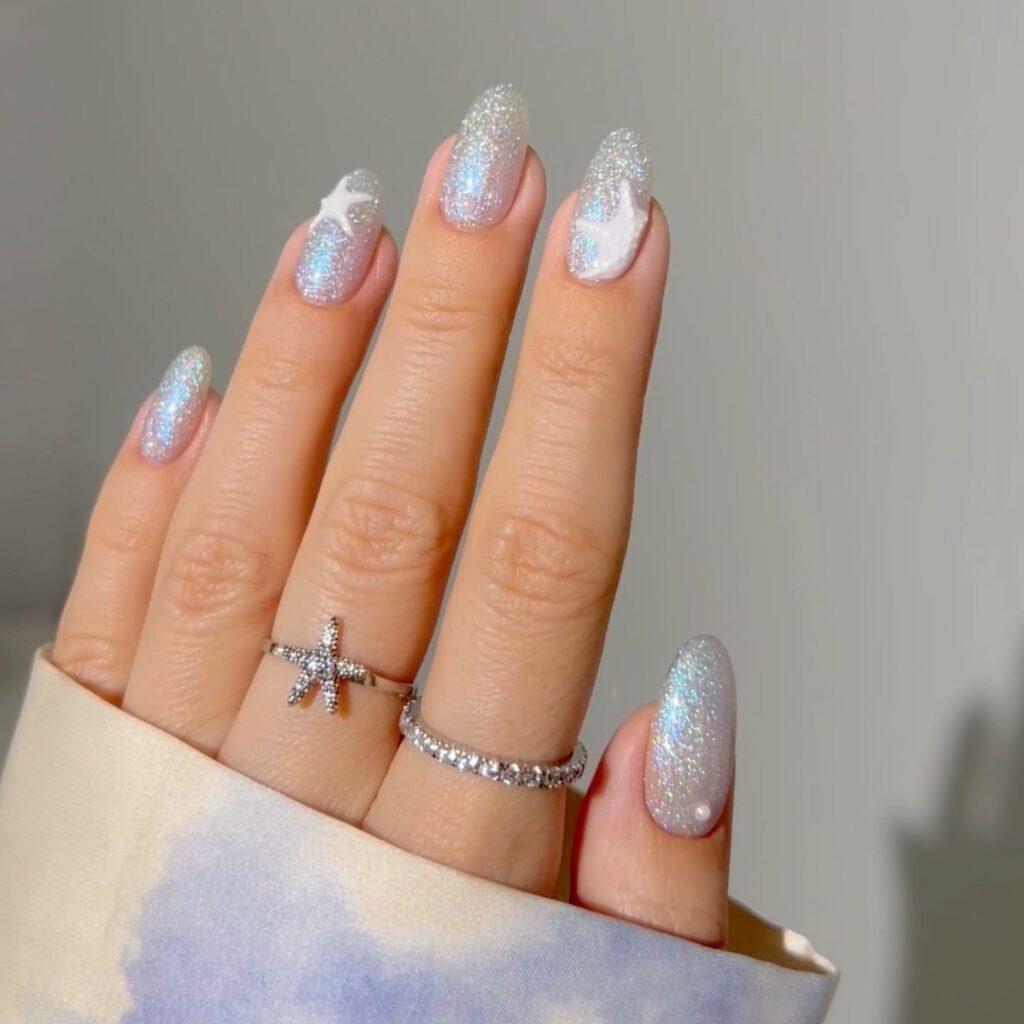 Mermaid enthusiasts, this one's for you! Revel in the luxury of golden hues paired with pearl accents. With its iridescent finish, this look promises to transform you into the most glamorous version of Ariel!
Abstract Artistry with 3D Pearlcore Swirl
If you love to make a statement, this 3D pearlcore swirl is your go-to style. The mesmerizing swirl design adorned with pearls will surely be the showstopper in any room you enter.
Less Is More
For those who appreciate minimalism, this section demonstrates that sometimes, less truly is more. Achieve an iridescent quality with a simple base color crowned with a shimmering or iridescent top coat.
Barbie's Pearlcore Bow Accent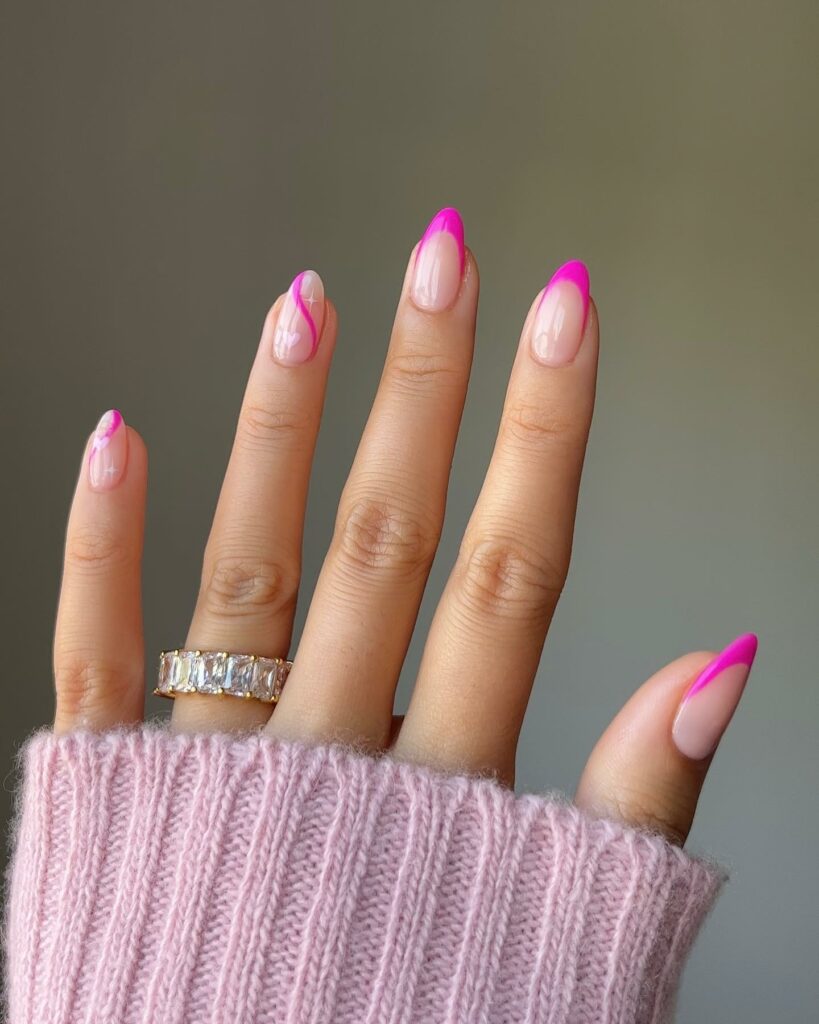 We have a nail look that perfectly blends shimmer and elegance. This Barbie-inspired look, complete with a pearlcore bow, is ideal for bridal occasions or when you want to add a sweet touch to your weekend style.
Fresh-from-the-Ocean Oyster Vibes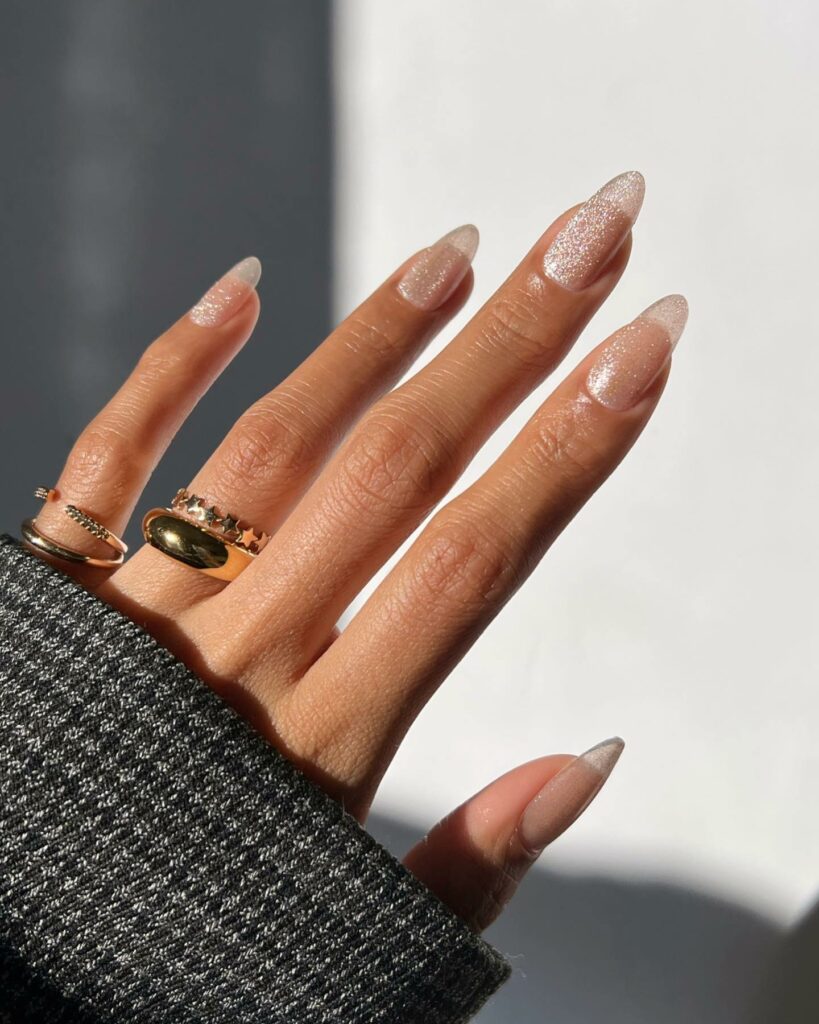 Imagine a manicure that looks as though it's been kissed by the ocean herself! This look is your passport to achieving just that. Begin with a rich nude base that evokes the warmth of sandy beaches. I remember discovering the charm of abstract lines, adding them gives your nails a shell-like allure, bringing the oyster vibe to life. And the pièce de résistance? A bold pearl at the base of your nail, or if you are feeling adventurous, try some ring placements I once tried at a beach-themed party – it was a hit!
Unveiling the Seaside Treasure
Oh, how I adore an excellent two-for-one trend! This look combines the wonders of pearlcore and mermaidcore in one breathtaking appearance. It reminds me of when I dreamt of being a mermaid, diving deep, and finding underwater treasures. This manicure brings that fantasy to your fingertips, making you feel like you've just retrieved a piece of the ocean's treasure every time you glance at your nails.
The Charismatic Metallic Pearl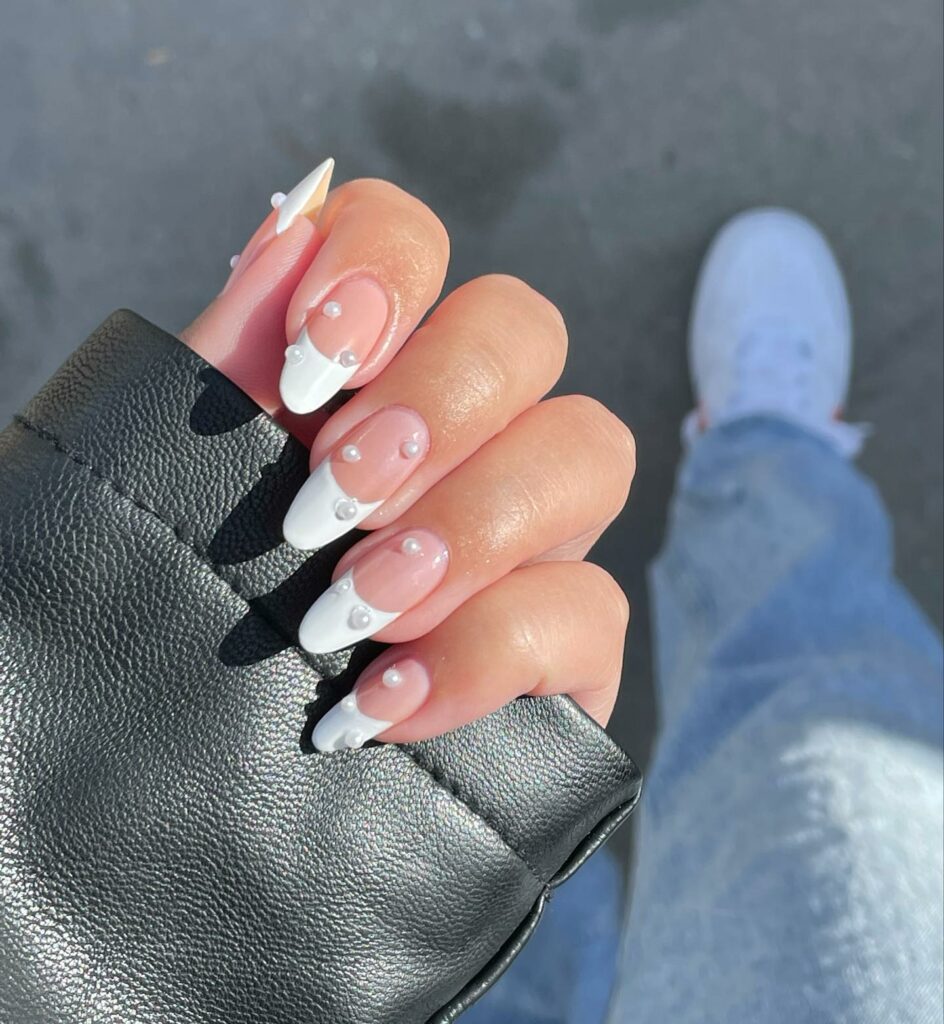 Now, it's time to blend the metallic sparkle with the soft grace of pearls. Transition your chrome French manicure into the realm of pearlcore by adorning your tips with iridescent metallic hues complemented by 3D micro-pearl accents. I tried this look for a gala event once, and let me tell you, it effortlessly balanced elegance and glamour, leaving a trail of impressed glances wherever I went.
Stepping into the Realm of Pearls Galore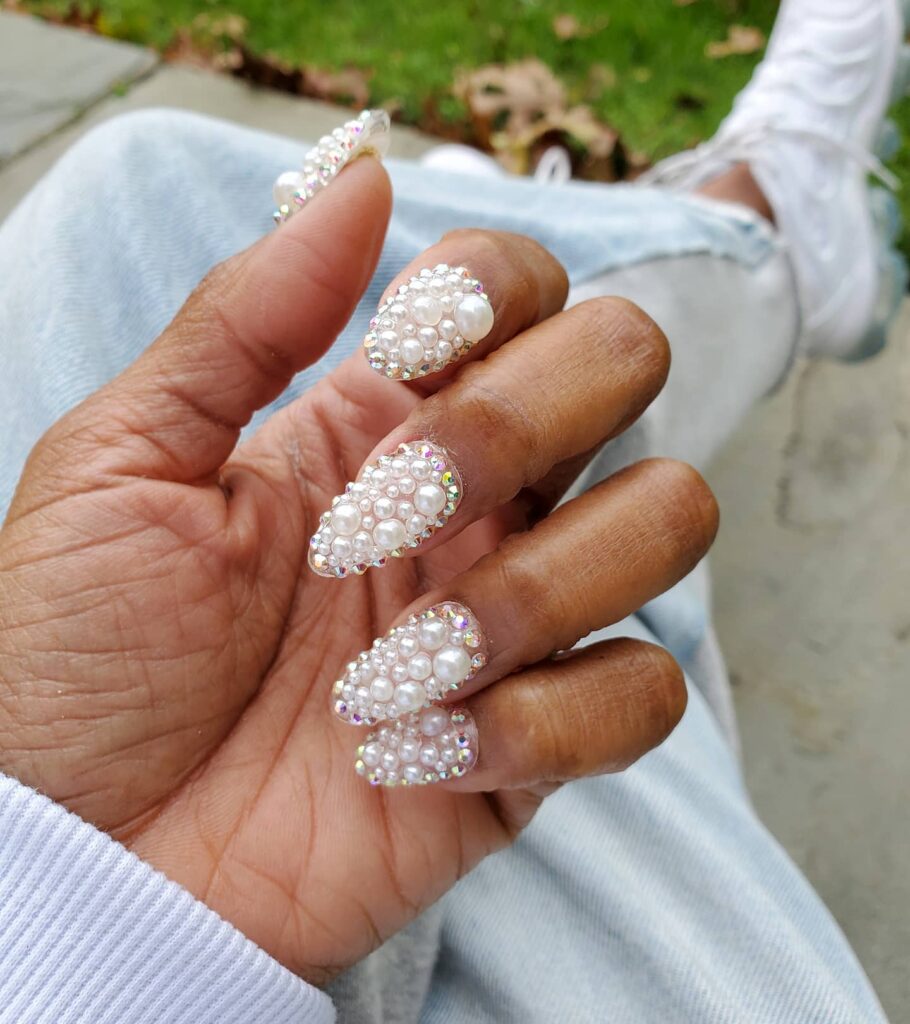 If you are in the mood to immerse yourself in the pearl core wave fully, this style is your gateway. Picture your nails as a canvas ready to be adorned with pearls of various shapes and sizes, evoking the luxurious vibe of a pearl necklace. And are you adding iridescent gems around the border? It frames your nails in a manner akin to precious artwork, making each nail a luxuriously crafted masterpiece, a technique I stumbled upon during a fun DIY nail art session with friends.
Galactic Pearl Sprinkle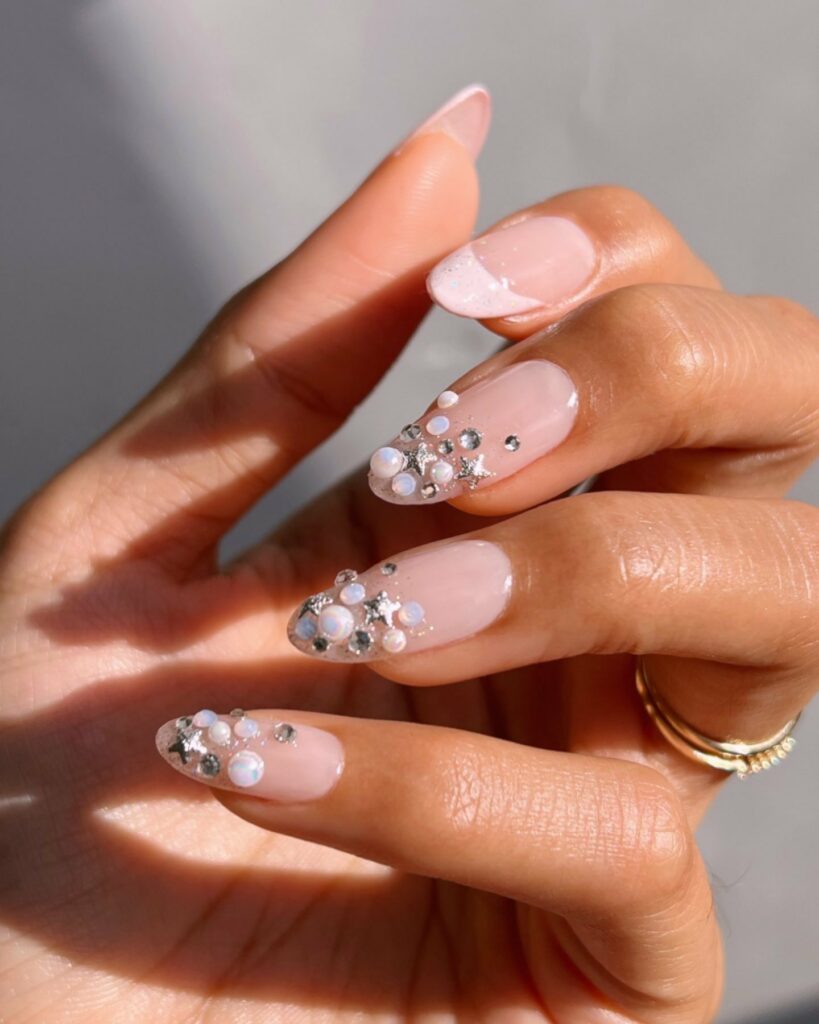 In this nail art concept, imagine your nails as a canvas of the night sky sprinkled with the glow of distant stars and pearls resembling planets. You start with a dark base, perhaps a navy or a deep purple, and then sprinkle tiny pearl accents, creating a galactic masterpiece right at your fingertips. I remember trying this for a stargazing event; it perfectly matched the ambiance!
Pastel Waves with Pearl Droplets
Try combining pastel waves with delicate pearl droplets for a soft, ethereal look. This idea brings the calming waves of the sea to your nails. You create a serene and stylish look by using pastel shades to create gentle wave patterns and then accentuating them with tiny pearls. This style had been my go-to for a tranquil spa day with my pals.
Bohemian Pearl Gardens
This one brings a bohemian vibe to your nails, ideal for those who love rustic elegance. Incorporate tiny floral patterns amidst a scattering of small pearls to resemble a blossoming garden on your nails. I sported this at a garden party once, and it was an instant conversation starter!
Pearl Waterfall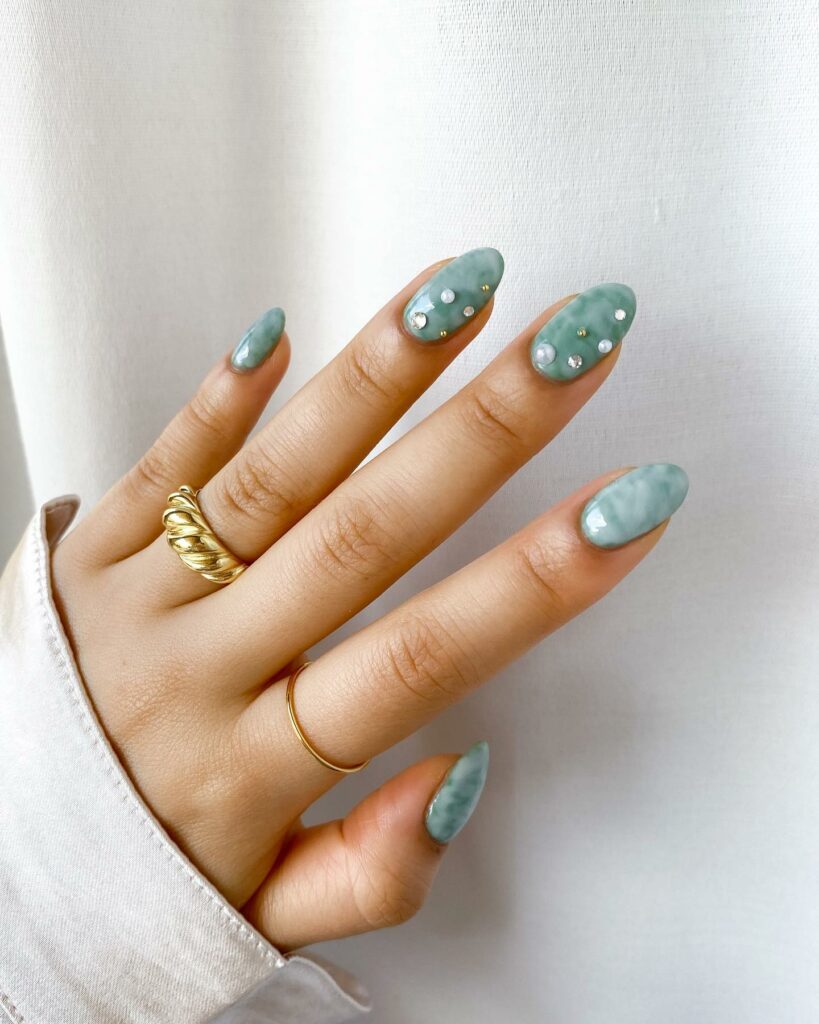 Imagine a cascade of pearls flowing down your nails, creating a waterfall effect that's both luxurious and captivating. This style can be made by placing larger pearls near the cuticle and gradually decreasing the size as you move toward the tip of the nail. It's a sophisticated look that turned heads at a recent cocktail event.
5 Pro Techniques for Creating the Pearl Nail Art Look
Gradient Pearl Placement
How it's Done: This technique involves placing pearls of different sizes in a gradient pattern across your nails, often starting with larger pearls at the base and gradually decreasing the size as you move toward the tips. Tips: Use a dotting tool or a pair of tweezers to precisely place the pearls.
Pearl Encrusted
How it's Done: This approach is about fully covering your nails with pearls, creating a luxurious and textured look. Tips: Start from one corner and make your way across to ensure even placement, and consider mixing different pearl sizes for a dynamic look.
Pearl Accents
How it's Done: Instead of covering the entire nail, you can use pearls as accents, perhaps at the base of the nail or to adorn a French tip. Tips: Pair with complementary nail polish shades to make the pearls pop.
Pearl Embedded Gel Manicure
How it's Done: This technique embeds pearls into a gel manicure, creating a smooth finish where the pearls seem to be a part of the nail itself. Tips: Seal the pearls well with a top coat to prevent them from dislodging.
Abstract Pearl Art
How it's Done: This method allows for creativity, where you can create abstract designs using pearls, combining them with lines, swirls, or other nail art elements. Tips: Sketch your design on paper to have a clear roadmap before starting.
Remember, patience and practice are key to mastering pearl nail art. Also, investing in quality materials and tools will greatly assist in achieving a salon-worthy finish. Remember to seal your skill with a top coat to ensure longevity and to protect your nails.
7 Occasions To Show Off Your Pearl Nail Art
Weddings
Whether you are the bride, a bridesmaid, or a guest, pearl nail art can add a sophisticated touch to your ensemble. Its classy and timeless appeal aligns perfectly with the celebratory and romantic vibes of a wedding.
Corporate Events
Opt for a restrained style with pearl accents for corporate gatherings or meetings. A French manicure adorned with tiny pearls or a nude base with a single pearl accent can add a touch of elegance without going overboard.
Date Nights
Are you planning a romantic evening out? Complement your outfit with a chic pearl manicure. Whether you choose a design with cascading pearls or a subtle pearl-accented tip, it can add a hint of romance and intrigue to your overall look.
Beach Holidays
If you are hitting the sands for a relaxing vacation, why not bring the ocean vibes to your nails? Play with sea blues and greens paired with pearl accents to create a mermaid-esque nail art that feels right at home by the sea.
Festivals and Parties
Going for a fun and vibrant look for a festival or a party? Don't hold back on the glamour. Opt for bold designs incorporating pearls with glitter, metallic hues, or vibrant colors to make a festive statement.
Birthdays and Anniversaries
Celebrating a milestone? Treat yourself to an extravagant pearl-encrusted manicure. It can be a fun and fashionable way to add sparkle to your special day.
Casual Outings
A minimal pearl nail art can be a delightful addition even for casual outings or brunch with friends. Choose simple designs with tiny pearls to keep it light and everyday-friendly.
Remember, the beauty of nail art is in its versatility. With a bit of creativity, you can adjust the extravagance of your pearl nail art to suit any occasion perfectly.
Conclusion
First and foremost, when venturing into the realm of 3D nail art, it's crucial to ensure the secure application of pearls and gems to avoid any unexpected losses or mishaps – a good quality adhesive is your best friend here. Moreover, remember the importance of maintaining a healthy nail bed when embracing these intricate designs. Remember to give your nails a breather between these majestic manicures to retain their natural strength and beauty. And, of course, don't stop experimenting with new styles; perhaps even fuse two or more of these fabulous ideas to create your signature look. To all my fellow nail art adventurers, may your creativity flow boundlessly, and your nails be the canvas to many more artistic journeys. Until next time, stay inspired and keep adding that touch of sparkle to the world!
Feature image @jadeandpolished via Instagram