Hey there, ready to kick your pedicure game up a notch? Today we are going to discuss the hottest, season-defying pedicure trends. Whether it's the buzz of spring or the chill of winter, we've got the scoop on how to keep your toes turning heads all year round.
Think of this as your go-to guide for nailing that perfect pedi, no matter the season. Get ready to play with the coolest palettes and textures that mirror the ever-changing vibes of our favorite city. From the hustle and bustle of the streets to the quiet corners in Central Park, let's bring those vibes right down to your toe tips! So, grab your favorite latte, find your comfy nook, and join me on this style-packed adventure. Here's to stepping into a world where every season brings a fresh wave of inspiration and fabulousness to your feet!
Abstract Green & Gold Delight
One of my dearest friends, the talented manicurist Patricia Hayes, once showed me a brilliant swirl of dark green, shimmering gold, and pure white that screamed fall opulence. She began with a solid base, strategically placed a golden glittery "river" on the big toe, and then delicately drew wavy lines topped with dainty white dots. It was like capturing autumn's magic on a canvas of nails!
Floral Notes with a Glint
Remember that burgundy wine shade that feels synonymous with autumn? Elevate it! How about a delicate white flower on your big toe? Using a stamping tool (or, for those feeling particularly artsy, hand-painting), followed by a sprinkle of rhinestones at the flower's core, brings forth a pedicure that turns heads.
Sunkissed Cream & Terracotta Fusion
Blend a creamy white with terracotta tones for those who like to keep things light and breezy. Abstract lines on the big toe, with a shimmering sprinkle of chunky glitter, have been my go-to for those sunny yet cool fall days.
Oh My, Pumpkin Pedi!
The pumpkin latte in my hand, a pumpkin on my toe. Life's good! Simple creamy white and muted orange hues, with some basic artwork, give you a whimsical pumpkin look. I've occasionally added a sprinkle of glitter for that extra zest.
Cozy Up with Autumn Leaves
If you can't go leaf peeping, bring the leaves to you. From a creamy brown base on the big toes and a deep red wine on the rest, leaf designs using shades of orange, purple, and gold stand out beautifully. A few white dots, and voila!
Modern Leaves with a Twist
I once tried a modern spin for a fresh take on fall foliage. A soft pink base, dabs of minty blue, and burnt umber blobs make a splendid canvas. And the leaf silhouettes? You can either paint them by hand or use a stamping tool if you're like me on a lazy Sunday.
Florals in Fall Hues
Ah, the timeless burnt umber, my autumnal constant! Add golden-yellow flower petals, a central gold glitter dot, and a floral masterpiece on your feet.
Tantalizing Tartan
Tartans and Fall are an inseparable duo. Begin with a neutral mushroom base, cross it with a white, layer with black, and interspersed with a few red lines, and you've encapsulated the spirit of the Scottish Highlands!
Witchy Aubergine & Gold
Sometimes, simplicity takes the crown. An enchanting aubergine purple paired with golden glitter cascading from the nail base is beautiful and an absolute breeze to recreate.
Edgy Matte Branches
For the modern minimalist in you: deep cognac nails adorned with black abstract branches, medium gray splotches, and white dots, sealed with a matte top coat. It's a forest fantasy.
Harvest in Black & Gold
Autumn is harvest season, and gold finds a special place. And paired with the depth of black? It's the epitome of chic!
Timeless White & Black
This timeless combo feels perfect in autumn's embrace. Classic, yet with an edge.
Year-Round Elegance
I can't help but gush over this pedicure design that effortlessly transcends seasons. It brings elegance to your toes, whether it's the blooming spring or the chilly winter. I've tried this one during a cozy winter evening, and trust me, it felt like wrapping my feet in the softest, warmest blanket ever!
Summer Sleekness
As someone who adores the sun and the sea, this pedicure idea has a special place in my heart. It screams summer vibes with its sleek and chill aesthetics. Picture this: Walking barefoot on the sandy beach with your nails as tranquil yet vibrant as the ocean waves!
Natural Harmony with Marble
Let's talk about the classic marble design that always seems to stay in style. The natural color scheme is like a breath of fresh air amidst the bustling city life. Every time I opt for this one, it feels like a gentle embrace from Mother Nature herself.
Artistic Intricacies
When you're in the mood to pamper yourself a little extra, this intricate pedicure art comes to the rescue. Although it might require a salon trip, the result is nothing short of a masterpiece. It's like having a piece of art right at your fingertips!
Sparkle Your Way
Simple yet mesmerizing, this pedicure idea allows you to play with your favorite base and sparkle colors. I remember customizing this with a moonlit silver sparkle over a tranquil blue base for a night out, and the compliments wouldn't stop!
Playful and Easy
Brighten up your day with these adorable pedicure colors. What adds to the charm is the ease with which you can recreate this look at home. It's your canvas; paint it with the colors that make your heart sing!
Marble Sophistication
Here is another take on the marble look that spells class and simplicity. This design has been my go-to for business meetings, adding a subtle sophistication to my overall look.
Sprinkle of Happiness
If you're all about radiating positivity and joy, this cheerful pedicure design won't disappoint. Adding a few nail sparkles before sealing it with a top coat can make you smile every time you look down at your feet!
Classic Elegance
Sometimes, sticking to classic pedicure colors can be a refreshing change. This sleek design harmonizes with any outfit and is perfect for all seasons. It's like that little black dress – timeless and elegant.
Winter Wonderland
As winter approaches, embrace the season with this thematic pedicure design. It echoes the serene beauty of winter, making your toes look like a picturesque snowscape.
Color Crush
Occasionally, a color comes along that steals your heart. This pedicure color did just that for me! It's the color you'd want to use repeatedly and never get tired of.
Shimmer Delight
Brighten up your look with this simple yet delightful pedicure design. A hint of shimmer on the first toe can make a huge difference, adding fun to your style.
Seashore Memories
Summer is calling once again with this stunning seashore-inspired pedicure. The hues and the vibe take you straight to the beach, letting you carry a bit of the ocean wherever you go!
Summer Fun with Stickers
We have a super fun and easy summer pedicure idea that requires nothing more than a cool nail sticker. It's quick, stylish, and adds perfect summer zest to your look!
Purple and Pink Glam
Oh, how I reminisce about when I first stumbled upon this bright purple and pink combination. It instantly took me back to my childhood, with shades as vibrant as summer flowers. Adding a bit of silver linework can instantly glam up your nails, making your feet ready for a fun day out!
Subtle Sparkles
This idea is a go-to for those who prefer a touch of understated elegance. Using a natural base coat followed by sprinkling a few gold dots of foil can add a sparkle that's just right. I remember doing this for a beach wedding, adding the perfect touch of glimmer under the sun!
Glittery Summer Vibes
Transform your classic all-white pedicure by adding a splash of glitter and shimmer to your accent nail. This style screams summer, making your toes look like they've been kissed by the morning dew. Trust me, it's a surprise!
Floral All Year Round
Florals, a timeless choice, gracefully adorn your toes, making them look as picturesque as a garden in full bloom. There's something magical about having tiny artwork on your toes that brings a smile to your face any time of the year.
Rainbow Accent on Neon
Brighten up your day with neon colors paired with a rainbow accent nail. It's fun, vibrant, and oh-so-chic! Whenever I opt for this style, it feels like carrying a rainbow wherever I go.
Luxurious Marble Art
Marble nail art has a luxurious allure that I absolutely adore. Combine it with a hint of sage green, and you have a winning combination. It feels like having tiny canvases of modern art at your fingertips!
Pink Polish with Leafy Accents
Why not elevate your usual pink polish with some artistic leaf accents? And don't stress if nail art isn't your forte; nail stickers are a fantastic, hassle-free alternative. I remember opting for this for a forest getaway, blending perfectly with nature's aesthetics.
Sunny Harmony for Mani-Pedi
For those sunny vibes, matching your manicure and pedicure with a bright yellow polish is splendid. It brings a vibrant and cohesive look that's delightful during spring and summer.
Psychedelic Groove
Let your toes have a party with a psychedelic theme! It's all about bright, vibrant, almost neon colors that give off a groovy vibe. I tried this theme for a 70s-themed party, and it was a total hit!
Cookies and Cream Dream
This design had me daydreaming about my favorite ice cream, cookies, and cream! The combination reminds me of a delicious swirl of cream and chocolate chips, and it's a sure-shot conversation starter at gatherings.
Neon Orange Excitement
There's something exhilarating about neon orange polish. It fills you with a sense of excitement and anticipation for the summer. Adding some white and gold accents can create a sophisticated yet vibrant look.
Contrasting Marvel
I am all in for the stunning contrast the edgy black polish created against a marble-themed accent nail. It's a bold choice that makes your toes look like a piece of modern art.
Dainty and Feminine Aesthetics
Immerse yourself in the intricacy of this nail art, with gold-flecked, marble-like accents paired with glistening jelly-like tones. It's like having tiny jewels adorning your toes!
Butterfly Bliss
Elevate your all-white pedicure with a mesmerizing butterfly accent nail. The intricate details and gold linework combine everything beautifully, creating a harmonious yet standout look.
Floral and Bright Harmony
We have a bright, cheerful design combining yellow nails with dainty floral accents. It's a lovely choice that brings sunshine to your toes, making them ready to dazzle.
Glittery Tips
Stepping away from the classic French tip, why not add a splash of glitter to your suggestions? I remember trying this for a friend's beach wedding, and the sparkle complemented the sands beautifully. This glamorous vibe will pair perfectly with open-toe heels and add a twinkle to every step you take!
Pastel Purple Charm
Ah, the allure of purple, a color that holds a special place in my heart! On my last spa day, I tried these divine purple dots instead of the usual gold ones, and the effect was simply stunning. It's an absolute must-try for your next pedicure session!
Golden Fleck Delicacy
Little gold dots on a natural base coat are incredibly delicate and charming. It adds a subtle sparkle that dances gracefully under different lights, adding a touch of magic to your every move.
Naturally Subtle
This pedicure is your go-to if you love to keep things subtle and natural. It utilizes a base coat that mirrors your natural nail color, blending seamlessly with any outfit or occasion – a true example of understated elegance.
Abstract Artistry
For abstract art lovers, this design is a breath of fresh air. The harmonious blend of excellent blue base with white and glittery gold accents is like having a small piece of the sky at your feet, offering a refreshing and modern appeal.
Monochrome Magic
A classic black-and-white combination always impresses. It reminds me of a chic Parisian style. Add some glitter or sparkle to your white nail for an extra dimension, creating a pedicure that is both timeless and trendy.
Summary Aquamarine
Get ready to be swept away to the vibrant beaches with these fun aquamarine nails. Ideal for a beach vacation, they instantly get you in a summery mood, setting the perfect tone for some fun under the sun!
Muted Elegance
For a more tranquil aesthetic, opt for pale blue nails. Add a touch of glam by accessorizing your big toe with some delicate rhinestones, creating a calming and captivating look.
Embossed Leaves
Dare to be different with this embossed leaf nail art. Pair it with a gradient base coat for a unique and dynamic color scheme, bringing a touch of nature to your pedicure with an artistic twist.
Vibrant Summer Blue
Summer calls for vibrant tones and this shade of blue is nothing short of perfection. Why not try a blue version of the classic French tip for your accent nail? It's a summer staple in my beauty regimen!
Shimmering Contrast
Create a stunning contrast by combining a muted bluish-grey base with a shimmery silver polish. This pairing captures attention and adds a celestial touch to your pedicure.
Subtle Sparkle
For a gentle sparkle, maintain a natural base coat and add a shimmering accent nail. This subtle yet adorable effect will get your toes twinkling in delight.
Holiday Sparkle
Get into the holiday spirit with this festive pedicure. It reminds me of Christmas lights twinkling gently, bringing a sense of joy and celebration to your toes!
Accessorize Your Toes
Remember, your toes deserve some bling, too! Adding pretty rhinestones can transform your pedicure into a glamorous affair. It's like jewelry for your nails!
Seaside Blues
This vibrant blue pedicure instantly transports me to the serene beaches and sparkling swimming pools. With squiggly lines mimicking gentle water waves, it's a beautiful representation of a seaside vacation on your toes.
Classic French Tips
When in doubt, the classic French tips always come to the rescue. A timeless choice, these tips look as stunning on your toes as your fingers, bringing a sophisticated finish to your pedicure journey.
The Abstract Accent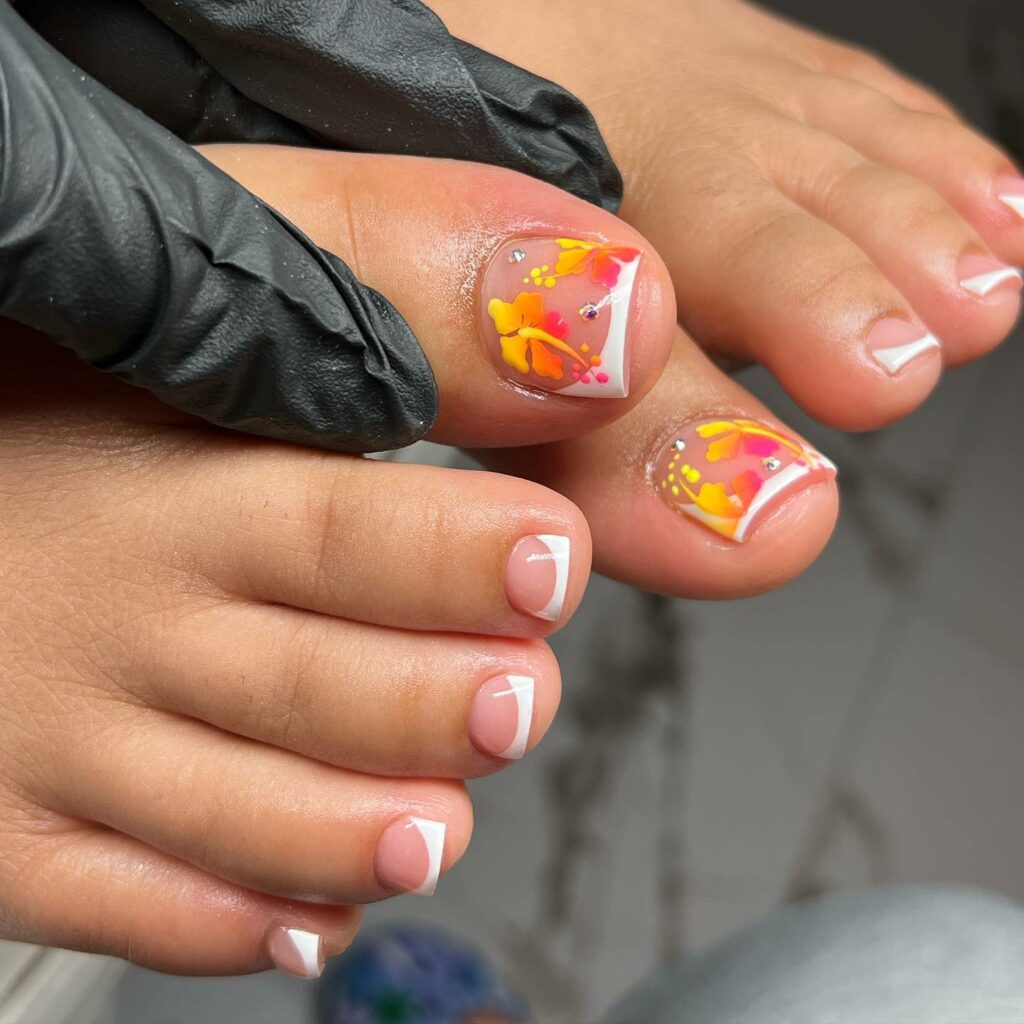 Do you have a penchant for neon polishes like I do? Here's a delightful way to add a creative twist to your neon pedicure. Try pairing it with an abstract accent nail, blending intricate linework with a gradient base coat of varying colors. I remember trying this out before a beach vacation, and the compliments kept coming!
Nature Lover's Choice
For those who adore a minimalist aesthetic and have a deep connection with nature, this pedicure is just for you. The leaf accents give the white base coat a serene and refreshing touch, evoking a clean and breezy feel. It instantly takes me back to my calming walks in the garden, with a gentle breeze fluttering the leaves around.
Vibrant Pink for the Summer
Pink is the color that never goes out of style! In my fashion journey, I've realized that there's a shade of pink for every season. And when summer rolls around, it's time to bring out the bright, hot pink polish. Trust me, this vibrant and neon shade will have your toes looking absolutely summery and chic!
Artistic Watercolor Effect
If you are indecisive about your next pedicure color (happens to the best of us!), here's a tip: combine different hues for a stunning "watercolor" effect. This technique transforms your toes into a canvas of art, adding a lovely depth with tiny gold flecks for that extra sparkle. It's a conversation starter at every party!
Glossy & Milky Sheen
Aim for a glossy and milky sheen on your toenails for an elegant and sophisticated look. Adding a few rhinestones elevates the look and adds a touch of glam that never fails to impress. It's my go-to for dinner dates and evening galas!
Winter Wonderland Vibes
As the holiday season approaches, get your toes into the festive spirit with this frosty pedicure. The shimmering polish echoes the joy and sparkle of winter, bringing a slice of the winter wonderland straight to your feet. It's a seasonal favorite that never fails to spread cheer!
Aurora Inspired
Ever been enchanted by the mesmerizing auroras seen in the world's colder regions? Well, you can now carry that beauty on your toes! Inspired by the gorgeous auroras, this pedicure adds a magical and otherworldly touch to your look, making your toes a stunning sight.
And there you have it, my fellow beauty enthusiasts. I hope you're as inspired as I was when I first encountered these designs. Dive in, have fun, and let your toes be the canvas for autumn's symphony!
10 Essential Tools To Recreate These Pedicure Designs
Nail Polishes: Various colors, including deep greens, gold glitter, burgundy, terracotta, creamy whites, and aubergine, create the desired designs.
Base Coat and Top Coat: These are essential for protecting the nails and ensuring the longevity of your pedicure.
Dotting Tools: These can be used to create dots or small designs with precision.
Nail Art Brushes: Different sizes and types of brushes will help paint various intricate designs and patterns.
Nail Stamping Kit: This is helpful for those intricate floral and leaf patterns, especially if you are looking for a quick and clean design.
Rhinestones: To add that sparkly touch to the floral designs.
Nail Glitter: To achieve those glittery effects in some designs, you may want to lose glitter in different textures and colors.
Striping Tape: Useful for creating straight lines and patterns, especially in the tartan design.
Nail Polish Remover and Cotton Pads: Essential for cleaning up any mistakes and preparing your nails before you start.
Cuticle Oil: To nourish your cuticles and give a finished look to your pedicure.
6 Brands That I Love!
Essie

Offers a great selection of shades and is known for its long-lasting polish.
For your fall palette: "Angora Cardi" (creamy deep dusty rose), "Playing Koi" (burnt orange), and "Fall for NYC" (mustard yellow).

Zoya

A brand that focuses on healthier nail polish without compromising quality and a variety of colors.
For your fall palette: "Merida" (forest green), "Leighton" (deep aubergine), and "Troy" (liquid pewter with a sprinkle of black and gold).

Sally Hansen

Offers a vast range of colors with different finishes and formulas.
For your fall palette: "Wine Stock" (deep wine), "Gold Rush" (shimmering gold), and "Let's Snow" (creamy white).

China Glaze

Known for its trendy colors and quality formulas.
For your fall palette: "Central Parka" (deep olive green), "Rust Have Red" (vibrant rusty red), and "Mustard the Courage" (mustard yellow).

Butter London

A luxury brand offering high-quality nail polish with rich pigmentation and longevity.
For your fall palette: "Ta-Ta!" (rich taupe crème), "Bang On!" (deep teal crème), and "Bric-A-Brac" (glittery gold).

OPI

Renowned for its quality and vibrant range of colors.
For your fall palette: "Lincoln Park After Dark" (aubergine), "It's a Piazza Cake" (terracotta), and "Comet in the Sky" (black with glitter elements).
Nail Art Accessories
Born Pretty: For nail stamping kits and nail art tools.
Swarovski: For high-quality rhinestones to add that bling element.
Seche Vite: For a top-quality top coat to seal your art and give a glossy finish.
Remember, the key to a successful nail art session is the choice of colors and the quality of products that ensure a smooth application and a lasting finish. I hope you find this helpful, and I can't wait to see the fabulous fall pedicures you come up with!
How long do these pedicure designs typically last before needing a touch-up?
The longevity of your pedicure designs can vary greatly depending on various factors, including the quality of the products used, the proficiency of the application, and your personal activities and habits. However, here is a general guideline:
Standard Nail Polish Pedicures: Pedicures using traditional nail polishes can last anywhere from one to two weeks before they start to chip and require touch-ups. The less stress on your feet (like not walking barefoot, avoiding stubbing your toes, etc.), the longer your pedicure will last.
Gel Polish Pedicures: If you opt for gel polish for your designs, they last much longer – usually around three to four weeks without chipping. Gel polishes cure under a UV/LED light, creating a more durable finish.
Pedis with Rhinestones and Glitters: Designs involving rhinestones and glitter might need earlier touch-ups, especially if the stones or glitter start to fall off. To prolong their life, seal them well with a top coat.
With Proper Aftercare: Regardless of the polish type, maintaining a pedicure with regular application of cuticle oil and avoiding activities that can cause chips or breaks can extend the life of your pedicure.
Tips for Longevity:
Apply a clear top coat daily to maintain the gloss and protect the design from chipping.
Wear protective footwear to avoid direct impact or stress on your nails.
Avoid using your nails as tools, which can cause premature chipping and breaking.
In any case, even if the pedicure shows signs of wear, you can always do minor touch-ups to extend its life until you are ready for a fresh new design. This helps in planning your fabulous fall pedicure session!
Conclusion
Remember, the charm lies in letting your personality shine through your chosen designs. While indulging in these stunning styles, please don't overlook the health of your nails; always ensure to use quality products and give your nails a breather between applications to maintain their health and vitality. Also, please don't stop experimenting with these ideas; mix them, match them, and make them your own! Whether you're a DIY enthusiast or entrust your toes to the skilled hands of a professional, this season offers the perfect canvas to showcase your creativity and flair.. Happy painting!
Photo By Konstantin Shmatov on Unsplash