Hey everyone! Are you ready to dive into the world of pink and blue nail art? It's 2024, and this trend is hotter than ever! In this post, I'm going to share the latest and greatest pink and blue nail designs that are taking Instagram and Pinterest by storm. From the softest pastels to the boldest neons, you'll learn how to mix and match these two hues for looks that are both dreamy and daring. Whether you're a DIY nail enthusiast or love getting pampered at the salon, these ideas are sure to inspire your next manicure. So, grab your favorite nail polish, and let's get creative!
Heavenly Ombre Pink & Blue Nails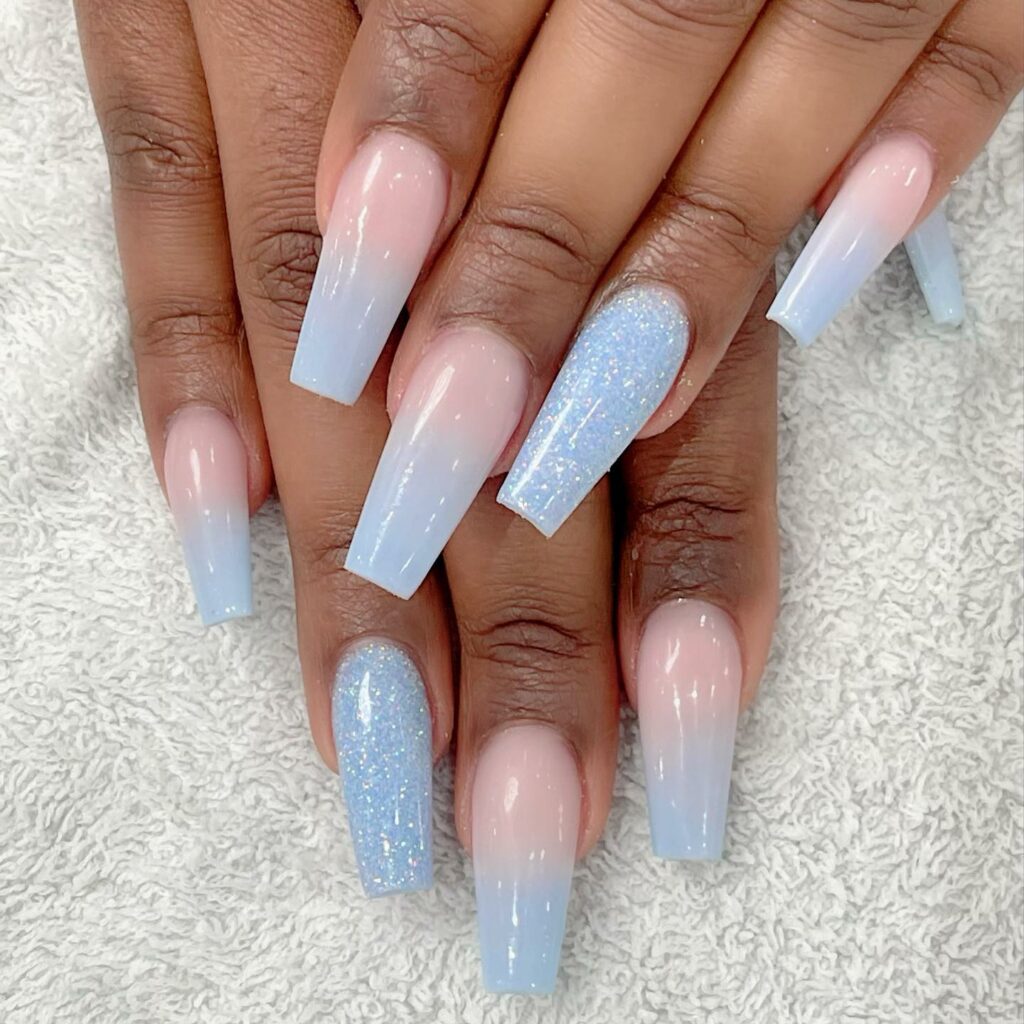 Starting with a soft pink base that seamlessly transitions into a tranquil blue, this ombre look is an ethereal masterpiece perfect for any occasion.
Icy Blue Blended With Pink Ombre Nails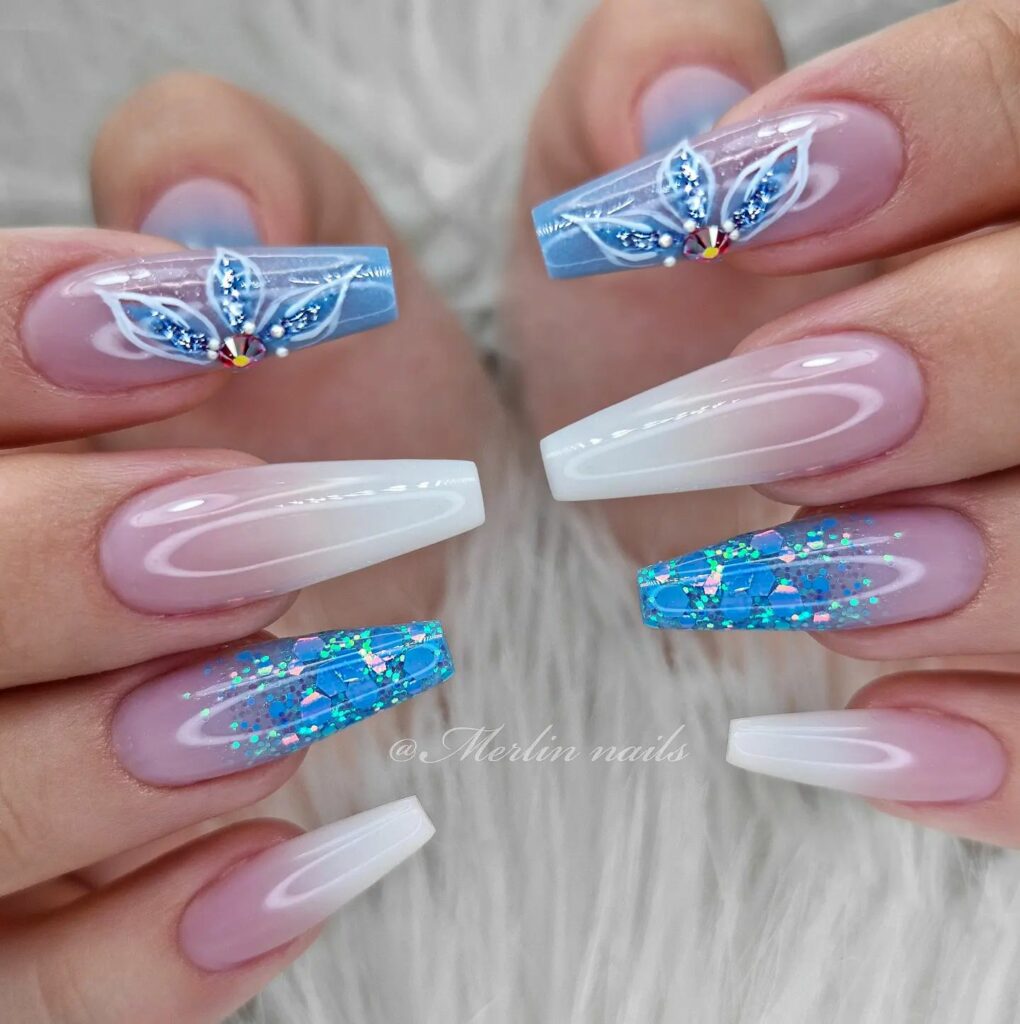 A translucent blue with a frosty finish, these tips give the illusion of ice-capped nails. It's a cool and unique twist on the classic blue French design.
A Classic with a Twist: Blue Jean Baby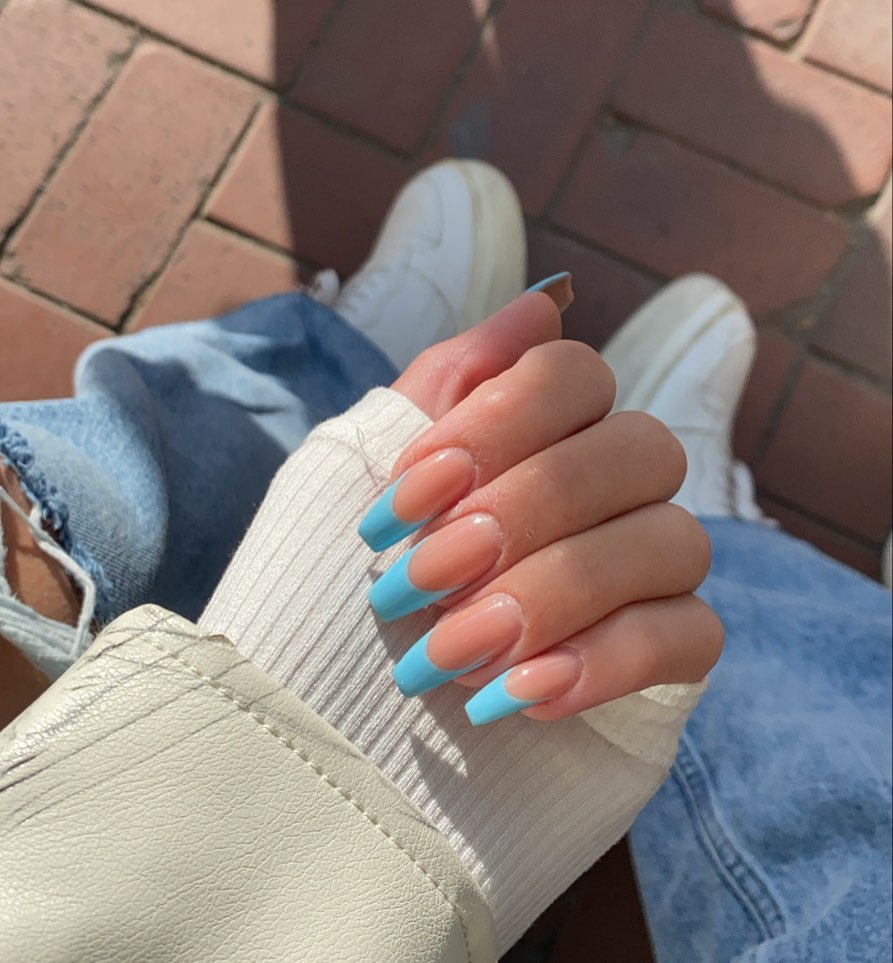 The nude pink gives off a natural, polished look, while those eye-catching blue tips add a pop of playful elegance that's sure to get your hands noticed.
Ethereal Ombre: Soft And Dreamy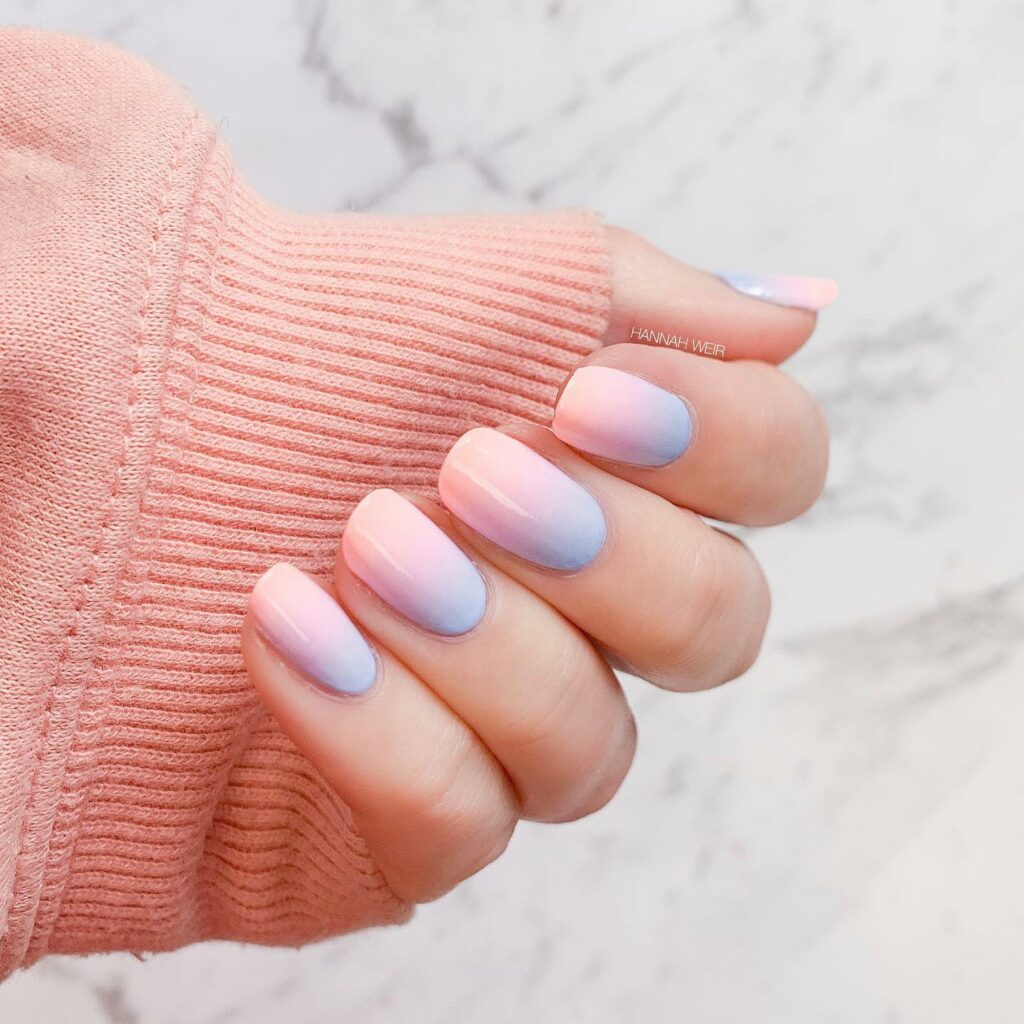 Who doesn't love a dreamy ombre? Starting with a light pink base and seamlessly blending into a soft blue tip is like watching a beautiful sunset. Add some glitter for that extra magic.
Blue Nails With A Pink Abstract Twist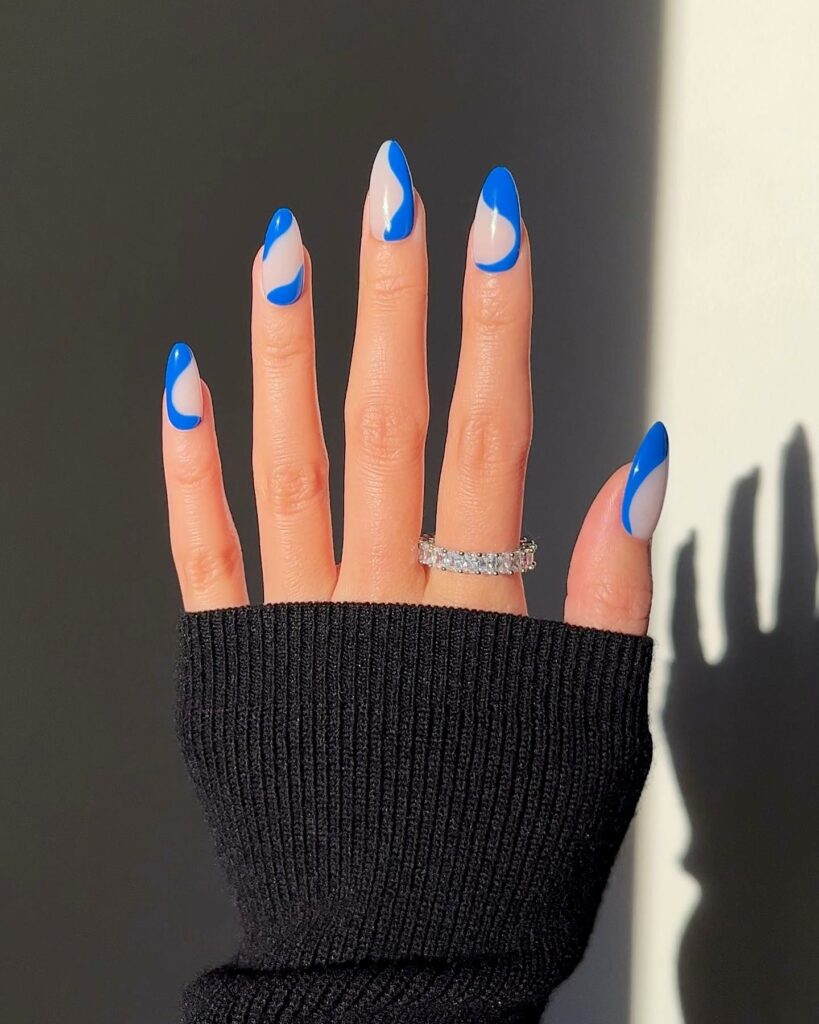 Blue nails with a pink abstract twist bring together the calming vibes of ocean hues and the warm, playful essence of pink in a unique, artsy way. This look is perfect for those who want to break away from traditional designs and express their creative side, all while keeping it chic and stylish.
French Glam: Metallic Tips
The classic French mani gets a dazzling twist with metallic pink and blue tips. Extend the polish on one side, and you've got a unique look perfect for any soirée.
Embrace Tranquility with Baby Blue Nails
Ah, baby blue nails just exude tranquility, don't they? Perfect for capturing the peaceful essence of a clear sky or a calm sea, this soothing color is your go-to when you're looking to bring a little serenity into your busy life.
Pink And Blue Sweaters Nails!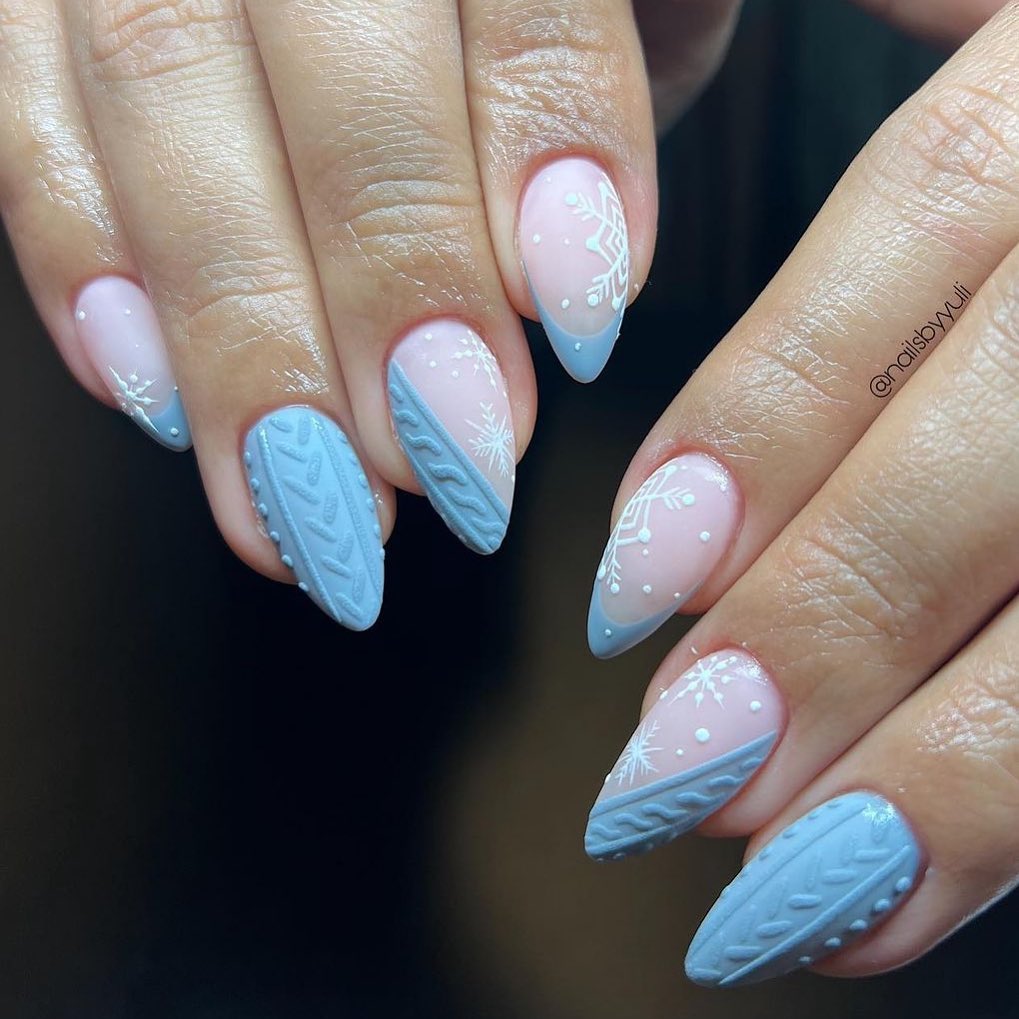 Forget the ugly Christmas sweaters; let's put the holiday spirit on your nails. Think matte white mixed with pastel pink and blue. It's like wearing a cozy winter sweater, but make it fashionable. Perfect for sipping hot cocoa by the fireplace
Up in the Sky: Blue Clouds Nail Art
Ain't nothing like fluffy clouds on a blue canvas to keep your spirits high. The ethereal cloud design adds a delicate touch to your nails and suits any season perfectly.
Make It Bold: Stiletto Baby Blues And Pinks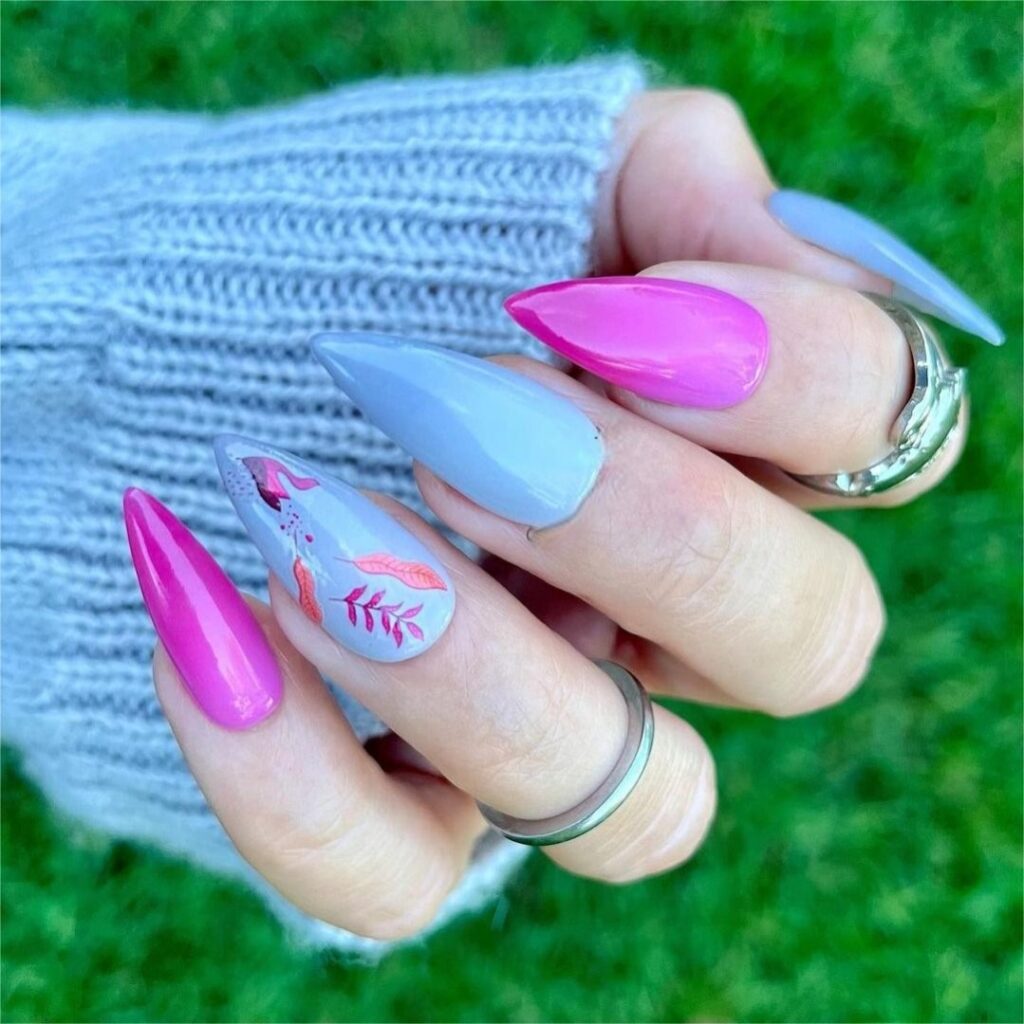 You'll love switching to a stiletto nail shape with baby pink and blue for my edgy gals out there. It turns a sweet color scheme into something fierce and striking.
Disco Fever: Glitz And Glamour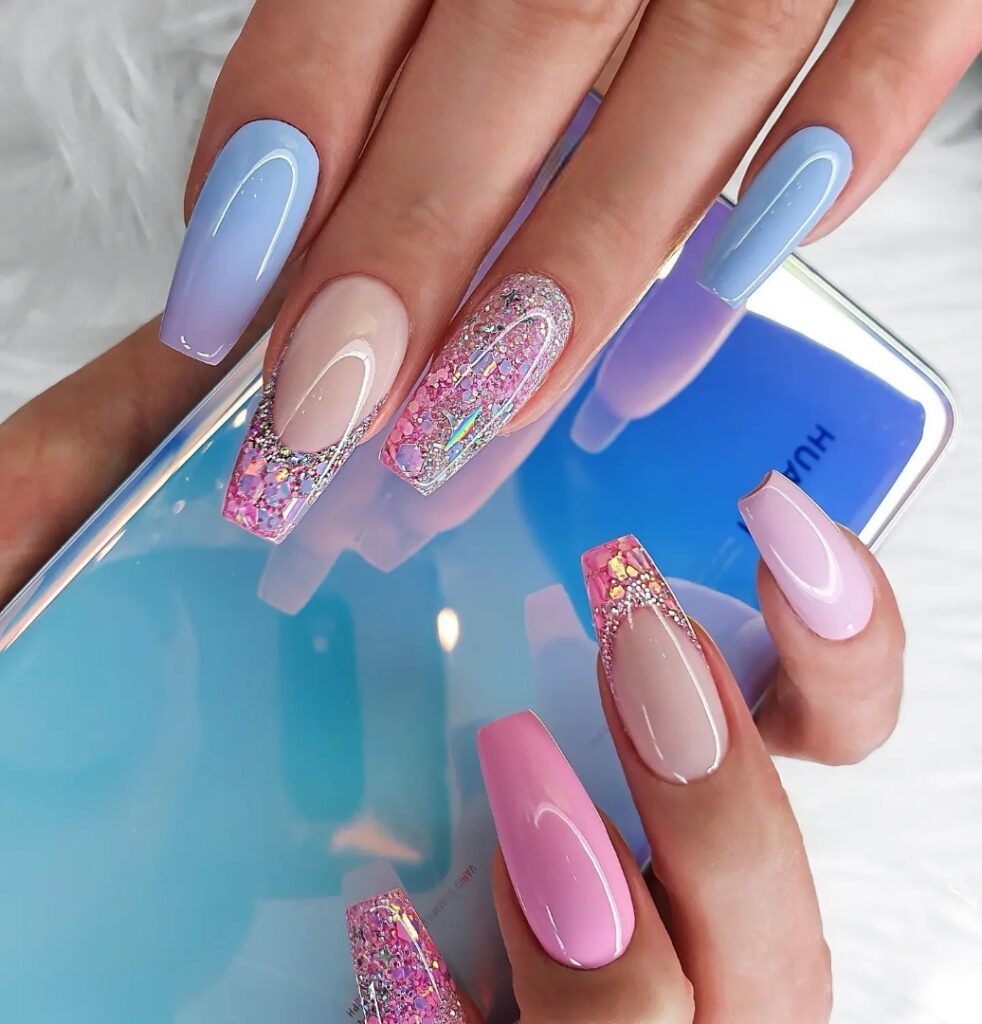 You must try these nails if you're ready to dance the night away. Glitter chunks over a pink, blue, and white base give you that disco-ball shine.
A Sprinkle of Everything: Pretty in Pinks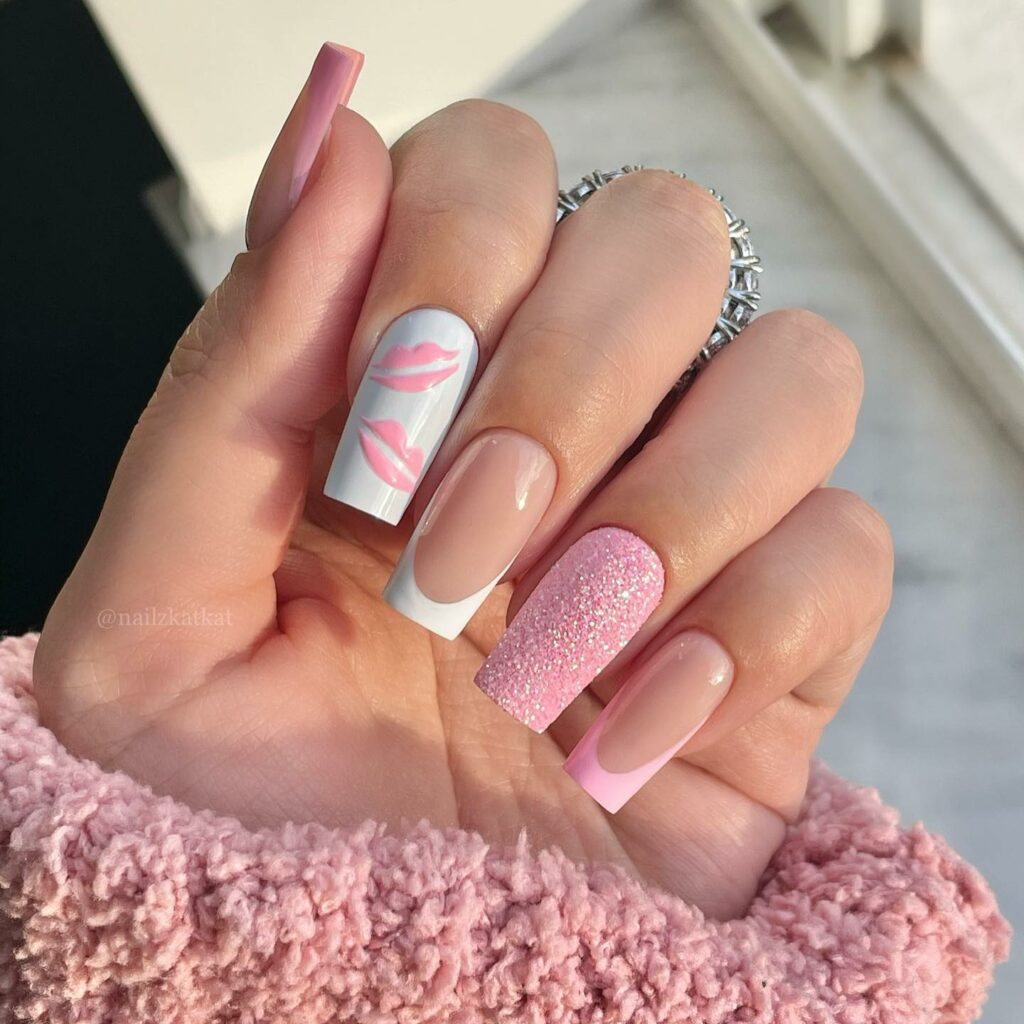 These pink acrylics are nothing short of fabulous. We're talking sugary glitter half-tips, a clear nail with sequins, and even a line of pearls. Yep, pearls! Perfect for when you're feeling a little extra.
Cotton Candy Pink and Blue Ombre Nails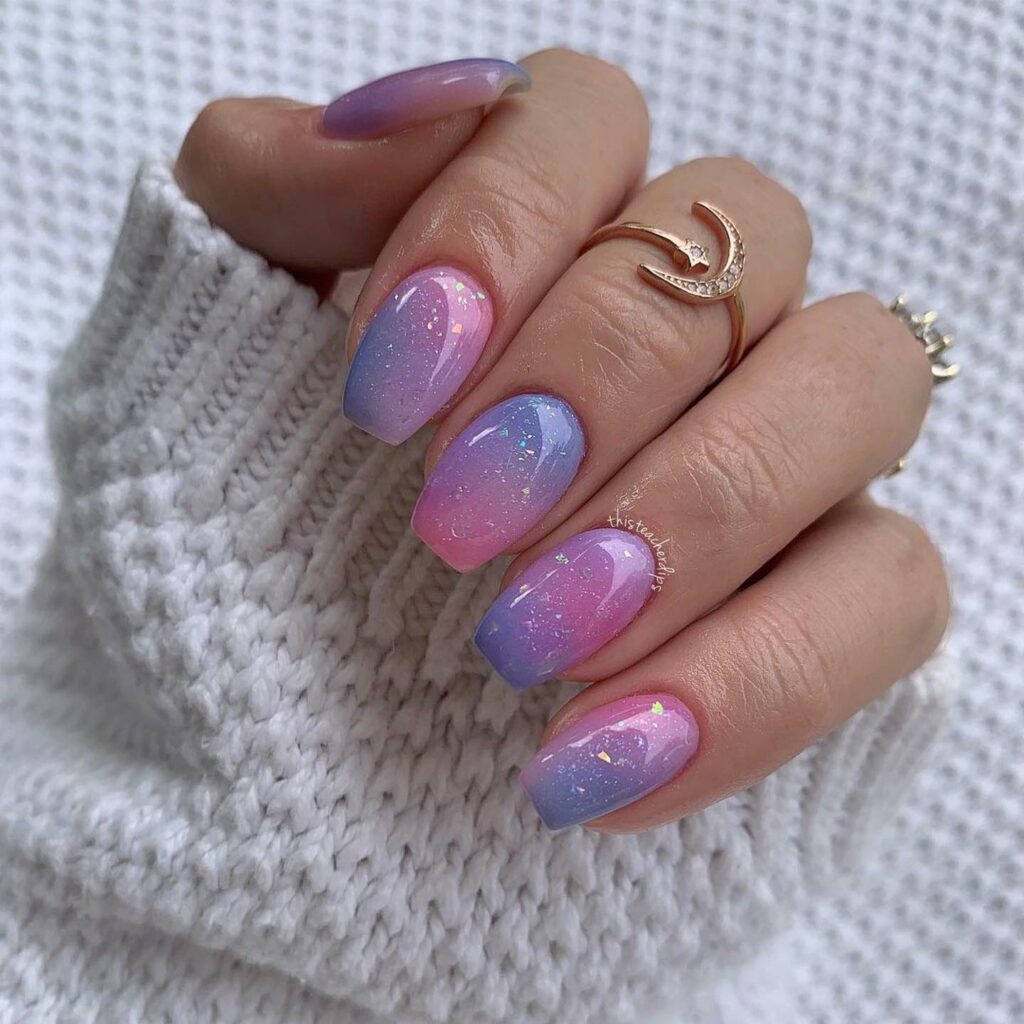 Imagine encapsulating the pure joy of holding a fluffy cotton candy at a fair right on your nails. That's exactly what this delightful blend of pink and blue brings to your fingertips.
Hint of Color Tips: The New Age French Manicure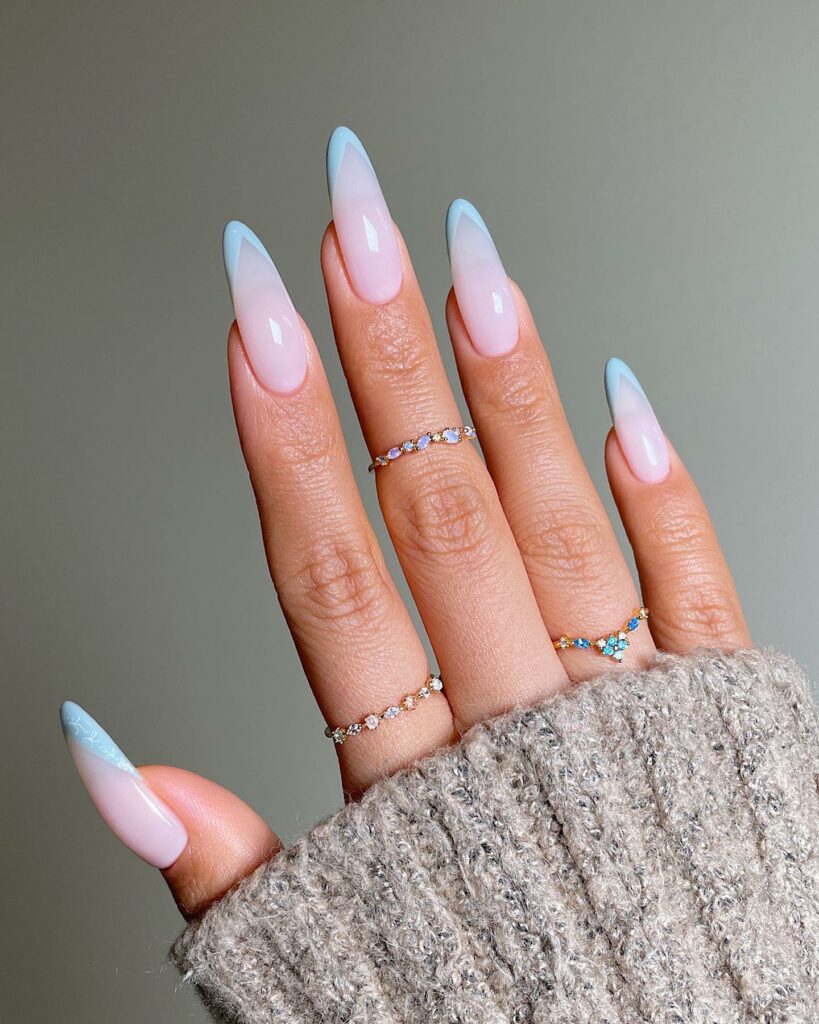 The ombré fade here is a playful nod to tradition while staying refreshingly modern.
Free Spirit: Unlimited Designs
For the indecisive and adventurous among us, why not go all out? Sheer nude nails can be jazzed with pink and blue tips featuring random but adorable patterns like strawberries, clouds, and swirls.
Chic Statement: French Ombre Stiletto Nails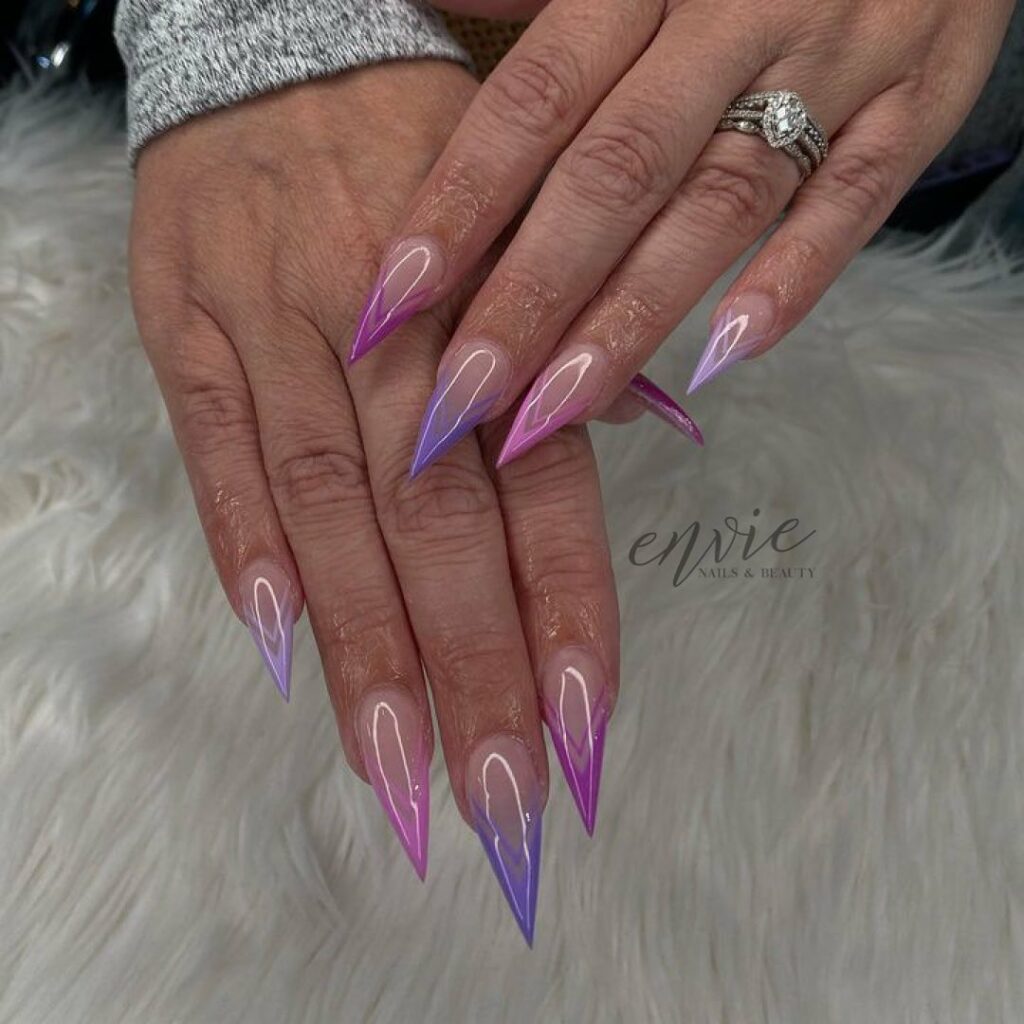 Here's a design close to my heart, blending a softer hue of pink with the stark contrast of stiletto nails.
Bold and Beautiful: Blue Leopard Print Nails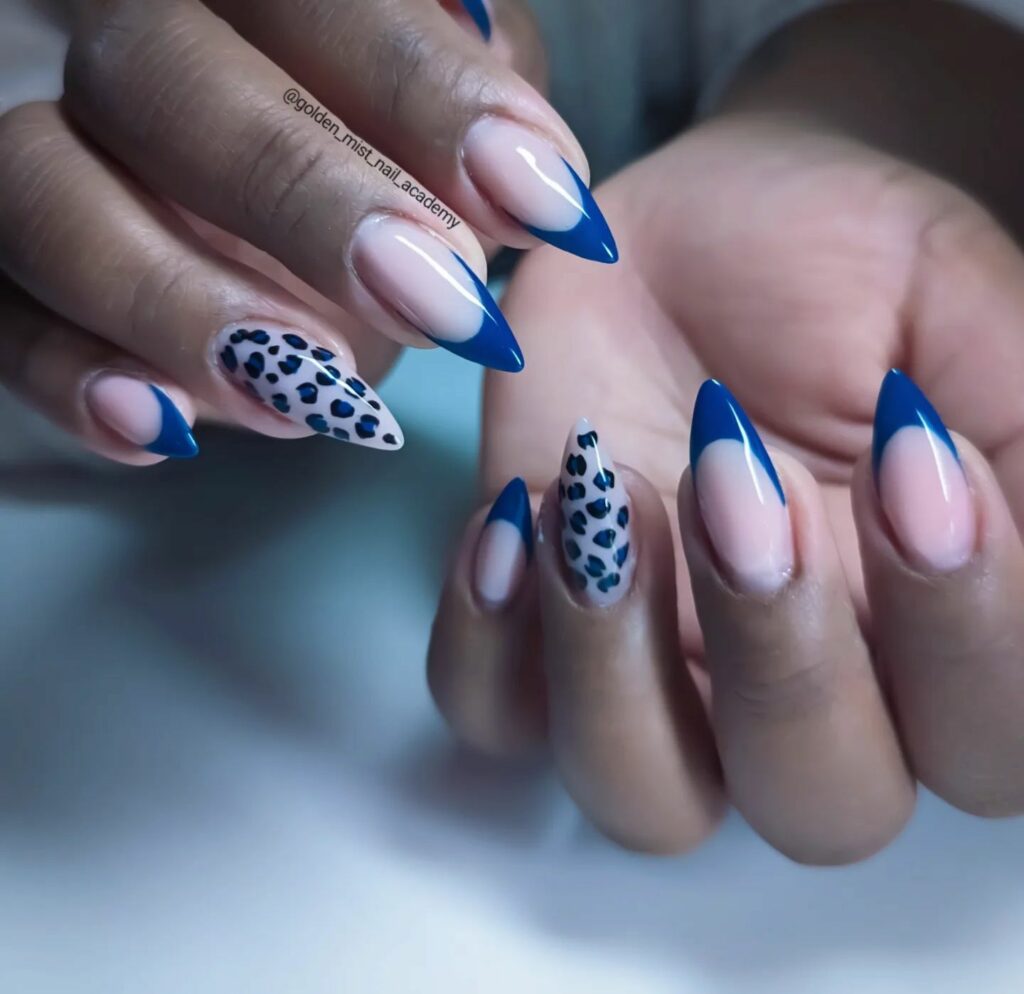 Unleash your wild side with these blue leopard print nails. Combining bright blue with neon yellow and orange, you have a head-turning manicure that complements any outfit. Trust me, it's a fabulous way to show off your fierce personality!
Blue Lagoon: Tropical Paradise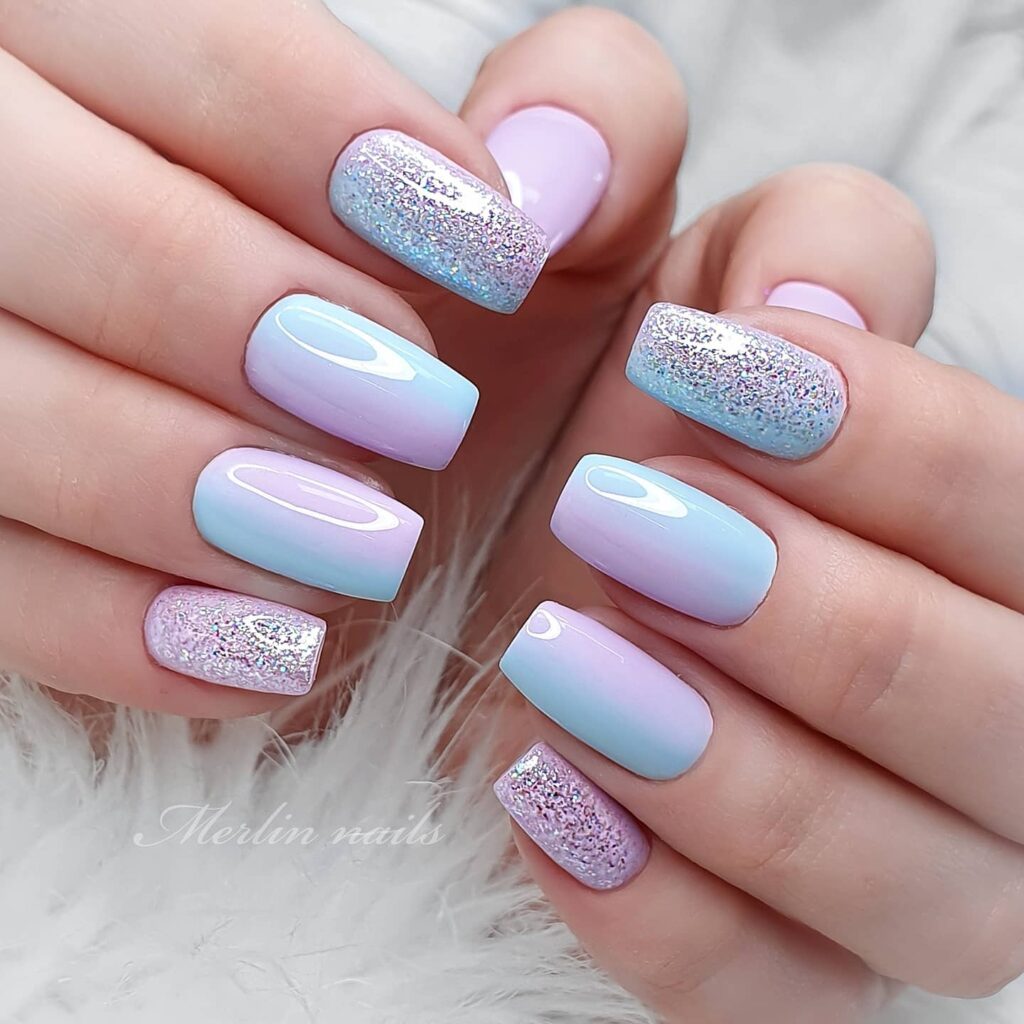 Incorporate aquatic greens into your blue ombré for a look reminiscent of a tropical lagoon. Ideal for summer or vacations, this design will have you dreaming of your next getaway.
Dainty Skyline Shade Euphoria
Soft, pastel blue tips bring a youthful and fresh vibe to the nails. It's a gentle pop of color that's perfect for any casual or formal occasion.
Go Big or Go Home: Chunky Pink Glitter Nails
This is for those who want to go all out. Forget regular glitter; think chunky pink glitter for nails that are beyond dazzling.
Classic With A Twist: Colored French Tips
Why settle for the traditional white French tips? Spice things up with pink and blue ends. My personal fave? Short pink nails with blue French tips. It's a fresh take on a timeless classic.
Elegance Redefined: Light Pink Ombre Stiletto Nails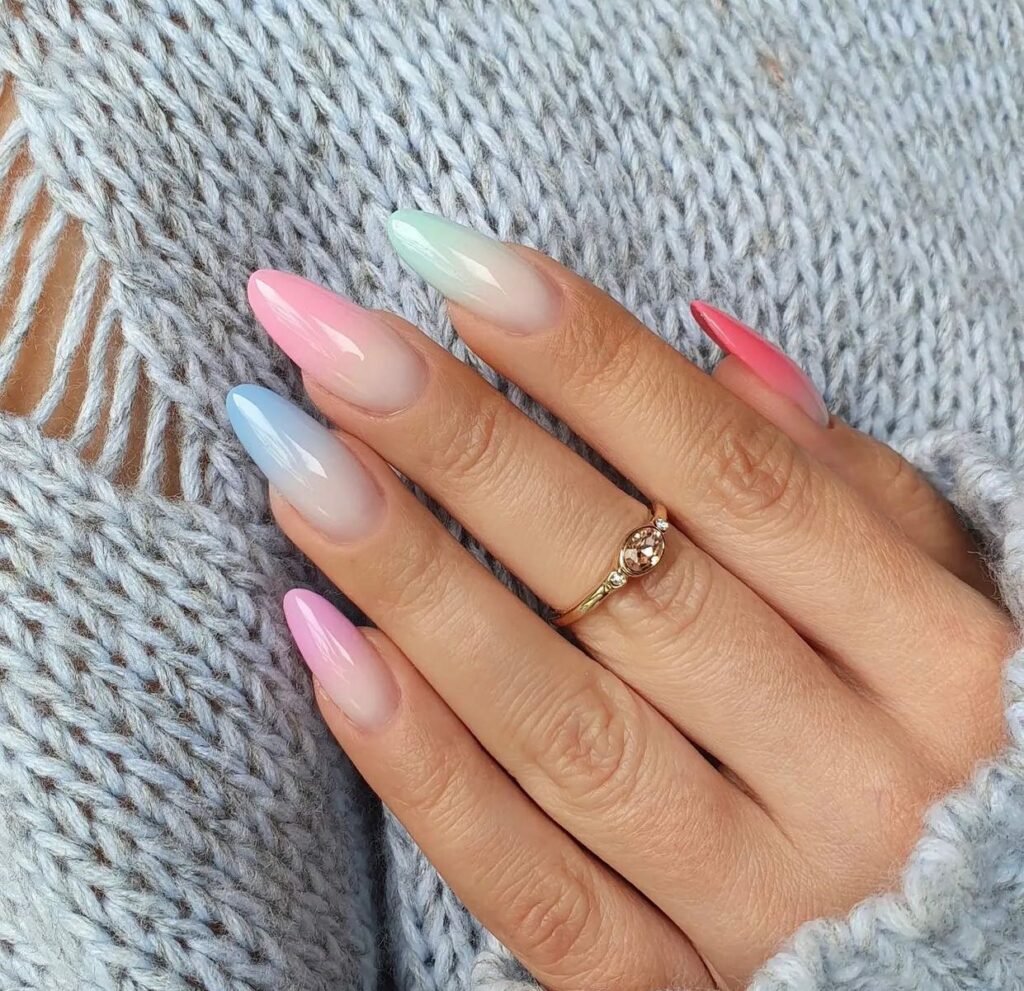 These light pink ombre nails bring a splash of grace to your overall look, making even a casual stroll in the mall feel like a glamorous runway walk.
Short Modernist Blue And Pink Nails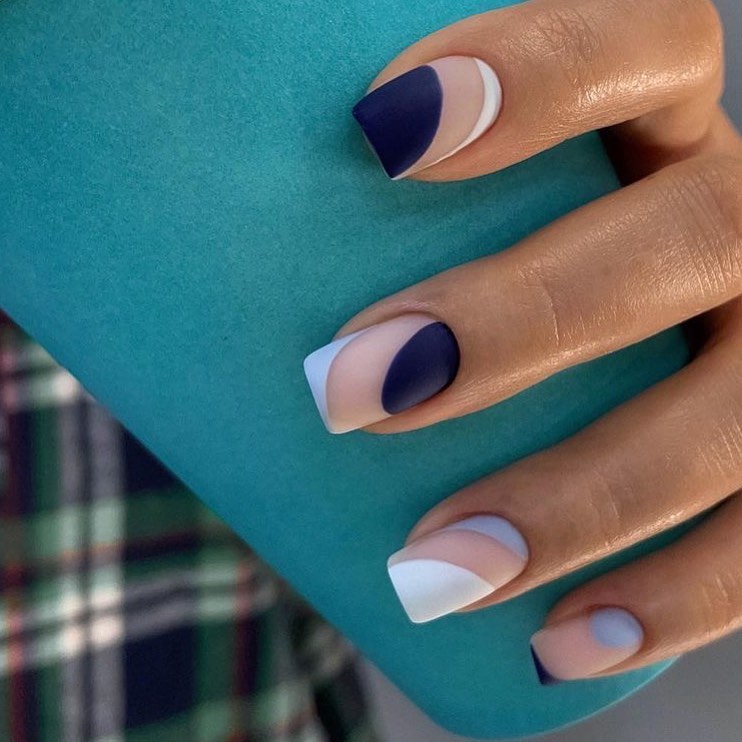 Incorporate geometric shapes—like triangles or rectangles—into your blue ombré. This futuristic look is a head-turner and adds a contemporary spin to the traditional ombré technique.
Floral Fantasy: Touchable Petals
Who doesn't love a bit of 3D action? Short creme blue nails contrast beautifully with embossed pink and blue daisies. The texture is so fun; you'll be tempted to touch your nails all day!
Fit for a Princess: Ombre And Bling
An ombre effect with iridescent rhinestones? Yes, please! It's like wearing your jewelry on your nails. My little niece was mesmerized by this design and wants her nails just like Auntie's.
Gender Reveal Ready: Oh Baby!
Going to a gender reveal party or hosting your own? Make it memorable with tiny footprints and sugary glitter. Finish with rhinestones and gems because, hey, you're the star of the show!
Holiday Sparkle: Glitter Galore
Whether it's fall or winter or just in the mood for some sparkle, glittery pink and blue nails are your go-to. Chunky, holographic, or a mix—glitter makes everything better!
Nursery Charm: Cuteness Overload
Another gender reveal gem! Almond nails with a jelly finish are decorated with the things you'd find in a baby's room—think clouds and tiny stars. Adorable much?
Mind-Bending Beauty: Psychedelic Swirls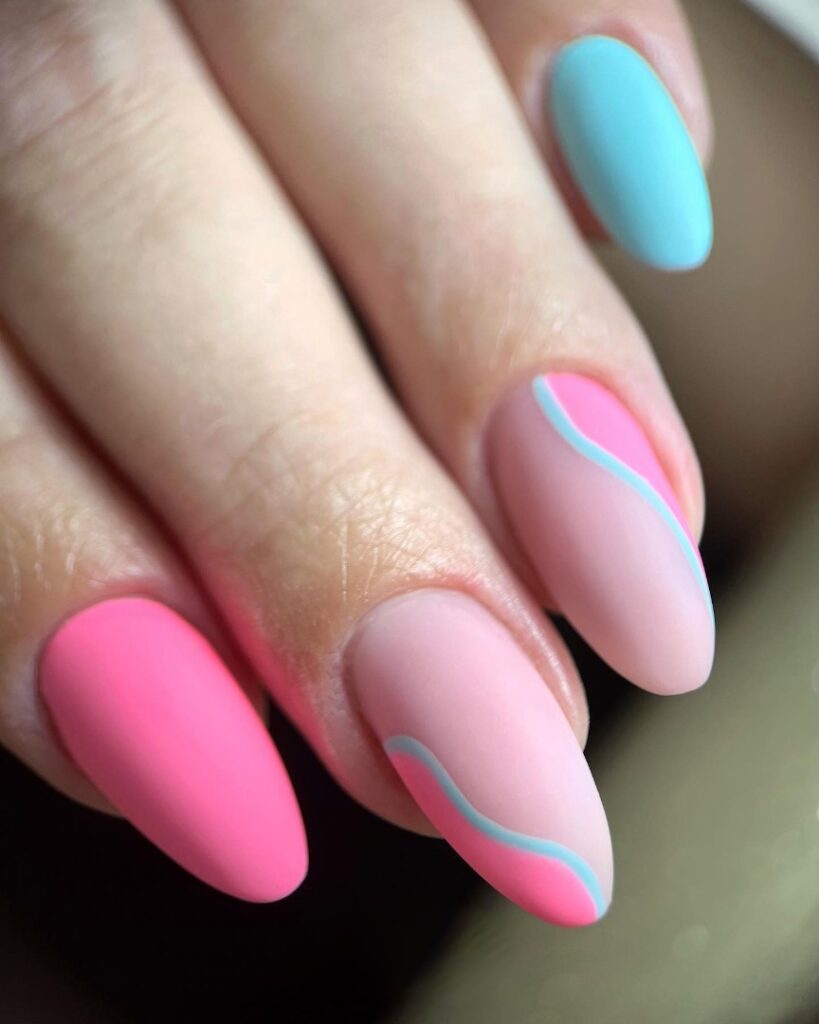 If you love something visually stimulating, try swirls in pink, blue, and white. Opt for a satin finish and go wild with the swirling directions. It's a delightful trip without leaving your living room.
The Swirl Factor: Dizzying Beauty
The swirl trend is here to stay, people. And why not? It looks fabulous! This look combines pink, blue, and white swirls with a shimmery topcoat for extra bling.
Birthday Bash: Smiley All-Around
Pink and blue nails adorned with smiley faces are the ultimate pick-me-up! This playful and cheerful design brings a dash of joy and whimsy to your fingertips, perfect for brightening up your day and spreading smiles wherever you go.
Petite Pastels On Almond Nails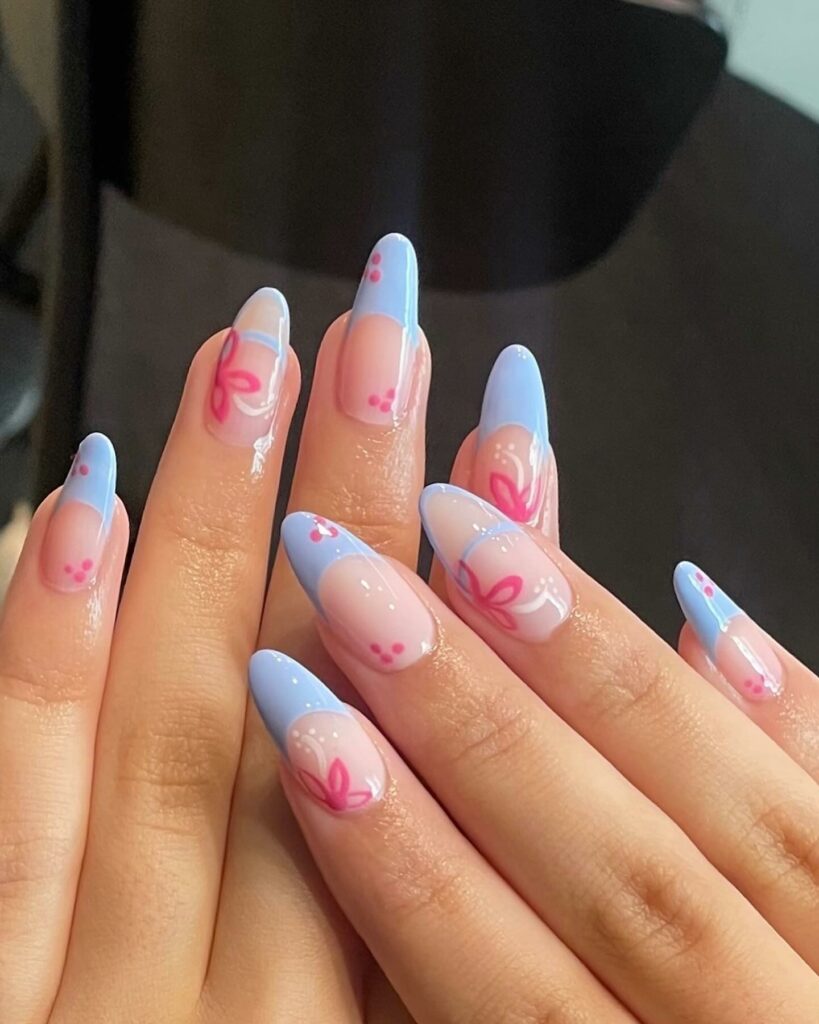 Dainty pink and blue details like flowers and swirls on a nude base will give your nails a minimalist yet charming vibe.
A Subtle Twist: The French Remix
Who said French manicures have to be classic? This design takes a chic twist by adding blue glitter
Under the Sea: Mermaid Majesty
Channel your inner Ariel with this aquatic look. Think iridescent blue glitter and shimmering pink polish adorned with holographic accents. The final touch? Crystals on accent nails. It's mer-mazing!
Blue Floral Design On Nude Almond Nails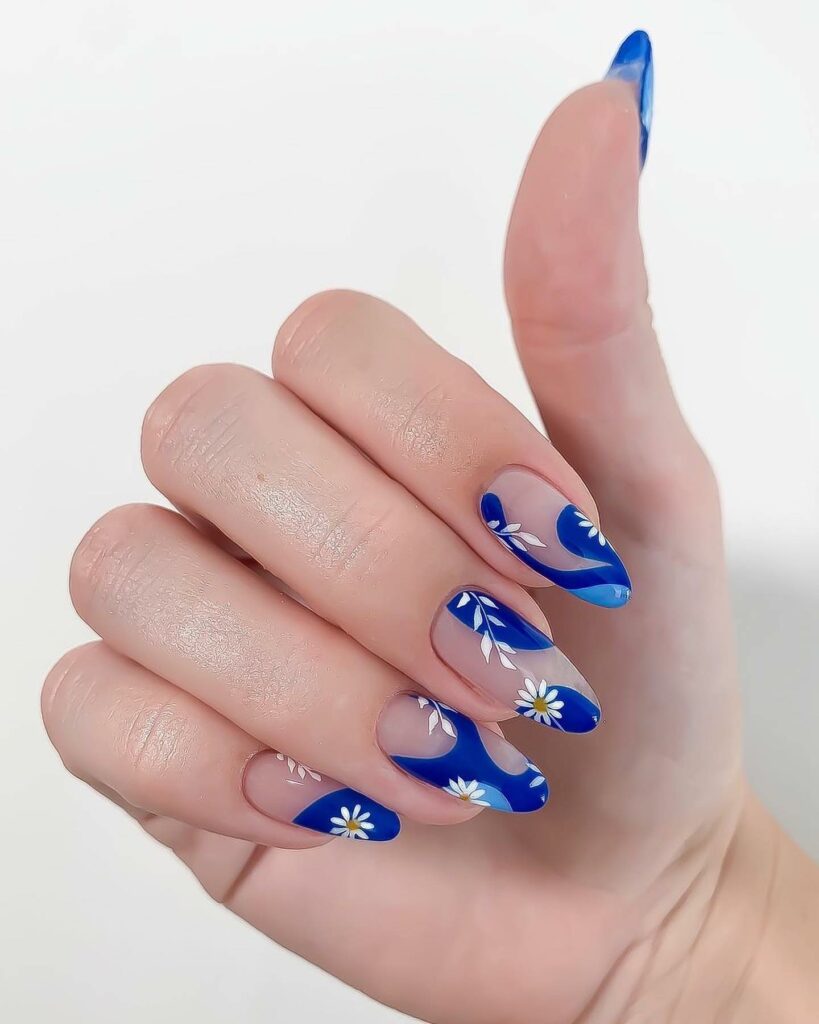 A sky-blue base with hand-painted flowers in deeper blue
Barbie Pink Inspired Nails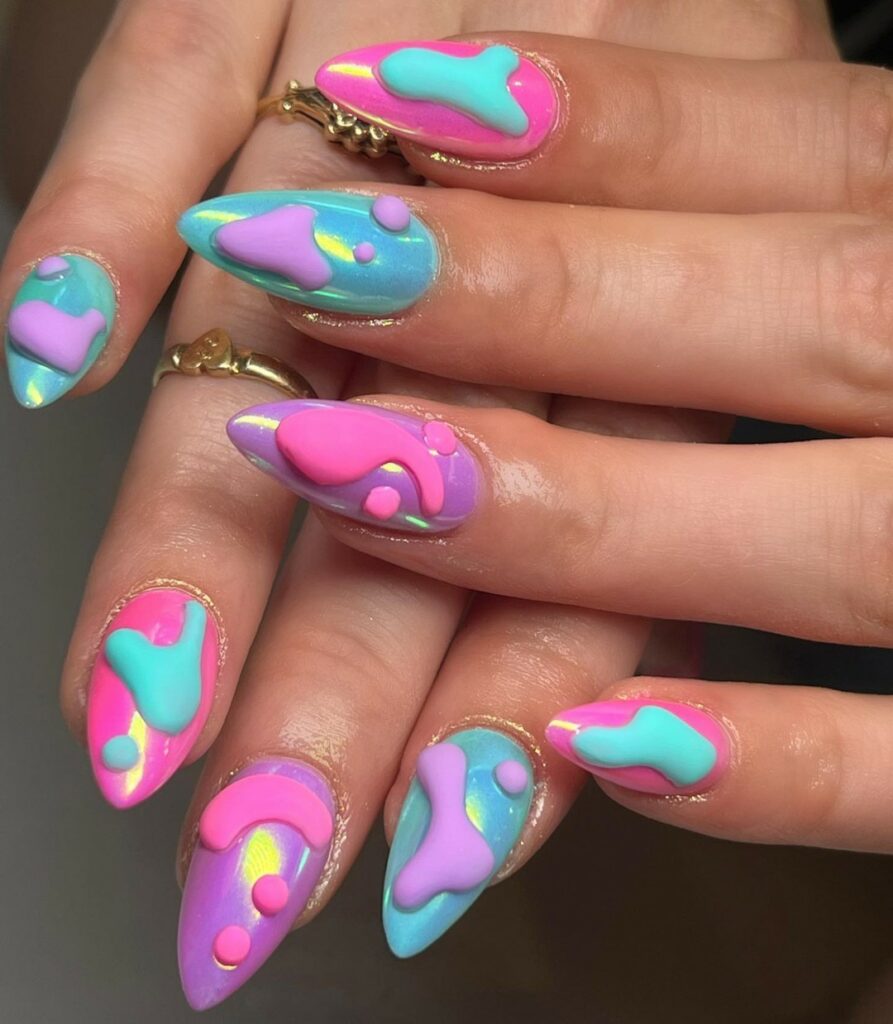 These nails are playful yet elegant, providing a pop of youthful color that can look chic when paired with minimalist attire.
Midnight Blue Starry Skies
Nude pink almond nails with a dreamy sky, perfect for the creative spirit in you
Cosmic Wonder: Galaxy Design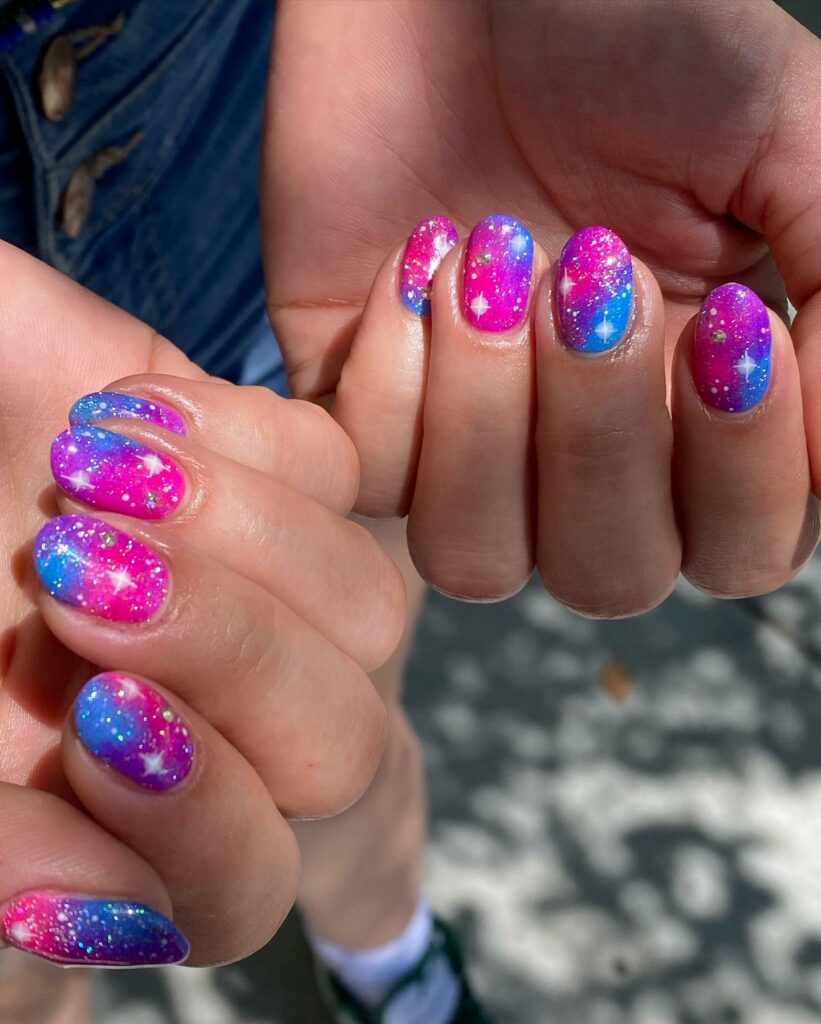 Take your hot pink nails to otherworldly heights with a galaxy-inspired design. Incorporate dark blues and purples with a sprinkle of white dots to mimic stars, giving your nails a cosmic makeover.
The Flower Fairy Touch
Coffin nails in pink and blue, swirled like candy and topped with 3D flowers? It's like a fairy garden at your fingertips. You won't stop staring at your nails, trust me.
Youthful Vibes: Doodle Magic
Ah, to be young and full of whimsy! Amp up the fun with glitter jelly nails embellished with retro white doodles.
A Cosmic Blend Of Pink And Blue Nails
A cosmic blend of pink and blue nails is like having a mini galaxy at your fingertips! The interplay of bright pinks and deep blues creates a mesmerizing, celestial effect that's perfect for anyone looking to add a touch of glam
.
10 Designs That Are Perfect For Pink And Blue Nails
The pink and blue palette offers a playground of creativity and pairs well with other designs. Here are some fun ways to switch it up:
Polka Dots and Stripes – If you love a retro vibe, consider adding polka dots or stripes in coordinating colors to your pink and blue nails. You could even do pink stripes on blue nails and vice versa.
Ombre and Marble Effect – Why choose one when you can have both? Picture a pink-to-blue ombre on your ring finger and a swirly marble design on your index finger, both enveloped in a glossy top coat. Dreamy, right?
Negative Space Art – This one's for my minimalist friends! Pink and blue negative space nails are so modern yet classic. Use tape or stencils to block off sections of the nail, leaving parts unpainted or coated in a clear polish.
Glitter Accents – When in doubt, add glitter. An entire glitter accent nail or just a glitter gradient from the tip can add sparkle to your pink and blue mani.
Floral Appliqués – Who says Flower Power is out? Press trim floral appliqués onto a wet pink or blue nail polish coat. Seal it with a top coat, and voila, instant spring!
Animal Prints – A small leopard print design on an accent nail could look super chic. Use blue as the base and pink for the spots, outlined with a darker color like black or navy.
Galaxy Nails – You could take your blue base to the next level with lighter blue, pink, white, and glitter to create a mini-galaxy on your nails. It's like a celestial dream at your fingertips.
Chevron and Zigzag Patterns – Zigzags or chevron patterns can add a playful touch to your manicure. You can achieve this look with some nail tape and a steady hand.
Geometric Shapes – Triangles, squares, or random geometric shapes in alternating colors can add an abstract, modernist vibe to your pink and blue nails.
Crystal Accents – You can never go wrong with a bit of bling! Tiny crystals or beads can be added to your pink and blue design for an extra touch of glam.
.
Conclusion
Alright, that wraps up our pink and blue nail extravaganza! If there's one thing to take away, the world of nail art is as limitless as your imagination. From dreamy ombre to striking geometric designs, there's a look for every mood and occasion. My personal tip? Don't shy away from experimenting! Mix and match styles if you need more time (like me), or take a classic like the French tip and give it a colorful twist. Whether you're accessorizing for a night out or just jazzing up a Netflix binge session, these designs have got you covered. So pick your fave, and let those nails do the talking. Until next time, keep those fingers fabulous!
Feature Image Photo @vivianmariewong via Instagram
Last reviewed and updated on November 22, 2023