In this blog post, you'll unlock the secrets behind the very best and latest pink and white nail designs that are nothing short of a canvas for your fingertips. Whether you're seeking the epitome of subtlety or a burst of avant-garde flair, we've got the blueprint for you. You'll learn about the classic pink and white duo and how to incorporate unique twists that make each design a conversation starter.
Timeless Beauty: Classic Pink and White Acrylic Nails & Gel Nails
Remember the first time you tried a French manicure? I was about 15 and felt like I'd just been initiated into a secret society of elegance. Pink and white nails bring that same je ne sais quoi but with a splash of color that sings "you."
French Manicure with a Pearl Touch
You haven't lived until you've added pearl bead accents to your pink and white French manicure. Trust me, it's like wearing a string of pearls but on your nails! Think of this look as the Audrey Hepburn of nail designs—classic with a twist. Rock this design whether you're attending a summer wedding or lighting up a winter soirée.
Simplicity at Its Finest: Rounded Nude Pink Nails with White Tips
Simplicity has a voice, and it often speaks volumes. My best friend chose this design for her job interview, and she nailed it—pun intended! These rounded, nude pink nails with white tips serve understated elegance, making it the ideal choice for any occasion where you want your look to whisper rather than shout.
Spice Up the Classic: Pink Square-Shaped French Manicure
If you're the sort who thinks a French manicure is too vanilla, a pop of pink can be your chocolate chip. Imagine classic French tips but drenched in a soft, romantic pink. The result? A look that screams chic without forgetting its roots.
The High Glam Look: French Tipped Nails with Gem Accents
Who said pink and white couldn't spell opulence? Enter gems—tiny but potent game changers. I wore this design to a charity gala last year, and let's say the nails weren't the only thing that sparkled. It's an eye-catching look that blends well with the understated grace of the almond shape and French tips.
The Ombre Love Affair: Pink and White in Gradients
Let's talk ombre—a technique that never disappoints. Sometimes, it feels like the chameleon of nail designs, effortlessly blending into whatever vibe you're going for.
From Creamy to Dazzling: White Nails with Pink Glitter Ombre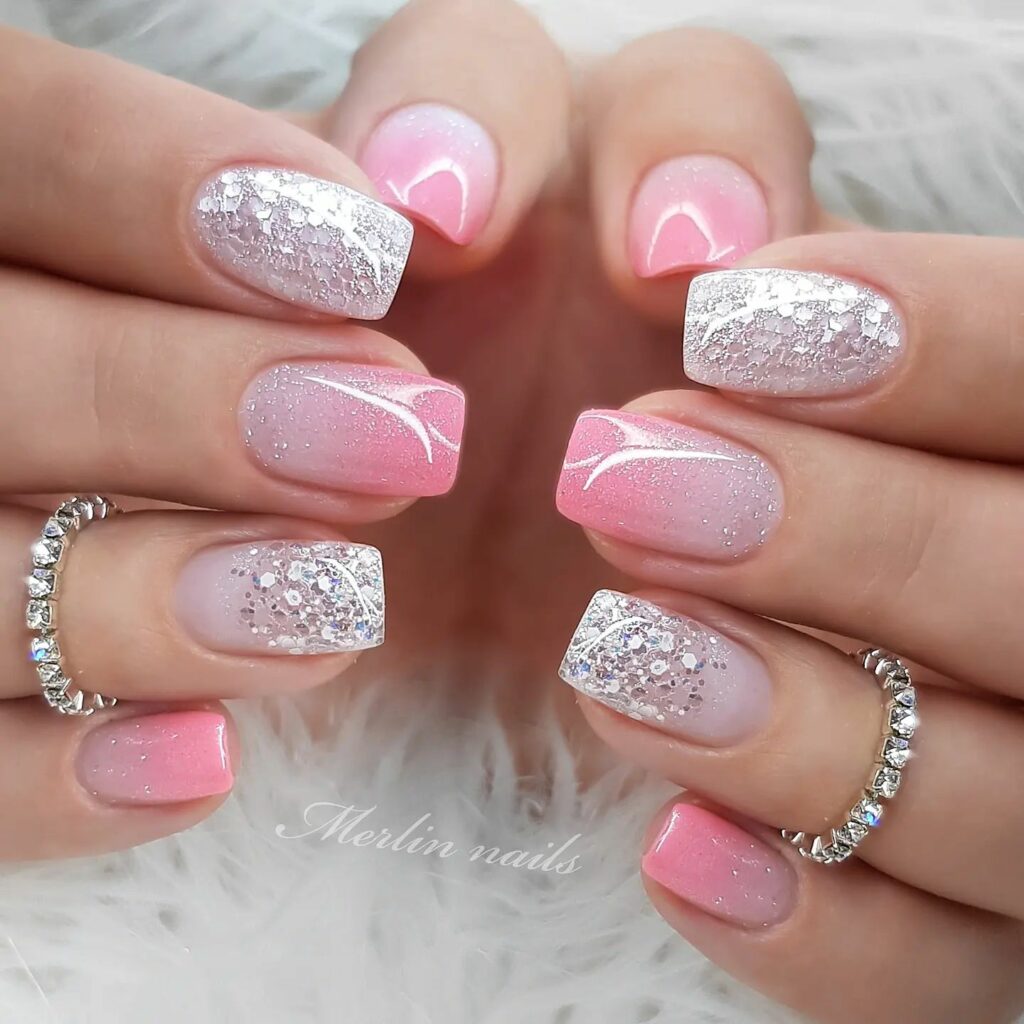 There's something ethereal about creamy white smoothly transitioning into sparkly pink. I first rocked this look during a weekend getaway, and it was a hit! The ombre effect adds a contemporary flair, making it ideal for those who want a bit of zest in their classic style.
Elegance Meets Drama: Pastel Pink & White Ombre Nails with Gems
Imagine this: It's your wedding day, or perhaps a special date night, and you want your nails to be your look's silent yet eloquent poets. Enter pastel pink and white ombre, spiced up with a sprinkling of gems. I wore this for my anniversary dinner, and let me tell you, the gems caught the candlelight in a way that was nothing short of magical.
Reimagining Classics: Coffin-Shaped Nails with White Accents
First stop: Coffin-shaped nails! Ah, remember the first time I tried this shape? I felt like Morticia Addams, but in the best way possible—mysterious yet chic. The ombre blend of soft pink and asymmetrical white tips exudes uniqueness. Want to push the envelope? Add silver glitter lines along the white tips. Picture this: You're sipping a cocktail, and the light catches your nails. Instant conversation starter!
Beyond French Tips: Cute Pink and White Designs
Let's think outside the French tip box for a moment. Pink and white is a canvas ready for your wildest creative splurges.
Surf's Up: Almond-Shaped Nails with Pink & White Waves
Ever wanted to channel your inner surfer, but maybe you're not a fan of actual waves? Well, the wavy pink and white designs give off those exact vibes. Pair these nails with some beachy waves in your hair, and you're golden!
Speak Up: White Nails with Hot Pink Text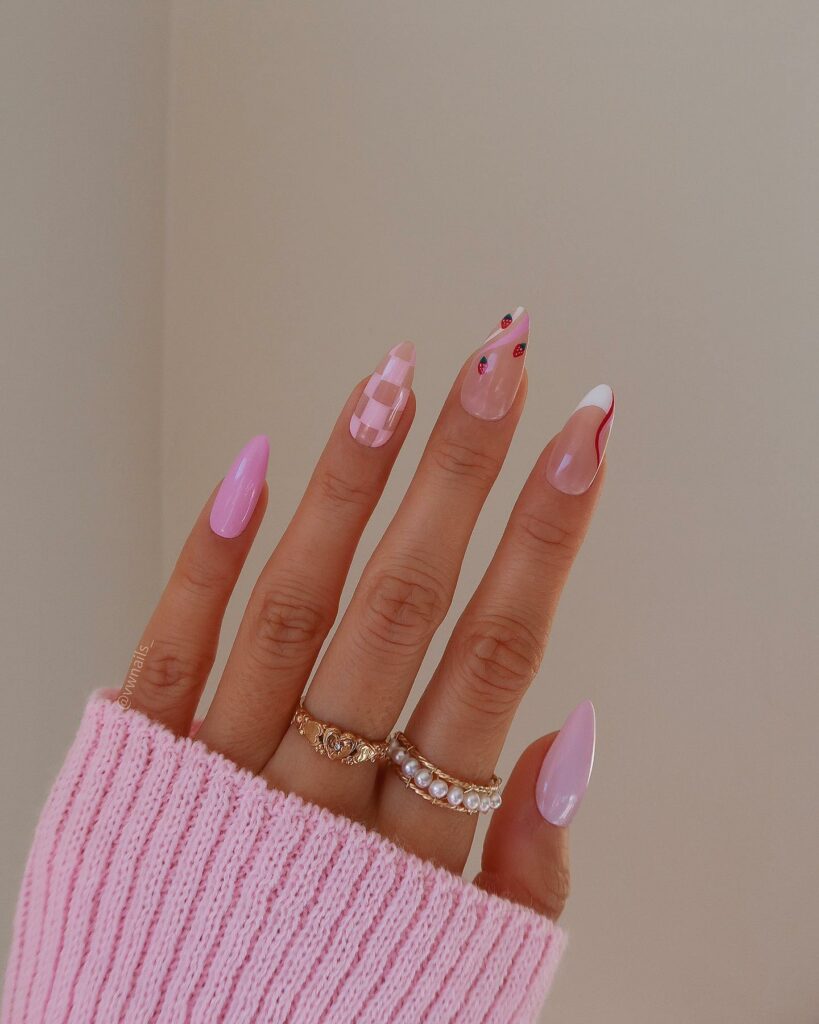 Summer, I see you! With bright, word-print hot pink on white, you can actually wear your mood on your nails. I rocked these at a beach party last year, and let's say they talked, so I didn't have to.
A Canvas of Choices: Negative Space and Beyond
Negative space nails are versatile and functional Swiss Army knife of nail art.
Date Night Ready: Bright Pink & White Negative Space Nails
The rich pink hue balanced with nude and white—yes, please! They're elegant and playful at the same time. Think of the first date, but make it fashionable.
The Salmon Swing: Waves and Whirls in Salmon Pink
Salmon pink, meet white swirls; white swirls, meet our fans of style. I tried this at a fashion week after-party, and those swirls caught more attention than the runway designs. Amp it up with silver accent beads, and you're the life of the party.
Nostalgia Meets Now: Pink + White Polka Dots
This is a throwback to the '50s but with a modern twist—French-tipped accent nails. I'd recommend these for a spring picnic or even an open-air concert. It's like wearing a vintage dress but with pockets.
Make a Statement: Abstract Nails with Black Accents
Bold pink, abstract styles, and black splatter—this screams modern art in the coolest way. Rock these at a summer festival or when you're making a fashion statement.
Dreamy Weekends: Soft Pink + White Almond Nails with Waves
Let's wind down with something dreamy. Soft shades of pink with white waves are the epitome of elegant casual. Wear these to a weekend brunch, a casual Friday at work, or even your cousin's wedding, and you're good to go!
Make A Moo-ve: Pink + White Cow Print Nails
Do I remember my "wild side" phase when cow print was all the rage? Now, who says cow print can't be classy? Combine it with pink and white, and you get a nail design that's not just trendy but captivating. It's perfect for those who dare to be different while still hitting those youthful notes.
Shape It Up: Pink & White Geometric Nails
Geometric nails never get old. I've been doodling shapes since my middle-school math classes, and I've always found their symmetry fascinating. The beauty of this style lies in its versatility: from soft pastels to bold magentas, the different shades of pink and dashes of white can be combined in endless ways. Get creative with your shades and shapes, and make this classic look uniquely yours.
Floral Fancy: White Flowers on Pink Nails
If you're all about that sweet and whimsical vibe. Picture it: a spring garden party, you in a floral dress, and your nails echoing the bloom around you. Bright pink as the base with dainty white flowers create a forever-in-style look that's fun and flirty.
A Touch of Glamour: Pink Nails with White Half Moons
Have you ever been to a red carpet event? Neither have I, but these nails make me feel like I belong at one. A metallic pink accent nail, paired with white half-moon details, elevates your regular manicure to a work of art. Whether you're enjoying cocktails or dancing the night away, this design has your back—or, should I say, your nails!
Let's Get Swirly: Swirling Pink + White Nails
Swirls, people, swirls! If you've got long nails, this is where they shine. The mesmerizing swirl patterns accented by different shades of pink are enough to turn heads. And I love how the solid nails break up the pattern, adding another layer of interest. Feel free to adapt this design to your preferred nail shape; it's all about personalization.
Romance is in the Air: Pink Nails with French Tips and Hearts
Talk about love at first sight! Matte pink and glossy French tips are the ultimate romantic pair. This design is a no-brainer for Valentine's Day, anniversaries, or any day you feel the love vibes. I remember wearing a similar design on a dinner date, and let's say the nails weren't the only things that sparked.
Street Style Meets Manicure: Pink + White Grid Nails
This grid pattern has a relaxed, urban feel that I adore. It's an understated way to wear pink and white without the sugar overload. Whether dressed in jeans and a tee or sporting your favorite streetwear, these nails add an edgy finish to your look. Pro-tip: Play with the grid colors for a fresh twist.
Once Upon a Time: White + Pink Nails with Rose Art
If I had a fairytale written about me, these would be my go-to nails. The almond shape, rose art, and soft hues create a dreamy and sophisticated design. Ideal for a springtime rendezvous or a romantic evening, these nails have a poetic quality that's impossible not to fall in love with.
Blast from the Past: Retro Pink & White Nails
The retro look is back, but did it ever really leave? These nails blend playful patterns with softer shades, resulting in a fun and subdued design. Whether you're gearing up for a summer festival or getting ready for a night on the town, these nails will ensure you're in the spotlight.
Pink & White Marbled Effect
Think of a soft pink base with white marbling effects swirling across each nail. This gives your nails a serene and elegant touch, almost resembling luxurious marble countertops. It's a timeless choice for someone looking to add a touch of sophistication to their ensemble.
Pink Base with White Lace Details
Picture a soft pink base adorned with delicate white lace patterns, possibly accompanied by tiny pearl embellishments. This design brings a touch of romantic vintage flair to your nail game. Paired with a lacy outfit, it could be the epitome of elegance.
Pink and White Striped Nails
Imagine alternating stripes of pink and white across your nails. This design is vibrant, youthful, and perfect for the summertime. You can play around with the thickness of the stripes to create a look that's uniquely yours. Pair this with a nautical themed outfit for a day out by the sea!
White Nails with Pink Flamingo Accents
Envision your nails painted in a crisp white shade, and then adorned with tiny pink flamingos as accent details. This fun, tropical-inspired look would be a hit at any summer party, adding a dash of playfulness and a sprinkle of cuteness to your overall look.
6 Other Pink and White Nail Designs To Try
The pink and white combination offers a vast playground for nail art enthusiasts. Here are some other captivating designs you might consider adding to your list:
Gradient Ombre: Imagine a beautiful transition from deep pink to lighter pink and finally white, creating a stunning ombre effect. This design is graceful and can suit any occasion, adding a subtle charm to your nails.
Pink and White Chevron: Envision a zig-zag or chevron pattern alternating between pink and white on each nail. This creates a dynamic and modern look that can be fun and sophisticated.
French Tips with a Twist: Consider the classic French manicure with a lovely pink base instead of the usual nude. The white tips against the pink base offer a fresh, romantic, evergreen look.
Floral Accents: Picture a soft pink base with delicate white floral designs, possibly intertwined with tiny green leaves, painted or applied as decals on one or two accent nails. This gives a feminine and tranquil garden-like atmosphere to your nail art.
Polka Dots and Hearts: Imagine a white base with scattered pink polka dots or tiny hearts. This design is cute, fun, and perfect for those who love a youthful and vibrant look.
Glittery Pink and White: Consider a pink and white design but with an added sparkle. Whether you choose a glittery pink base with white accents or vice versa, this design will brighten your day and add sparkle to your style.
Remember, you can always customize the designs with different shades of pink, varying patterns, and unique accents to make them your own. Let your creativity flow, and experiment with these delightful nail designs!
How Difficult Are These Designs To Achieve?
The difficulty of achieving these pink and white nail designs can vary based on your experience with nail art and the complexity of the design itself. Here's a general idea of the potential challenges and ease you might find with each:
Gradient Ombre:
Difficulty Level: Medium
Explanation: Creating a seamless gradient requires blending the nail polishes smoothly. You would need a sponge to dab the colors gently, creating a gradient effect. Perfecting it might take a few tries, but it's doable at home.
Pink and White Chevron:
Difficulty Level: Medium to Hard
Explanation: This involves painting precise, zig-zag lines, which can be challenging without a steady hand and the right tools, like striping tapes and fine brushes. However, with patience, this can be achieved with a splendid result.
French Tips with a Twist:
Difficulty Level: Easy to Medium
Explanation: Adding a pink base will not significantly increase the difficulty if you've done French tips before. Getting the lines neat and even might take a little practice.
Floral Accents:
Difficulty Level: Medium to Hard
Explanation: Painting delicate flowers requires some skill, especially if you are going into detailed floral patterns. However, you can find decals or stamps in the market that make achieving this look much easier for beginners.
Polka Dots and Hearts:
Difficulty Level: Easy
Explanation: Creating polka dots and hearts can be relatively straightforward, especially with the help of dotting tools or toothpicks for the polka dots and small stencils for the hearts.
Glittery Pink and White:
Difficulty Level: Easy to Medium
Explanation: Incorporating glitter is typically relatively easy. You can apply glitter polish directly or use loose glitter with a brush. The challenge is to achieve a clean and even layout of the glitter particles.
To embark on your nail art journey, arm yourself with the necessary tools, including fine brushes, dotting tools, striping tapes, and possibly some stencils for the more complex designs. If you're new to nail art, don't be discouraged if it doesn't appear perfect the first time. Practice makes perfect, and remember, the most important thing is to enjoy the creative process and have fun experimenting with different styles and techniques!
20 Tips & Tricks for Maintaining Pink and White Nails?
Start with a Clean Canvas
Before you start your manicure, ensure your nails are clean and free of oils or lotions. This helps the polish to adhere better to your nails, giving a more prolonged, chip-free result.
Base Coat is a Must
Make sure to apply a base coat. It protects your nails from potential staining and creates a smooth surface for your polish to adhere to.
Quality Matters
Invest in quality nail polish and top coats. They might be pricier, but the investment is worth it for a longer-lasting, chip-resistant finish.
Seal the Tips
When applying your top coat, seal the tips of your nails. This can prevent chipping and extend the life of your manicure.
Avoid Harsh Chemicals
Avoid exposing your nails to harsh chemicals without protection when cleaning or doing other chores. Use gloves to protect your lovely manicure.
Regular Touch-Ups
Don't hesitate to do a little touch-up if you notice slight chips or wear. Applying a fresh coat of topcoat every few days can also extend the life of your manicure.
Hydrate Your Hands
Keep your hands and cuticles moisturized. Not only does it keep your hands looking youthful, but it can also prevent chipping.
Give Your Nails a Break
Now and then, give your nails a break to prevent yellowing and to maintain their health. Use this time to nourish your nails with treatments or oils.
Patience is a Virtue
Allow ample time for your nails to dry to prevent smudges or dents. It might seem time-consuming, but the result is worth the wait.
Have Fun with It
Remember, the world of nail art is vast and exciting! Don't be afraid to experiment with different styles and techniques to keep your pink and white nails looking fresh and trendy.
Following these tips, you can enjoy a longer-lasting, chip-free, and vibrant pink-and-white manicure.
Conclusion
So to wrap up, we've explored the creative paradise that is pink-and-white nail art, and what a journey it's been! Whether you're into bold geometric designs, whimsical floral touches, or street-savvy grids, this classic color combo has a version to tickle your fancy. Just a heads-up: While these designs look fabulous, intricate art might require a steady hand or a skilled nail technician—so plan accordingly. The world of nail design is your oyster, and experimenting is half the fun! But remember that certain styles might be more durable than others, especially if you're hands-on in your daily life. Don't be afraid to express yourself and make these designs your own. With a bit of courage and creativity, your nails can become a personal style statement that turns heads and wins hearts. Now, what are you waiting for? Let those nails do the talking!
Feature image @vivianmariewong via Instagram