Hey nail lovers, today we're tackling the Pink Marble Nails trend that's all the rage right now. Trust me, this isn't just a look; it's a vibe—sophisticated, stylish, and totally doable at home. Stick around and you'll learn how to master this marble magic yourself, what polishes work best, and some insider tips for a finish so flawless, your friends will be begging for your salon secrets. My golden rule? Don't skimp on a quality base coat and go for tried-and-true polishes—you'll thank me later. Let's dive in!
Pink And White Marble Nails
Pink and White Marble nails offer a dreamy blend of both colors, giving your nails a cloud-like appearance. The interplay of pink and white creates a soft, romantic vibe while maintaining a modern edge thanks to the marble pattern.
Soft Pink With Gold Flakes
Soft Pink nails are the epitome of understated elegance. Ideal for professional settings or casual outings, these nails offer a touch of color without overwhelming the senses.
Dark Pink Marble Stiletto Nails
Take the glamour up a notch with Dark Pink Marble in a stiletto shape. The pointed tips add drama, while the decadent hue and marble effect offer a sophisticated flair perfect for evening events.
Classic Marble Nails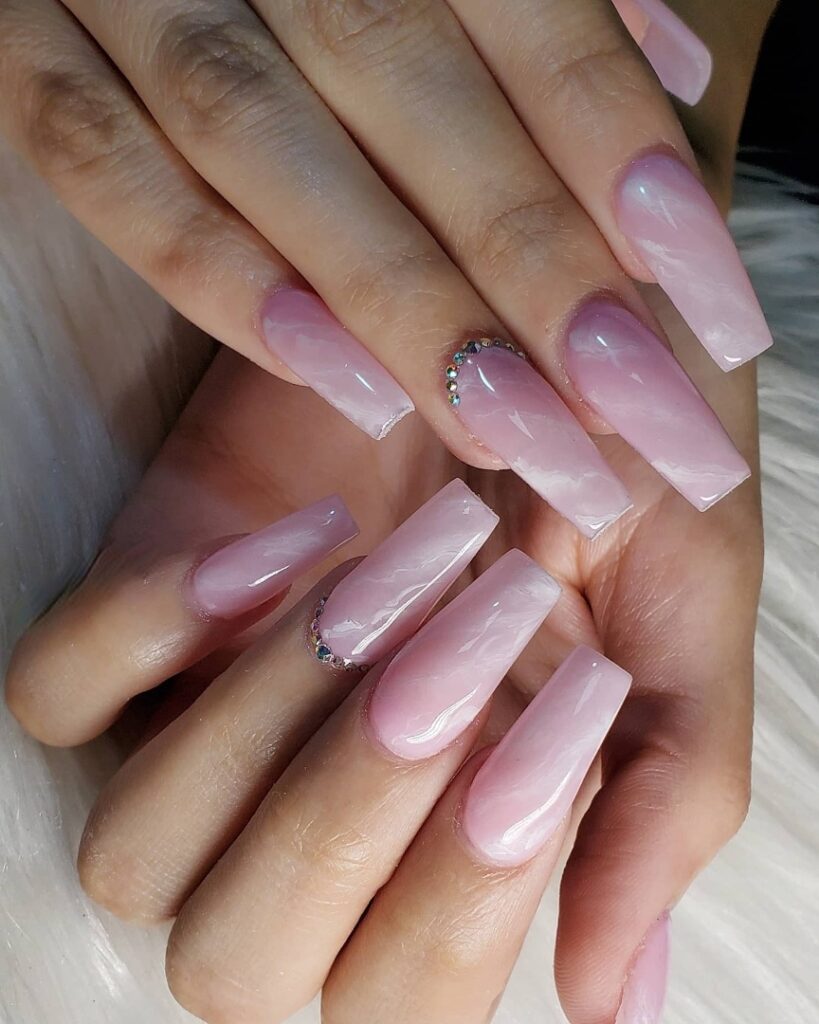 An evergreen style that works with almost any outfit, Classic Marble nails are all about capturing natural elegance. This design is a must-try for those new to the marble trend.
Rose Quartz Nails With Gold Tips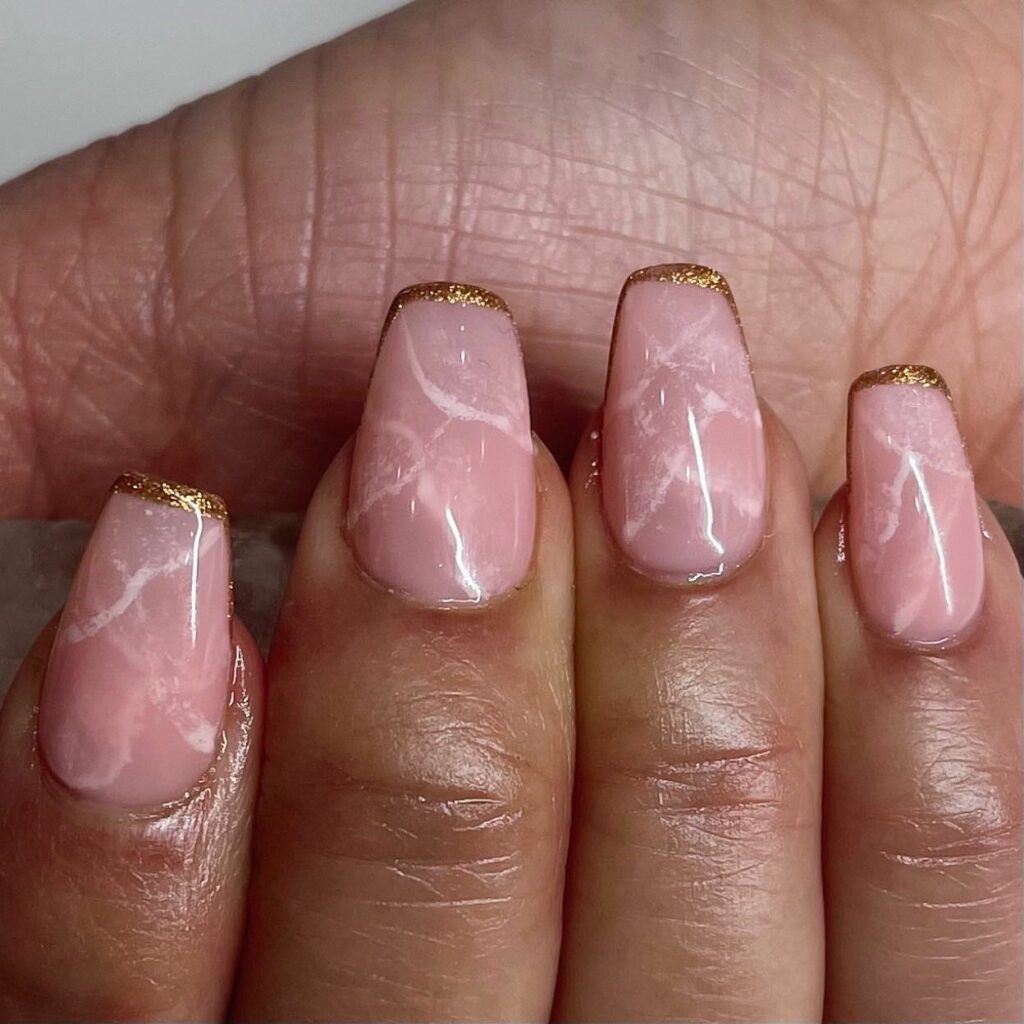 This style takes the classic rose quartz design into a whimsical masterpiece. With subtler veining and a gentle gradient, it's like having a dream captured right at your fingertips.
Marble Passion Nails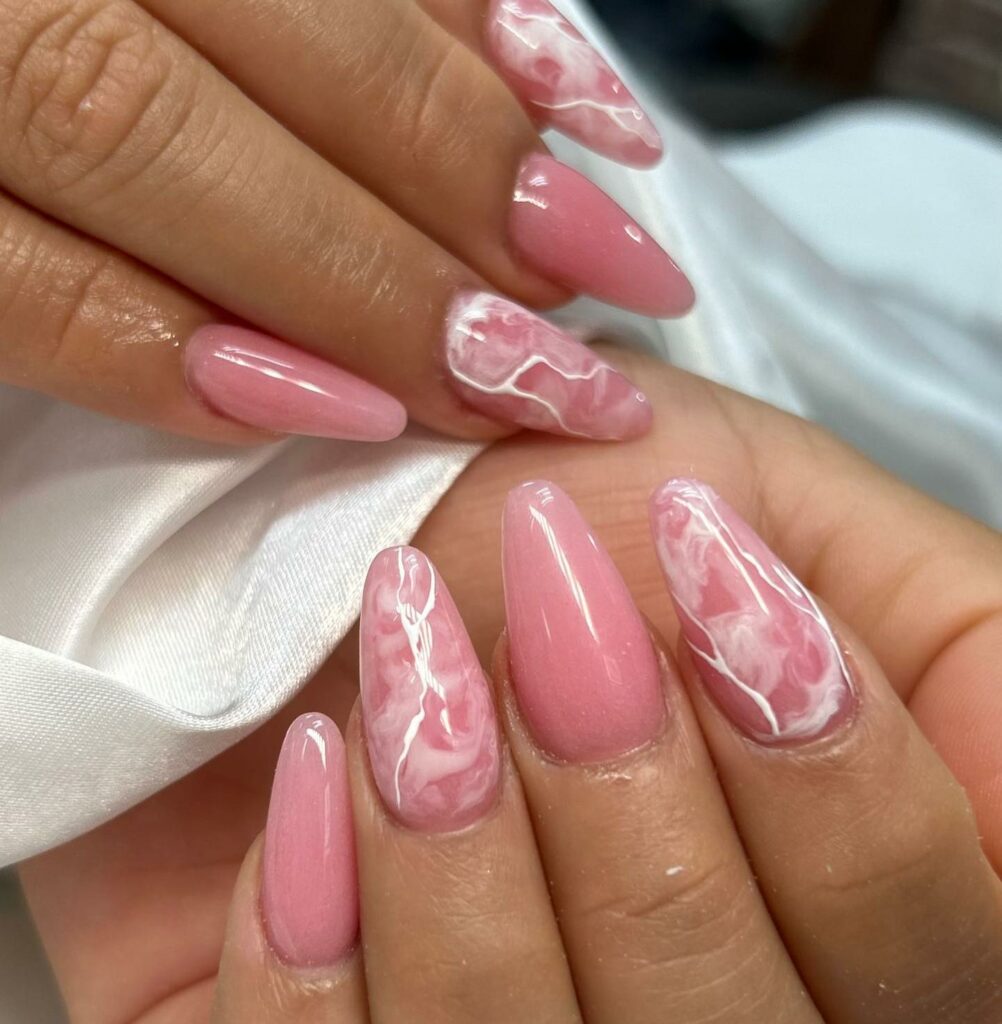 Marble Passion implies a manicure that takes the marble trend to new heights. Think bold colors and intricate patterns with a level of artistry that shows you're seriously passionate about your nail game.
Rose Quartz
A classic that never gets old, Rose Quartz nails offer a soft, translucent pink base with delicate veining. Its design speaks to understated elegance, perfect for daily wear and special occasions.
Purple And Pink Marble Nails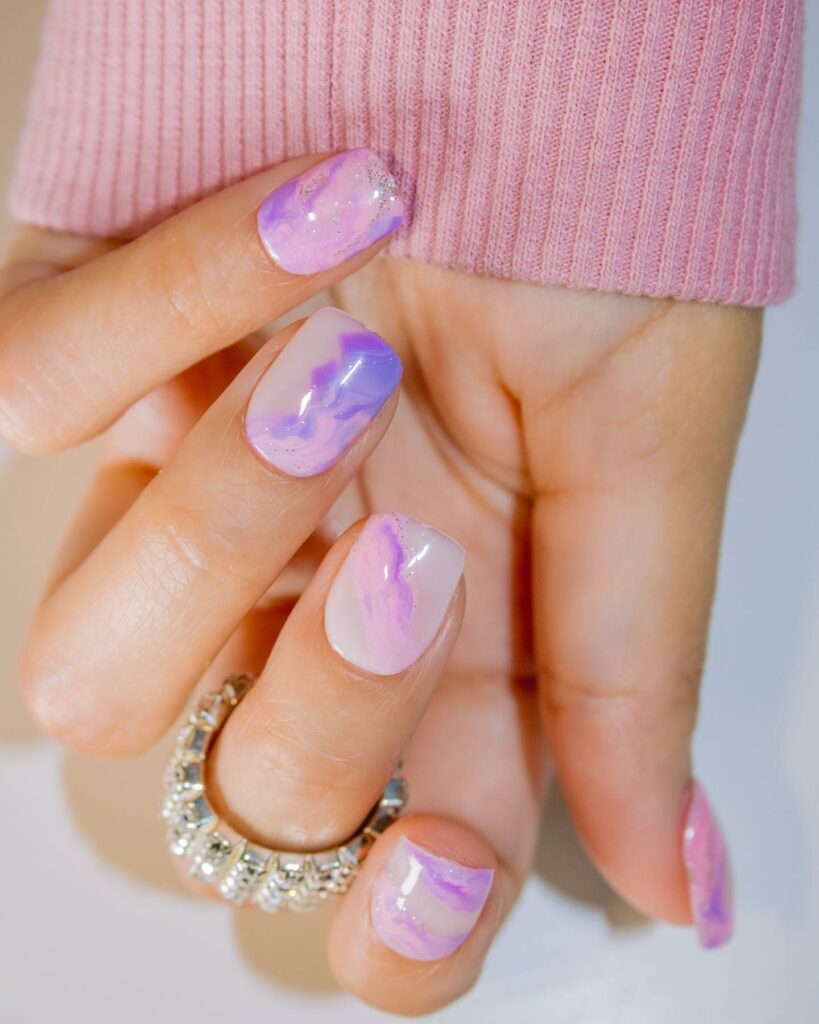 Combine the incredible allure of purple with the warm vibrance of pink, and you have a marble design that's both harmonious and attention-grabbing. It's a perfect choice for those who love to mix things up.
Rose Quartz With Gold Foil
Elevate the timeless elegance of rose quartz nails with the addition of gold foil. The foil adds a metallic shimmer, creating a luxurious contrast to the soft, translucent pink. This combo is perfect for special occasions or whenever you're in the mood for a touch of luxury.
Hot Pink Marble Nails
Hot Pink Marble Nails are your go-to if you're all about turning heads. These nails combine the drama of hot pink with the elegance of marble designs for a sassy and sophisticated look. I recommend a glossy top coat to make the colors pop.
Baby Pink Marble Nails
Simple, timeless, and versatile—Baby Pink nails are a classic choice for those who love a subtle yet stylish look. A matte finish can add a modern twist to this traditional shade.
Pink Blush Marble Nails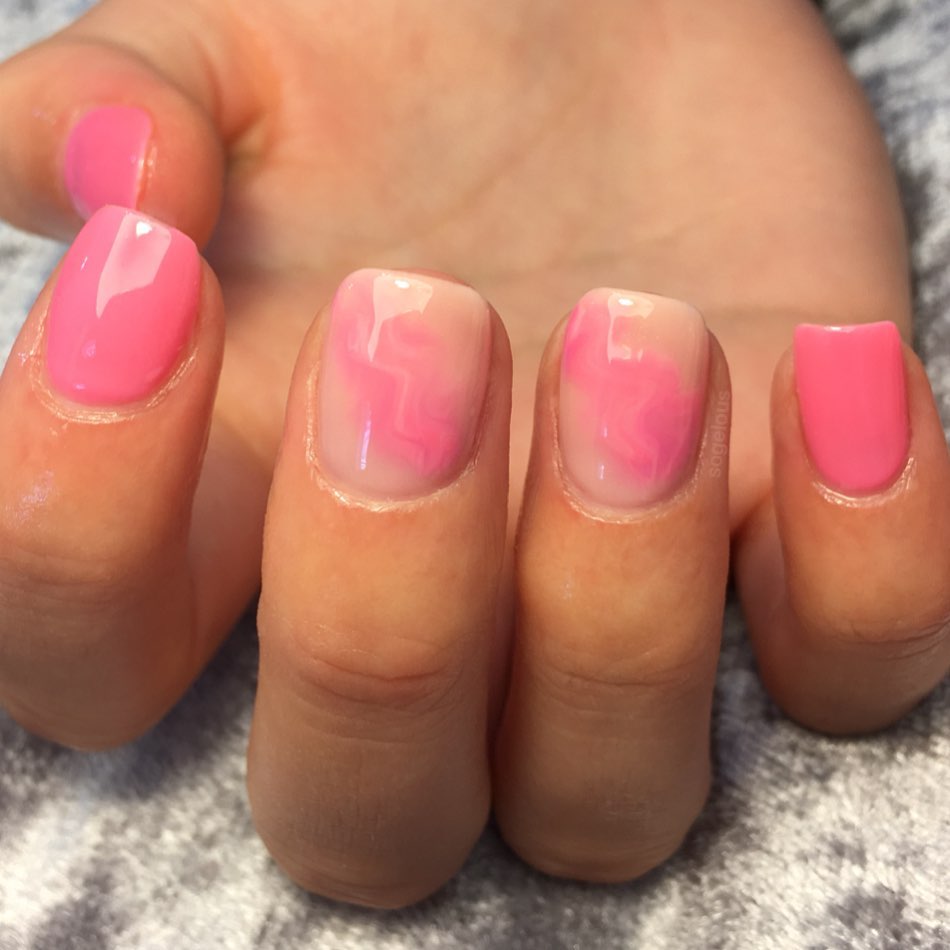 Captivating and mysterious, Pink Smoke nails give off an ethereal vibe that's hard to ignore. They're perfect for those who want to add a touch of drama without going overboard. Go for a smoky gradient effect to achieve this look.
Pink Marble Swirls Create The Perfect Square Nails
Pink Marble Swirls are a game-changer when it comes to achieving the perfect square nails. The swirl patterns add a layer of elegance and depth, making your square-shaped nails pop with sophistication and style.
Classic Rose Quartz Nails
Elegant and timeless, Classic Rose Quartz Nails offer a translucent, gemstone-inspired look that's hard to beat. It's a design that genuinely transcends seasons.
Bubblegum Pink Nails
You can't go wrong with Bubblegum Pink nails for a playful, youthful vibe. This color truly lifts your spirits and adds fun to any outfit.
Rose Pink Marble Nails
When you think of a feminine yet mature color, rose-pink nails come to mind. This versatile shade effortlessly transitions from day to night and works for any occasion. It's a little black dress of nail color.
Water Marble Effect
Imagine the beauty of natural marble combined with the fluidity of watercolor paintings—that's the Water Marble Effect. This technique creates a design that's both intricate and dreamy, making your nails an actual work of art.
Light Pink Marble Nails
A softer take on the marble trend, Light Pink Marble nails offer a pastel base with delicate veining. It's like having tiny, elegant canvases at your fingertips, offering a subdued yet sophisticated vibe.
Matte Pink And Rose Gold Foil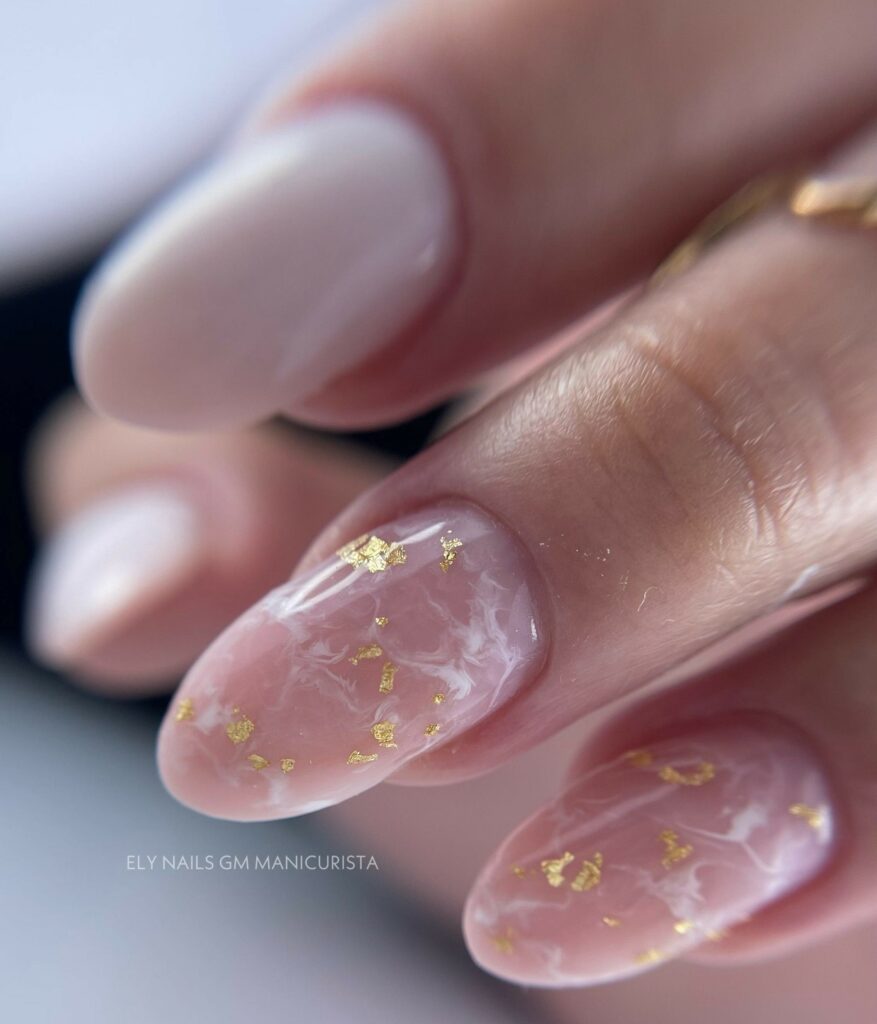 Matte Pink nails adorned with Rose Gold Foil accents, a combination that spells luxury, hit all the right notes. The matte finish provides a trendy contrast to the metallic foil, elevating your entire look.
Pink Marble Nails With Gold Flakes
Think of this as the holy trinity of feminine elegance. Pink offers warmth, white brings crispness, and gold injects a dose of luxury. This combo gives you a manicure that's balanced yet eye-catching.
Pink And Red Marble Nails
Perfect for the bold at heart, Pink and Red nails create a striking contrast that's both romantic and audacious. Whether it's Valentine's Day or you're just in the mood for love, this palette won't disappoint.
Rose Quartz Nail Design
This design has a soft, translucent pink base with delicate veining for a manicure that mimics the beauty of natural rose quartz. It exudes a sense of natural elegance and is perfect for those who love a bit of understated glamour.
Hot Pink MArble Nails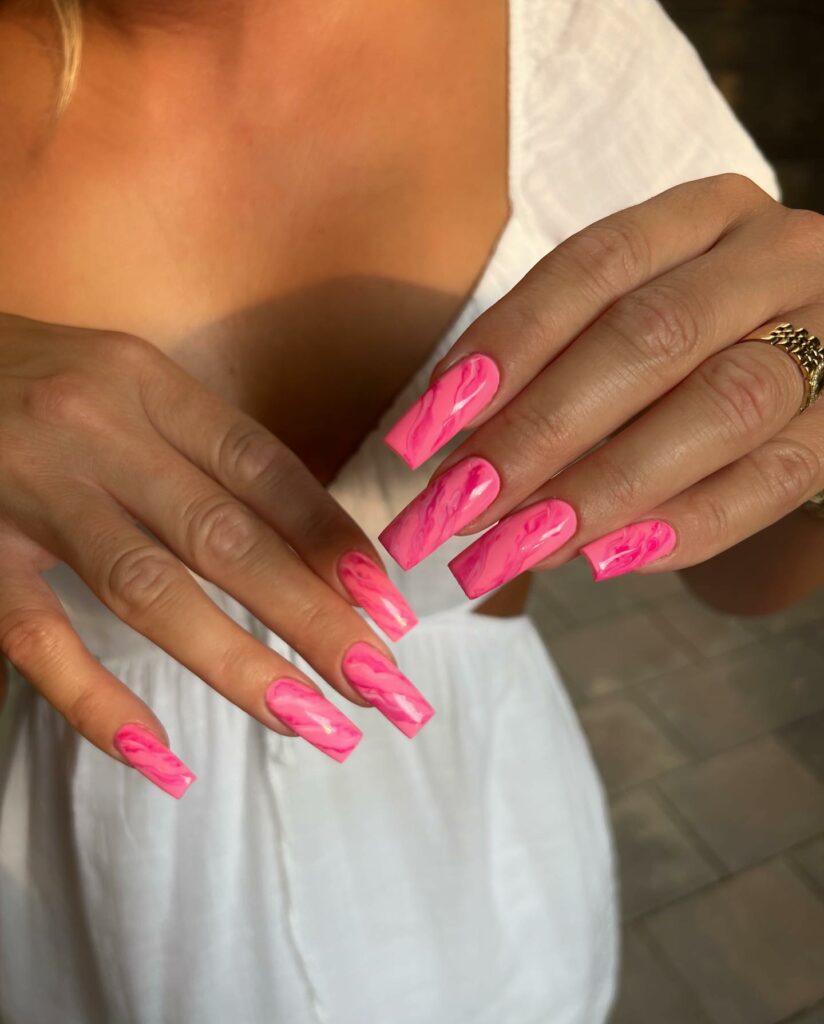 If you're aiming for a chic yet understated manicure, Clear Pink nails hit the mark. This translucent hue allows your natural nails to show through while adding a touch of color. Ideal for both casual and formal settings, it's a versatile choice that pairs well with almost any outfit.
Stiletto Crystal Pink Nails
This style brings the ethereal look of rose quartz crystals to life for fans of longer nails. The length allows for more intricate designs and gradients, making your nails look like gemstones. It is a must-try for anyone looking to make a luxe statement.
Rose Quartz With Gold Foil Nails
Elevate the already elegant Rose Quartz design by adding touches of gold foil. It adds a luxurious flair, making your nails look like precious gems.
Ballerina Rose Gold Marble Nails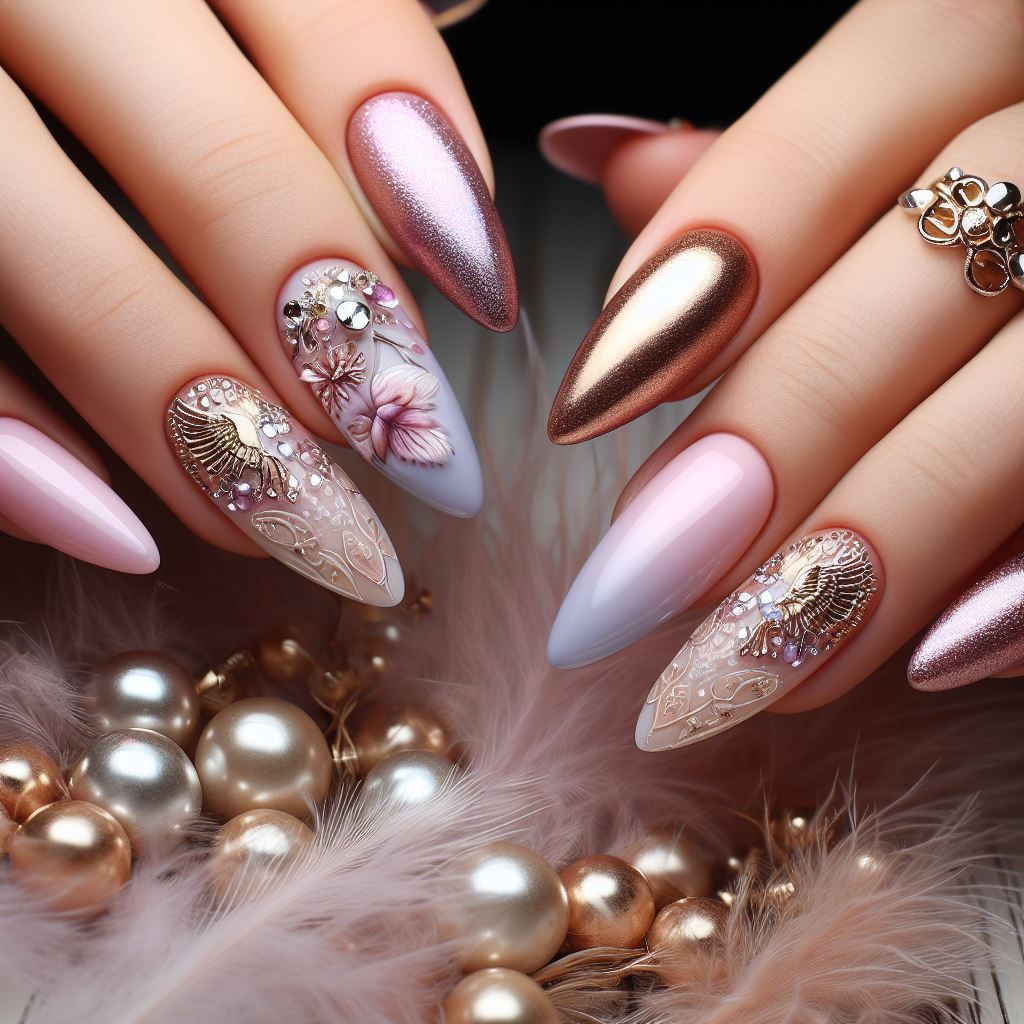 If you're after a high-impact, low-maintenance look, this one's a game-changer. Combining the subtle elegance of pink marble with the neutrality of nude, and topped with a luxurious rose gold accent—all in a matte finish. The best part? They're press-on, making it easy to sport a sophisticated manicure without the salon visit.
Short Marble Nails
Don't let length get in the way of style! Short nails can look equally stunning when done right. Choose bold colors and minimalist designs for a chic look that's easy to maintain.
Neon Pink
Want to make a bold statement? Neon Pink nails are as loud and lively as you can get. These are especially fun for summer festivals or nights out on the town.
Purple, Pink And Gold
A royal combo that screams luxury, Purple, Pink, and Gold nails are perfect for feeling like a queen. The gold accents add a regal finish to the vibrant base colors.
Pink Swirl And Gold Nails
This design takes artistry to the next level. Pink swirls paired with gold offer a balance between playful and lavish, making it a go-to for special events.
Silver Chrome Accents
Want to add a futuristic flair to your nails? Silver Chrome Accents do just that. They can be paired with virtually any base color to give your nails a sleek, modern edge. The reflective surface adds dimension and catches the light beautifully.
Red Pink And Rose Marble
Red Pink nails blend the best of both worlds— the fiery energy of red and the feminine softness of pink. This look is perfect when you can't decide between the two shades. It's passionate, it's playful, and it's uniquely you.
Baby Pink Glitter
Why settle for plain when you can sparkle? Baby Pink Glitter nails offer a delicate hue amplified by a dash of glitter, taking your manicure from simple to sensational.
Translucent Marble Nails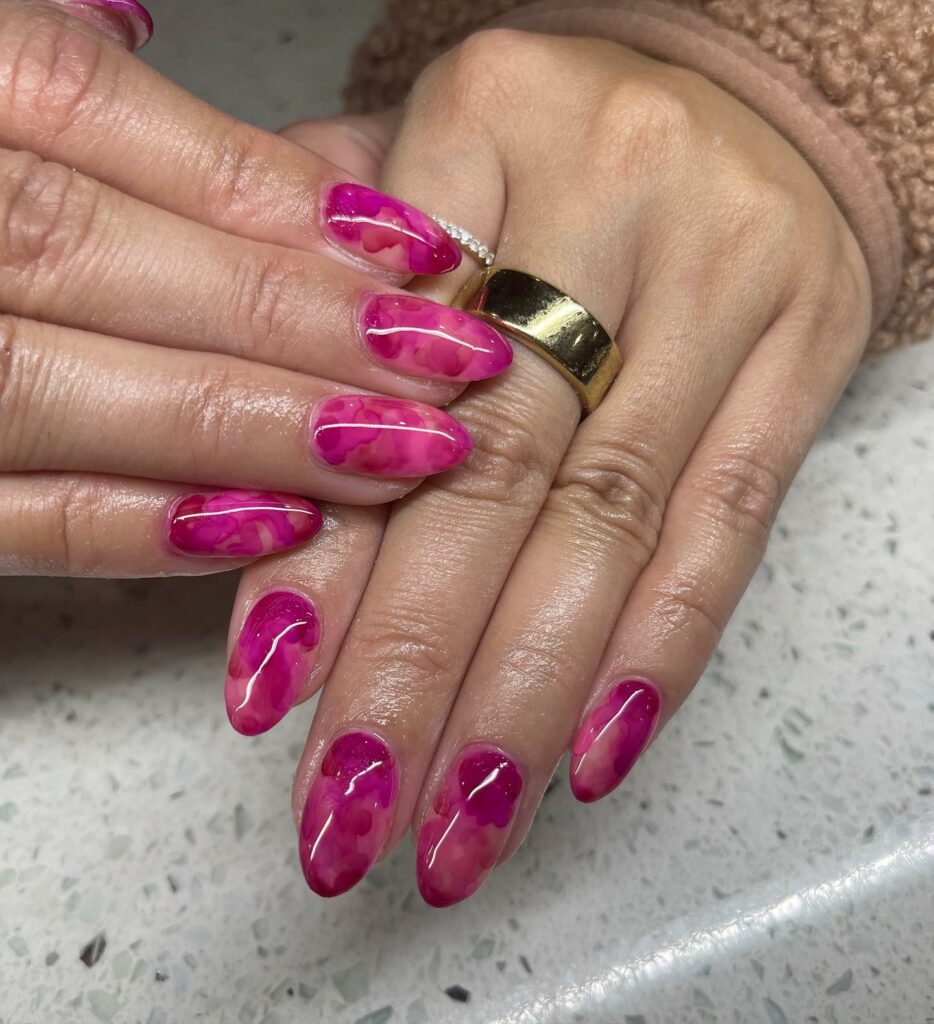 If you're looking for a salon-quality look without the salon time commitment, Hand Painted Press-On Nails are your answer. Each nail is a miniature canvas, allowing for intricate designs that can be easily applied at home.
7 Best Polishes That I Recommend To Marbled Nails
OPI Nail Lacquer: Known for its rich pigmentation and smooth application, OPI's range offers the consistency you want for marbling.
Essie Nail Polish: Essie's formula is another win for marble designs. It's less prone to quick drying, giving you the time to work that marble magic.
China Glaze: This brand offers a range of vibrant colors that stay true even when manipulated for marbling. Bonus: it's relatively chip-resistant.
Sally Hansen Miracle Gel: If you're going the gel route, Sally Hansen's Miracle Gel offers the kind of longevity and high shine that looks fresh for days.
Zoya Nail Polish: Zoya's got you covered if you're looking for a toxin-free option. Their formula works surprisingly well for marbling, especially considering it's free from harmful chemicals.
CND Vinylux: This one is particularly great if you're after a long-lasting effect. The formula is designed to strengthen its resistance to chips over time.
Orly Breathable Nail Polish: Good for your nails and great for marbling, Orly's Breathable line offers vivid colors without compromising nail health.
A pro tip: always test your color combinations on paper before going in on your nails. This way, you'll know how the colors will meld and whether the polishes you chose work well together for marbling. Happy painting!
10 Tips To Create A Salon-Quality Finish
Prep Work is Key: Be sure to prep your nails. Shape them nicely, push back your cuticles, and remember to buff the surface lightly for better polish adhesion.
Use a Base Coat: It's not just an extra layer; a base coat provides a smooth canvas for your color and helps prevent staining.
Two Thin Coats: Instead of going for one thick layer of color, aim for two thin coats. It'll dry faster and more evenly, reducing the risk of smudges and dents.
Take Your Time: Rushing often leads to mistakes. Take your time, especially when doing detailed work like marbling or adding accents.
Use High-Quality Tools: Invest in a good set of brushes for intricate designs and a clean-up brush to tidy up any mistakes around your cuticles.
Seal It In A top coat is non-negotiable. It locks in your color and gives that glossy salon finish (or matte, if that's your vibe). Some even have quick-drying formulas that'll save you precious time.
Cap the Tips: Run your top coat along the tip of your nail to seal in the edge. This helps prevent chipping and prolongs the life of your manicure.
Mind the Gap: When applying polish, leave a tiny gap between the polish and your cuticle. It gives a cleaner look and reduces the risk of lifting.
Perfecting the Marble: A small drop of another polish color while the base is still wet can work wonders for marble designs. Then, use a toothpick or a fine brush to swirl the colors.
Hydration Station: Once everything is dry, slather on some cuticle oil. It'll give your nails that final touch of salon-level lushness.
10 Tips I Recommend To Create A Smoky Gradient Effect With Pink Marble Nails
Start with a Base Coat: Take this step; it's essential for a smooth finish and protecting your nails from staining.
Apply a Light Base Color: For the Pink Smoke effect, start with a light pink or nude base. This serves as the canvas for your smoky masterpiece. Let it dry completely.
Choose Your Colors: Pick a darker pink for the smoke effect. You can even add black or gray for extra dimension.
Get Your Tools Ready: A makeup sponge is your best friend for this look. You'll also need a small plastic wrap or a sandwich bag.
Dabbing Time: Apply some darker pink polish onto the sponge. Dab it lightly over the base color, focusing on one area of the nail to create a 'cloud' of color. Don't cover the entire nail; the idea is to create pockets of smoky color.
Plastic Wrap Method: If you're going for a more 'swirly' smoke effect, put a few drops of the darker pink (and, optionally, black or gray) on your light base while it's still tacky. Then, press a crinkled piece of plastic wrap onto the nail and lift it off to create a marbled, smoky effect.
Blend, Blend, Blend: If the colors look too harsh or disjointed, use the sponge to lightly dab and blend the colors. You can go back and forth between shades to get the desired effect.
Clean-up: Use a brush dipped in nail polish remover to remove any polish that may have strayed outside the lines.
Top Coat: Seal it all in with a clear top coat. This smooths out the gradient and gives your nails a glossy finish.
Optional: Add Some Sparkle: If you want to elevate your look even more, a touch of glitter polish or a couple of rhinestones never hurt!
Still Looking for Inspiration, Then Check Out This Video
Conclusion
Alright, that wraps up our whirlwind tour of some of the most Insta-worthy nail trends out there! Whether you're vibing with the understated elegance of Clear Pink or ready to go full-on glam with Long Rose Quartz Crystal Pink Nails, there's something for everyone. My top tip is don't skimp on the base coat; it's the foundation for any excellent nail look. And if you're a newbie to nail art, press-on options are a fab way to get a pro look without sweating over intricate designs. Remember, your nails are the finishing touch to any look, so have fun! Till next time, keep those nails looking fierce.
Feature Image Photo By samrosenails on Instagram
Last reviewed and updated on November 1, 2023