In today's hectic life, taking time to pamper yourself seems more like a luxury than a routine. However, a sprinkle of self-care, especially focusing on our often-neglected feet, can be a year-round joy, not just a summer indulgence. Step into the vibrant world of pink pedicures with this enlightening blog post, where we'll explore everything from selecting the perfect shade to match your skin tone, to the surprising psychological perks it offers. Whether you're a self-care veteran or a newbie, this guide promises to be your cozy haven, packed with tips and insights on the latest trends and the most nourishing products to give your feet the royal treatment they truly deserve. Ready to add a splash of elegance and tranquility to your routine? Dive in, and discover how a pink pedicure can transform even the most mundane day into a delightful affair!
JLo's Luxe: Dazzle with Bedazzle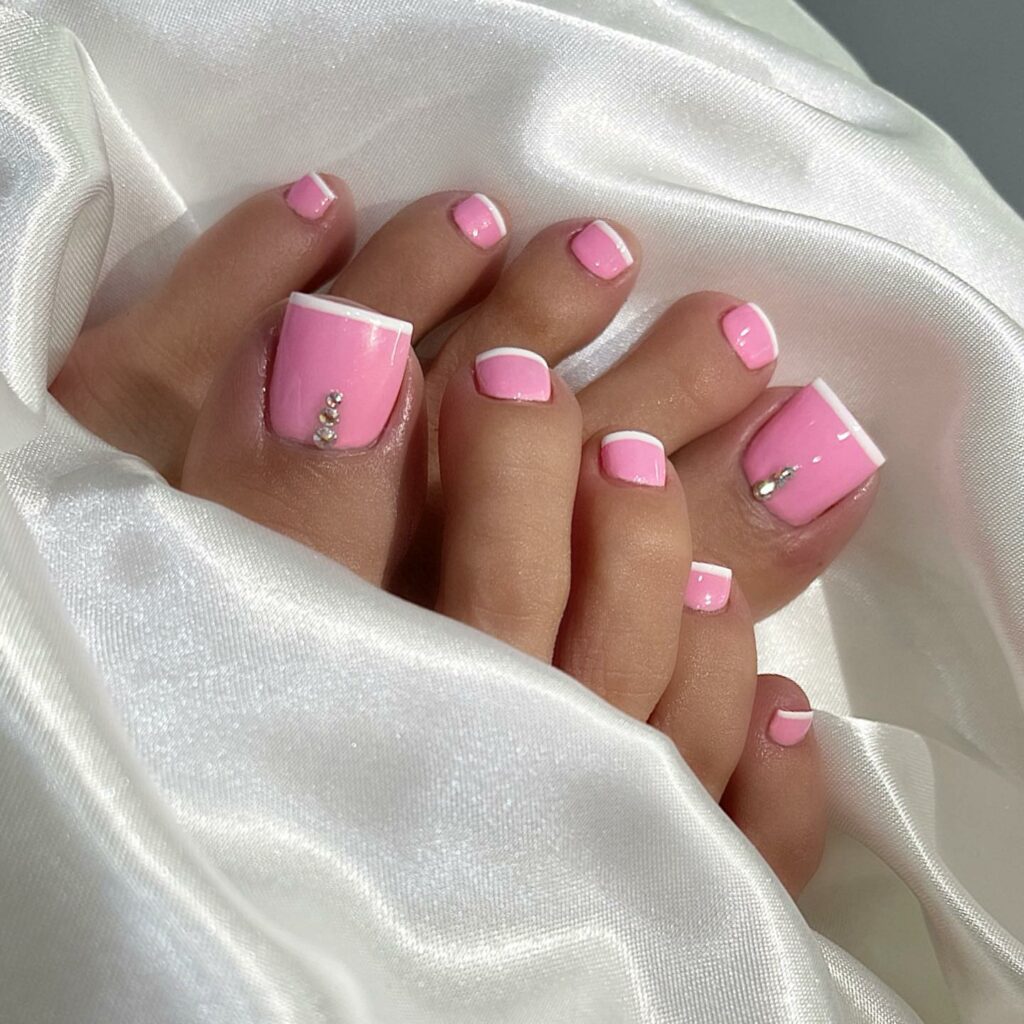 Remember when Jennifer Lopez slayed that bedazzled pedicure a while back? Channel your inner diva and shine bright with some luxe nail gems.
Rose Milk Latte Euphoria
There's something magical about a rose milk latte, isn't there? The subtle play of pastels always reminds me of a calm sunrise. Why not translate that serenity onto your nails? Opt for rose-colored swirls for a pedicure that embodies both subtlety and individuality. I tried this last winter, and I felt instantly cozy and chic every time I caught a glimpse of my toes.
Dive into a Mermaidcore Dream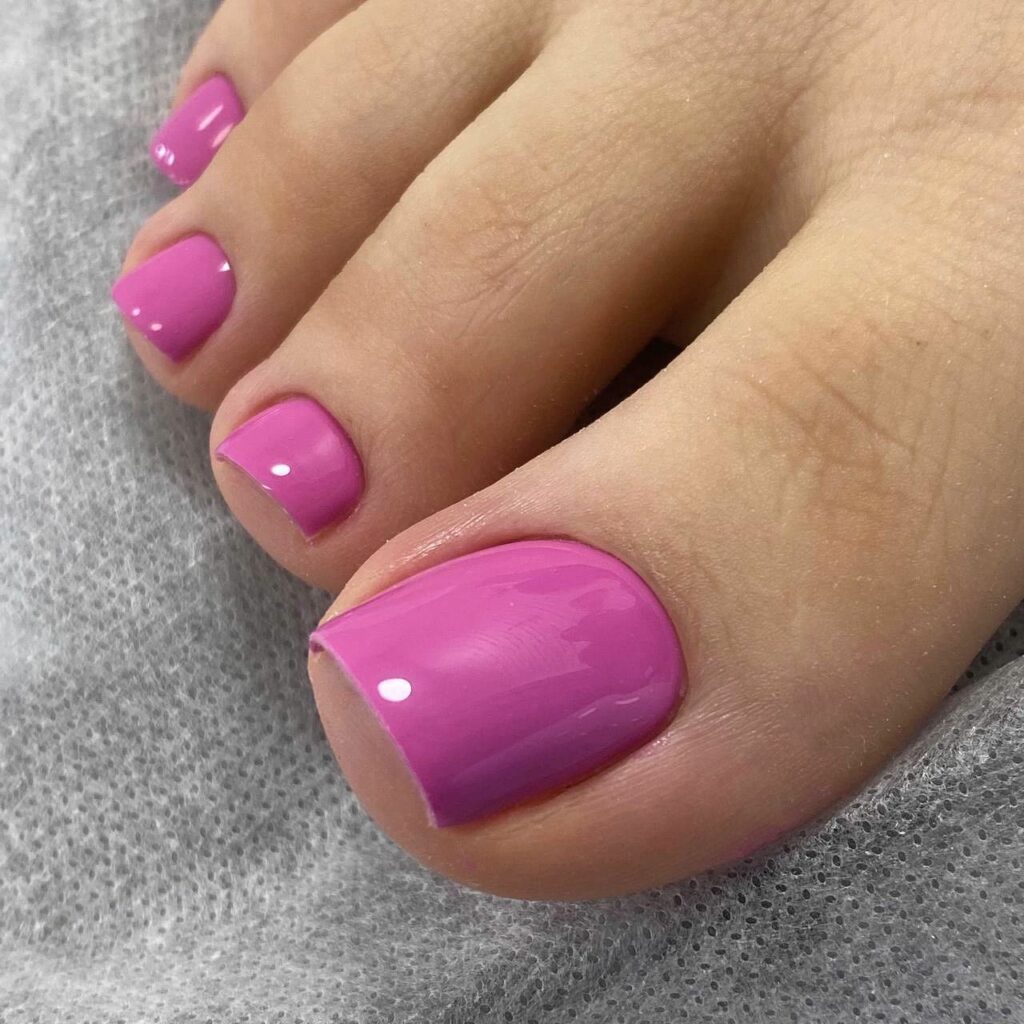 Lights Lacquer's hue, So Long, Lover Boy, is your passport to a mermaid's realm. Its unique shade shifts from pink to touches of purple and is reminiscent of shimmering seashells under the sun. It's a personal favorite when I'm dreaming of ocean adventures.
Whispering Luxury: The Baby Pink Gloss Look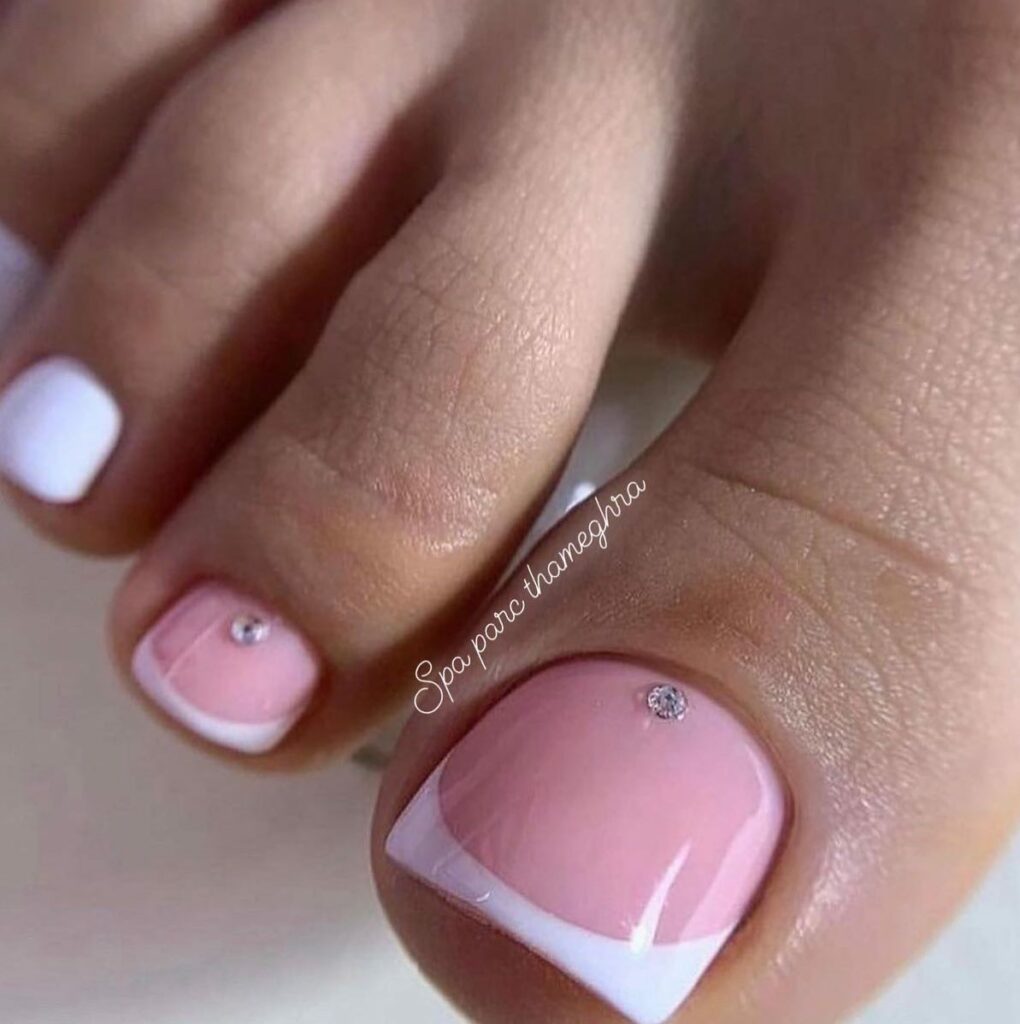 Have you seen Kourtney Kardashian and Kylie Jenner flaunting that minimalistic mani? A high-shine pedicure in baby pink whispers luxury while keeping it classy all year round. It's the perfect choice for those brunches where you want to keep it effortlessly stylish.
Blossoming Abstract Florals
There's art, and then there's nail art. Elevate your pedicure game with delicate, watercolor-like flower petals that stand out without overpowering. I sported this look during a spring getaway last year, and the compliments were endless!
A Modern Twist: Pink French Tips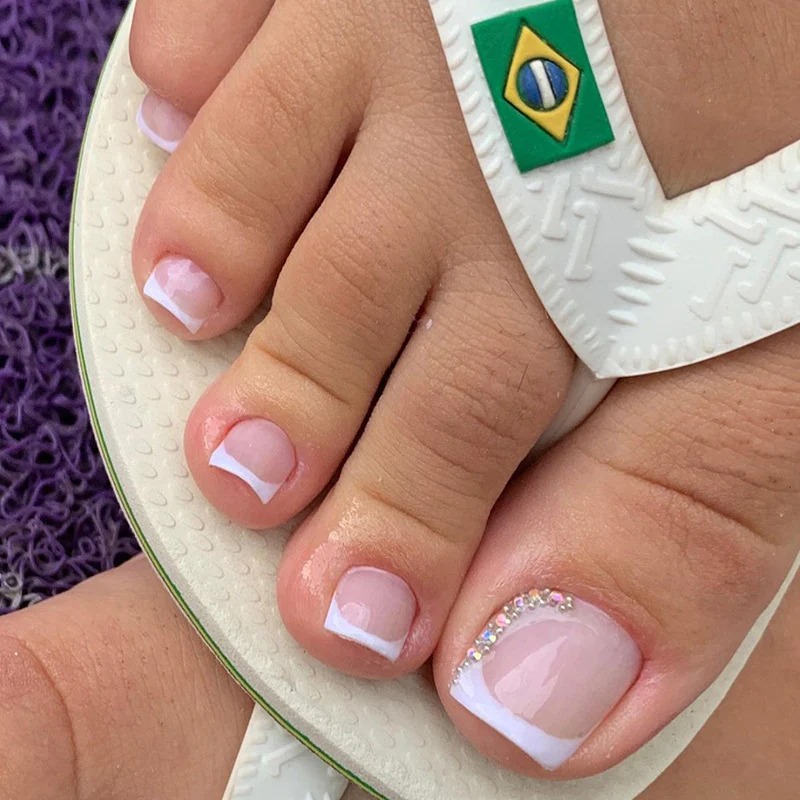 Give the traditional French pedicure a fun spin by swapping stark white for playful pink tips. Simple, yet undeniably elegant.
Finding the Perfect Pink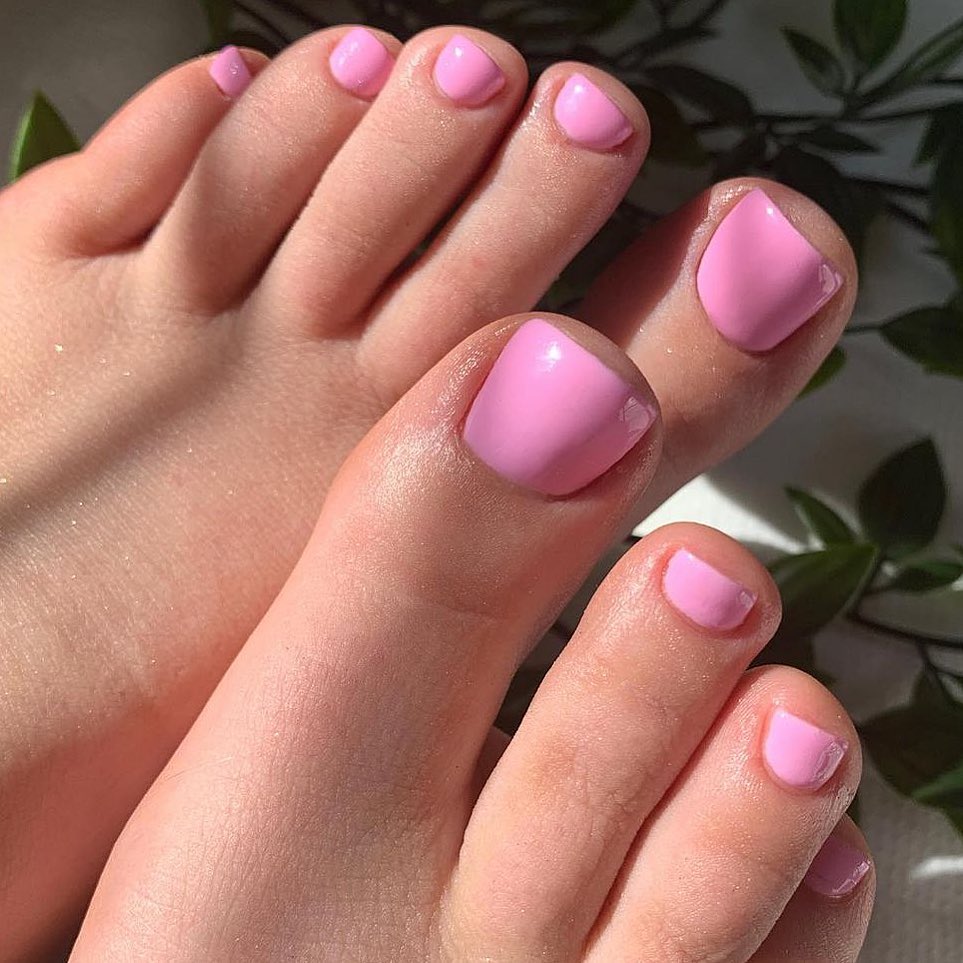 When I'm painting at home, I'm often reaching for a gentle wash of pink. Color Dept. has some of the most captivating shades, like Talk To Me (a serene muted rose) and Razzmatazz (bolder pink). Perfect for those chill movie nights!
Presto, Perfect Pedi!
Are you in a rush? No worries! The Kiss imPRESS Color Press On set has got you covered. A flawless pink pedi in an instant.
90's Checkerboard Charm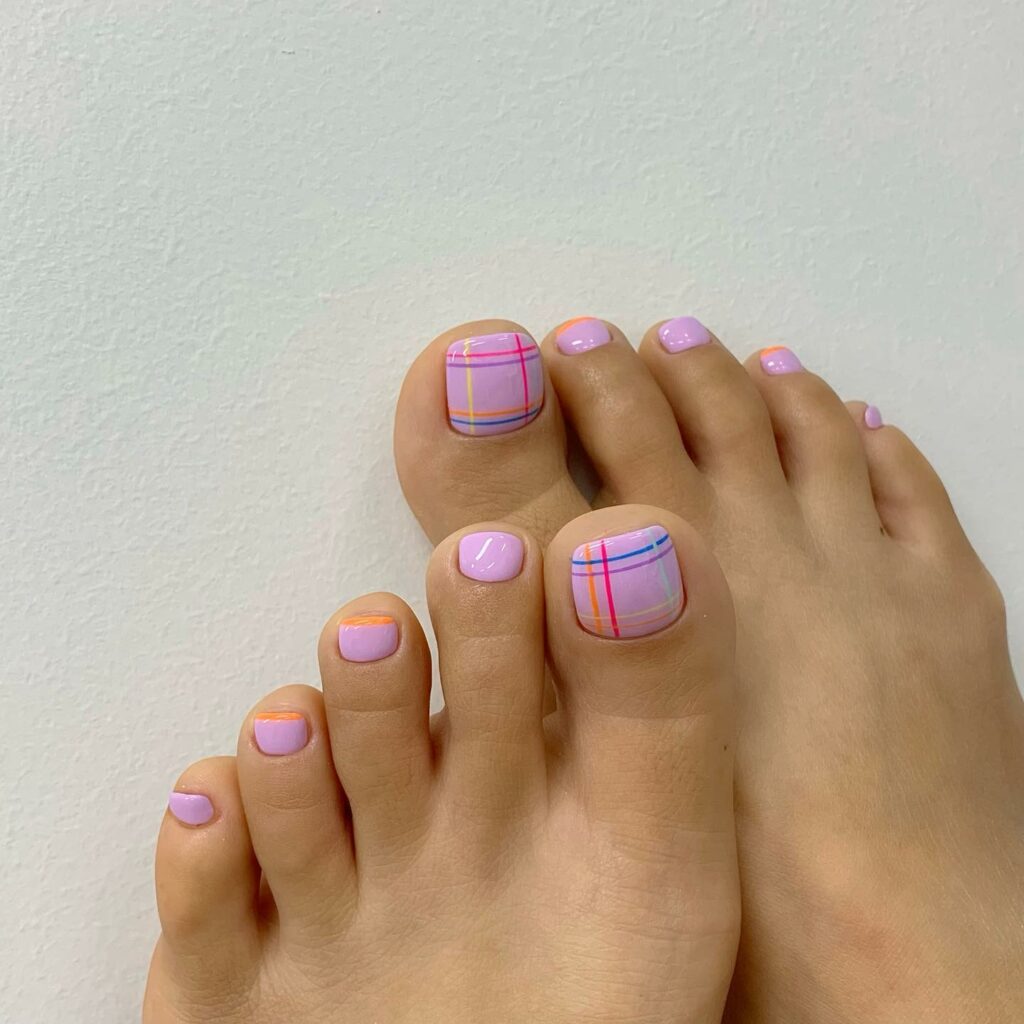 Ahh, the 90s! Remember those checkered Vans? Turn that nostalgic inspiration into a playful pink checkerboard nail art that will turn heads.
Timeless Elegance: Sheer Pink French Toes
Need help with which style to choose? You can't go wrong with sheer pink-hued French toes when in doubt. It's a timeless classic.
Twinkle Toes with Mooncat
Mooncat's Alice In Wonderland-inspired polish, Do You Play Croquet? is like stardust for your toes. It's ideal for those moments when you want to shimmer and shine.
Roar in Pink: Bold Animal Prints
For those fearless souls looking to make a statement, an animal print on pink is the ultimate showstopper.
Dazzling Pink Night Out
Prepping for a night out or a fancy event? A dash of glitter on your hot pink pedi can work wonders! Trust me, your feet will be the talk of the night.
Runway Ready: Bold Stripes
Inspired by high fashion, bold stripes on a vibrant pink base are where creativity meets class. Play with contrasts using colors like black or white to make those stripes pop.
Tropical Getaway on Your Toes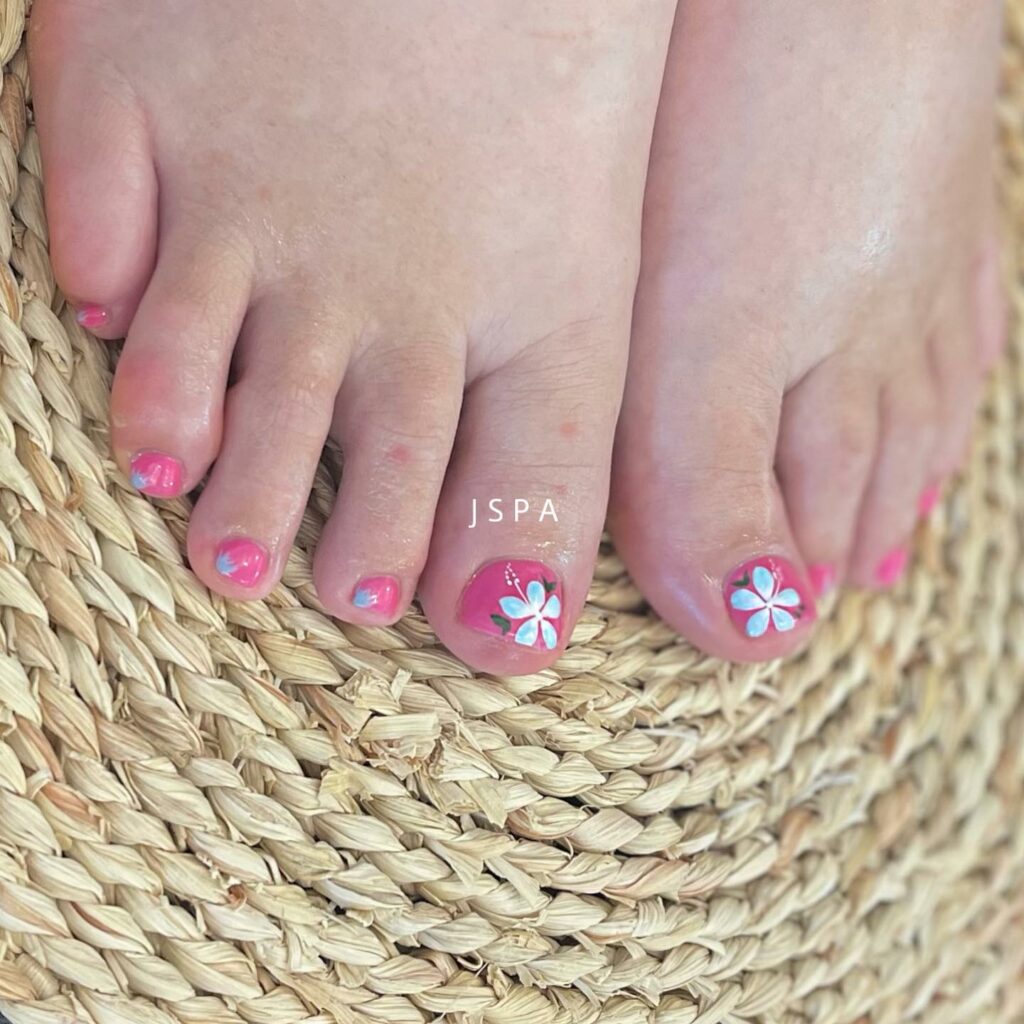 Last summer, I had the most fantastic tropical vacation. While I was there, I adorned my pink pedicure with a medley of floral designs. It's a beautiful way to carry those beach vibes wherever you go.
Iridescent Glitter Wonderland
Step into a fairy tale with this iridescent glitter-pink pedicure that seems to have a magical aura. A subtle blend of off-white and lilac pink, this hue gleams charmingly as it catches the light, creating a mesmerizing effect. Adding an embellished accent nail is a personal favorite hack of mine to elevate the entire look.
Sakura Blossom Bliss
Let's welcome the blossom season right at our feet with this sakura cherry blossom toenail art! This design is a visual delight in spring and makes a stunning statement in summer when paired with white strappy sandals. Trust me, the delicate petals and high-shine finish have never failed to earn compliments at garden parties!
Magical Girl Vibes
Are you ready to channel some enchanting vibes? The iridescent white and pink combo on your toenails will do just that. The reflective pieces within this art truly bring out a vibrant pop, making your feet look nothing less than magical.
Pink French Pedicure Perfection
Revamp the classic with a sensational pink French pedicure. The harmonious blend of two shades of pink is a total eye-catcher, and those little embellishments add the perfect touch of glamour, making your feet ready for a stylish stroll down the avenue.
Glitter Confetti Fiesta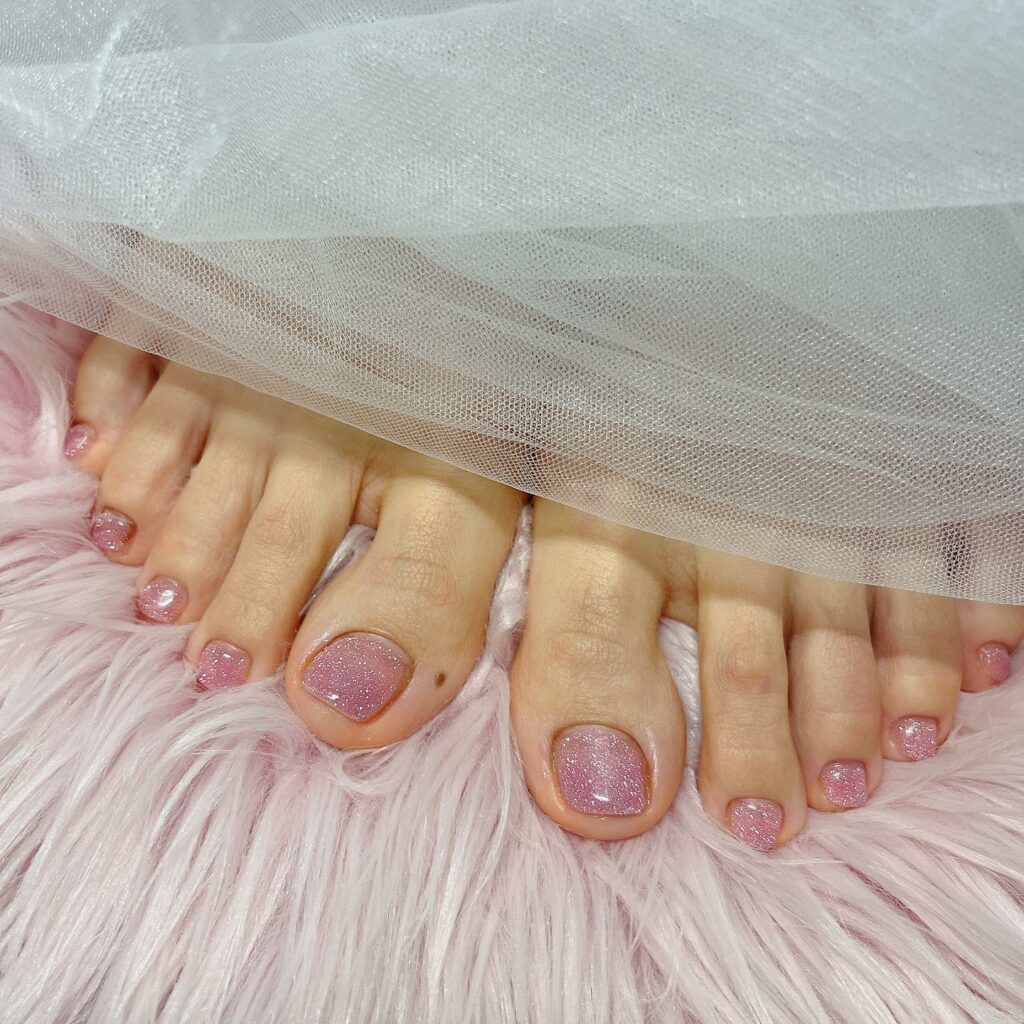 This one is for all the sparkle lovers out there! Incorporate glitter confetti into your pink nail art to create a shimmering masterpiece. It's like hosting a little party on your toenails, where the confetti catches the light splendidly at every step.
Golden Pink Elegance
Dive into luxury with this exquisite pink and gold toenail look. The warm gold accents bring a rich and deluxe vibe to the pink, transforming your pedicure into art.
Baby Pink Sparkle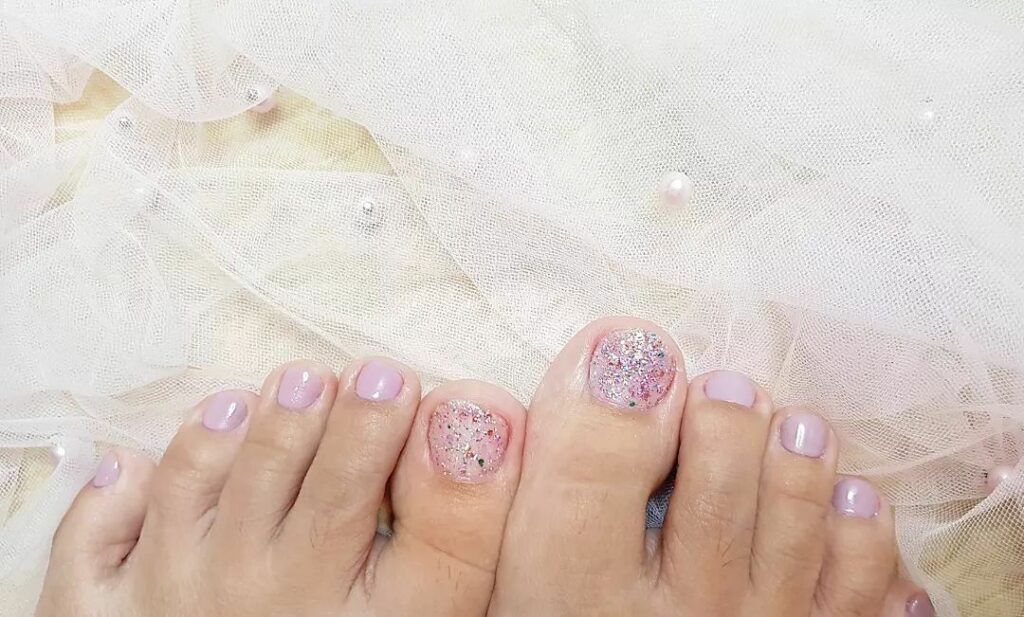 Taking inspiration from the early 2000s, these baby pink glitter toenails exude cuteness. Mixing different finishes creates a delightful contrast, culminating in a cohesive look that's both nostalgic and fashionable.
Angelic Silver and Pink Harmony
Behold a pedicure that resonates with grace and poise. The silver and pink combination gives off angelic vibes, making it a splendid choice for winter, though I'd happily rock this all year round, especially during festive occasions.
Revamped French Tips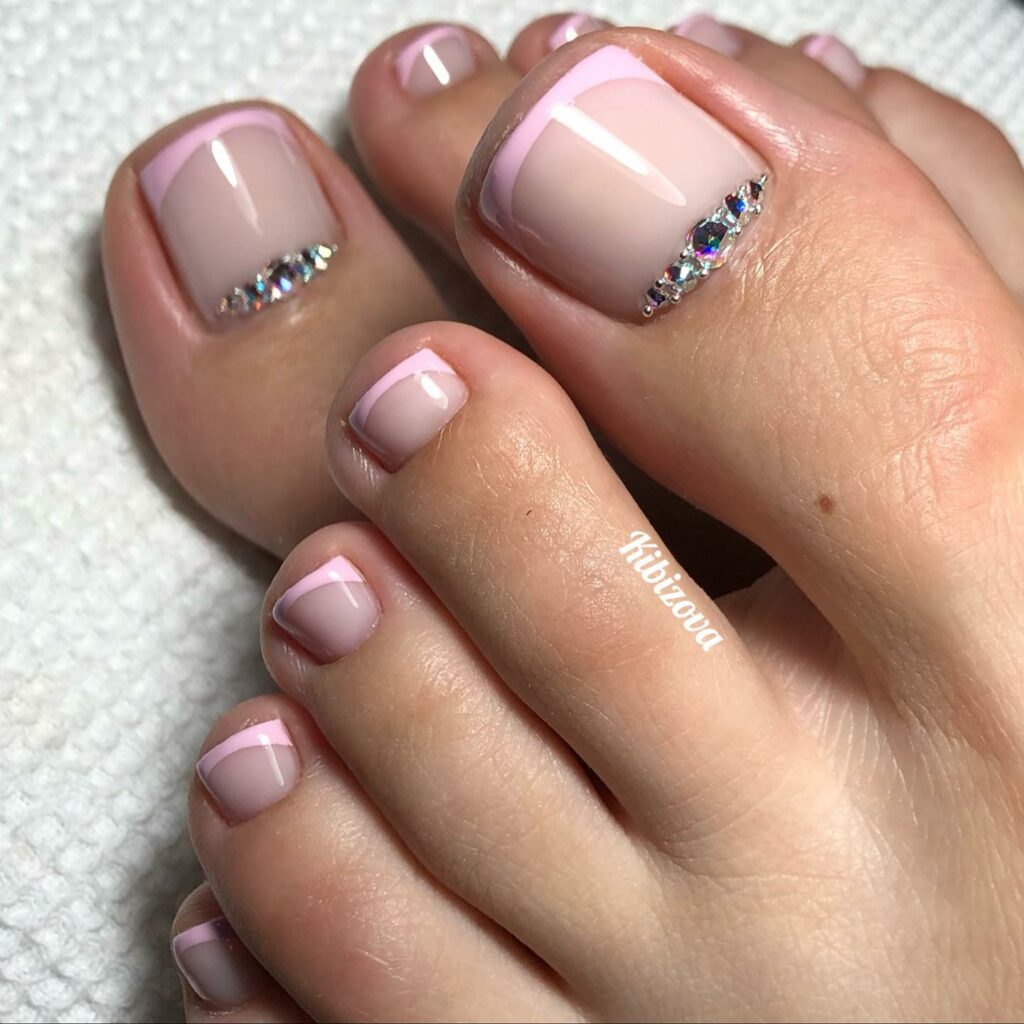 Here comes a refreshing twist on the traditional French tip pedicure. Baby pink takes center stage, offering a cute yet polished look, a fantastic way to subtly incorporate pink into your nail art routine.
Matt & Silver Fusion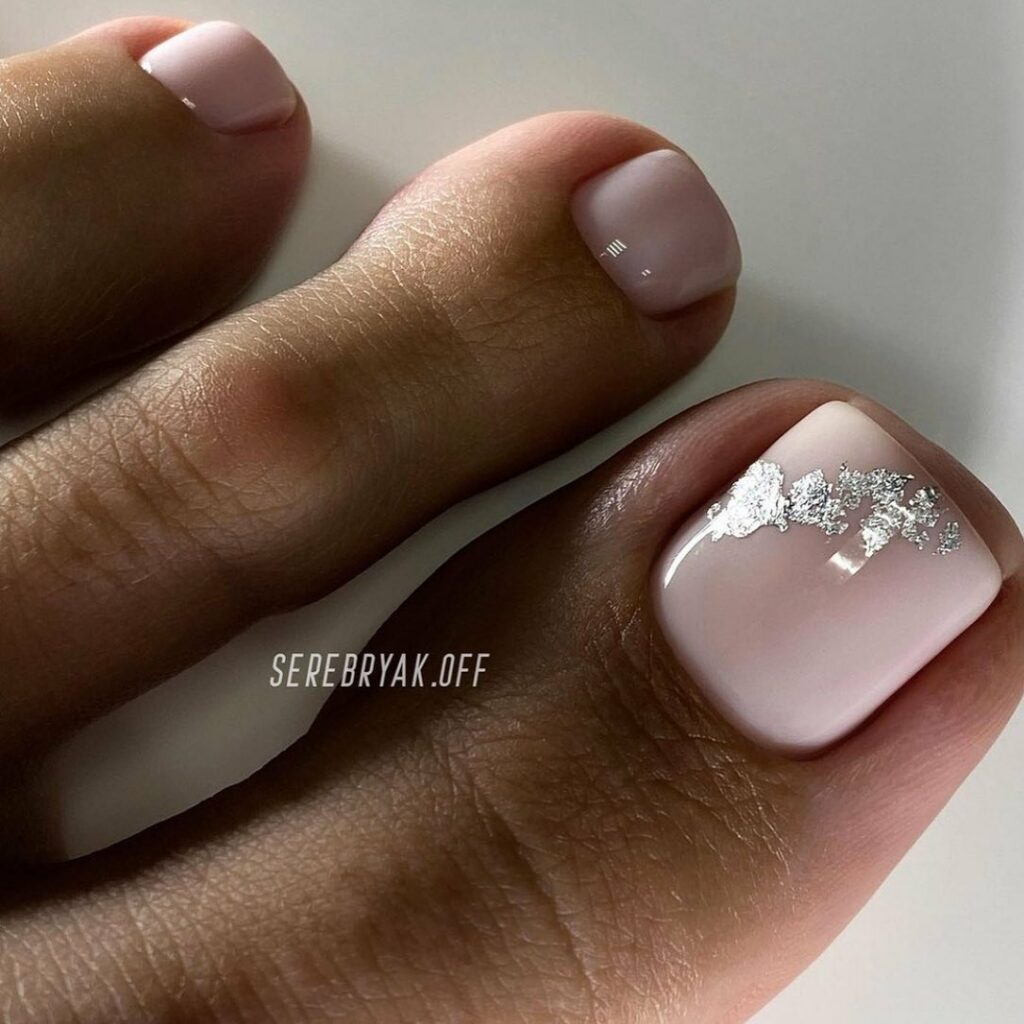 Witness the elegance of this pink and silver toenail art. The matte finish and silver foil detailing create an absolutely stunning contrast, a personal favorite when I want to add a hint of sophistication to my look.
Pastel Pink Simplicity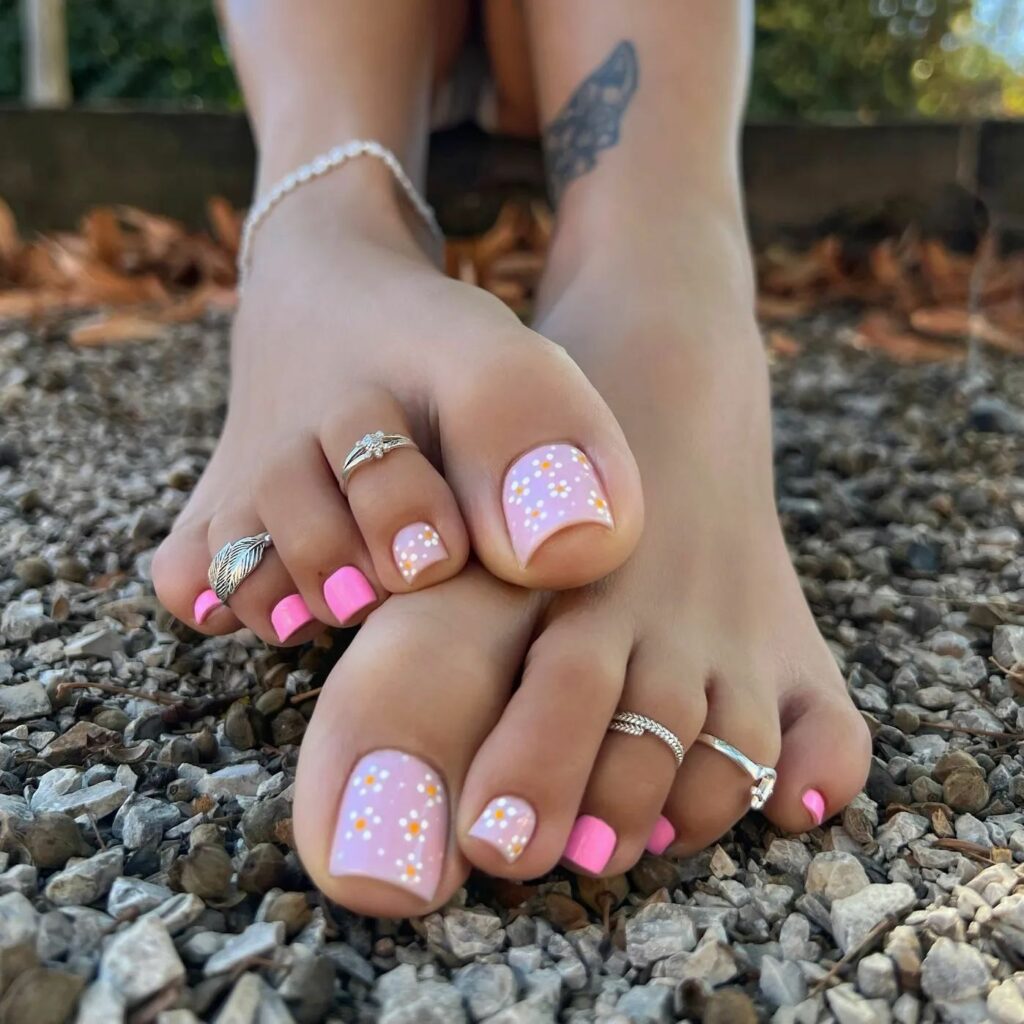 Embrace simplicity with a pastel pink pedicure that showcases a refined charm. I adore the addition of a pink glitter strip, which brings a sparkling contrast to the glossy base, a subtle yet splendid choice for any occasion.
Wave of Creativity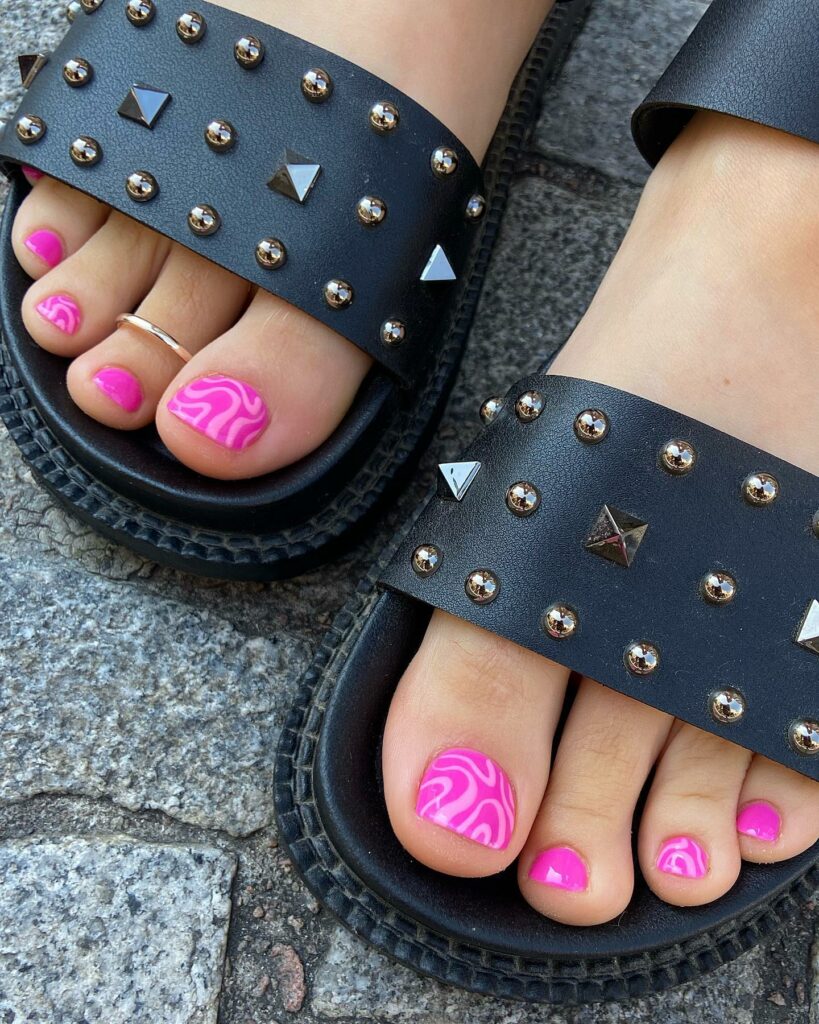 Dive into the summer spirit with this striking pink wave toenail art. Trust me, this design has a remarkable pop against tanned and darker skin tones, adding a wave of creativity to your summer ensemble.
Party Pink Iridescence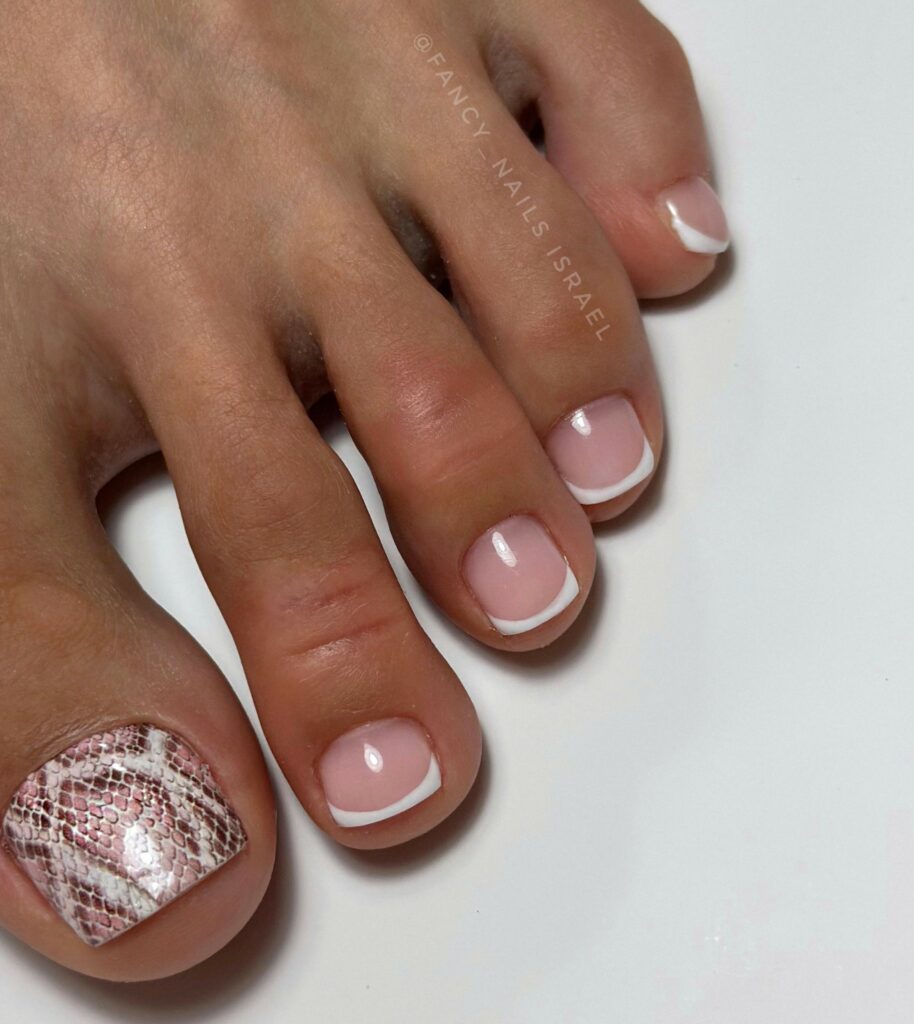 Get ready to party with these iridescent pink toenails that remind us of the striking early 2000s. The sequins catch the light in such a way that your feet will be the life of the party!
Pastel Magic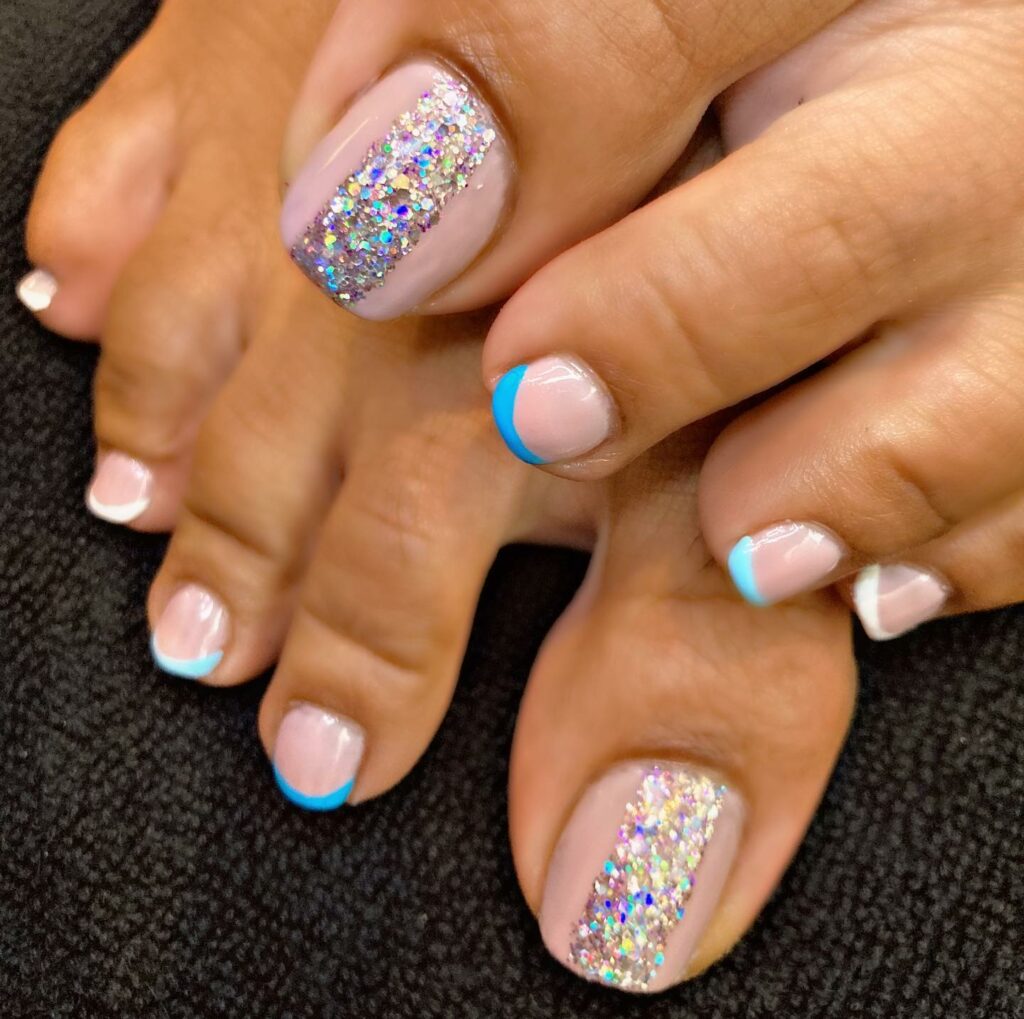 Step into a world of magical pastel ombre designs, merging beautiful pastels with iridescent finishes and mini stars. It's a whimsical concoction of elements that create an unparalleled pedicure experience, a personal all-time favorite!
Shimmering Pink Metallic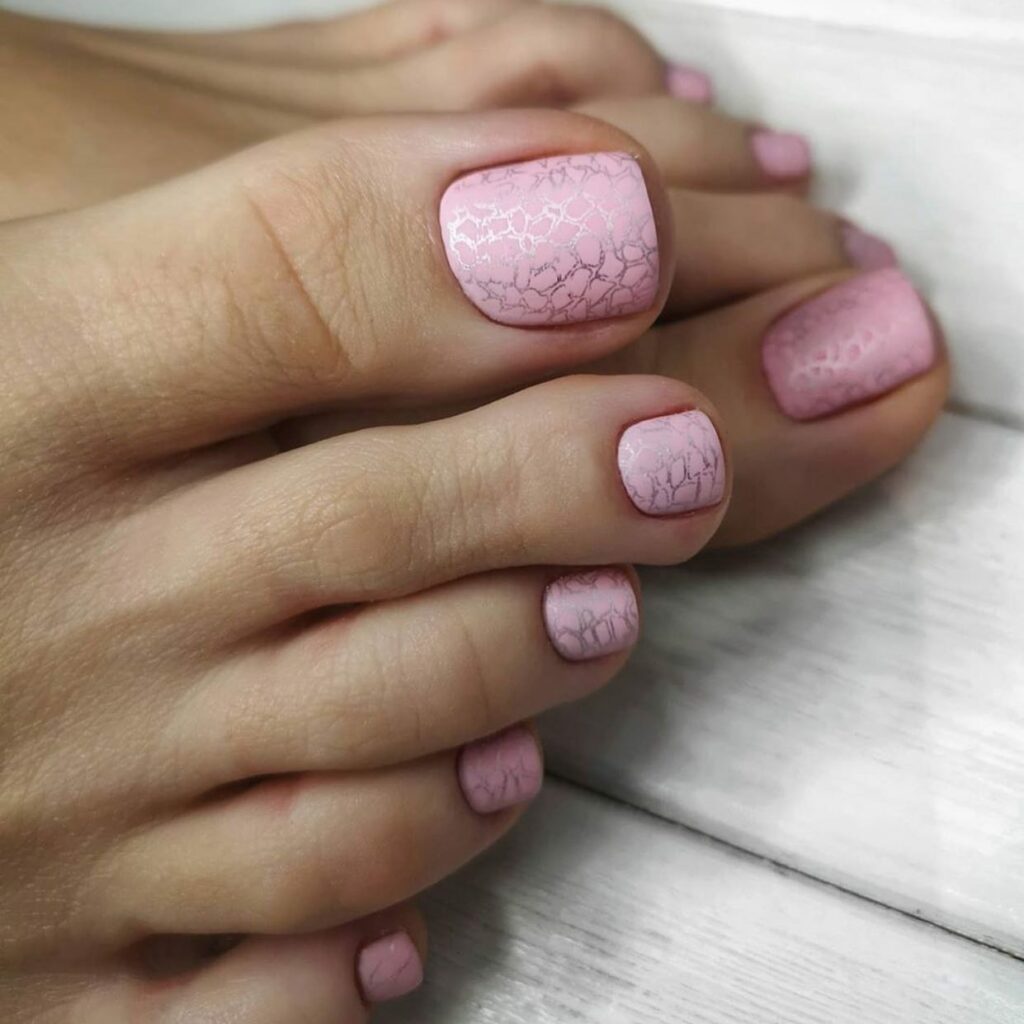 Bring some shimmer to your traditional pink pedicure with this metallic look. It's a subtle way to dress up your toes, adding a vibrant and delightful glow to accompany you on your adventures.
Glittering Vertical Charm
Let's embrace the unique charm of this pink glitter toenail art. The cut-out section in the middle, accompanied by vertical stripes, offers a fresh perspective, creating a modern and magical look. It's a delightful finish brings a sprinkle of fun to your pedicure routine.
I hope you're inspired to try out these fun and chic designs. Remember, your pedicure is an extension of your personality, so wear it proudly! I am looking forward to sharing more beauty tips with you all. Stay fabulous, and keep those toes twinkling!
What Are The Hidden Psychological Perks Of A Pink Pedicure?
Diving into the beautiful realm of pink pedicures is not just a feast for the eyes but can also offer a bounty of psychological perks that might surprise you. Let's uncover some of them:
Boosted Mood: Pink is often associated with feelings of happiness and warmth. When you glance down at your delicately painted pink toenails, it can uplift your mood instantly. Think of it as a little sprinkle of joy at your fingertips… or rather, toe tips!
Enhanced Creativity: Experimenting with various shades and patterns can stir up your creative juices. Selecting a design and the hue can act as a canvas to express your artistic flair, thus fostering innovation and creativity.
Promotes Relaxation: The very act of getting a pedicure can be highly relaxing. Setting aside time for a pedicure means granting yourself a moment to unwind and rejuvenate, which can positively affect your mental well-being.
Boosts Self-Esteem: Sporting a fresh pedicure often brings a sense of neatness and polish to your overall look. This sense of grooming and self-care can boost your self-esteem, making you feel more put-together and confident in your skin.
Mindfulness and Presence: The process of painting your nails can be pretty meditative. Focusing on the details allows for a moment of mindfulness, where you can be wholly present, enjoying a break from the daily hustle and bustle.
Enhanced Social Connections: Sharing your pedicure experiences, whether with friends in person or with a community online, can foster social connections and friendships. It can be a bonding experience that brings joy and camaraderie.
Symbolizes Self-Love: Taking time out for yourself symbolizes self-love and respect towards your body and well-being. A pink pedicure can be a beautiful representation of pampering yourself, a little reminder that you are cherished and worthy of love and care.
So, the next time you enjoy a pink pedicure, know that its benefits transcend beyond aesthetics, nudging you into a space of happiness, creativity, and tranquility.
9 Latest Trends In Pink Pedicures You Need To Know
Gradient Ombre: An absolute favorite these days is the gradient ombre, where different shades of pink seamlessly flow into each other, creating a beautiful, sophisticated transition on your nails. It gives a fresh and modern vibe, allowing you to play with various tones cohesively.
Metallic Accents: Metallic accents paired with pink tones are making waves. Imagine a soft pink base adorned with gold or silver accents; it screams luxury and class. It's a beautiful way to bring your pedicure a festive and luxurious vibe.
Minimalist Abstract Art: Minimalism continues its reign but with a modern twist. Think soft pink bases with abstract art details, maybe a stroke of white or a splash of metallic hues, creating an understated and artistic pedicure.
Crystal Embellishments: Crystal embellishments on a pink base bring an element of glam and sparkle to your toes. From small gem accents to bold, crystallized patterns, there's a broad canvas to play around with to suit your style.
Neon Pink: Say hello to the vibrant and energetic neon pink! This trend is for those who love making bold statements with their pedicure. Neon pinks paired with intricate patterns or simply on their own bring a fun and youthful vibe.
Matte Pink: The matte finish is having a significant moment right now. A matte pink pedicure brings a touch of sophistication and modernity, offering a chic and velvety finish that stands out beautifully.
Pressed Flowers: Adding a romantic touch to your pink pedicure with real pressed flowers is all the rage. It creates a delicate and feminine look, making your pedicure feel like a piece of art.
Sustainable Choices: While this is not a visual trend, the shift towards eco-friendly and cruelty-free nail products is more prominent than ever. It's a beautiful trend signaling a conscious choice in the beauty realm.
Mix and Match Patterns: 2023 is all about breaking the norms. Mixing and matching different patterns on each toe, all within the pink palette, is becoming trendy and adventurous for those looking to bring some fun into their pedicure routine.
Remember, the beauty of trends is that they offer inspiration, but the best trend always makes you feel fabulous and authentic to yourself. So, feel free to adapt these trends to reflect your style and dazzle in your pink pedicure!
11 Nourishing Products For A Pink Pedicure That I Love
Absolutely, embarking on a pink pedicure journey calls for products that don't just beautify but also nourish your precious toes to their core. Let's explore some categories of products that are renowned for their nurturing properties:
Hydrating Base Coats: These are the perfect canvas for your pink pedicure, nourishing and protecting your nails. Look for products enriched with Vitamin E, which helps keep your nails hydrated.
Breathable Nail Polishes: Polishes that allow water and oxygen to pass through can be healthier. These nourishing polishes often come fortified with argan oil, pro-vitamin B5, and vitamin C, promoting healthier nails.
Cuticle Oils with Natural Ingredients: These oils are crucial in keeping your cuticles healthy and nourished. Opt for oils enriched with jojoba, almond, or shea butter for deep nourishment.
Moisturizing Foot Creams: Post-pedicure, it is vital to keep the feet moisturized. Foot creams with urea, glycerin, or lactic acid can be highly nourishing, offering hydration and softness.
Hydrating Foot Masks: These masks are great for extra nourishment. They usually contain oils and hydrating agents to leave your feet feeling soft, smooth and rejuvenated.
Nutrient-Enriched Top Coats: An excellent top coat not only seals your nail polish but can also provide nourishment. Choose top coats that contain vitamins and minerals to promote nail health and growth.
Gentle Nail Polish Removers: While not directly nourishing, opting for acetone-free removers can prevent excessive drying and damage to your nails, maintaining their health.
Product Recommendations
OPI ProSpa Collection: This line offers excellent foot creams and scrubs enriched with ingredients known for their nourishing properties.
CND SolarOil Nail & Cuticle Care: An excellent option to nourish your cuticles.
Essie Treat Love & Color: A range of nail polishes that promises color and treatment in one, helping to strengthen your nails over time.
Orly Breathable Treatment + Color: A range of breathable nail polishes known for their nourishing formula.
Always read the labels and choose products that suit your specific needs. Investing in nourishing products will enhance the beauty of your pink pedicure and promote the overall health of your feet and nails.
Conclusion
As we wrap up our vibrant journey through the dazzling world of pink pedicures, I'd love to leave you with a sprinkle of wisdom from my years in the beauty sphere. Remember, while embracing these delightful trends, it's crucial to prioritize the health of your nails. Opt for quality products that are nourishing and cruelty-free to ensure your toes not only look pretty in pink but are healthy and happy, too.
I encourage you to venture out and mix and match different styles to create a pedicure that is uniquely you. Don't shy away from expressing yourself through these splendid hues and patterns, but at the same time, be mindful of the risks associated with excessive nail treatments, such as fungal infections or nail damage. Regular breaks between pedicures and a little TLC can go a long way in maintaining your nails' natural beauty and health.
And most importantly, have fun with it! The world of beauty is your canvas, and it's eagerly awaiting the touch of your creativity. Whether you're a DIY enthusiast ready to take the plunge at home or planning to visit your favorite salon, carry these tips and inspirations with you as you step into a more colorful and joyful chapter of your beauty journey. Until next time, stay vibrant, beauty lovers!
Feature Image Photo By @sweetesttem on Instagram