Let's talk about pink short nails — the underrated heroes of the manicure world. If you're someone who loves a pop of color but needs to keep things functional, you're in the right spot. This post is about embracing the charm of pink on shorter nails, a style that proves that elegance and practicality can go hand in hand (or, well, on hand). We'll dive into the best shades of pink that look fabulous on shorter nails, from bubblegum to dusty rose, and how to pick the right one for your skin tone. You'll learn about the magic of good shape and how to maintain your nails to keep them looking chic, not shabby. Plus, I'll spill the tea on the top products for a long-lasting manicure that can withstand your busy life. So whether you're typing away at a computer, gardening, or playing the piano, I've got some tips to keep your nails looking as sharp as your skills. Get ready to rock your pink shorties with confidence!
Glossy Pink Short Nail With Gold Glitters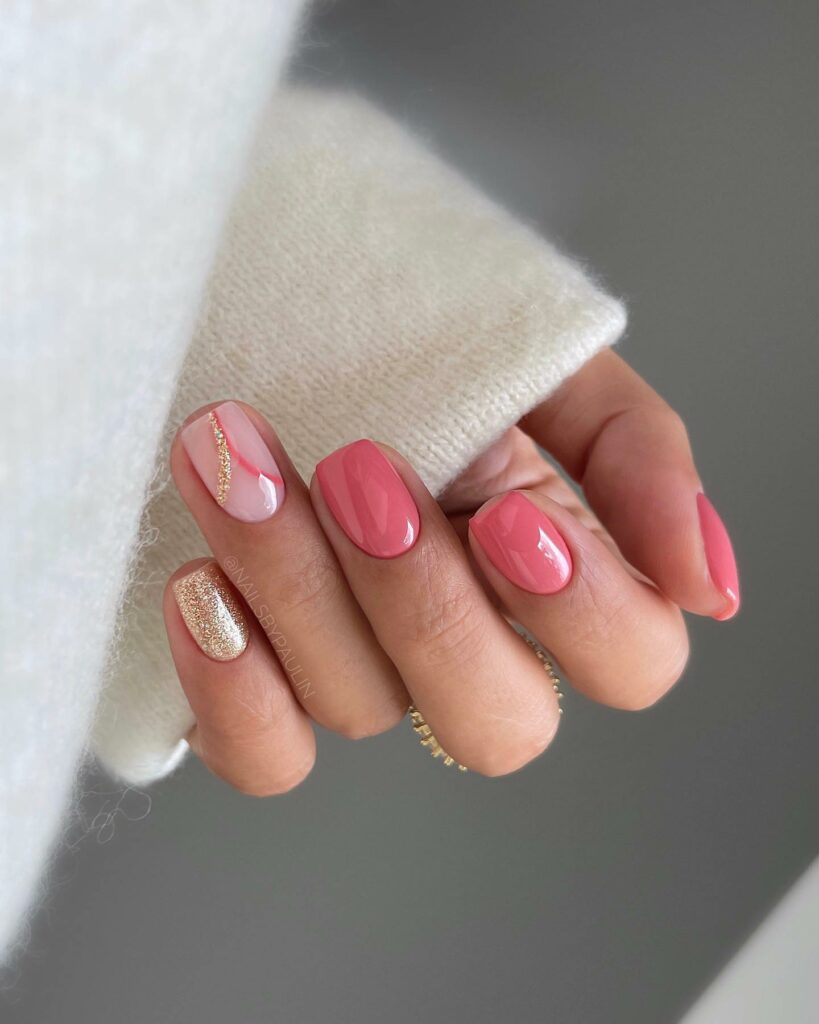 Elevate your nail game with a glossy pink base topped with luxurious gold glitters for a sophisticated yet playful vibe. This combo takes you from day to night with its versatile and shimmering finish.
Short Pink Nail With Cute Ghost Design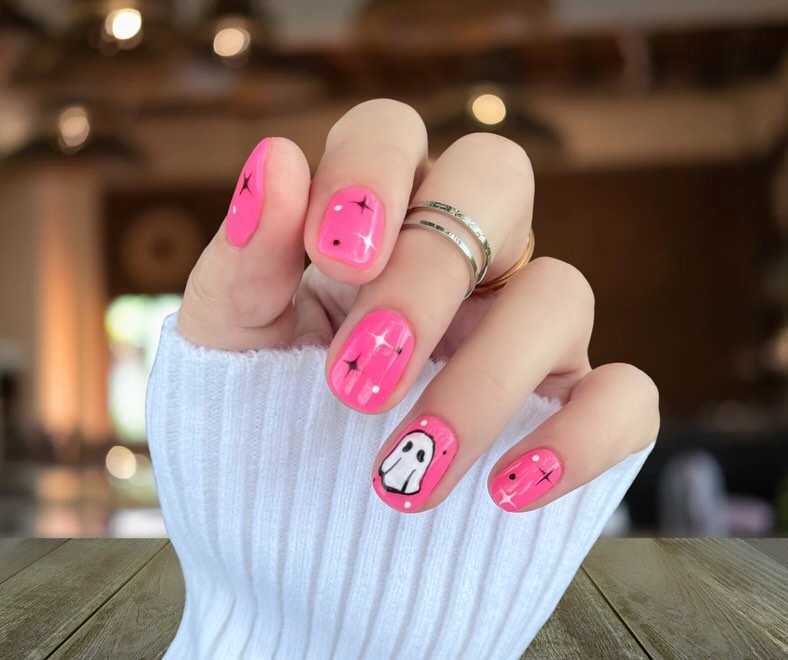 Who says spooky can't be cute? Flaunt a quirky touch with short pink nails donning adorable ghost designs, perfect for year-round fun or a sweet twist on Halloween themes.
Simple Pink Short Nail
Sometimes, simplicity speaks volumes; embrace the understated elegance of simple, short pink nails for a clean and polished appearance. They're the go-to for an effortlessly chic vibe that complements any outfit.
Short Pink Square Nail
Sharp edges and a bold pink hue give short square nails a modern flair. This strong shape, paired with a vibrant color, embodies a confident and contemporary style.
Short Pink Aura Nail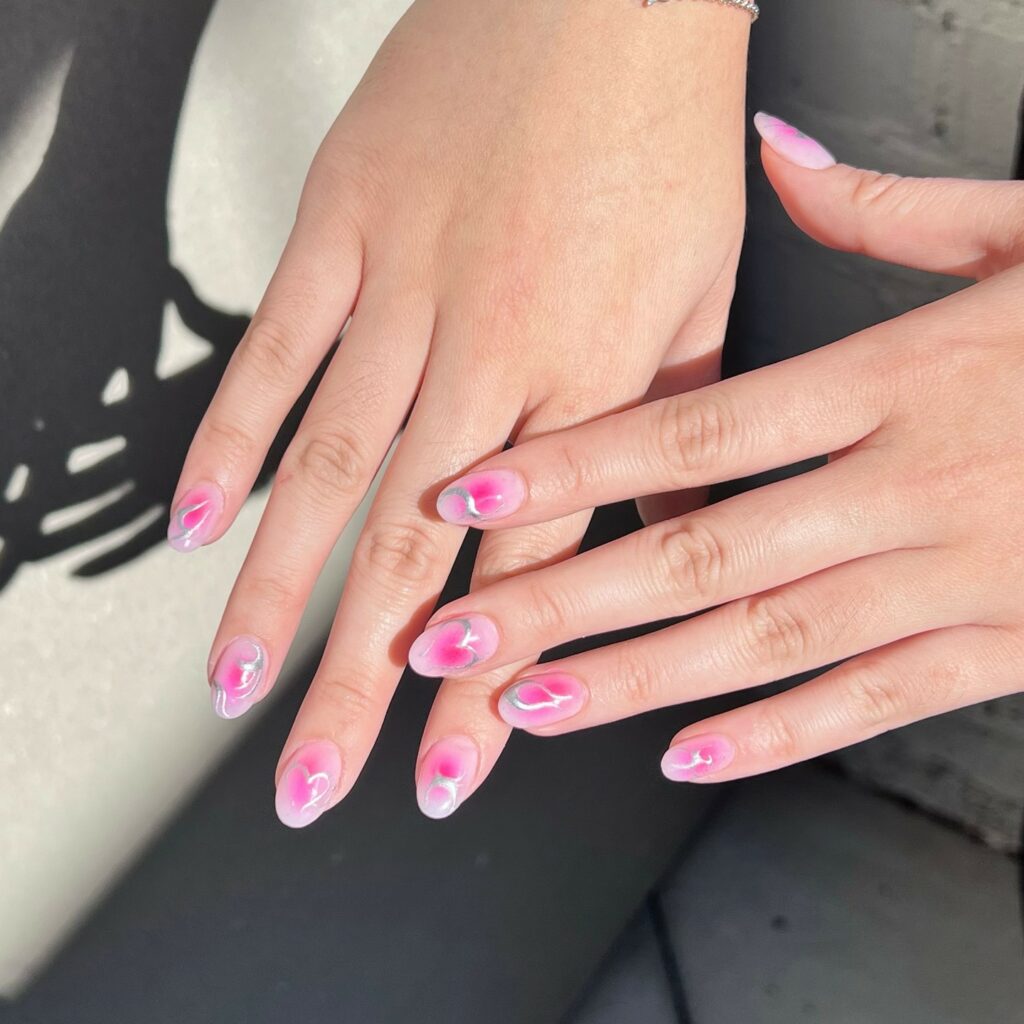 Cast a spell with short pink aura nails, where a soft pink hue melds with a mystical aura effect for an ethereal and trendy look. It's a subtle yet enchanting choice for those looking to add a touch of magic to their manicure.
Short Light Pink Nail With Single Neon Dot Design
Light pink nails get a pop of personality with a single neon dot design, adding an unexpected twist to a classic look. This minimalist approach proves that sometimes, one dot is all it takes to make a fun statement.
Chrome Short Pink Nail With Glitters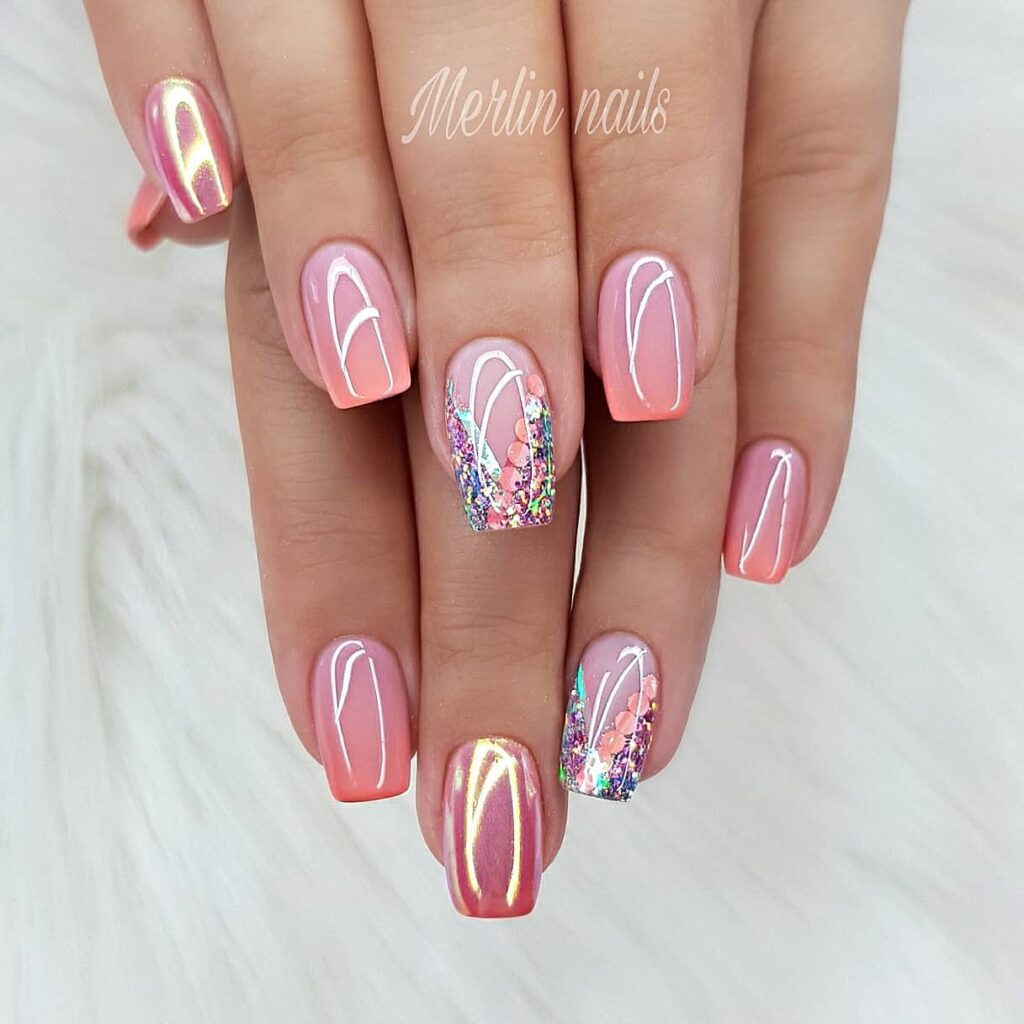 Chrome and glitters come together on short pink nails to offer a futuristic yet feminine look that catches the light and everyone's attention. It's a modern take on glam that's sure to turn heads.
Short Pastel Pink Nail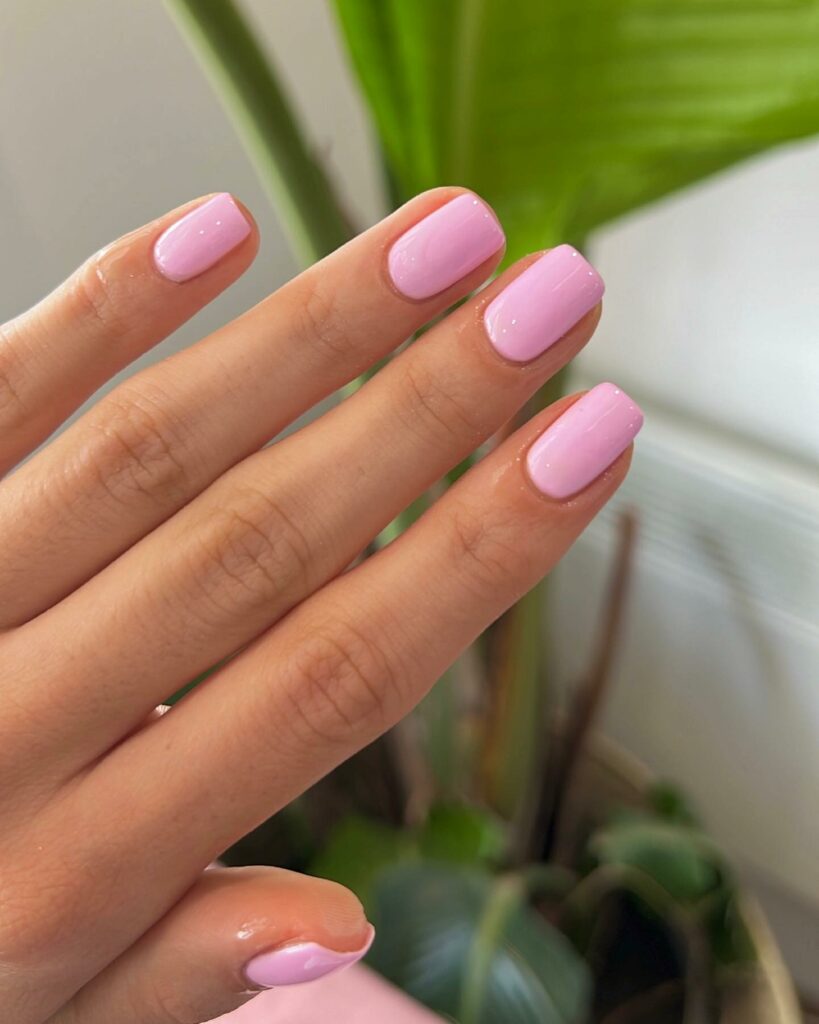 Delicate and demure, short pastel pink nails offer a whisper of color for an ultra-feminine and refined manicure. They're the ideal pick for anyone who adores a soft and sophisticated palette.
Short Metallic Pastel Pink Nail
Metallic sheen meets pastel pink in a short nail design that's both sweet and edgy. This nail choice serves a fresh and trendy take on metallics that's understated yet impactful.
Hot Pink Short Nail With Glitters
Bold and unapologetic, hot pink short nails are a surefire way to stand out and showcase your vibrant and energetic personality. They're the perfect pick for anyone looking to add some sass and fun to their nail art repertoire.
Short Hot Pink Nail With Rhinestones
Turn up the heat on your manicure with short, hot pink nails that pack a punch, made all the more dazzling with generous stones. This sparkling creation is your go-to for a night out or when you feel extra bold.
Short Dark Pink French Nail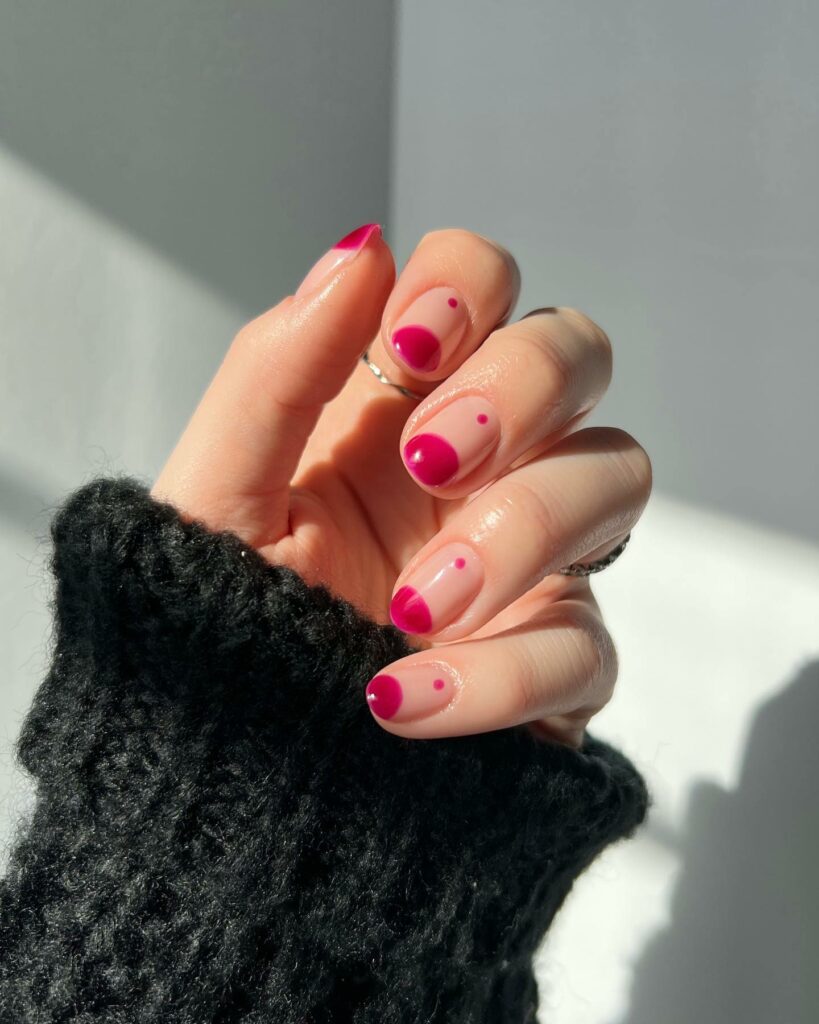 The classic French tip gets a sultry twist with a rich dark pink hue, adding depth and sophistication to your short nails. It's an elegant choice that takes your traditional manicure to new, chic heights.
Short Metallic Hot Pink Nail
Short metallic hot pink nails bring a flashy twist to your traditional manicure, with their high-shine finish making a bold statement that's both edgy and feminine. This vibrant hue, combined with a metallic sheen, is perfect for those looking to add a touch of daring glamour to their everyday style.
Short Almond Pink Nail With Orange Swirl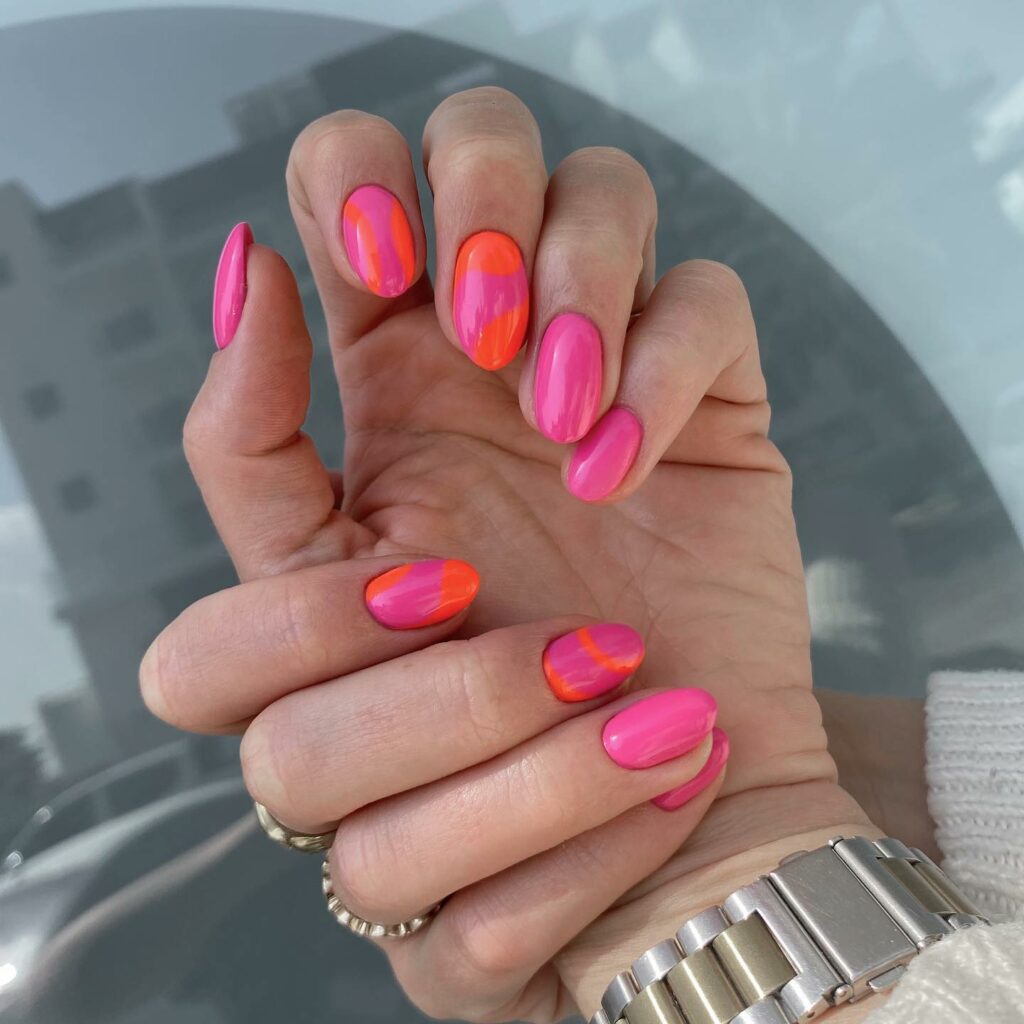 Infuse a citrus zest with an orange swirl on a soft pink almond-shaped nail, a playful yet refined nail art choice. The subtle almond shape offers a feminine base for the lively swirls, making it a sunny favorite.
Short Pink French Nail With Flower
Revamp the iconic French tip by pairing short pink nails with delicate flowers and a trendy checkered pattern for a look that's both romantic and playfully preppy. It's a unique blend of classic charm and modern whimsy that will capture attention.
Simple Short Pink Nail
Embrace the beauty in simplicity with bare, short pink nails that speak to a minimalist aesthetic but still exude a warm and inviting vibe. They are perfect for daily wear, offering a clean and polished look without any fuss.
Short Pink Nail With White French Tip
The timeless elegance of a white French tip gets a soft contrast on a pink base, making short nails look instantly more refined and graceful. This manicure is a fresh take on a quintessential style that always goes in fashion.
Short Pink Nail With Hot Pink Tip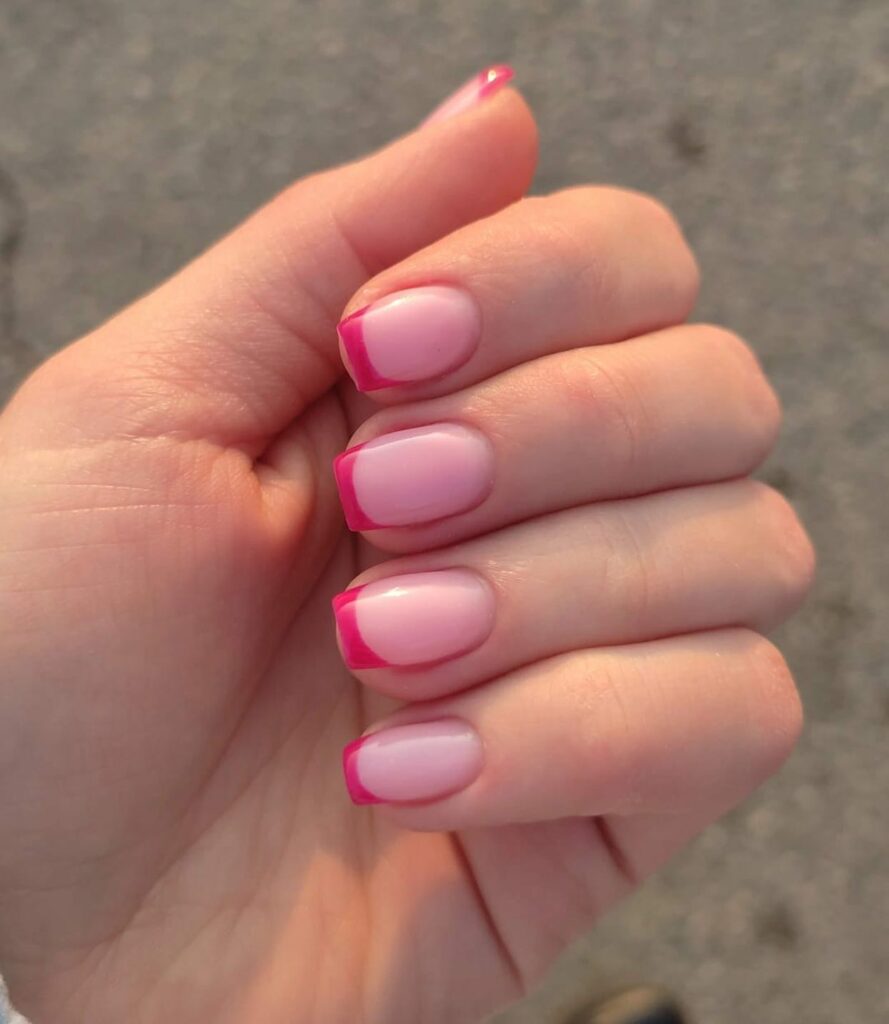 For those who adore a pop of color, short pink nails with a hot pink tip provide an unexpected and modern edge to your everyday manicure. It's a fun twist on the French tip, showing off a playful side while keeping it neat.
Pink And White Short Nail With Metallic Line Design
Combine the purity of white and the sweetness of pink on short nails, accented with a sleek metallic line for a touch of luxe. This design adds a futuristic flair, perfect for making a sophisticated yet trendy statement.
Short Almond Pink Nail With Colorful Stones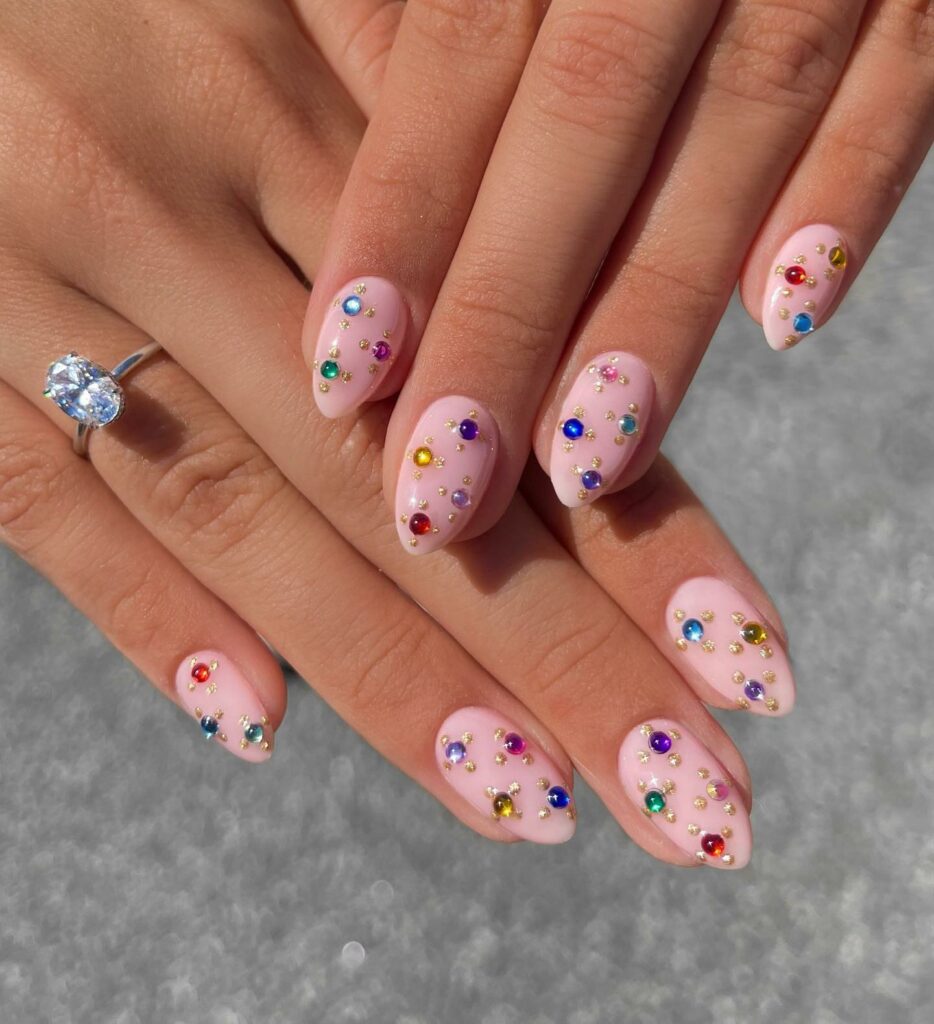 Give your short almond-shaped pink nails a dash of glamour with colorful stones that catch the light and the eye. This embellished look strikes a balance between playful sparkle and sophisticated shaping.
Short Pink Nail With Colorful Daisy Design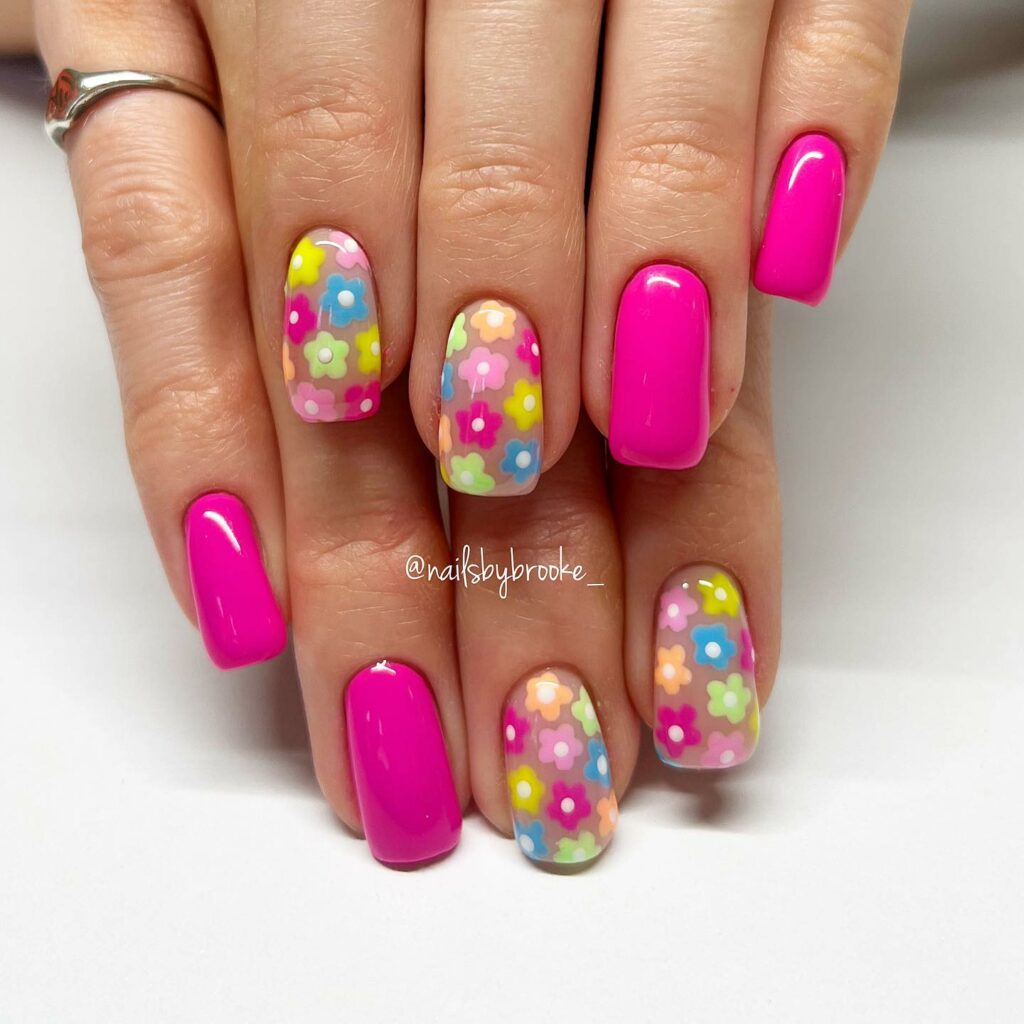 Add a sprinkle of spring to your fingertips with short pink nails featuring playful daisy designs in various colors. It's a perfect way to wear a burst of joy on your nails that's subtle and statement-making.
Short Nail With Pink Swirl And Glitters
Swirl into the sweet side of style with pink swirls on your short nails, accented with a hint of glitter. This design brings a whimsical twist to your look, marrying elegance with a touch of sparkle.
Light Pink Nails With White Daisy
Channel the essence of a serene garden with light pink nails adorned with white daisy accents for a fresh and cheerful look. It's a manicure that brings a touch of nature's joy right at your fingertips.
Pink And White Ombre Short Nail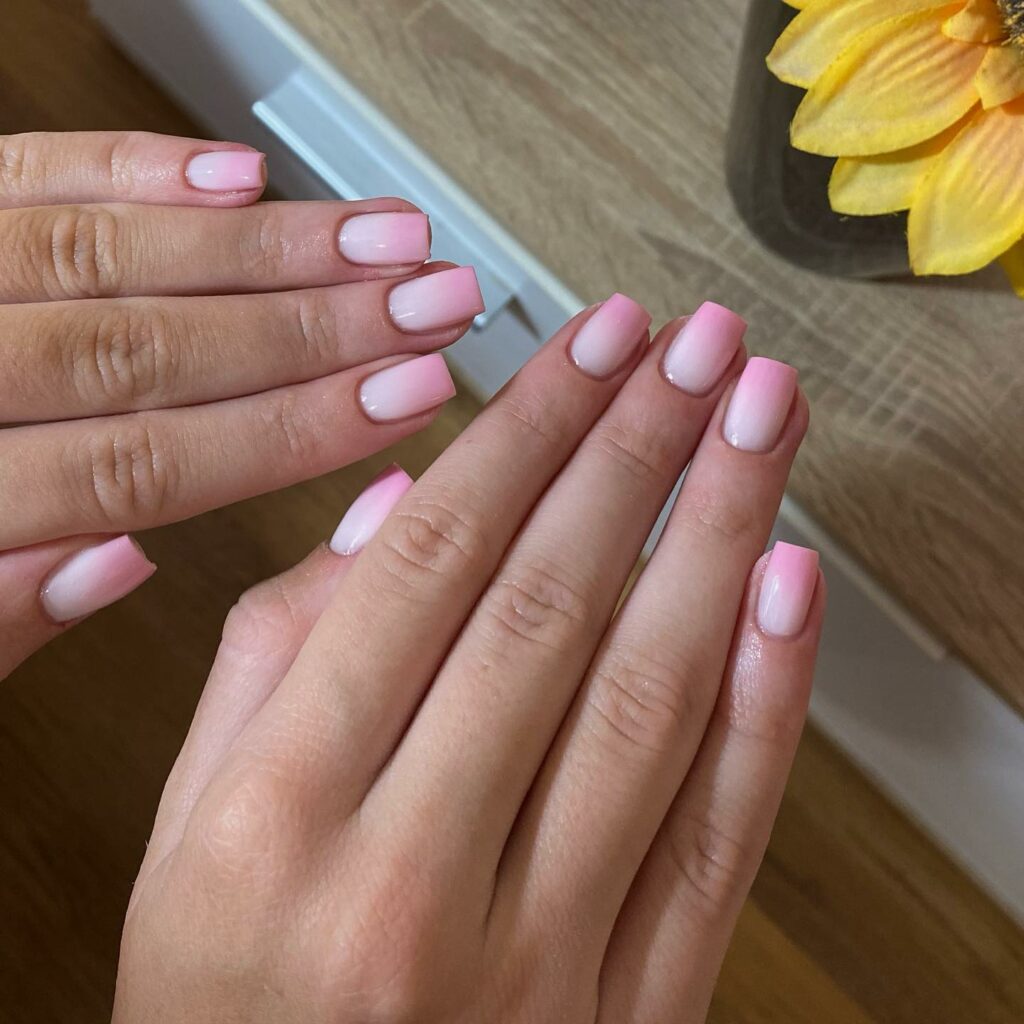 Merge the softness of pink with the crispness of white in an ombre effect that gives your short nails a dreamy, cloud-like appearance. This gradient charm is subtle yet impactful, perfect for a versatile look that transitions smoothly from day to night.
Matte Pastel Short Pink Nail
Dive into the matte trend with a pastel pink that radiates contemporary coolness while exuding understated elegance. The matte finish offers a velvety touch that's irresistibly modern and a perfect match for short nails.
My 7 Recommendations For The Best Shades Of Pink For Shorter Nails?
When selecting the best shades of pink for shorter nails, consider the versatility and what complements your skin tone. Here are a few universally flattering shades that I've found look stunning on shorter nails:
Soft Blush: A delicate blush pink is timeless and can give your nails a clean, polished look without overpowering them. It's like the manicure equivalent of your favorite white tee – simple but always just right.
Rose Quartz: This slightly more excellent, translucent pink gives a nod to the natural beauty of your nails, offering a hint of color with a classy, glass-like finish.
Coral Pink: A playful coral-infused pink is a great way to bring warmth and brightness to your look. It's adorable in the spring and summer or whenever you need a pick-me-up!
Berry Pink: If you're into a more vibrant pink, a berry pink can be a fabulous choice. It's bold without being too loud and looks great for casual and formal occasions.
Fuchsia: Want to make a statement? A hot fuchsia pink is your go-to. It's eye-catching and fun, perfect for when you're feeling adventurous with your look.
Nude Pink: For those who love a more subdued, professional look, a nude pink is ideal. It elongates the fingers and keeps your nails looking neat.
Dusty Rose: This is a sophisticated, muted pink with a hint of mauve. It's an excellent choice for those who prefer a more understated elegance.
No matter the shade you choose, the key to making pink work on shorter nails is to keep them well-maintained with a shape that suits your hands. Short nails often look best with a squoval (square with rounded edges) or oval shape, as these styles mimic the natural curvature of the nail bed and can make the nails appear longer. And remember, a top coat for extra shine and durability! So go ahead, find your perfect pink, and remember that the best accessory is confidence — wear your short pink nails proudly!
7 Steps To Pick The Right Pink For Your Skin Tone
For Fair Skin: If your skin is fair, use light or soft pinks that won't overpower your delicate complexion. Think of colors like ballet slipper pink or a subtle rose. If you want something bolder, a blue-based hot pink can stand out without clashing.
For Medium Skin: Those with medium or olive skin tones have a versatile canvas and can play around with various pinks. Try rich, warm pinks like a dusty rose or even a vibrant coral pink that can accentuate the warm undertones of your skin.
For Dark Skin: Deep skin tones can rock the full spectrum of pink, from the lightest pinks to the deepest magenta. Bold fuchsias, berry pinks, or neon pink can look absolutely stunning, making your nails pop with color.
For Cool Undertones: If you have cool undertones, look for pinks with a blue base or purply shades like mauve. These more fabulous pinks complement the blue and pink undertones in your skin.
For Warm Undertones: For warm undertones, opt for pinks with a peach or orange base. These will harmonize with the golden or yellow undertones in your skin and create a seamless look.
For Neutral Undertones: Lucky you! Neutral undertones can handle just about any pink. You might enjoy experimenting with everything from pale pink to neon without worrying about clashing with your skin tone.
A little tip: Regardless of your skin tone, always consider the context in which you'll show off your nails. For professional settings, softer pinks might be more appropriate, while brighter shades are great for a vacation or a fun night out. And remember, the best way to see if a color suits you is to test it. Swipe on a coat of polish and see how it looks in natural light to determine if it complements your skin tone. Have fun finding your perfect shade of pink!
My Top Picks For A Long-Lasting Manicure
For a long-lasting manicure, especially with the hard-working short nails that tend to be used more frequently for everyday tasks, you'll want products that promise durability and a professional finish. Here are some top picks based on what you might be looking for:
Base Coat: A solid start is crucial. OPI Natural Nail Base Coat: This formula prevents staining and helps the polish adhere to the nail for a longer-lasting manicure. Orly Bonder Rubberized Basecoat: It has a unique rubberized formula that grips nail polish to the nail surface for extra-lasting power.
Nail Polish: Go for quality formulas. Essie Nail Polish: Known for its wide range of shades and long-lasting formula. CND Vinylux Long Wear Polish: Claims a week-long wear without a base coat and has a two-step application that's great for at-home use.
Top Coat: It's all about the seal. Seche Vite Dry Fast Top Coat: This is a holy grail product for many due to its ability to dry quickly and leave a glossy, complex finish. Sally Hansen Miracle Gel Top Coat: This gives a gel-like finish without needing a UV lamp and adds durability to your manicure.
Strengthening Products: For weak or brittle nails. OPI Nail Envy Nail Strengthener: It also comes in a color-tinted formula to strengthen while wearing your favorite shades. Nailtiques Formula 2: This protein-rich nail treatment promotes nail strength and health.
Cuticle Oil: Healthy cuticles mean healthy nails. CND SolarOil Nail & Cuticle Care: A blend of oils and vitamin E that keeps your cuticles moisturized and can promote strong nail growth. Essie Apricot Cuticle Oil: Nourishes the nail bed and cuticles, essential for maintaining a long-lasting manicure.
Long-Wear Formulas: For those who want their manicure to last without touch-ups. Gel Polishes: Brands like Gelish and OPI offer gel polishes that, when used with the corresponding base and top coats, can last up to three weeks. Deborah Lippmann Gel Lab Pro: Delivers the gloss and cushion of a gel manicure without nail damage.
Remember, the longevity of your manicure isn't just about the products you use; it's also about the prep work. Ensure your nails are clean, dry, and oils-free before starting your manicure. When applying polish, seal the free edge (the tip of the nail) with each layer to prevent chipping.
Conclusion
Whether you're jazzing up your digits with glitters or embracing the understated elegance of a simple pink base, there's a short nail look that's just right for you. Remember, the best nail art doesn't require an endless canvas; even the tiniest of tips can showcase your personal style. My advice? Don't shy away from trying out bold patterns or fun accents like a single neon dot or those cute little daisies. After all, nails are the perfect accessory to play with – no commitment necessary. Keep those nails moisturized and your hands well-groomed, and let your short pink nails be the pop of joy in your everyday hustle. So, pick your favorite from these chic styles, grab your file and polish, and let your nails do the talking. Stay fabulous, and have fun painting the town pink, one nail at a time!
Feature Image Photo @merlin_nails via Instagram
Last reviewed and updated on November 17, 2023