Today, we delve into the Ultimate Playboy Nails, we will uncover the allure of the Playboy symbol—a cheeky nod to a cultural icon—reimagined through the lens of nail art. Expect to discover the versatility of these designs, from subtle accents to bold statements, each promising to be a conversation starter. Whether you're a seasoned nail aficionado or a newcomer looking to explore, this post will guide you through the latest trends, techniques, and color palettes defining the year. We'll also share essential tips on achieving salon-quality results at home, ensuring your nails are not just a fashion statement but a personal masterpiece. Let's dive into a world where fashion meets fun, and your nails become the canvas for playful sophistication.
Soft Blush Pink Playboy Nails
Embrace the understated elegance with blush pink nails, subtly highlighting the Playboy emblem. This design is perfect for those who prefer a hint of sophistication with a gentle pop of color.
Coffin-Shaped Pink Elegance with Playboy Nails
The coffin nail shape, combined with a playful pink hue and adorned with the Playboy emblem, creates a fashion-forward and whimsically elegant look.
Acrylic Playboy Nails with Checkerboard and Flames
Merge edgy street style with sultry sophistication by featuring checkerboard patterns and fiery flames alongside the Playboy bunny on your acrylic nails for a trendy and daring look.
Clear Acrylic Playboy Nails
Elevate your nail art with clear acrylics sprinkled with glitter and featuring the subtle Playboy touch. Perfect for adding a sparkle to your everyday elegance or a special occasion.
Ombré White and Black Playboy Nails
Striking and sophisticated, these ombre nails transition from white to black, crowned with the Playboy silhouette for a modern twist on monochrome.
Bold Square Playboy Nails
Make a statement with square-shaped nails that serve as a canvas for the Playboy icon. This style marries simplicity with boldness, suitable for any fashion-forward individual.
Pink Coffin Playboy Nails with Gems Accents
Adorn your coffin-shaped nails with pink polish and gemstone accents, featuring the Playboy bunny as the pièce de résistance for a look that's both edgy and exquisitely feminine.
Matte Black Playboy Nails
Dive into the depth of matte black nails, where the Playboy icon surfaces with a mysterious allure. Ideal for the trendsetter who embodies confidence and chic.
Understated Elegance Pink Nude Playboy Nails
Pink nude nails featuring the Playboy bunny symbolize understated elegance and chic simplicity, ideal for those who prefer their style statements to be refined and subtly provocative.
Matte Brown Playboy Nails
Earth tones meet iconic imagery on matte brown Playboy nails, offering a versatile, natural, yet fashionable look for any occasion and season.
Classic Square Pink Playboy Nails
Pink takes a timeless turn on square nails, accented with the Playboy motif for a blend of traditional shape and contemporary iconography.
Coffin-Shaped Pink Playboy Nail Elegance
Embrace a touch of feminine charm with these coffin-shaped pink Playboy nails that blend soft hues with the daring silhouette of the iconic bunny, perfect for a sweet and edgy style.
Baby Blue Playboy Nails
Dive into the tranquility of baby blue with these Playboy nails, where calm color meets iconic imagery, crafting a serene yet stylish statement for any occasion.
Glossy Pink Playboy Nails
Shine on with these glossy pink Playboy nails that radiate vibrant energy, adorned with the playful bunny for a look that's as fun as it is polished.
Chic Clear Playboy Nails with Monochrome Accents
These nails feature a sophisticated clear base that gives way to monochrome hearts and the classic Playboy bunny motif, creating a seamless blend of playful design and elegance. The alternating glossy and matte finishes add a contemporary twist, perfect for those looking to combine iconic imagery with a touch of modern nail artistry.
Acrylic White and Black Playboy Nails
Celebrate the boldness of contrast with acrylic nails that showcase the Playboy bunny against a dynamic black and white backdrop, symbolizing a blend of modern artistry and cultural iconography.
Clear Coffin Playboy Nails
Opt for understated elegance with clear coffin nails featuring subtle Playboy details, merging the allure of simplicity with the intrigue of iconic symbols.
Bold Black and White Playboy Nails
Make a graphic statement with bold black and white Playboy nails that turn heads with striking contrast and timeless design, perfect for the fashionably fearless.
Acrylic Pink Playboy Nails with Flames Accents
Ignite your style with hot pink Playboy nails, flamed with fiery accents for a look as daring as it is delightful, ideal for those who love to play with bold patterns and colors.
Gradient Clear Playboy Nails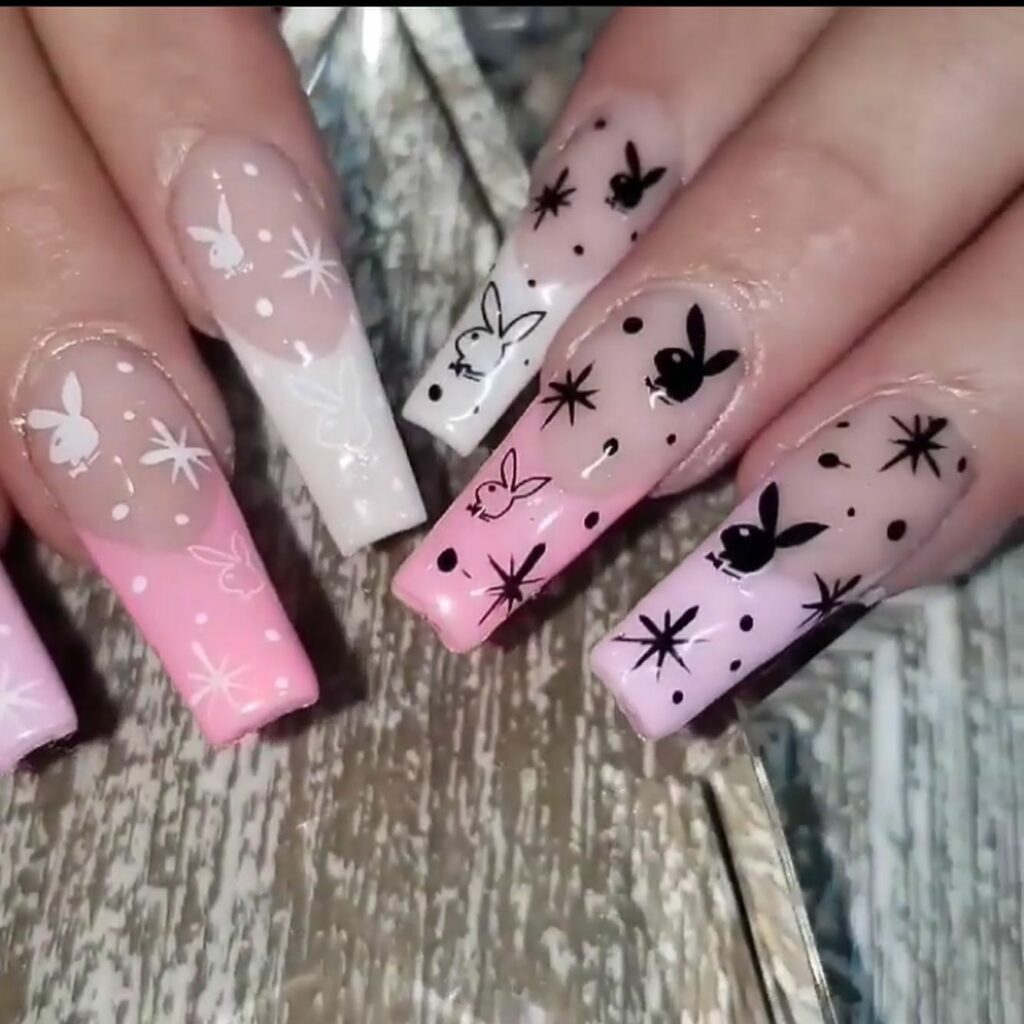 Bask in the subtle beauty of gradient clear Playboy nails, where the soft transition of hues captures the whimsical essence of a fading sunset, paired with the classic bunny for an ethereal finish.
Matte Playboy Nails with Butterflies and Blooms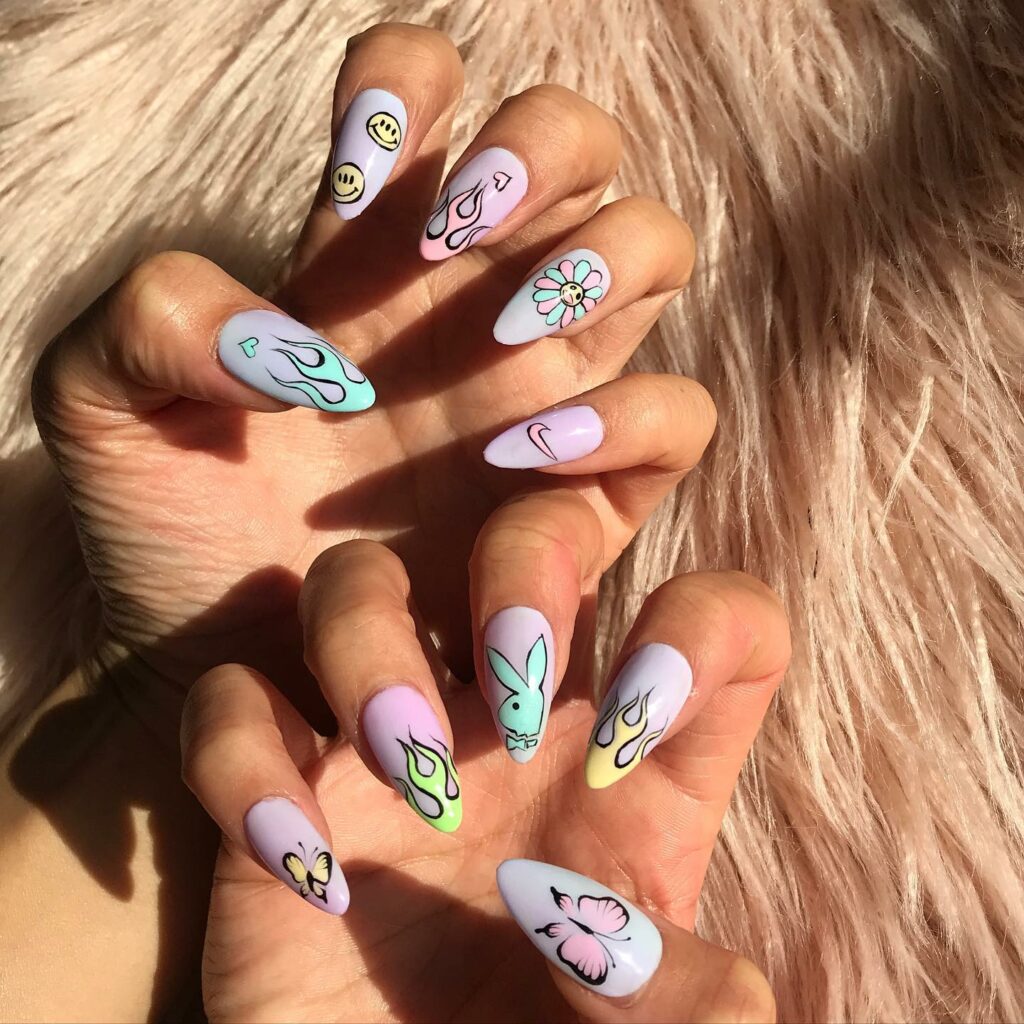 Immerse in the charm of lavender matte nails, intricately detailed with delicate butterflies and florals, all harmonized with the iconic Playboy bunny for a whimsical, feminine touch.
Acrylic Neon Green Playboy Nails
Make a bold statement with acrylic nails painted in an electric neon green, accented with the Playboy logo for a look as daring as it is playful, perfect for standing out in any crowd.
Playboy Charm in Pink Acrylics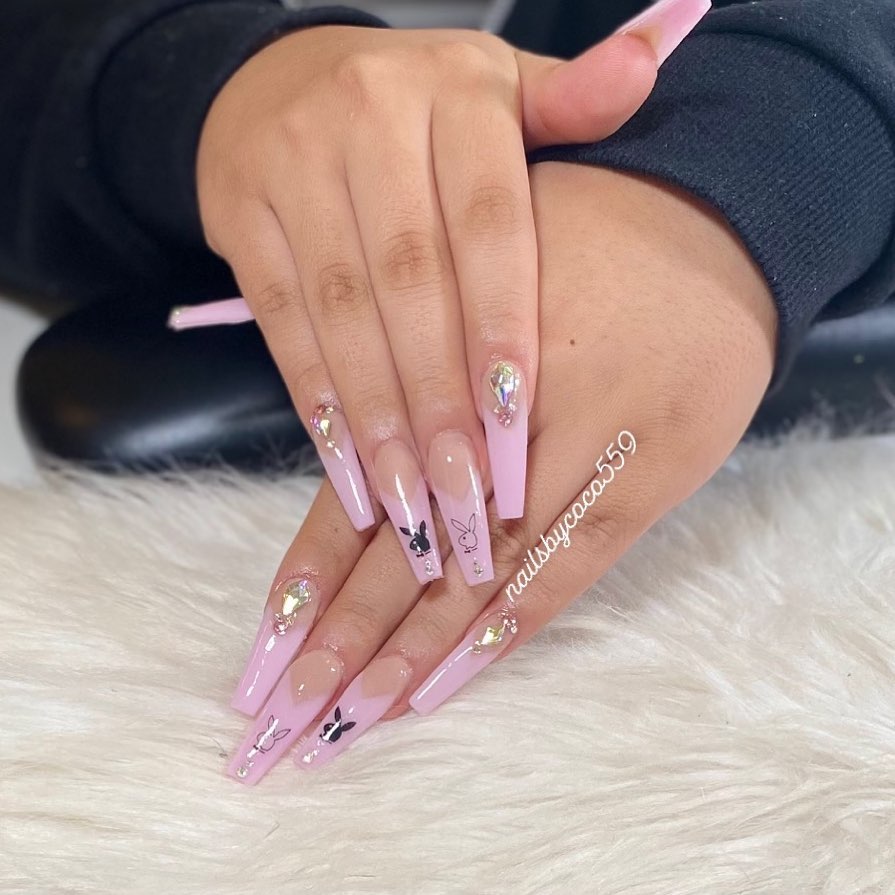 Dip into the playful side of pink with these acrylic nails adorned with the iconic Playboy bunny. They're a sweet yet sassy way to wear your favorite hue, offering a blend of innocence and allure.
Baby Blue Playboy Nails and Silver Glitter
Channel the sky's serenity with baby blue nails sprinkled with silver glitter and accented with the Playboy symbol, evoking a dreamy yet sophisticated aesthetic.
White Playboy Nails with Blue V French Tips
Dive into the elegance of the ocean with white nails featuring a sharp blue V French tip, complemented by the Playboy bunny, embodying a crisp, nautical-inspired finesse.
Playboy Nails with a Zesty Orange French Manicure
Add a citrus twist to your nail repertoire with a vibrant orange French manicure and the Playboy logo for a fun, edgy look that's as refreshing as a summer's day.
Black French Tips on Nude Playboy Nails
Experience the allure of nude nails with a classic twist, featuring black French tips and the subtle Playboy emblem, offering an elegantly modern and chic contrast.
My 8 Tips To Achieve Salon-Quality Results at Home
Preparation Is Key: Begin with clean, well-shaped nails. Remove old polish, shape your nails to your desired style, and ensure your cuticles are gently pushed back. Buffing your nails lightly can help the polish adhere better.
Quality Products: Invest in salon-grade nail polish, acrylics, or gels, depending on your preference. High-quality products tend to last longer and give a smoother finish.
Base and Top Coats: Always use a good base coat to protect your natural nails from staining and to create an even base for your color. Finish with a strong topcoat to seal in the color, add gloss, and prevent chipping.
Accurate Application: Apply polish in thin, even layers, and give each layer ample time to dry. This reduces the likelihood of smudging and creates a more durable finish.
Tools and Techniques: Use a fine-tip brush or a toothpick for intricate designs like the Playboy logo. Practice your design on paper before applying it to your nails.
Aftercare: Once your nails are done, apply cuticle oil to moisten and moisturize your cuticles. Wear gloves when doing household chores to protect your nails from chipping or lifting.
Maintenance: Touch up any chips as soon as they look flawless. Add an extra topcoat every few days to prolong the life of your manicure.
Remember, practice makes perfect. Don't be discouraged if your first few attempts aren't flawless. With persistence, you can achieve and even surpass salon quality in the comfort of your home.
Still Looking for Inspiration, Then Check Out This Video
Conclusion
As we explore these striking Playboy nail designs, remember that confidence and a dash of playfulness are key to nailing this trend. Whether you opt for the subtle charm of matte finishes or the bold statements of neon hues, each design expresses your unique style. Remember that while experimenting with acrylics and embellishments can be a fun adventure, it's important to consider the health of your nails, too. Always ensure you visit a reputable technician to minimize the risks of damage, and remember to give your nails a little pause between applications. With these tips in hand, you're all set to transform your nails into a canvas of personal expression that captures the essence of 2023. So, choose a design that resonates with you, and let your nails do the talking!
Feature image @nailstory_ca via Instagram
Last reviewed and updated on November 17, 2023